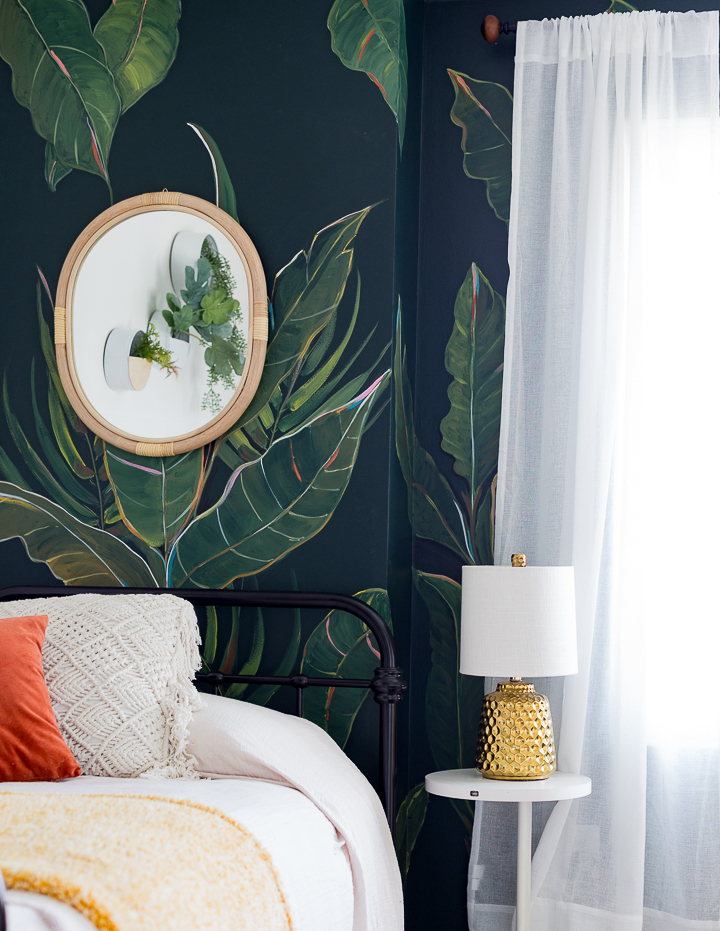 Hello there! Long time no see (I literally sighed as I typed that). I hope you've all been keeping well.
We have been extremely busy around here of late. Our oldest just finished his first year of University and came home to visit for a few days making our home seem whole again. We then helped him move into his new house, 15 minutes from school but 4 hours from here. To top it off, the One Room Challenge of Bella's Bohemian/Mid-century modern room was due today so you can imagine the mad dashing we had to do.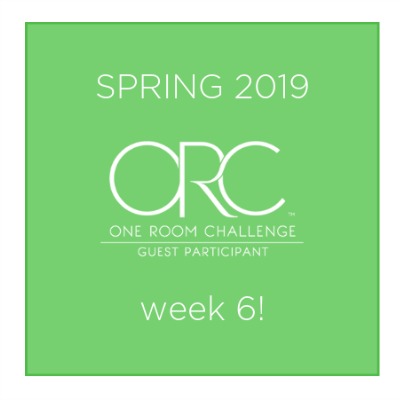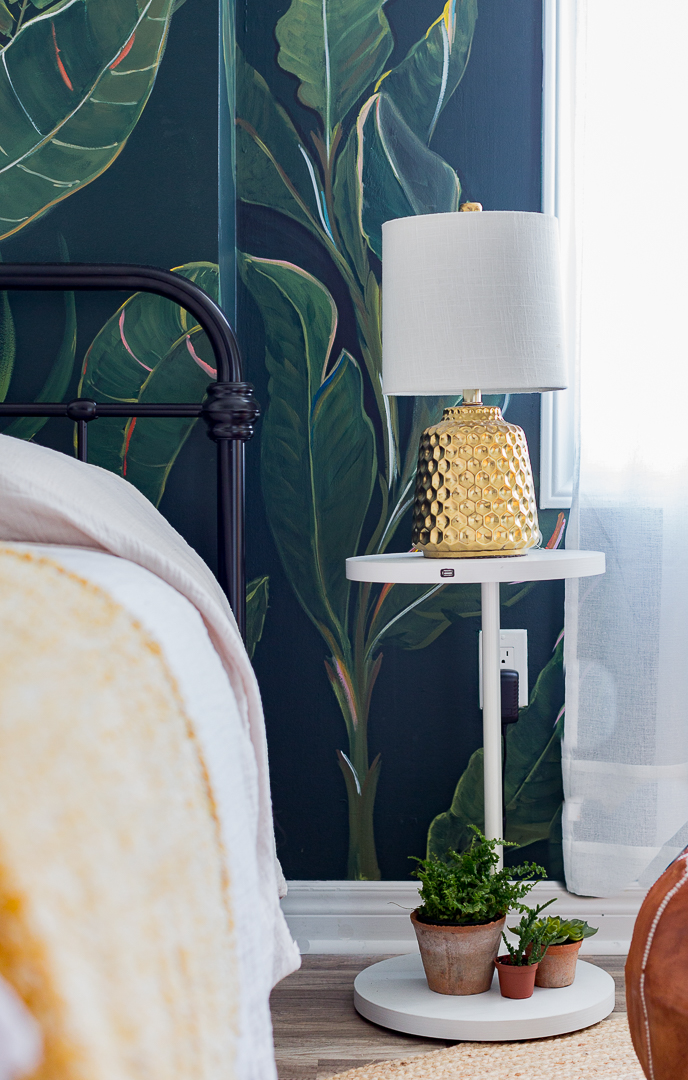 It came down to the final hour but I'm pleased to say we're done. Well, 99% as there are a few things I'll want to tweak (i.e. curtains are too short, the crown moulding still needs to be done and some little nail holes on the baseboards need to be covered). I love the way this room turned out and most importantly, Bella loves it.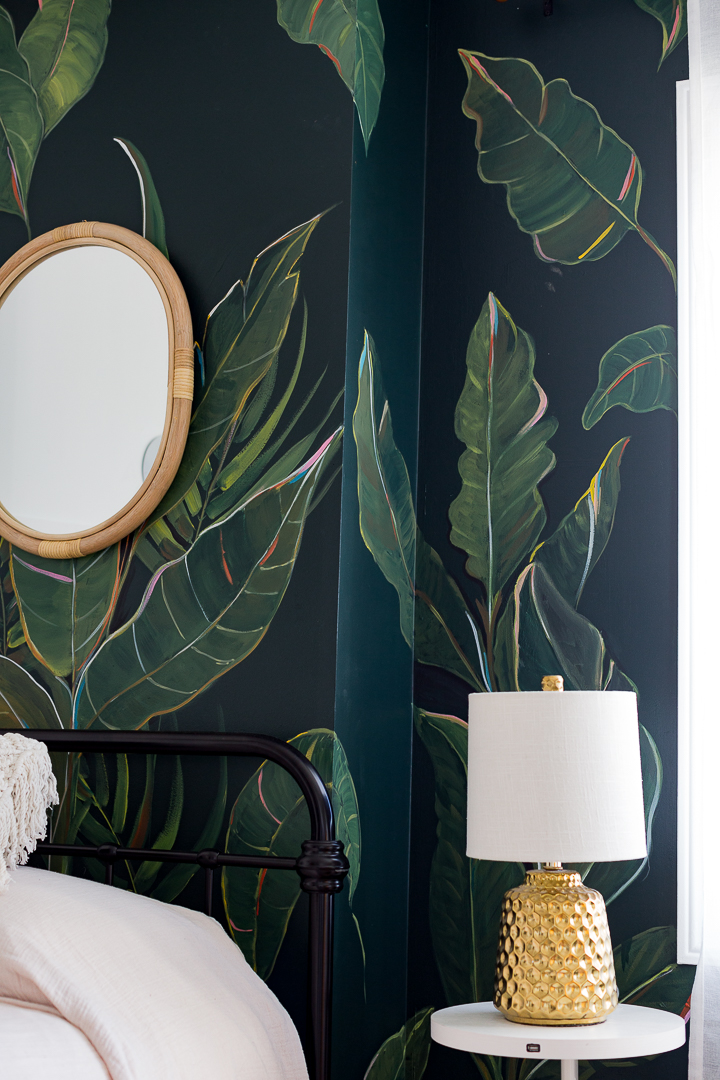 I decided to paint a mural  last minute and that of course added a little time but I'm so glad I did. I think it not only adds texture but a little drama to the space. The color of the wall is Salamander by Benjamin Moore.
At this point, all I want to do is show you photos instead of writing/talking but I do want to point out a couple of things that I'm loving.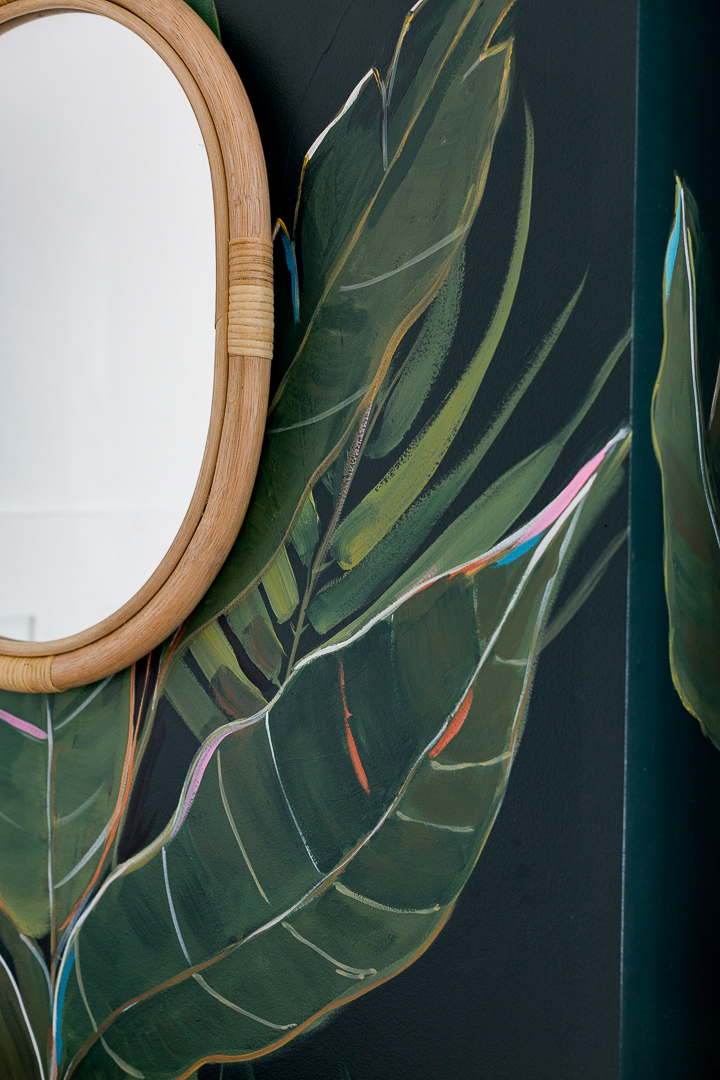 This really cool mirror from Homesense. I think it goes well with the entire theme.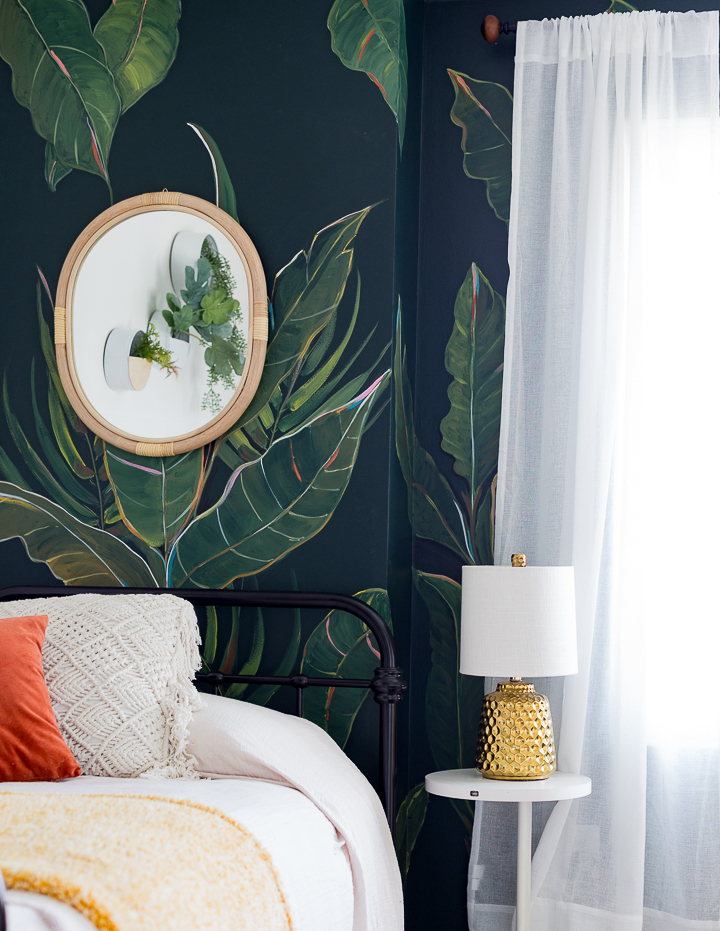 And check out this incredible and convenient little accent table from Homepop. It has a built-in charging station! What?!?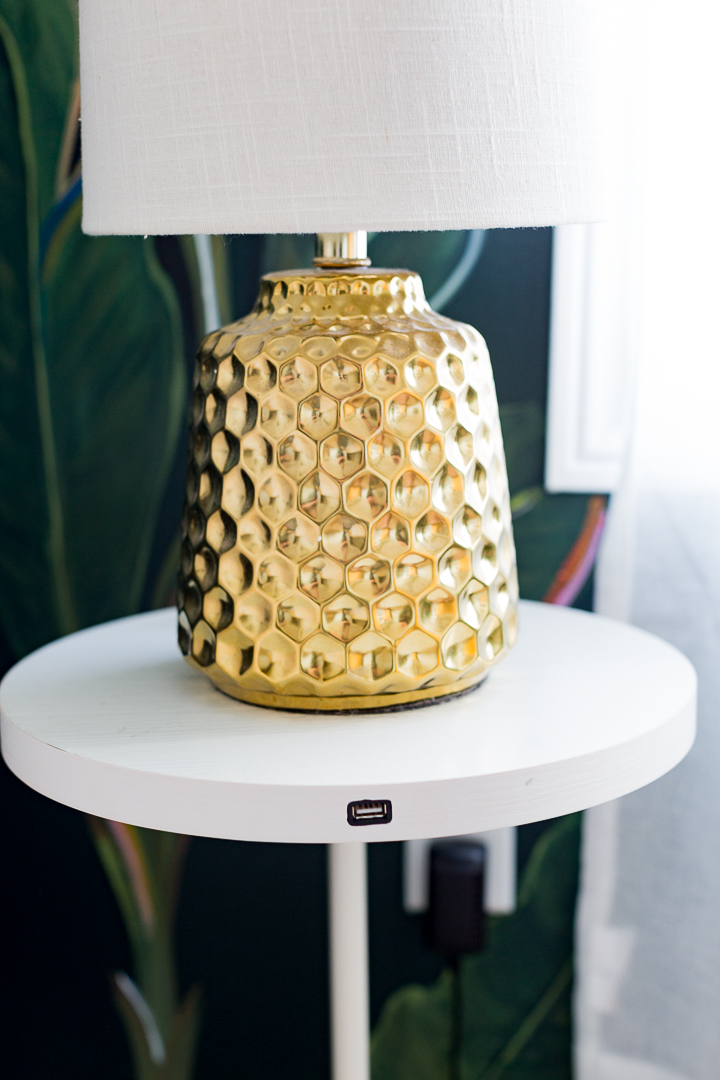 The table plugs into the wall and you simply plug your device into the table. So cool!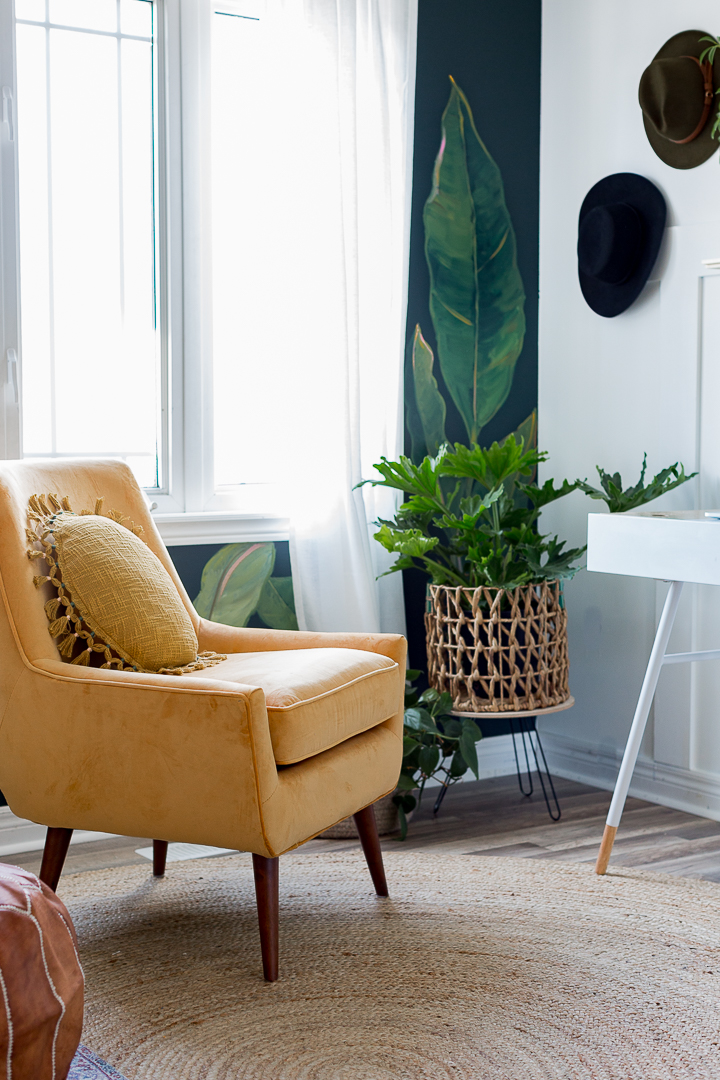 I love the contrast between this gorgeous Dean Modern Accent gold chair from Homepop. It was the perfect choice for this space and although not a traditional office chair per se, it's so comfy and Bella adores it.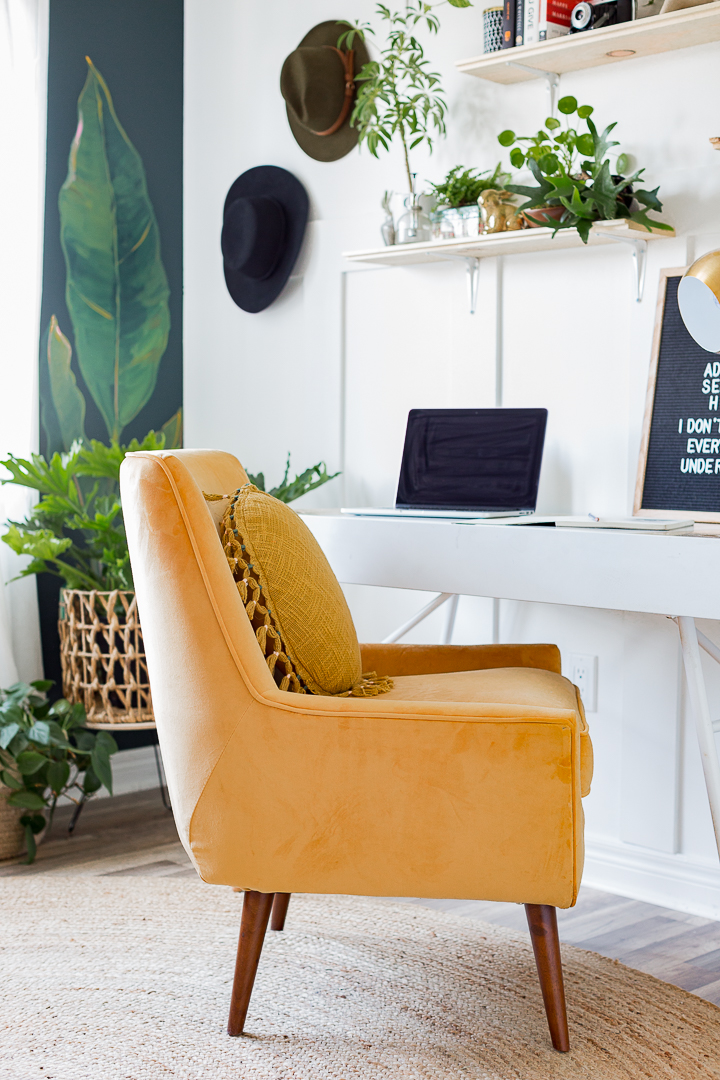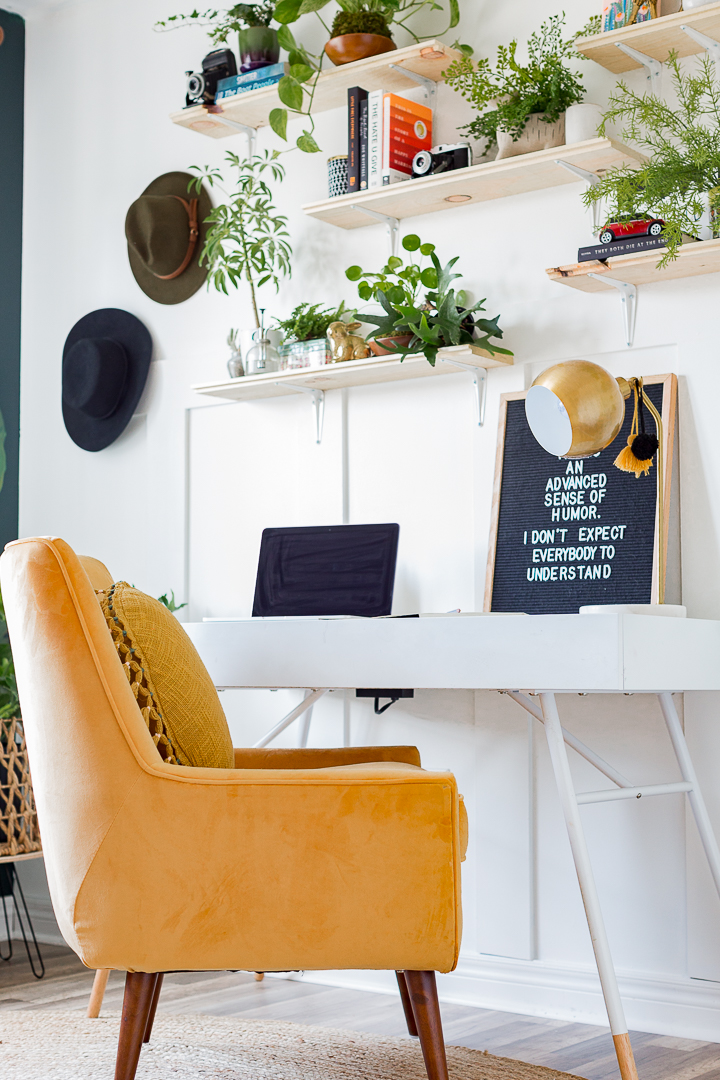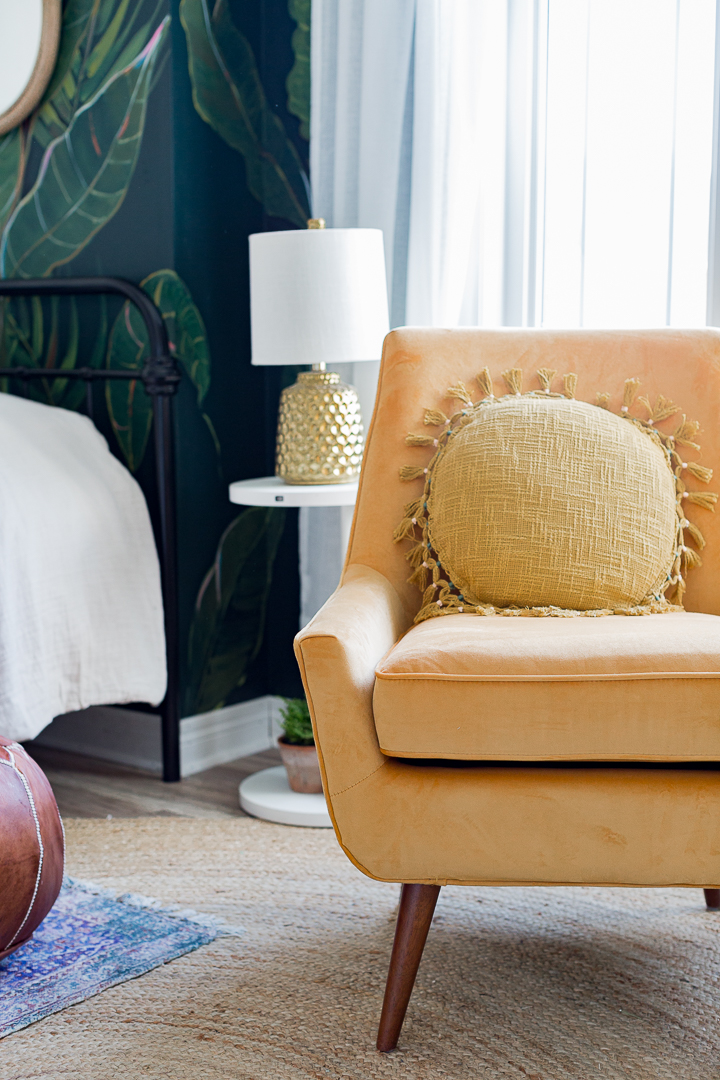 And look at these super easy shelves hubby built for me…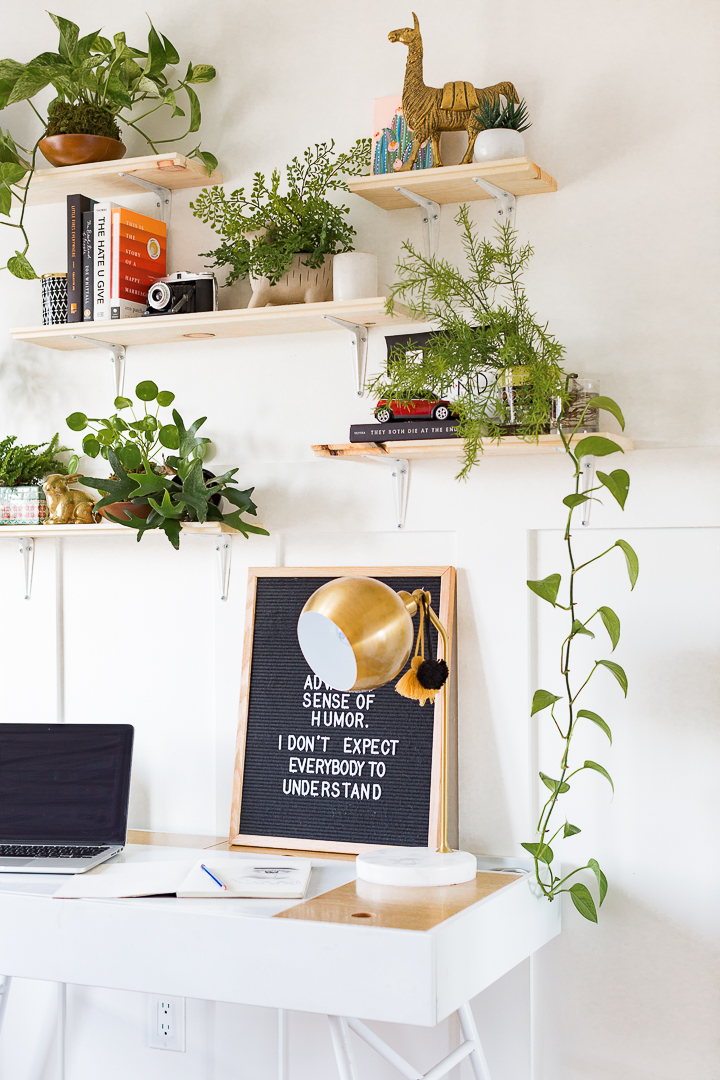 A couple of pieces of plywood, inexpensive brackets, and….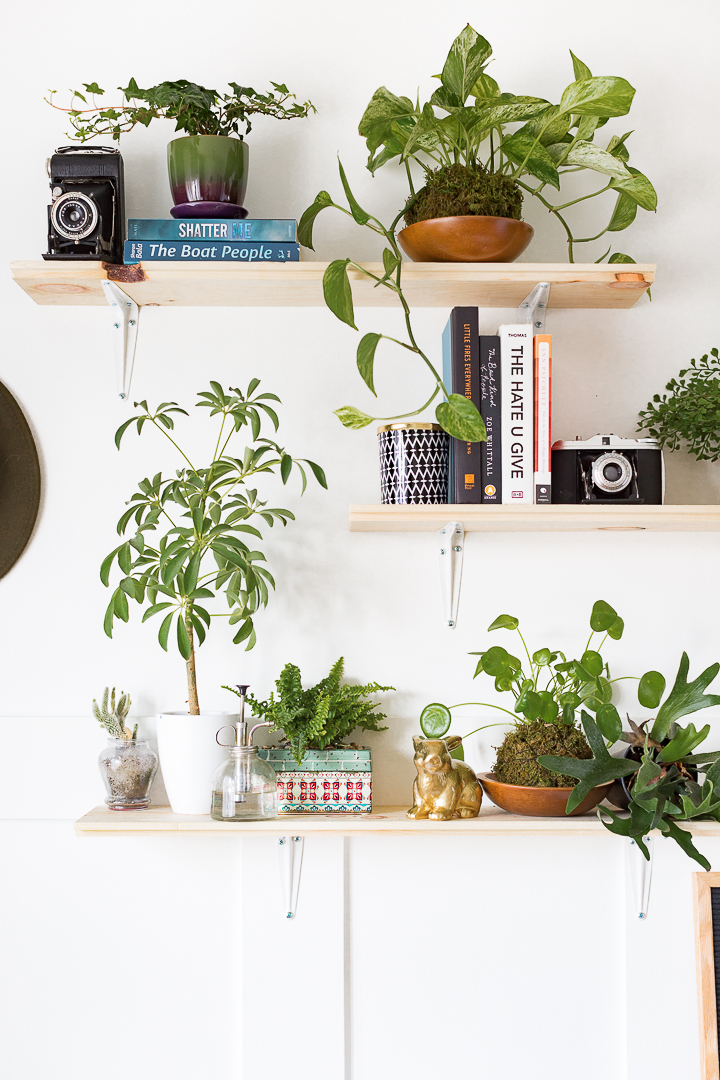 …lots of plants to accessorize.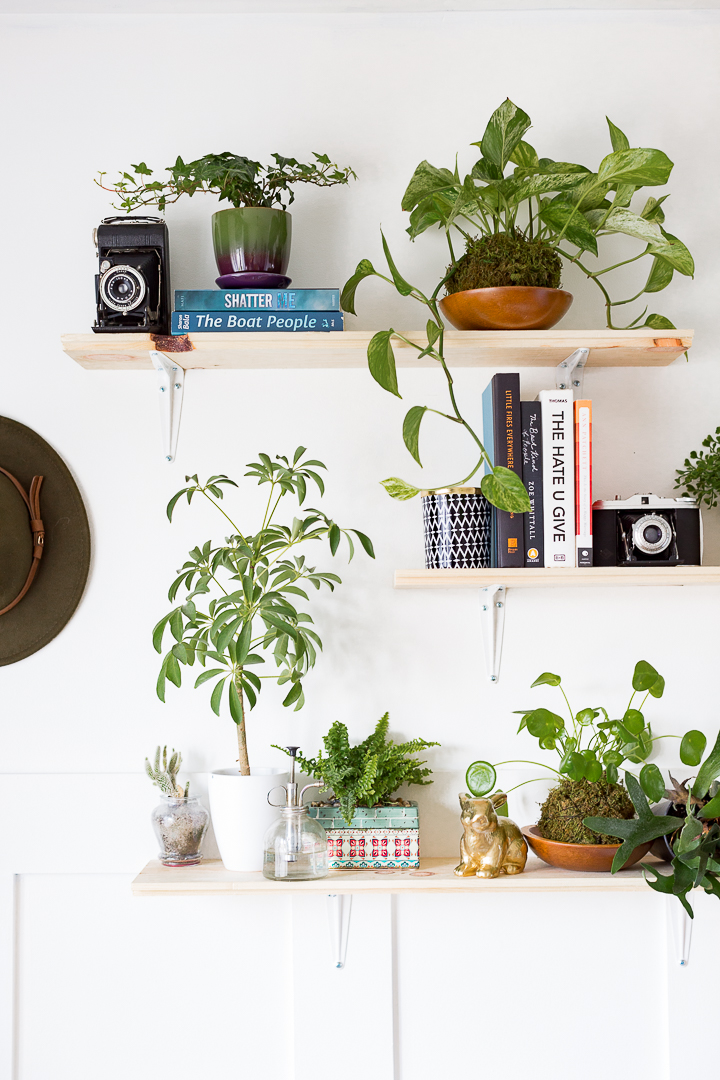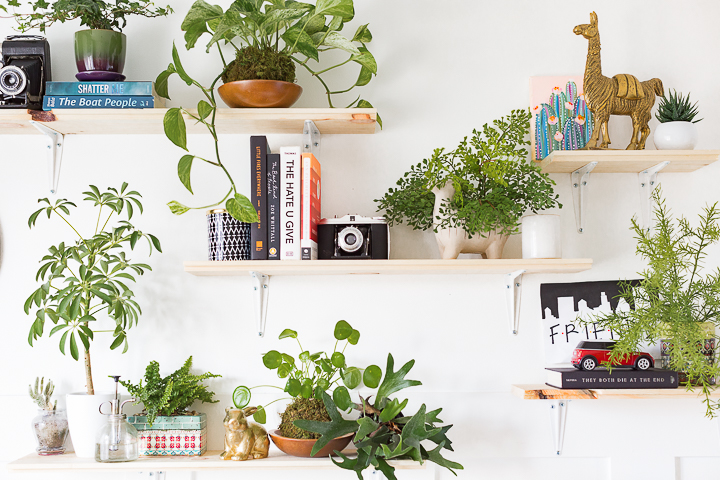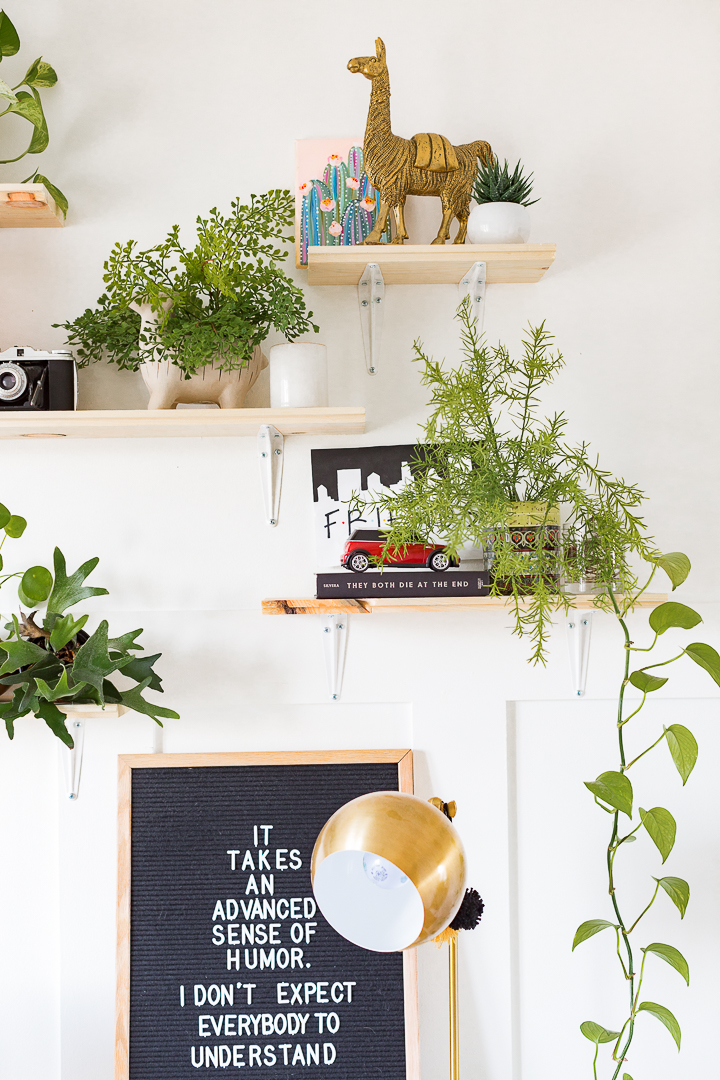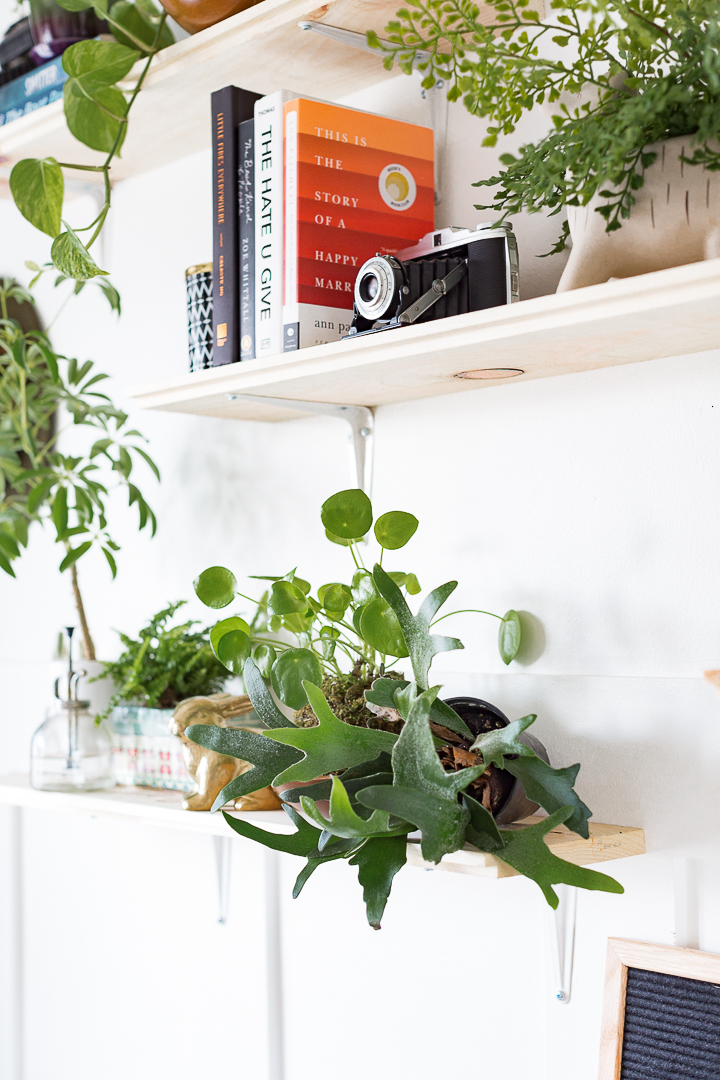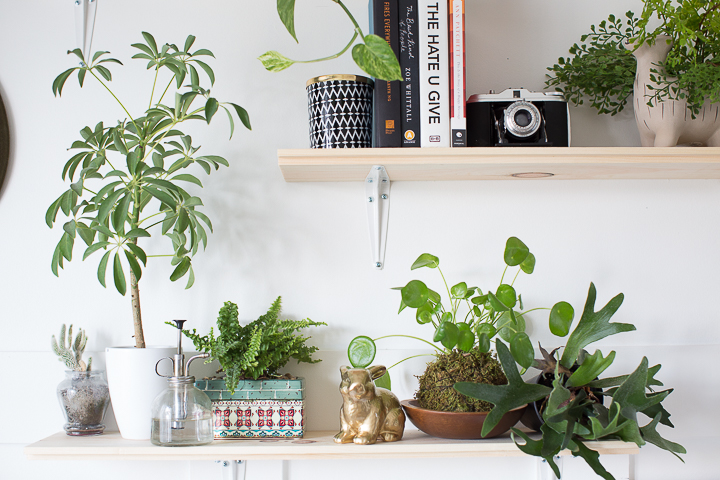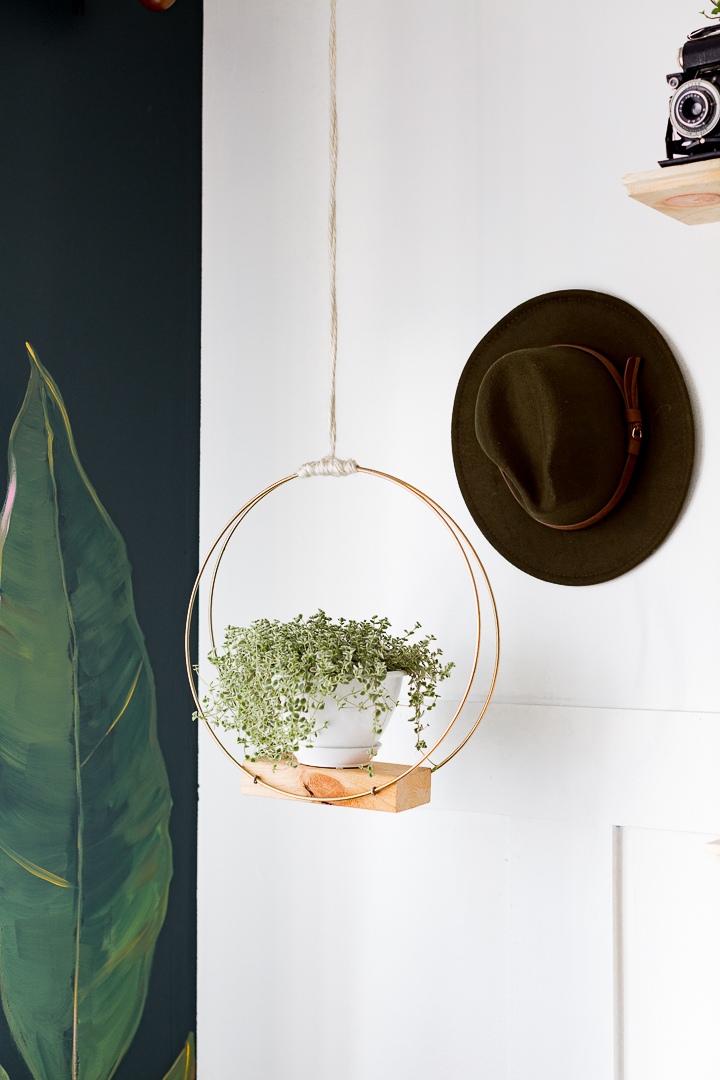 I'm super proud of this adorable hanging shelfie thing that I made. I will have a tutorial for it later on next week.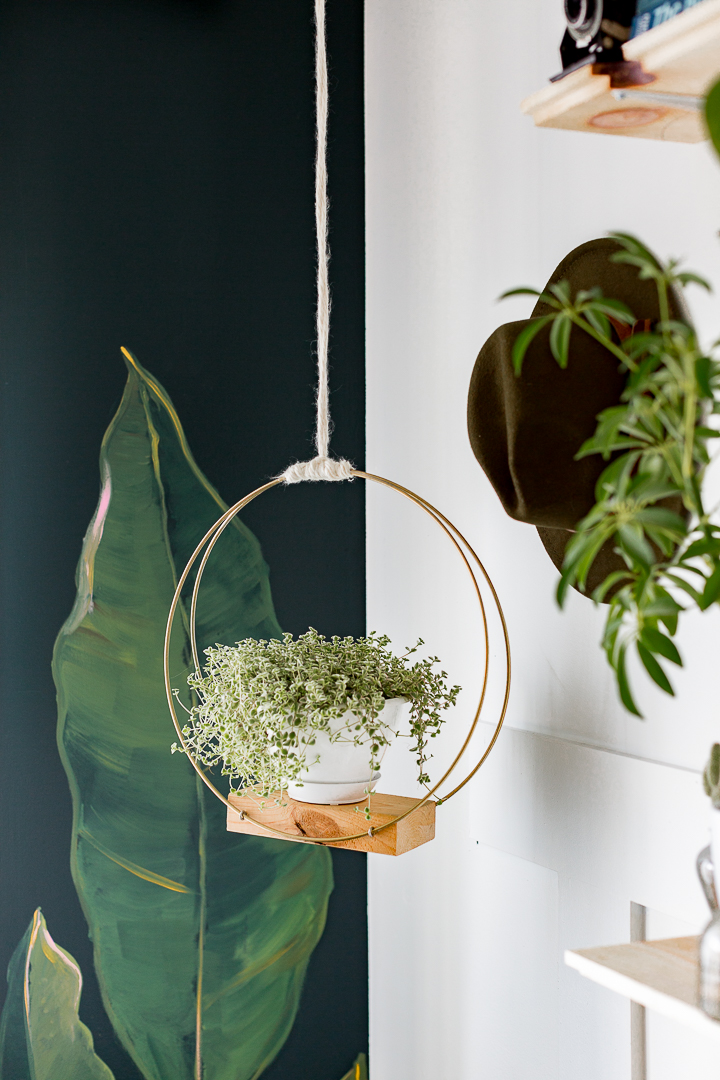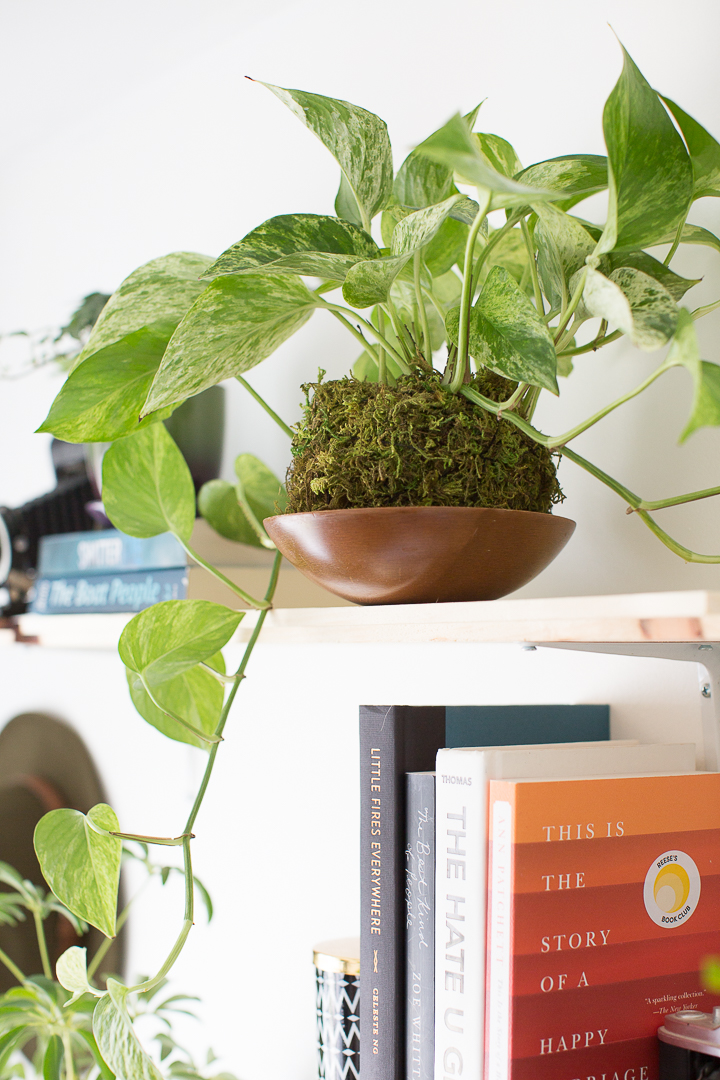 The Kokedamas made their way onto the shelves. You can find how to make them HERE.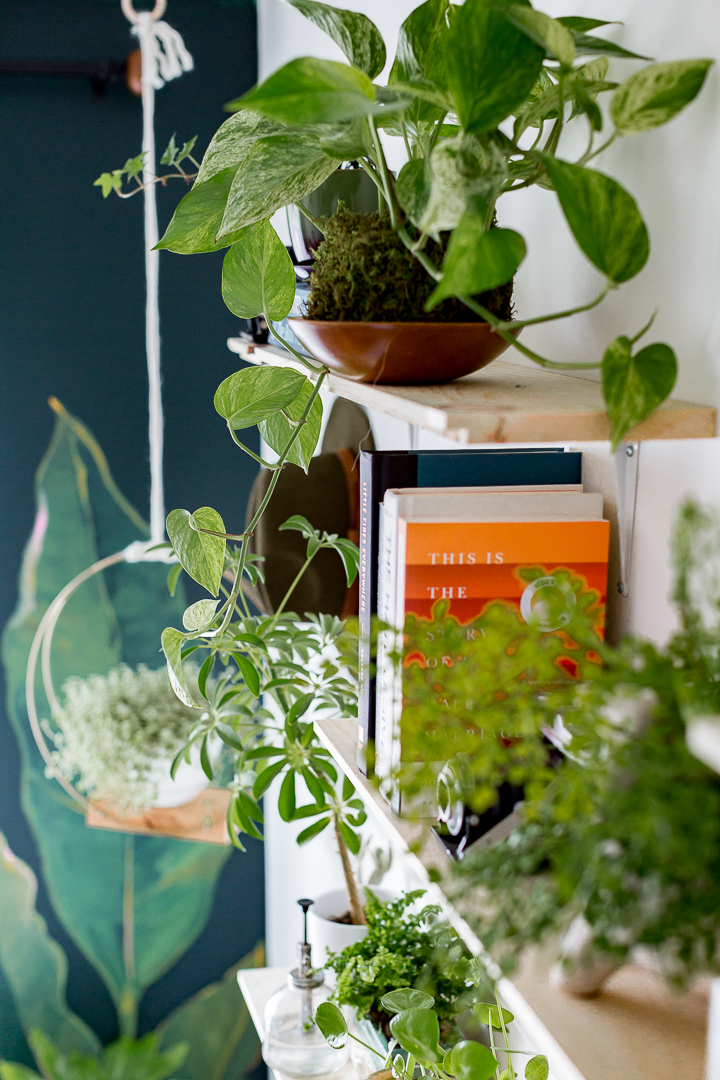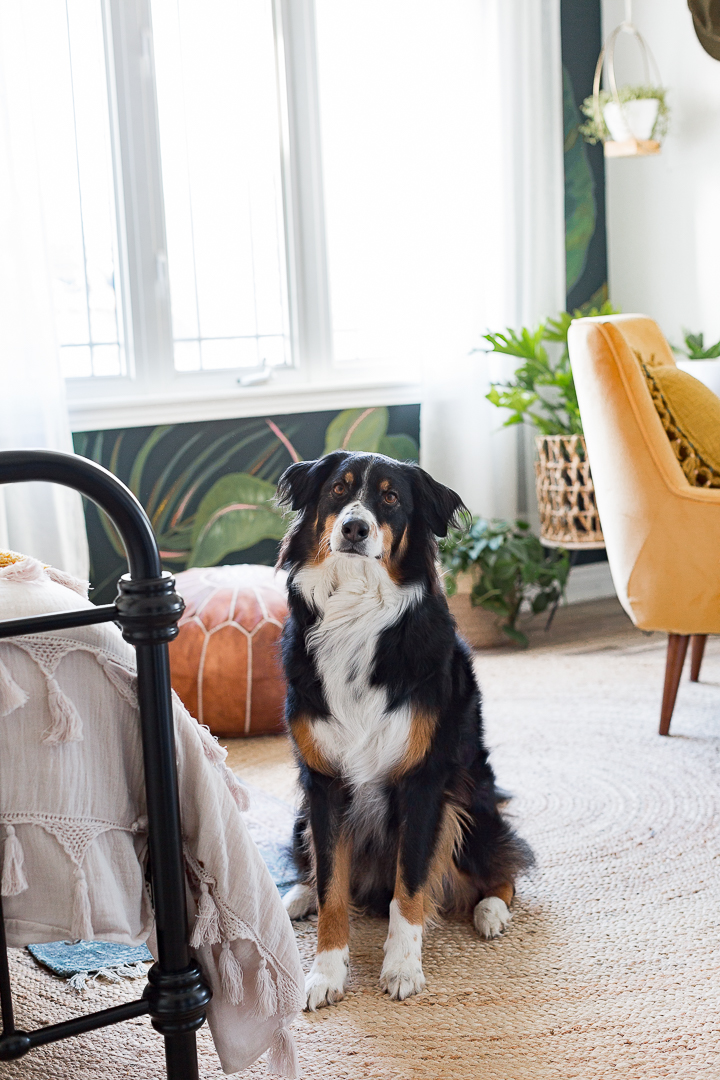 Brody is also loving the new room…or probably the knowledge we're done and he can get more attention 🙂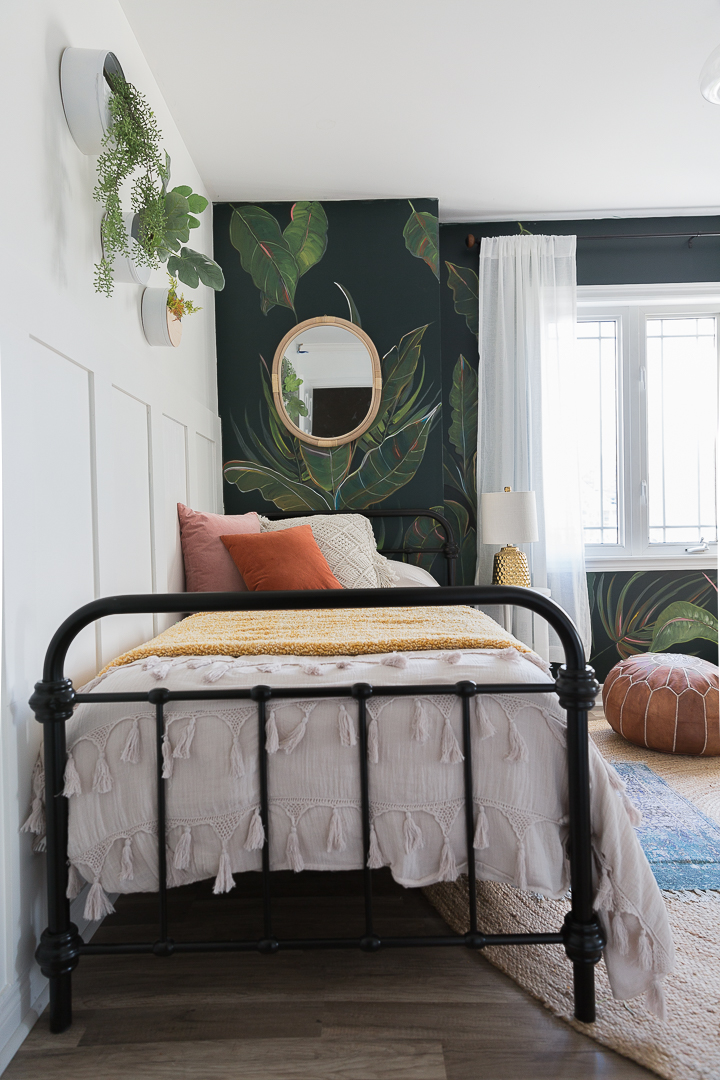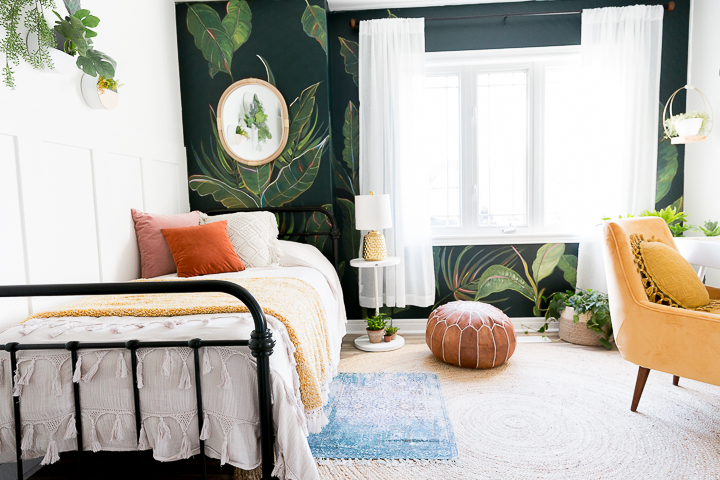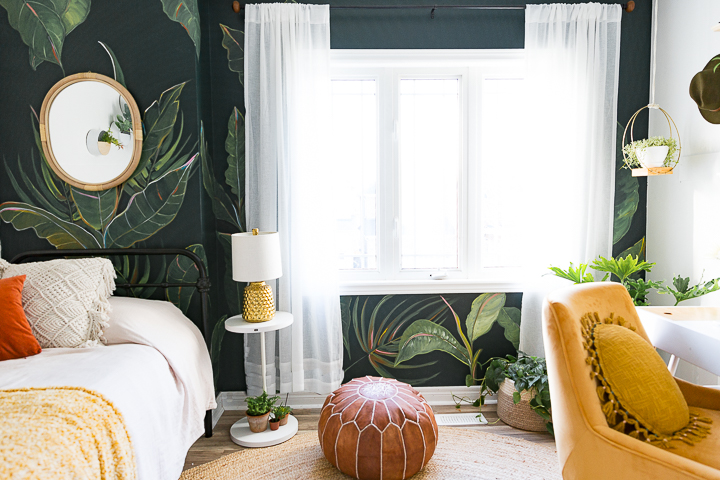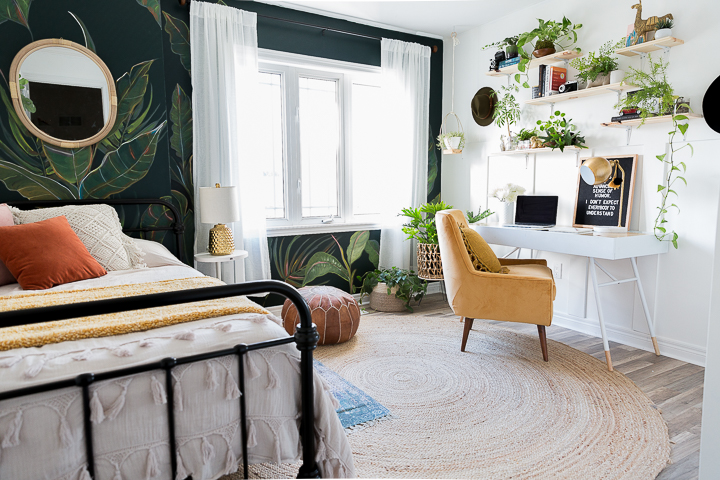 Here is a wide angle shot. The room itself is not very big at all, but it looks so open and fresh.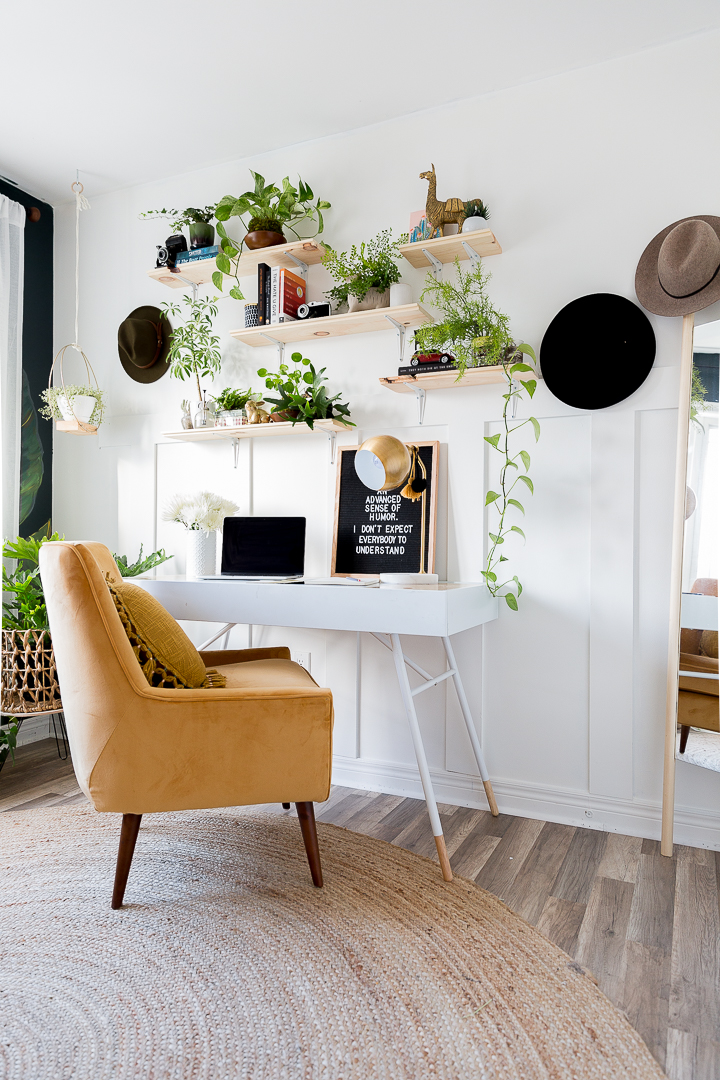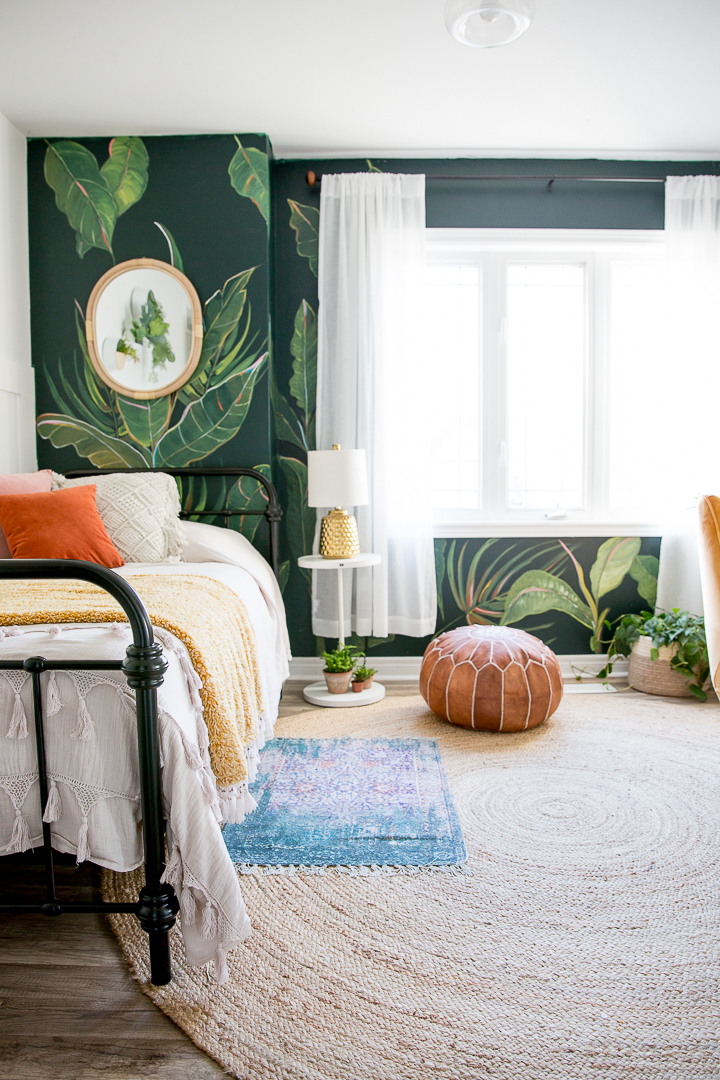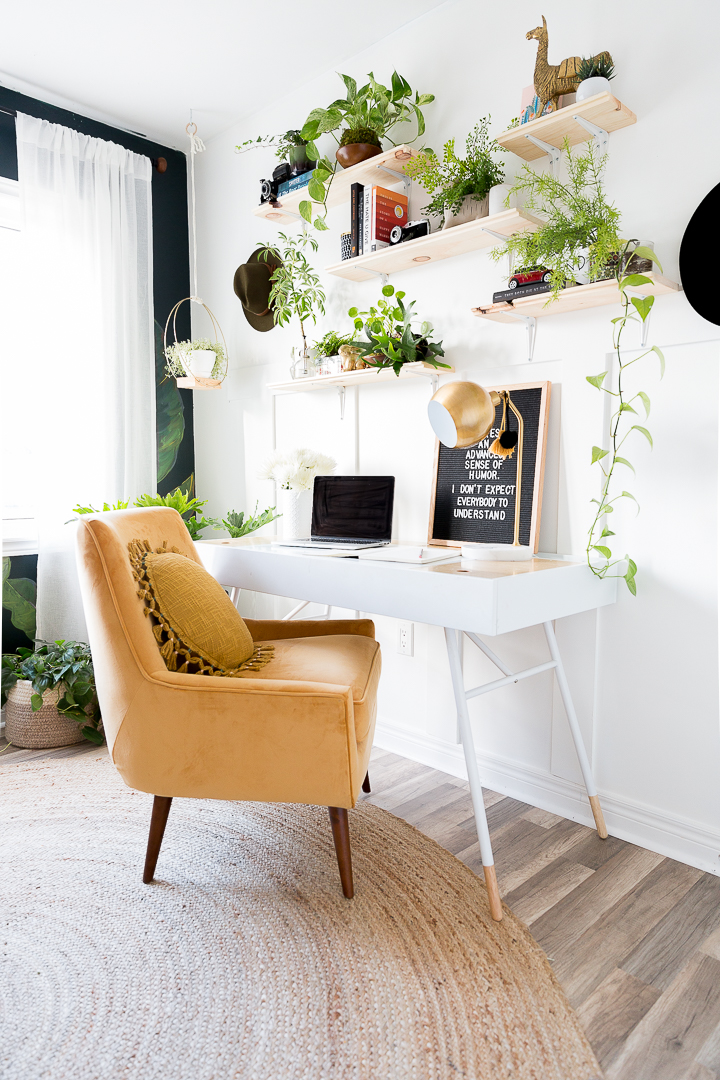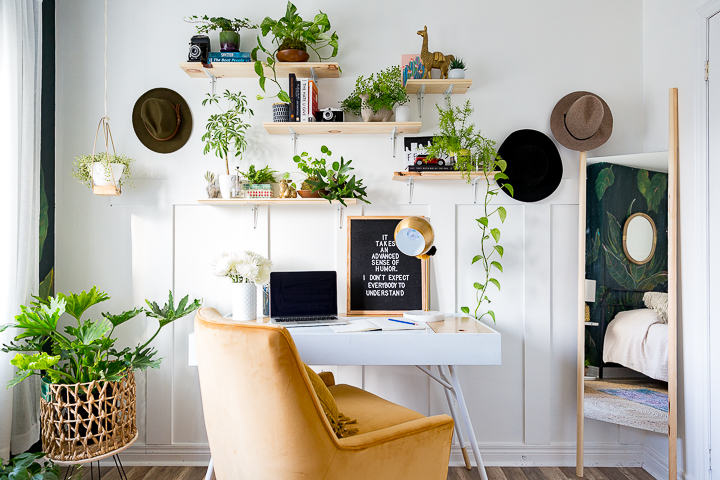 Hubby also made that really cool dowel mirror.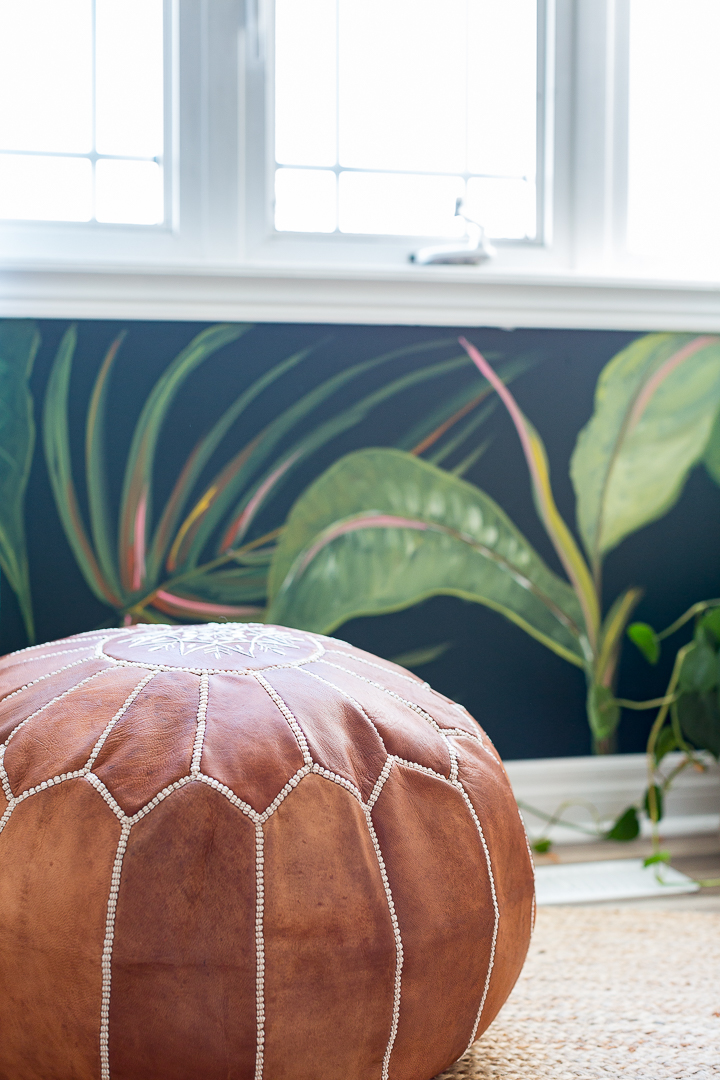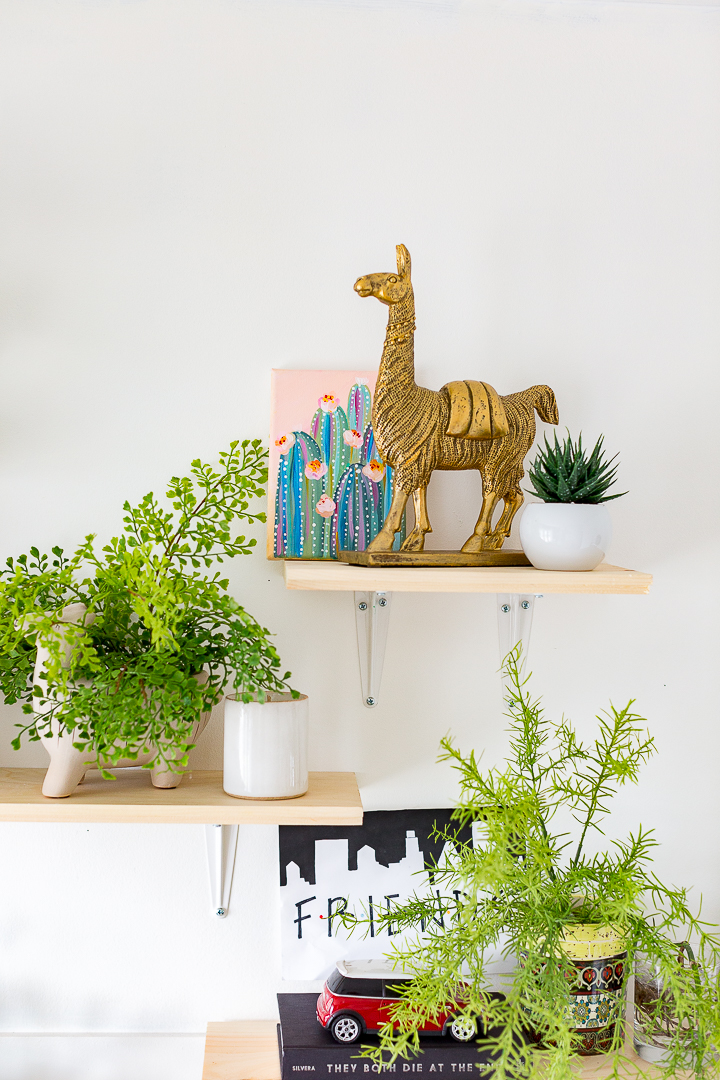 This adorable llama is from Michaels. So cute! I painted the little cacti a while ago and Bella made this really cool 'FRIENDS' drawing.  The little red Mini was a gift
from my late father in law and it was one of the lasts gifts he gave her, so it has great meaning to her.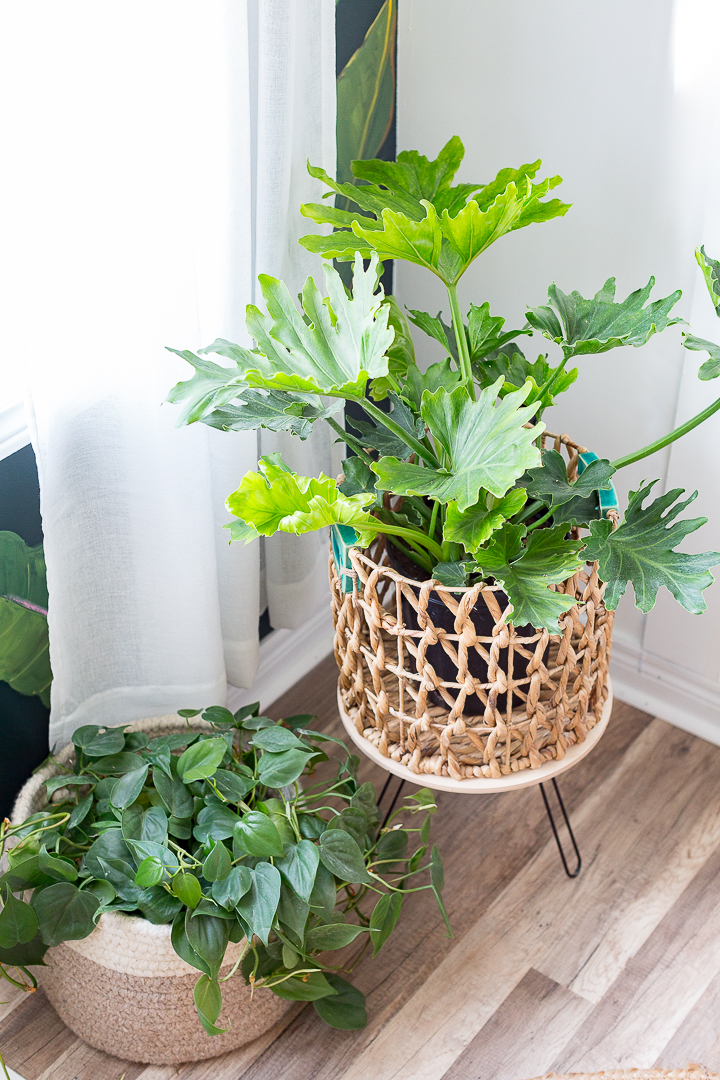 I also made this little plant table, the details of which I'll share later.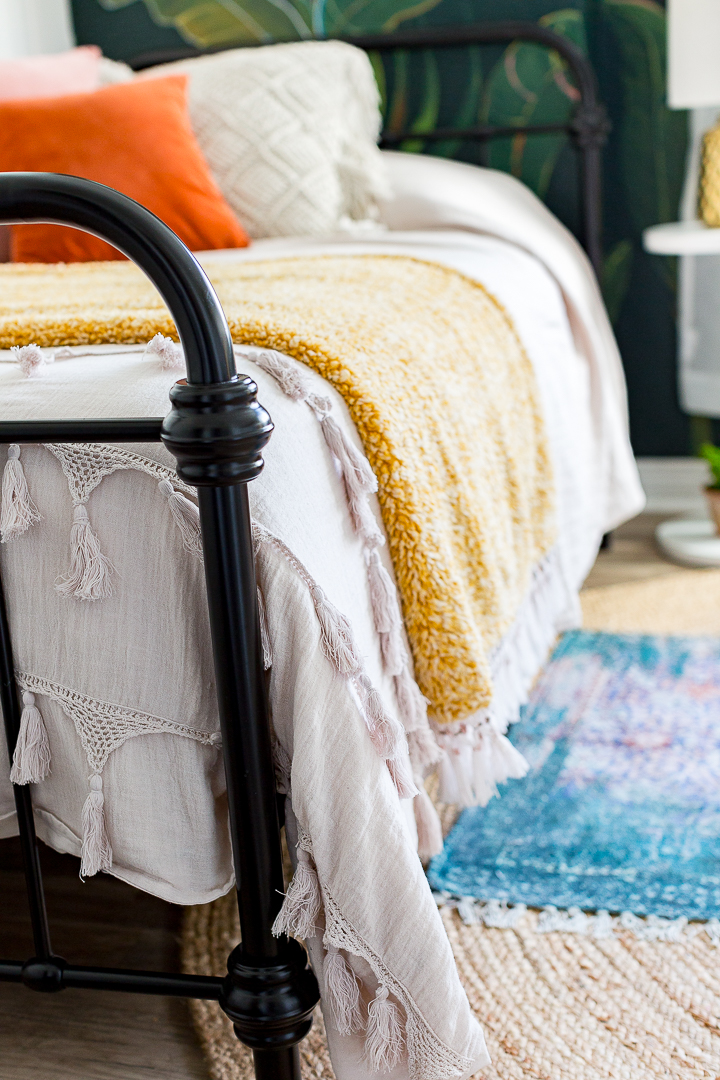 I  love this duvet cover from Urban Outfitters. It's linked below. But I also reminded me that I really suck at making beds look pretty. blah.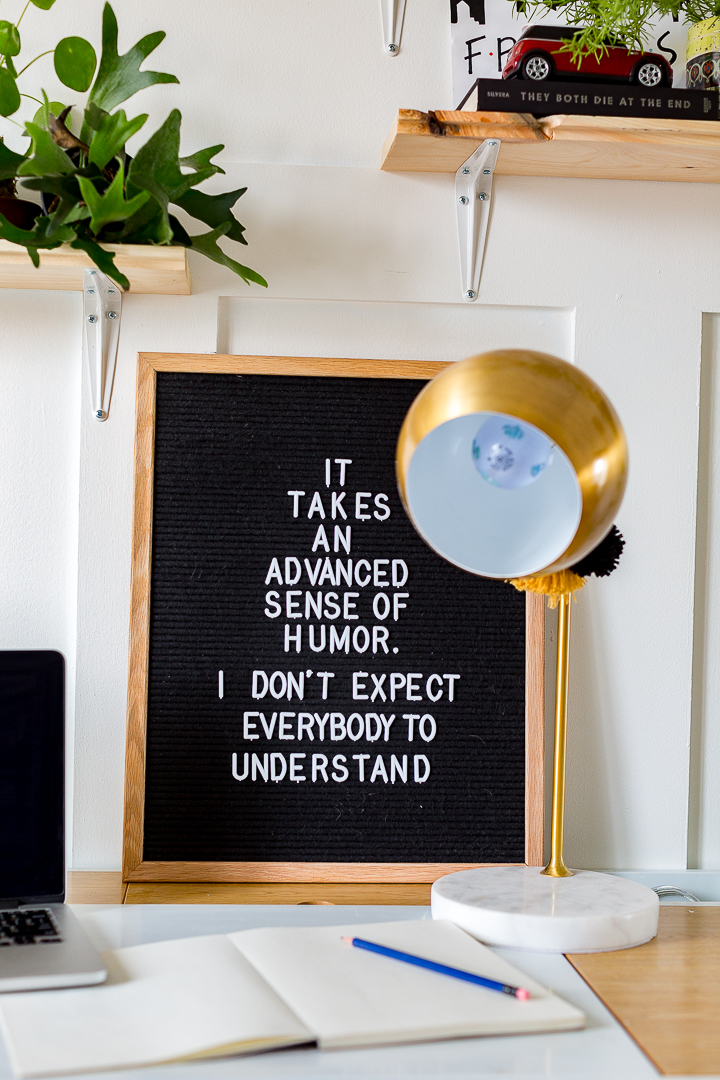 I find this quote so Bella. She loves The Office and she has the best sense of humor/humour. 🙂
Before you go, here's a quick before and after comparison…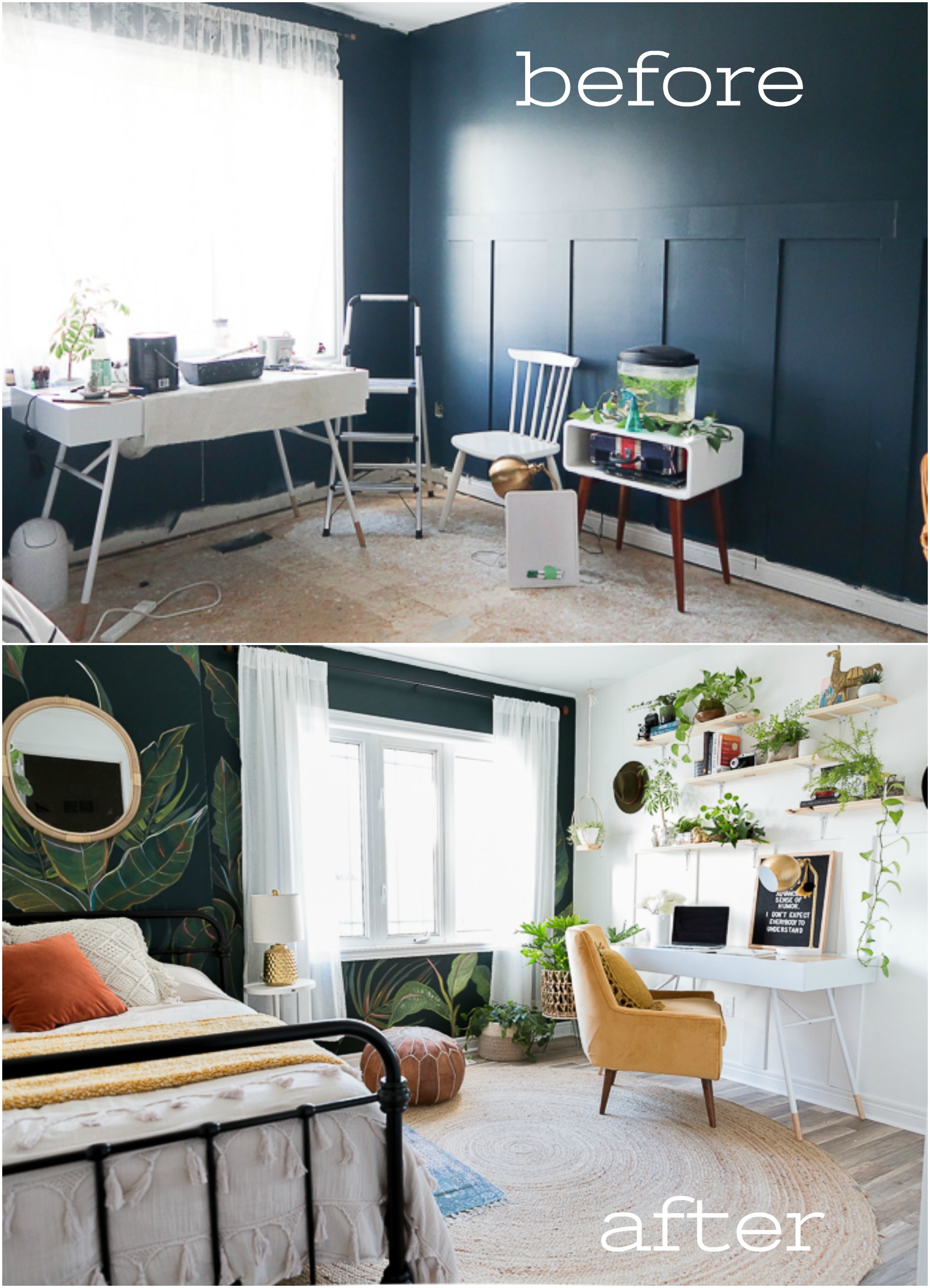 So there you are. I'd love to know what you think.
As always, thank you so much for following along and a HUGE thank you to Homepop for providing the chair and the little side table and of course the organizers of the One Room Challenge.It's been so much fun and truly a challenge. LOL.
It's now time for bed.
much love,
Lucy
Sources