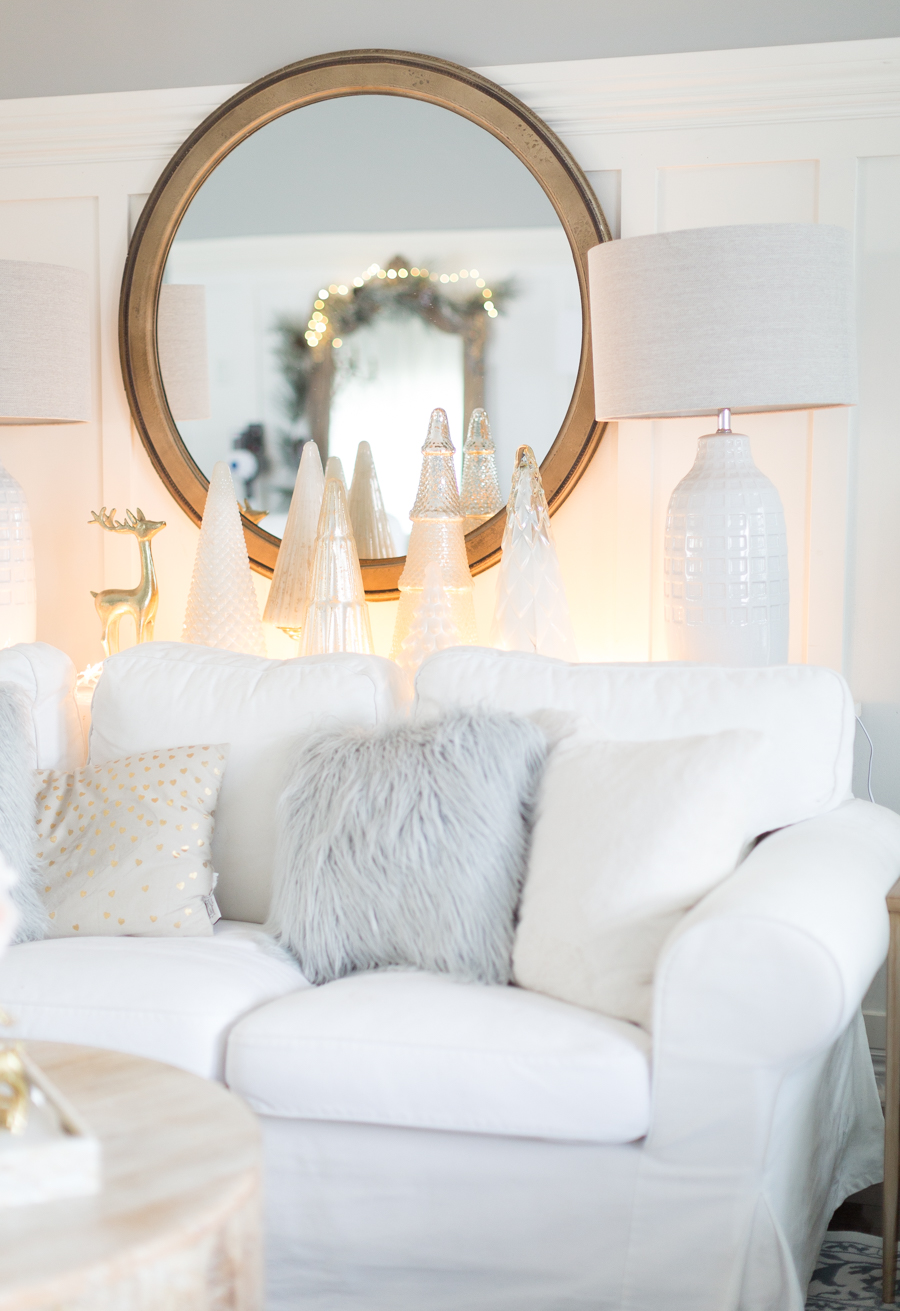 Hello, friends…I hope your week is off to a great start.
Today's post will hopefully provide some inspiration and a few ideas as my dear friends and I share our living rooms decorated for Christmas with the help of the kind folks from Homegoods.
I love how each of us had similar items at our disposal, yet we were all able to come up with our own unique decor. That's what I love about Homegoods (Homesense in Canada) – you never know what you're going to find but there's always something that suits your own style.
Admittedly, I have struggled this year trying to decide what I wanted to do with the tree and my decor. I think when you're exposed to so many options on social media, you start to doubt your own skills and decisions and if you allow it, it can really stunt your creativity.  So I decided to just follow my heart, put blinders on and see where things led.
I started with these beautiful glass Christmas trees. They look like a mixture of milk glass and mercury glass and I just love how their appearance when grouped together. I placed some twinkly lights at the bottom, which – in my opinion – give them a magical look.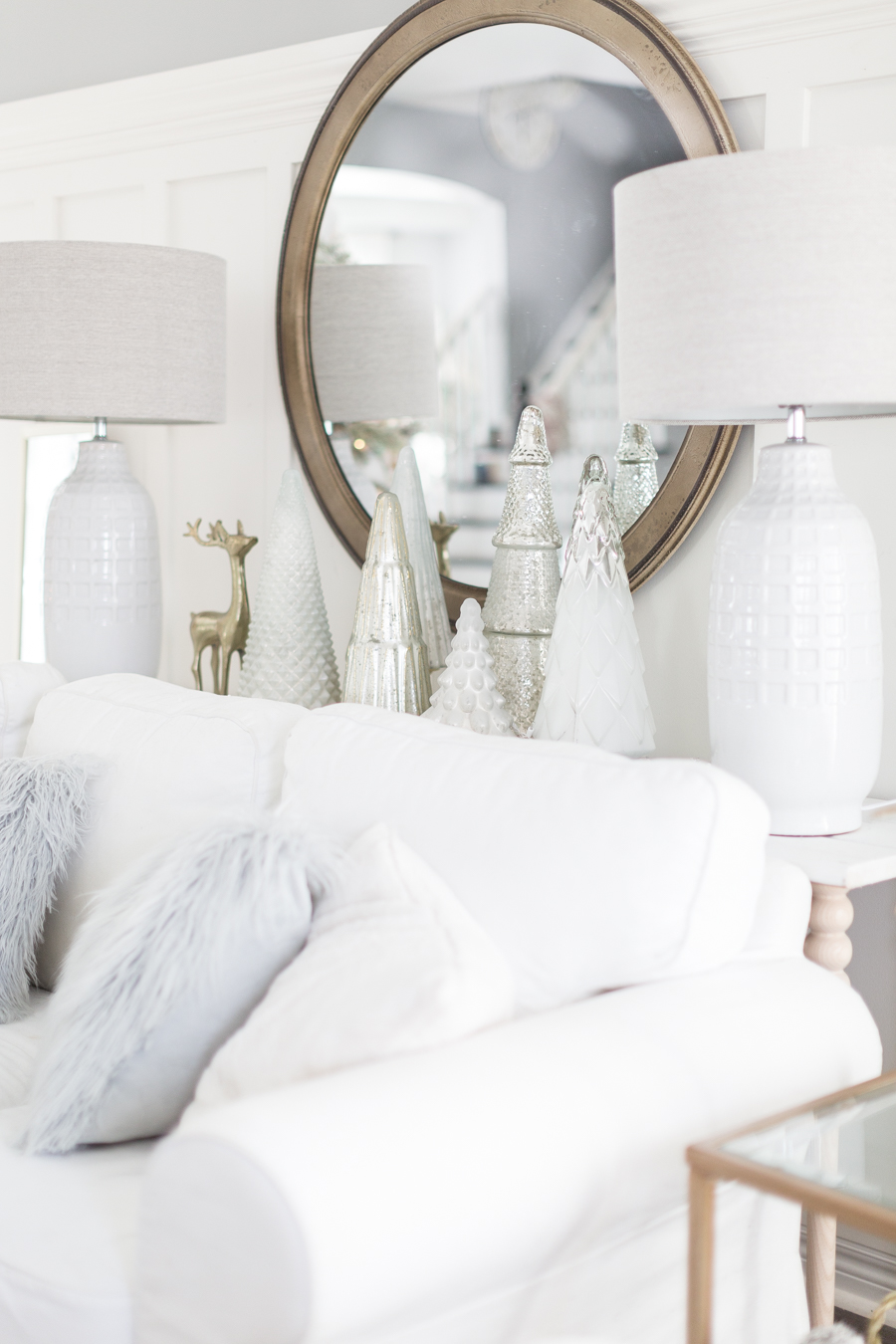 Here they are without the lights. So pretty, right?
I'm always looking for ways to save money, so a few years back, I made THESE and still love them to this day. They would also work really well displayed in a similar manner.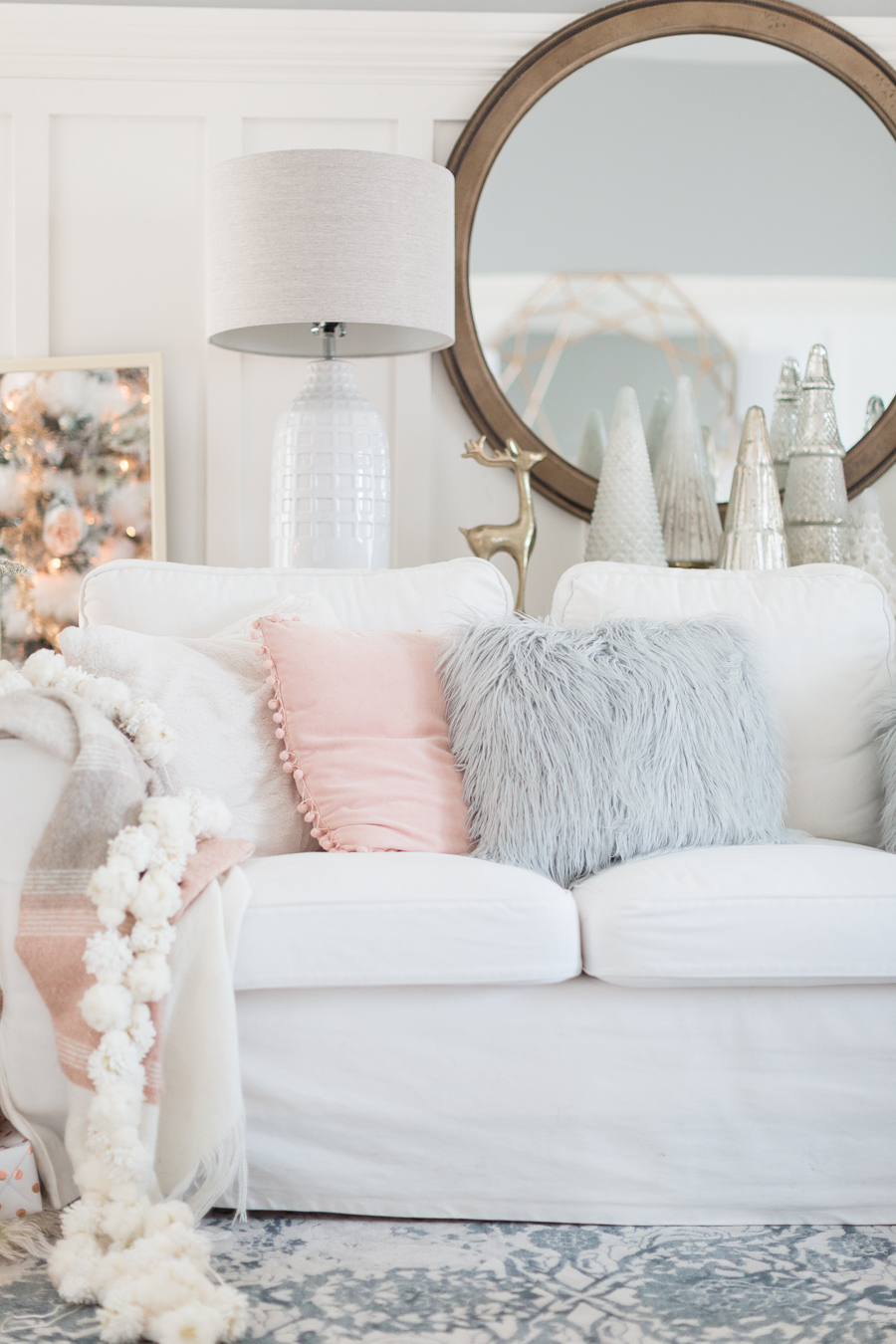 I also fell in love with the softness and the color of these faux fur pillows. I'm not sure what color this is as it's like a mixture of gray and very soft blue. It served as the jumping point for the rest of my decor.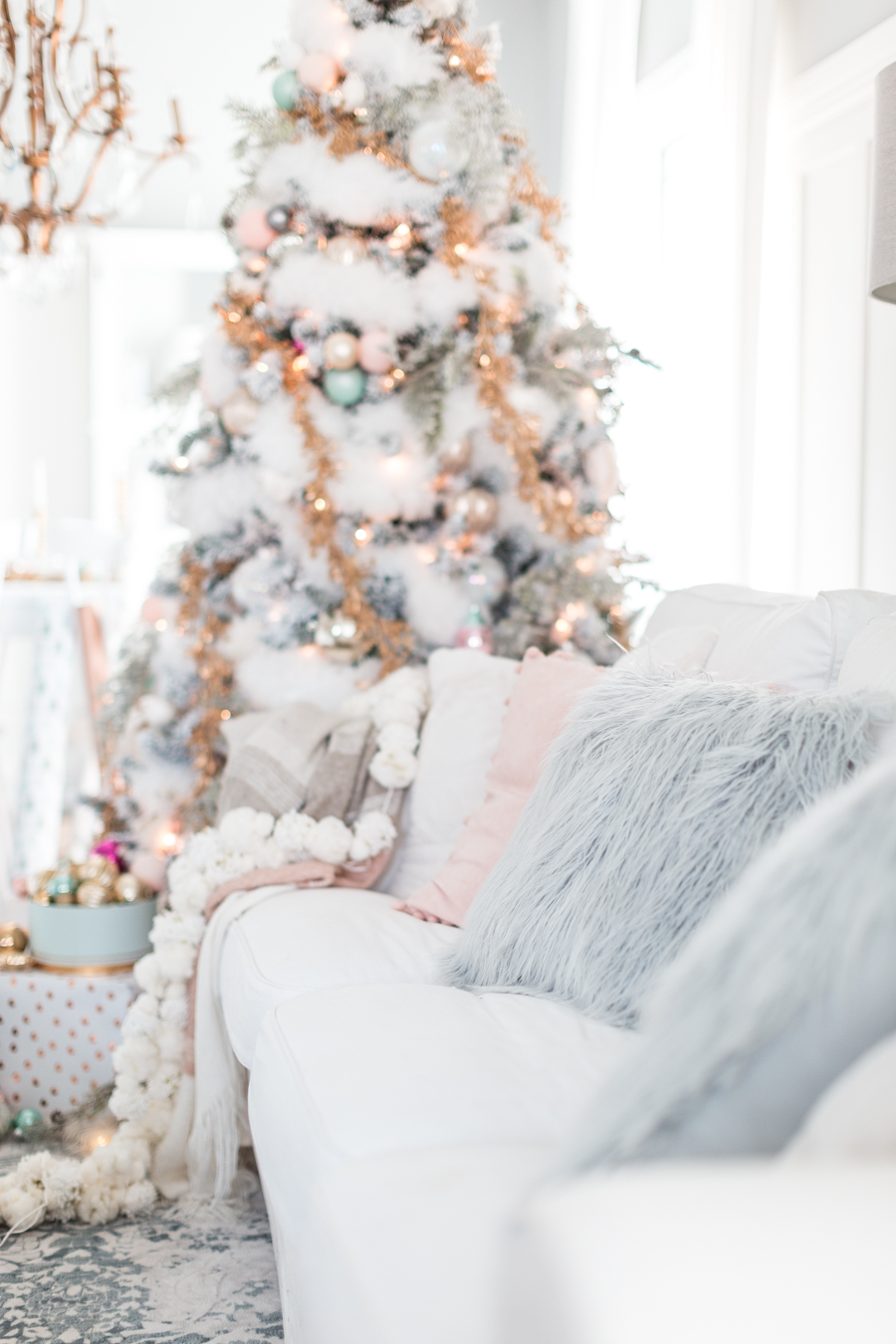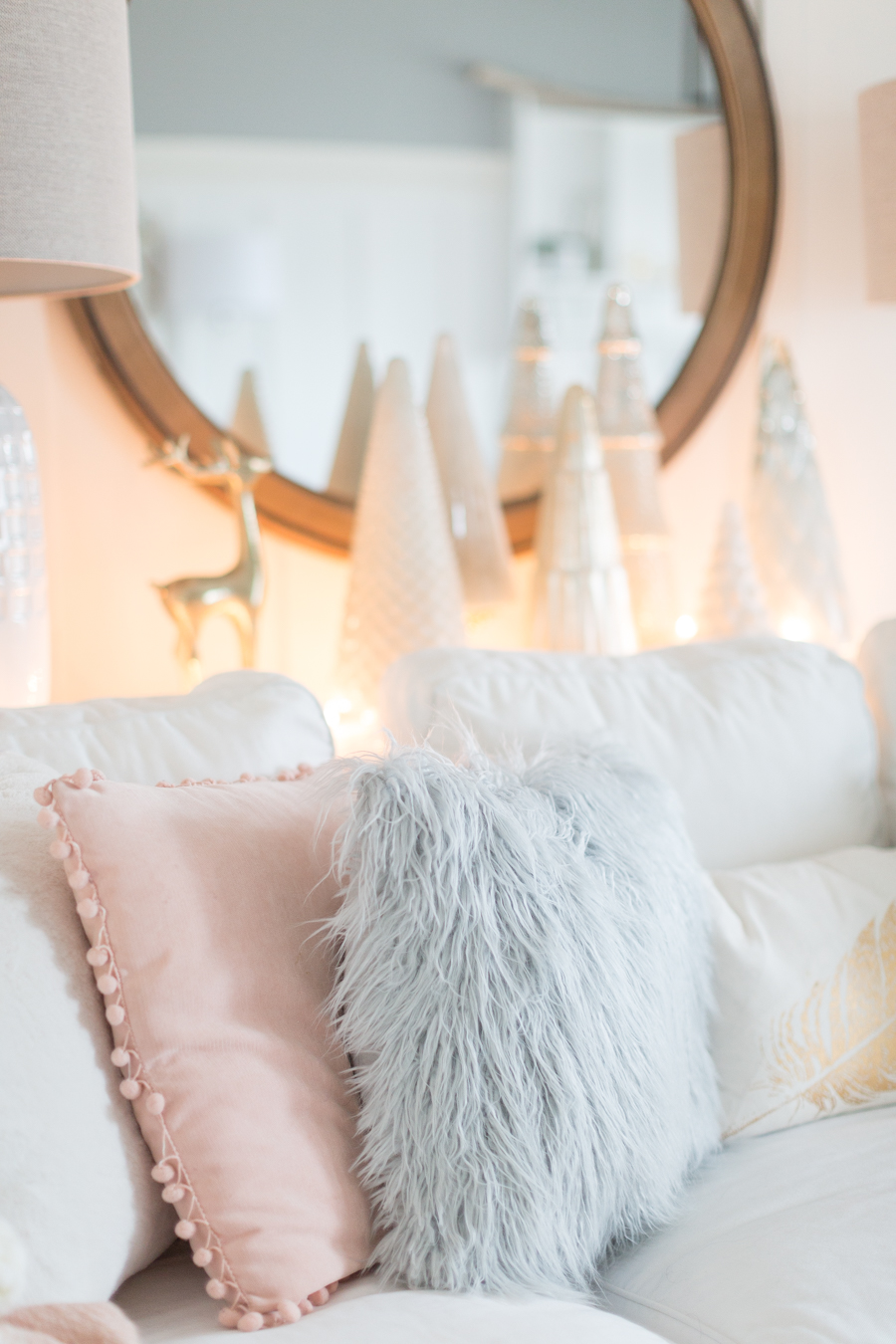 I think the price point on these was a mistake as they were super inexpensive. When the lady standing in line behind me asked me how much they were and when I told her, she stepped out of line and went back and got some for herself.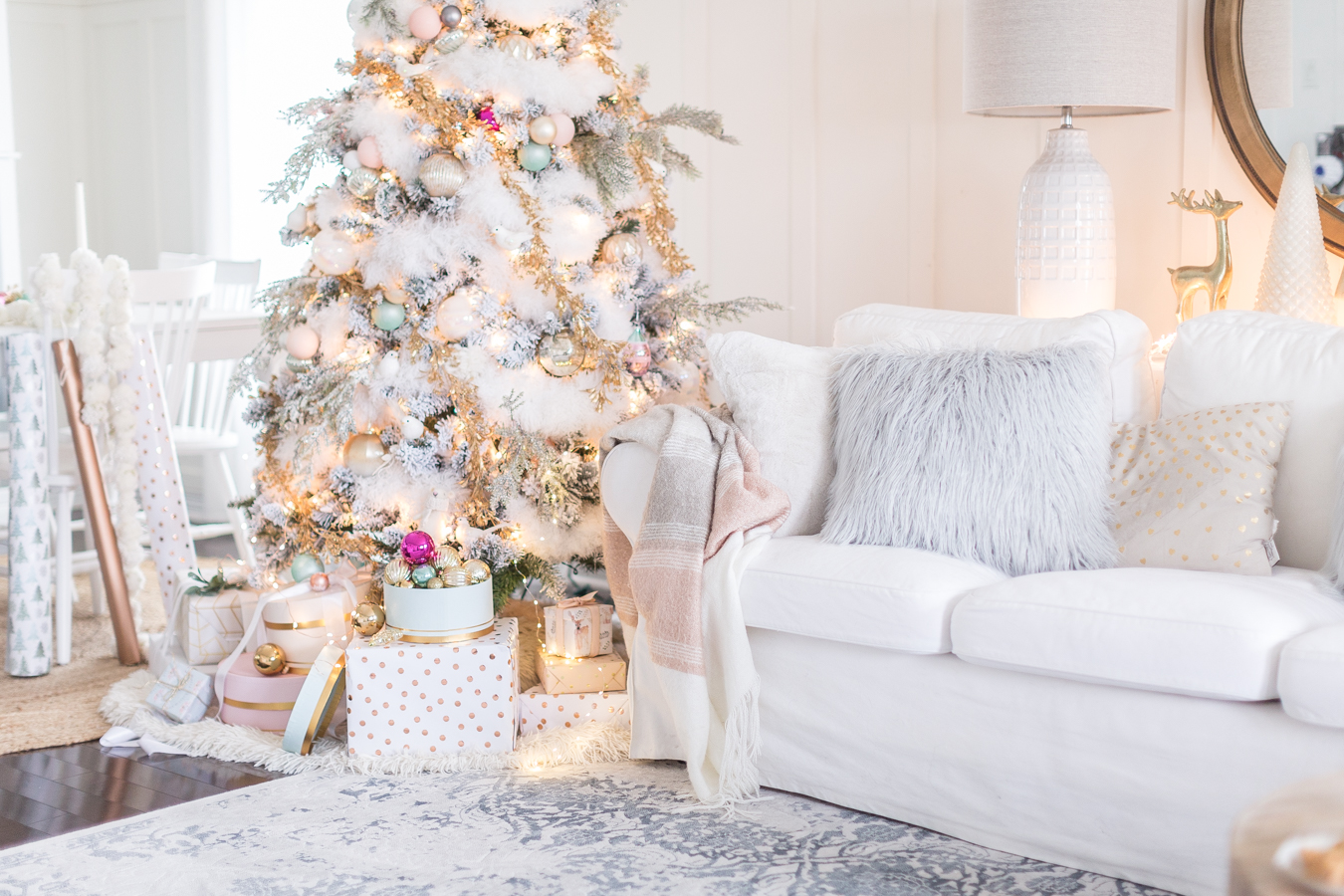 And here is the whole shebang…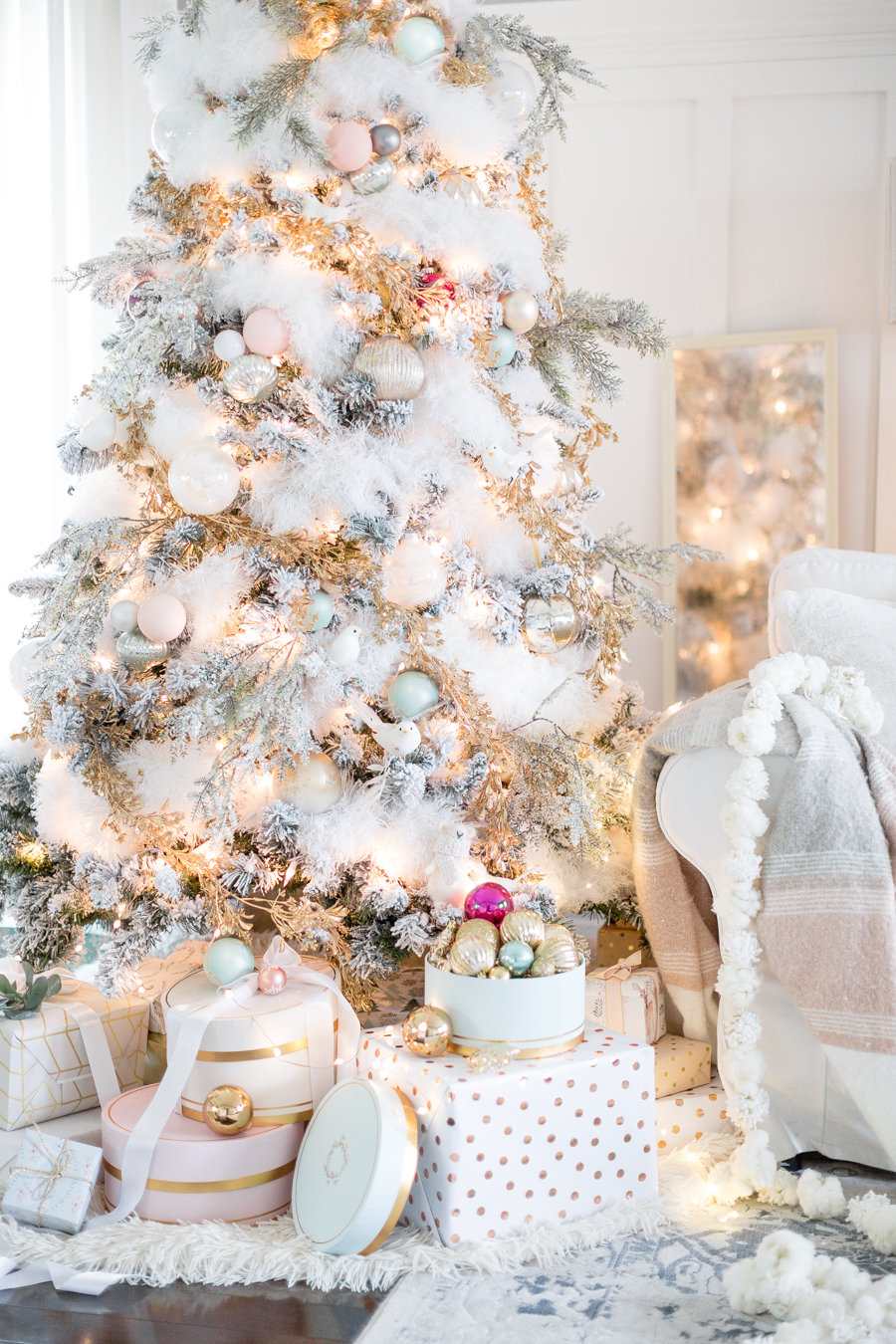 I decided to do soft mints, pinks, golds and little splashes of magenta.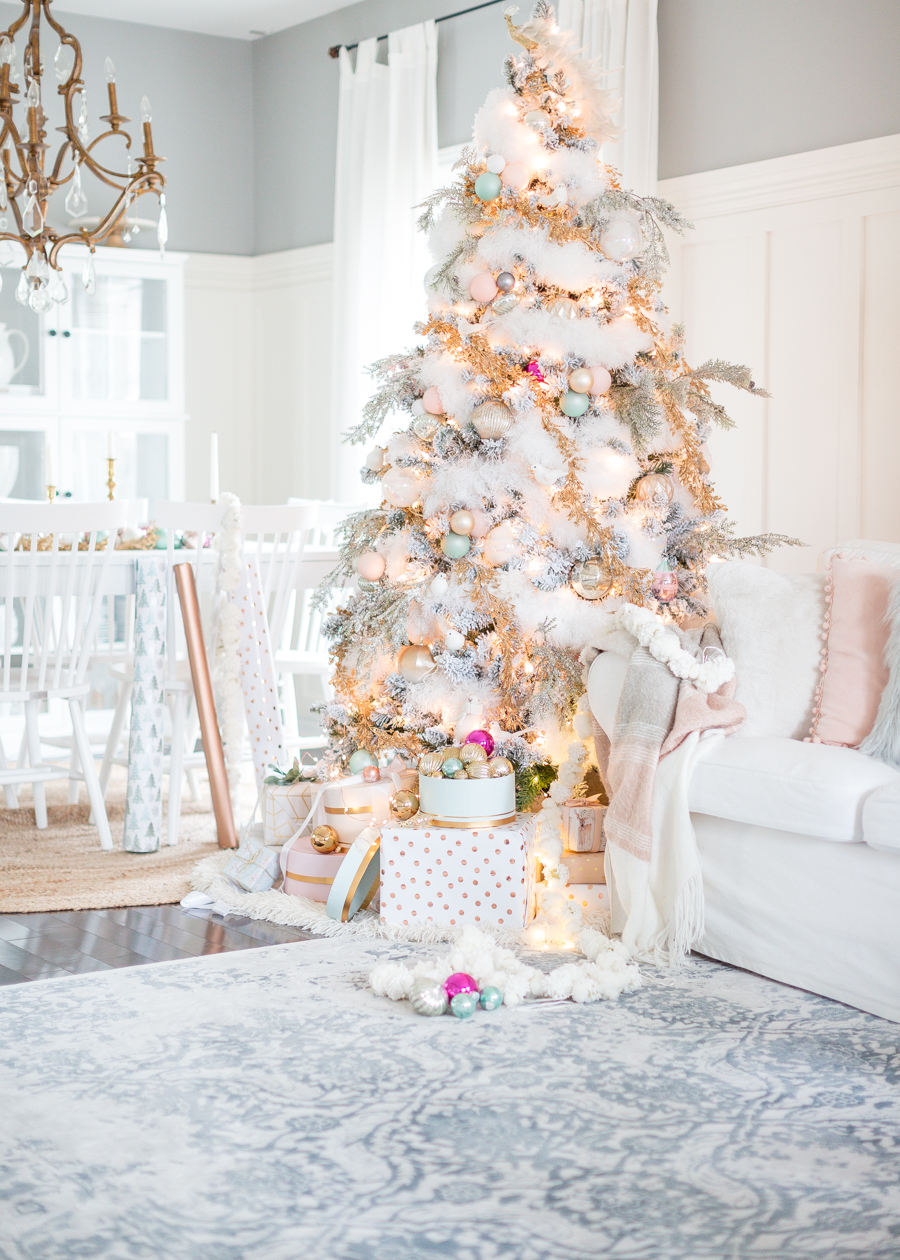 I think the tree itself looks soft and pretty but I'm still a little insecure about it. I'm not sure what it is, but perhaps it's because I feel so much pressure to surpass last year's tree.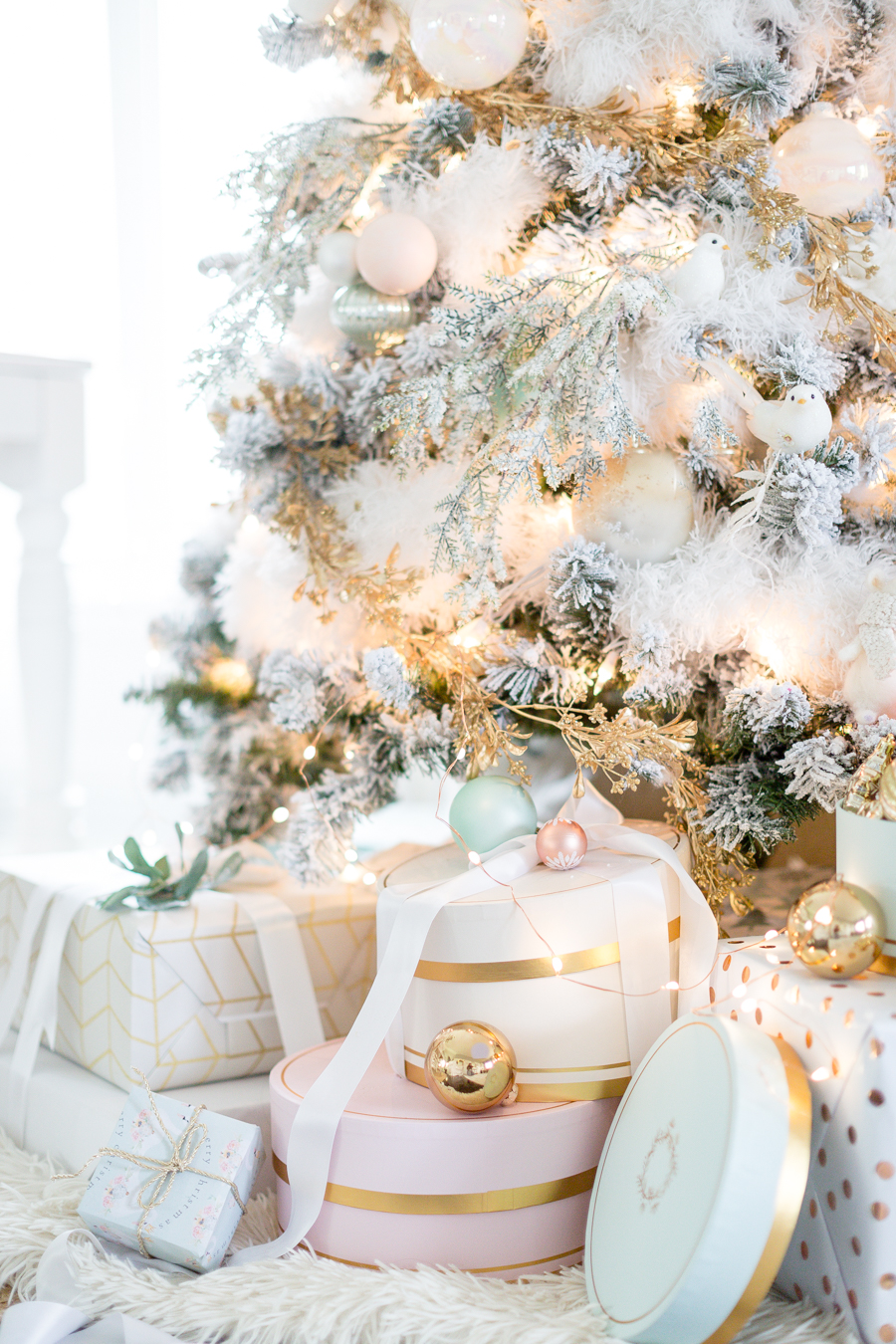 I do love the softness of it and these gorgeous boxes, also from Homegoods were made for this look…:)

The wrapping paper is also a great find, don't you think?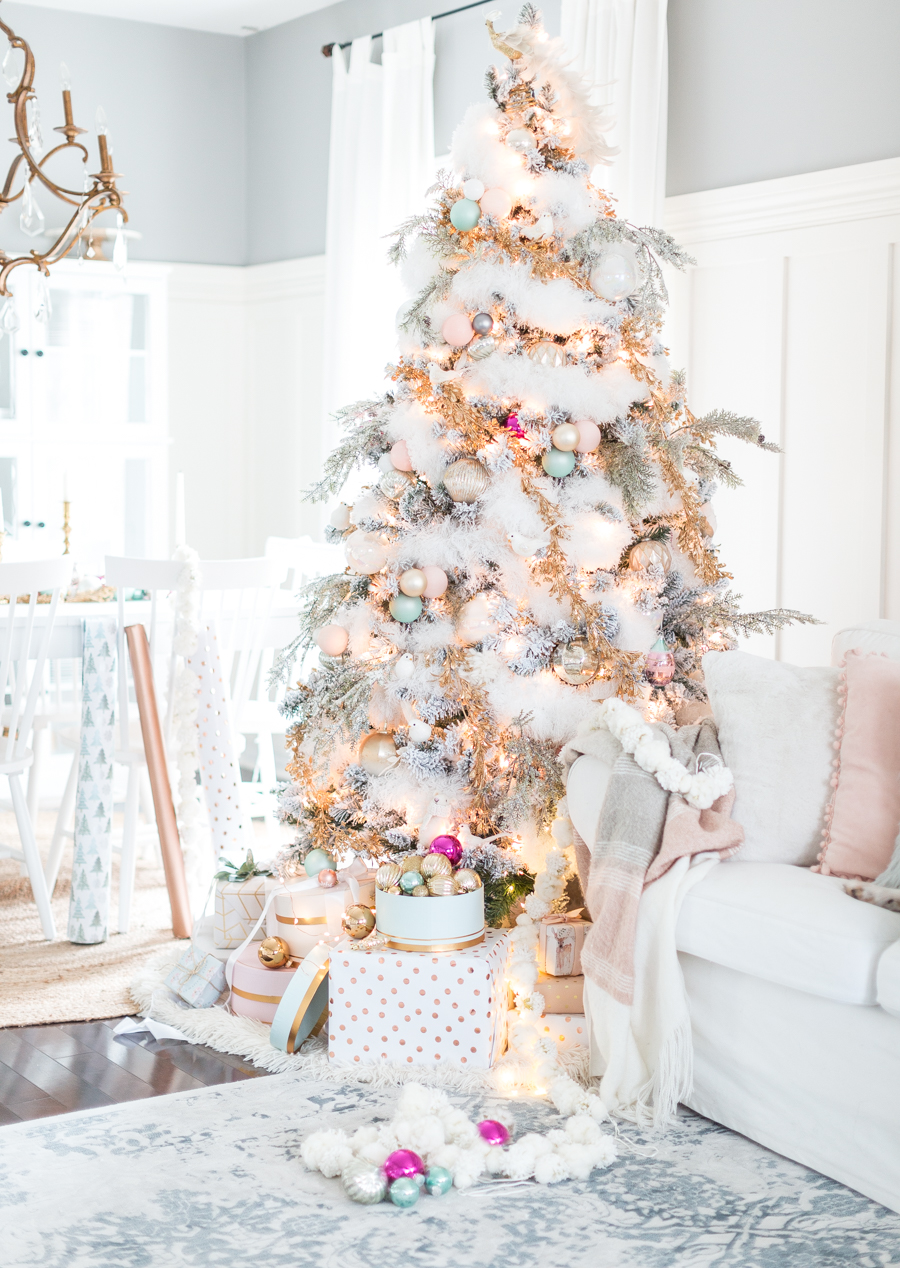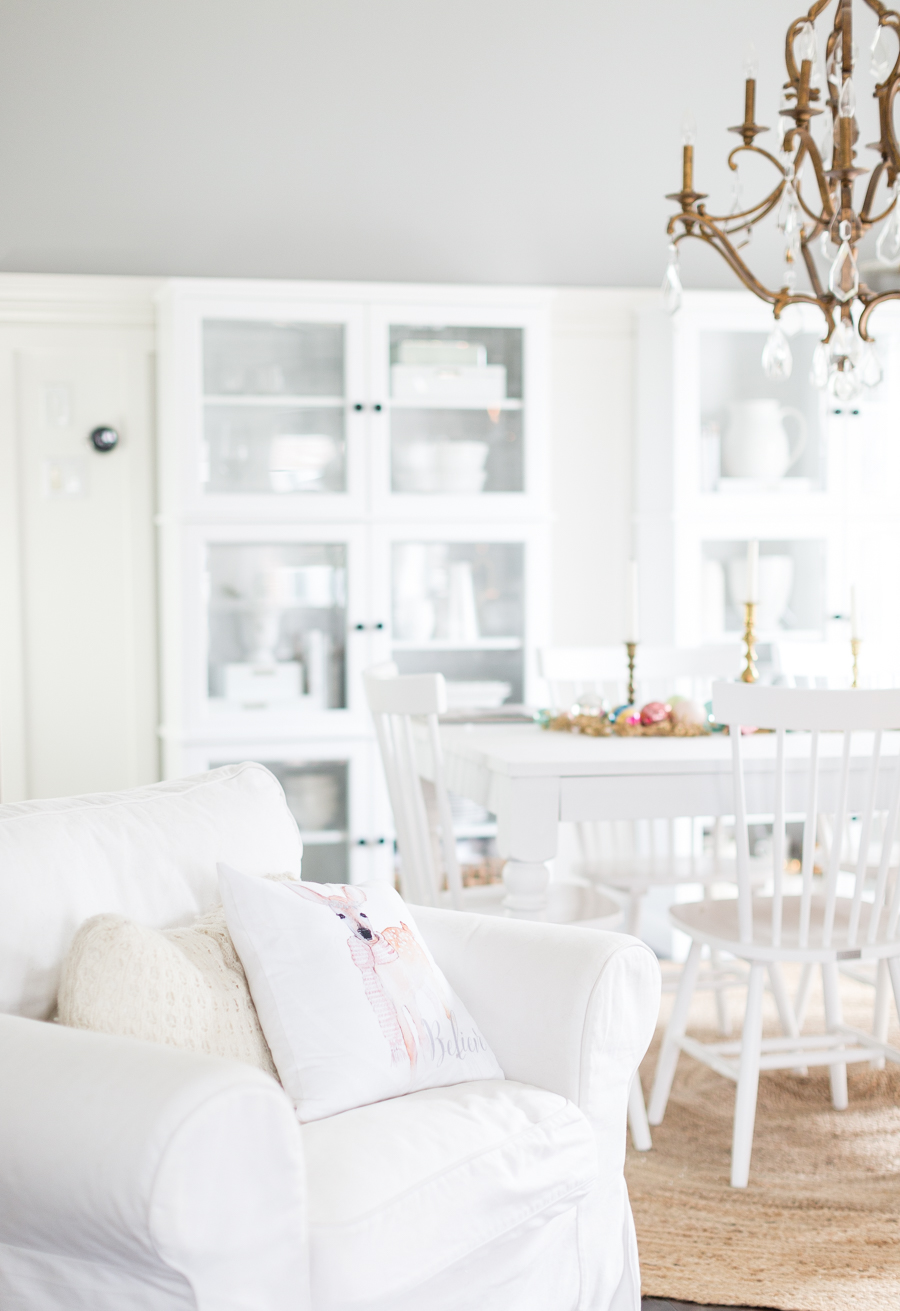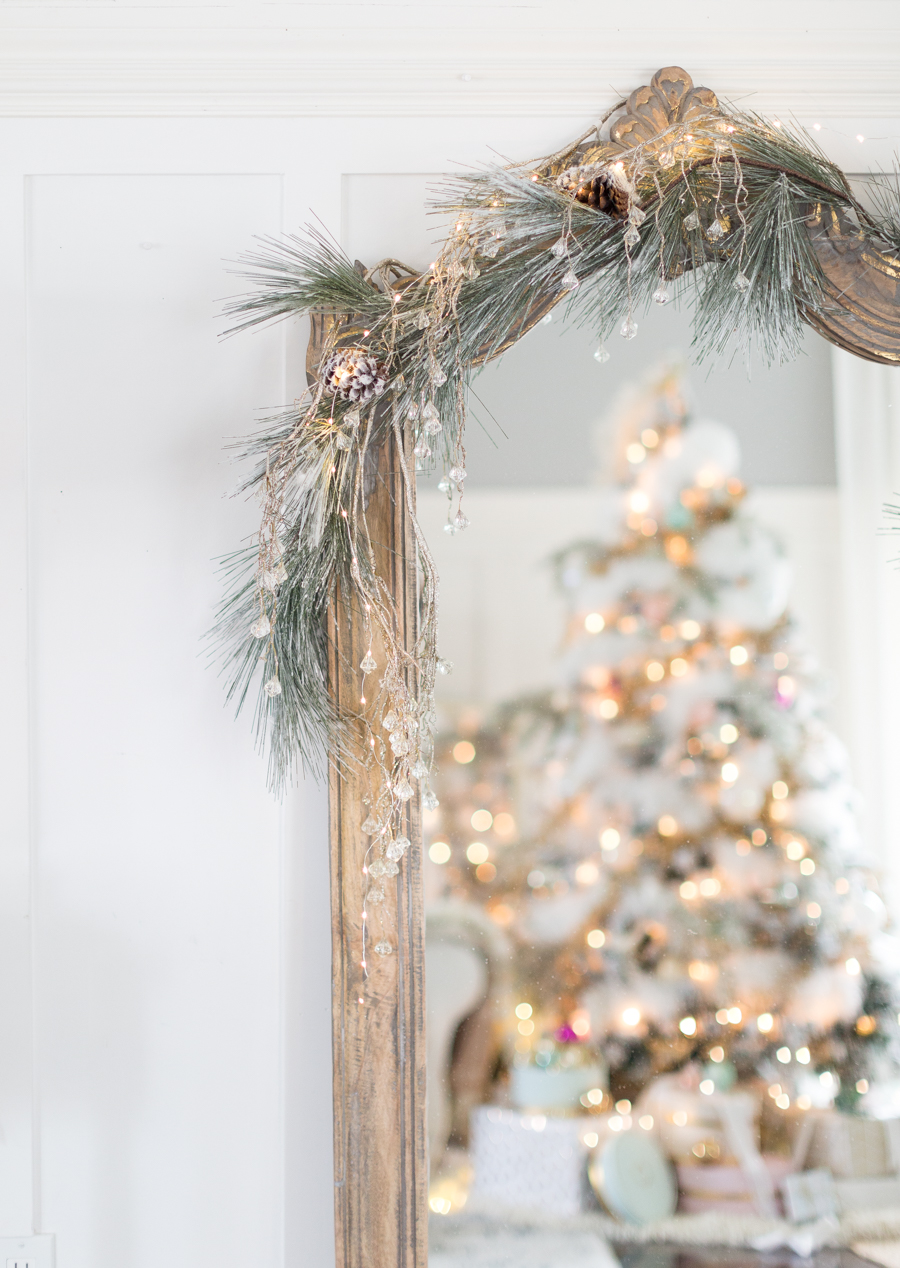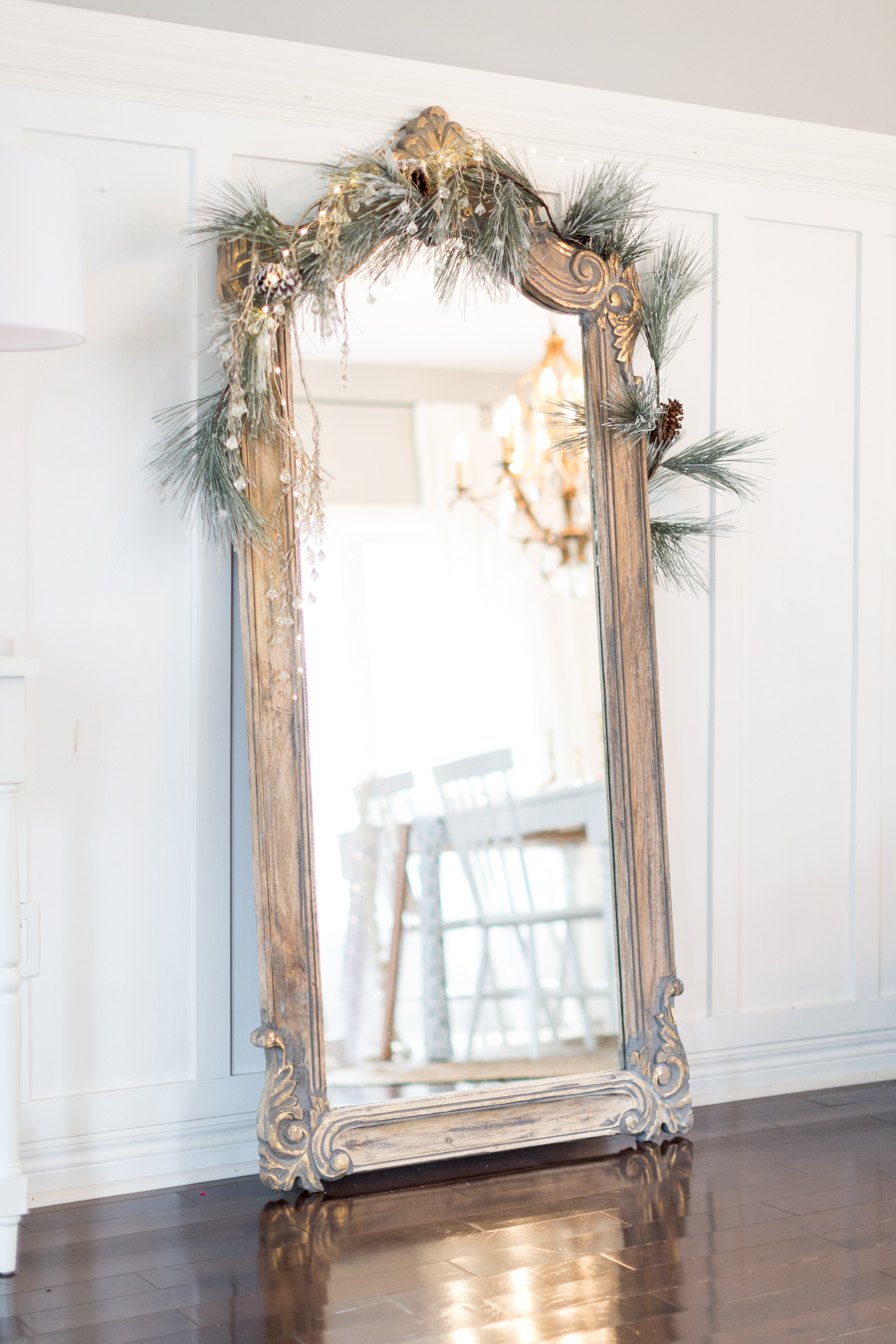 During this time of year, I need to sometimes remind myself that the main reason why we decorate our homes and fill them with sparkle is to honor the birth of our Saviour…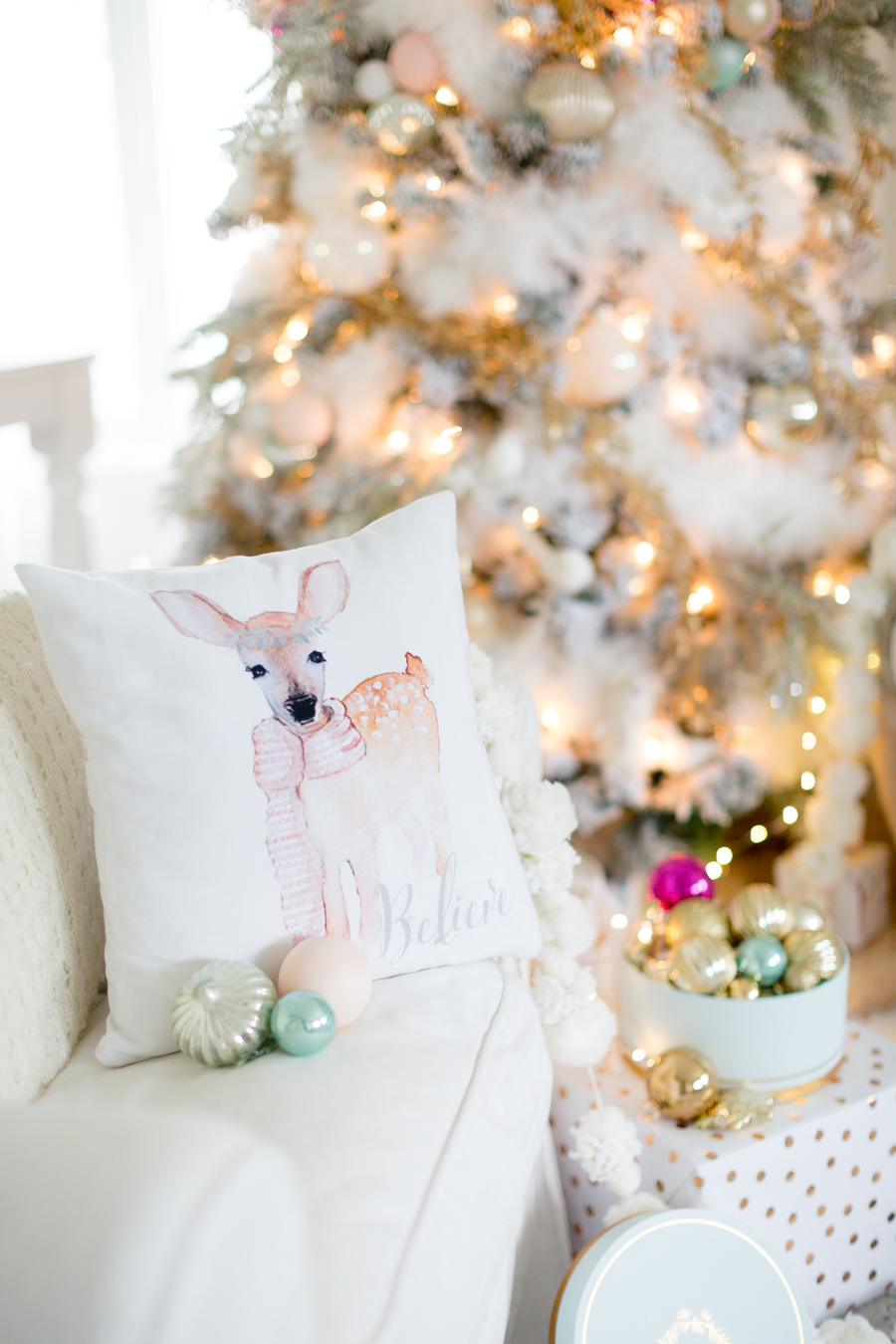 …and believe that although there's so much pain and heartache in this world, this season can bring us so much magic and joy.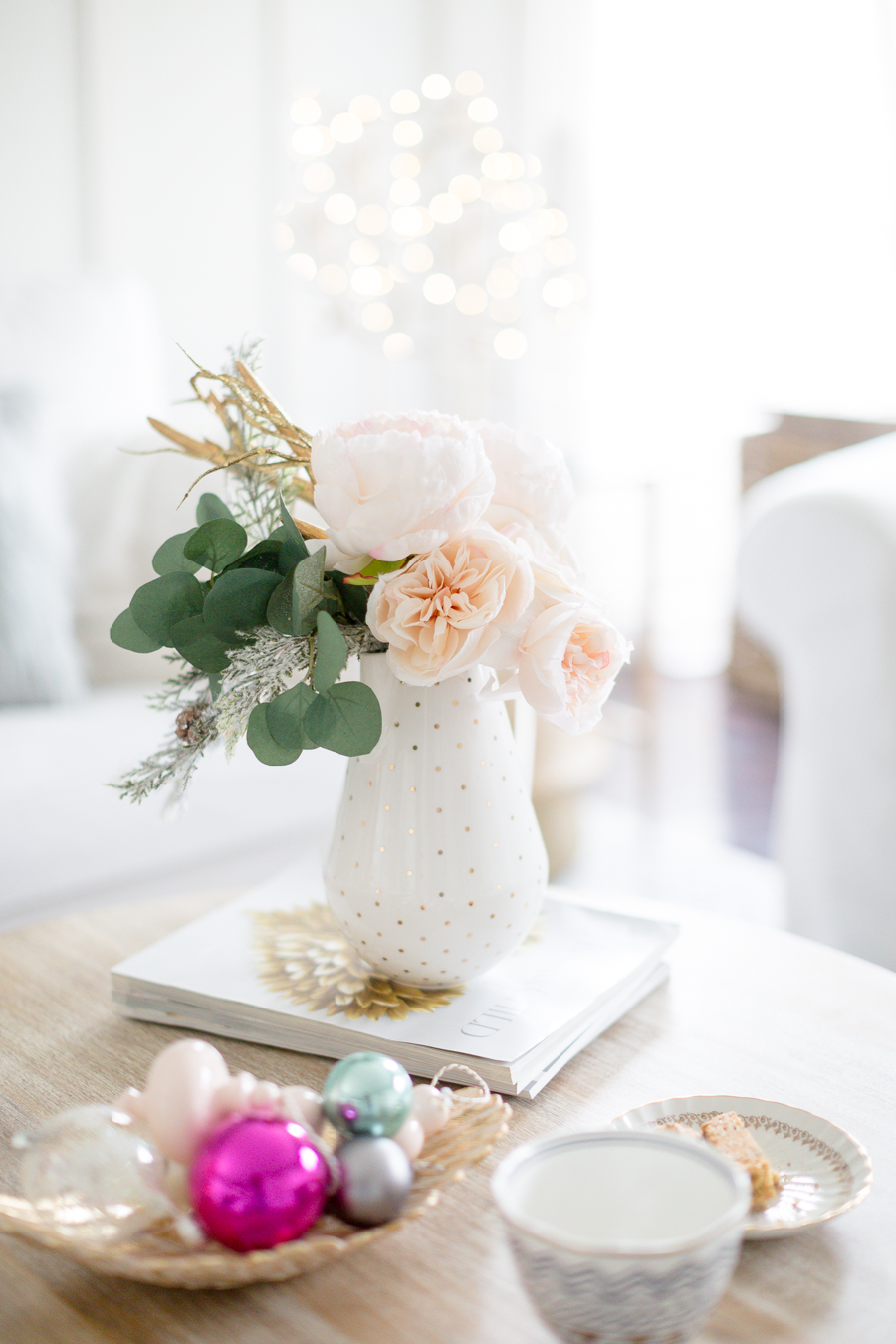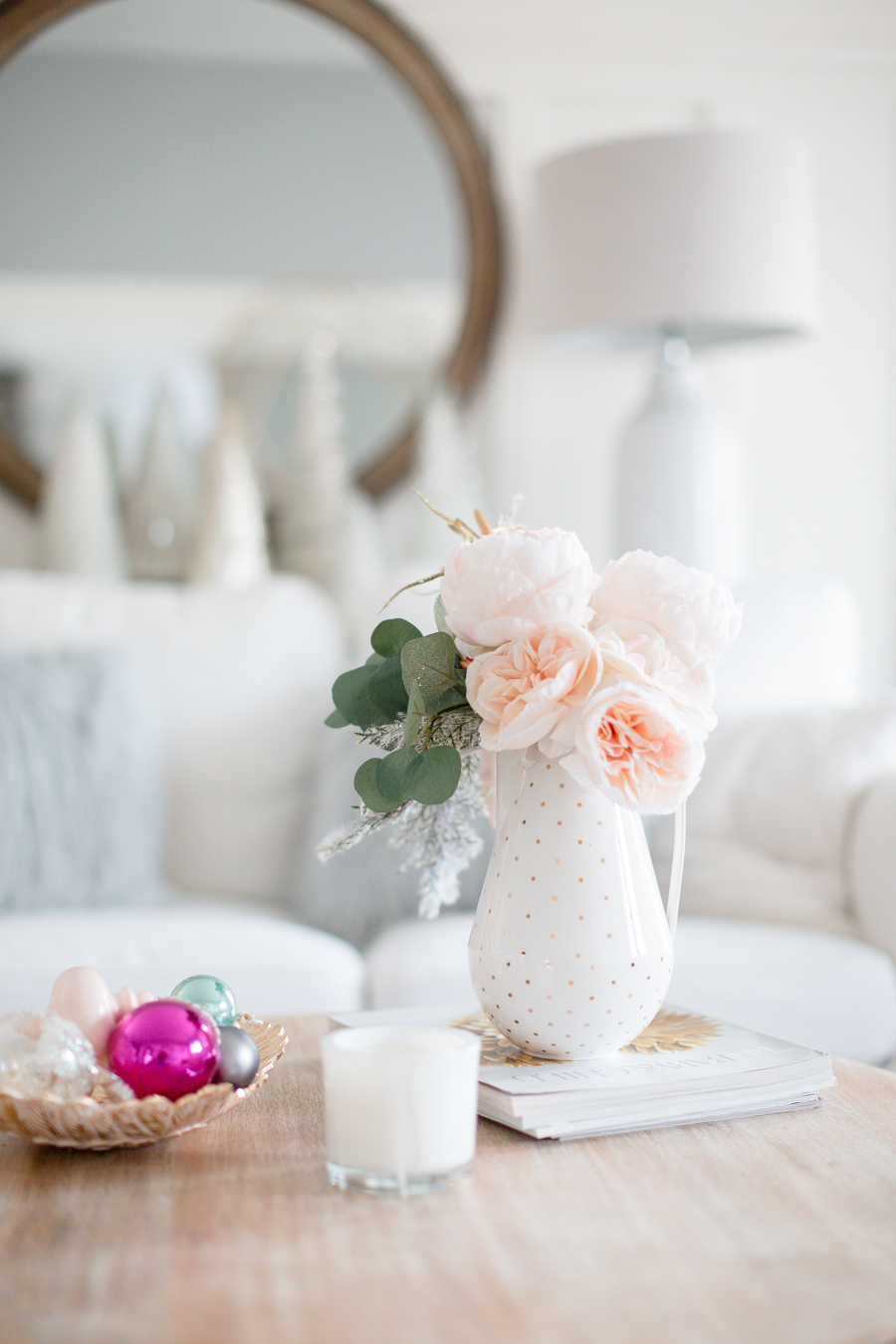 This sweet little pitcher adds the perfect little sparkle to the tables.
I have to tell you a little story about this candle. While taking photos, I had placed it on the sideboard because I didn't want the wax to spill as I was moving things around. But when I grabbed it to place it back on the table, I had forgotten that it had been on and the wax was still liquid. I grabbed it quickly and ended up spilling all the wax on the ground and over the carpet…:(
It was a horrible mess. Ugh. But at least the entire living room smelled good for the rest of the weekend. ha.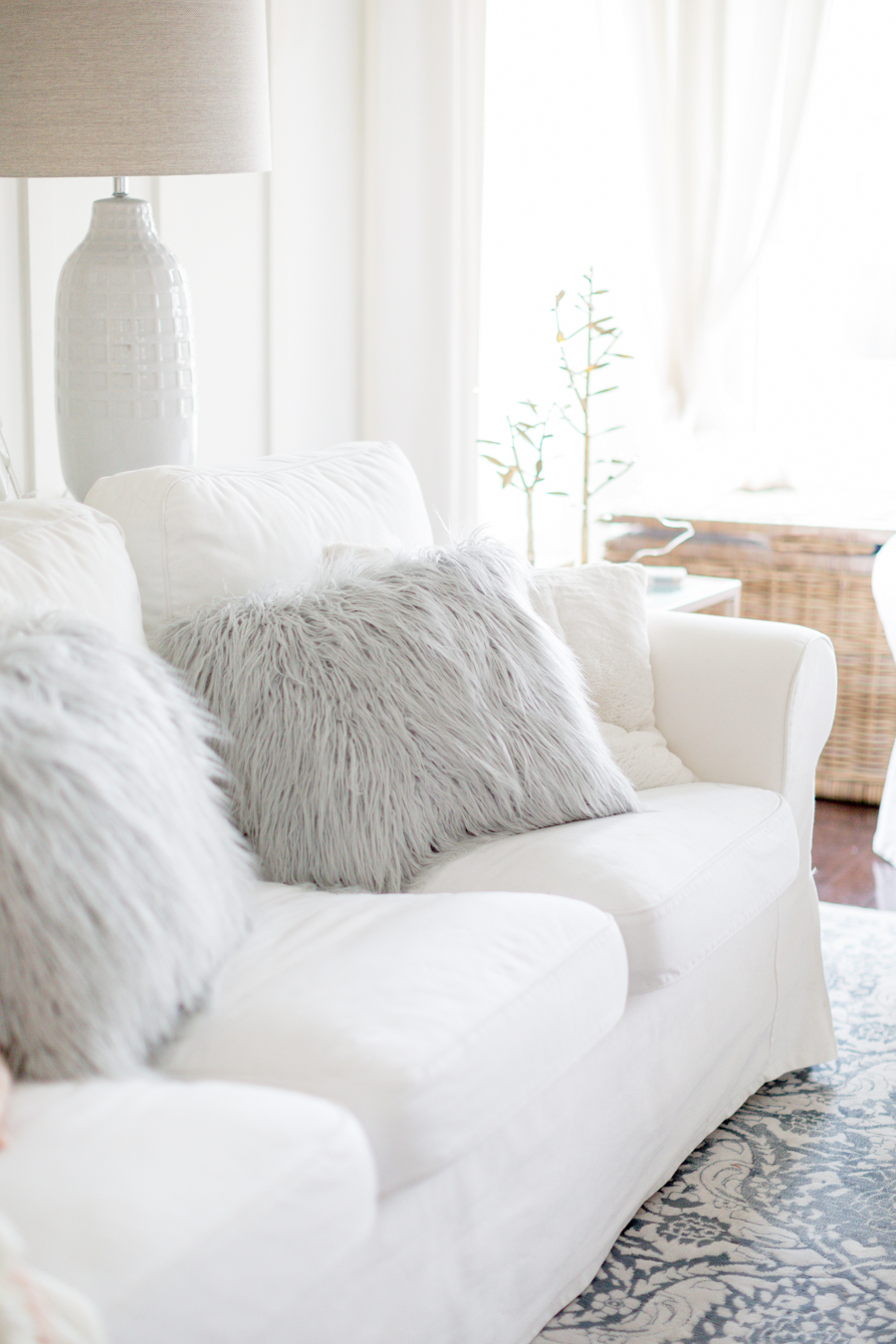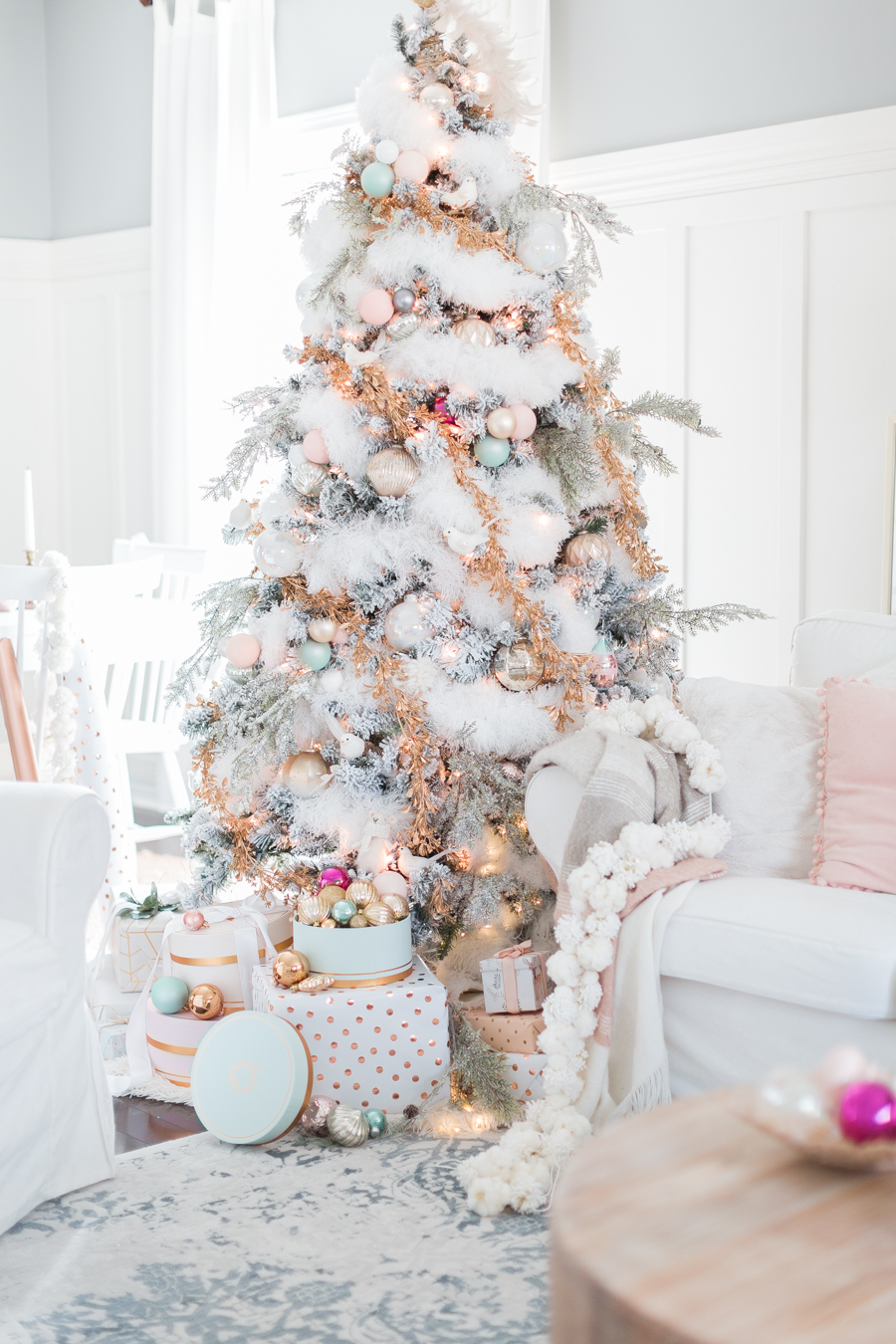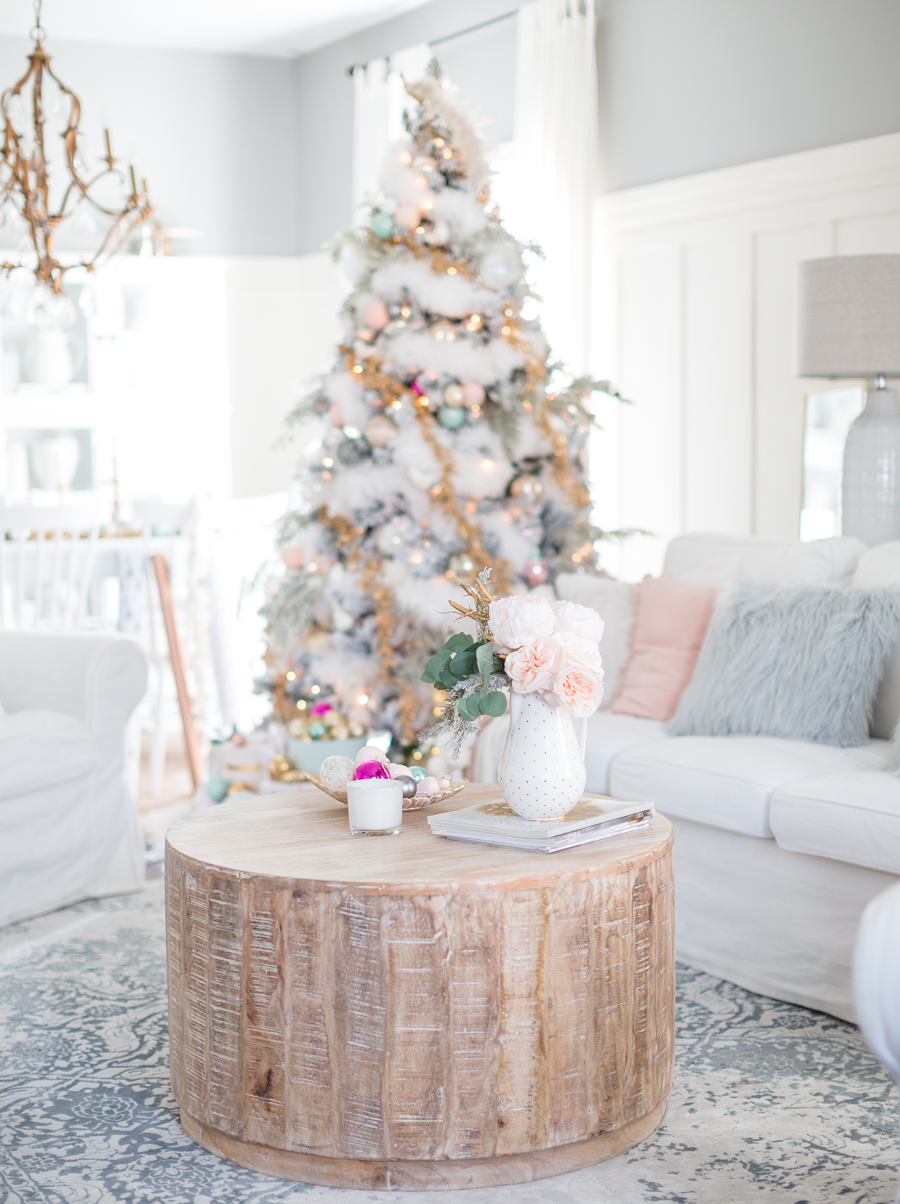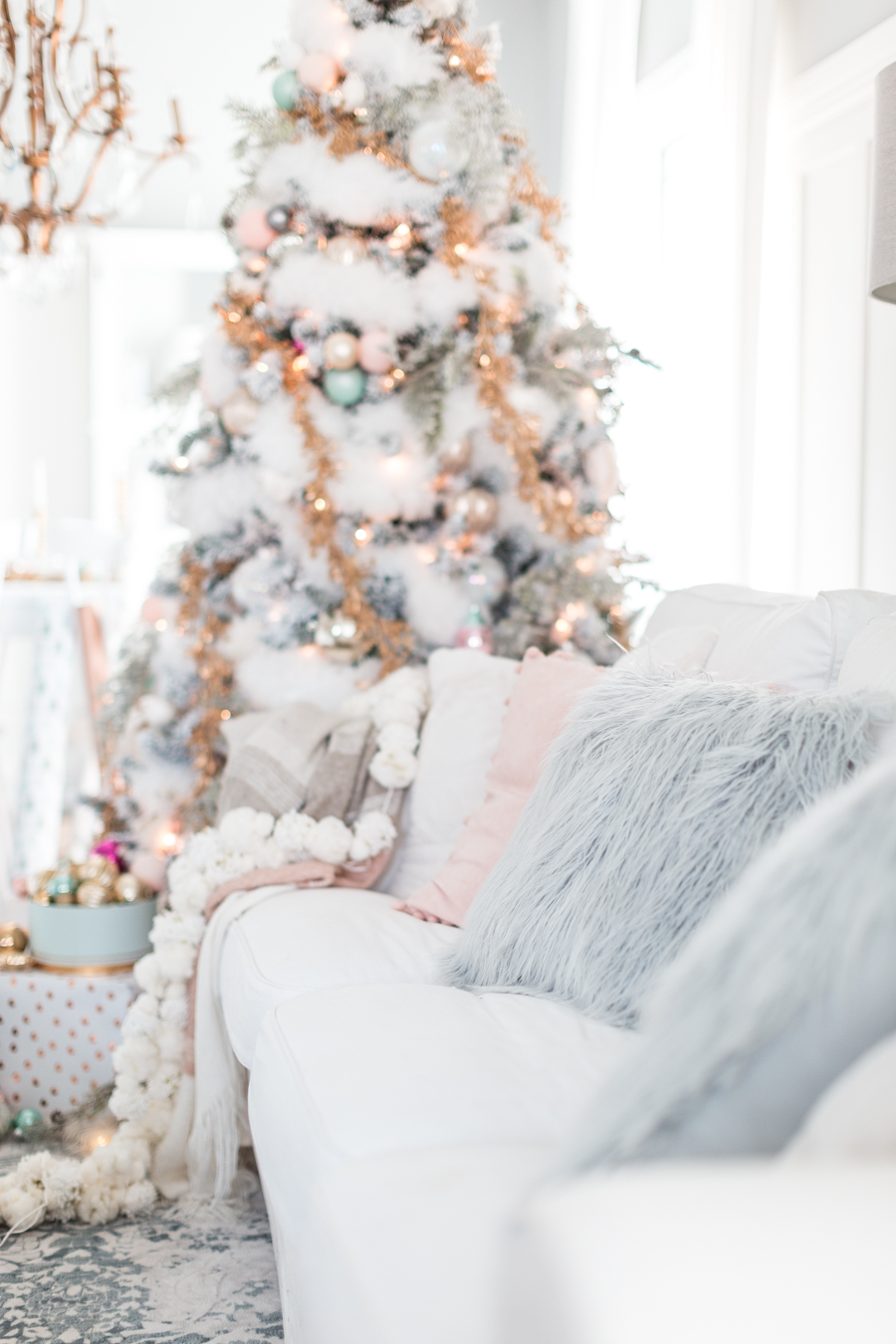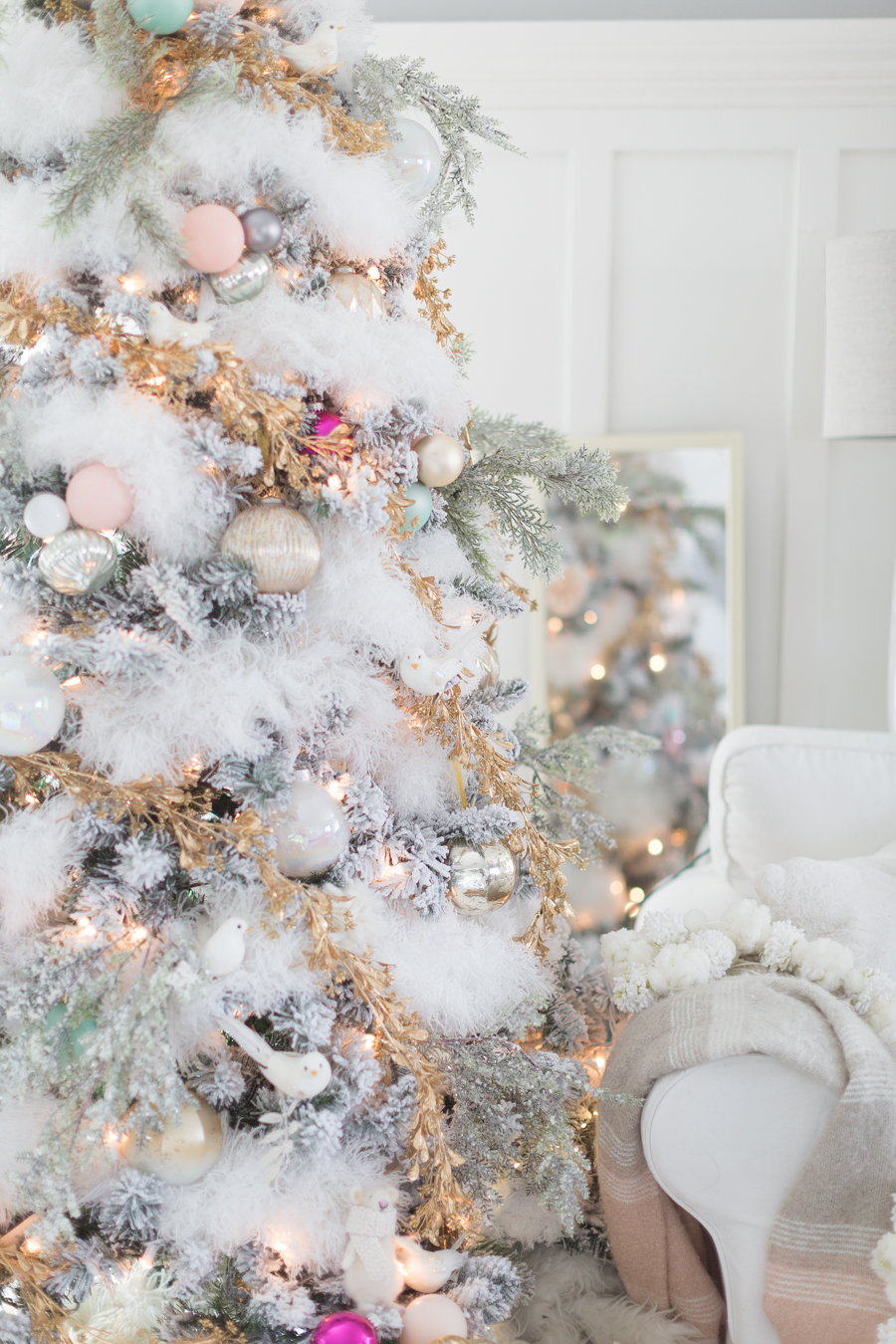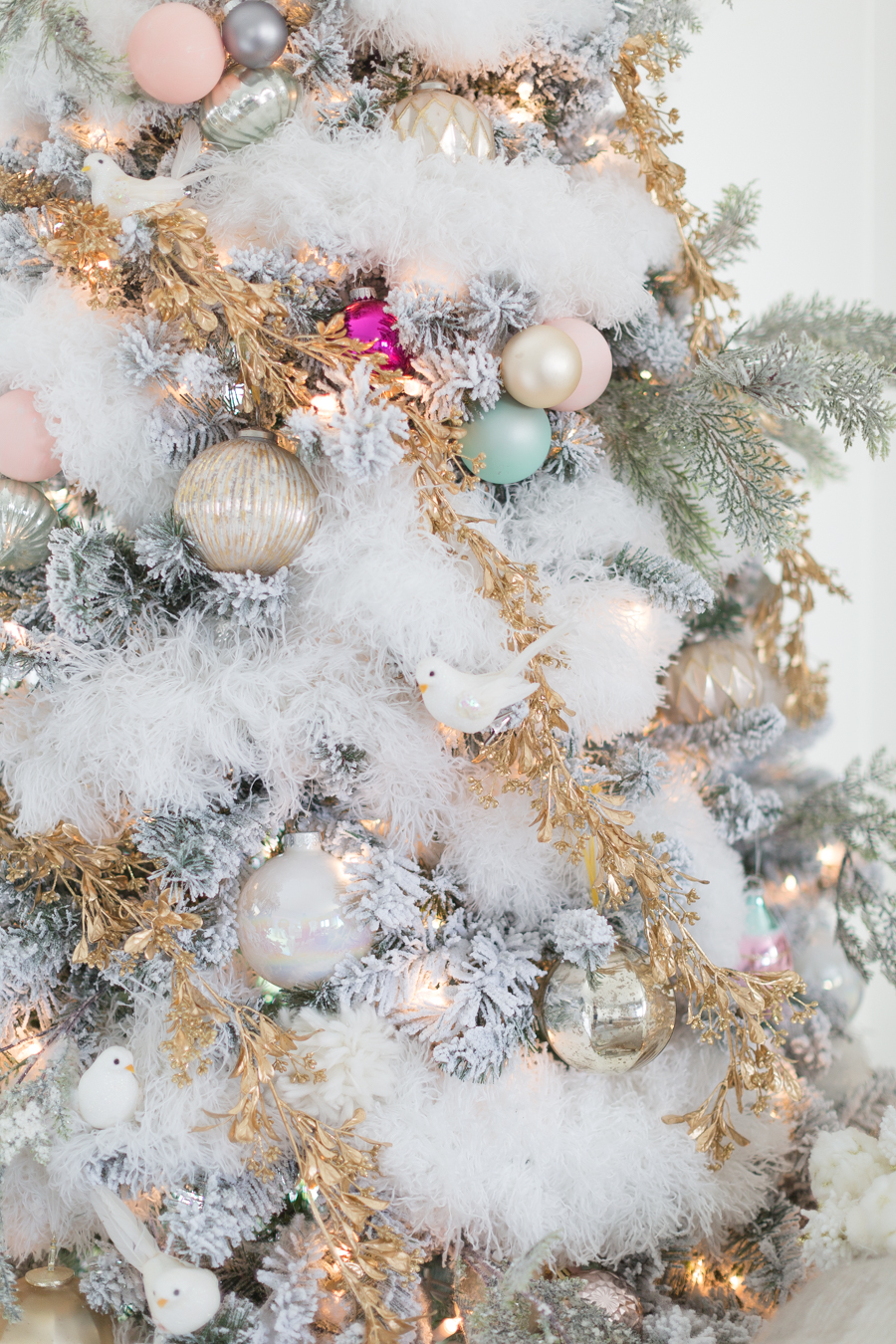 A few years ago, I started doing little 'bouquets' of ornaments. Instead of placing individual small ornaments, I group them into threes and tie them with some wire. In my opinion, they look tidier and make a bigger impact than when placed separately.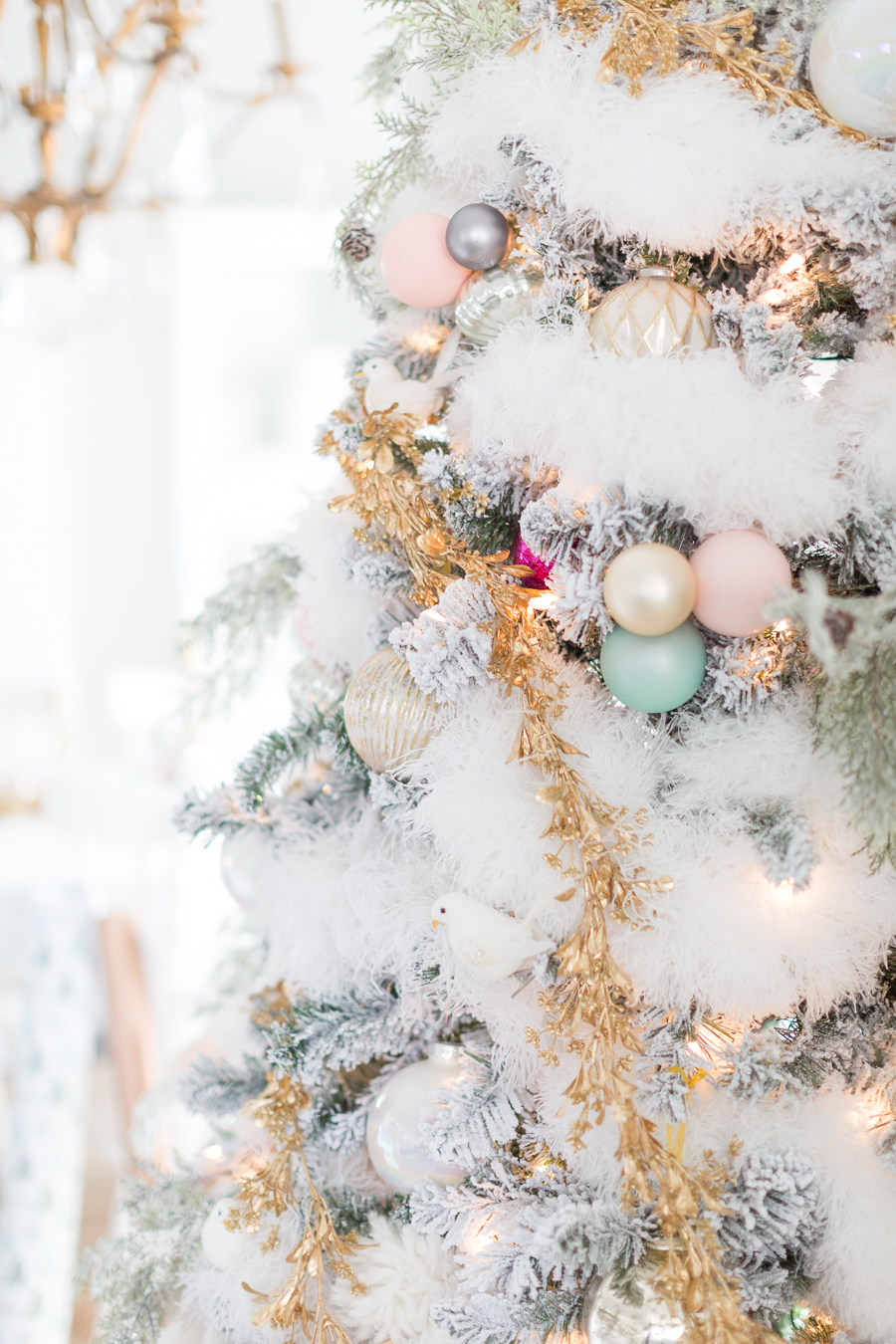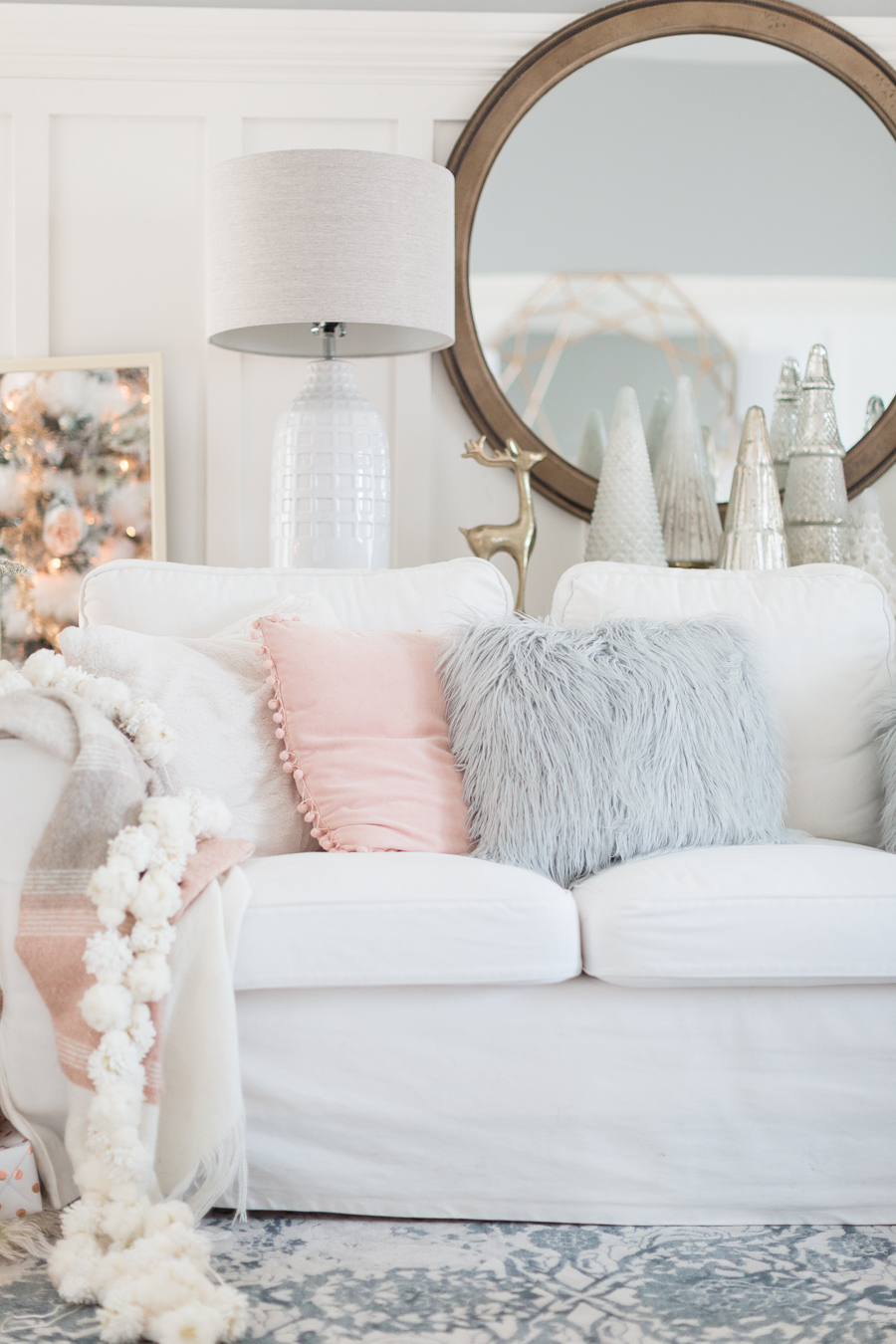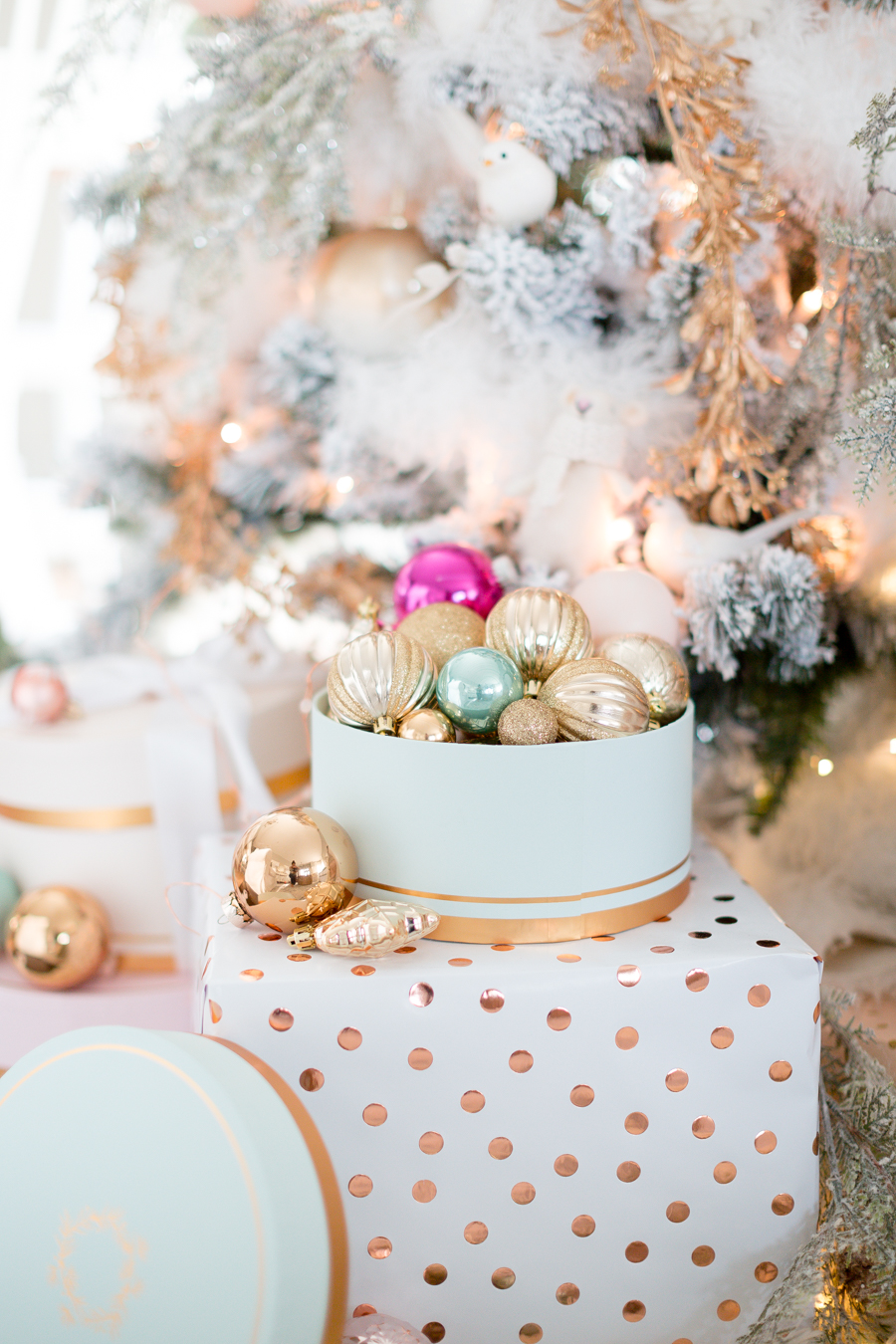 Here's a look at these adorable Christmas boxes again and some of the gold foil wrapping paper. I just love it!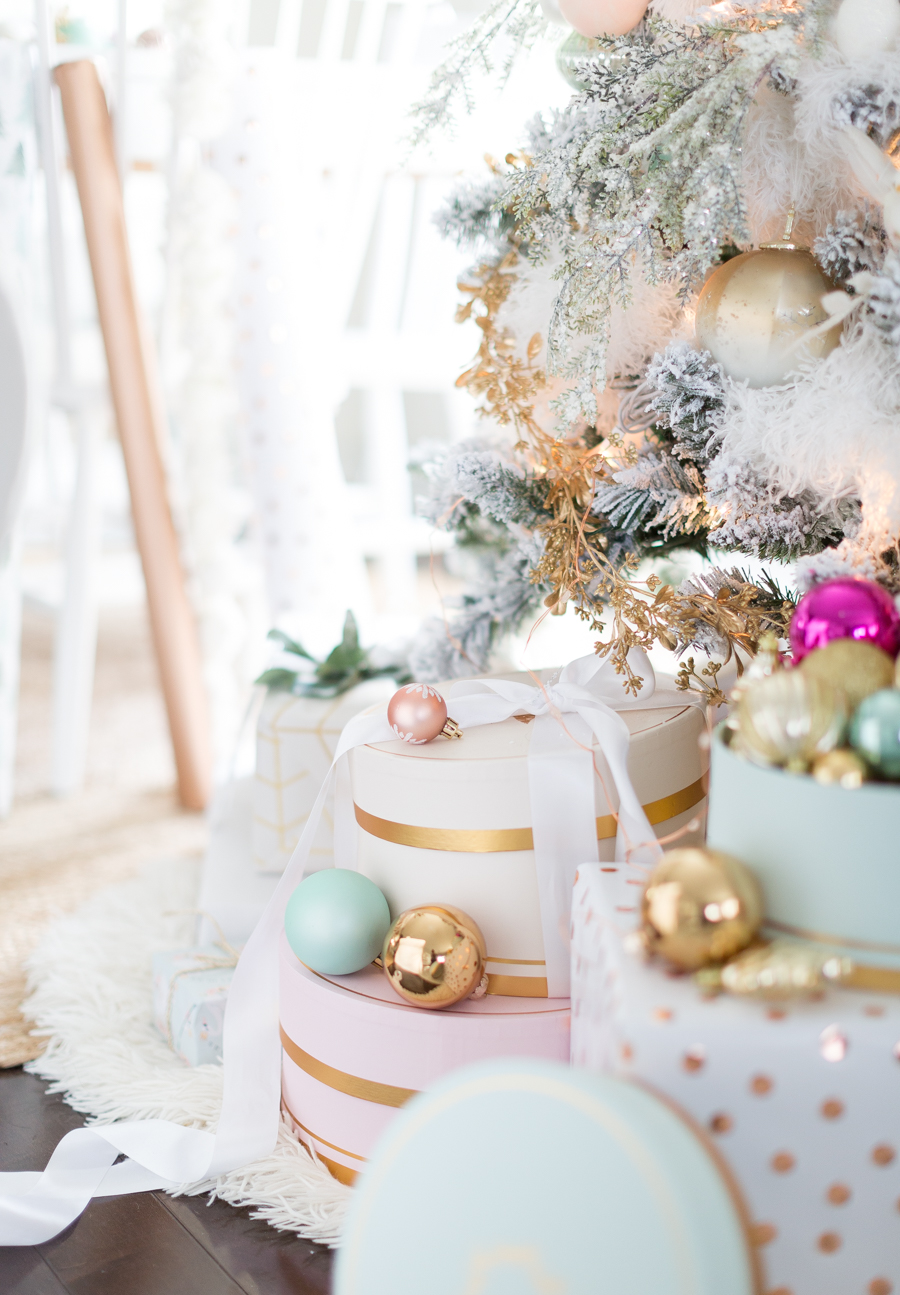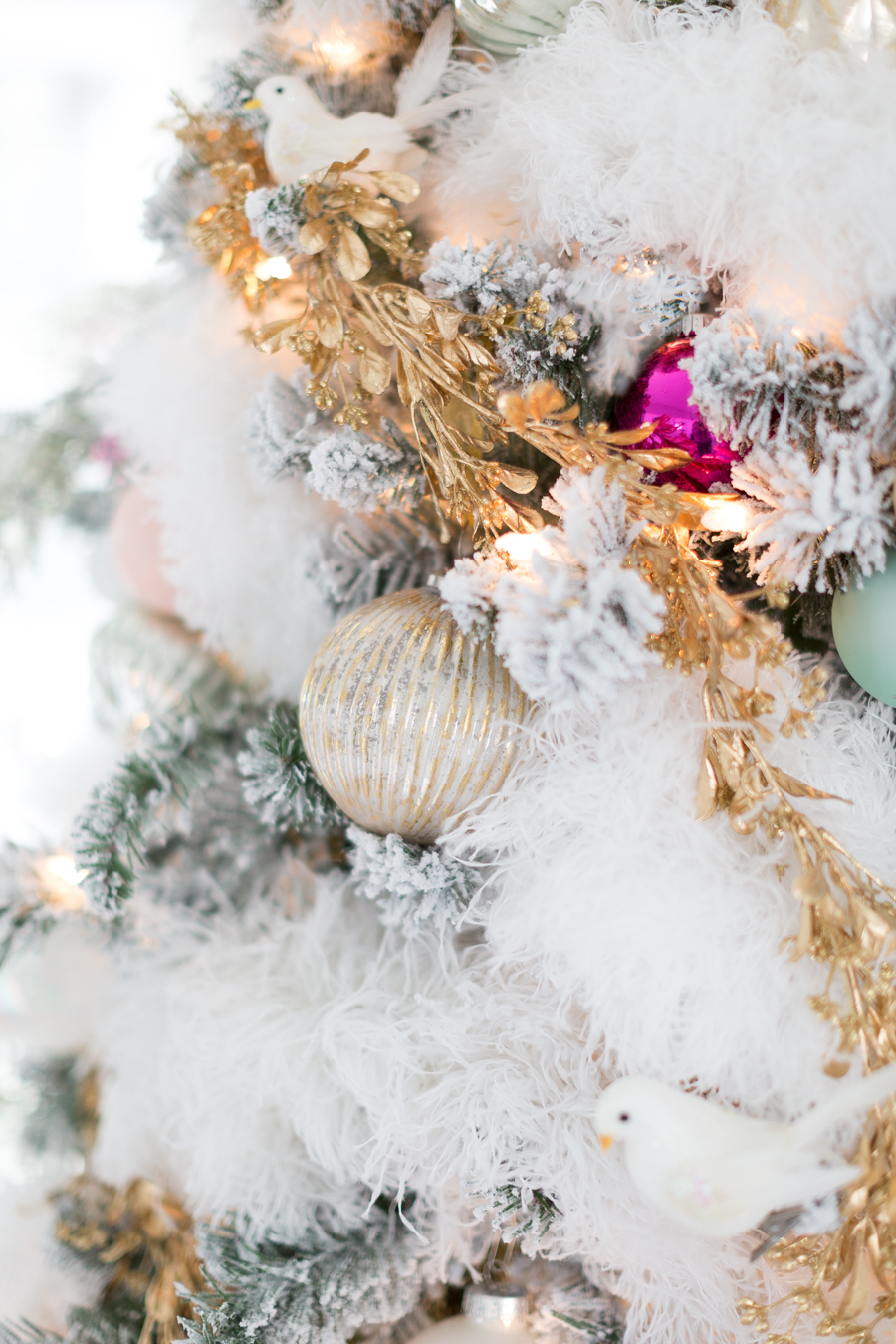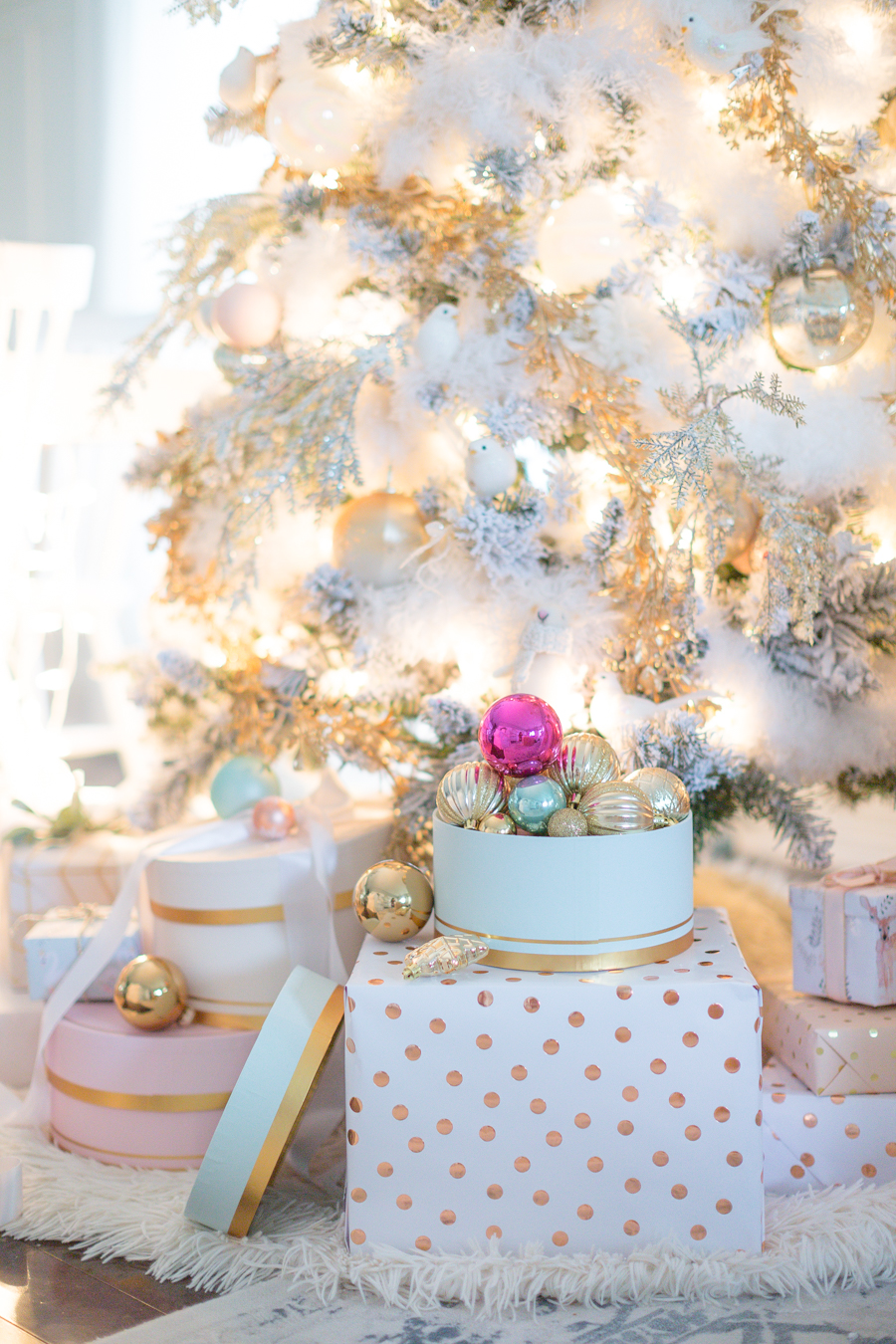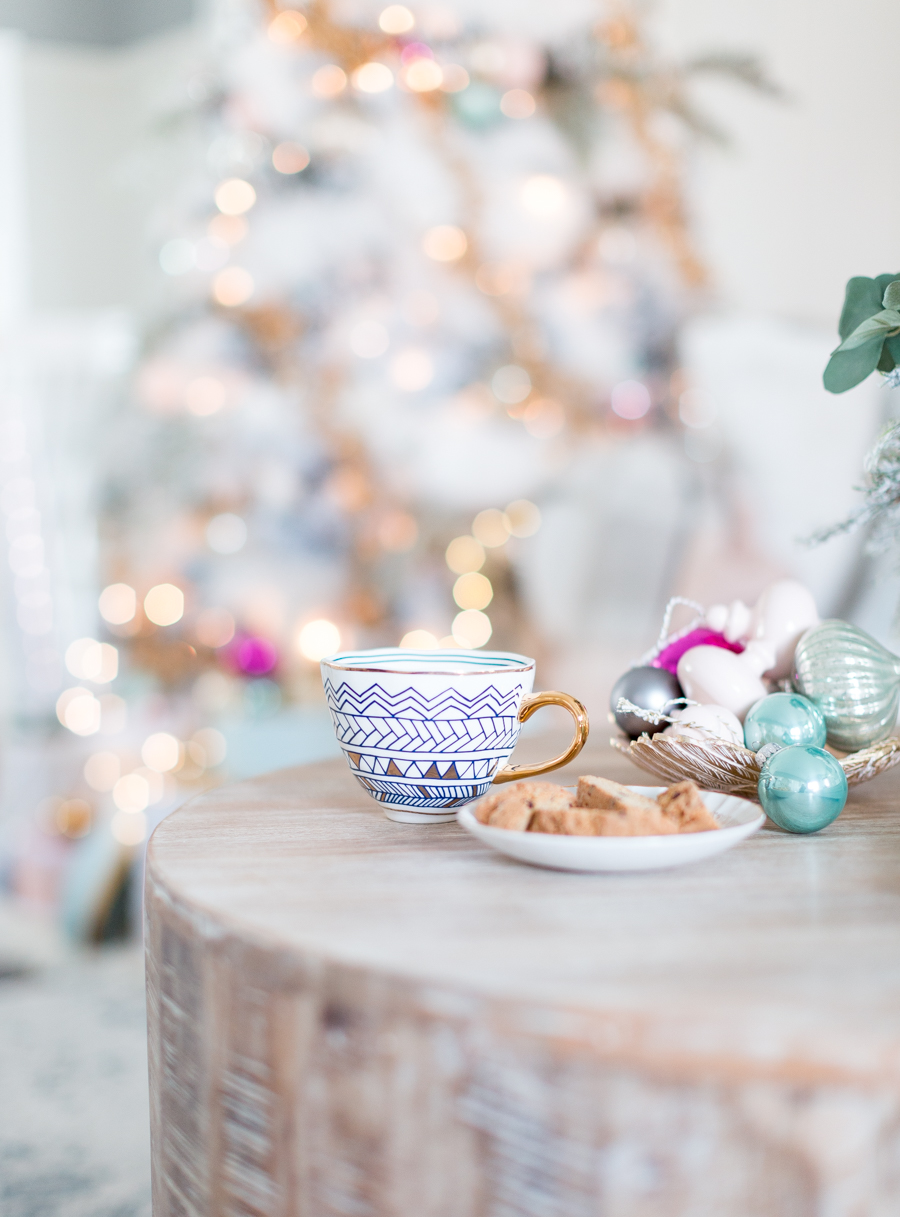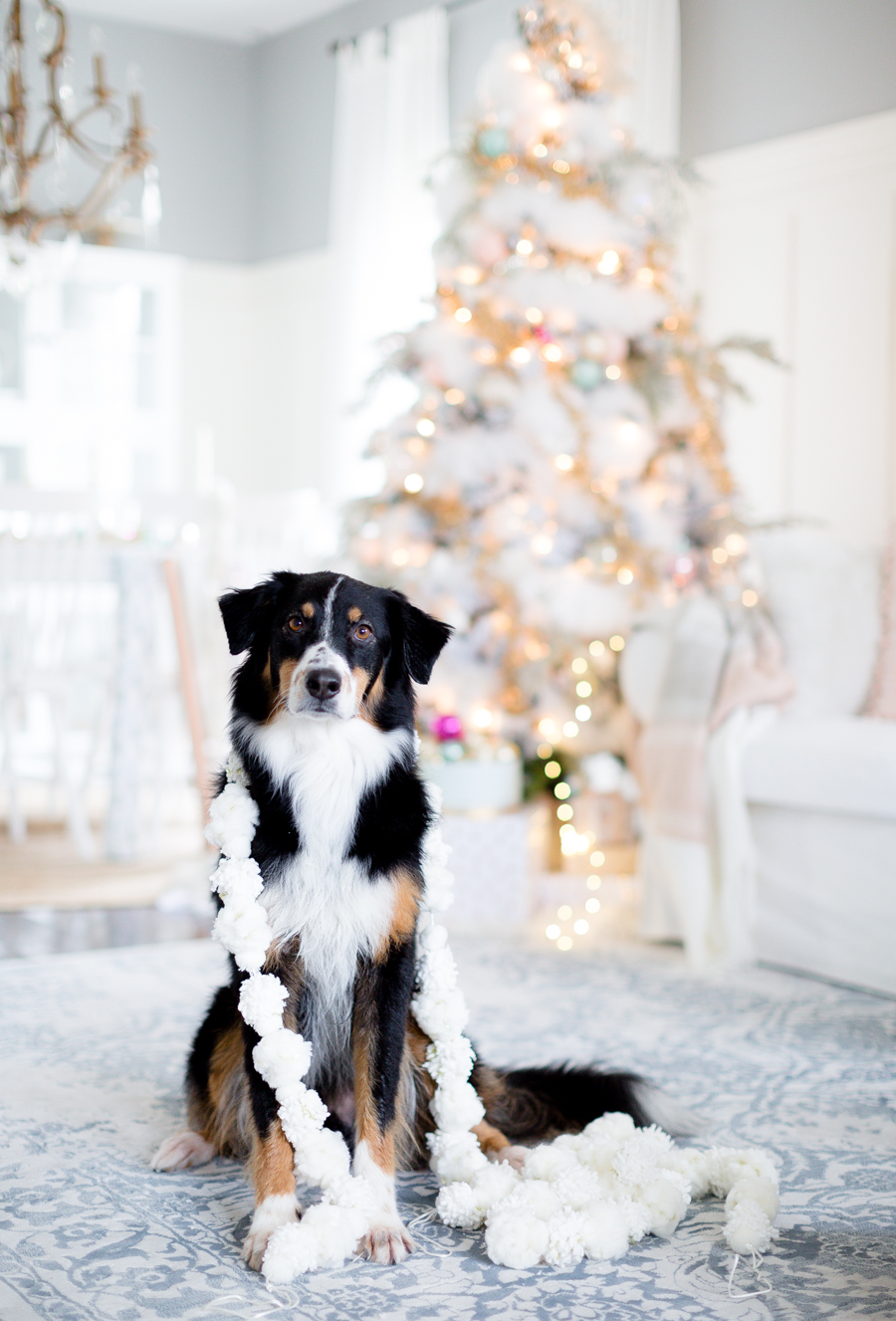 And of course, our sweet pup has to make an appearance because he brings us so much joy!
I hope you enjoyed a little bit of Christmas. Please don't forget to check out the rest of my friends below. They blow me away each and every week!
much love,
Lucy
Ella Claire | Rooms for Rent | Shades of Blue Interiors | Love Grows Wild
French Country Cottage | City Farmhouse | Kindred Vintage | Jeanne Oliver
Jennifer Rizzo | Craftberry Bush | Miss Mustard Seed | My Sweet Savannah
Nesting with Grace | Dear Lillie | Julie Blanner | Liz Marie Blog
And our featured guest, Thistlewood Farms