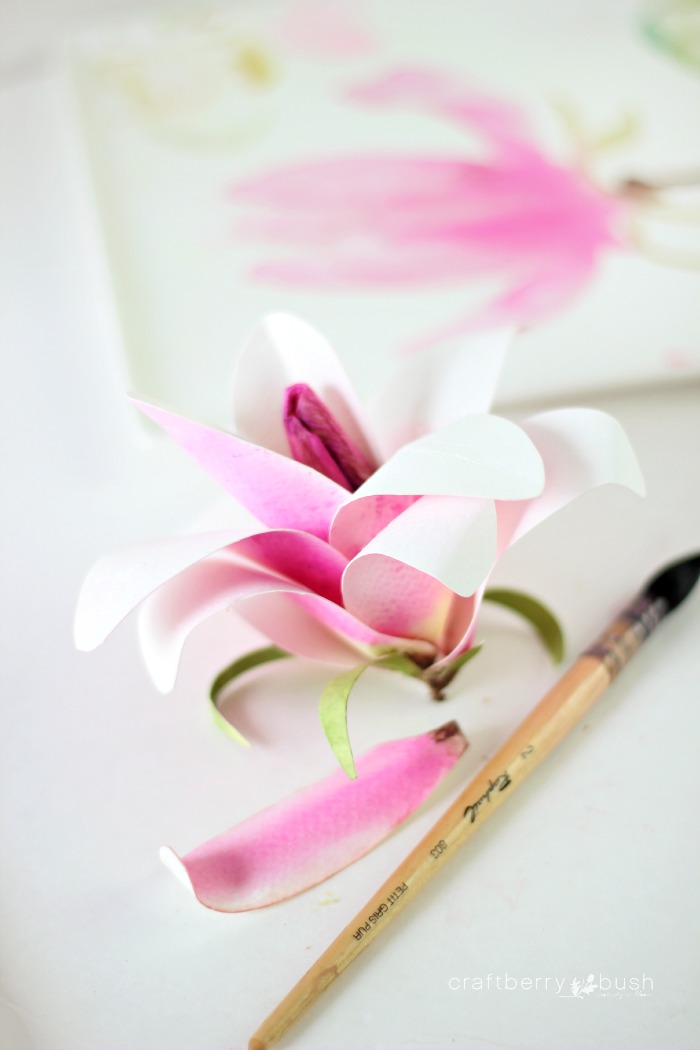 Sometimes the cutest ideas come to you when you're least expecting them. It was Sunday afternoon – just minutes before heading out the door – when I wondered if I could actually paint a watercolor flower.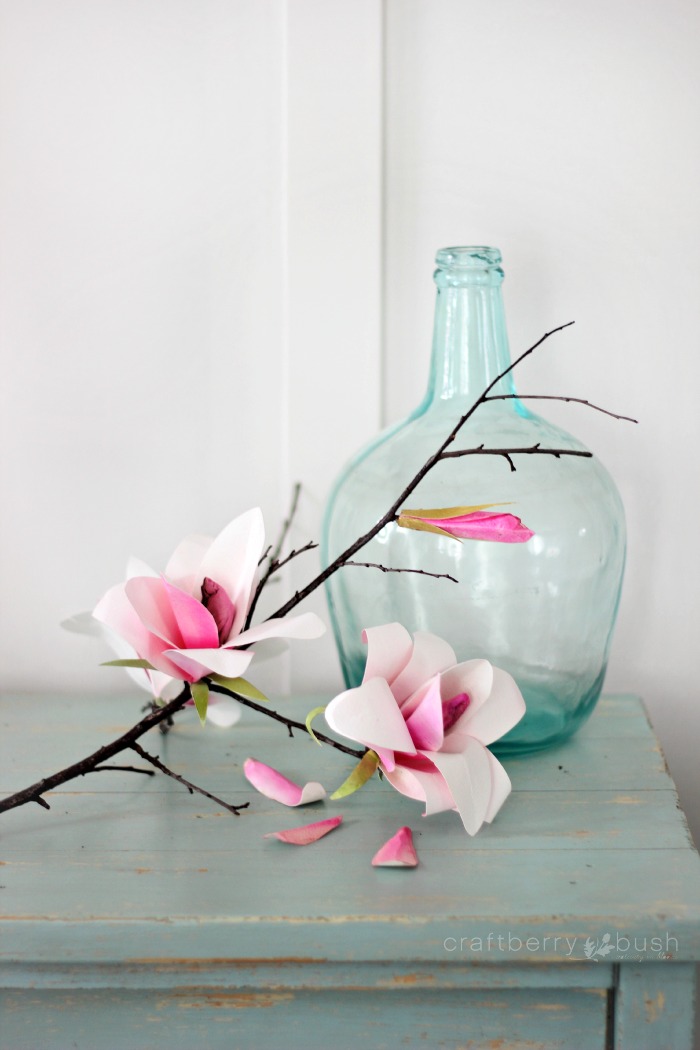 Well, needless to say, I immediately grabbed my watercolors and got to work. In a few minutes, I had made this pretty little watercolor paper Magnolia flower.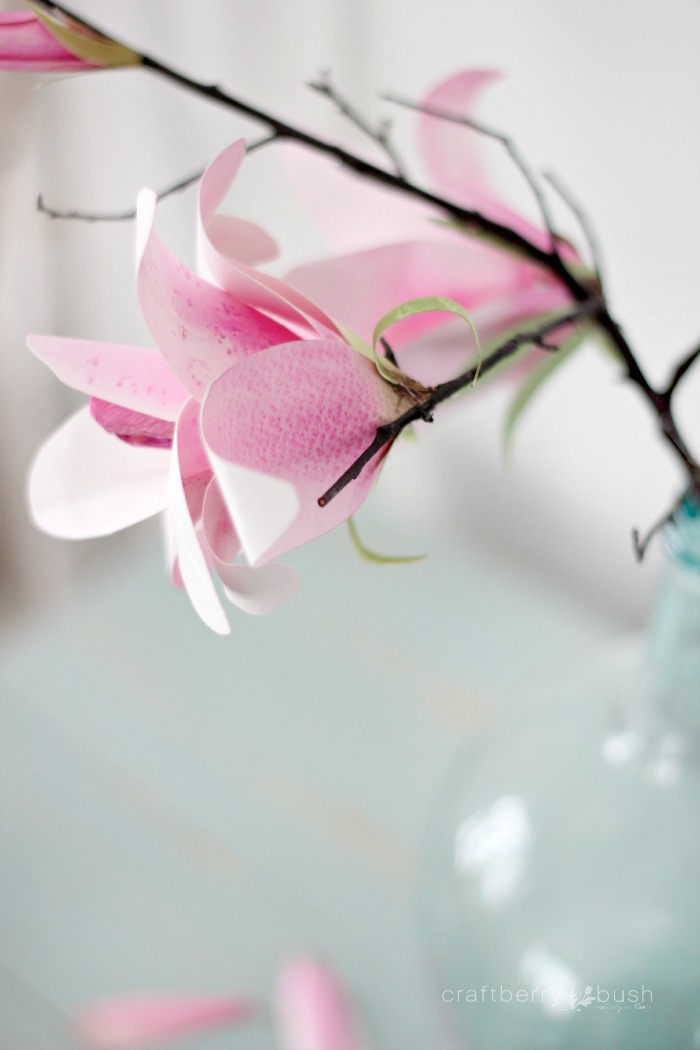 The watercolor paper and paint lend themselves as the perfect medium to imitate the beautiful flower petals.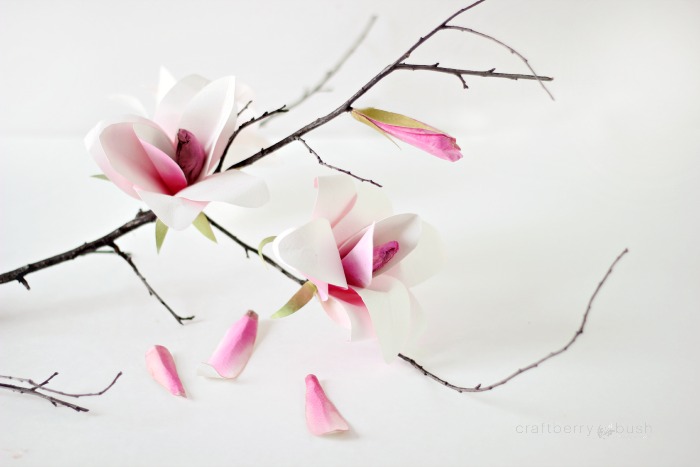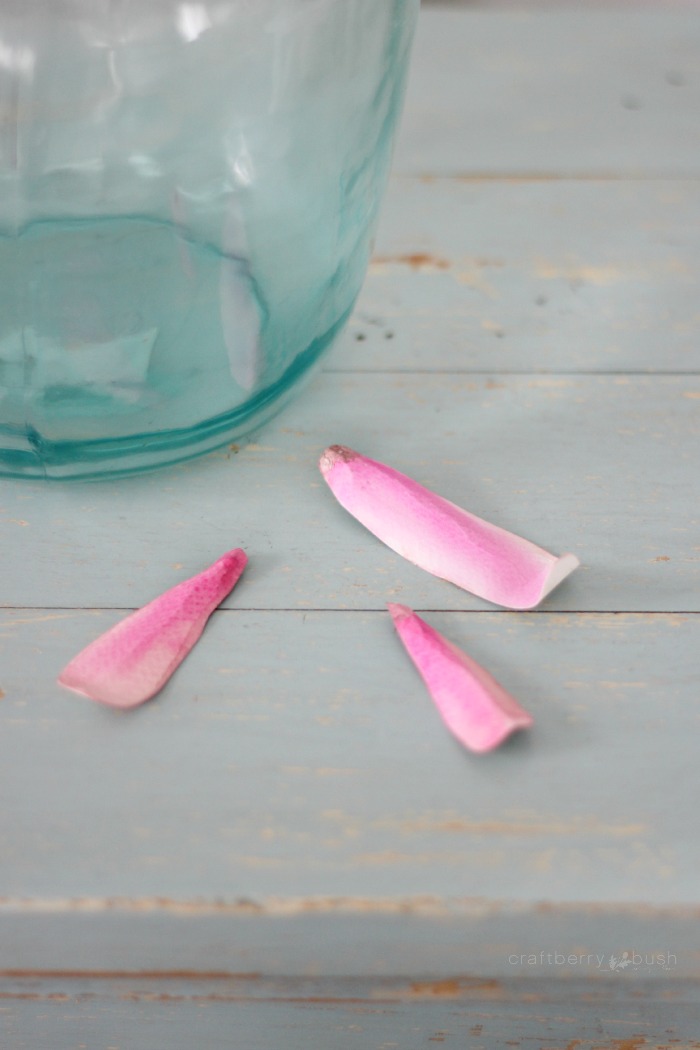 Here is what you will need:
Watercolor paper or thick card-stock paper
Watercolor paints
Round brush
Scissors
Crepe paper or tissue paper
Hot glue
Branch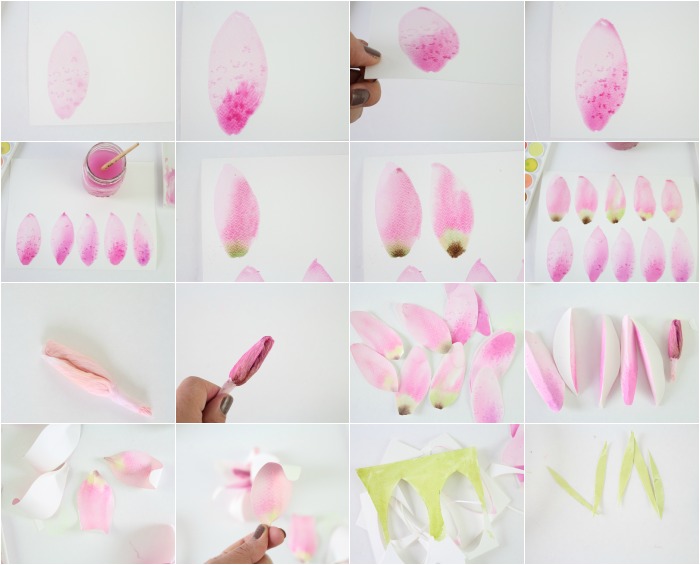 1. Take some very diluted pink paint and draw a petal shape with a brush; these will be the inside petals
2. While paint is still wet, take some undiluted paint and dab at the bottom of the petal
3. Tilt paper away from you, allowing the paint to run downwards
4. You should have a nice bleed between the lighter pink and the darker pink
5. Continue this process until you have five petals
6. Follow steps 1-3, but this time, add a little bit of green at the bottom followed by some brown as shown; these will be the outside petals
7. Continue this process until you have 5 petals; set aside to dry
8. While petals are drying, form the center of the flower by rolling a piece of crepe paper and taping at the bottom
9. Paint with watercolor and allow to dry
10. Cut petals
11. Fold inside petals (pink) in the middle as shown
12. Gently fold outside petals outwards as shown
13. Pinch bottom of the outside petals; set aside
14. Paint some of the leftover watercolor paper with green paint; set aside to dry
15. Cut small strips as shown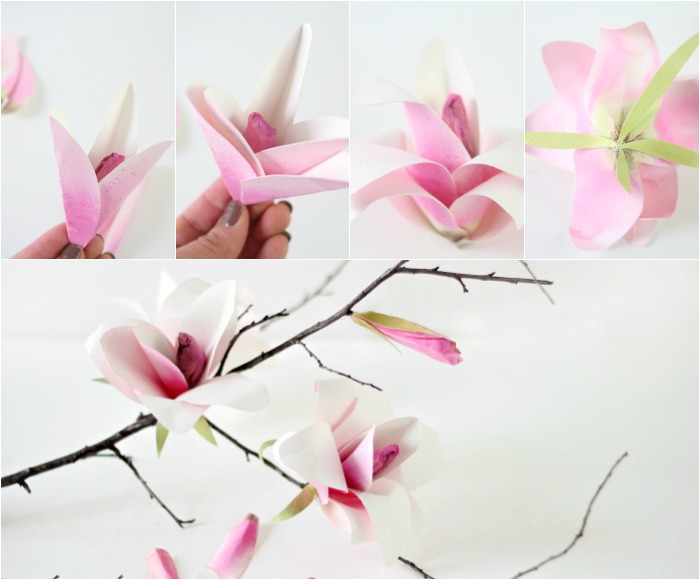 16. Hot glue pink petals around stamen three at a time
17. Continue gluing pink petals, alternating and filling gaps
18. Glue outside petals in similar manner until all petals are glued
19. Glue green leaves at the bottom of the flower
20. Glue flowers onto branch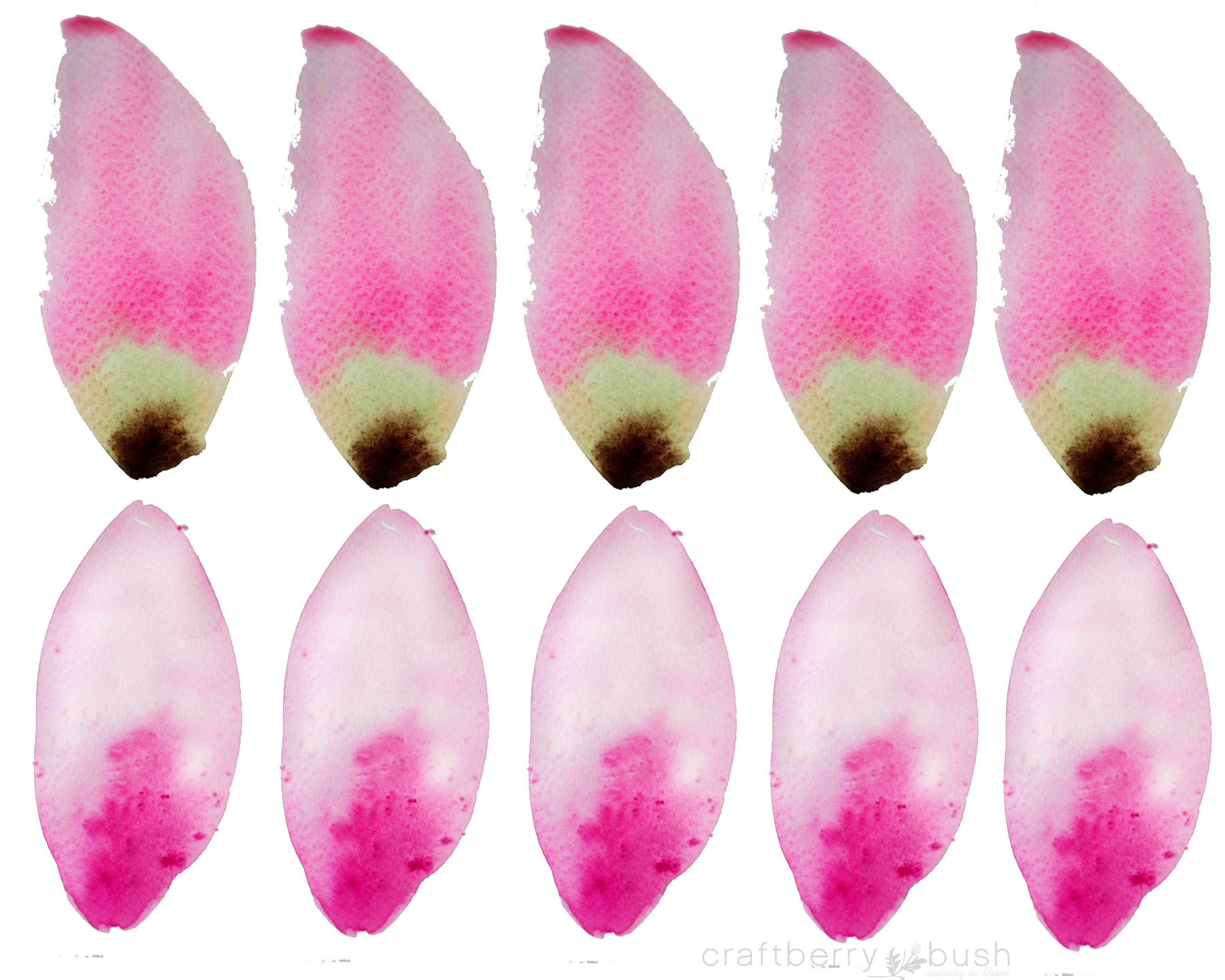 This is such a fun and easy technique, but if you're not feeling brave enough, I have prepared the petals for you to download HERE. Just make sure they are printed on thick paper.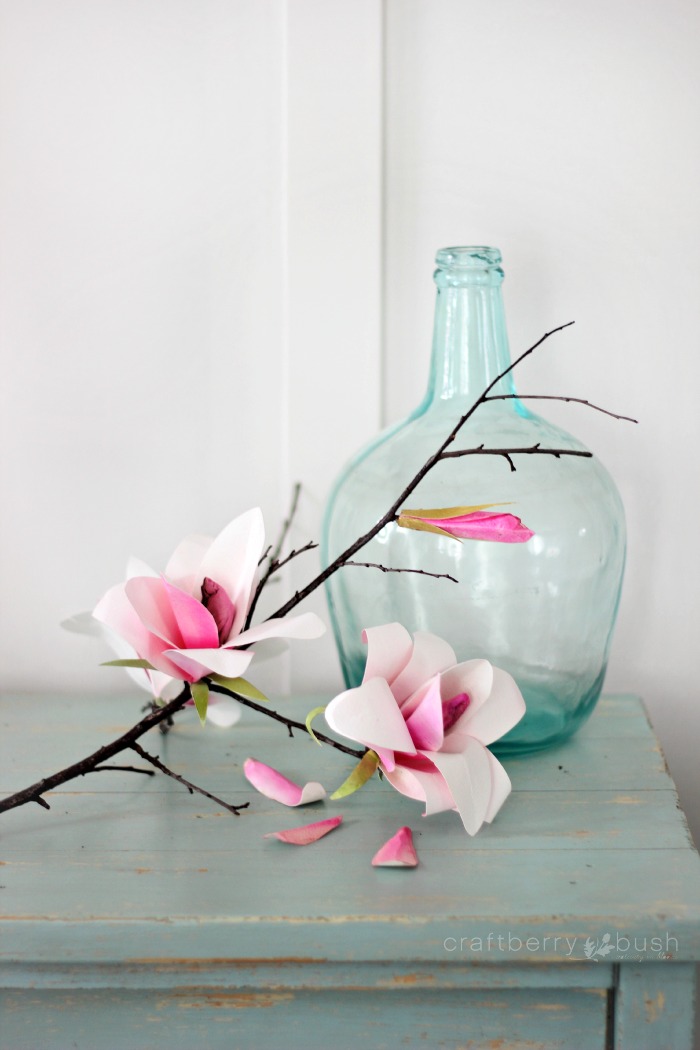 I am a little addicted to this technique and I'm pretty sure you will be seeing more watercolor flowers in the near future.  Orchids, perhaps?
In the mean time, here are some other flowers I have made using a similar watercolor technique.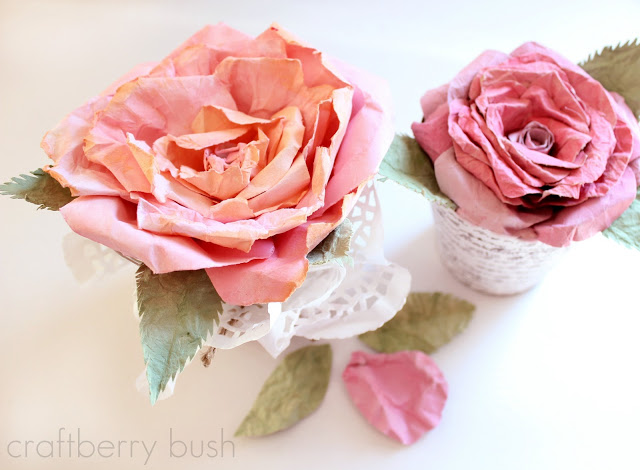 Mulberry watercolor paper rose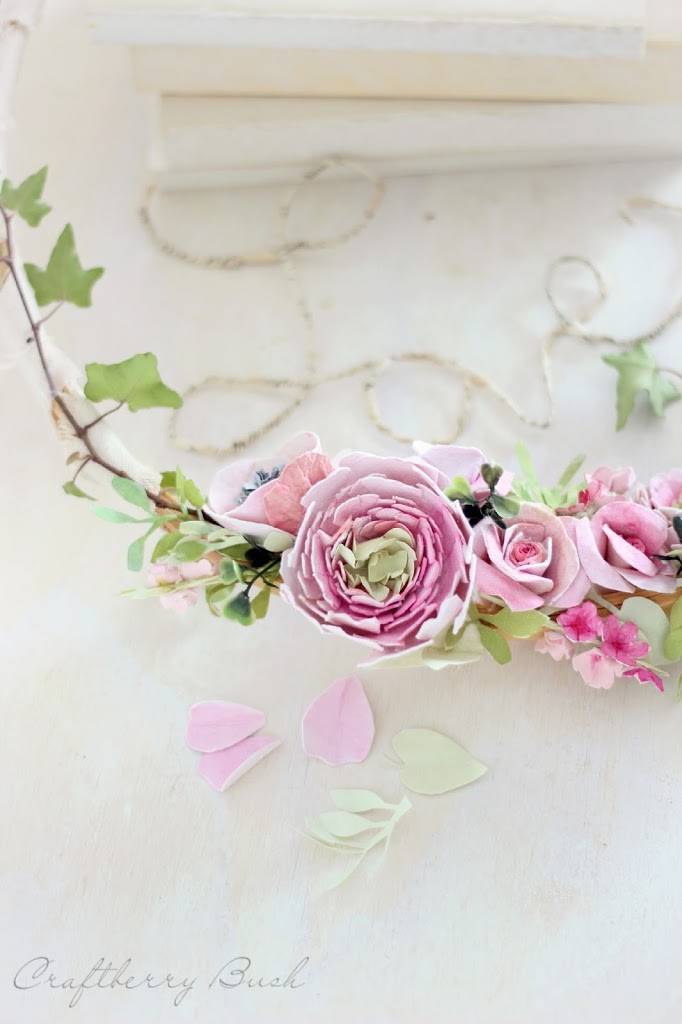 Watercolor paper flower wreath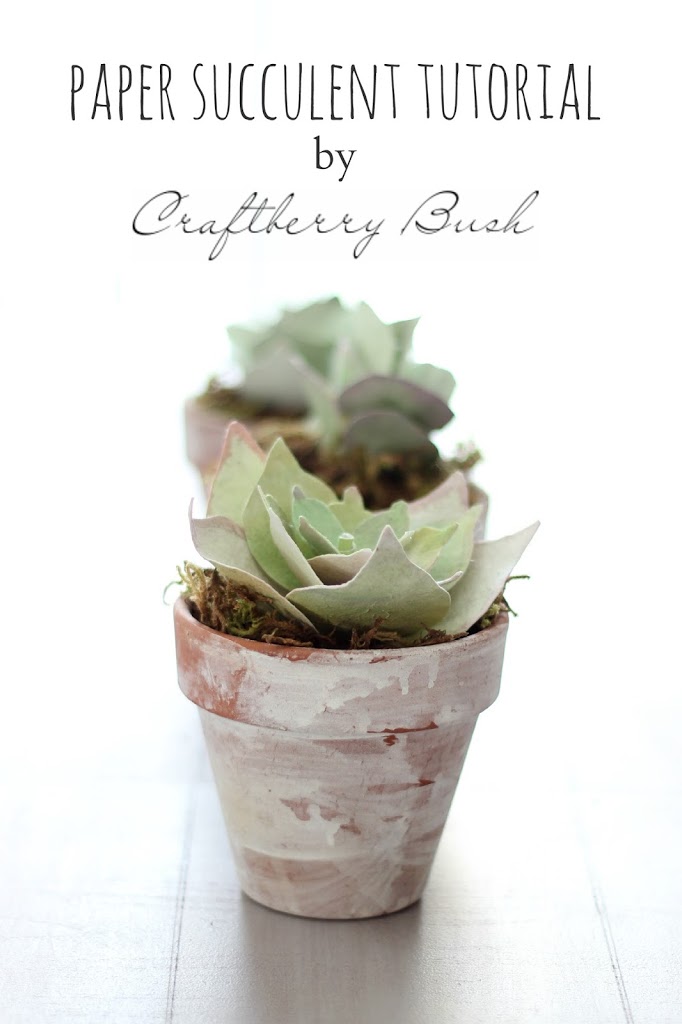 Watercolor paper succulent tutorial