Hello friends. I hope you've had a good week so far. Thankfully the temperatures have normalized and we're no longer colder than Mars..HA.
It's also supposed to warm up to 6C (42F) though I'm secretly hoping the snow doesn't melt and cause a mess outside because to be honest, muddy paw prints are the worse.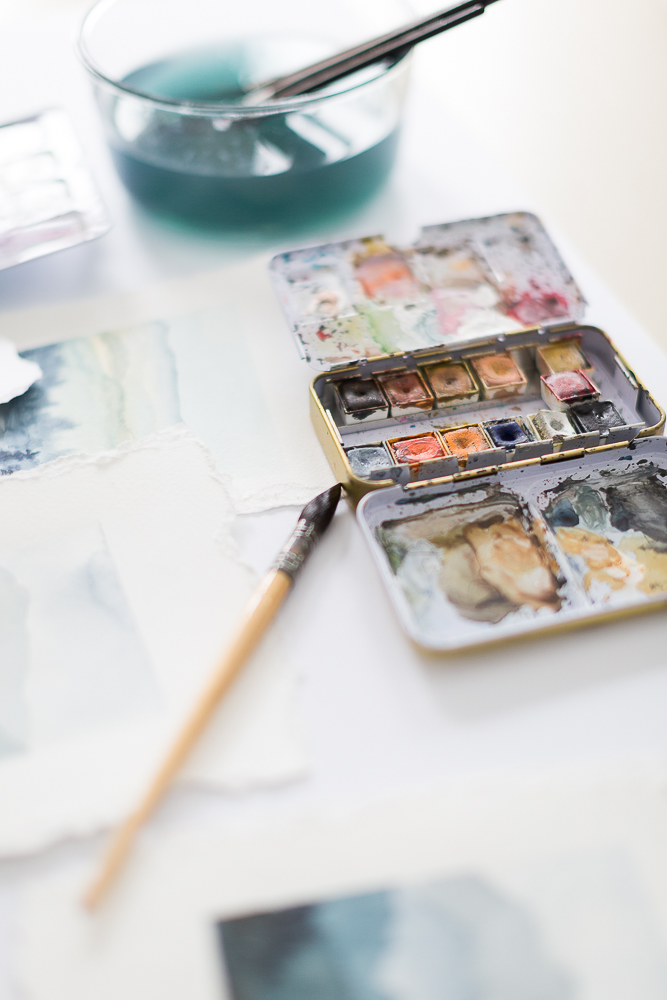 Before anything else,  I should  let you know that I do not have any 'professional' training nor schooling. I'm self taught and my methods might be different to the 'professionals' but I truly believe that anyone can create art and watercolor is the perfect medium to play with because in my opinion, the imperfections are what makes the work so beautiful.
I wanted to answer a few questions I got from last week's video. If you're not sure what I'm referring you can watch a 30 second time lapse HERE and read about my plans HERE.
Q&A's from last week:
What type of watercolors are you using? 
Lately I've been using Jane Davenport's watercolor palettes available HERE and HERE 
I love the pigmentation and how easy they are to travel with.
I also love to use Winsor & Newton  .
I've written an entire post about watercolor supplies HERE.
How do you make things look crisp? Mine look like puddles of color. 
I actually love the idea of puddles of color and watercolor is the perfect medium for imperfections.
However, the trick to watercolor is giving the paper a few seconds to absorb the paint thus avoiding too much bleeding and pooling.
What kind of brushes are you using?
You can find the type of brushes I used archived on my highlights on Instagram and also HERE.
How do you do the white dots?
There are various ways to do a negative space in watercolor. You can use masking fluid , white wax crayons , rubber cement etc. For this particular painting I used Dec9Art Media fluid acrylic.
Do you ever use watercolor markers? 
Not usually but I have used them and I love that they're portable and they lend well to blending.
How do you do the shading?
Watercolor is all about layers.  You always want to start light and layer . Using complementary colors also gives you the perfect shadow.
Are these for purchase / do you commission do custom work?
I have not thought of selling originals but if you're interested please send me an email lucy@craftberrybush.com and I'll be happy to discuss further.
in the meantime, you can check out my shop HERE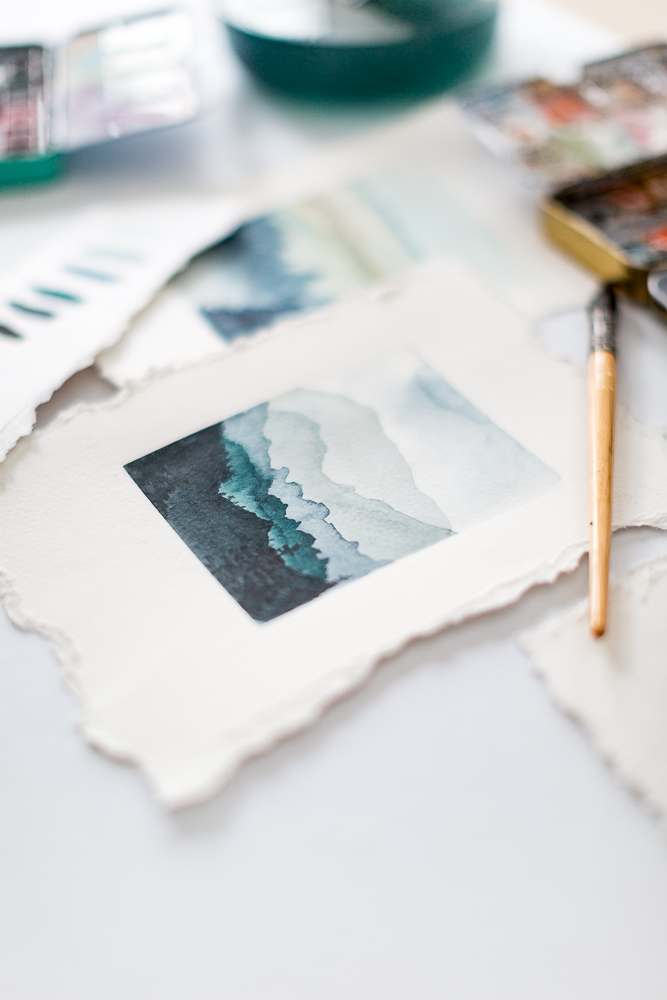 For today's tutorial, I wanted to share something that is easy to paint but looks like it takes a lot of know how.  Go HERE to watch the time lapse and then come back for a detail step by step…:) I'll be right here waiting……………………………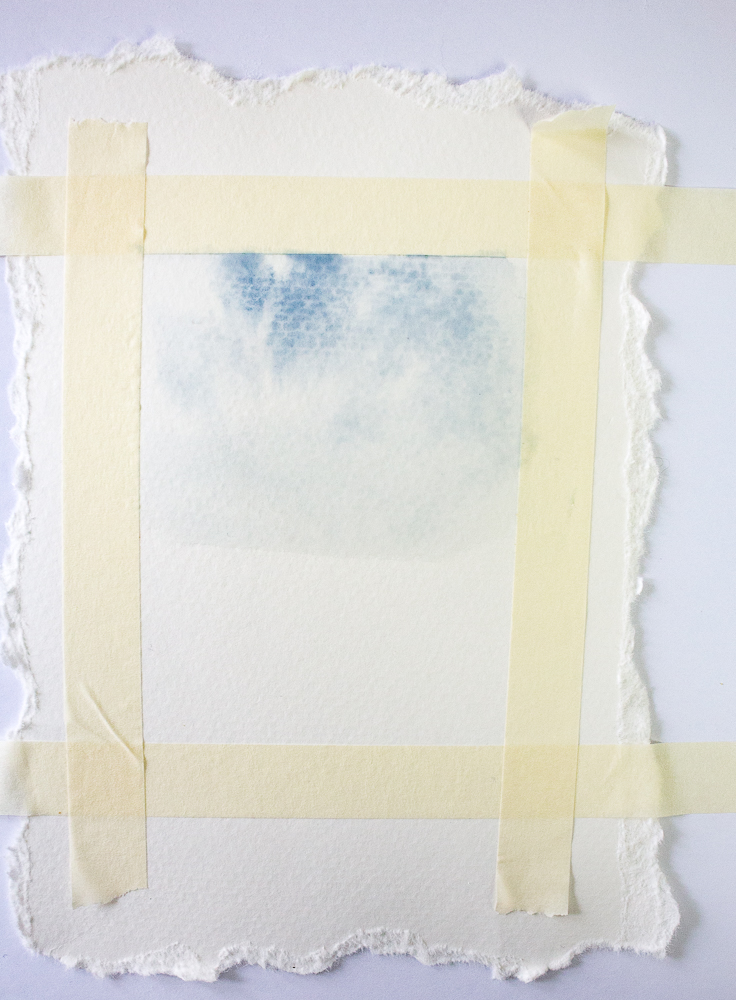 The first thing I did was to make a little frame around the paper. This is not necessary, but because you will be wetting most of the surface of the paper, I would recommend you tape the edges to avoid the paper from buckling.
If you're going to frame the paper, make sure unlike mine, the tape is straight…ha.
Step 1. Paint a layer of water and while the paper still wet, take a very small amount of blue and dab it onto the paper. Because the paper is wet, it will 'bleed'.
Now this is the part that will make a difference…allow the paper to dry. For the sake of speed, I used a blow dryer but just be cautious that if the air is too high it will move the paint around.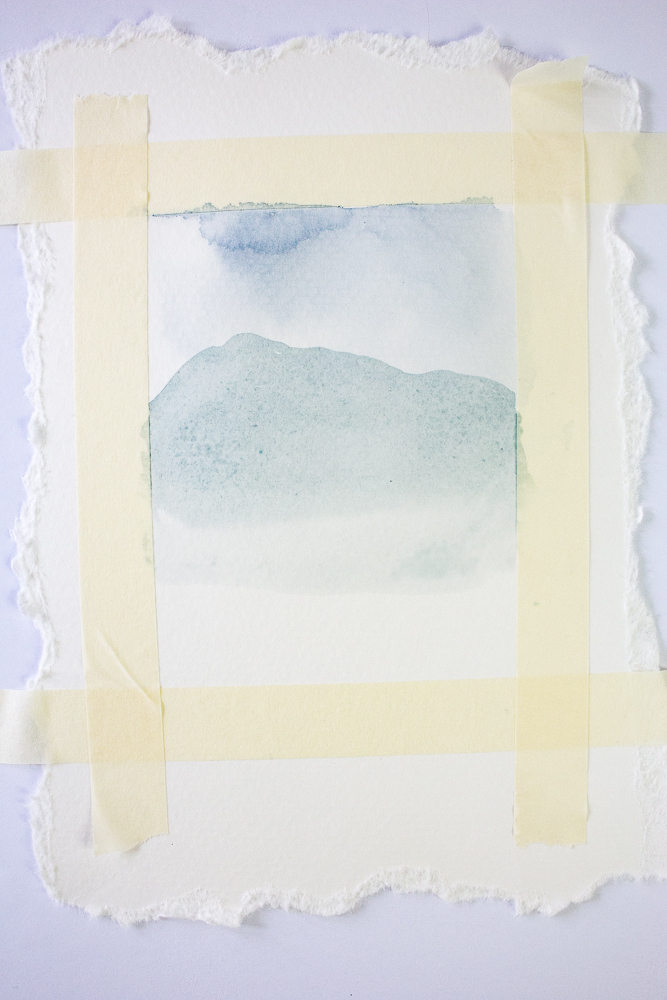 Take a little more paint (this could be any color you like, but I'm sticking with  blues) and paint an irregular mountain shape.  Allow paper to dry completely.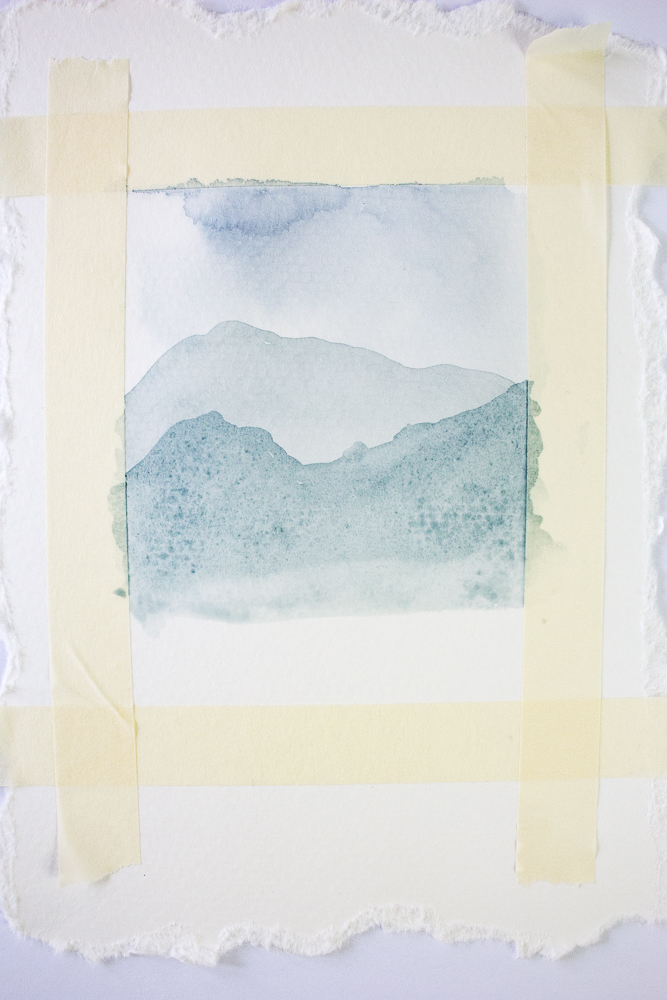 Dip your brush in more paint, this time it will be darker than the first two and apply another irregular mountain shape on top of the previous shape. Allow to dry.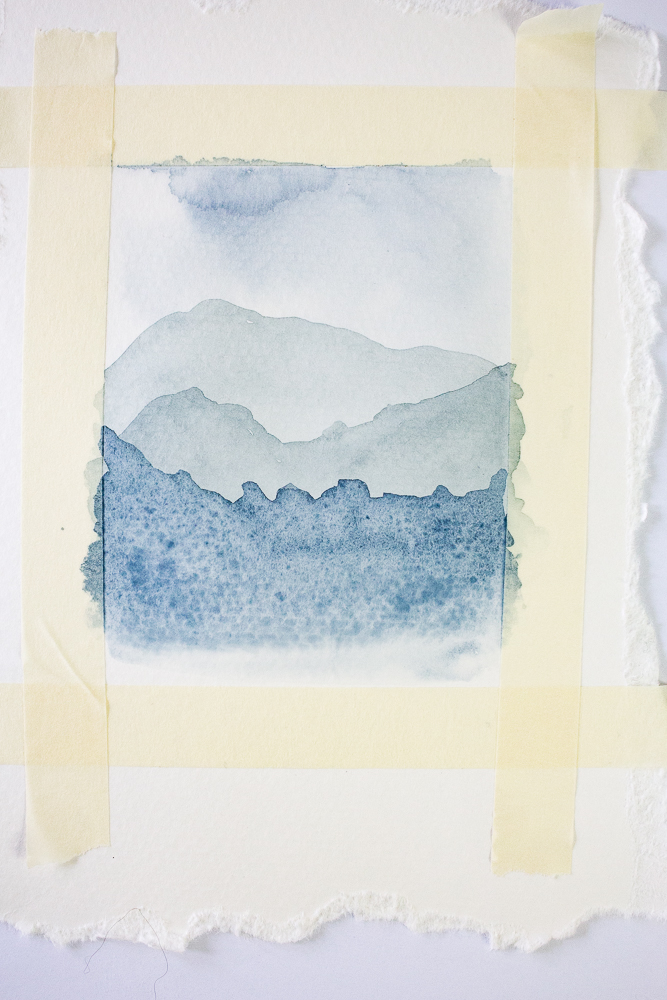 Repeat the previous step with yet another darker shade of blue and allow to dry.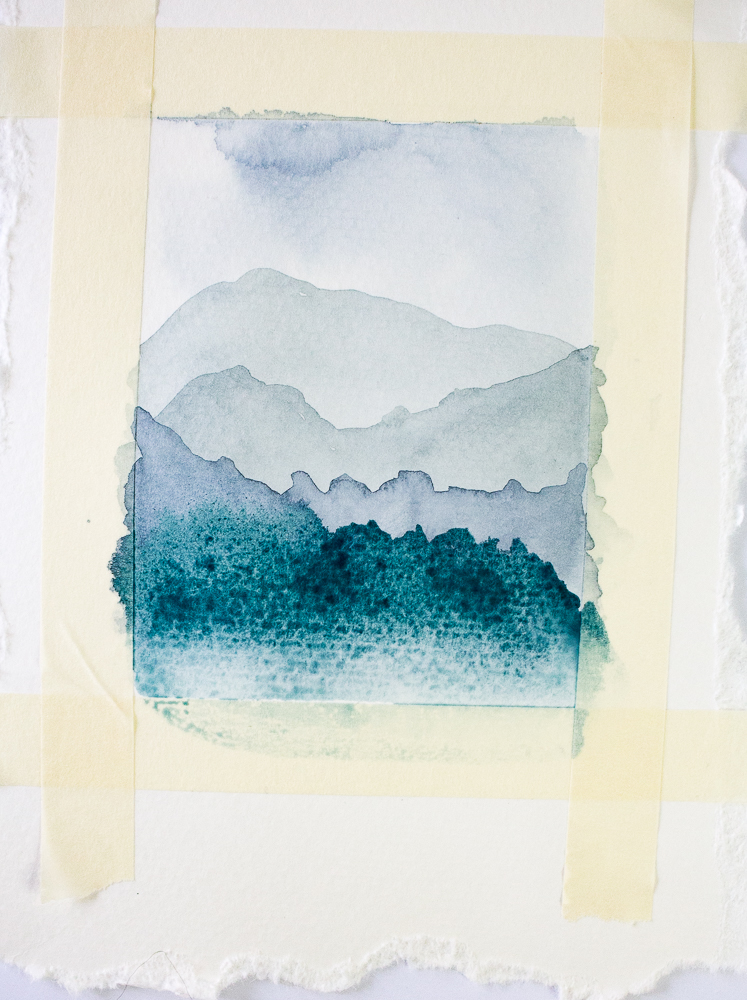 And another layer…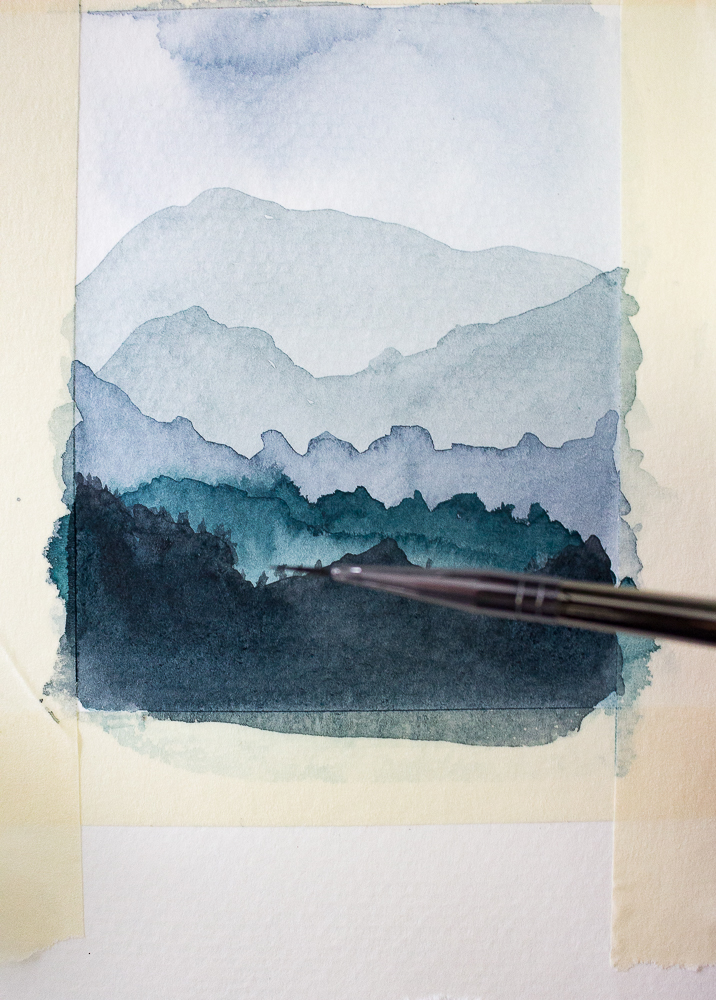 The last layer is the darkest layer and the one that will show a little more definition…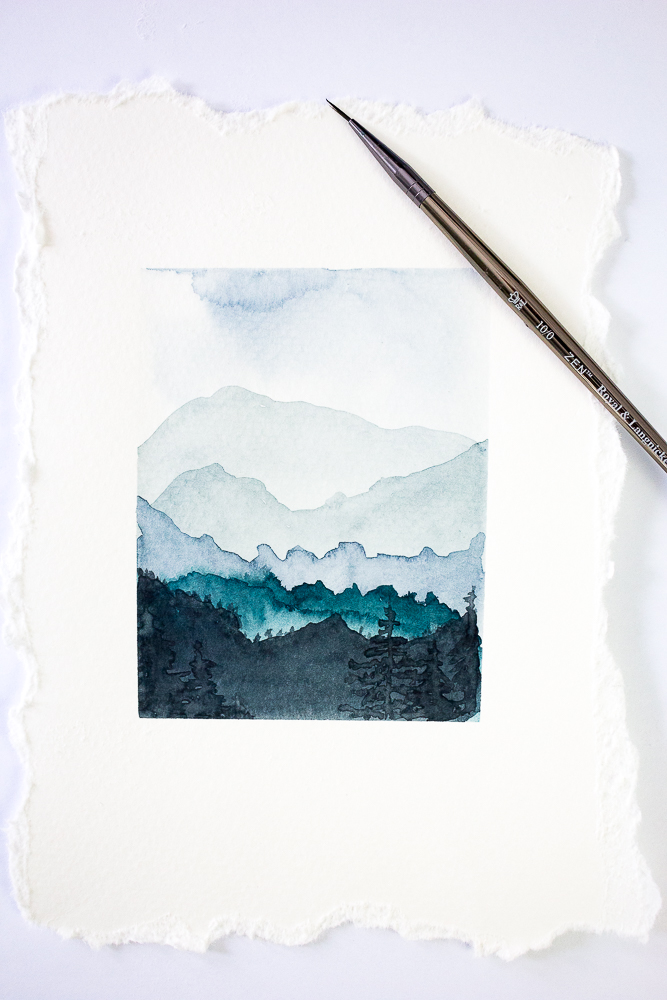 Using a very fine brush, add some texture to the mountains and paint some trees at the forefront if you wish.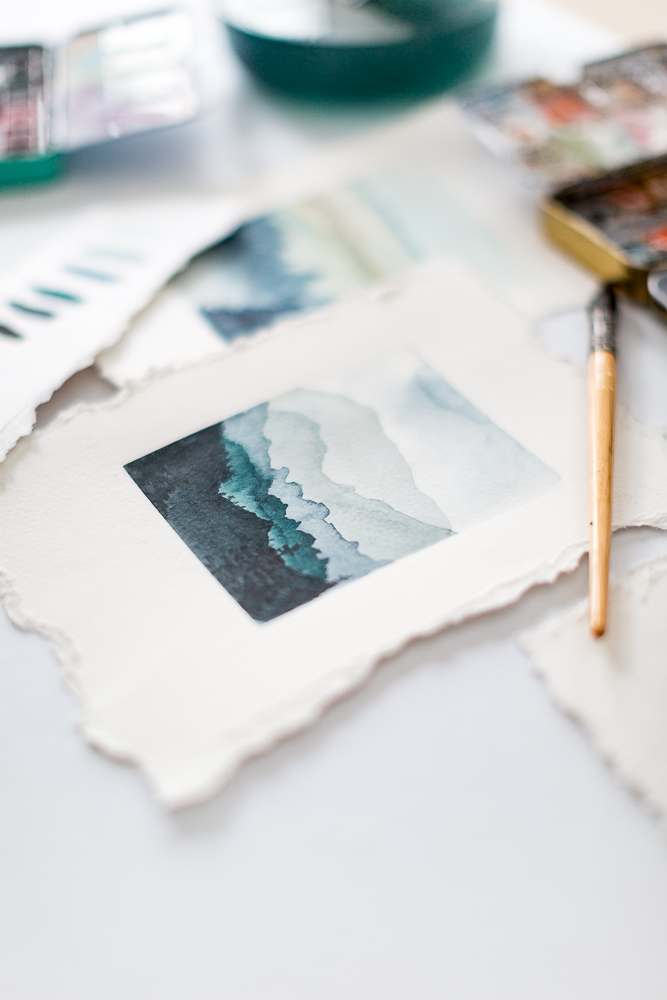 And that's it! I love how this little painting looks and the hardest part I think is the patience it takes to wait for the paint to dry in between layers.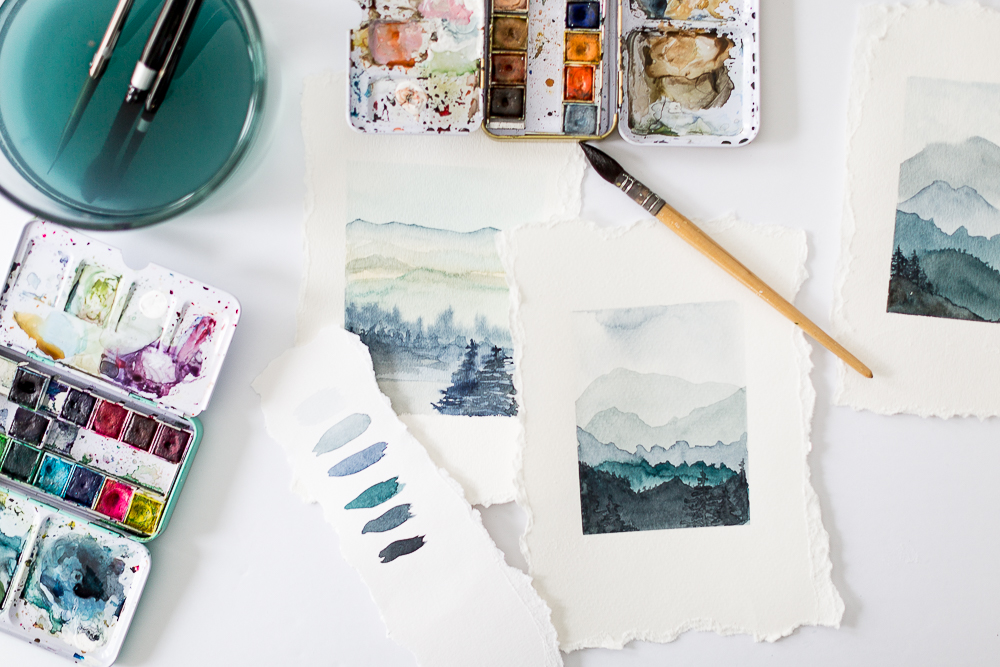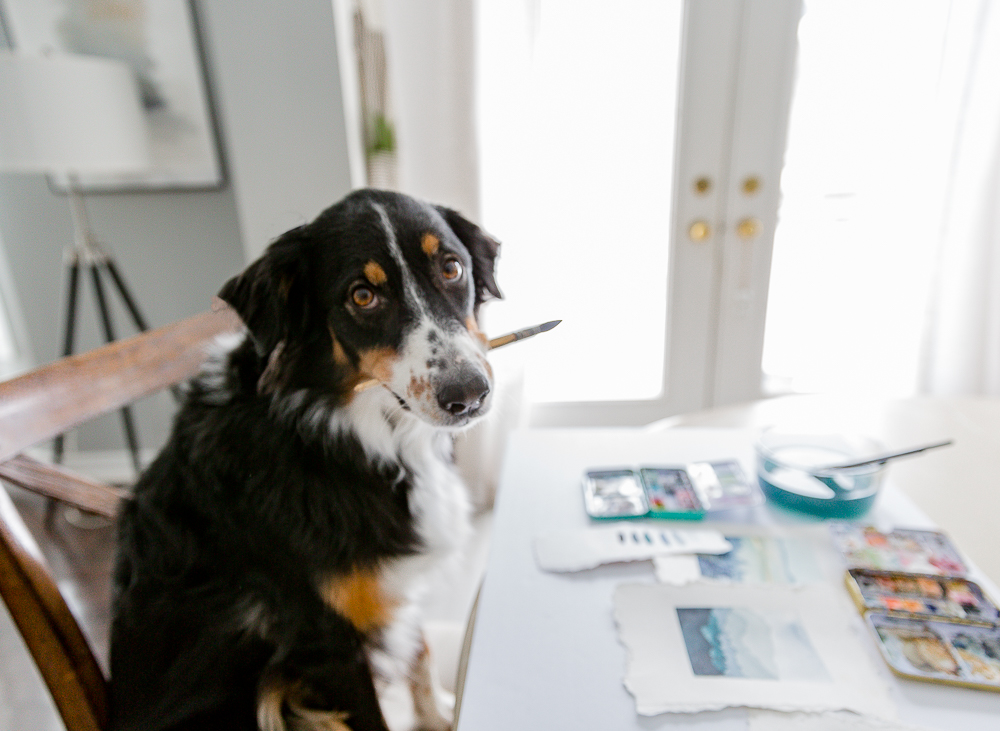 Let me know what you think? and if you have any questions at all, I will answer them all next week.
Thanks again so much for stopping by today. I will have a video of this tutorial by the end of the week…:)
Much love,
Lucy