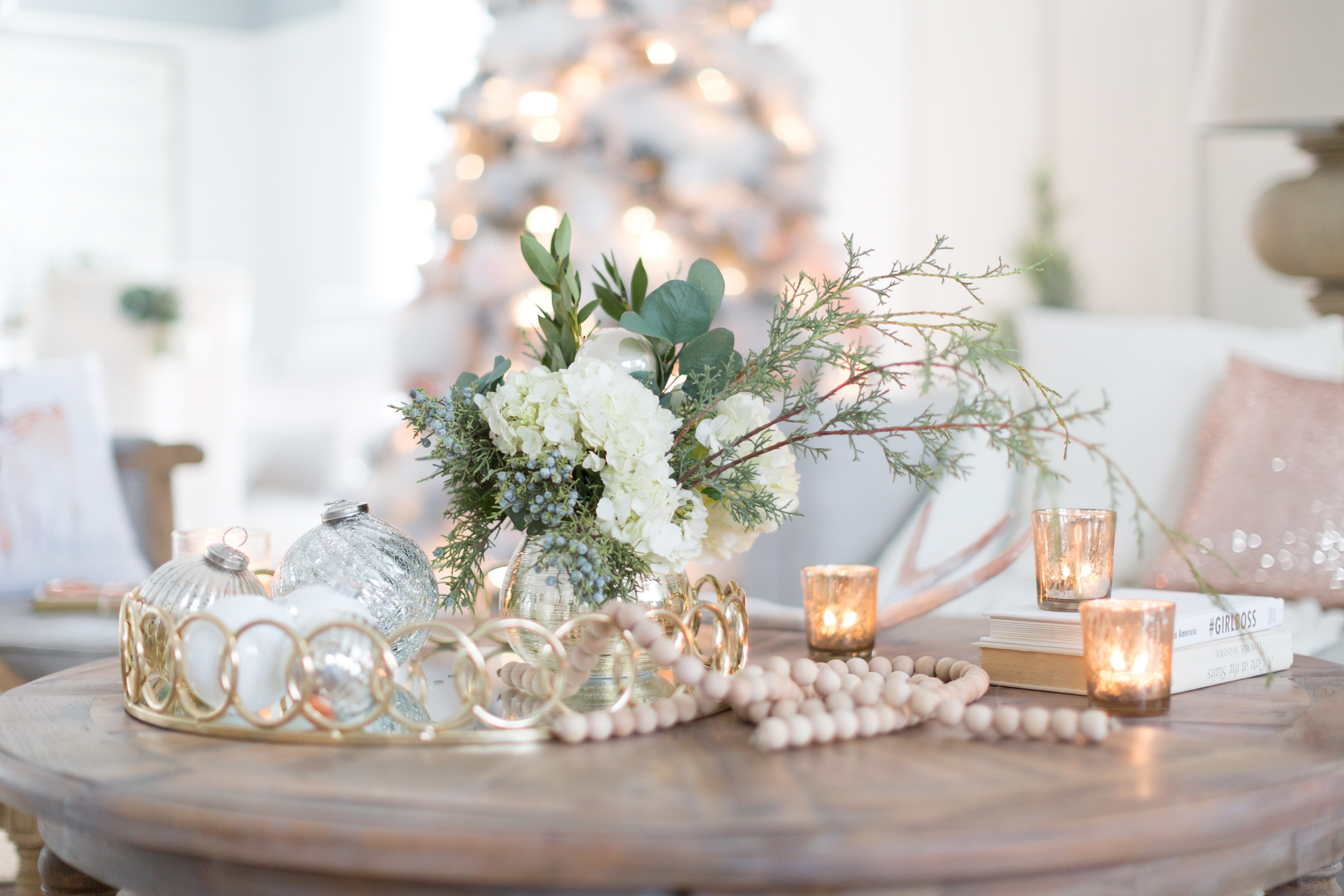 Hello sweet friends. I hope you had a beautiful weekend (and Thanksgiving for my US friends).
It's hard to believe it's that time again – the Holiday Housewalk with my sweet friend Jennifer Rizzo. This year, our good friends at Wayfair were kind enough to sponsor the housewalk, so a big thank you to them.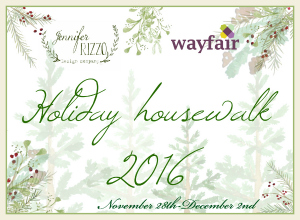 I would like to begin this post as I do every Christmas home tour, and that is to thank you for being here and remind you that these tours are meant to hopefully inspire and perhaps provide ideas for you to consider using in your own home.
Can I let you in on a little secret? While I love these home tours, they can be extremely stressful for me. I obviously cannot speak for all bloggers, but know I'm not alone as a couple of my friends have told me they feel the same way. There is so much work and planning involved, and we all put pressure on ourselves to try and come up with new and exciting ways to decorate. Before I know it, insecurity creeps in as I don't want to let anyone down and then the comparison game begins as I know the caliber of talent my home is being showcased against.
It's self imposed pressure that's unnecessary, as I know that as long as I share my heart and keep true to who I am and my beliefs, everything will be okay.
I remind myself that this is our home and not a showroom. That I decorate our home to make our nest warm and welcoming and that ultimately, I need to focus on the true meaning of the season.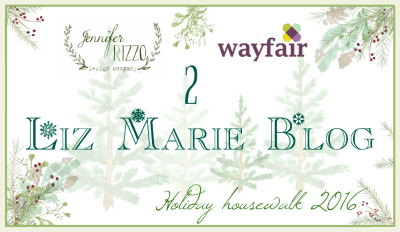 If you are coming over from Liz Marie's blog, welcome! Liz Marie is pretty much a celebrity in our circles, so being scheduled after her tour is a REALLY hard act to follow (remember that insecurity thing I just told you about?). I'm blessed to consider Liz one of my very good friends who is truly a beautiful person inside and out. She has a God given natural talent and her humility is so endearing.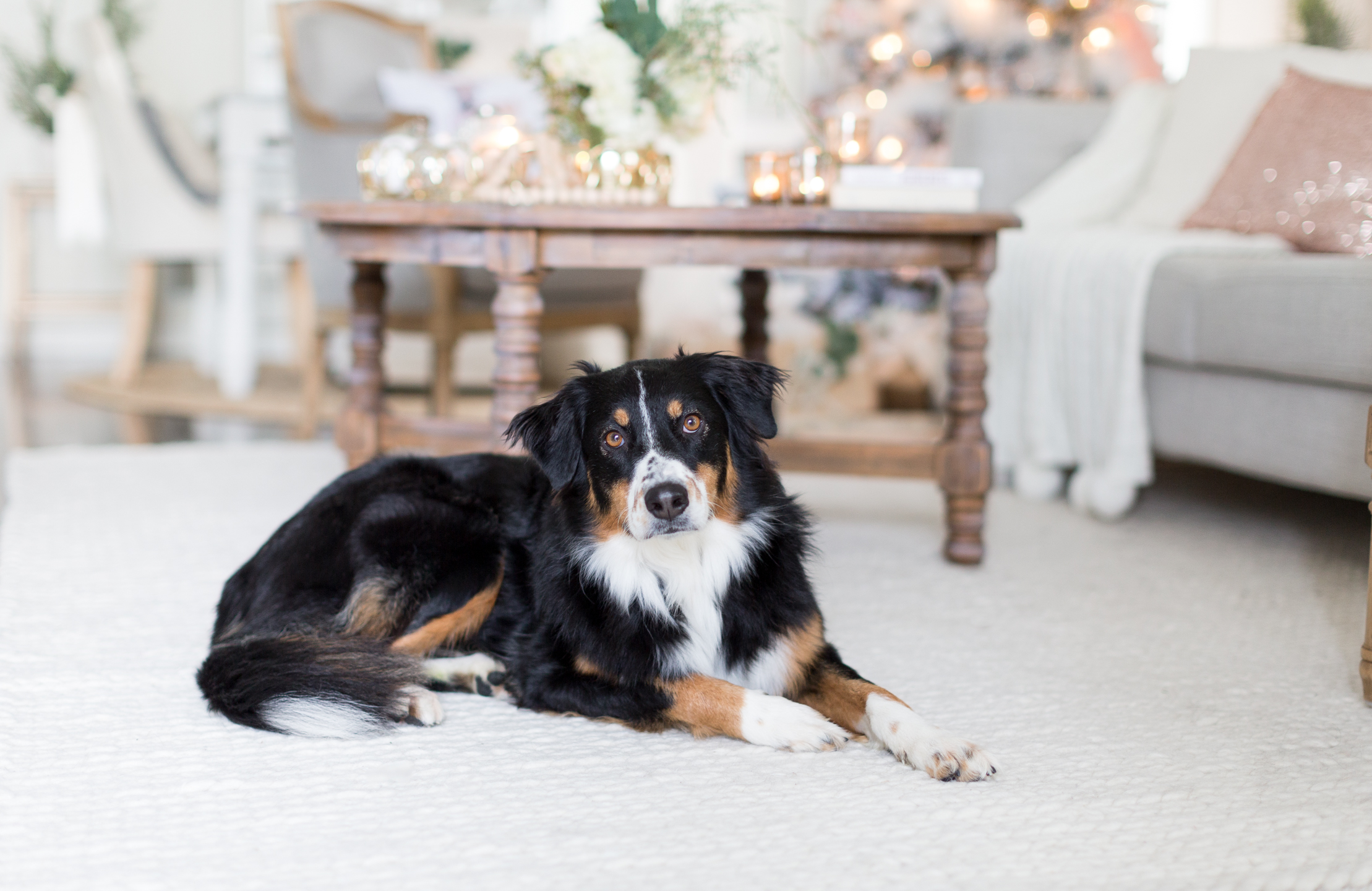 As usual, Brody ever present to welcome you into our home, beginning with the main living room.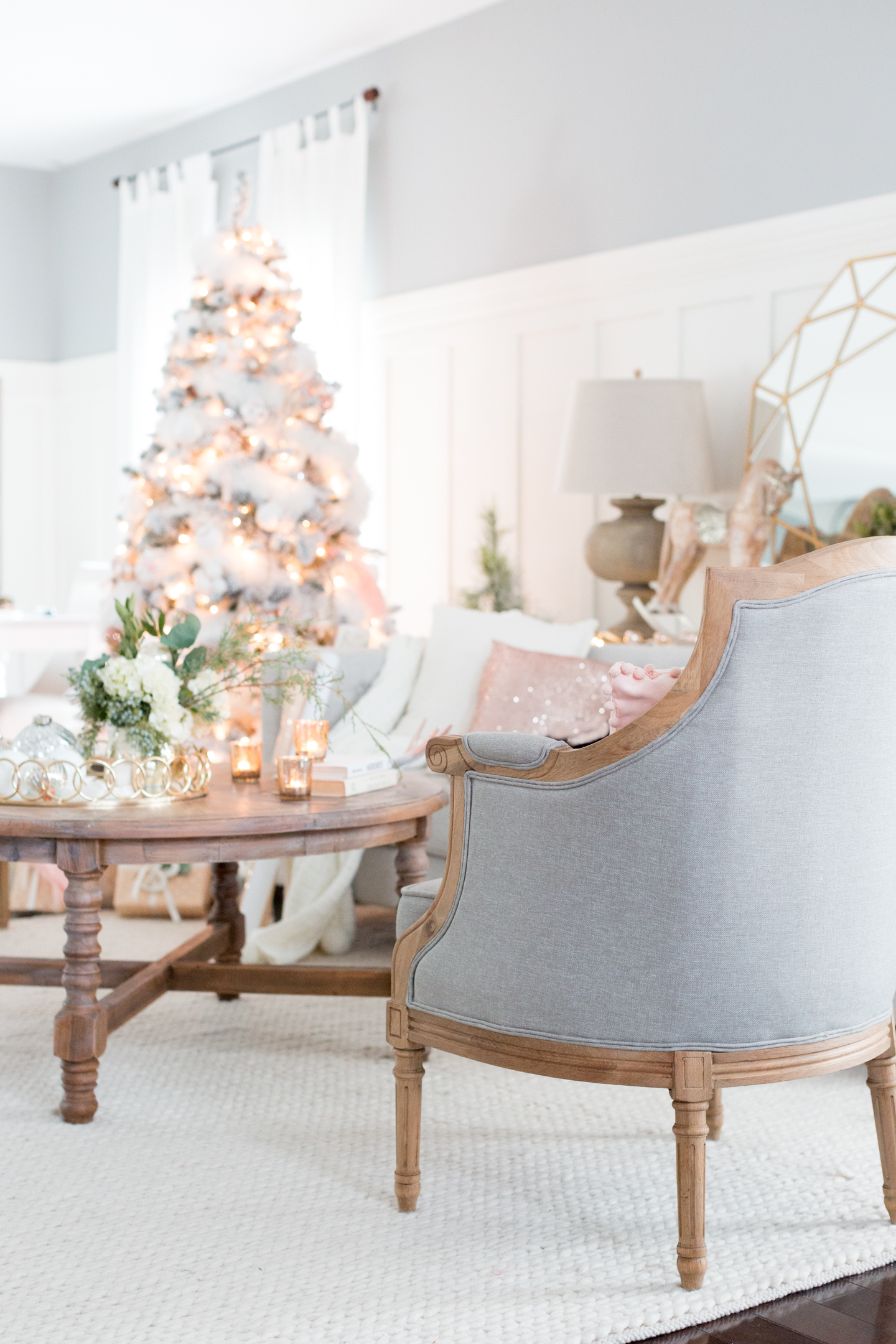 I made some changes to this room, but don't be surprised to see it change again next week for part 2 of my Christmas home tour.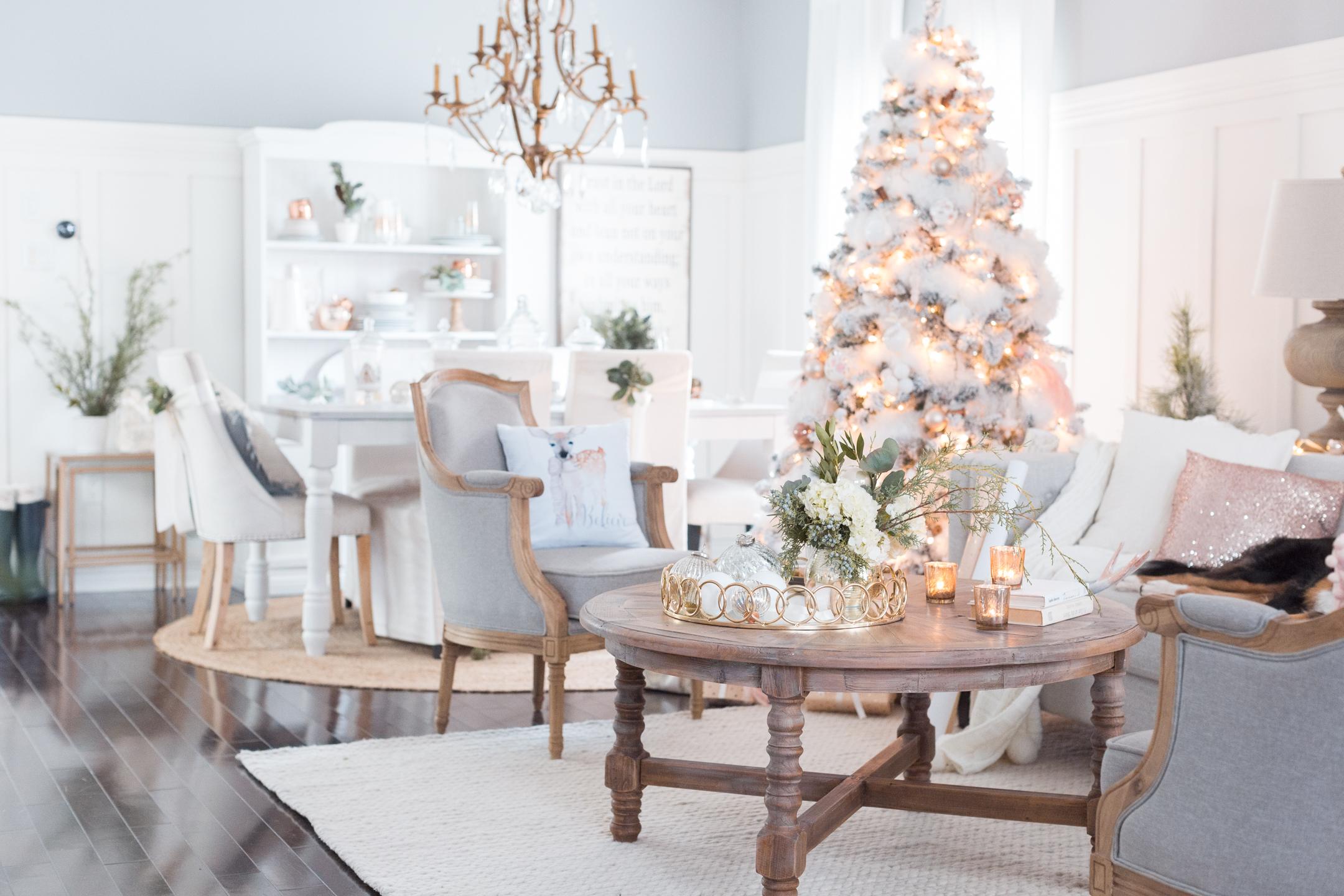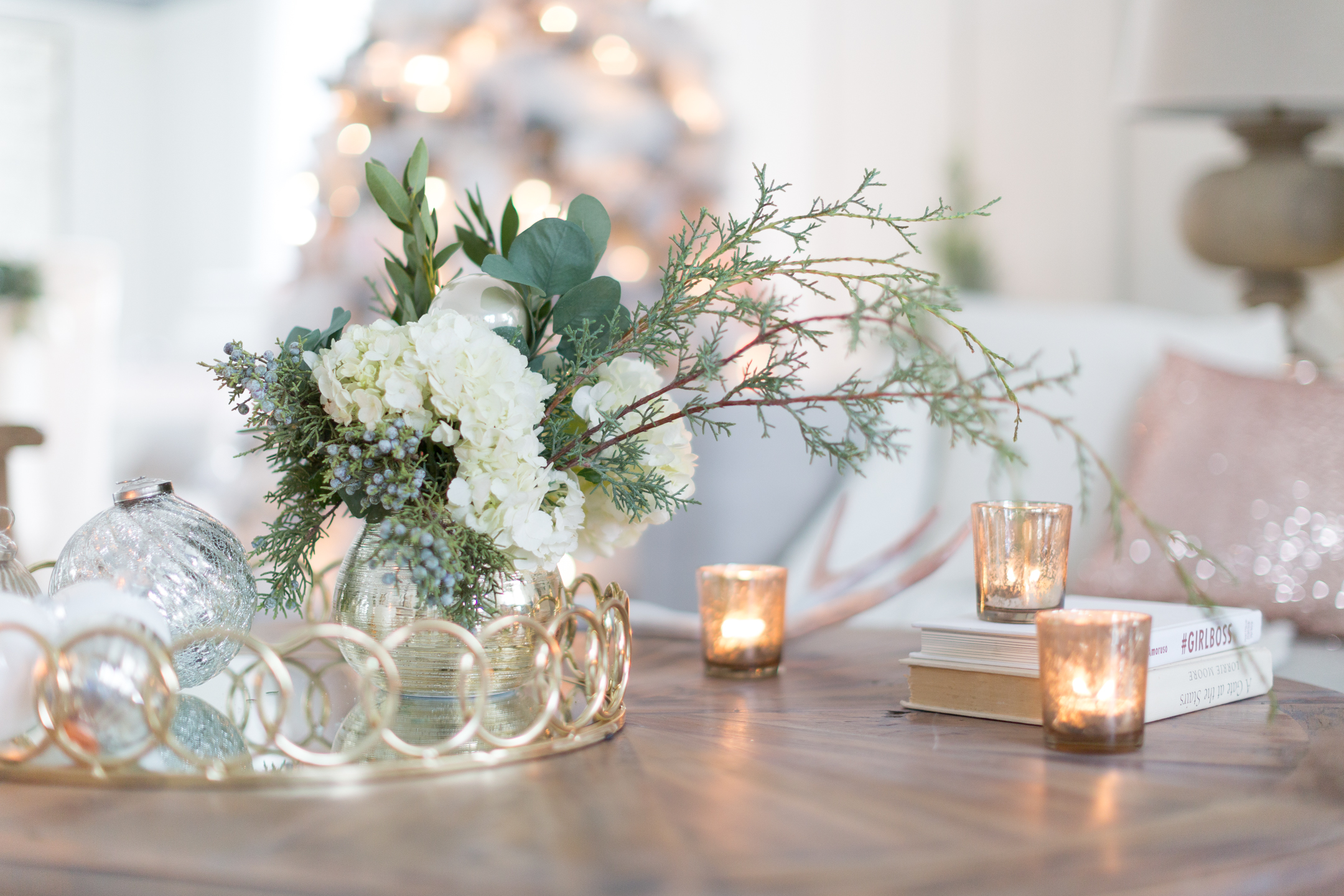 This year, I decided to embrace beautiful metallics, golds, rosegold and some silver. It's the perfect time of year to do so as the beautiful twinkle lights of the tree just make everything sparkle.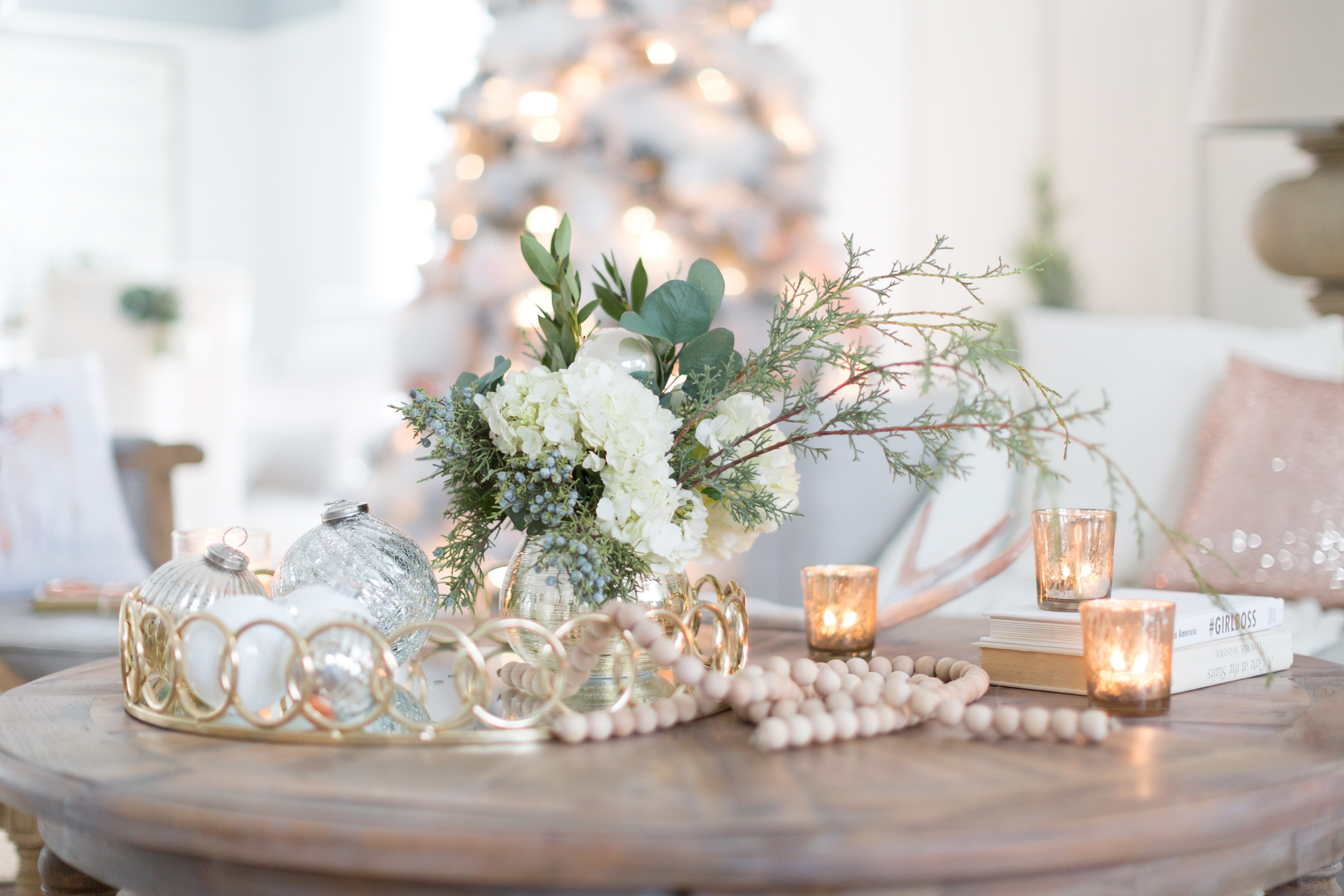 I put together a simple arrangement, using grocery store hydrangeas and some winter greens including the fragrant Juniper.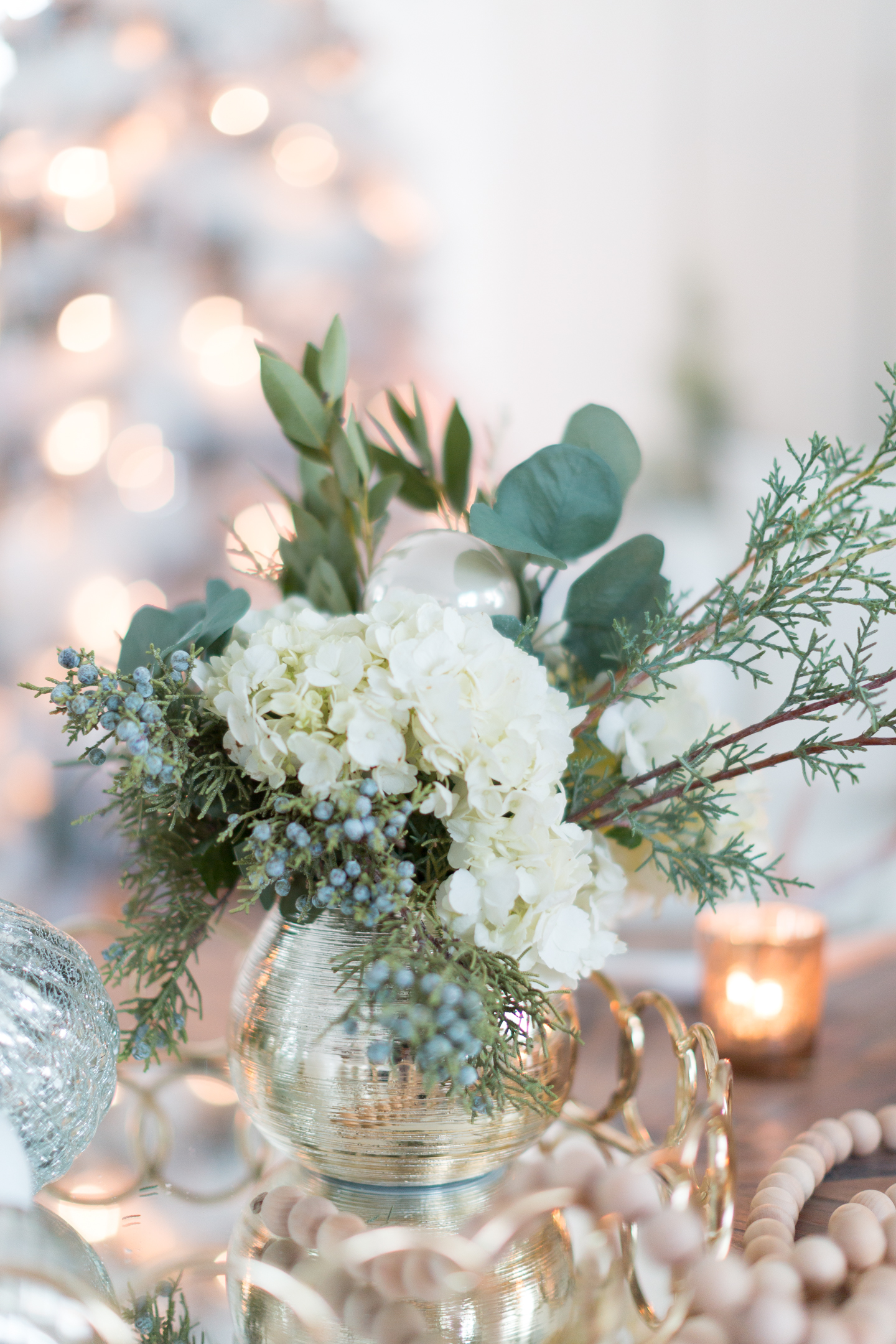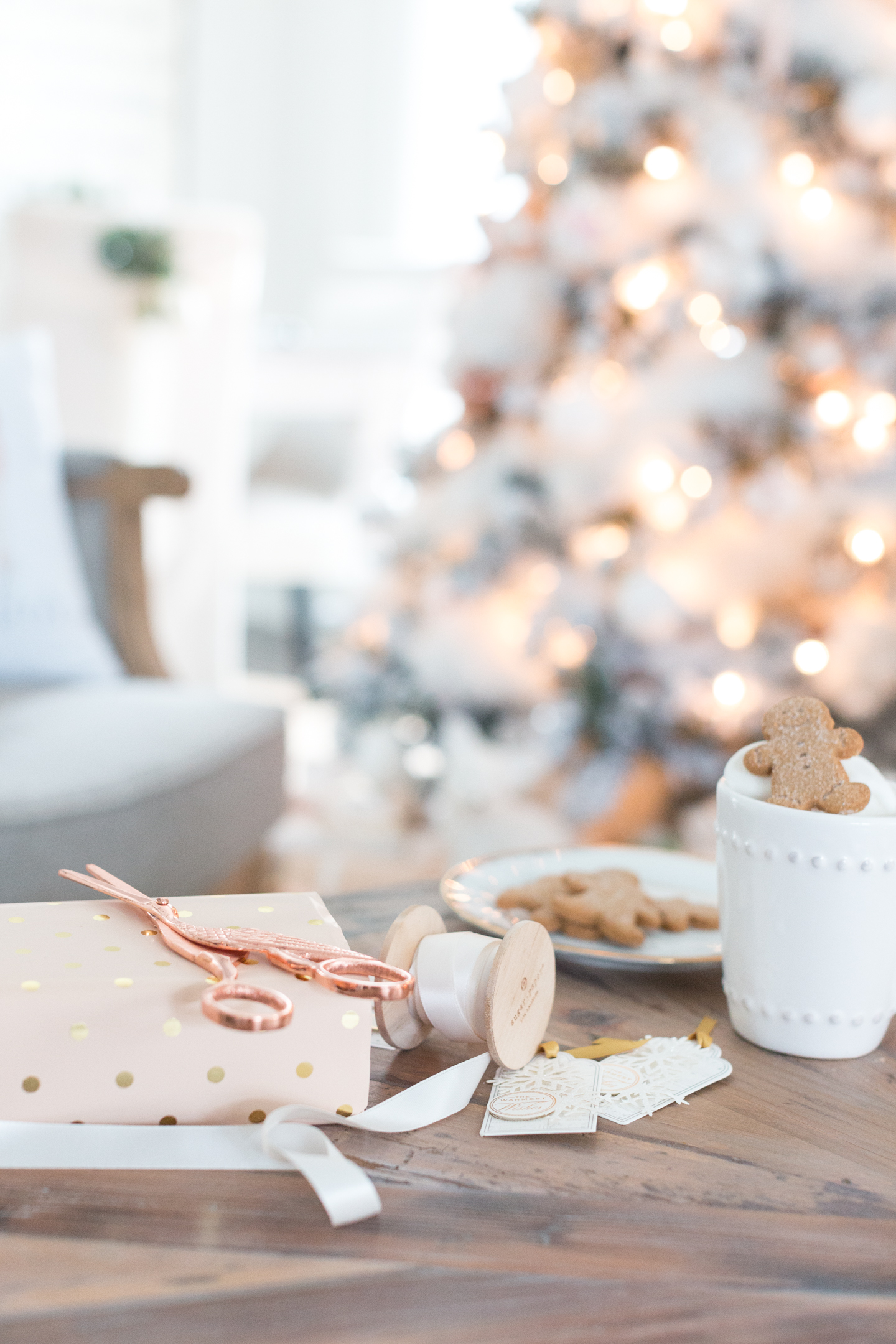 A month ago, I was blessed to visit my friend Rachel in St.Louis, where we of course visited Target and some other stores not found here in Canada. I was able to bring back some of this pretty wrapping paper.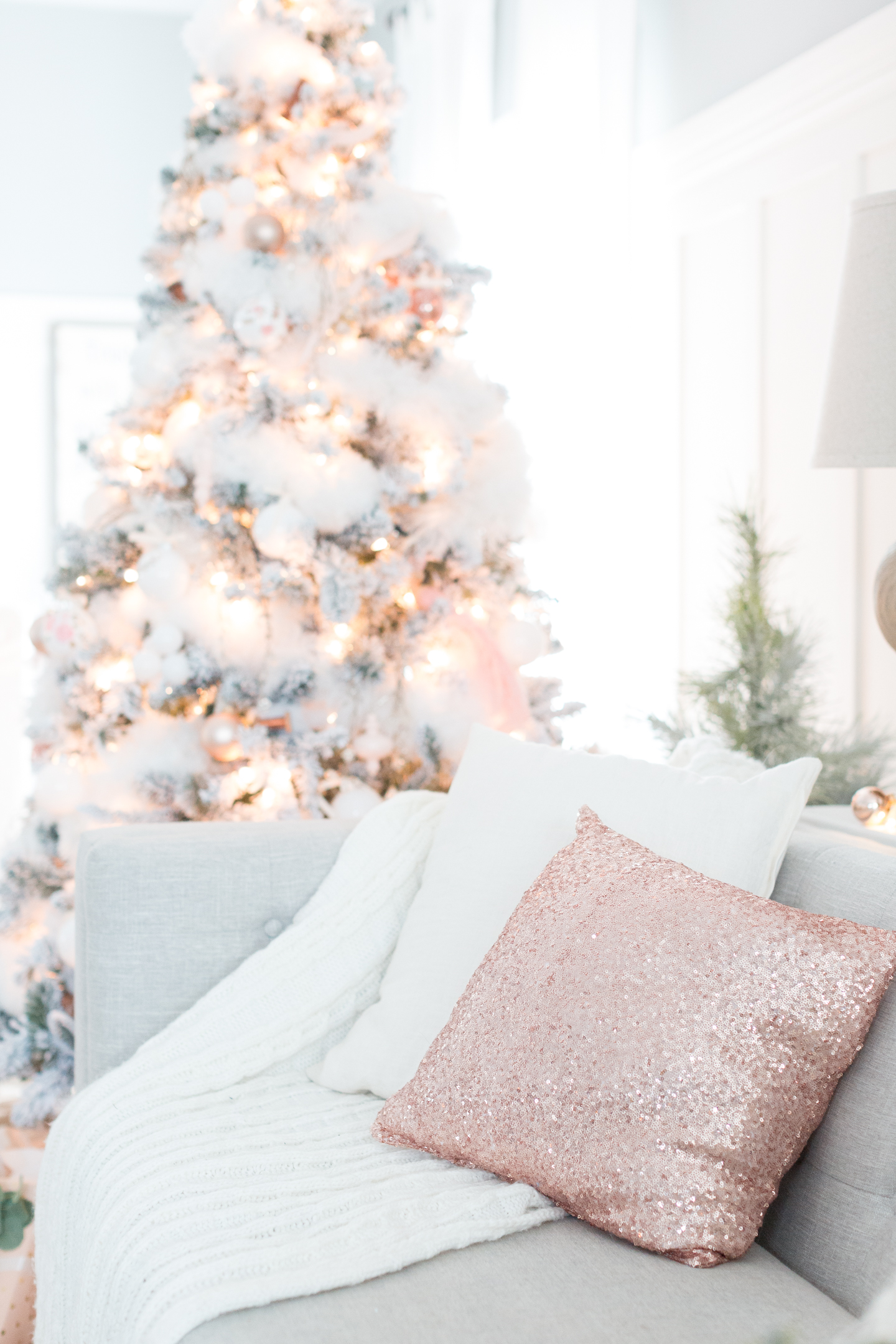 This gorgeous sequin pillow is from Wayfair and it's one of my favorite pillows ever (here).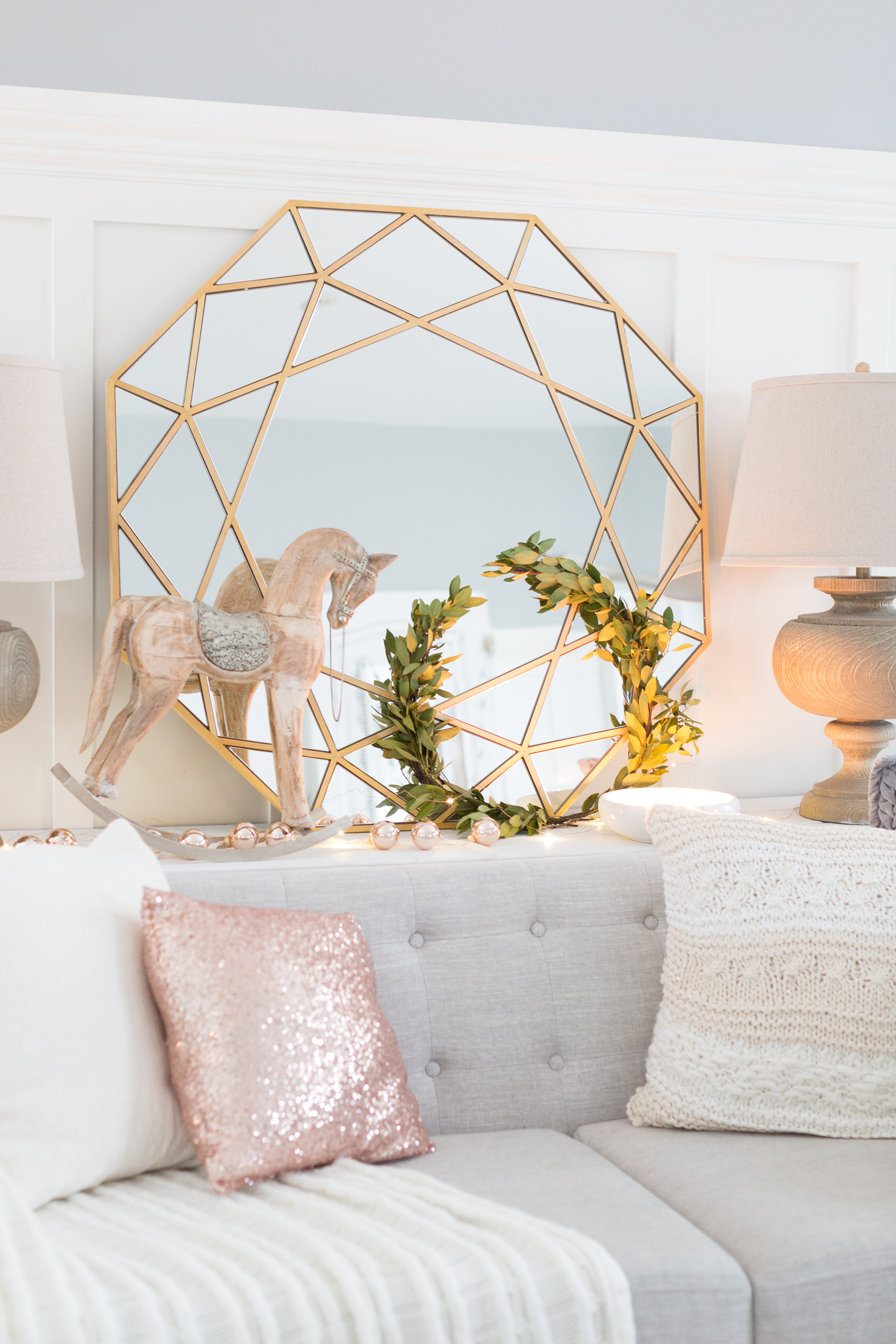 I wanted to keep this space simple, so I placed this cute little wooden horse I found at HomeSense (Home Goods in the U.S.) along with the bay leaf wreath I made.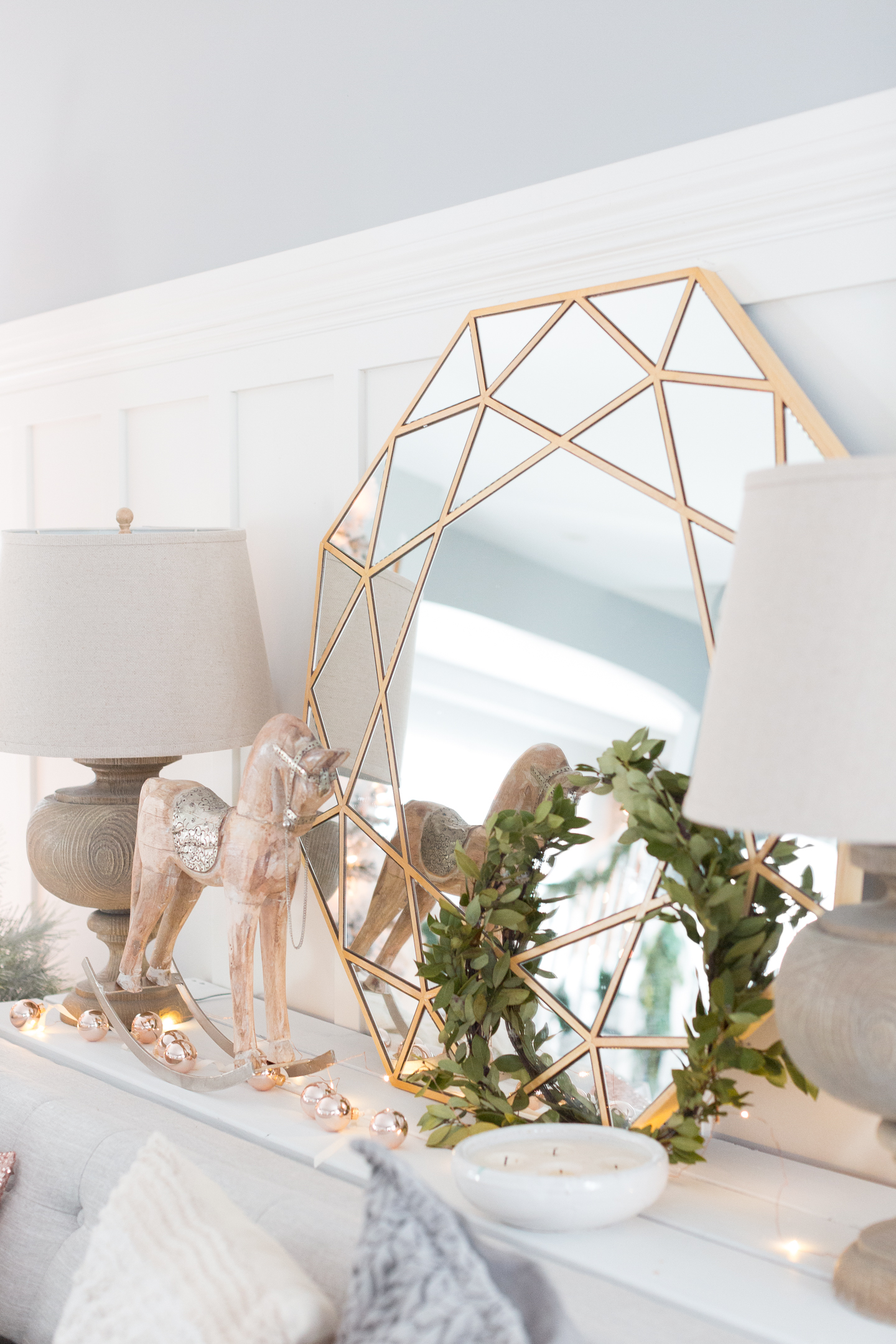 I also used some ribbon to tie these little ornaments together. I think they look so sweet as a simple garland.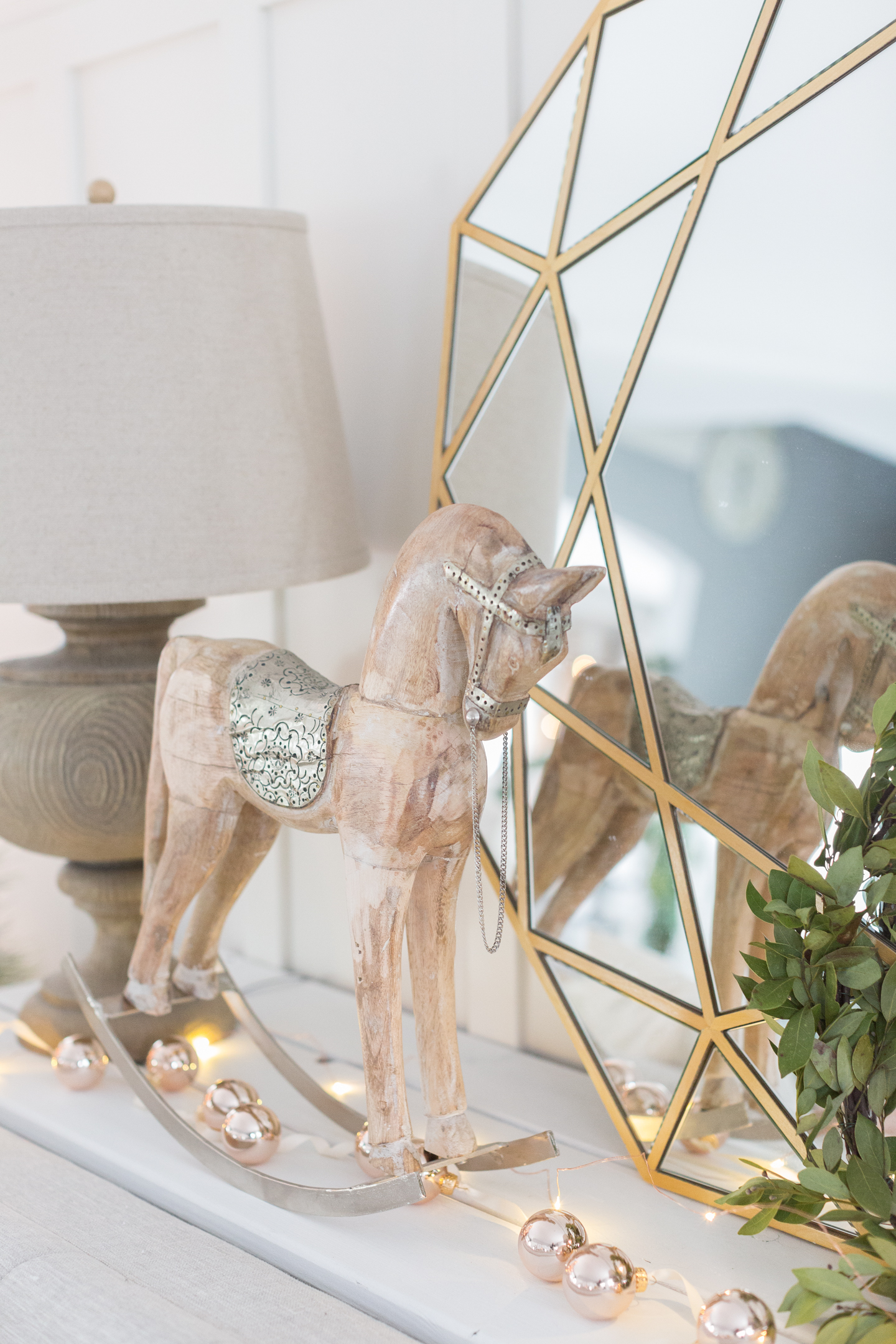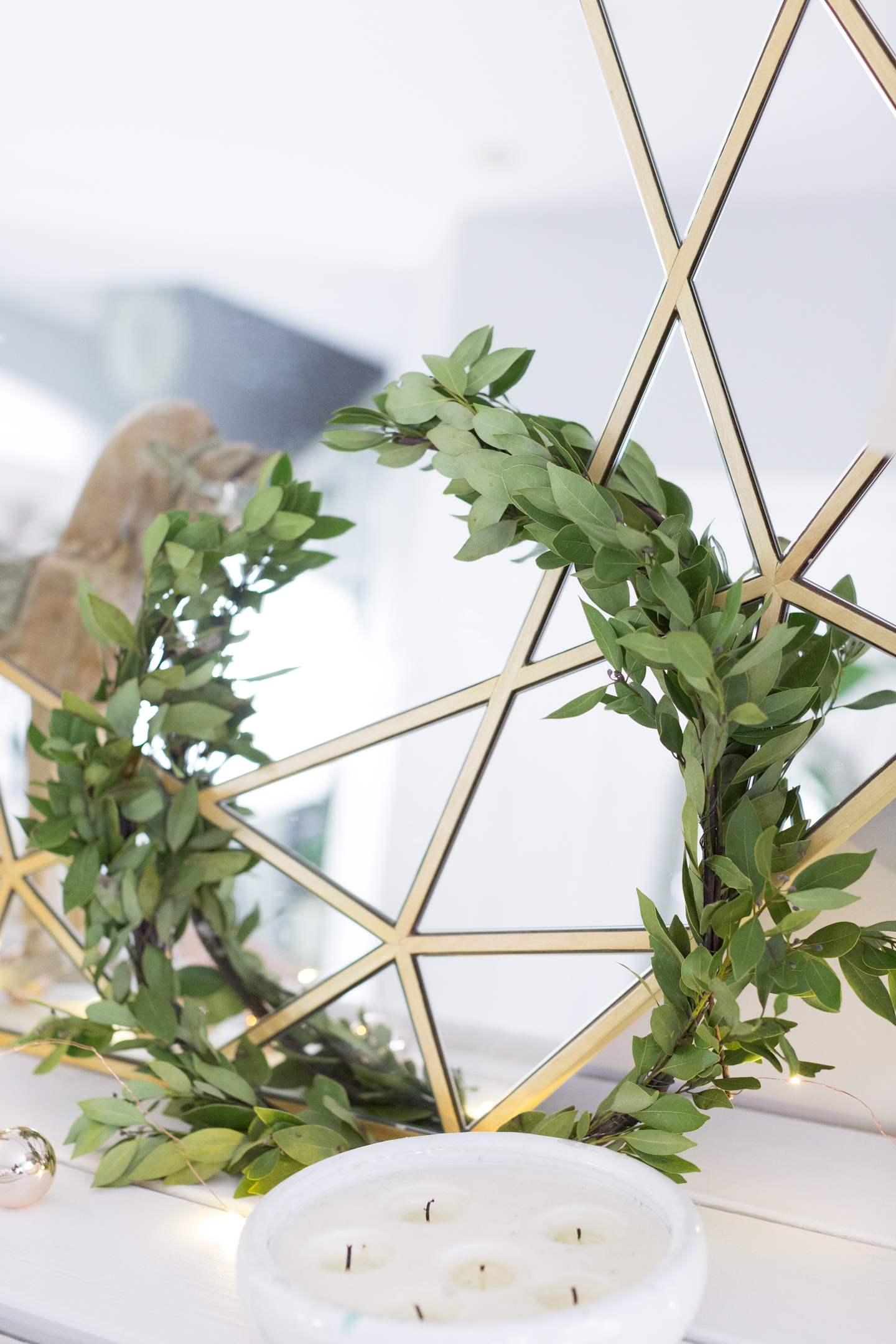 The bay leafs were a gift from Rachel and I love them so much!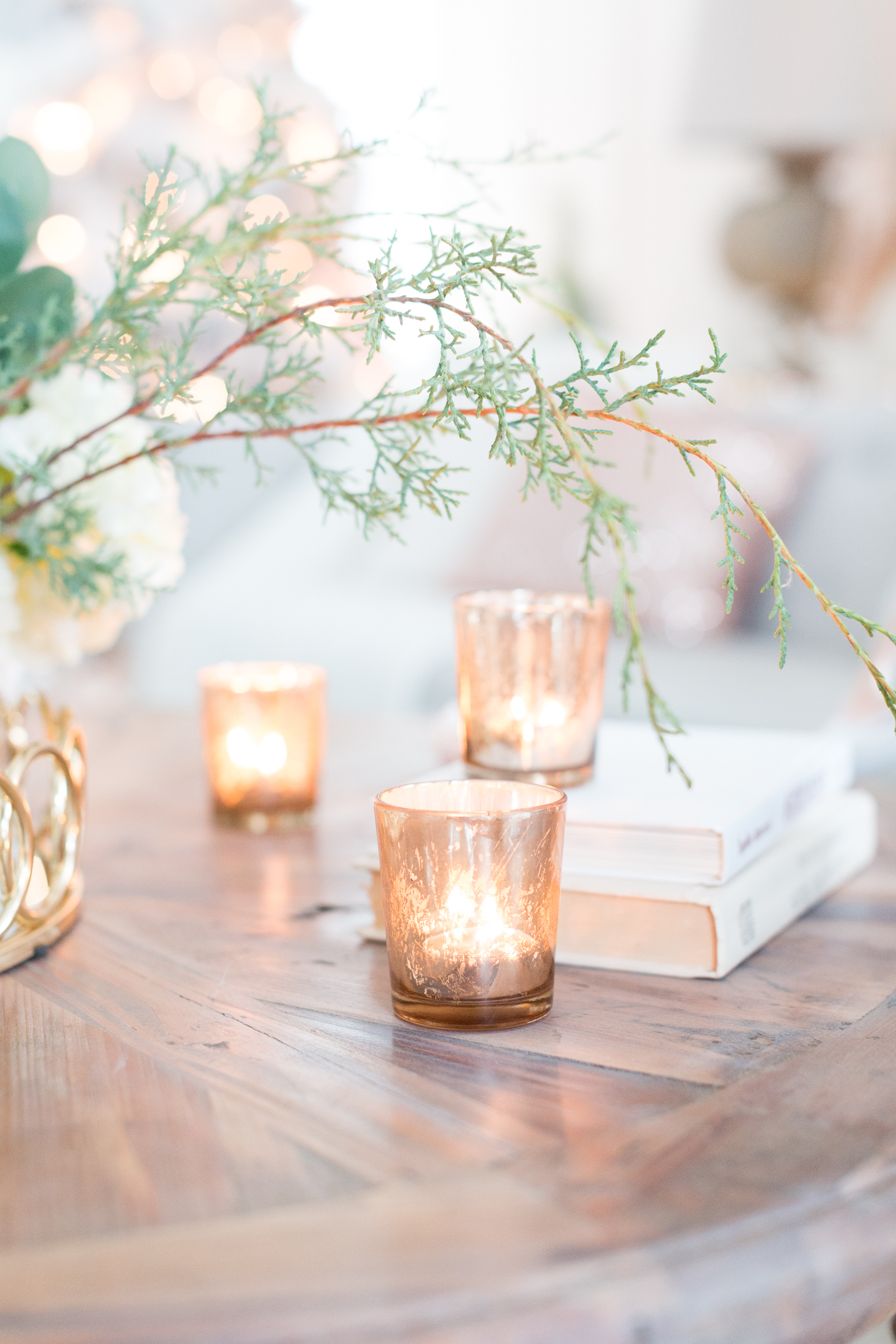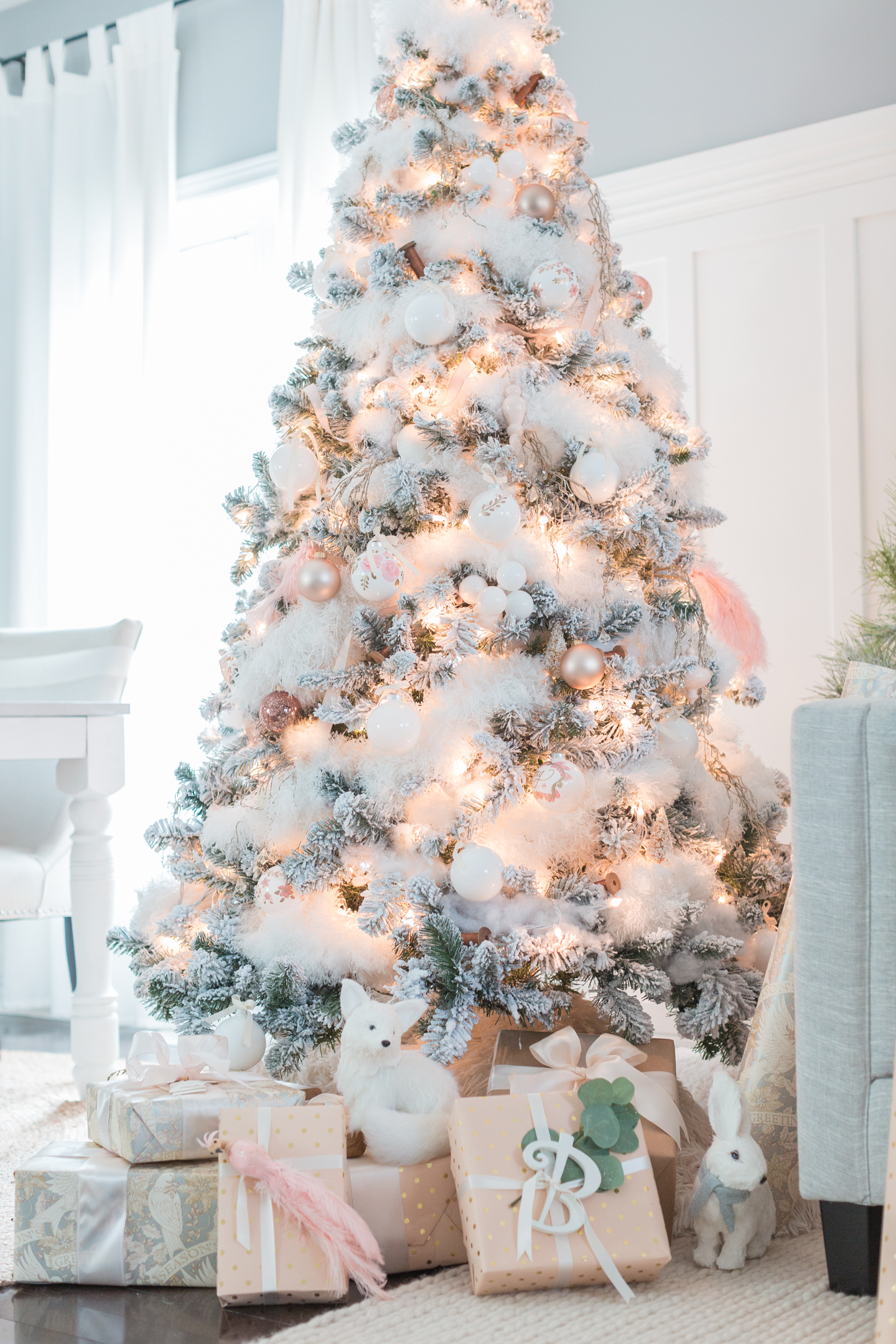 Here is the tree once again, adorned with soft pinks, white and gold…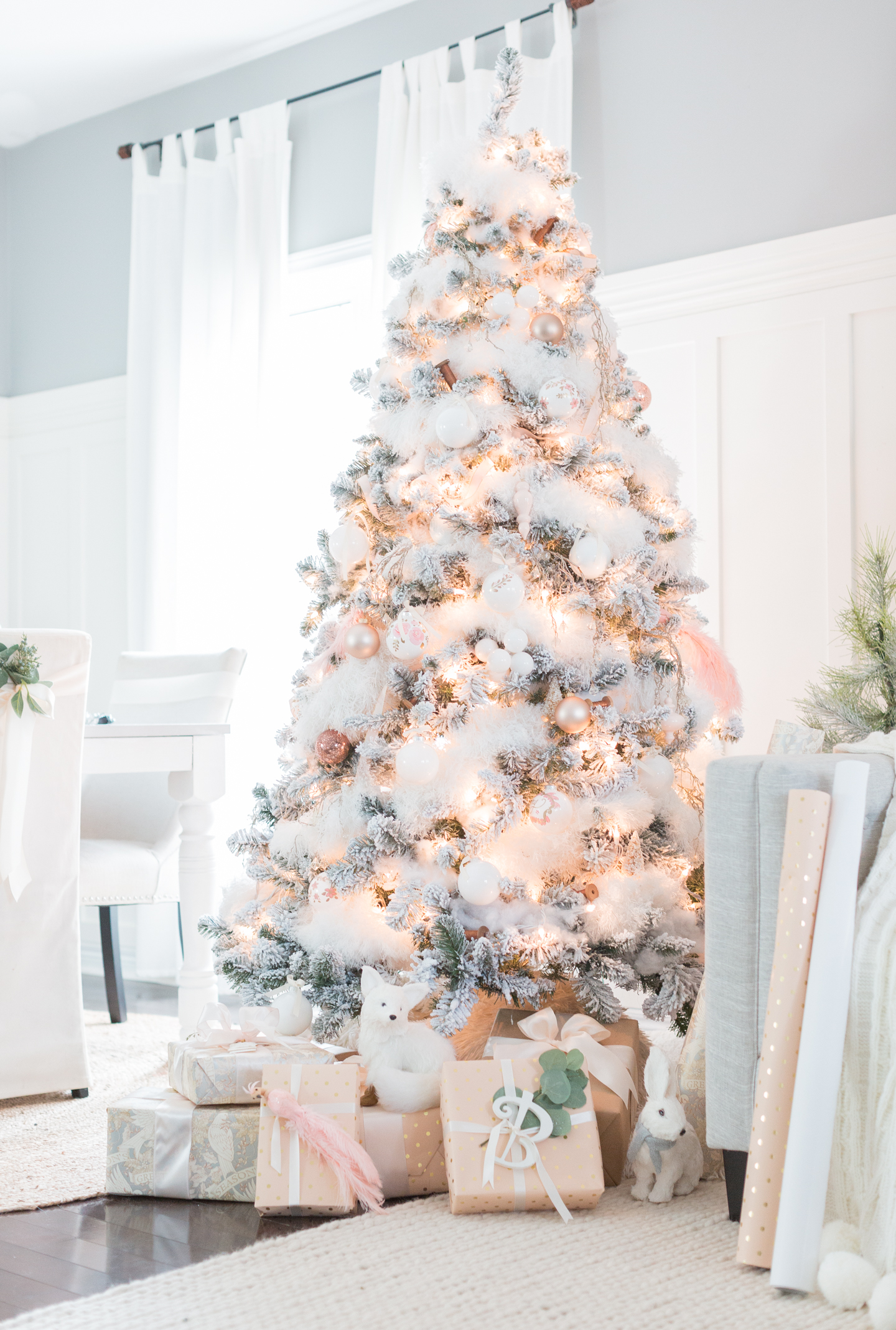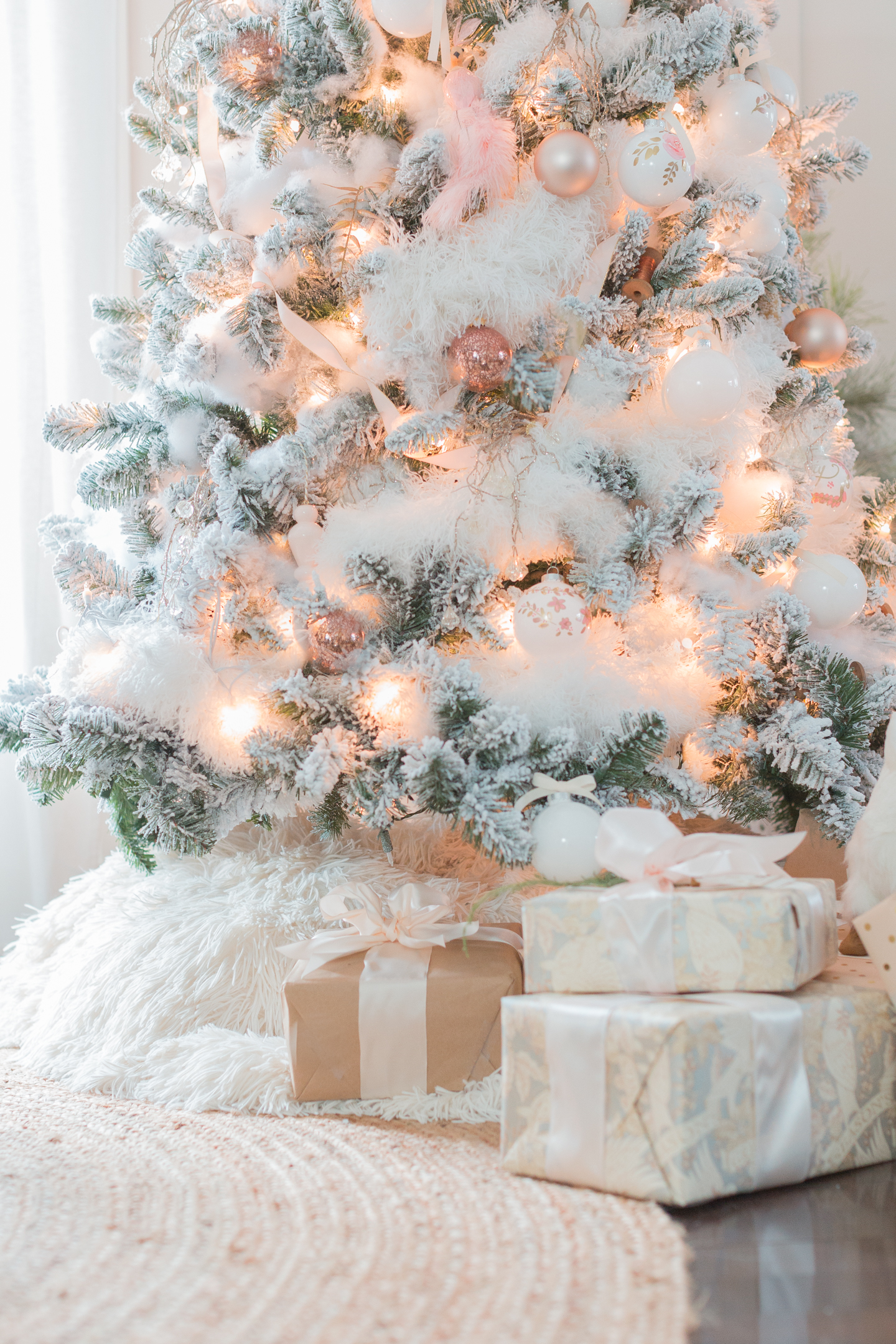 The tree skirt is just an old fur throw I had, placed on throw pillows under the base of the tree. I gives the illusion of a mount of snow, doesn't it?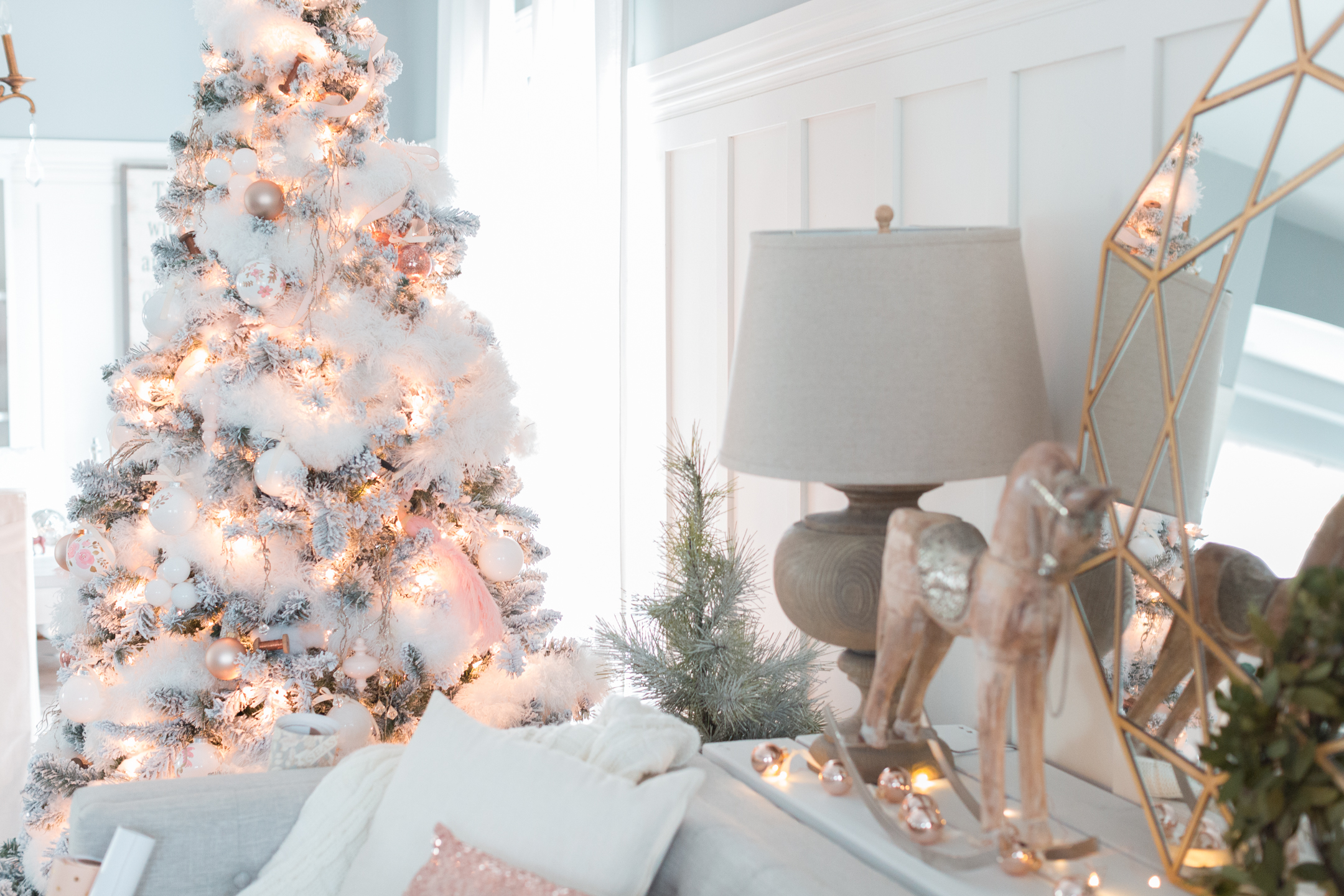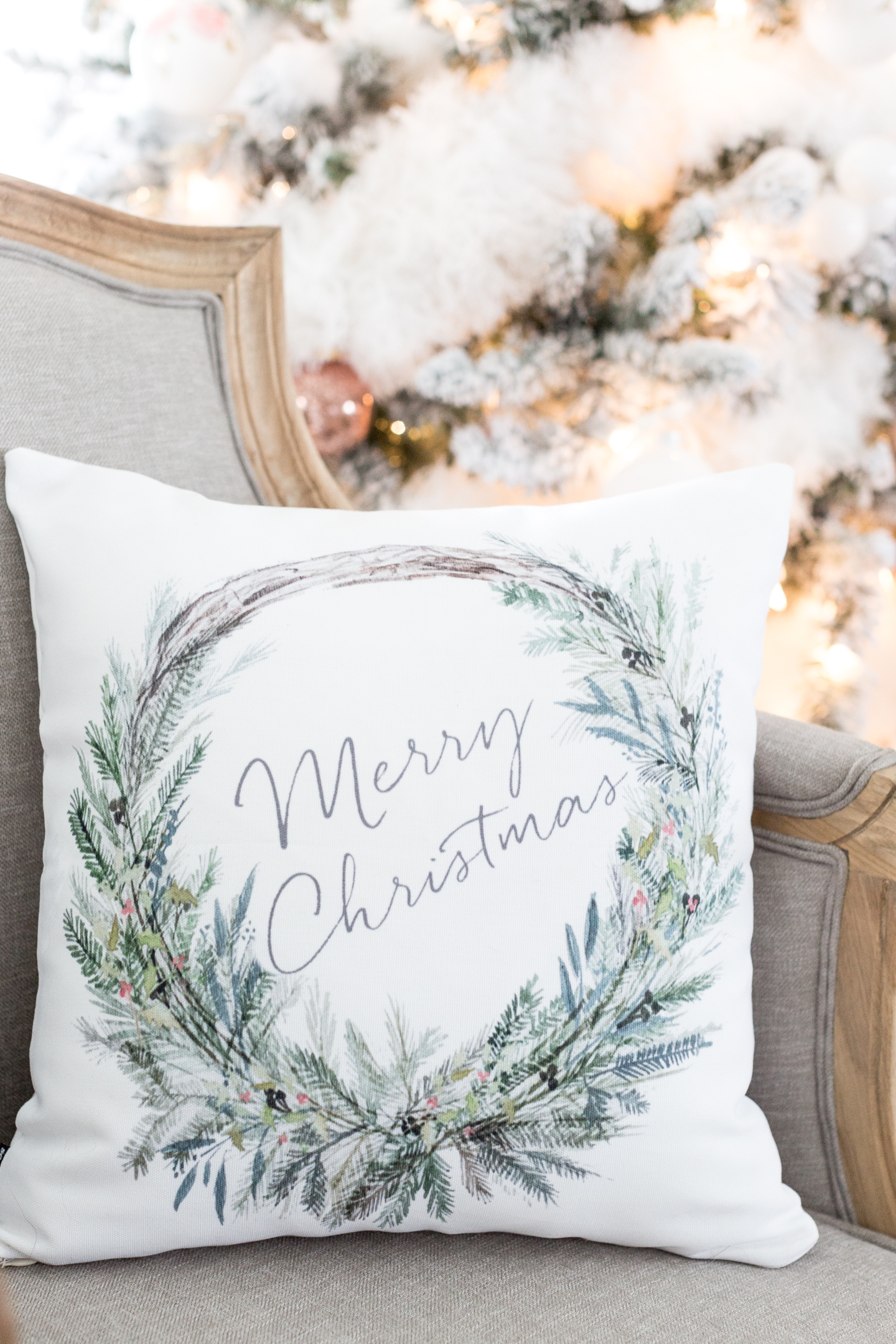 This is one of my new Christmas pillow designs available HERE.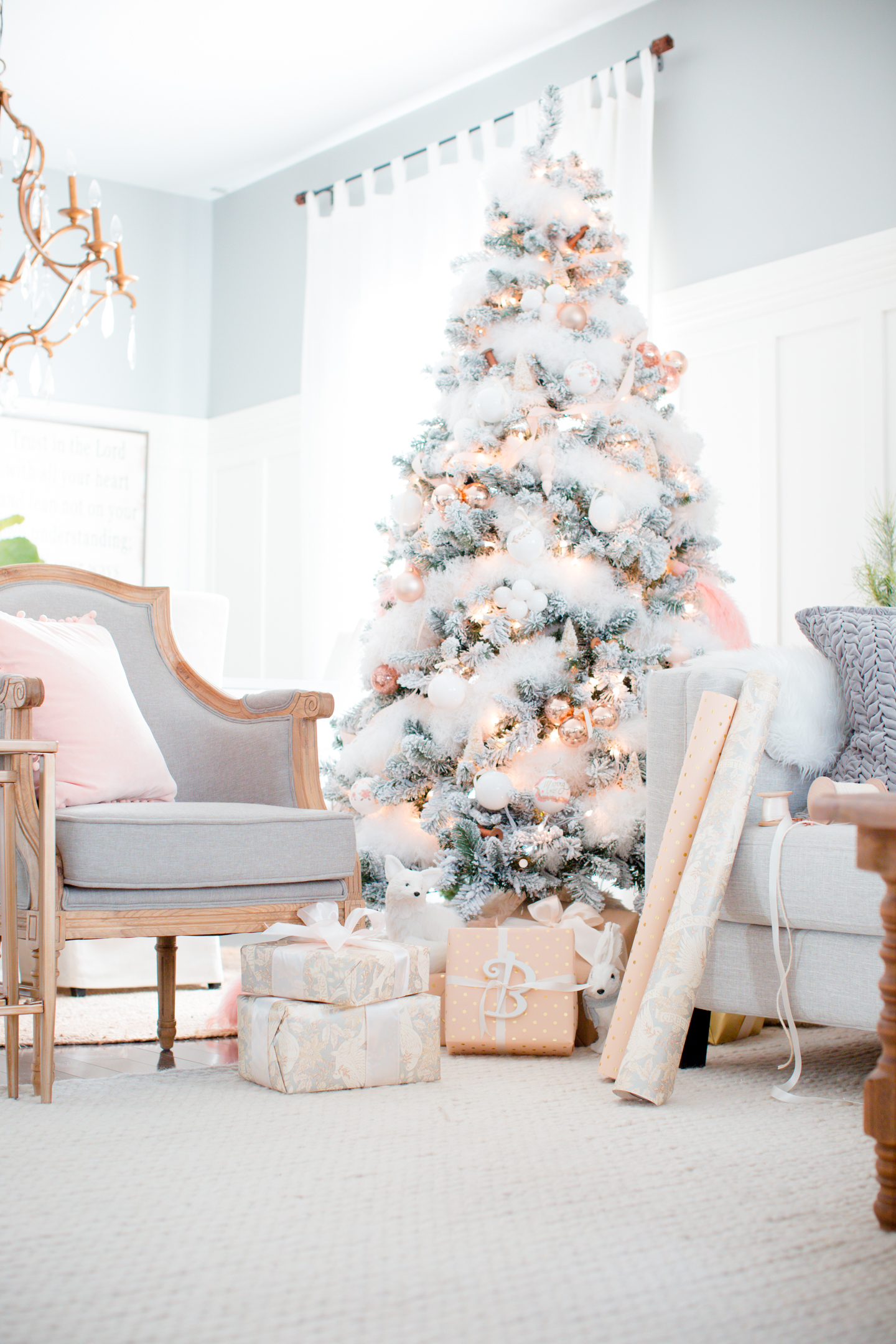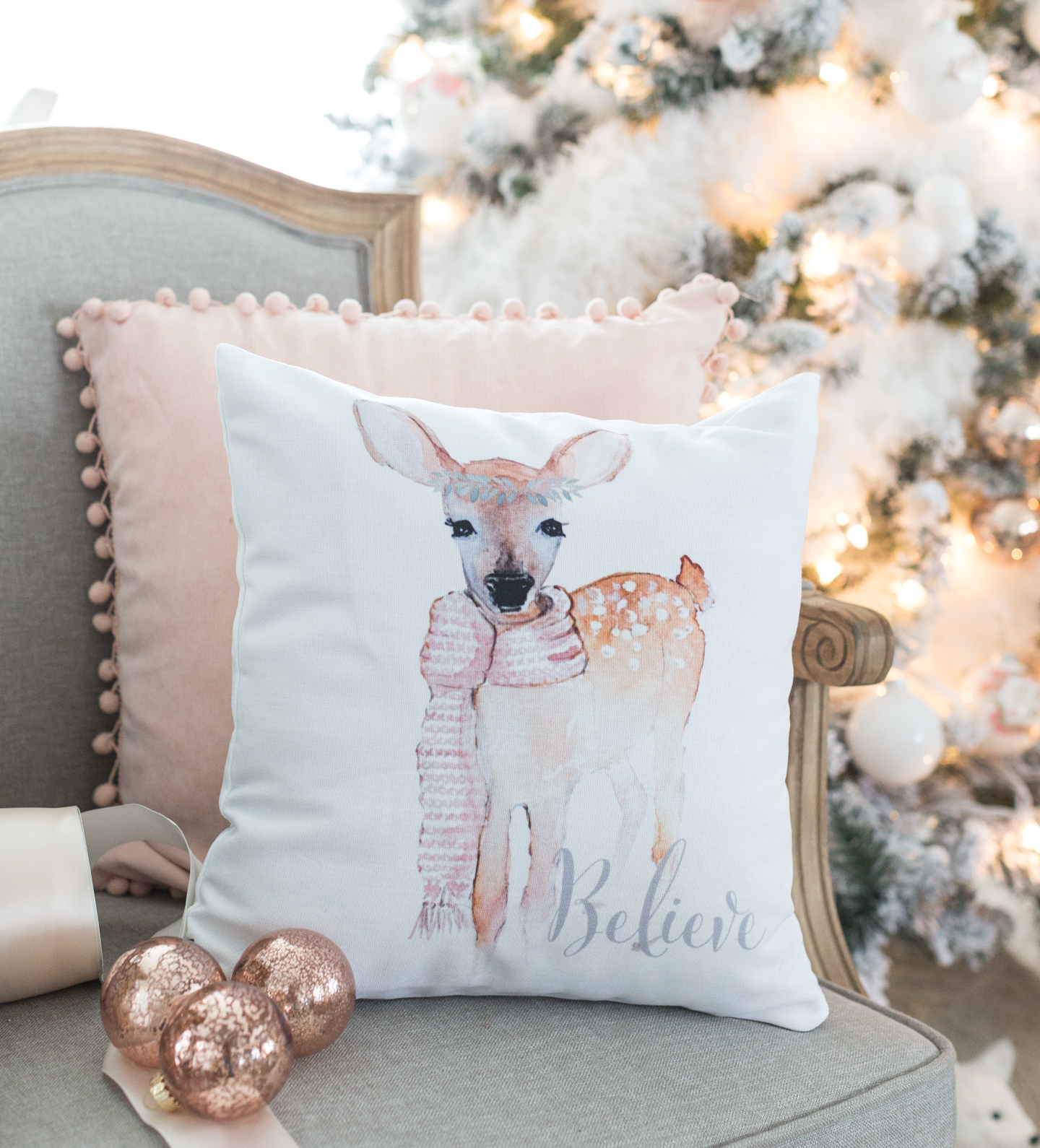 And this sweet little fawn is also a new design this year…:) HERE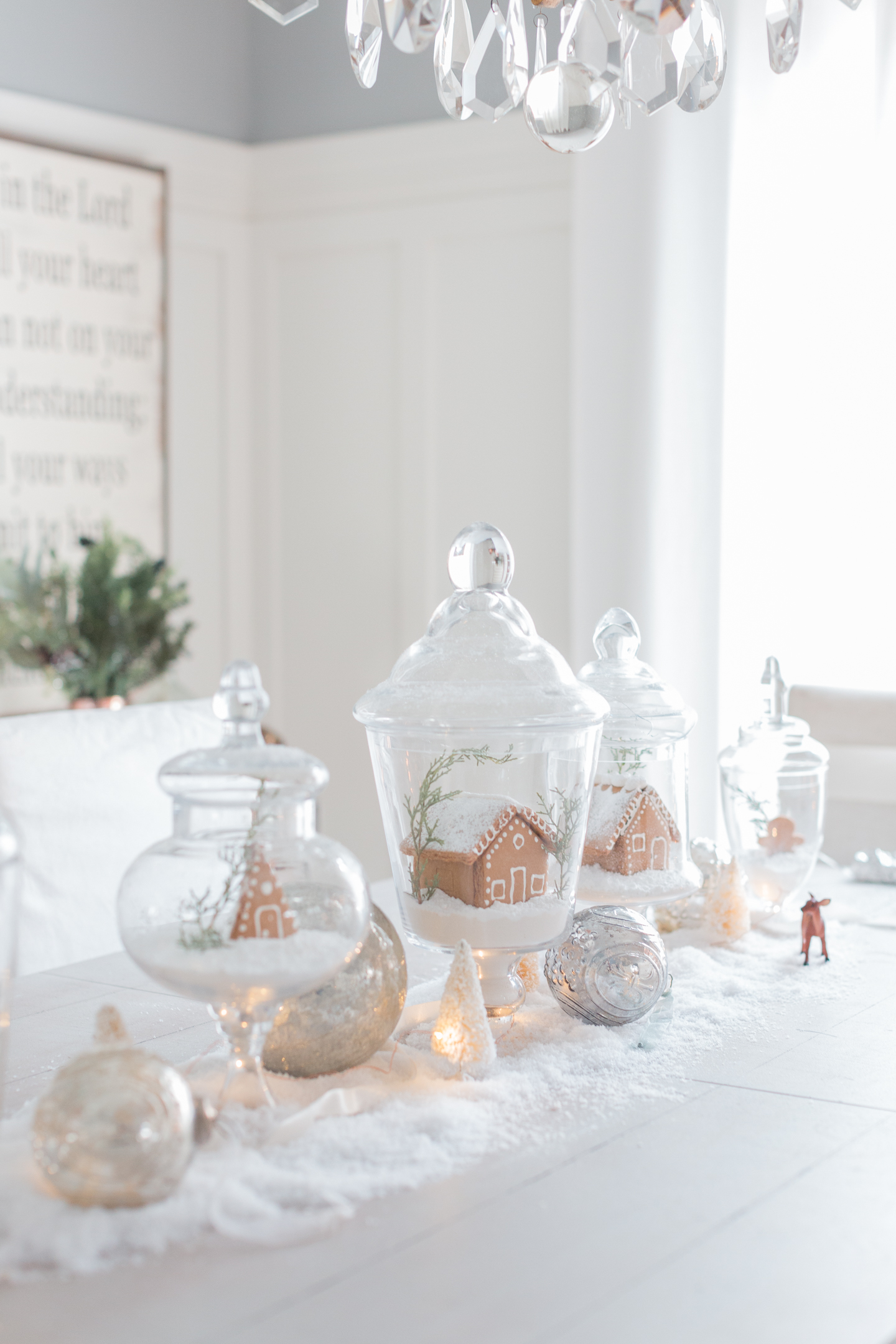 Moving into the adjoining dining room, I decided to do a little scene similar to last year's but this time, I placed the little ginger bread houses in apothecary jars.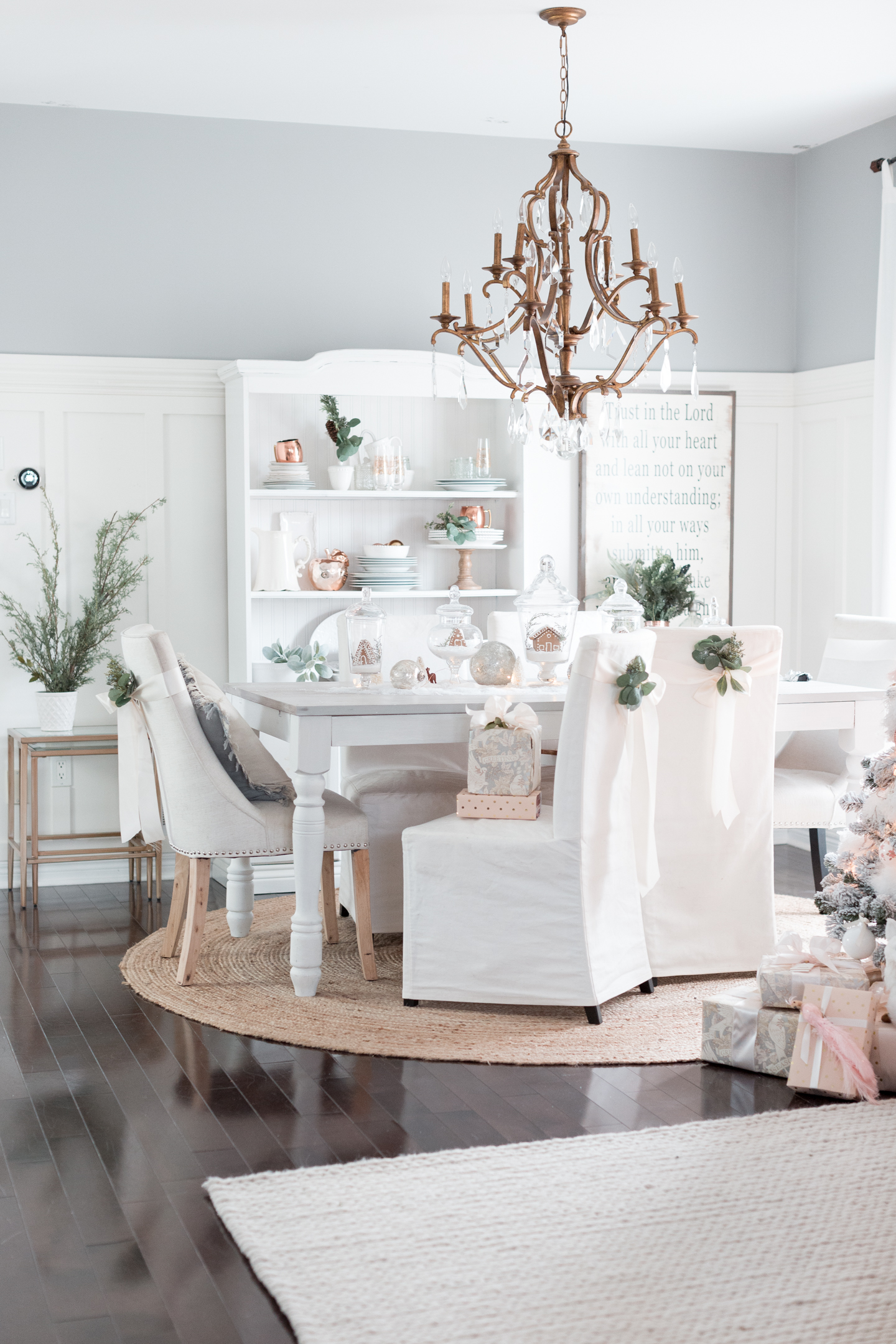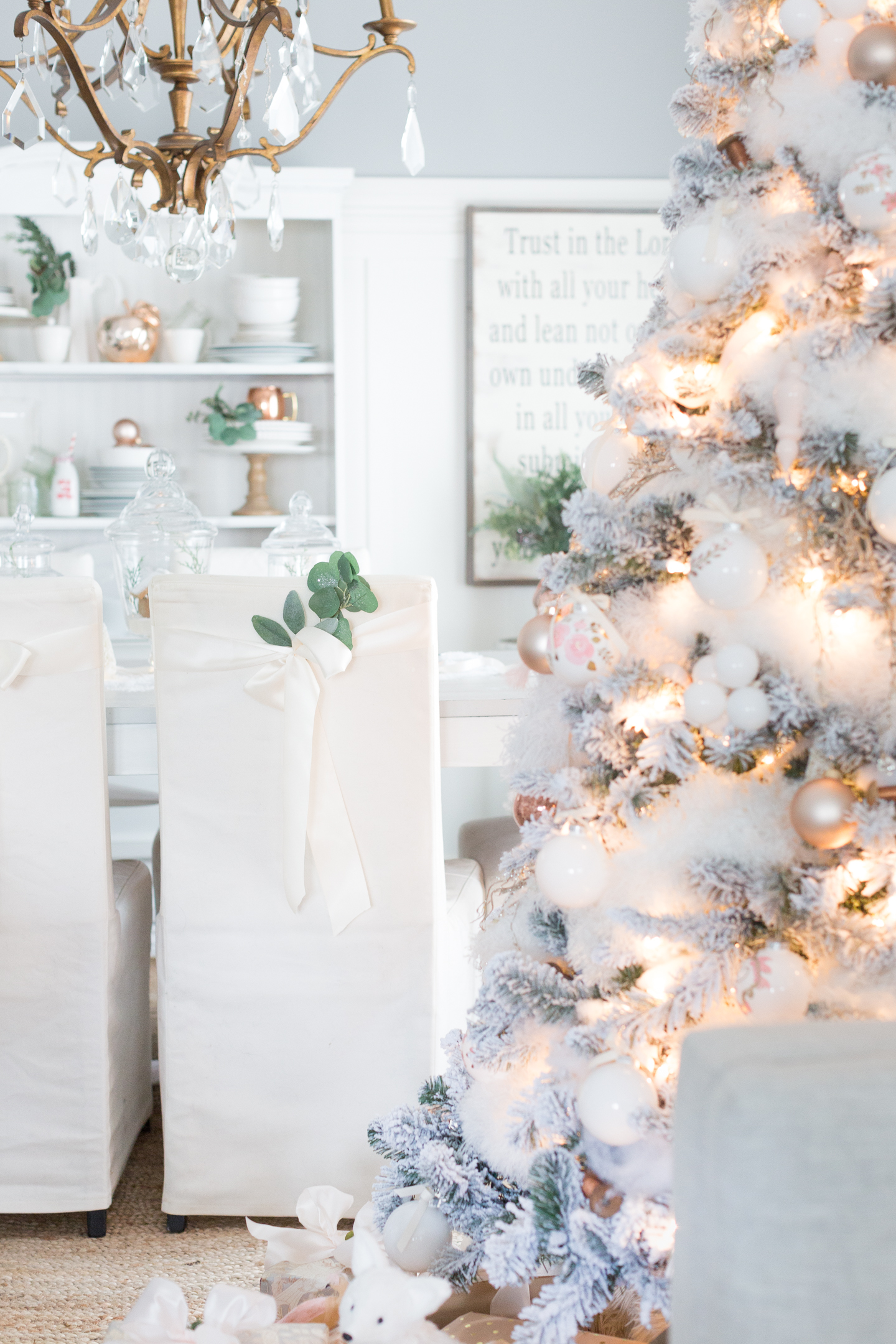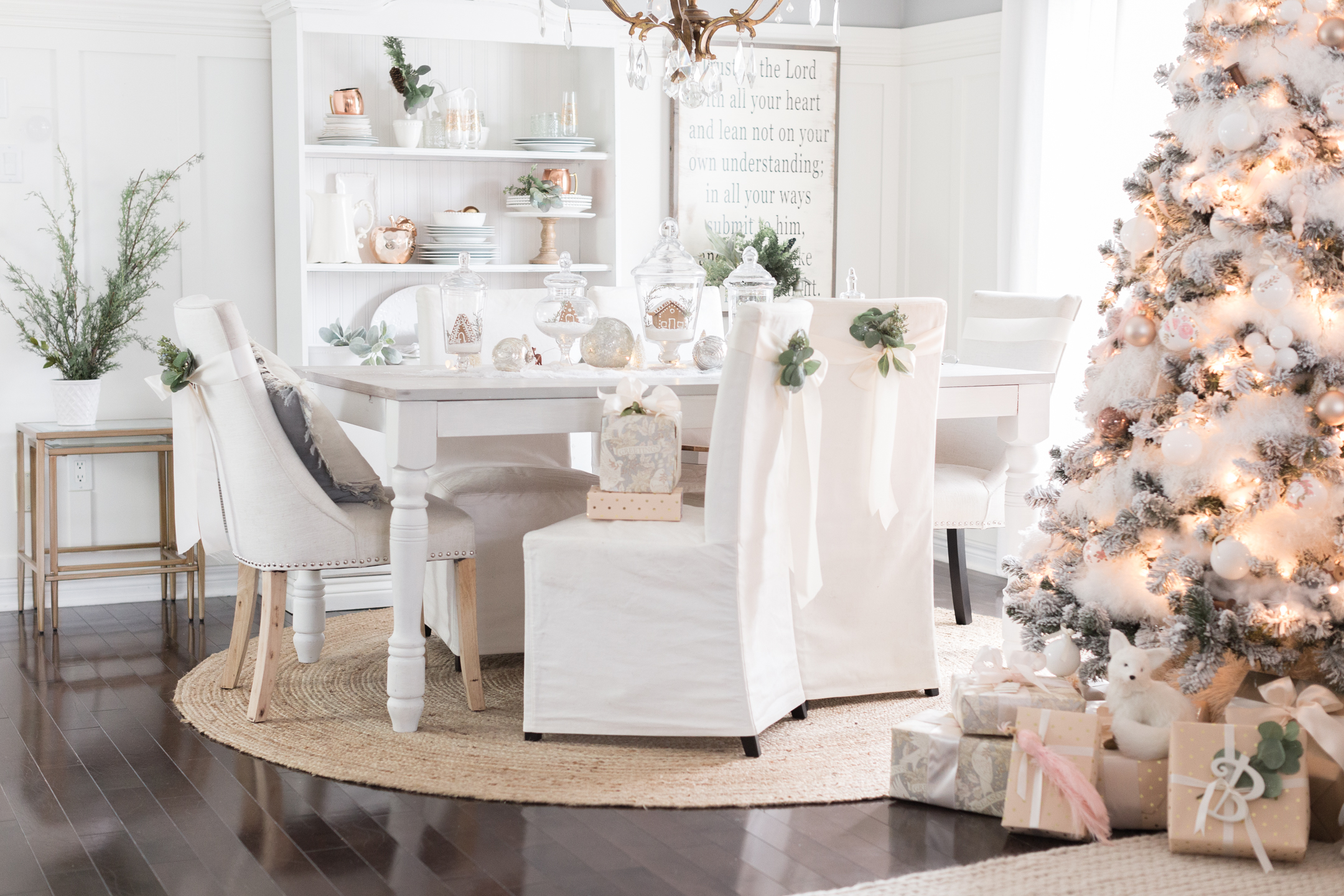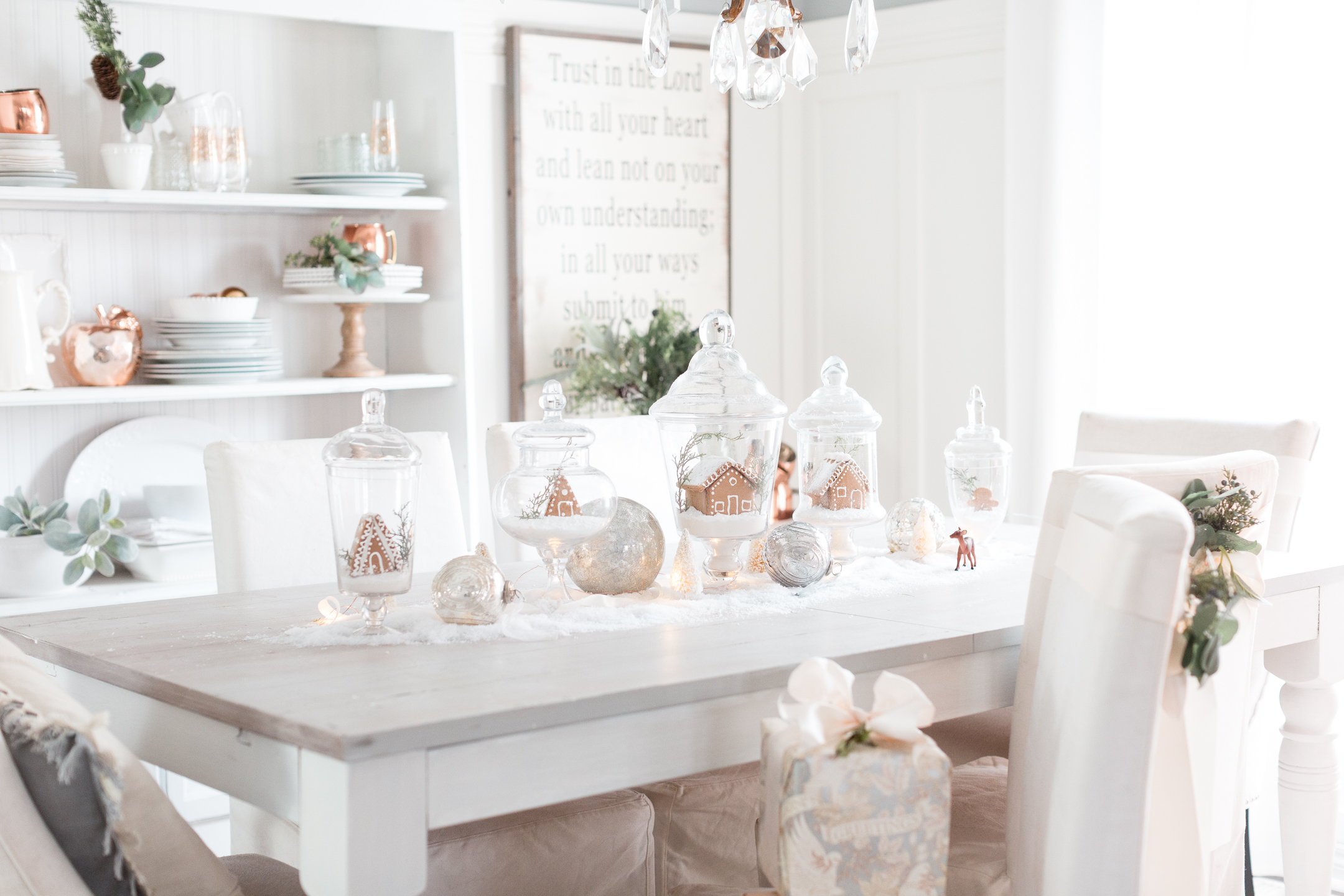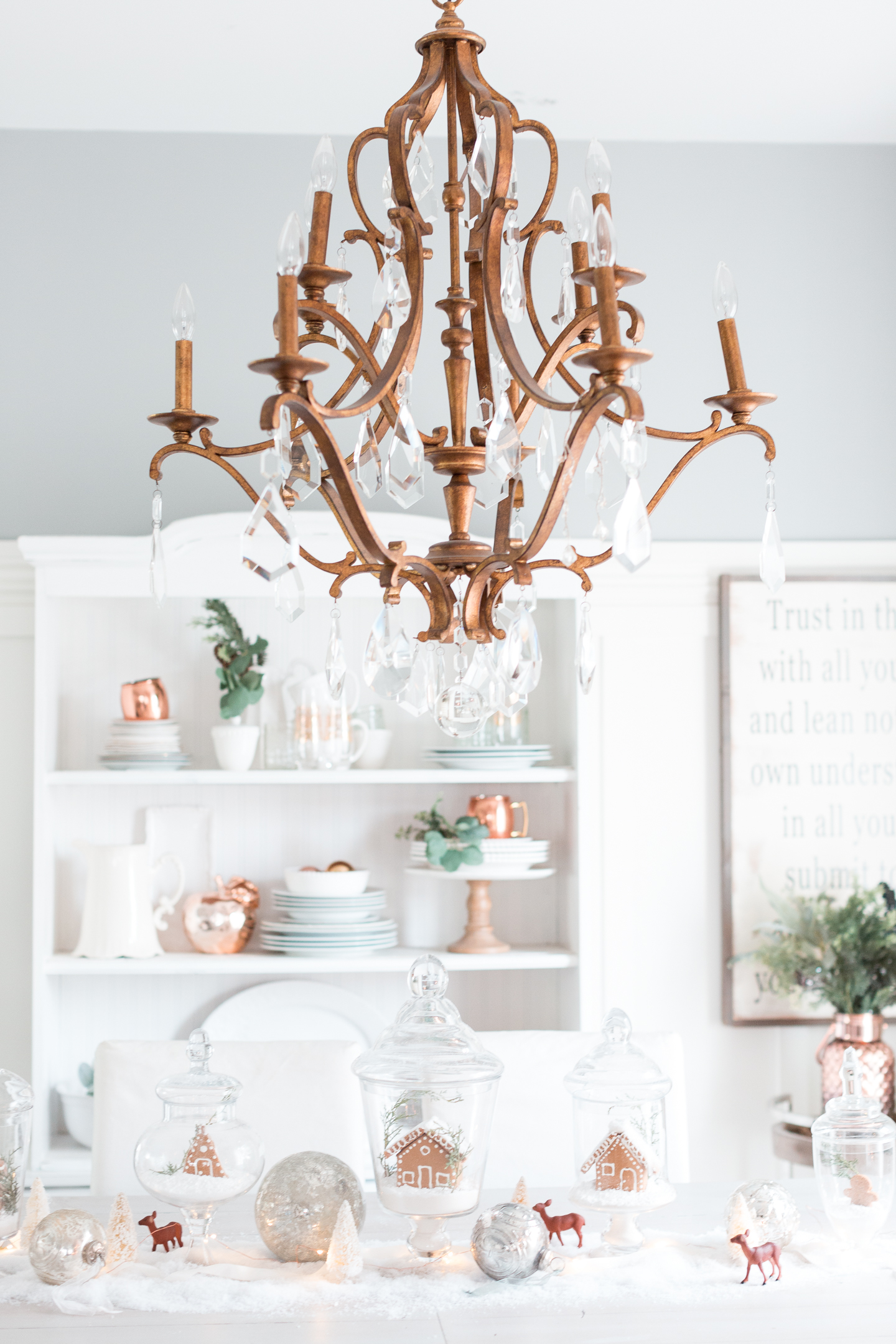 The little fawns were Bella's idea and I think they add another touch of whimsy.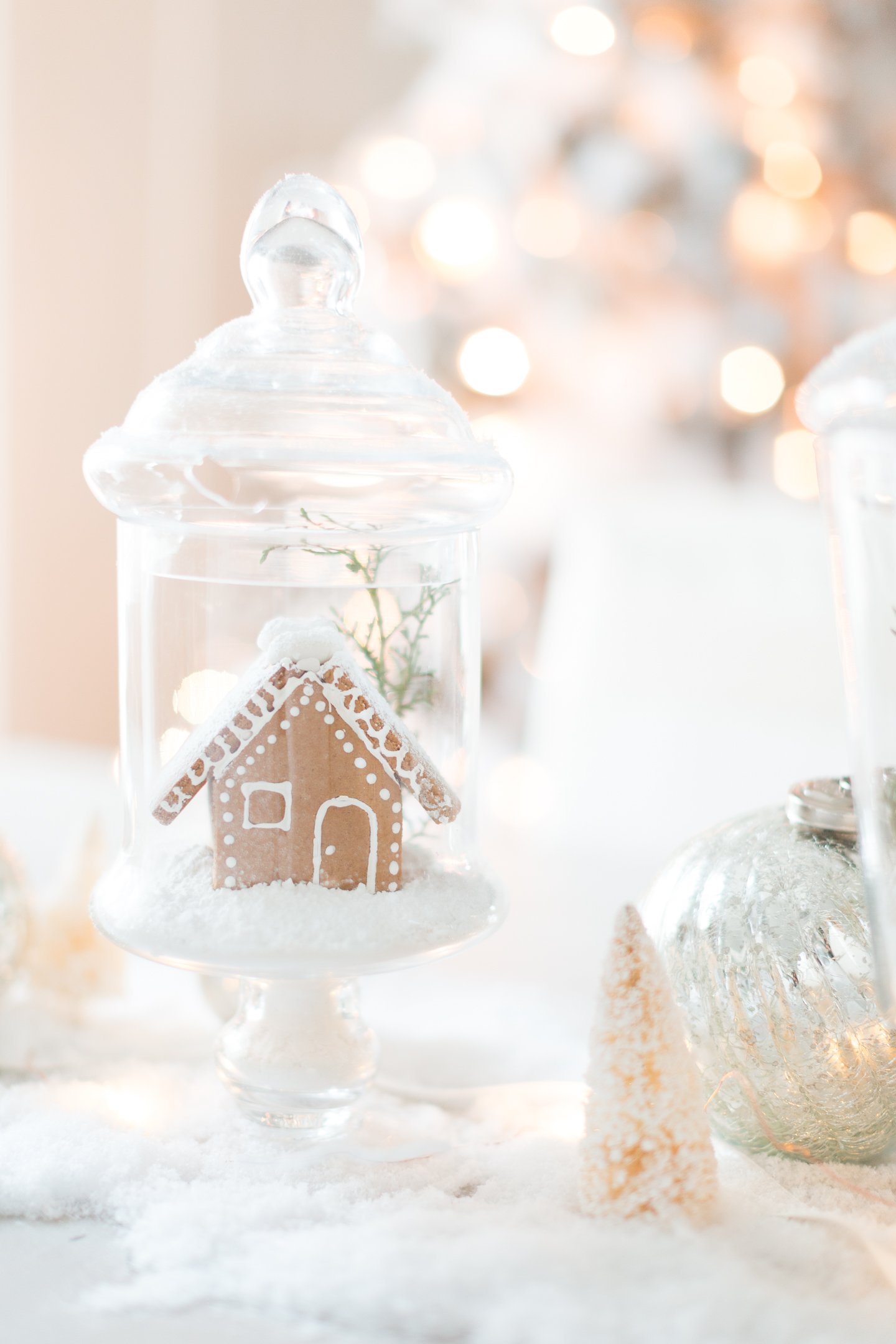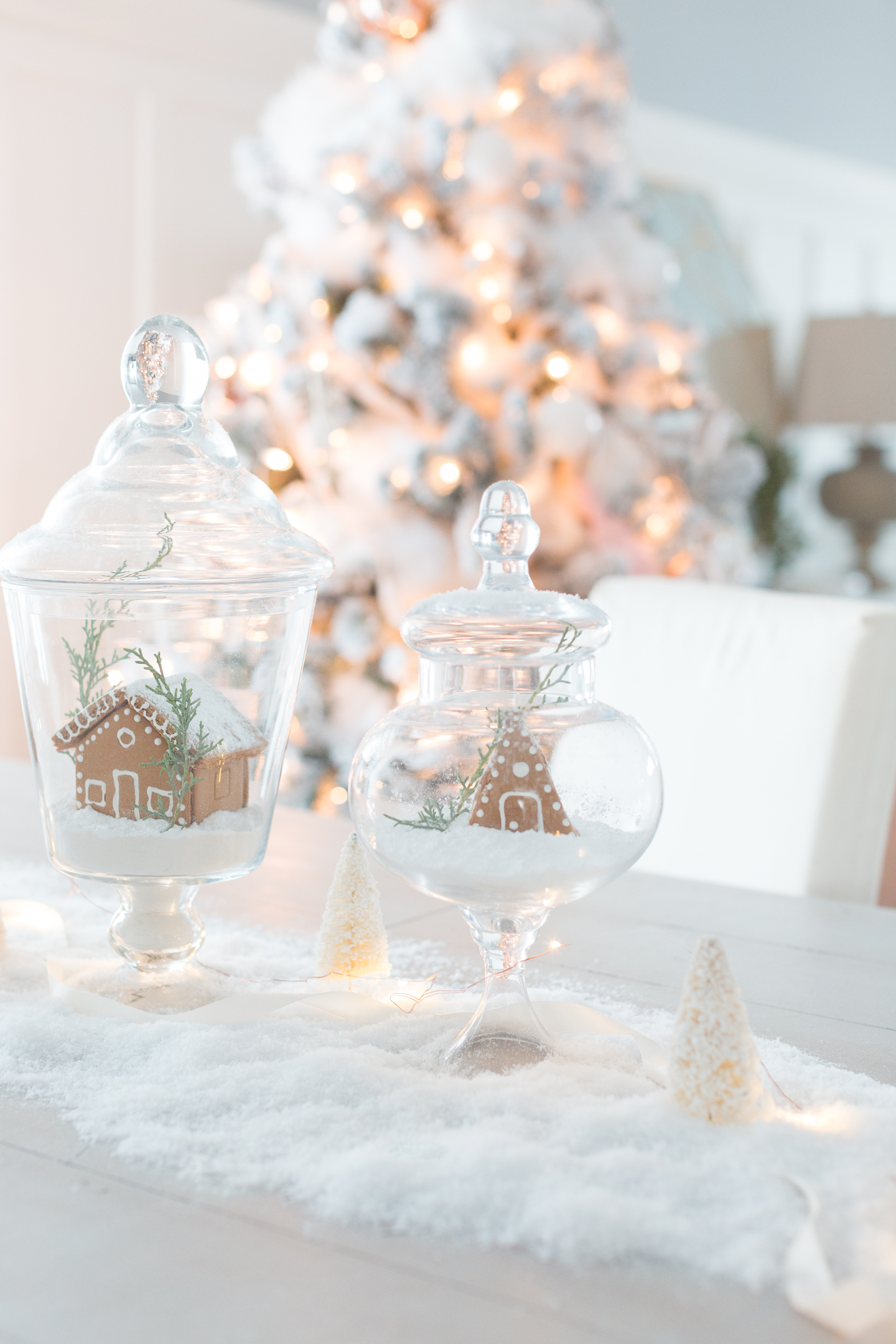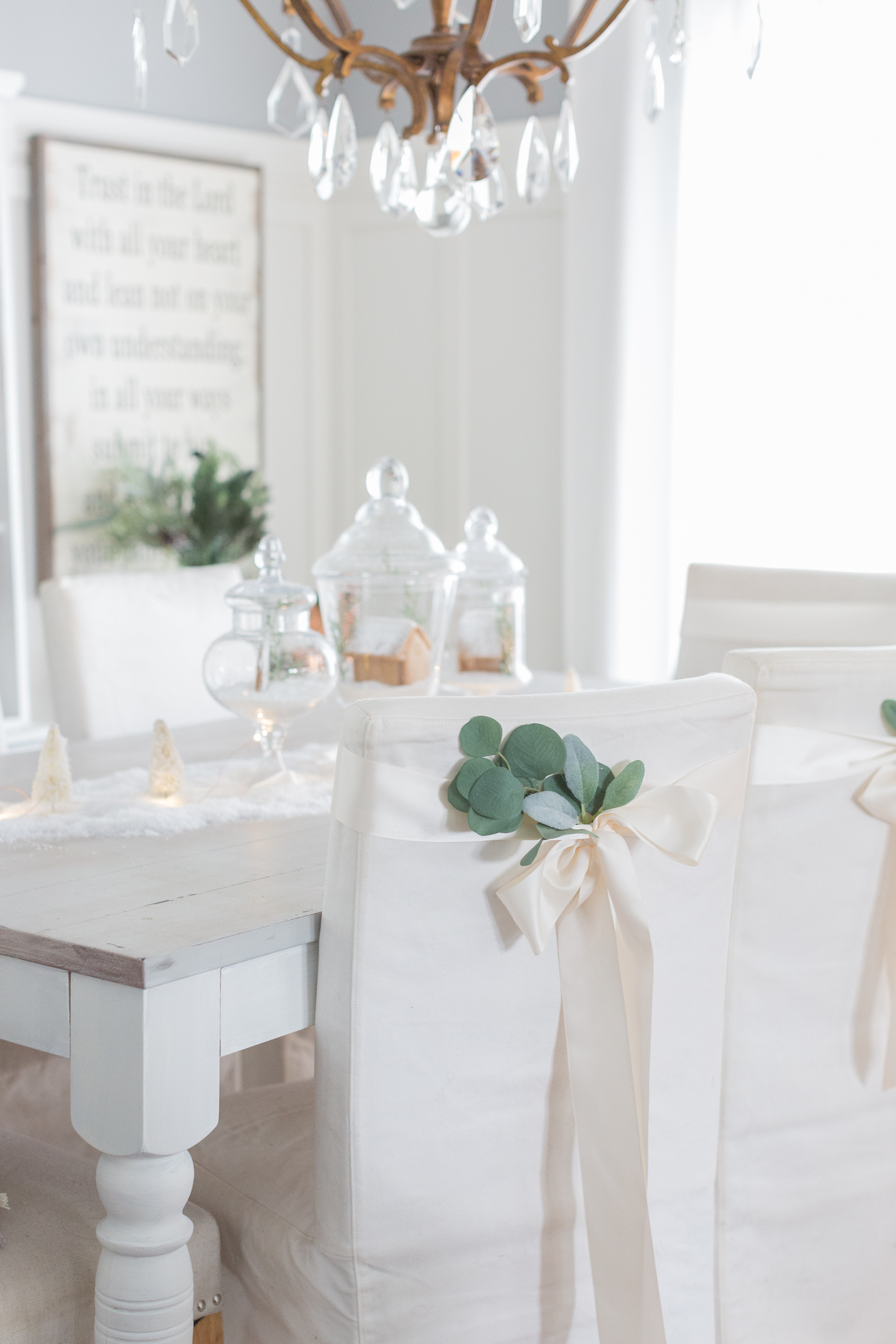 I tied some simple satin ribbons around the back of the chairs and added a little bit of this faux eucalyptus.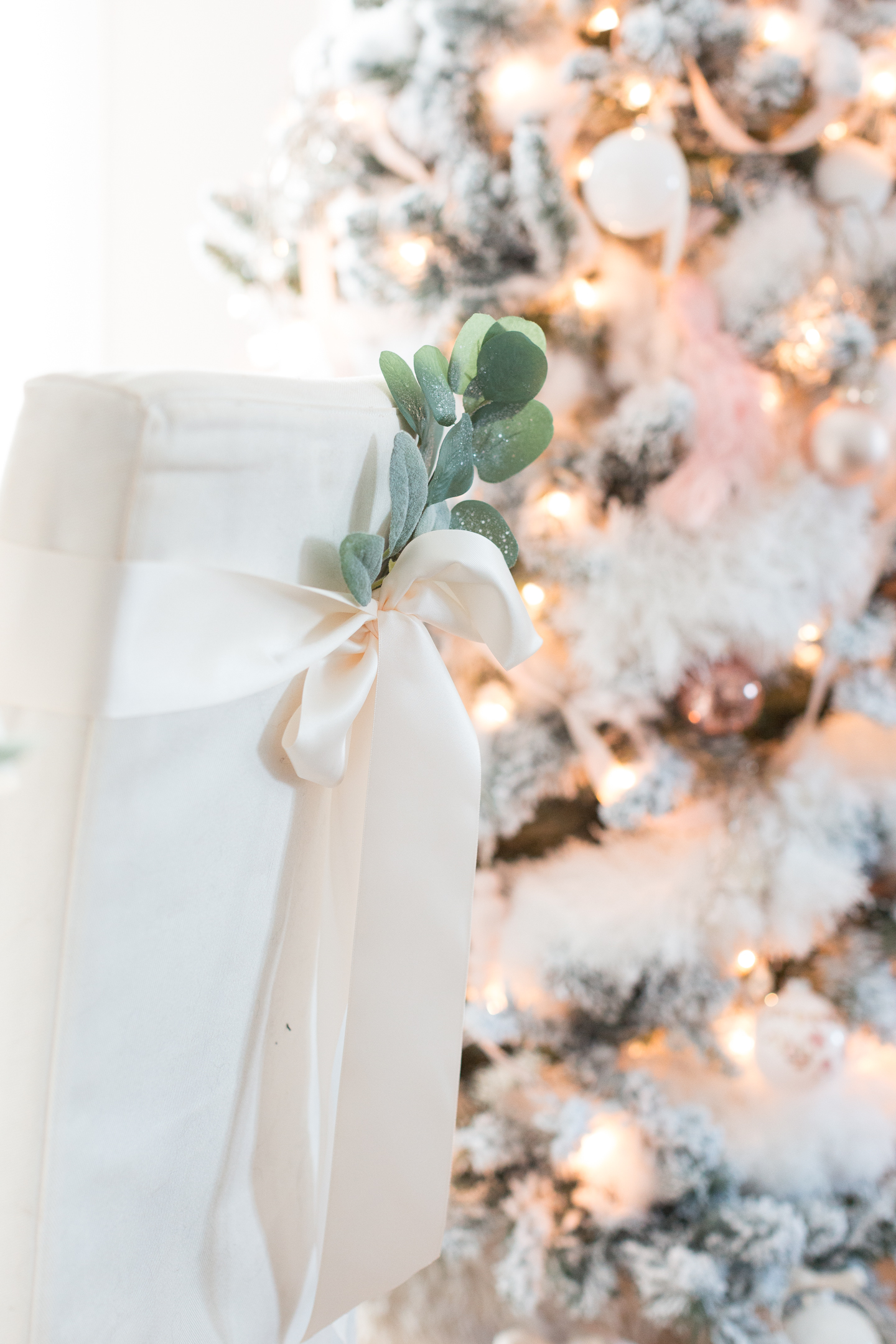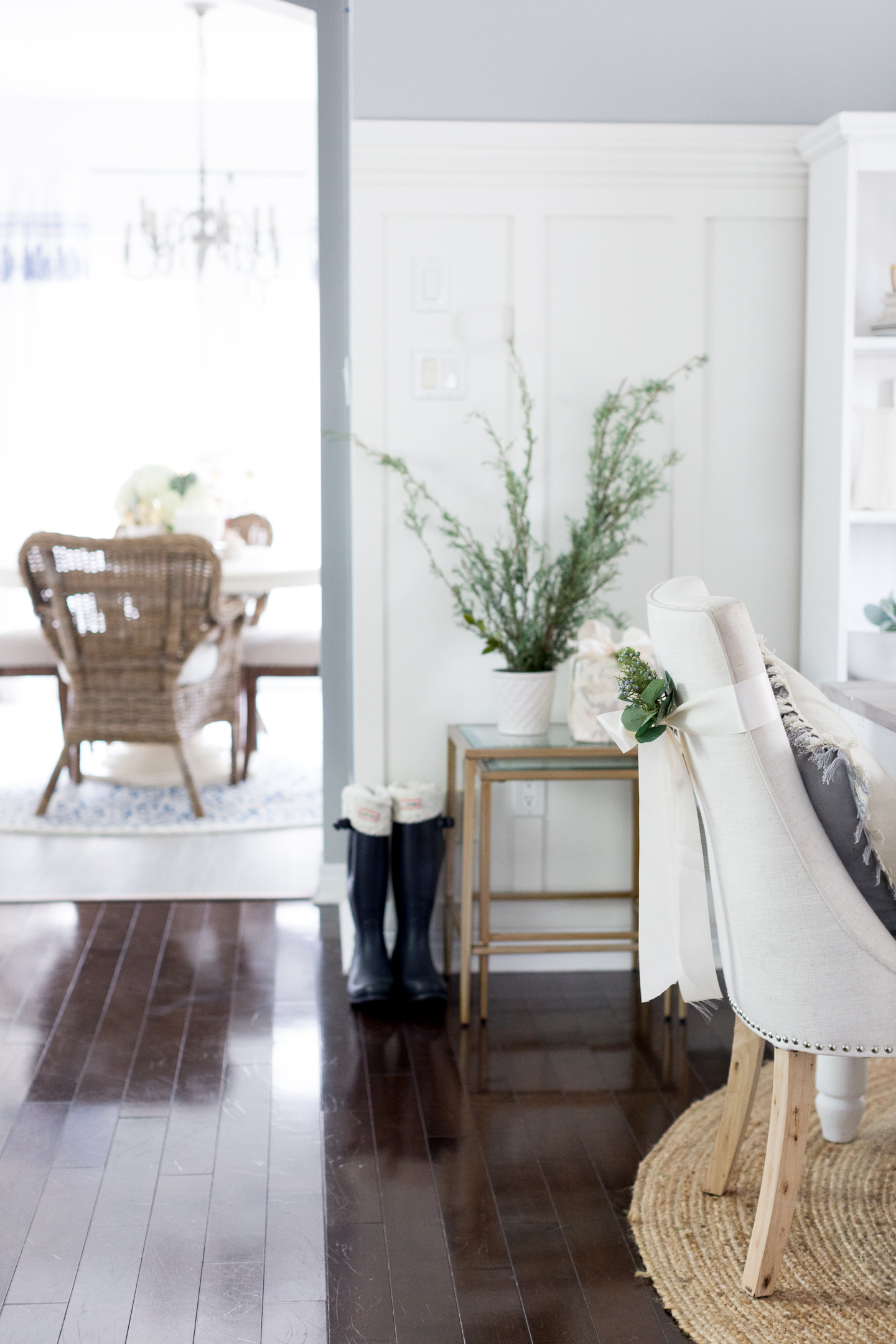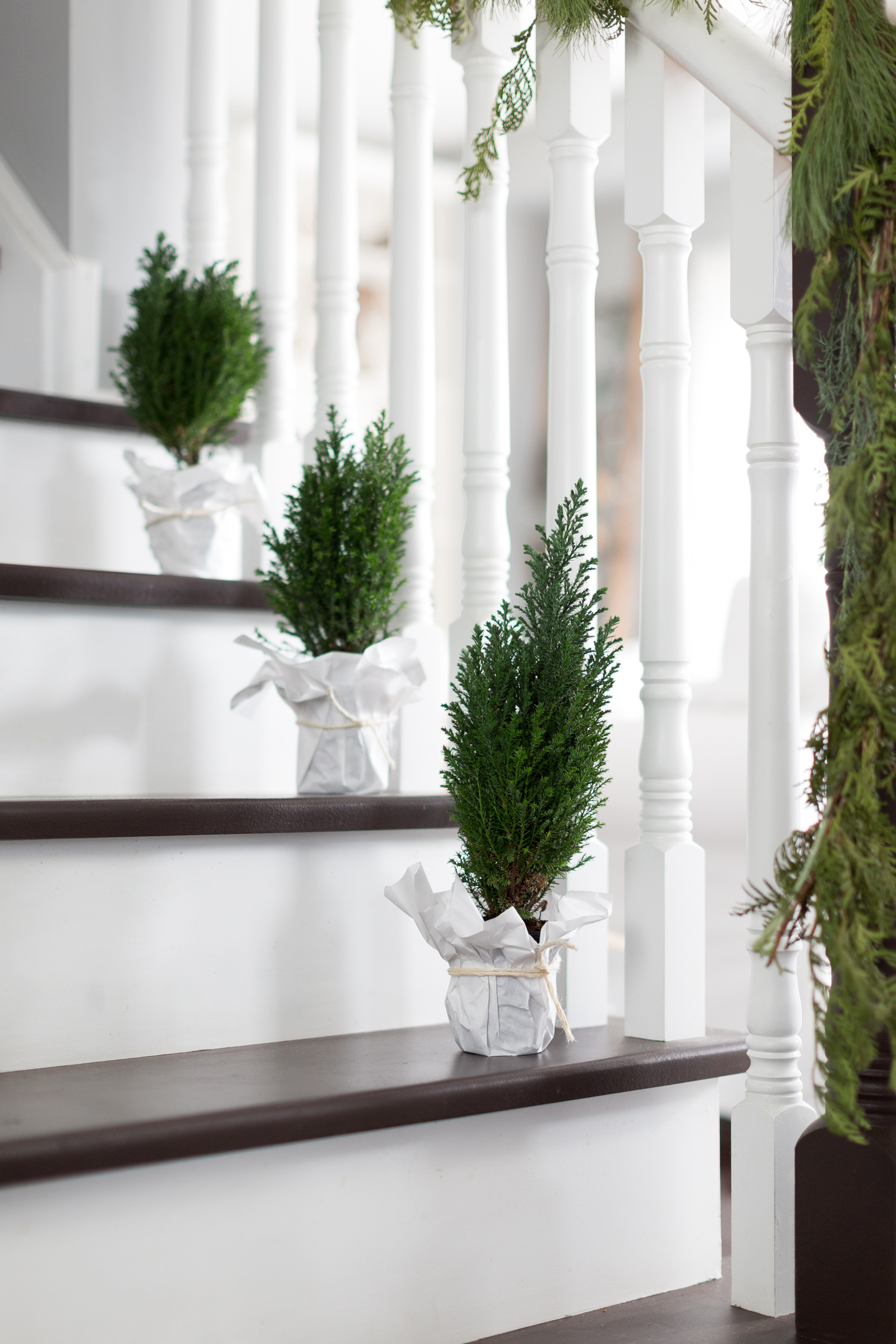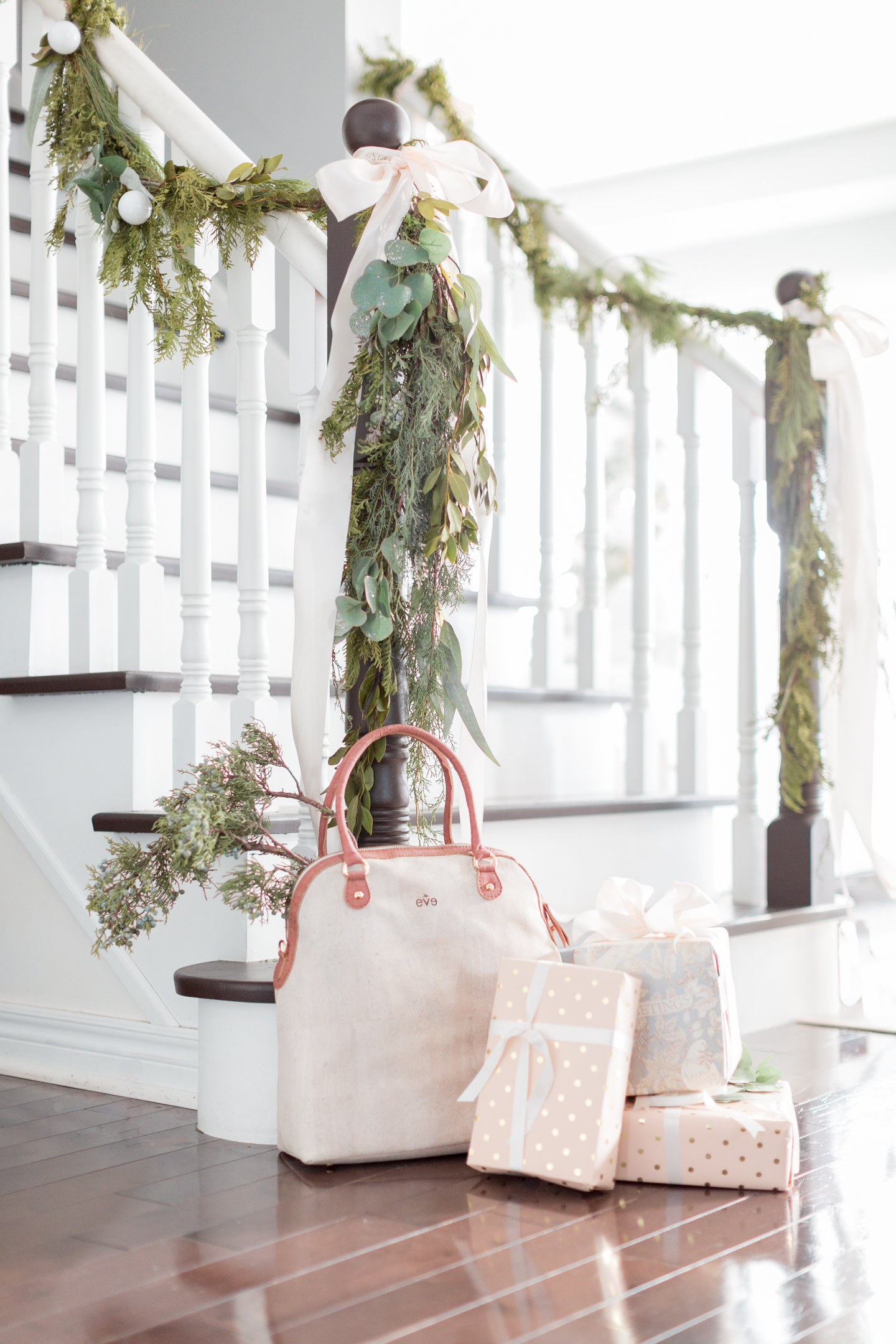 I tied some of the same ribbon around the stairs for continuity. The garland is a mixture of real garland with pieces of real bay leaves, along with some faux eucalyptus from Michaels. It's a great way to get the look of an expensive garland without incurring all of the expense.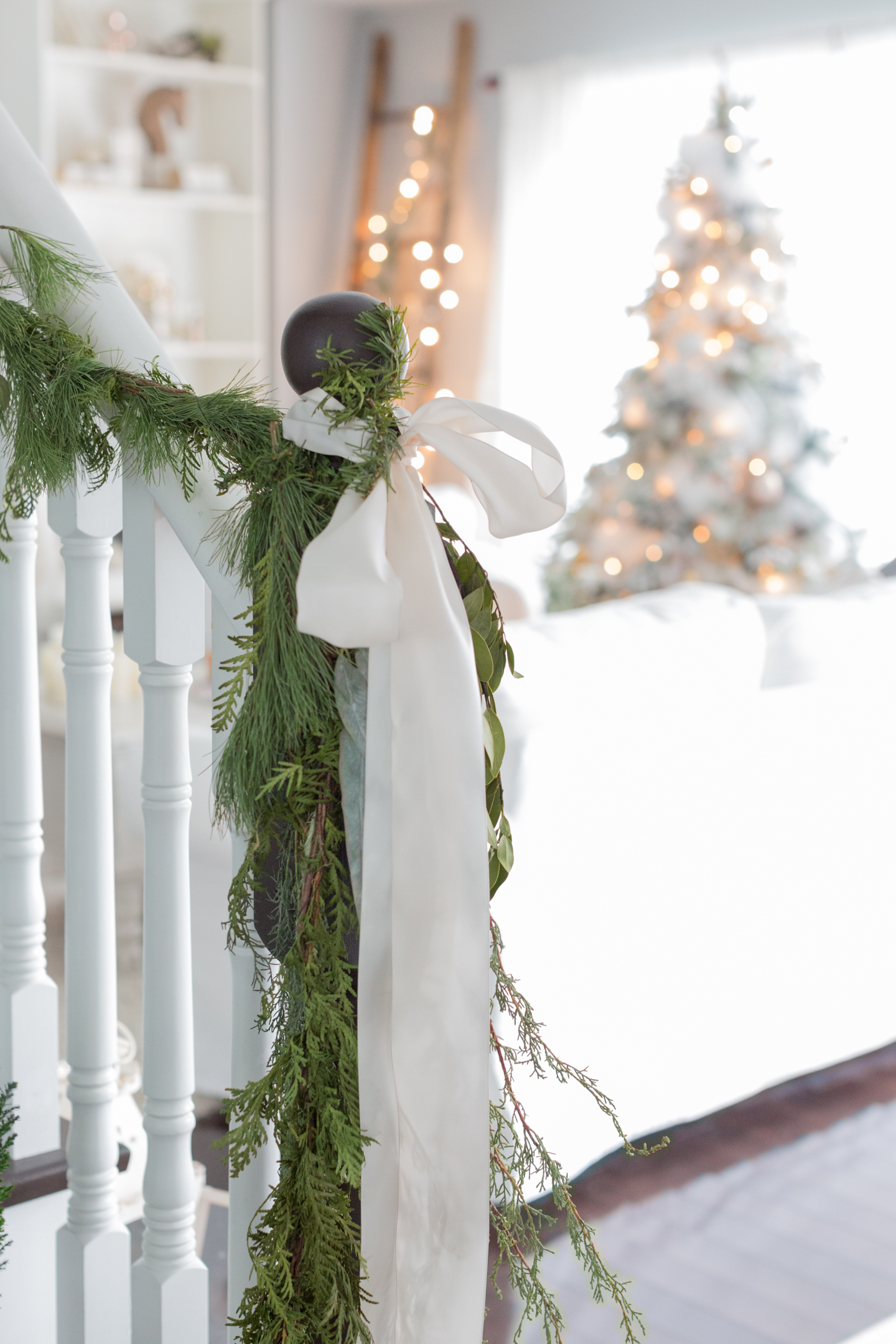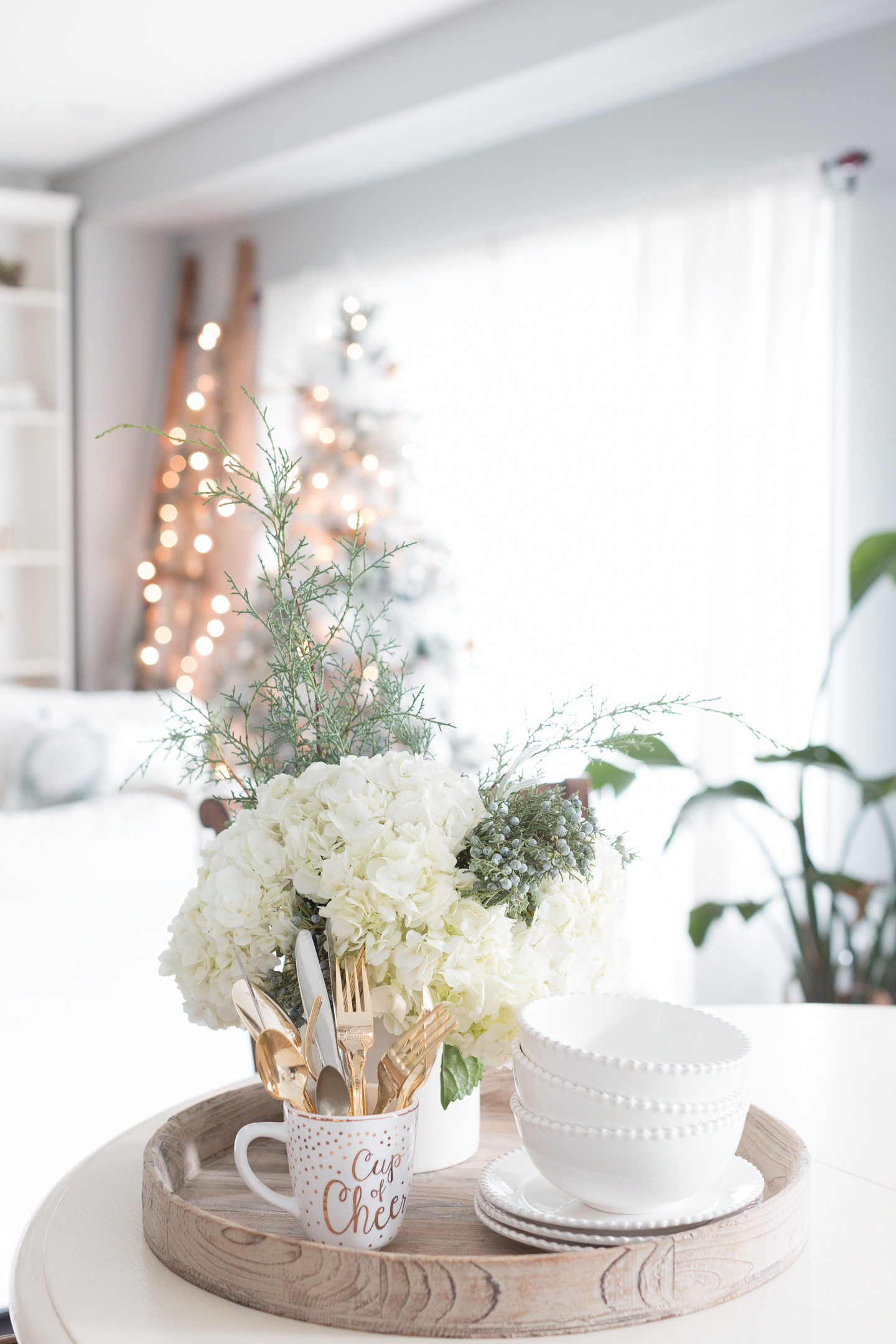 Moving into the kitchen, I'm only going to share a little bit of this space for now as I have a larger reveal planned in a couple of weeks. But I do want to give a HUGE shout out to my friends at FUSION Mineral Paint for helping me make this dream kitchen come true. I cannot tell you how much I adore their paint.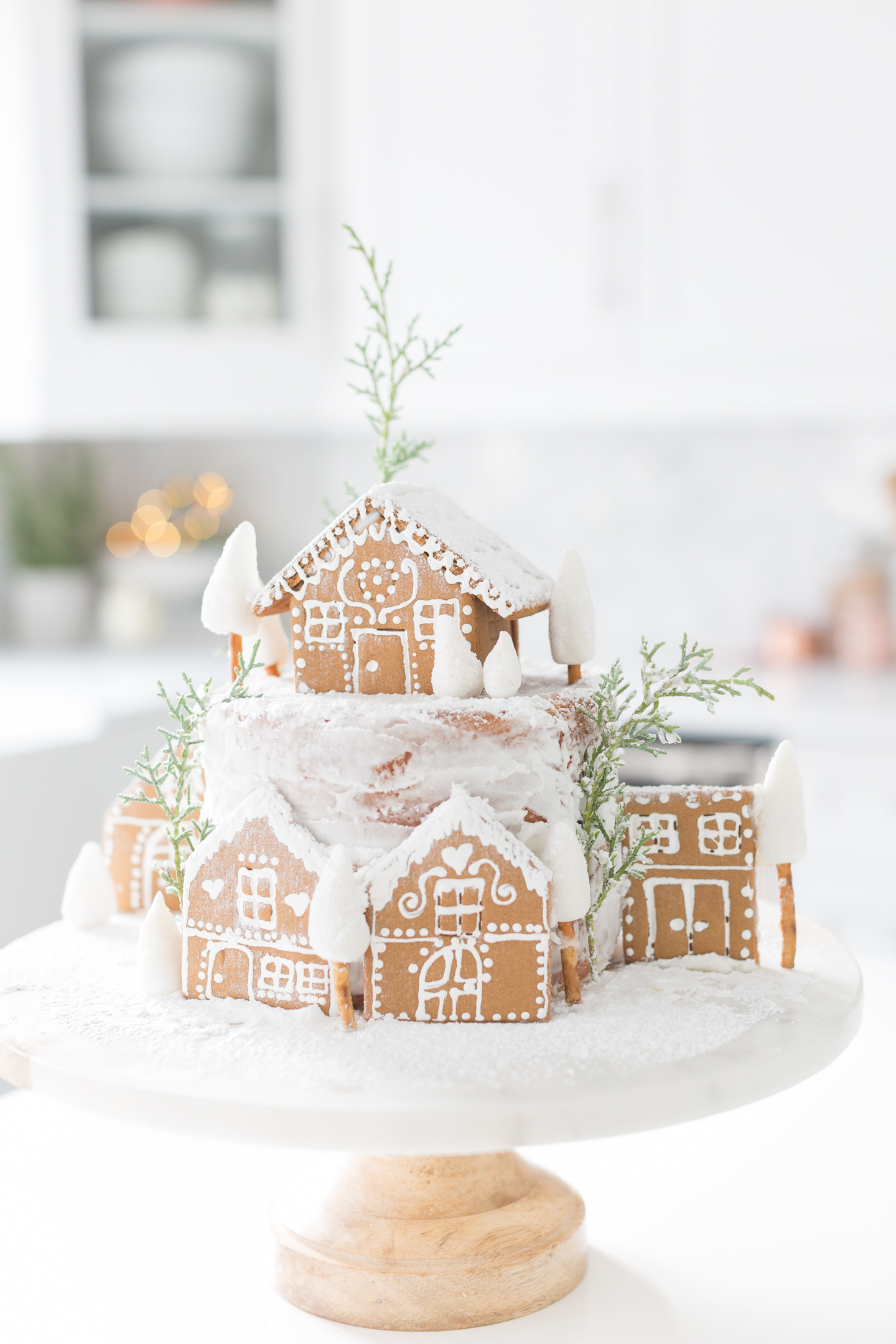 I made a delicious gingerbread cake and decorated it with store bought gingerbread houses.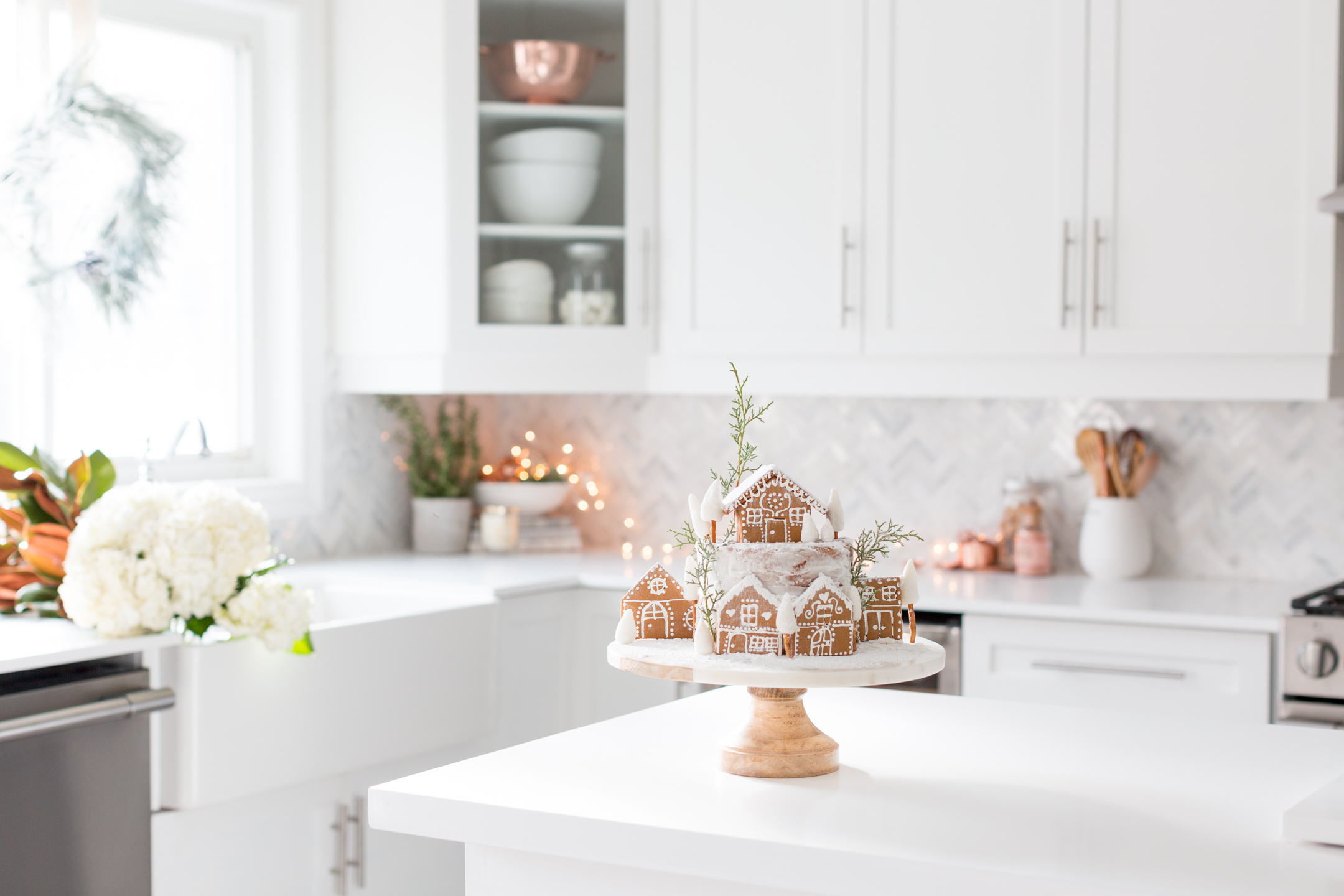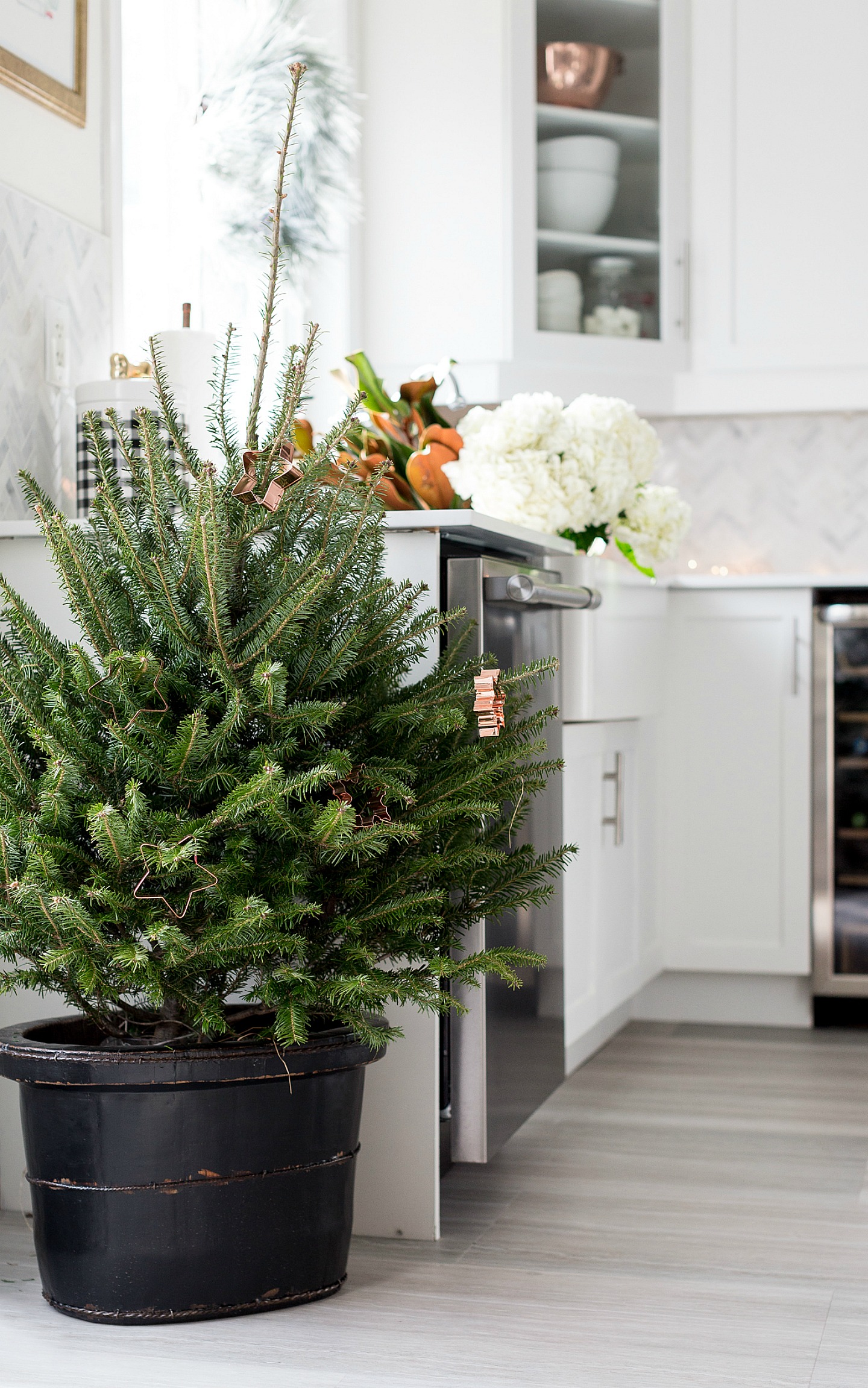 This year, I had every intention of just doing two naked trees and minimal decorating, but I had some commitments that required I put up a tree before Halloween when there were no real trees available. I did recently buy this little guy last week and I love how it smells…:)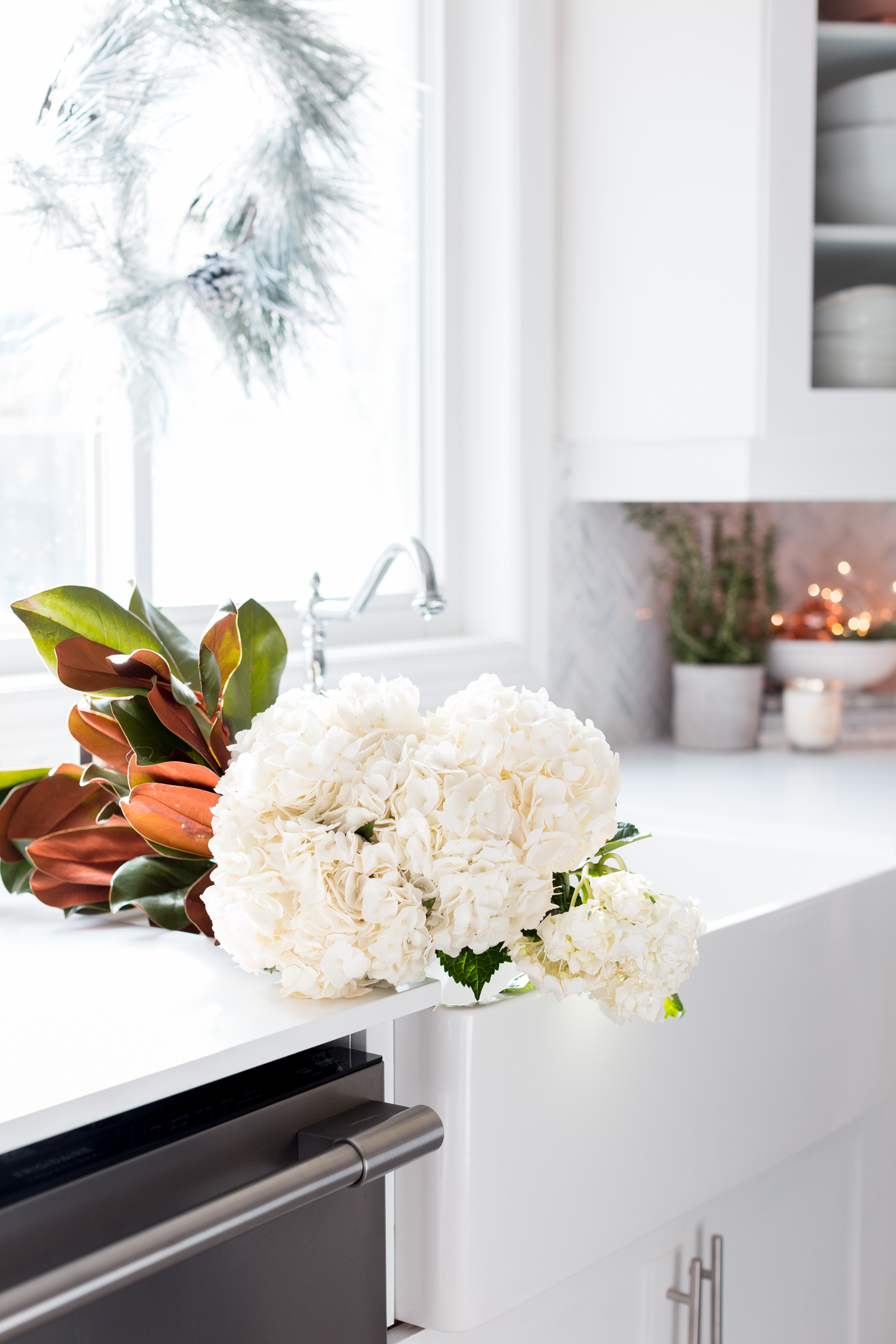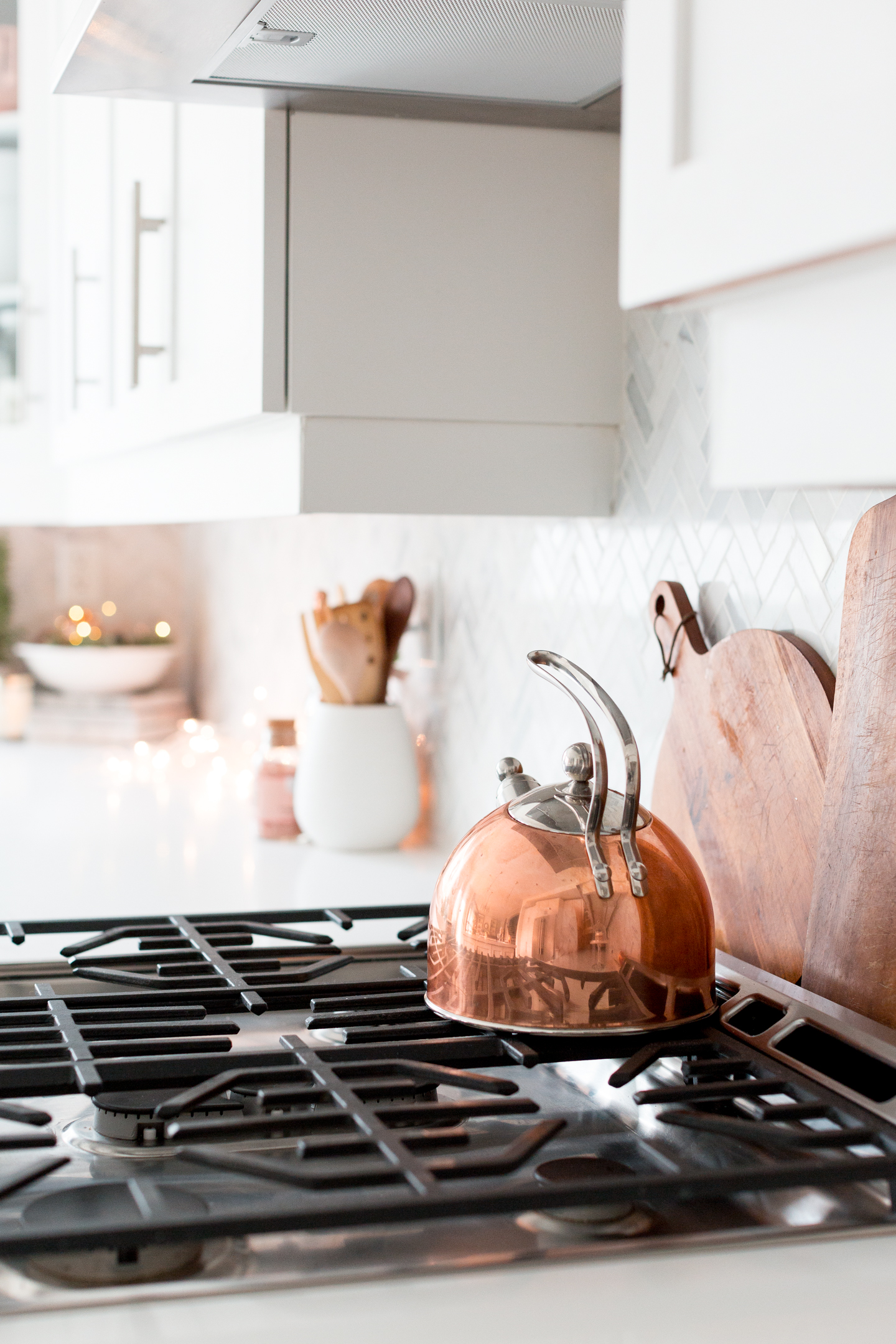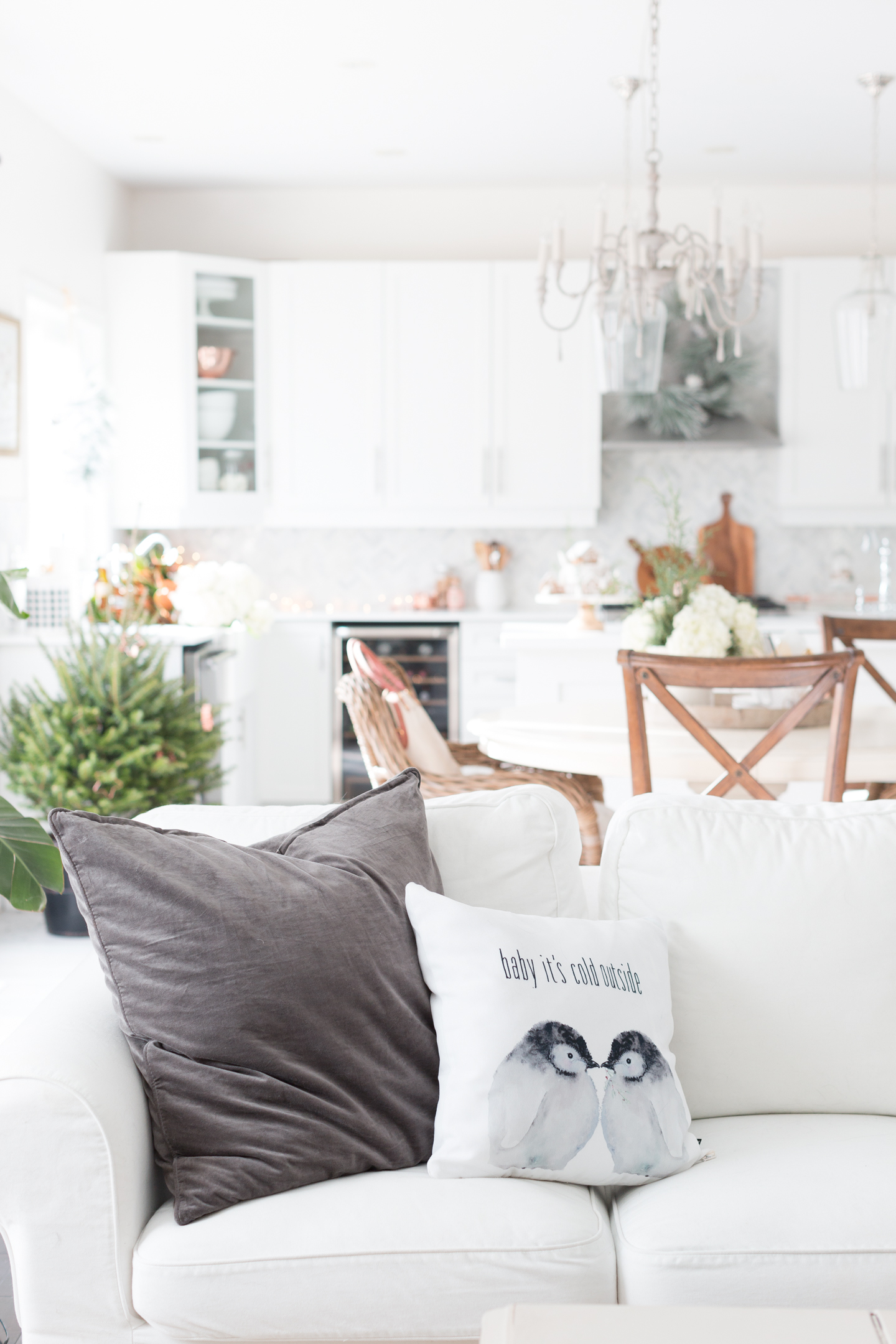 Last week, I shared a little bit of our family room and will share more of it next week for part 2. Here are a few shots in the interim.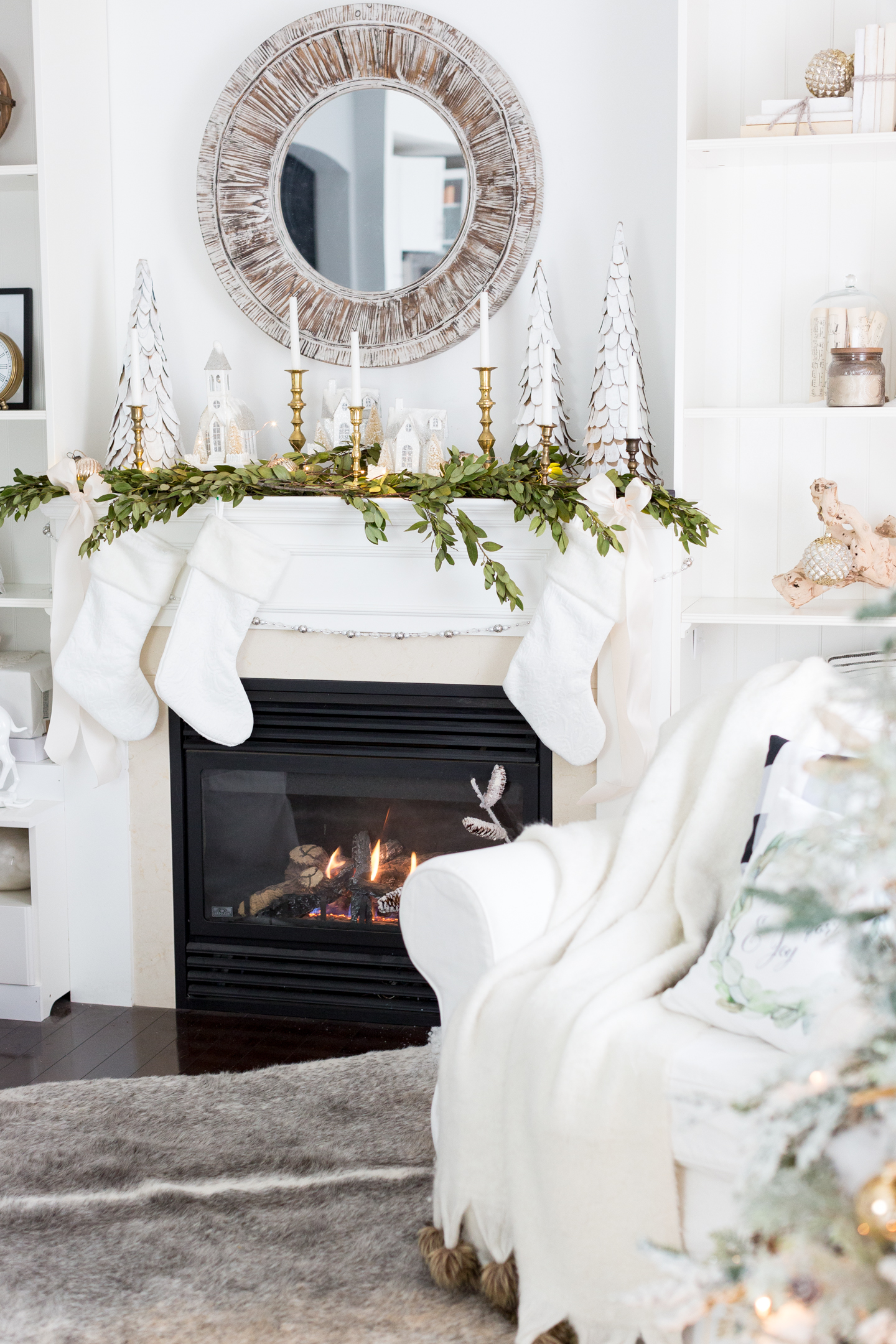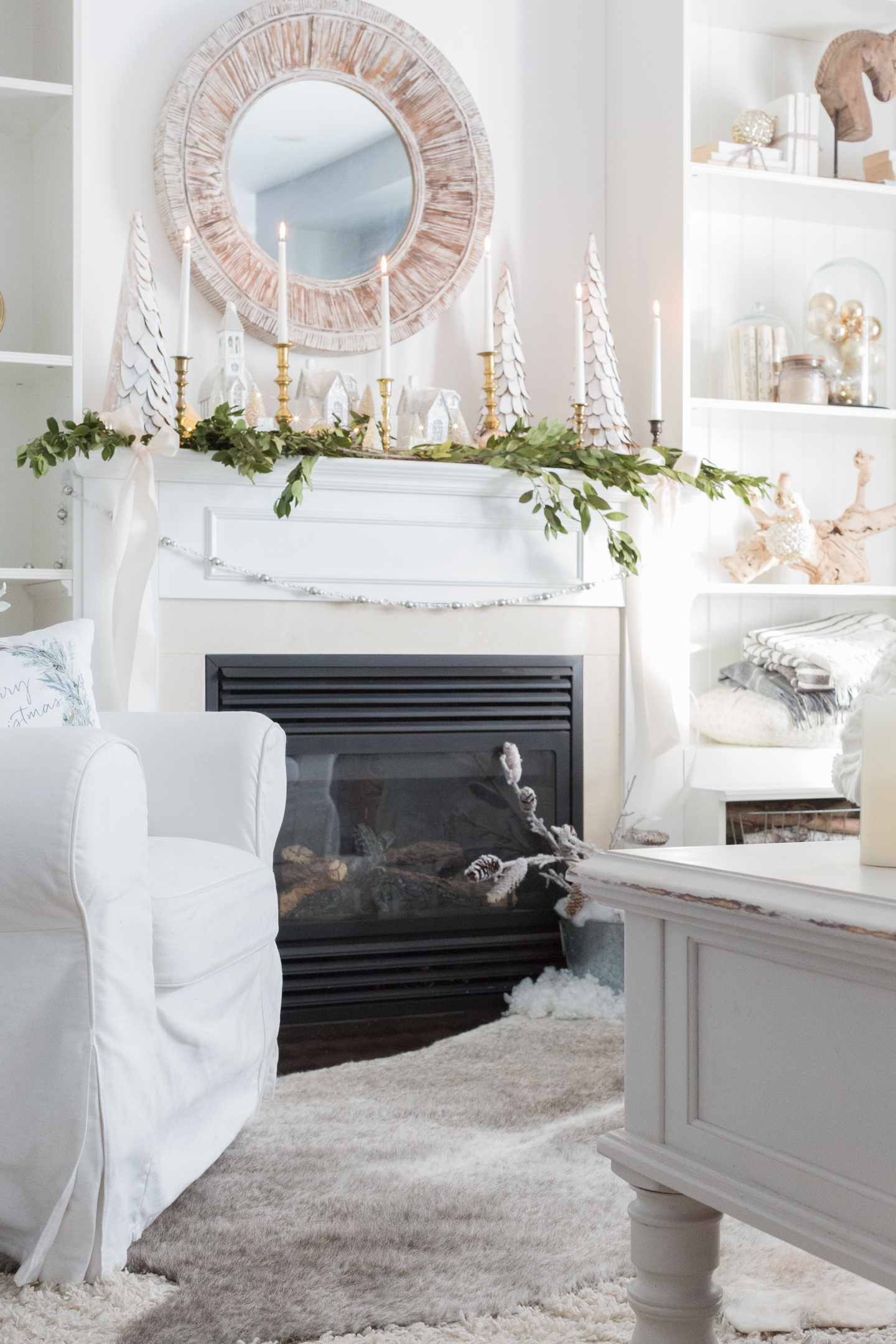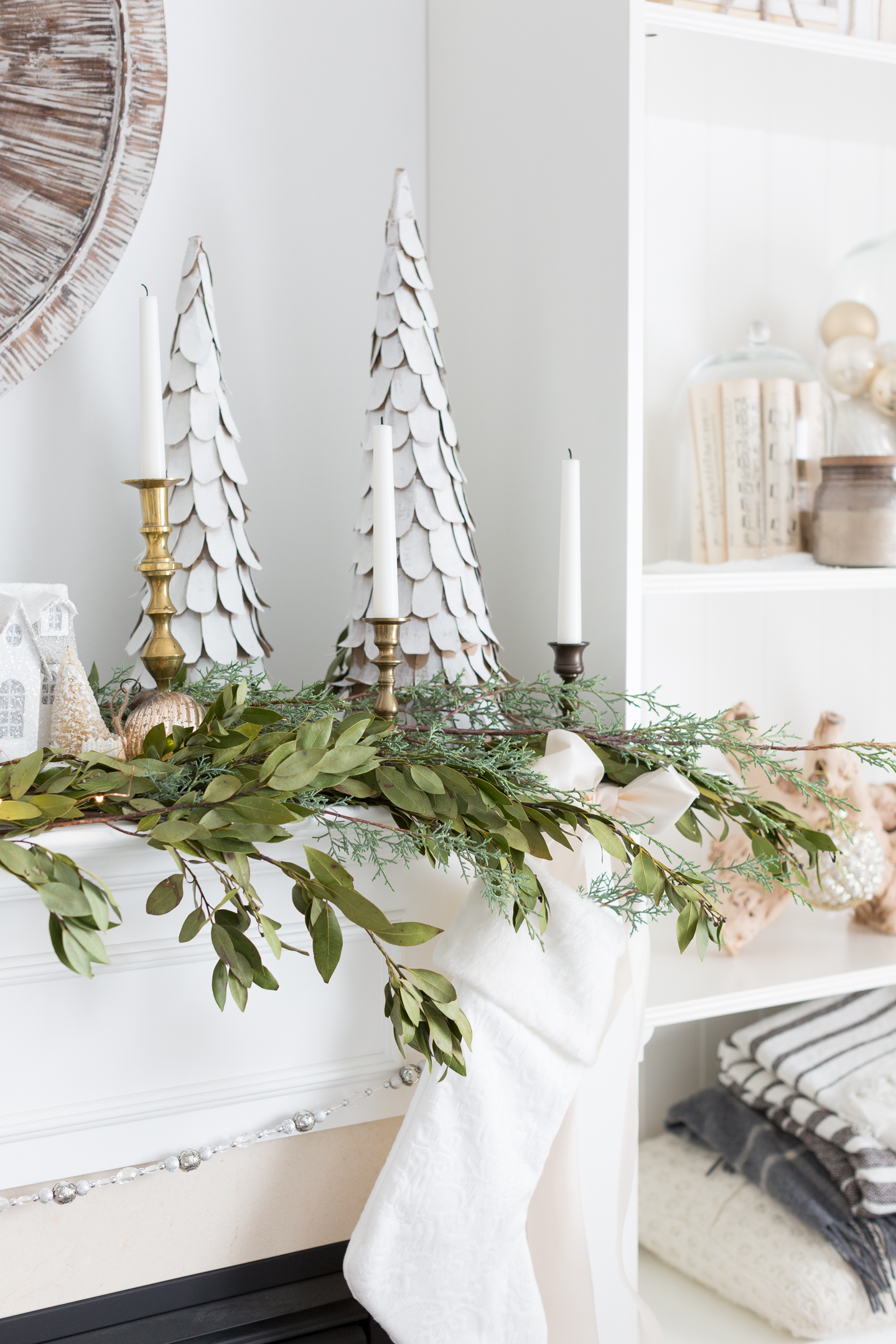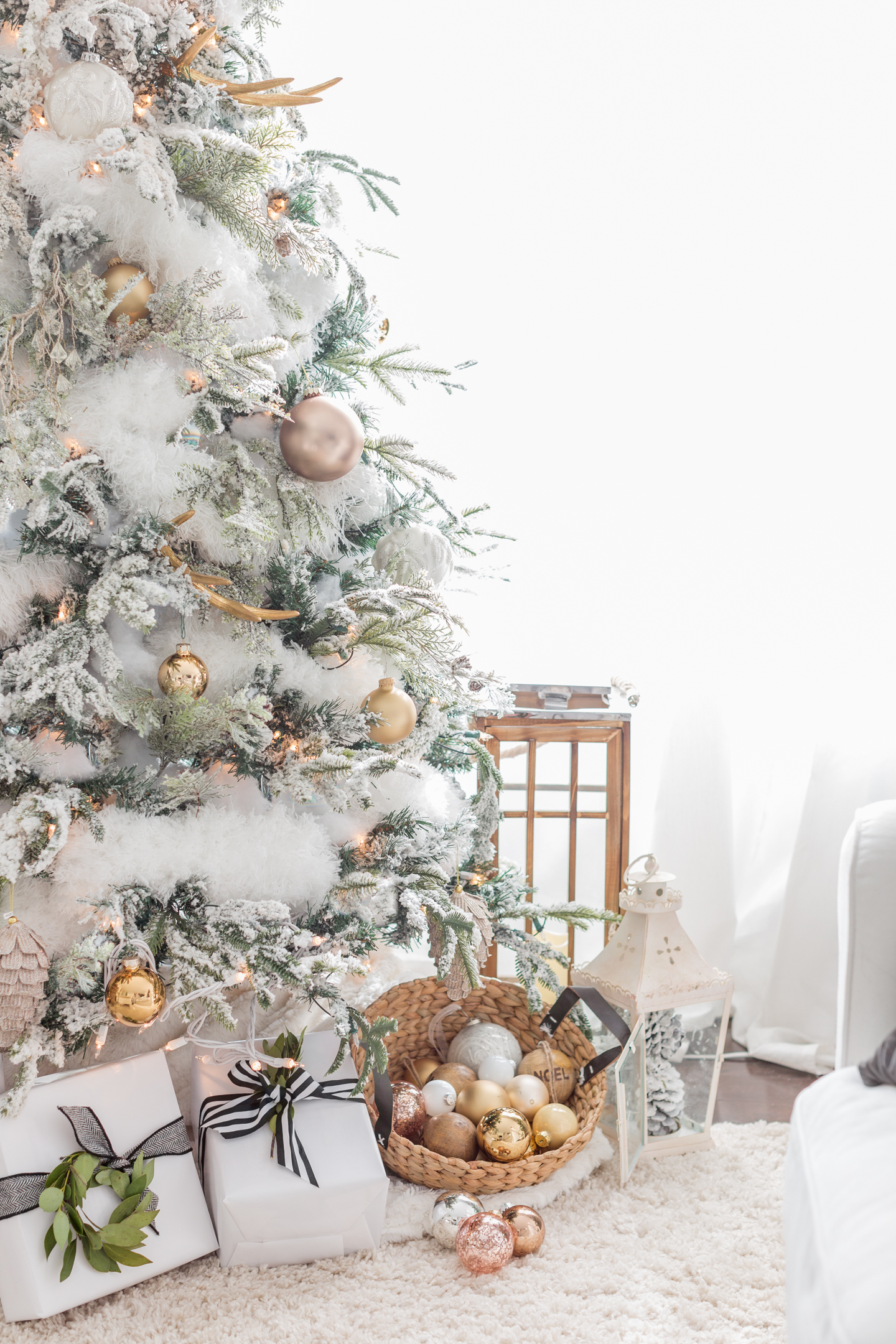 So there you are….Part 1 of this year's Christmas Home Tour. I hope you enjoyed it and were able to find some inspiration along the way. Don't forget to head on over to my sweet girl Shannon for stop No. 4 in the tour….:)
Thank you so very much for stopping by today.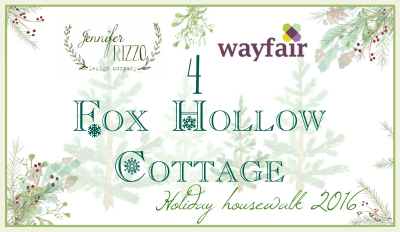 6. For unto us a Child is born,
Unto us a Son is given;
And the government will be upon His shoulder.
And His name will be called
Wonderful, Counselor, Mighty God,
Everlasting Father, Prince of Peace.
7 Of the increase of His government and peace
There will be no end,
Upon the throne of David and over His kingdom,
To order it and establish it with judgment and justice
From that time forward, even forever.
Isaiah 9:6-7