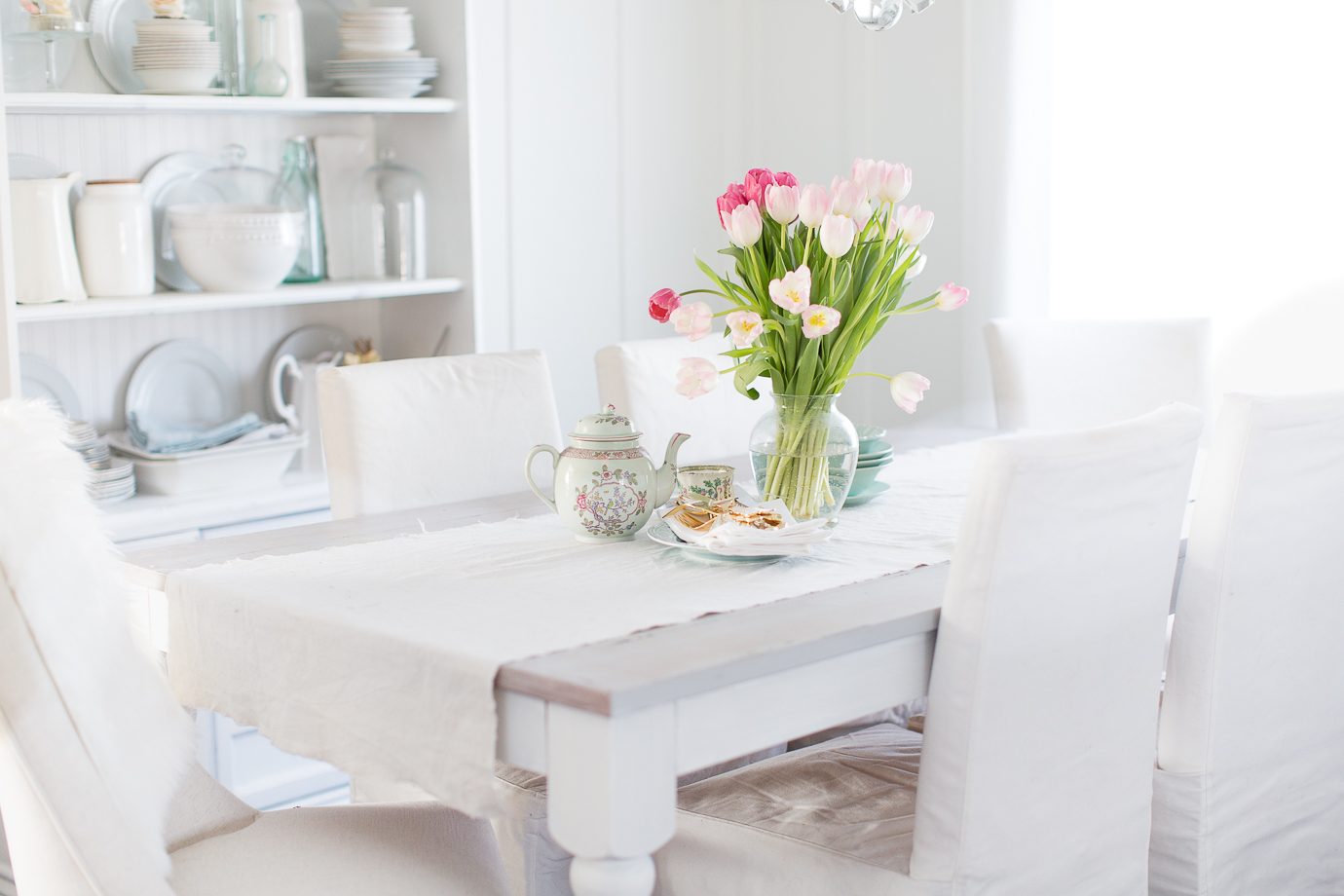 It's Sunday evening and while some households have the comforting smell of roast filling the air, I'm thinking of what I can order in. After all, it's not just any Sunday…it's Superbowl Sunday and that equals chicken wings and nachos all day long.
Admittedly, I'm not much of a football fan, but I will keep hubby company while he watches the game, occasionally interrupting to ask that he explain the rules. Over and over again.
While in the moment I may not think he has much patience with me, when I think about it, I realize he must as he has been telling me the rules of football for 25 years now.
We visited a little antique shop yesterday and found some beautiful seltzer bottles which I wanted to put in the hutch, but they are too tall so I have found a new spot for them. I was also hoping to find ironstone pitchers; and although we did, they were a little too costly and so the search continues.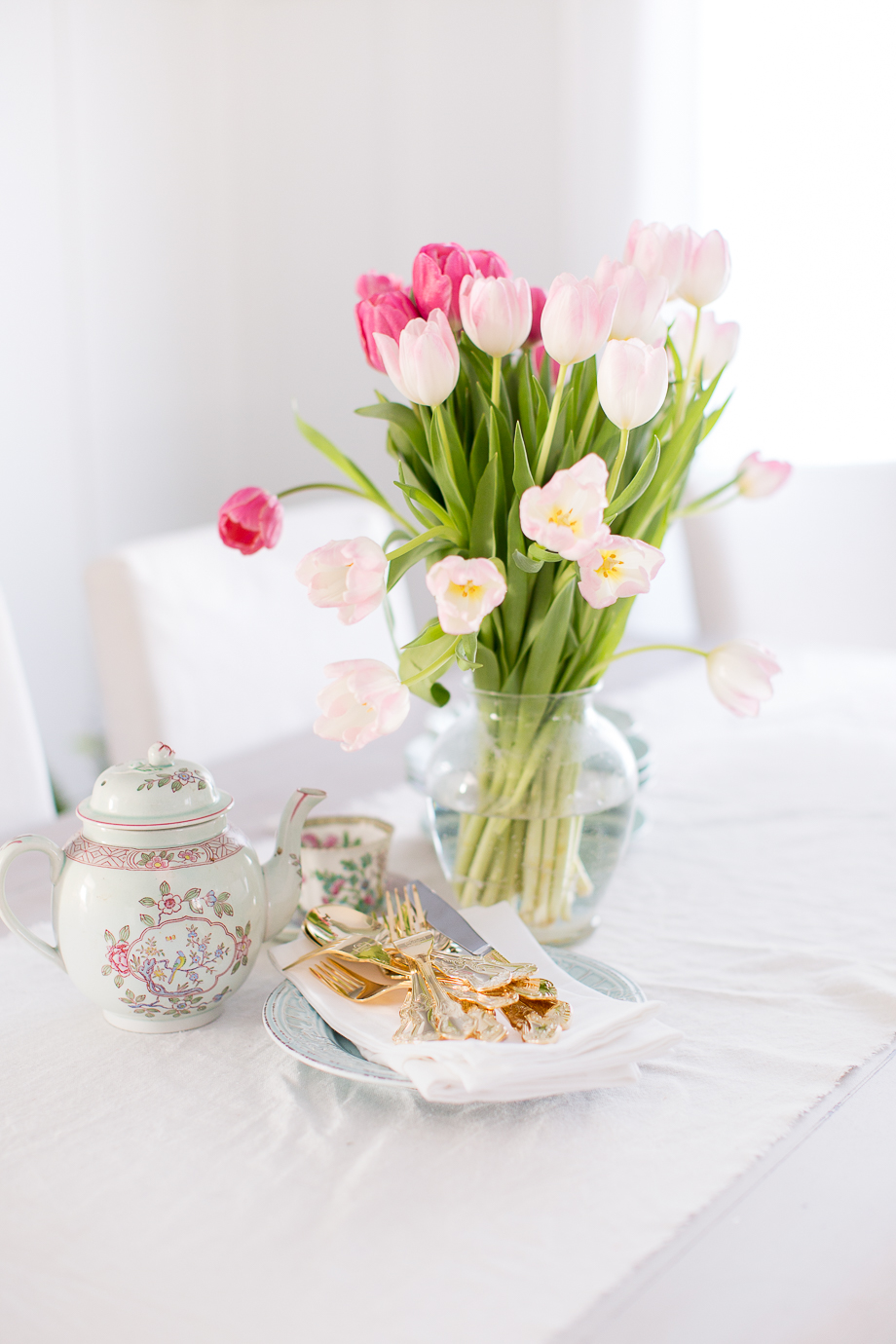 I also couldn't help buying myself some pretty pink tulips. The combination of the pretty flowers and the milder temperatures have almost made me forget that it's still winter outside.
I love having fresh flowers and to make them last a little longer, I like to place them in the garage in the evening and bring them in during the day. As long as it's not too cold outside, the garage serves as a refrigerator and keeps the flowers nice and perky. 🙂  It of course also helps to change the water and trim the stems regularly.
I've been trying to decide what the color scheme for the hutch will be this year as I've been enjoying using pinks in the living room and as usual, the soft pastels of spring slowly start to make an appearance .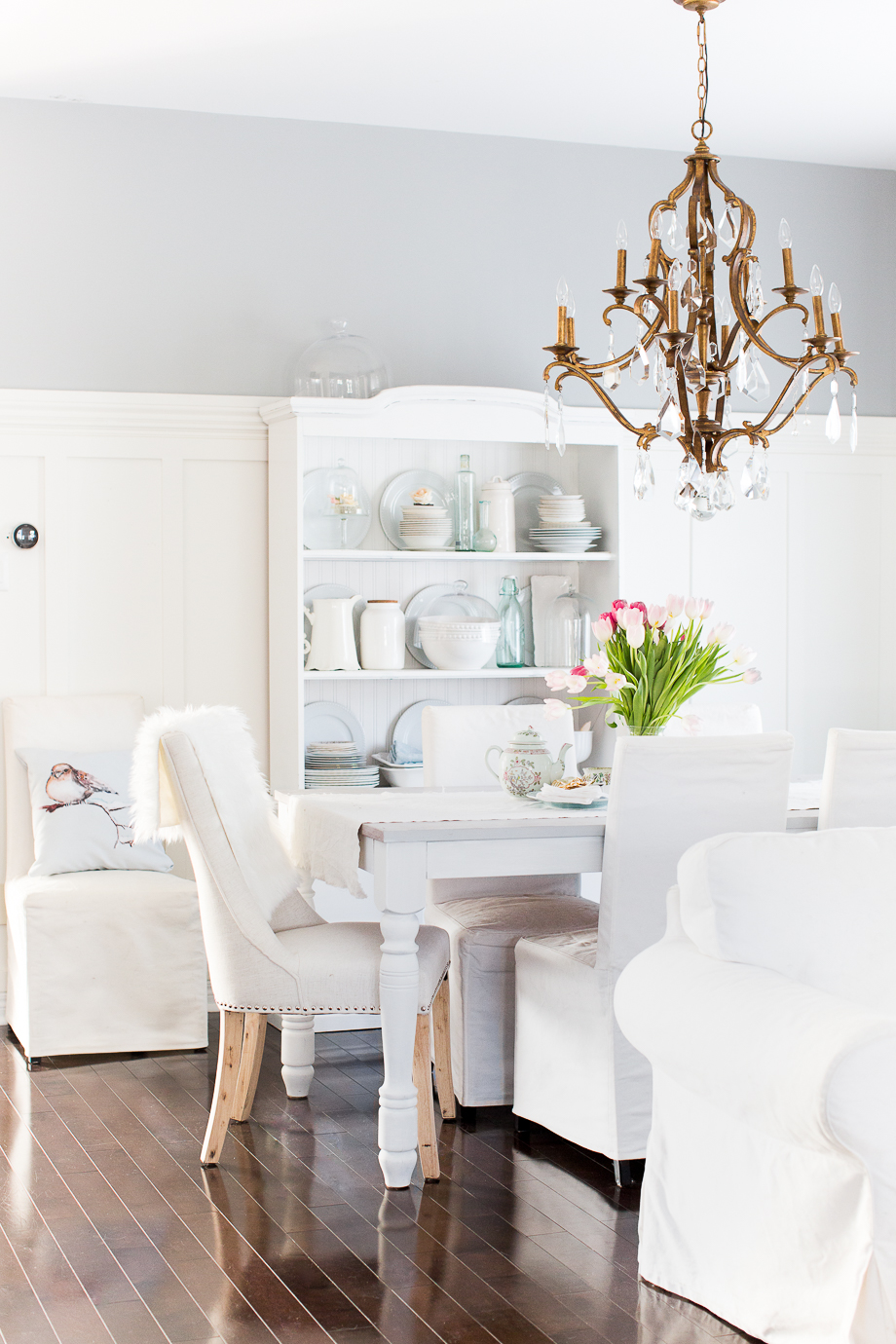 I'm also enjoying gold as inspired by our new chandelier from Joss & Main. It stands out against all of the white, yet I think the elegance of this chandelier changes the whole feel of the room.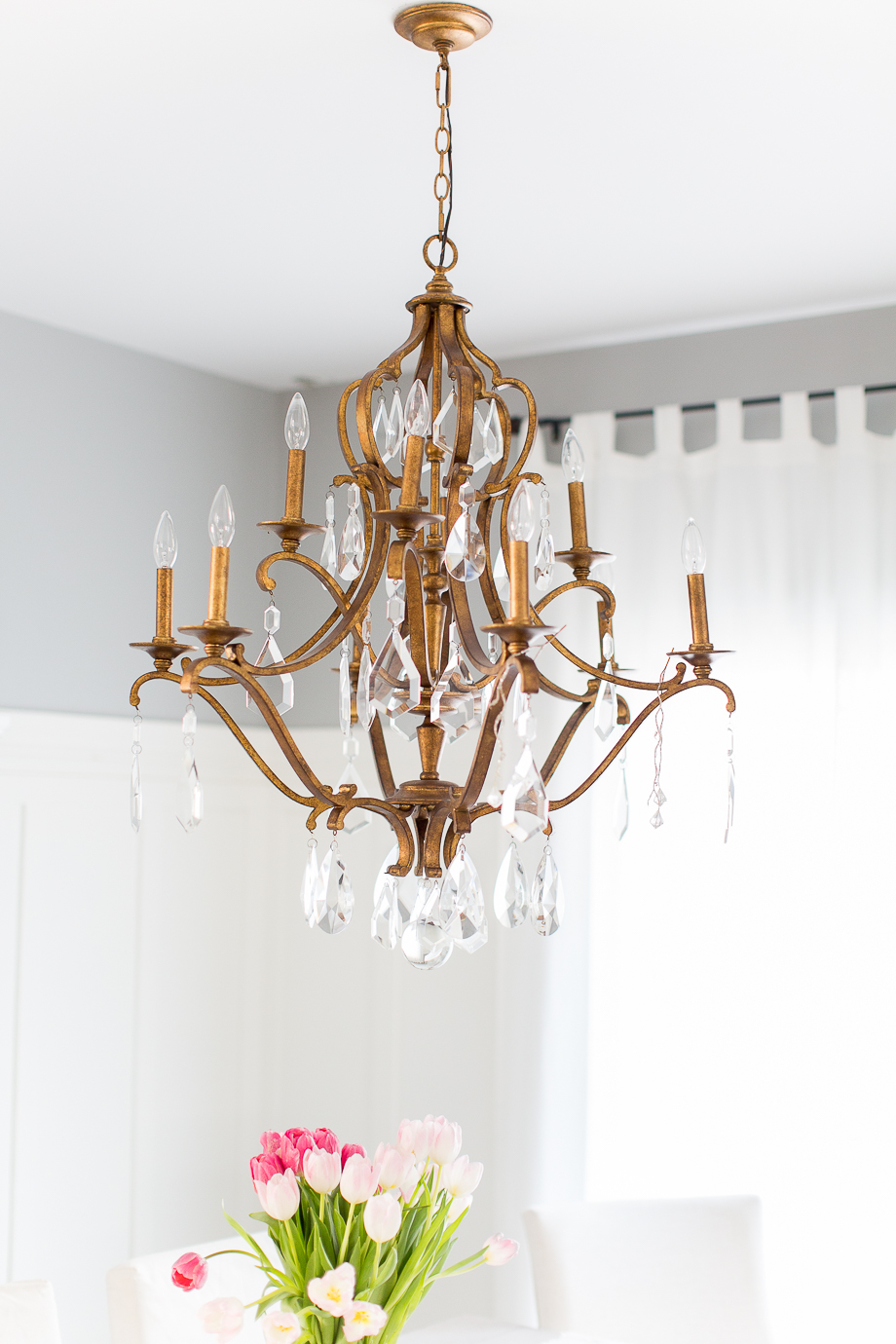 I believe I had shared it once before during our Christmas home tour, but here is a closer look. Speaking of Christmas, it wasn't until I was editing this photo that I noticed a piece of the Christmas crystal was still hanging from it. Oops.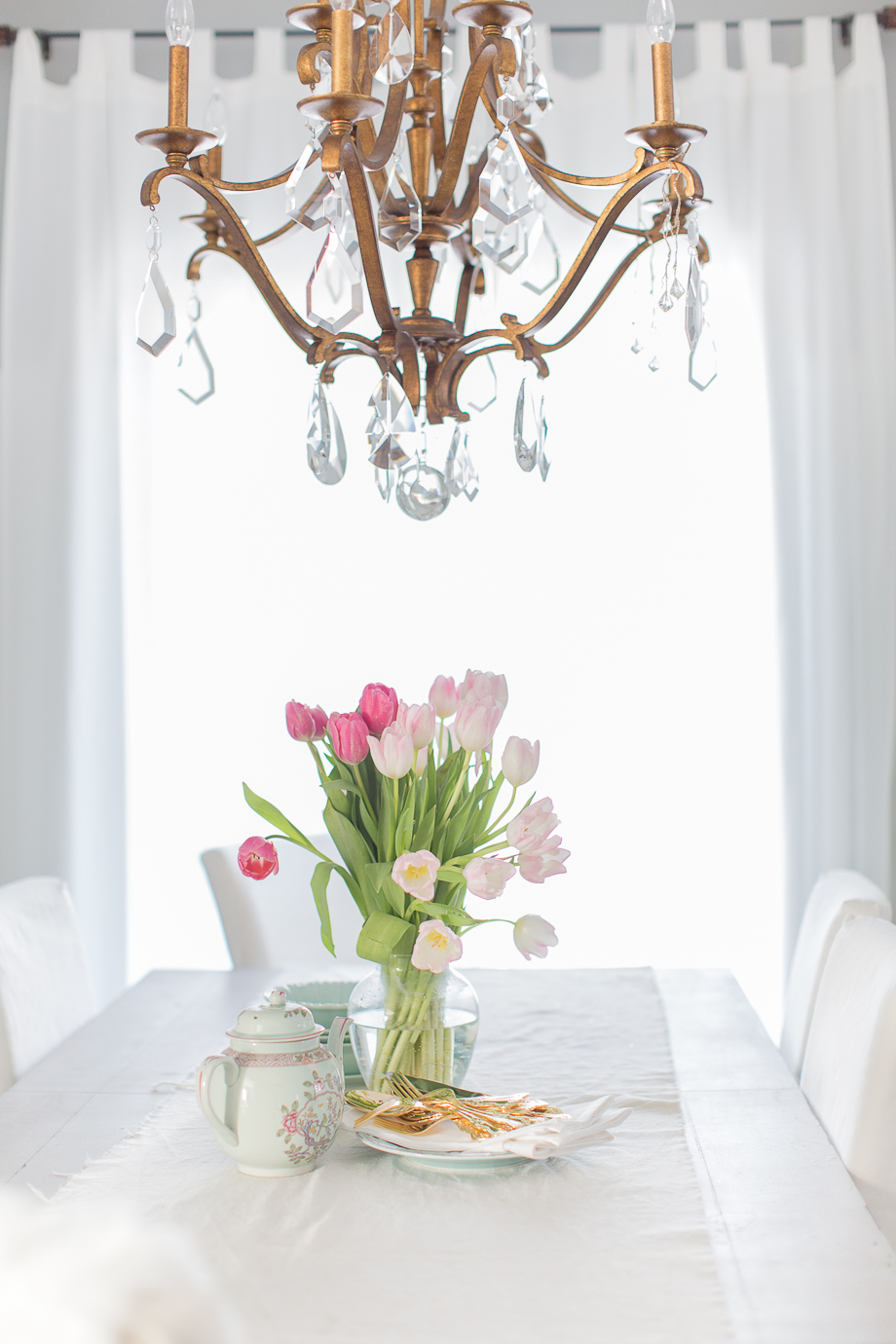 I love how a simple bouquet of inexpensive pretty pink tulips can brighten up your space and cheer you up, don't you?
And for those who may be wondering, this simple runner was made out of drop cloth, which I had ripped and bleached for 24hrs. I love that it looks and feels like linen. 🙂
Well friends, that's all I have for today. Thank you so much for visiting…I hope you have a beautiful start to your week.
much love,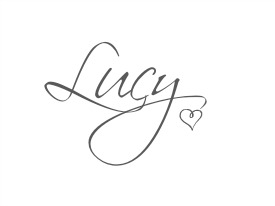 While I have you, I thought you might like to see some of the various ways I've decorated the hutch in past seasons. You can also use the search button above and type 'hutch' to see more details on the versions shown below.