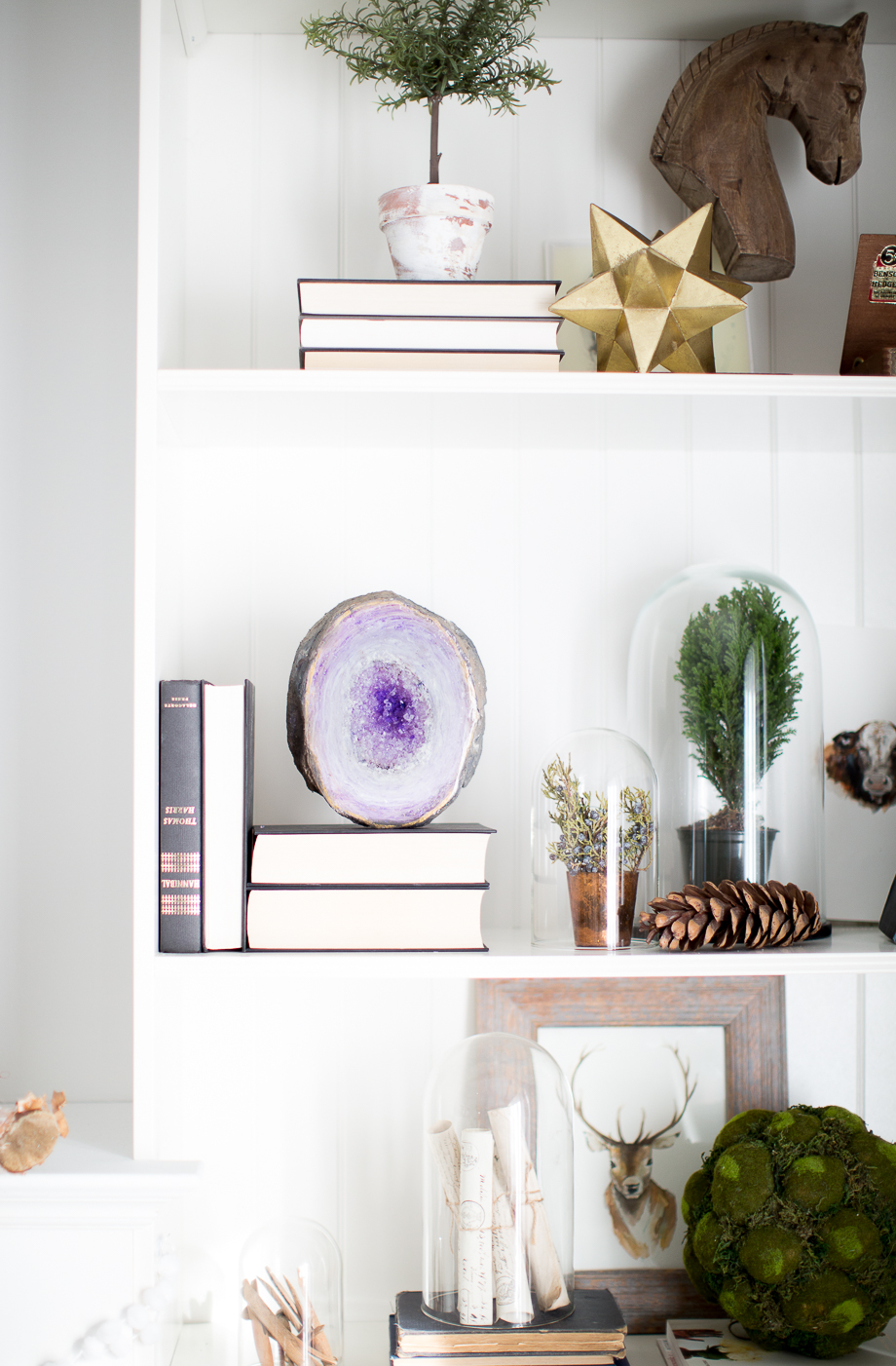 Hello again friends…I hope you've all been keeping well.
I've been a busy little bee of late, but wanted to find some time to tackle this project as it provides an opportunity to fulfill selfish and (hopefully) creative satisfaction (similar to THIS one and THIS one).
As you may know, I have the honour of working with FloraCraft and their MakeitFun team. Each month, we are tasked with creating something using their foam products and this month was pretty open to interpretation, which I find both the most challenging, but also the most fun as I'm not restricted to what I can create.
Soooo…..I decided I wanted to make an Amethyst Geode rock (or Agate rock…or Crystal Quartz rock…I'm actually not even sure what it's called). It was fun to make and I love the way it looks on our shelves.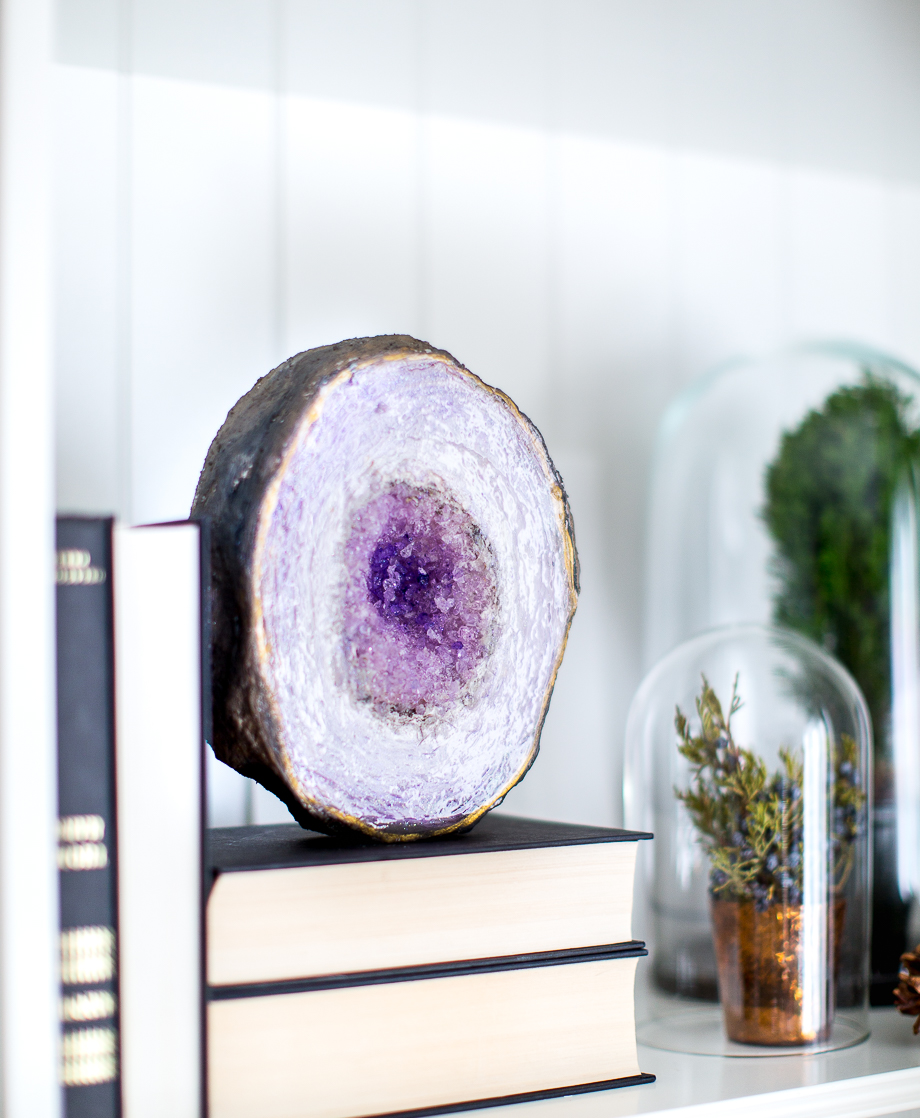 Here's what you'll need:
FloraCraft® Make It: Fun® Foam
Styro Glue
FloraCraft Smooth Finish
Acrylic Paint
Glitter Glass (I found mine at the Dollar Store in the craft section; here is a similar one)
ModPodge
ModPodge Dimensional Magic
Piece of cardboard
Serrated knife
Spoon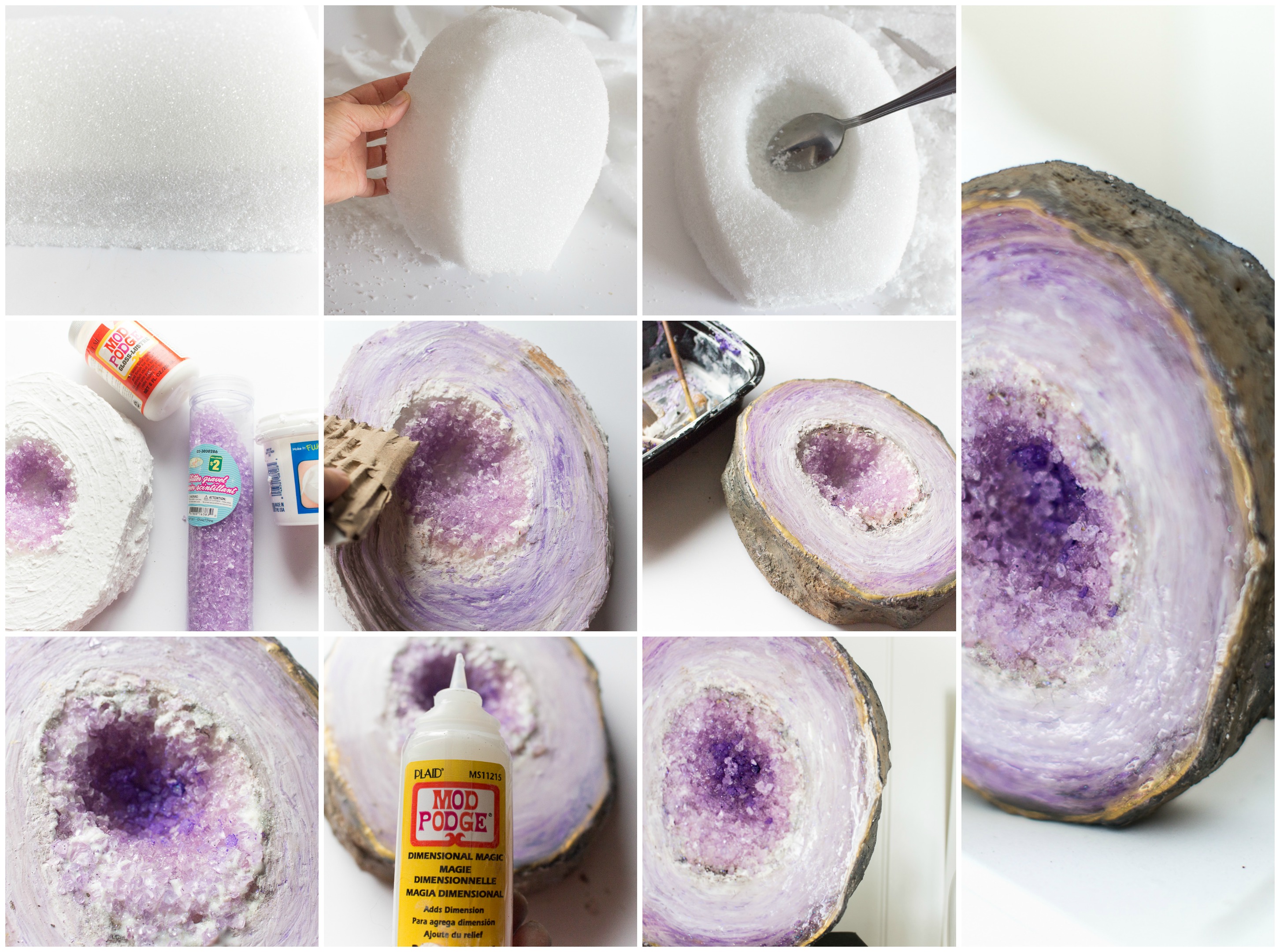 1) Cut foam sheet into three sections. Using Styro glue, attach them together to form one thick slice.
2) After allowing them to completely dry, use a serrated knife to shape it into an oval.
3) Using a spoon, "dig" out a hole in the middle, being careful to not completely pierce through.
4) Make the oval irregular by randomly cutting some pieces off it (it may be helpful to look at a picture of a geode for reference).
5) Cover foam all over with Smooth Finish and at the same time, pour a generous amount of ModPodge or glue in the hole. Pour gravel into the hole, making sure the sides of the hole are also covered. At this point, you can also sprinkle some white glitter for extra sparkle. Allow Smooth Finish and glue to dry overnight.
6) Sand Smooth Finish only at the front of the rock; dust well.
7) Take desired paint color (in this case I used purple and combined it with white), and apply several dots of paint onto the front of the 'stone'.
8) Spread around the 'stone' with a piece of corrugated cardboard. Continue to play with the paint and cardboard until you achieve the results you're happy with.
9) Take some of the darker paint and dab a little in the middle of the hole (this will add further dimension).
10) Paint the underside of the stone with various browns, grays and blacks. Again using a photo reference helps.
11) If desired, paint a thin gold line on the outside of the stone. Allow to dry.
12) Place a generous amount of the Dimensional Magic onto the front of the stone (excluding the hole) and allow to dry. Once dry, apply again to create a nice thick glossy layer.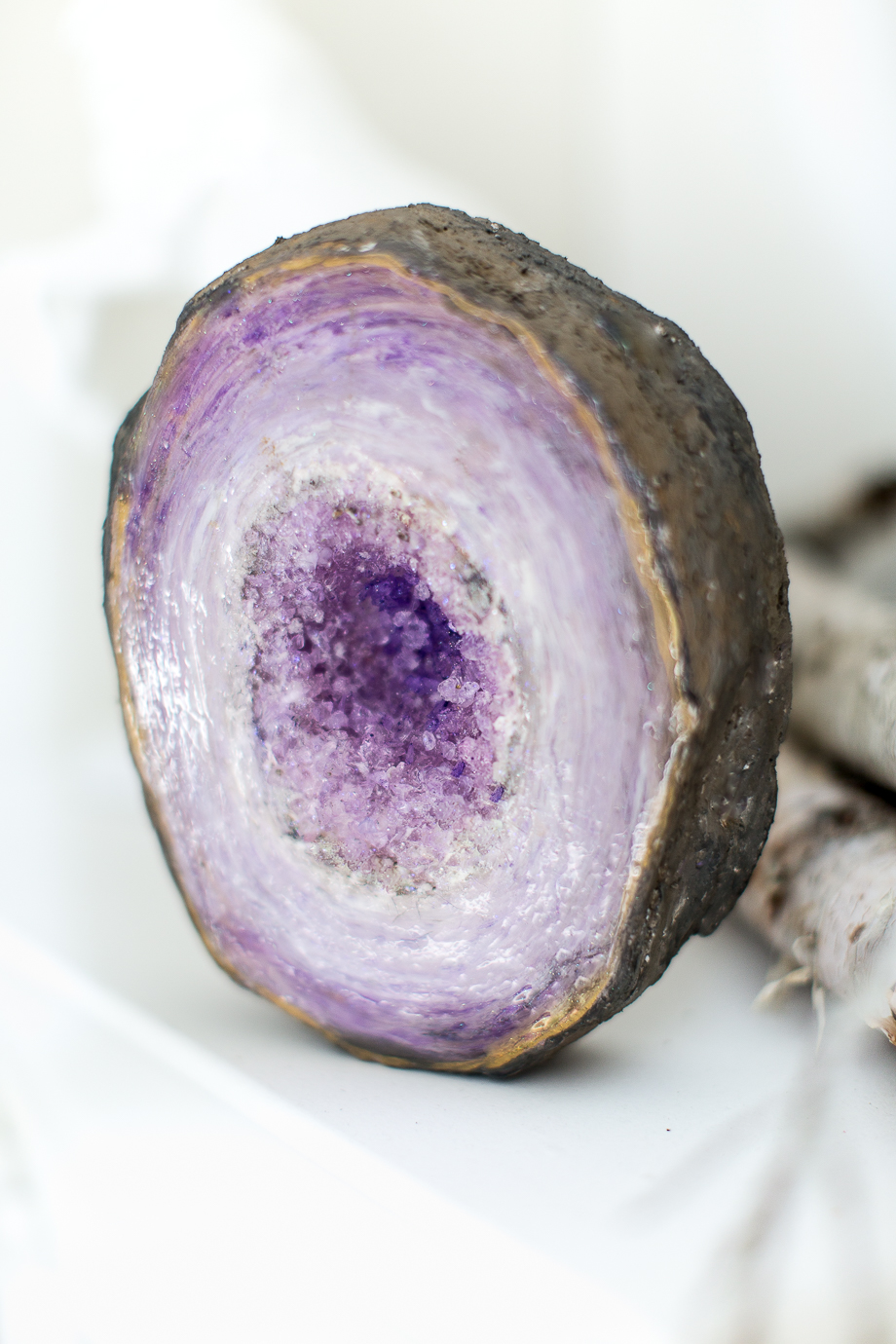 The trick to the stone in my opinion is the gravel of course, but also the dimensional magic as it gives it a beautiful glossy finish similar to Agate.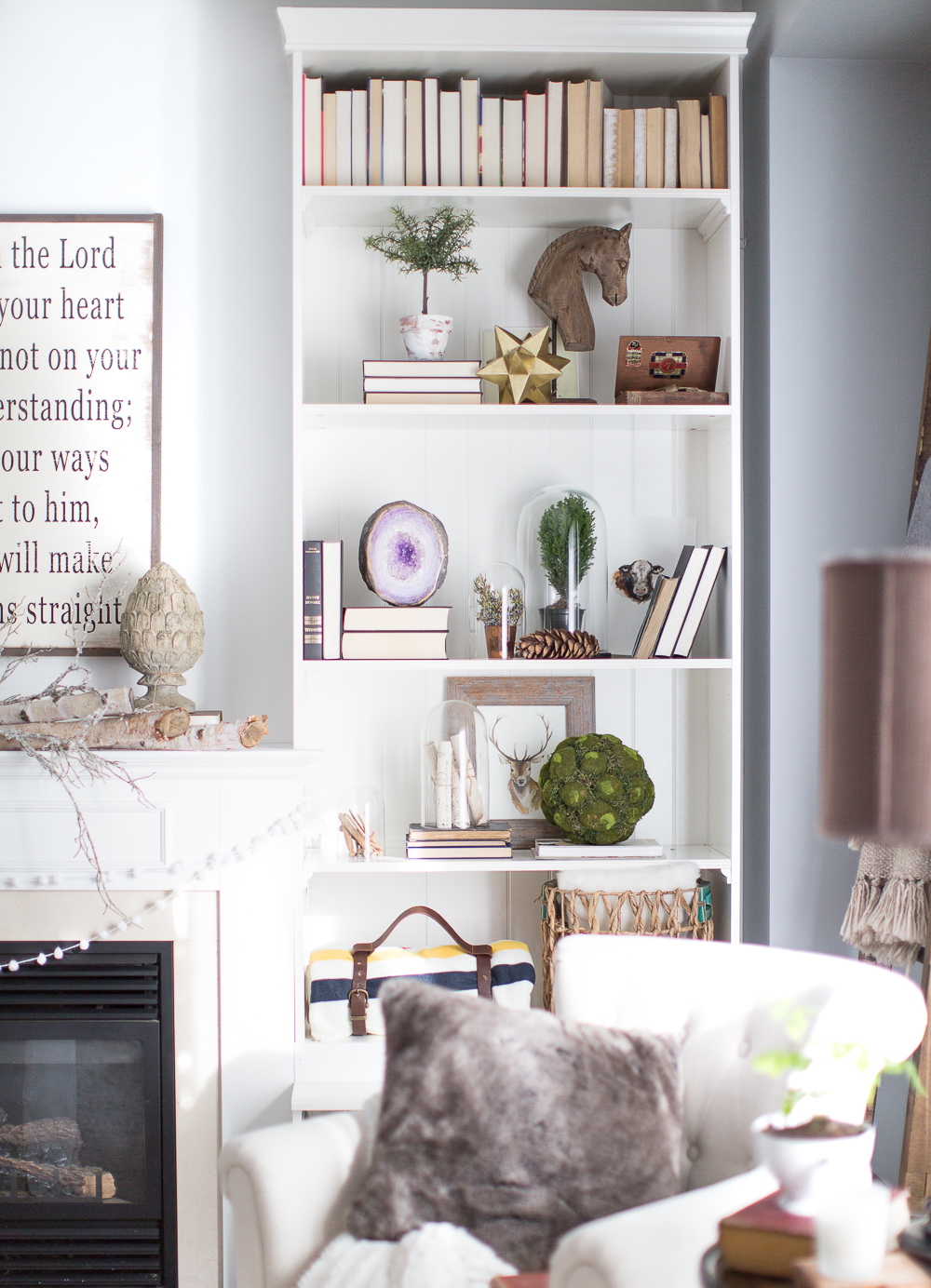 What do you think? Pretty neat, right?  You can also make these much thinner so they look like Agate slices. So fun.
Thanks for dropping by…hope to see you later on tonight at The Inspiration Gallery.
much love,