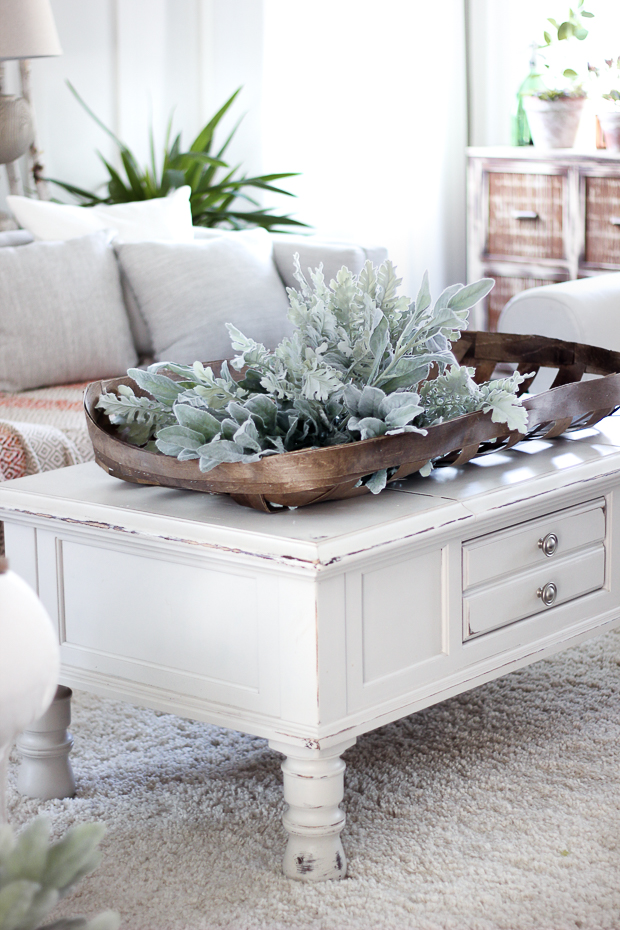 Hello friends, I hope you had a great long weekend.
While blessed with beautiful weather to mark the unofficial end of summer, we spent the entire weekend prepping the house for an upcoming Christmas shoot. But more exciting than that was hubby gave me the best anniversary gift by finally finishing our stairs. I can't wait to show you their magnificence! HA. They're currently primed a brilliant white and I kinda wish I could keep them that way, but with three kids and a dog, I know better. We will have them all done in the next 2 days, but I digress.
If you follow me on Instagram, you may recognize this photo that I had shared last week. It's my newest DIY and though not perfect and probably a little unorthodox, it was
a lot of fun to create and to challenge myself. I realize that basket weaving is a true art with legitimate supplies and methods, so I apologize in advance to those of you who work hard at your craft. This is meant to be a knock-off and to get the 'look' of a real tobacco basket.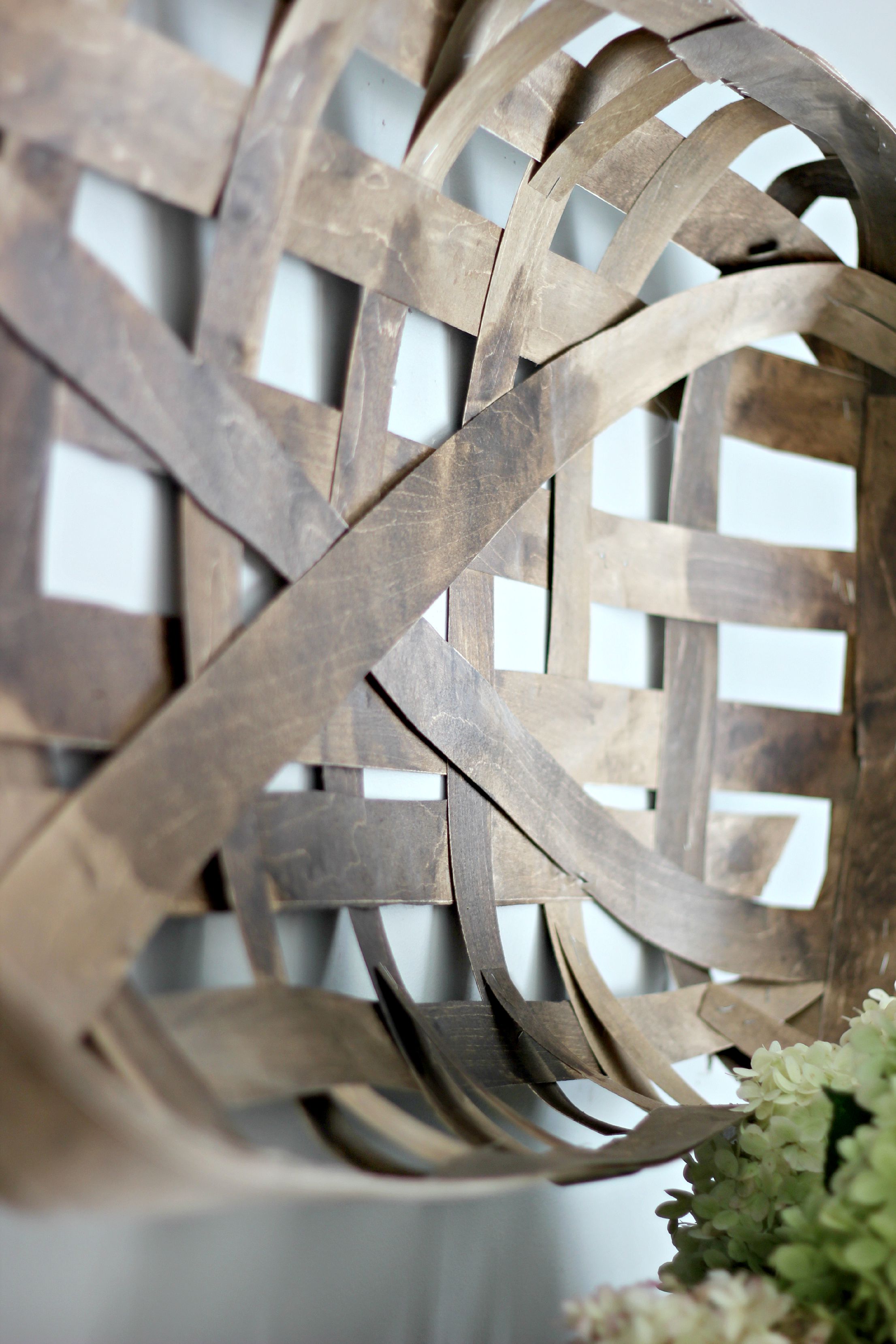 Have you ever heard the saying "necessity is the mother of invention"? Well, it's true. It wasn't that long ago when our family was struggling financially and every penny counted. It was during that time, that I truly learned the value of family and when my creativity blossomed. I had no choice but to make due with what we had, and some of my best ideas (like this one) came from wanting to make our home as beautiful as I could with what we had. To this day, that still holds true. I truly believe you don't have to spend a lot of money to make your home beautiful and that it is truly the people in your home who make a house a home.

Although this idea did not come under the same circumstances, I still love the idea of using your creativity to create something that is either hard to acquire or costs a little too much. I've had this idea in my mind for a while now, but it wasn't until recently that I decided to give it a try.
The materials I used are of course not the wood splints found with a real tobacco basket, but I do love the way it turned out and I hope you do too.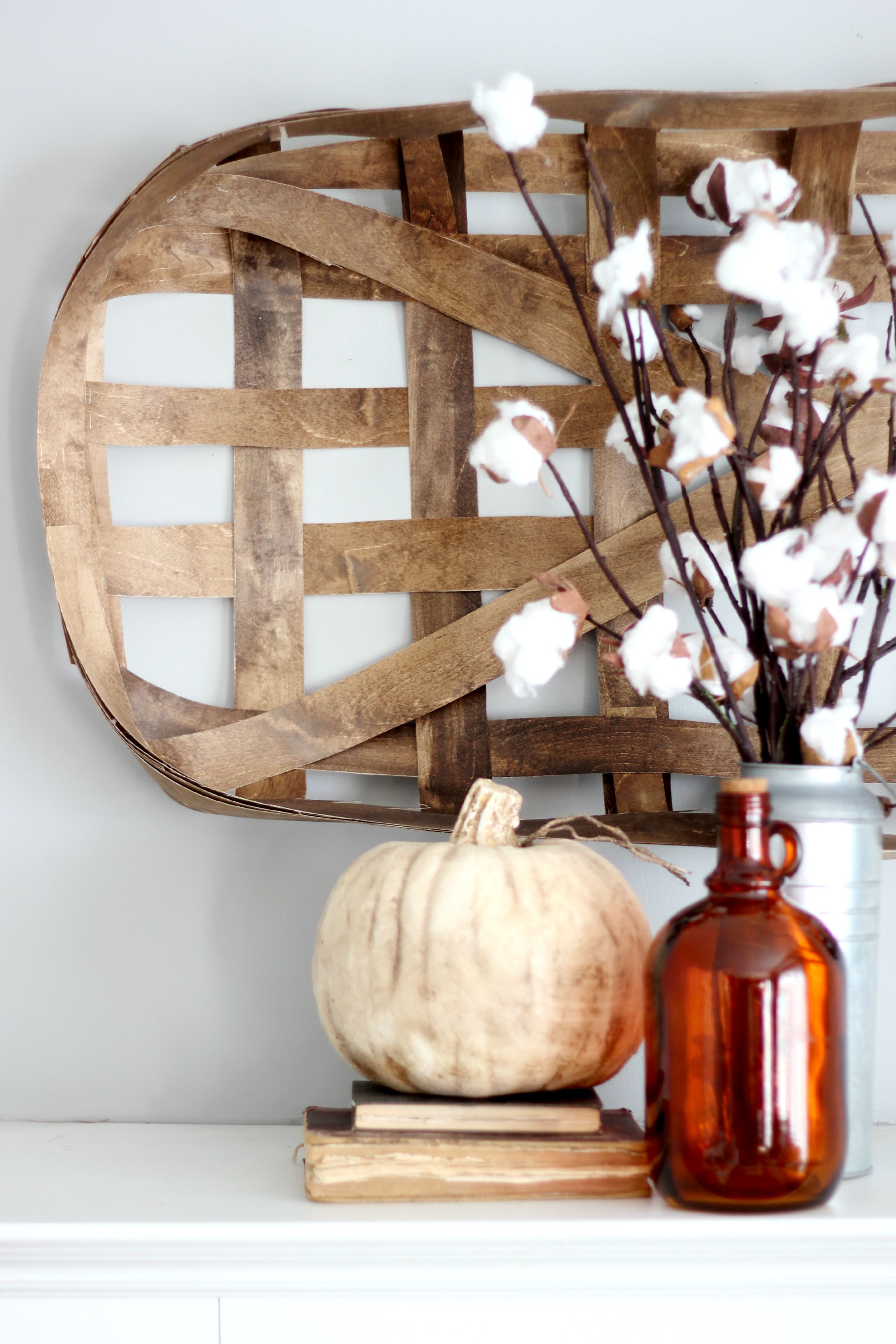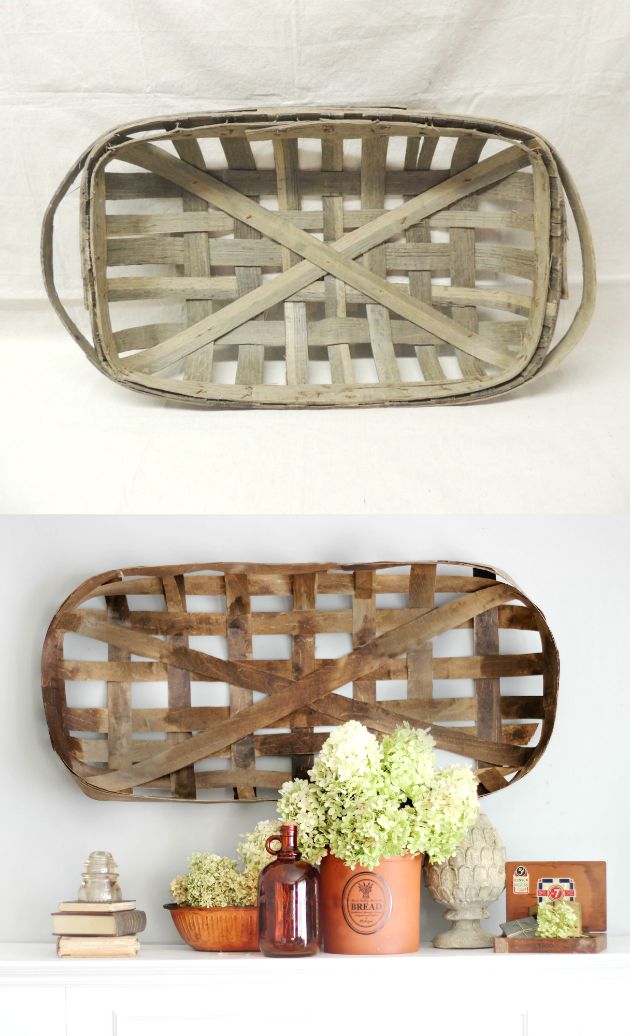 Above image (via) was my inspiration and my version just below.
Materials:
Wood Veneer (I purchased mine at Home Depot or you can find similar online HERE
 or you can use actual basket reed HERE )
Stapler
Utility Knife
Wood Stain of choice (I used special walnut and dark walnut)
Scissors
Ruler
Heavy item to hold in place (I used books and jars)
NOTE: Pictured are also bamboo stakes (which I thought I would need to make the basket sturdier, but it didn't require them)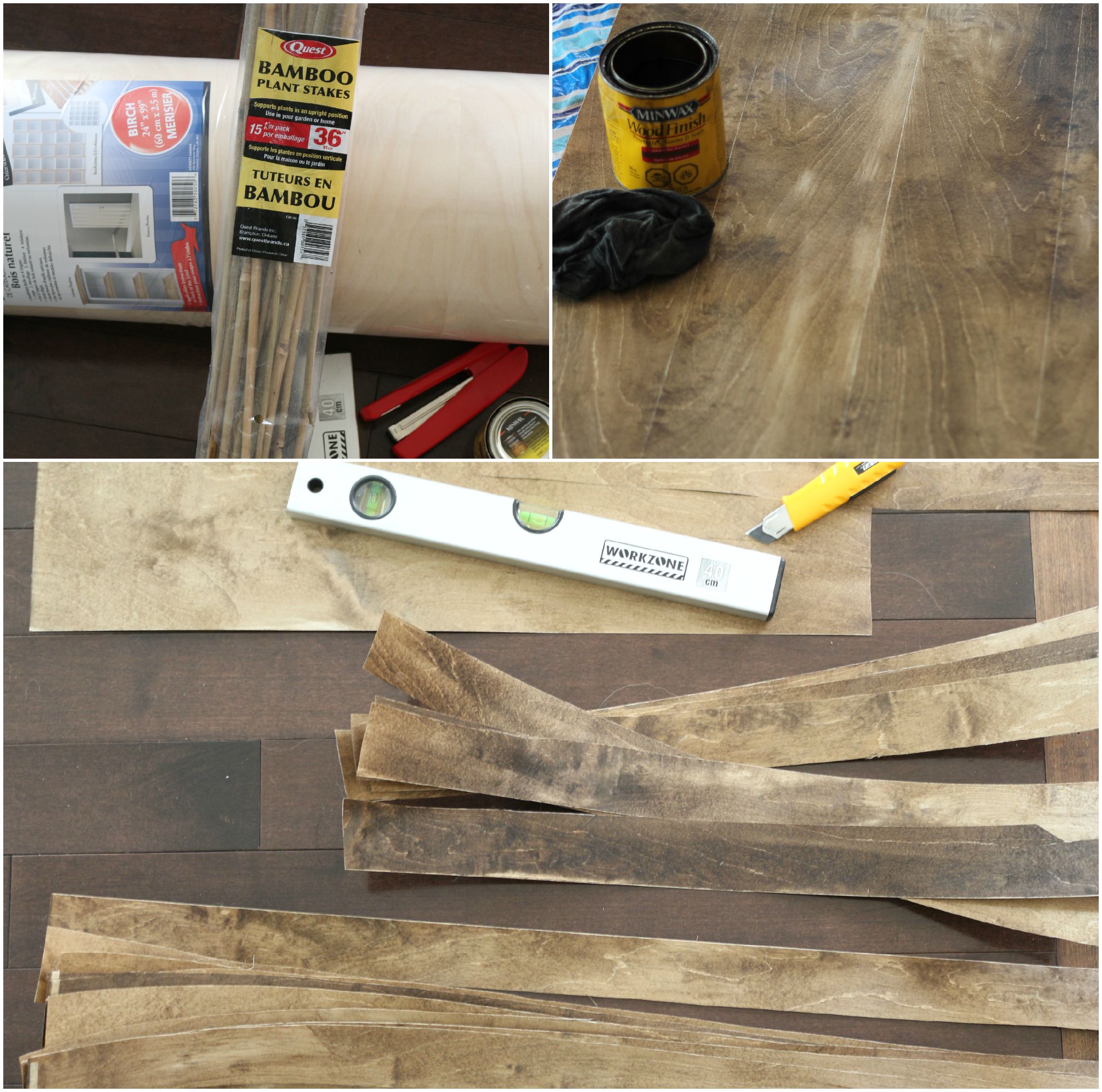 Before you start: plan the size and shape of your basket as well as the width of each of your splints (strips of the basket).
1. Unroll wood veneer and stain both sides as desired. I used a mixture of special walnut and dark walnut by Minwax, but a steel wool and vinegar solution would also work really well to give it that grayish, aged looked.
2. Allow stain to penetrate for about 5-10 minutes. As the stain makes the veneer more pliable, you will want to work before the stain completely dries (I advise wearing rubber gloves).
3. Measure and mark the thickness of each of the strips of your basket (mine measured 2″ wide).
4. Using a ruler and utility knife, cut the desired number of  strips along the grain of the wood. My basket had 5 long strips measuring 41″ in length and 7 short strips measuring 21″
NOTE: Cut several extra long strips for the edge of the basket (I used 5).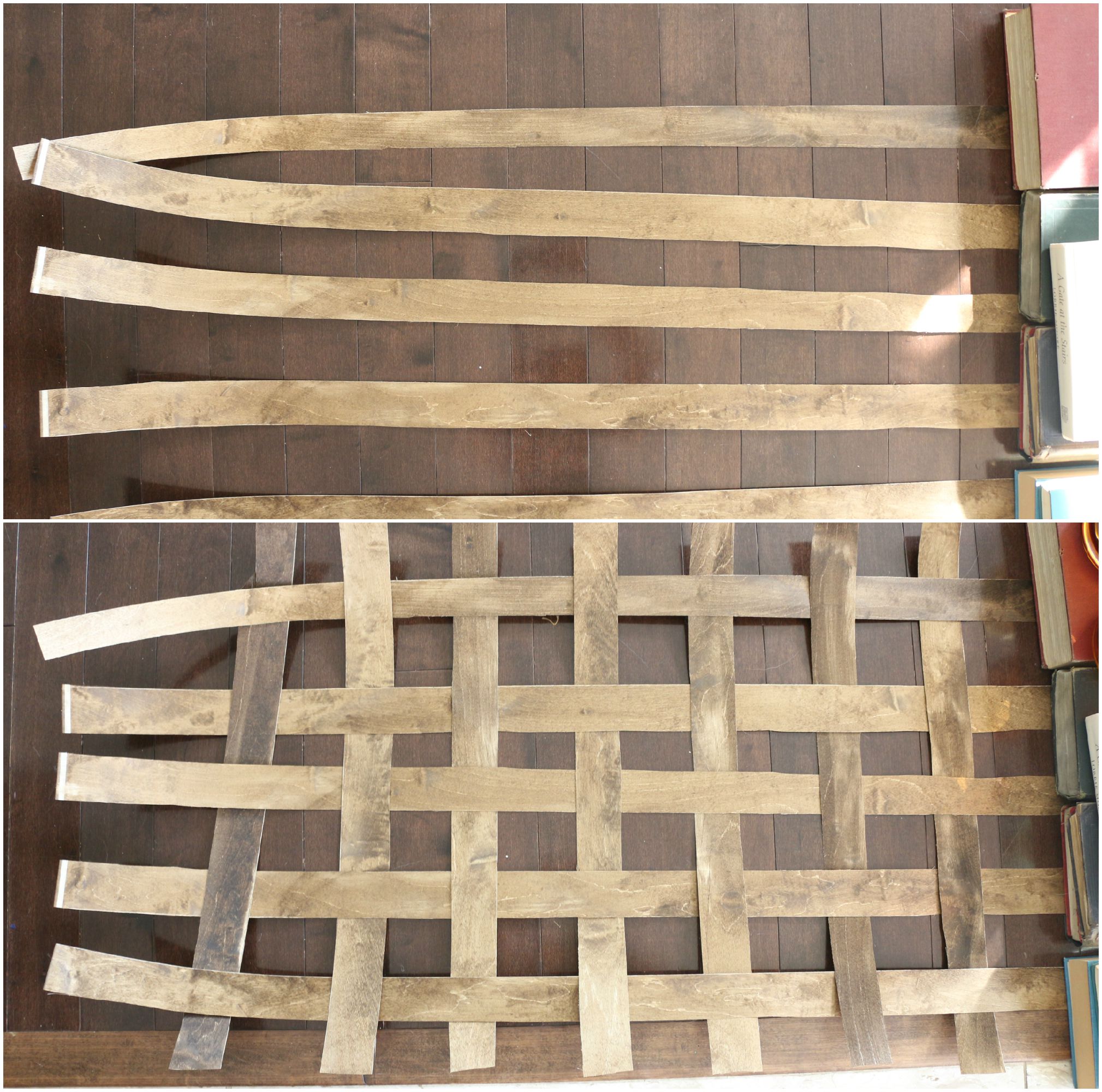 5. Lay your long splints on the ground or flat surface and place a heavy item at the ends (I used books and cans).
6. Weave short splints in an over/under manner through the long splints.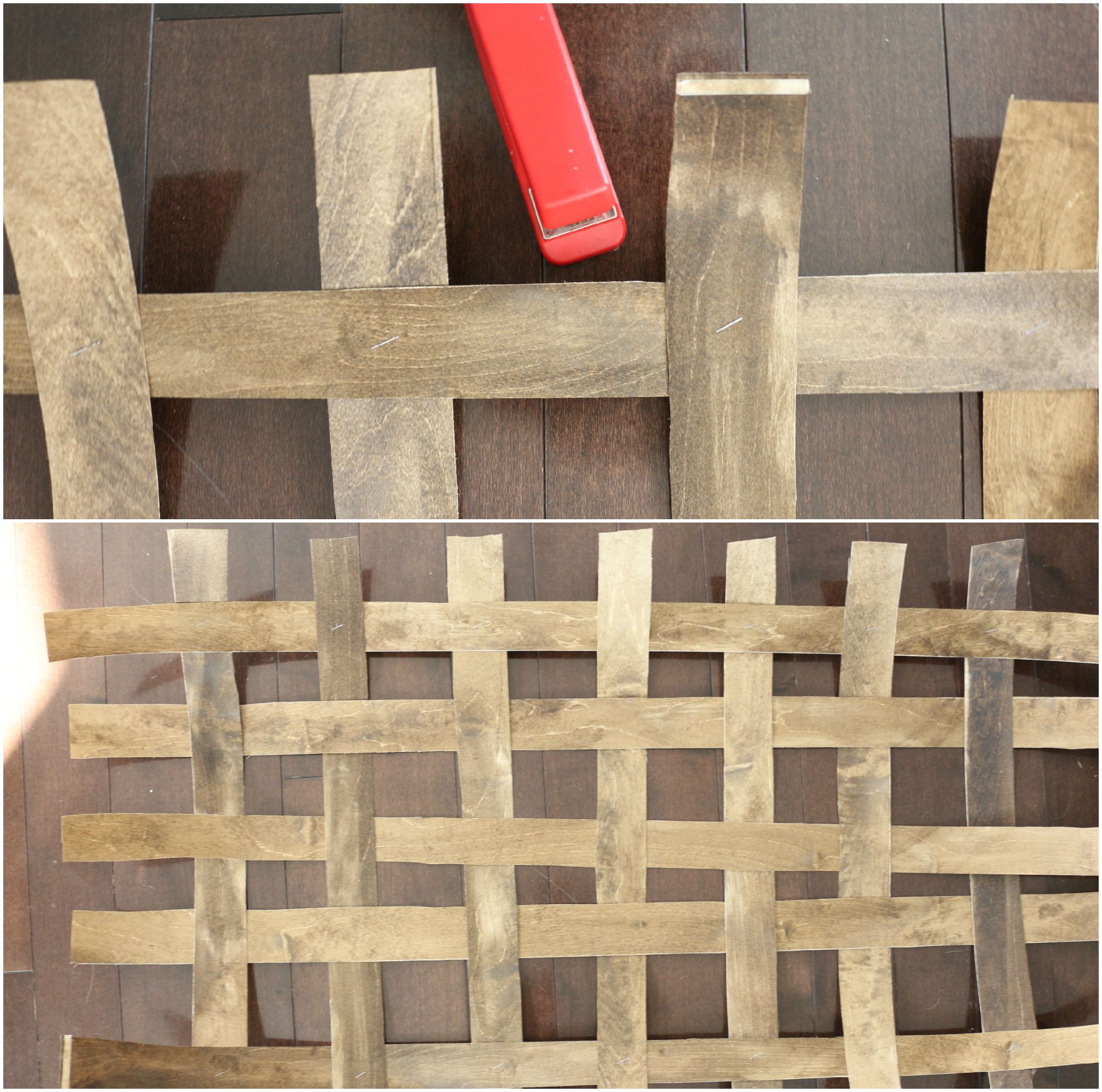 7. Remove weight and rearrange splints if needed, making sure that all the holes are even (I'm not very good at making things even as you can see).
8. Staple ends in place.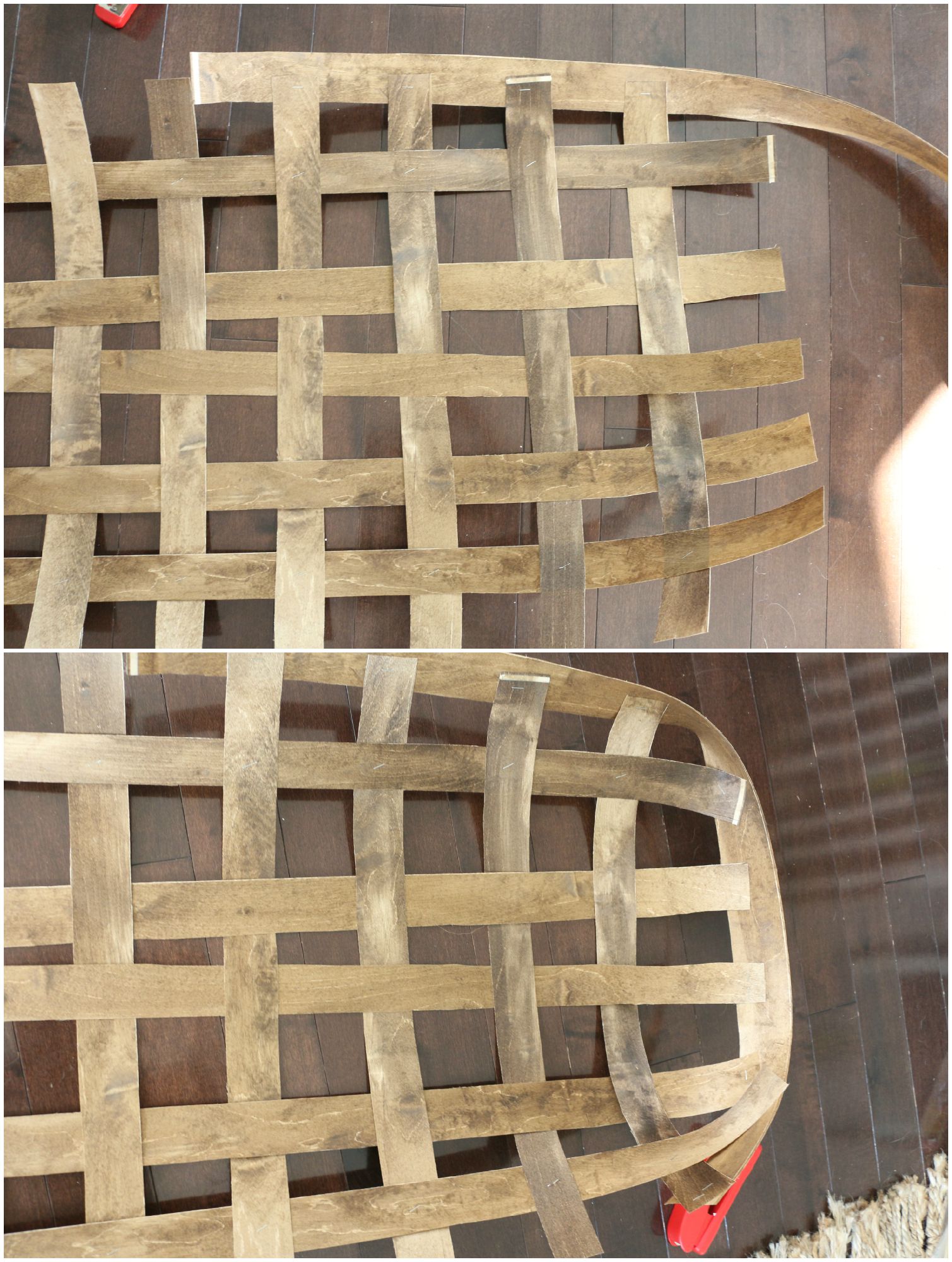 9. Place one of the extra long splints outside weave and start to staple the ends of the splints onto it.
10. Continue to wrap and staple around weave.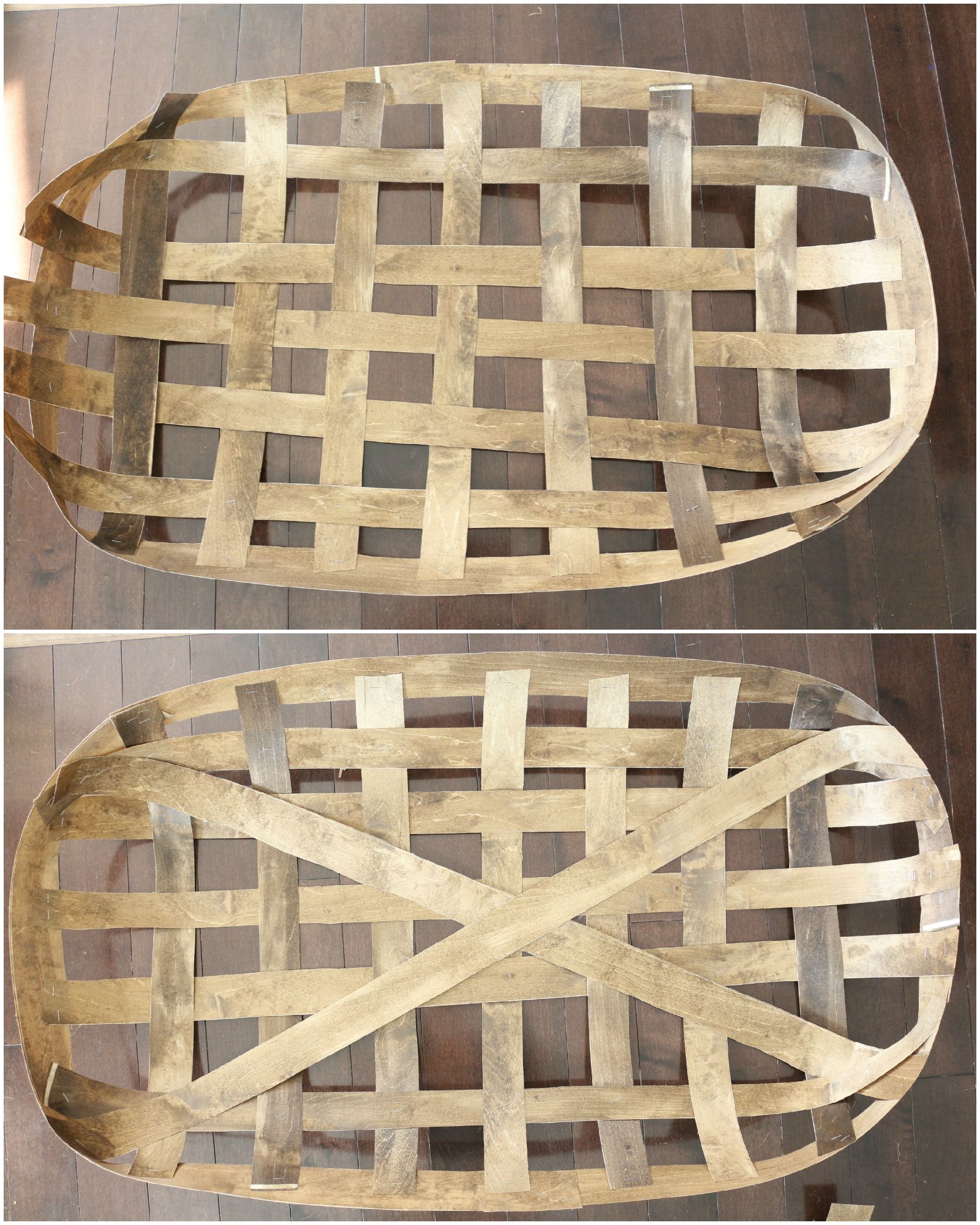 You may need to adjust the splints as you go along the basket, which is simple to do as the staples are easy enough to remove. If desired, staple two long splints across the bottom of the basket in an X.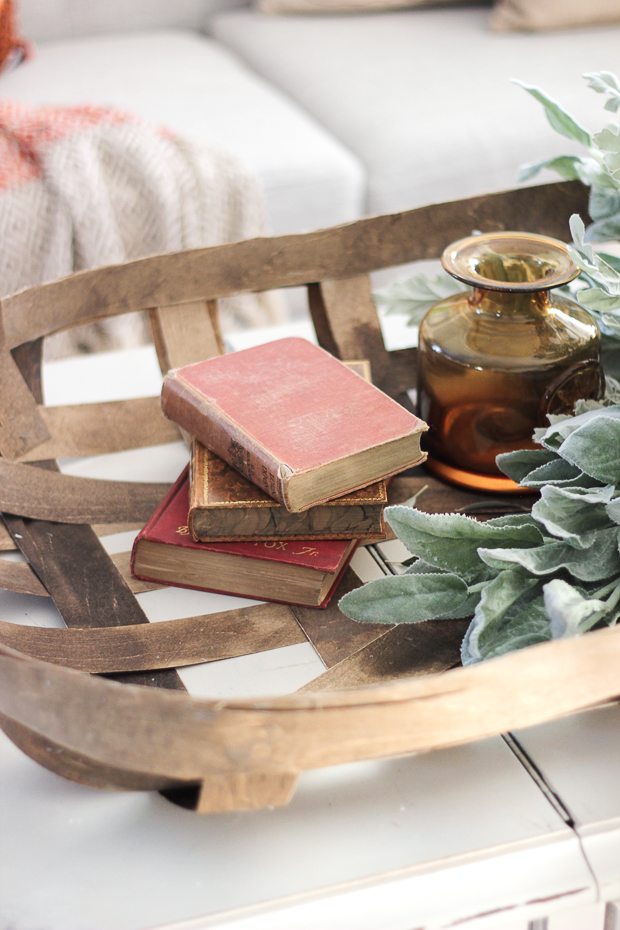 I used hot glue to attach more strips on the outside and inside of the basket, both to hide the staples and add stability.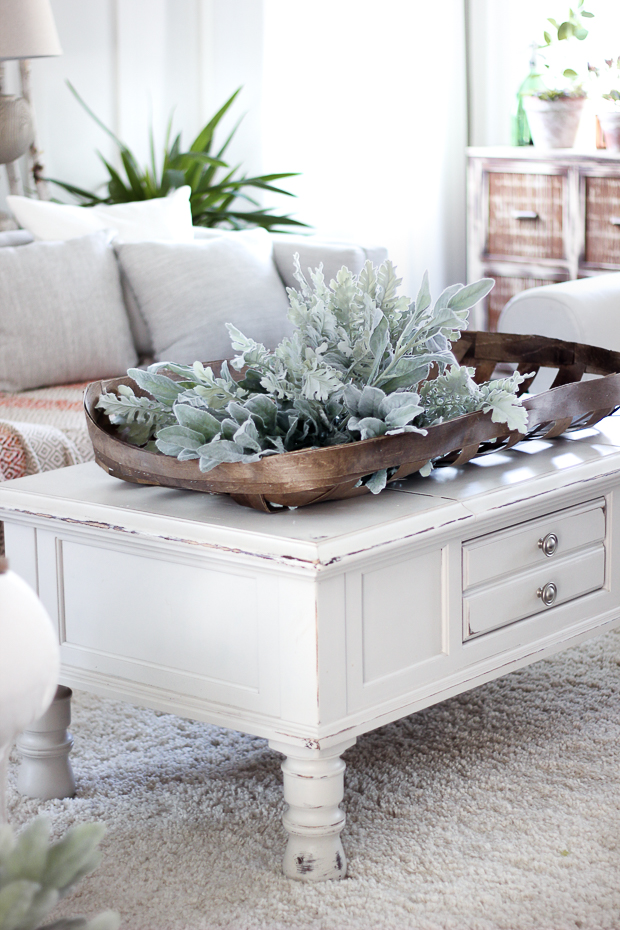 The beauty of this knock-off is that is doesn't need to be perfect. In fact, if you look at true vintage tobacco baskets, they are usually unevenly weaved, often broken and look perfectly imperfect. In retrospect, I would have made two smaller baskets instead of a large one, but as it cost less than $20 in materials, I will probably make more.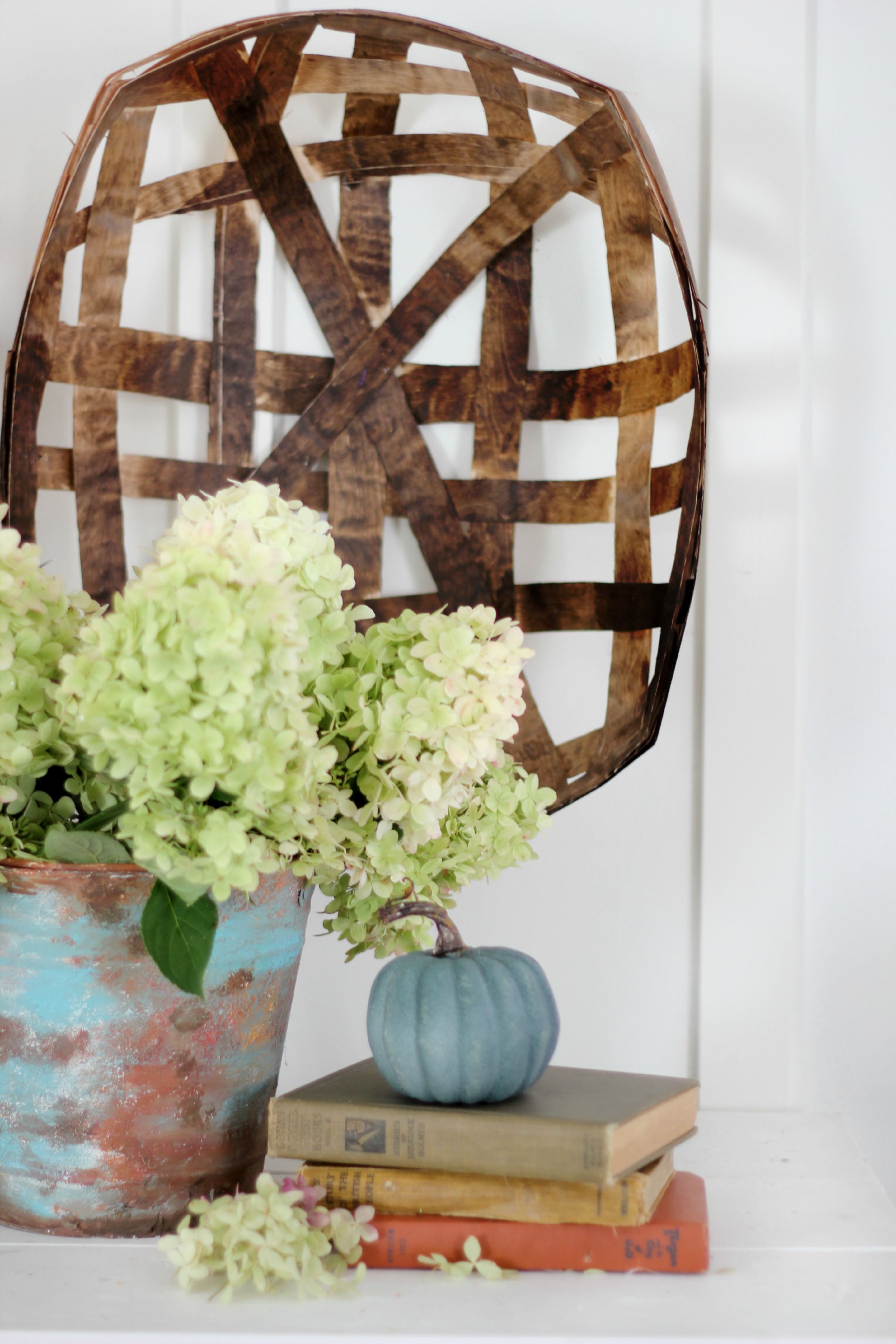 Here was my 'prototype'. This one was smaller and I stained the wood after the fact, but I wanted to give you a sense for how it would look in a smaller scale with thinner splints. I think that whenever you see a DIY, it's a lot more fun to make it your own and put your own spin.
Well, that's it for now. I hope you enjoyed this little craft and you give it a go. I'd love to know if you try it.
If you have any questions, just let me know.
Thanks so much for dropping by and have a lovely day…xo
much love,