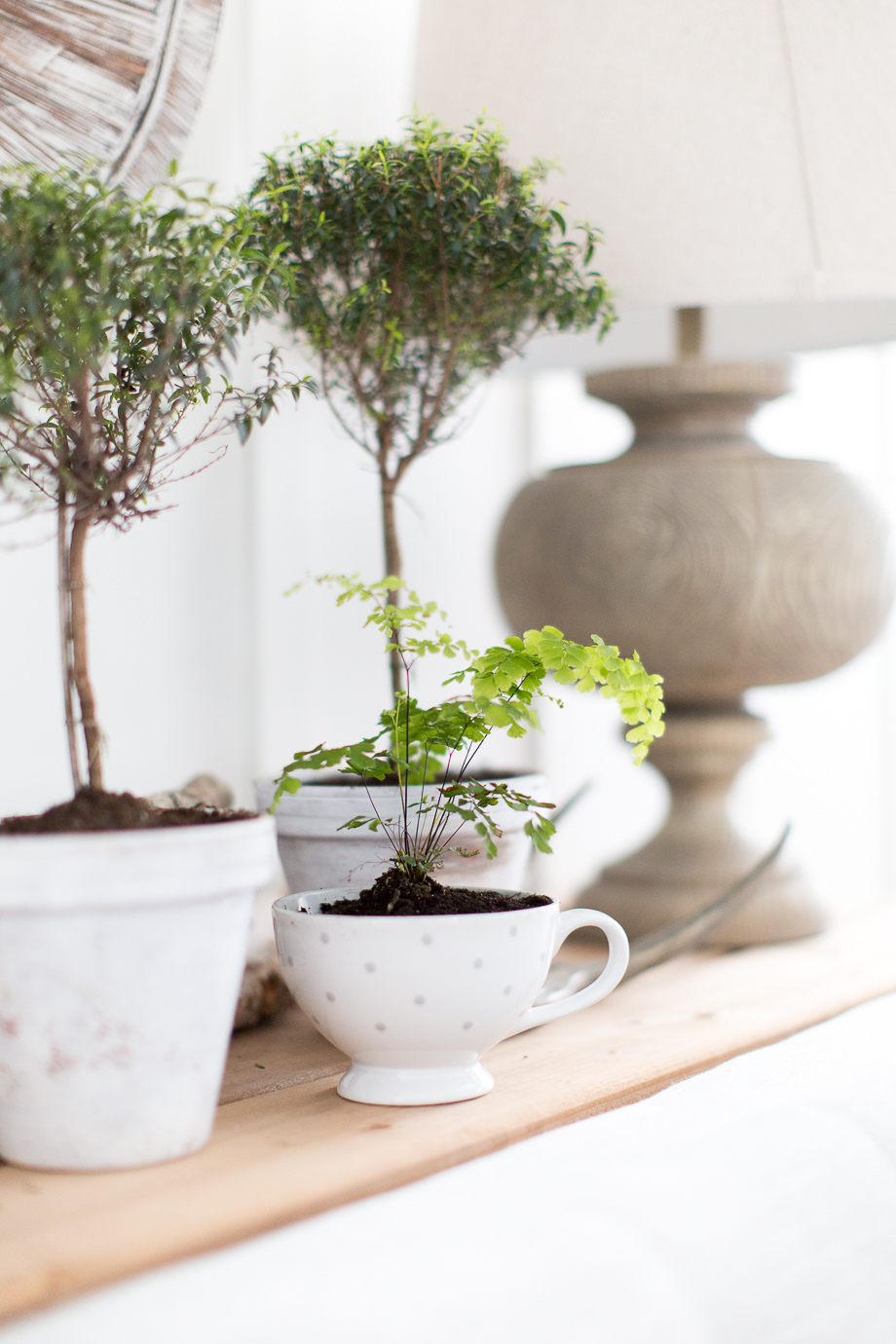 It's a gloomy winter day. The type of day that makes you seek the comfort of a cozy throw as you sit by the fire and read a good book.
While winter sometimes seems to drag on for far too long and the lack of sunshine can really affect your mood, it is also during these gloomy days when you can find a little quiet time, reflect and just enjoy the calm. That's one of the many beauties of life – if you put your mind to something, you can find a treasure in each day and in every season.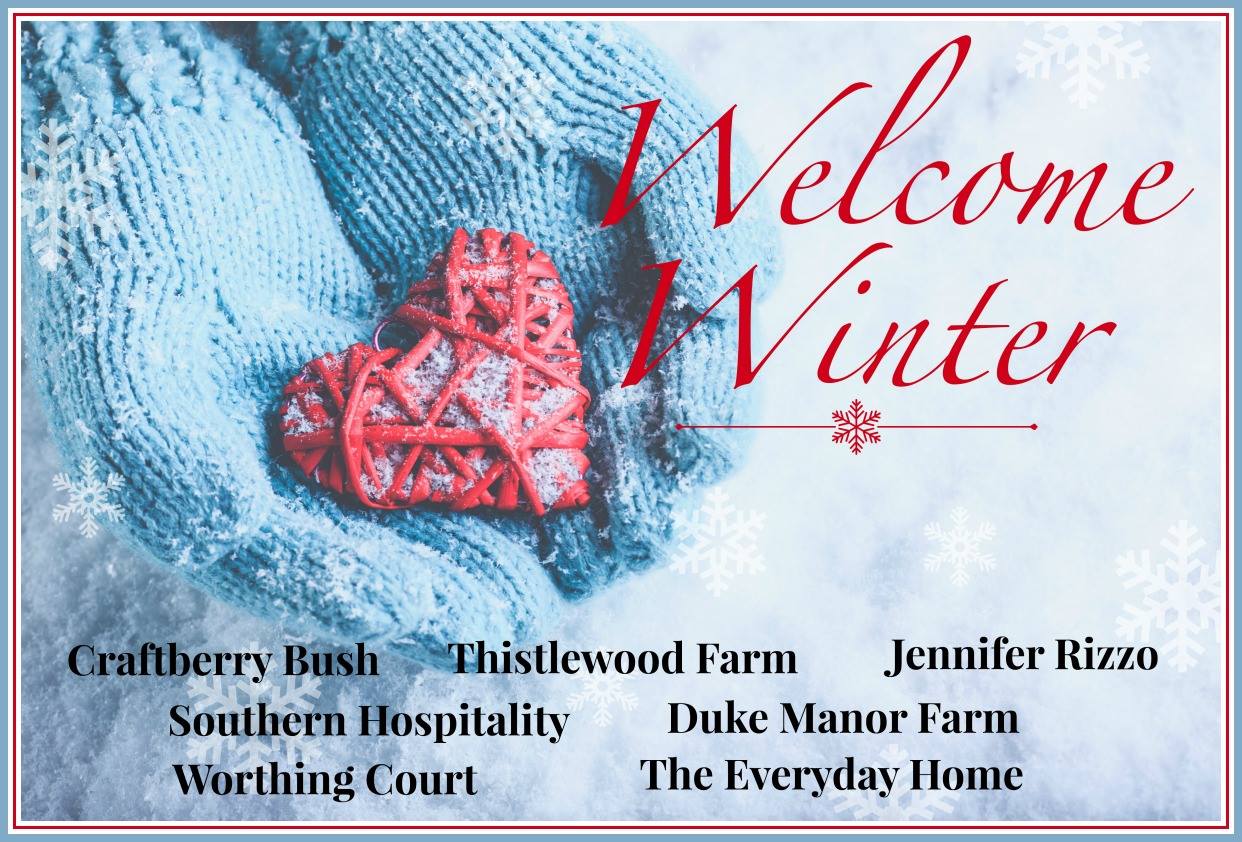 In yesterday's post, I shared various ways I refresh our home during the winter, and today, I'm joining some of my talented friends as we share how each of us embraces winter.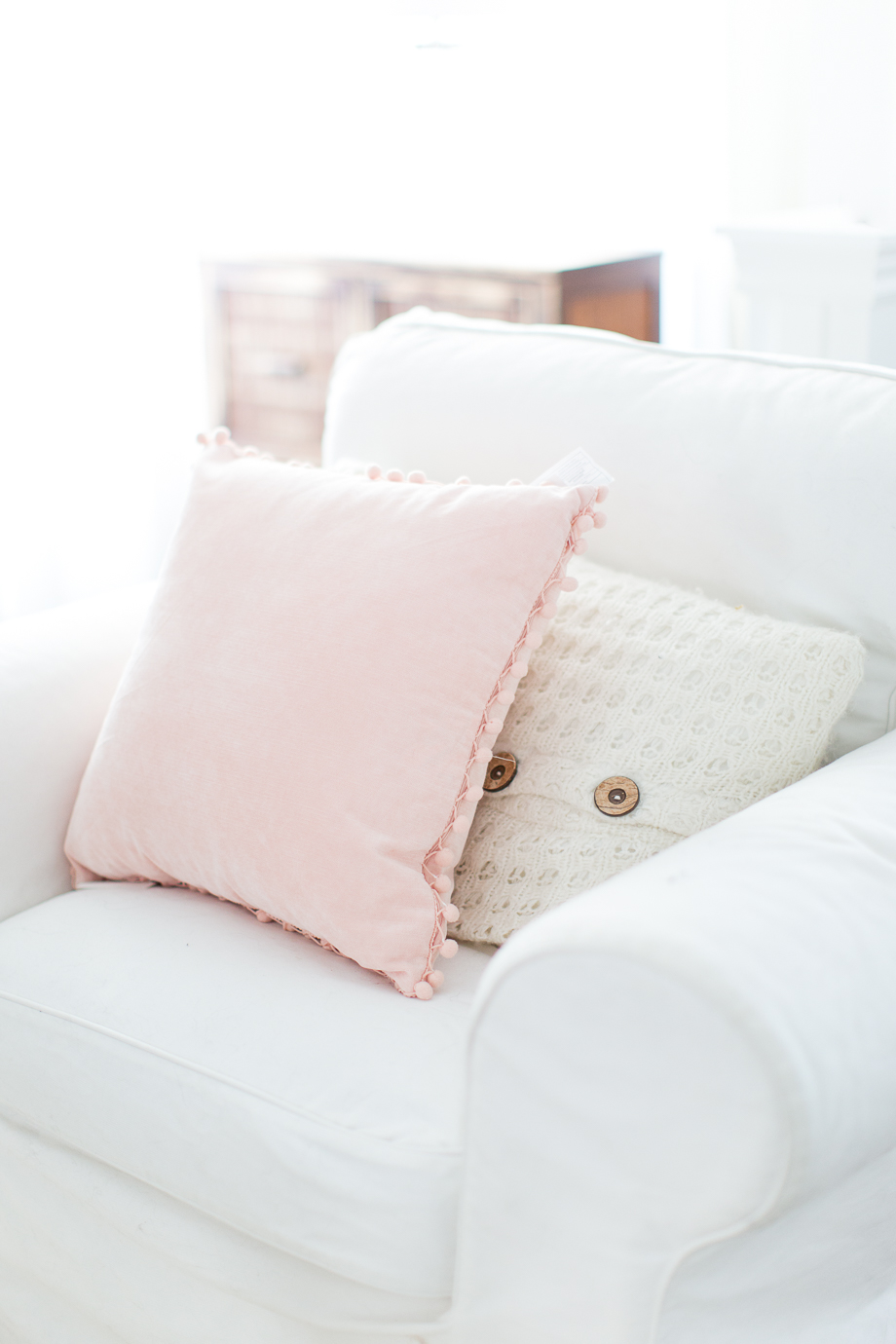 One of my favorite ways to make winter seem a little less dull is to bring in a little color. It doesn't have to be loud, just little splashes here and there will do the trick. I especially love how soft and tender this blush pillow looks sitting against the white backdrop. I think the texture of the knit pillow and pompoms on the pink pillow add warmth.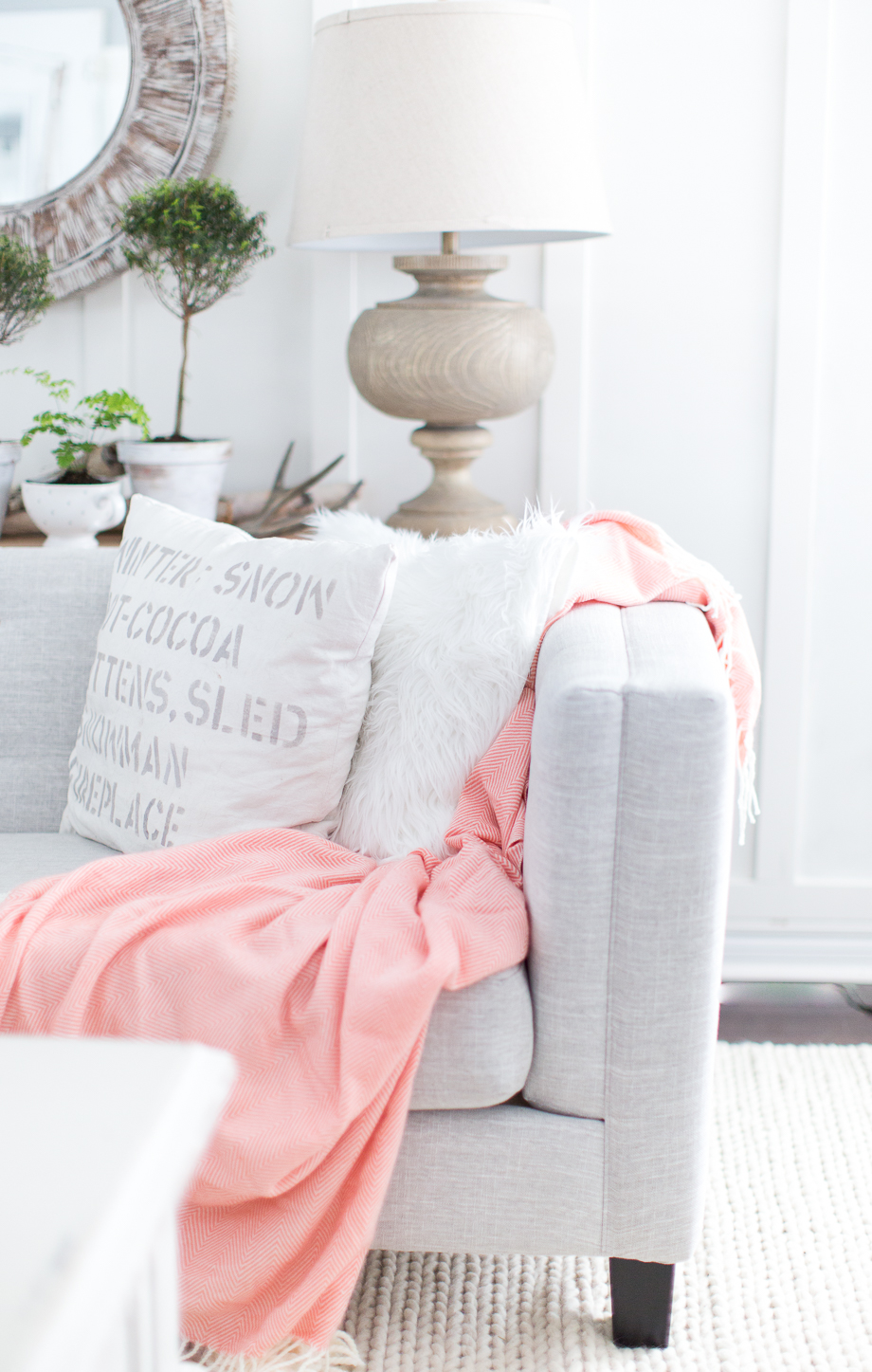 And what's not to love about having a good throw nearby? Even though it's a neutral canvas, adding different textures through the rug and fur pillow immediately create warmth.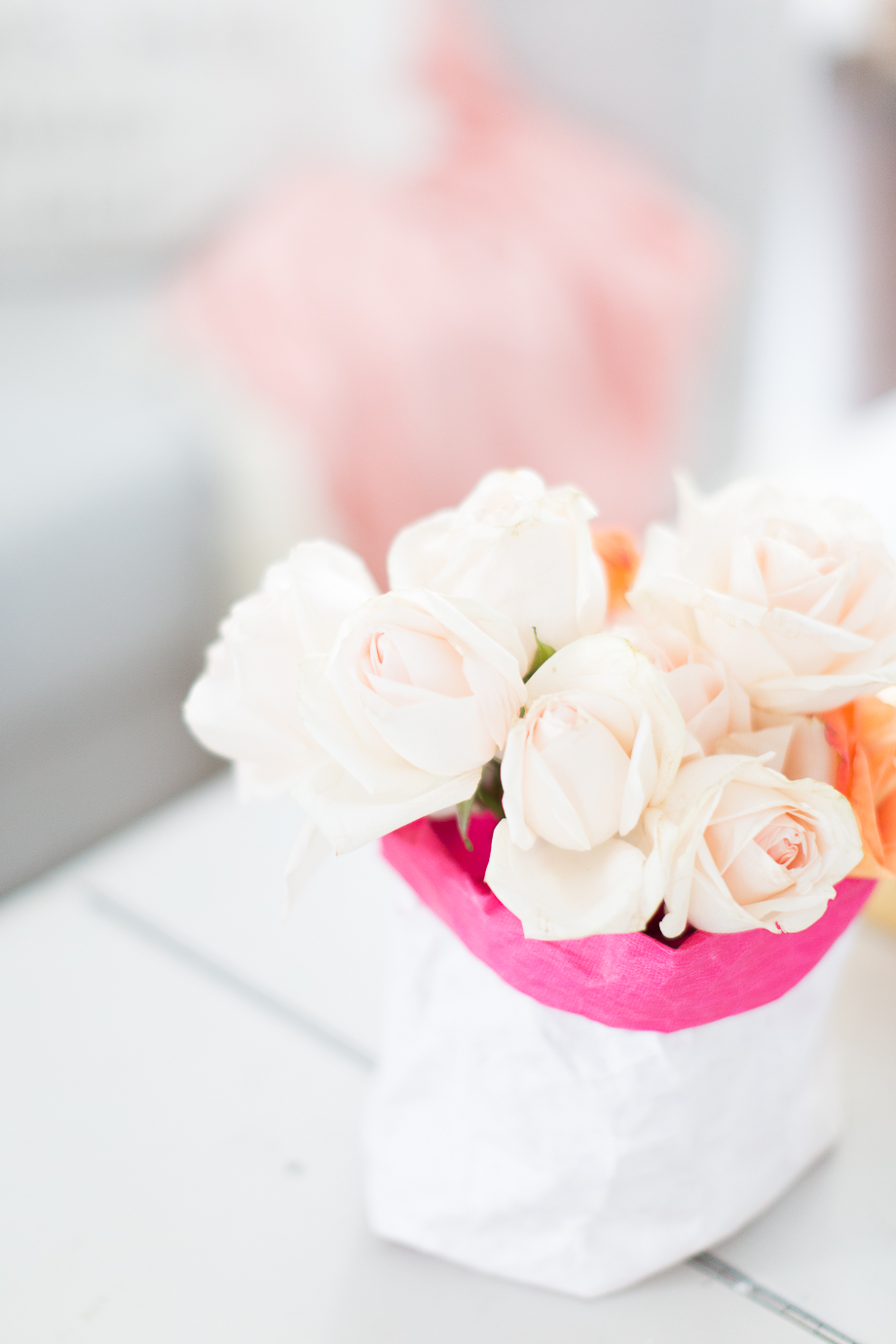 Flowers are also a great way to bring in color. I find that nowadays, grocery stores carry an array of great – and affordable – arrangements.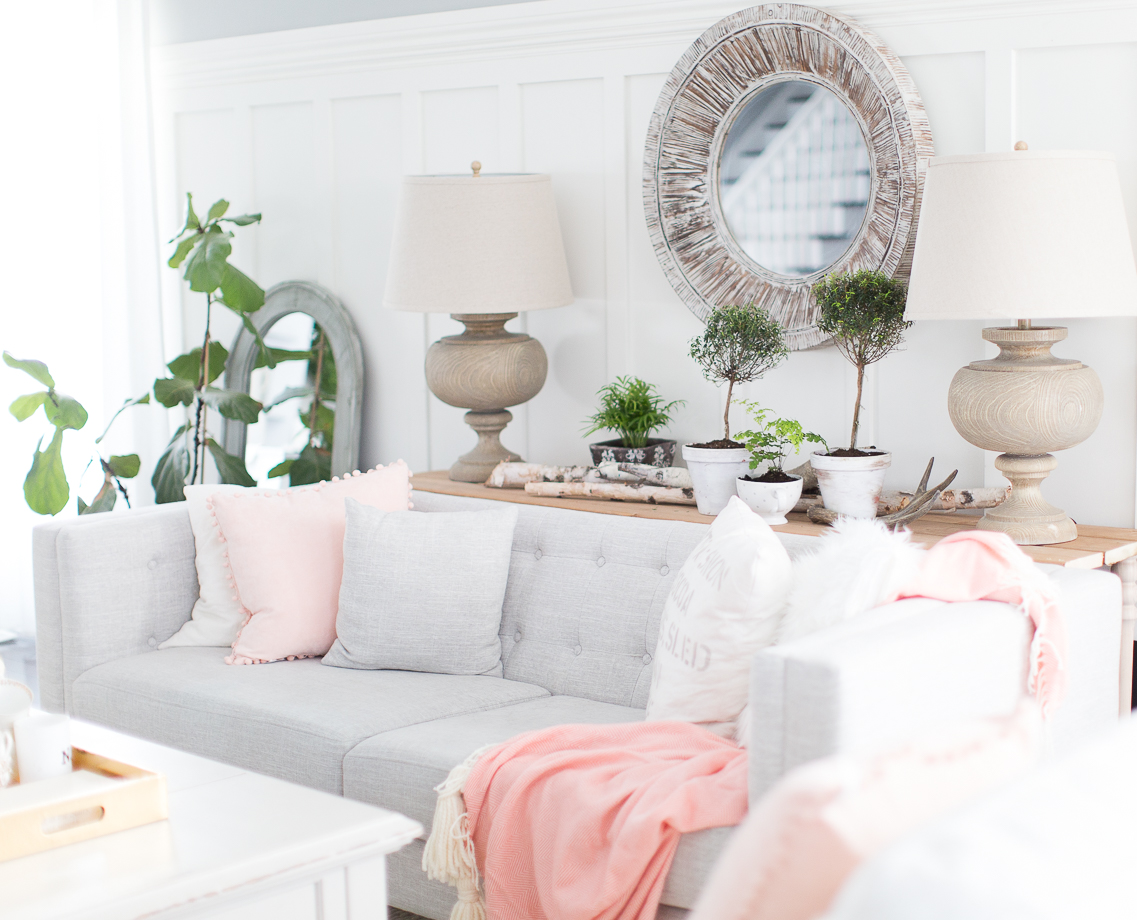 I've used our table couch to display a few plants, including those adorable Myrtle topiaries. I've had fairly good success keeping plants alive in the past, so I'm hoping I can keep these cuties growing well. I say that not having any idea what their care is like. Any suggestions?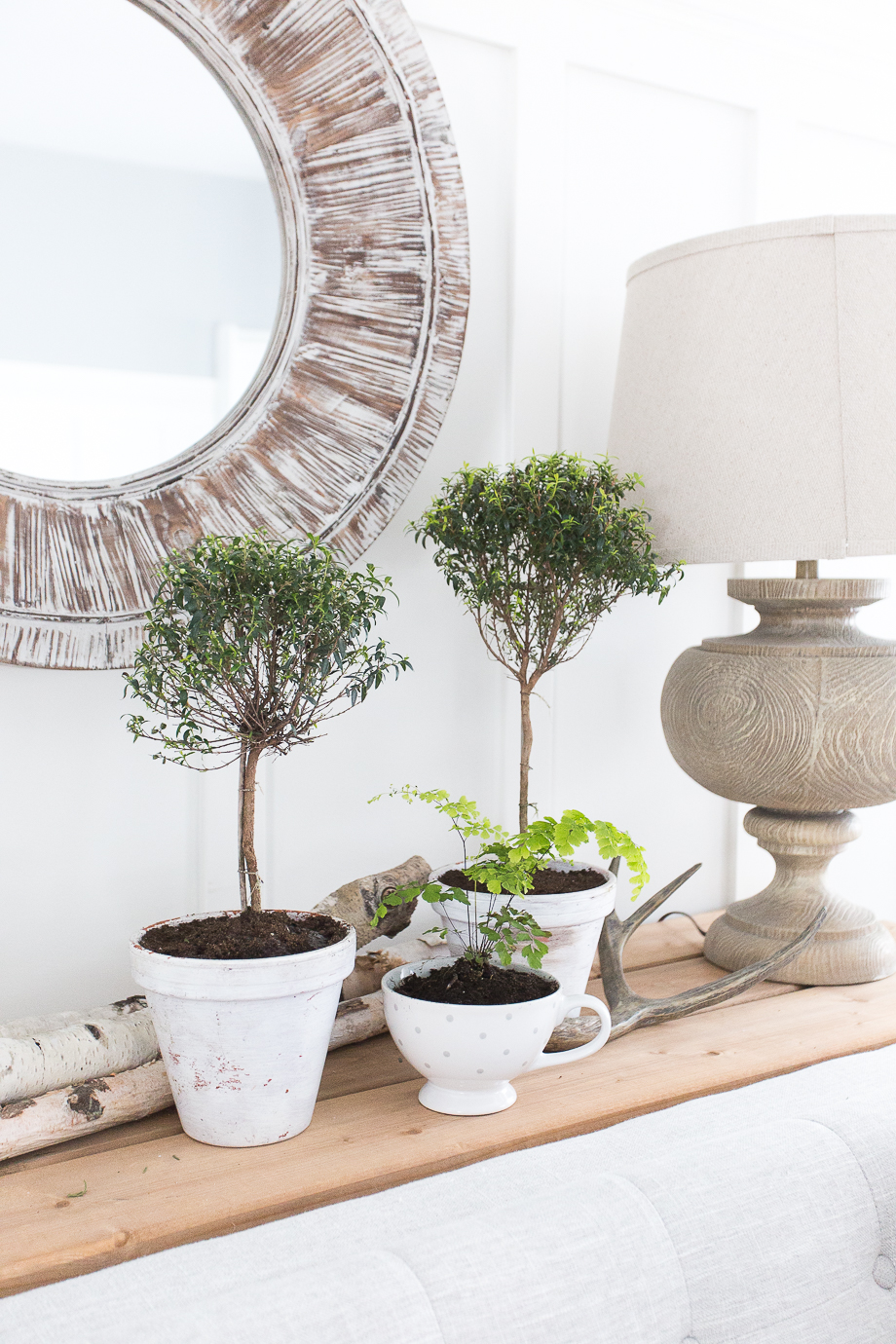 I also planted a little fern in a mug, using a tip my mom taught me – don't get rid of your coffee grinds, but instead, sprinkle or mix in your soil. The nutrients from the coffee will serve as food and will make your plants thrive.
You can similarly use egg shells. Simply grind them up really well and sprinkle them into your soil. Also, if you are going to use a container with no drainage hole, it's important to place a layer of gravel – or sand – under the soil, to avoid the roots from rotting.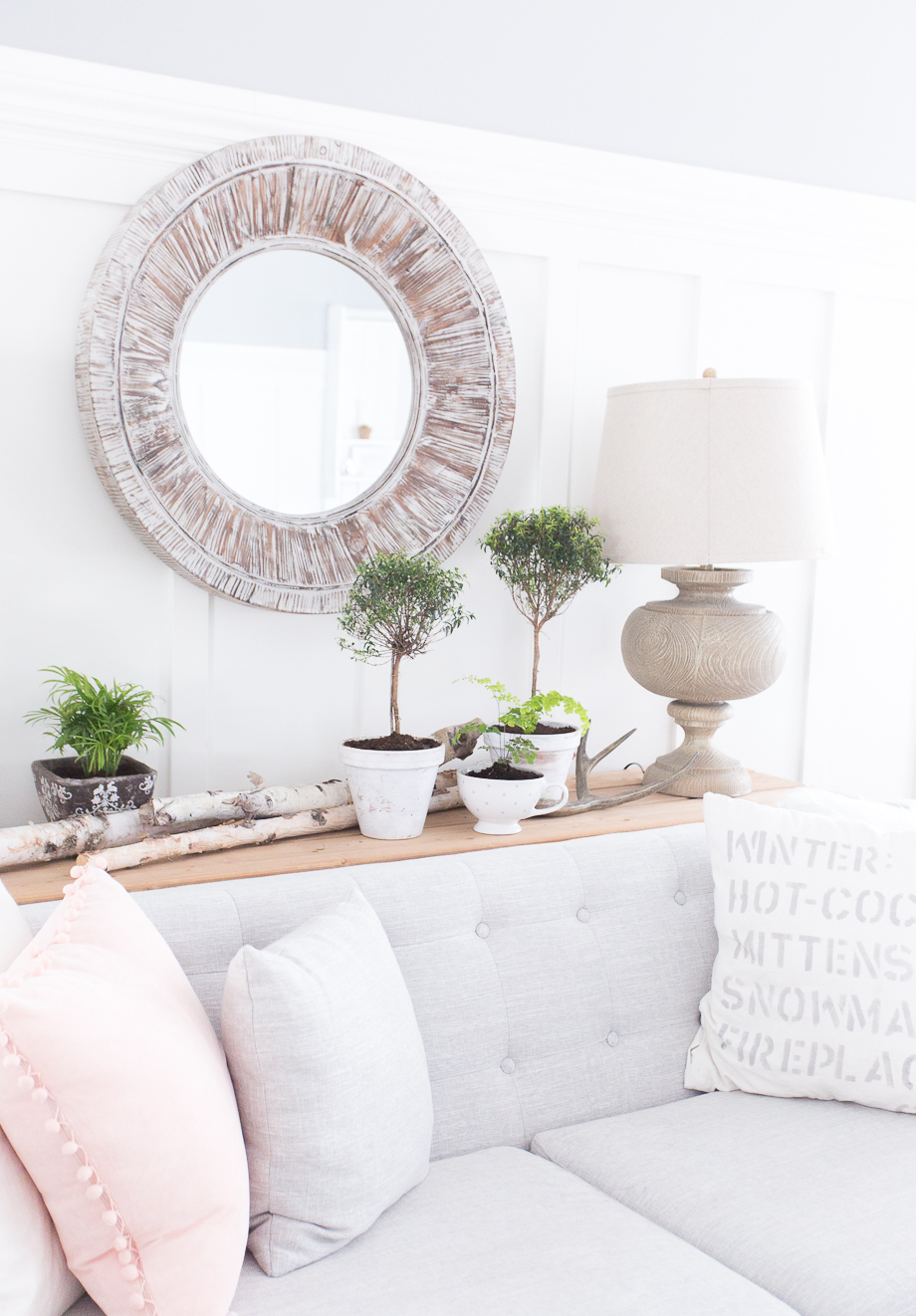 It's a simple display but in my opinion, adds just the right touch of green to give you a little "pick me up".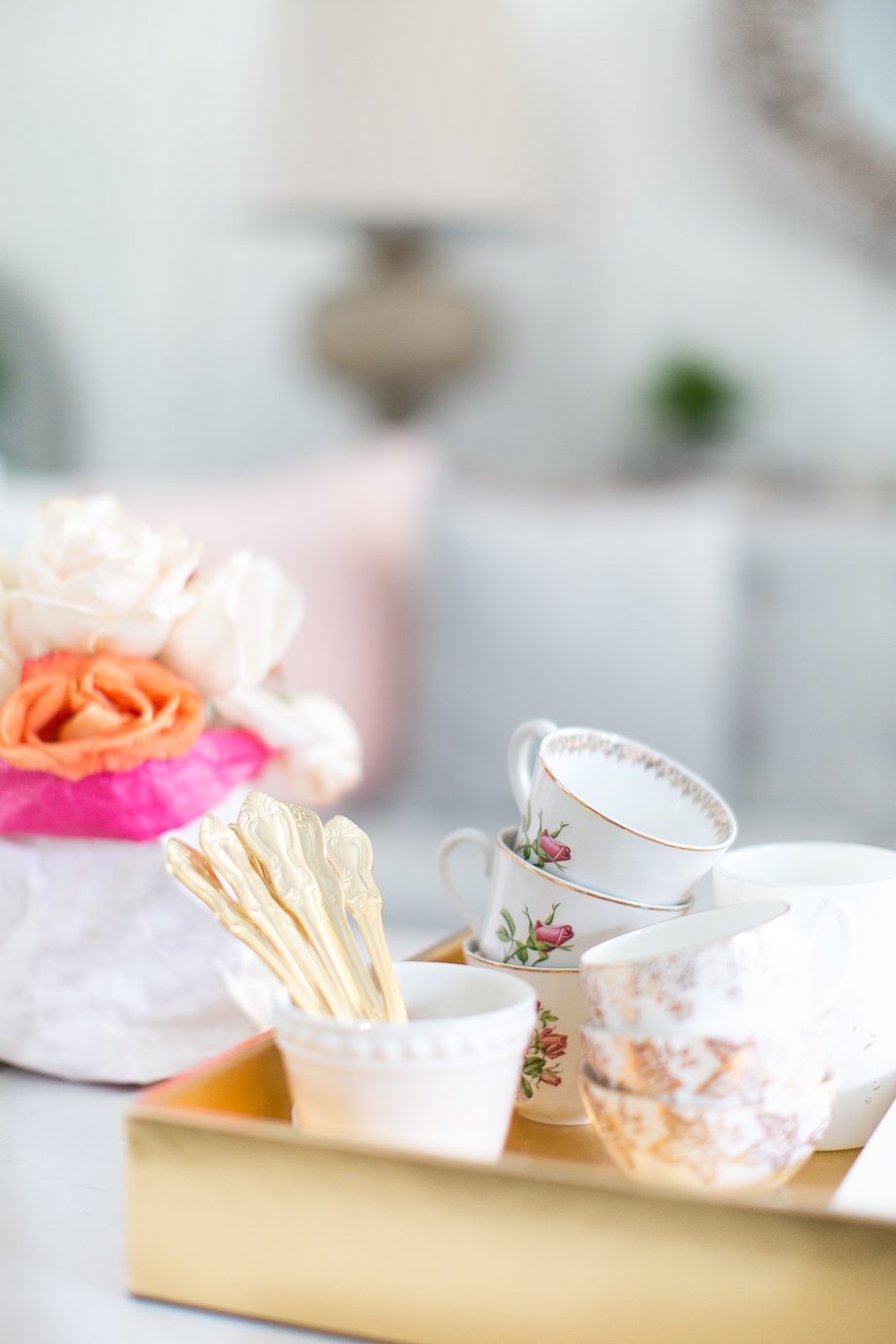 I also love displaying some of my vintage teacups, which happen to coordinate with the beautiful flowers.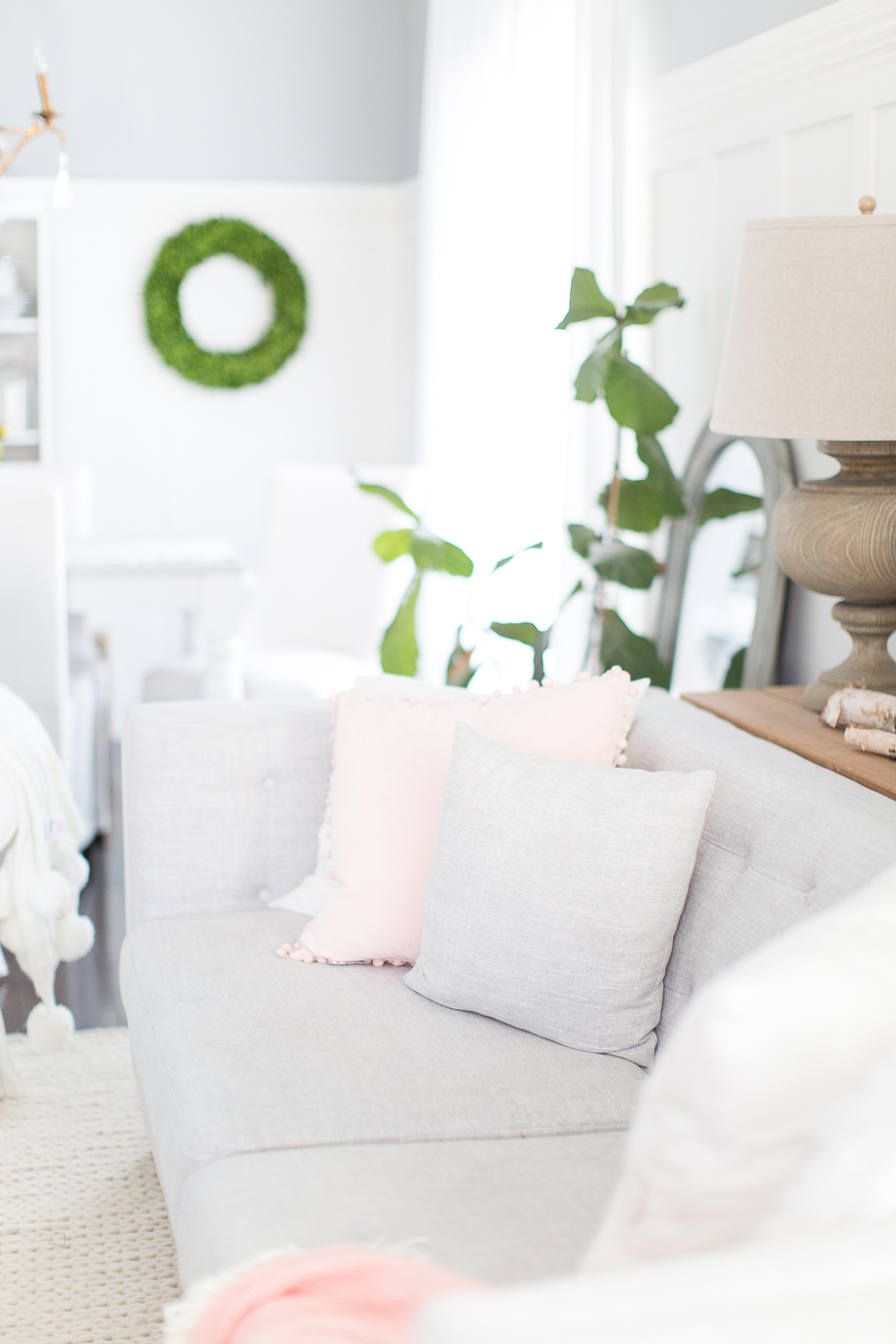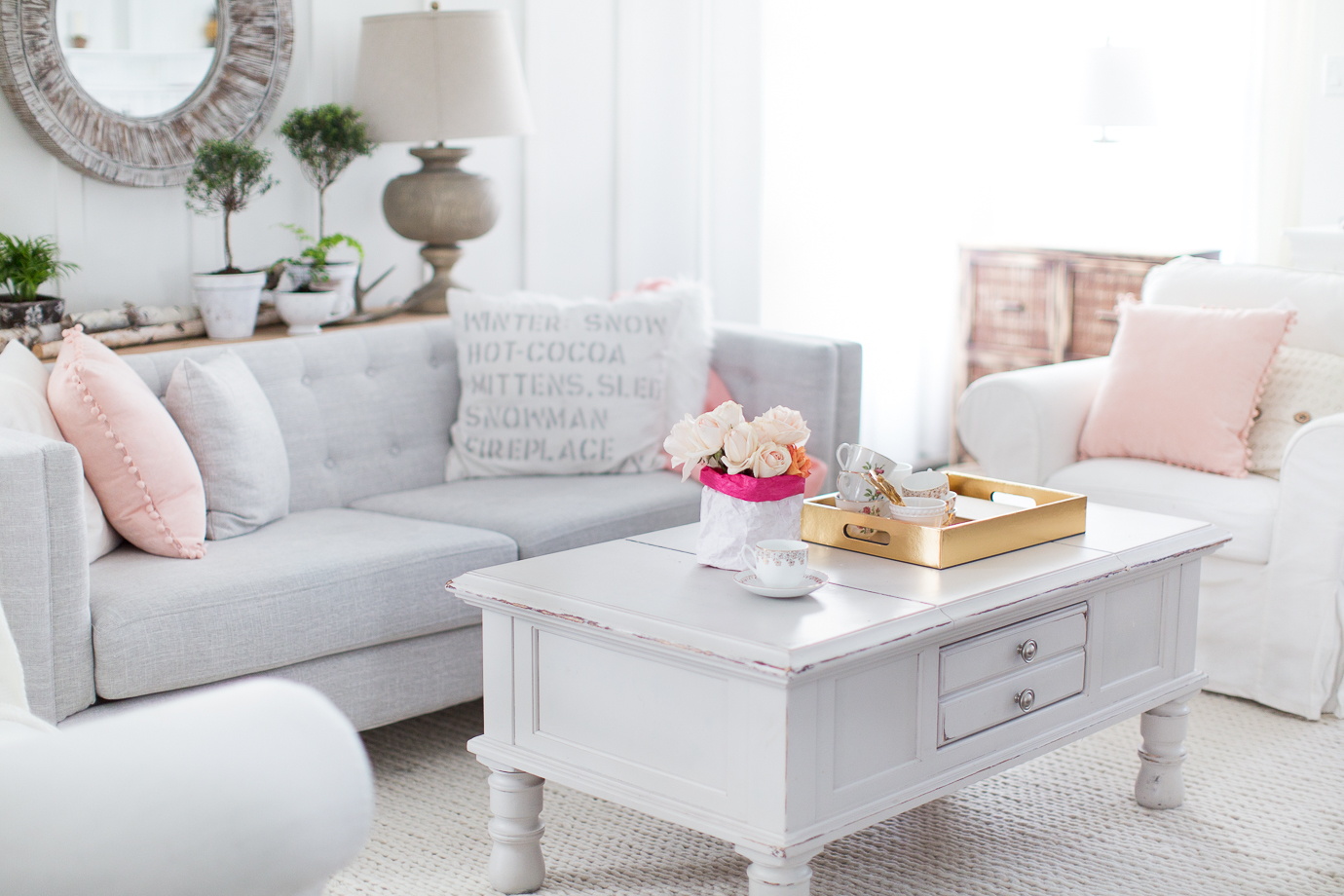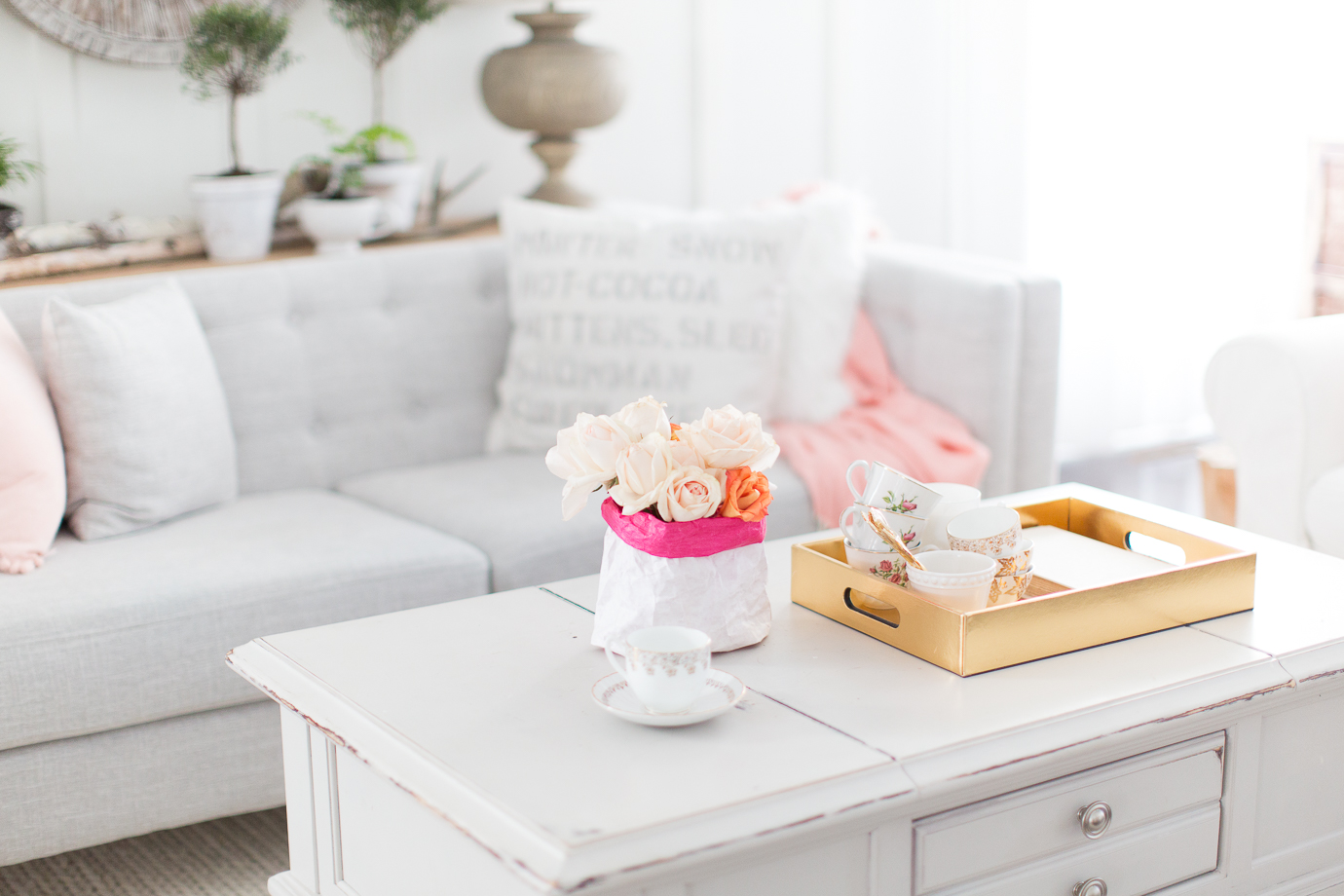 I was feeling brave and decided to add a splash of hot pink by making this cute little paper sack vase.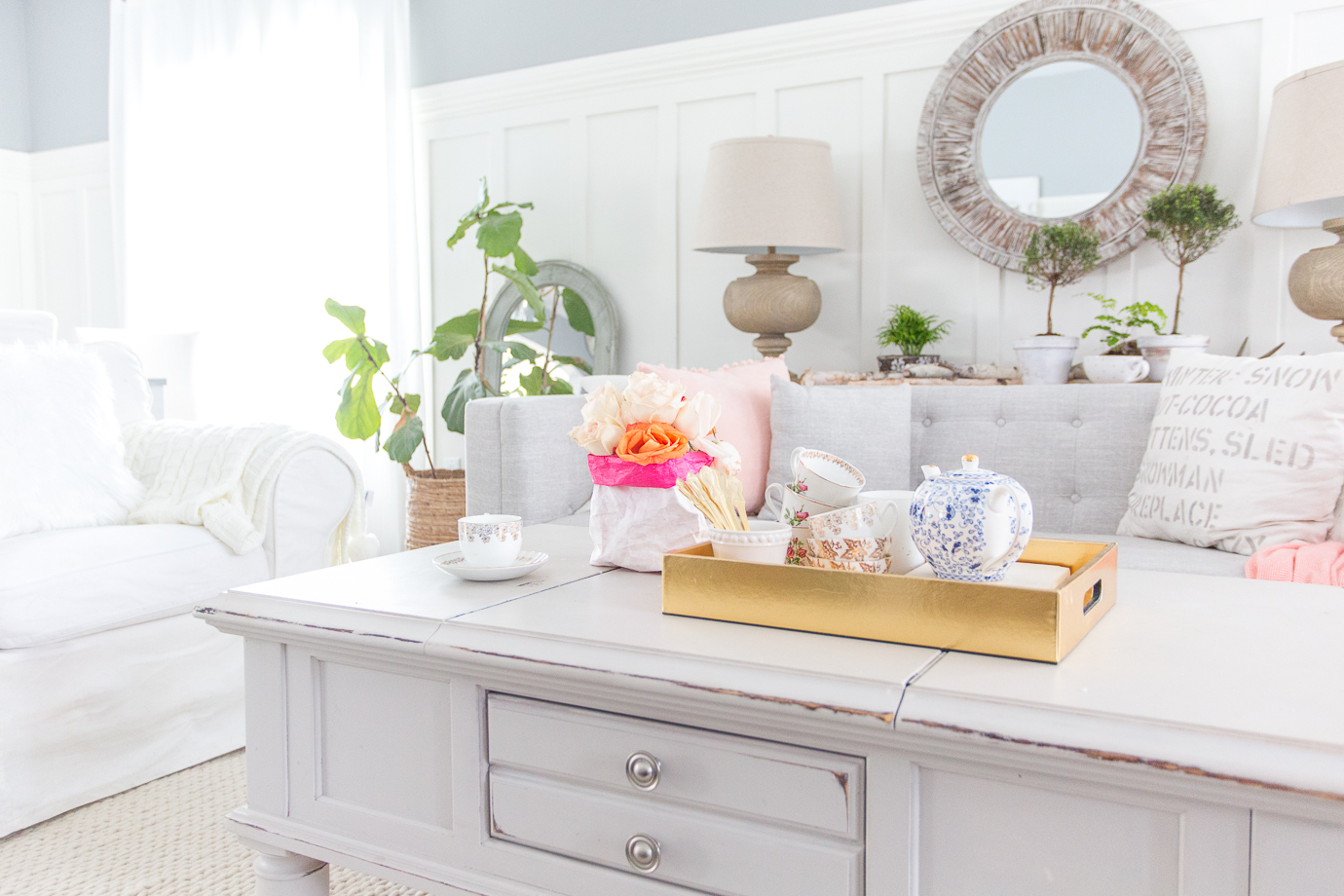 They're so easy to make and you can make them to coordinate with your decor. I will have the tutorial for them later on this week.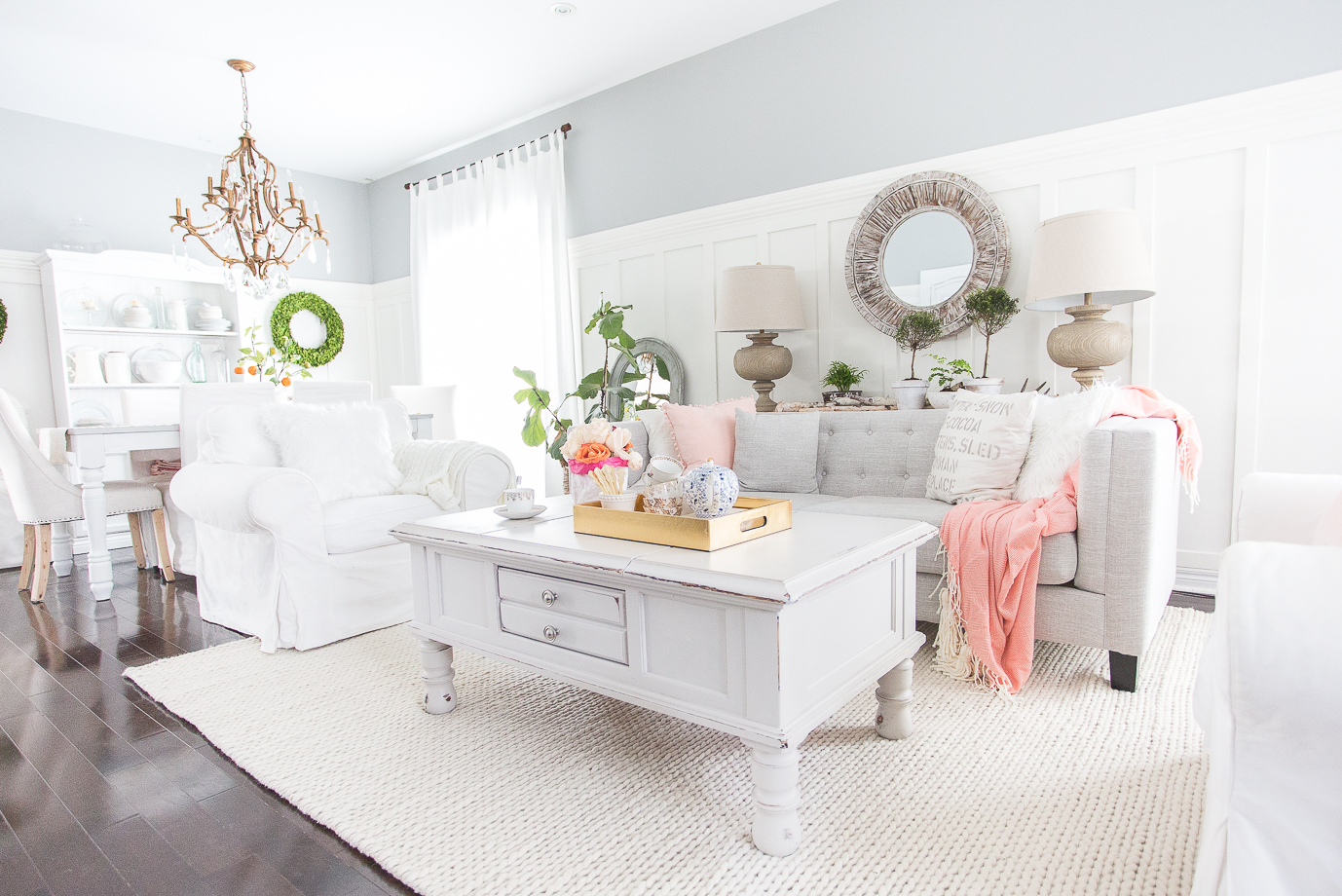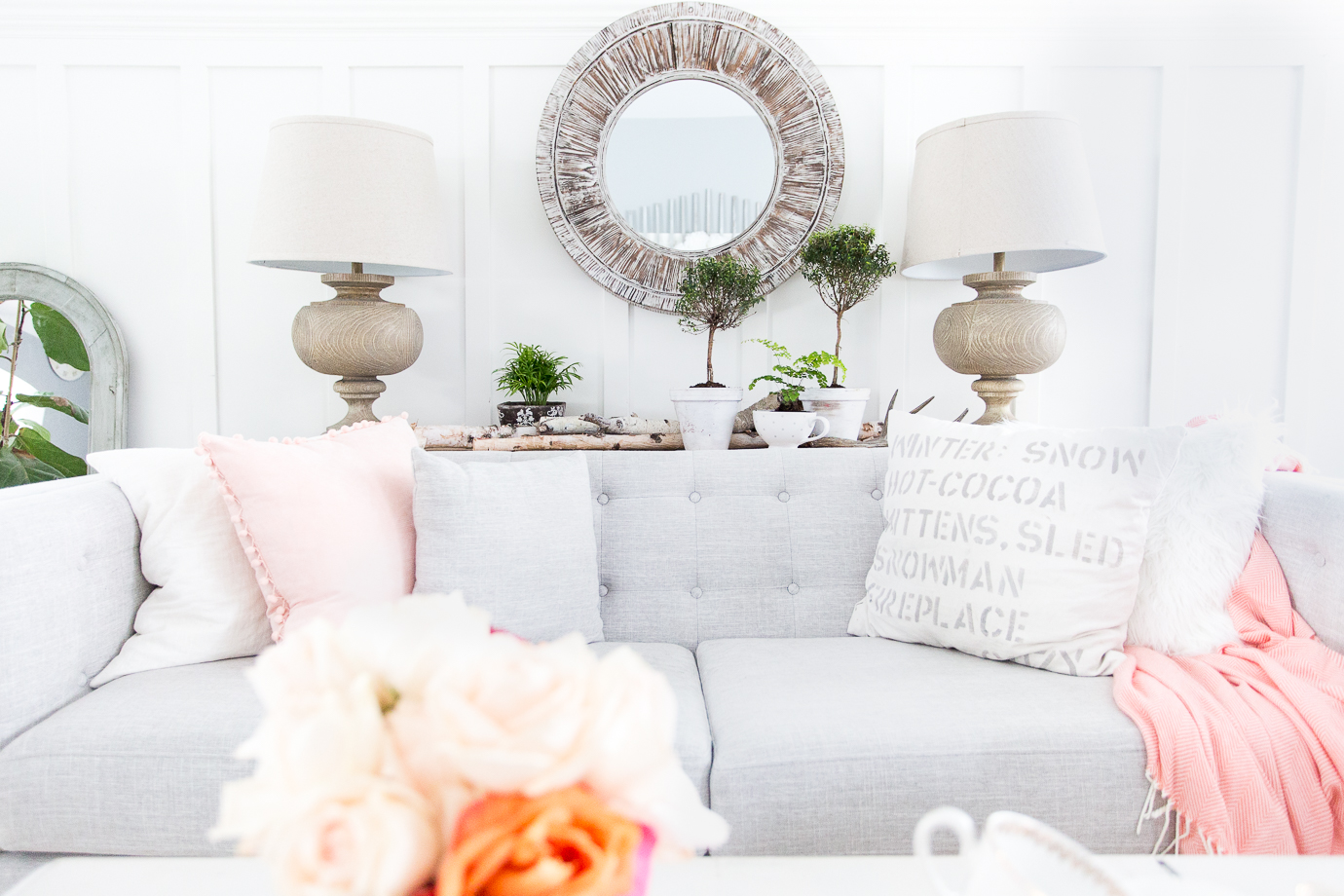 With only being a few weeks removed from taking down our Christmas decor, I really do love the way the space feels bright and clean.
Please don't forget to check out how the rest of my friends welcome winter into their homes by clicking on the thumbnails below.
Thank you so much for stopping by…have a lovely day.
much love,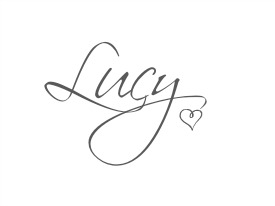 Living room source list (may contain affiliate links)
Couch – Leon's
Chairs – IKEA 
Rug – RugsUSA
Chandelier – Joss&Main
Lamps – Birch Lane
Wall Colour – Benjamin Moore (Coventry Gray)
Throw, Pillows and Mirror : Homesense Canada
Table: Old from Ashley Furniture – Similar HERE