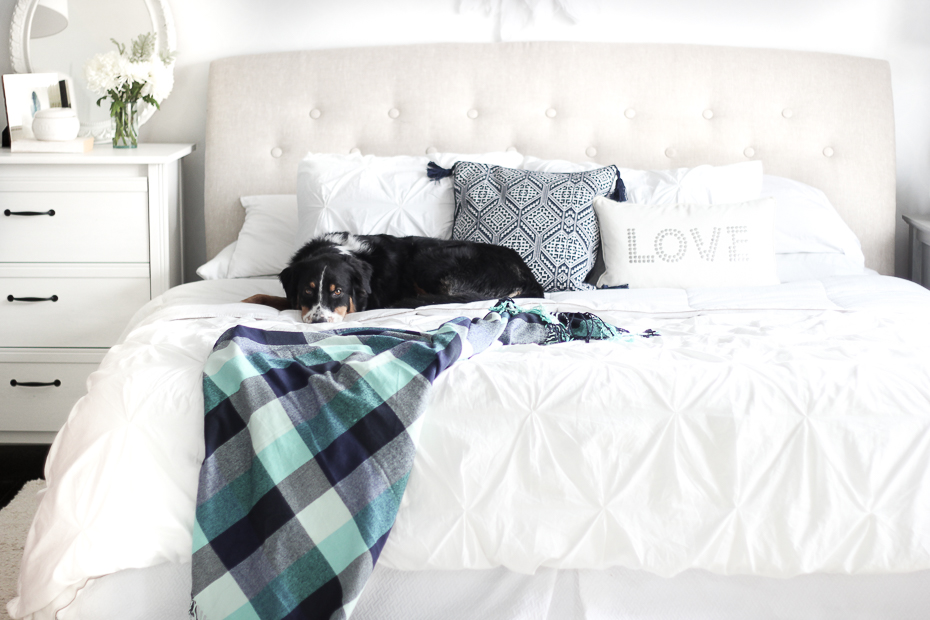 Hello friends. How has your week been thus far? It has been gloomy around here, which just makes you want to curl up on the couch and read a book while sipping tea. Or better yet, crawl back into bed.
It's funny how while I see little squirrels busily moving around our yard gathering for their winter slumber, I want to do the opposite. But life has been so busy around here, and breaks during the day are few and far between. There is so much preparation that goes on behind the scenes, especially prior to the holidays.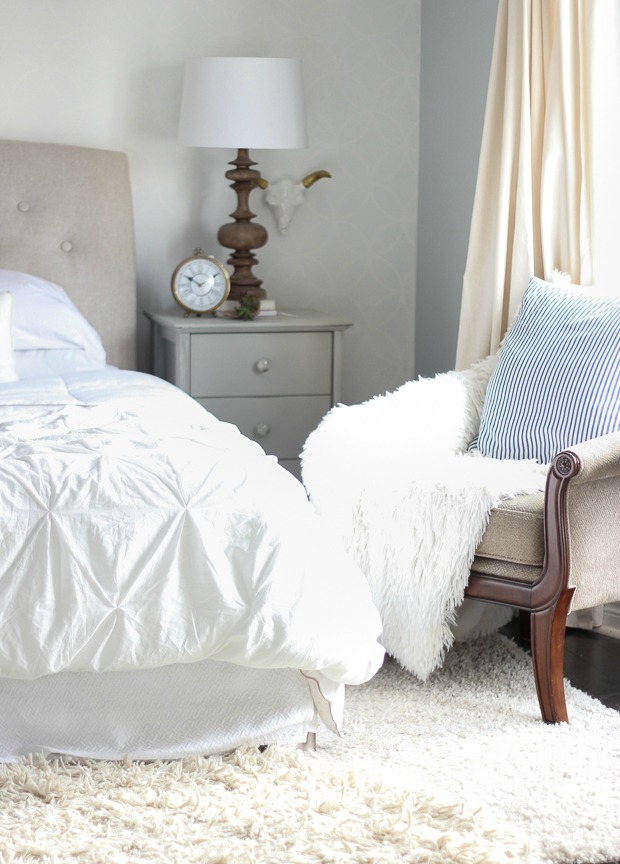 I find myself surrounded by various projects and materials all throughout the house. And even though they're 'neatly' piled in strategic hiding places (so the house doesn't look like a complete mess), I know they are there.
I realized that seeing those little piles of unfinished projects creates chaos in my mind. So yesterday, I decided to skip all projects and actually put everything away. And by away, I mean I created new neat little piles of projects in the basement. So basically, I just moved my mess downstairs, but at least they are out of sight and I have vowed to only work on one project at a time. We'll see how long that lasts. ha.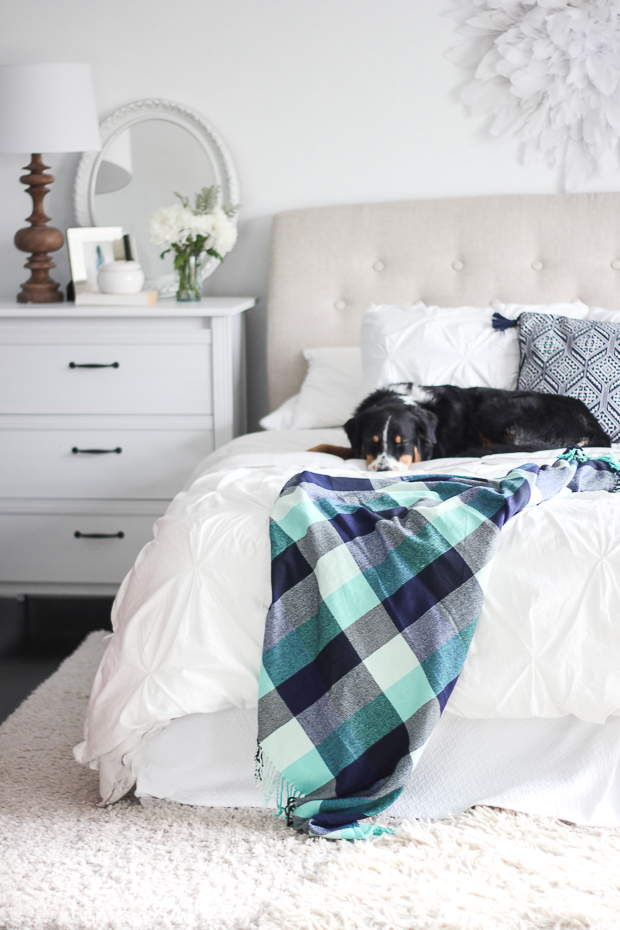 I wanted to share our new bedding from Crane & Canopy. Do you remember me mentioning at the beginning of this post how I wanted to crawl back into bed? This gorgeous and inviting pintuck duvet isn't helping my cause.
I usually don't care much about thread count or what not, but seeing how soft and comfortable this duvet is makes such a difference and it really does add a sense of luxury to your sleep. I had no clue what I was missing.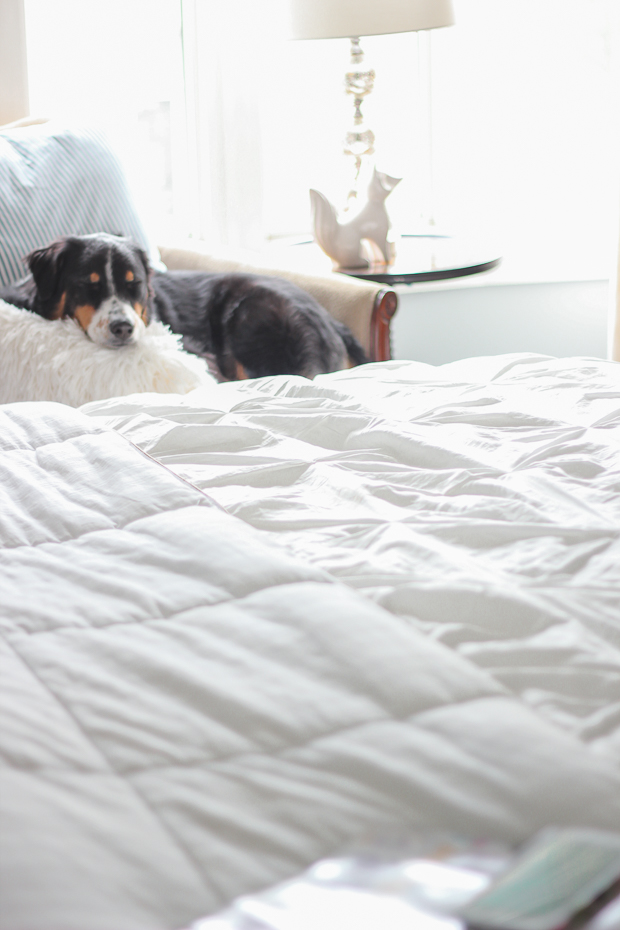 I guess it's because Crane and Canopy make all of their products with silky-soft fabrics from the highest-quality cotton. I also love that they place hidden pocket zipper enclosures which are less obtrusive and easier to close than buttons. Small details that make such a difference.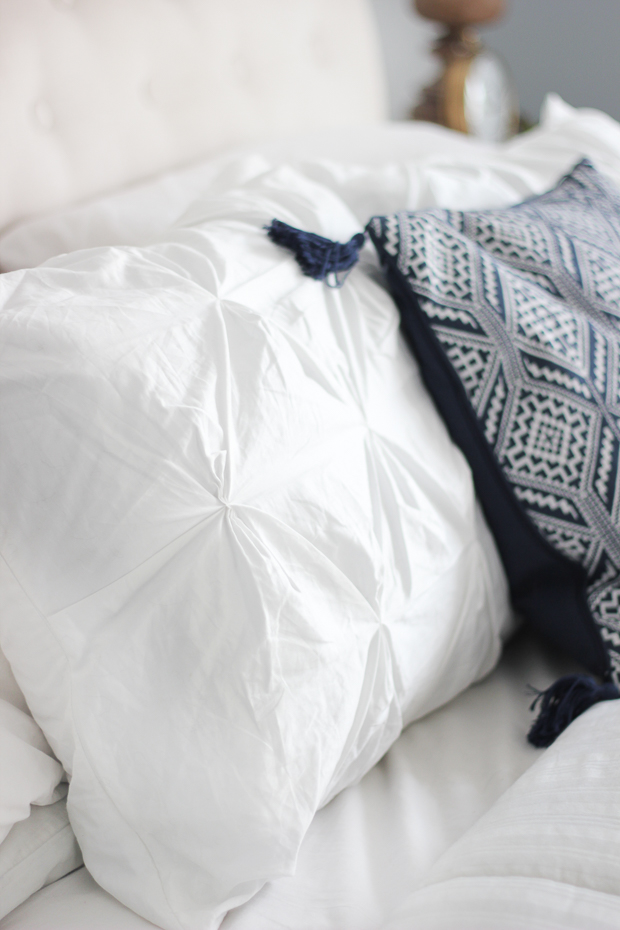 I mentioned that we are doing a little bit of room makeover. Nothing too complicated, but I speak about it HERE.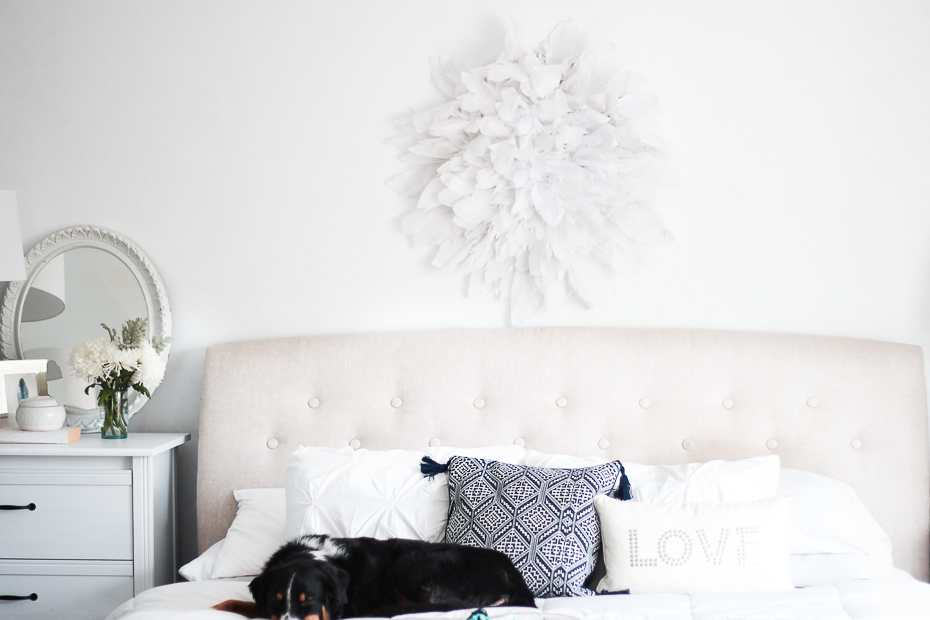 So  in addition to those plans and our gorgeous new Pintuck bedding, I also made this crepe paper Juju hat. Here is how to:
Materials:
White Crepe Paper

Hot Glue
White Feathers (optional)
Large cardboard circle ( this one measures 24″)
Scissors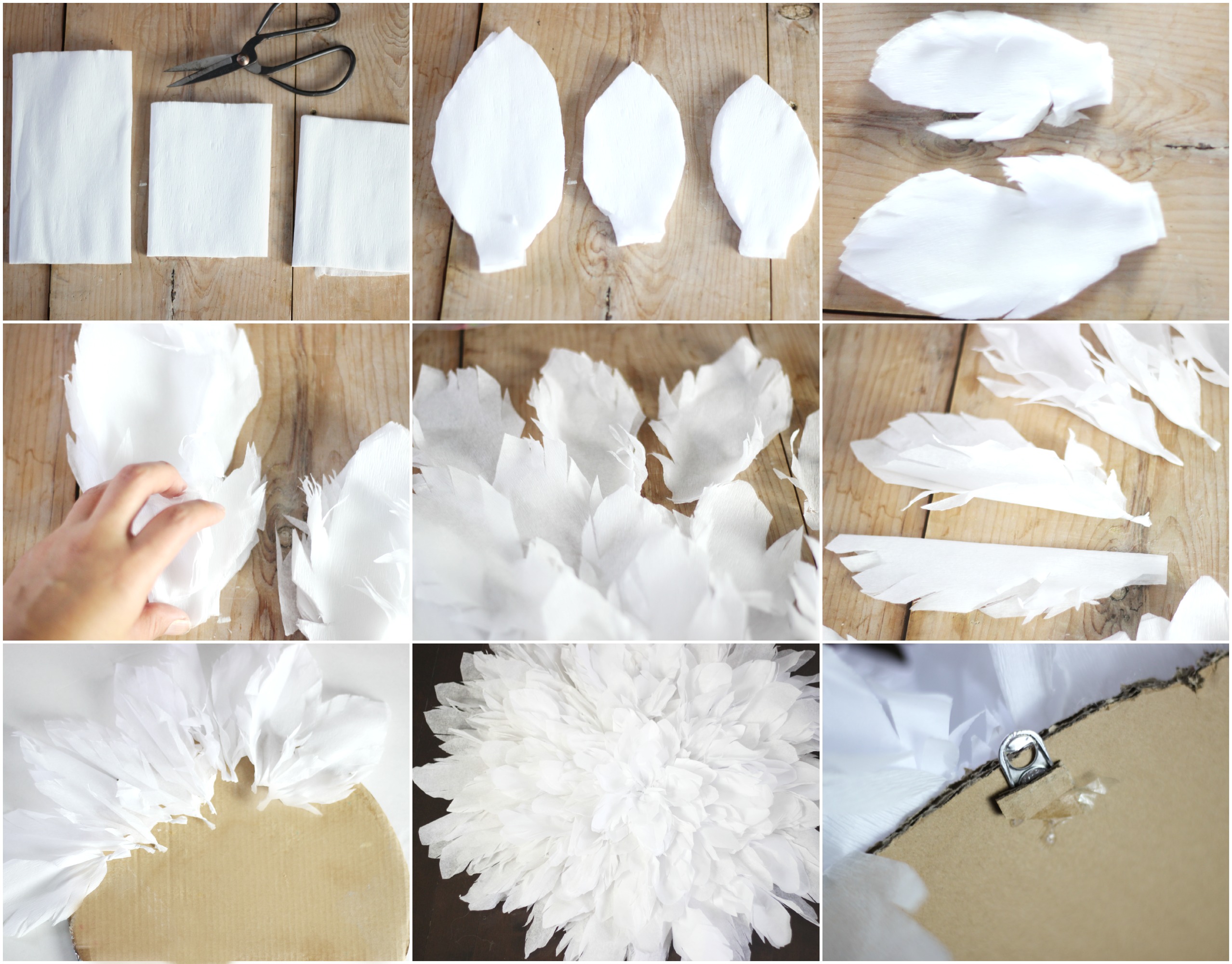 1. Fold crepe paper in an accordion fold several times.
2. Cut folded paper into three rectangles varying in size as shown.
3. Cut tear like shape out of rectangles.
4. Cut several slits along edge of feathers.
5. Use your fingers and ruffle the edges.
6. Separate feathers in pairs (this adds more texture and cuts down on gluing time).
7. Fold feather vertically in half to create a crease. Unfold, pinch and scrunch the tip to form the quill.
8. Glue the larger feathers all around the circle. Continue gluing feathers in an alternating manner from largest to smallest all around circle until you reach the centre.
9. Glue soda tab as a hook in the back.
note: in retrospect, I would have used white foam board, or sprayed the cardboard white so as to not see any of the brown from the cardboard.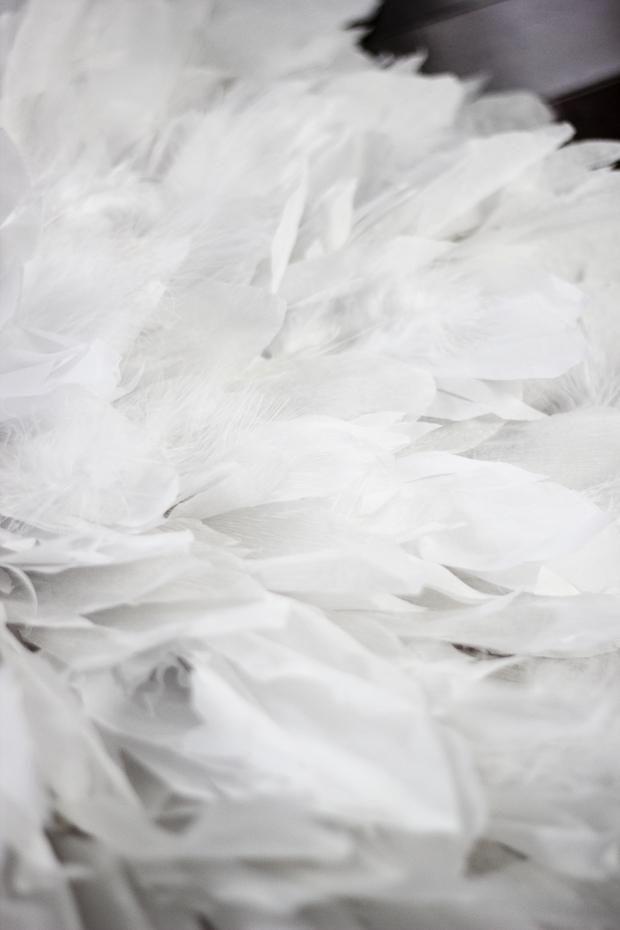 I added some real white feathers for more texture, as well as to conceal the areas where the brown cardboard was peeking through.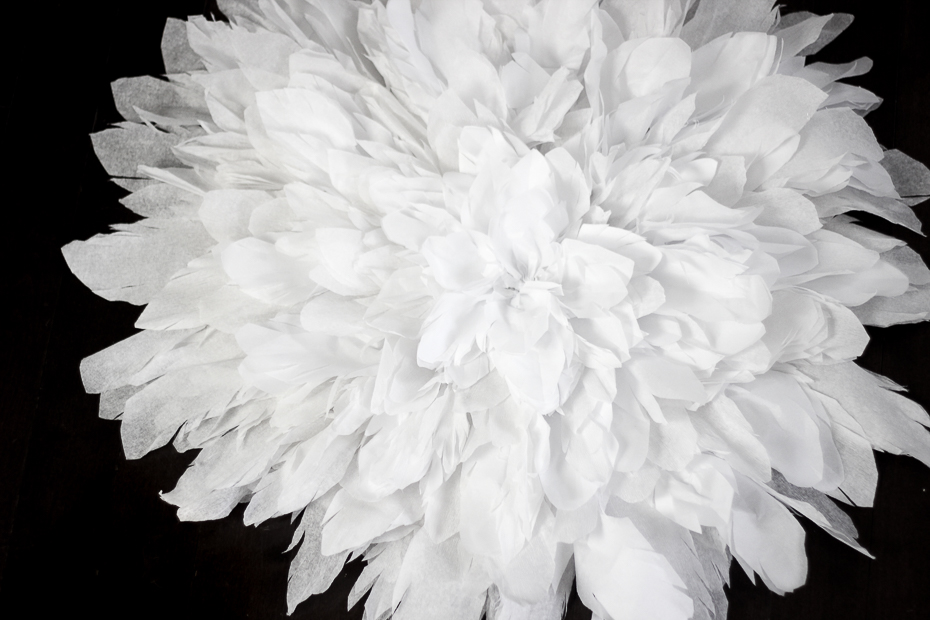 Here is a photo against a dark background so you can see it a little better.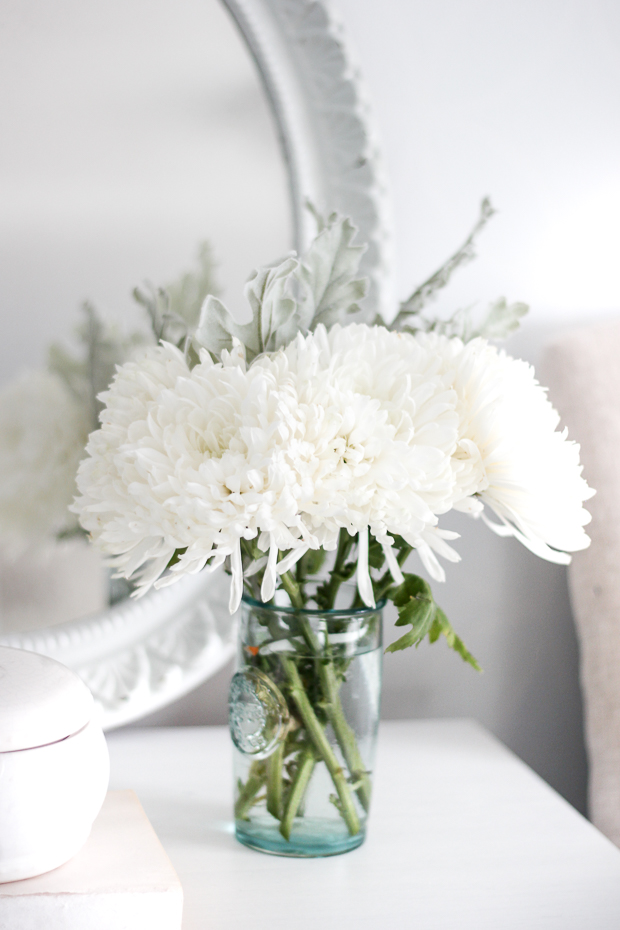 It kinda mimics these beautiful chrysanthemums, don't you think?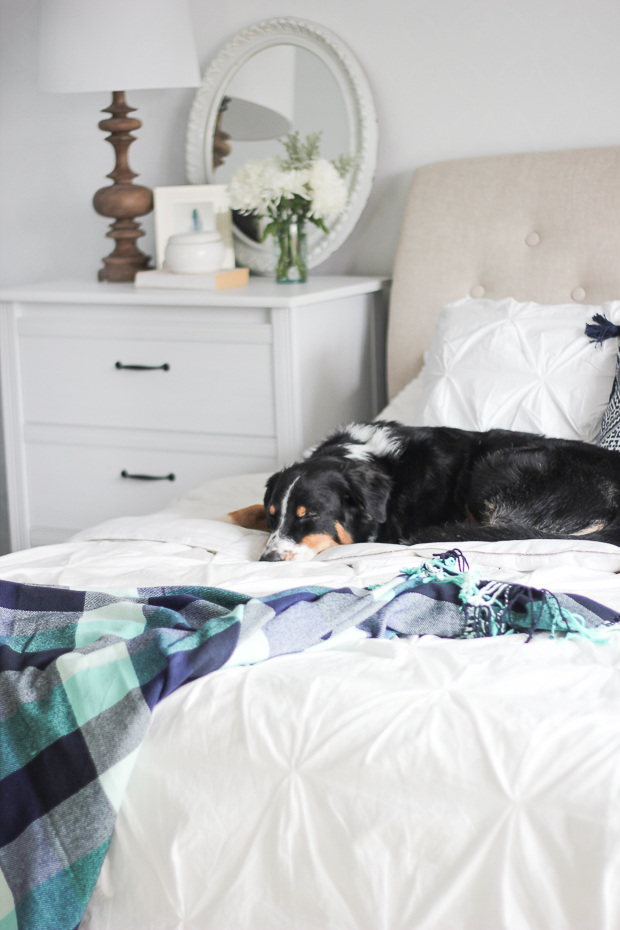 Oh, the life of a dog…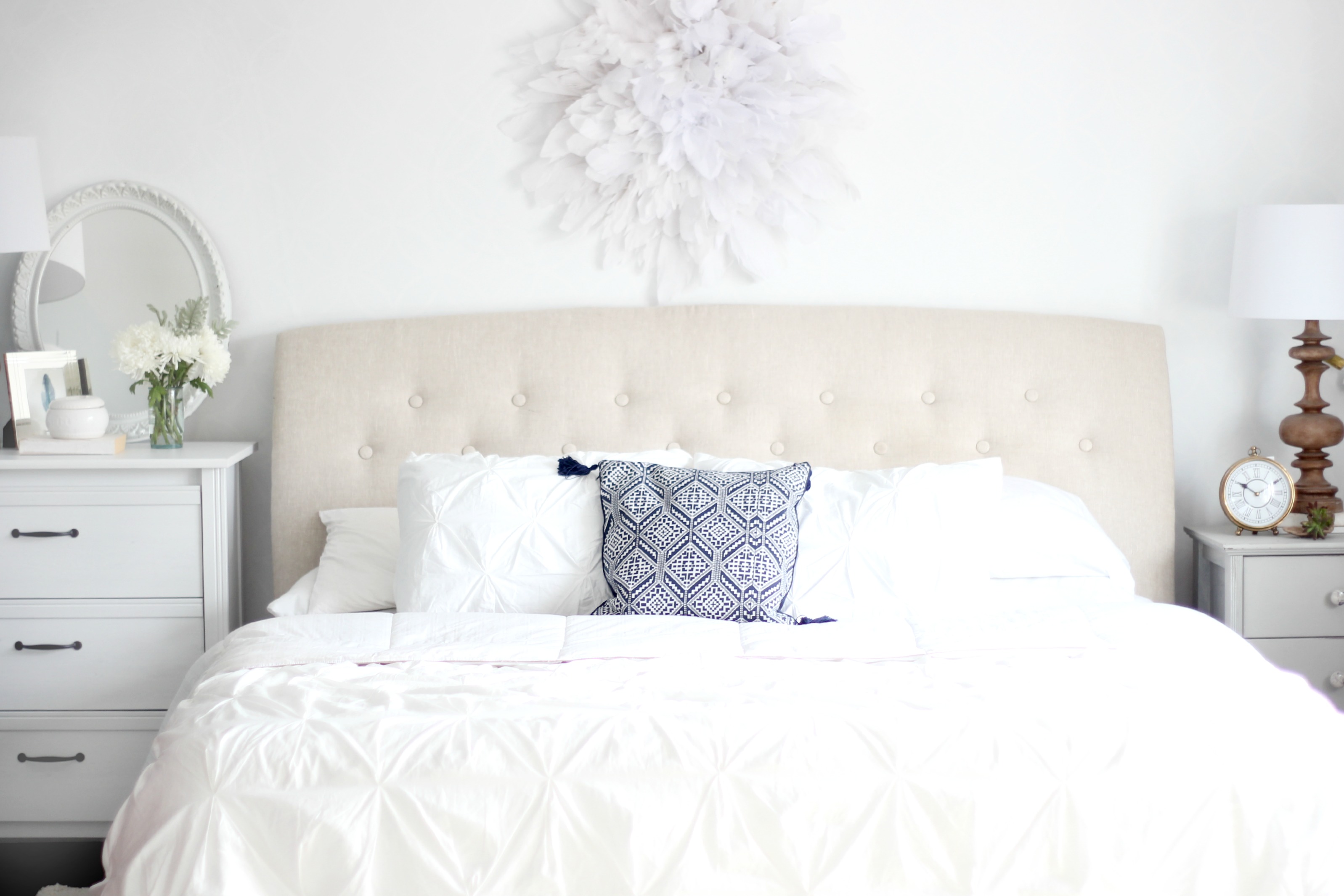 Thank you so much for stopping by today.
Wishing you a beautiful day.
much love,