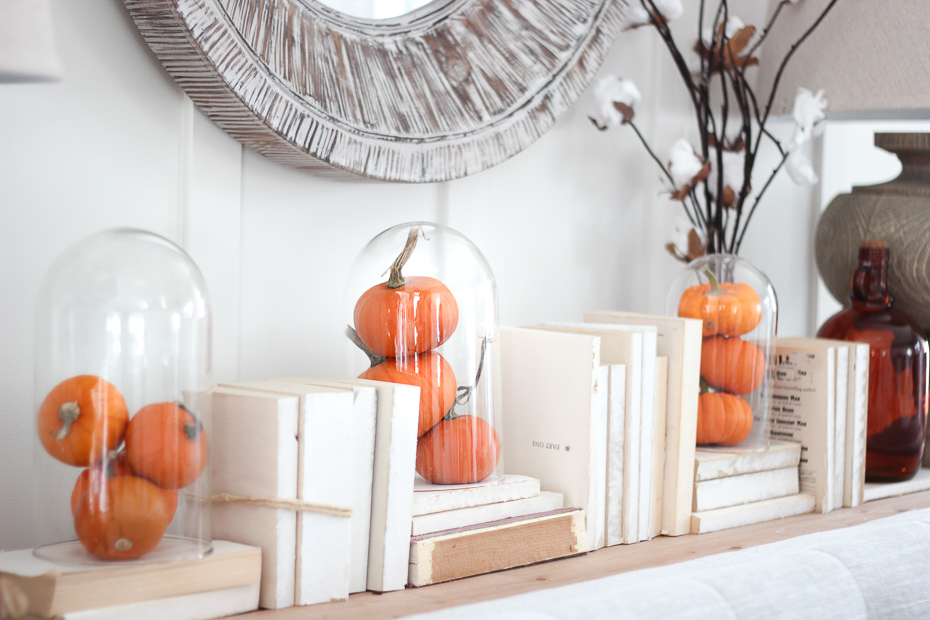 Hello friends. I hope you've had a great week so far.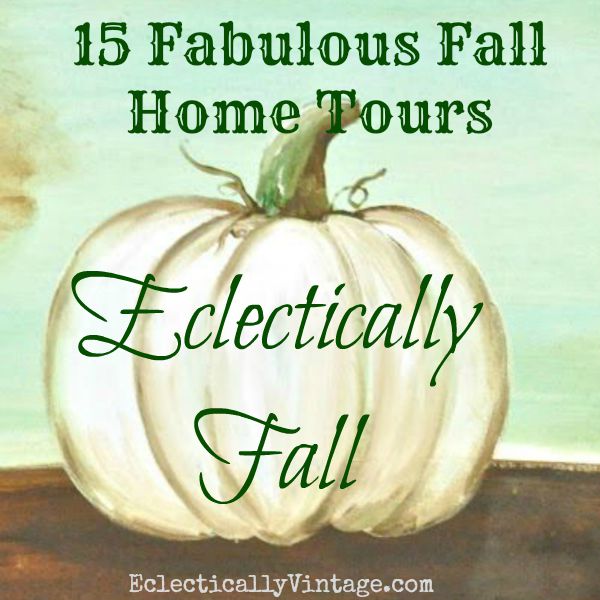 I have the honour of participating in The Eclectically Fall Home Tours again this year. This year, Good Housekeeping is featuring all of our homes throughout the week so make sure to pop over to visit them and get tons more fall inspiration.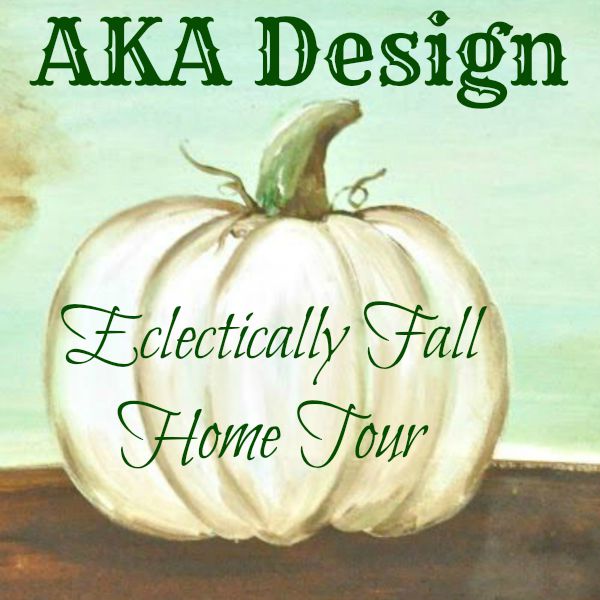 The tour began at Kelly's, but if you are coming over from Shannon's, welcome!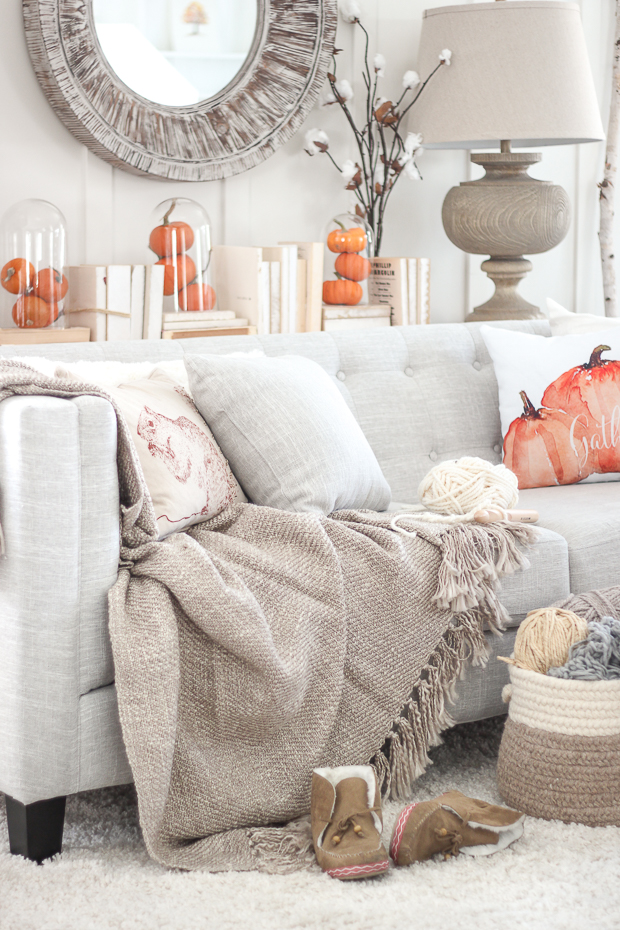 It's hard to believe a year has passed and the fall home tours are upon us once again. A lot has changed around our home with new paint colors, board and batten and as of just a couple of weeks ago, this beautiful couch from Leon's. You'll actually see a couple of pieces from Leon's as I had the honour of hosting a camera and film crew at our home last week as they were shooting a fun Christmas project. Transitioning from summer to fall, then Christmas and fall once again – all in a matter of weeks – has been fun, but challenging to say the least.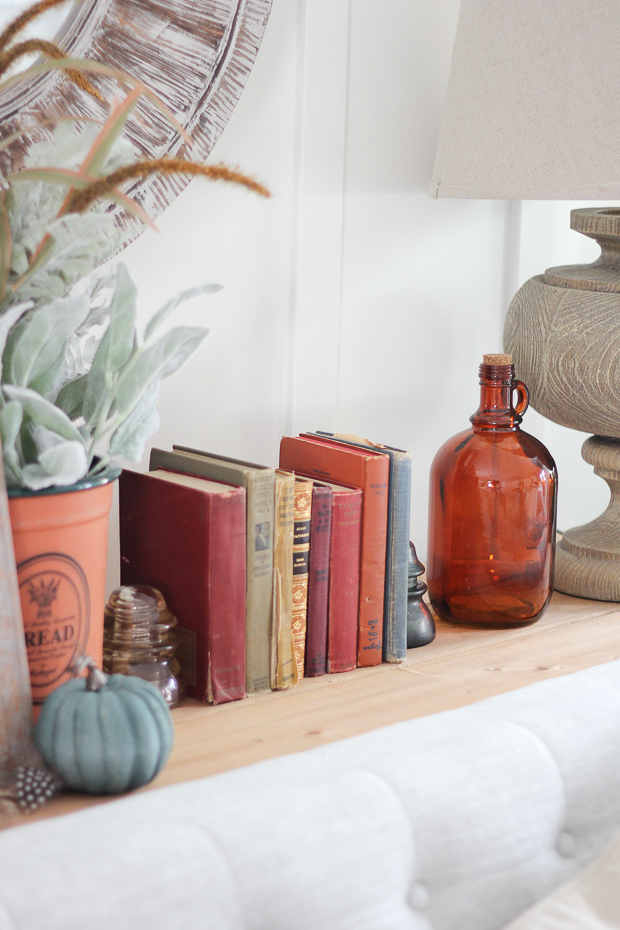 If you follow me on Instagram, you may remember my initial color scheme this year were blues, browns and rusty colors. But as you'll see, I ended up going a different route.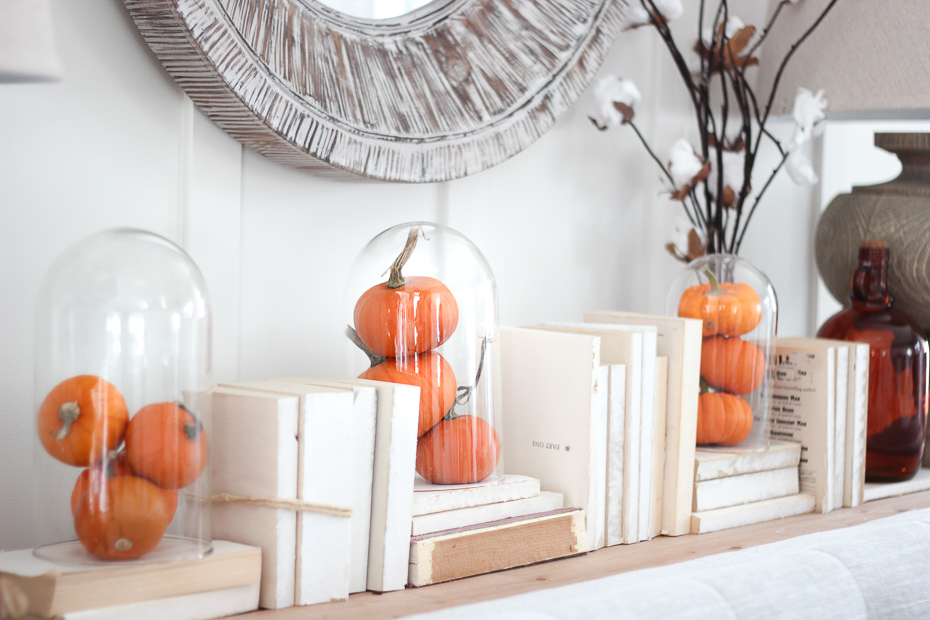 I decided to try combining my love of neutrals and white, with a little orange. I lined our couch table that hubby had build with coverless books and inserted some little orange pumpkins in these old domes. These are actually old clocks I had found at the thrift store (you can read more about HERE).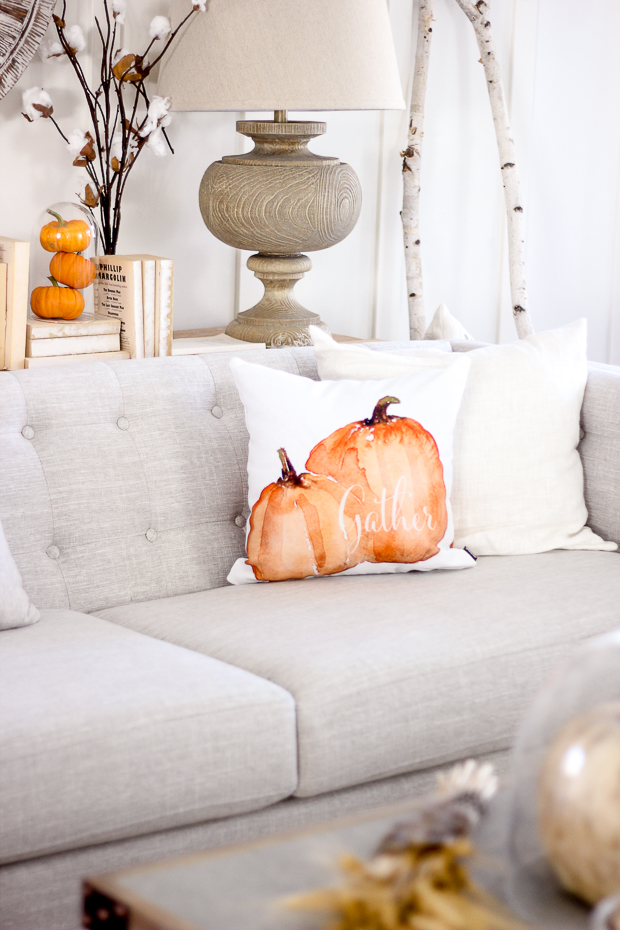 I think they coordinate well with my 'Gather' pillow…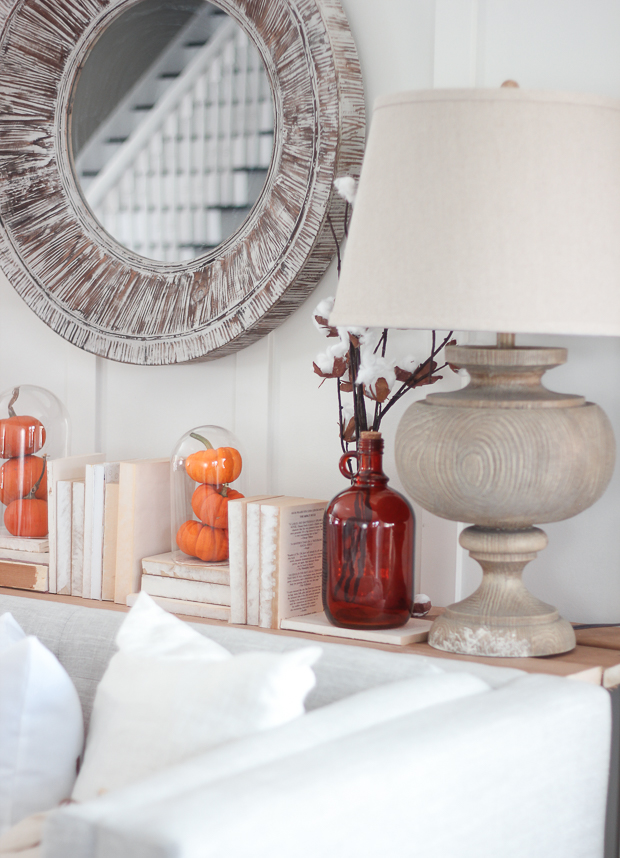 …my favourite lamps from Birch Lane and of course, the cotton stems I had made for eHow.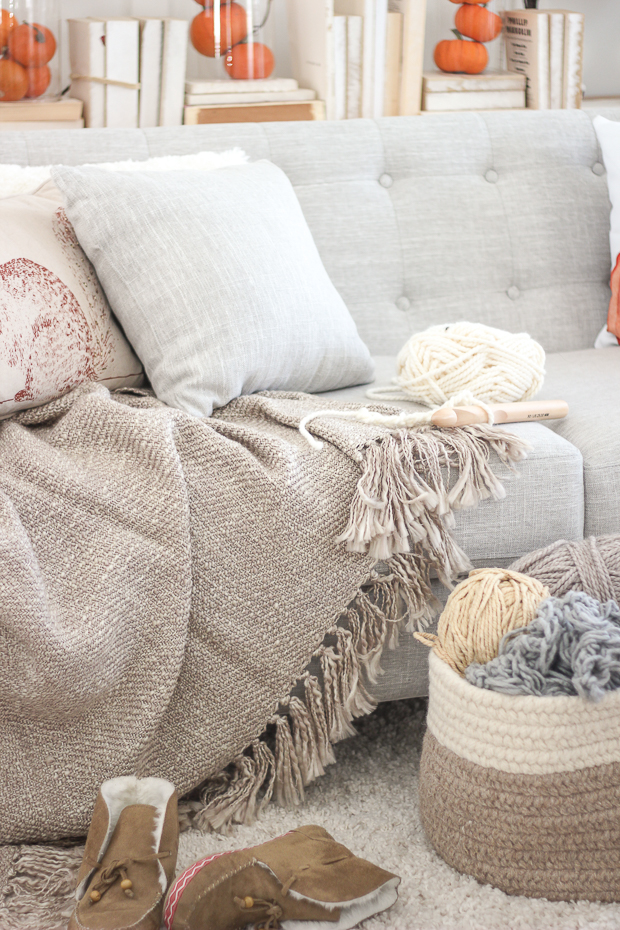 Although the temperatures are still warm during the day, the evenings are cool and a great way to add texture and warmth to your nest is by bringing in blankets and comfy throws.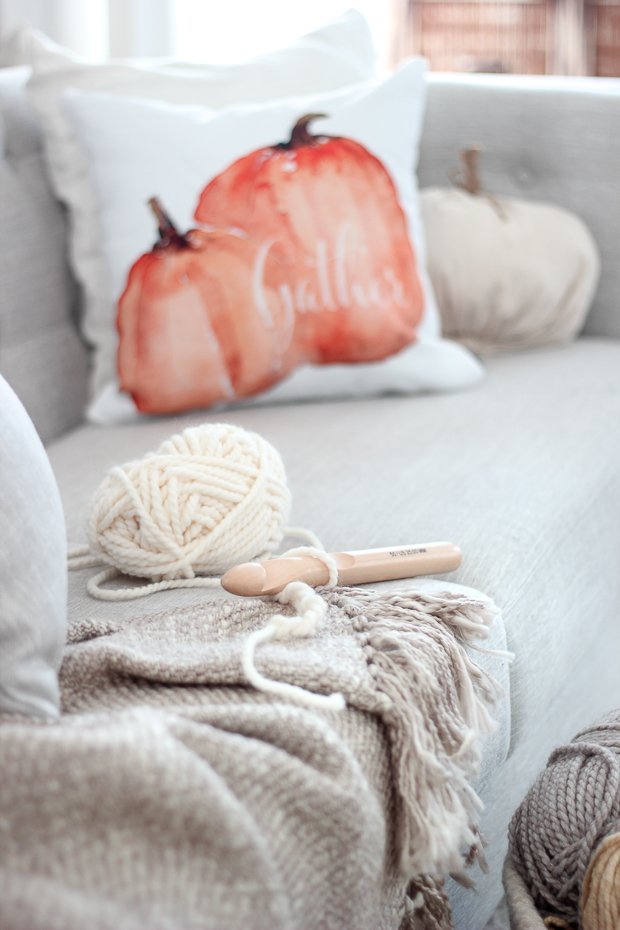 On our last trip to Michaels, Bella asked if I could buy her some chunky yarn and this jumbo needle. She's in the process of making a blanket and while not yet complete, I know it's going to be a favourite of mine.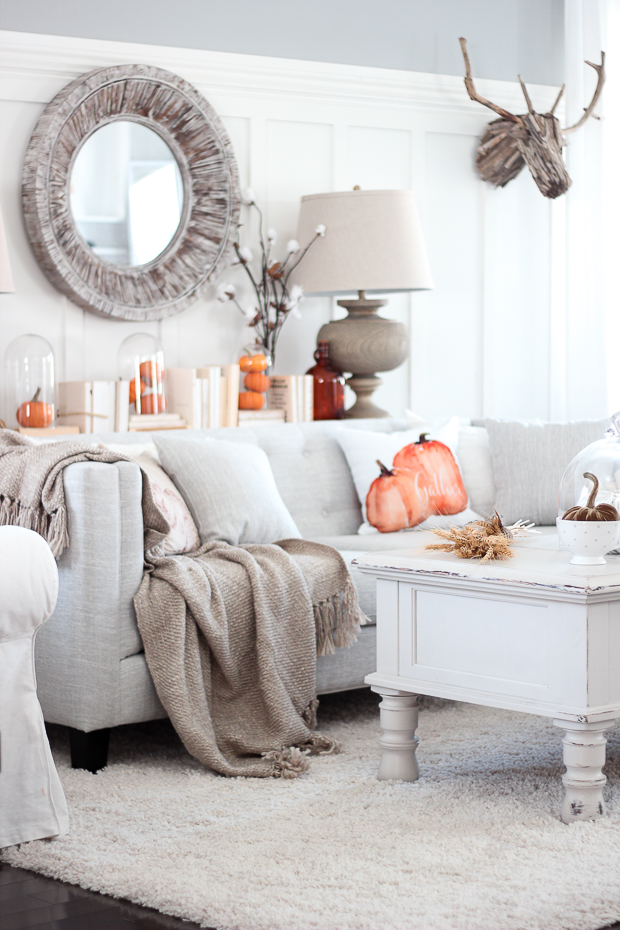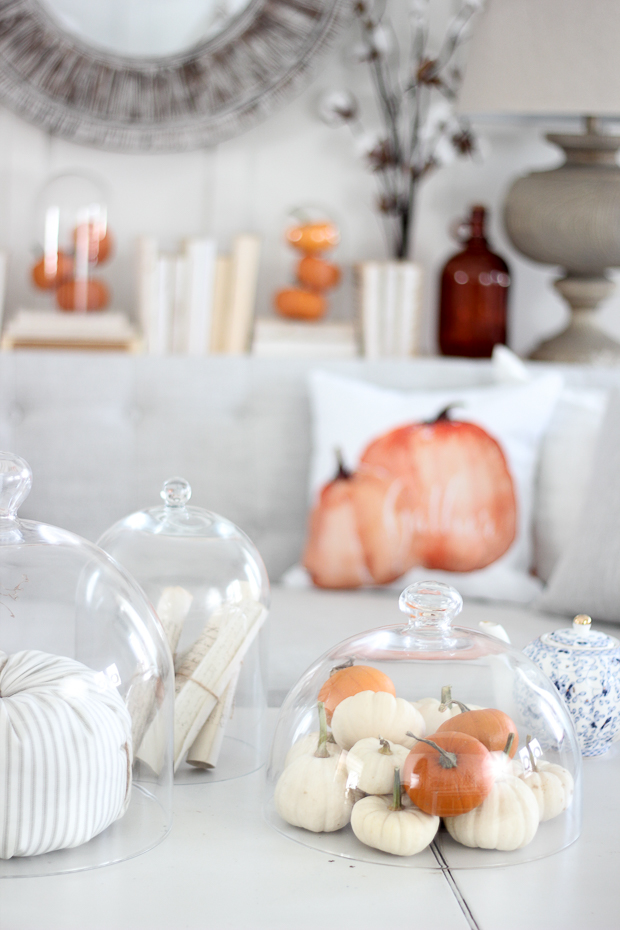 I decided to carry the sparkle of the cloches on our coffee table and display more little pumpkins and my favourite French scripts.
I'm always looking for ways to add a little whimsy to our space and I think this adorable linen pumpkin on this large mug may just do the trick.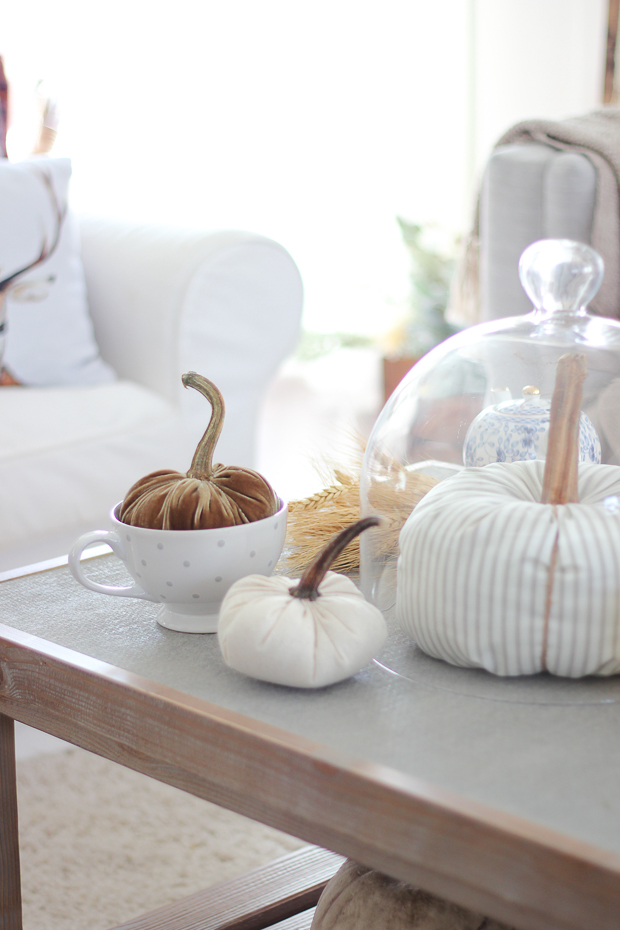 As you can imagine, there's a lot of playing and tweaking that goes on until I feel a display works…not only in person, but in photos.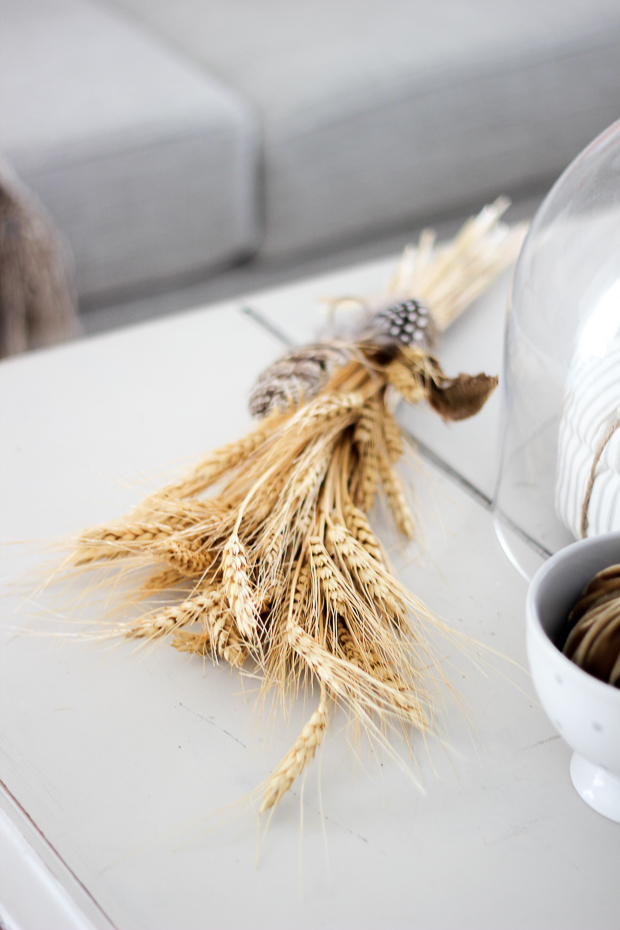 I feel this simple bouquet of wheat adds texture to the table.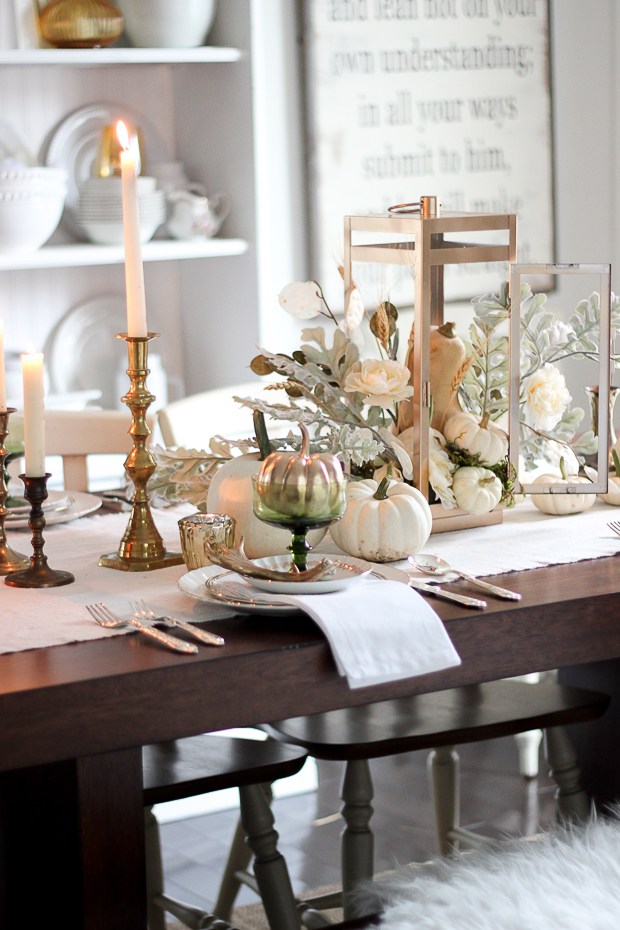 Do you remember me saying Leon's had brought in some furniture for the photo shoot? Well, as the table was not being picked up until after my home tour, I took advantage and set up a fancy, but inexpensive Thanksgiving table for the Hello Yellow Blog.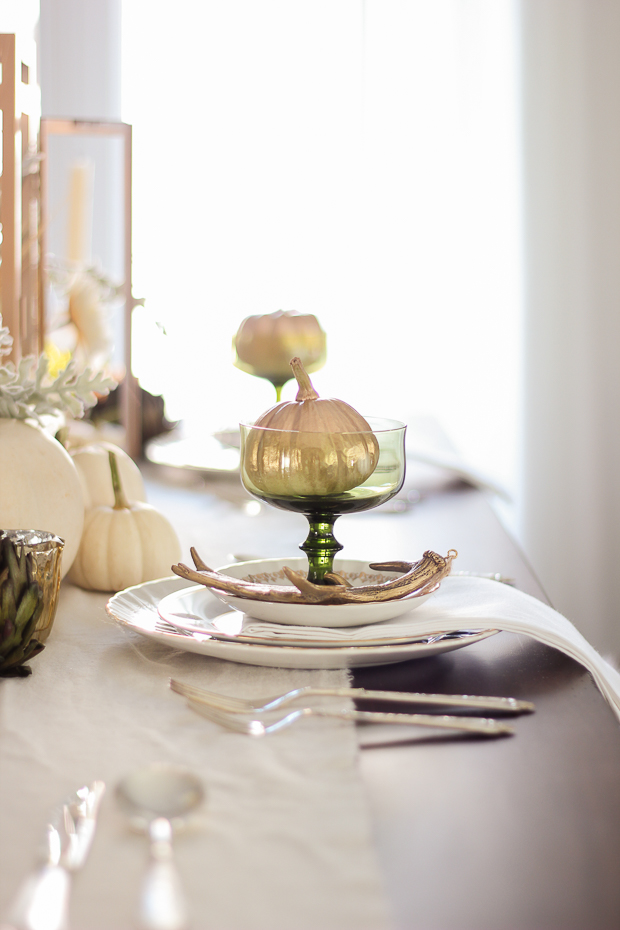 You'll have to wait to see the entire table at a later date.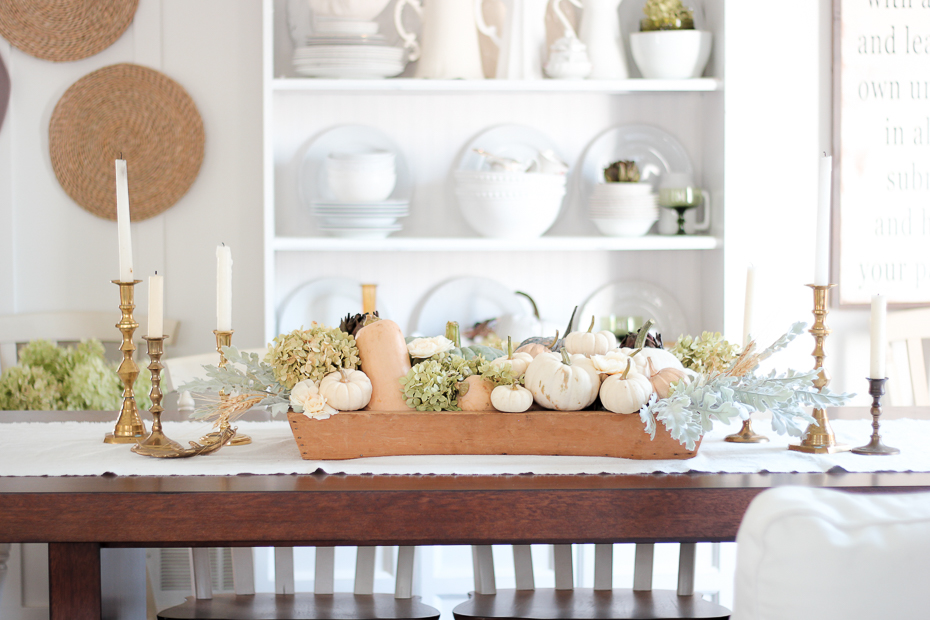 Here is what the table transitioned to.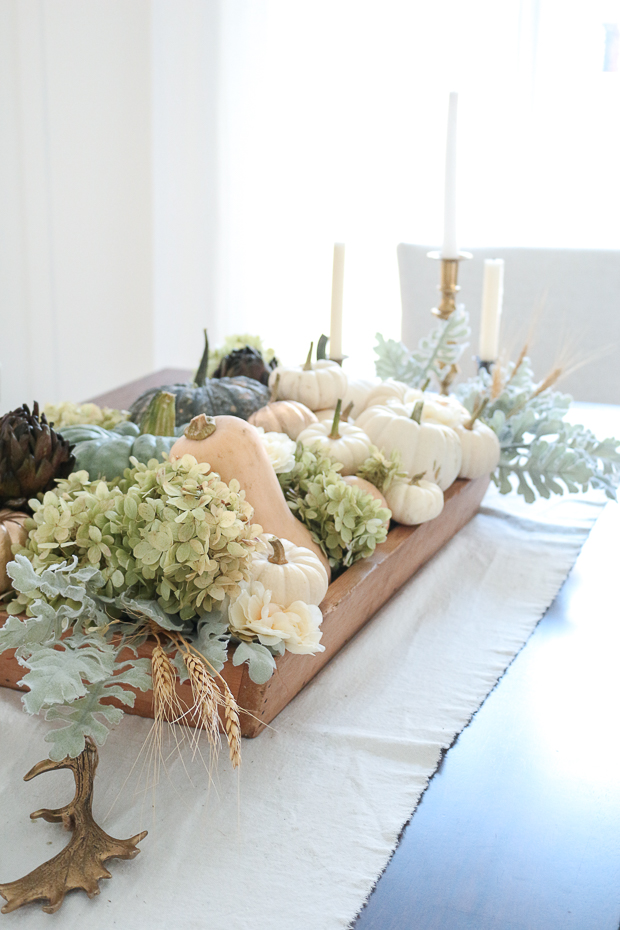 This really is such a simple centrepiece to put together, but I think it would add a beautiful touch to your table.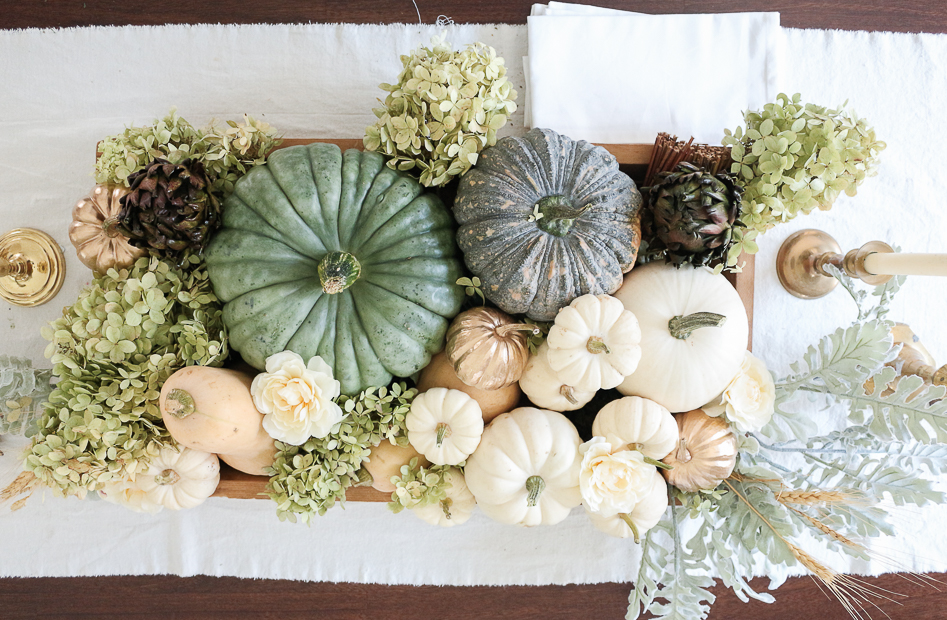 Here is a different perspective.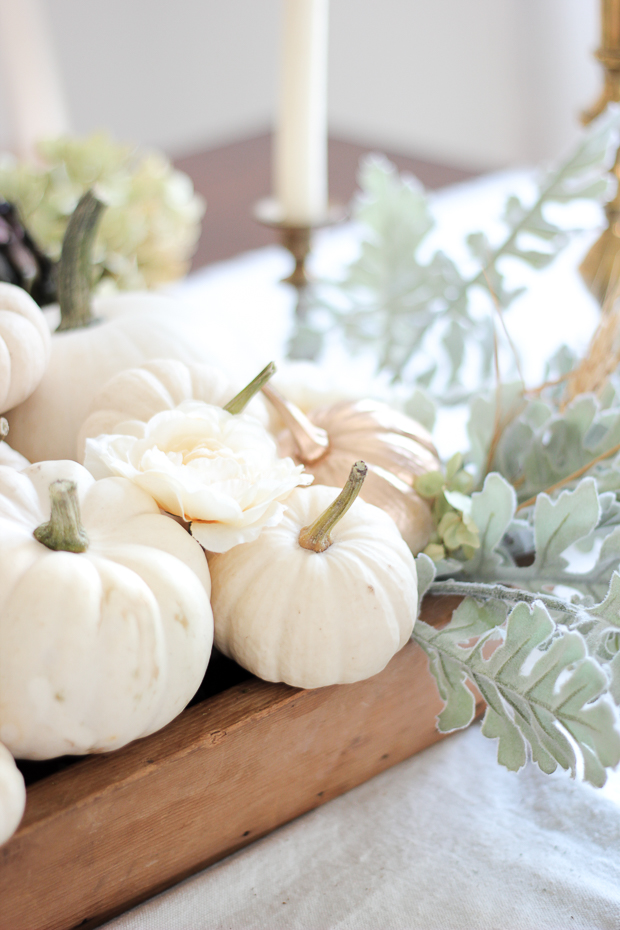 I added a little sparkle with these brass candle holders (another find from the thrift store).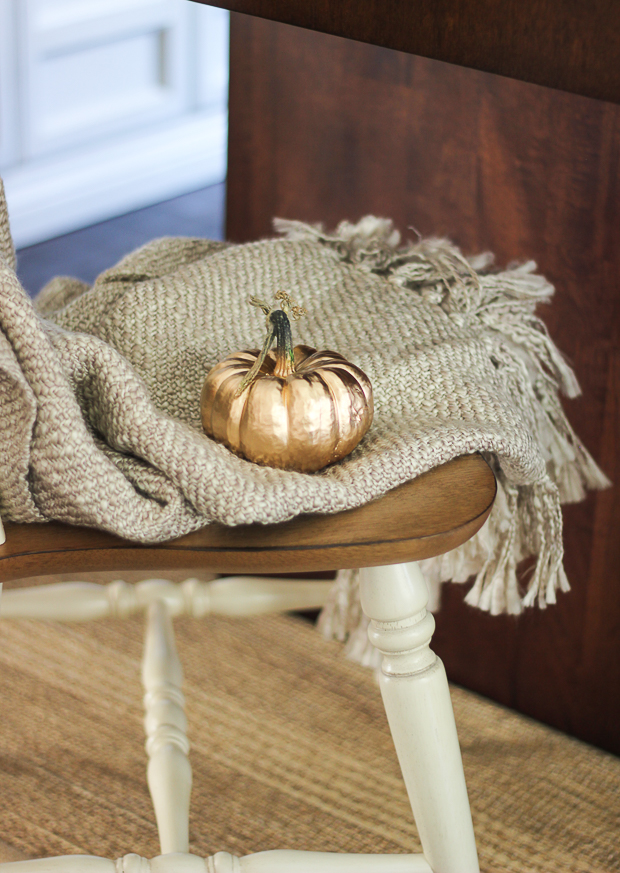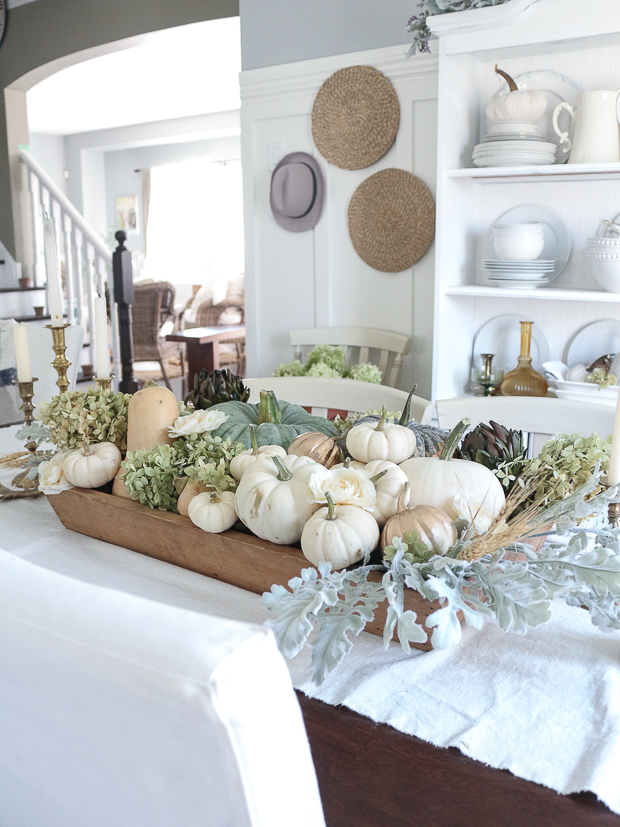 Let's head on over to the family room, shall we?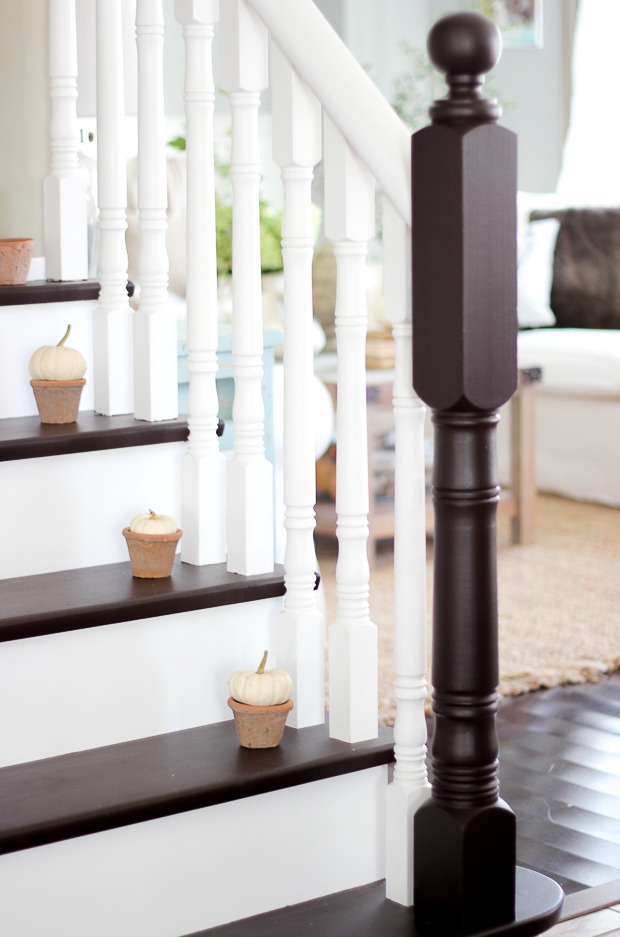 Oh yeah…our newly painted – but not quite finished – stairs (insert happy dance here). We will have them finished in the next week or so.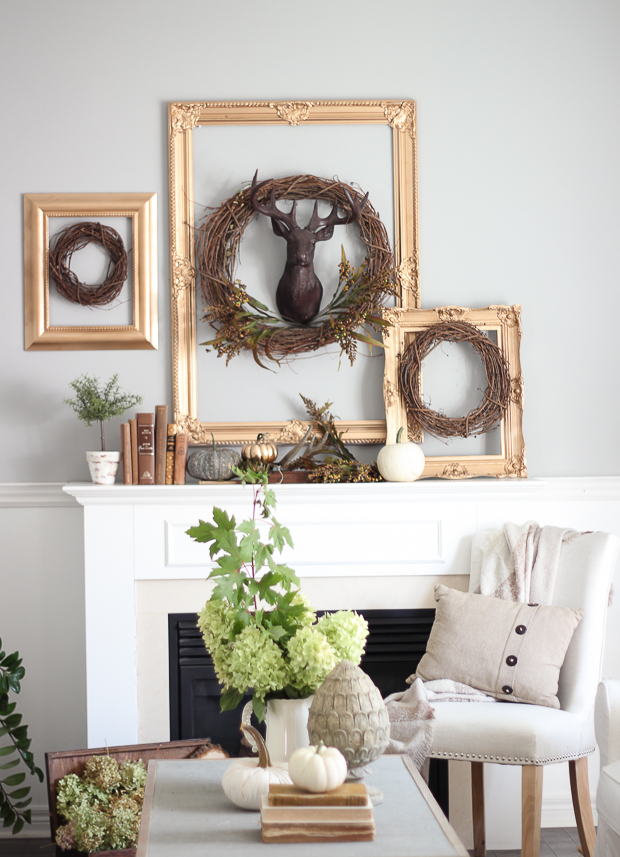 Here is this year's fall mantel. What do you think?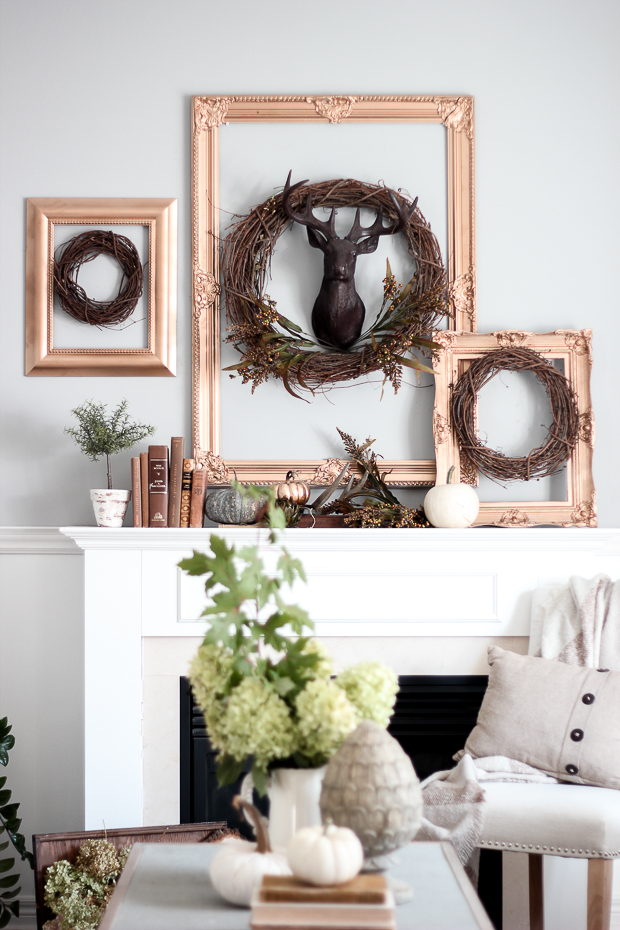 I originally had several wreaths hung on the wall, but it seemed a little too cluttered, so I scaled it down to three and of course framed each one in newly painted gold frames.
I call this look 'rustic glam'.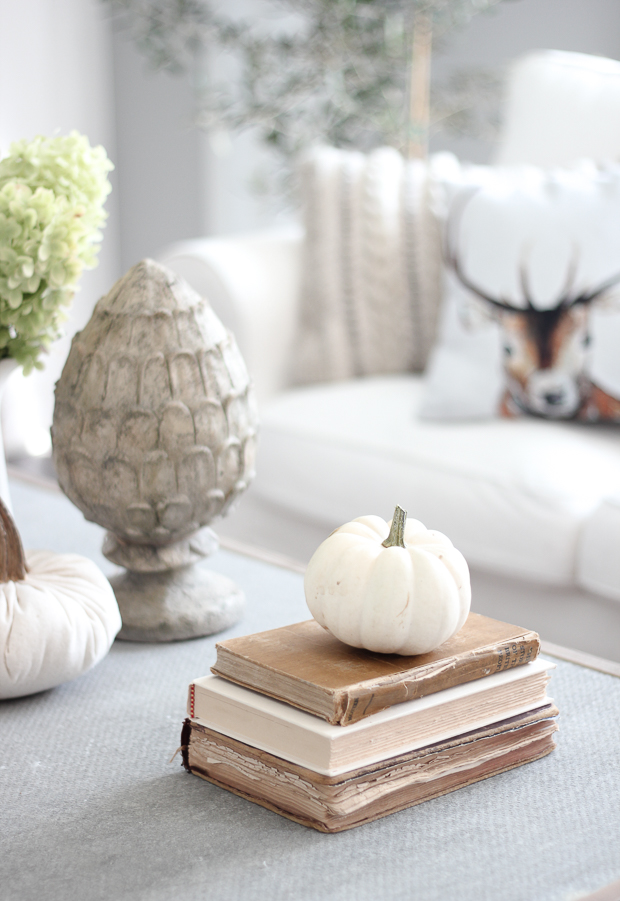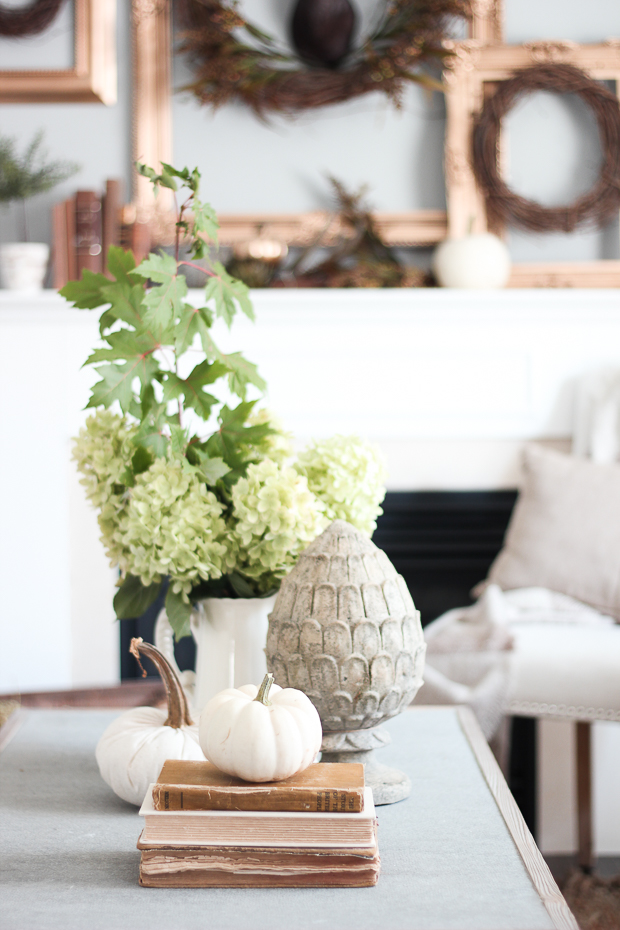 Our Limelight Hydrangeas were very generous to us this year.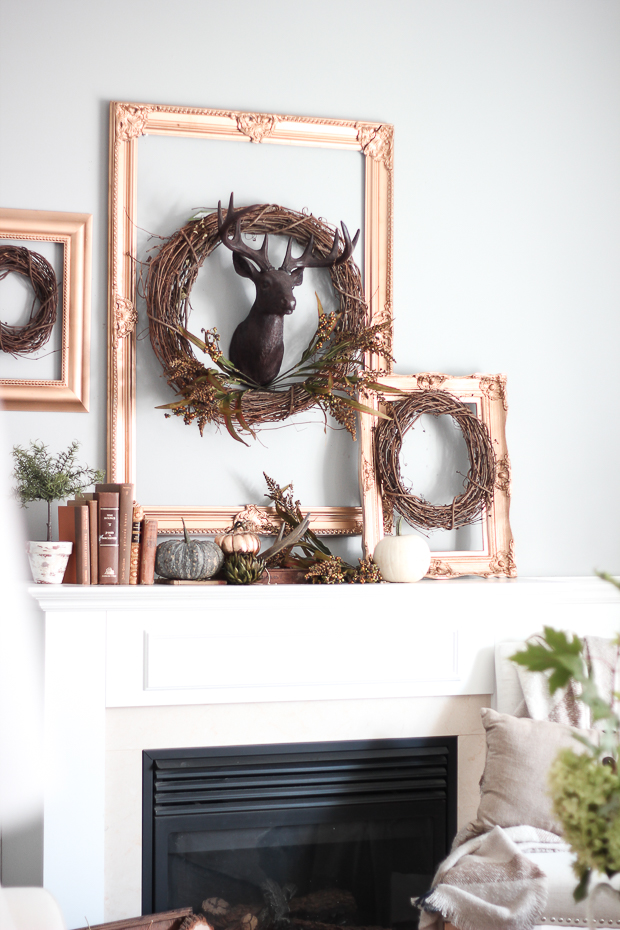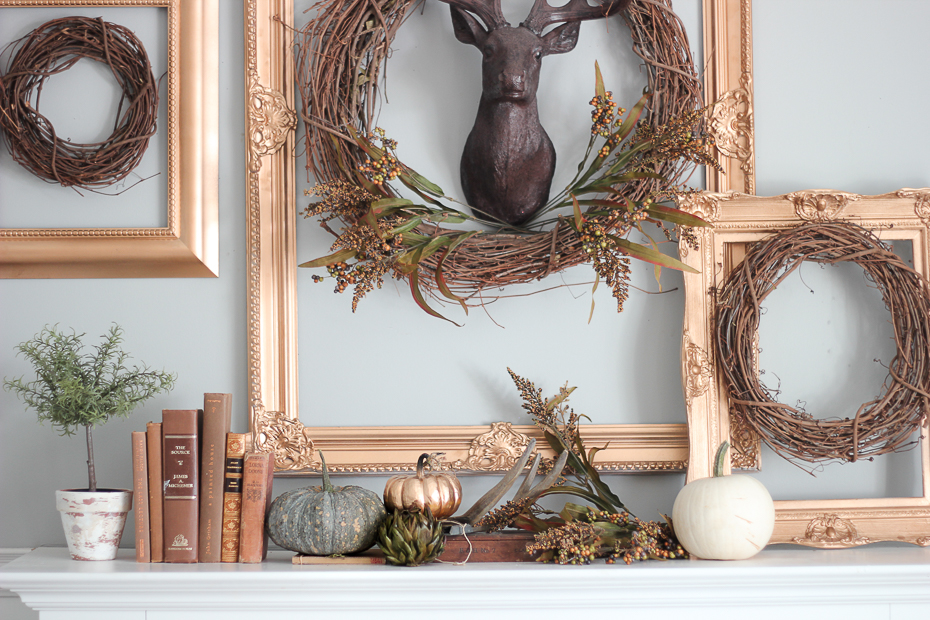 Here's a closer look at the mantel. These are all items that I either purchased at the thrift store, or already had. It's funny how you're able to reuse the same items year after year, but in such different ways.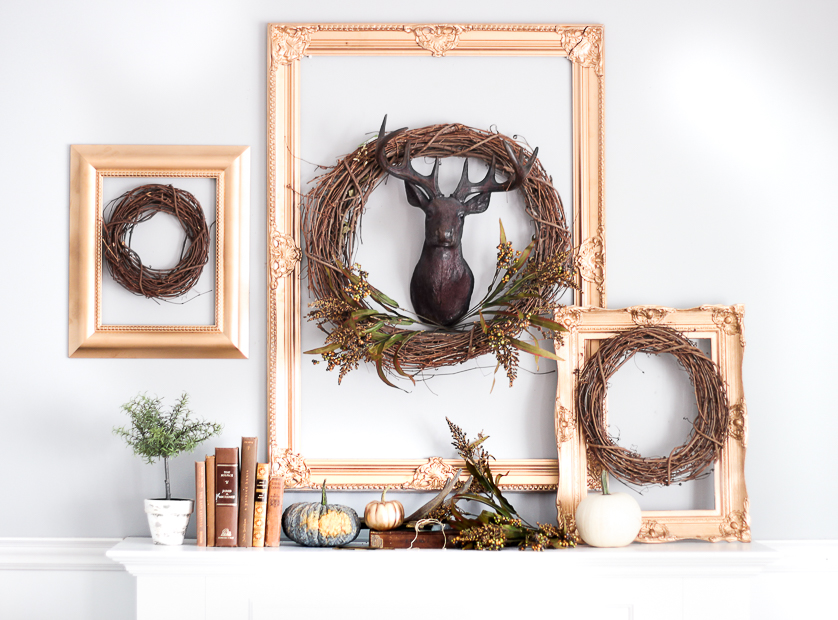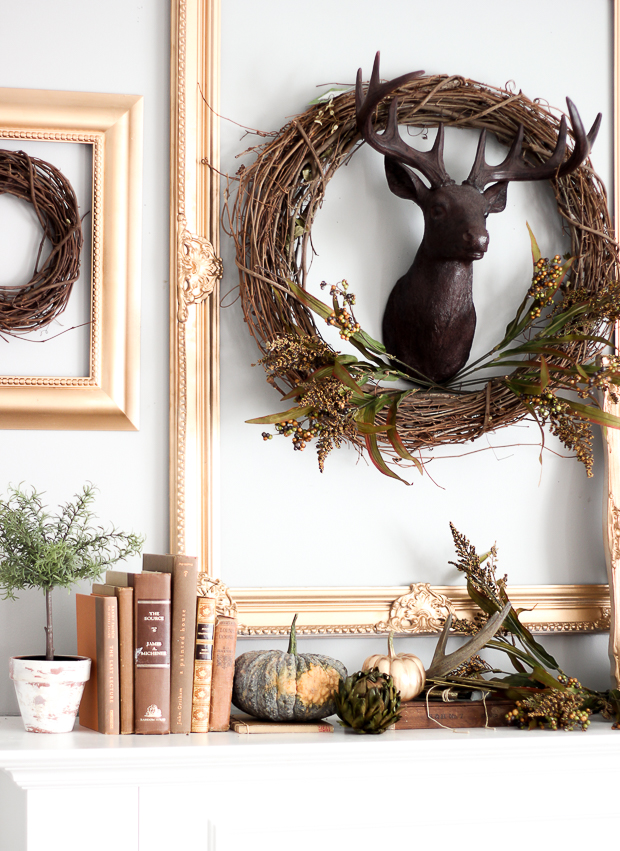 The picks placed in the wreaths are from the Dollar Store (never discount that Dollar Store to enhance your decor).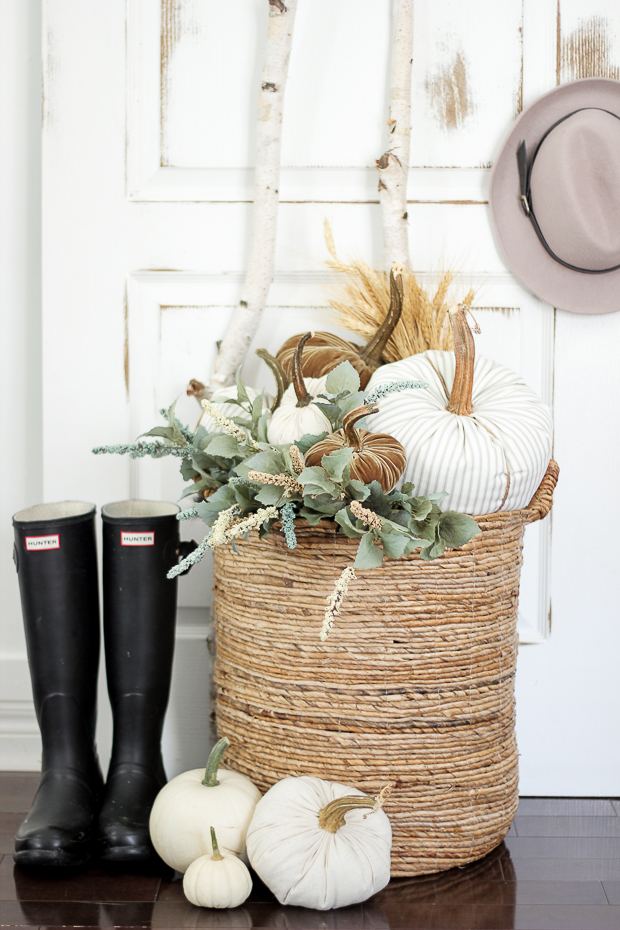 Lastly, I leave you with this little vignette. Aren't these cloth pumpkins adorable?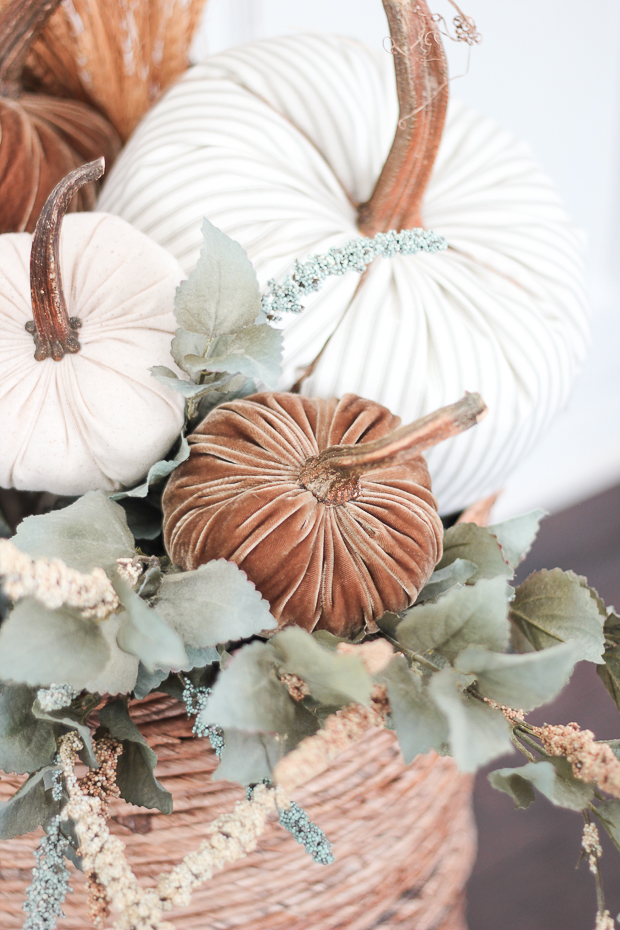 They were a gift from my dear friend Becky. She has a cute little Etsy shop and tomorrow, I will be giving away an entire set, so you'll want to make sure to come back and enter.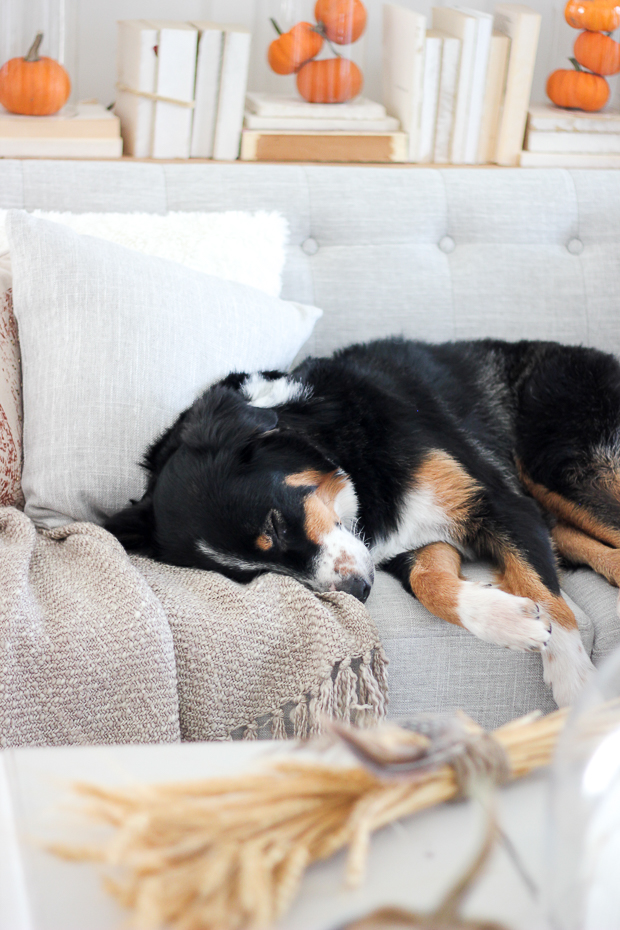 But for now…
I want to take a moment and thank you for taking this little tour with me. I truly hope you found some inspiration for your own home.
I also want to remind you that what truly matters about your home are those people you love and do life with. It isn't about the color of your walls, your furniture or the newest decor trend. Your house becomes a home when you inject it with love, patience and heart.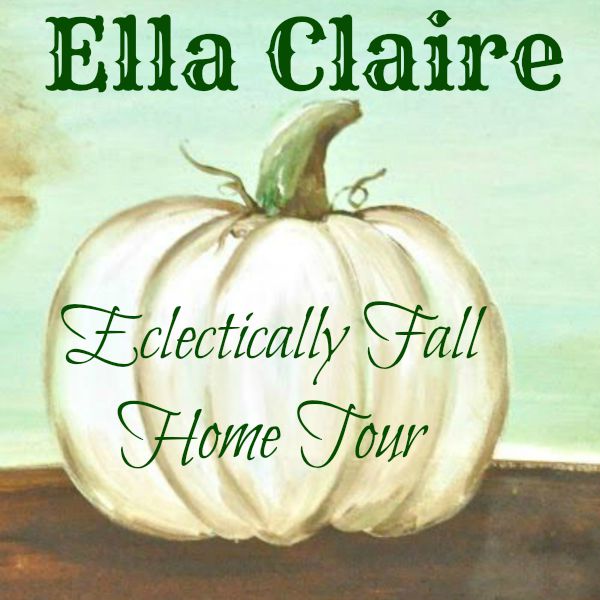 The tour resumes tomorrow over at my sweet friend Kristen from Ella Claire.
But before you go, you may also like:

Blue porcelain pumpkin with printable