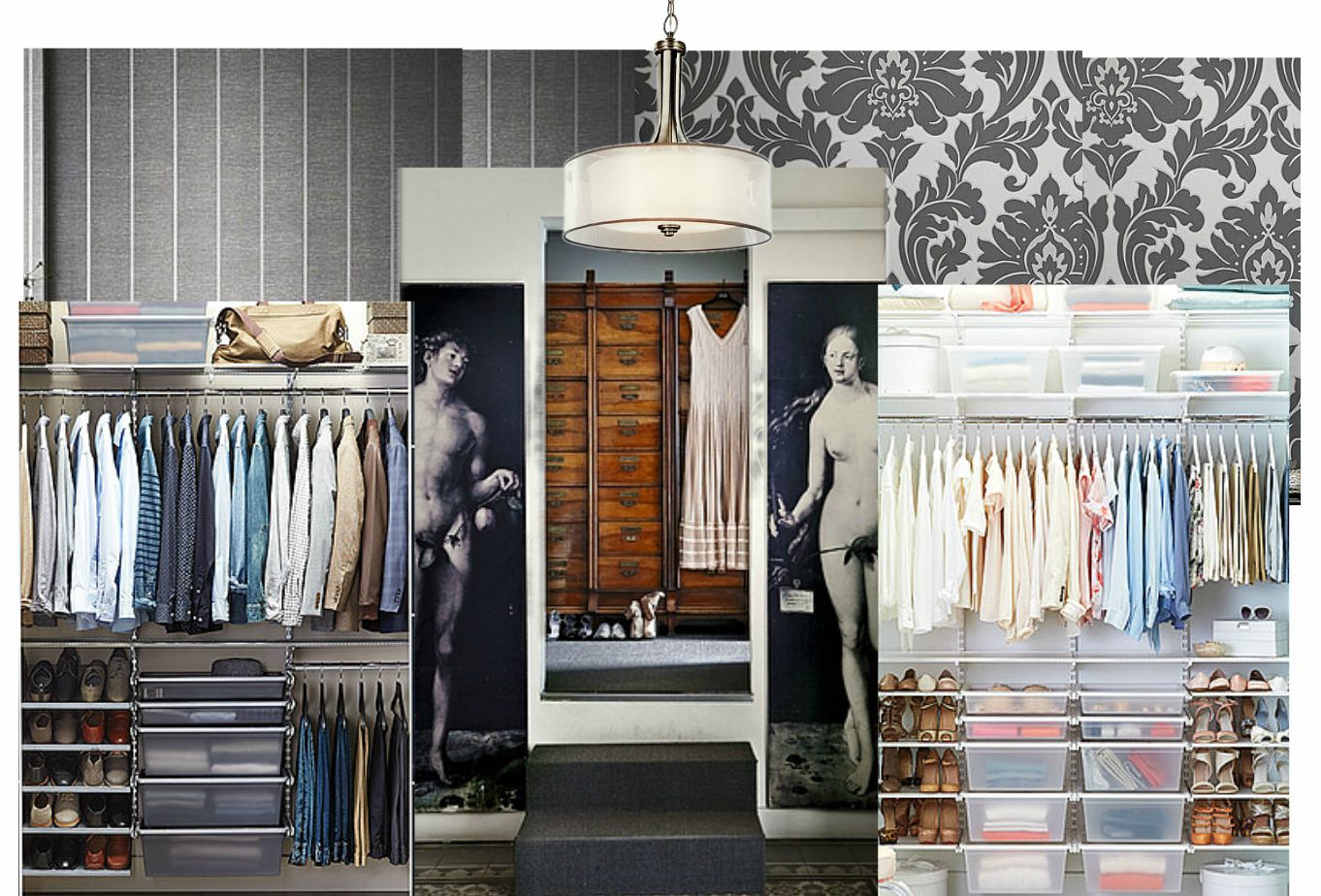 With all due respect to "spring cleaning", there is something about fall that makes me want to organize. Perhaps it's the cooler weather or adjusting to the new routine of the kiddies returning to school and spending more time indoors.
We have been hard at work of late, completing several projects, including the stairs and organizing our basement (read: Craftberry Bush Storage HQ).
Next on our list – our walk-in closet in the master bedroom.
Design experts suggest those who treat their closet as an extension of a room, paying just as close of attention to décor and layout, are more likely to keep it clean and organized. I've never really thought of a closet as a place to decorate or show off, and admittedly, ours is in need of a major makeover.
I'm super excited to have teamed up with The Container Store to make that happen. And an added bonus – the timing coincides with their Annual Shelving Sale, which runs through October 18th and features 25% off all Shelving solutions, including elfa and elfa installation (pictures above).
In addition, The Container Store has teamed with Zillow's home improvement marketplace to bring you a fun sweepstakes:
Grand Prize: ONE (1) Winner will receive a $5,000 Closet Makeover from The Container Store, including a consultation from one of their Contained Home in-home organizers, as well as custom Installation of their closet. Enter to win HERE
Wouldn't that be amazing?
The sweepstakes is kicking off in conjunction with a new Zillow Digs Closet Trend Report. Design experts across the country have been surveyed regarding their opinions on current closet trends, and this year, the Zillow Digs' survey of design experts say this is what's in and out for closet trends:
1. Transparent Displays – everything out and curated.
a. Use transparent containers, hooks and cute storage boxes. Storage should be stylish.
b. Adding additional features if possible—an ottoman, a chair, a packing ledge – stylish and functional parts to a room.
c. Wallpaper or paint or other fun ways to bring a closet to the next level
2. His/Her Finishes
a. Split finishes and making a clear distinction between his side of the closet and yours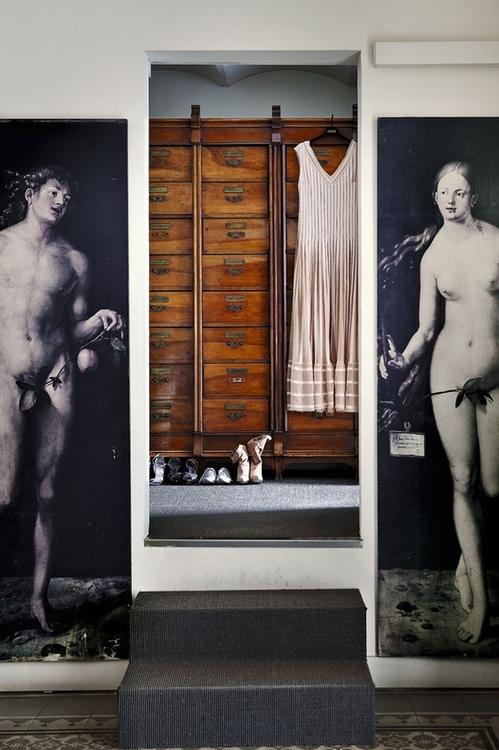 Via
I'm embarrassed to admit hubby's side of the closet is far more tidy than my side (probably his slight OCD :). But I'm confident making our closet into a beautiful space will motivate me to keep my side neat and tidy.
I love this particular trend of making a clear distinction between his and hers side of the closet by using the White elfa Chic and the Platinum elfa Reach-In closets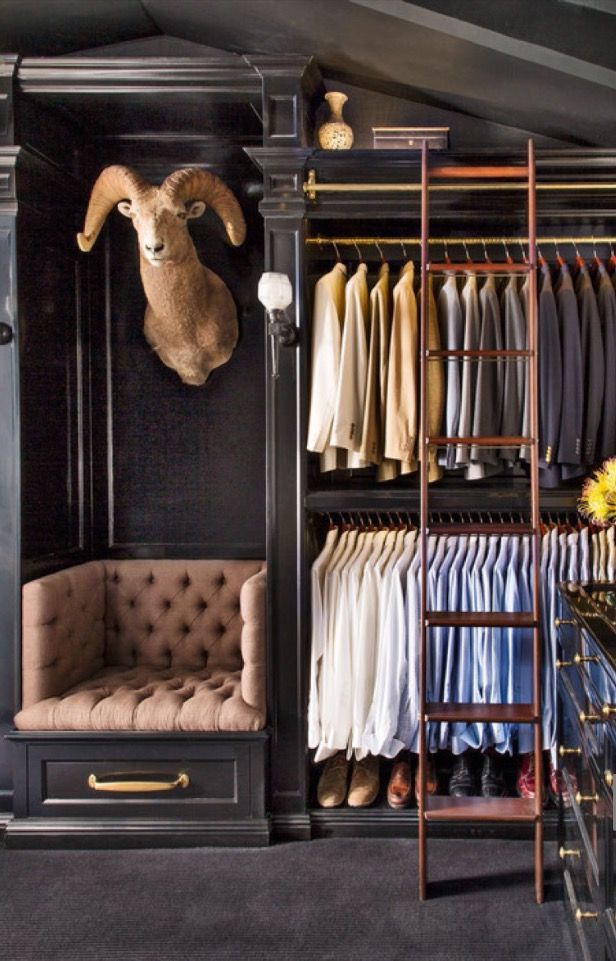 Inspiration image via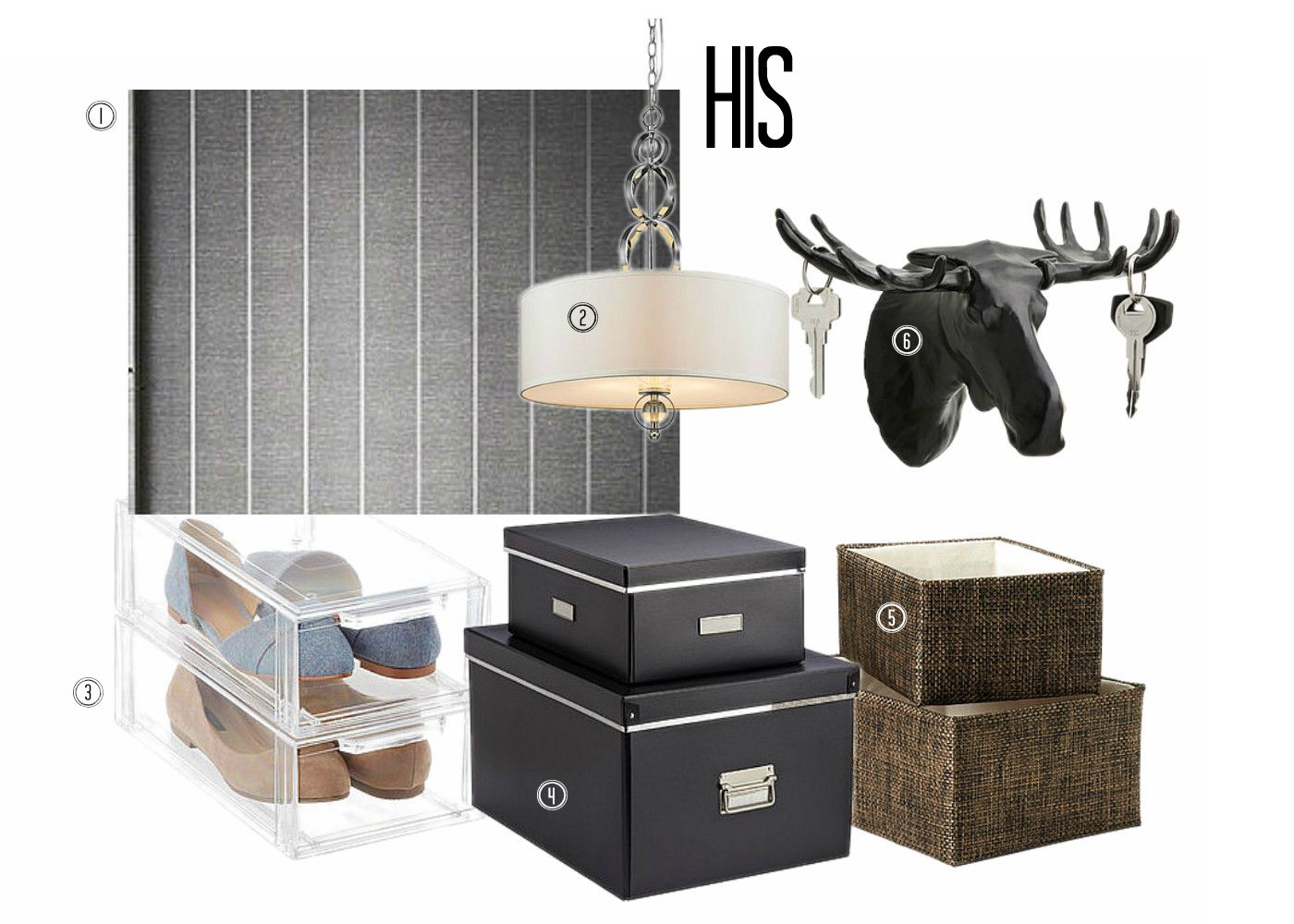 My interpretation: 1. Wallpaper  2. Lighting  3. Clear Shoe Boxes  4. Graphite Oskar Boxes  5. Copper & Mocca Kiva Bins  6.Moose Hook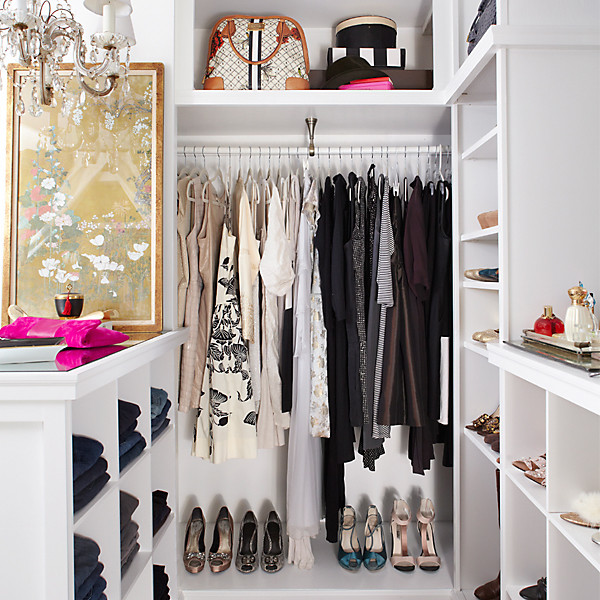 Inspiration image via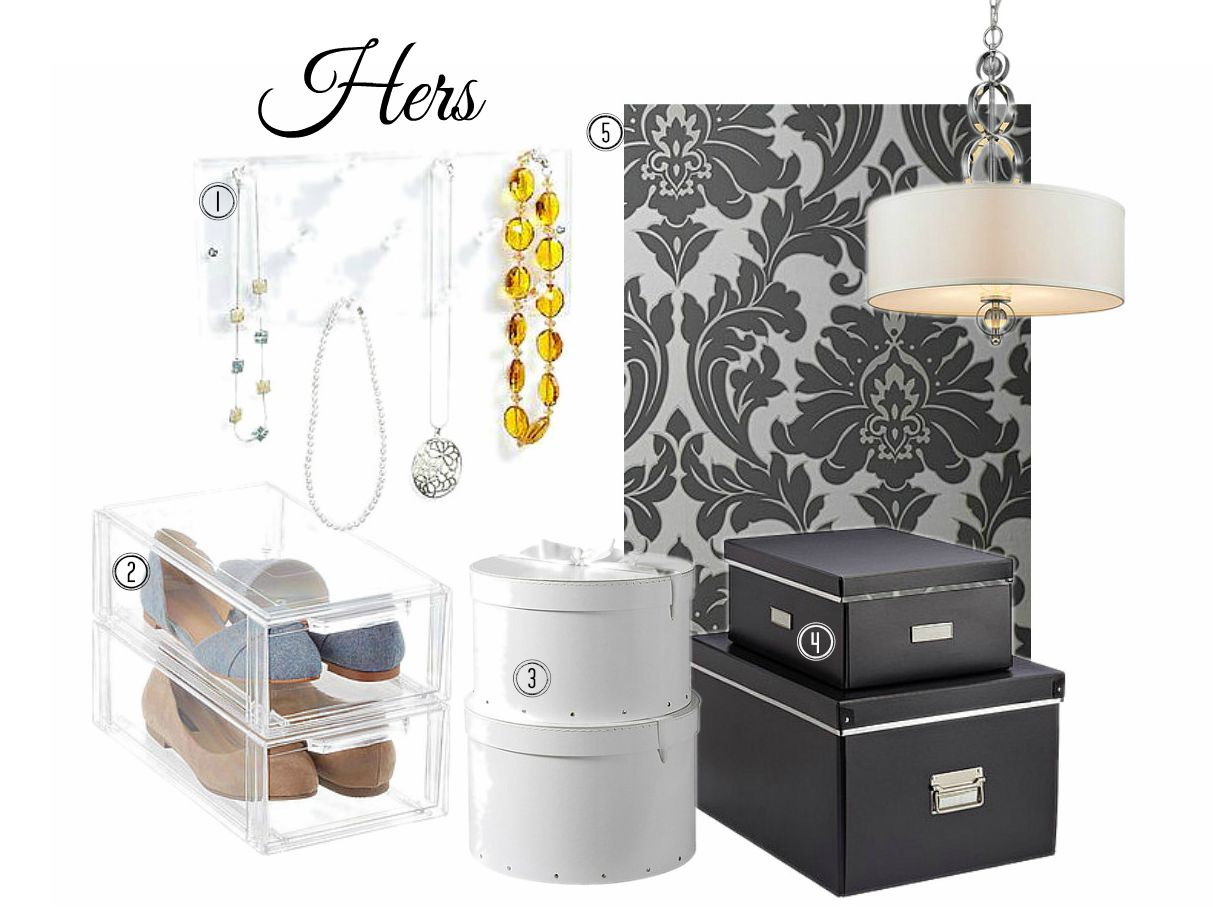 My interpretation: 1. Necklace Rack  2. Clear Shoe Boxes  3. White Hat Boxes  4. Graphite Oskar Boxes  5. Wallpaper

3. Lighting!
a. Directed, recessed lighting, LED lights, or even battery-string lights make it easy to see what you wear and what you don't.
I love the idea of having beautiful lighting in the closet.
And here is what is OUT according to the Zillow Design experts:
1. Basic set-ups. Go beyond a mundane "closet in a box" arrangement and add custom touches that incorporate your creative flair. For instance, mix wire shelving with woven baskets – make the closet work for what you need.
2. Behind the door storage, or hiding everything away. Storage and organization can be fun – and functional! Show it off!
3. Dark closets. The new closets are light, bright and accessible!
Though, I'm dreading the purging and emptying out part of this project, I love the peace and calm that comes after a space has been completely cleaned and organized, don't you?
I will keep you posted on our progress as we go along and will have the grand reveal in a few weeks! I can't wait.
In the mean time, don't forget to enter the sweepstakes HERE
I'll be back tomorrow with my Fall House Tour…hope to see you then.
much love,
Lucy
A little bit about Zillow Digs
Zillow Digs is a hub for home improvement and design inspiration. Users can browse more than two million photos of interiors and exteriors of real homes, organized by space, style, cost and color. Patent-pending Digs Estimates help people understand what it would cost in their geographic location to recreate the actual bathrooms and kitchens they are viewing. In addition, Zillow Digs users can collect images, share favorites and follow others for inspiration, from the Zillow Digs App for iPhone® and iPad®, or on the Web.
Zillow
Zillow® is the leading real estate and rental marketplace dedicated to empowering consumers with data, inspiration and knowledge around the place they call home, and connecting them with the best local professionals who can help. Zillow serves the full lifecycle of owning and living in a home: buying, selling, renting, financing, remodeling and more. In addition to Zillow.com®, Zillow operates the most popular suite of mobile real estate apps, with more than two dozen apps across all major platforms. Launched in 2006, Zillow is owned and operated by Zillow Group (NASDAQ:Z), and headquartered in Seattle.
Zillow, Zillow.com and Zillow Digs are registered trademarks of Zillow, Inc.
SOURCE Zillow