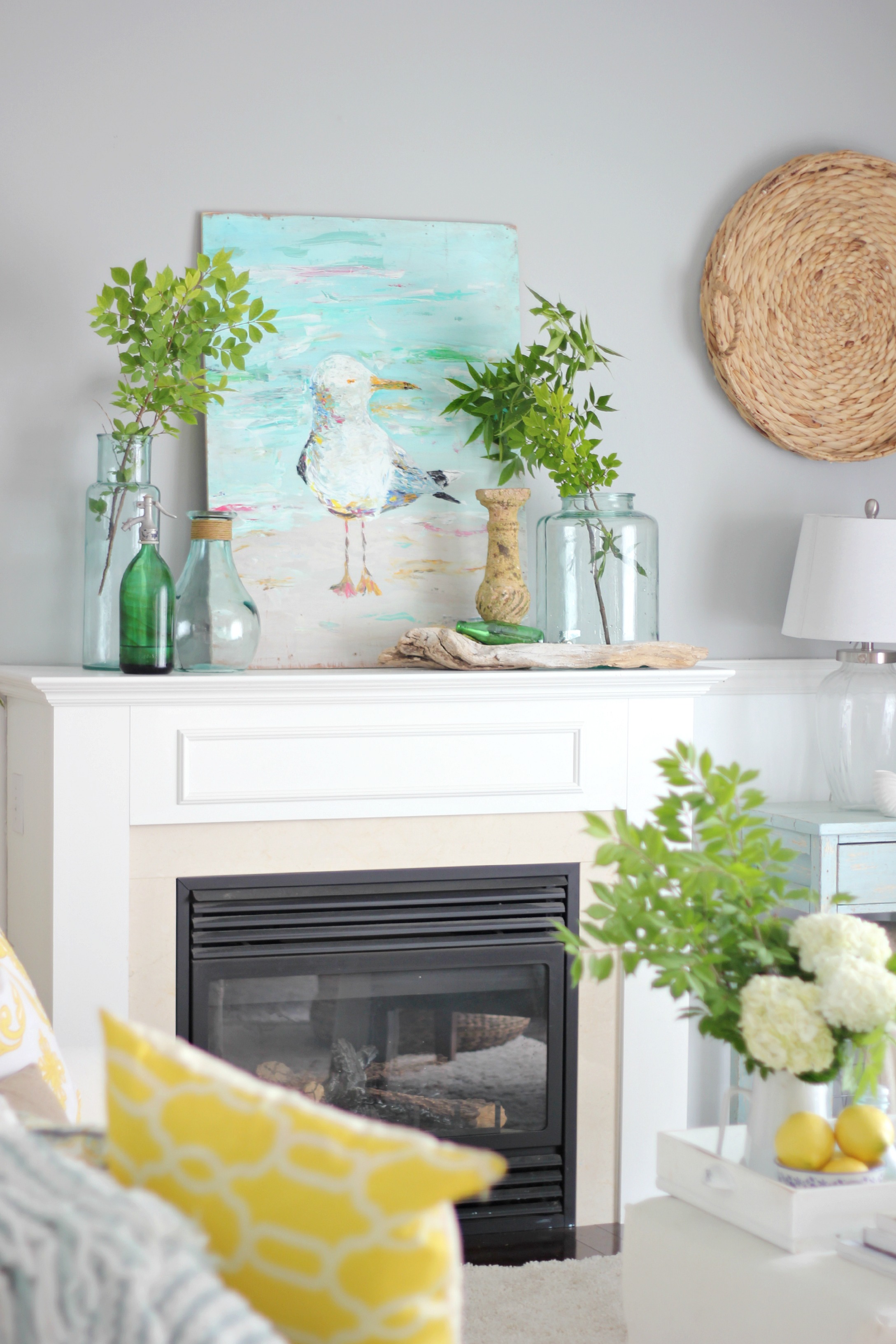 Hello sweet friends. I hope your week is going great so far. I'm joining some of my Bhome friends as we open the doors to our homes and welcome you in.
And there is also a sweet surprise at the end of this post from our friends from Painted Fox Treasures.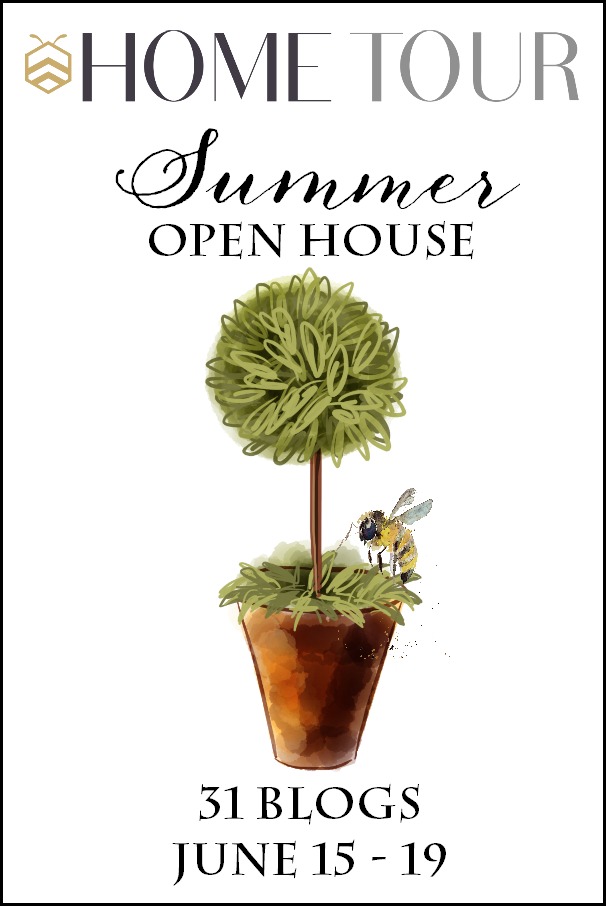 If you are new to Craftberry Bush, welcome!  I am so happy to have you here. I hope that within these photos you will find some inspiration and decor ideas for your own space.
But most importantly, it is my hope that when you leave, you leave empowered to create a home that is true to you and your family, a home that speaks love. Not because of the neatly positioned chairs or the fancy chandeliers but because of the laughter, memories and warmth that your home brings you.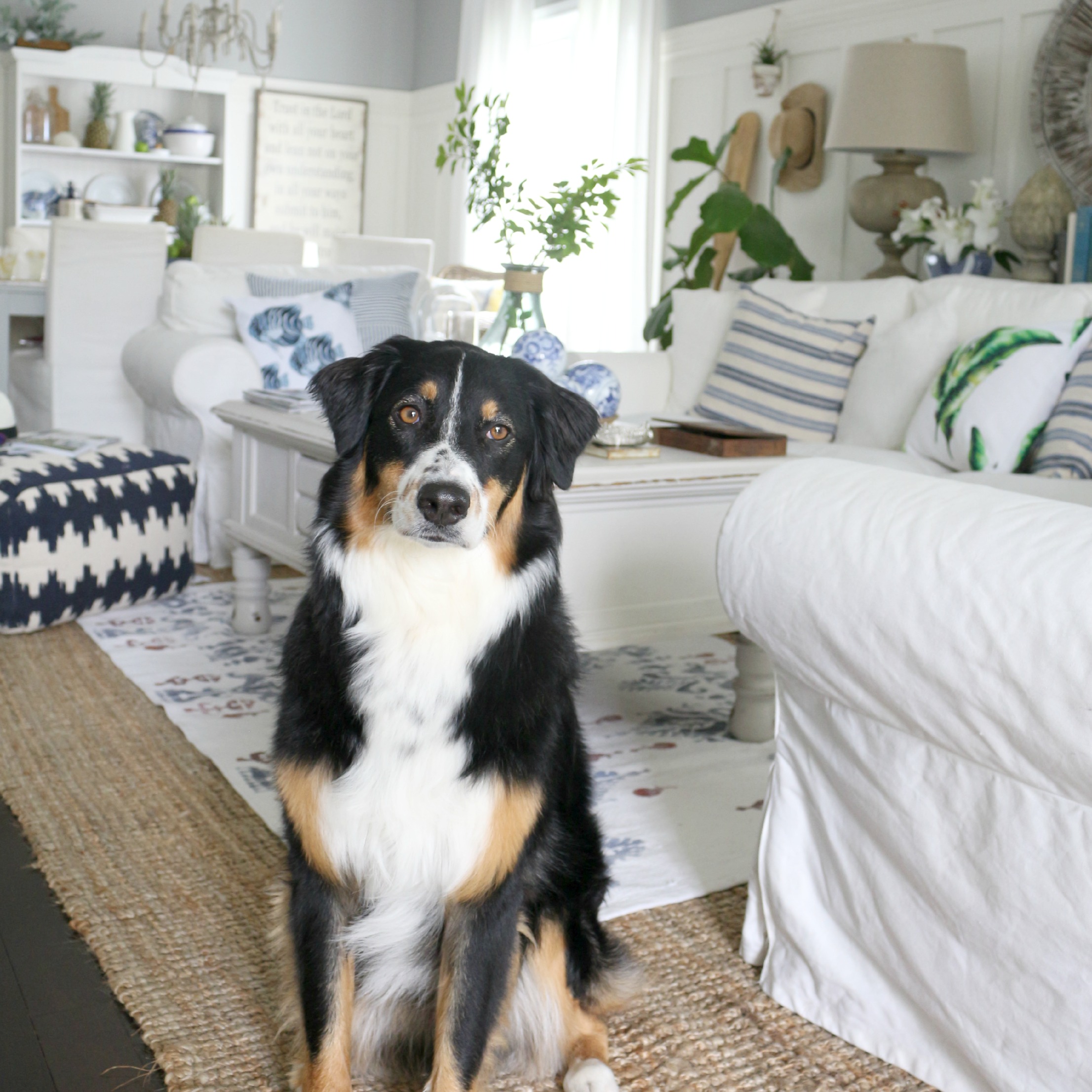 If you are a regular reader, than you might have already met our Aussie pup Brody. He likes to greet our company at the door, though not always this poised or still.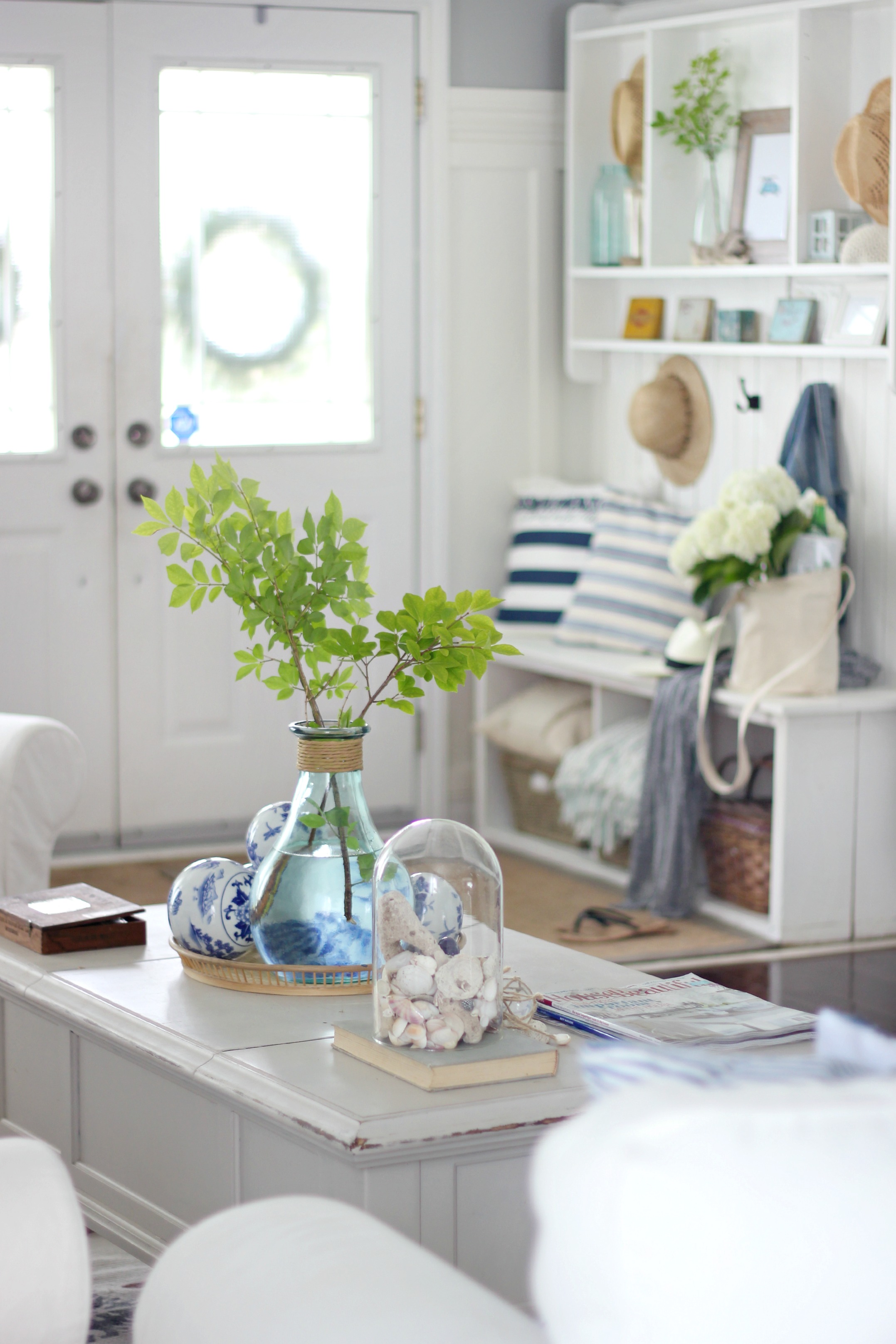 This is the view from our living room, as you can see, the doors open right to the living room, so we had to come up with a little area where we could throw our coats, keys, shoes, school bags, soccer balls, groceries….well you get the idea.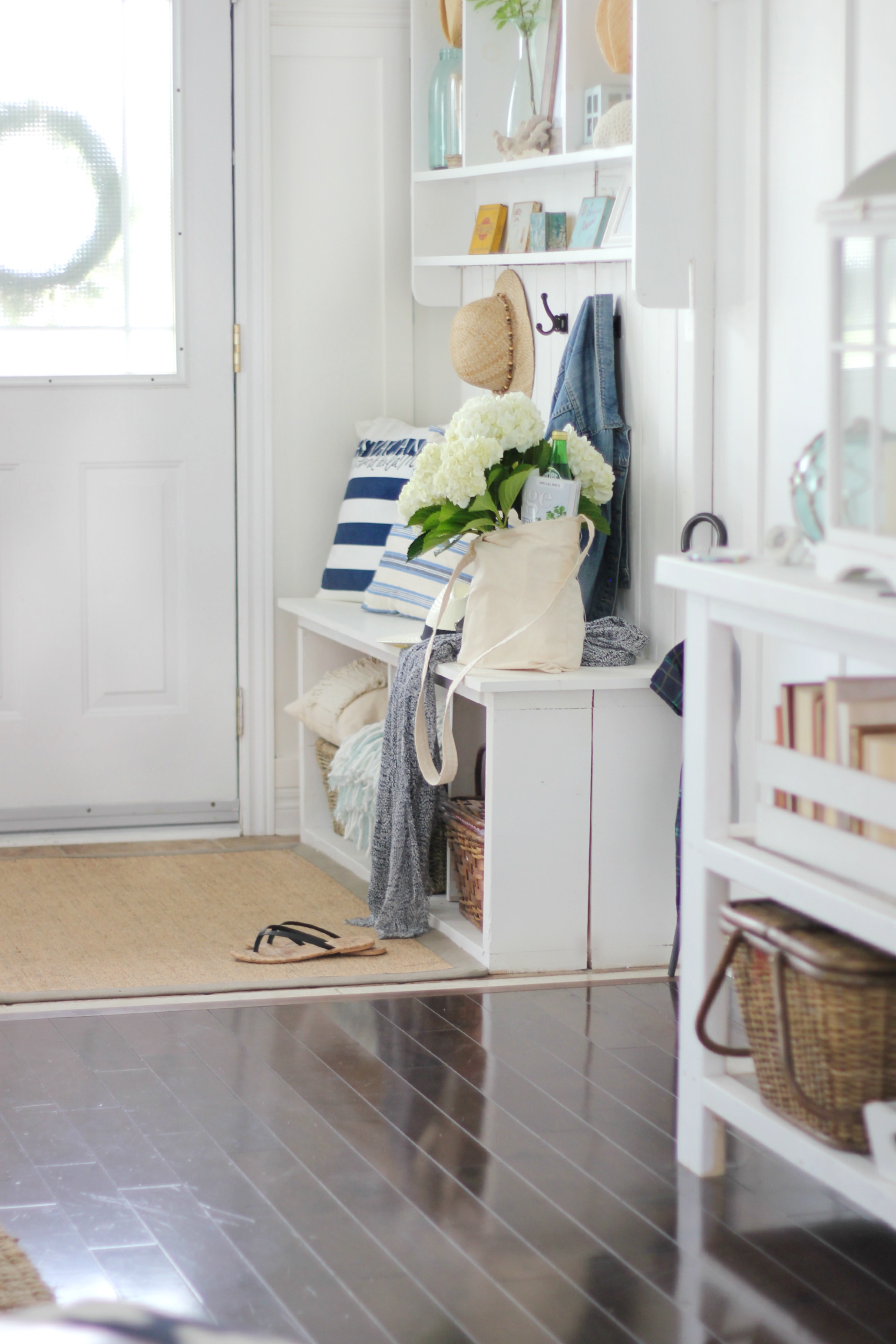 Hubby and I built this bench/coat rack a couple of years ago and I still love it.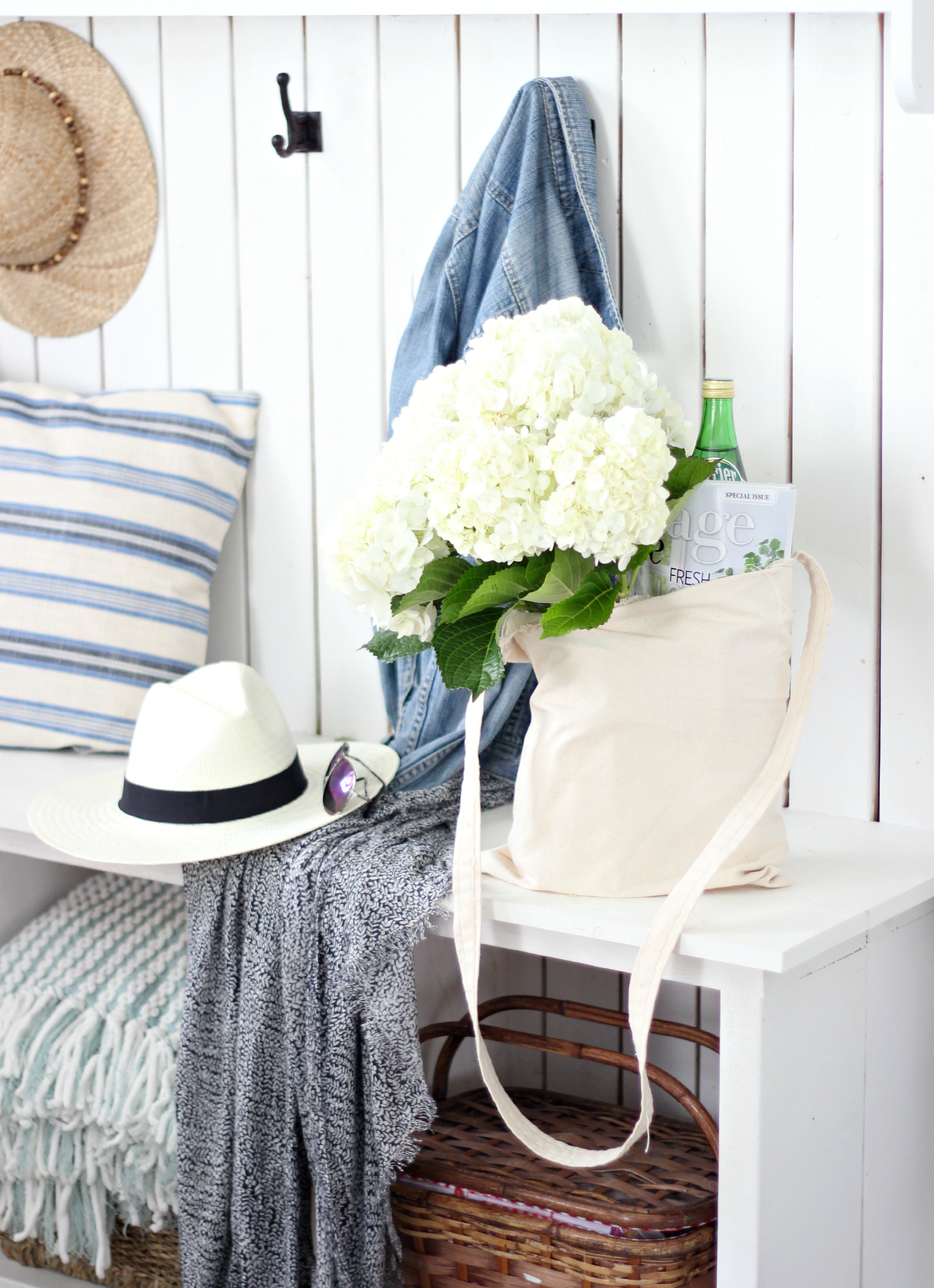 This little space has definitely served its purpose.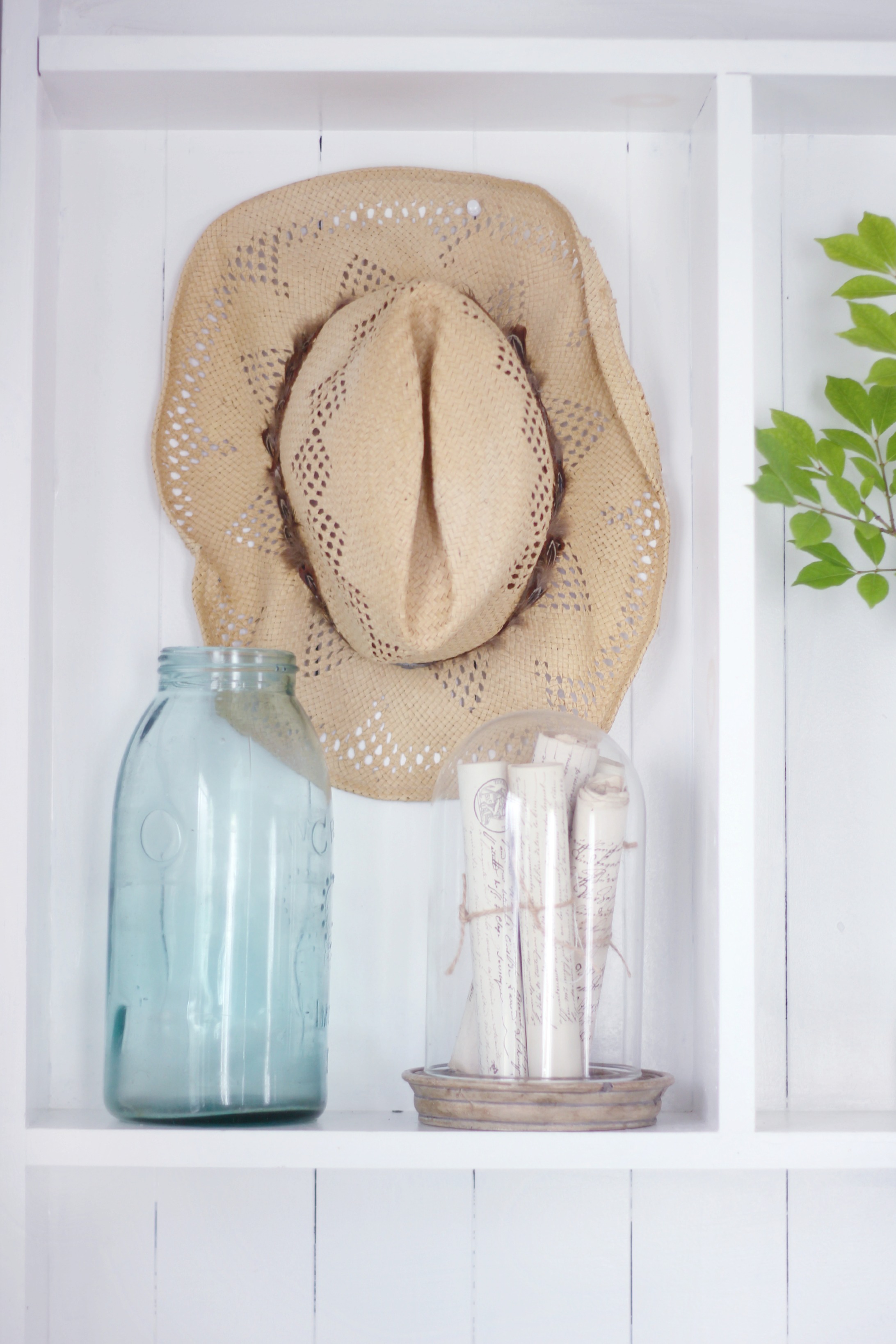 And I of course love decorating it according to the seasons…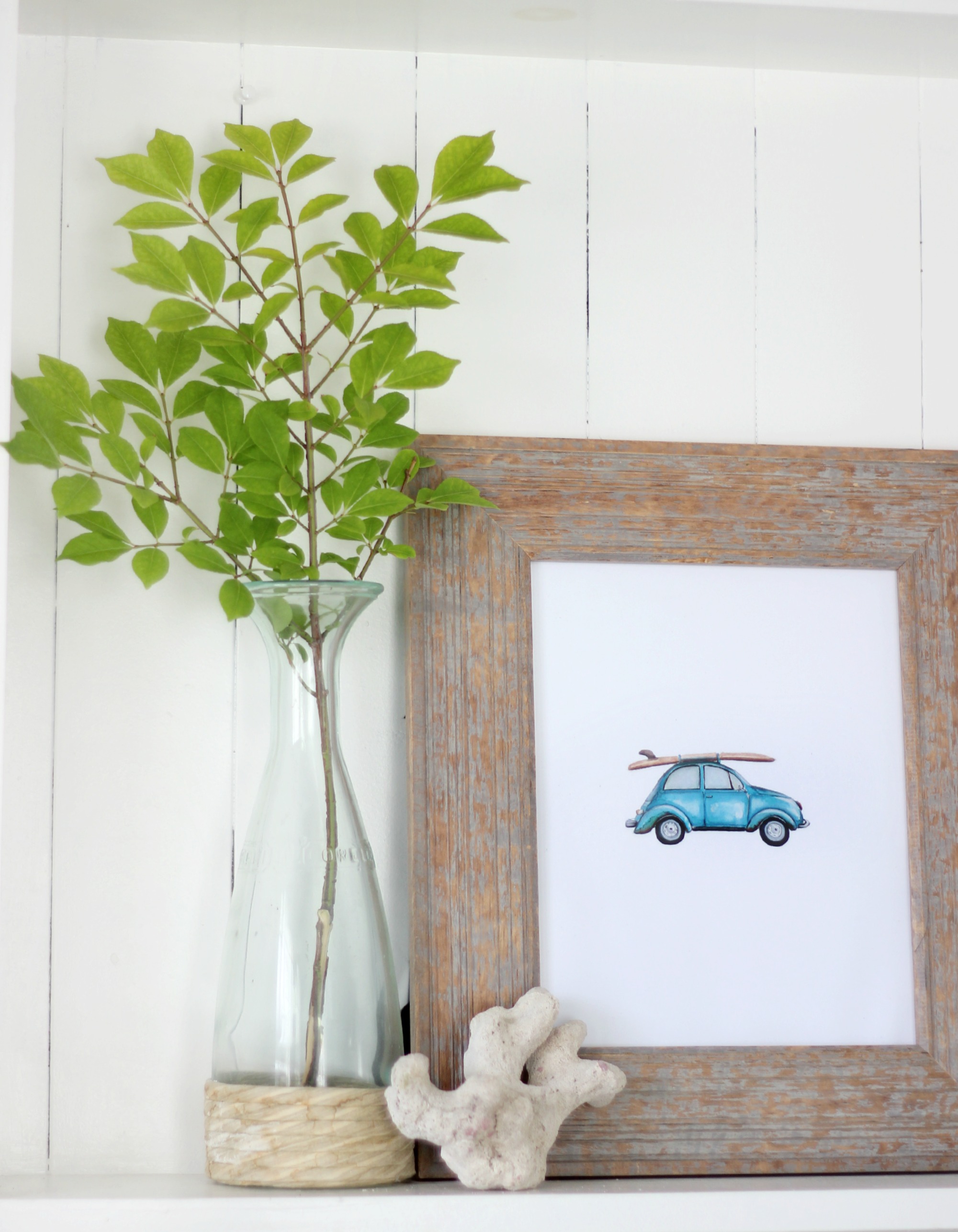 Did you get a chance to download your free buggy printable yesterday? If you haven't yet, please go HERE .
The link will expire on June 30th, so you might want to get your print before then.
I'm a little obsessed with blue again this year. You can see how I used blue last year HERE. I'm loving this cotton-linen Nottingham pillow from Birch Lane.
Fortunately I got three of them because otherwise, I'd be moving this one around from here to there to there and here again.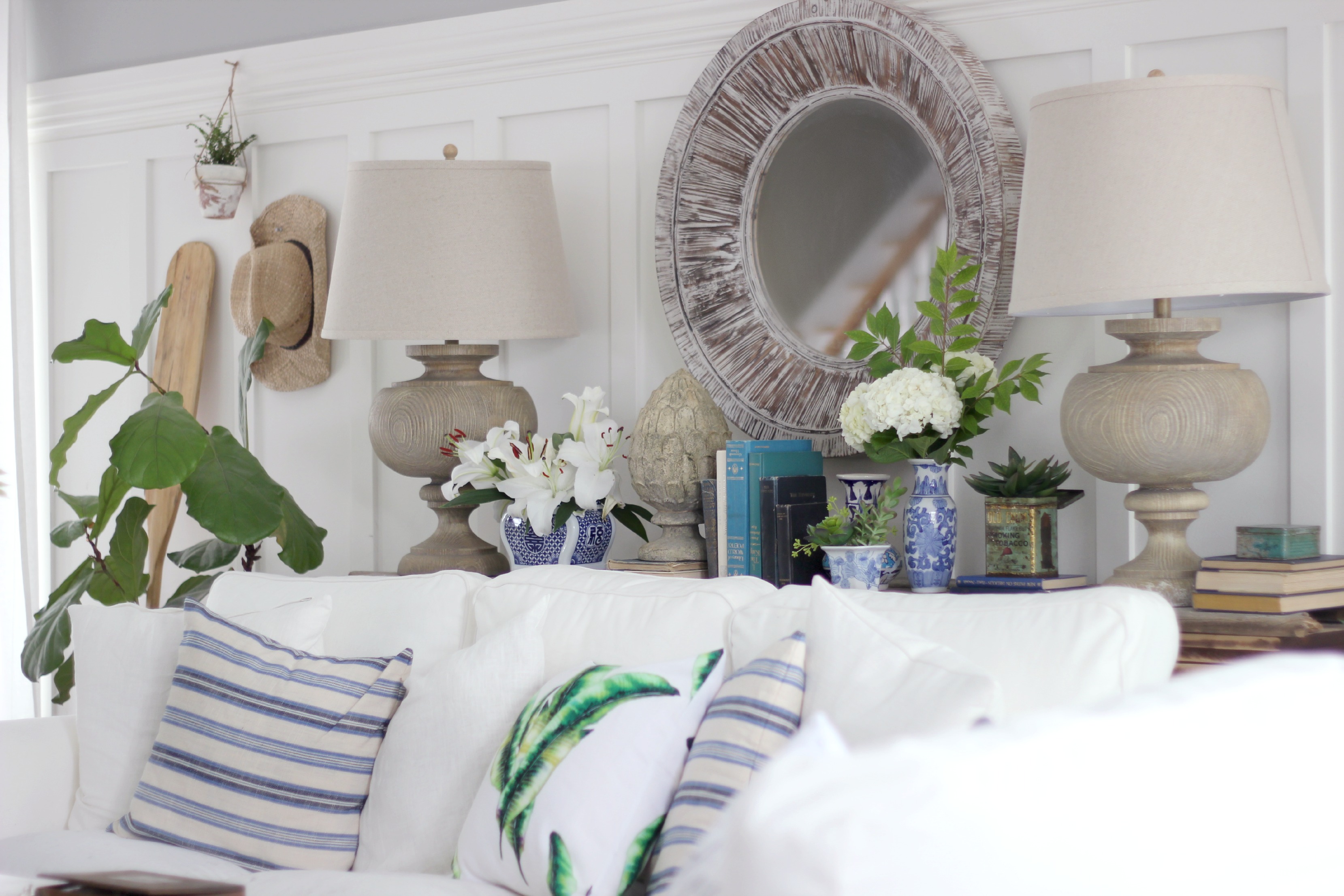 I suffer from chronic decor rearranging syndrome (CDRS) and this area has changed yet again.  What did I tell you about those pillows? I do love them.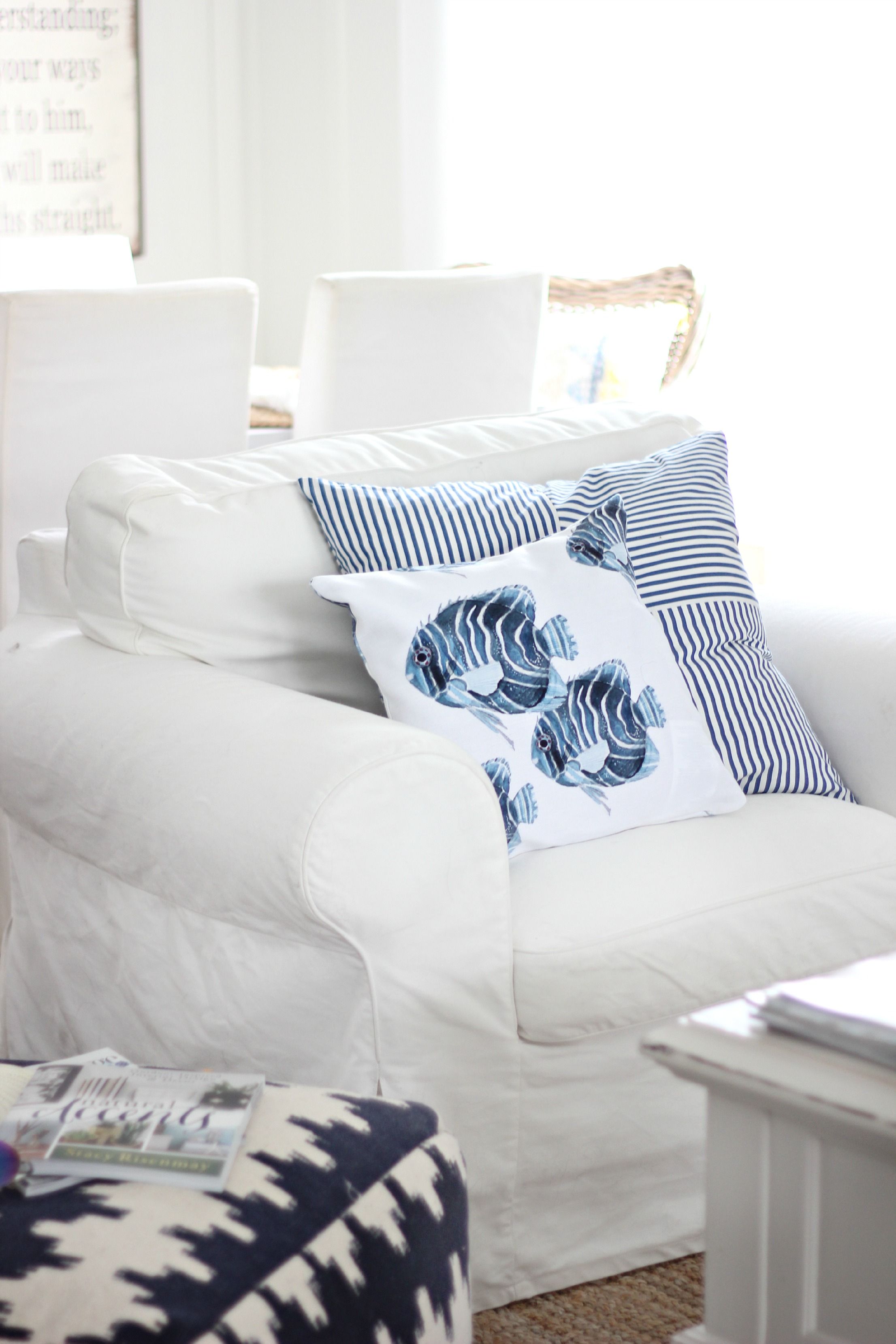 Moving pillows around is also a symptom of CDRS.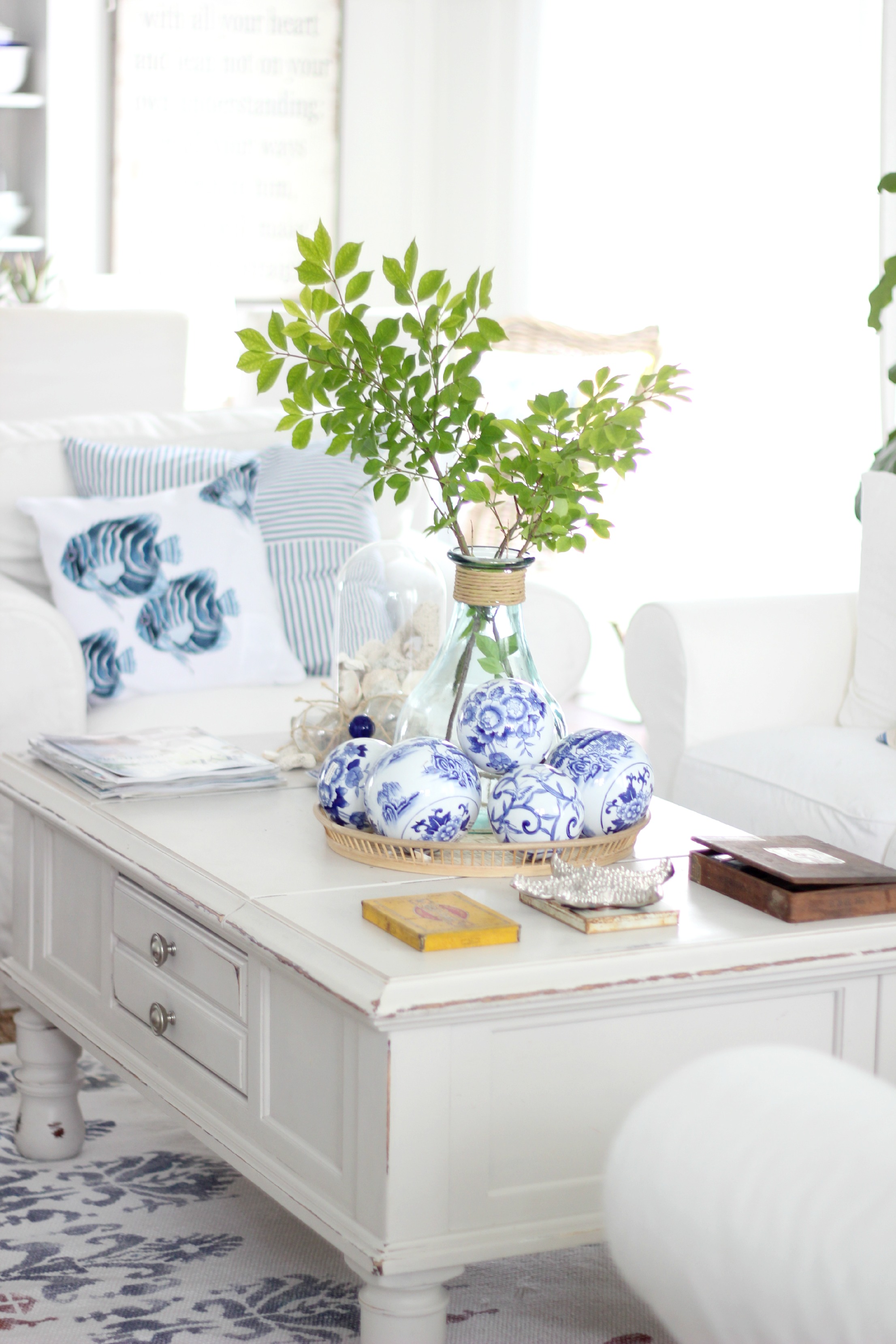 Don't you just love the freedom of summer and the ability of being able to bring greenery inside your home?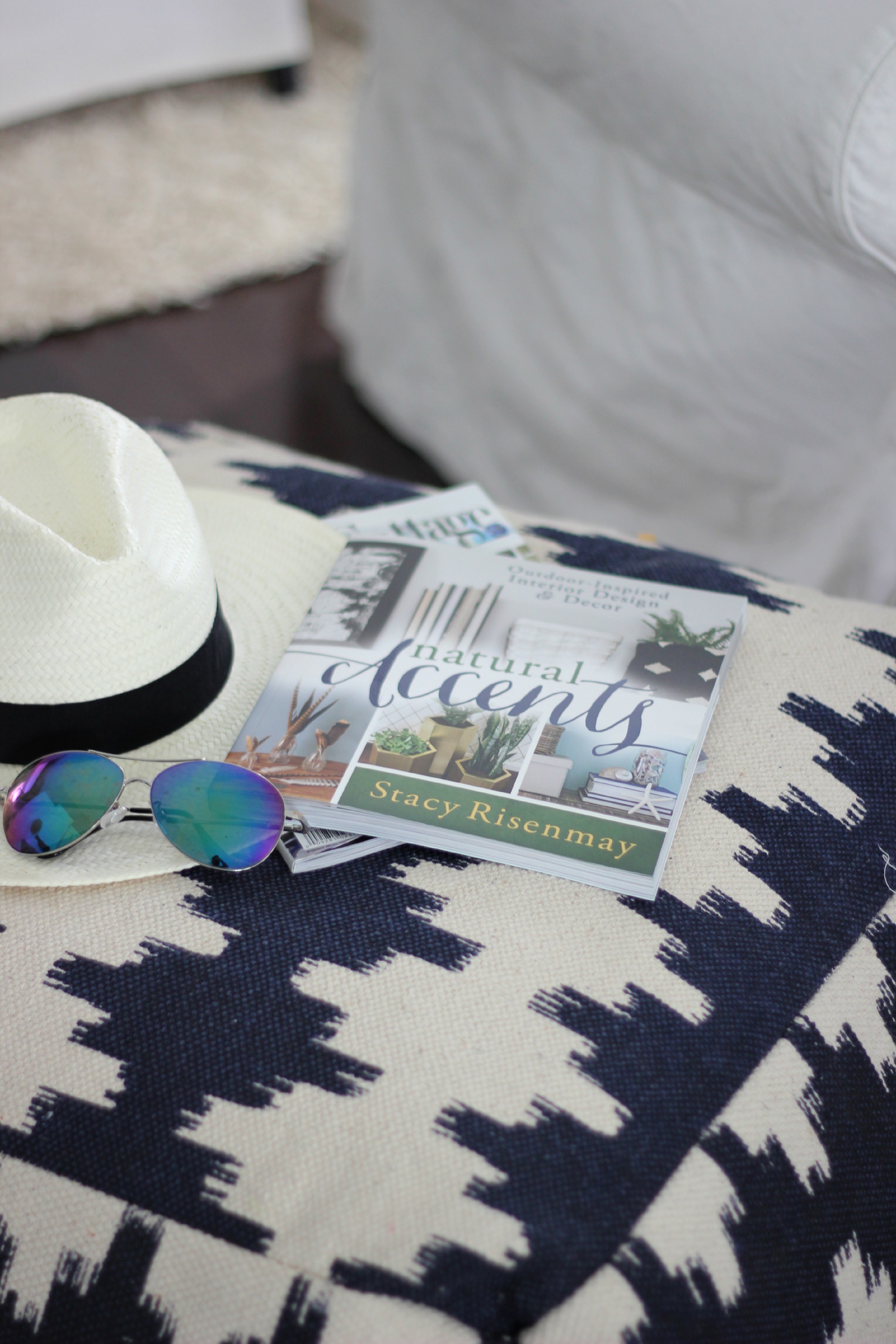 Speaking of which, my friend Stacy from Not Just a housewife, wrote a book about just that- using natural accents in your decor.
But the book deserves an entire post, and not only because I might have a little indirect cameo in there but because it truly is a beautiful book.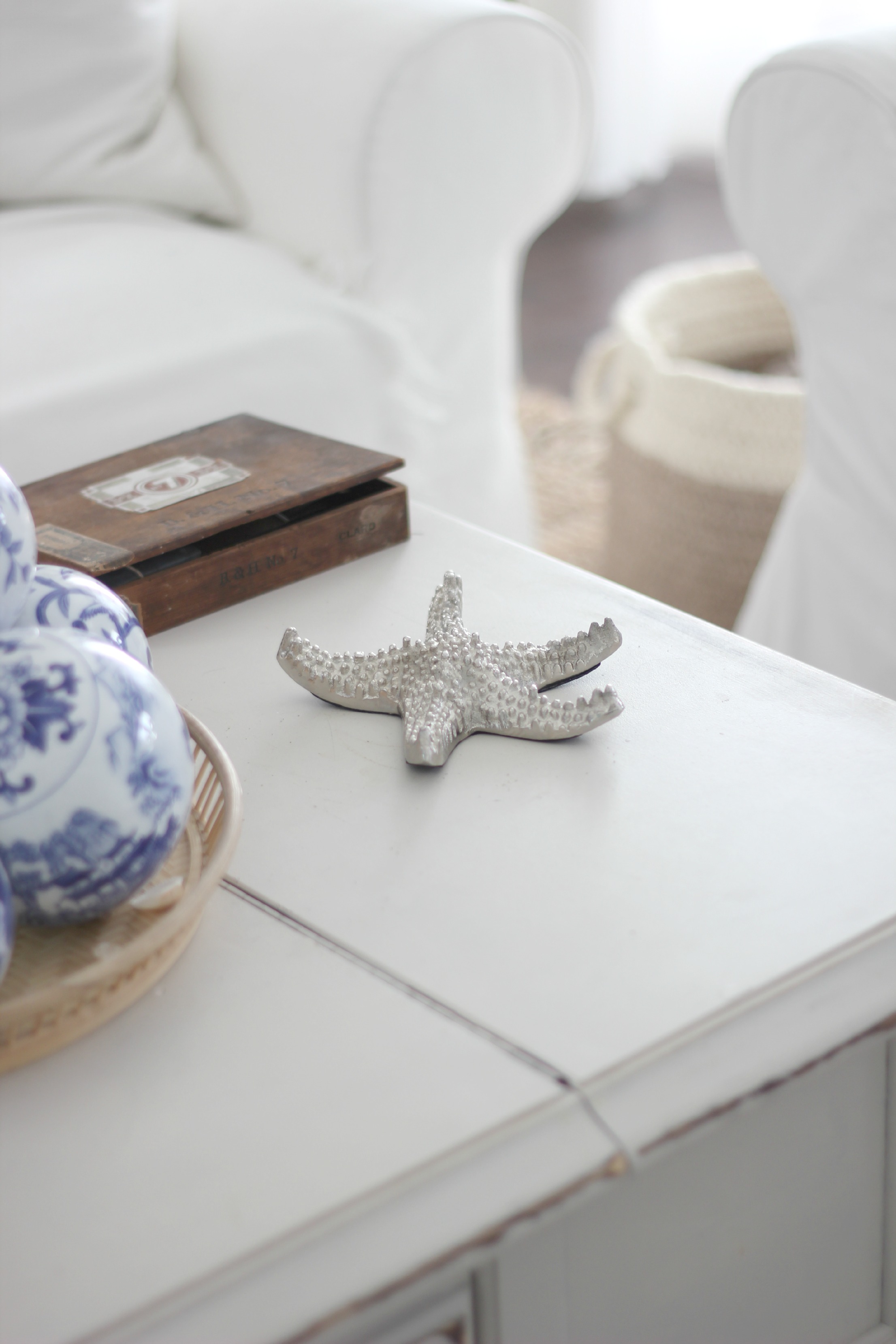 Here's another little cute accessory from Birch Lane.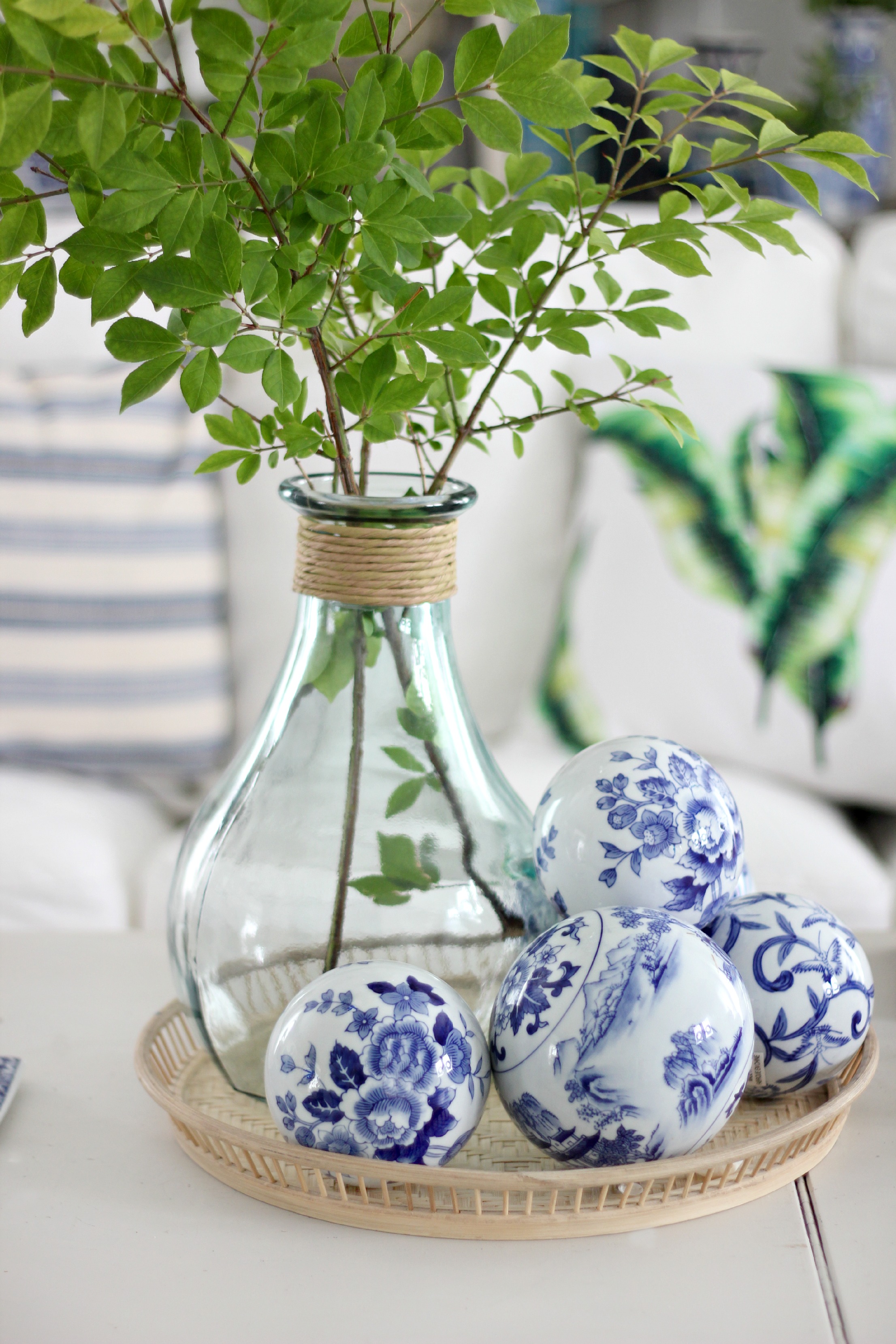 I got these blue porcelain orbs last year at 40% off and I think they make a great little centrepiece.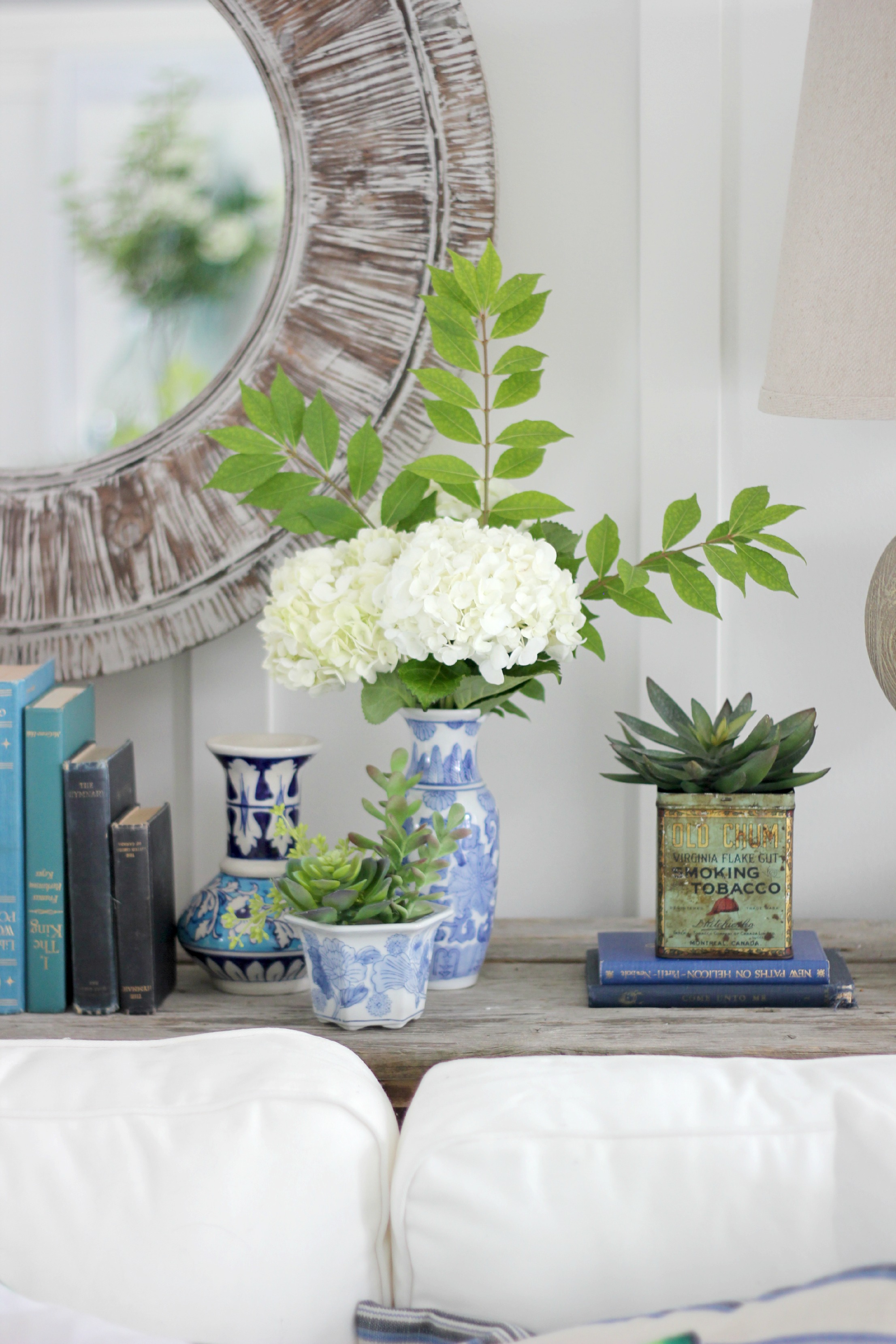 Everything you see in this photo, except for the mirror  is a thrift find and it probably amounts to less than $12.
The most recent find is that old tobacco tin. That little tin taught me a lesson in decor, and that is, that even though you might love the way something looks, it might not be right for your own home. I say that because I love the color and the patina of the can very much, but I don't condone smoking and even seeing the word tobacco makes me a little uncomfortable. It is so important to fill your home with items that evoke beautiful feelings and emotions. If it doesn't feel right, even if it's trendy and it coordinates with the rest of your decor, it will never fit in your home.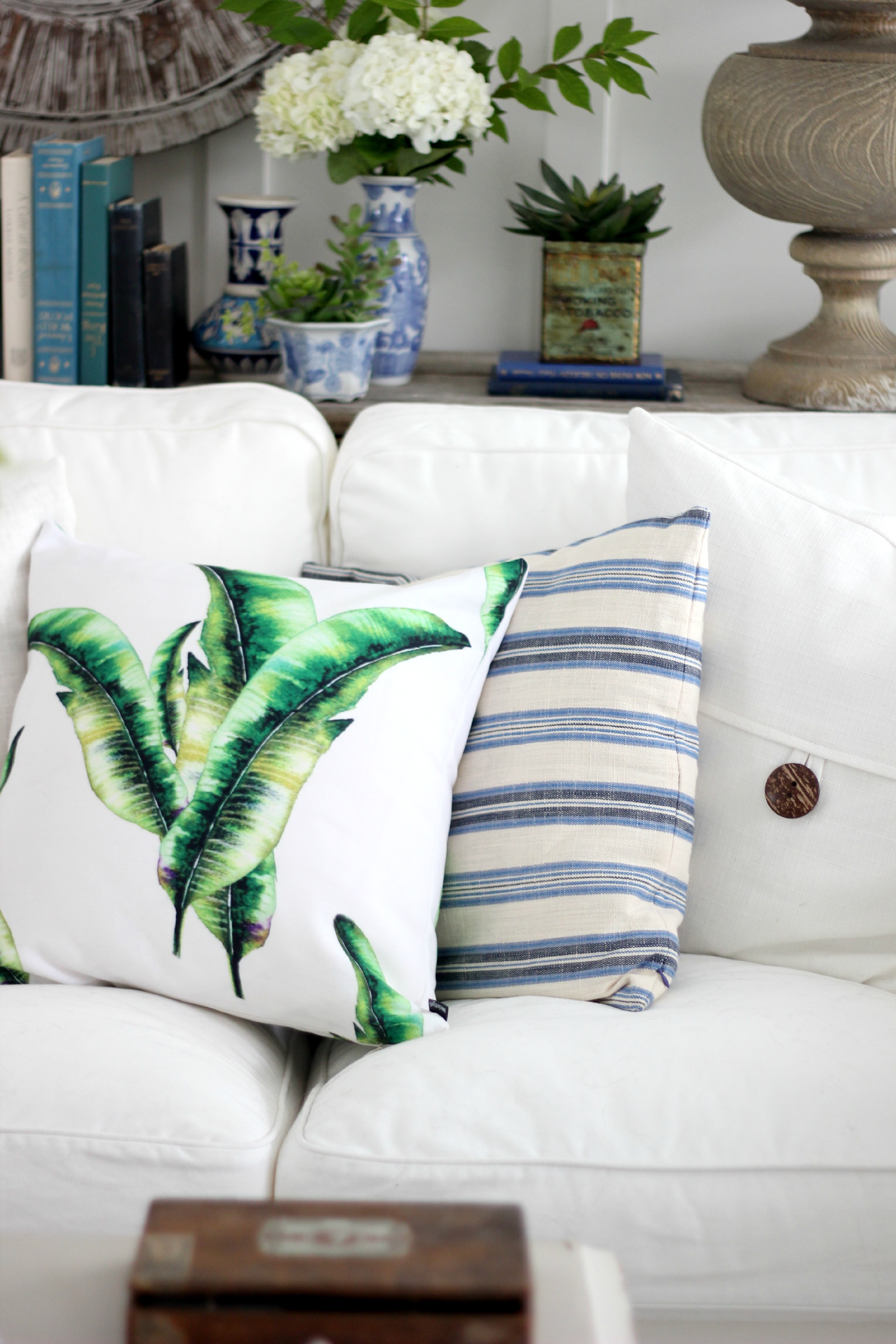 But let's look below to one of my favourite pillow designs. Though I'm not one to brag, I do love the way this one turned out.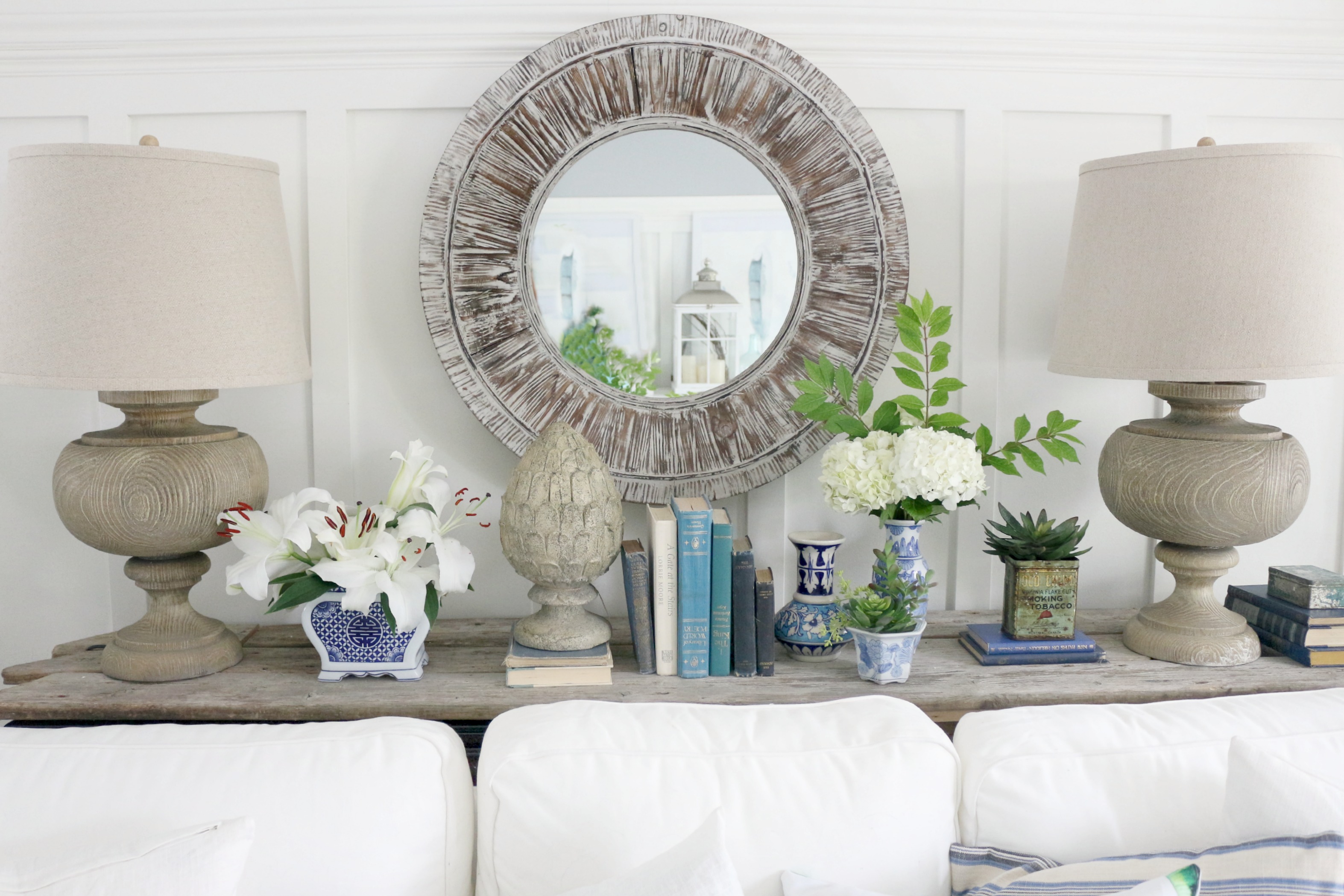 I recently updated our lamps. These make more of statement than the previous ones and I love the gray weathered look.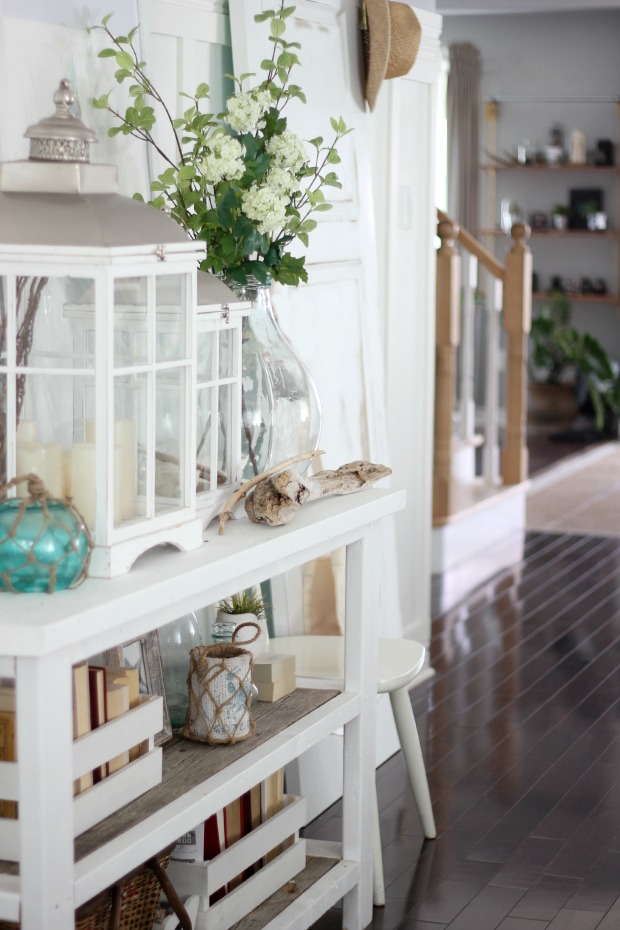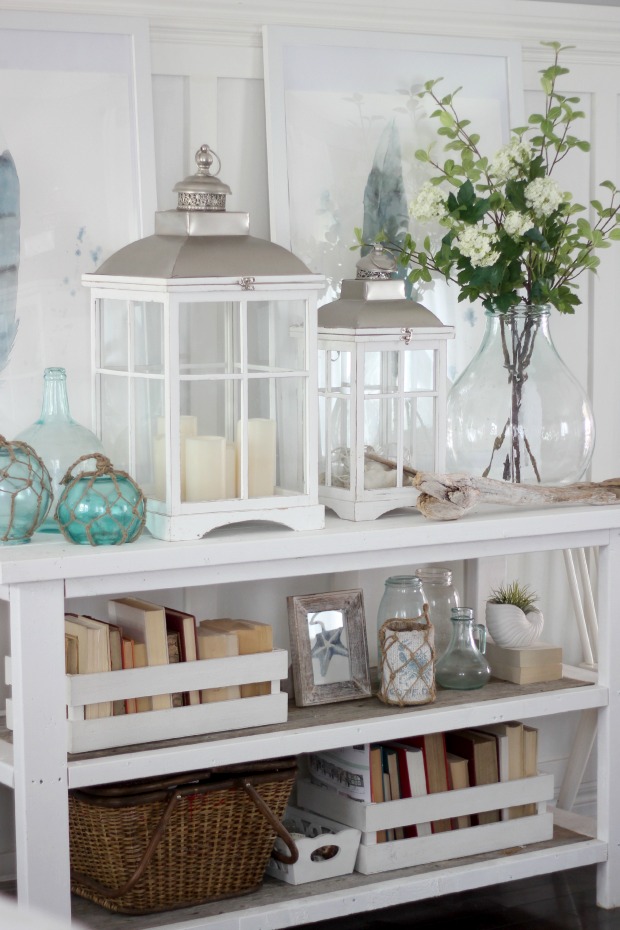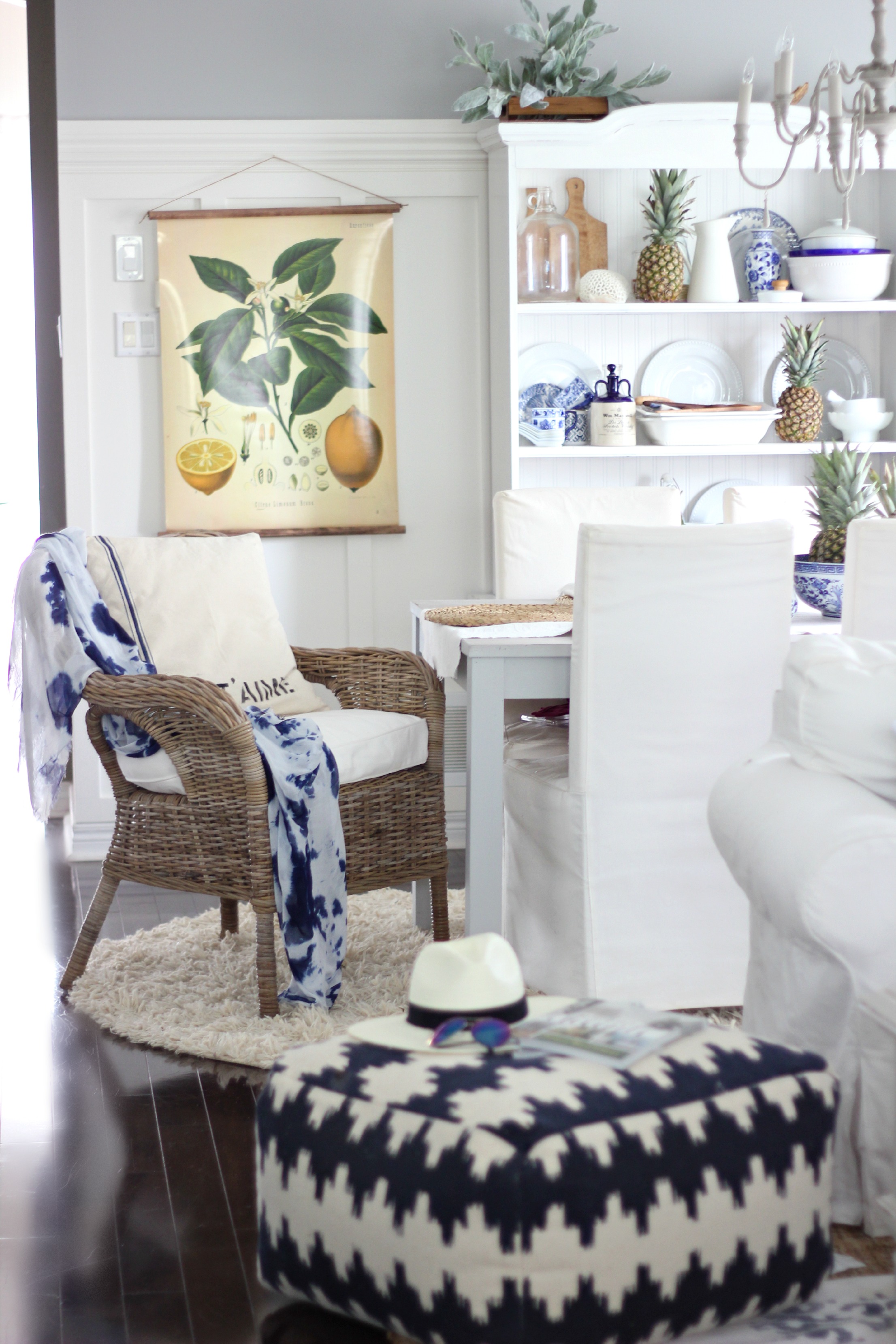 Moving on to the dining room…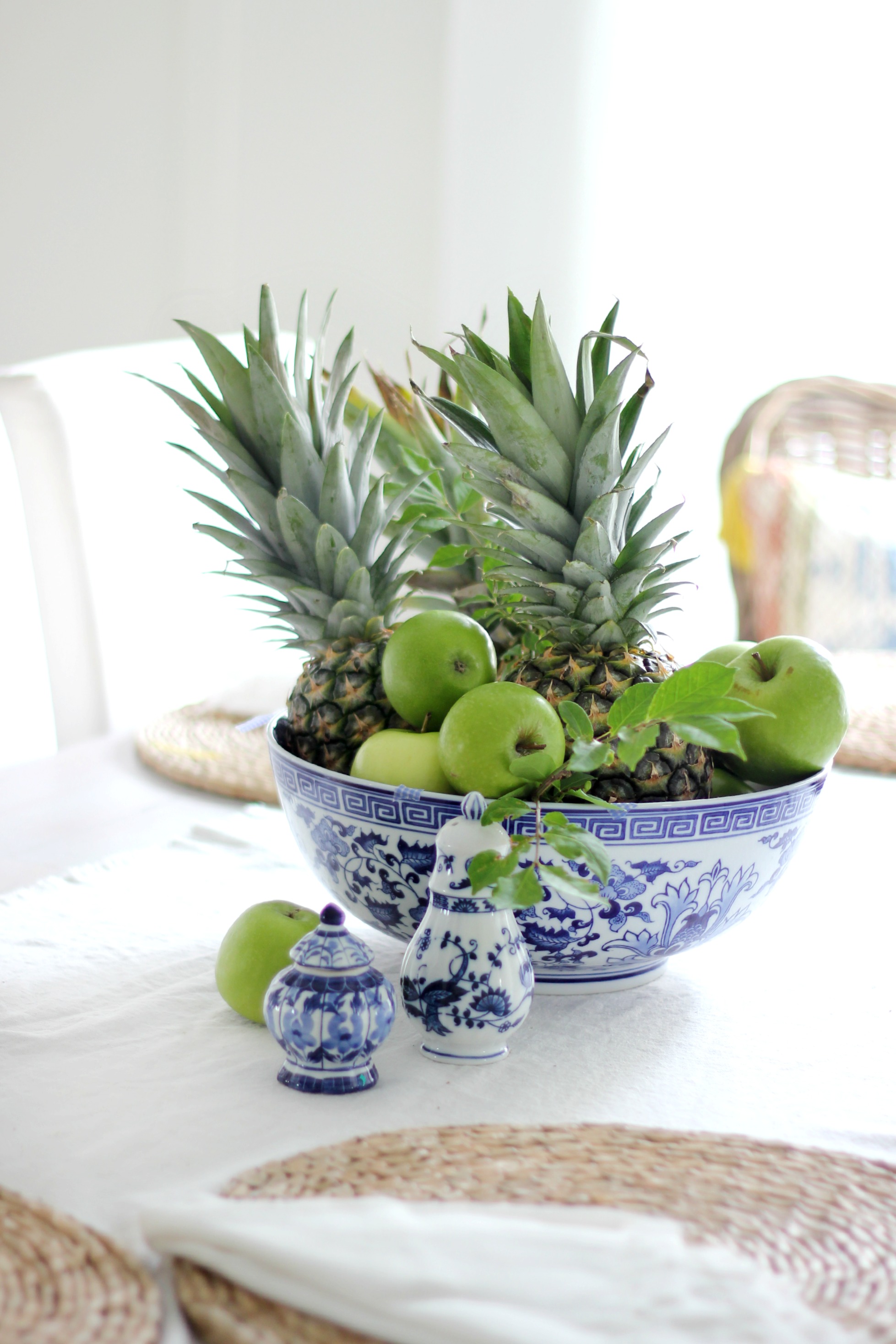 A few weeks ago our middle son came home from school and said he was in the mood for fruit, to which I quickly responded "Great! we have apples, strawberries, blue berries…" He followed with "No, I want REAL fruit.Like pineapples and watermelons…" So we went and bought pineapples and well, they look perfect in this bowl.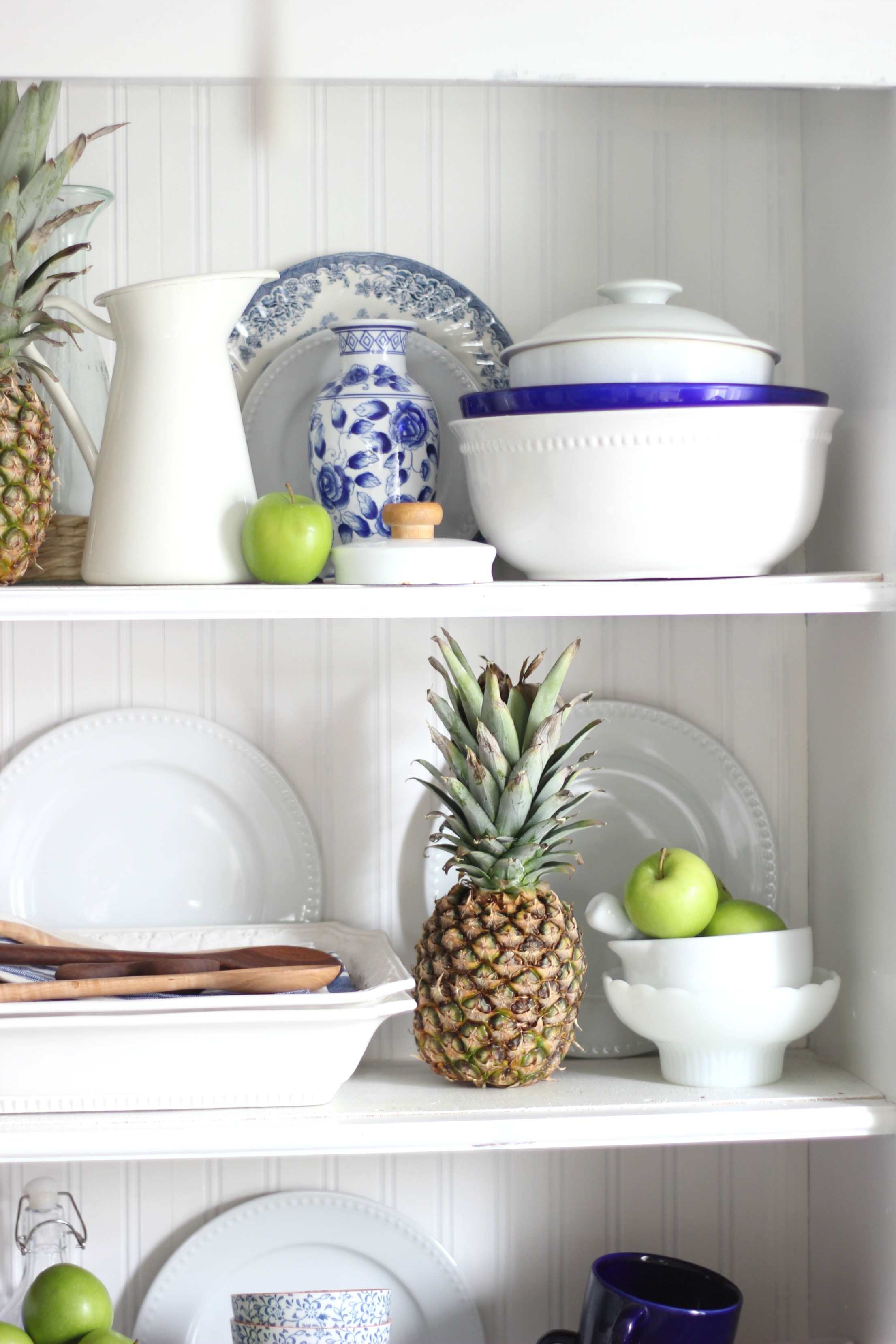 And on the hutch. Pineapples are really having a moment don't you think?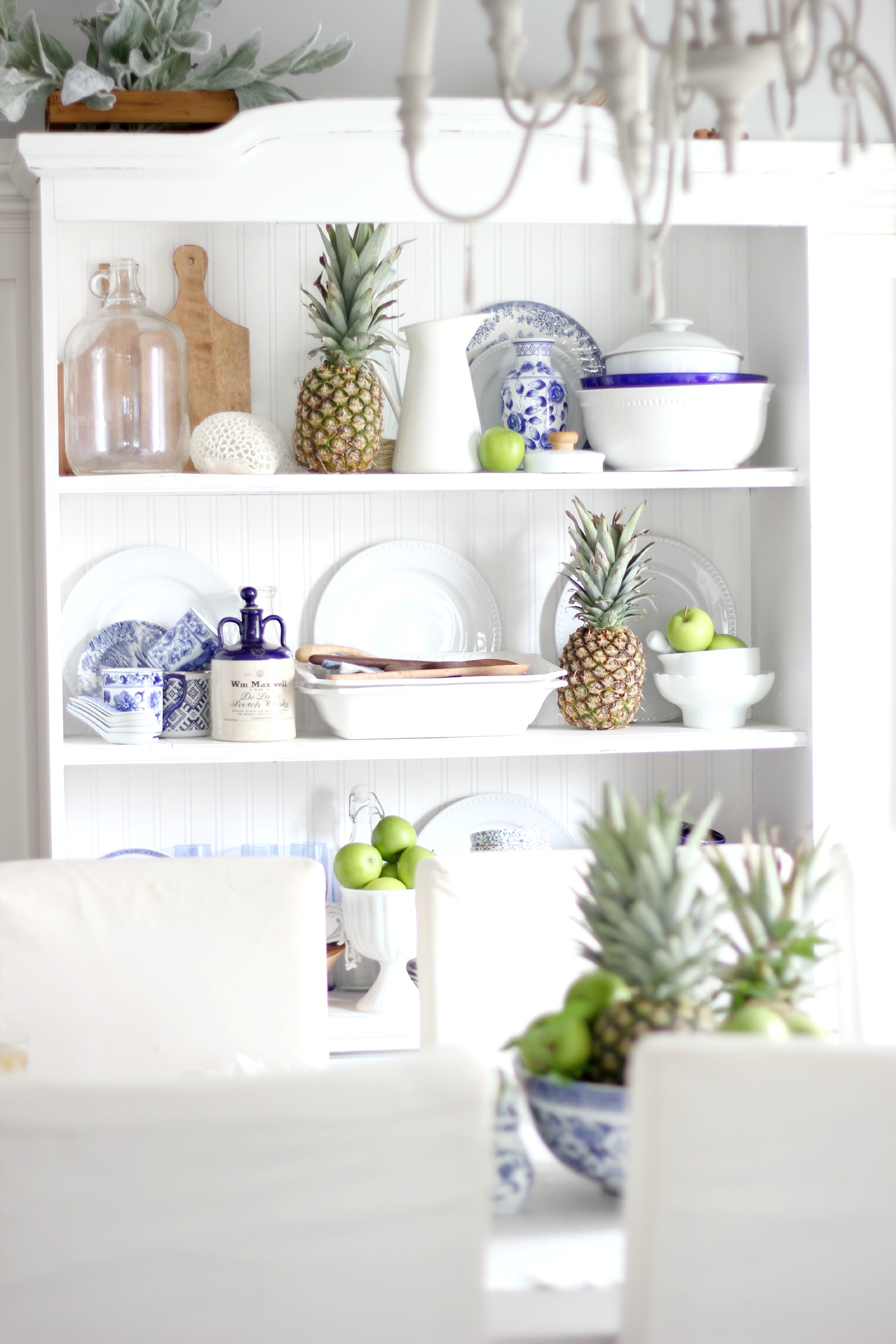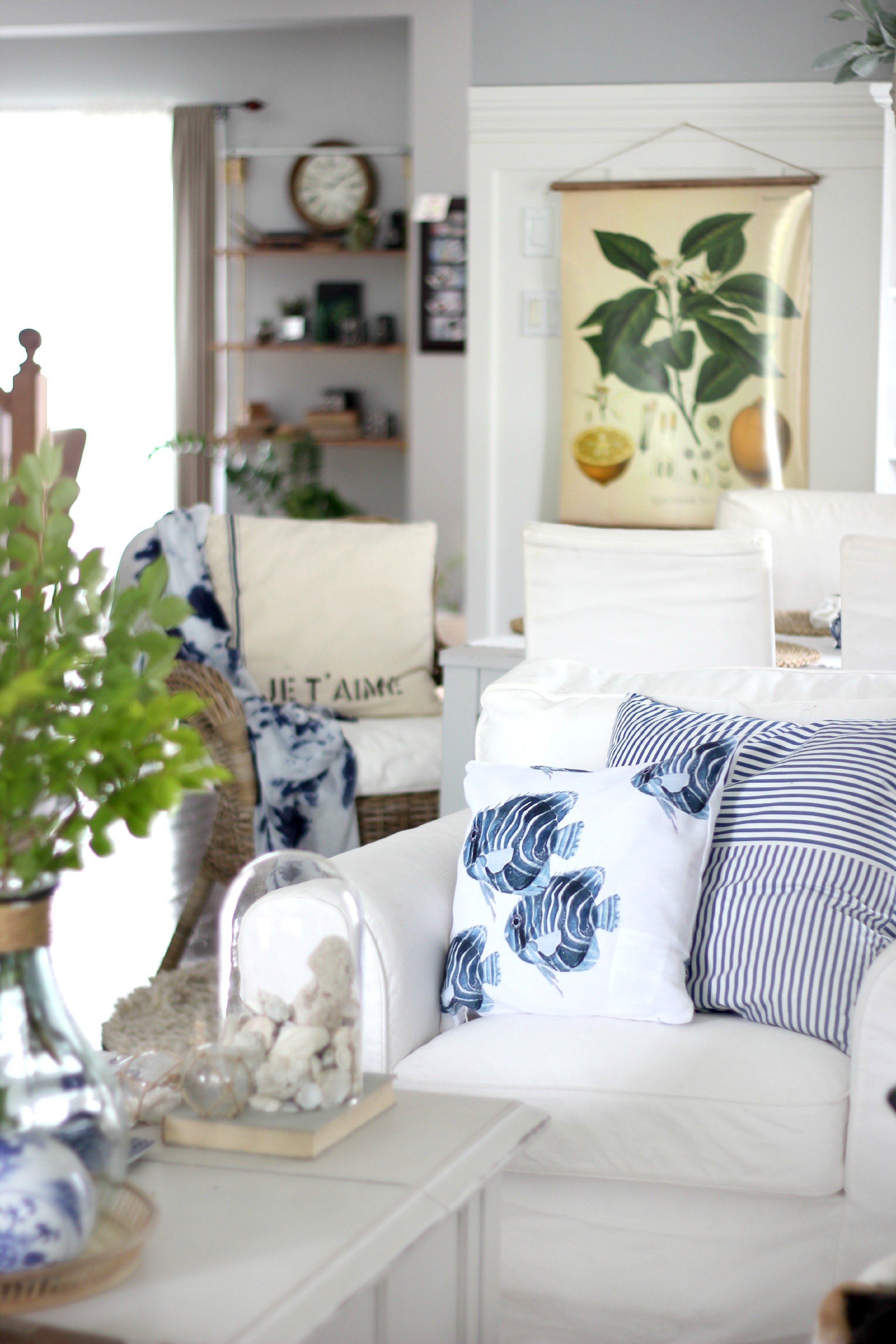 See that room in the background? That's where we're headed next…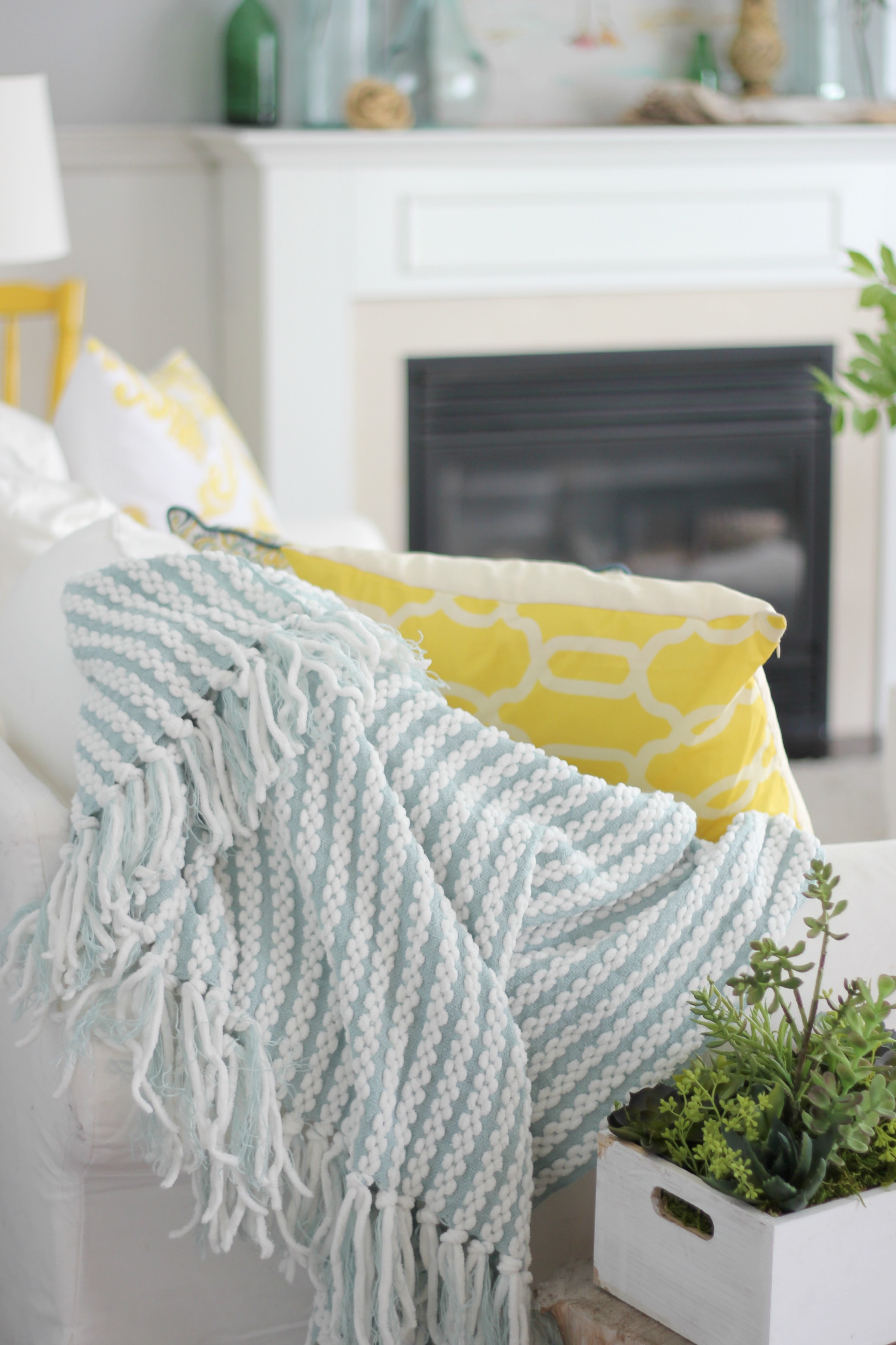 This is our family room, which is adjacent to our kitchen and dinette. You never see that area of our home because it's in serious need of an update.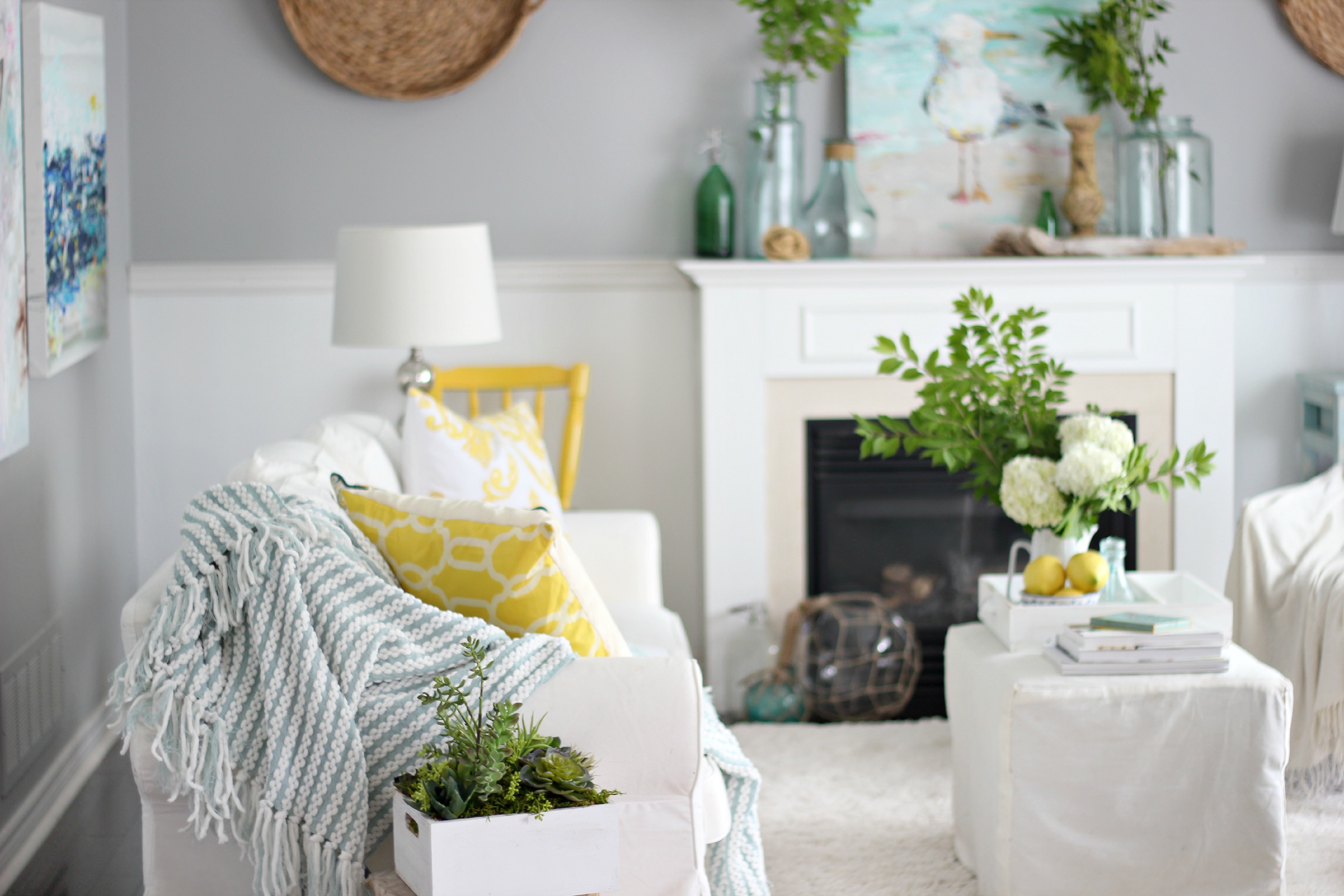 This room is bright and cheery and it's where I play with my mantel…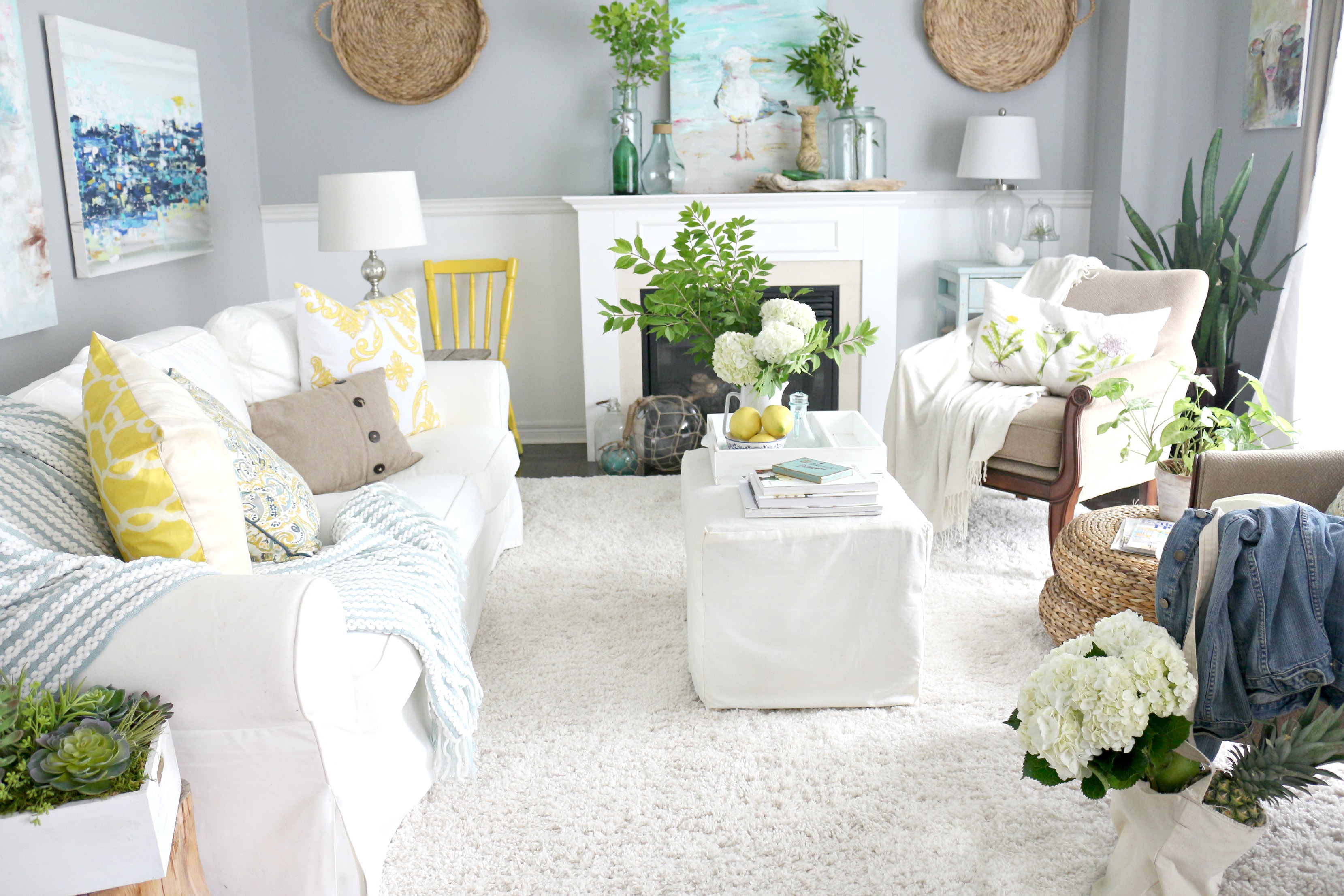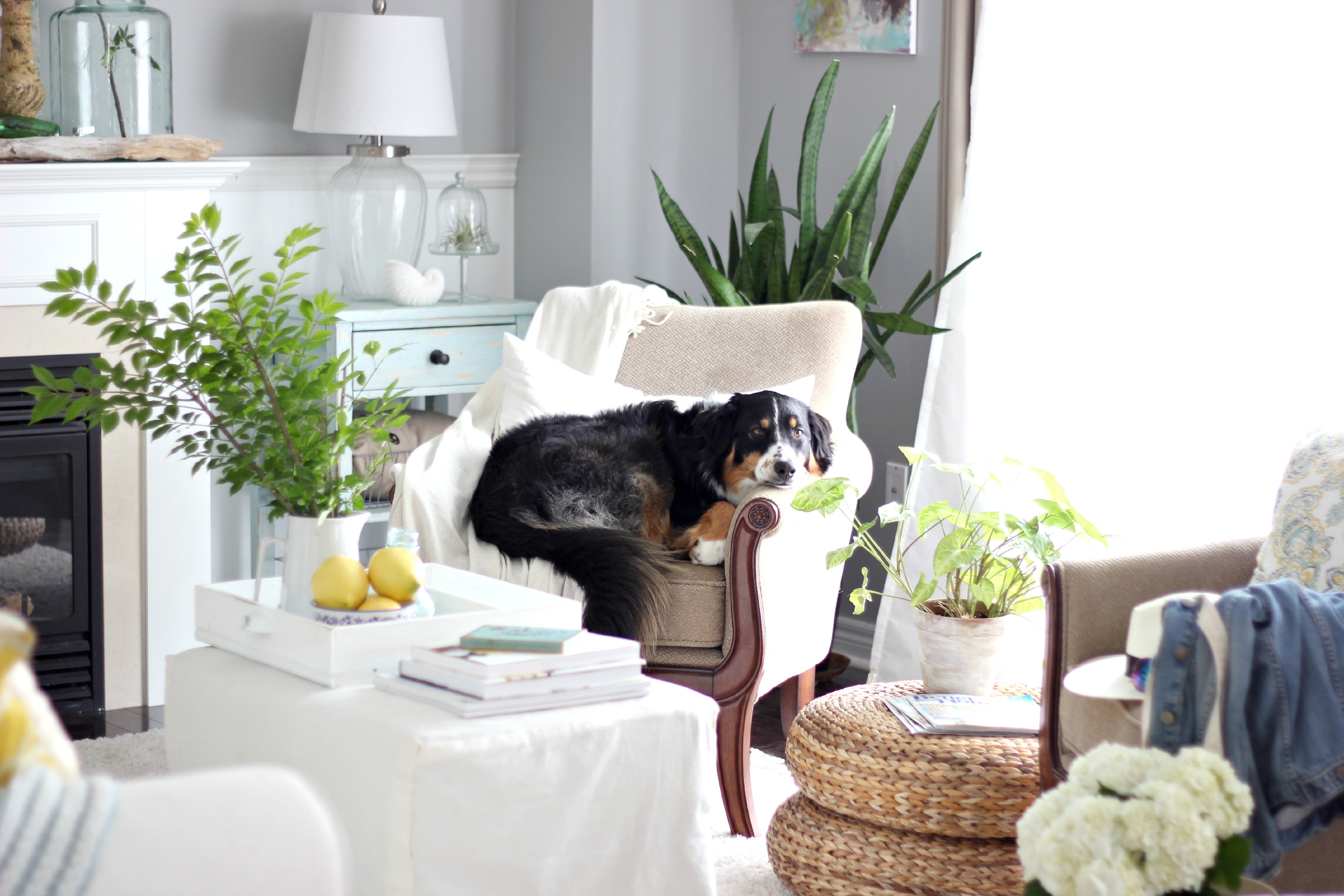 Oh hi again Brody…sorry to disturb you.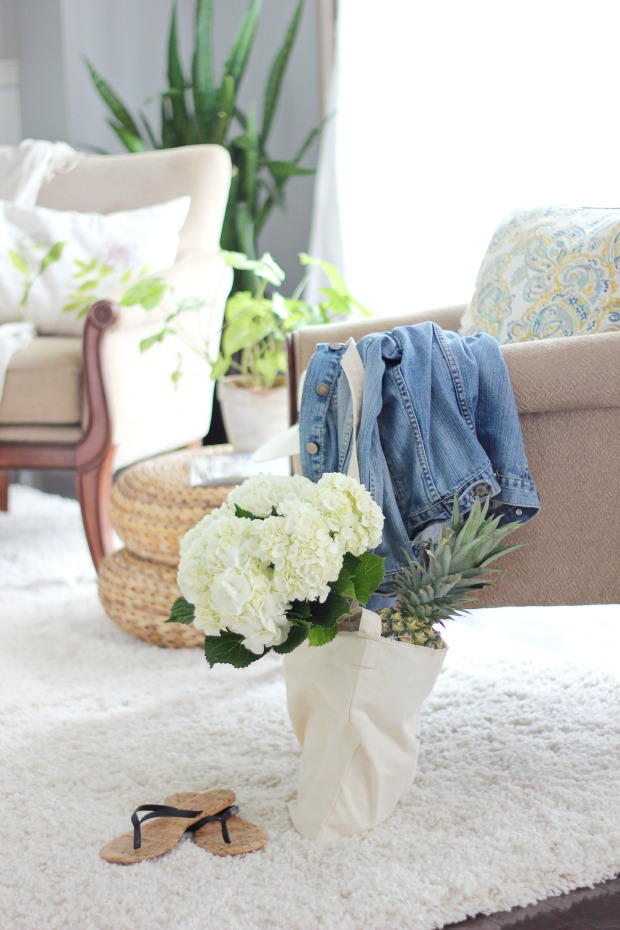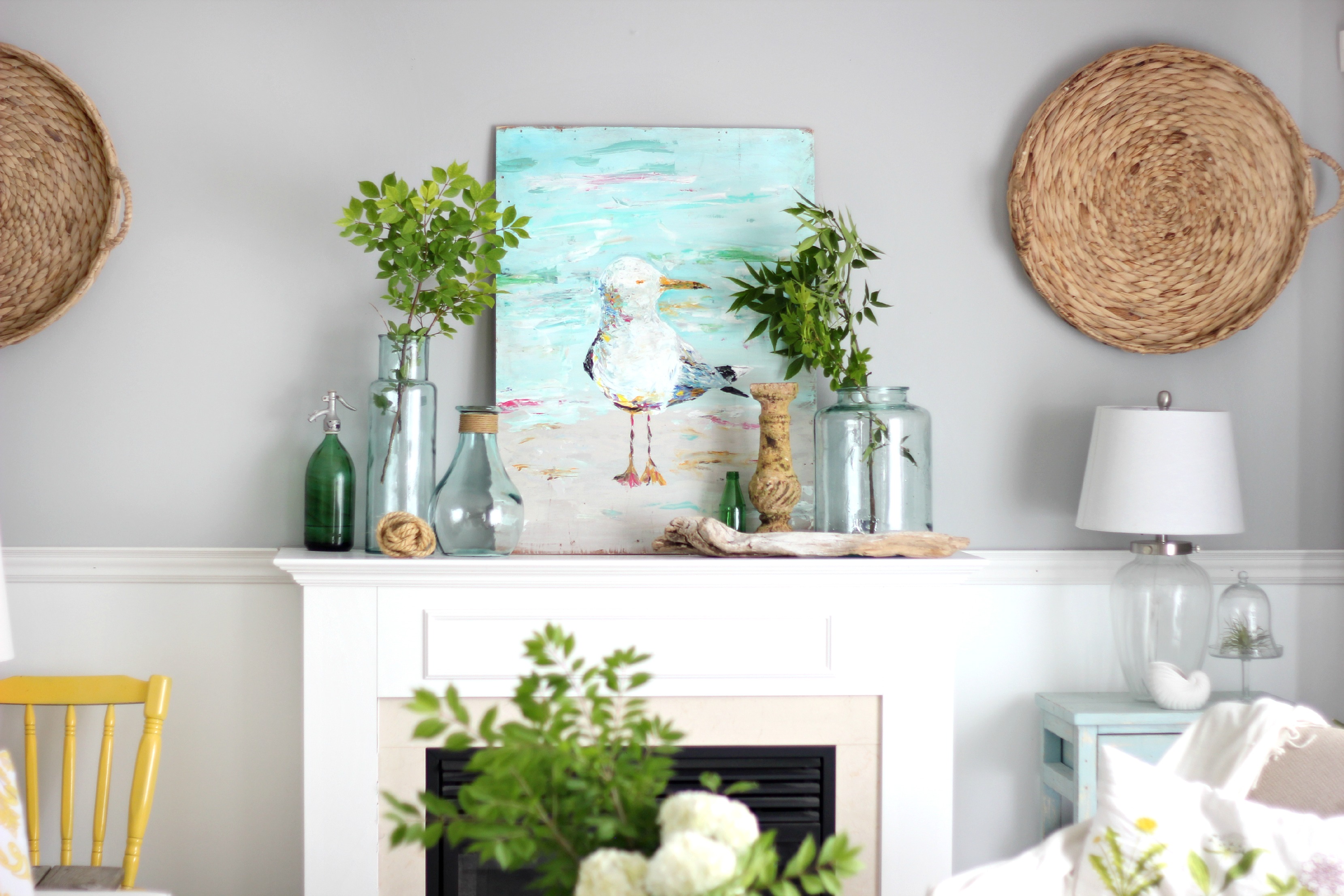 This is version 2.0 of my summer mantel. You can see version 1.0 HERE.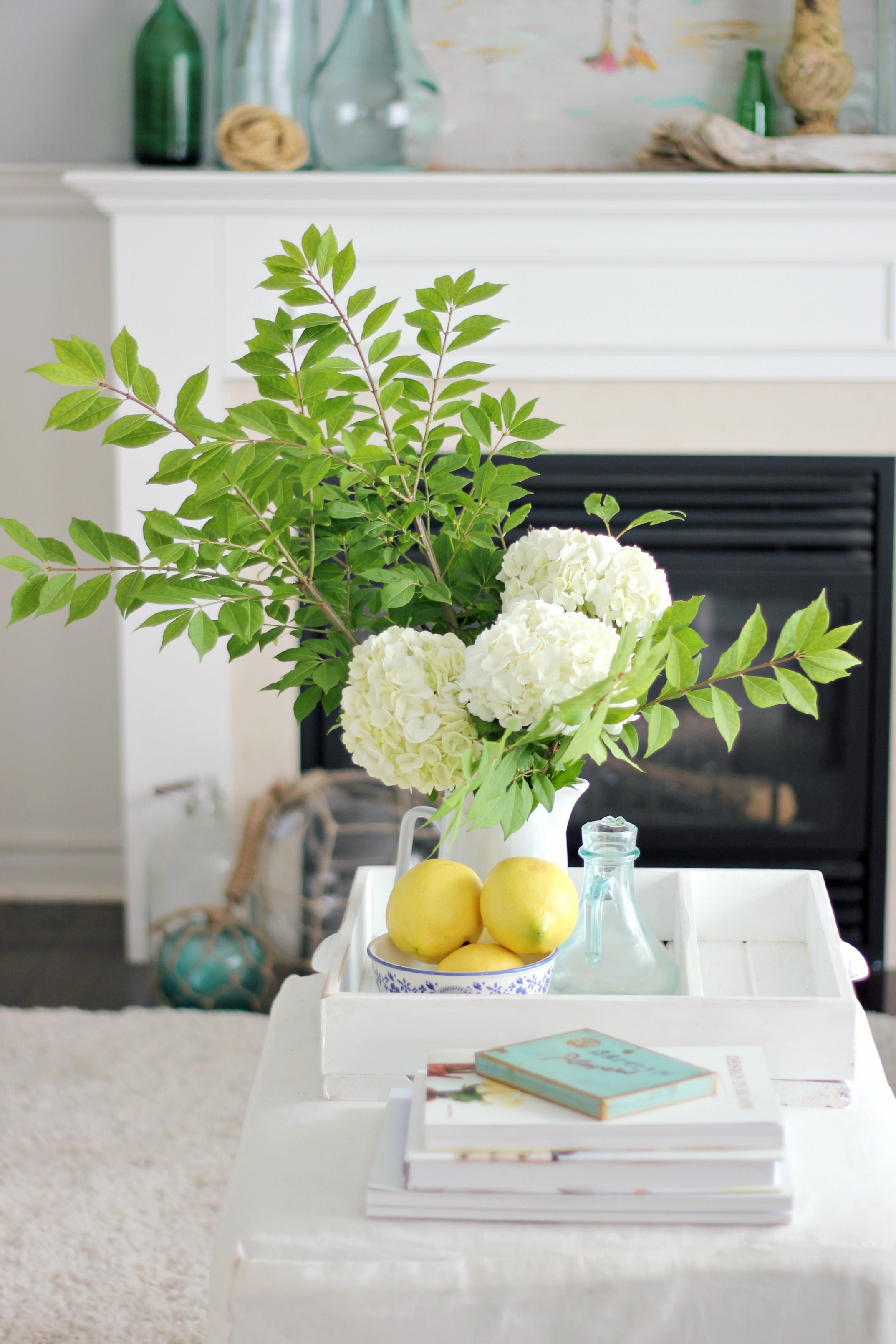 Not too long ago I had beautiful lilacs in this vase, it's hydrangeas this time. Every season has its own beauty and it's important to enjoy each to the fullest.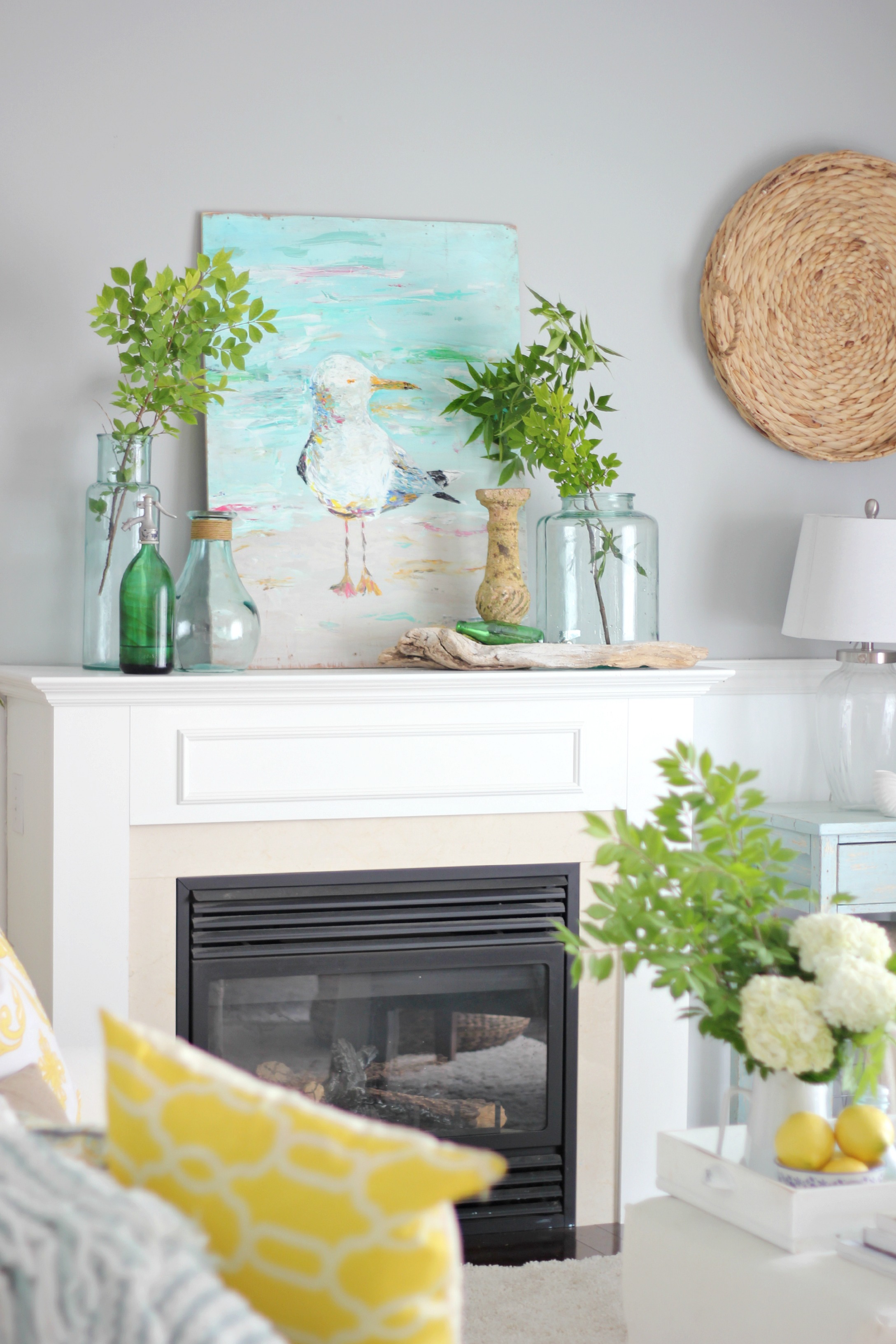 I have had several inquiries about this seagull painting. You can buy a print of it in my shop HERE.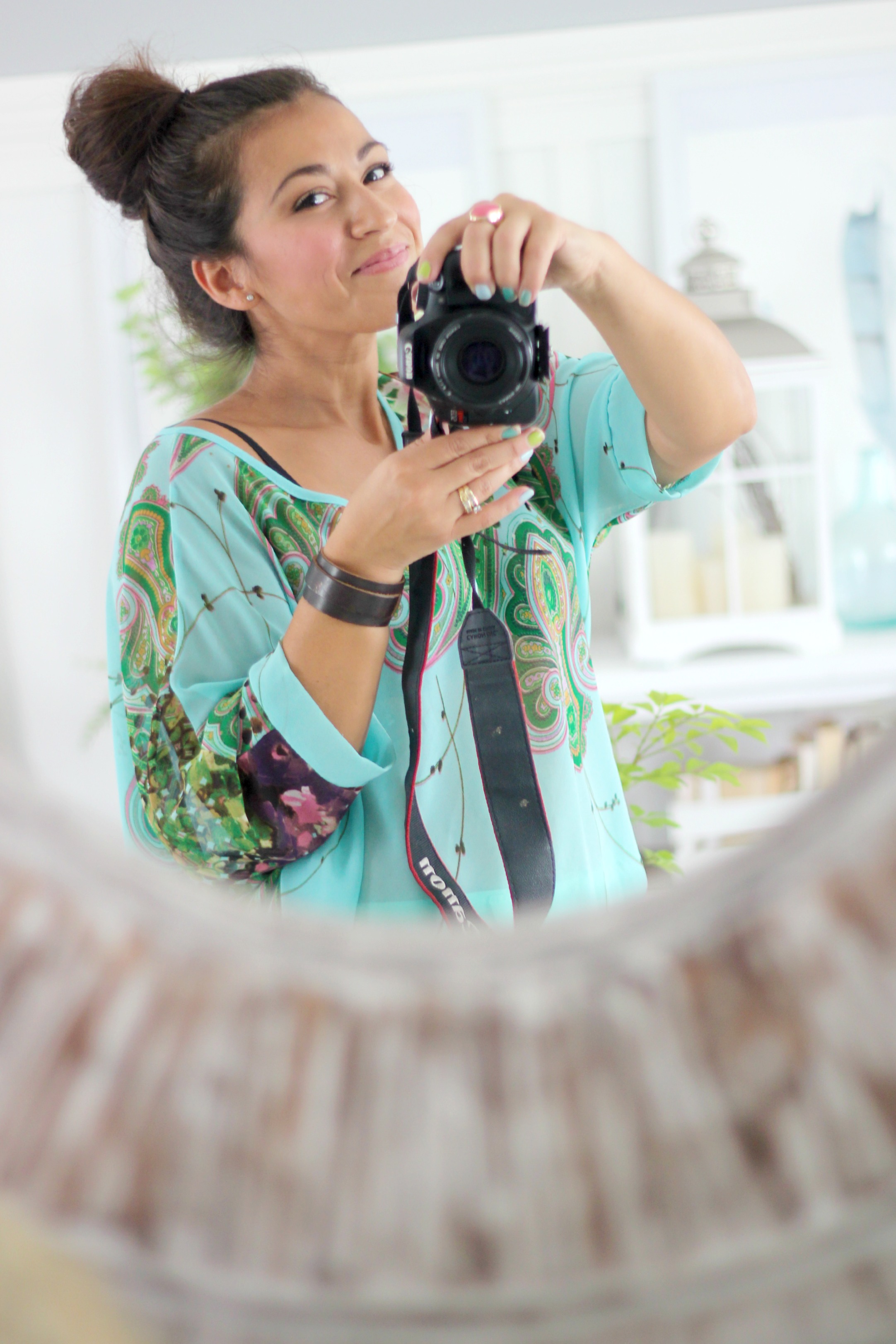 And this is me, coordinating with my decor not on purpose.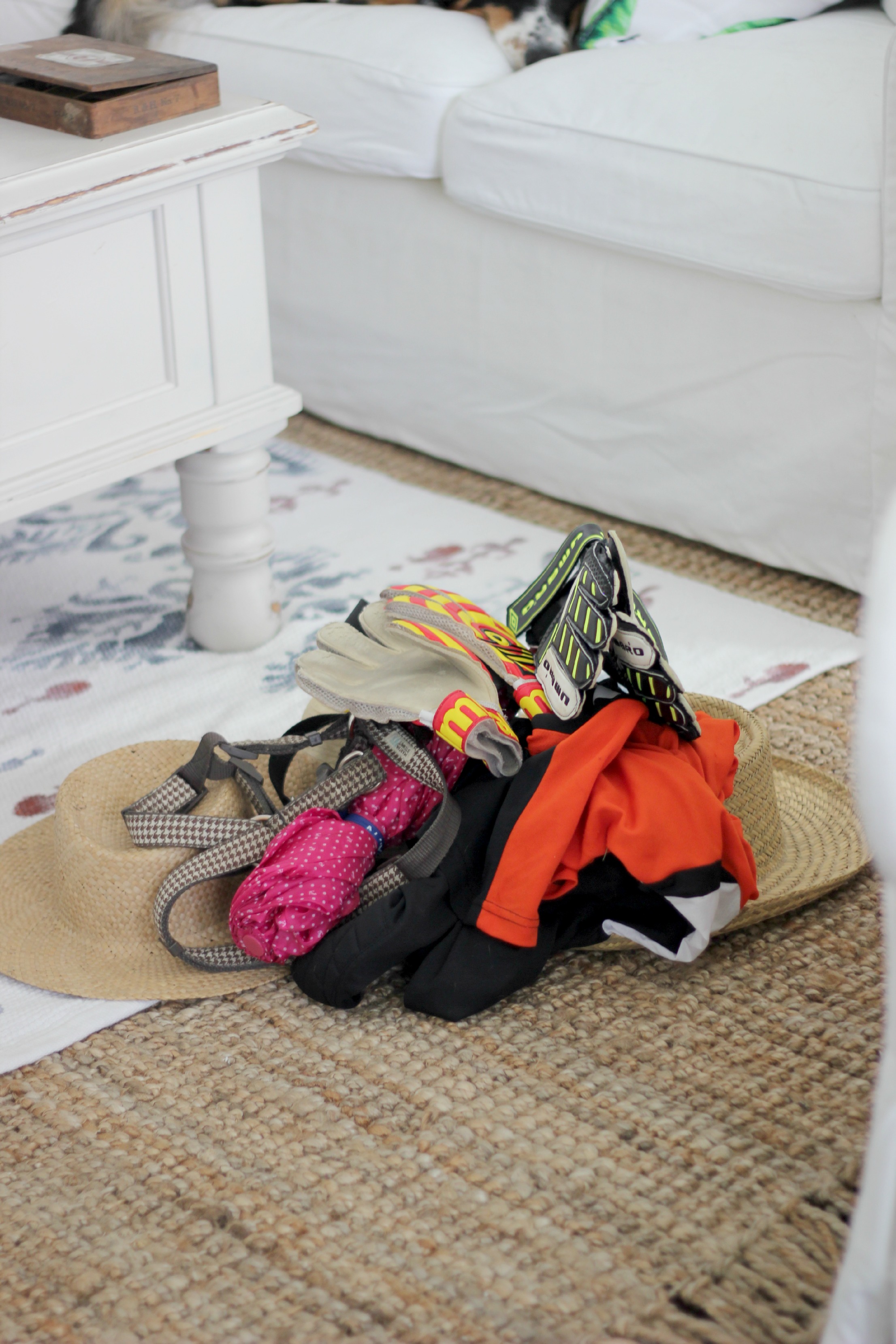 I want to leave you with this – After these home tours, we are often left feeling a little 'less' or feeling like our home is not as neat, or my couches are not as white etc.
What goes on behind the scenes is sometimes very different to what you see on the screen.
Life is messy and colorful. And while an orange goalie jersey, random sun hats, dog leashes and bright pink polka dotted umbrellas, might not coordinate with your blue nautical decor, it is these little messes that make your house a home.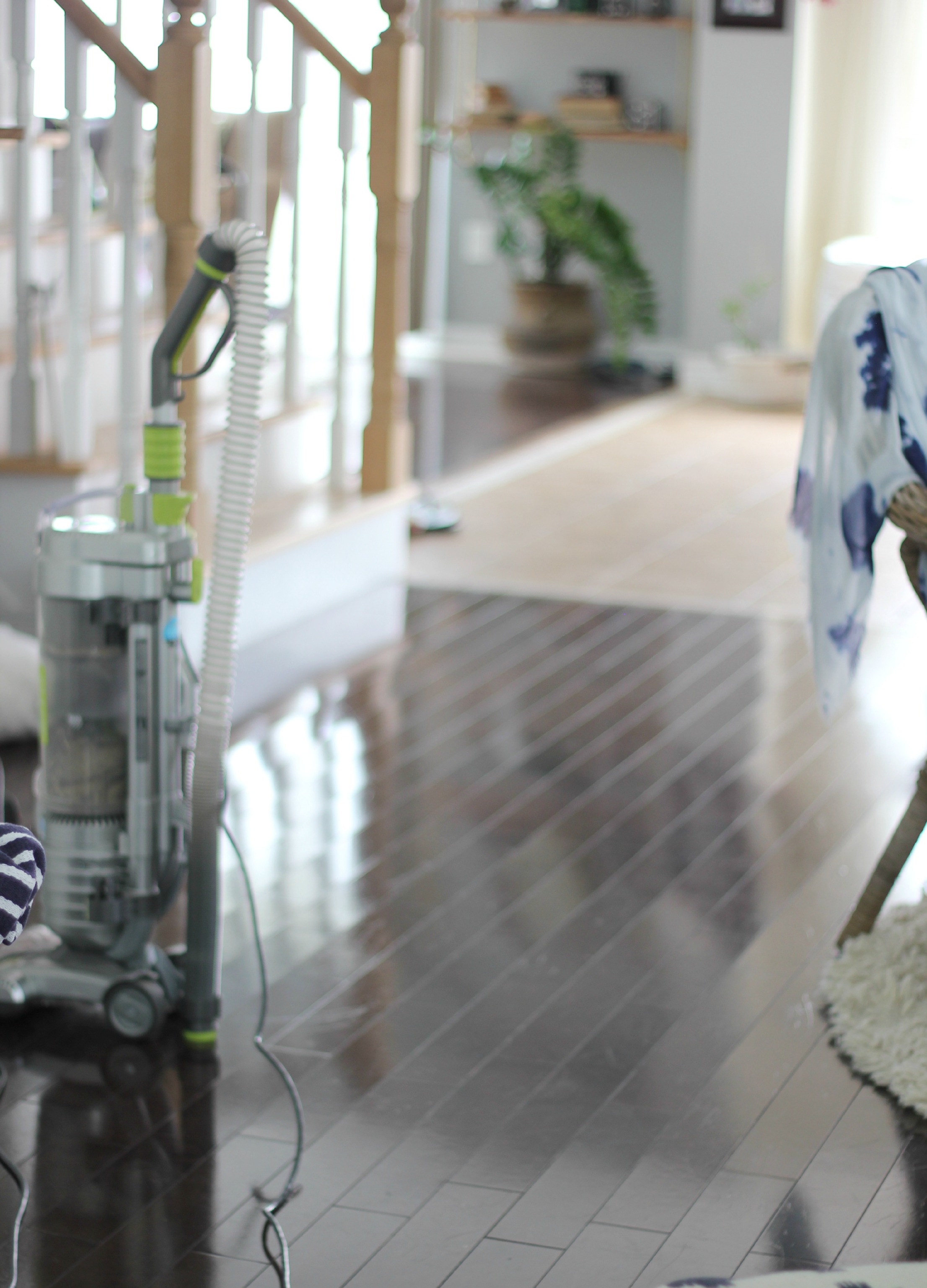 And though I encourage you to love and take care of your home, don't be so hard on yourself if you din't get to vacuum your rugs  today.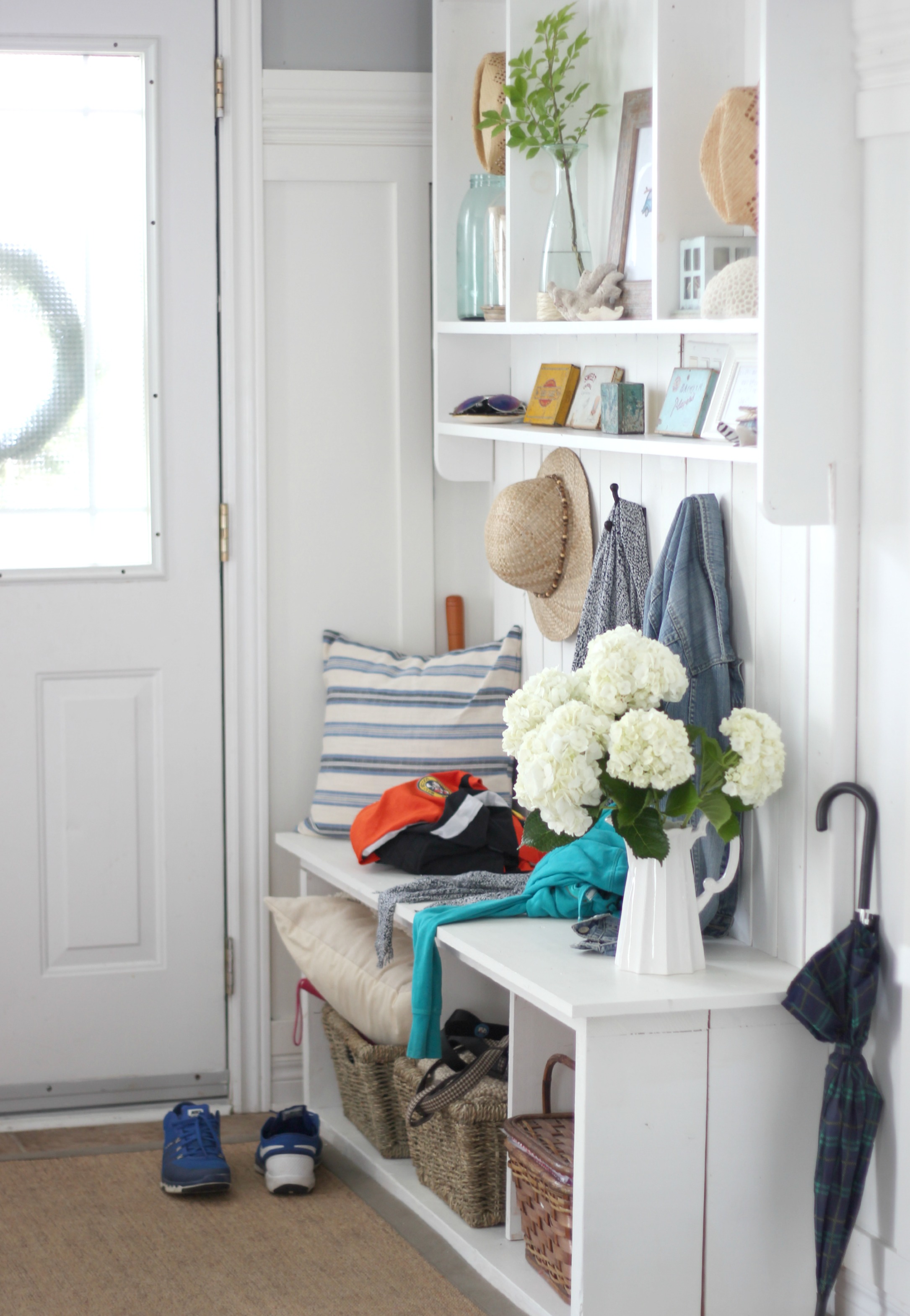 Because one day those goalie jerseys, scattered shoes and random kiddie messes will be a thing of the past, and you'll wonder where time went and why you spent your time worrying about the 'stuff' that you have or didn't have.  What makes your home beautiful is not the things that fill it, but the people who you love and share life with within those walls.
Thank you so much for visiting me today. Don't forget to visit my dear friends below. xo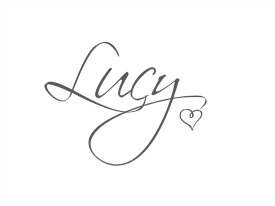 In thanks for being part of the bHome family already…or to welcome you today, we are giving away a $200 gift certificate to Painted Fox Treasures. PFt has all the summer time and any time home decor we all love. It is simple to enter. Just download bHome (the app) for free and leave me a comment with your bHome username. If you are already a bHome user, just comment and include your user name. Winner will be chosen at random on June 20th and notified with a message on bHome. Android users: don't worry! We will offer this again when you can download too! Download bHome HERE.
Monday
Tuesday
Wednesday
Thursday
Friday