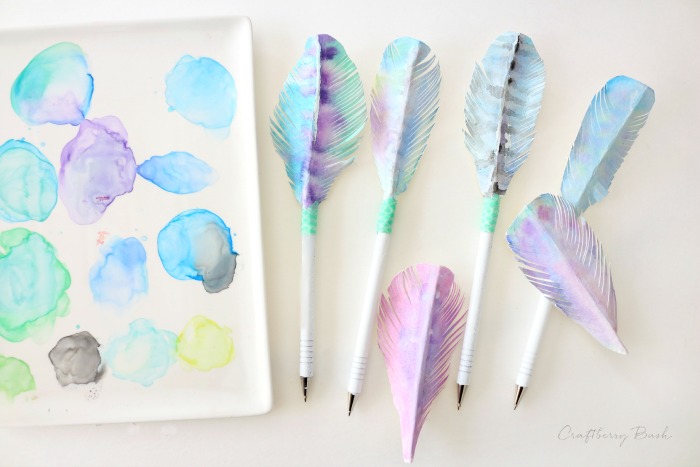 I gave the kiddies a little watercolor lesson yesterday. I tried to teach them that watercolor is a very freeing medium as it doesn't have to be perfect; you just need to allow it to flow in whatever manner it wants to flow…allow the colors to mix themselves as they please while they dance onto the paper.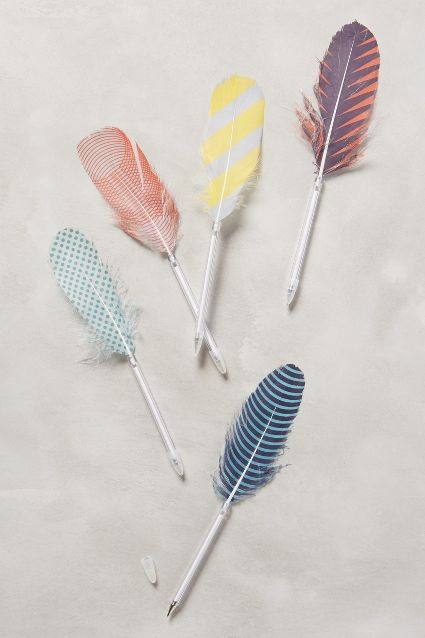 Last week I found these adorable pens from Anthropologie and thought it would be fun to make our own with a little twist.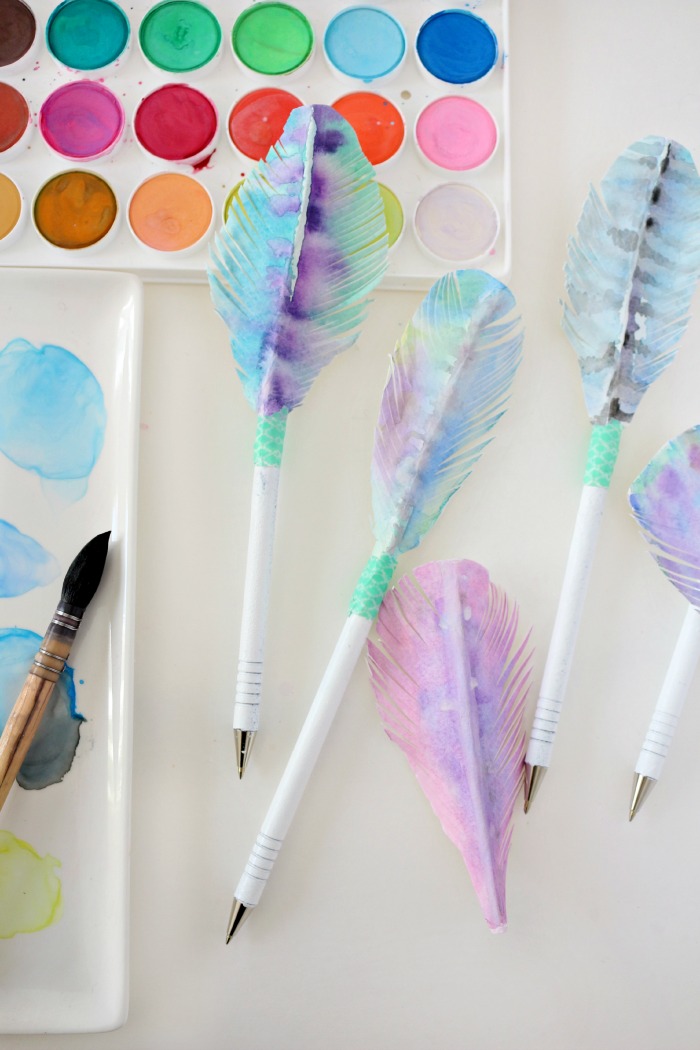 So they listened carefully to my instructions and eagerly got to work. This is a perfect craft for beginner watercolirst because it allows you the freedom to experiment and  the end result will always be beautiful.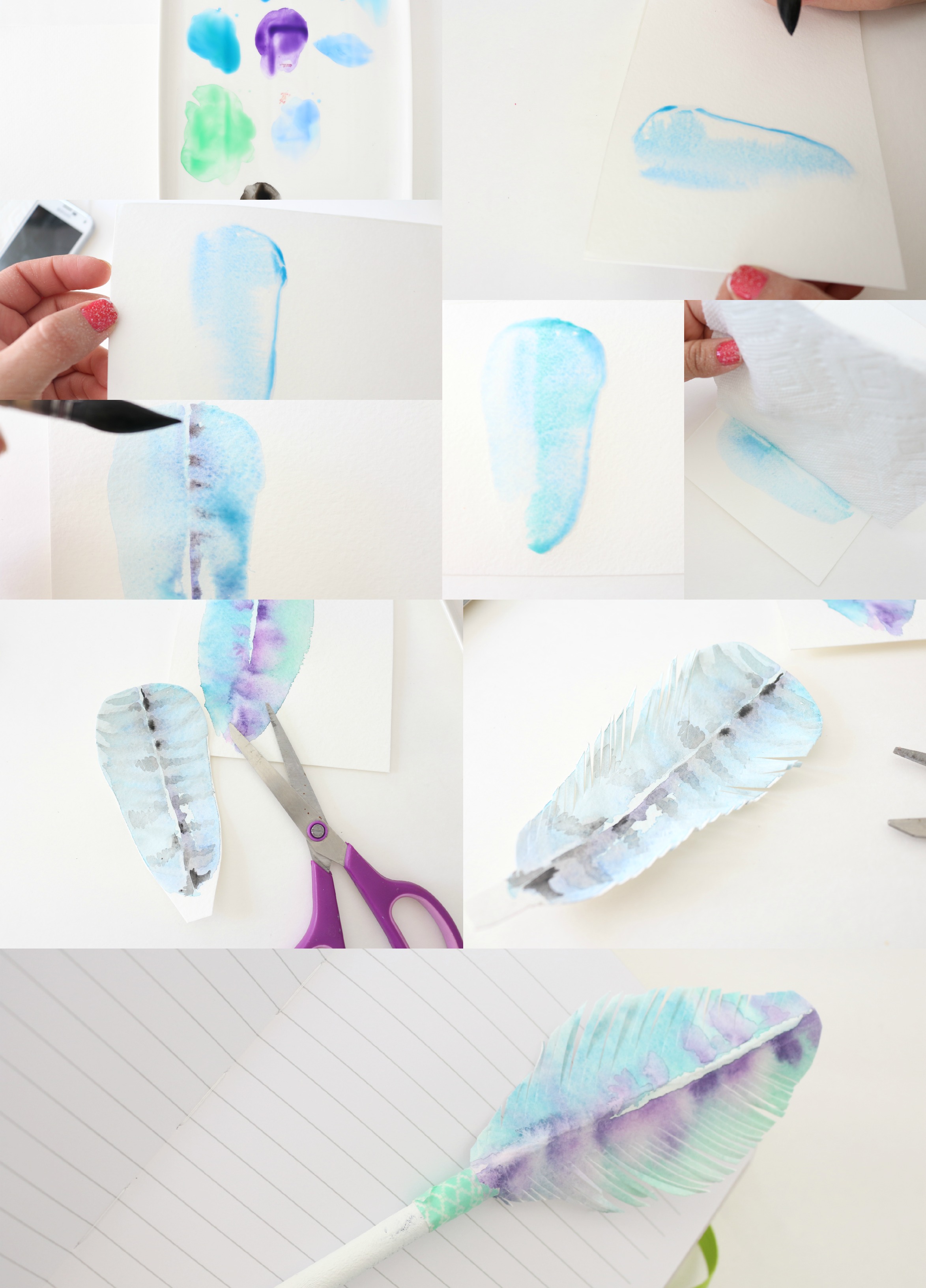 – Prepare pens by inserting the tips in a piece of Styrofoam (not pictured).
– Spray paint white and allow to dry.
– Lightly draw the shape of a feather on watercolor paper.
– On a palette, prepare the colors you are going to use.
– Dip brush in water and fill in feather shape.
– While still wet, take first color of choice and shade in half of the feather.
– Tilt paper up and down and side to side; allowing paint to travel around the shape.
– Clean brush in water and spread some of the paint already on the feather to the other side.
– With a paper towel, gently tap the centre of the paint; this will absorb some of the paint and create a 'vein'.
– Continue to play with various colors working on half of the feather at a time; allow to dry.
– Cut out outline of feather leaving some white towards the bottom of the feather; cut thin slits towards the centre vein.
– Attach to pen using washi tape.
Watercolor can be a little intimidating at first, but once you start playing with it, I guarantee you will be hooked.
A quick question in closing – would you like to see a couple of lessons here? It's something that I have been wanting to do and perhaps this year is the year to do it. Let me know.
Thank you so much for visiting me today. Hope you have a beautiful day.
much love,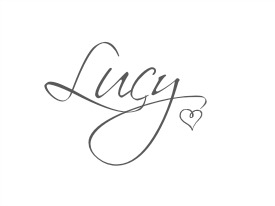 Here is another Anthropologie knockoff you might like to see.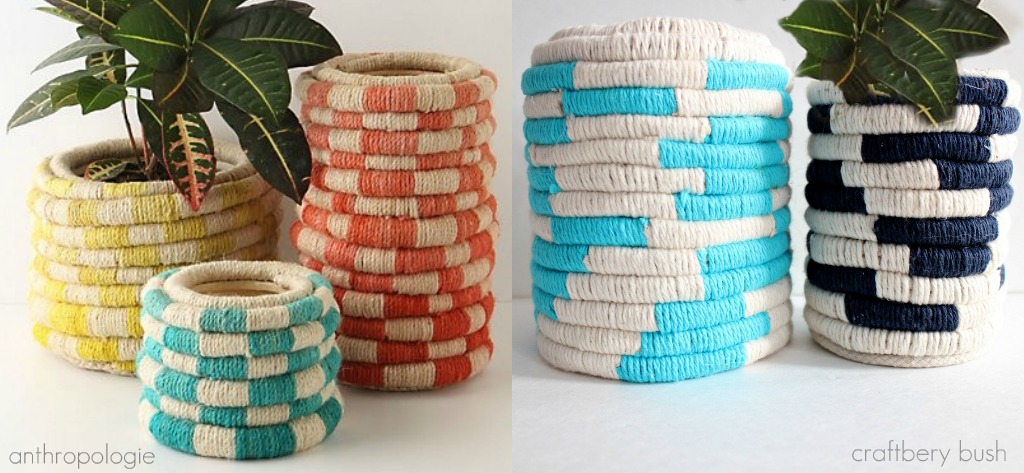 Coil planters