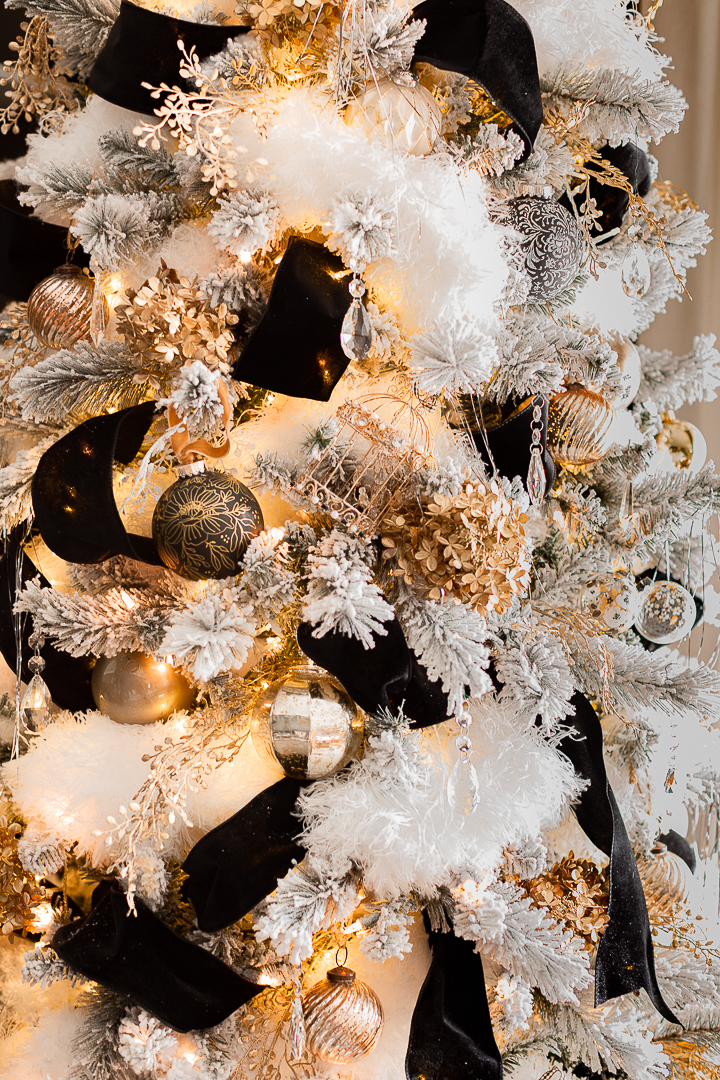 Hi friends. It's time to share this year's Christmas tree! I usually get extremely nervous when I do a Christmas tree reveal because I feel a lot 
of pressure to come with something new and exciting. This year, I decided to go with a Black, White, Amber and Gold Christmas Tree. 
While decorating I was thinking of Dior glamour. Channel sophistication. 
You can find my favourites for this look in MY AMAZON STOREFRONT.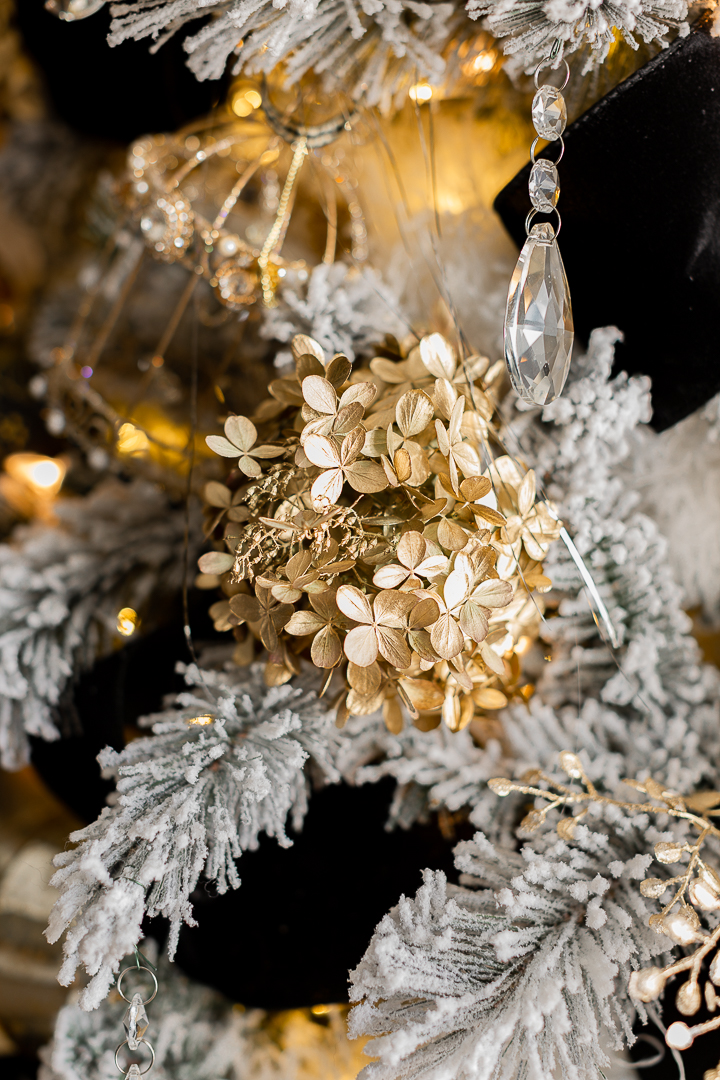 I'm not sure I completely achieved that look but I'm happy how it turned out. But I'm happier about not having spent a lot of money on new decor 
and using items in different ways. For example in this photo, I used the gold sprayed hydrangea and the crystal 'ornament' is actually chandelier
pendants.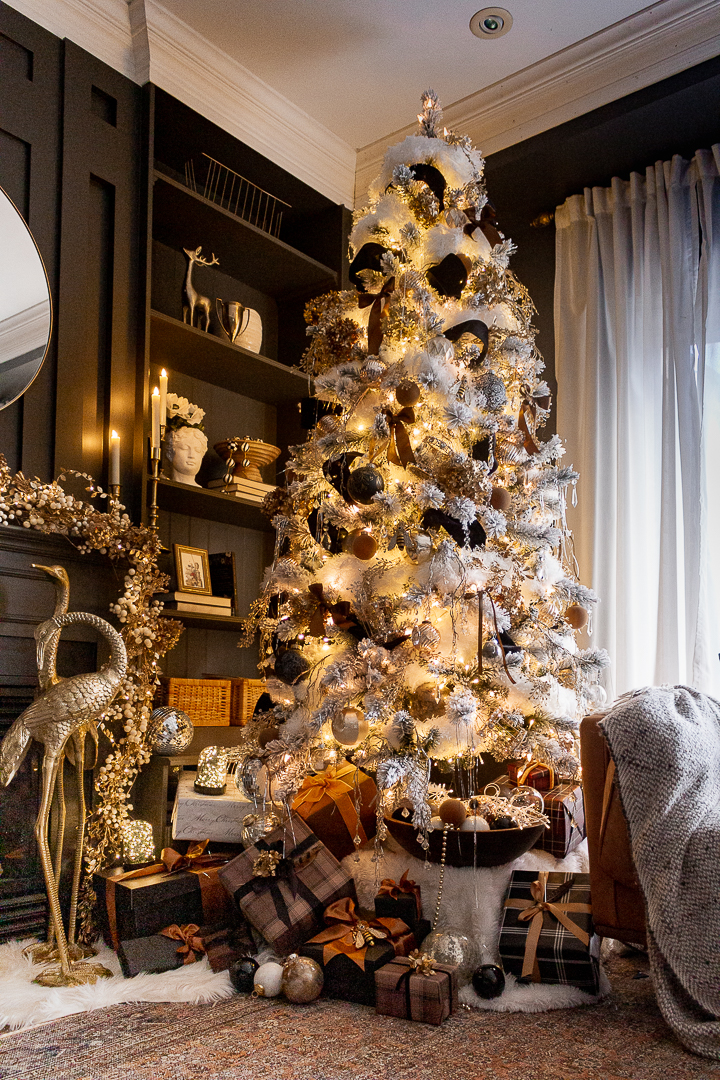 Here's the full view of the tree. It's a little hard to capture in photos because the glare of the window. But I hope you get the idea.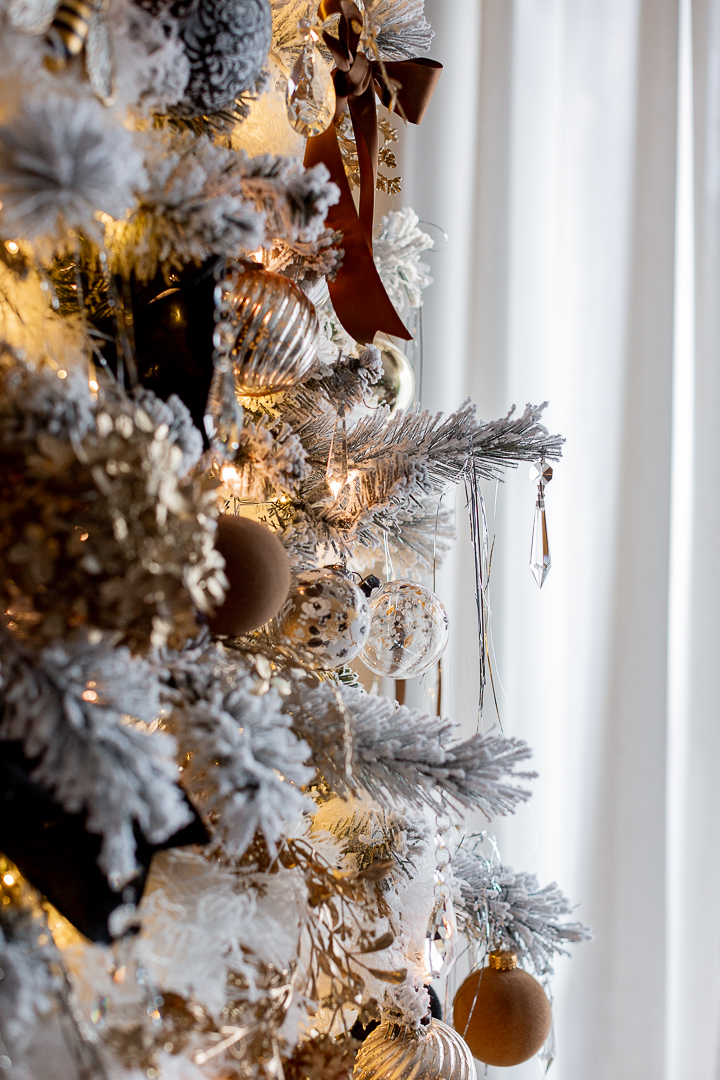 I used my old flocked tree and filled it with my old microfibre trick. READ MORE HERE.
In Canada, I get the large microfiber dusters from the Dollar Store. But I have had people send me messages saying that THESE work just as well and are more affordable. (I've been collecting mine for years)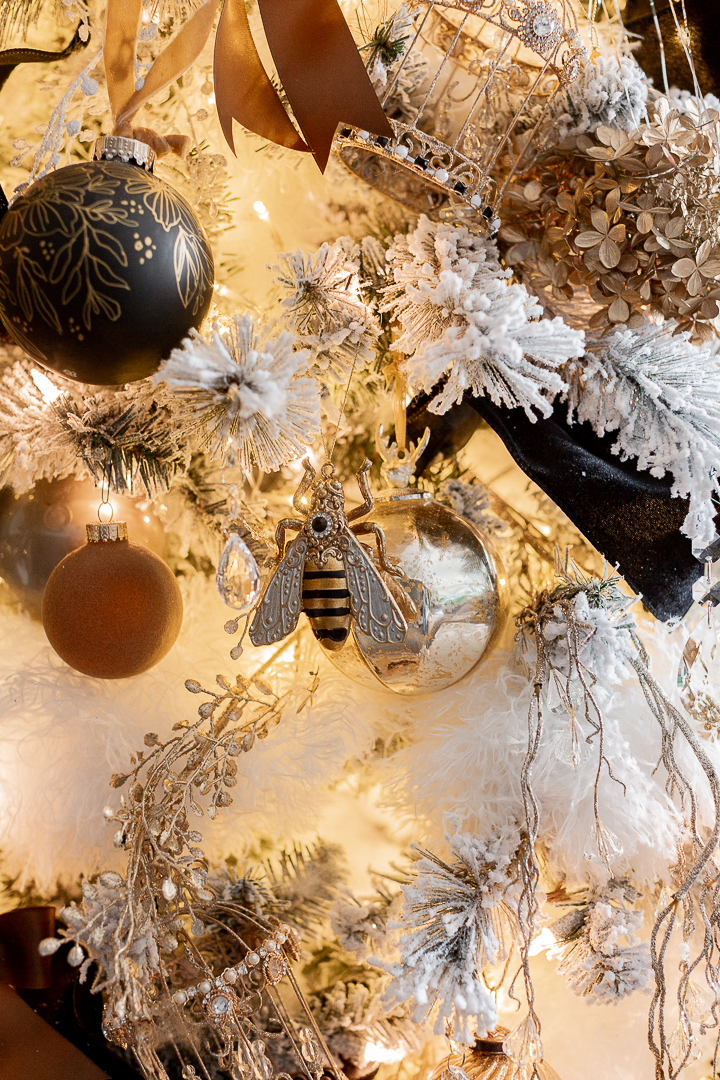 I picked up a couple of these little bees and I think they coordinate so well with the theme. I of course hand painted some ornaments. 
You can watch it HERE.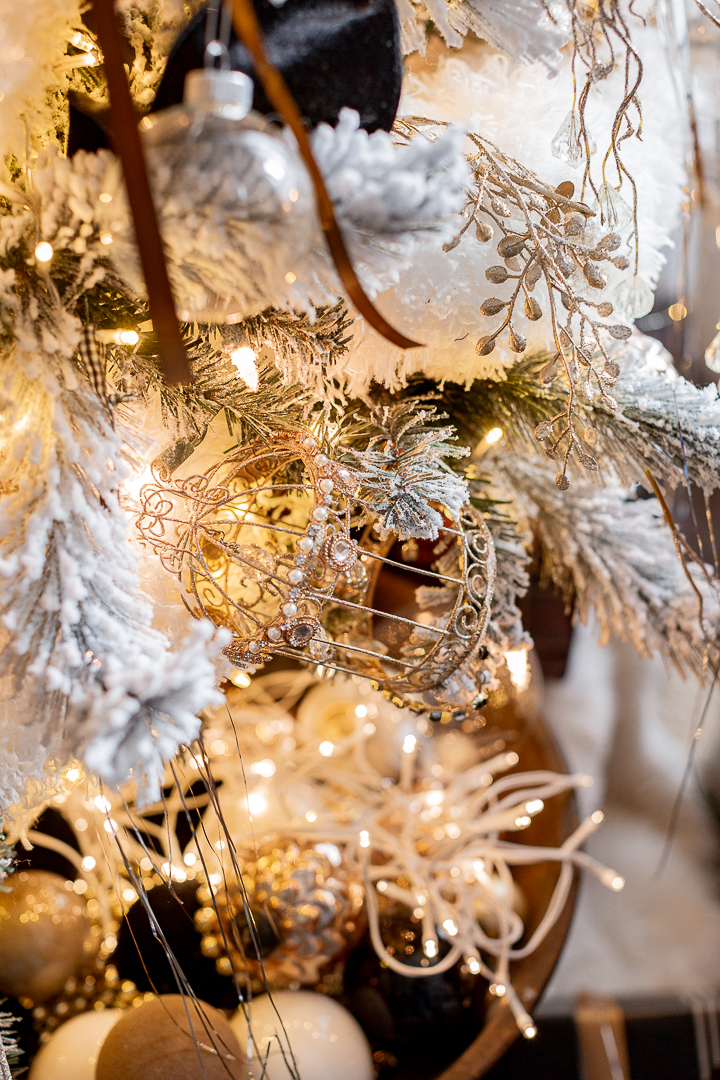 These gorgeous little bird cages are old from MacKenzie Childs. I still love them so much.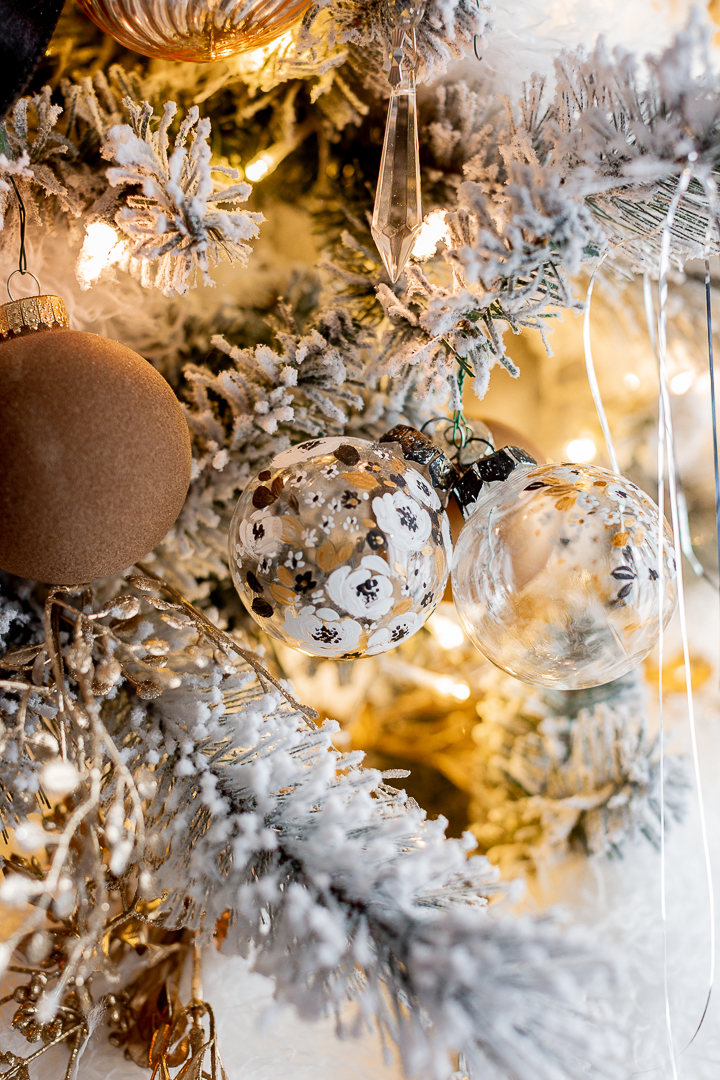 Some more painted ornaments and more chandelier crystals.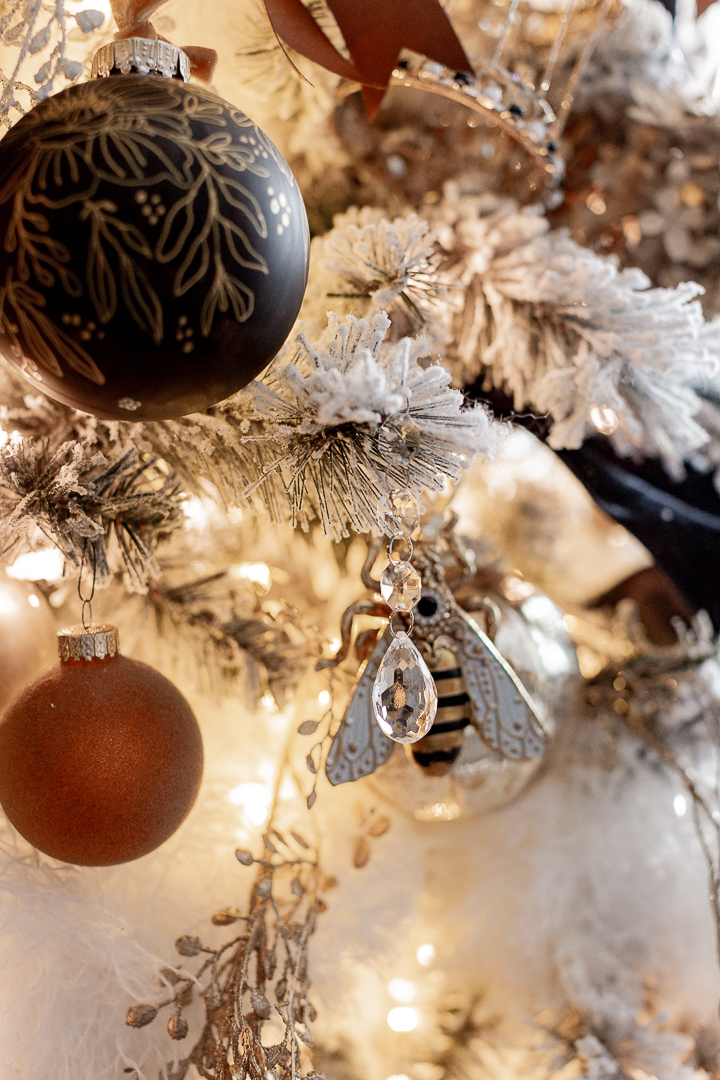 I wish you could see how beautiful they sparkle when the sun hits them. They create little rainbows all over the floor and walls. 

I tied little bows using THIS satin ribbon.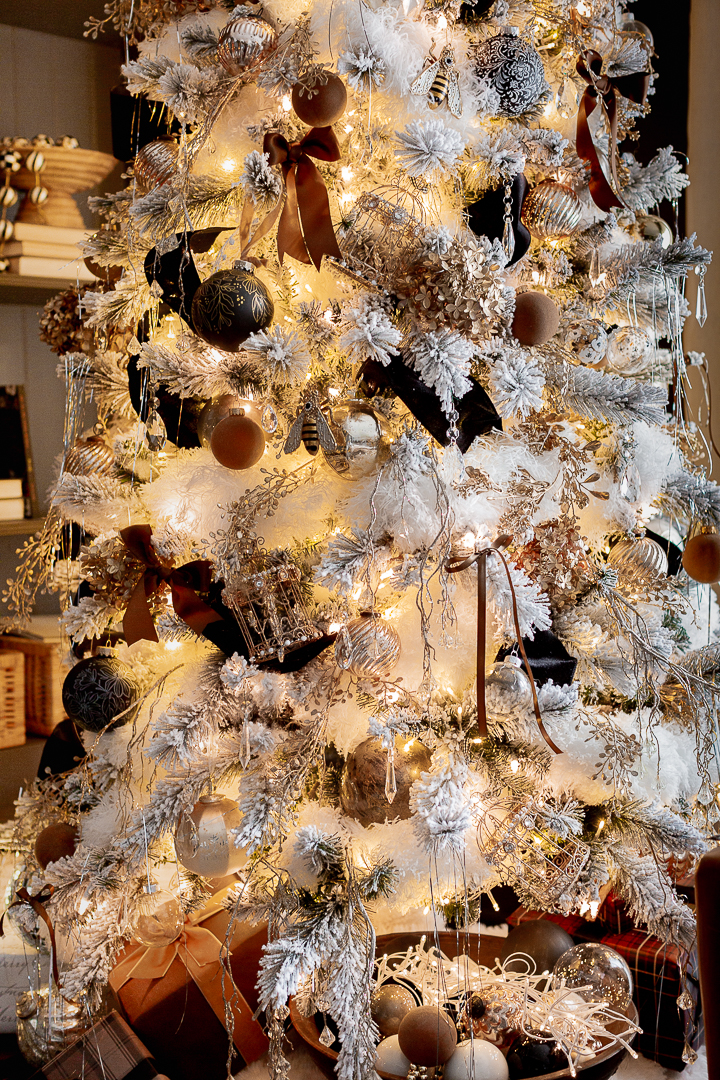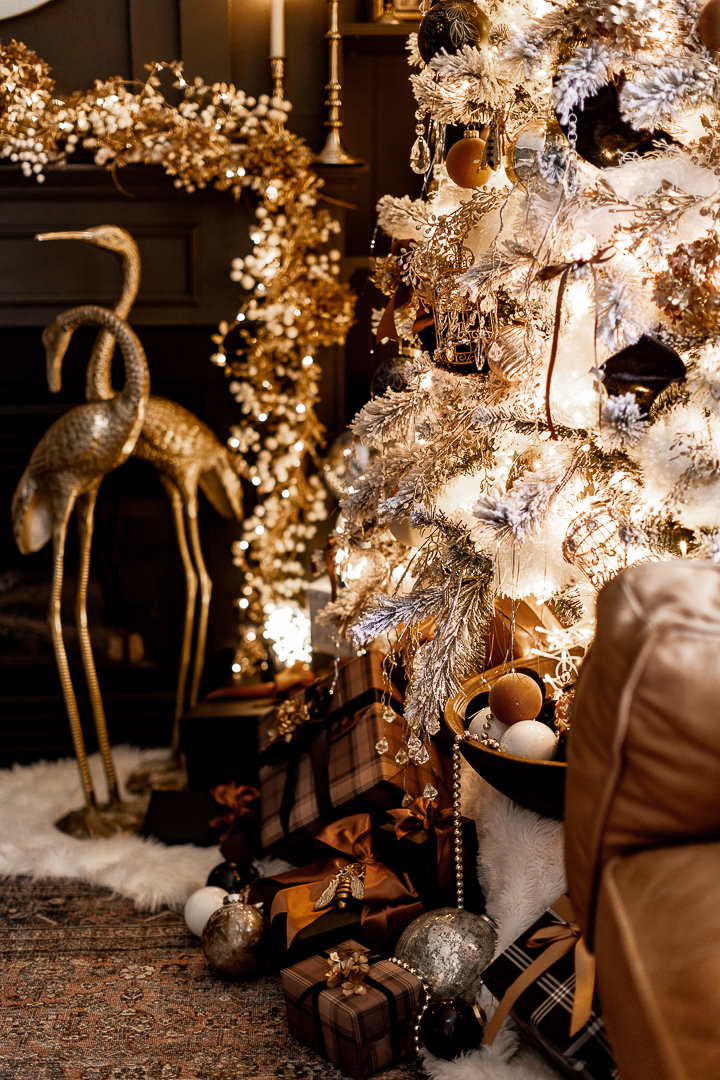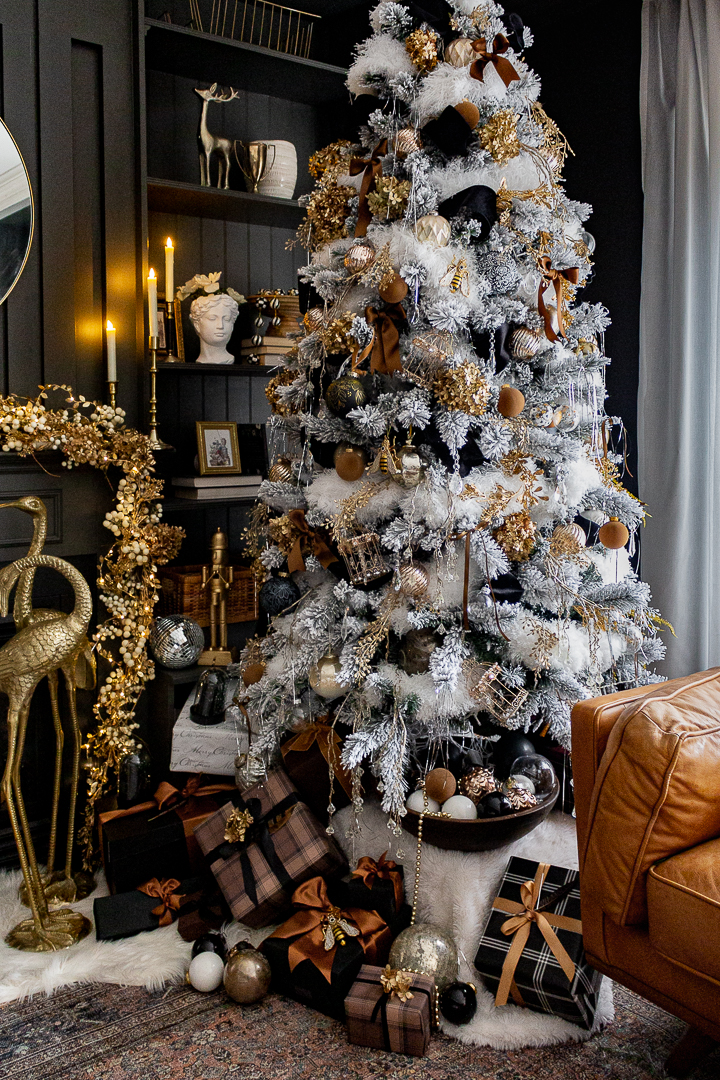 I also used THIS velvet ribbon.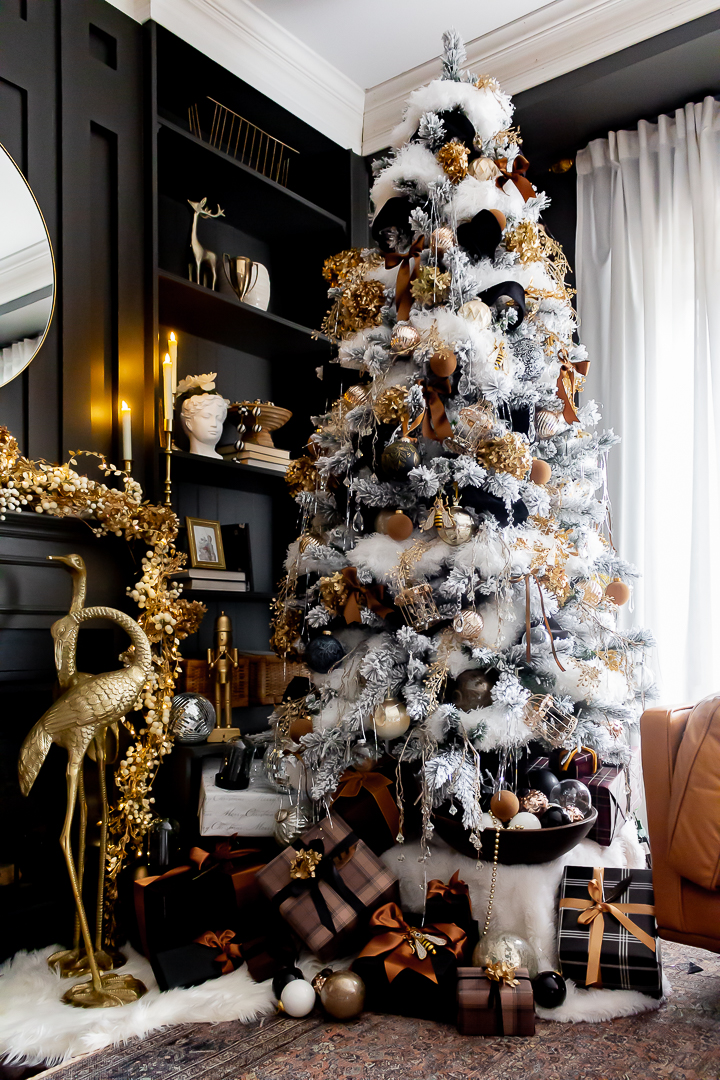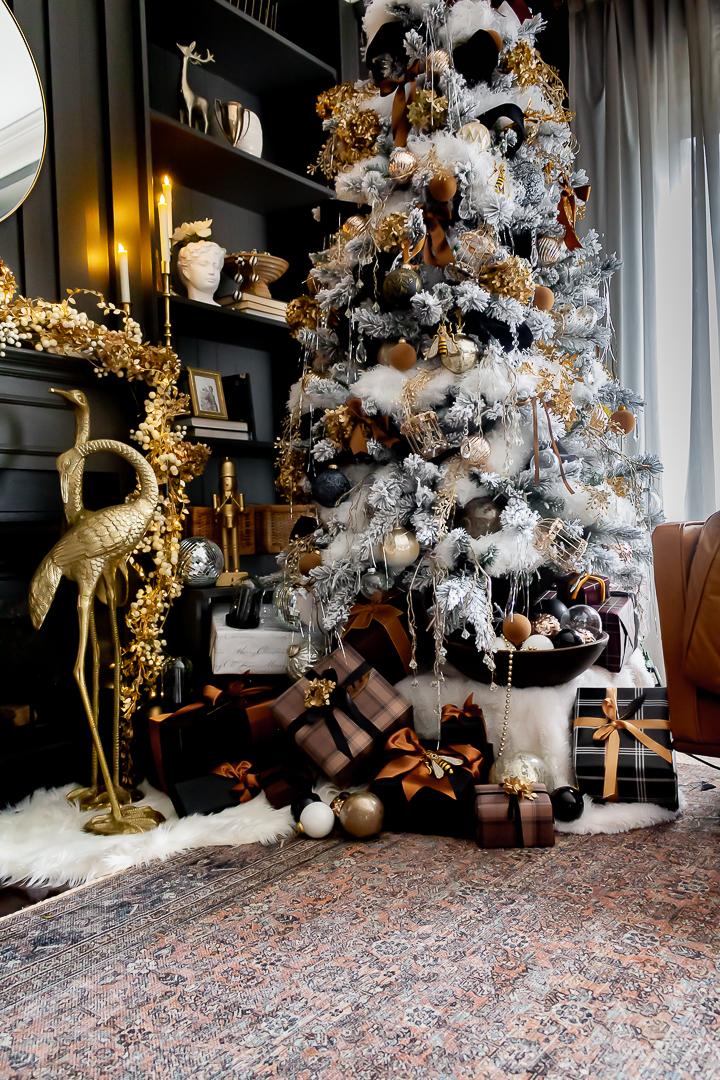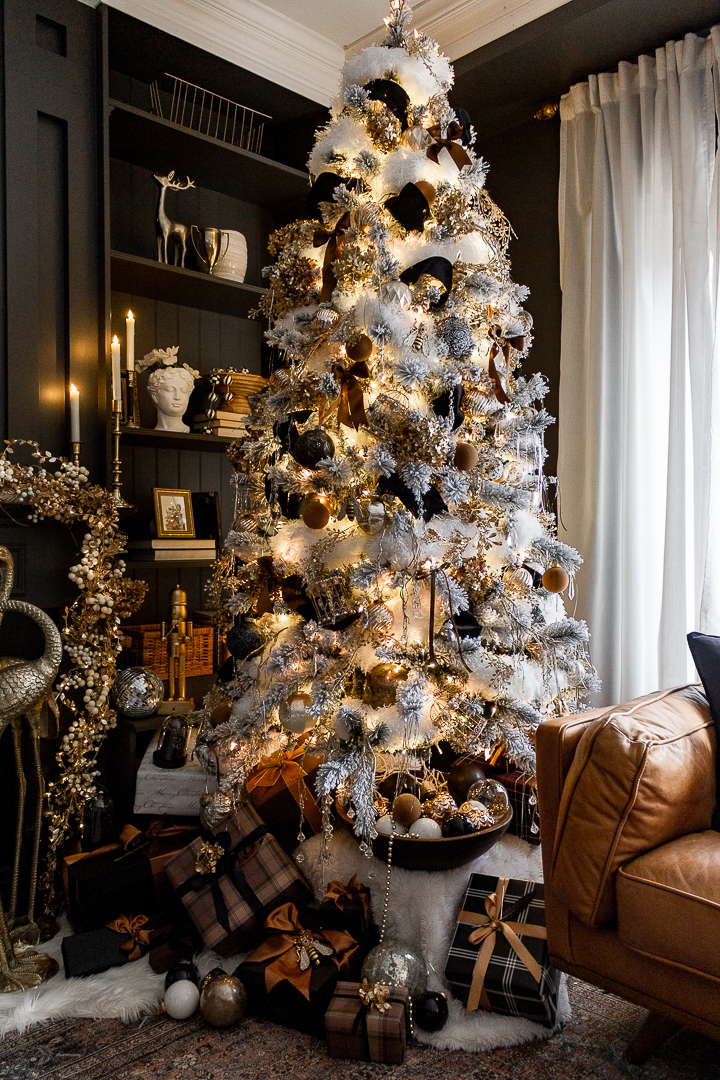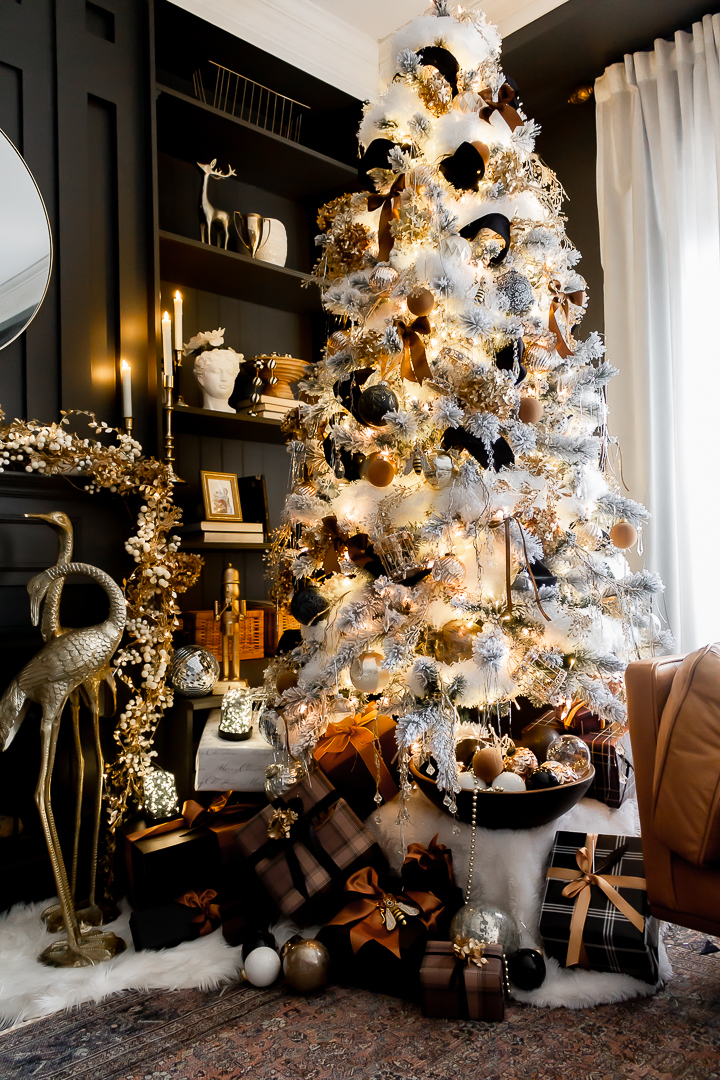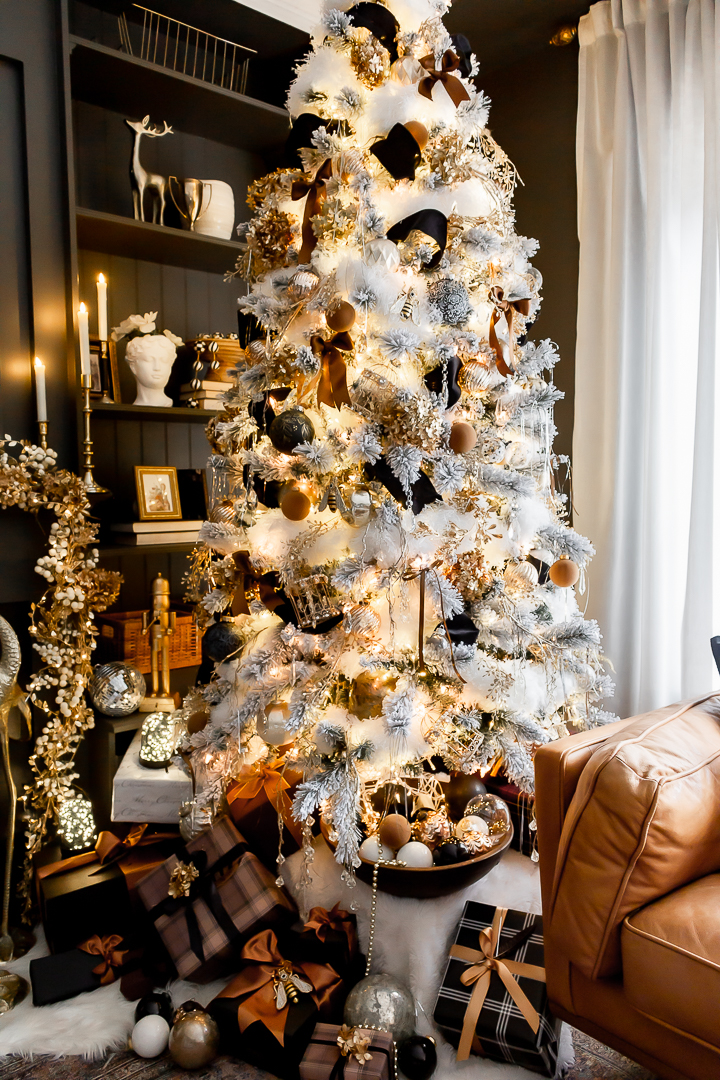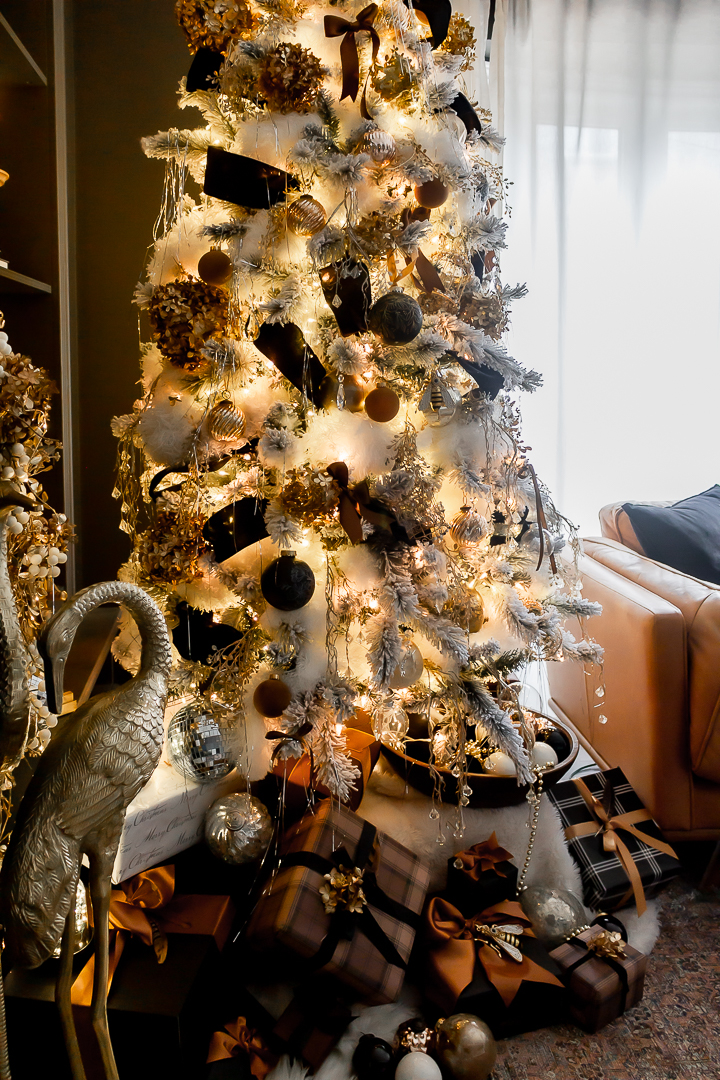 I hope you found some inspiration. I will continue to share more Christmas ideas around the house throughout the week. In the meantime,
please don't forget to check out the beautiful Christmas ideas from my friends below. 
much love,
Lucy 
DIY Paper Ornaments- Free Printable Templates by Ella Claire & co. | How To Decorate A Traditional Christmas Tree with Helpful Tips by Zevy Joy | DIY Christmas Sweater Ornaments by City Farmhouse | Cozy Neutral Christmas Bedroom by Handmade Farmhouse
Black, White, Amber and Gold by Craftberry Bush | Nature Inspired Christmas Ornaments by Azure Farm | Gold Star Christmas Tree by French Country Cottage