I'm so happy to be joining my friend Lory from Design Enthusiasm to bring you some fall tablescapes. I decided to share a few different looks using white plates, three ways. Hopefully you will find some inspiration.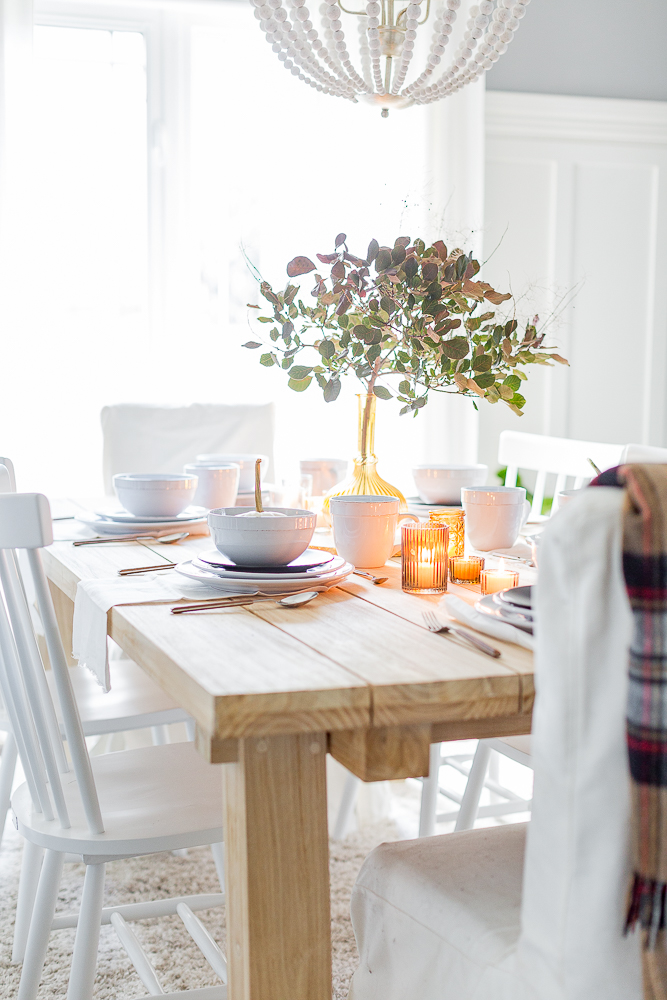 I'm sitting here in my son's room, watching little Oliver bounce around on the bed, stepping on my keyboard and in his own way asking for some  bunny treats. Oliver is our son's pet rabbit and I think it's fair to say, I have now adopted him. . If you haven't met him, you can see him HERE.  To be completely honest, he sxxxxxxxxxxxxxxxxxxxxxxxxxxxxxxxxxxxxxxxxxxxxxxxxxxxxxxxxxxxxxxxxxw veoooooooooooooooooooooooooooooooooooooooooooooooooooooooooooooooooooooooooooooooooooooooooooooooooooooooooolllllllllllllllllllllllllllllllllllllllllllllllllllllllllllllllllllllllllllllllllllllllllllllllllllllllr5555555555555555555555555. ( That was Oliver and I left it because I want to remember it forever) As I was saying, I have become so attached to that little bunny. Having our son in university has been extremely difficult for me; more than I thought it was going to be and I think that little Oliver, gives me a sense of comfort. I'm not sure how to explain it but I think you know what I mean.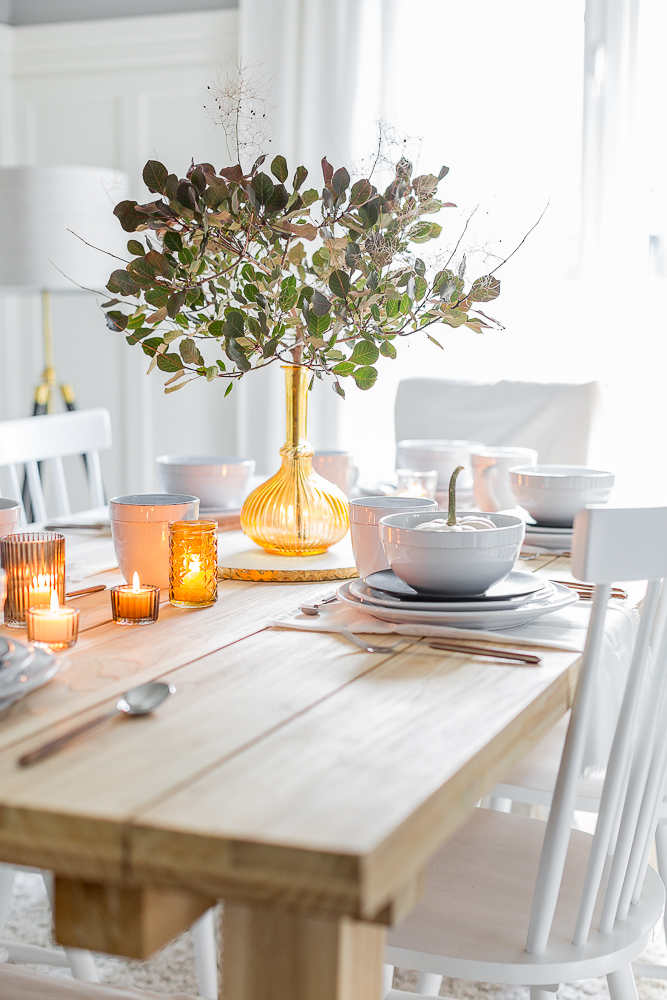 but I digress, let's get to the tablescapes shall we? White plates are a must for any kitchen. They can be dressed up or dressed down according to the occasion. I guess you can say they're like that little black dress.
I partnered with my friends from Wayfair to bring you three different looks using the same set of white plates.
The first tablescape is fairly simple in that I used THESE pretty amber tealights and an amber vase I already had.  I also used them on my mantel a few weeks ago. One of the reason I loved them is because they're so versatile.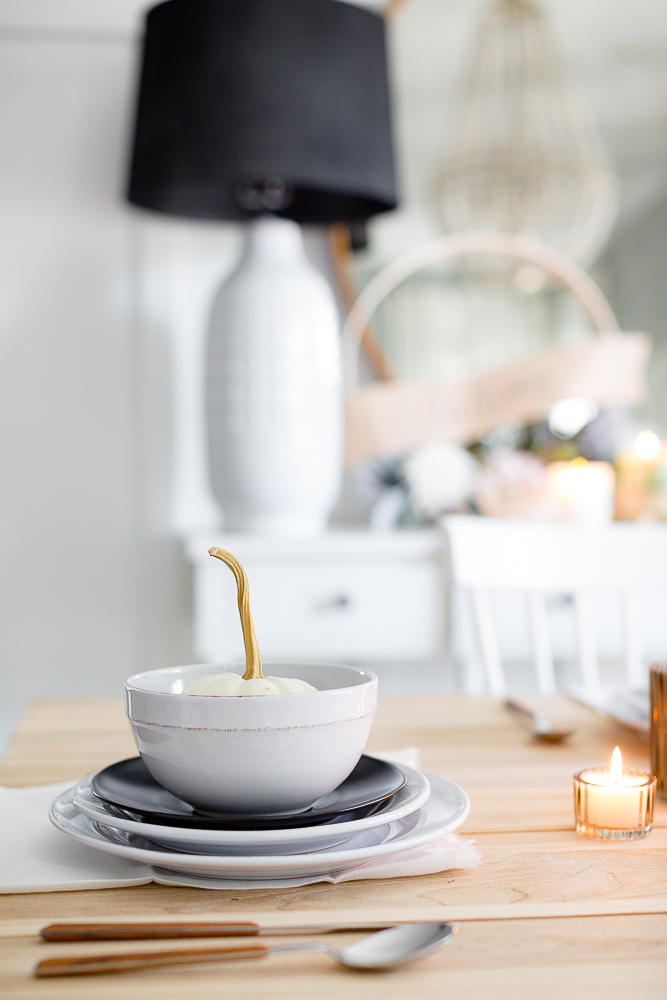 THESE simple white plates are perfect starting point.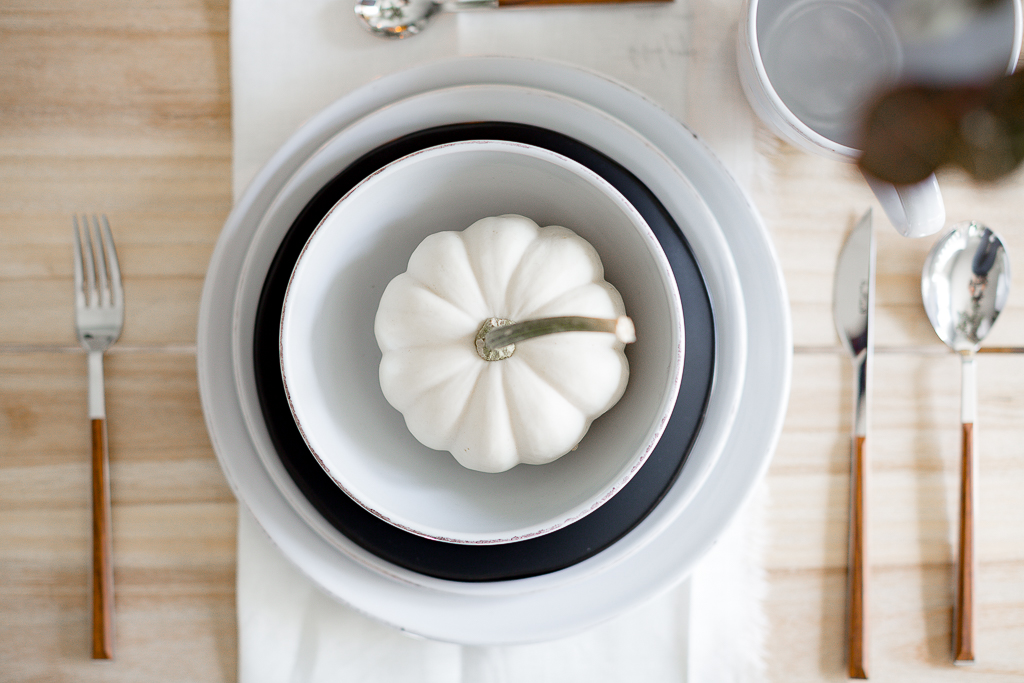 The white dishes are a little rustic but just by pairing them with < a rel= "nofollow" href="http://bit.ly/2Orphp4″>THESE black salad plates and THIS amazing set of cutlery.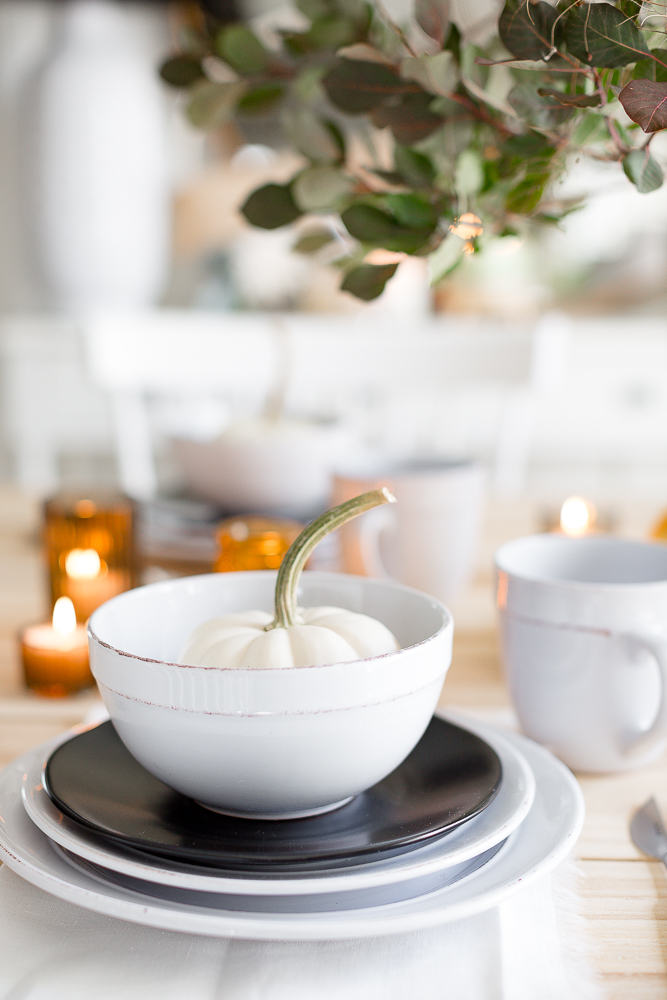 You can skip this step but just simply placing a little white pumpkin inside the bowl, you add an extra touch of detail and whimsy.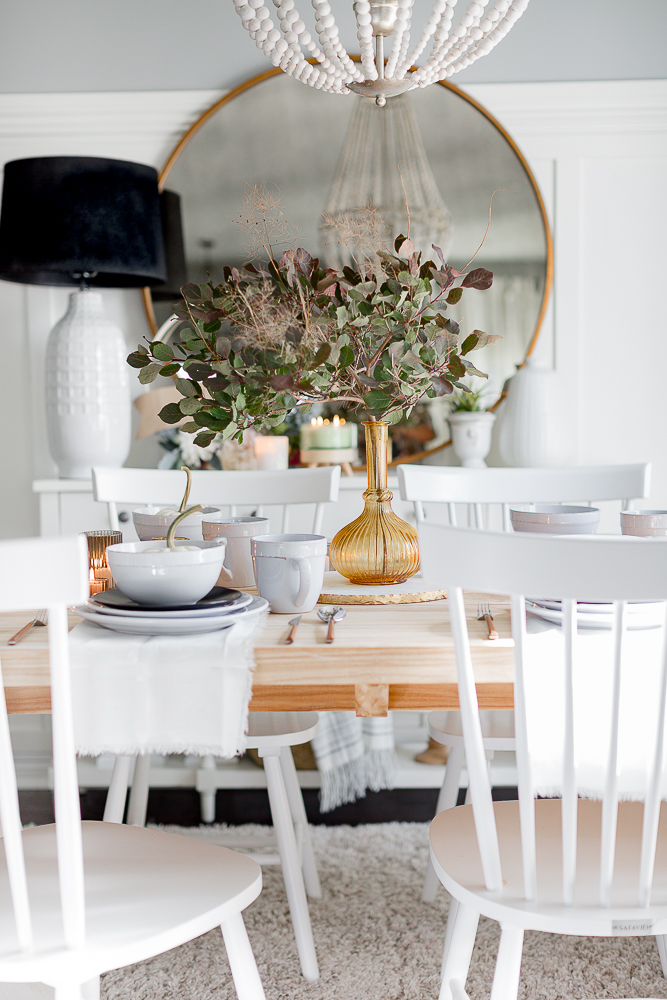 As a centrepiece, I used a single branch which I cut from my yard. The muted colors look great with the amber vase.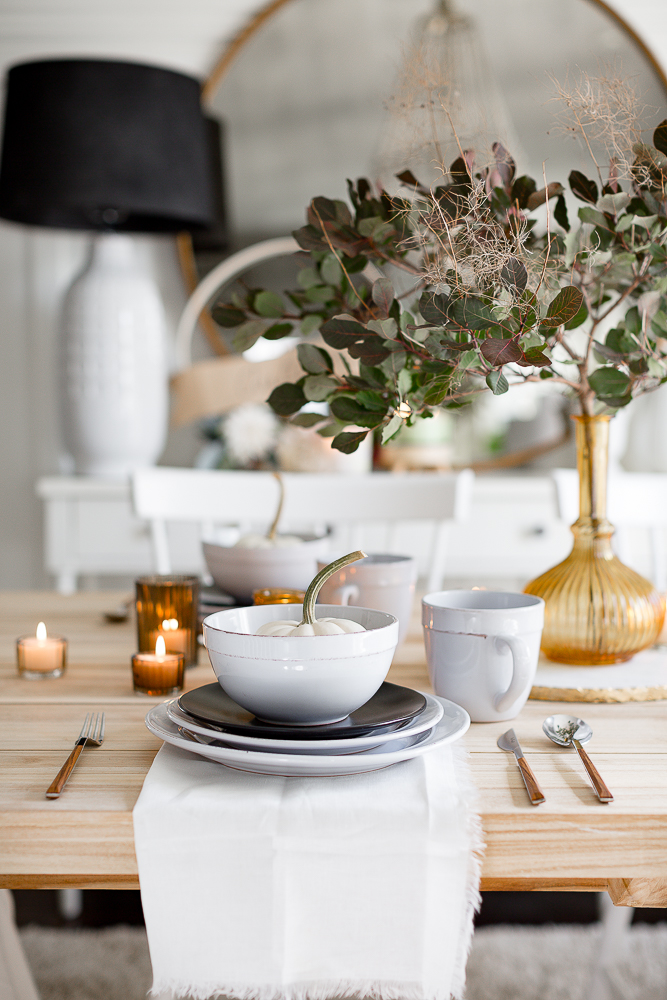 Another simple way to change the look of the table is to use napkins. THESE linen napkins are my new favourite. I love their rough edge and their quality is amazing. Spurging on napkins is also a great tip to enhance the look of any table.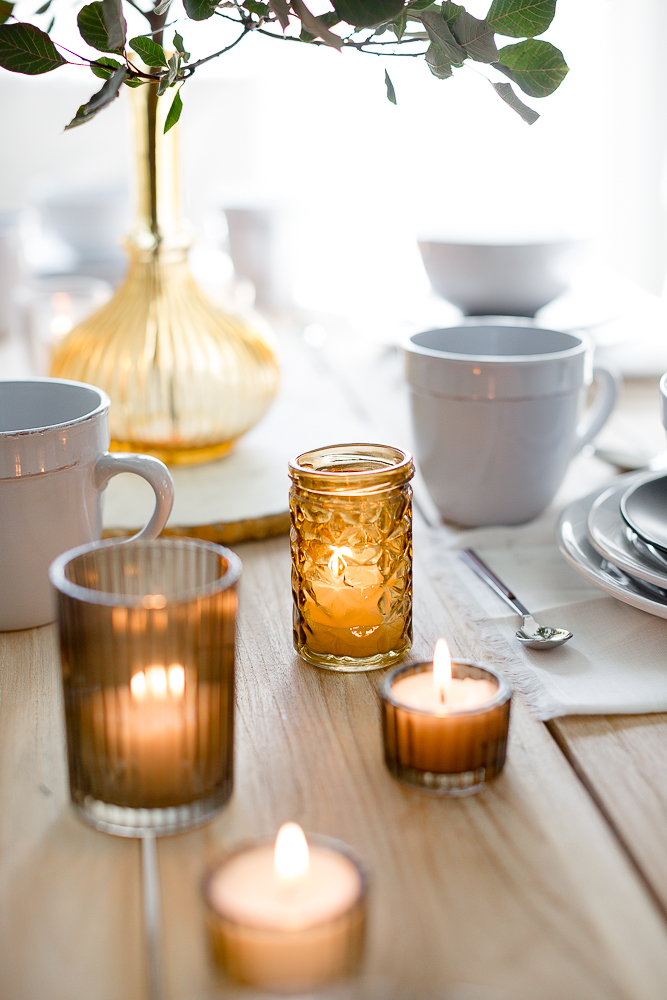 Of course tealights add warmth and a beautiful glow.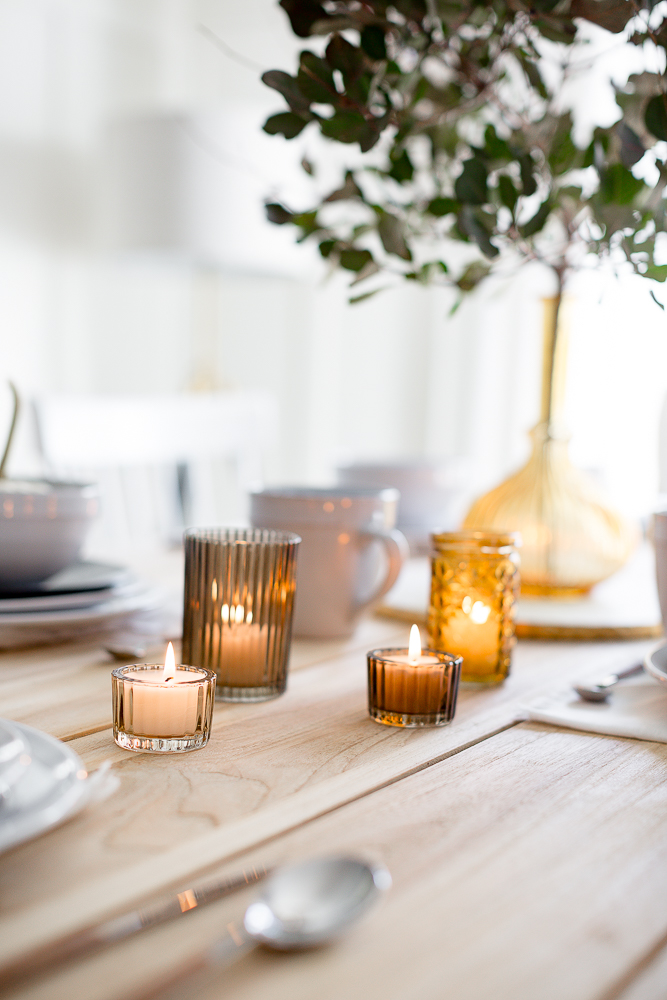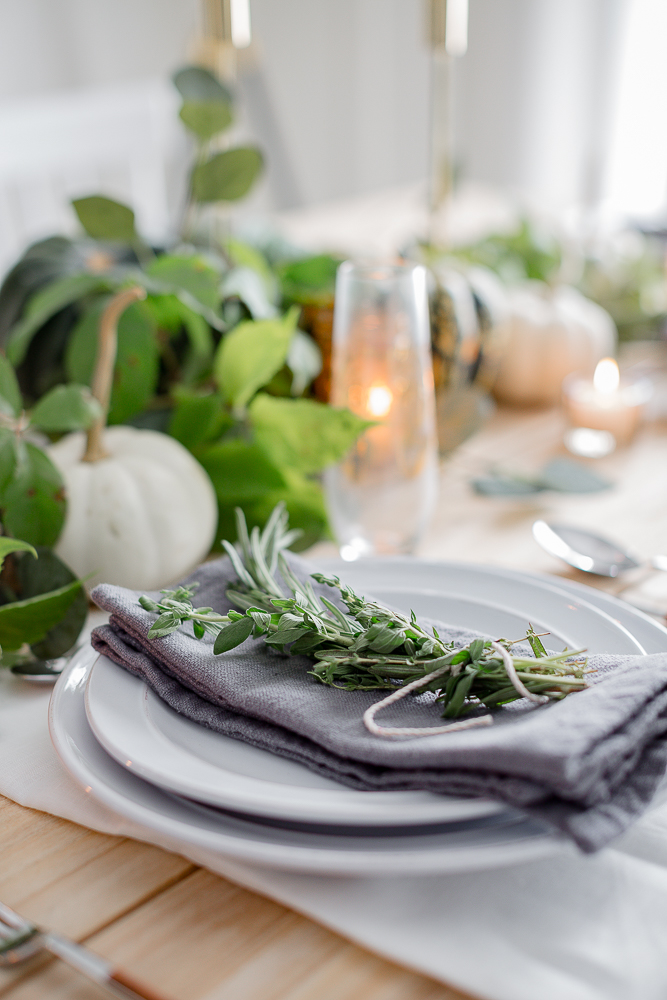 For the next look, I decided to use THESE gray linen napkins. I tied various types of herbs in a little bouquet and tied it with some twine. 
I removed the bowl and charcoal salad plate but kept the casual cutlery.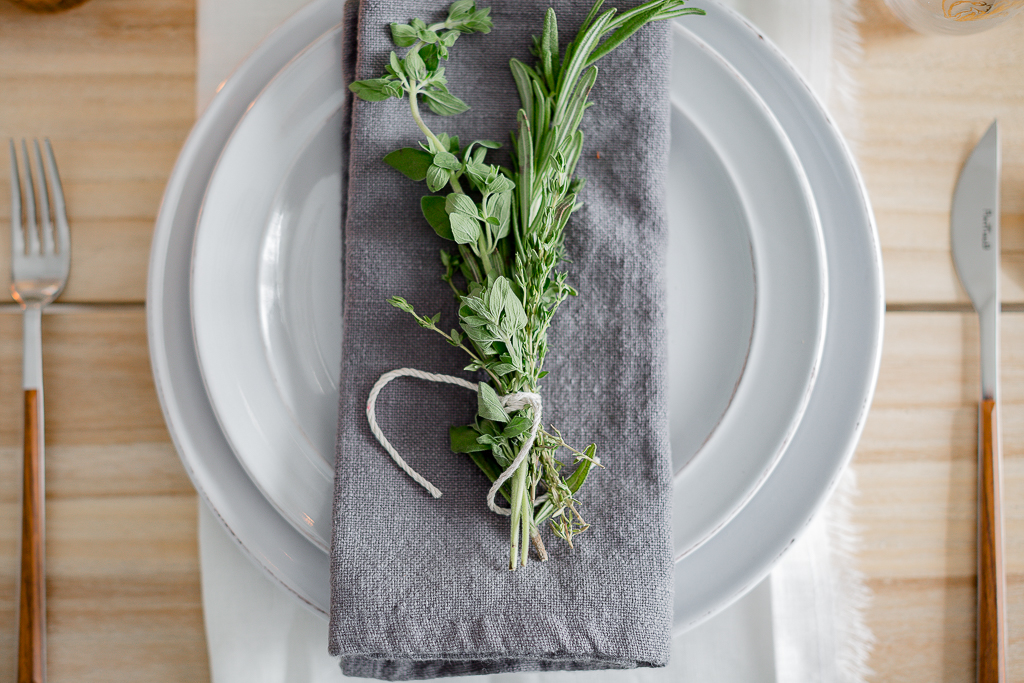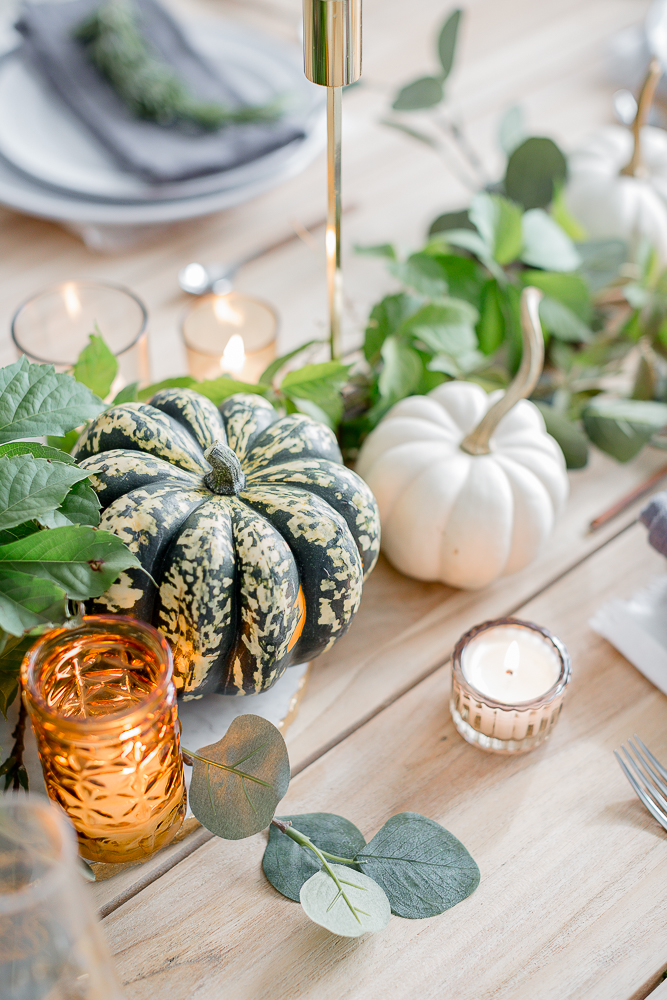 I changed the centerpiece by using a combination of faux and real greenery spread across the table. I also added a few gourds and little white pumpkins I purchased at the grocery store.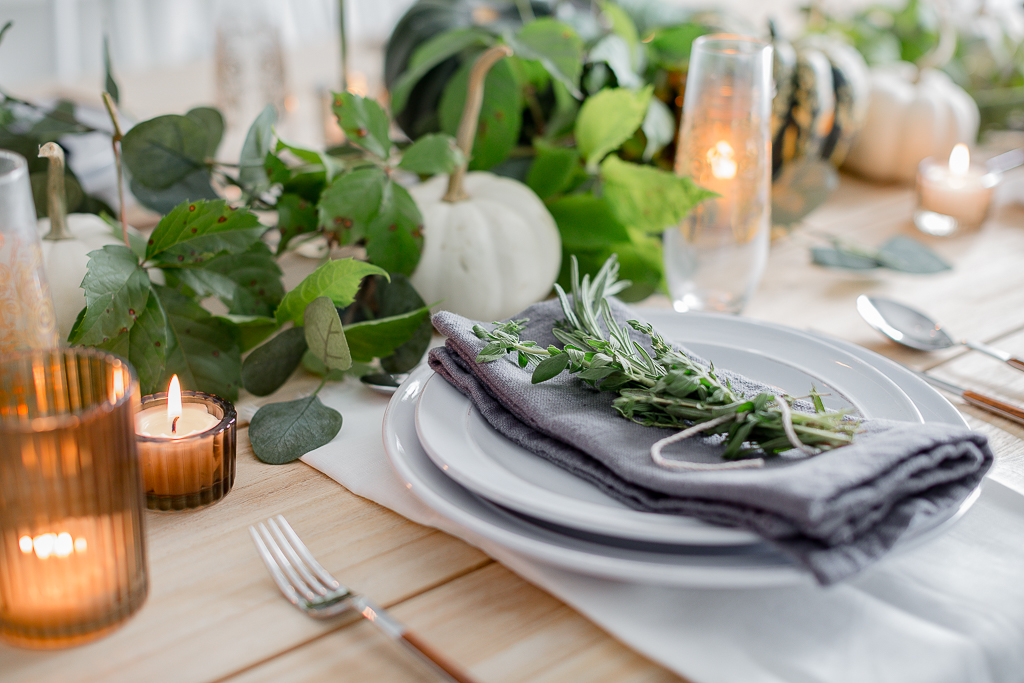 This would make a great outdoor table as well as it's a little more rustic.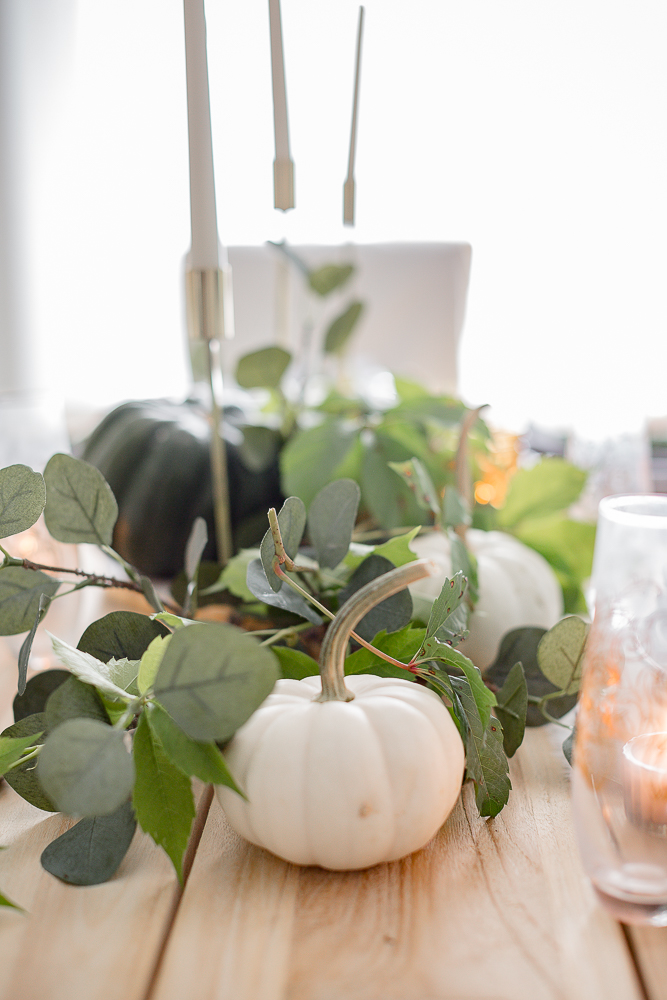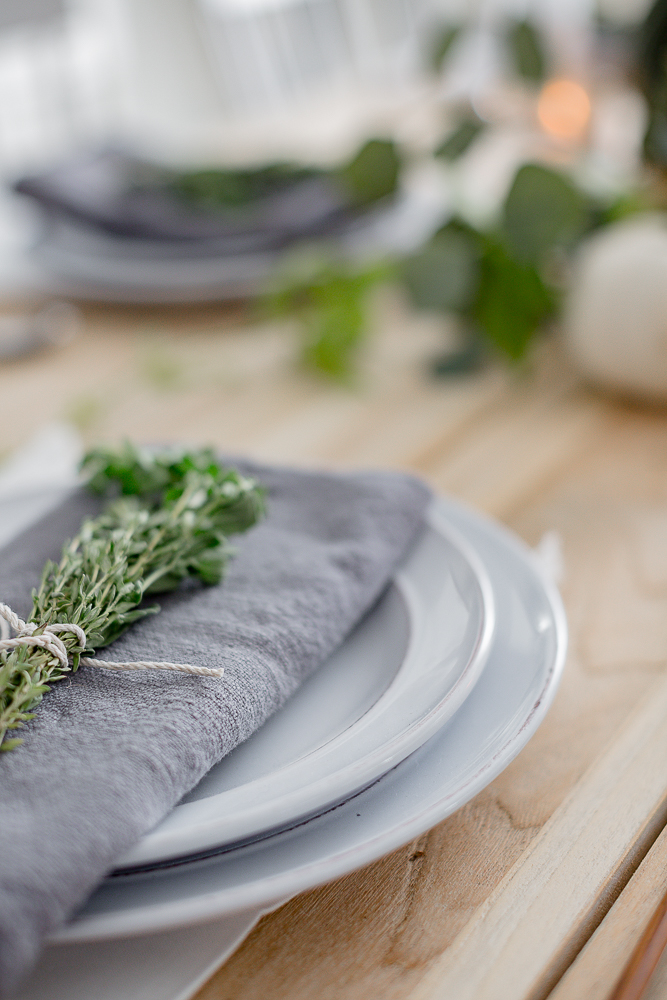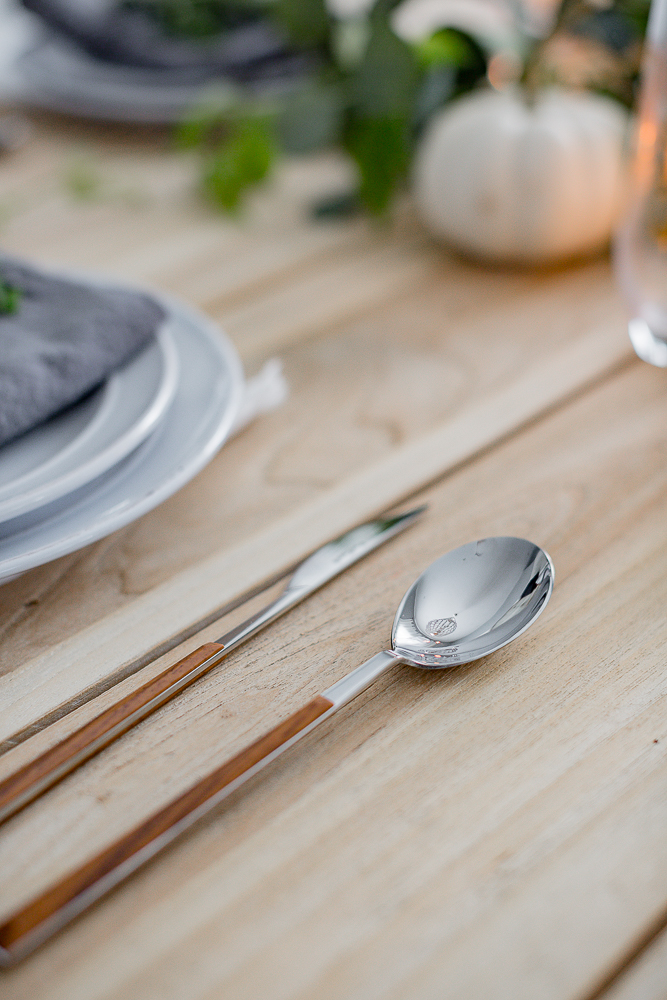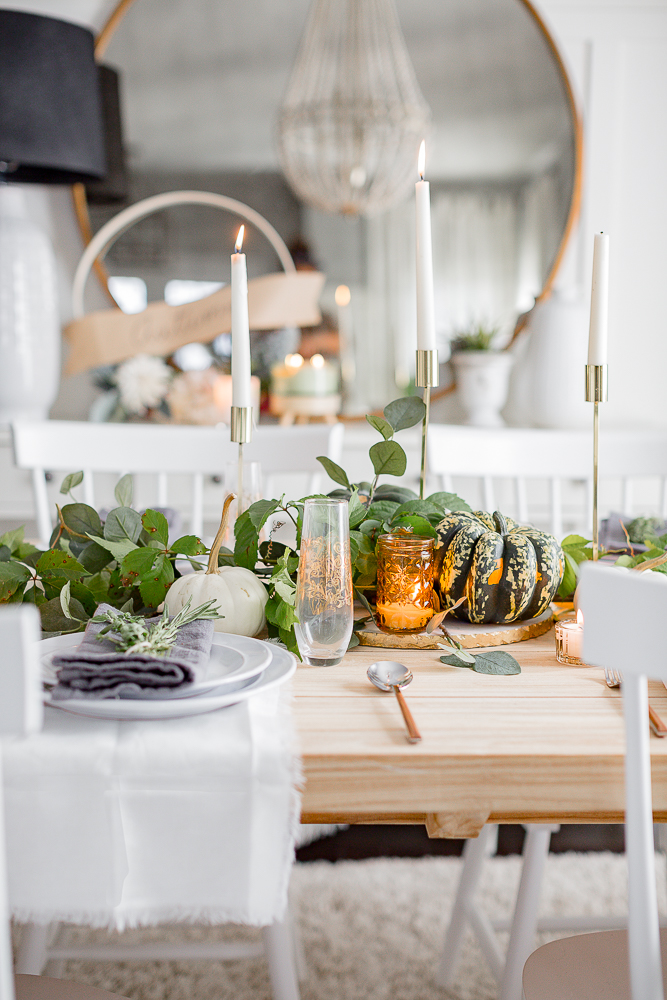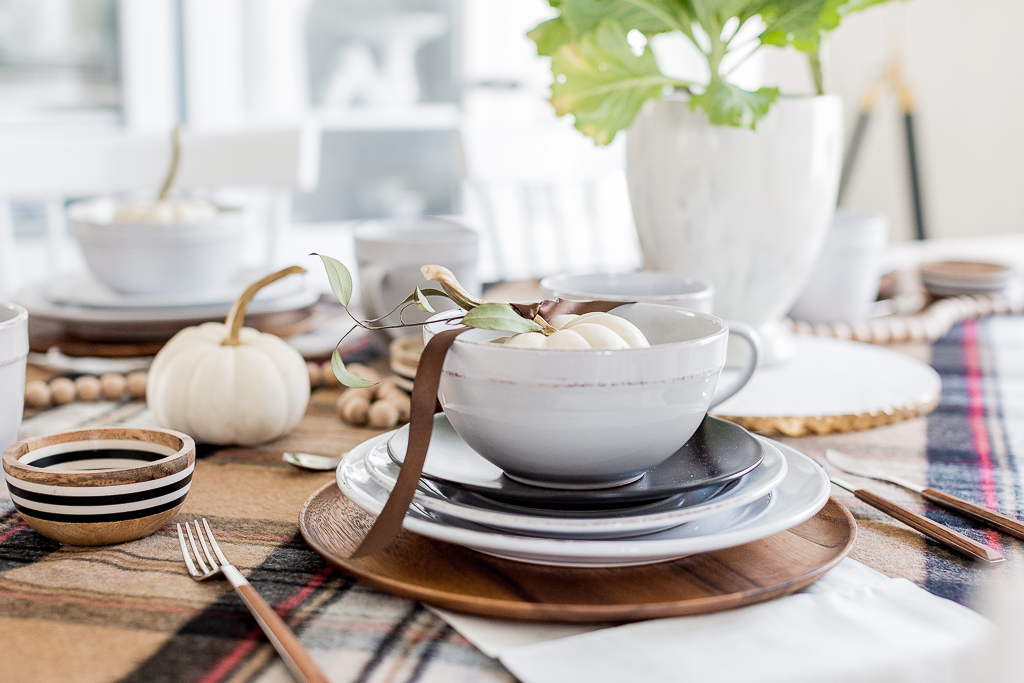 For the next look, I placed THIS beautiful wool throw as a tablecloth. You don't have to use a tablecloth. You can use scarves, throws or a simple piece of gathered linen as a runner would look beautiful as well.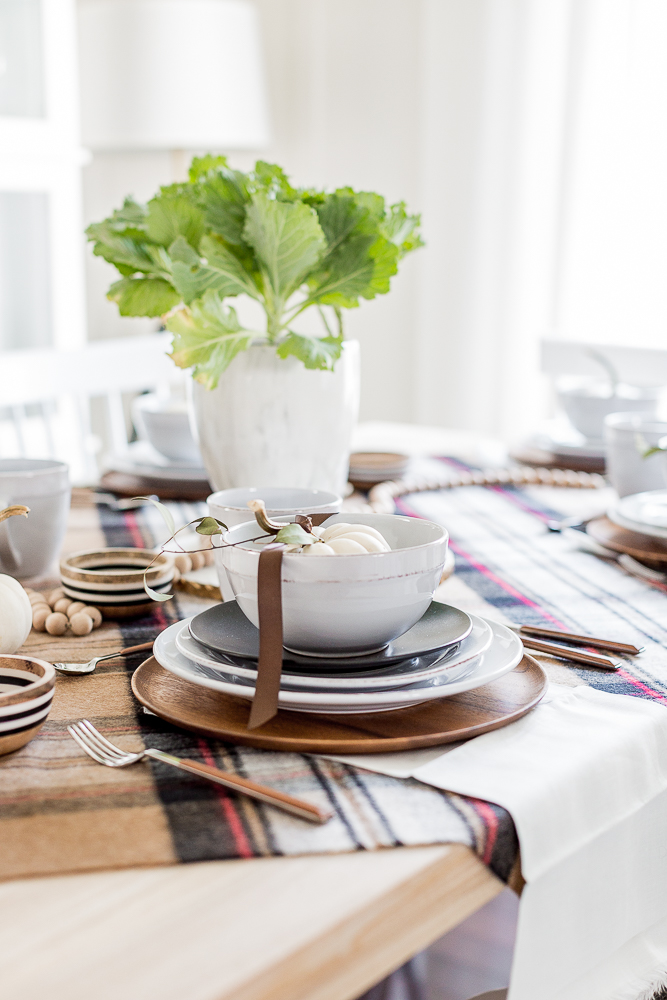 To complete this fall look, I used a WOODEN CHARGER and for a little  extra touch, I tied a brown ribbon to the stem of the pumpkin.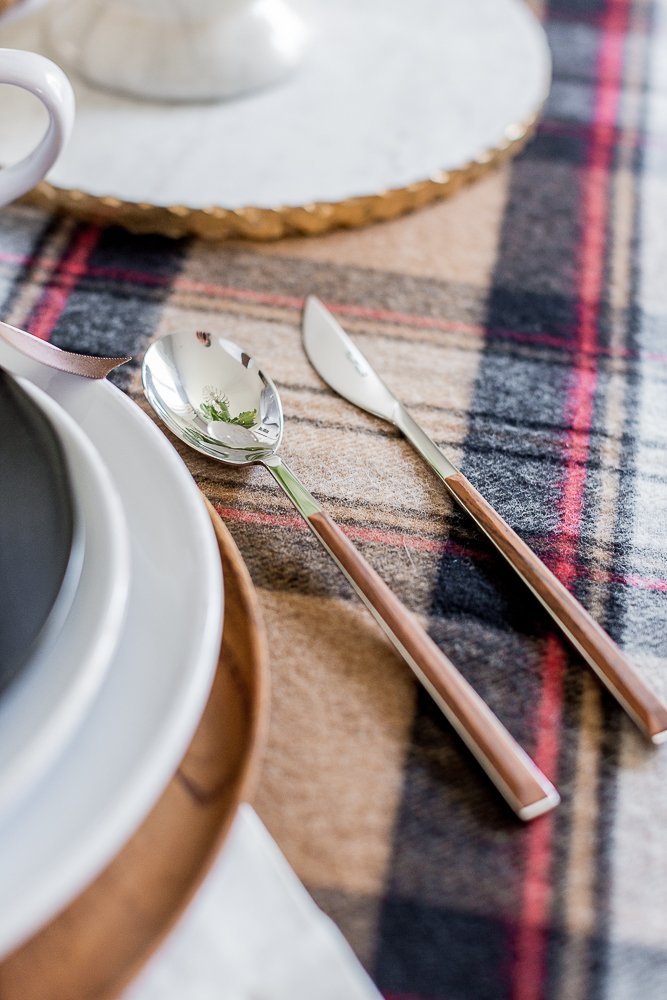 Again paired with the same cutlery and white plates.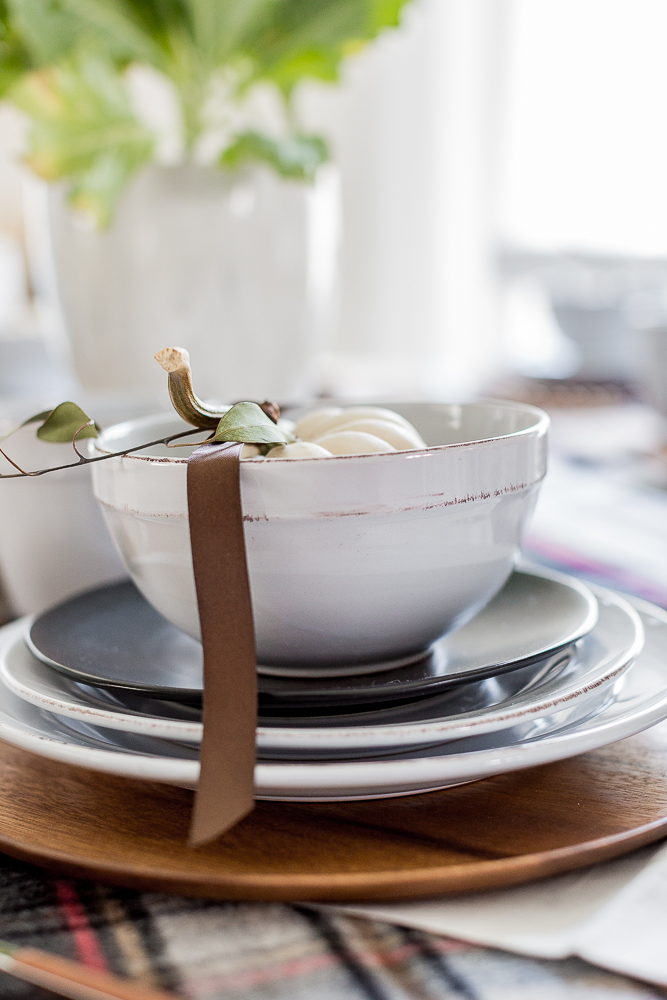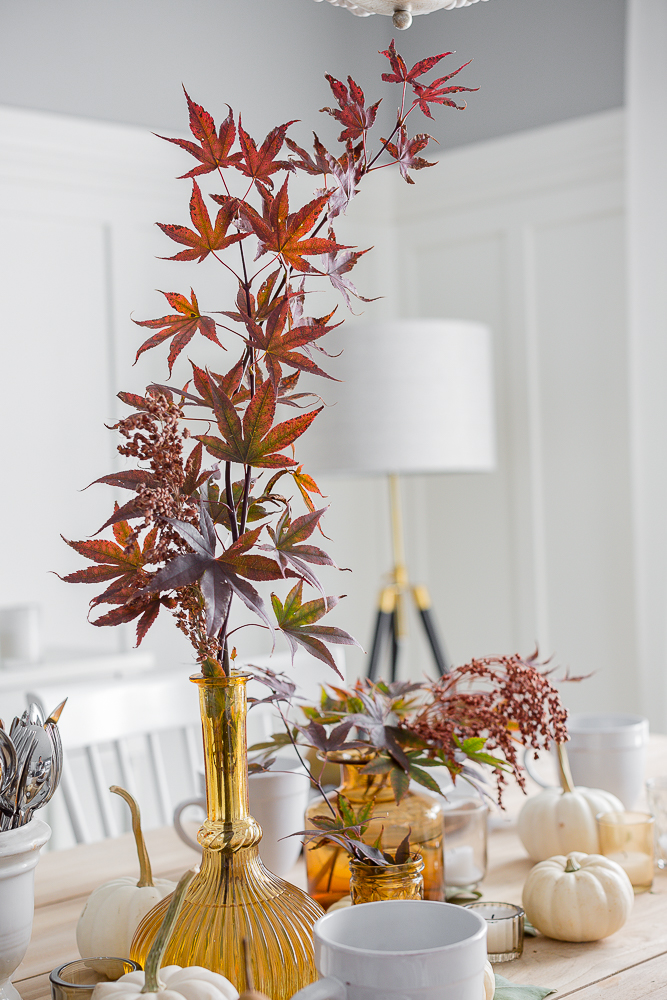 Here is a bonus look…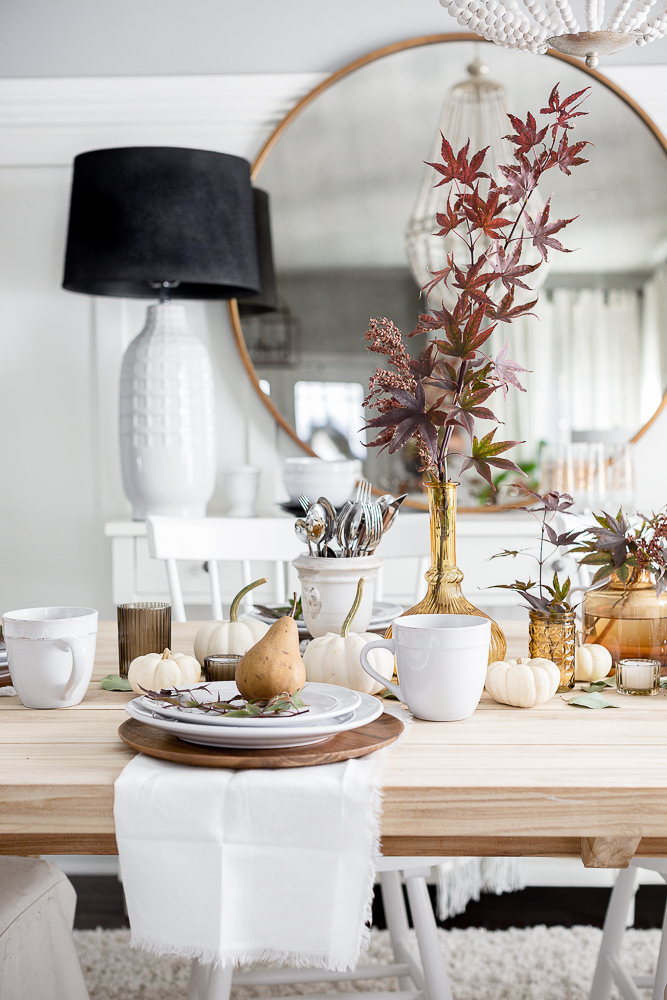 I gather a few more amber vases and placed some Japanese branches in each. I scattered some white pumpkins and some eucalyptus leaves across the table to serve as a runner.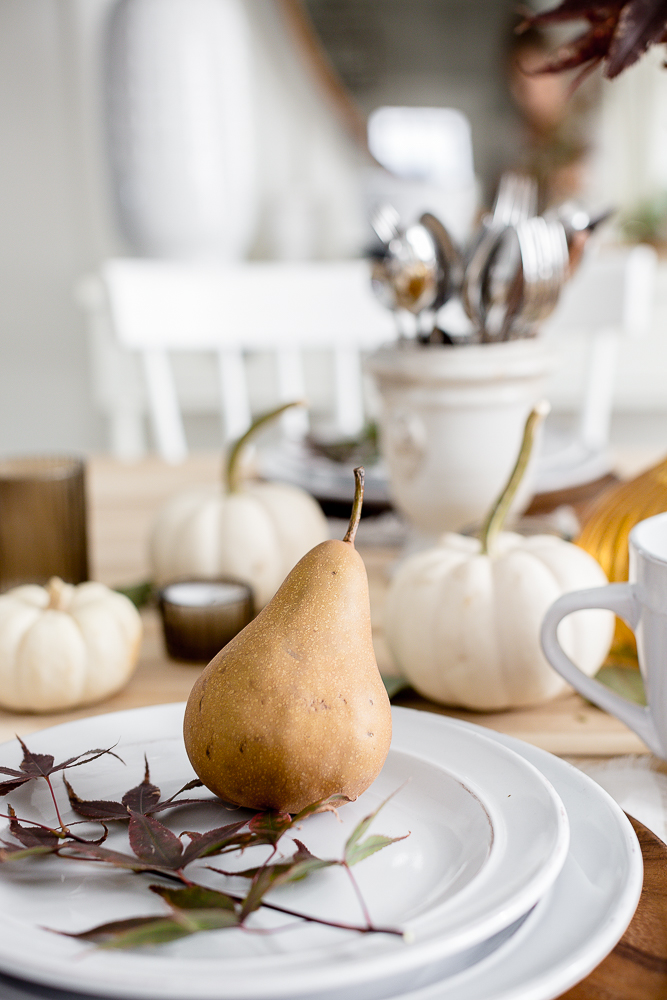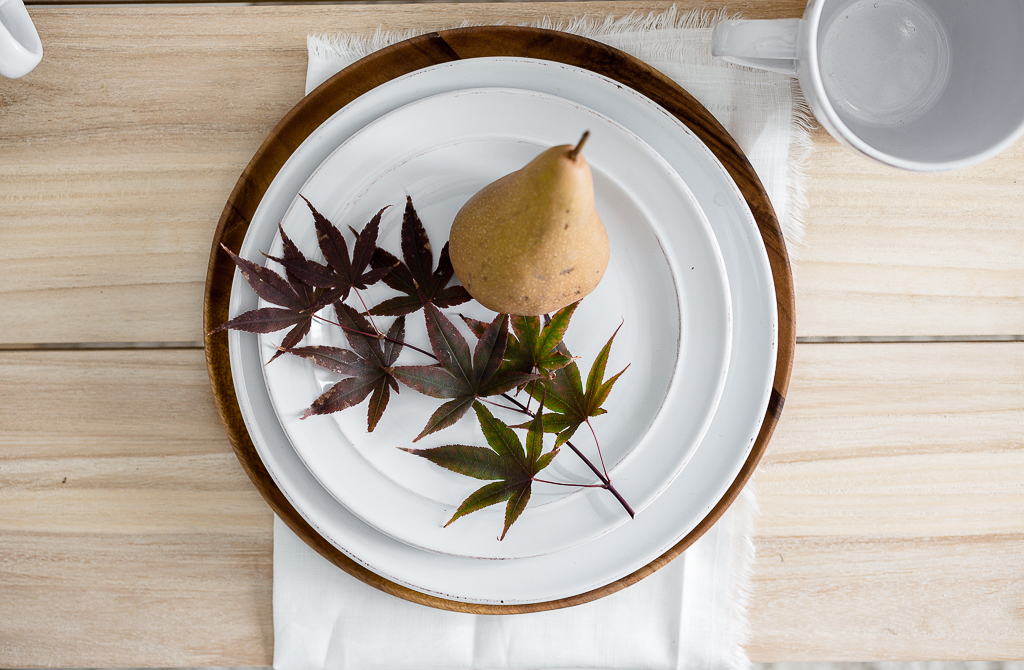 I kept the wooden charger, removed the black salad plate and bowl and placed a pear along with a single little branch. I think it looks so pretty.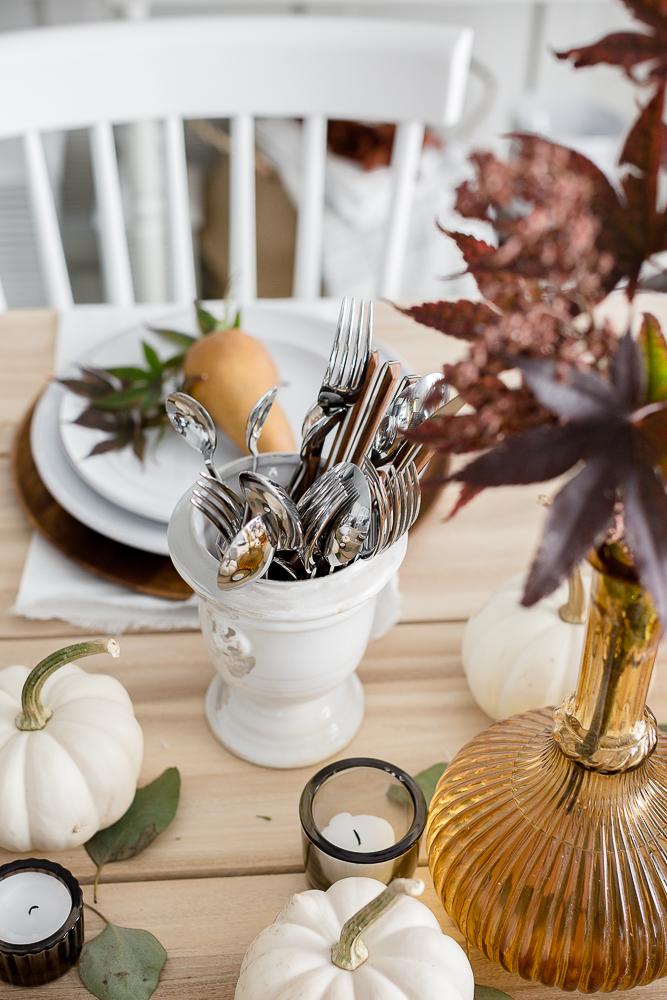 Instead of placing the cutlery at each seat, I placed them all in this little vase. This makes the table a little more casual.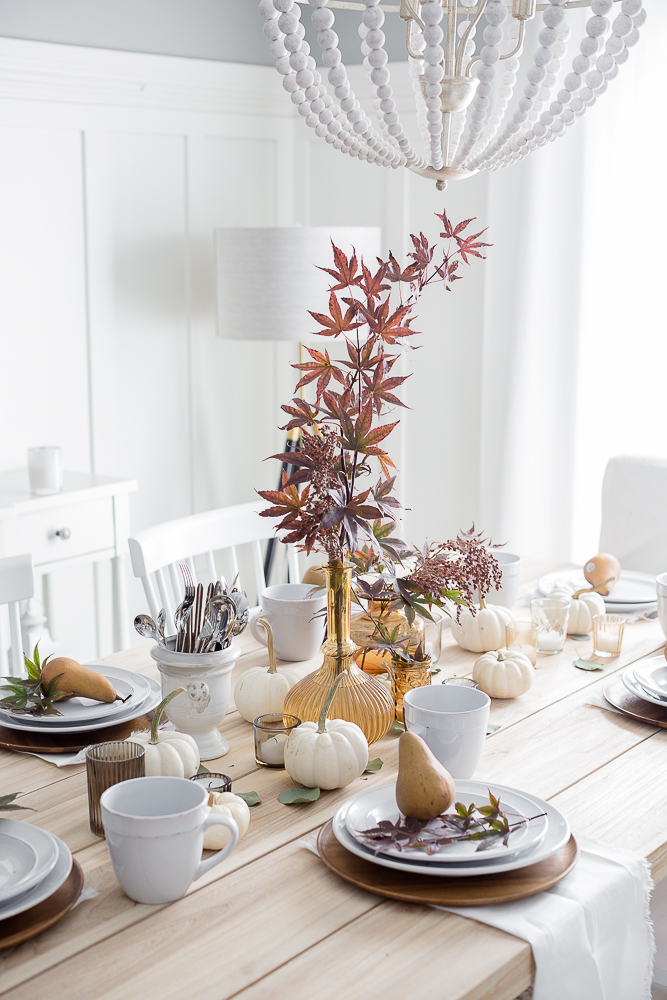 Very simple, inexpensive and in my opinion so pretty.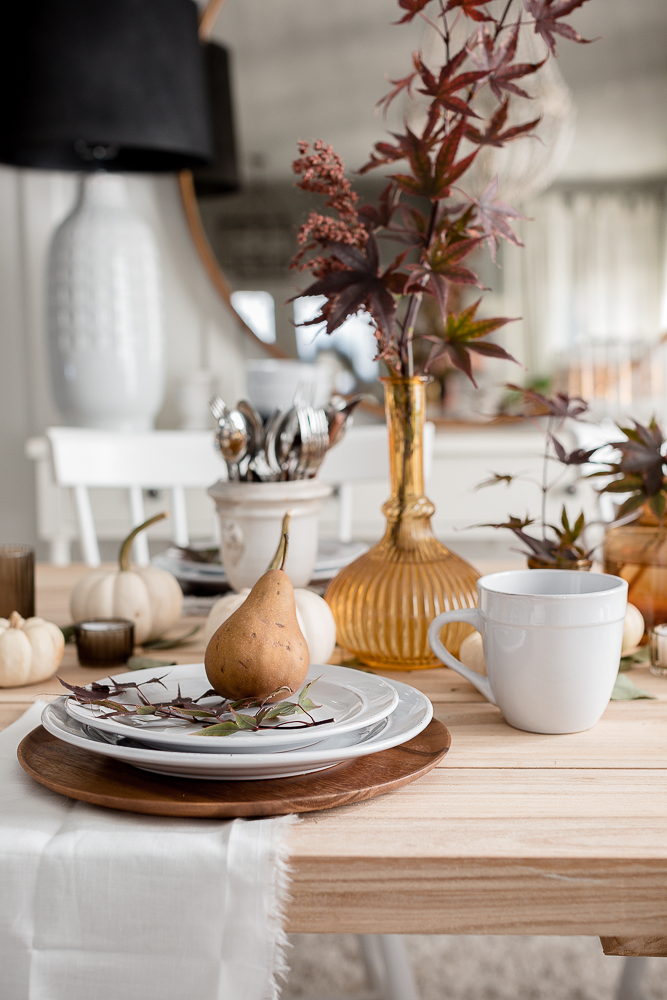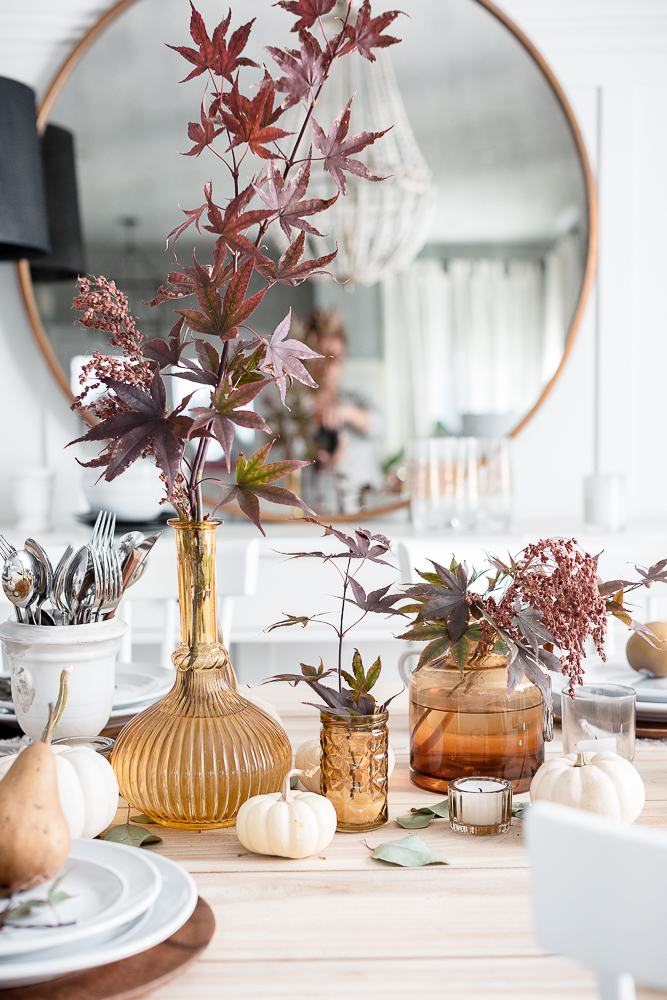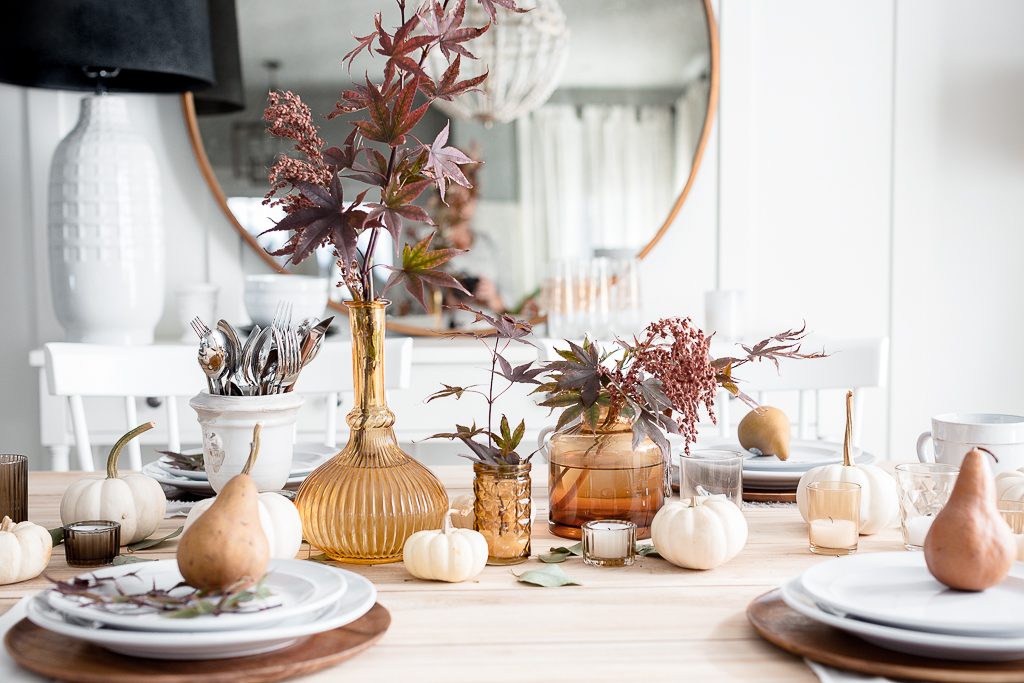 I think when you're creating, no matter what it is, all you have to do is have fun and play.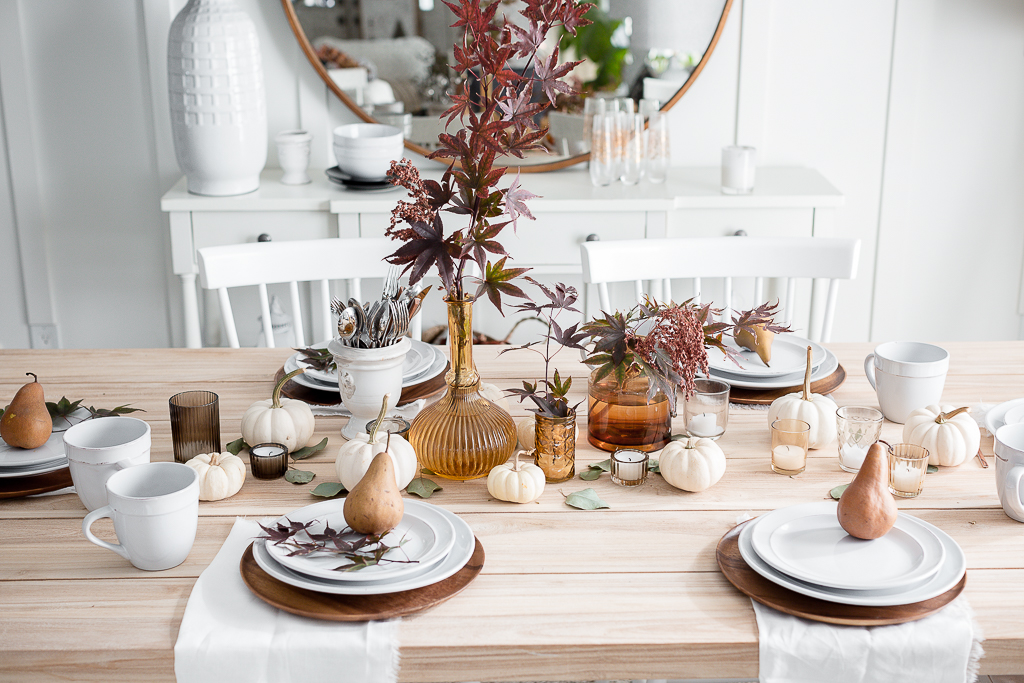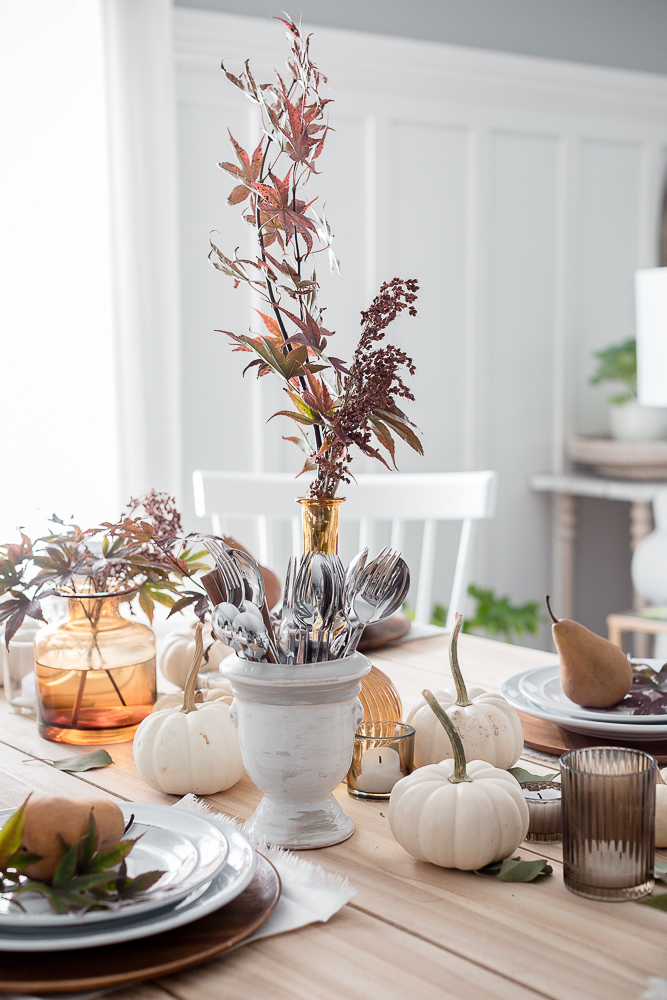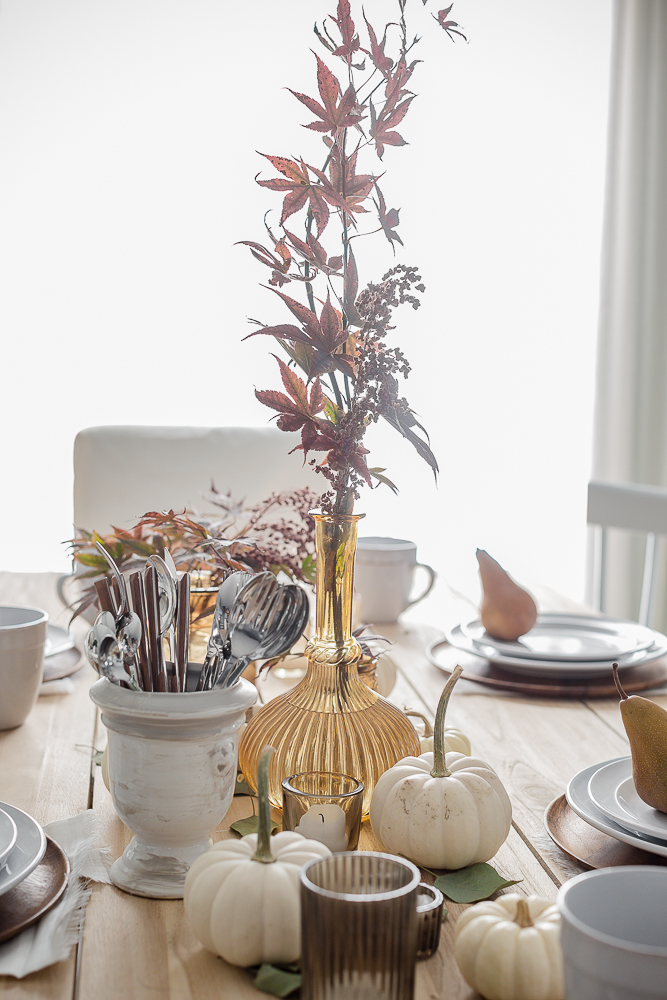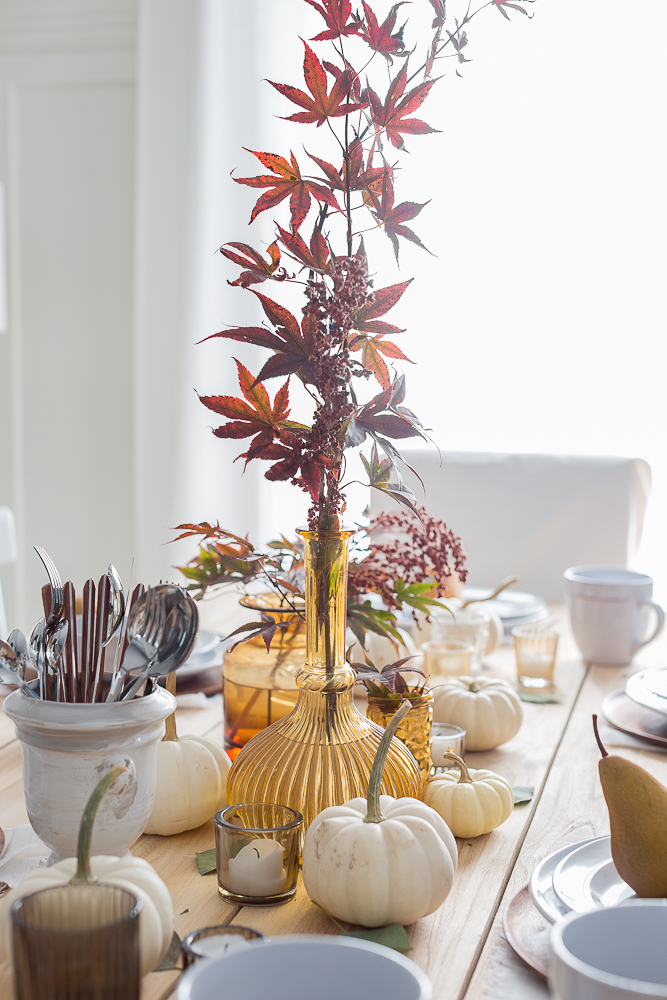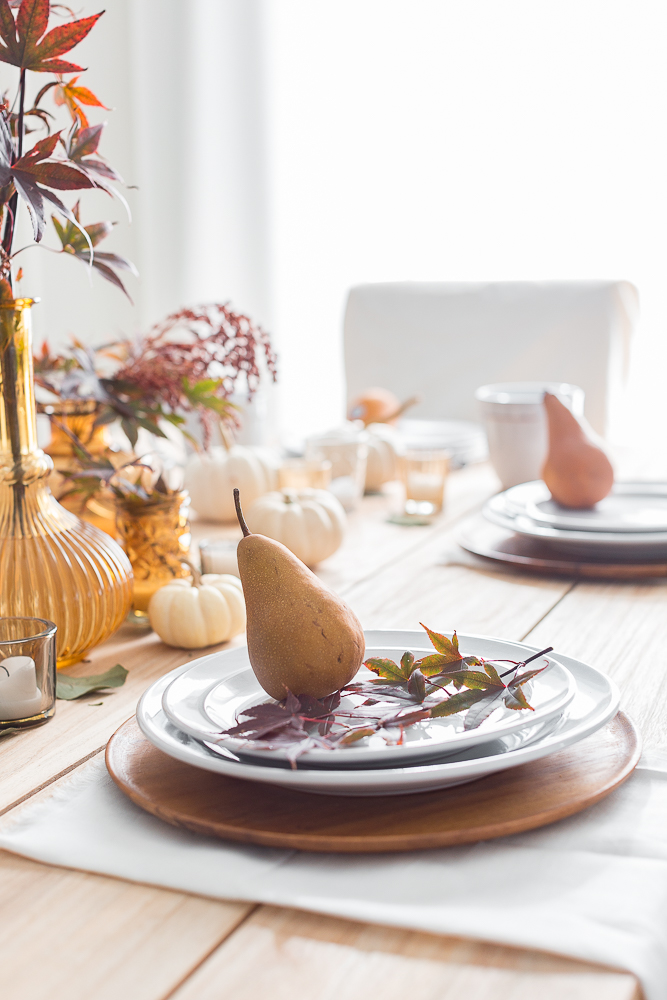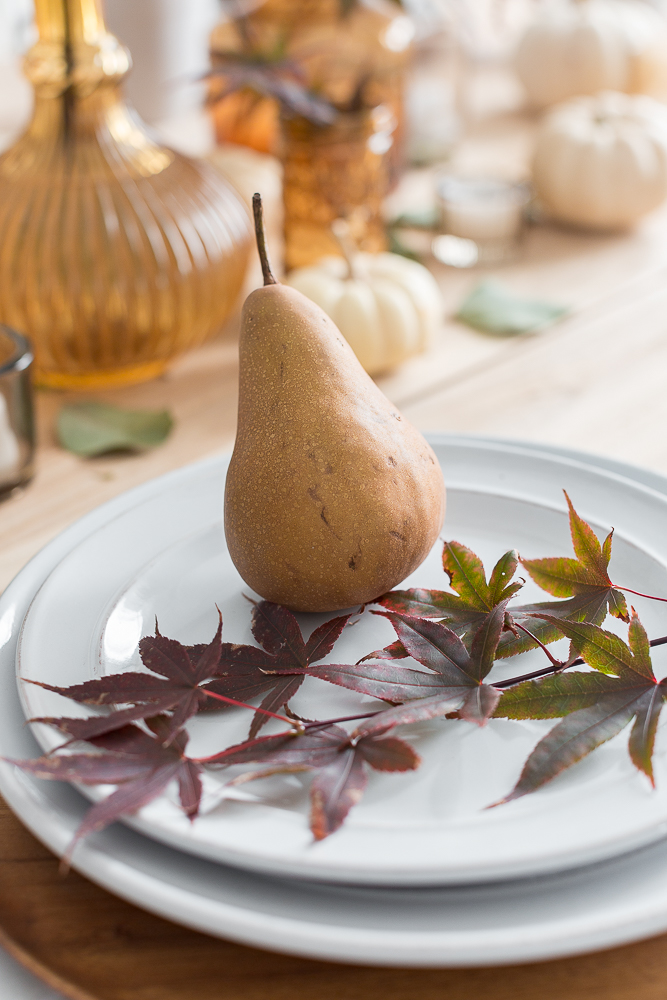 I love being able to use inexpensive items and come up with various ways to use them.
I hope you were able to find some inspiration. Please don't forget to visit my friends below.
Thank you so much for stopping by today.
much love,
Lucy
MONDAY's posts:
Life on Virginia Street | Cedar Hill Farmhouse | Taryn Whiteaker
So Much Better With Age | Town and Country Living
TUESDAY's posts:
Designthusiasm | On Sutton Place | Shabbyfufu
French Country Cottage | Julie Blanner | Craftberry Bush
WEDNESDAY's posts:
CitrineLiving | StoneGable | Maison de Cinq
Maison de Pax | Setting for Four | My Soulful Home
THURSDAY's posts:
Happy Housie | Ella Claire | Sand & Sisal
Zevy Joy | Styled with Lace | Dimples & Tangles