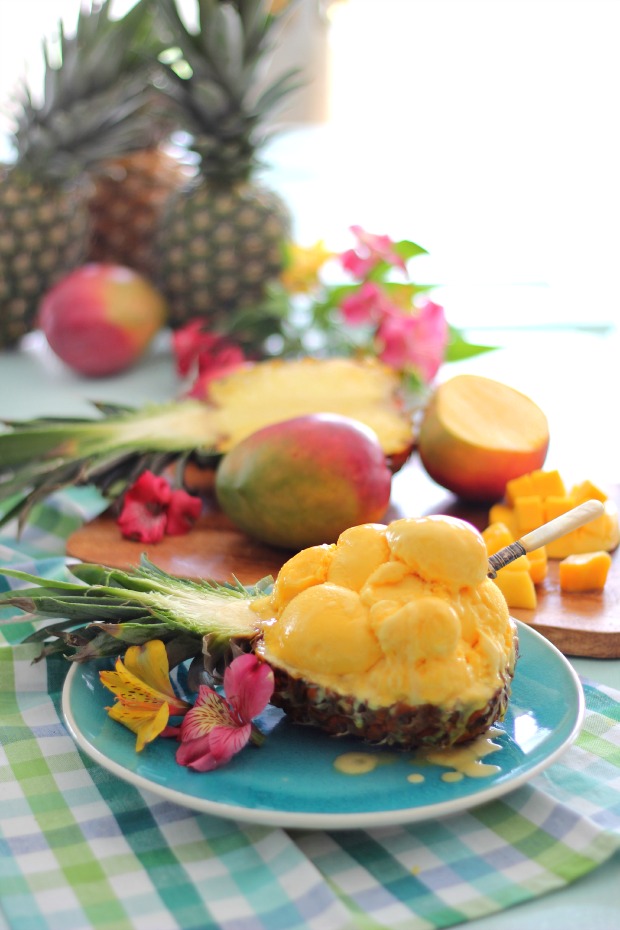 Hello friends. I hope you had a nice weekend. It was a long weekend here in Canada and we've been taking advantage of the weather to declutter the garage. I'm not sure how it happens but it seems like as soon as you get rid of
stuff more stuff appears. I'm seriously feeling like getting rid of everything and starting over in a very minimalistic life.  I don't know how that will be possible seeing as I'm getting ready to convert my son's room into my office and I'm already scoping new items for that makeover.
Anyway, it's been quiet around the blog because I've been working on some other things behind the scenes so I wanted to repost this delicious ice cream recipe from last year. I had so much fun taking photos. I hope you enjoy.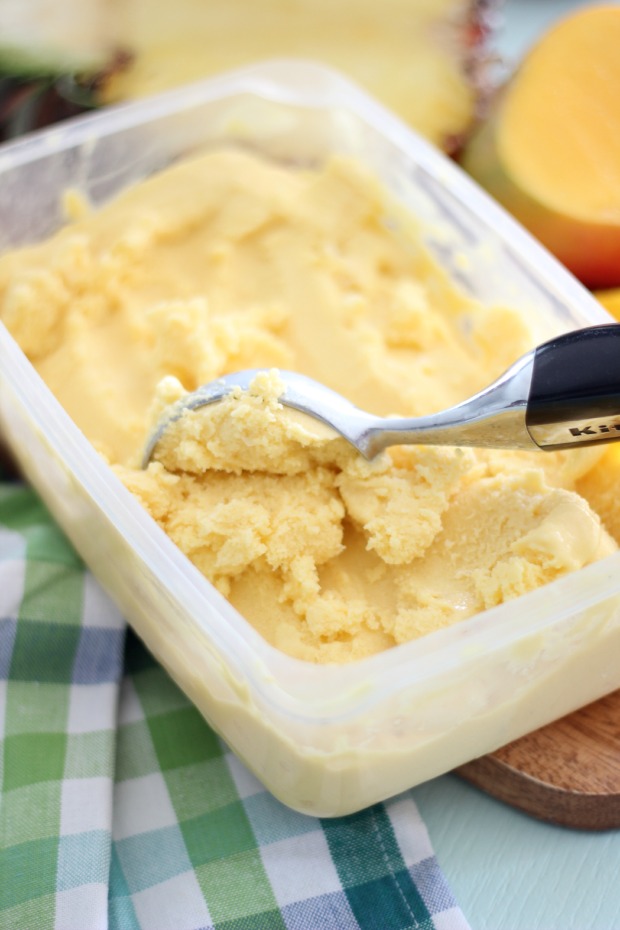 If like us, you don't own an ice cream maker, the trick to creamy ice cream is to take the mixture out of the freezer and stir for 2-3 minutes every 30 minutes for two hours. This process might seem a little time consuming but it renders a creamier texture as it reduces  crystallization.  You can of course skip the stirring in between and simply place the contents in the freezer.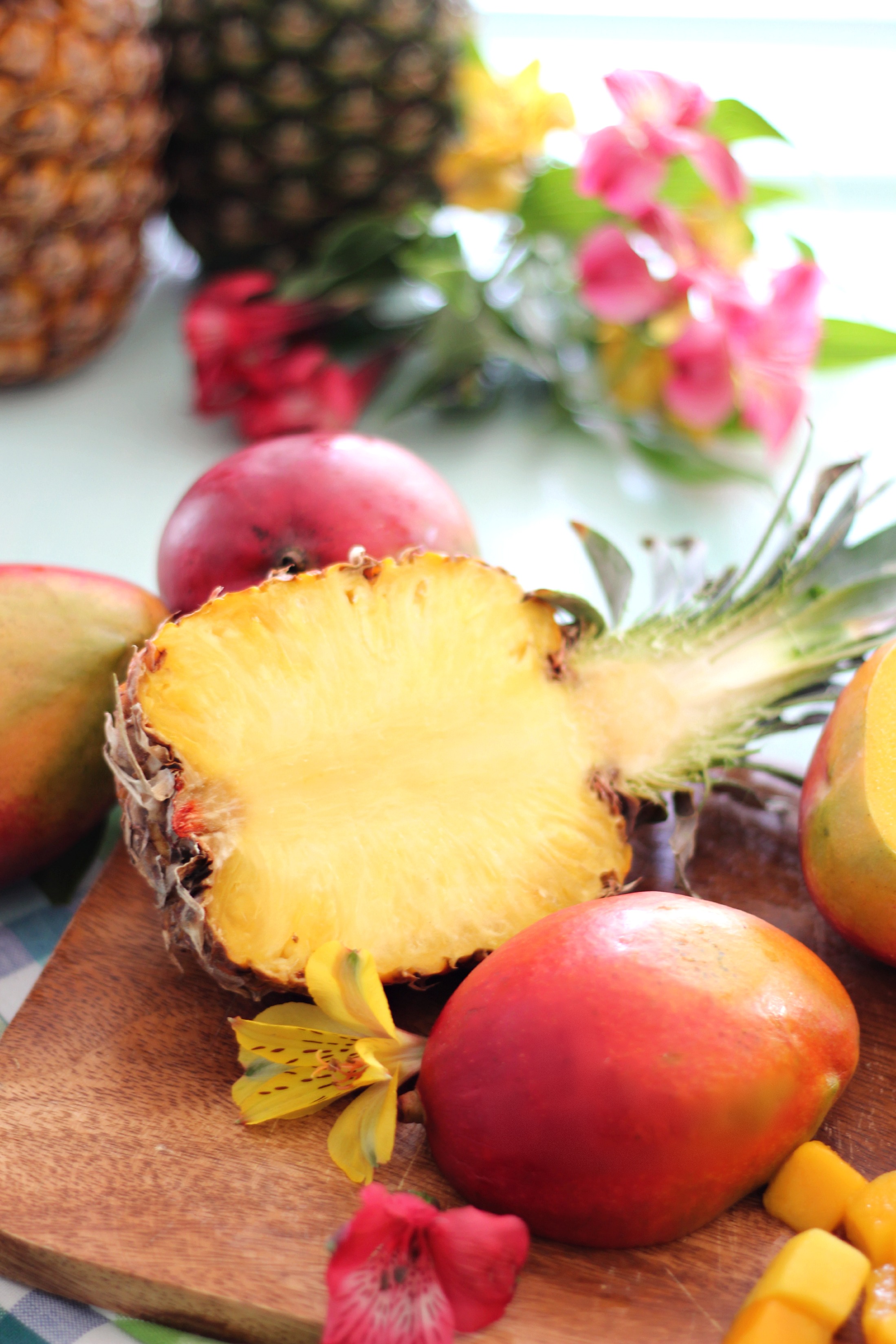 Ingredients
2 large ripe fresh mangoes, peeled and pitted or 2 cups of frozen mango
1 pineapple, skinned and cut into 1-inch chunks (I scooped the flesh out and used it as a bowl)
1 cup of chilled coconut milk . (Place can in fridge overnight)
1⁄2 cup raw agave nectar or 1/2 cup sugar
Directions
1. Blend together mango pineapple . Place in freezer for 1 hour or until half frozen.
2. Remove coconut milk from fridge. Mix sugar and coconut mild with electric mixer until creamy.
3. Remove mango pineapple mixture from freezer and pour into separate bowl.
4. Fold beaten coconut cream into the mango pineapple mixture and mix well.
5. Optional for creamier texture: Place in freezer safe container and place in fridge for 30 minutes.
6. Remove from freezer and stir mixture for 2 minutes. Place back in freezer for another 30 minutes.
Repeat this process 4 times.
7. Place in freezer and allow to freeze completely.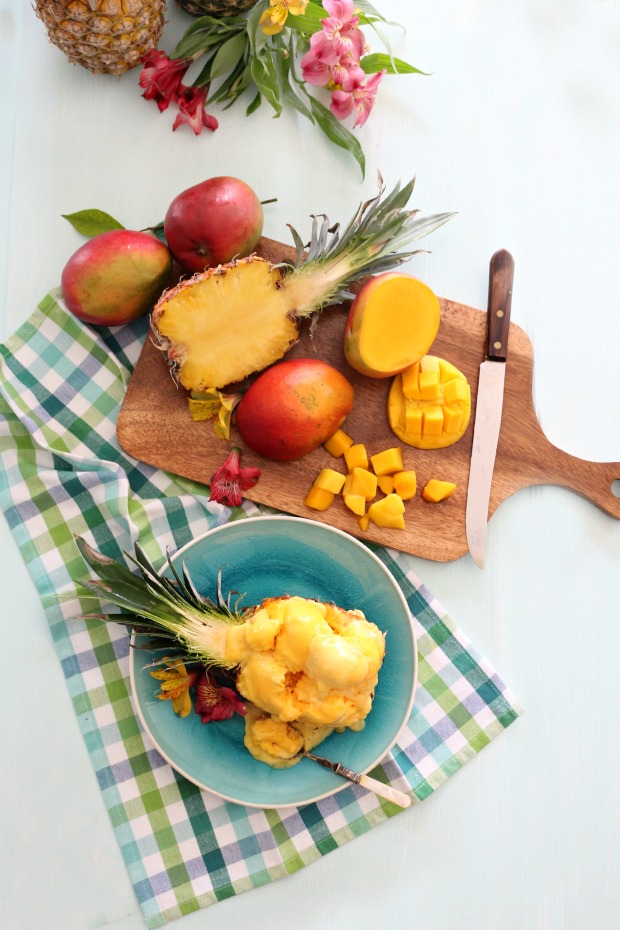 In my opinion, serving this delicious dessert in a pineapple bowl gives you brownie points. Such a fun and yummy way to welcome summer.
Thank you so much for stopping by. I hope you have a great start to your week.
much love,