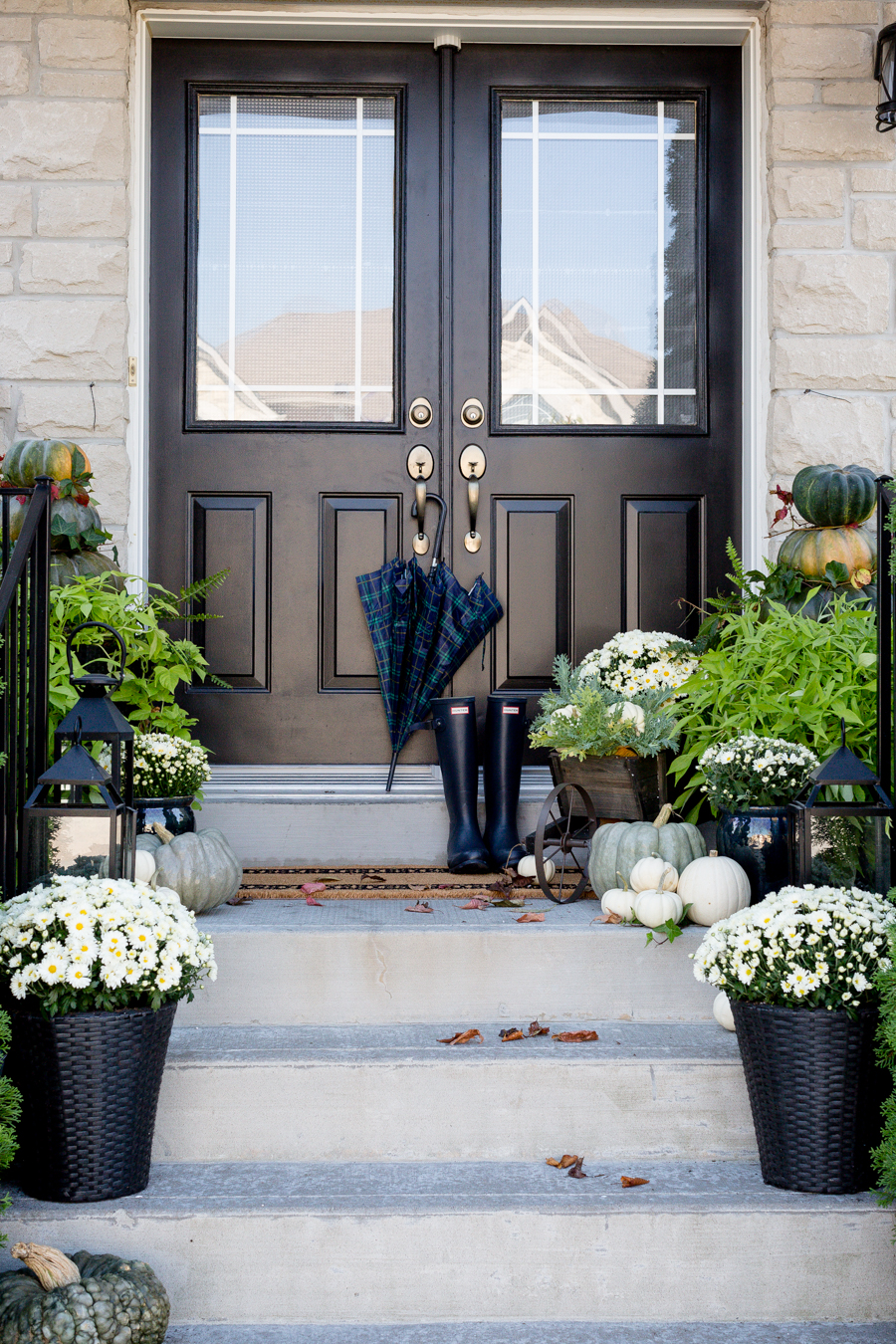 We're setting record temperatures here. Today we hit a high of 40C with the humidity, which is 104F . Brody wanted nothing to do with the outside and I cut his walk short because he was panting so heavily.
The AC has definitely been working over time these past couple of days and I'm so very grateful for that. With it being so hot ,it feels a little weird to be posting fall things because it truly feels like the middle of summer out there. But alas, we're back today with our Seasons of Home series kindly being sponsored by Joss & Main.
Today we're featuring some fall outdoor spaces which we hope you will love.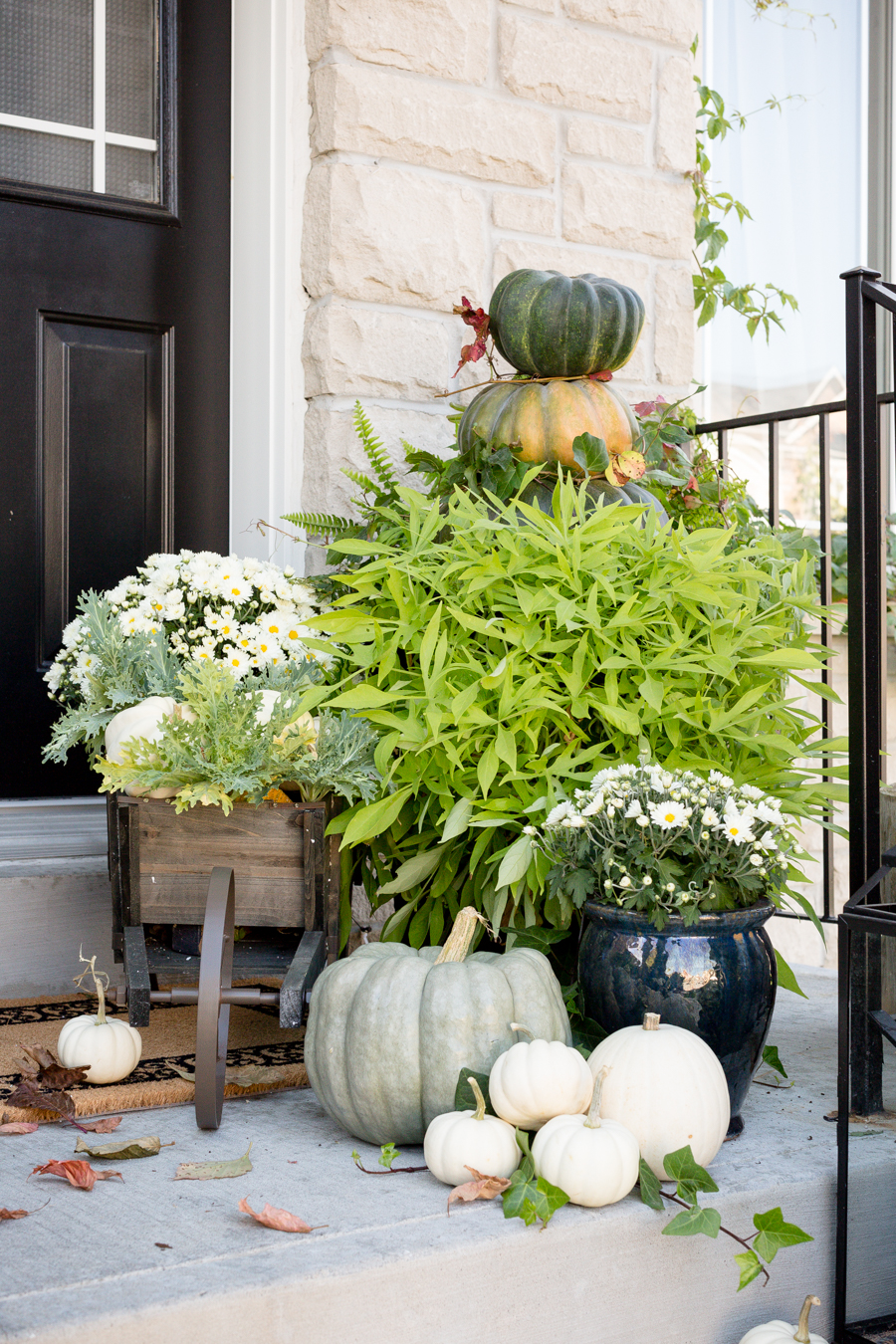 The plants outside are still thriving and it just felt wrong to dig them out of my planters so I left them .  I did trim the hydrangeas so I could stack the pumpkins on top of the planters.
Speaking of pumpkins, the pretty heirloom pumpkins  here cost you a pretty penny and can get expensiveeeee.  So even though I wanted  lots and lots of pumpkins on my steps, my wallet and conscious didn't allow me to.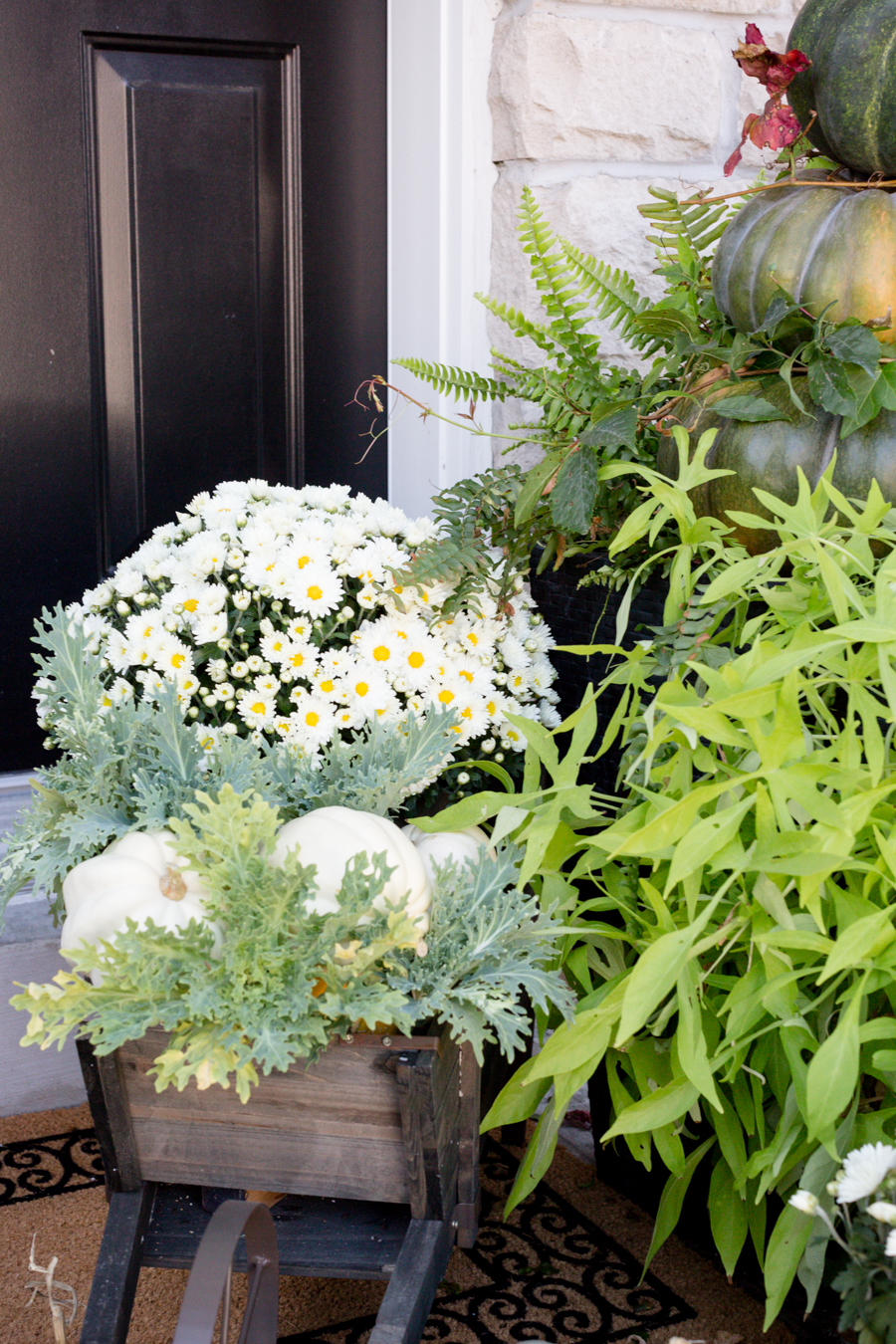 I think it's really important to make do with what you have….:)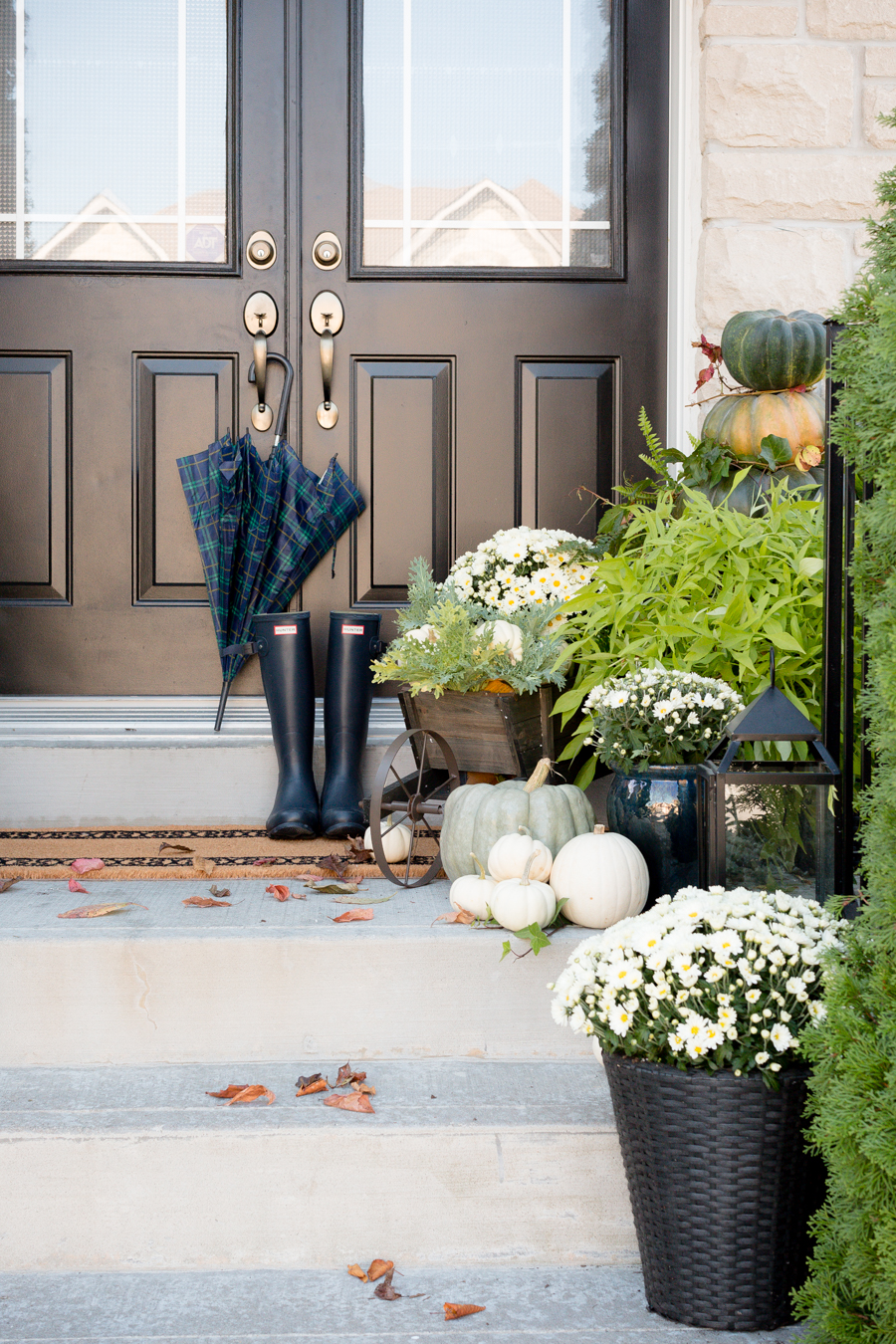 I decided to  also do a little white and blue outside and bought some little white pumpkins and some pretty white mums.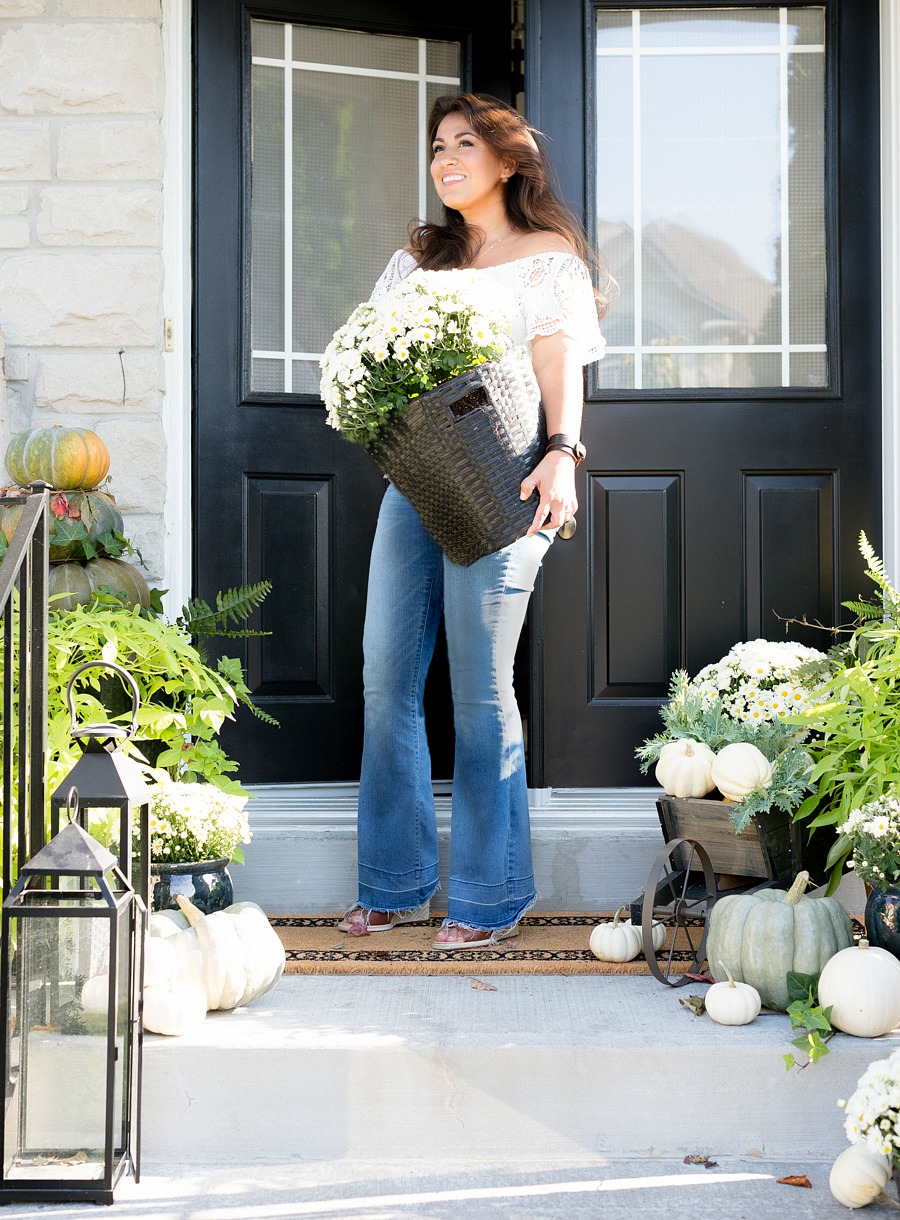 My oldest son took this photo and kept asking why I was putting pumpkins out while you could hear cicadas on the hottest day of the year. All the while I was sweating buckets and trying my hardest not to look down towards the camera in order to avoid the double chin situation. Hence my look into yonder…lol.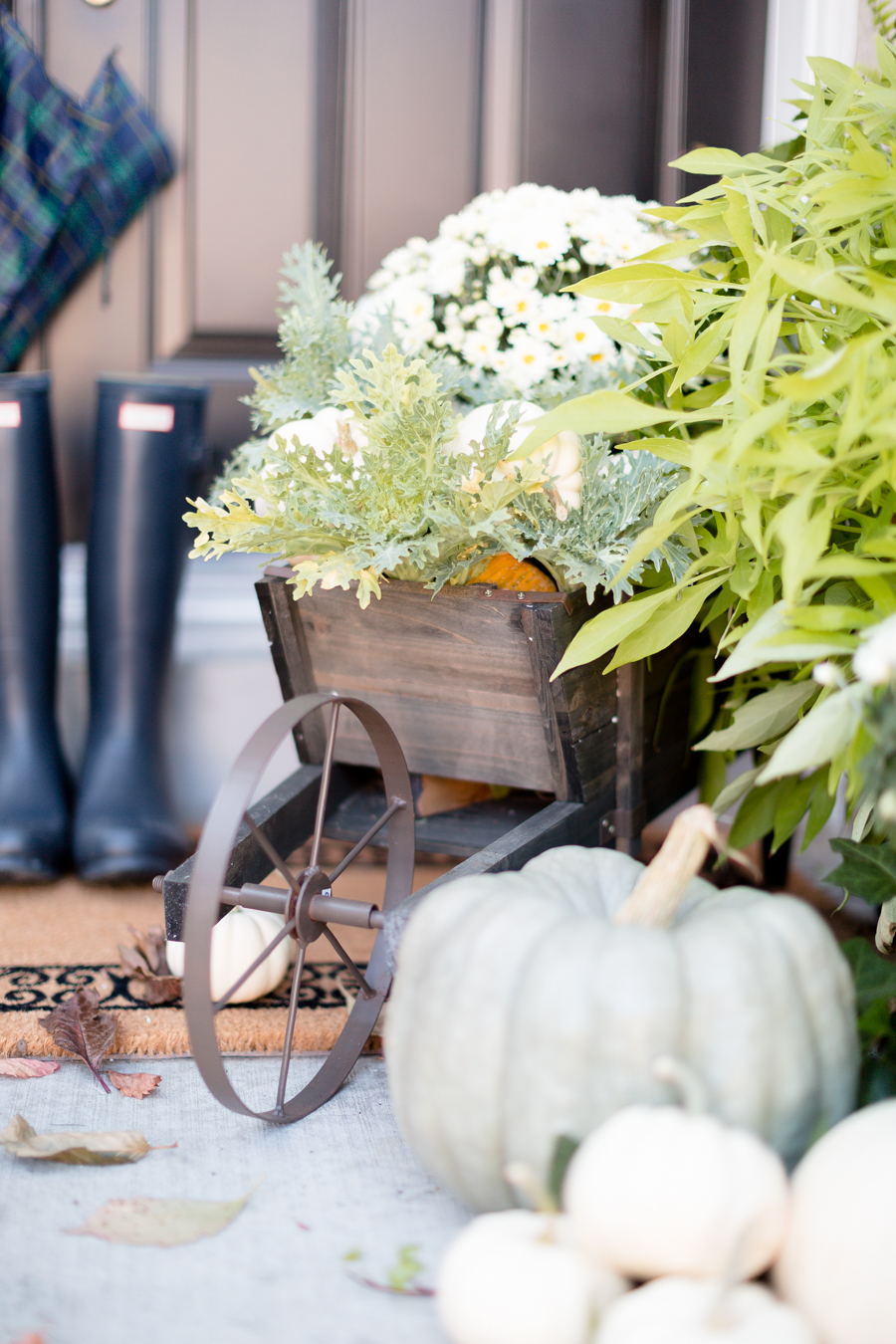 I was so excited to decorate this little  wheelbarrow. Isn't it cute? It's going to be perfect for each season. I just love how whimsical it is.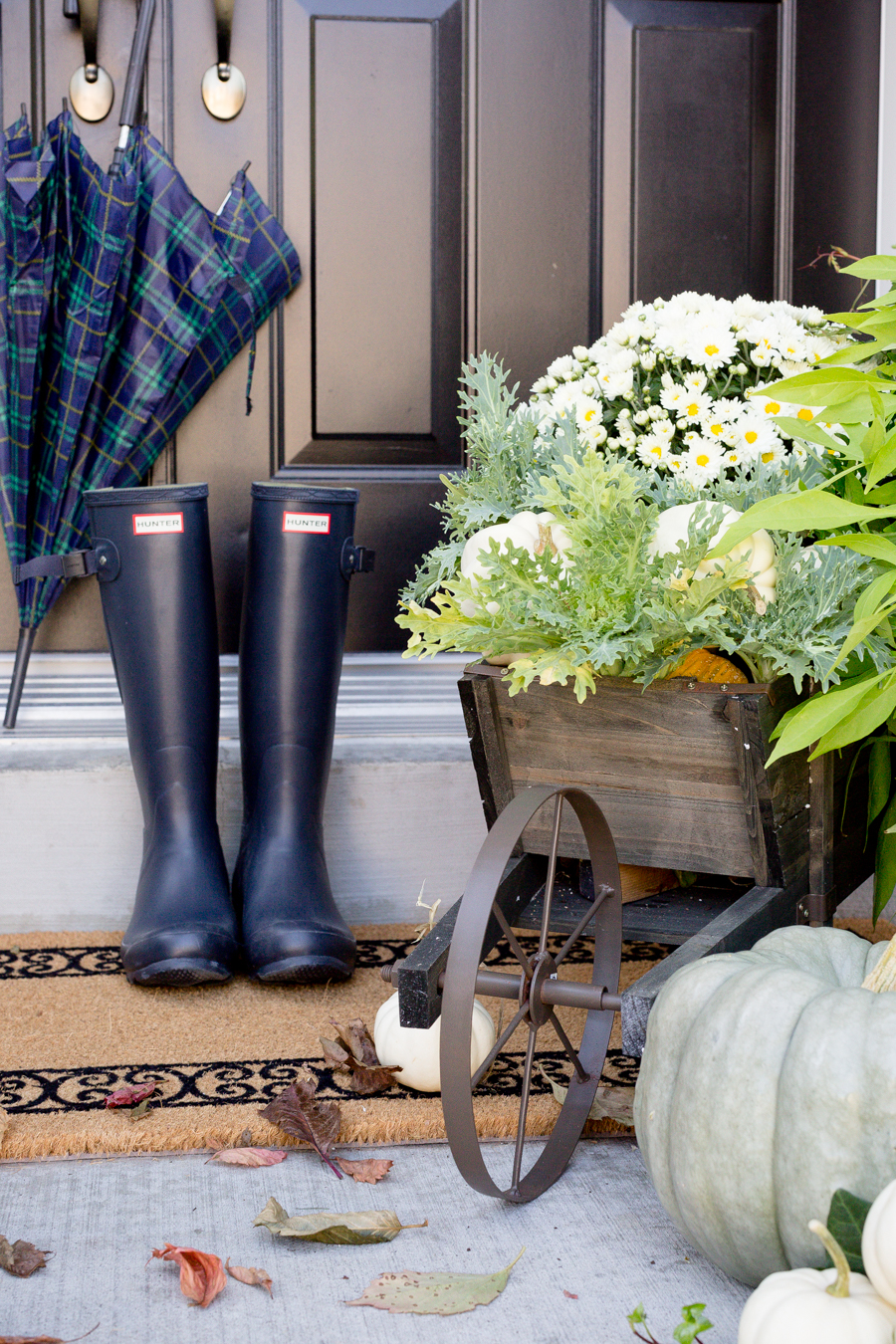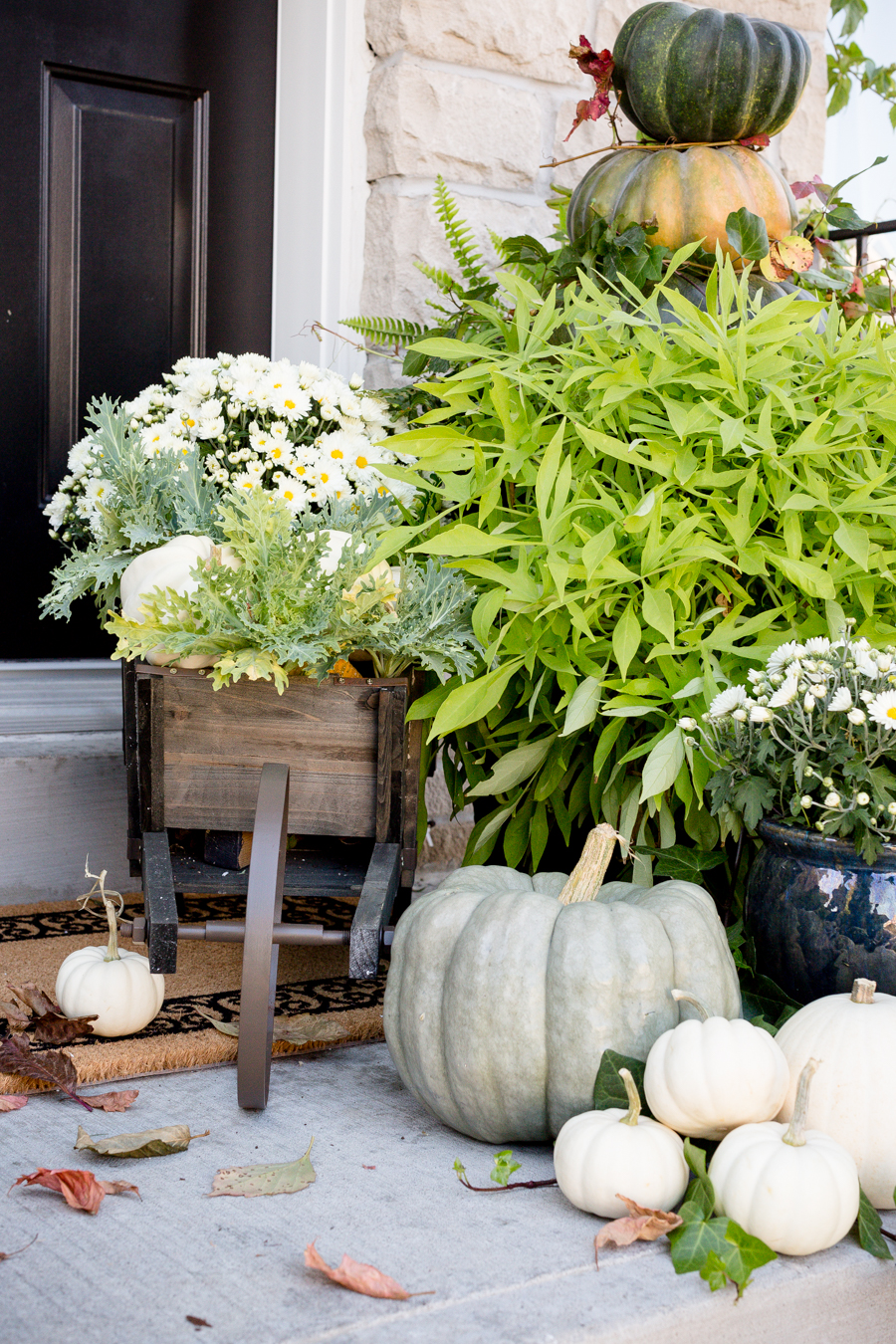 I just filled it with some kale, mums and some little pumpkins…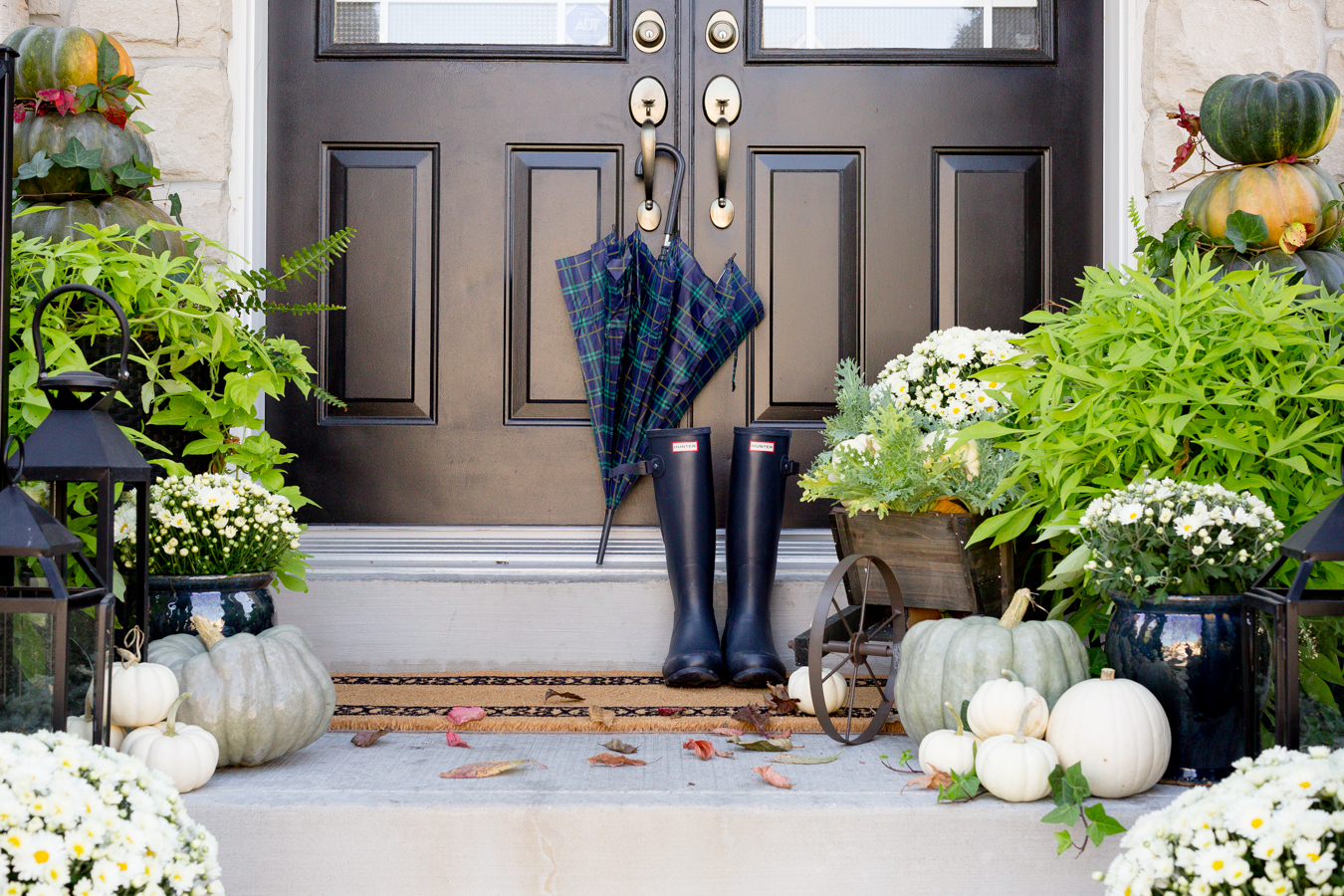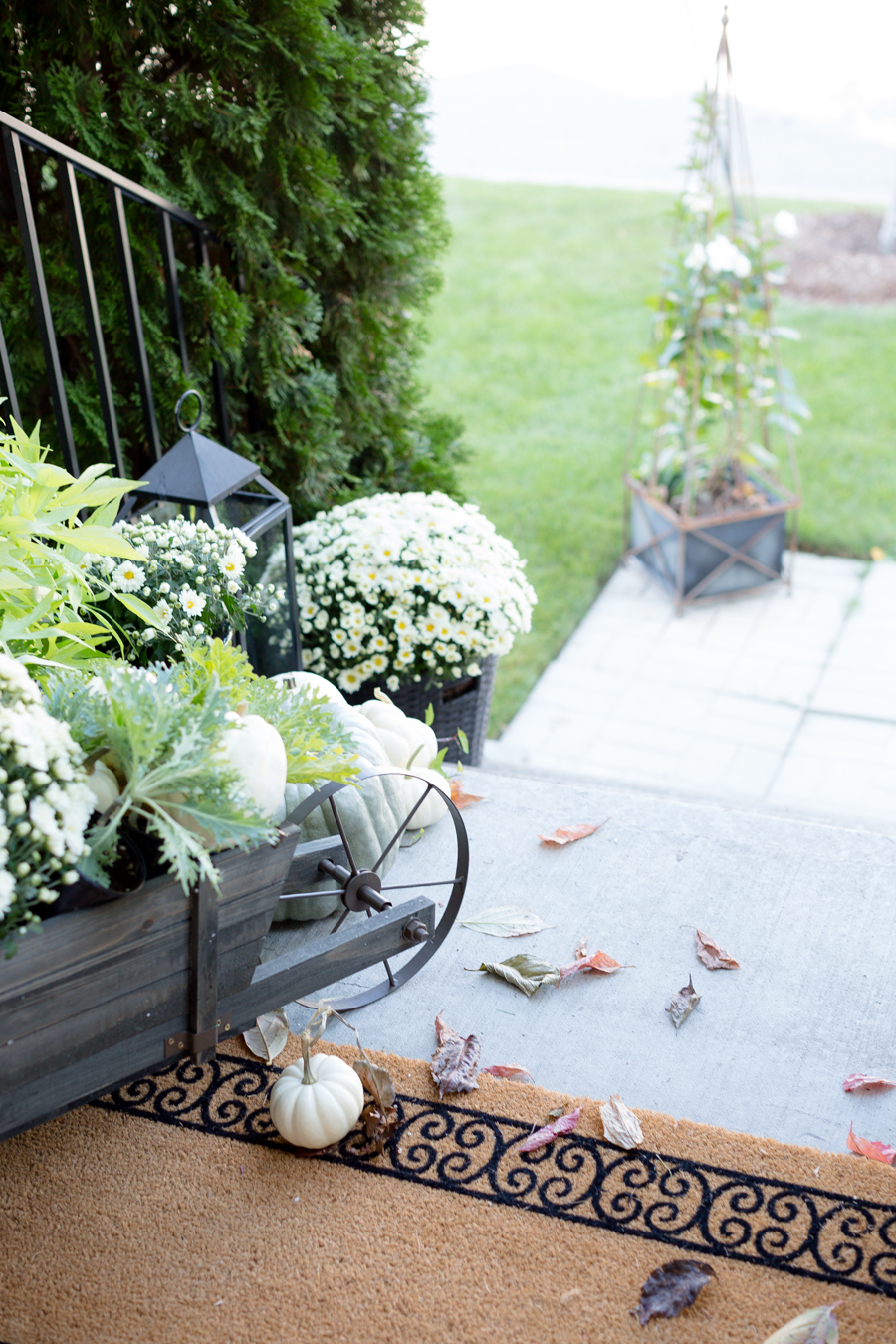 I also replaced the door mat. I have such a hard time finding long mats for the front door, so I was so happy when I found this one.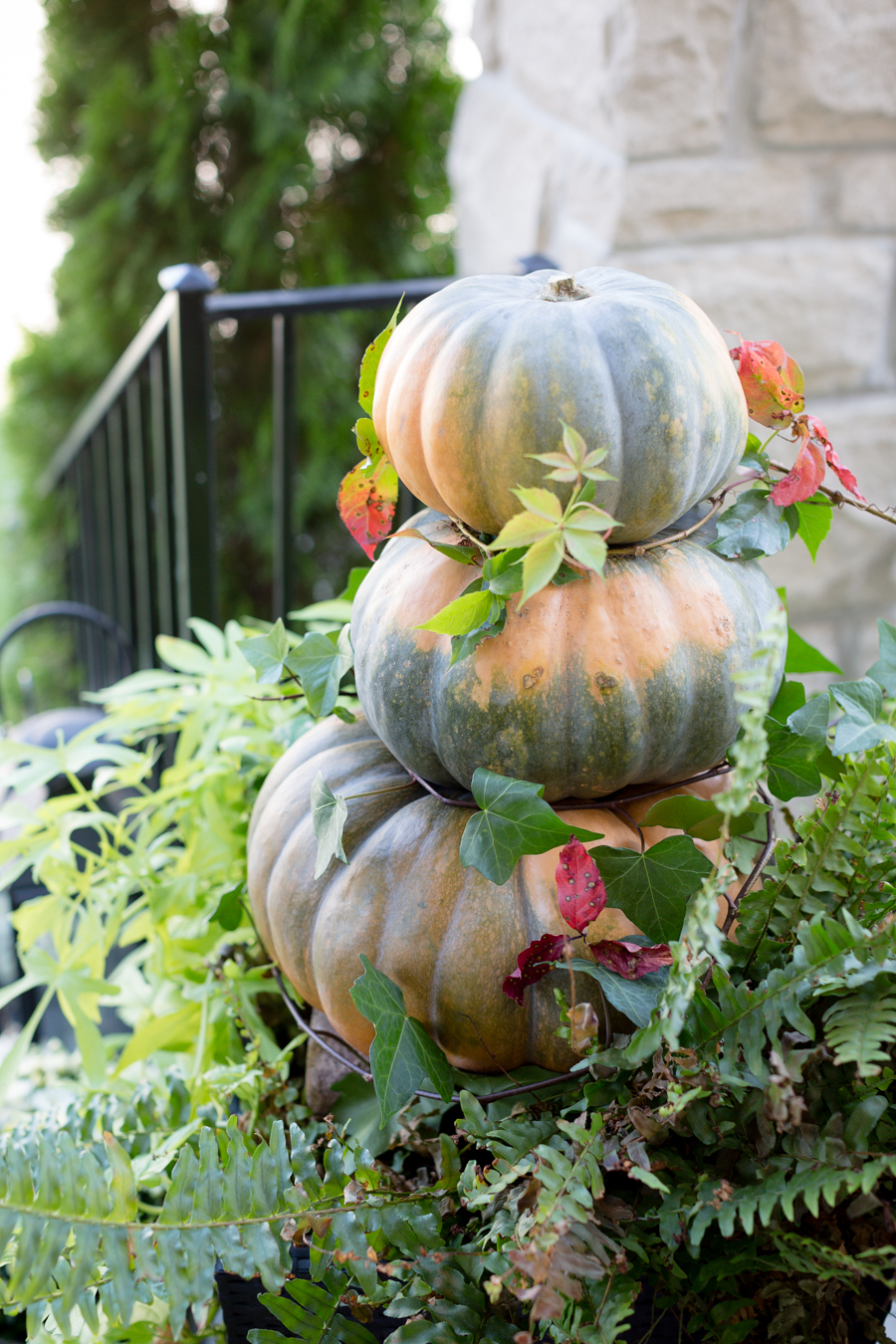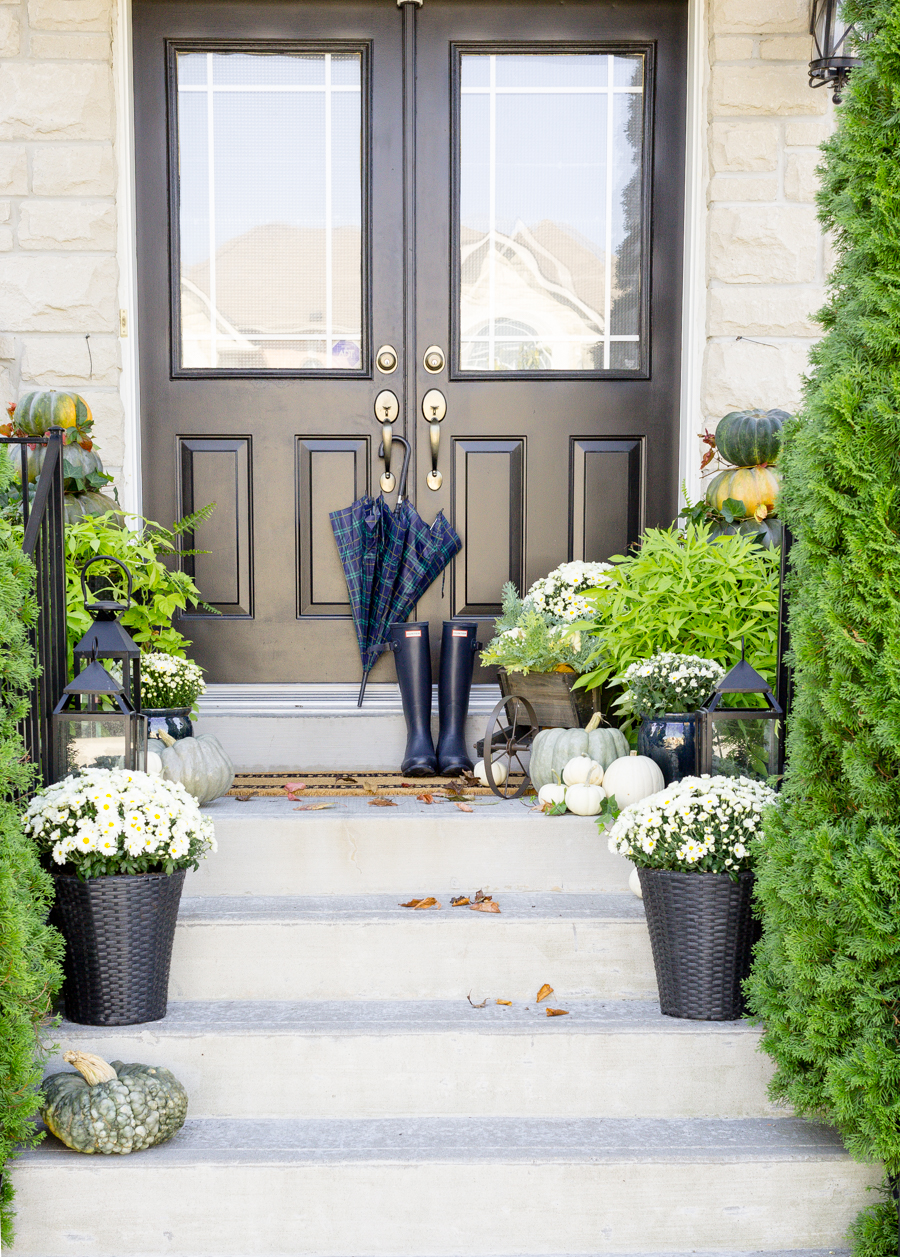 I also ordered some pretty dollar eucalyptus wreaths, but they unfortunately didn't arrive on time. But I will share with you as soon as they arrive. I think they will complete the look.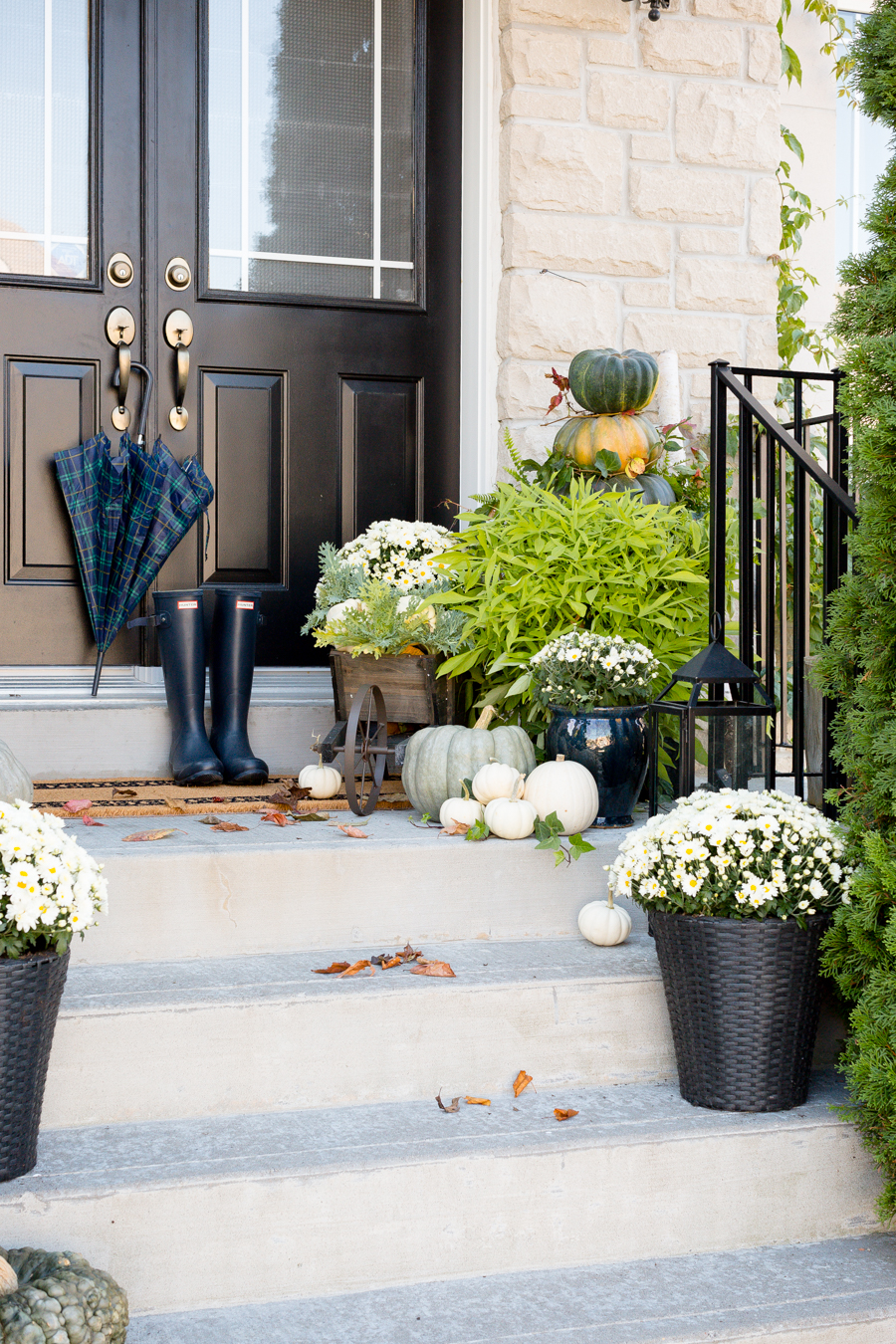 Here is a better view of the stacked pumpkins. I think the potato ivy blocks them a little too much, but it's just so pretty, I couldn't cut it.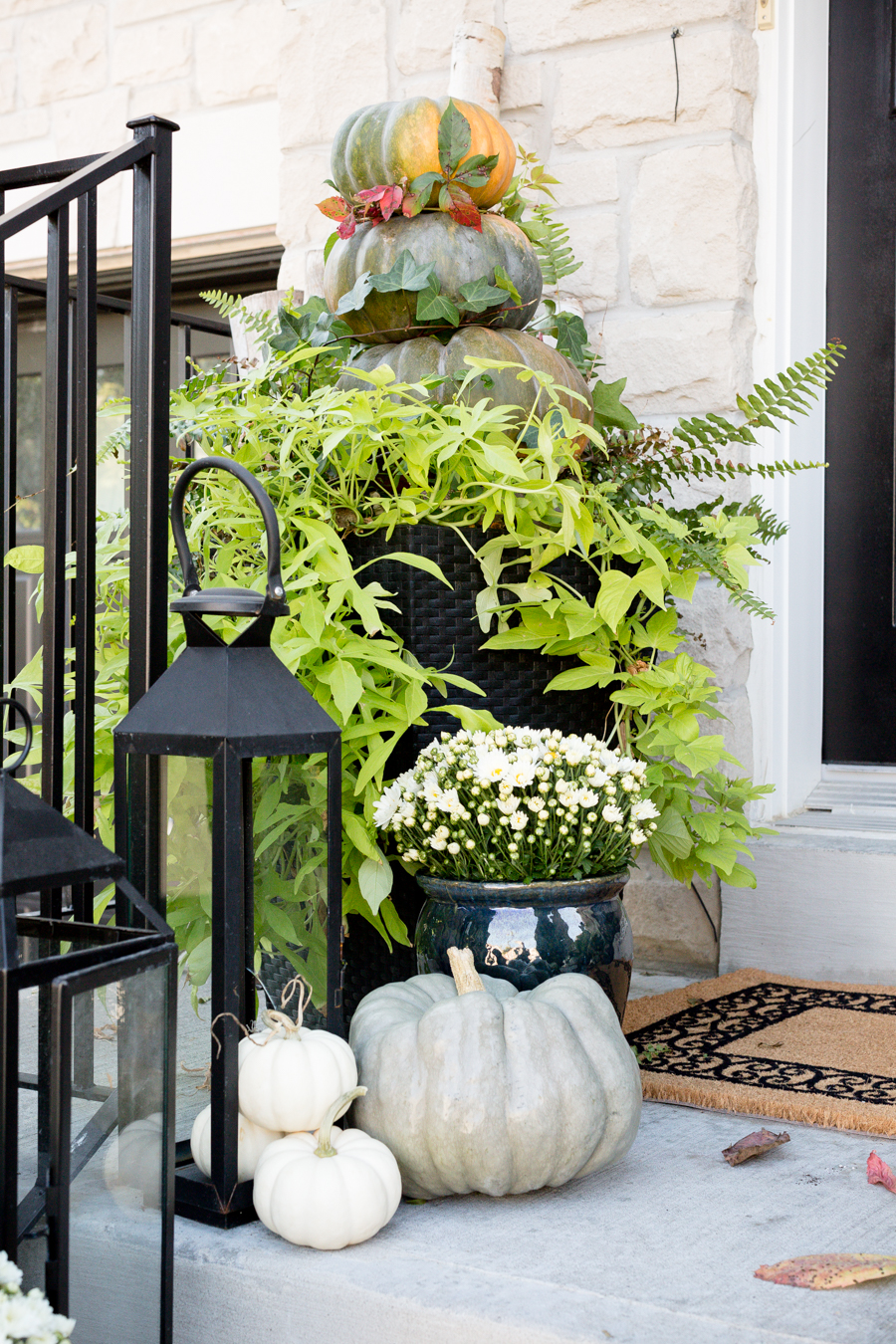 Here is the other side.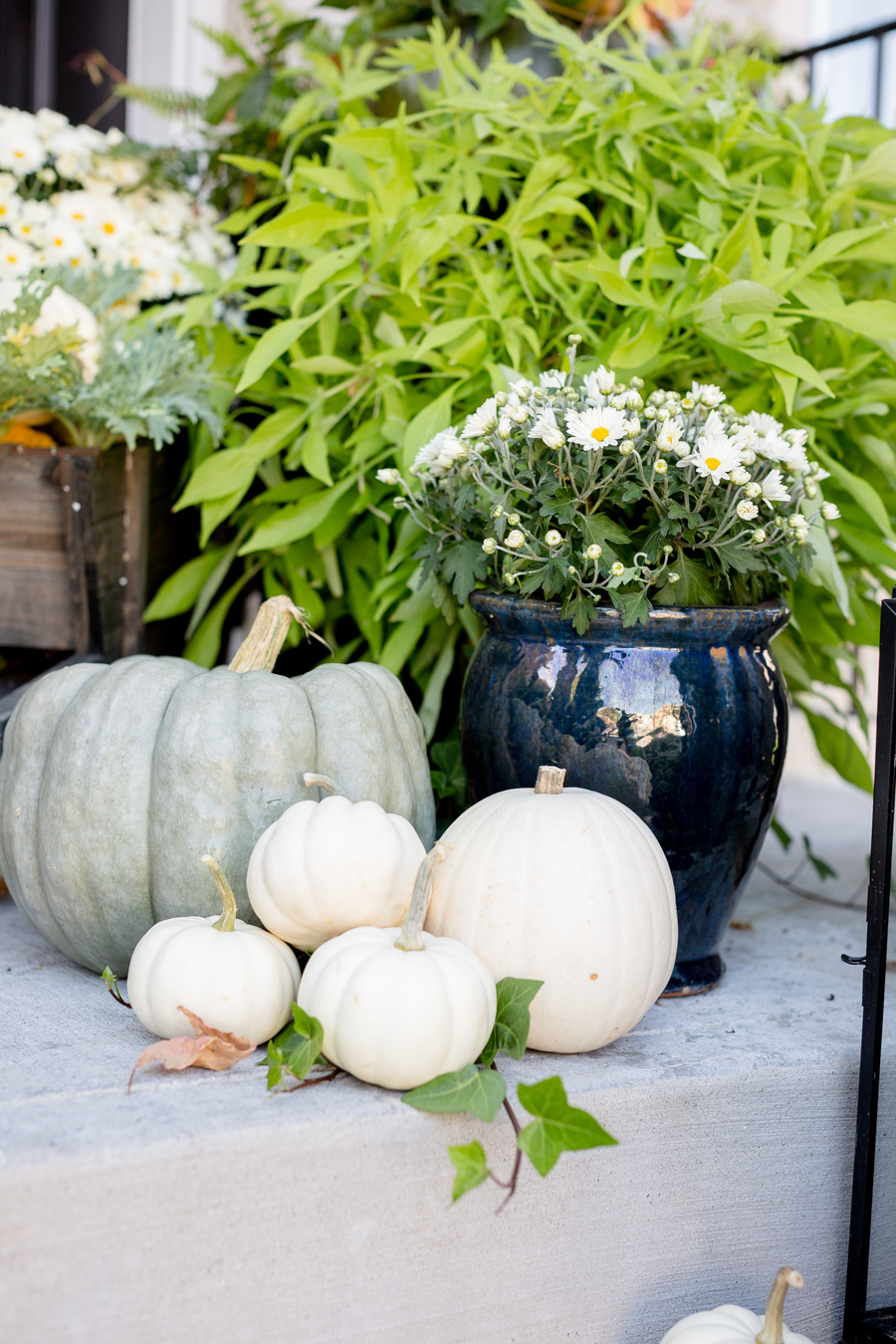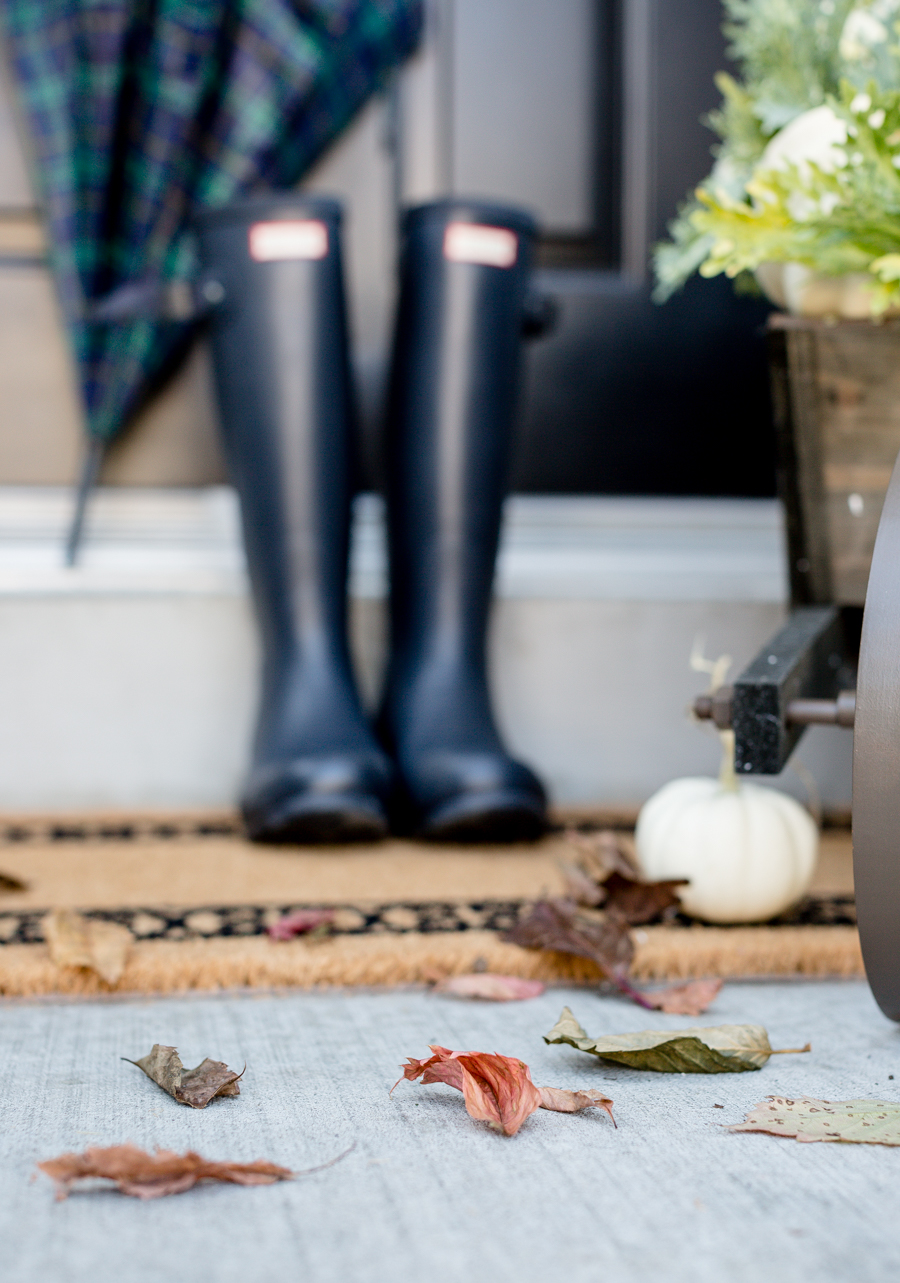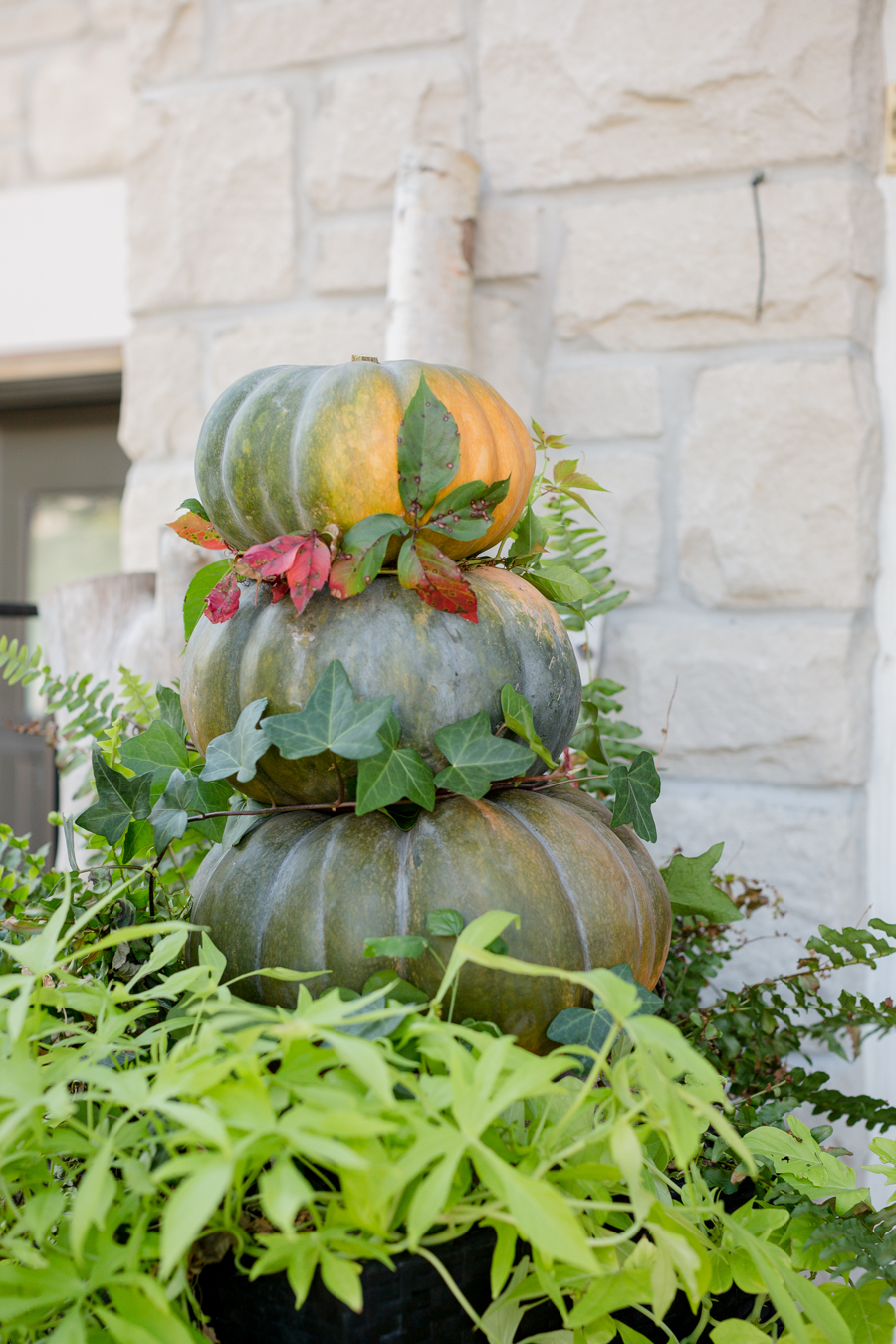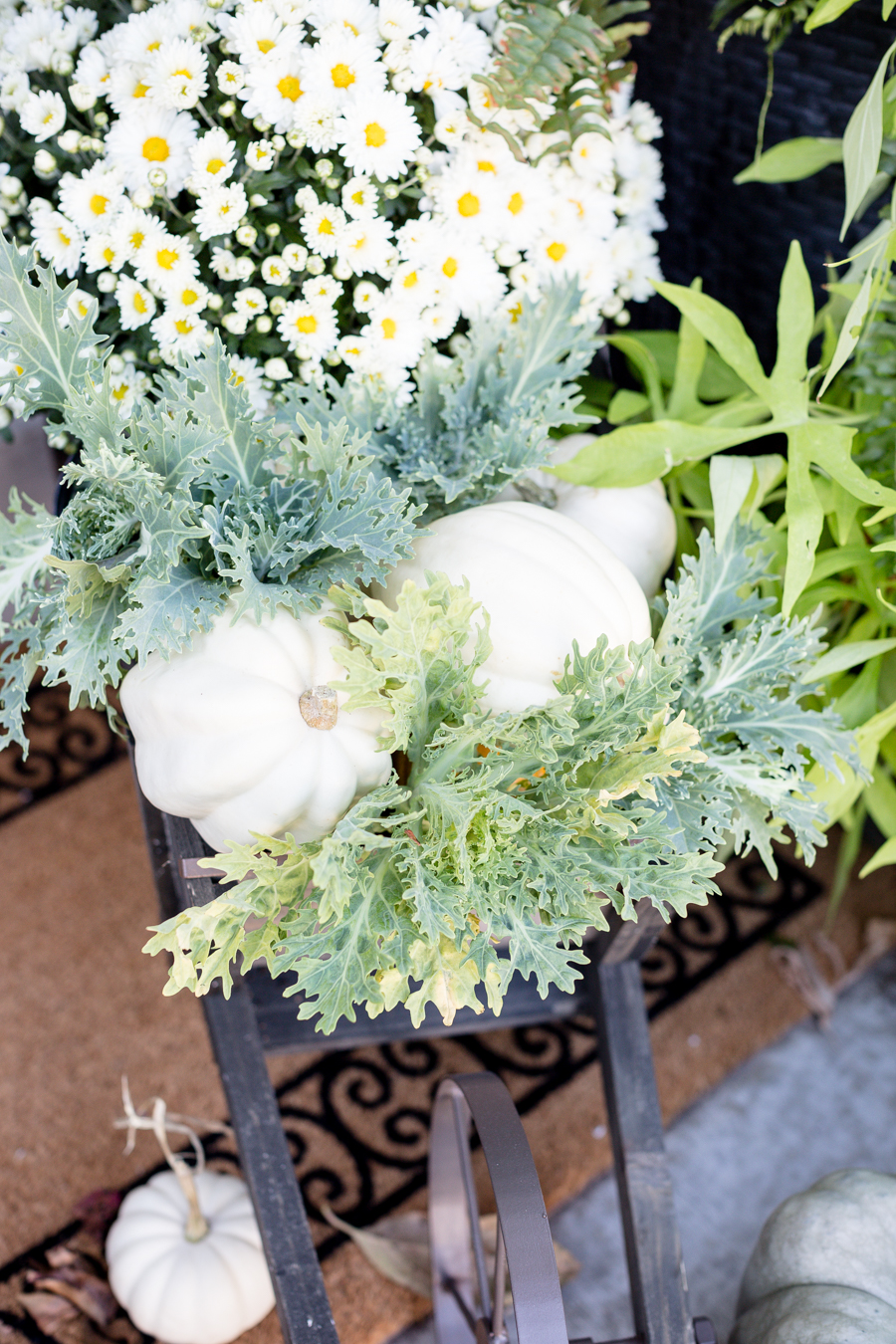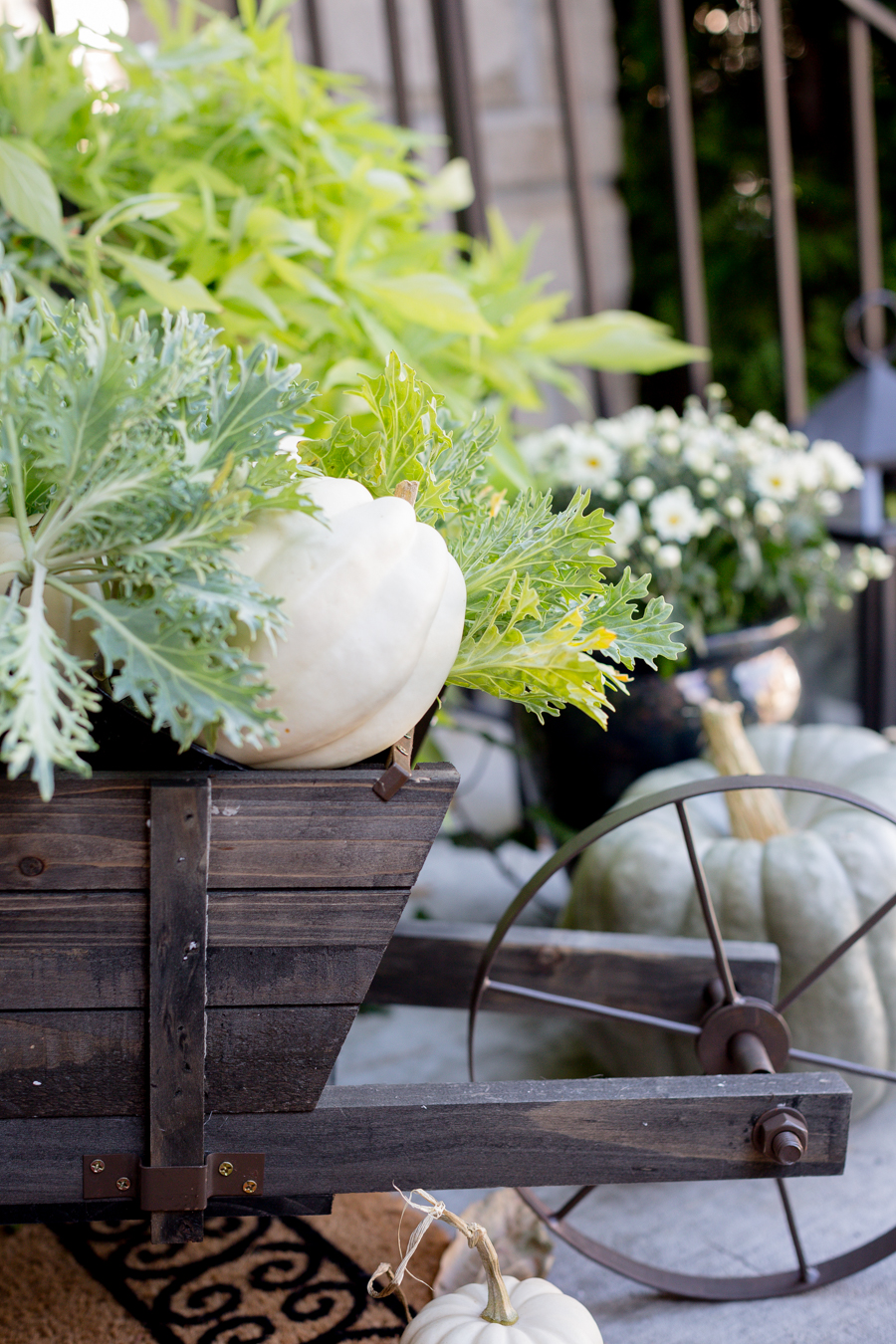 Here's a close look at the wheelbarrow.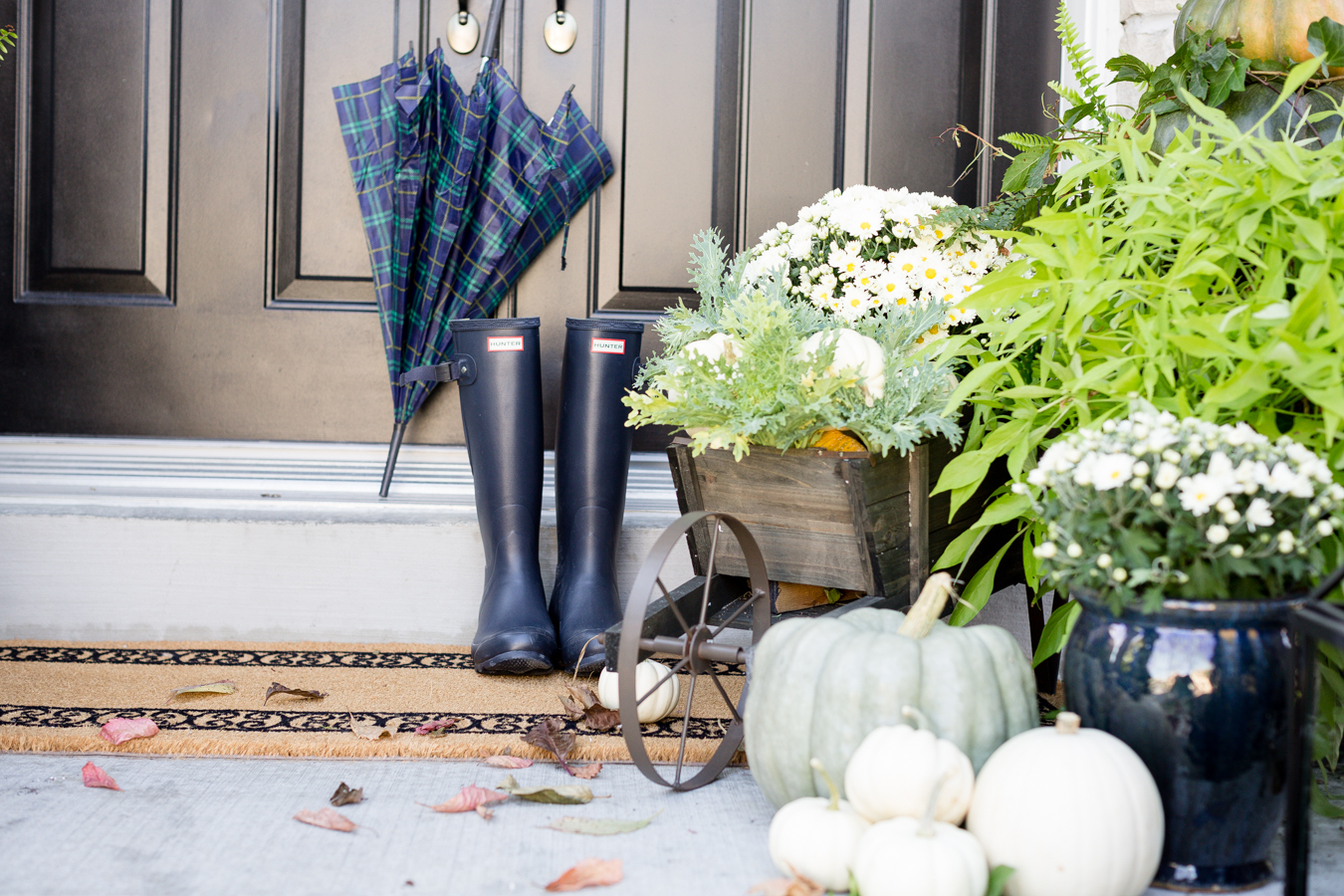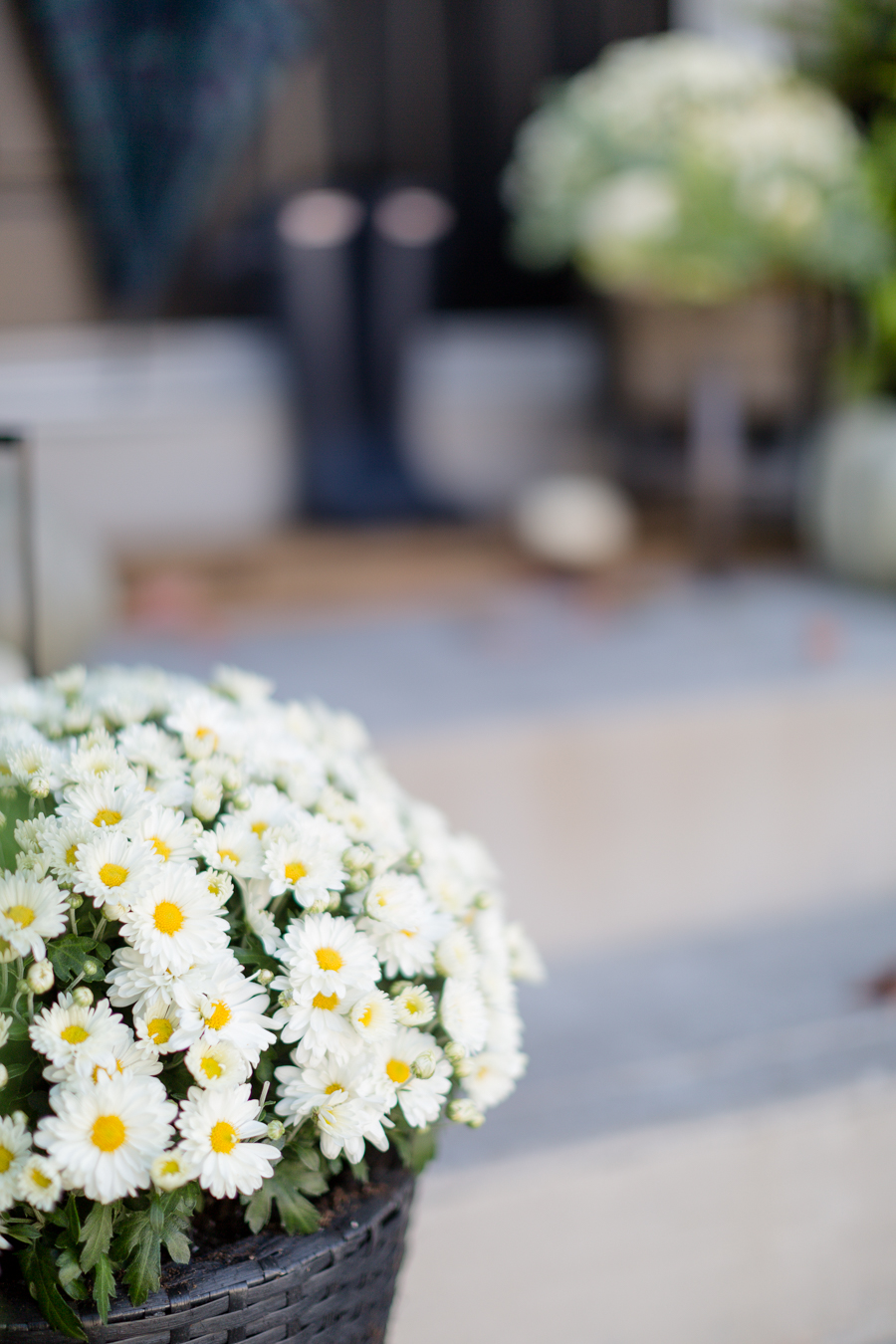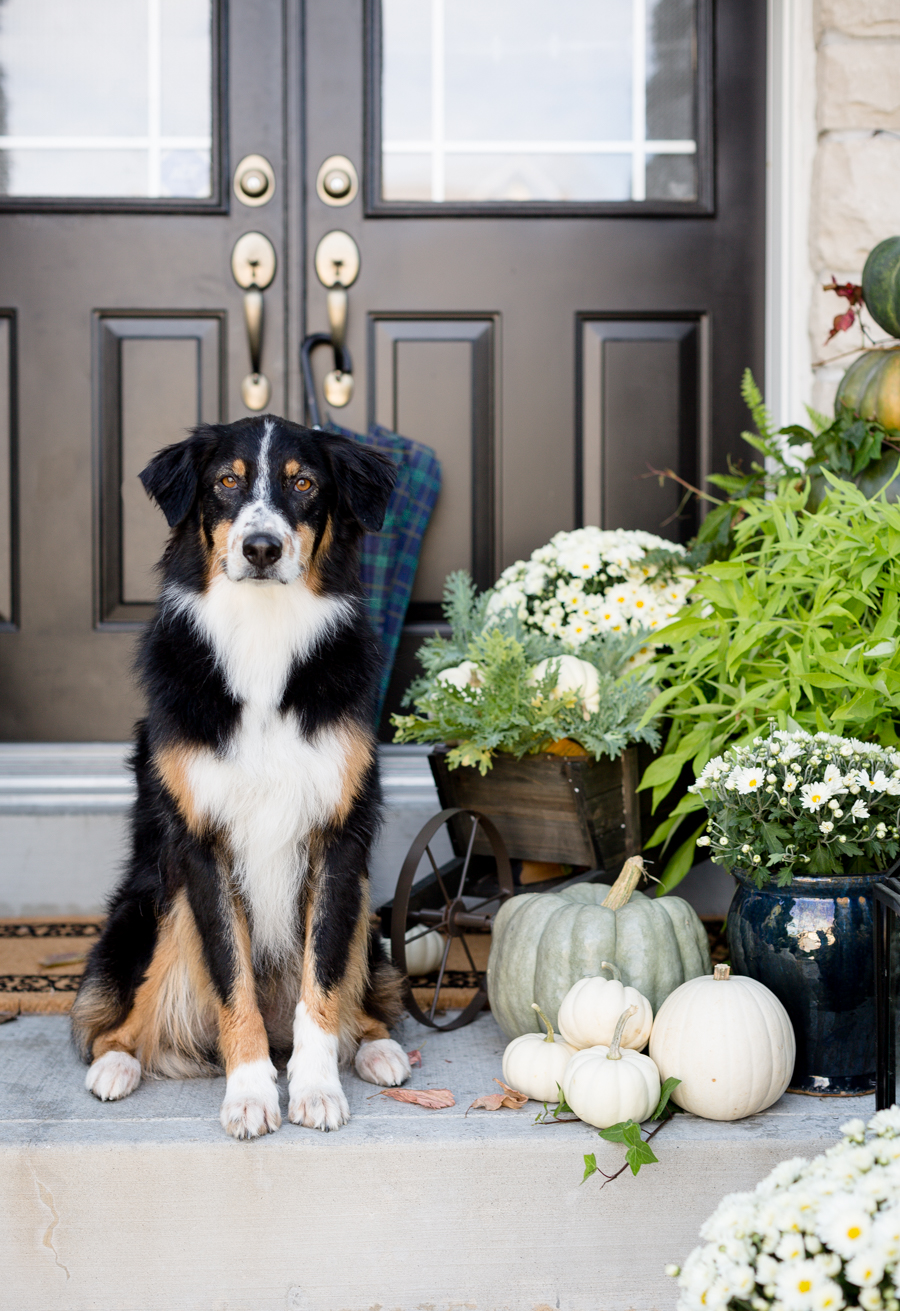 Brody had just come back from a swim so he was nice and tired but always ready to say 'cheese'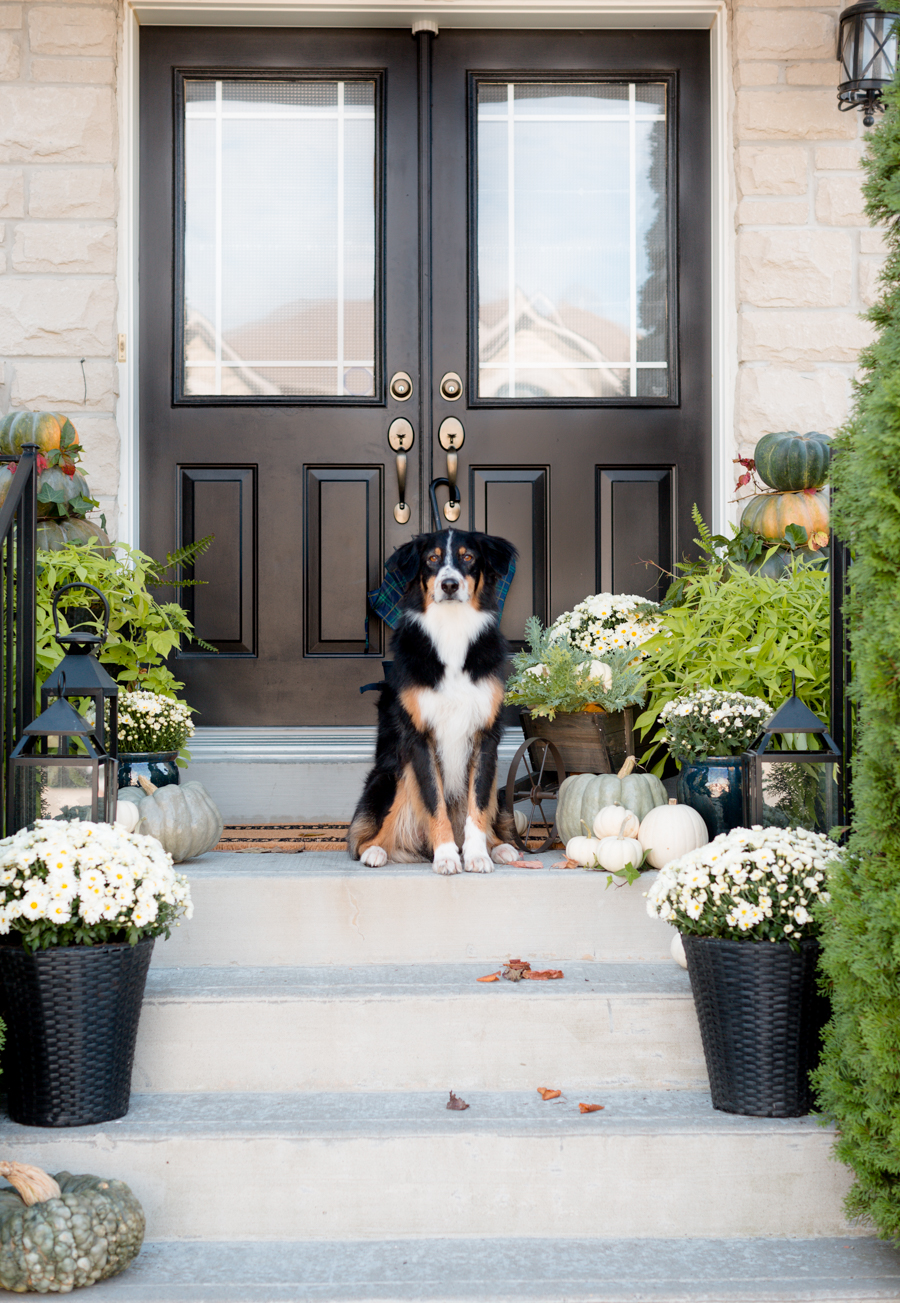 He's such a good boy. If I say so myself.
And there you have it, my fall porch for this year. Please don't forget to visit the amazing spaces below.
I also wanted to let you know that Joss & Main is also hosting a $500 giveaway over at their IG account. All you have to do is snap a picture of your outdoor space and tag @jossandmain and #designtheoutdoors for a chance with win.
Thank you so much for stopping by today. I hope you have a beautiful day…xo

Ella Claire | Rooms for Rent | Dear Lillie | Love Grows Wild
Nesting with Grace | Liz Marie Blog | Shades of Blue Interiors | My Sweet Savannah
Julie Blanner | City Farmhouse | French Country Cottage | Jeanne Oliver
Miss Mustard Seed | Craftberry Bush | Jennifer Rizzo | and our featured guest, Beneath My Heart