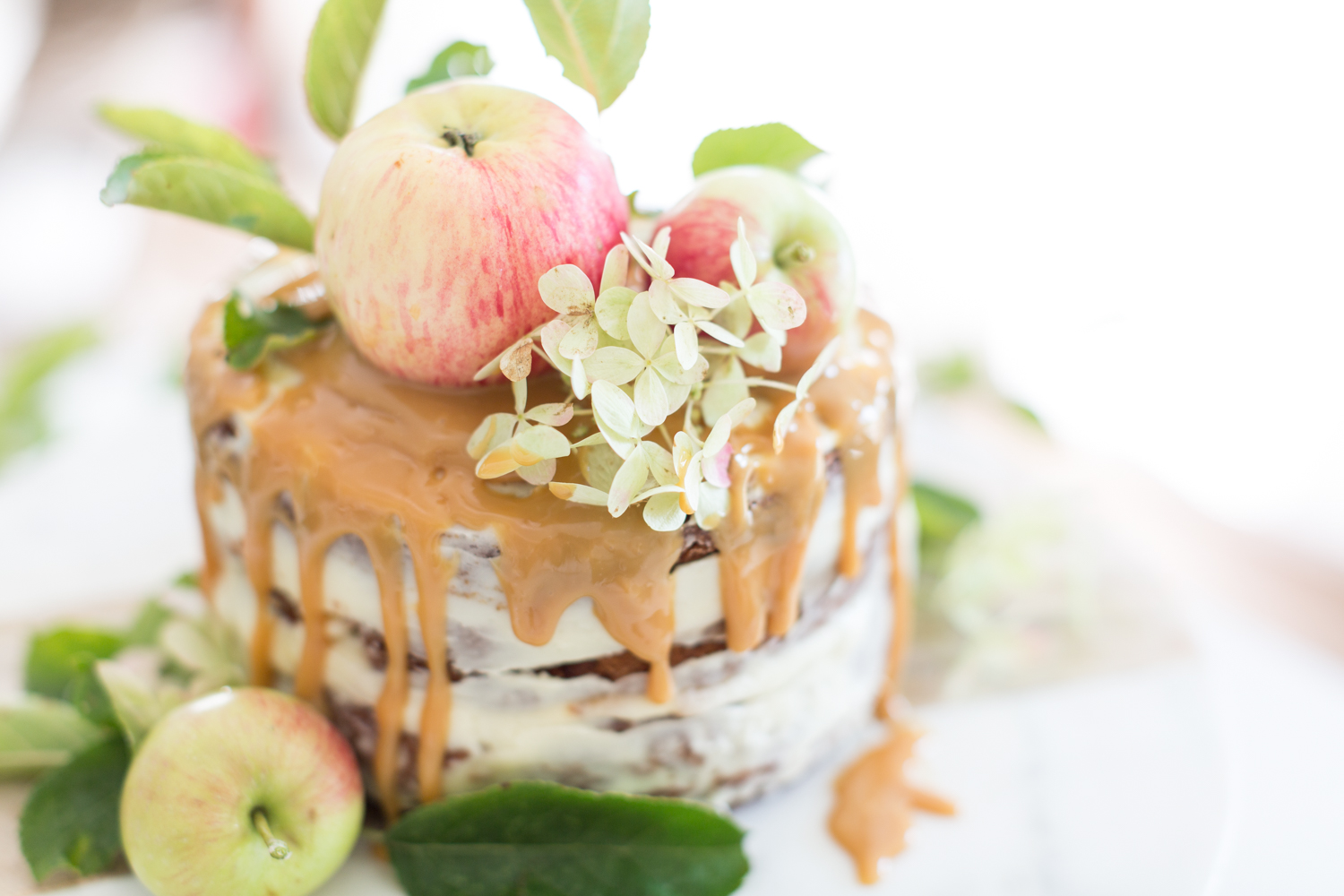 Hello my sweet friends. I hope you had a beautiful and restful long weekend.
The labor/labour day weekend is one of the few holidays that both Canada and the US share on the same day. As hubby works for an American company, we seldom get to celebrate long weekends together, so I was happy to have him home and enjoy this unofficial last day of summer together.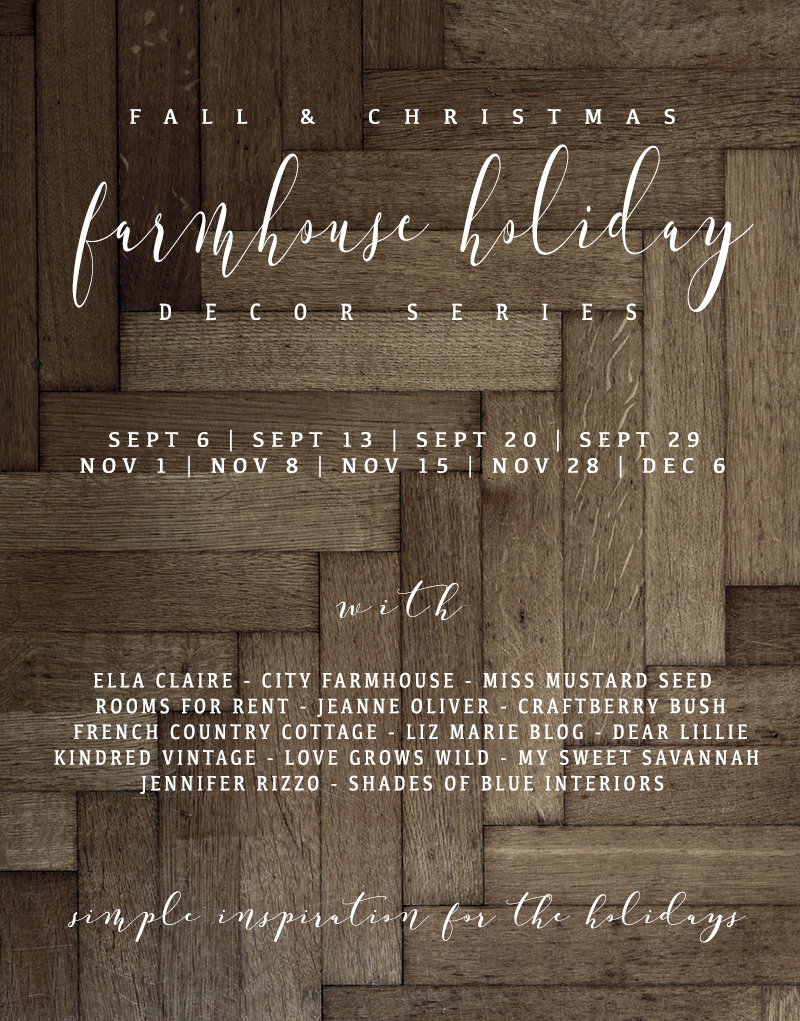 Today is a very special day as I have joined some of the most talented ladies in blogland to bring you beautiful, yet meaningful inspiration for the holidays. As we enter this very busy time of year, we want to get back to the basics and celebrate the holidays in a meaningful way. We hope that this series will inspire you with beautiful decor and ideas, along with a lens to simplify and get back to old fashion homemaking. Where memories and the heart of your home are what matter most. We hope that you will join us each week for some simple inspiration for the holiday.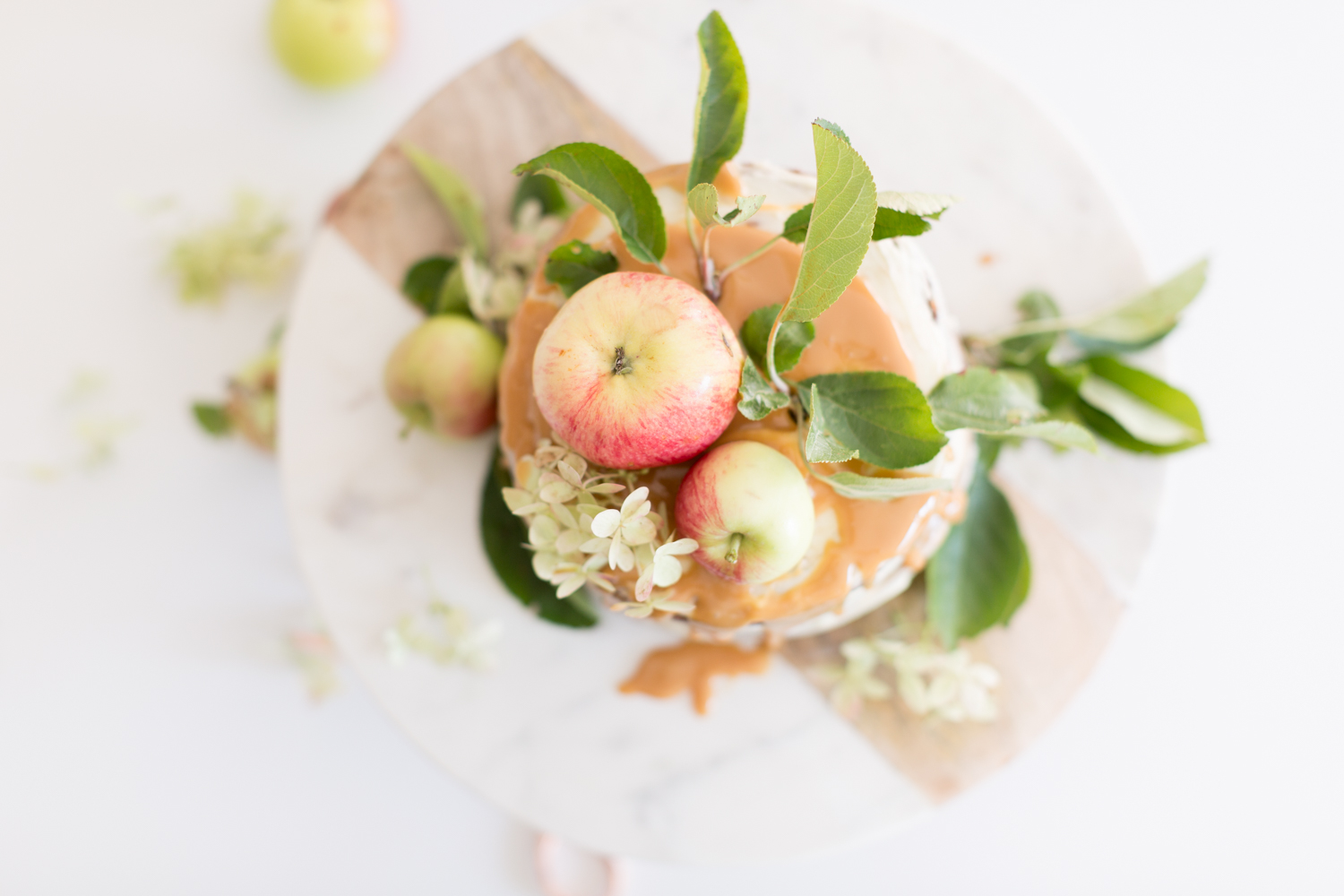 We're starting the series in the heart of the home, the kitchen. As you may know, our kitchen is under renovation so today I can only give you a tiny little glimpse into it.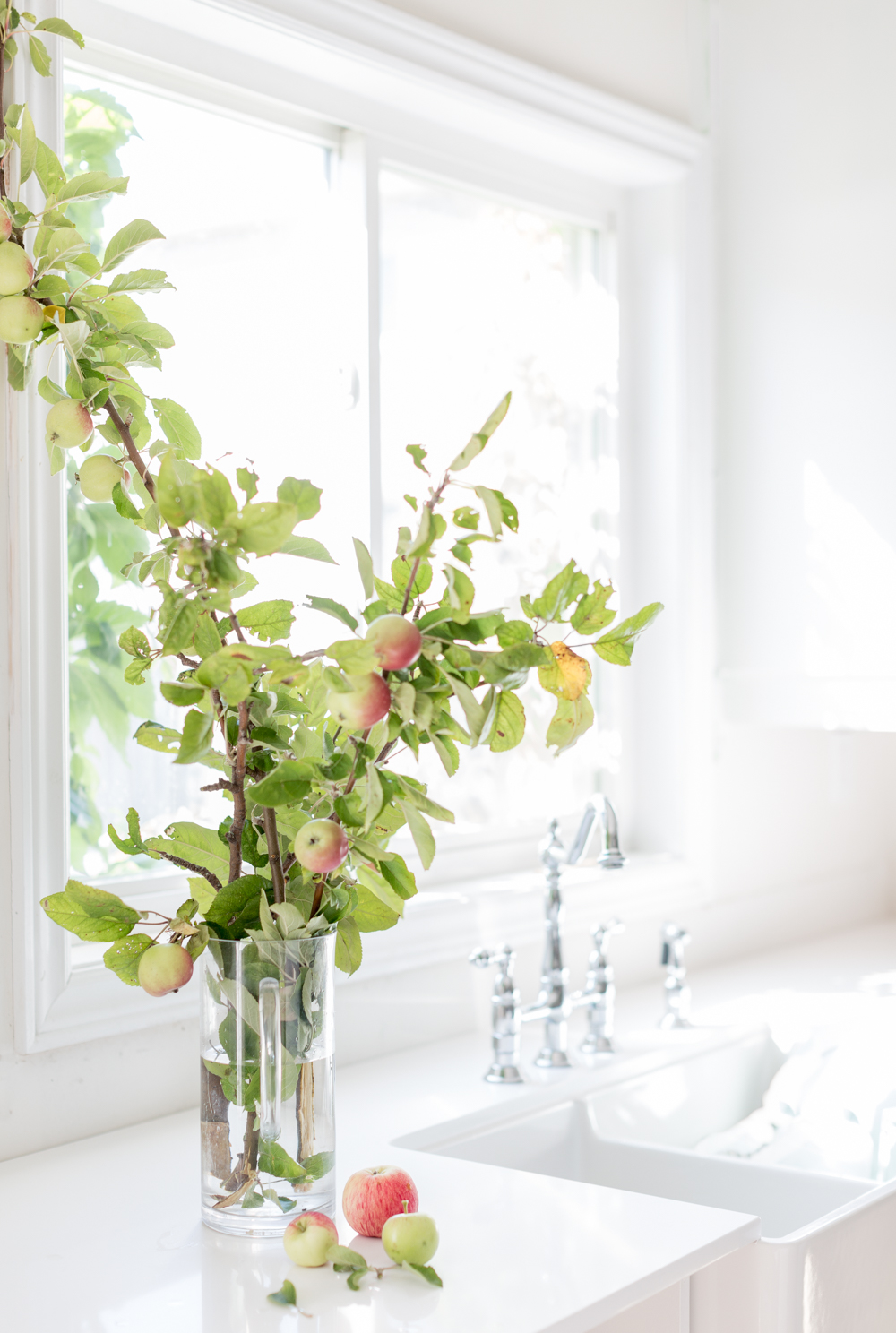 We had our counters installed on Thursday of last week and I can't tell you how much I love them. They are white Quartz and everything I hoped they would be. Hubby installed our apron sink and faucets and I'm so grateful to him. That guy plays all sorts of roles in our home and he never ceases to amaze me. From gardener to barber to plumber…ha.
You can see a little glimpse of our brand new faucet in the back. I love it so much! I will share all of the details once everything is ready, so consider this a super sneak peek.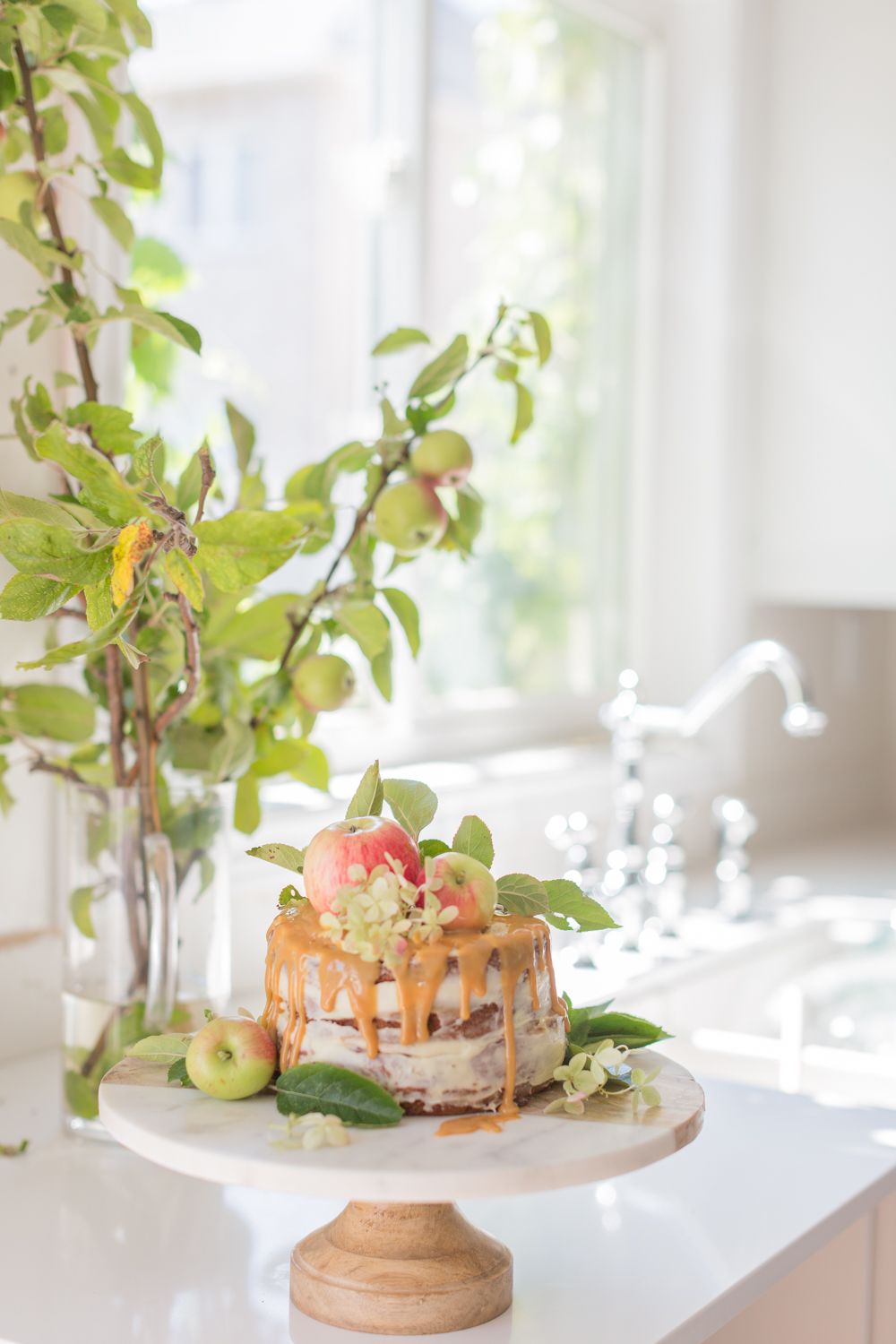 As our kitchen is not really a complete kitchen at the moment and we don't have a functioning oven, I had to head over to my mom's house to bake this apple cake.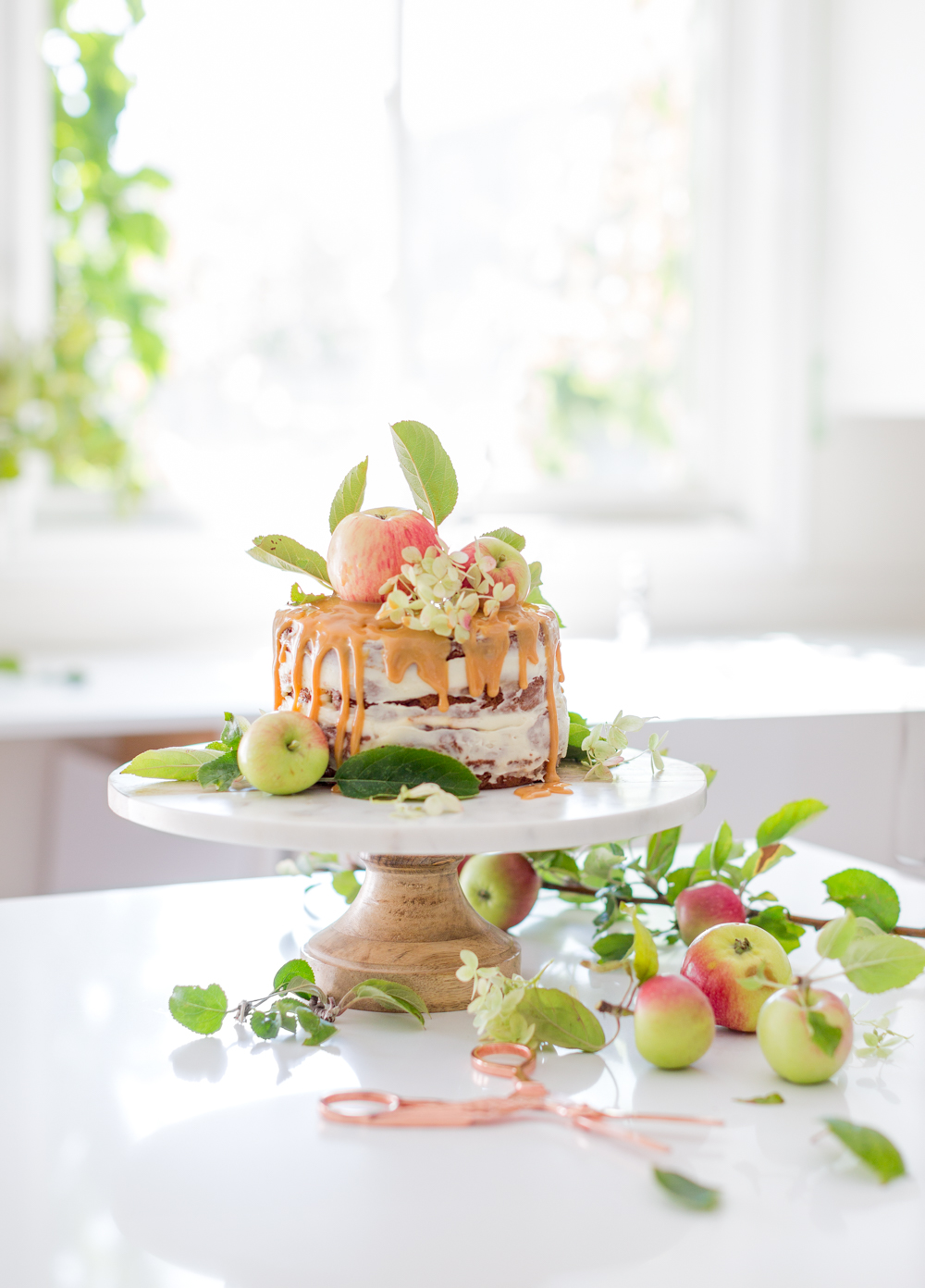 Admittedly, I know very little about baking and so my sisters and mom guided me along. It's always so much fun when my sisters and I get together and it was interesting to see how little I actually knew about baking. Interesting because my mom has been baking cakes (including my wedding cake) for as long as I can remember. It's something that both my younger sisters took an interest in, but I just never really cared much for.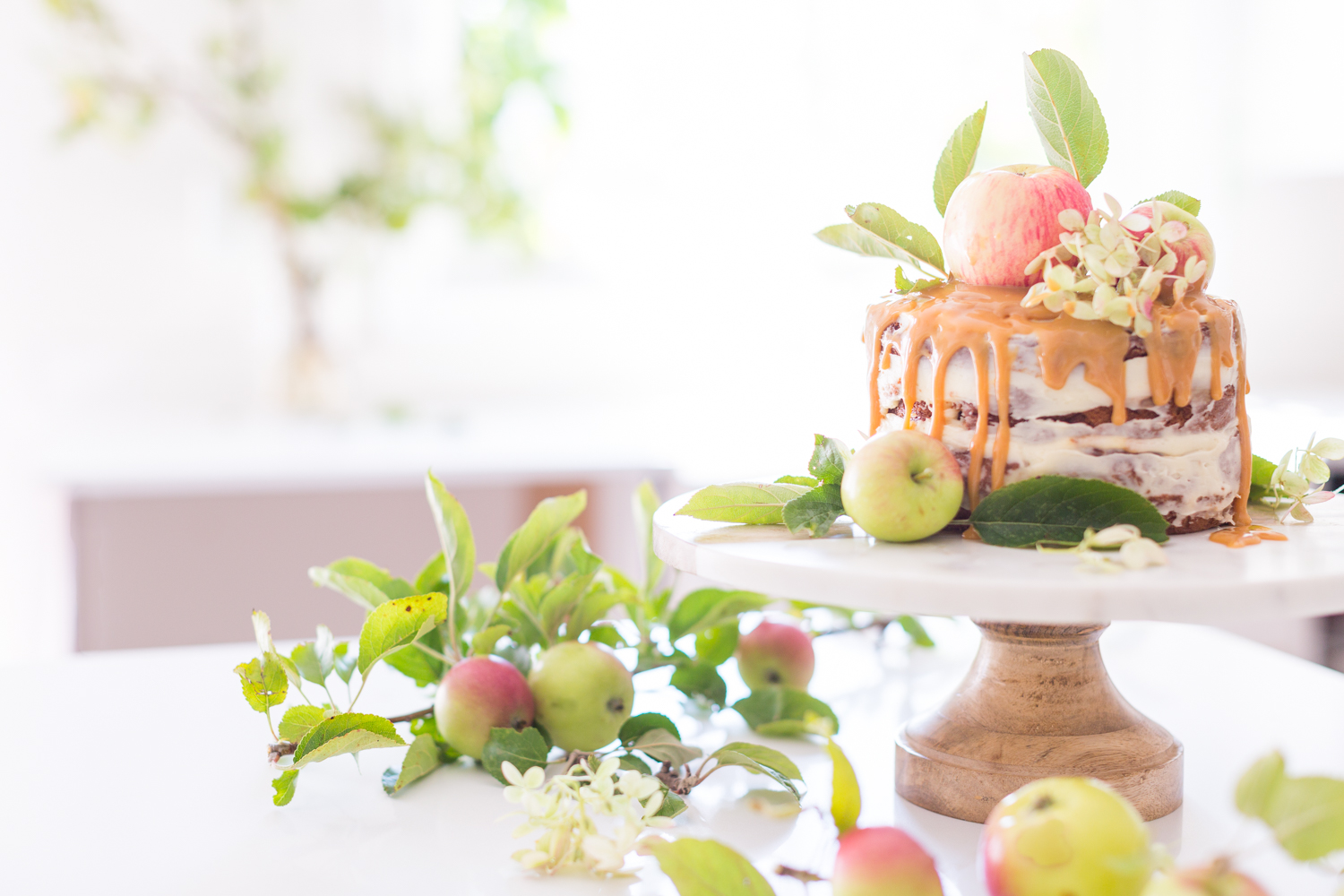 While my cake definitely represents the definition of 'rustic', some might even say it has a lot of 'character', or as my friends in the South might say 'bless its heart'. It did however taste amazing, like those gourmet caramel apples, but in cake form.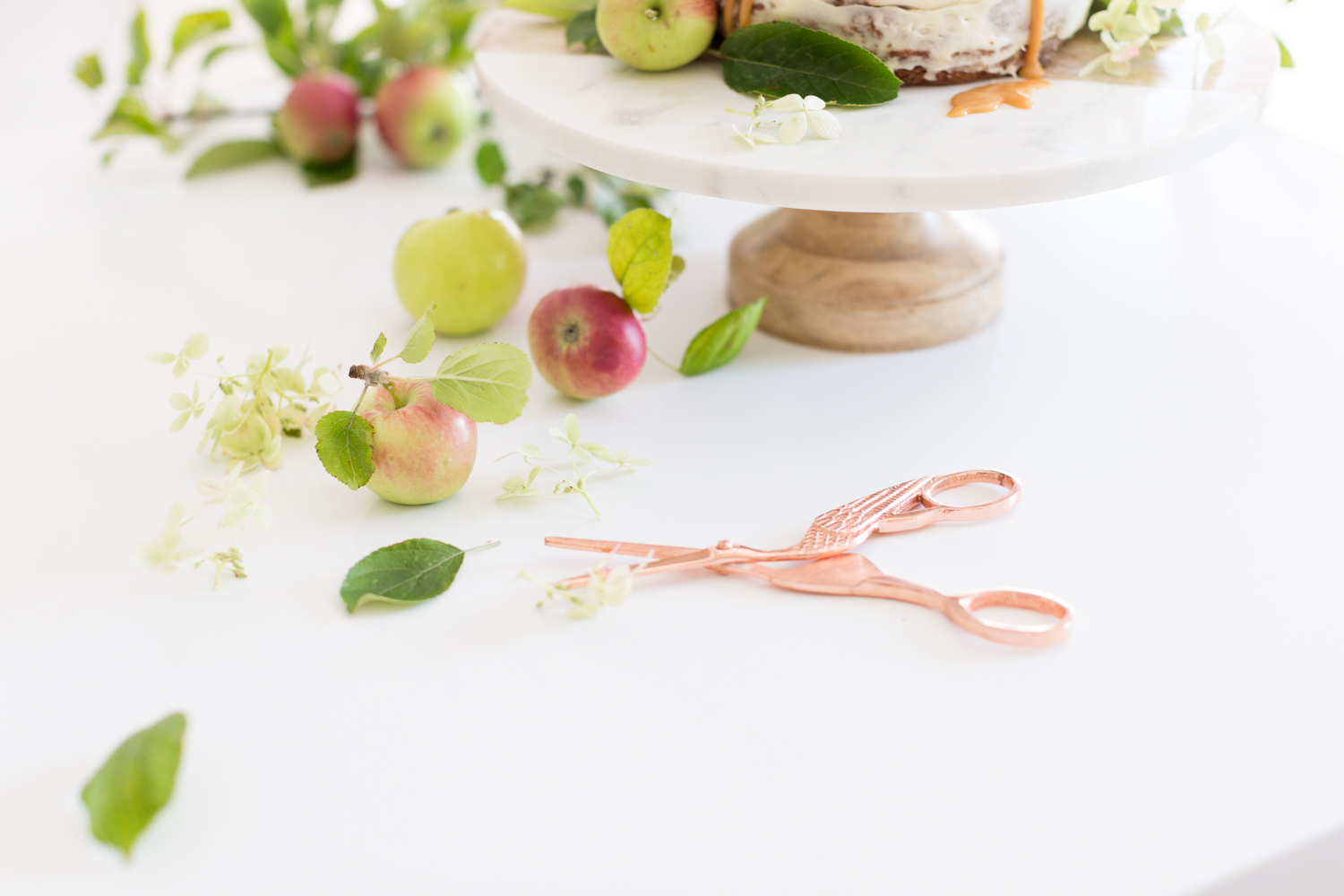 It reminds me once again that it's the process and the journey that matters and not the end result or destination. It's funny how if we put everyday occurrences into perspective there's always a life lesson in there somewhere.  Because even though in all honesty the cake is not perfect, I loved spending time together with my family bonding over baking in my mom's kitchen.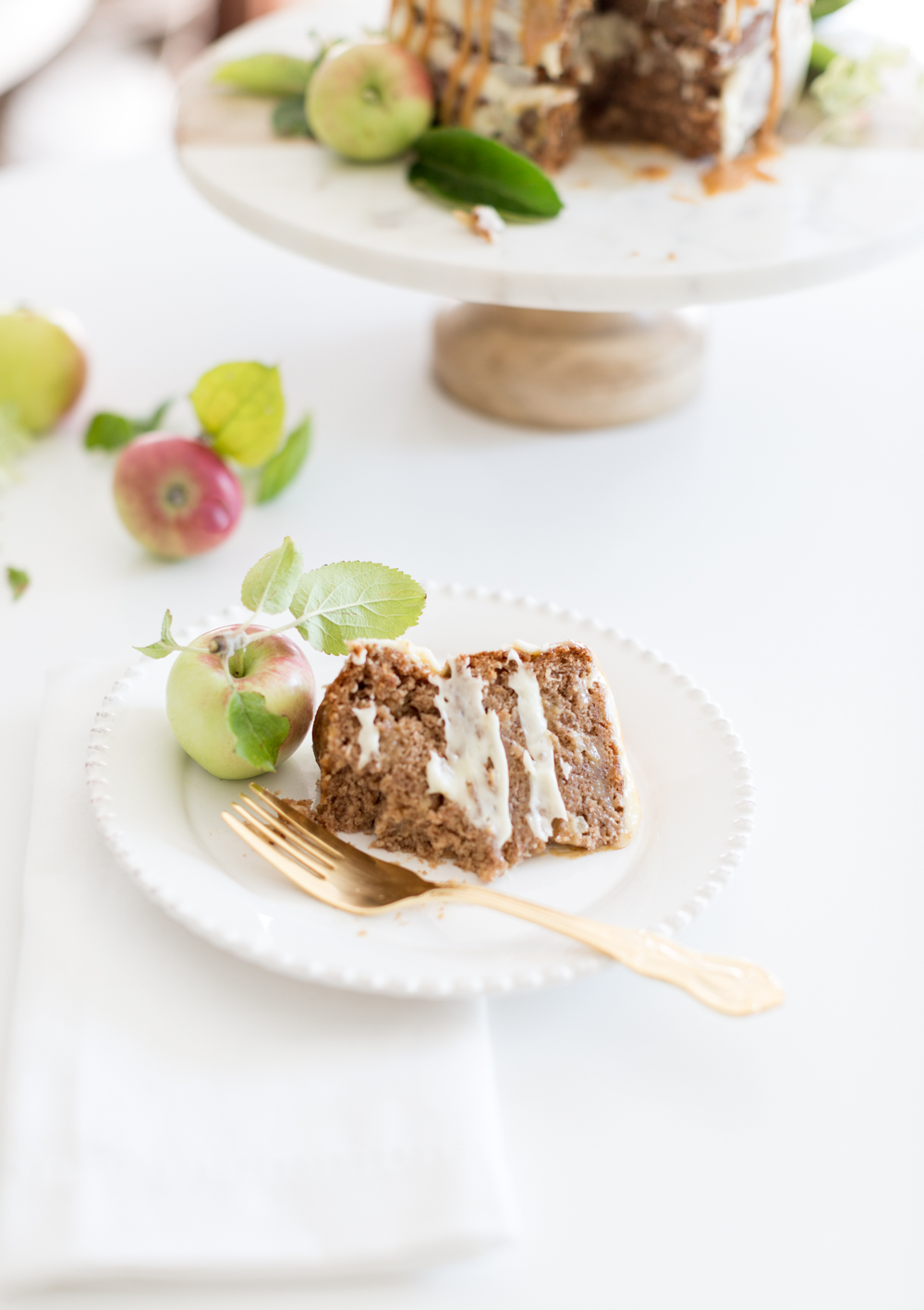 Here are some tips for making a delicious cake, which while new to me, may be already known to many of you:
Tip 1. If working with a box cake mix, like we did here, substitute water with other more flavourful liquid. For example, we used apple cider in this recipe. You can use orange juice for a more citrusy flavor, or coconut milk. etc.
Tip 2. Use a box of pudding mix for extra richness and moisture.
Tip 3. Use room temperature eggs.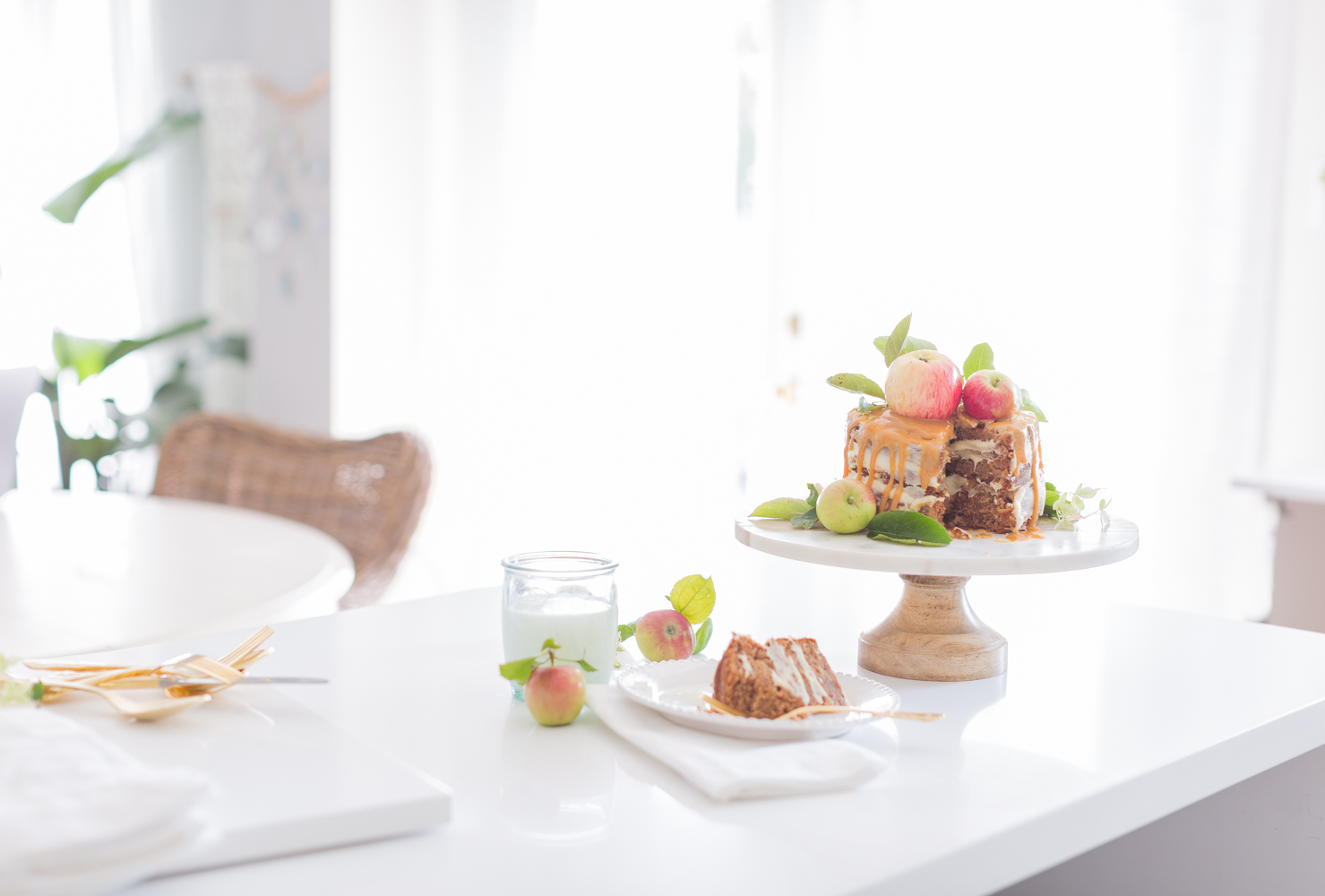 Caramel Apple Cake with Cheesecake frosting
Ingredients

1 box of cake mix
1 tablespoon of cinnamon
1 teaspoon of caramel flavoring
1 box of pudding
2 apples finely diced
1 cup of apple cider
Directions:
Cake 
1. Follow box cake mix directions but substitute apple cider instead of water add 1 tablespoon of cinnamon and 1 teaspoon of caramel flavouring
2. Peel and finely dice two Granny Smith apples and fold into cake mixture.
3. Grease a 2 6″ pans
4. Preheat oven to 350
5. Pour contents into greased pans and place in preheated oven on the  middle rack. Bake for 30 – 35 minutes
Frosting 
1/2 cup butter, softened
8 ounces cream cheese
4 cups of confectionary sugar
2 teaspoons of vanilla extract
Directions
Beat softened butter and cream cheese until well blended.

Add powdered sugar and vanilla. Beat until creamy.
For the caramel, we simply placed a can of condensed milk in a pan full of water and let it simmer on low heat for 1 to 1 1/2 hours.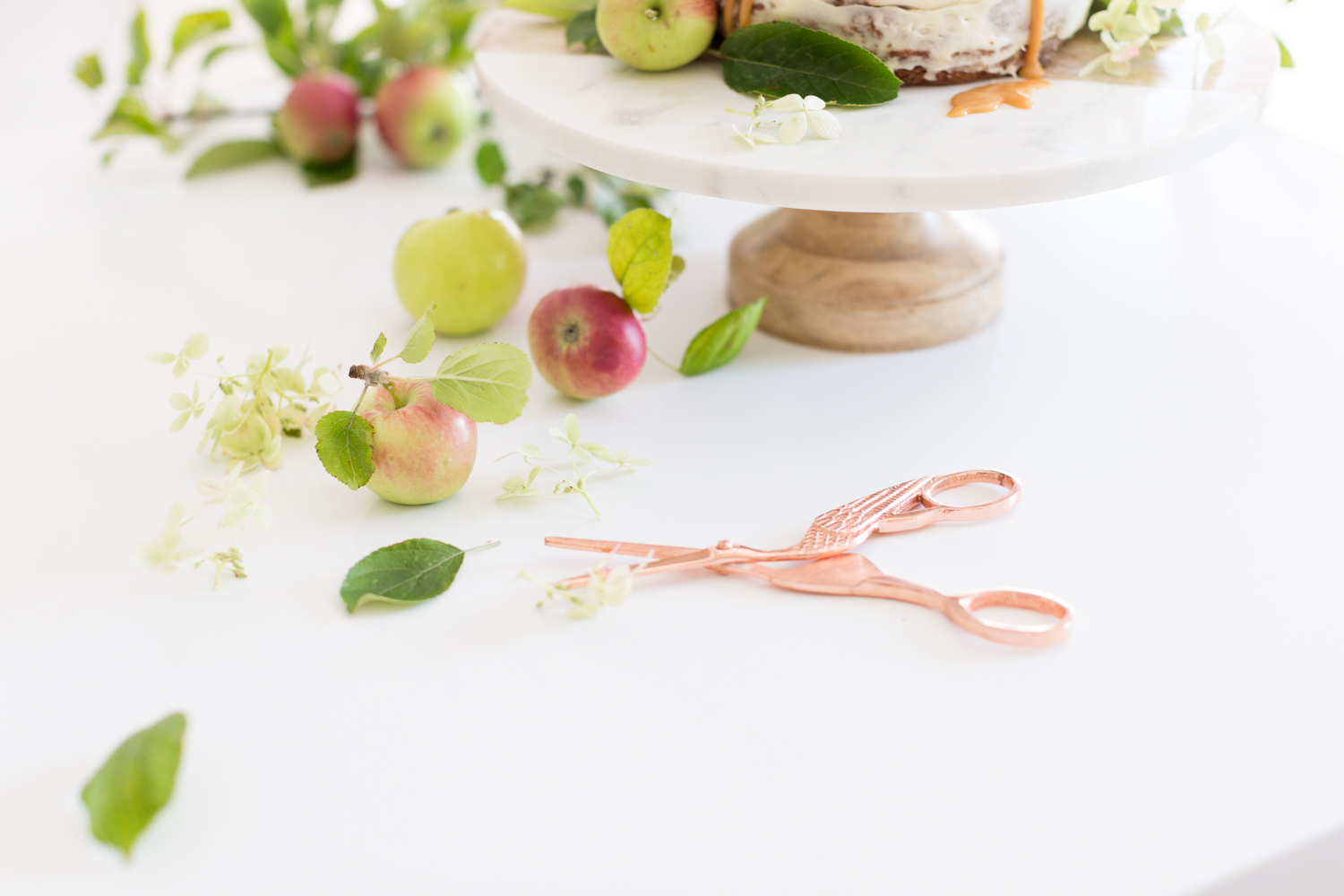 I'm so inspired to continue to learn my way around the oven and would love to know what your favorite fall recipe is, along with any baking tips you may have.
Thank you so much for stopping by today and please don't forget to visit the rest of my friends below.
Ella Claire | Craftberry Bush | Miss Mustard Seed | Jeanne Oliver
Love Grows Wild | Rooms FOR Rent | Shades of Blue Interiors | Dear Lillie
French Country Cottage | My Sweet Savannah | Kindred Vintage | Jennifer Rizzo