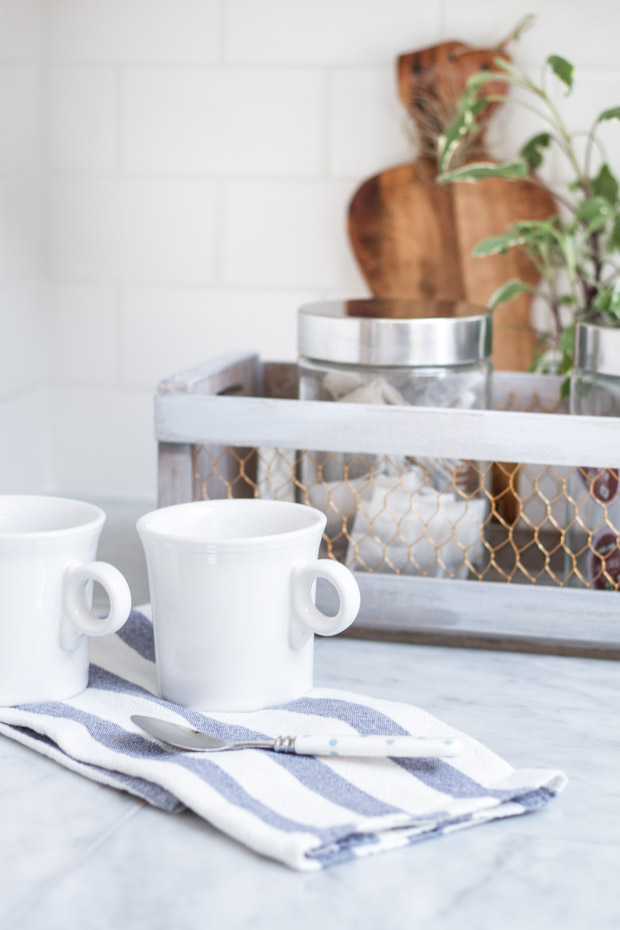 Hello Craftberry Bush friends. It's Annie from Zevy Joy and today I'm sharing a versatile DIY or fun re-purposing project using chicken wire and a simple wooden crate, thus making a Chicken Wire Crate =)…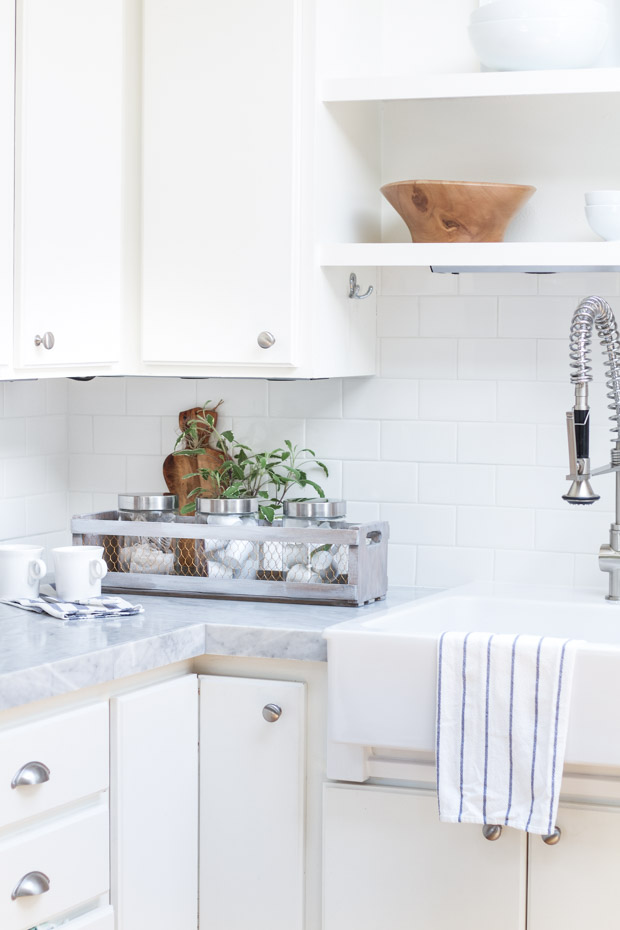 I had this long wooden crate that I found at the thrift store last year and I have decorated with it non-stop at our house. It was unfinished at the time so I gave it a warm stain.
After visiting the craft store, I realized that you can find different varieties of crates similar to this, so I thought it would be fun to change the stain and add some simple detailing to it with chicken wire.
Chicken wire gives subtle farmhouse style and can quickly change the look of a piece.
And did you know you can find chicken wire in different metals?! We did a project several years back using copper chicken wire and as I had some left over, I decided this would make the perfect re-purposed project (but also easy to replicate if you were buying everything new).
Here is what you will need to make one of your own…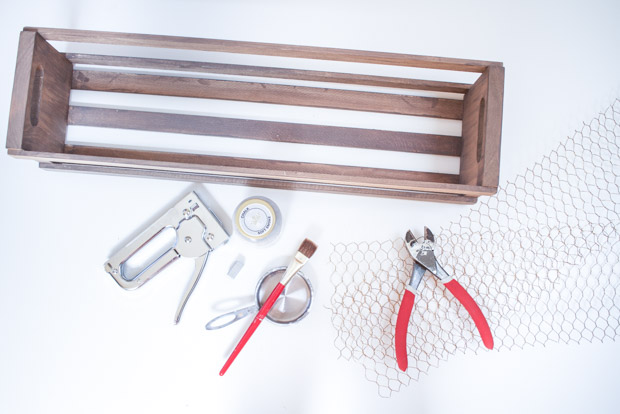 Wooden crate (make sure it is large enough to fit the size of a staple gun when stapling)
Paint (or stain) and paintbrush if painting or staining the wood (I used this gray chalk paint as a wash)
Chicken wire (enough to cover sides)
Wire cutters
Hand staple gun (small enough to fit inside the crate space) and staples
Gloves for protection with chicken wire and the staple gun
Here is how you will make this chicken wire crate…
Paint or stain the wooden crate. I gave the warm stain of my thrifted crate a new gray wash with the chalk paint and some water.
Measure out and cut the chicken wire so that there is enough to hold on and staple to the insides of the crate. Make sure to flatten the wire out before stapling.
Carefully staple across the chicken wire about every inch or so (as with any tools, practice safety when using). Be cautious as this may be a tight space to staple.
And there you have it! An easy DIY crate made a bit more detailed with a simple element.
To take the crate a step further, I ran to the craft store and bought some glass containers. I originally envisioned this crate as part of a coffee/tea station as seen above.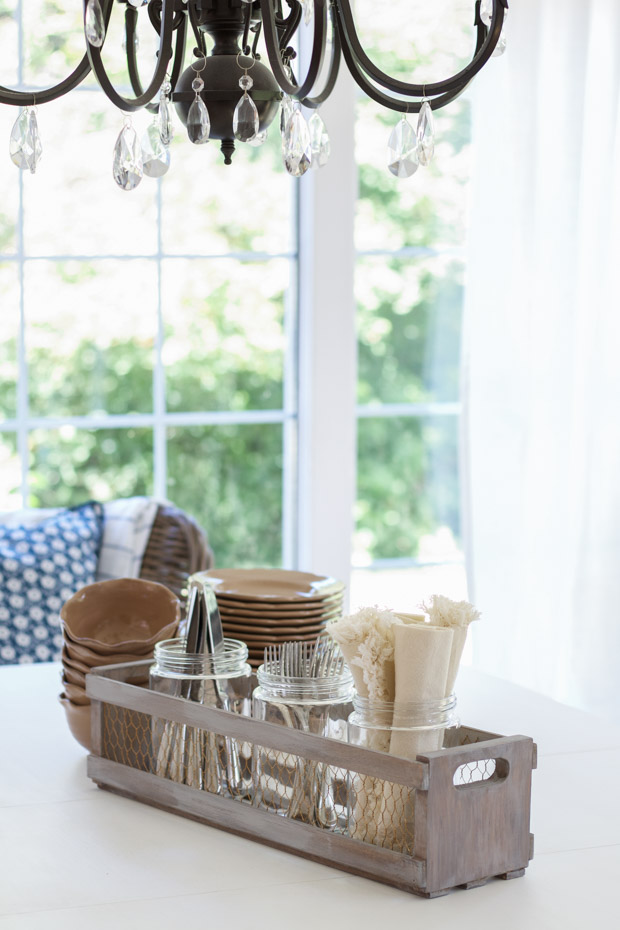 Then, I couldn't help playing around with it in different parts of our home.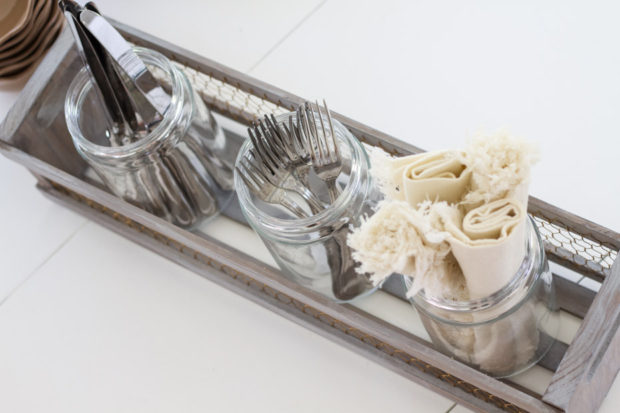 Wouldn't it be perfect as part of a casual dinner setting?!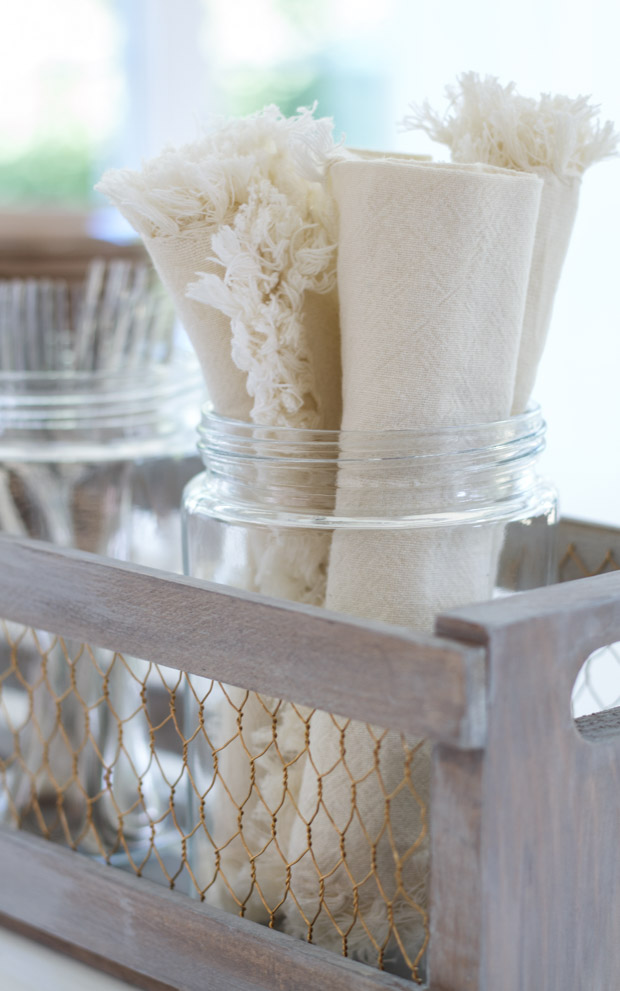 A place to hold napkins, silverware, etc…
Or as a floral centerpiece (a personal favorite). I love finding different ways to display flowers and this little crate is just the fit!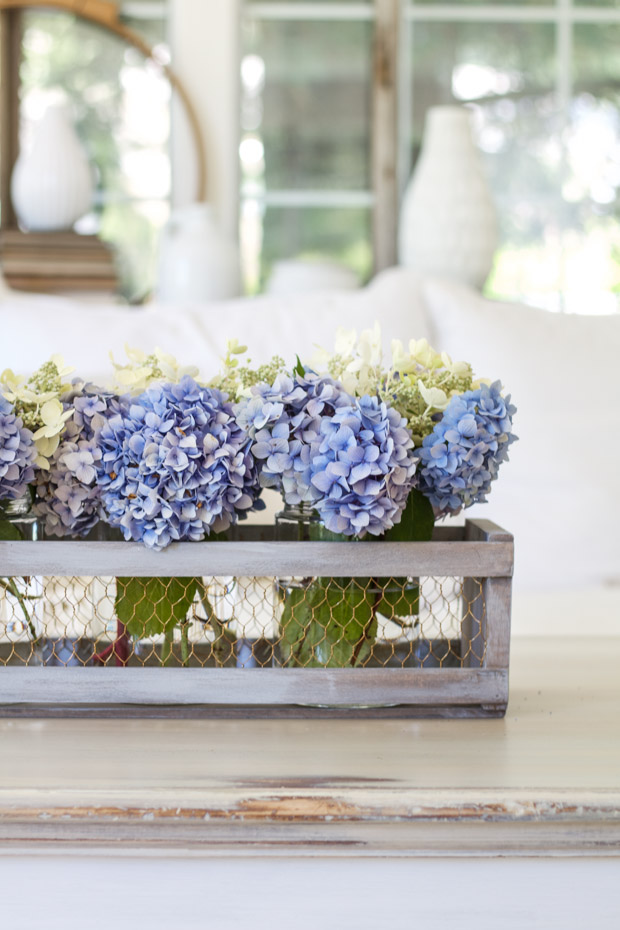 I took our fading hydrangeas and spread them out amongst the glass containers.
The long arrangement would be lovely sitting on a coffee table, dining table or even kitchen island.
Thanks for visiting today and I hope you enjoyed this simple but versatile project. I look forward to sharing again soon and hope you have a wonderful week ahead!