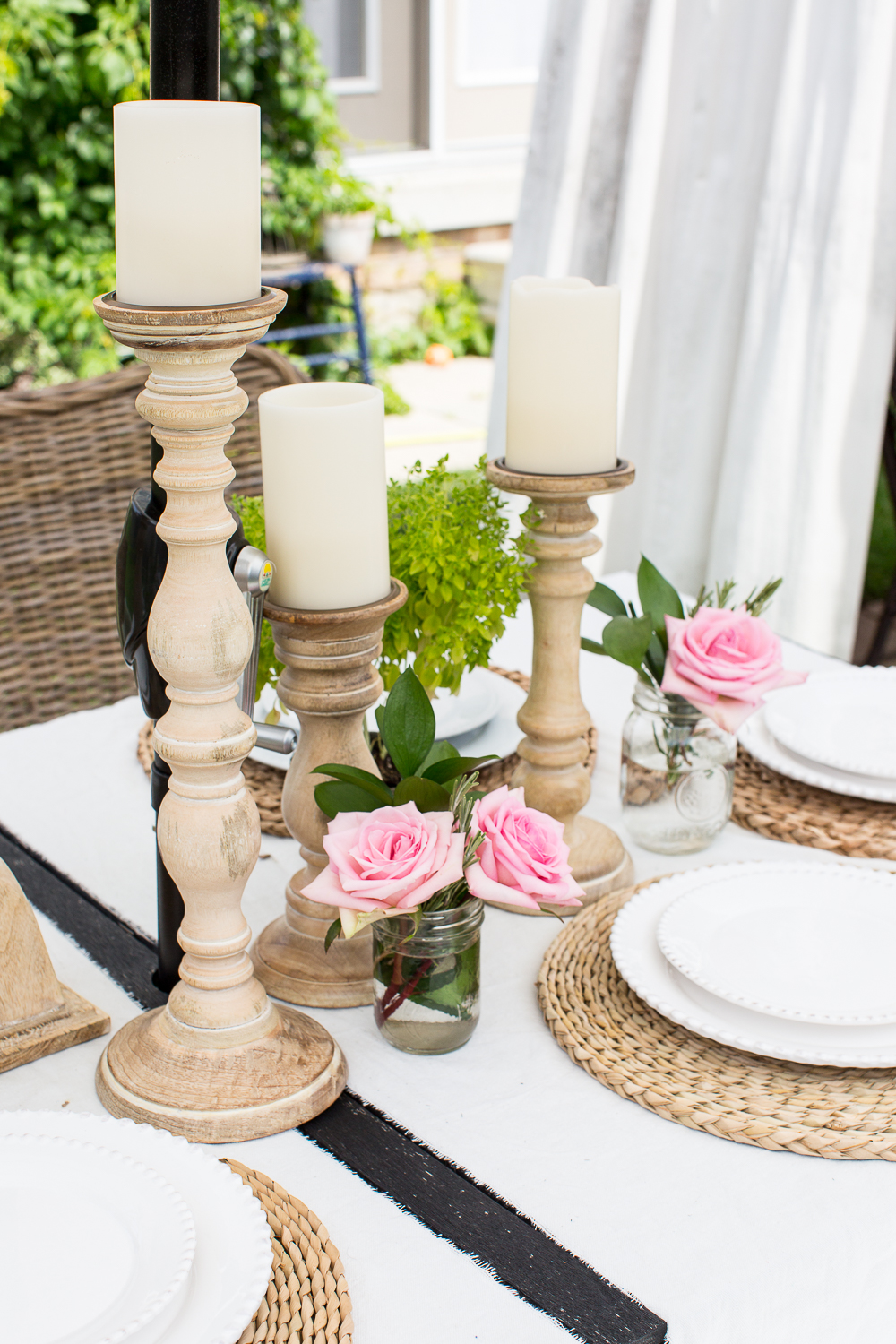 I was at the soccer fields this evening watching our younger son's game and noticed the sun setting a little earlier; a sure sign we are entering the second half of summer.
While I love fall, I don't want to summer to end just yet as I love the carefree feeling of summer. Whether you live in the country, by the sea, or in the suburbs (like us), one of my favorite aspects of summer is being able to eat outside while enjoying the company of family.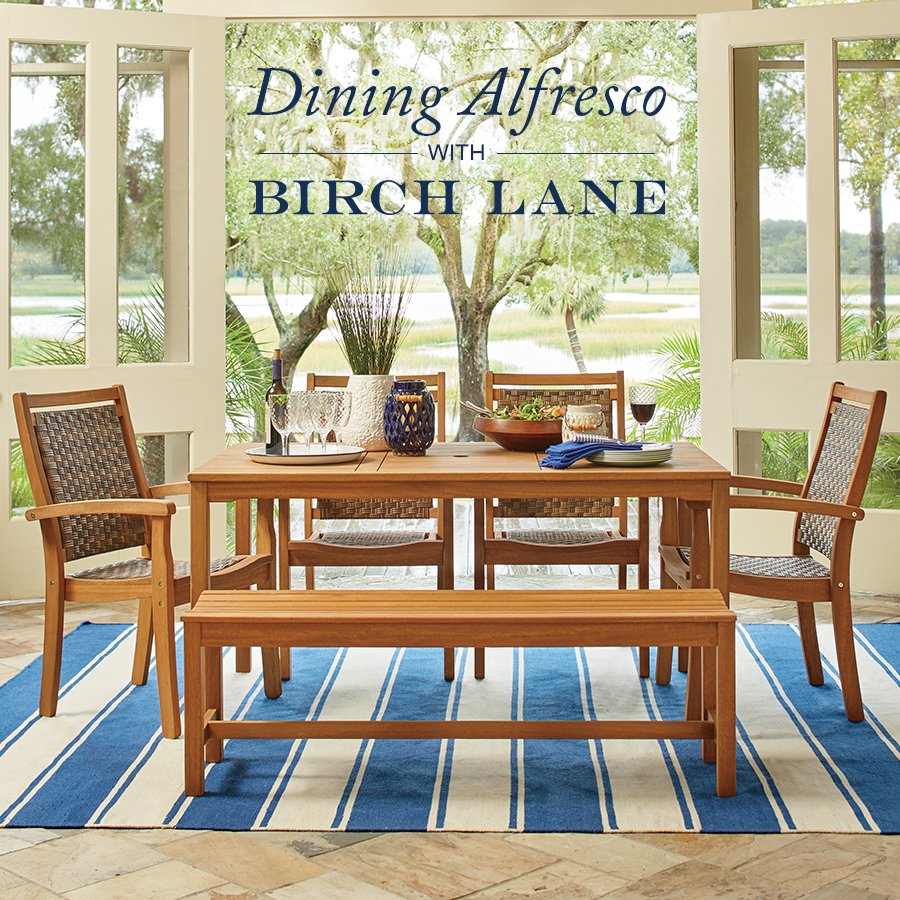 This week, my friends Karianne, Anita, Yvonne and I – along with the gracious help of Birch Lane – are bringing you some simple tips to enjoy these fleeting days of summer. If you're coming over from Yvonne's place, welcome! She is one amazing lady, isn't she? Impossible to top but nevertheless, here are some simple ideas from me to you.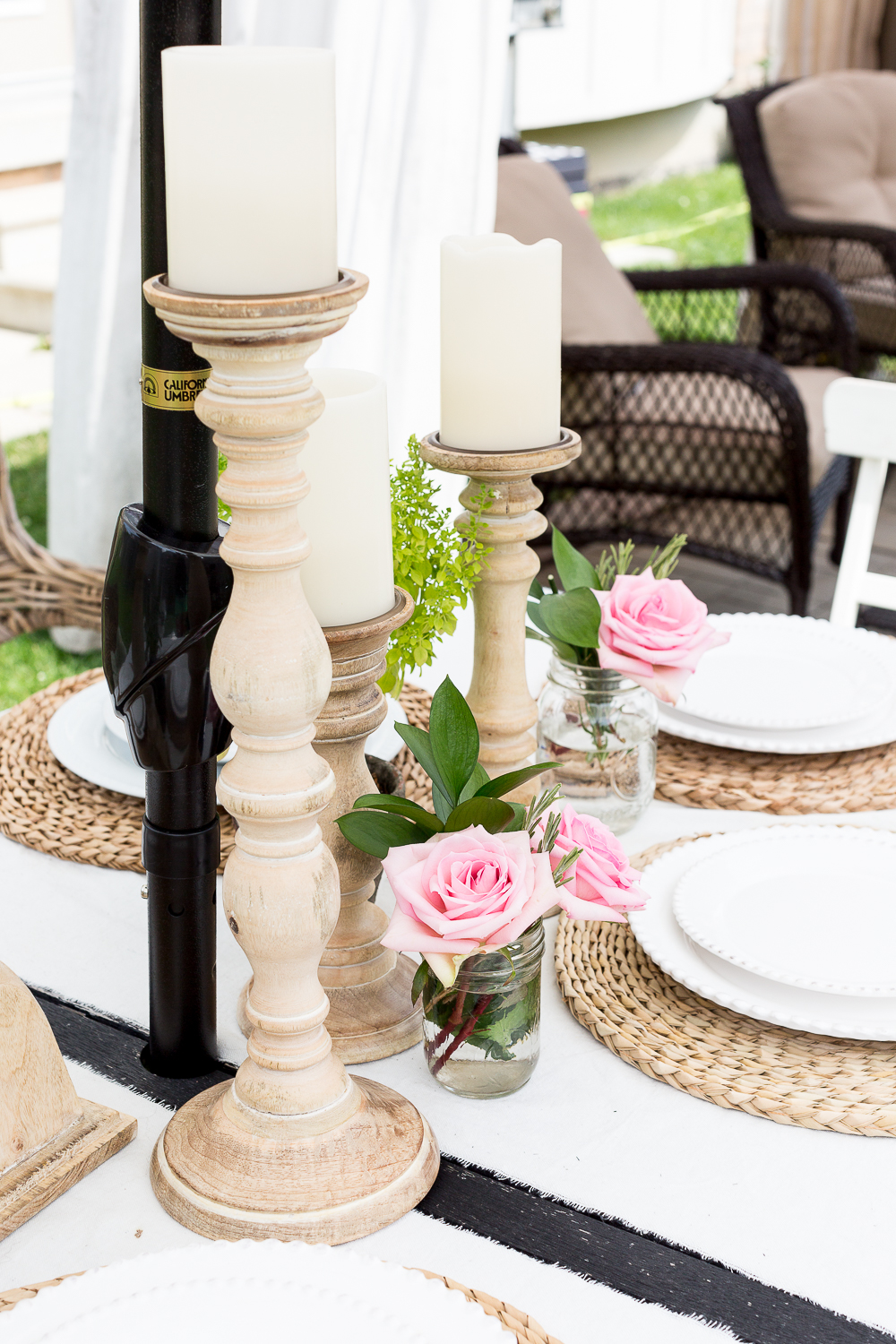 When setting a table, be it inside or out, adding candles or tea lights always makes it a little more special. Not only pretty to look at, they are obviously practical during the evening.
Here are Birch Lane's turned candleholders with simple LED battery operated candles on top, so we didn't have to worry about a breeze.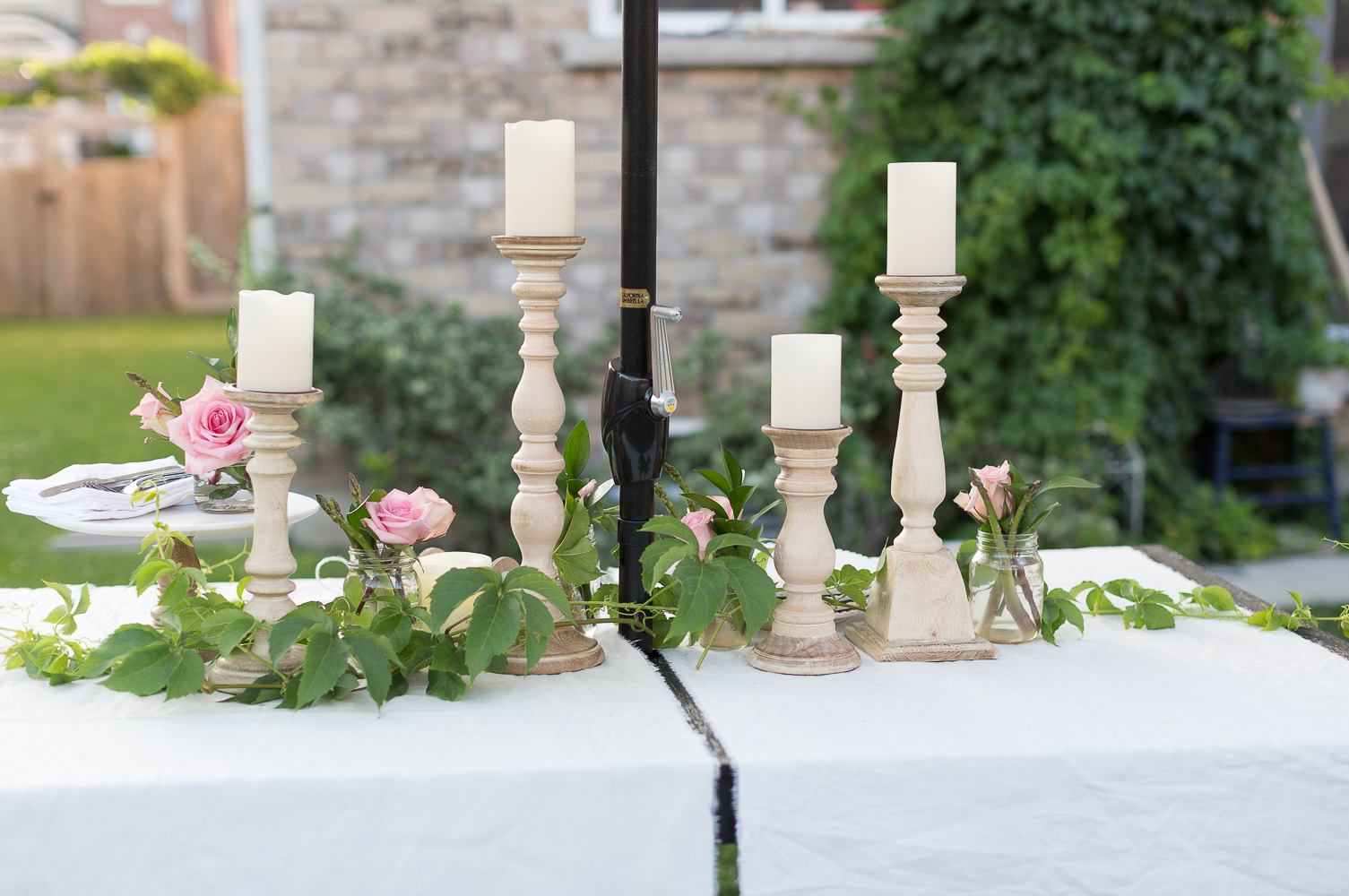 Our table cloth is nothing more than two pieces of drop cloth that I draped over the table at either side of the umbrella pole.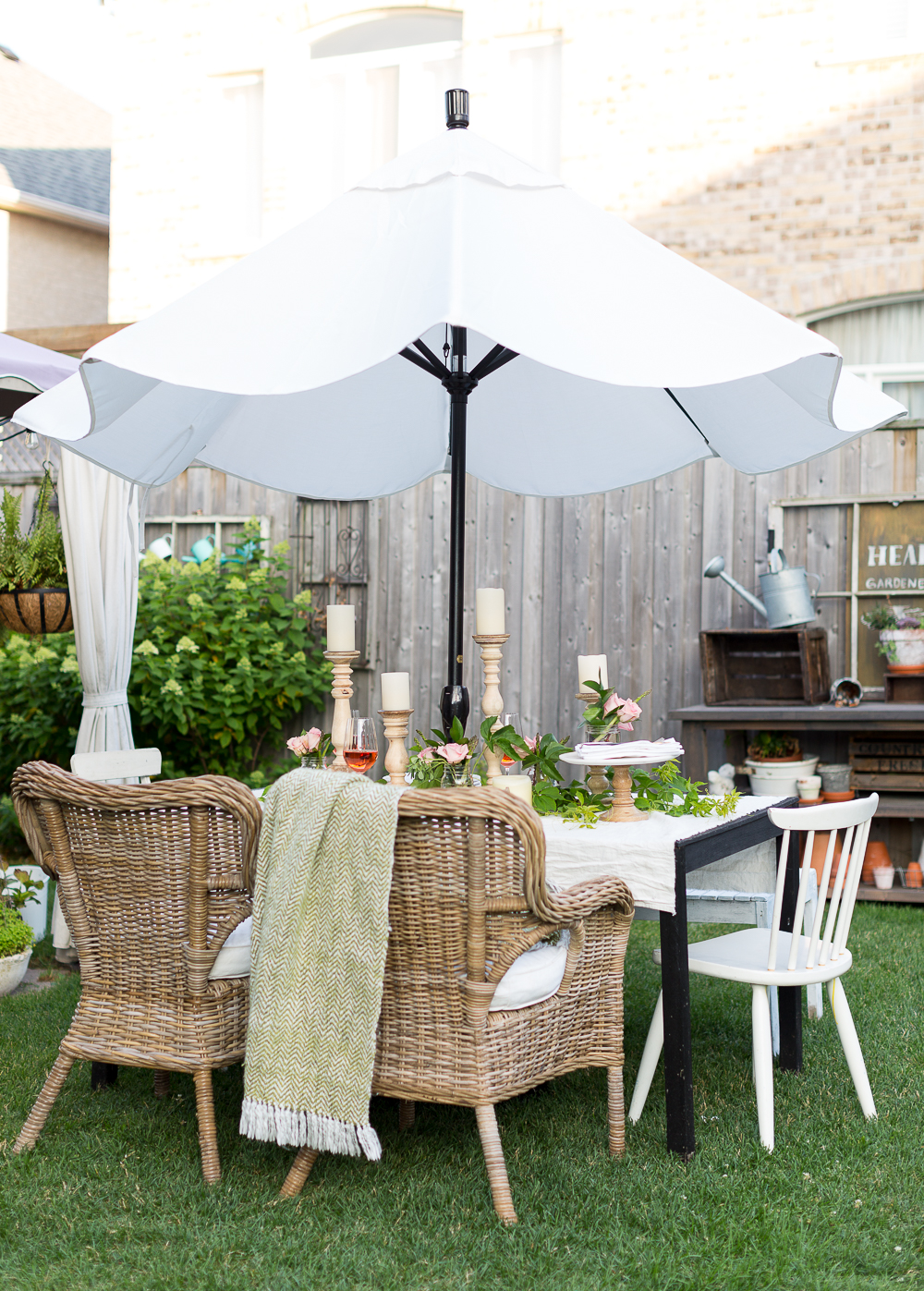 Speaking of umbrellas, we live in a fairly new development and don't have the luxury of mature trees just yet, meaning we have very little shade in our yard. No problem though as the Eastvale umbrella provides great shade for those sunny summer days.
Don't be afraid to bring the inside out by using indoor chairs. Just don't forget to bring them back in at the end of your get together…:)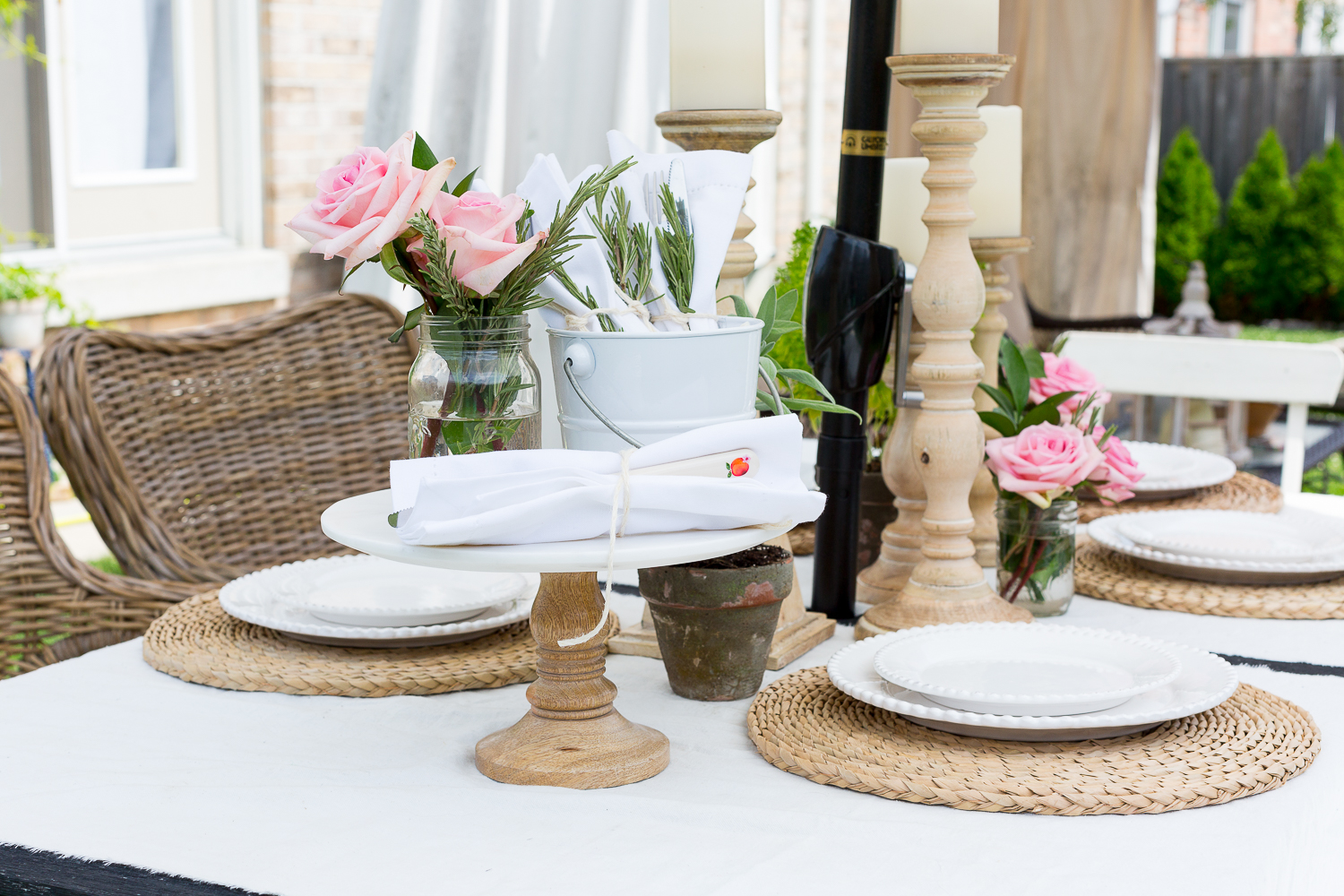 I also used this beautiful cake stand to add height and interest to the table. Another fun little tip is to place individually wrapped utensils in a small bucket for your guests to use.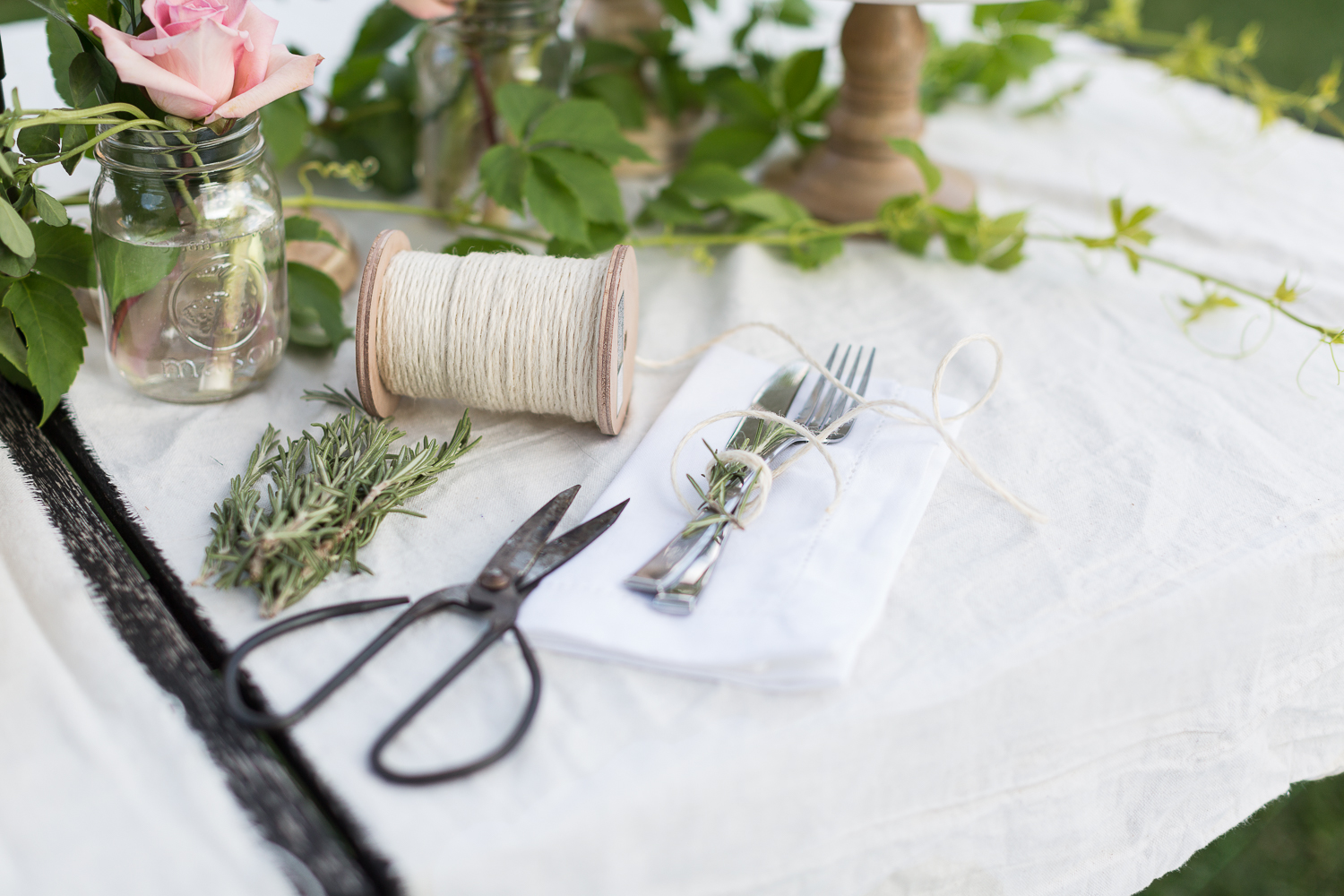 Classic sprigs of rosemary provide that extra touch.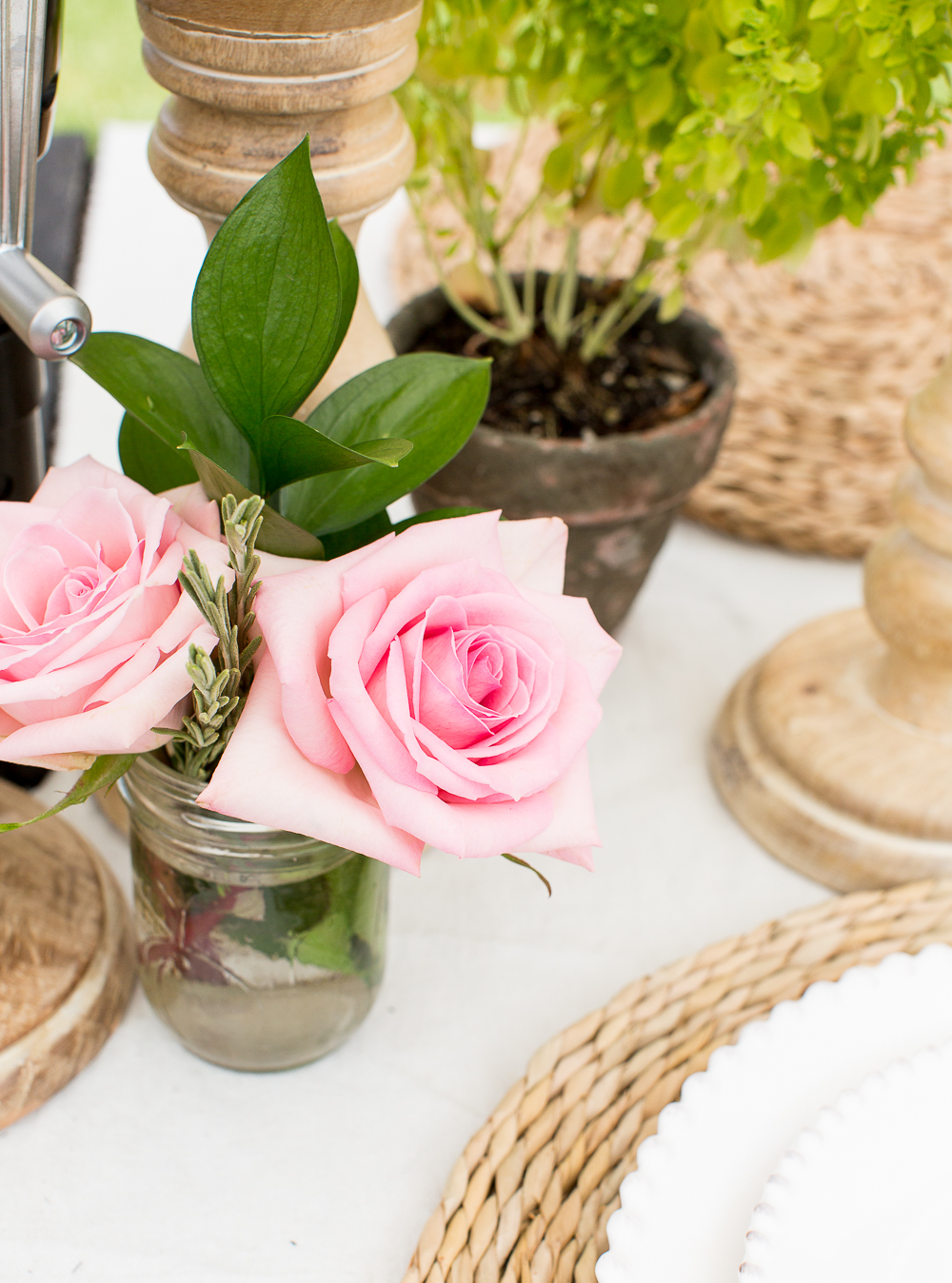 For continuity, I also used a few rosemary sprigs in this super easy flower arrangement.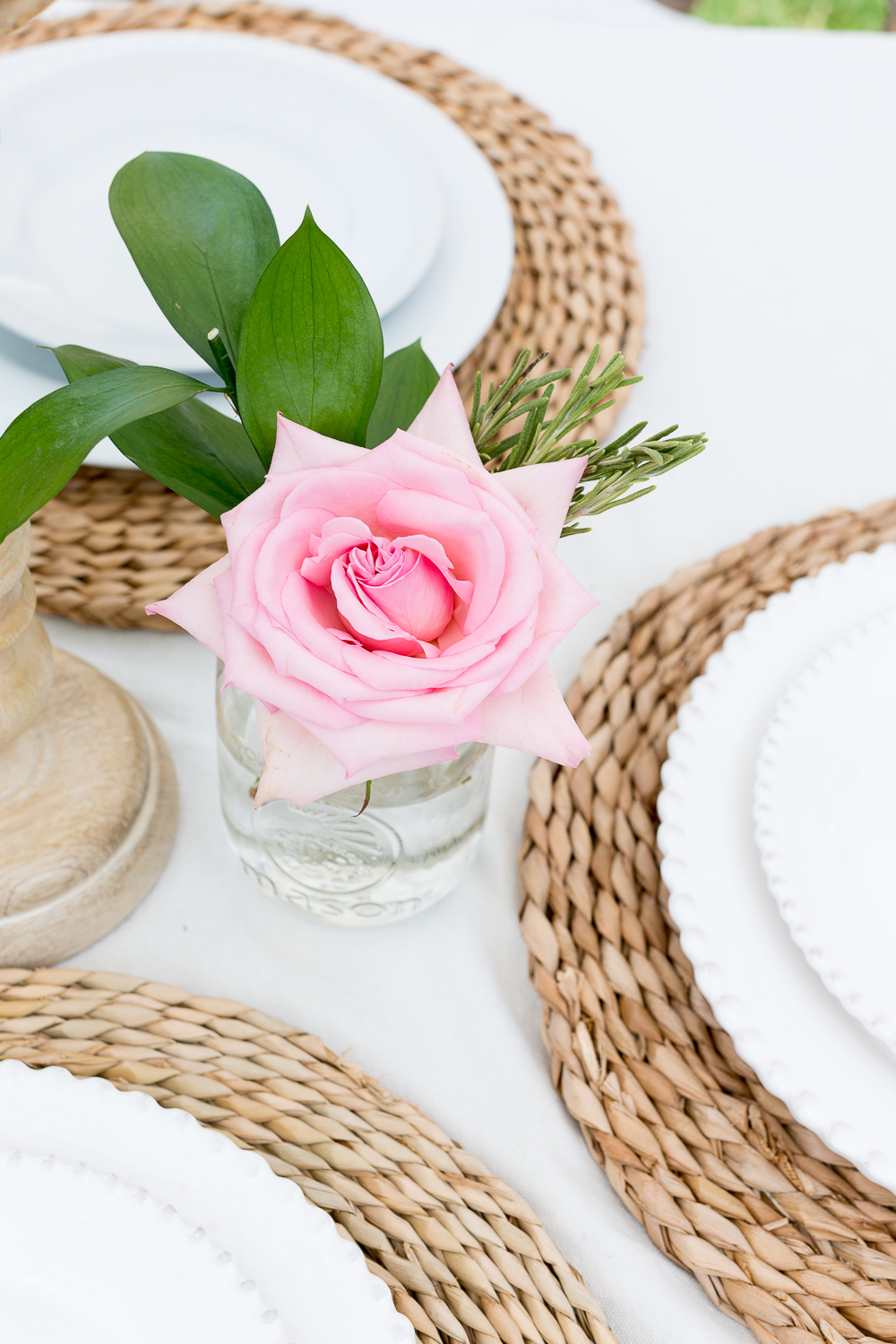 Simple yet classic, these inexpensive grocery store roses placed in old jars add charm to the setting.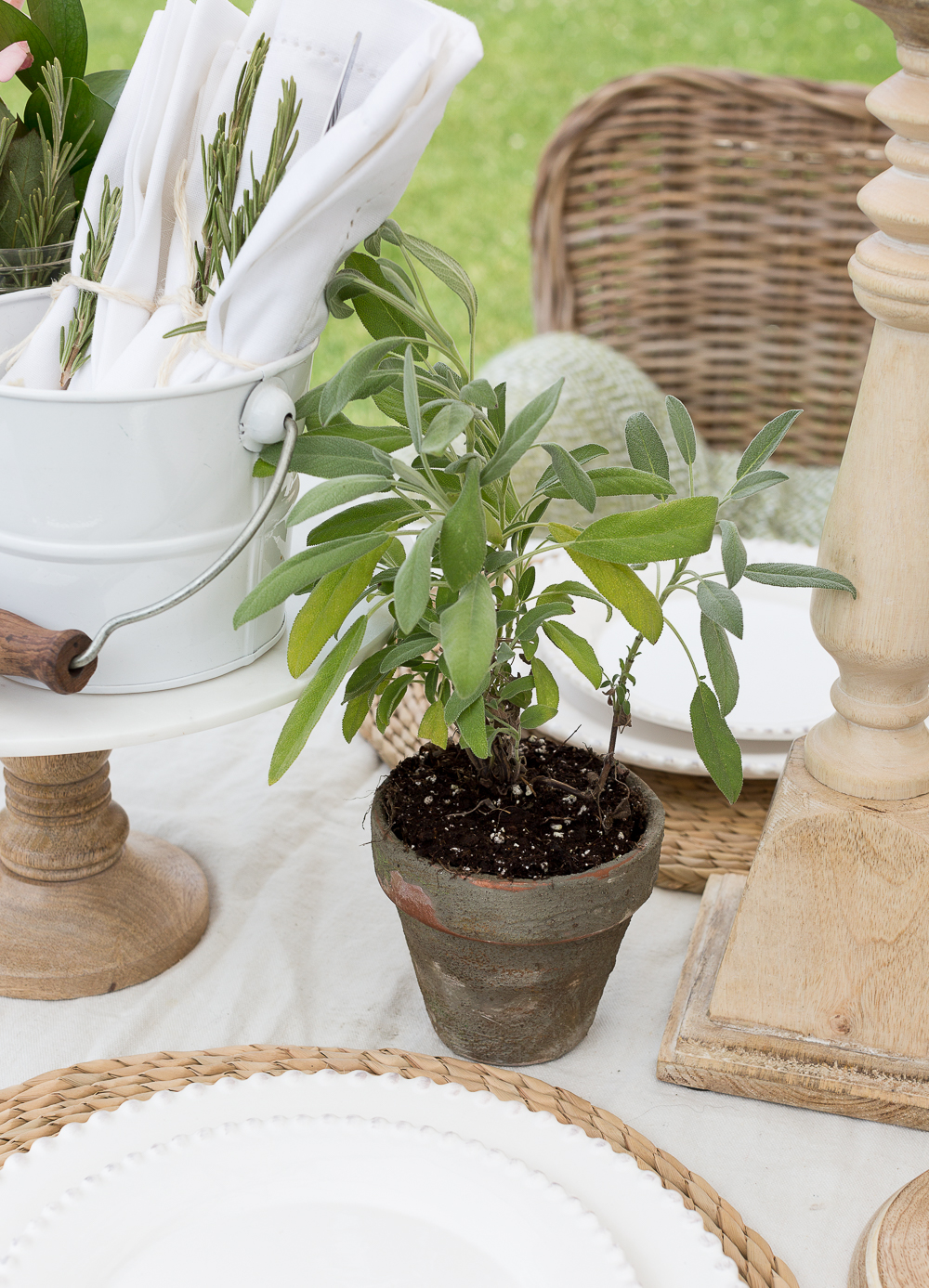 I also incorporated a few pots of planted herbs, which not only look pretty, but whose fragrance deters mosquitoes and other bugs.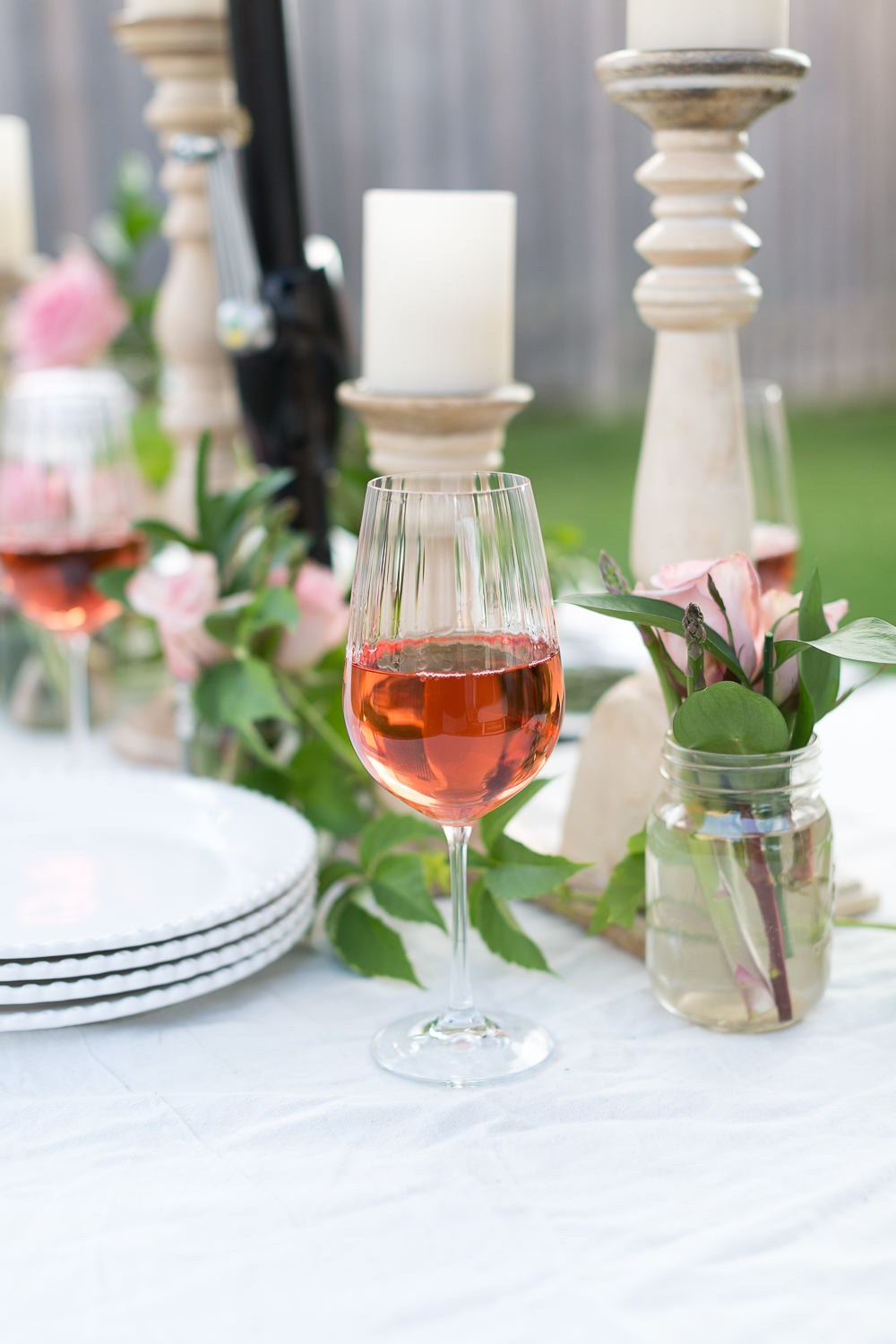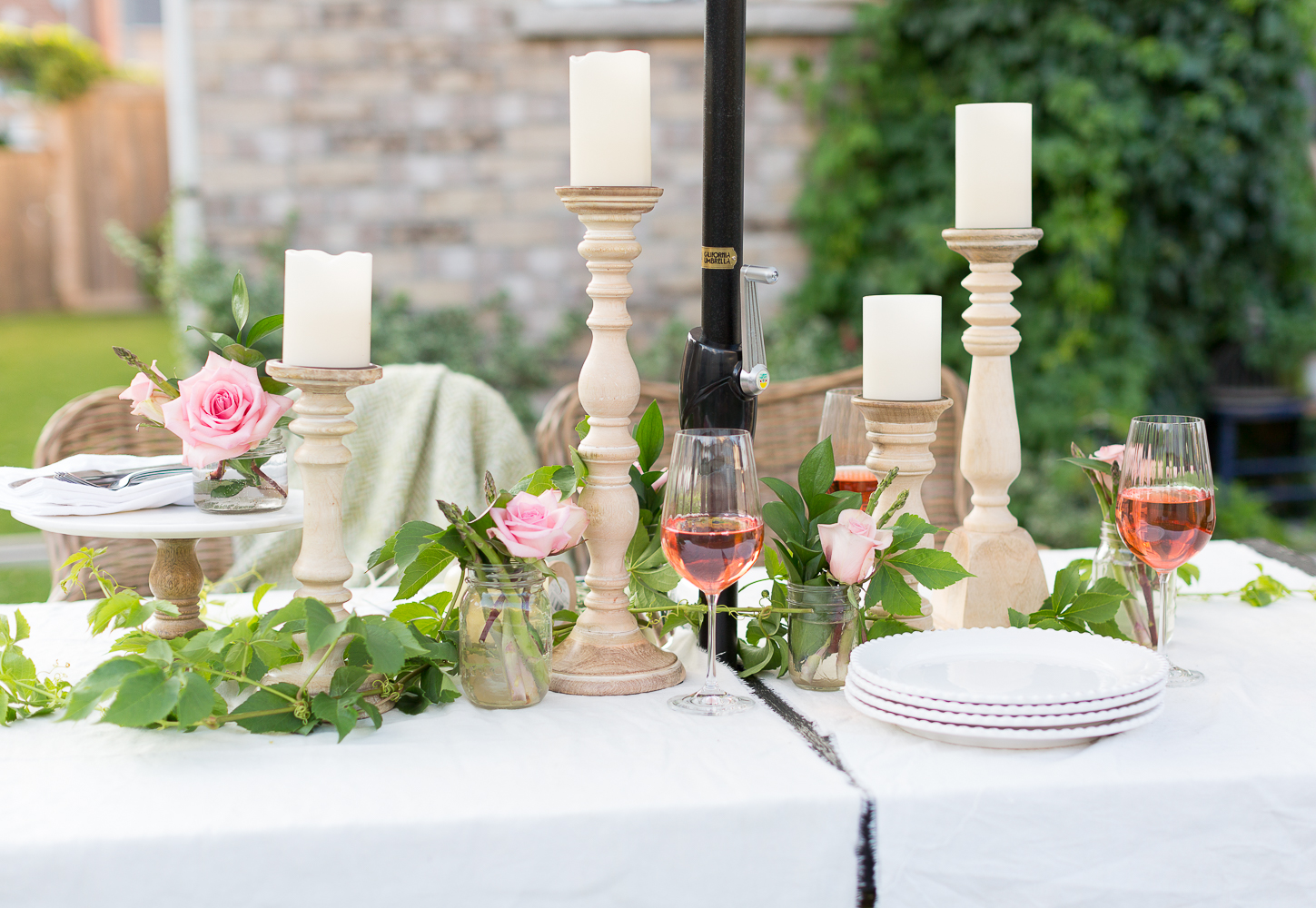 Another fun and inexpensive way to dress the table even further is to place some vine as a runner in the middle of the table (be sure to shake off any insect inhabitants before setting). This would work great on a buffet table.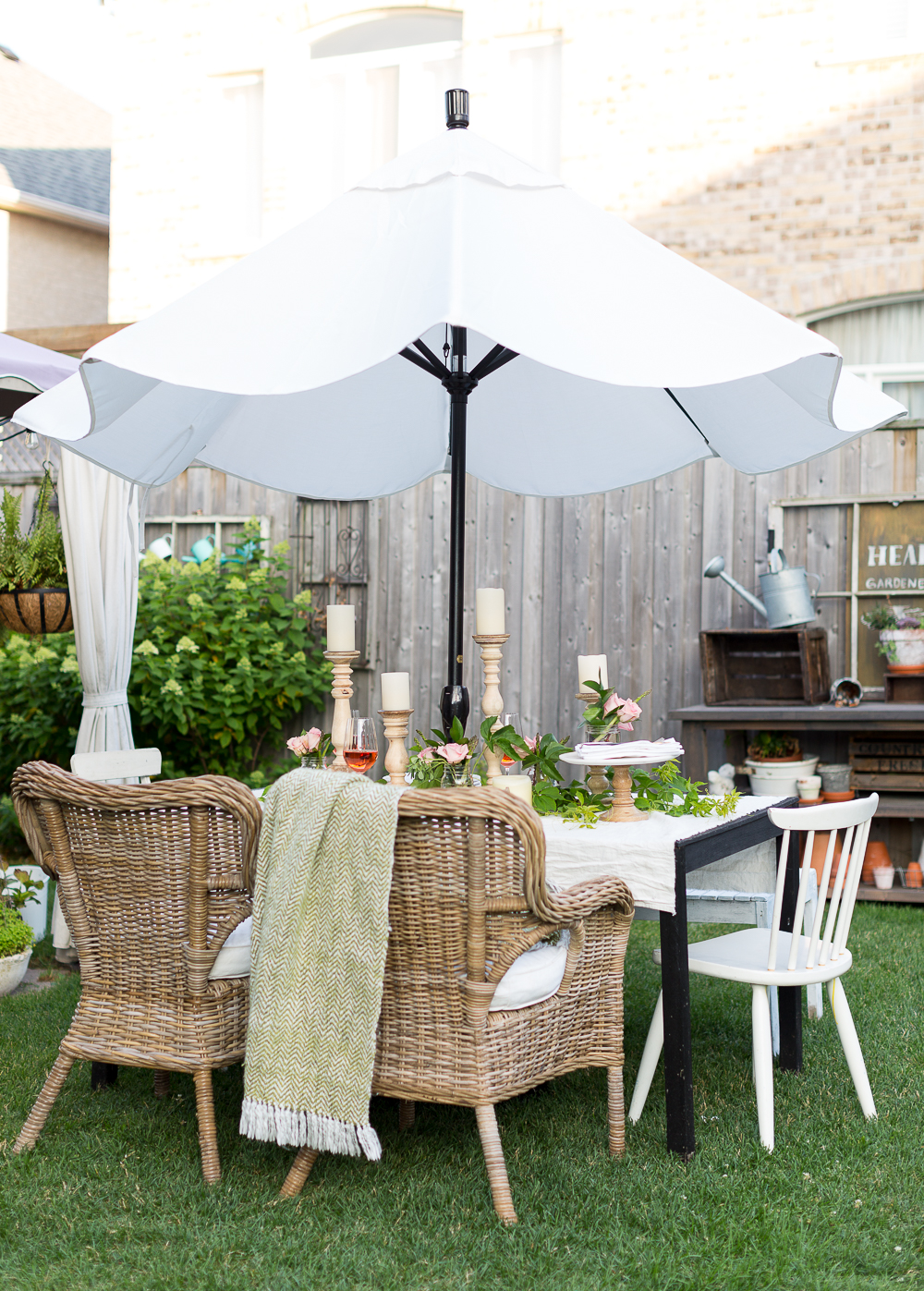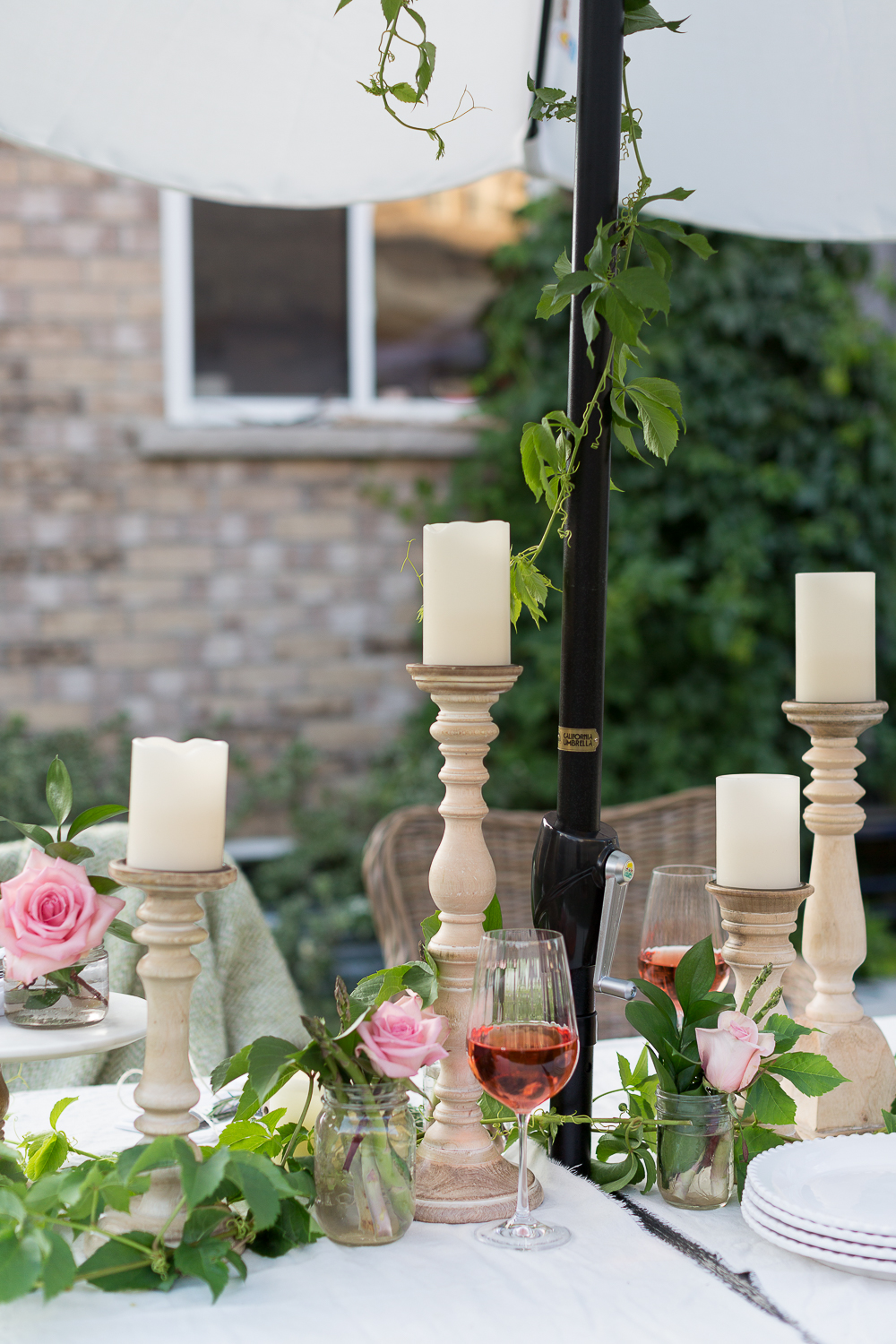 And for a little extra whimsy, I wrapped some of the vine around the umbrella pole. I think it adds a fun little touch.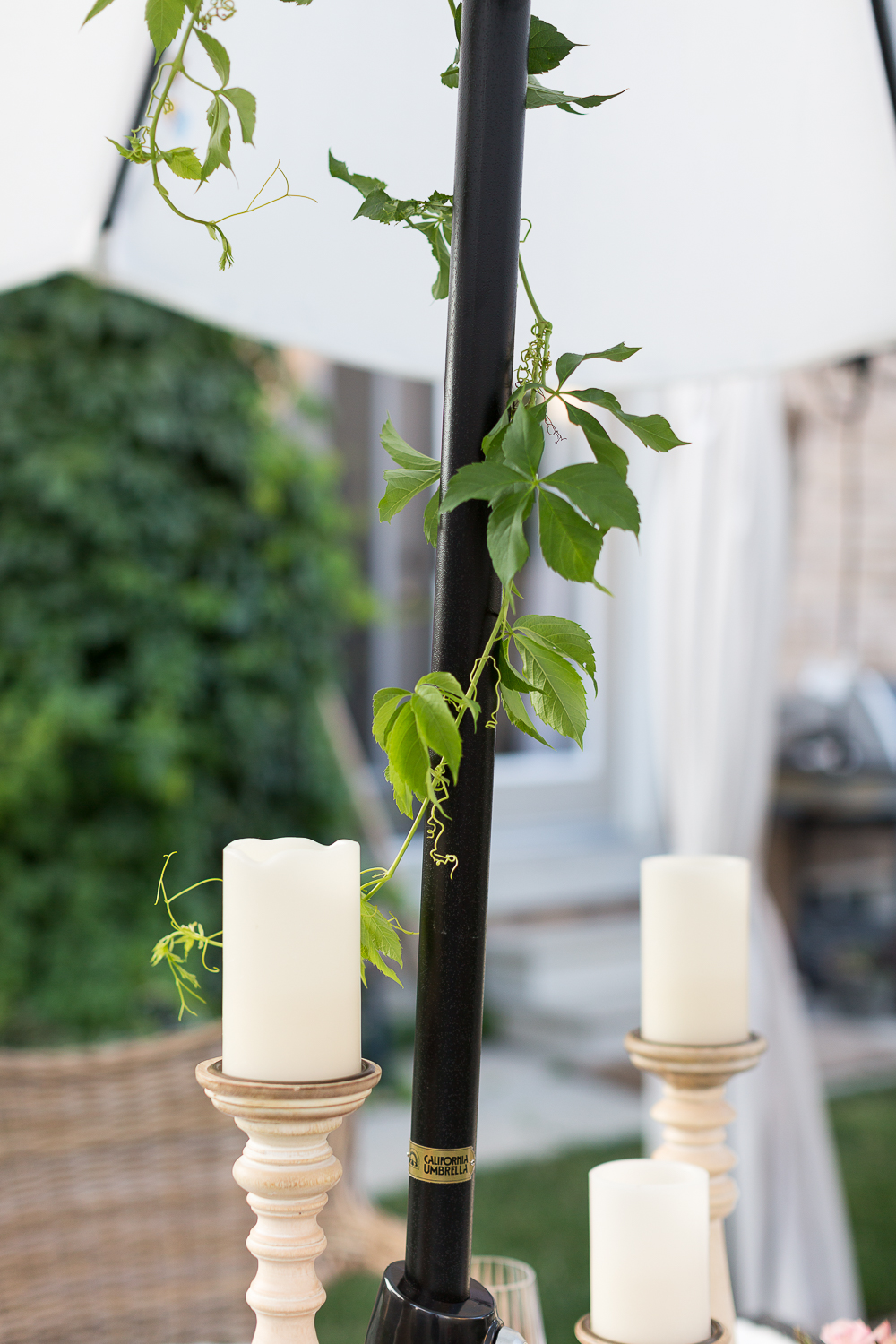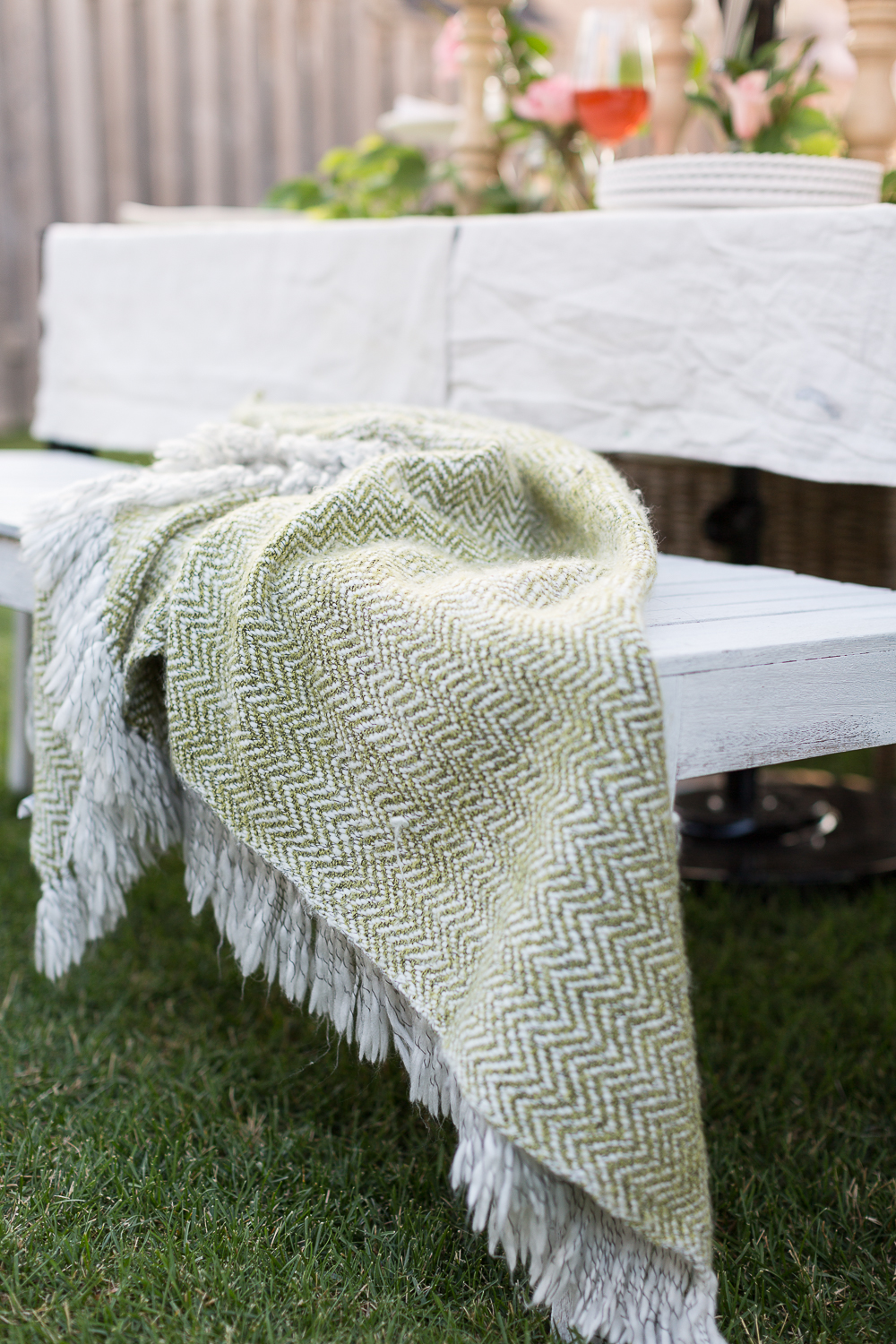 Having throws readily available in a basket or draped on the chairs makes your guest feel welcome and allows everyone to enjoy the gathering past sunset when the air cools.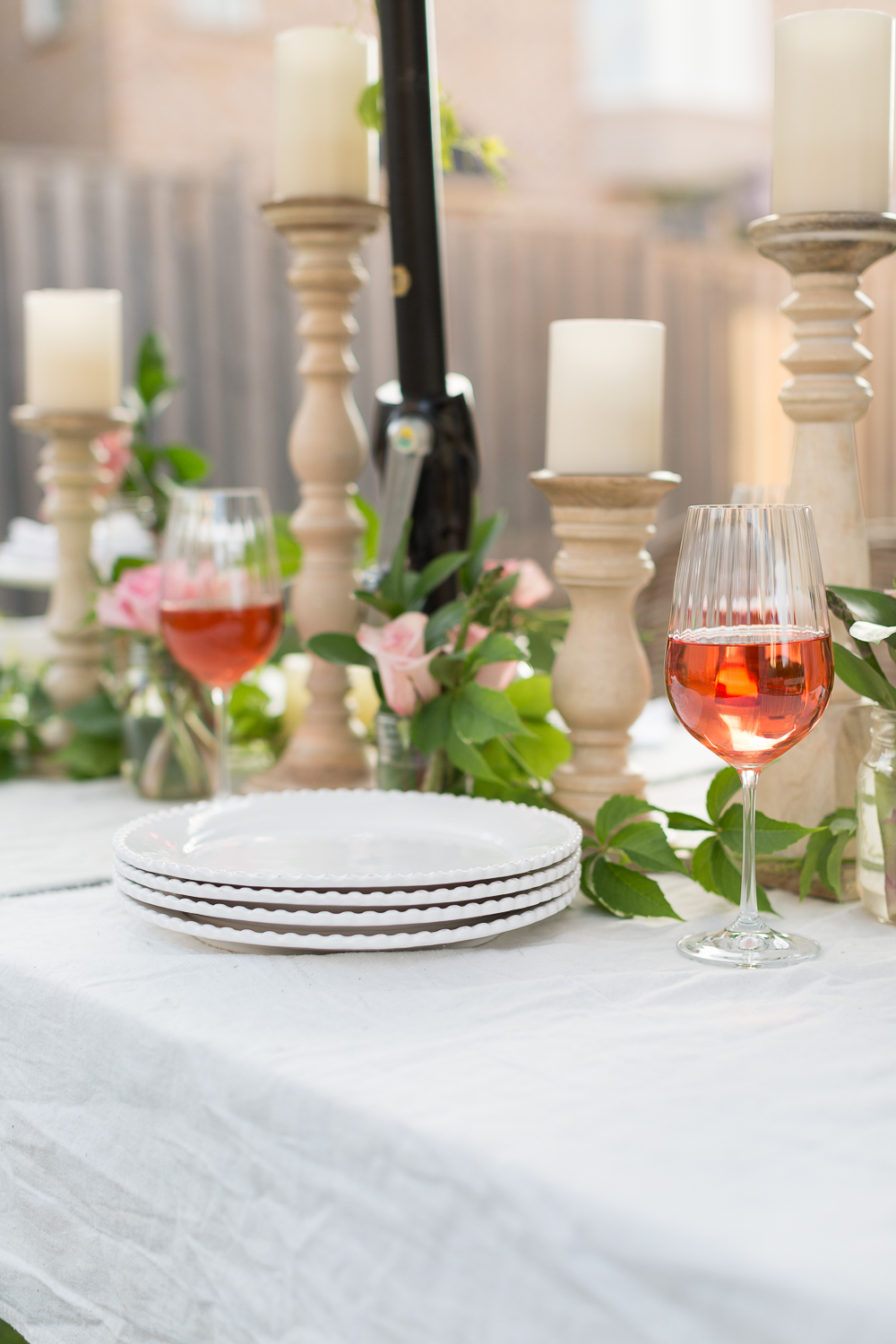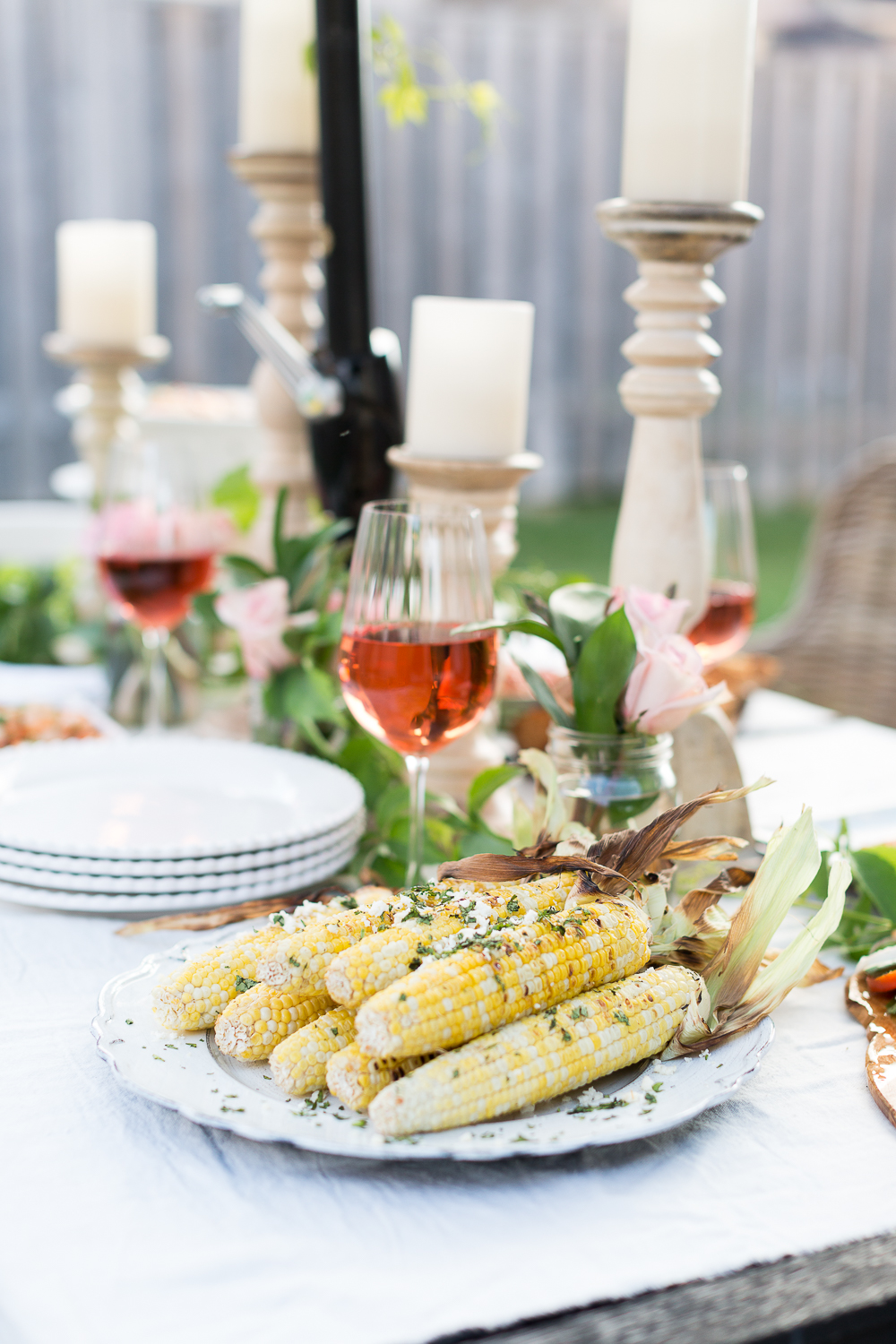 Keeping food simple and easy to prepare is a must.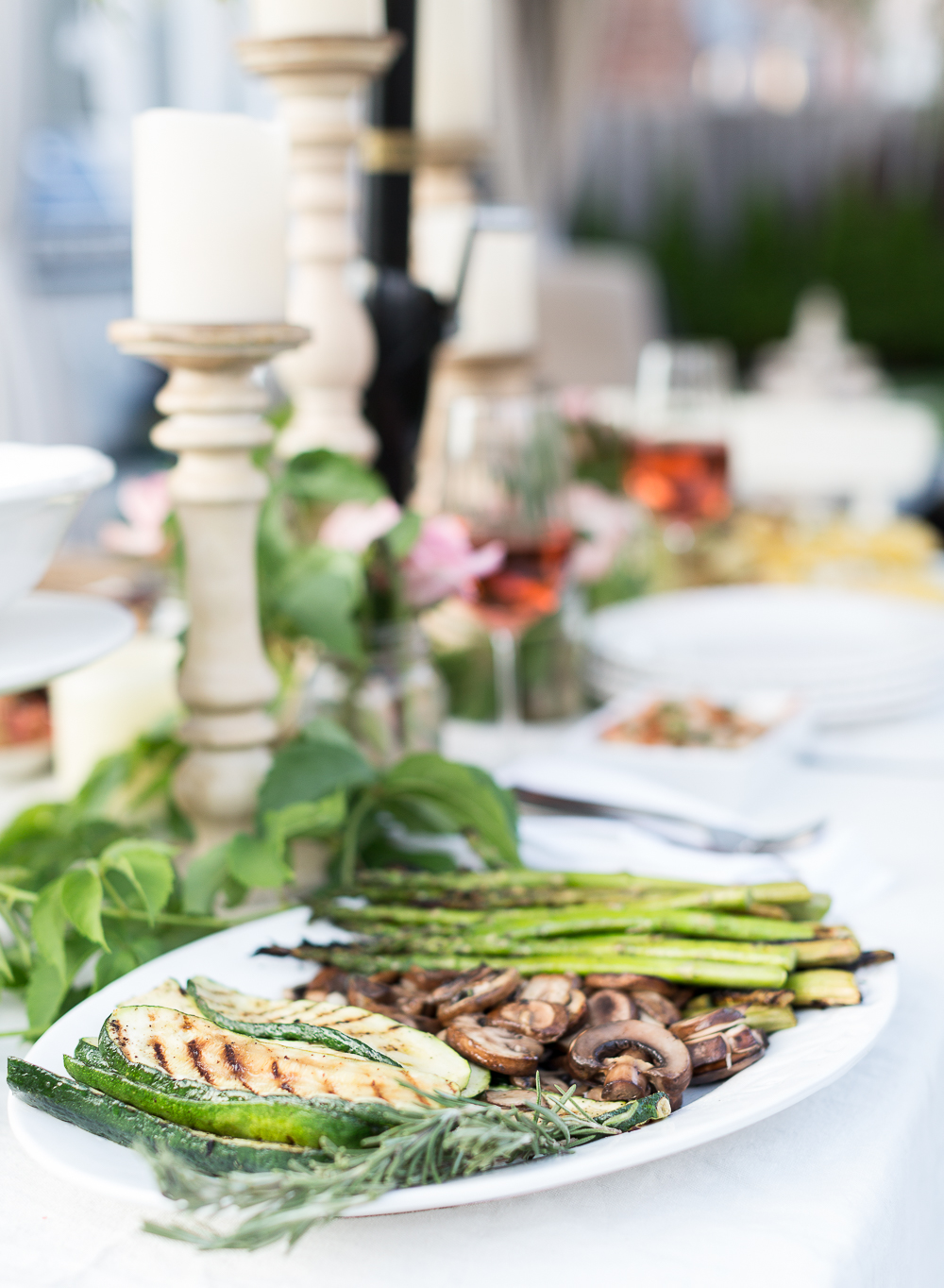 So embrace the tastes of the season with fresh vegetables, simply brushed with olive oil and seasoned with a little salt and pepper. Place on the grill for a 3-4 minutes and you're done.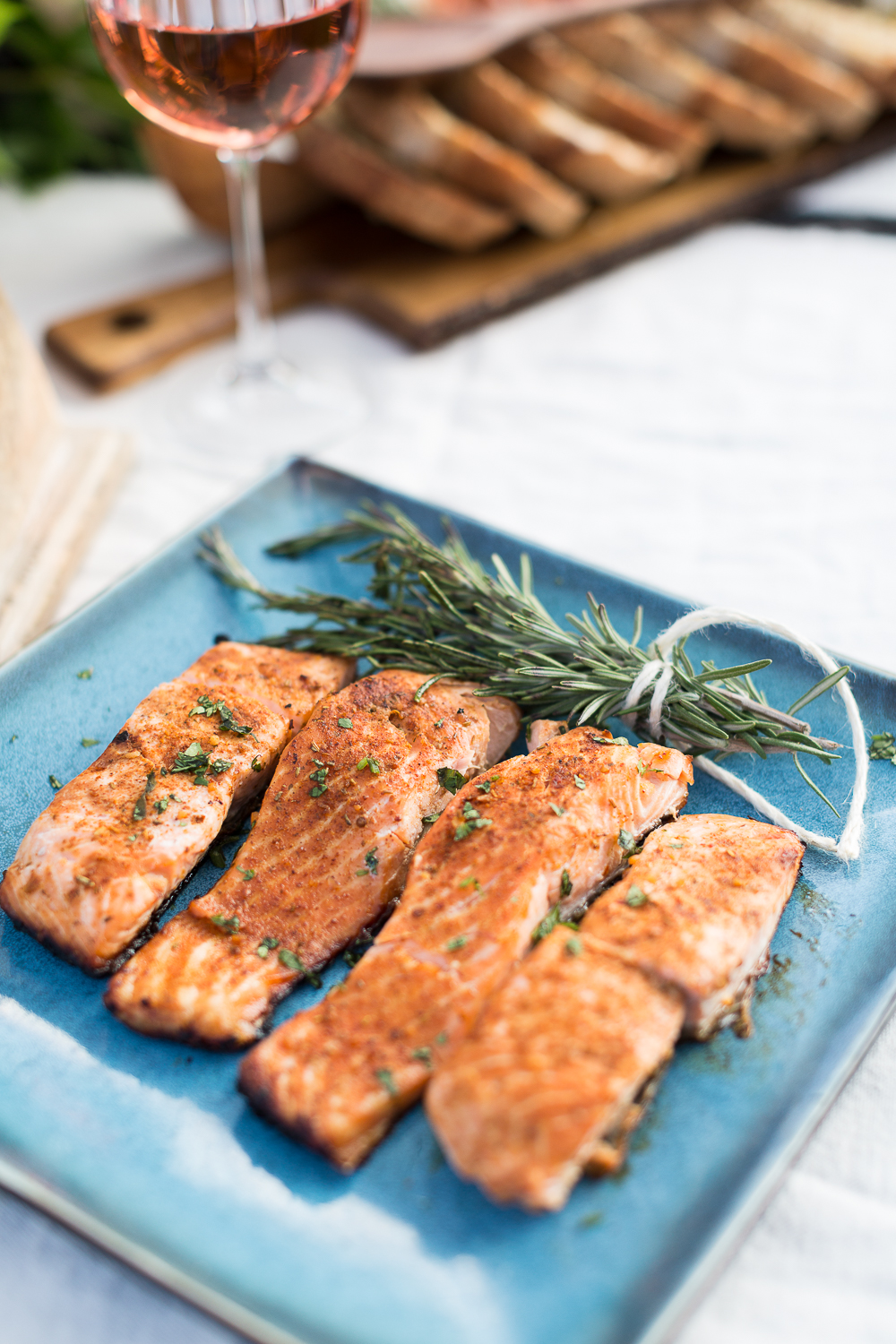 One of my favorite and easiest things to prepare is grilled salmon. Place seasoned salmon on a piece of foil large enough to fold over and seal. Top each piece of salmon with 1 tablespoon of lemon juice and 2 tablespoons of wine. Wrap salmon tightly in the foil packets, place on a hot grill and cook for approximately 10 minutes for a 1-inch thick fillet.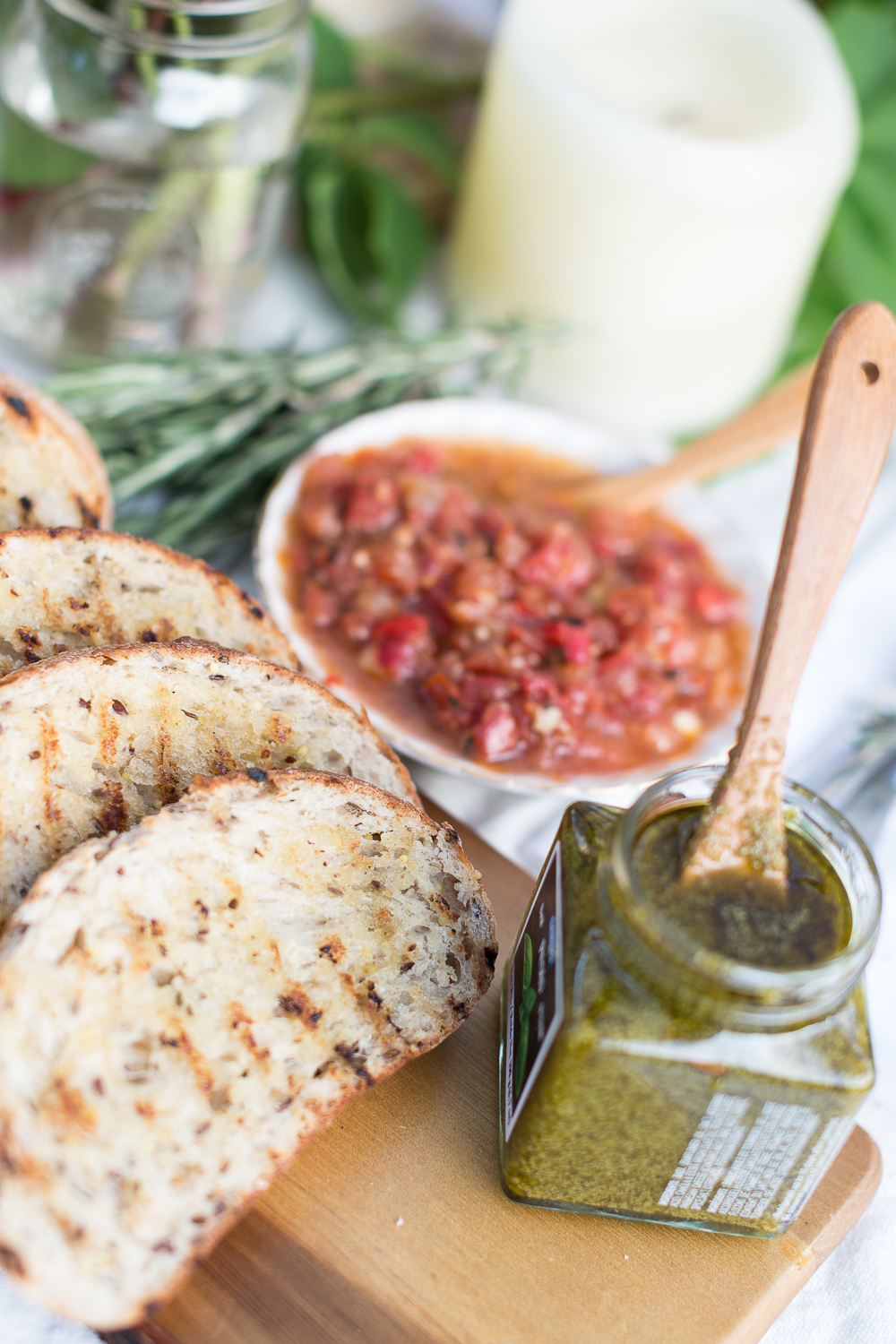 Not everything has to be cooked from scratch. I love serving beautifully grilled bread with store bought pesto.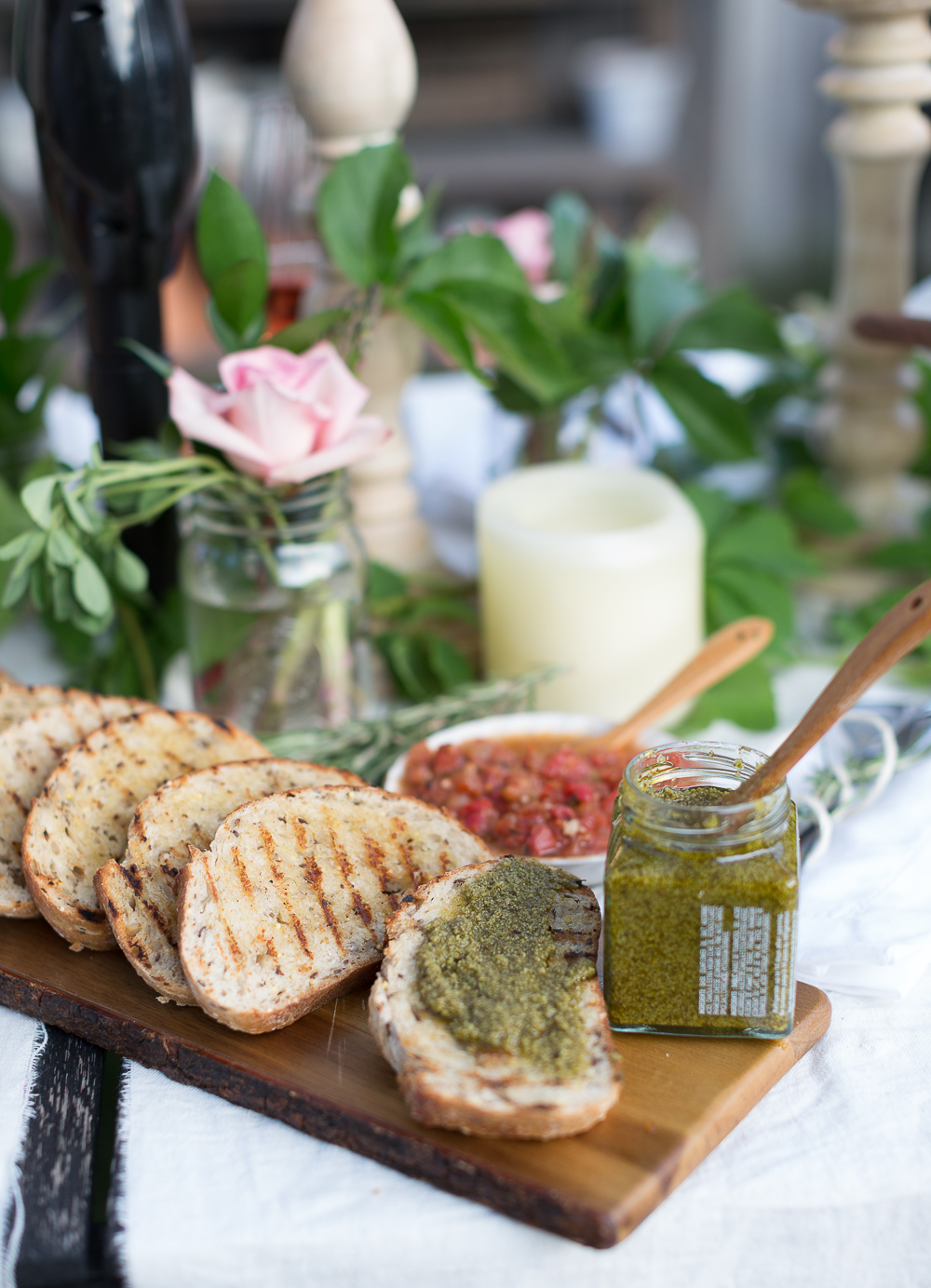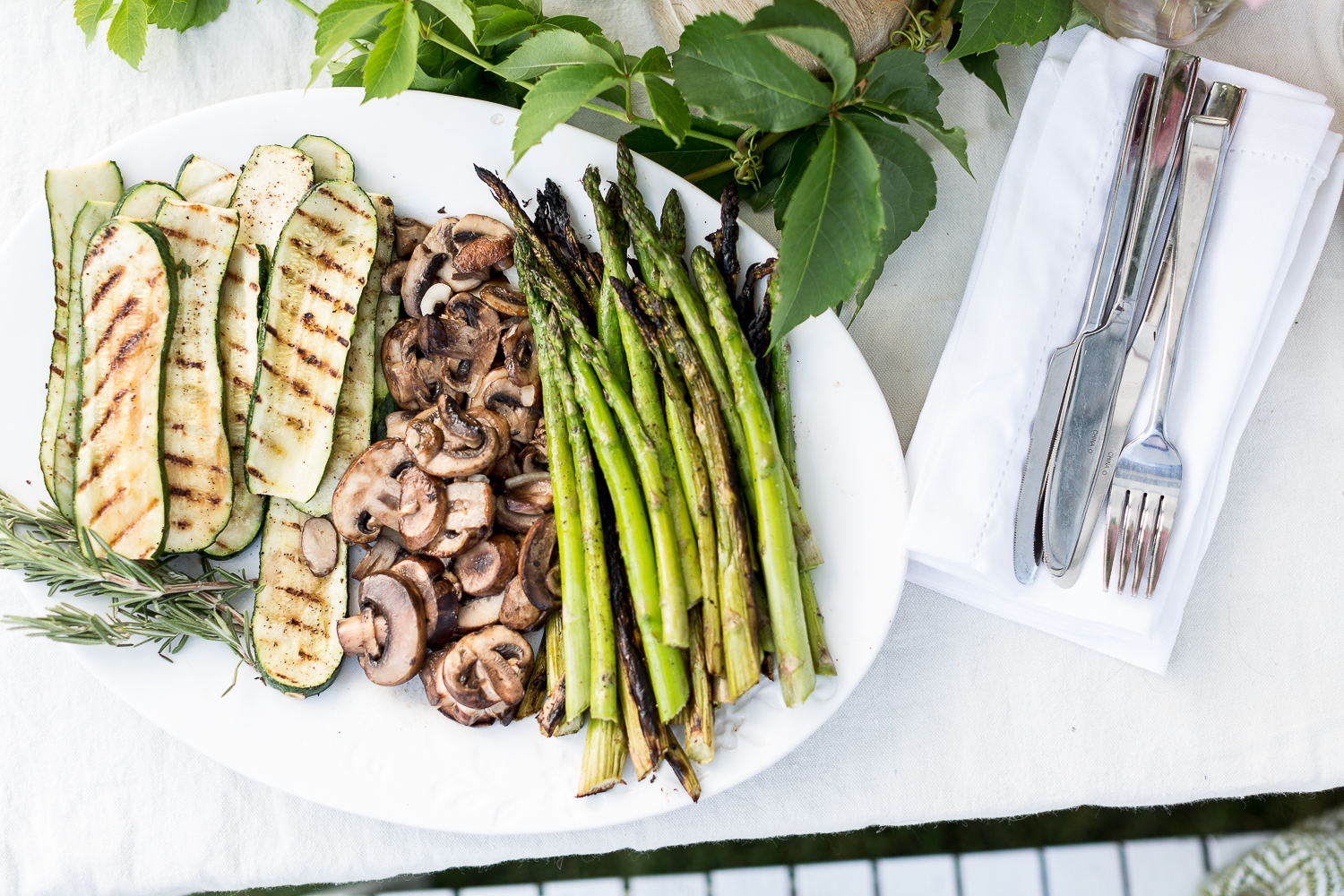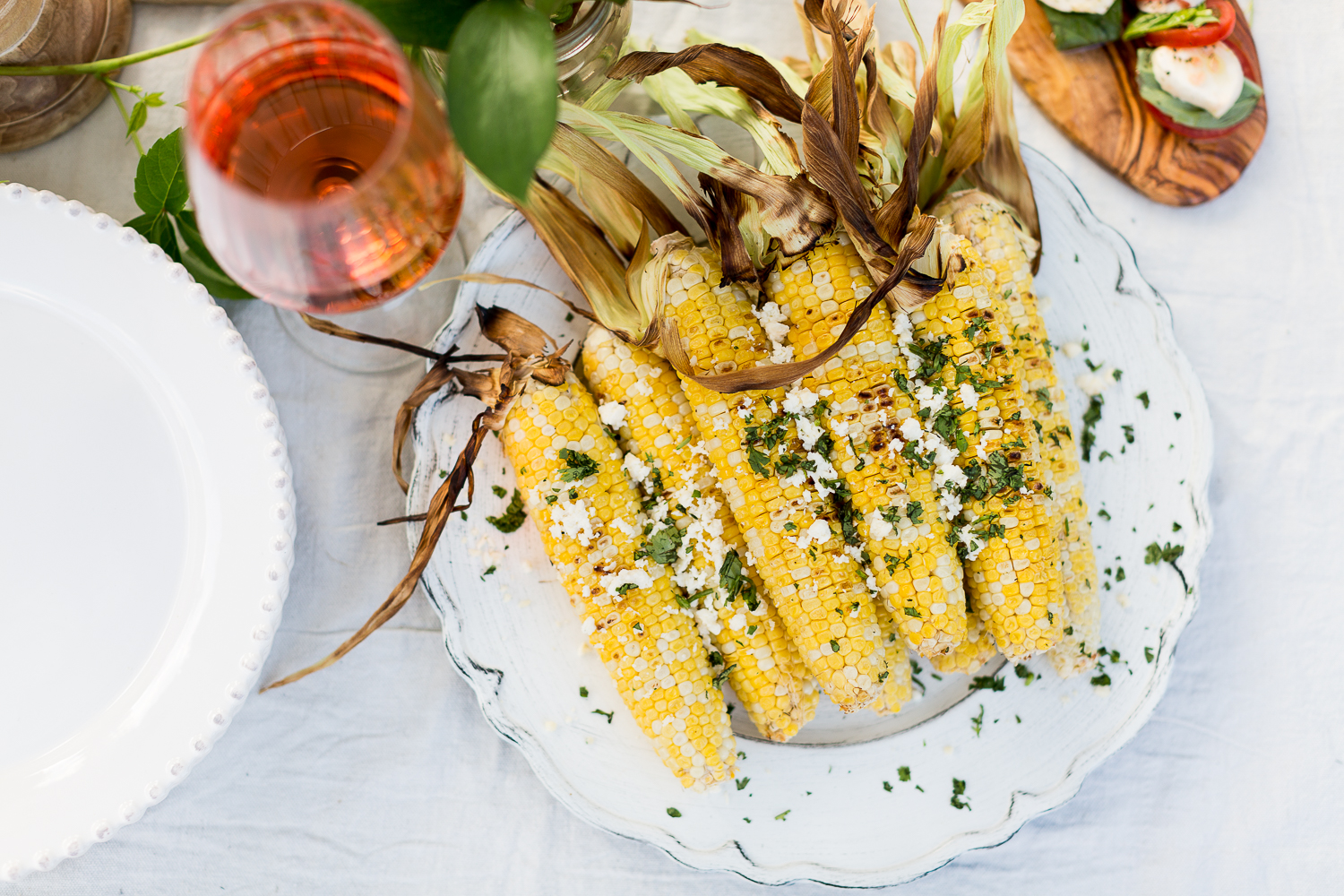 Corn is also one of those beautiful summer must haves.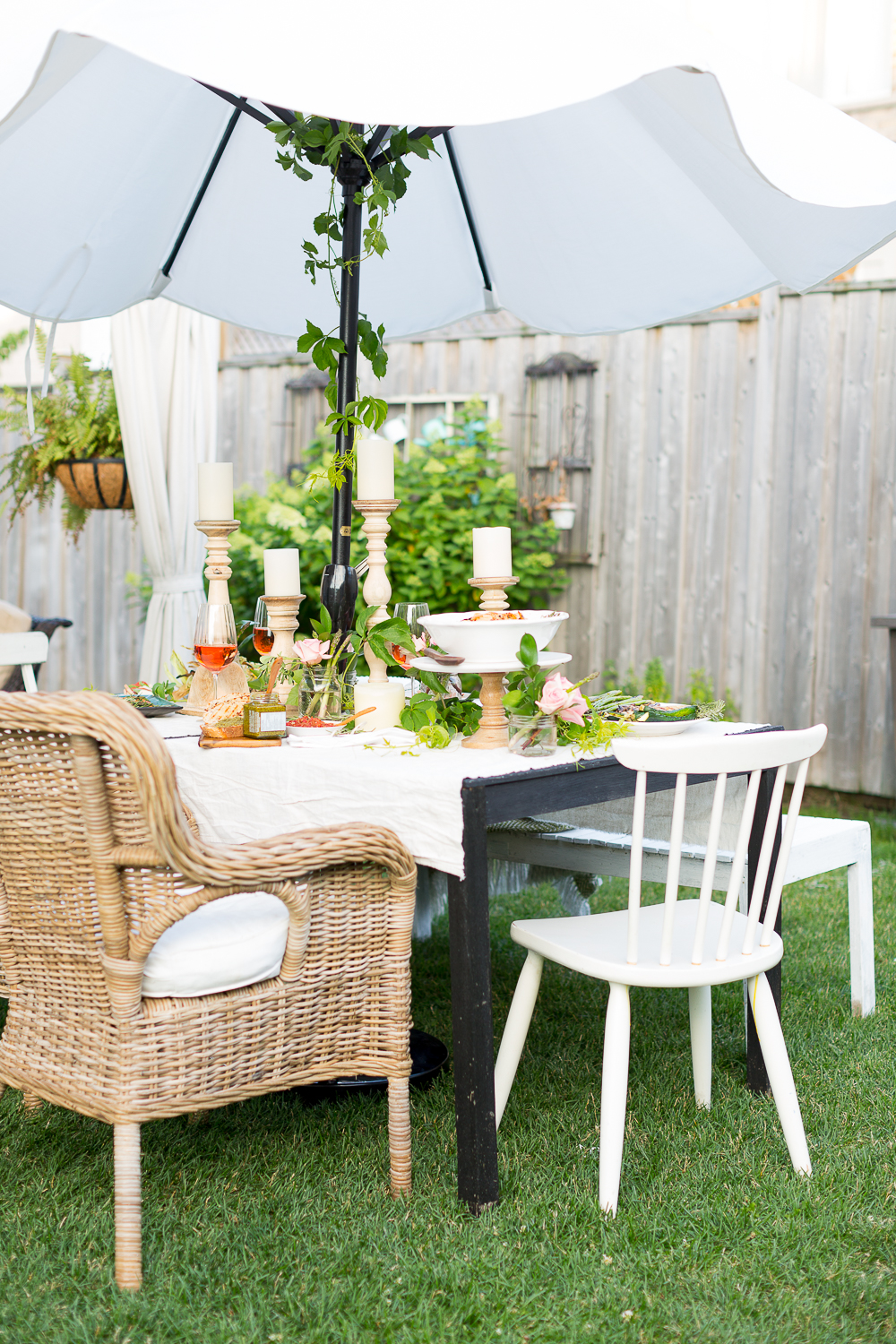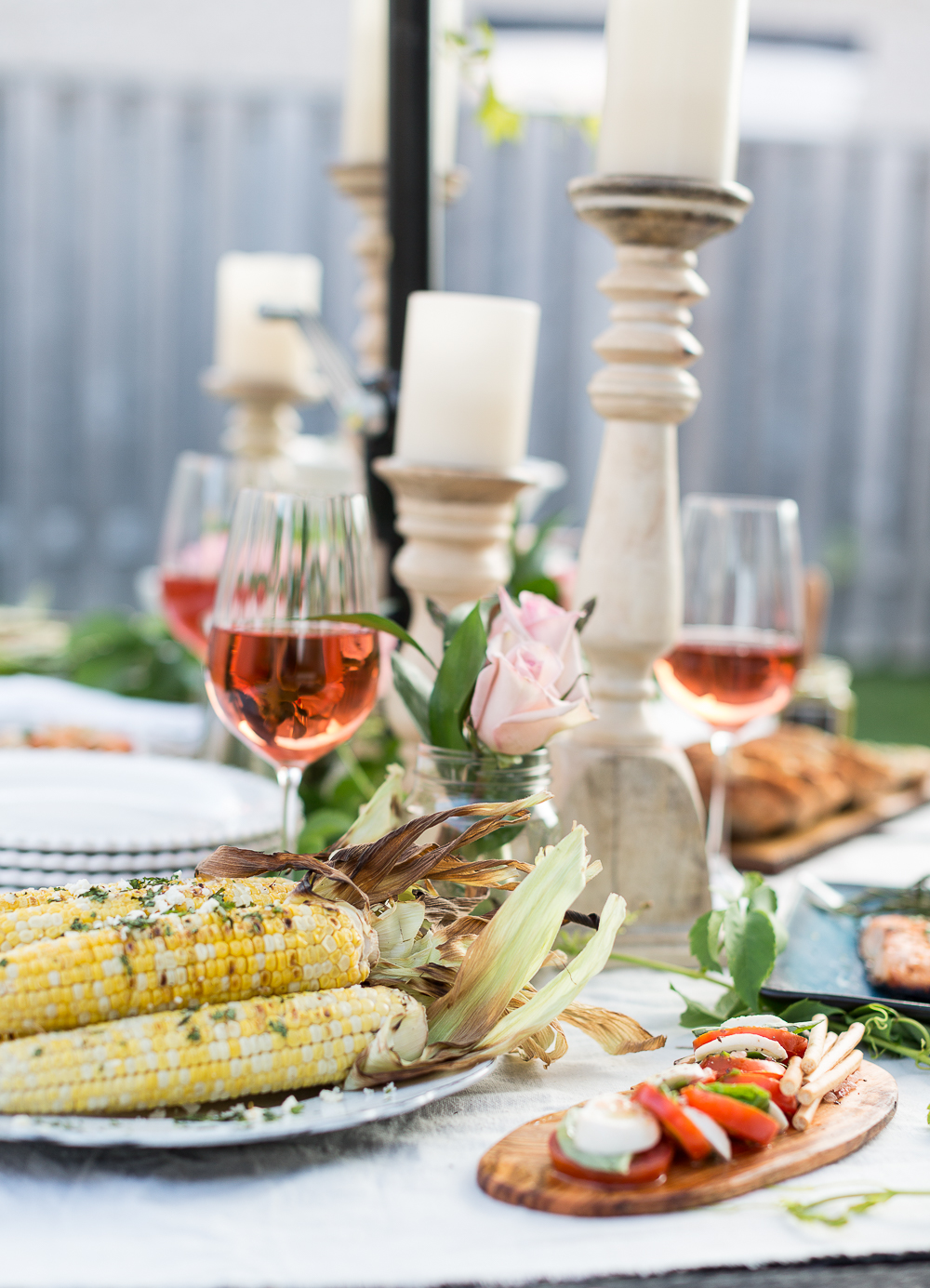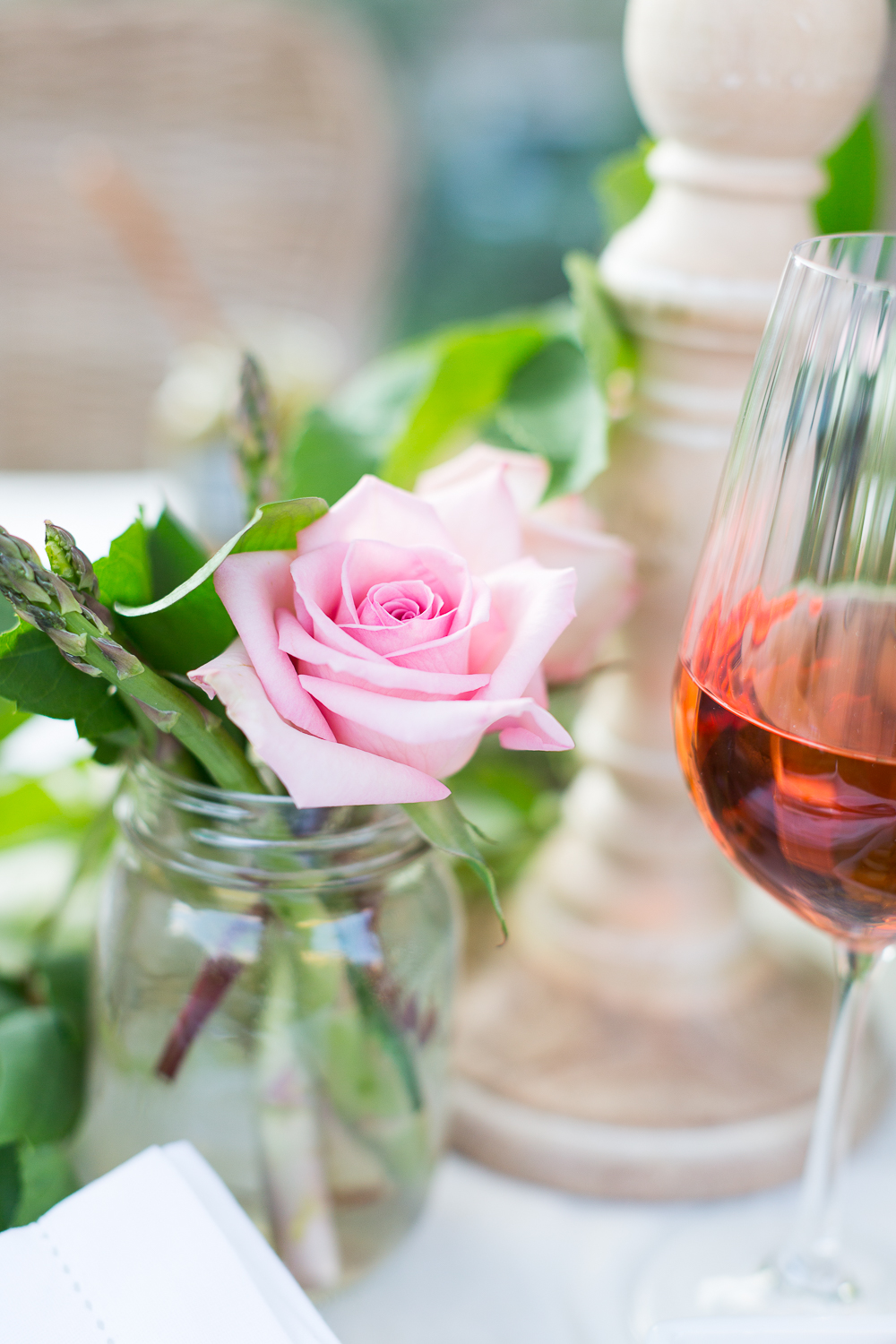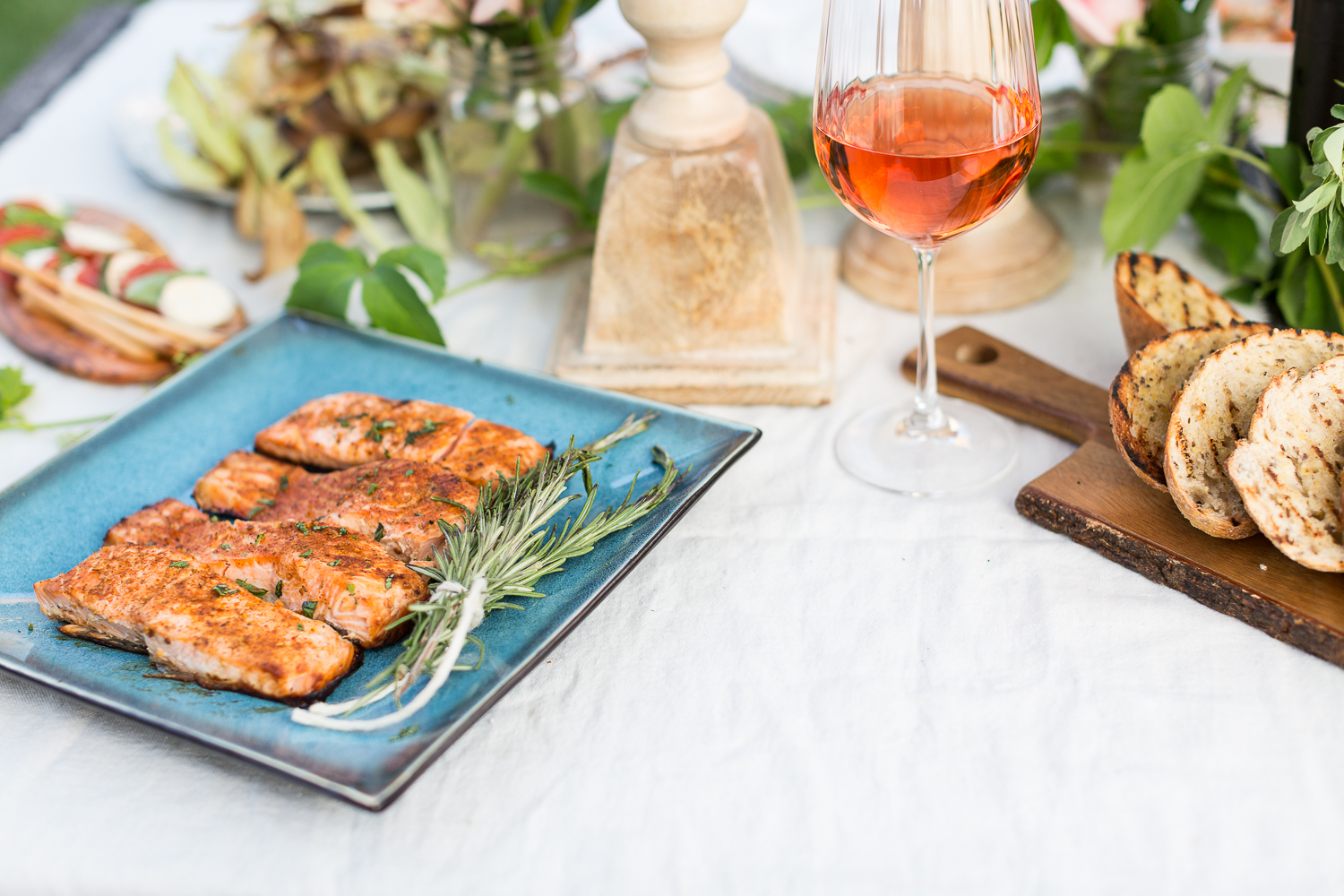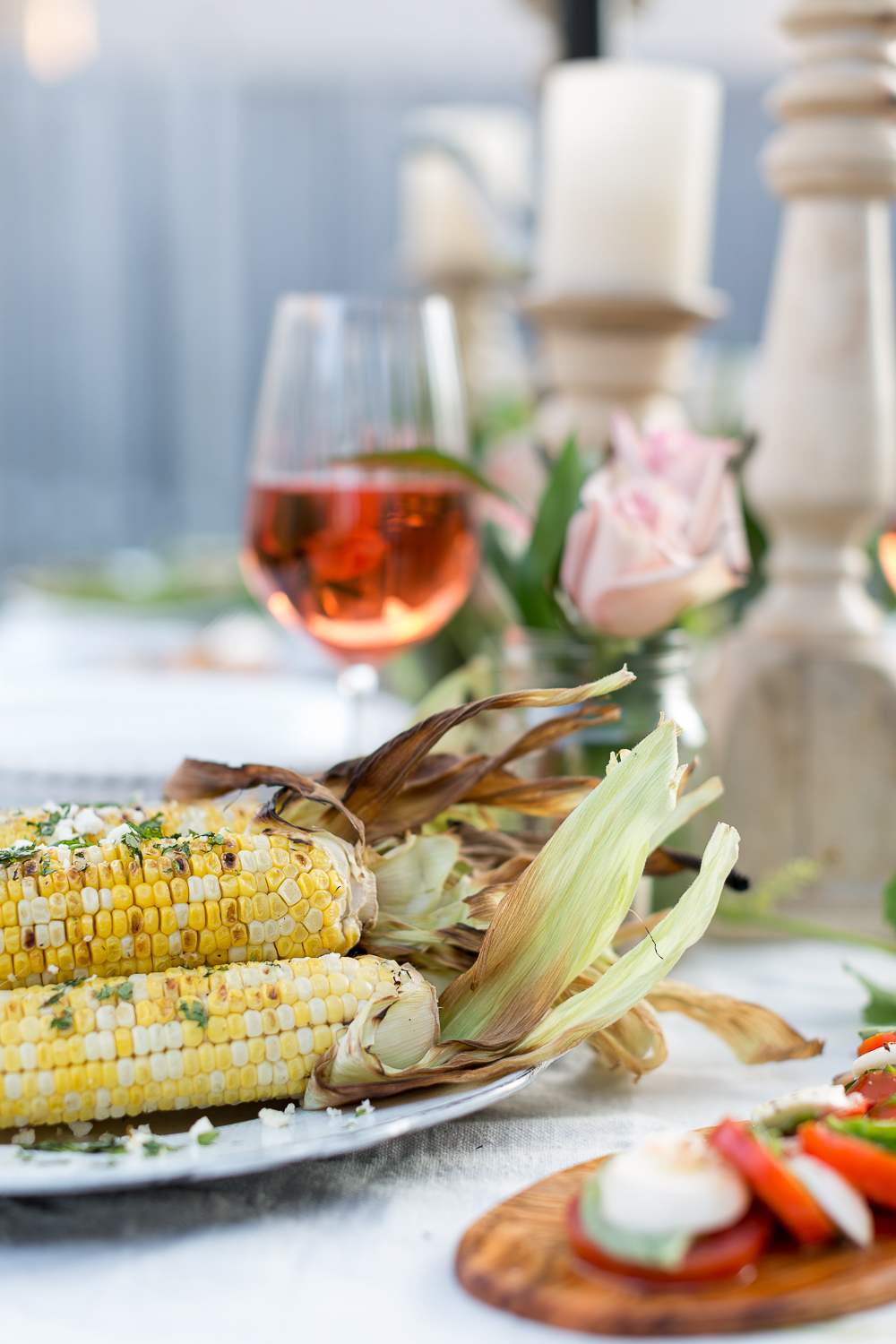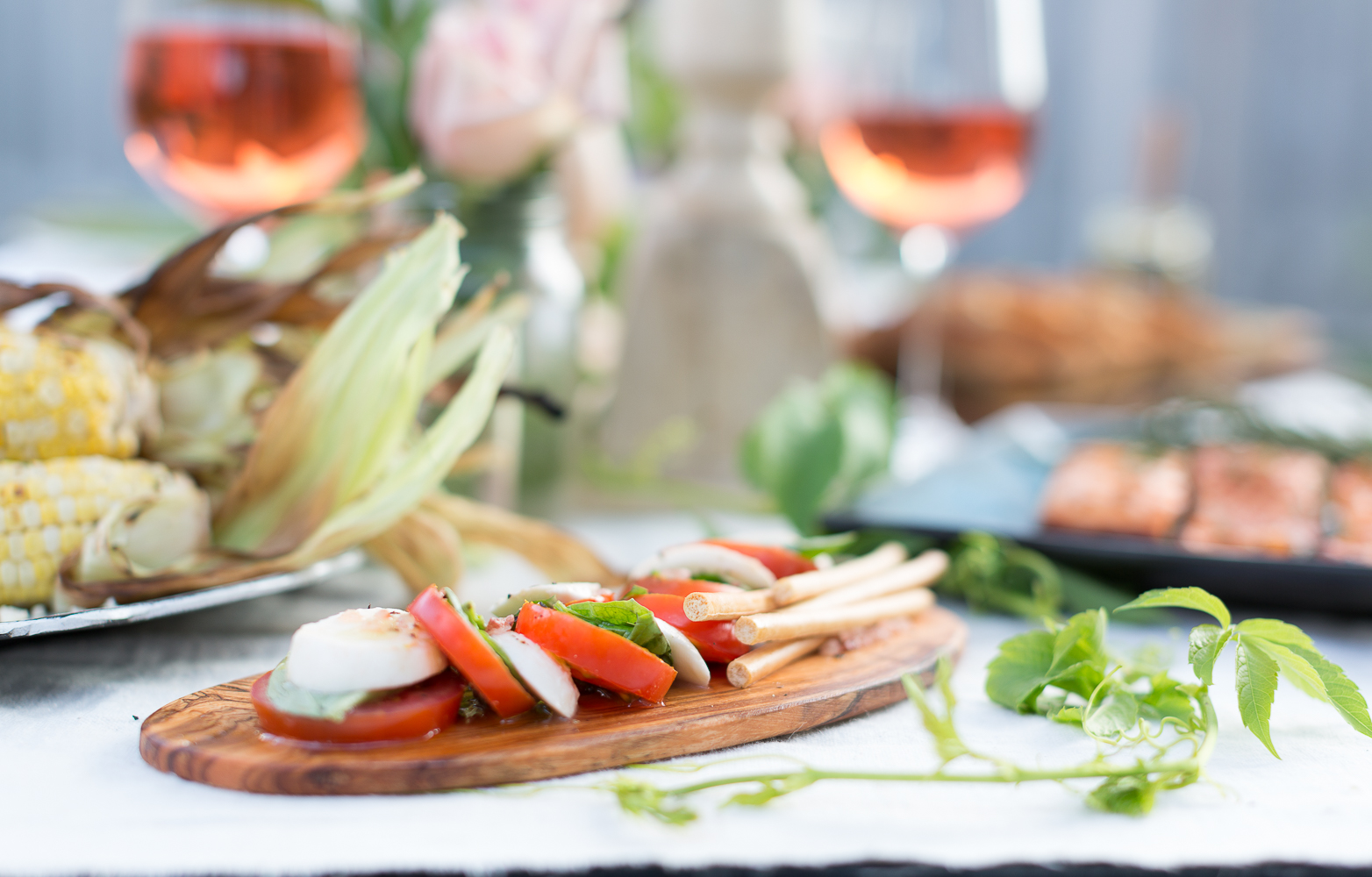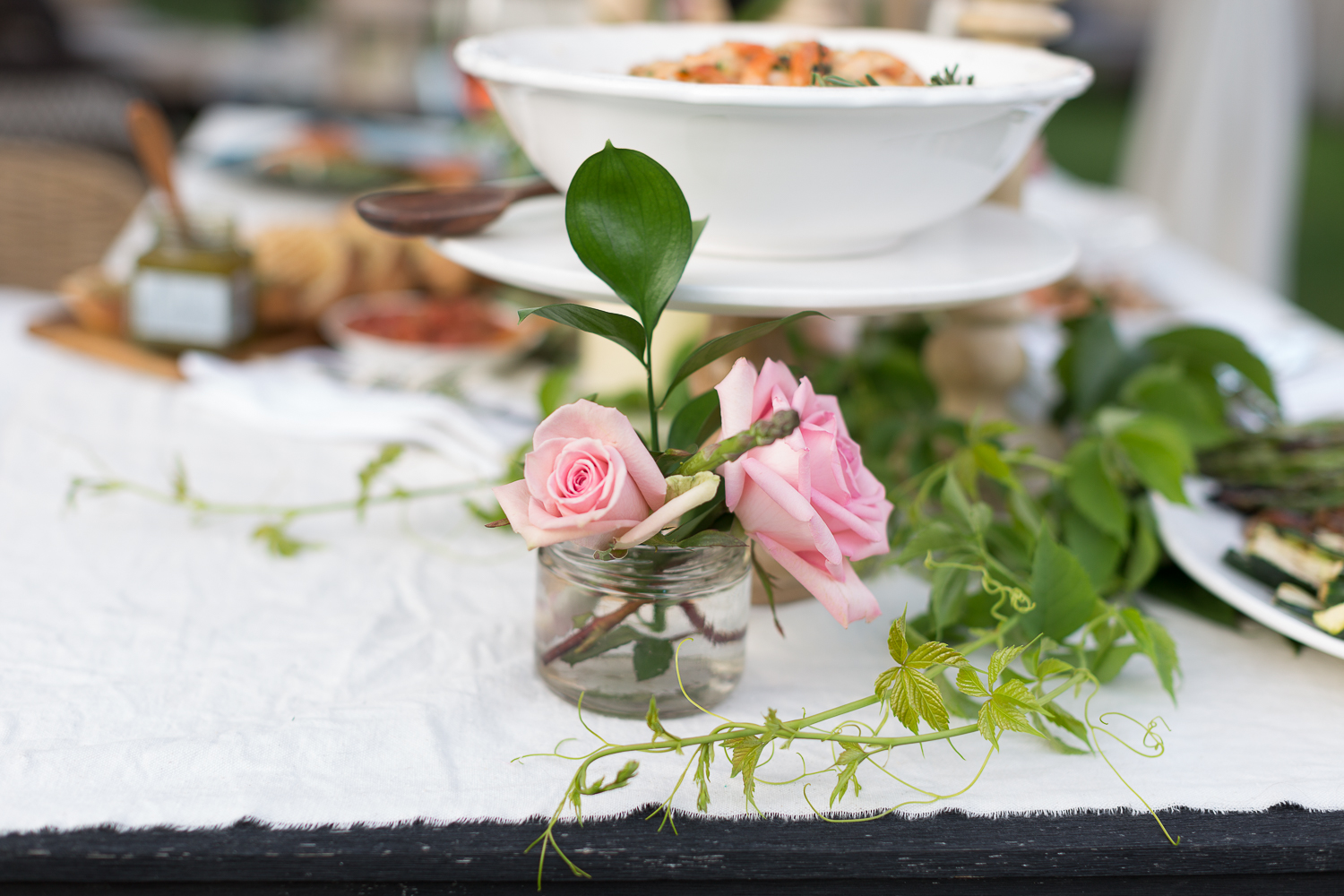 And there you go – simple alfresco dining in the suburbs.
Many thanks to my friends who participated in this little series and especially Birch Lane. I hope you found some ideas that have inspired you to head outside and enjoy the remaining days of summer.
Thank you so much for stopping by today – I wish you a beautiful weekend.
much love,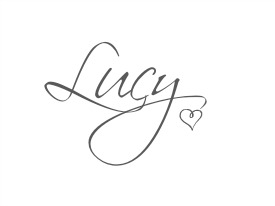 Shop this post