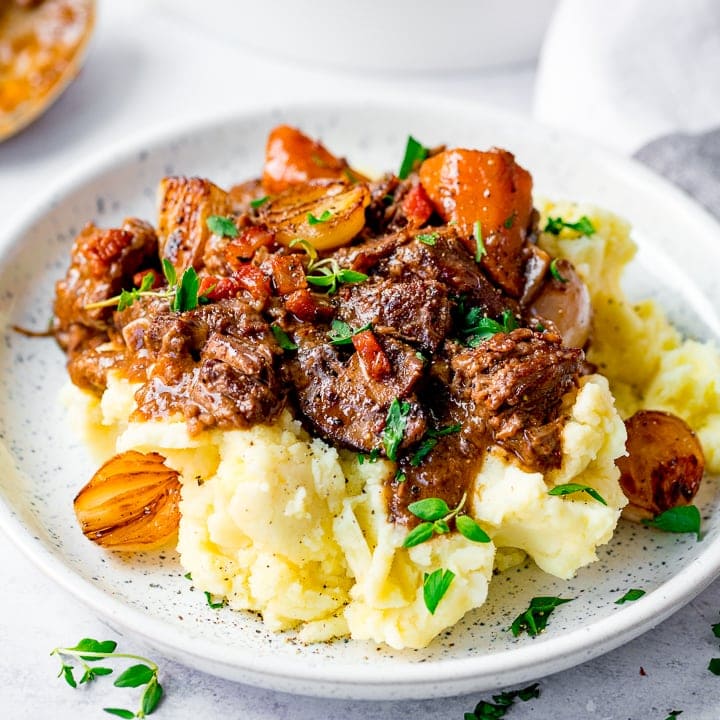 Hello Craftberry Bush friends! I'm really looking forward to sharing my Beef Bourguignon recipe with you today.
This meal is so deliciously hearty and flavourful – fall apart beef, crispy bacon, a mix of crispy-browned and soft, tender shallots and bites of slow-cooked carrots, all enrobed in a rich red wine sauce. Served with mashed potato and green veg it makes an amazing winter meal.
A little bit of effort is required to start the dish off, but then it all cooks merrily in the oven until beautifully tender.
A whole bottle of wine does seem like a lot when you're pouring it in, but the flavour softens during the long cooking process and you're left with a rich taste that isn't 'wine-y'.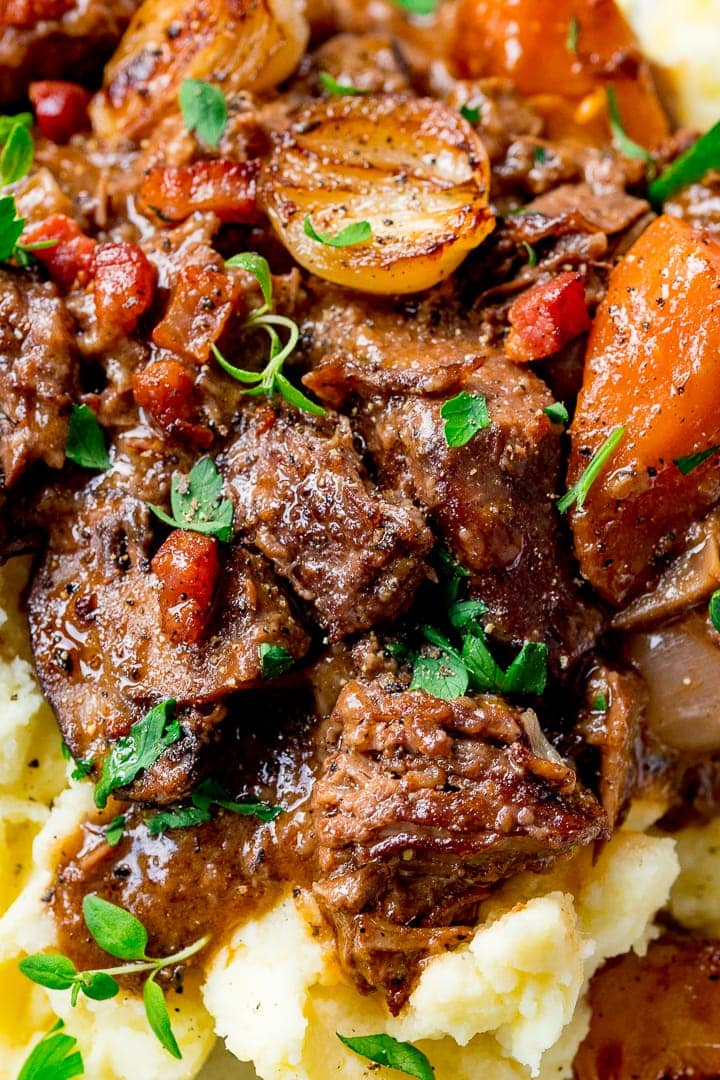 It's a great meal for when you have guests – as you can do all the prep before everyone arrives. By the time they do arrive, the house will smell amazing!
However, I'm quite looking forward to making this next time just for the family – after a long afternoon of present wrapping!
Ingredients
Serves 6-8
1 tbsp vegetable oil
½ cup bacon lardons
20 small shallots, peeled, 6 of them cut in half, the rest left whole
3 lbs beef braising steak (i.e chuck or skirt), cut into large chunks
3 tbsp all-purpose flour
¼ tsp salt
¼ tsp black pepper
1 tbsp tomato purée
1x 750ml bottle red wine (it doesn't have to be an expensive wine, I used Shiraz)
1 cup (240ml) beef stock
3 bay leaves
1 tsp dried thyme
16-20 chantenay carrots, peeled
2 cups brown mushrooms, thickly sliced
Directions
Preheat the oven to 375F.
Heat the oil in a large ovenproof casserole dish and add the lardons. Fry until golden brown, then remove from the pan with a slotted spoon and place in a bowl.
Add the halved shallots to the pan and fry on high in the same pan for a few minutes until seared, then add to the bowl with the lardons.
There should still be 2-3 tbsp of oil left in the pan at this point, if there isn't top up with a little more oil.
Toss the beef with the flour, salt and pepper, then brown the beef in the pan in 3 or 4 batches (about 5-6 minutes per batch). Spoon out each batch into a bowl before starting on the next batch. When cooked, add all the beef back into the pan and stir in the tomato puree, then add the wine, beef stock, bay leaves, thyme, carrots, mushrooms and the whole shallots. Give everything a stir – to release any bits that may have stuck to the bottom of the pan. Then bring to the boil and turn off the heat. Place a lid on top and place in the oven to cook for 3 hours. Check a couple of times to make sure the Bourguignon isn't going dry. If it is starting to look a little dry, add half a cup of water.
After 3 hours, stir the bacon lardons and fried shallots into the pan, place the lid back on and place back in the oven for another 10 minutes to heat through.
Serve with mashed potato and greens.