Hello Craftberry Bush friends! I am exctied to be back this week sharing a fun DIY candle holder made from simple pinecones. October is racing by and it is nearly November. I am always surprised how quickly this time of year passes and before we know it Christmas will be right around the corner.
I anticipate the change in seasons… We go from bright crisp autumn breezes to frosty chilled air in winter. As the seasons change so does our decor.
I like to find ways to transition my autumn decor into my winter decor without having to make too much of a fuss.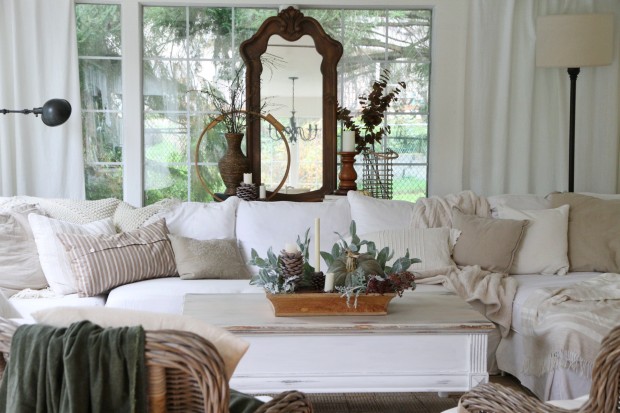 One way to do that is use elements such as pinecones and branches because they are present at the beginning of fall and remain throughout the winter days. These rustic ornaments draw attention to the beauty of these seasons. They mimic the changes going on outside. Almost an illustrative story, telling how the colorful leaves and cones fall from their trees leaving the branches bare, only to later be covered in magical snow.
For this DIY, it is as simple as finding or buying pinecones and adapting them to hold candles for subtle ambiance. They can be scattered in a tray on a coffee table or strewn atop a table for a feast at Thanksgiving.
Make just a few or a great many; either way these pinecone candle holders are the perfect addition to any style home.
Here is what you need and how you will construct these little pillars of light…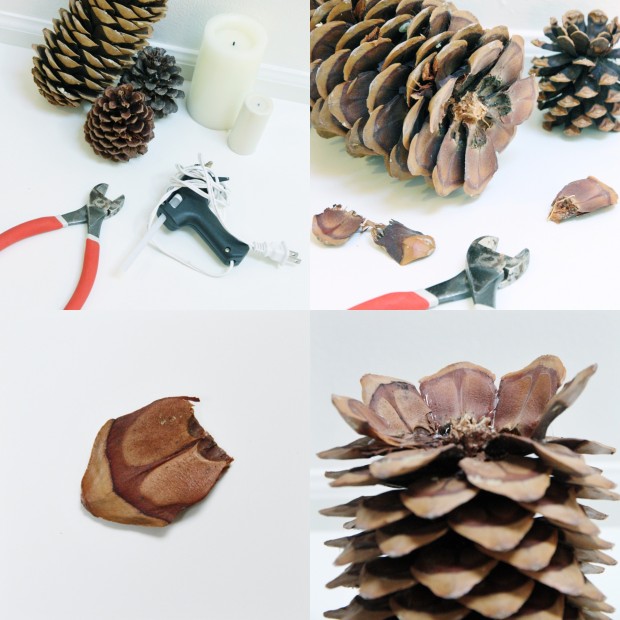 Pinecones of varying sizes, a diagonal cutting pliers, glue gun/glue sticks and electric candles (see note below). To take it a step further, I used a white chalk paint wash (very watered down chalk paint) and painted each pinecone at the end to give it a weathered look. This of course is completely optional.
Take your pinecone and begin using the diagonal cutting pliers to pull out the scales. Each pinecone is unique, so the process may be a bit different for every one. I noticed that the large pinecones needed to be pulled apart from the top (where the candle would rest). The small pinecones already had a perfect place to hold candles on the bottom; therefore, I pulled just a small amount from the top so they could stand flat and flipped them for use.
If the top of the pinecone was too flat to hold a candle after plucking the scales, I would carefully glue a circular cup to support the candle with the extra scales. I cut the tip of the scales off (using the diagonal cutting pliers) and then glued them (as pictured above) to make a grasp for my candle.
In addition, if a pinecone would not sit steady on its own, I would insert the newly plucked scales into the layers of scales at the bottom (adhered with my glue gun) to make sure it could stand.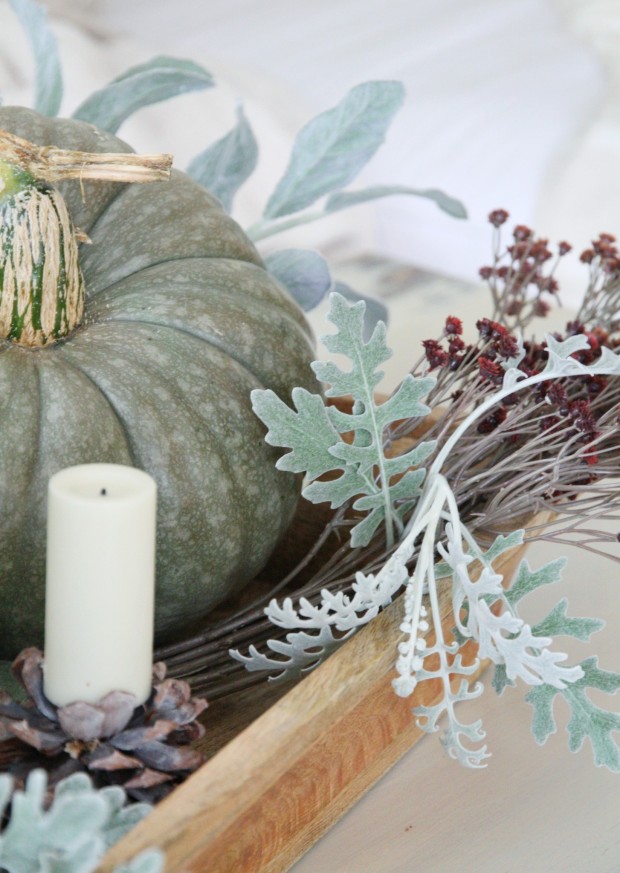 This is a perfect example of decor that transitions easily through the holidays and helps to make decorating simple. The focus can be narrowed down to colors, textures and the fun little details. For example, I thought as Christmas season nears it would be pretty to paint these a glossy white or add some shimmer. The options are limitless with some creativity.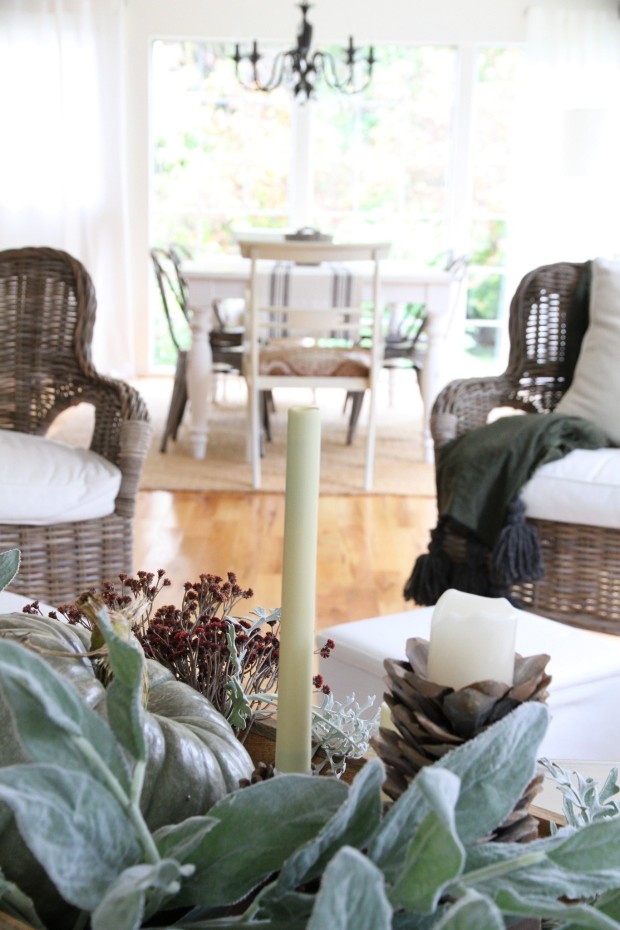 Thanks so much for joining me today and to Lucy for having me. Enjoy the rest of your week!
Note:
Pinecones found naturally outdoors may need to be treated somehow for bugs. All of my pinecones were store bought so I did not need to do this, but I would imagine searching the internet for tutorials would yield great results.
Electric Candles are necessary for this project because even though these DIY candle holders are stable they are not suitable to hold a burning flame (too much of a fire hazard).
To avoid sticky fingers you may choose to wear gloves, as there can be some sap on the scales.
When using glue guns and diagonal cutting pliers or tools please use caution.