Hello Craftberry Bush friends and hello fall – thanks so much for having me today Lucy! I cannot believe that fall is here and I am loving it. The smells, the colors, the activites and memories we make this time of year are some of my favorite. School is in full swing and pumpkin patches are preparing for hay mazes and tractor rides. What a special time of year! Better yet, it is preparation for the most precious season of all – Christmas. I have slowly been incorporating autumn into our home with painted pumpkins, leaves and the very best of texture.
One way to incorporate texture into your homes is to use faux fur. Of course there are beautiful pillows and throws available, but another fun way to showcase this texture is by using a counter stool or footstool creatively in a space. The other day as I was thrift shopping, I happened upon this sweet footstool. I was instantly inspired by all the fluffy accessories I have seen lately and thought it woud be perfect covered in faux fur. Here is what I did and how you can do it too!
You will need…
Faux fur fabric sized according to what surface you will be covering. I purchased a 1/2 yard using a coupon and got quite a deal
Scissors
Hand staple gun (remember to use precation and safety when using tools such as these)
Staples for the staple gun
Footstool, counter stool or bench to cover
Here is how you will make it…
Beforehand, you may want to paint the legs of your surface. It is all preference and you can leave the legs as is if you would like (I kept mine the way they came)!
Using your footstool (or counter stool, etc…), measure the amount of faux fur you will need to cover your surface. As you can see in the picture – I added a few extra inches to the perimeter.
Begin wrapping and stapling the material to the bottom of the surface. Staple one side, then the next, until you go around. Making sure to put one staple in the middle of each side.
Then pull the material taut as you go around again, adding another staple.
Repeat this process until the material is taut and secure all the way around.
The convenient thing about faux fur, is that it hides blemishes or mistakes well. Also depending on the shape of your surface, you may need to cut a slit in the corners to make it fit around smoothly (or slits around a circumference for a circle). My footstool was square in shape, so I cut a slit at the corner and then continued by cutting off the corner of each slit. This way I could tuck, fold and staple the corners. These corners should not show poorly because the fur will cover it up. I will advise you to have a vacuum available becasue this material sheds a ton when you are cutting it. Once it is vacummed up and the material is stapled, it stops shedding.
Put your newly covered footstool or counter stool somewhere pretty to give your home some simple and affordable fall decor. I added mine next to our ottoman for an interesting grouping of side pieces of furniture and extra seating for conversation.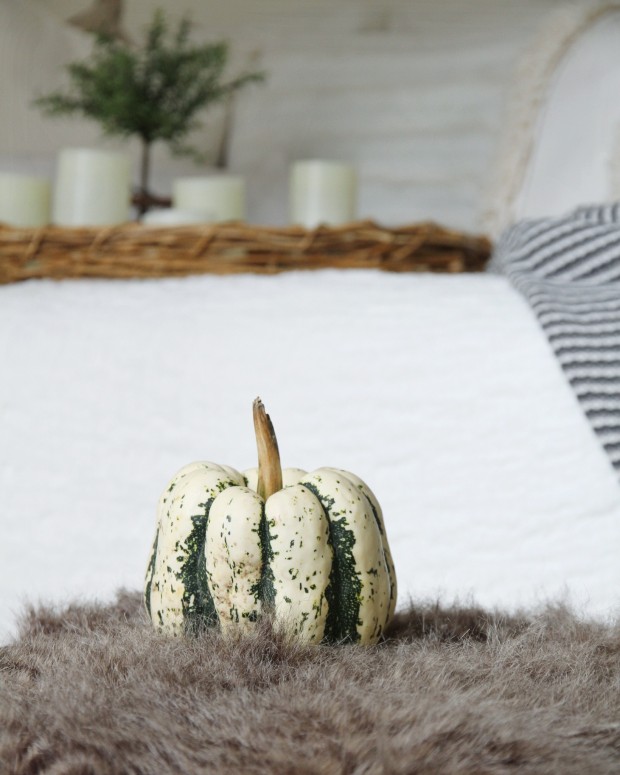 This project is straight forward, but can be done with variation. You could use counter stools in the kitchen, a bench at your dining table, or a footstool as a place to rest your feet while reading a good book. These types of decor are perfect for moving around the house and are a subtle statement piece. It is also something that will translate perfectly into the winter months. I hope you enjoy trying it out and let me know how it goes; I am exctied to hear what you think. Have a wonderful week all!