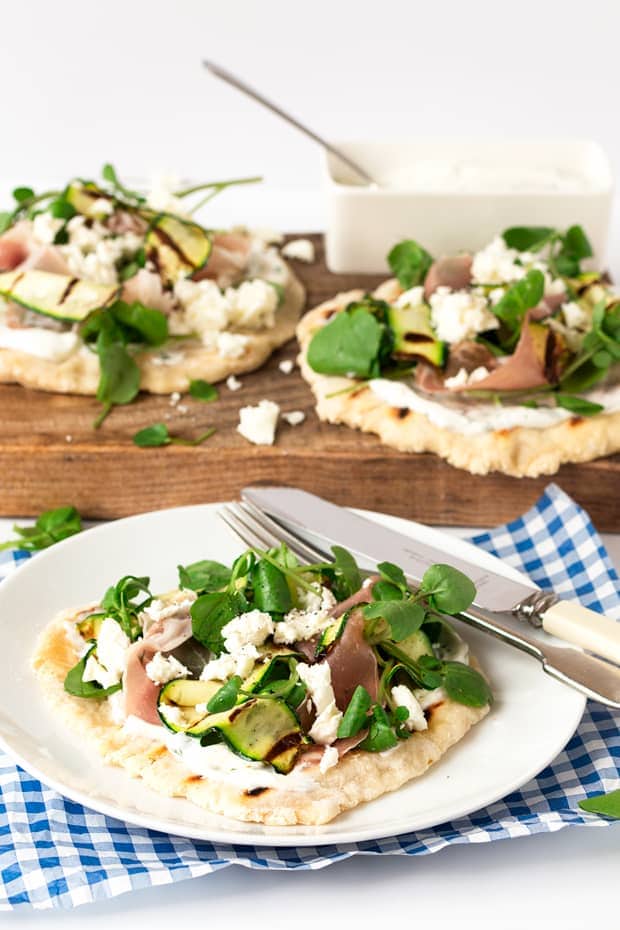 Hello again everyone, it's Nicky – calling in from Kitchen Sanctuary. The summer holidays are finally here and I've been enjoying time in the kitchen with my little ones.
Now, we all know that kids absolutely love pizza, but it's not the healthiest dinner in the world.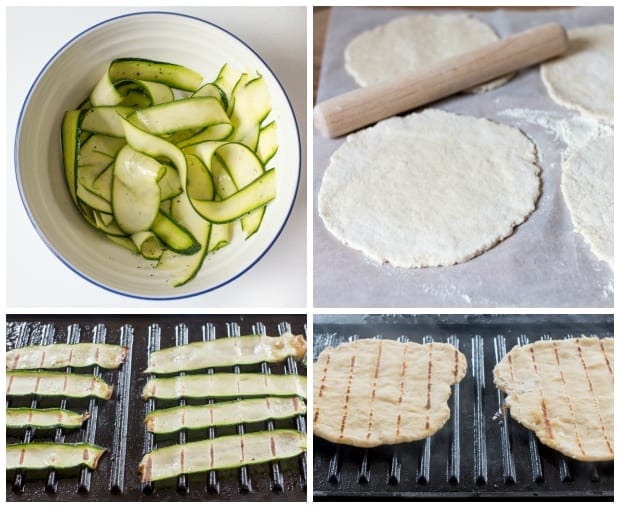 So I decided to make a lightened up, Italian inspired version.
They can be eaten warm or cold – making them great for picnics. They're also tomato free (not a bad thing when I know my kids would live off ketchup if I let them).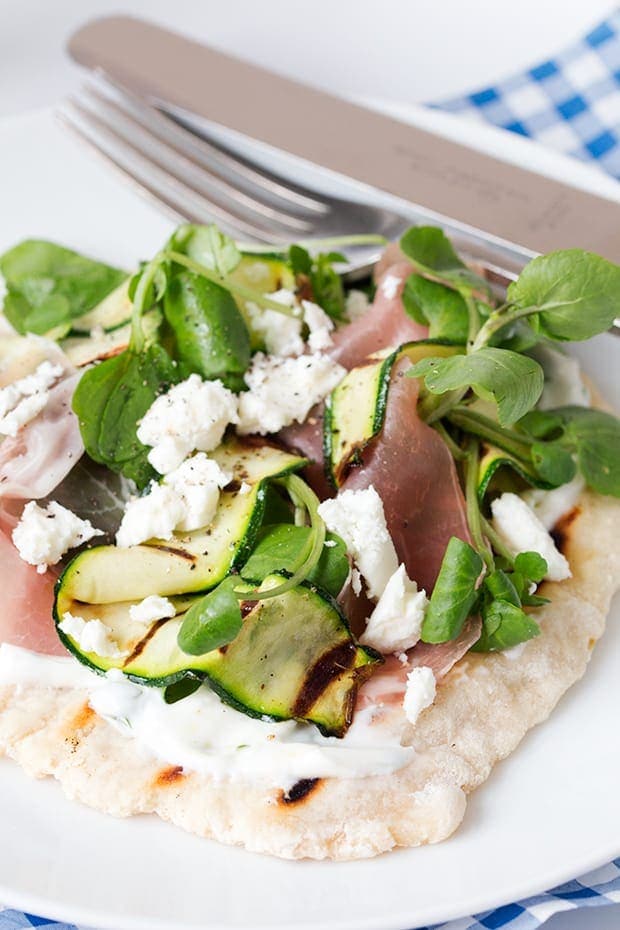 The flatbreads are really simple – no proving time required. Just mix, roll out and throw them on the griddle or BBQ.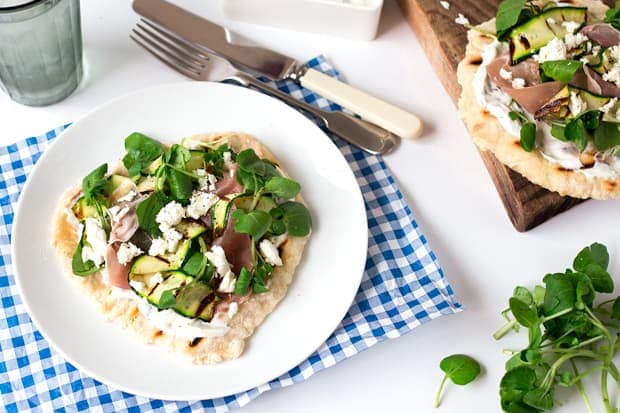 Sprinkle on your favourite toppings and enjoy!
Makes 4 small flatbreads (enough for 2 people)
Ingredients:
Flatbread Sauce:
½ cup (120ml) Greek yogurt (full fat is best)
½ a clove of garlic, peeled and crushed
Juice of ¼ of a lime
½ tsp caster sugar
½ tsp white wine vinegar
small handful of coriander, chopped finely
pinch of salt
pinch of cumin
Flatbreads:
½ cup (120ml) Greek yogurt (full fat is best)
1 cup (120g) all purpose flour, plus extra for rolling
½ tsp baking powder
pinch of salt
1 tbsp vegetable oil
Toppings:
1 small zucchini
1 tbsp vegetable oil
Pinch of salt and pepper
2 large handfuls of watercress
4 slices of prosciutto
½ cup (55g) feta, crumbled
Pinch of salt and black pepper
Directions:
First make the flatbread sauce by combining all the sauce ingredients in a small bowl. Give it a mix, then cover and place in the fridge whilst you make the rest of the meal.
Using a potato peeler, peel strips from the zucchini. Place in a small bowl and mix with the oil, salt and pepper. Put to one side.
Next make the flatbread. Place the Greek yogurt, flour, baking powder and salt in a bowl. Mix together using your hands until all of the ingredients are combined. It should only take a minute or two.
Place the dough on a well-floured surface. Cut into four equal pieces. Roll each piece into a ball, then roll flat into an oval shape approx. 2mm thick. Make sure your rolling pin is floured too. Repeat with the remaining balls of dough, placing the rolled out flatbreads on non-stick baking parchment (make sure none of the flatbreads are touching each other as they will stick – even if they're well-floured).
Brush a large griddle with the oil and heat until very hot. Place the flatbreads on the griddle and cook for approx. 2 minutes on each side – until they have griddle lines and puff up slightly.
Place the flatbreads onto 2 plates and spread on the yoghurt dip, then sprinkle on the watercress.
Now place the strips of zucchini on the griddle for one minute (no need to turn over). When the charred lines appear, remove from the griddle and place on the flatbreads. Top with the feta and prosciutto and sprinkle with a little more salt and pepper.
Serve with the rest of the Greek yogurt sauce.