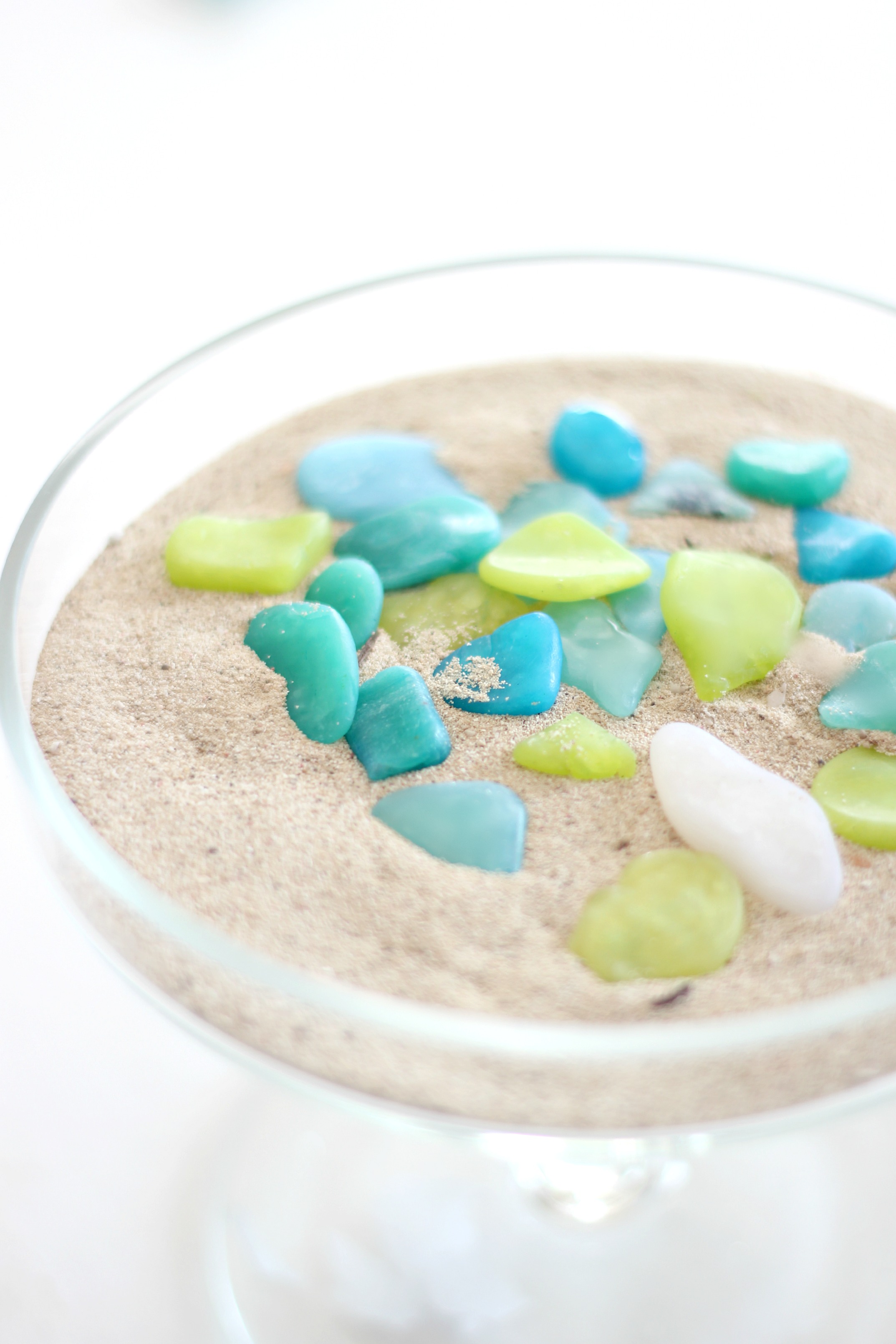 It's Tuesday evening and as I sit here, I can hear the soft murmur of the television playing to itself. It tries to compete for my attention, distracting me with its flashy lights and sudden interesting noises. I look for the mute button on the remote and shut the noise off. It's quiet now and alas I'm able to concentrate as my fingers obediently press each key making my thoughts appear on the screen. When I'm writing is probably the only time I need complete silence. I'm the oldest of 5 children and as you can imagine, our house was noisy when growing up. But the good kind of noisy…the type of noise you miss when it's silent; the one that is filled with laughter and stories and music (there was always music). So I enjoy the busyness of our children, their singing, whistling and overall childhood noises. Notice I said, OUR children. I'm not too sure I'm that patient when it's someone else's child.
Don't get me wrong, I also enjoy quiet mornings. Mornings when I can paint or create before the house awakes and the silence of the day is fresh and palpable. It was during a quiet morning a couple of weeks ago that I made my first batch of sea glass using polymer clay.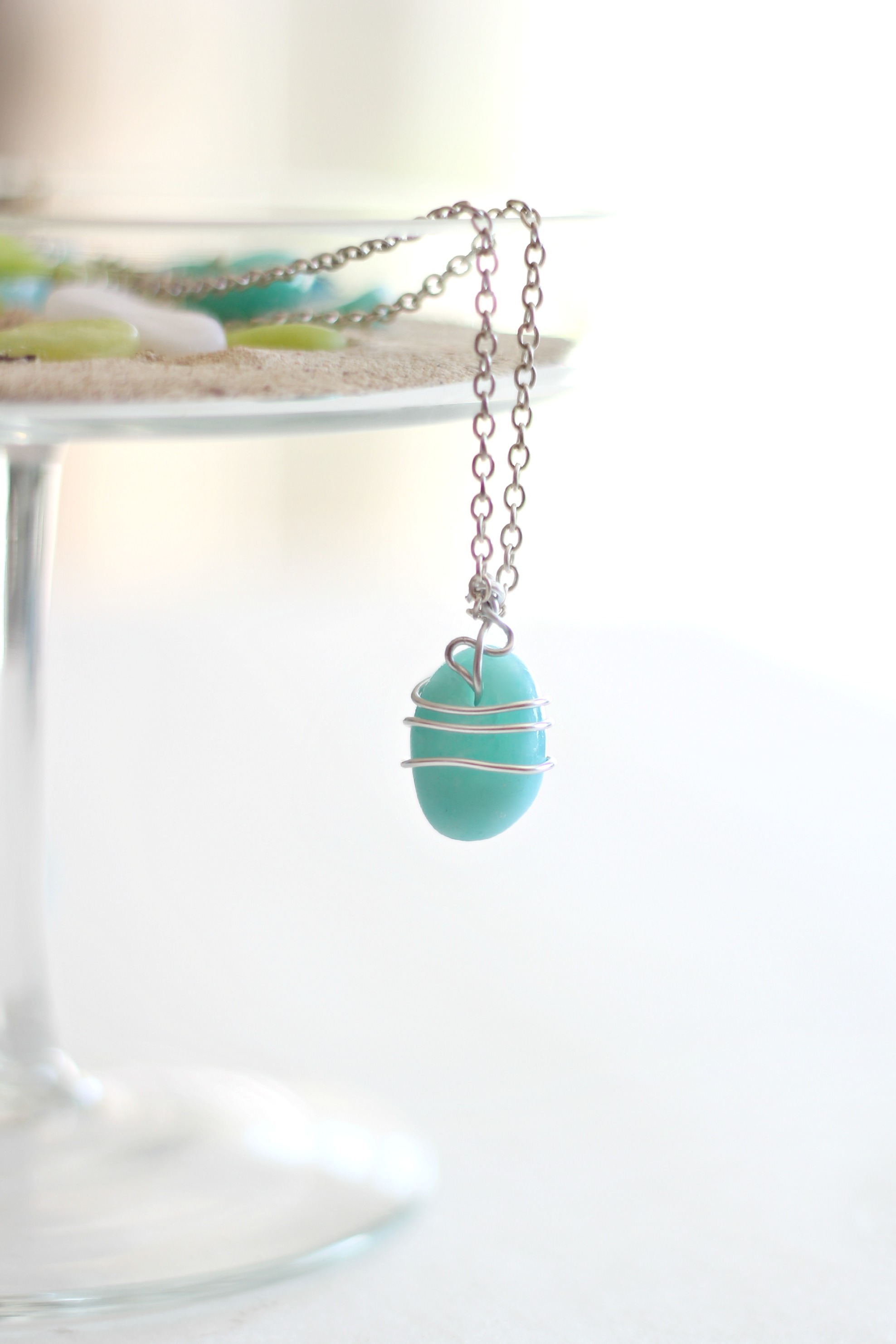 The first batch was not as successful as I would have liked and so I tried to do a little research. There are not many tutorials out there and the ones I found wanted to charge me for the 'secret recipe', so I decided to do some trial and error of my own. This is what I found…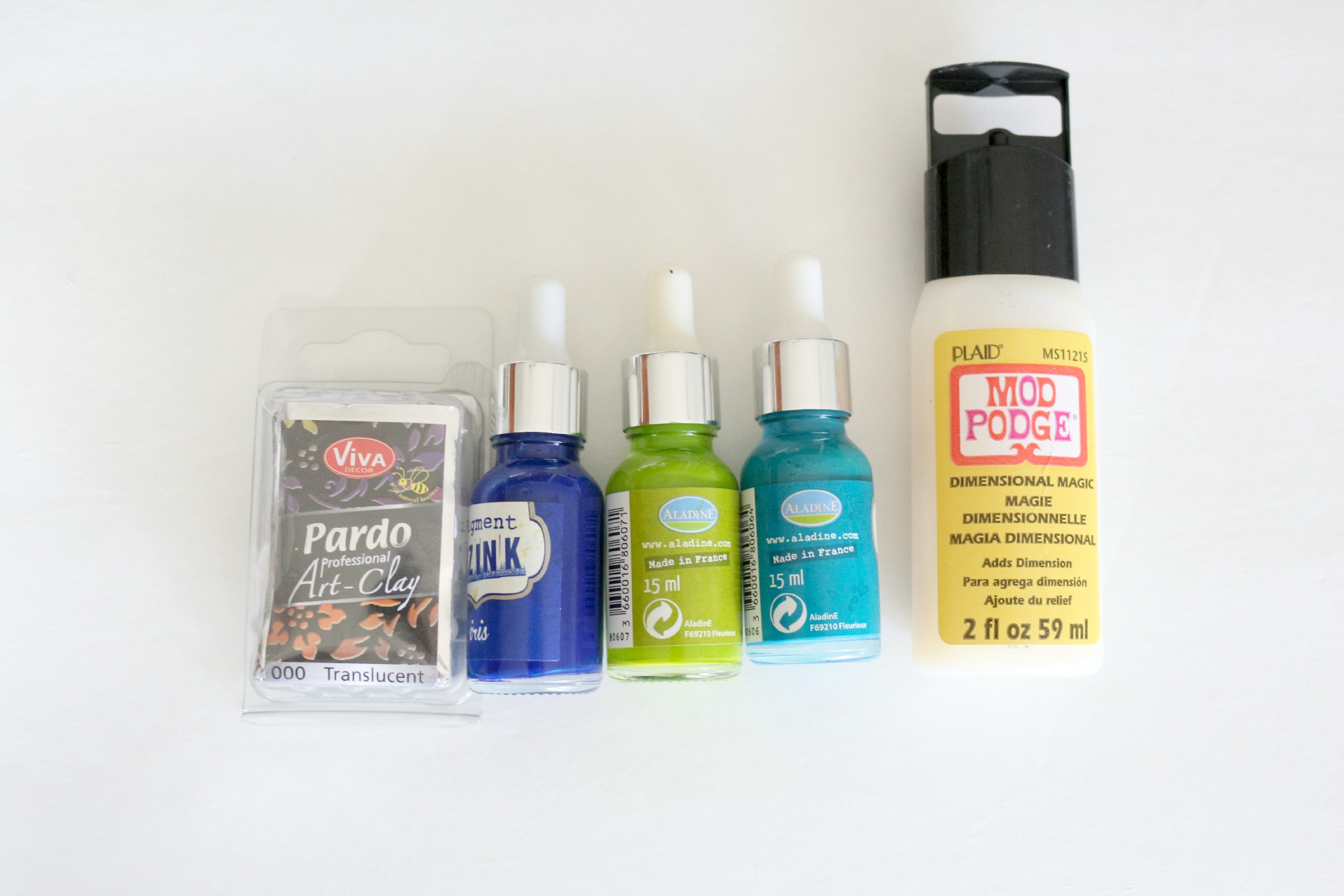 Materials required:
Blue alcohol ink

Turquoise alcohol ink

Green alcohol ink

Pardo Translucent Polymer clay

Optional – Plaid Mod Podge Dimensional Magic Glue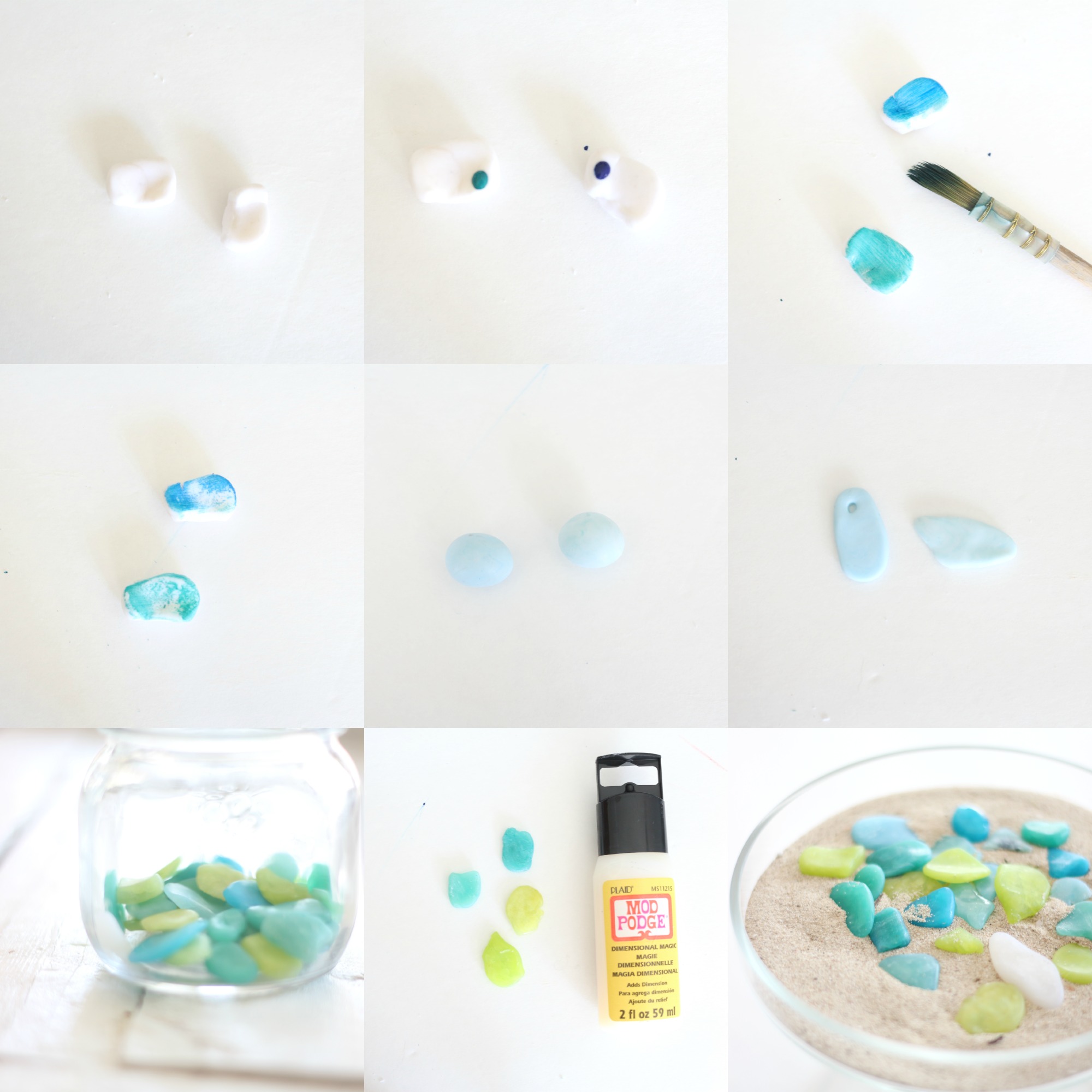 Directions
1. Knead translucent clay well.
2. Apply a very small amount of desired ink color. NOTE: it's really important that the clay not be saturated with the ink.
3. Spread ink with brush over clay.
4. Wipe lightly with paper towel if needed; allow ink to dry completely.
5. Knead ink stained clay very well.
6. Form irregular pieces in the shape of broken glass.
If desired, poke a small hole with toothpick in order to make a bead.
7. Bake according to package directions; monitor and do not over-bake.
Optional – to add sheen, coat with ModPodge dimensional magic and allow to dry.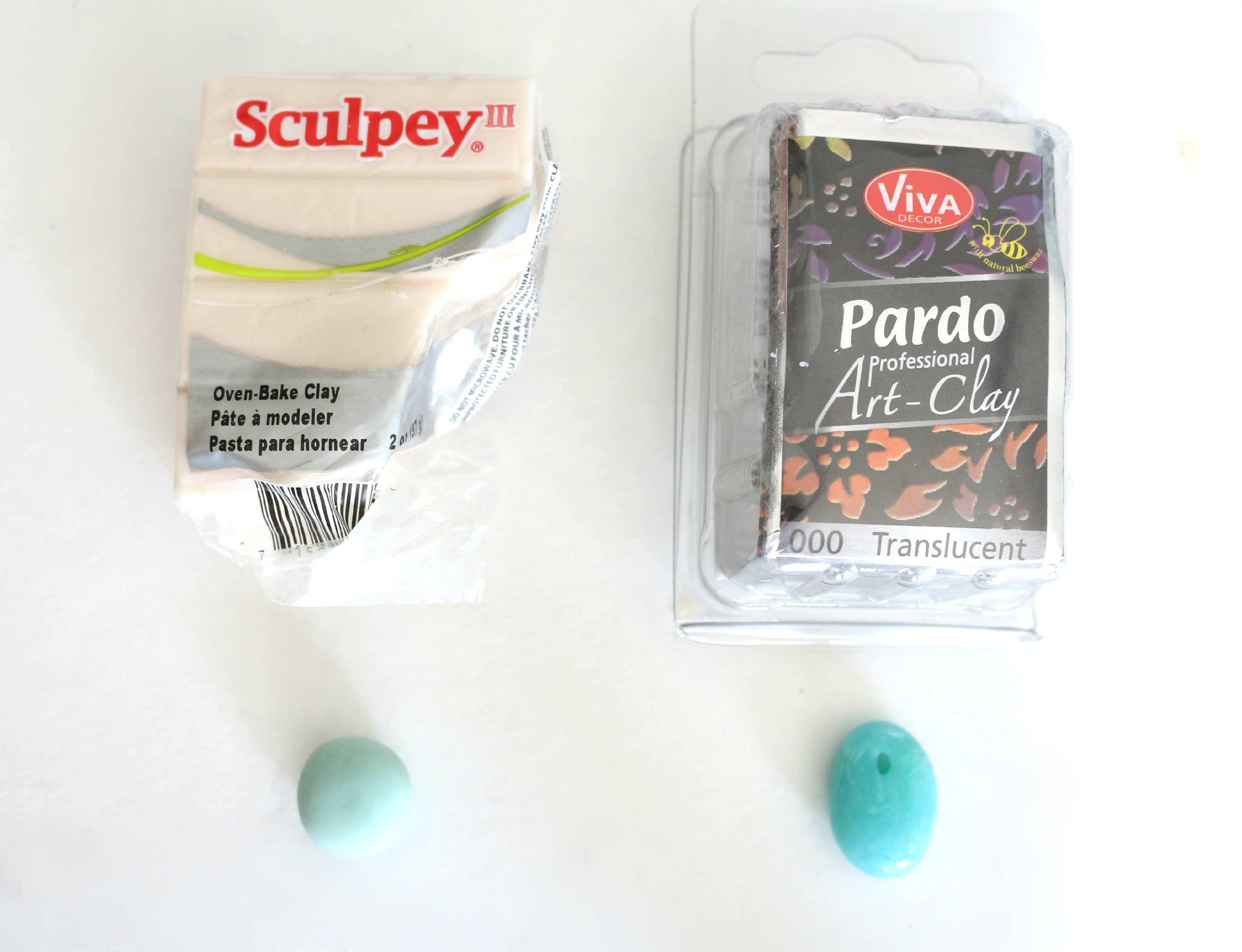 You might find this video useful to see the process, however, I think the trick to realistic looking sea glass is the brand of clay and the amount of ink you stain the clay with. I did various tests and as you can see, the Sculpey is more opaque than the Pardo Translucent. Even though I used the same ink color and amount, they vary drastically. I also tried the translucent FIMO clay and again, the beads were more opaque than translucent.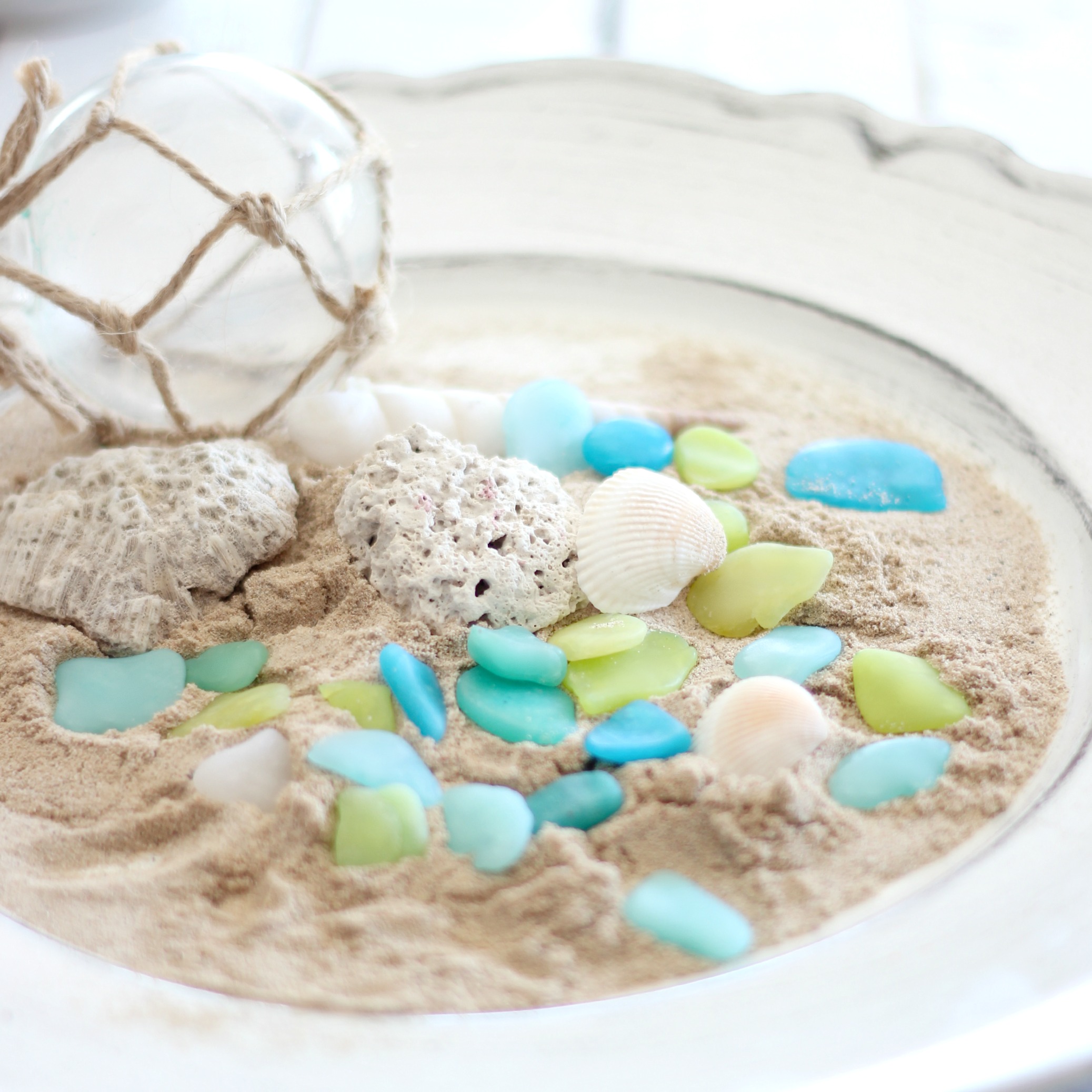 Though you can never replace the real beauty of sea glass, I'm pleased with the end result and think these would make such lovely jewelry beads. They also look pretty simply displayed in a jar or even on a dish like this.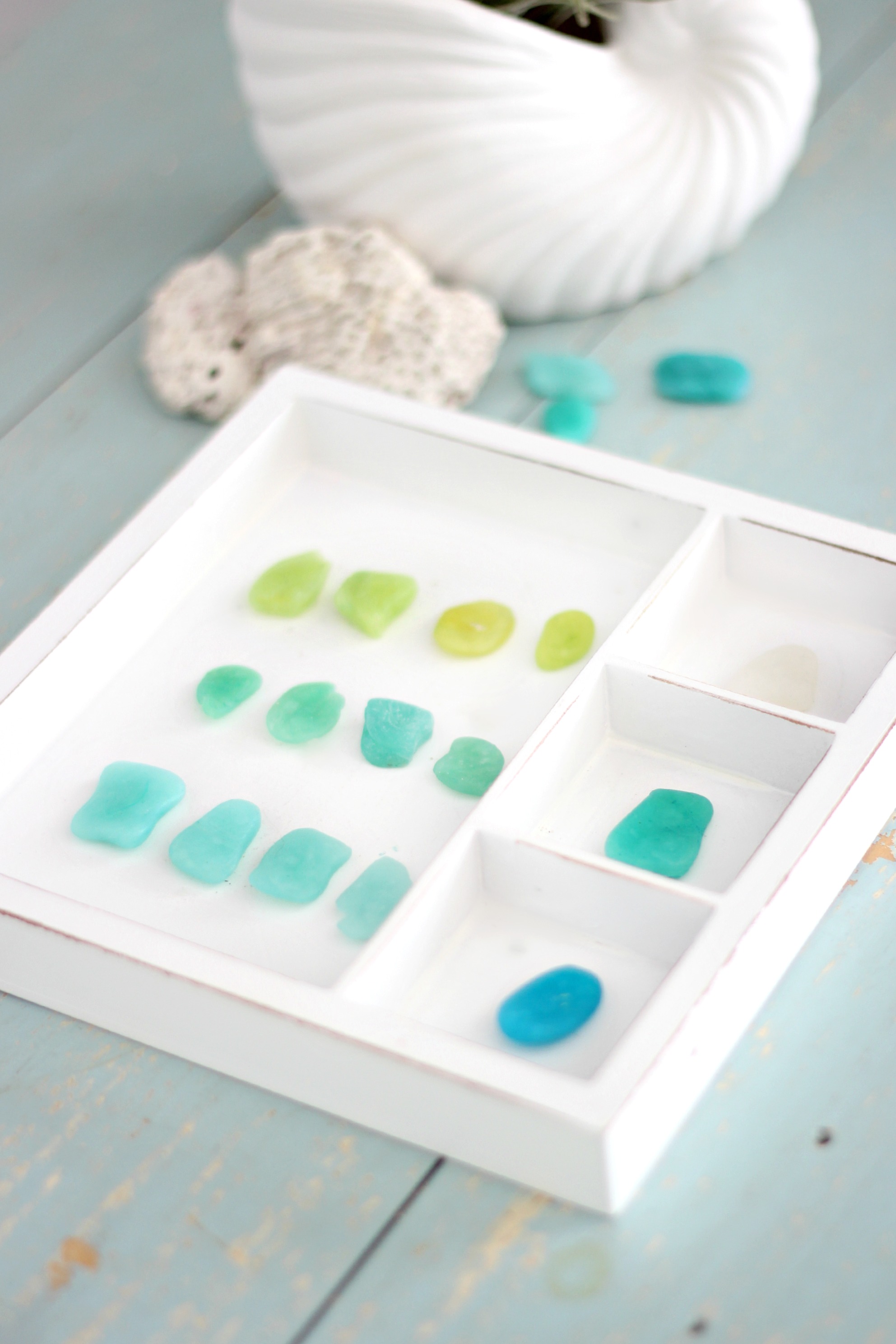 My original idea was to make a pretty sea glass ombre display to place in my Canvas Corp. shadow box, but now my wheels are turning and I want to make other pretty things using sea glass. I do enjoy playing with polymer clay. How about you…have you ever played with polymer clay, and if not, perhaps it's time…:)
Thank you so much for visiting today. See again soon.
much love,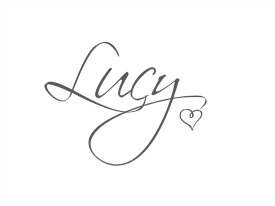 Here are some other Polymer clay posts you might enjoy.