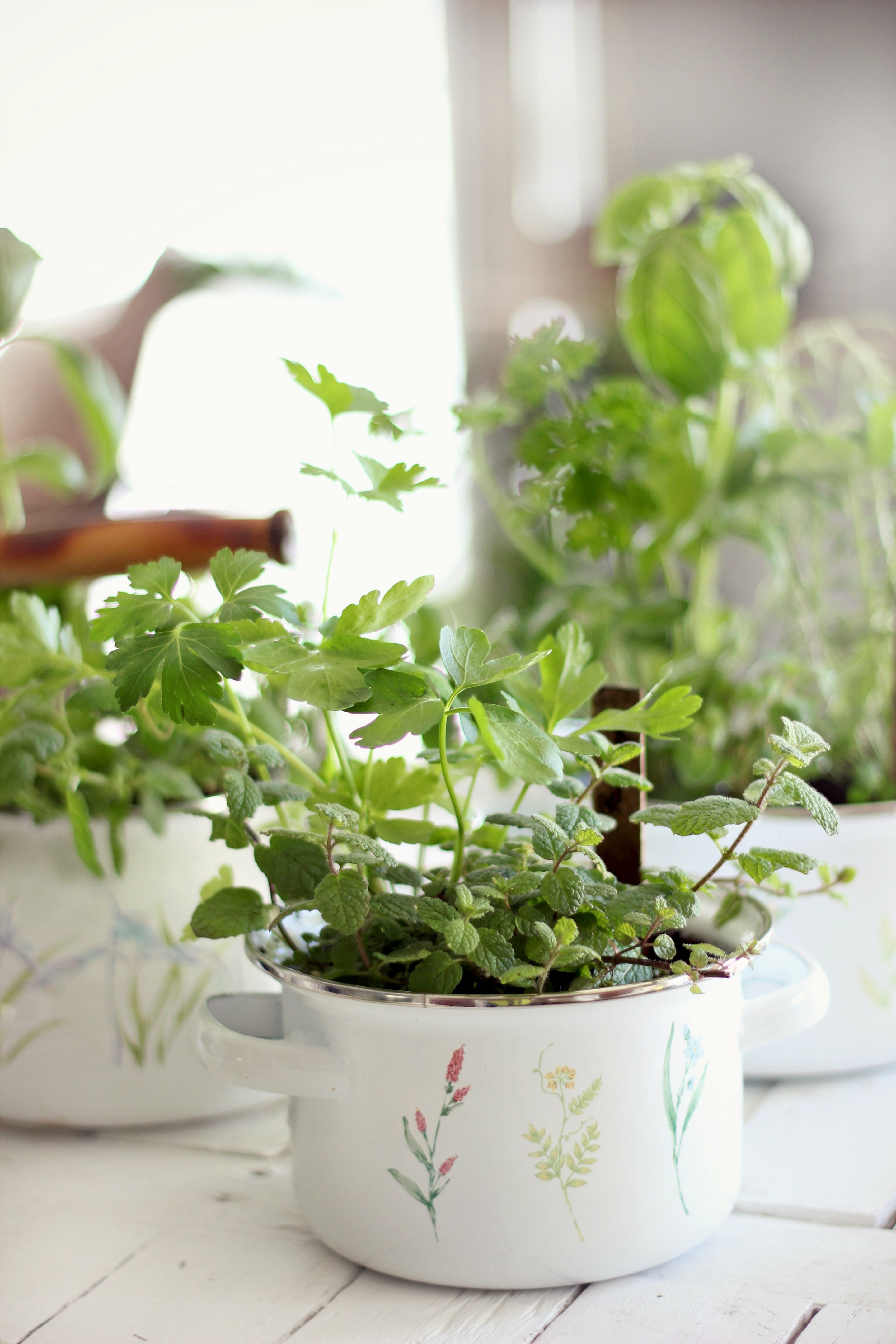 Hello friends – I hope you are having a great week. We were away on a little family vacation last week; I can't wait to share some photos and tell you all about it. But for now, I'm happy to be joining some of my friends again this year for  The Outdoor Extravaganza hosted by Shauna from Satori Design for Living.

I had the honour of participating last year and shared one of my favourite projects.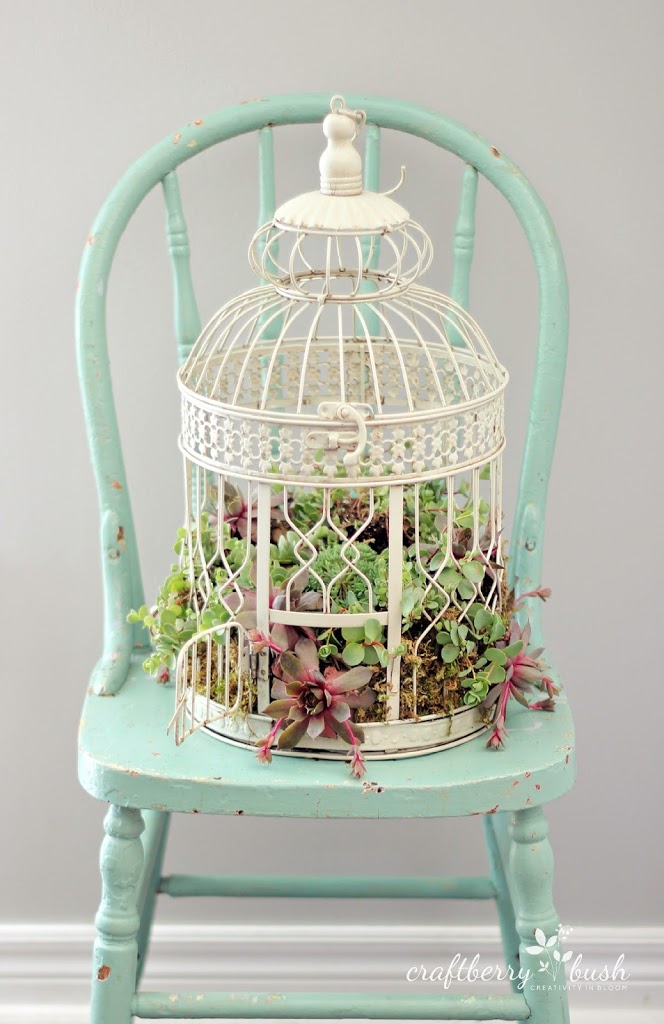 This birdcage filled with succulents, which I gave my mom as a mother's day gift.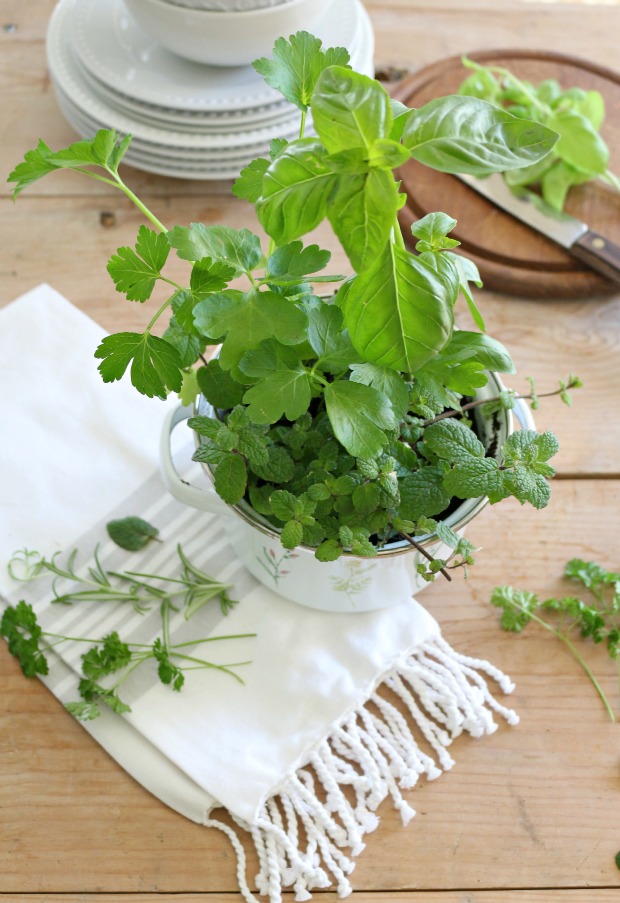 This year, I'm sharing this whimsical herb garden. I purchased these old enamel pots from a thrift store a few months ago, thinking I would use them as planters this year. After giving it more thought, I felt they would look perfect as herb planters in our kitchen.
Speaking of kitchen, I rarely show photos of our kitchen because, in all honesty, I don't love it anymore. I feel horrible for saying this as I know how blessed I am and to say that I dislike my very spacious kitchen makes me feel like I'm being ungrateful. But you know those areas in your home that feel as if you've outgrown them because they don't match your taste anymore? Well, that's our kitchen.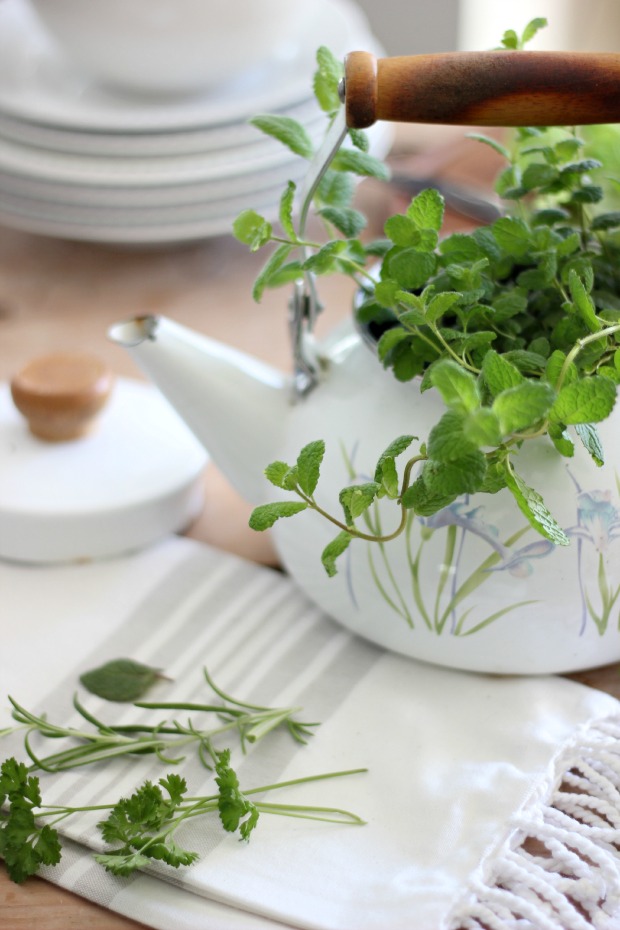 Most of my photos are staged in the kitchen as it's the place in our home with the most beautiful light. I tend to be very patient when it comes to home projects and waiting on the right time, both for counting on hubby's help and financially. I know that these type of projects take time and money, however, I can't wait to paint it and remodel it later this year. I get super excited just at the thought.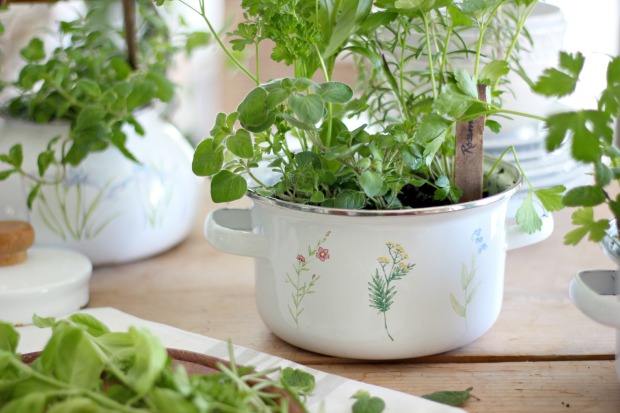 But I digress. You can drill a couple of holes at the bottom of the pots to aid in the drainage, but I didn't have the heart to do that to these cute little pots, so I just placed a layer of gravel.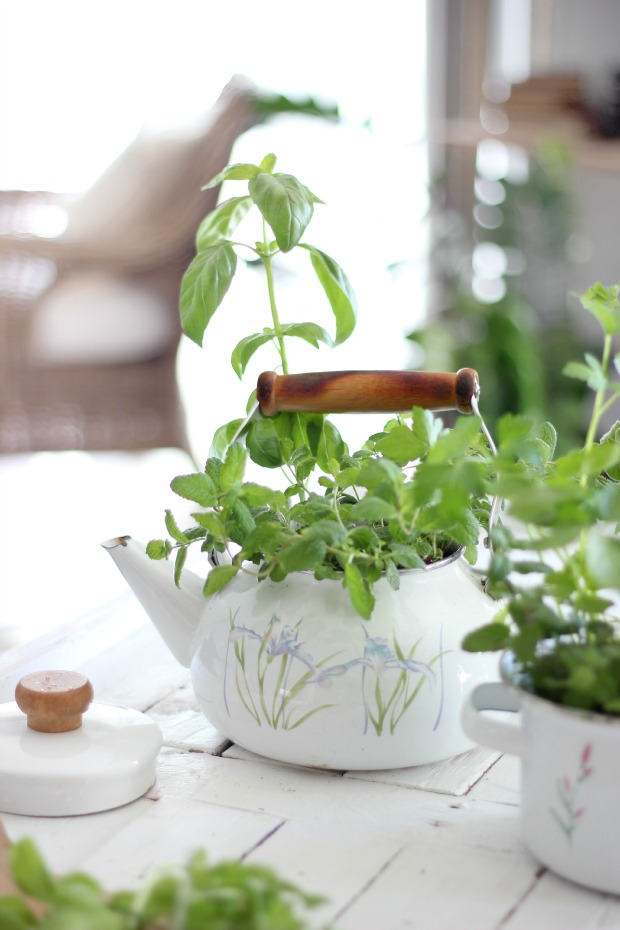 I love having fresh herbs readily available for cooking. I especially love this little kettle with mint and basil.
Funny story – when I was growing up, my grandma had tons and tons of mint and my little brother and I would cut some of the larger leaves and dip them in sugar. We would then eat them and pretend we had made gum. ha.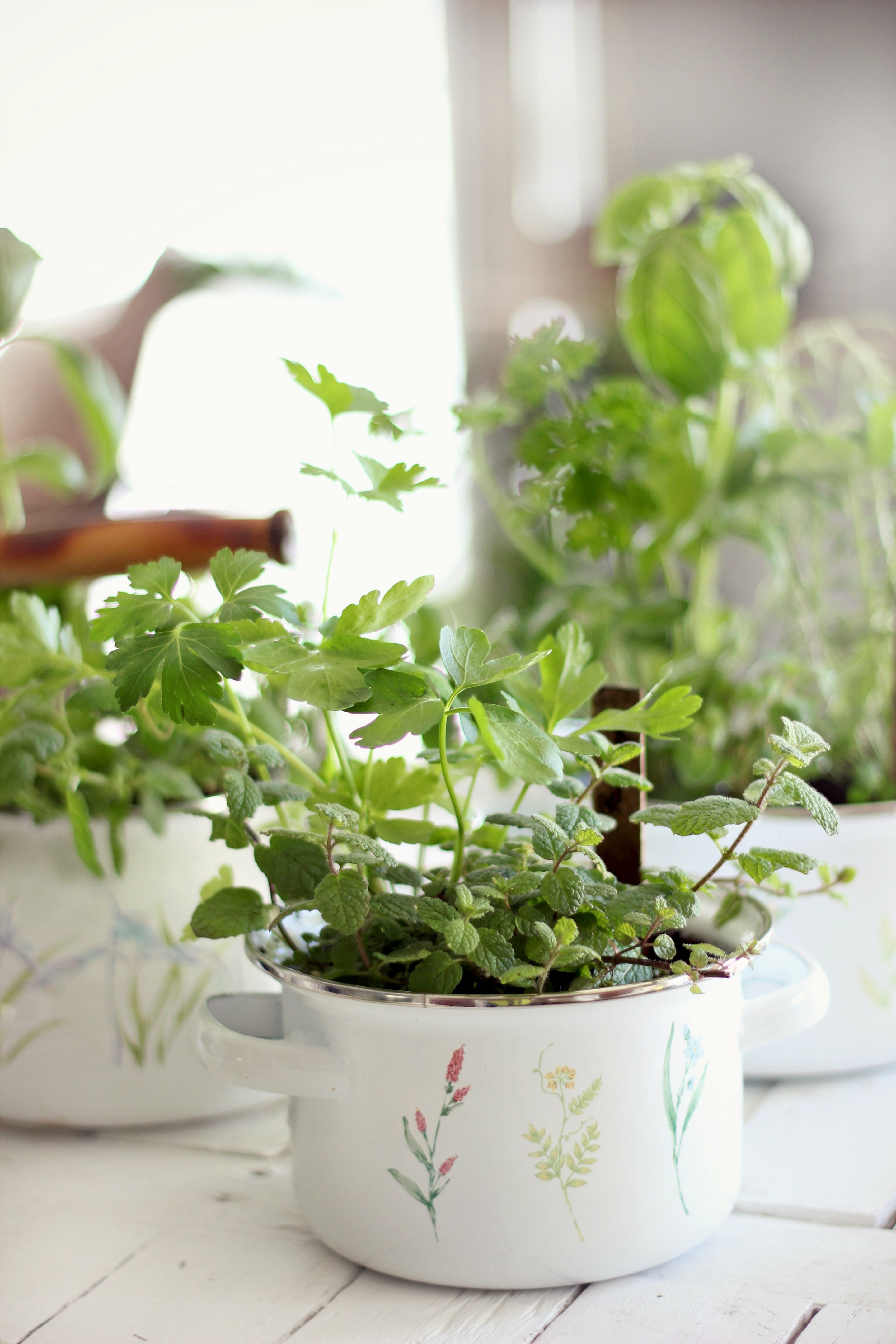 Whimsical and cute, no?
Don't forget to visit my friends and their beautiful gardening projects.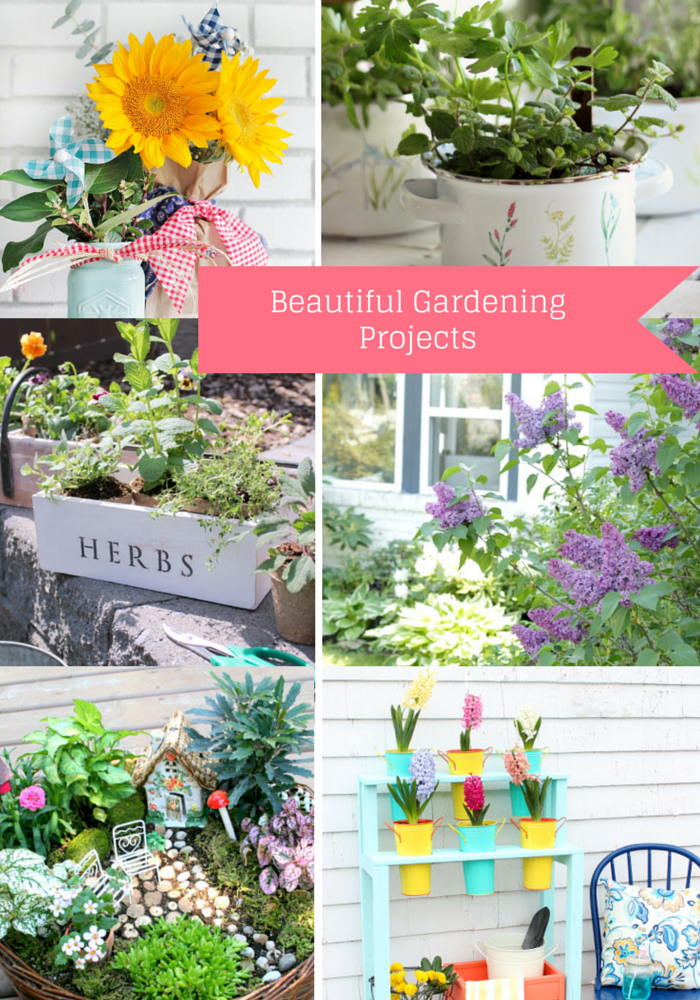 Texas Centerpiece by The Blissful Bee
Front Yard Garden Tour by The Happy Housie
Vintage Tool Box Flower & Herb Planters by Satori Design for Living
DIY Patio Planter by Fynes Designs
How to Make a Fairy Garden by Echoes of Laughter