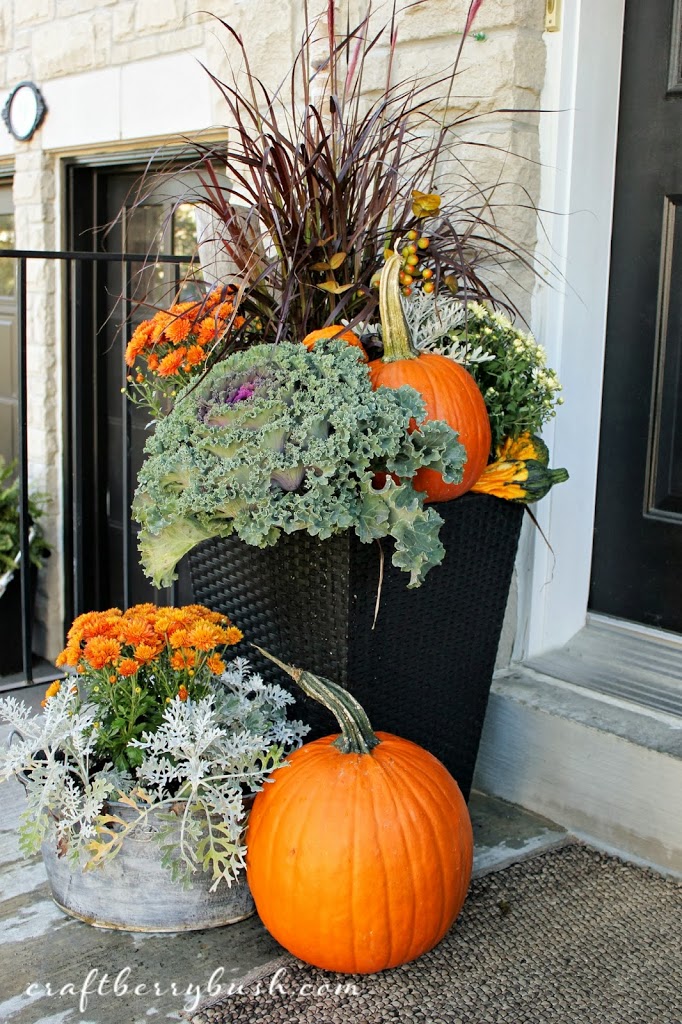 Hello again! I hope your week is off to a great start.
Today I'm sharing our front porch all dressed up of fall.
But please ignore the wet concrete as I had just watered the
plants right before deciding to take photos. ugh.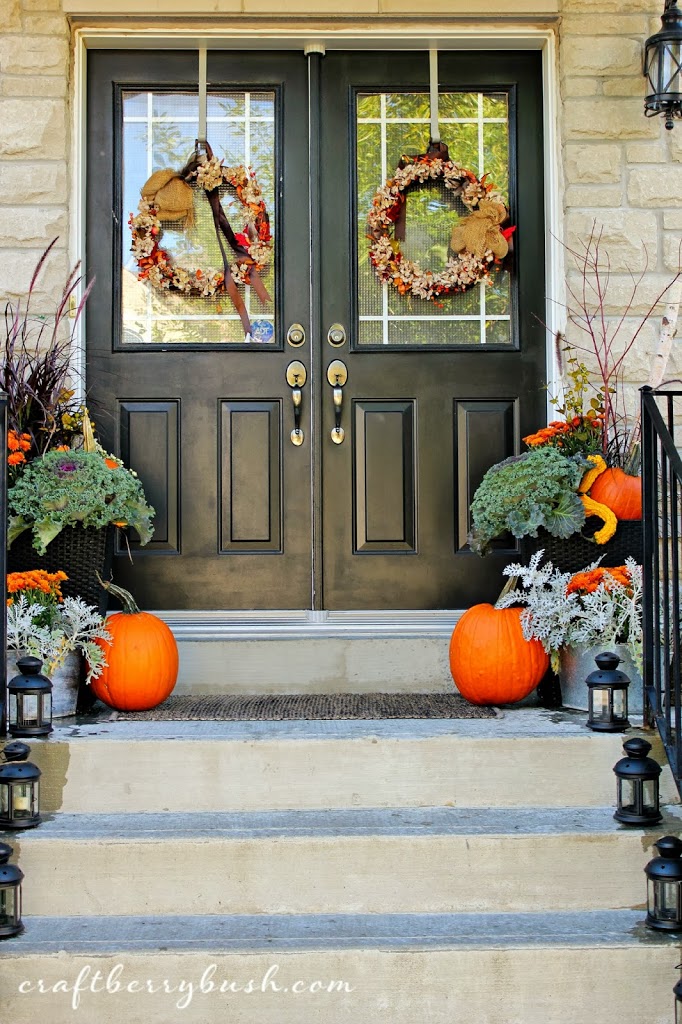 Once again, I decided to stick to traditional fall colours this year for
our front porch. I think the orange looks sharp against our black doors.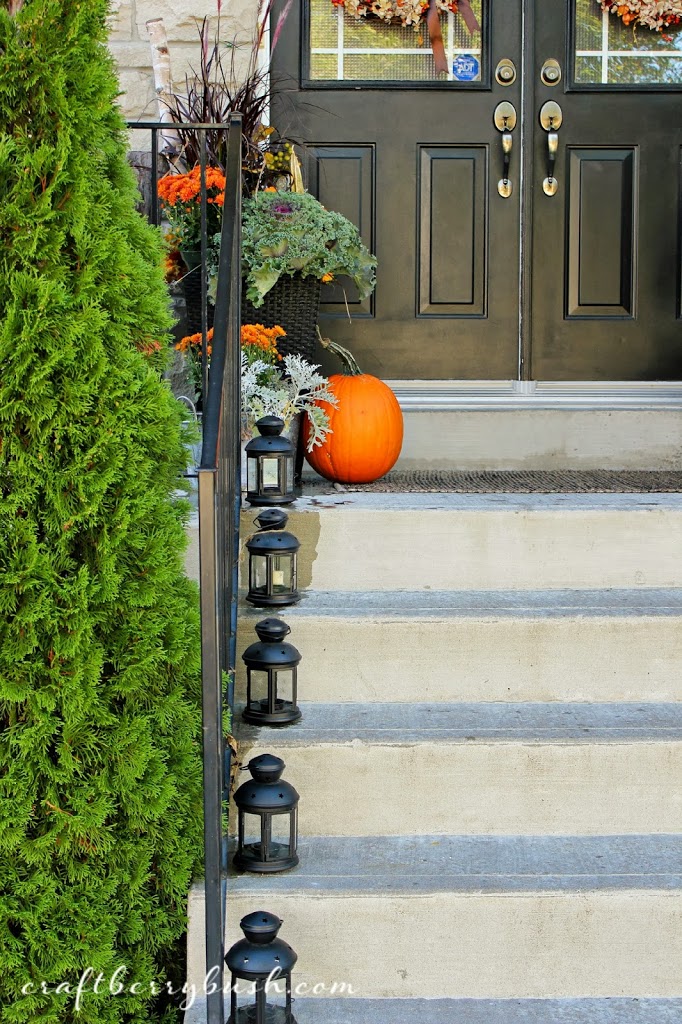 We've had these lanterns sitting in
the garage still in the
original
IKEA bag for about 7 years now.
They were for a project that never happened
(you know those!), b
ut I'm kinda liking them sitting on the steps this way.
I think they are going to look great in the evening when lit up.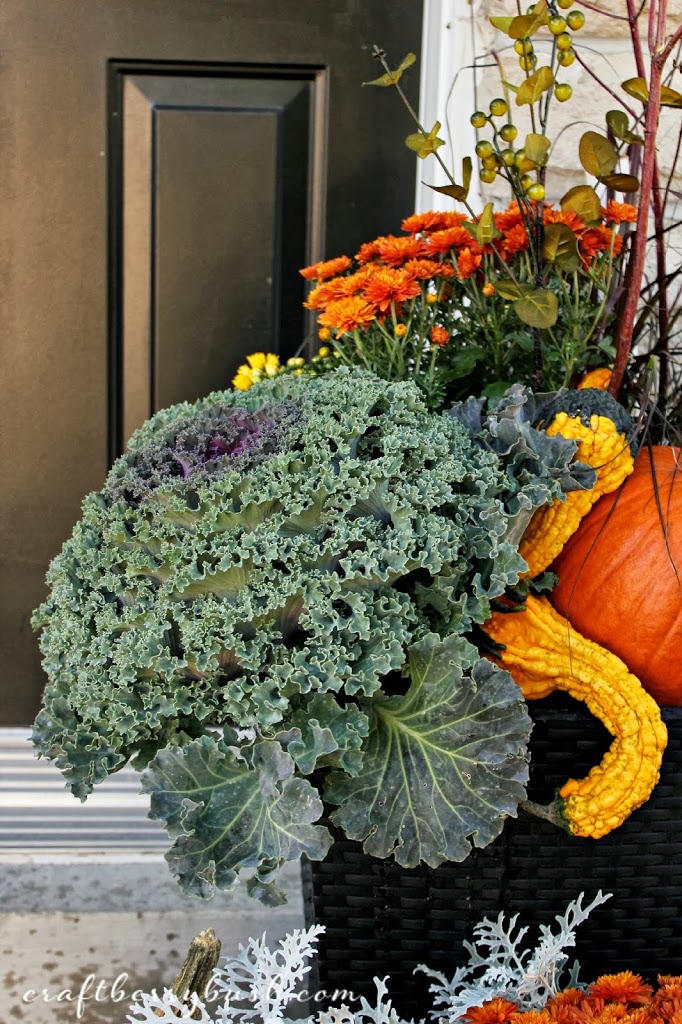 For the planters, I used these beautiful kales as the focal point
and
then
filled
the rest with mums, some gourds and a medium pumpkin.
I also used
a
little
grass,
some twigs and even some artificial berries
from the DS.
Once mixed
in there
with the other elements,
you can't
even tell that it's a
Dollar Store cheapie….:)
The entire arrangement
cost me less than $25 each.
N
ot really
sure if that's a great deal but
considering
that smaller arrangements
sell for $30 or more
at nurseries
and grocery stores, I was happy.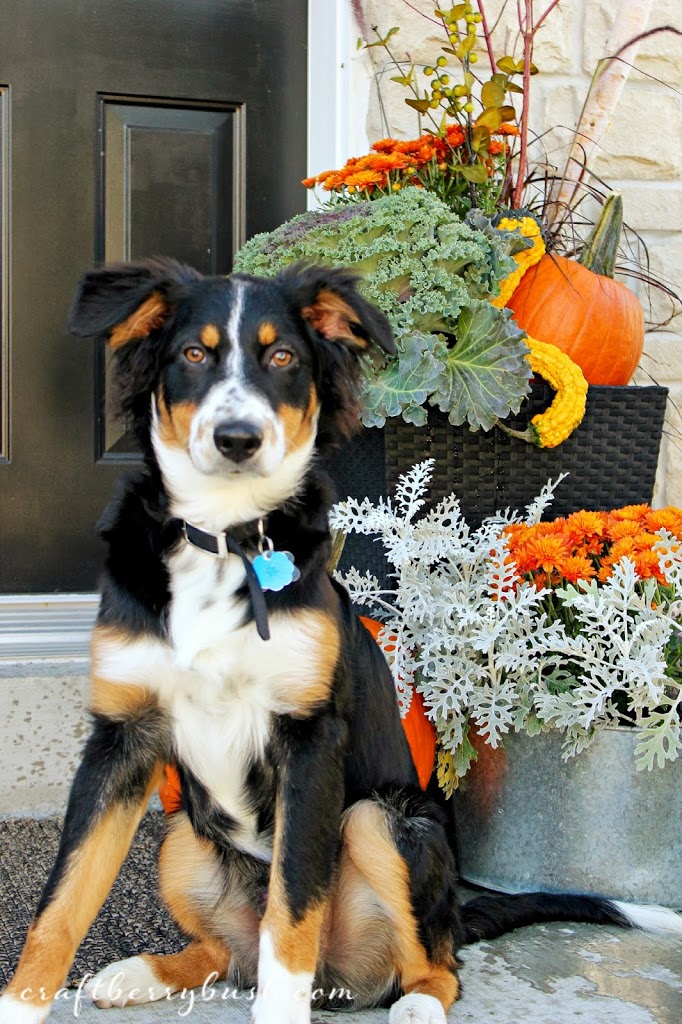 ummm, Brody move! Brody, move!
Brody come here. ugh…ok just stay there.


If you haven't met Brody yet, he is our Australian
Shepherd,
also known as Velcro dogs, for obvious
reasons.
He's 5 months old and packed with energy!
I know I'm bias, but isn't he the handsomest?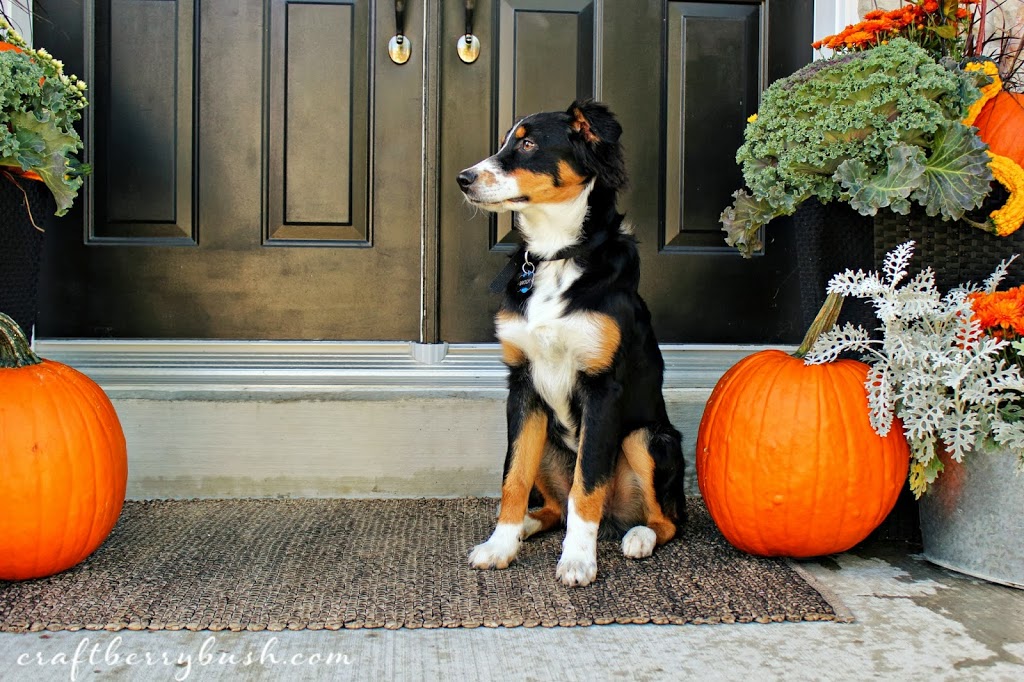 And at least he coordinates well with the rest of the decor. ha.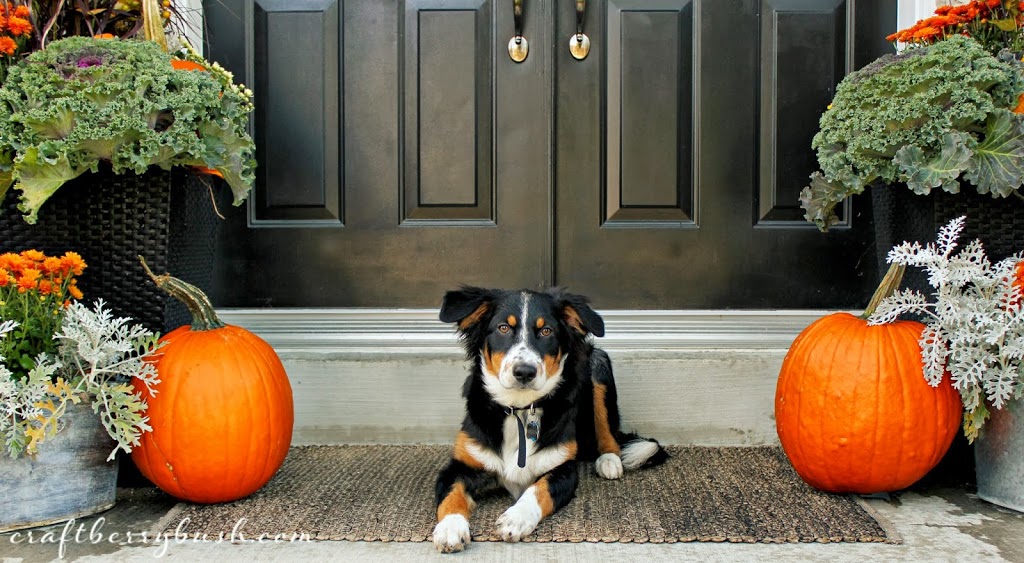 Funny thing about this dog is that he doesn't like me taking pictures of him using the
view
finder but he is ok if I use the screen or live view to take the photo. Love this crazy pup.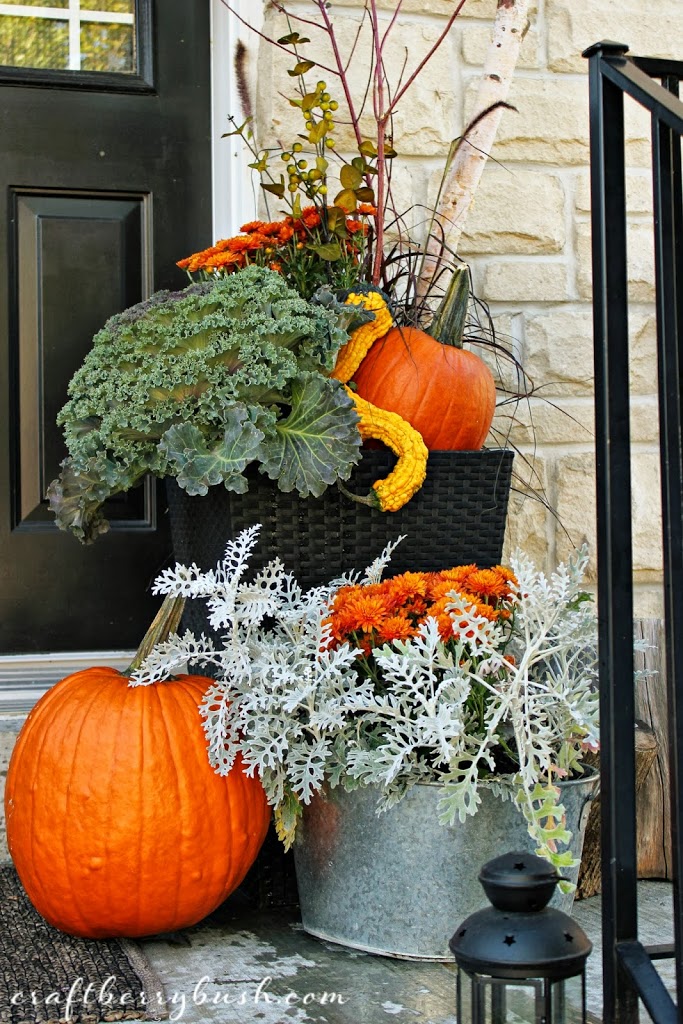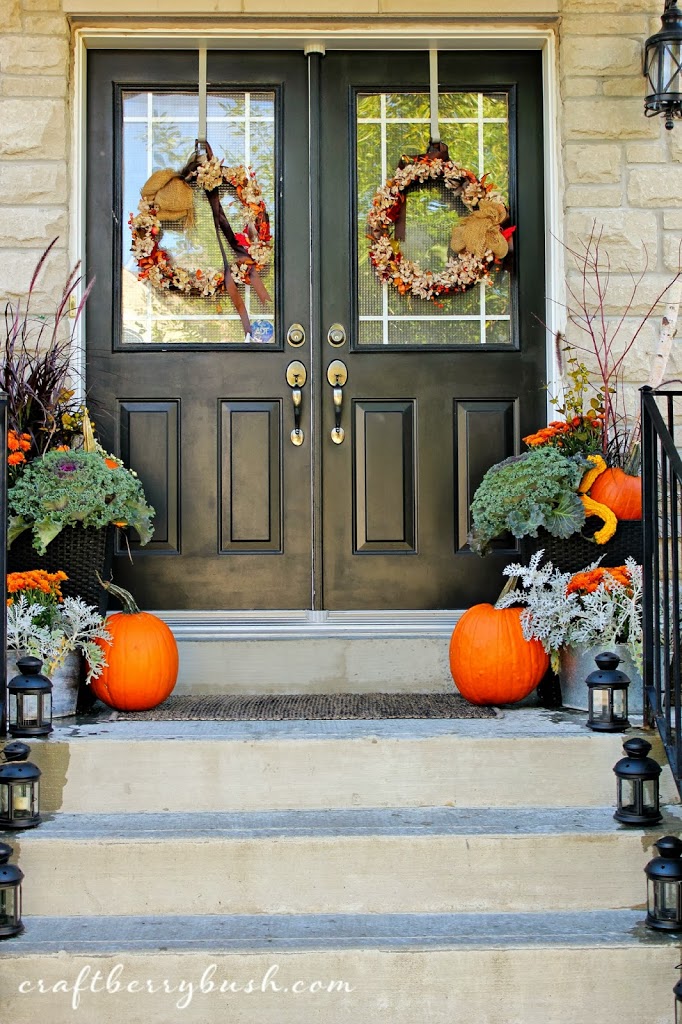 So there you go, our front porch dressed for fall.
I'm off to spend some time with the pup
who keeps
trying to get my attention as I type this last sentence…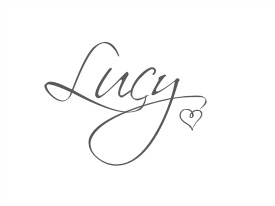 Don't miss a thing. Follow Craftberry Bush via: