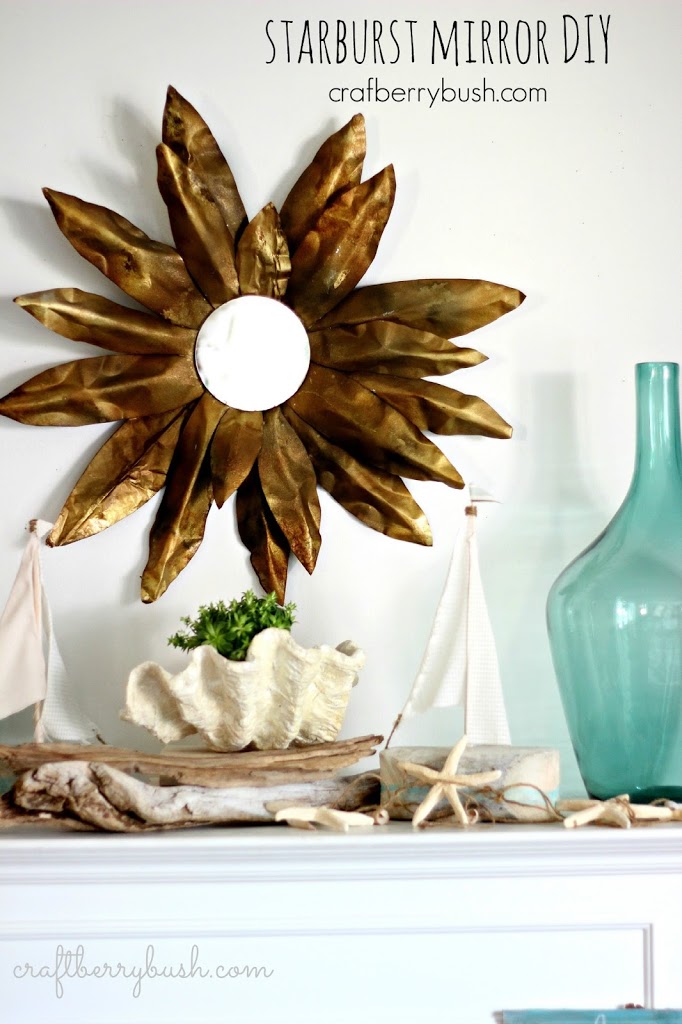 As promised, here is the tutorial for the sunburst mirror
on
our
mantel.
Some of you may have guessed what materials
I had
used,
but if you
hadn't figured it out, here is what you will need:
3-4 disposable tin foil oven liners or cookie sheets
round mirror (I found a pack of three at the DS)
natural aged paint system by Tattered angels via
Canvas Corp
(optional)
pop tab (to serve as hook)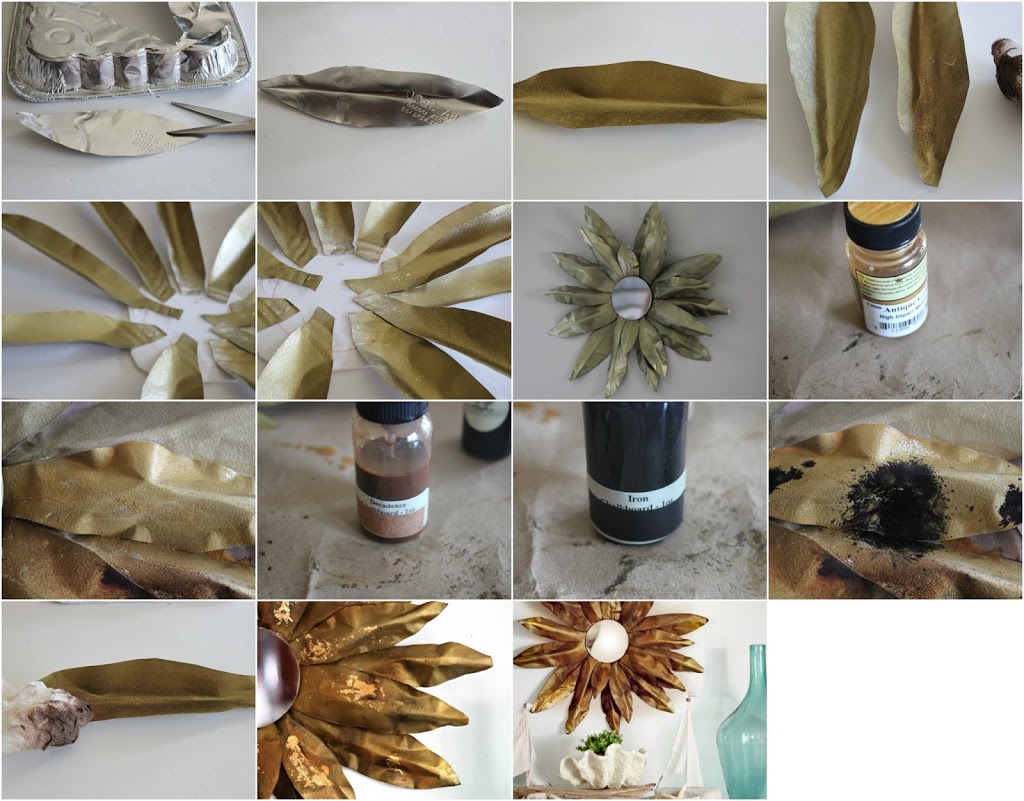 1. Cut long 12″ and short 6″ leaf shapes out of foil pan (be careful as the foil is very sharp)
2. Fold in the center or leave as is
3. Spray paint each leaf on both sides with gold spray paint. I used Krylon premium gold because that's the one I had, but they also have a nice bronze that would also work well
4. Cut a circle out of foam board and attach pop tab at the back as hook to hang (see here)
5. Glue leaves with hot glue around board in desired order, filling in all the gaps
Note: I glued the mirror at this point but I was not too pleased with the plain gold. I decided to incorporate the new aging system by Tattered Angels provided to me by Canvas Corp.
6. Follow instructions attached on the Naturally Age painting system until you achieve desired results.
This is the order in which I applied the paints – Apply soft pewter glaze with a paint brush and while still wet, apply Decadence. Decadence has a rusty color that when mixed with the glaze forms a beautiful patina. Lastly, apply Iron sparingly. Iron is very dark (almost black), so I rubbed it off a little but just enough to have it peek through some areas.
There's really not a right way to go about this process; it's just playing with the glazes until you achieve the desired effect. Note that these inks are designed to be used on paper or cardboard but they worked well on this specific surfaces.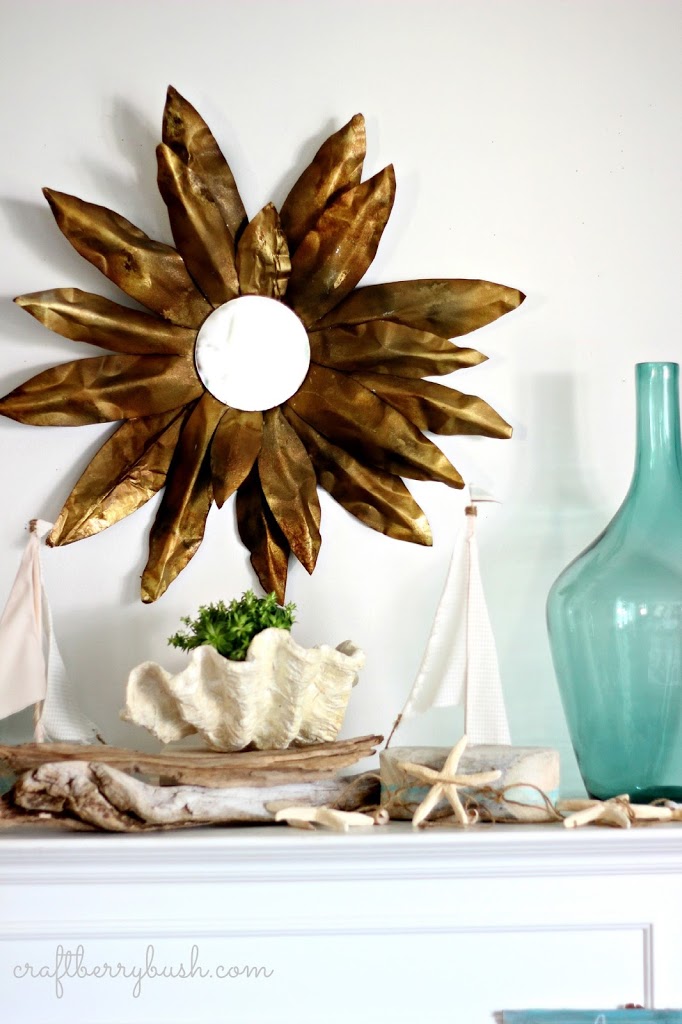 This photo was taken prior to the gold leaf, which I decided to
apply to give it a little more sparkle and a more vintage feel.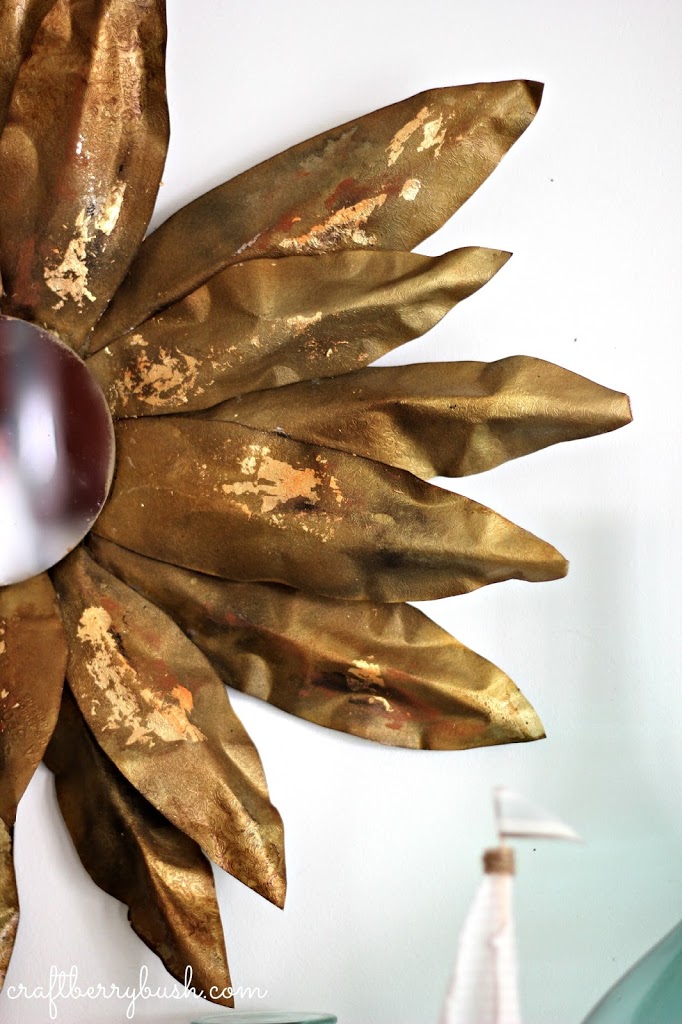 And here it is with the gold leaf. I think the mirror needs some
sort of
trimming around the mirror itself to give it a more polished
look, but overall,
the
mirror looks great up on the wall. The final
destination will be our master
bedroom,
that is, if I can convince
hubby. He's not sold on golds or bronze…yet.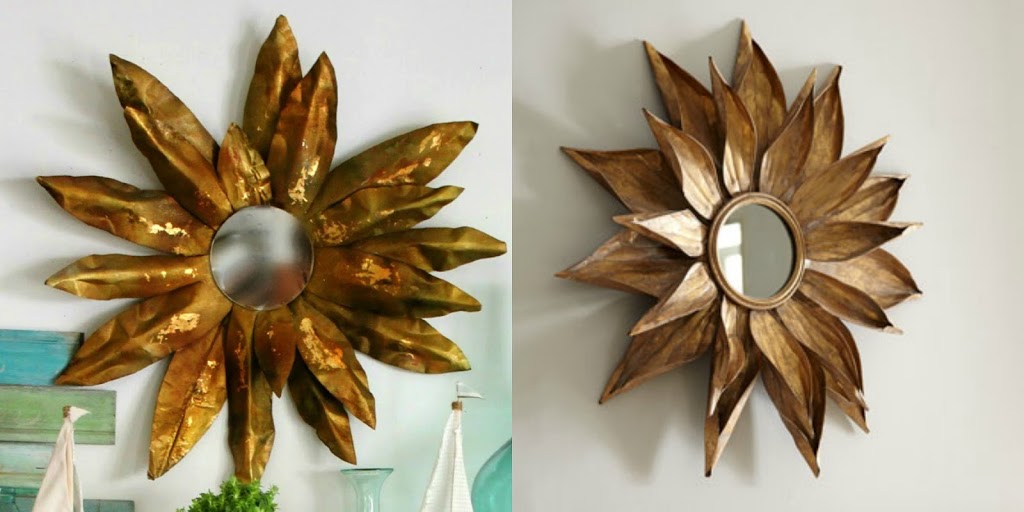 Here is the mirror beside the inspiration mirror.
The lighting on the photo makes the mirror look a little green which is
likely
due to the reflection of the blue vessel and the gold coming together.
Admittedly, this was one of those projects I rushed through as I
had a
certain idea in mind and just wanted to see it done.
I will
probably
do
this over, taking my time to make it a little fancier.
Here are some of the other mirrors that have piqued my interest…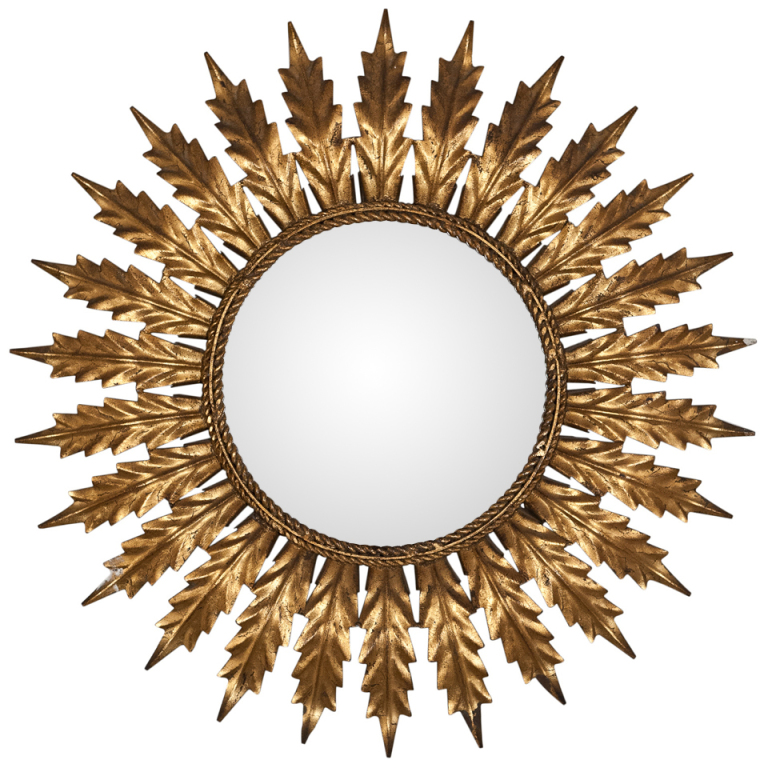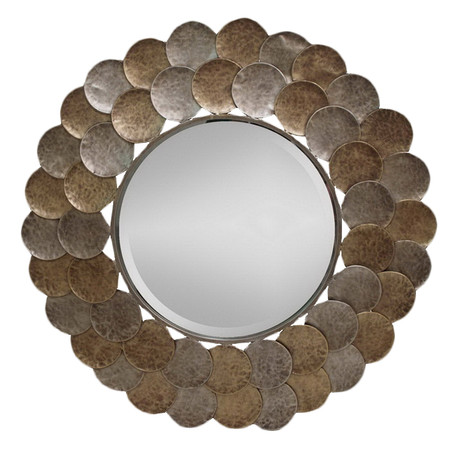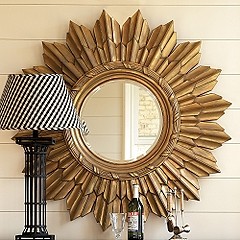 So what do you think of starburst and sunburst mirrors?
In favour of? Against? Indifferent?