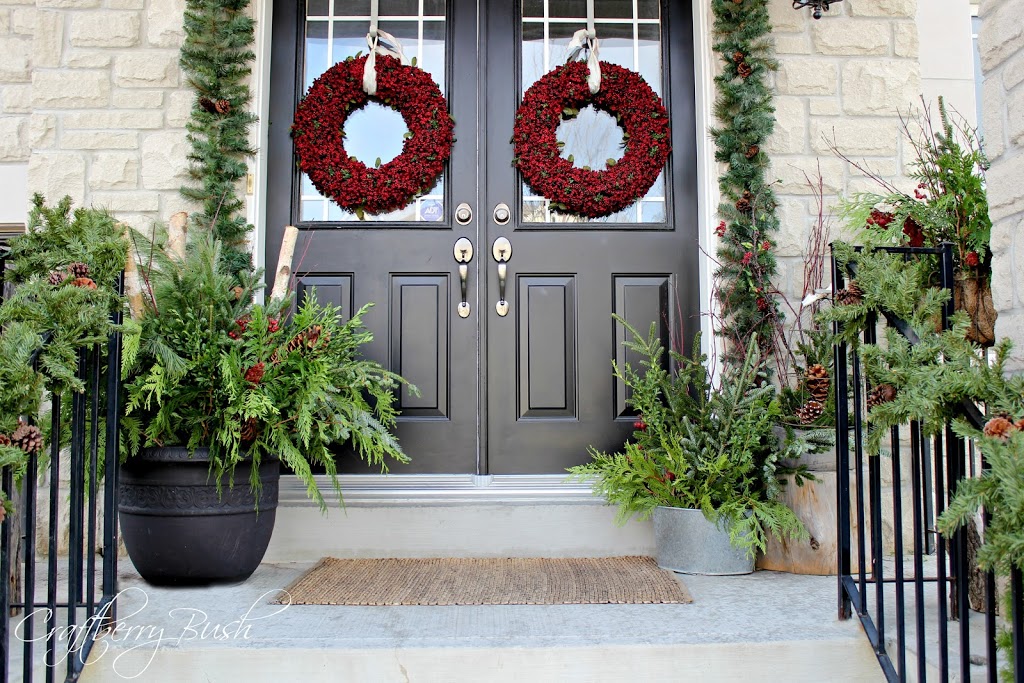 One of my favourite things to do from season to season is to change the appearance of our front porch.
I enjoy putting together my planters to reflect the changing seasons while hopefully creating a welcoming first impression for our guests.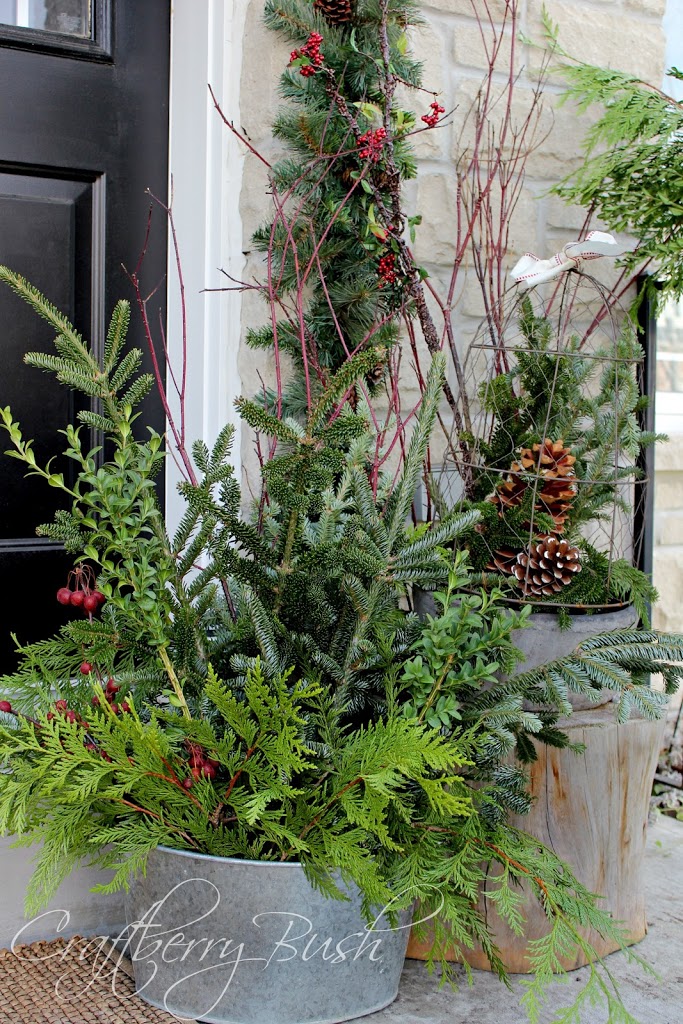 Arranging local greens such as cedar, boxwood and pine in an inexpensive galvanized bucket from IKEA creates the perfect winter bouquet, which will be further enhanced with a little sprinkle of fresh snow.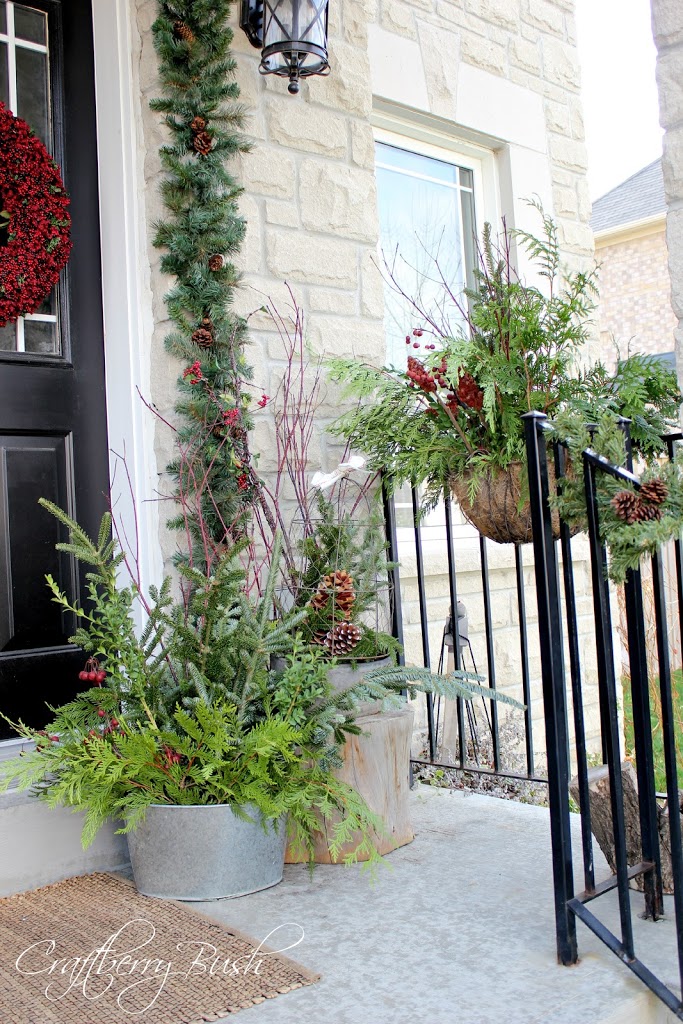 A hanging basket – once holding a lush fern – is now blooming with more winter greens.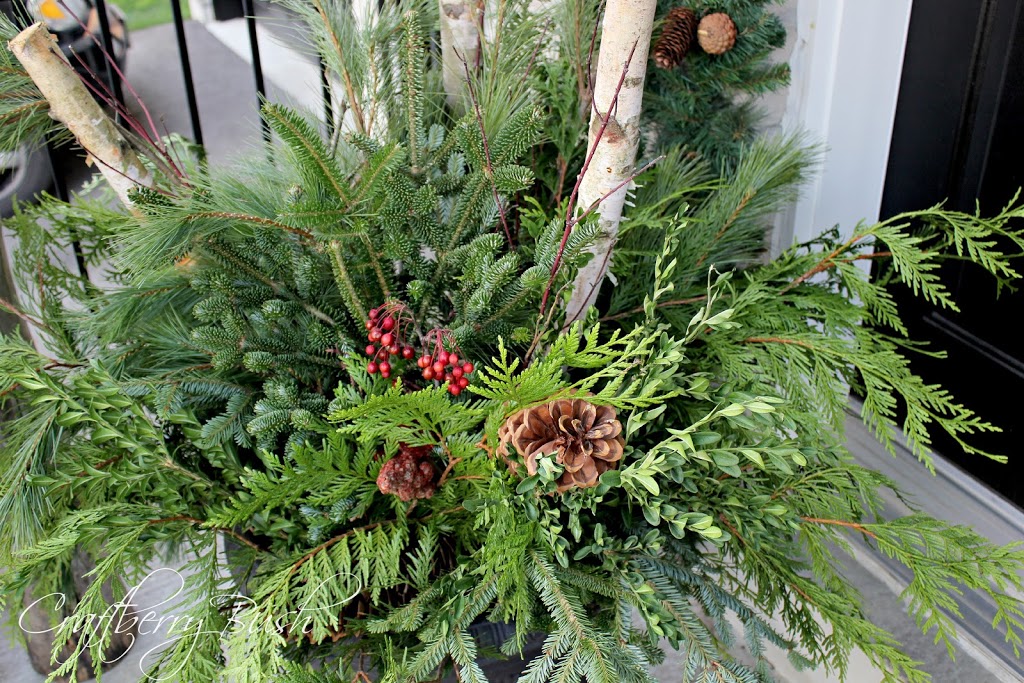 Some freshly cut birch anchor the display. A couple of pine cones and some fresh berries tie it all together.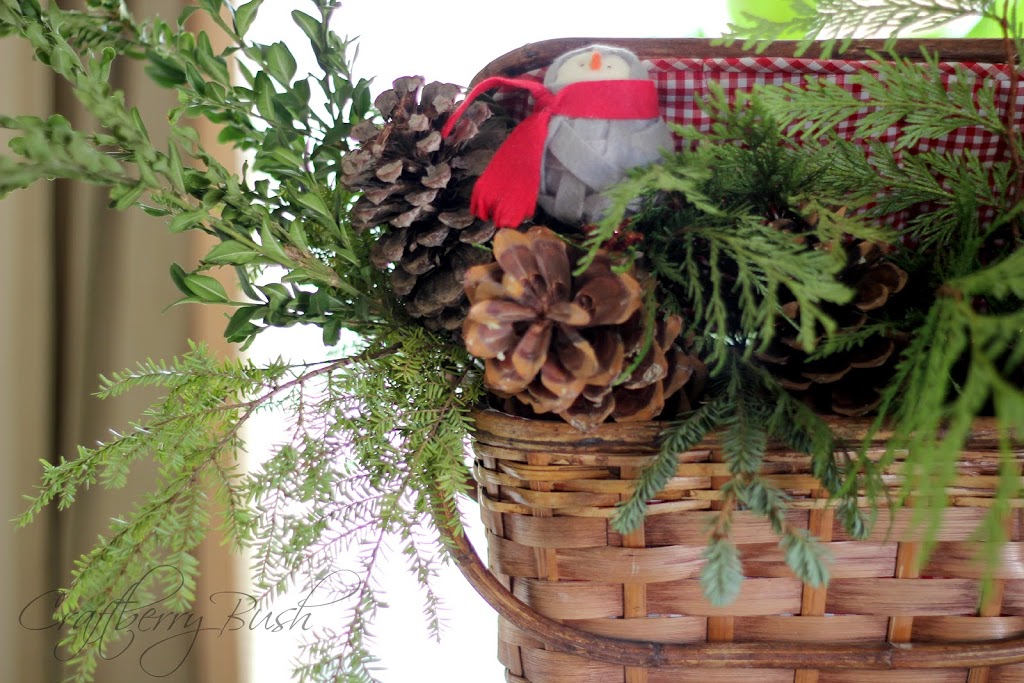 Inside, I made simple arrangements using old picnic baskets as planters.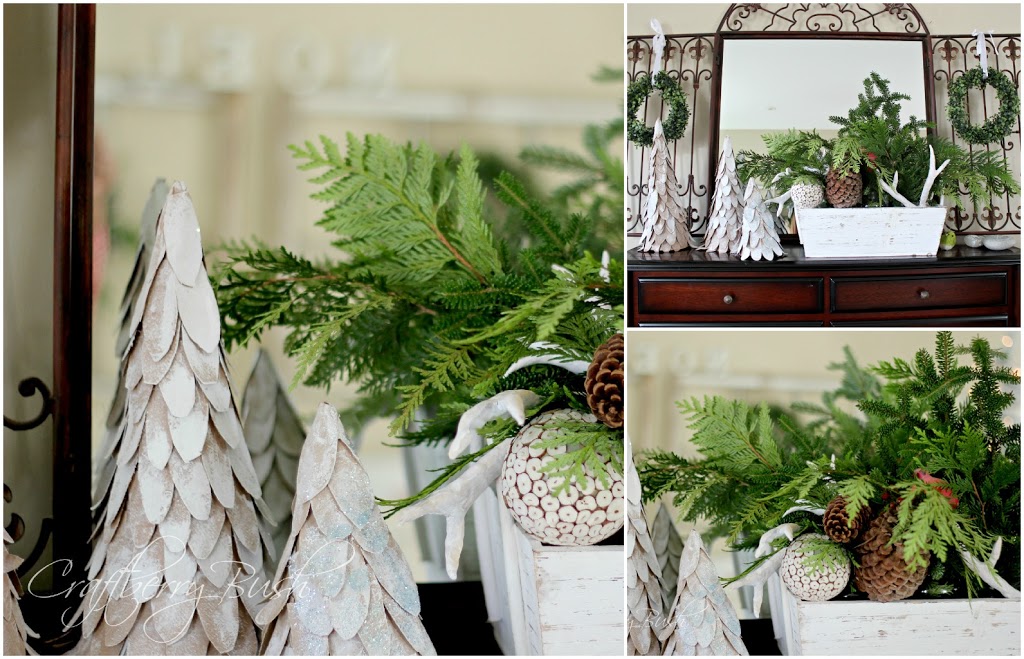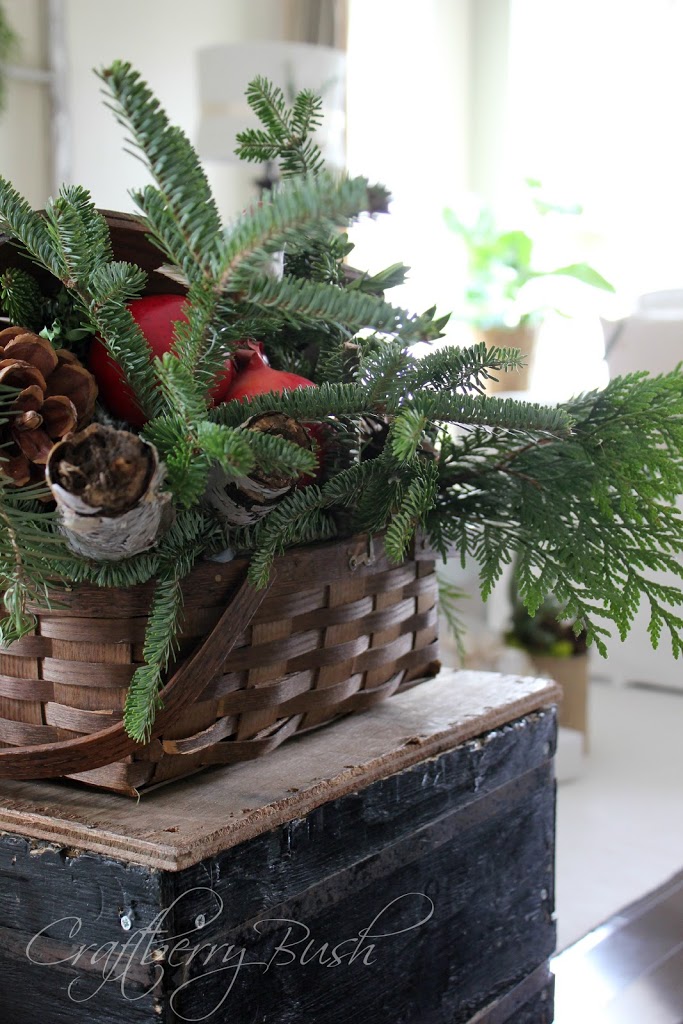 Unfortunately, the reality of using winter greens indoors is that eventually they will dry out and their splendor will literally wilt.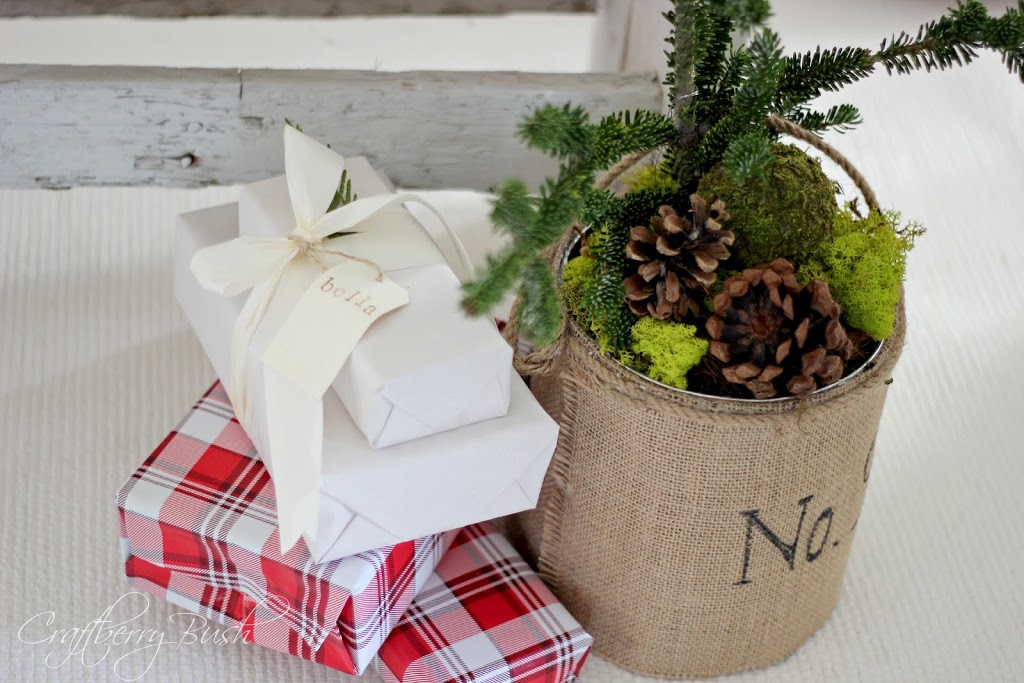 But there are ways of preserving your pretty arrangements so they last a little longer. Here are a few (obvious) tips:
1. If using them indoors, pine, fir and cedar usually last a little longer than other greenery
2. Before you purchase greenery, bend the needles to test the freshness; if they are brown or break easily, buy somewhere else
3. Only buy or cut greenery close to when you plan to use them
4. If you choose to buy them ahead of time, keep them outside or in the garage to keep them cool, bringing them inside only when you plan to display them
5. Before displaying a wreath or draping garland, soak them over night in a bathtub filled with water so they absorb as much water as possible
6. As with some other fresh cut flower or plants, re-cut the ends and pound them with a hammer so they will absorb more water
7. Mist every couple of days to keep them fresh
8. Do not use greens around open flames like candles or open fireplaces
9. When possible, make arrangements using jars or containers and change water regularly
10. Be aware of poisonous greens such as ivy, mistletoe and others
I made most of my displays at home by inserting regular glass jars filled with water and then placing the greens in the jars. This will hopefully ensure they last past Christmas.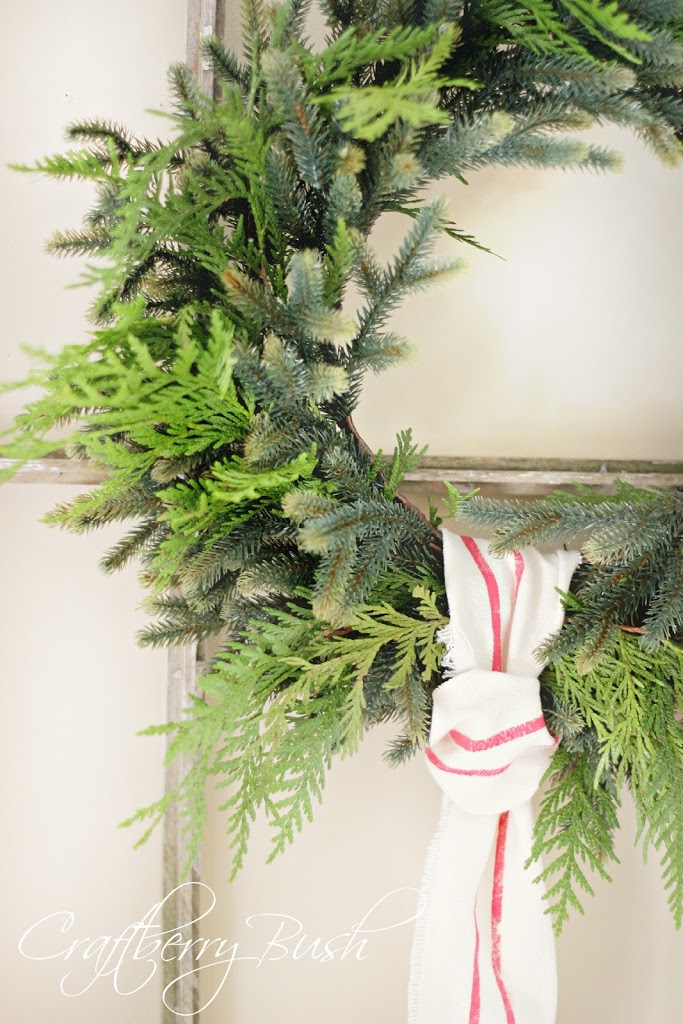 I used an inexpensive wreath from Ikea and inserted some fresh greens to fill it out.
What about you? Do you use fresh winter greens or do you use artificial garlands? Or both?
I hope you found some of those little tips helpful.
Thank you for your visit today. Have a great day!