As I get older and the hand of time starts to draw little laugh lines around my mouth, it also lifts a veil from my eyes and the meaning of love has never been clearer…
It is a renewed understanding and appreciation for things which cannot be acquired with money, yet is given to you freely by the Maker…
It's the sunrise in the mornings, the cool breeze during hot summer days and even the cold snow that sparkles like diamonds in the sun.
It's in the eyes of our children
and their innocent smiles…
…and the safe haven that are my husband's arms;
oh how I find peace and love in his embrace.
It's in an empty bank account, yet
an overflowing pantry of food….
It's in the tears of sorrow we shed, yet
unite us as we comfort each other….
It's in the warmth of our home
during cold winter nights…
It's in my hands, it's tangible and it's mine for me to share….
On the mantel sit old books, blue jars, pink and white roses, some are real some are not. Love notes in bottles and a painting inspired by a very talented artist named Eline Pellinkhof. She created a cross stitch mural which is by far much more superior than my painting.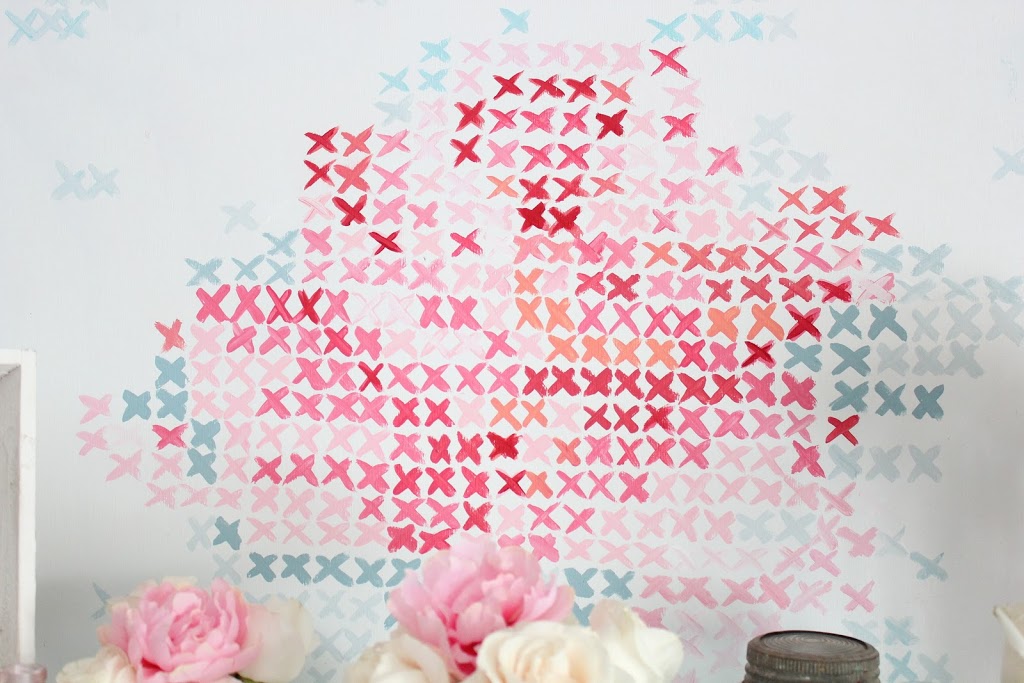 This type of painting is like one of those large pixelated pictures that need to be seen from afar so to capture the full picture, hence the small photograph.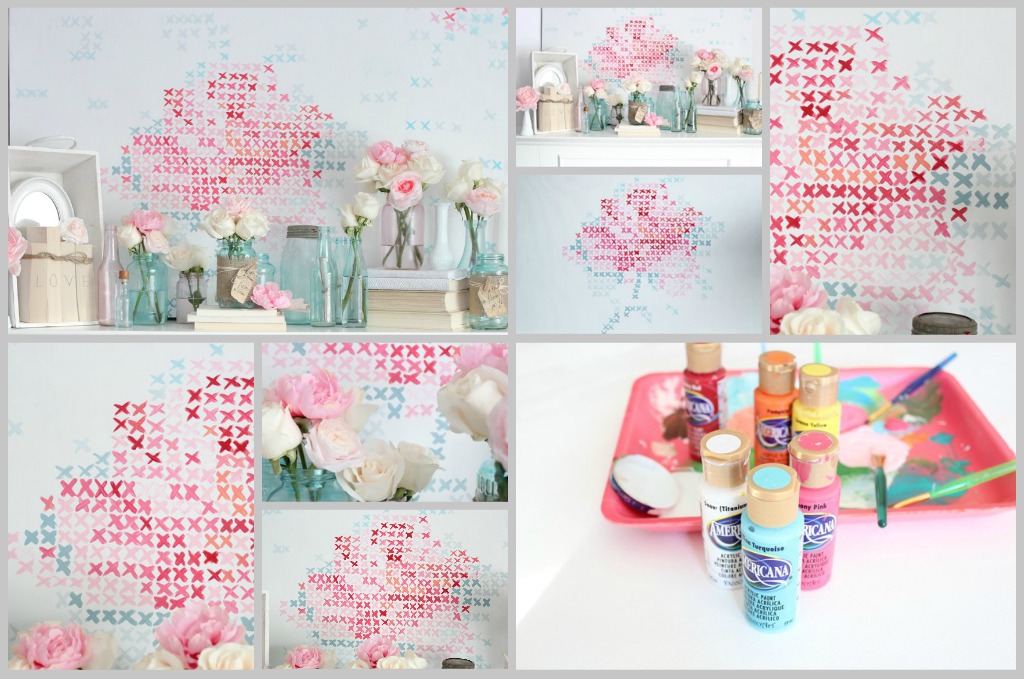 It is very rare for me to recreate another artist's work and I almost feel ashamed displaying it here on my blog. But when I saw Eline's mural, I knew it was exactly what my mantel needed. I suppose I could have drawn a grid to make it a little neater, but lines and measurements constrict me, so I went freehand on this one.


It will sit on my mantel for a little while before making its way to Isabella's room. See the pillow on the bed? It all started when I did a faux cross stitch tag (see it here) and I thought it would be cute to make a faux cross stitch heart pillow for Valentine's day. I then thought of taking it a step further and creating a cross stitch painting but alas, someone else with a lot more talent than I had already thought of it and had excelled at it; there was no reason to reinvent the wheel for this one as I had simply fallen in love with it. I just altered the colours a bit to match Bella's decor.
I believe Eline has had such great response over the mural that she is thinking of creating stencils to sell. If you are not familiar with her work, I encourage you to check it out.
So this is my love mantel for this year, with something old, something new, something borrowed, something blue.
Thank you for your company; I hope to see you again soon…
much love,
Lucy
Linking at
Carolyn's homework
Home stories A to Z
Primp
The 36th avenue
Someday Crafts
French Country Cottage
2805
Crafty,Scrappy,Happy
Whipperberry
Tatertots and Jello
The girl creative
Chic on a Shoestring decorating
Finding fabulous
My Romantic Home
Simply designing
The Shabby Nest
I heart naptime
Today's creative blog
It's overflowing..
Ask Anna
Thrifty Decor Chick
http://akadesign.ca/
Savvy Southern Style
Cedar Hill Ranch