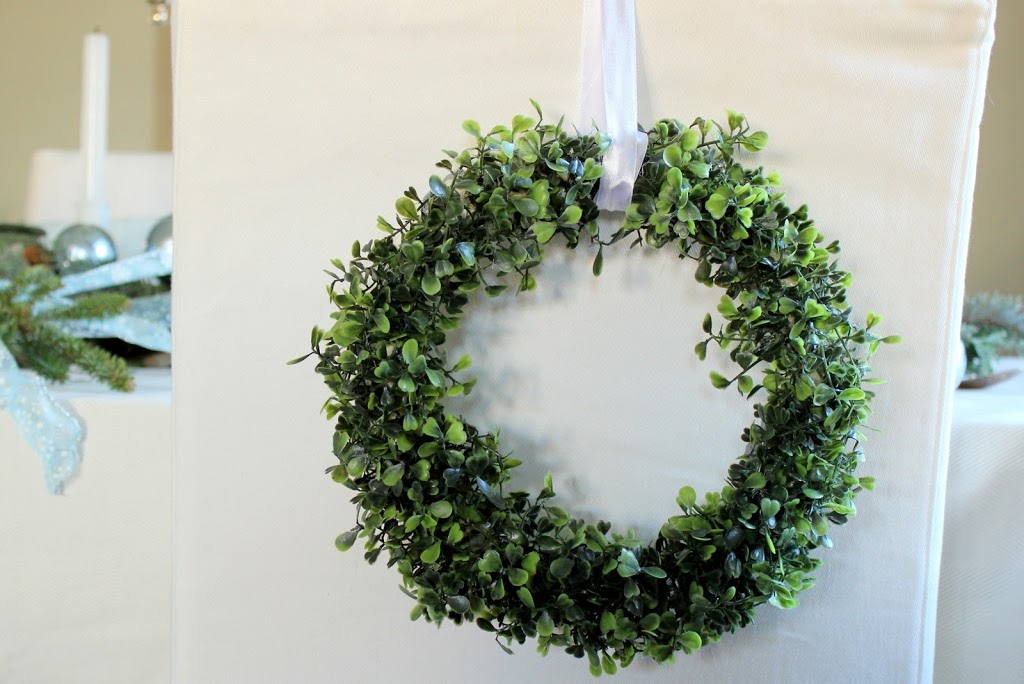 Hello again…I hope you enjoyed your weekend.
Can you believe that Christmas is 2 short weeks away?
I feel as if I have so many things to get done and yet the procrastinator in me says 'you have plenty of time'.
Unfortunately, I have always been a Christmas shopping procrastinator and I don't think things will change this year. It doesn't help that hubby shares the same 'philosophy' and so every year, we come together to form a super dynamic shopping duo and get it done. And every year, we say 'next year, we'll get it done early'….
I have always been enchanted with boxwood wreaths but they can be pricey, and so as usual, I'm off to look for an alternative. Enter my faithful Dollar Store…(I mention that store a lot don't I? Seriously need to look into sponsorship…ha). I found what I thought would work and came up with these little wreathes….
I found these 'boxwood' topiary balls
and pulled all the sprigs right off….
I rolled and taped several shopping bags into a wreath form and individually glued the sprigs onto the 'wreath' making sure to cover the entire area.


I love how the look hanging
from the old window frame…
Nothing compares to the real thing, but I think they look very pretty and festive, hanging from a chair, on a door or just anywhere. And the best part is that they will last a long time and they only cost me $3.00 to make… (I know baby, DS trips add up after time…)


This week, I hope to post a little more often than usual as I have several projects that I have completed. I am always weary of posting too soon for fear that you will 'miss' a post so I hope you will join me.


Which brings me to this – I want to thank you once again for all your tender comments and sweet words. It's been said many times before (and for fear of sounding repetitive), please know that I appreciate the time you spend here with me and the time it takes you to leave comments and express your feelings to me.


I realize that browsing blogs and stopping by to leave a message takes effort and time and it's much easier to keep on going or to 'pin' something you like. I'm guilty of such, but I am trying to change that because I know how important comments are and how they validate all the hard work and hours it takes to put a post together. Especially to those who are just starting out. So from the bottom of my heart…thank you!


I will talk to you very soon, but in the mean time….have a wonderful day!


much love,
Lucy