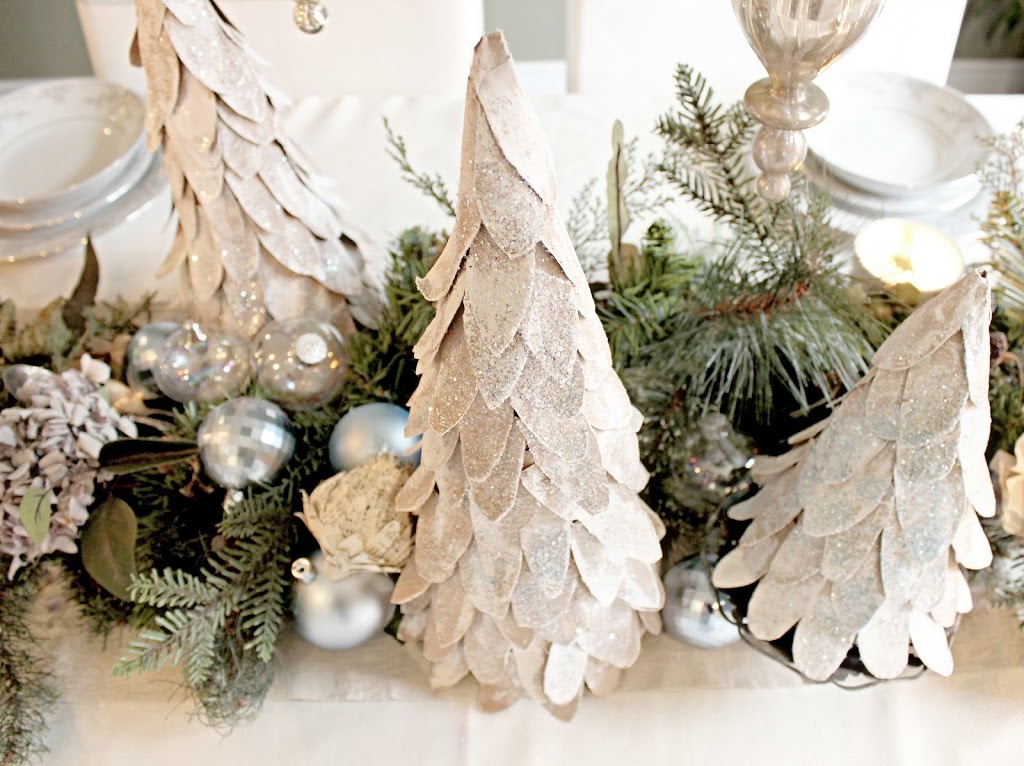 Hello everyone, I hope this finds you well and that the hustle and bustle of this season is being kind to you. While it seems like I have been absent for a long time, it has only been four days, yet I miss this little place when I am not here.
Like many of you, I have been busy decorating every corner of my house and at the same time working on new crafts to share with you…


I sit here admiring my Christmas lights and decorations, trying hard to ignore the tower of boxes that is stacked ceiling high and still waiting to be put away. So I purposely have sat with my eyesight fixated towards the 'pretty' and not the 'ugly'….


I often post inspirational pictures on my FB page and this was one of them. Isn't it gorgeous? I adore everything about it.
I enjoy looking at inspirational pictures because you can use certain ideas to 'get the look'. In this instance, I wondered how easy it would be to recreate the trees and so I went to work…..


I made cones out of cereal boxes (not pictured) and cut several scale like shapes. Starting at the bottom and gluing them side by side, I proceeded to glue the next layer, staggering the order as pictured. I continued all the way to the top and then painted with a quick wash of white.
I wanted the brown to show through, but you could spray paint it for more coverage.
Apply Decoupage and sprinkle glitter for a little sparkle.


I think they turned out cute and
very similar to the inspiration ones….
It has been rainy and the picture makes them looks darker than they actually are, but I like this picture because it looks sparkly…:)




In the next couple of days, I hope to show you a few pictures of my tablescape and some more Christmas decorating ideas, that is if the weather cooperates…:( I hope you will join me…


For now, I just want to say thank you for spending some of your time with me…have a great day!


much love,
Lucy




http://thriftydecorchick.blogspot.com/ and at these wonderful parties, thank you for hosting