Good Monday to you. I would like to once again thank you for your words of encouragement as I am always
humbled and amazed at the love of the blogging community. It makes the sadness a little lighter when you know you have someone's prayer behind you and even though my Father in Law is not a believer, I know through our prayers God can send comfort to not only his physical body but his soul.
We thank you from the bottom of our hearts…
In an earlier post, I mentioned I would reveal what is inside this mug….
Well, here it is. It's the popular hot cocoa
mug gift, but Craftberry Bush style…
Not in a jar, in an ornament…
And depending how much you like the person you are gifting, you can take the time to build a mini edible snowman…here is how…
1. Stick a toothpick into a Cocoa Puff
2. Dip in melted white chocolate (they look like tini, wini little cakepops…awww)
3. Allow chocolate to harden and use additional melted chocolate to 'glue' together. The orange nose is an orange candy sprinkle and the eyes were dotted with a toothpick using black food coloring.
4. Using the same technique used here, cover surface with sugar and roll gumdrop
5. Make a little hat or scarf or even mittens if desired.
Do not remove the toothpick as this will help keep the snowman in place when you insert it into the bulb. As you 'build' the snowman, keep measuring the snowman against the opening of the bulb ensuring its size will fit the opening. I had to give my snowman rhynoplasty surgery…ha!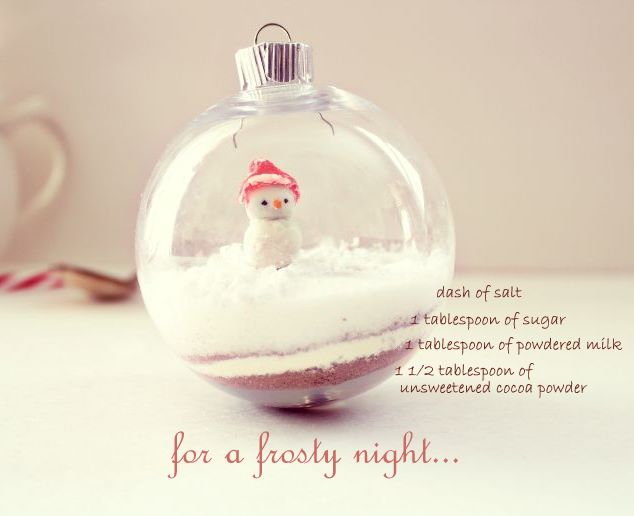 Using a paper funnel, pour favourite hot cocoa recipe into bulb and slowly insert snowman into the ornament using tweezers.
See the little 'snow balls' in the globe? they are little clumps of icing sugar I sifted just for extra brownie points. I stamped and attached a little note to the top and also placed a bag of mini marshmallows at the bottom of the mug.




On a side note…to those of you who I give one of these to, the measure of my love for you will be whether or not you get a snowman or not…;)


Have a great Monday!
much love,
Lucy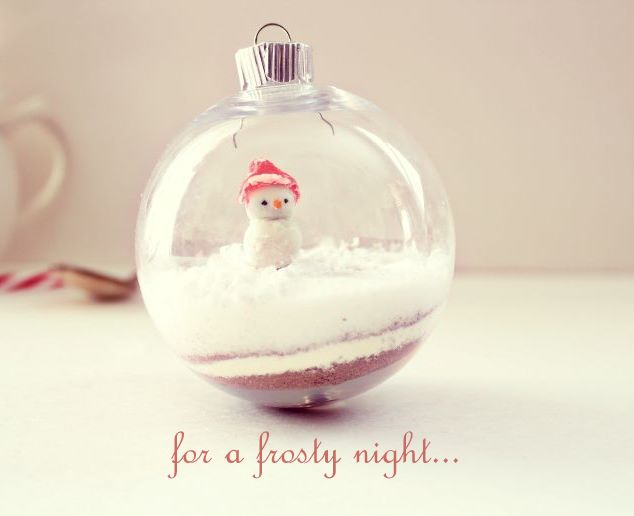 ps. this is my cocoa jar from last year; please click on the picture to go to the original post….


Linking at