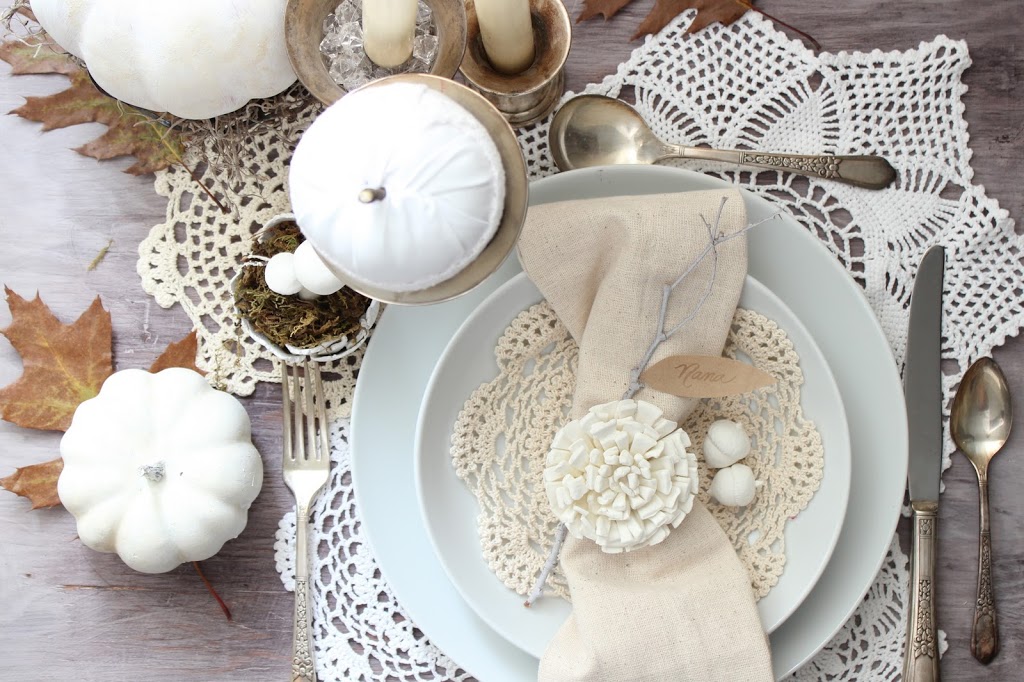 Happy Wednesday! How is your week thus far? The weather around here has been so beautiful – which always inspires me to create – however I have been fighting a little cold and now it seems my daughter and younger son also have it.
Nothing a little chicken soup, and some cuddles can't cure….
If you recall a few posts back, I spoke about using neutrals when decorating a fall table. I showed how to create some pretty burlap leafs and now I wanted to show you how to make this little flower/napkin ring holder…


I played around with various textures and included some organic elements to the table; such as the little acorns and the mushrooms you see in the background.
They are made of clay and I have prepared a tutorial,
which I will post in a day or two.
But first let me show you how easy it is to make this flower (we'll call it a mum for now, but if you have any other suggestions, feel free to let me know..)
1. Roll your clay on wax paper to avoid the clay sticking to the working surface (this is air drying clay but you can use salt dough as well). Cut various size circles; I used different size cups and glasses.
2. Cut several slits around the circles as shown
3. Place circle in the palm of your hand and gently cup it forcing the 'petals' to go up
4. Continue doing this to all circles and place inside each other starting with the biggest one at the bottom and working your way up to the second smallest one
5. Loop a wire through the top as shown
6. How it looks from the top
7. Place the smallest circle of petals and cover the wire (sorry, I did not include a picture of this step)
8. The smallest circle of petals will cover the wire
9. The wires will be used to attach the flower to the napkin


Allow it to dry or bake depending on what
type of clay you are using and that's it!


Wasn't that so easy? In my humble opinion, I think they look so pretty. They can be used not only as napkin rings for Thanksgiving but are versatile enough to use at Christmas – think glitter or even hang on your tree. Skip the wire and add a pin to the back so it can be used as a brooch, etc.


Soooo…there you go, me 'claying' around. One of my most favourite things to do.


Thank you for stopping by – hope to see you again soon.


much love,
Lucy


ps. If you haven't had a chance to enter the giveaway yet, please take a minute and check it out, there are still very few entries…xo
Linking at
Home Stories from A-Z and these great linky parties, thank you for taking the time to host..xo