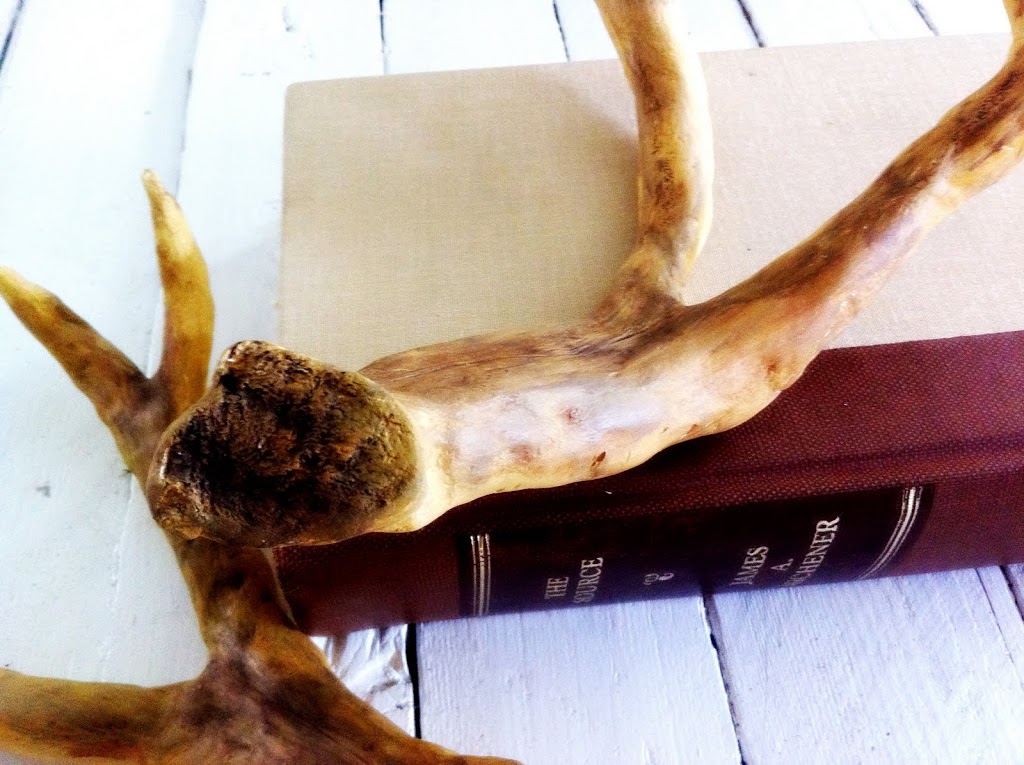 The sun is shining and the weather outside does not call for a sweater. Nevertheless, the temperatures will drop and soon the trees will reenact their

annual fiery show

while dressed in beautiful shades of orange,reds and yellows making us forget all about summer and its glory.
In preparation for the 'show' I have been working on some projects to cozy up our nest and this one in particular was an inspiration from Pottery Barn and their fall decor
.
Pottery Barn is always a great place to find inspiration for any holiday and I have been particularly attracted to the resin deer antlers in their fall decor this year. But as usual, the DIYer in me cannot justify spending $52, so I decided to make my own and share the 'how to' with you.
Materials
y-shaped branch (optional)
Air drying clay or salt flour clay (recipe found
here
)
Tin foil
Paint (optional)
I used DecoArt – Antique Gold
Antique White
Raw Umber
Let's get started….
(click on picture to enlarge)
1) If you choose to use a branch, find a branch that simulates an antler
2) Sand any knots and with an exacto knife, sharpen the tips of the branch as shown
3) It should look like a sharpened pencil
4) With your clay, cover the entire surface of the branch
(click on picture to enlarge)
5) Using clay, add additional peaks to the existing branches like shown
(OPTION 2.- using tin foil)
6) With tin foil, form the shape of the antler by rolling and scrunching the foil paper. You can make as many peaks as you want.
7) With clay, cover the entire surface of foil (I found the foil paper much easier to cover than the branch). If you are using self drying clay, dip your fingers in water and run them along the surface to get rid of any bumps and smoothen. It doesn't have to be perfect as you will sand it once it is dry.
8) Prop against any item so antler dries in desired position. I used smooth rocks to prop it up.
(click on picture to enlarge)
9) While clay is still wet, use toothpick or any other sharp point to make little ridges or indentations.
10) I used a hard bristle paint brush and stippled the 'marrow' at the bottom of the antler. I also ran it along some of the area to make some areas look porous.
11) Allow clay to dry (note: it may take upwards of 24 hours) and you might have to turn it over to ensure it dries evenly.
12) Gently sand antler with fine grit sand paper and if desired, paint and gloss.
And that's it!
I wasn't convinced I would keep the antlers white, so I snapped a few pictures prior to painting them. I find seeing pictures of my crafts helps me to determine what I like better and it also allows me to
see more clearly any areas of, shall we say, improvement.
See how realistic the marrow looks
by stippling it with a brush?
This is what I mean when I can see 'areas of improvement' . From the picture, I can see that if I want to keep these white I will have to sand them down a little more and make them smoother.
Can you picture these mounted on a piece of white wood and hanging on the wall. What do you think, do you like them white, or….
Here they are painted. I applied a coat of the Americana Antique white and allowed it to dry. I then painted it with antique gold and quickly wiped it off so you could see a tint of it. Lastly, I dry brushed raw umber to ridges and the marrow and rubbed it off with a clean cloth.
In the pictures, the antlers appear to be made out
of wood but are more realistic looking 'in person'.
Total cost – $3.95, which was the cost of the air drying clay and I only used half of it. The project overall is fairly easy, as nature is not perfect and the imperfections make it look more realistic.
Well friends, that's it from me for today but please
note that :
NO DEERS WERE HARM IN THE MAKING OF THIS POST 😉
Have a beautiful day!
much love,
Lucy
While fooling around with my antlers, my son took this picture with the iPhone.
Not the most flattering picture, but just had to share…:)