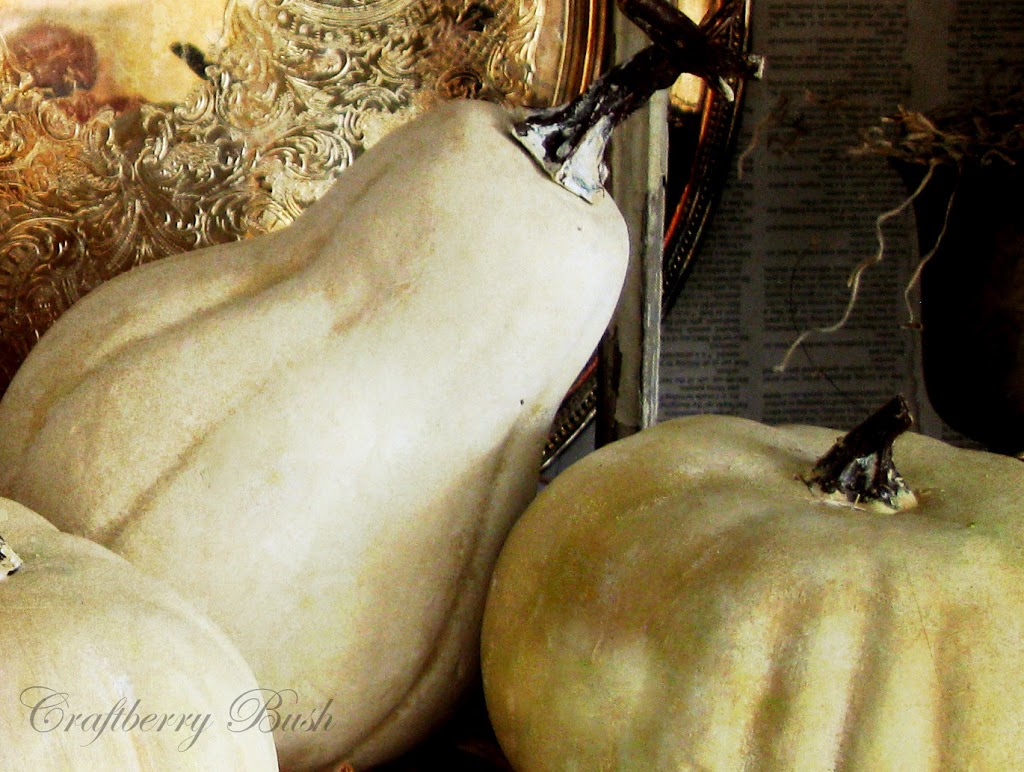 How far do you go when you create? Does your mind go back to a favourite childhood place or does it travel into the future to a sunny Caribbean landscape? As I work on various projects, the silence of my home allows me to immerse myself into my task and time elapses without me realizing it.
I am working on my fall mantel at the moment and thought I would show you how I converted these Dollar Store pumpkins into….
…these neutral beauties….
Paint the pumpkins white.
It doesn't have to be perfect as we are
going to
be using other colours as well.
With a sponge or dabber, randomly apply
some green paint and allow paint to dry.
I used Reindeer Moss Green from DecoArt.
Using the same technique of dabbing,
apply a coat of Antique White focusing
on the grooves of the pumpkin.
Lastly, dab a coat of Titanium White to
the
entire pumpkin tryng NOT to apply
the
white paint on the grooves.
The squash on the left was painted withTitanium White and Antique White undertones, whereas the pumpkin on the right was painted with Antique white and Reindeer Moss Green undertones. I am so happy with the way they turned out and even happier that they will last me for years to come.
Just a little behind the scenes
while working on my mantel….
Moss and rafia – great combination on a dark floor….
Every time I work on my mantel, the rest
of the house becomes a chaotic mess…
I love the way its turning out and hope you will like the end result as well.
Wishing you a beautiful Thursday…see you tomorrow!