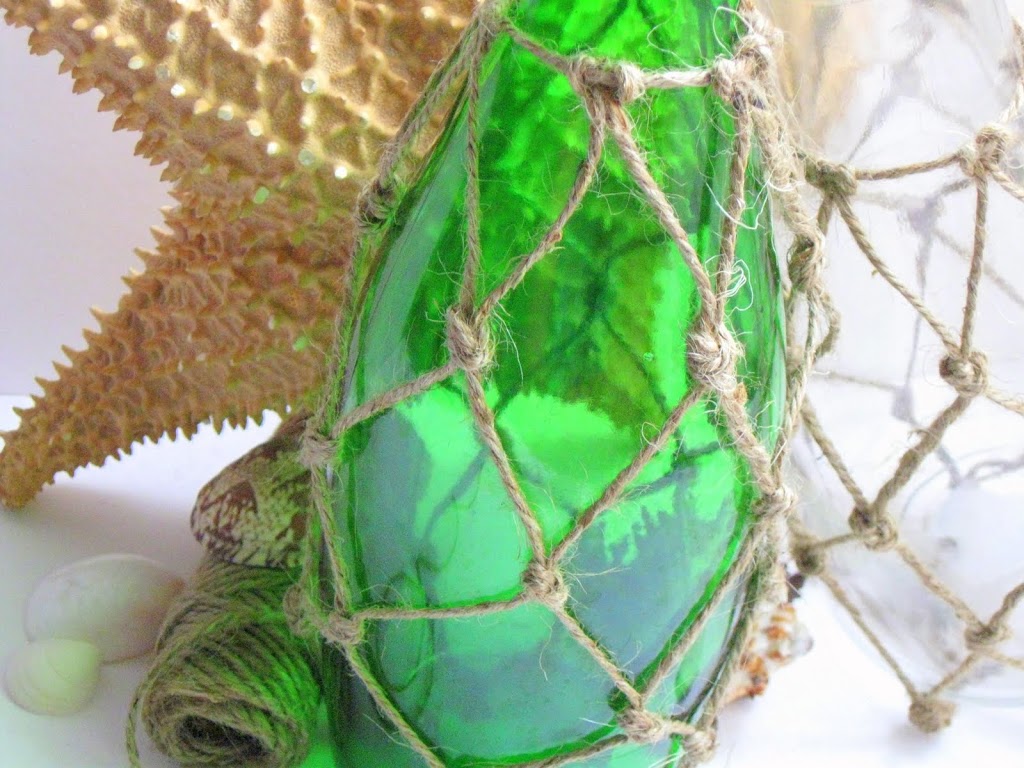 During our holidays last week, I was able to visit one of my favourite little shops.
It's a quaint little place that offers all sorts of beautiful items from artisans from around Ontario. I have purchased some really unusual items in this little shop, where I also seem to find inspiration.
For example this little sea side jar. This picture was taken with my iPhone and I had taken
several pictures from every possible angle because I wanted to come home and try to figure out how to make the netting around it.
I am sure the shop owner was wondering why I had the jar upside down, right side up and side ways…
Long story short, I got out my jute and started playing with the netting as soon as I came home (not even having unpacked three days worth of dirty clothes)
.
I thought I had it figured out and was happy that it had only taken me a couple of minutes, but was
not too happy with the way the top of the net looked, as it wasn't as clean as the one I had pictured at the store.
I still took it back to the docks on our next visit to the cottage and snapped a couple of photos…
There were a lot of boats on the water that day, with their wakes making the docks sway back and forth, so I handed hubby the camera and he took this shot (I have to give him credit for this one, since we're always competing to see who takes better pictures).
I like to get low to the ground and take pictures from unusual angles…
But I digress, I decided this little jar would make a fantastic cottage lantern and so I tied a ring around the top and knotted the net to it. I also made a little braided handle for it, and that's when it hit me….
In order for the netting to look clean, you need to start at the top and work your way down.
And so I went back to the drawing table (actually, the kitchen floor) and did a little tutorial for you.
It's ok, you can thank me later…:)
1. Wrap a piece of jute around the neck of the bottle.
2. Cut six pieces of jute of approx 1.5′ in length (or depending on the height of your bottle, triple its size; it's better to have extra than to not have enough).
3. Tie a hitch knot (I believe this to be the name of this knot).
4. Continue to tie all six pieces of rope evenly around the original jute loop.
5. Take a strand of jute from the left and a piece of jute from the right (adjacent strings, from 2 different knots). Picture 5 and 6 show you how to tie the knot. Looping both pieces under and
7. This is what it should look like
8. Continue to do this around the bottle until you get to the bottom
9. At this point, the net still looks a little uneven and loose.
10. Make another ring approximately half the size of the circumference of the bottom of the bottle.
11. Tightly tie all of the pieces using the same knot as steps 5 and 6
12. Trim all the extra pieces of jute; for extra strength, you might want to add a bit of glue to the knot.
Notice how much neater this net looks now….yay!
I was pretty happy with the way it turned out…
The best part is that this same technique can be used to make a much bigger net to hang as an accessory for a beachy theme. I might do a tutorial on that in another post.
This green bottle is an empty Perrier sparkling water bottle….
But isn't it pretty?…it kind of looks like…
While looking for 'how to sew a fishing net' on line, I came across this image from Ballard's Design.
Because we don't have a Ballard's here in Canada, I am not familiar with their products
(I speak about it

here

) so I did a knockoff without knowing, which tells me one of two things. Either…
1. I'm good enough to be a Ballard's designer 🙂
2. I have no originality 🙁
Well friends, I know this was a long post, so I apologize and thank you for reading along.
I've missed talking to you.
I hope you have a great weekend!
ps. a
s I was looking to add the link for the above, I ran into

this

, which unfortunately
confirms number 2 …:( LOL… oh well!
Linking to
these
wonderful parties, thank you for hosting.