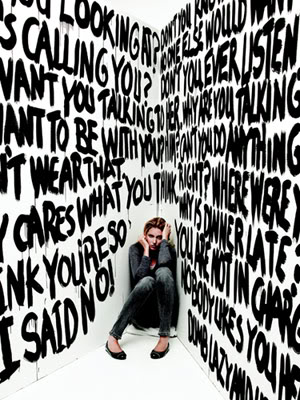 Hello friends – I hope you are all keeping well and having a great week thus far.
Please let me apologize in advance as this will not be a typical post for Craftberry Bush, but a post about an incredibly important topic that I feel in my heart the need to write about. It is my sincere hope that I neither offend nor upset anyone and I hope you all understand.
I know that many of us have been blessed with wonderful husbands; husbands who love, support and respect us as women. But there might be some of you who have not been as fortunate.
Last night – as I sat here in the comfort of our home – I could hear what sounded like crying. When you become a mom, you develop a special tuner that immediately gives you a signal to stop whatever you are doing and seek out the source of that sound.
I listened and soon concluded that it wasn't any of my children, who were thankfully fast asleep, but the crying sounds of a woman who continued and got progressively louder. What was alarming is that I could also hear a man screaming and that's when I realized they were having a serious domestic argument.
I am not a nosy person, but I do care about the well being of people, so I approached the window and soon realized that he was being abusive to her. I cannot say for certain that he was physically abusing her, but her crying and his words led me to believe that he was.
I have never been in this circumstance and wasn't sure what to do. Do you call the police? Do you go and knock on their door? Thankfully, they stopped soon thereafter as I think they realized that most of the neighbours had now come to see what was going on.
I was so saddened by the situation that I could not fall asleep and all I could do was pray. Pray that she sees that she is worth more than that; that a man has no right to treat a woman in that manner.
Be it verbal, physical or mental abuse, it is not acceptable.
I don't know this woman as they only moved in a couple of weeks ago, but my heart aches for her and I don't know how to help other than asking God to protect her.
I know that for many of you, blogging is a means to get away from your day to day, to de-stress at the end of the day or take a little break from your chores and so I appreciate this subject is not necessarily a cheerful one. But I hope you understand that I am following my heart and if I can help just one person through this forum I have to do it.
So I am making a plea that if you are a victim of domestic abuse or if you anyone who is, please, please seek help. I cannot tell you that I know how you feel, but I do know that you are worth more than that. You might not think that you can do this, you might think that you have no where to go, you must be so scared. But you are not alone.
There are many organizations that are willing to help and assist in getting you to a safe place so you may have the life you deserve, your children deserve. Because every home should feel safe.
You are not alone. God loves you and even if you don't believe in God, know that HE sees you and He has not forgotten about you; you need only reach out to HIM.
You need to break the silence…..
Home Safe has a great post with very helpful information
USA
National Coalition Against Domestic Violence
Help Guide
Domestic violence guide
Canada
Help guide
Domestic Violence is never ok
You are not alone
Thank you for reading…it means the world to me.
much love,
Lucy