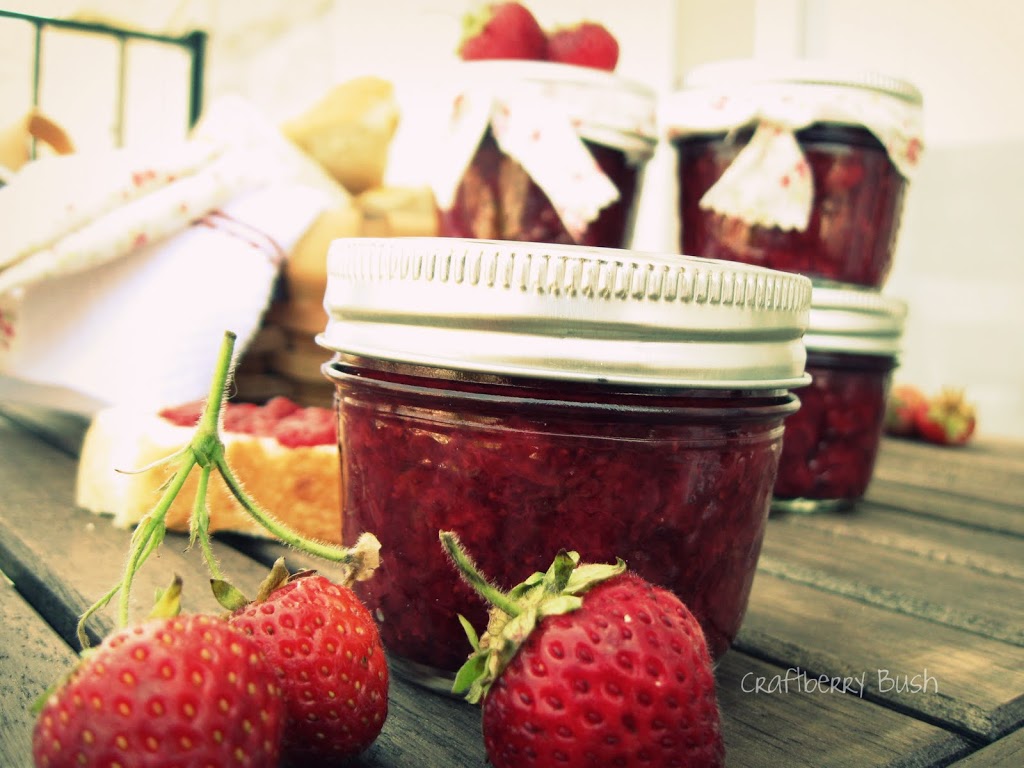 Strawberry fields forever…
Earlier this week, the kiddies and I went to pick strawberries. Even though I have been going for many years, being in those fields always brings me sweet feelings and memories of when my brother and I used to find a wild raspberry bush and eat the fruit right off of it.
The kiddies have always enjoyed going and over the years, they have become so much more efficient at the labour part and are a lot more discreet when eating them 😉
We usually wash and freeze them to make delicious smoothies, but this year, we brought home enough to also make jam. There is something about making homemade jam that makes me feel so domestic…:)
While I have made jam with my mom before, I wanted to research different methods but what I found was that somethings are best left the way they are.
I don't ever recall my mom bothering with packets of pectin or worrying about jam setting and I certainly don't ever remember seeing her use 7 cups of sugar to make her jam!
Sometimes it's good to just keep things simple and so
I used my mom's recipe (which works for Martha too – Martha Stewart )
Quick Strawberry Jam
1 quart of strawberries (hulled)
1 cup of sugar
2 tbsp of fresh lemon juice
1. Wash and hull strawberries.
2. With a potato masher, mash strawberries leaving some chunky bits if you wish.
3. Transfer to a large skillet and stir in sugar and lemon juice.
4. Cook over medium-high, stirring frequently, until jam is thickened and bubbles completely cover surface, 9 to 10 minutes.
5. Drain liquid through a sifter and return strawberries to heat; continue cooking for another 5 minutes.
6. Transfer jam to a jar and let cool to room temperature (to store, seal jar and refrigerate up to 10 days).
I saved the juice to make syrup and delicious popsicles.
It makes me happy to know the kiddies are not only eating something love, but that we made together from beginning to end.
Good enough to the last chunk, and if you don't believe me, ask Bella who kept sticking her fingers in the jar..:(
I will be sharing some of these little jars with my family over the weekend (not the one Bella stuck her finger into, ha)…I hope they like them.
How do you make your jams? Do you make it the old fashioned way? Do you use pectin?
Any tips for the future are welcomed! 🙂
I am now down to the crunch with the mural and it looks like I will be pulling a couple of all nighters. This is going to be a busy weekend but I can't wait to show you pictures of the finished piece next week. Hope I see you here again soon.
Wishing you a relaxing weekend!