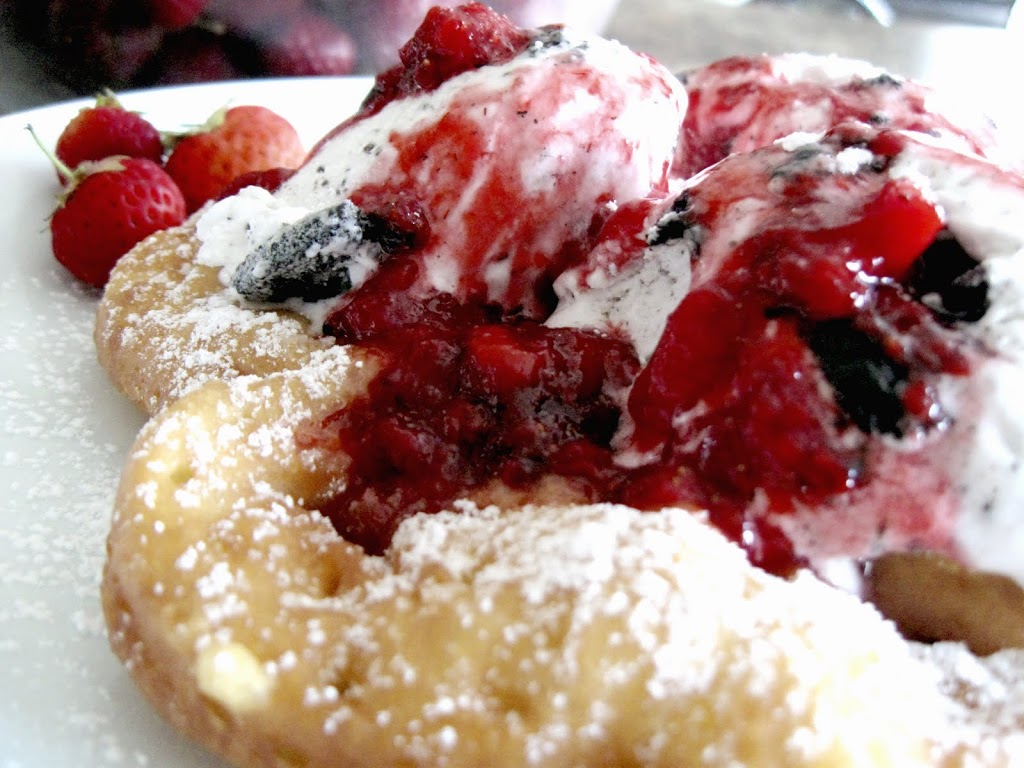 I wanted to surprise the kiddies with a yummy treat. Can you believe I went from planning to cut up mangos, watermelon and strawberries to making them a funnel cake?
I have had
this recipe
in my favourites folder for a while and it was time to use it.
Funnel Cake Recipe
1 1/3 cup all-purpose flour
3/4 teaspoon baking powder
2 tablespoons granulated sugar
1 cup milk (or more if needed for the right consistency)
1. Mix flour, baking powder and baking soda by sifting together onto large bowl.
2. In a separate bowl, whisk egg and sugar. Once whisked, add milk to mixture and whisk again to mix together.
3. Slowly add milk and egg mixture to the flour and mix together. The consistency should be like pancake batter, but not too runny and not too thick.
4. In a deep pan heat approx two inches of canola or vegetable oil. Test the oil by sprinkling a drop of water; the oil should sizzle.
5. I don't have a funnel so I used a gravy boat to pour the mixture onto the oil and it seemed to work well. Pour mixture over oil in circles trying to form a web.
6. Allow cake to rise to the top and turn over once it reaches a nice golden brown colour (approx 30-40 seconds).
7. Remove from heat and place over paper towel to remove excess oil.
8. Serve on a plate with a scoop of vanilla ice cream (or in our case, cookies and cream because we had no plain vanilla)
9. Drizzle some homemade strawberry syrup and sprinkle some icing sugar on top
10. Dig in and enjoy!
Check out the original recipe here.
Can you tell they were surprised? They didn't pose for this picture.
Who knew you could recreate carnival style funnel cake so easily?
Today I neglected responsibilities (which I will undoubtedly pay for when I go to bed at 3:00am), but seeing the happiness in our children's faces and hearing their laughter makes it all worth it.
The day started off a little gloomy and rainy and as I started to set up my work station (ie. the family room floor), I remembered our summer to do list which is written on our chalk wall.
One of the items on the list is play in the rain, and so we did…
Still in our pj's, we ventured outside and had a
water balloon fight in the rain…showdown style (
Bella had no clue what was coming).
As I look at our kiddies, I see that their little faces are changing; the chunky little fingers and chubby cheeks slowly disappearing into older features. Time flies and I feel as if I need to swallow every little bit of the sound of their childhood laughs.
While I didn't call my mom today, I thought of her and know I need to make more of an effort.
One day, I will be that mom waiting for their phone call, but not today. Today, they are here with me and I made them happy, so neglecting responsibility today was alright with me.
Have a beautiful day and if you're fortunate enough to have your mom in your life, don't forget to tell her you love her.