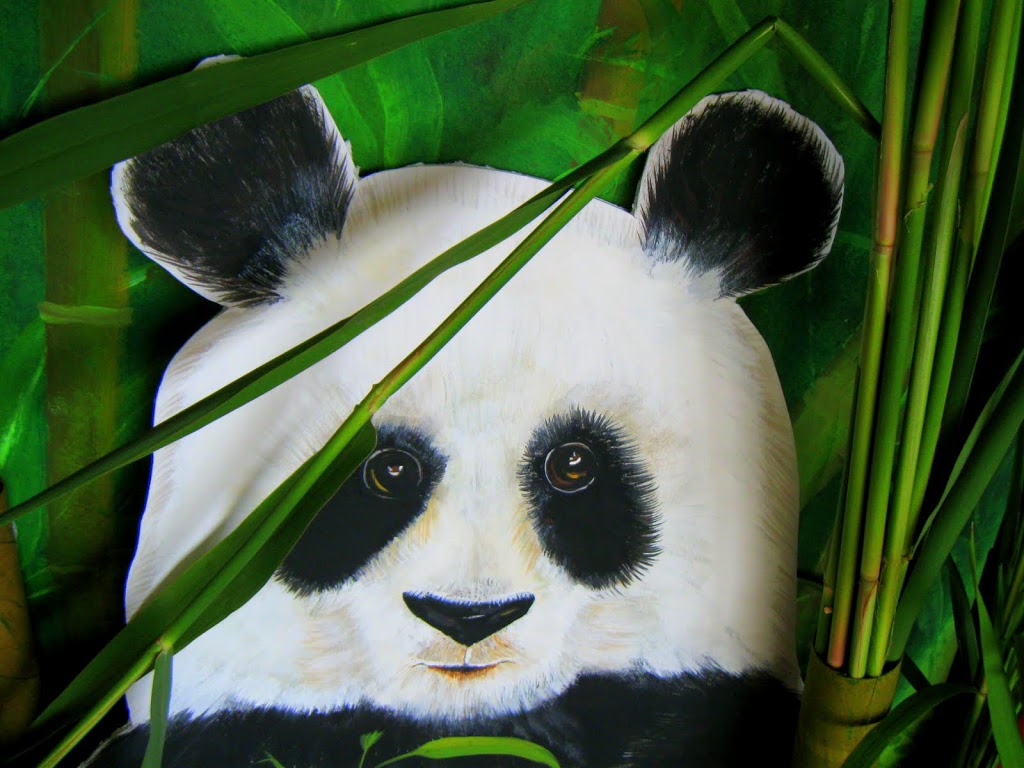 Serve the Lord with gladness
If you have been reading along, you know I have been working on a mural for our church's summer camp. Well, after many late nights of painting with the green stained fingers, elbows and even knees to show for it, the mural is finaly completed.
Hubby and I spent the majority of Sunday setting up our designated area.
I was asked to paint a bamboo forest, but they requested I keep them generic so they may be stored and reused for other occasions.
Because the panels were 11 feet long, I cleared the family room to paint them.
I had originally planned on carving the pandas out of Styrofoam, but unfortunately ordered the supplies a little too late and they did not arrive on time. So instead, I scratched that idea and painted them onto Styrofoam board (I purposely cropped my eyes as it was 2:00am and you can definitely tell I was tired).
I made approximately 25 bamboo canes out
of cardboard rolls that I had pieced together.
Transporting and preparing for set up. All of the set up
and engineering was done by hubby (thanks baby!).
We used some reeds to simulate the bamboo
grass; a brilliant idea by another volunteer.
Hubby has a hidden talent, and even though he doesn't like to admit it, he can also draw very well. He however, is a linear artist. We are the perfect pair as I can't draw a straight line to save my life so you can imagine how much fun I had trying to paint bamboo!
I painted a pagoda that hubby had drawn and then we suspended it from the ceiling. You can't tell from the picture, but the panels can be seen as you walk in and as you walk out.
Even though the area looks quite small, I painted a total of 44'x12′ ….that's a lot of green paint!
You know the feeling when you have a specific idea set in your head and it doesn't turn out quite as you expected it? Well, because my original idea had other elements that I had to eliminate last minute, I'm not one hundred percent satisfied with it.
But regardless of my personal opinion, I am happy to know that I did this to serve the Lord and that is what is most important.
I leave you with the picture of my favourite lil' guy….his eyes make me smile! And so do your visits!
Thanks for dropping by.
much love,
Lucy