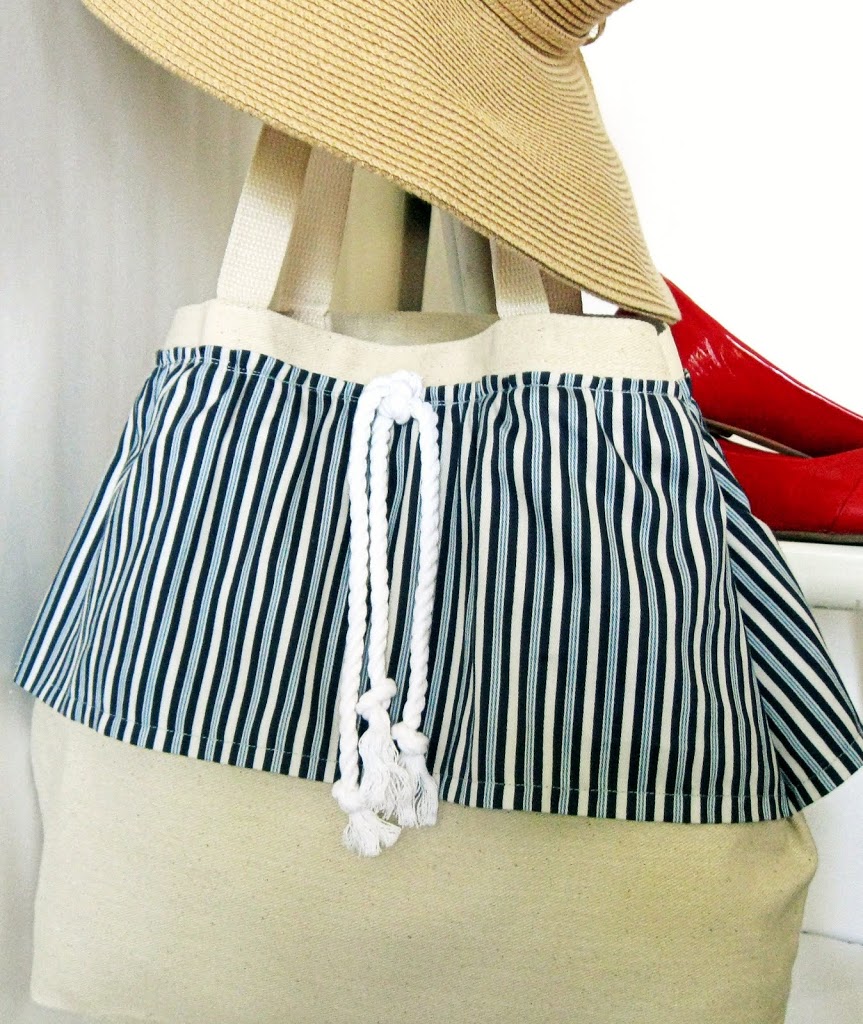 Did you have a good weekend? I hope so.
As usual, my weekend was all about family but went by way too quickly. Why is that? Well, besides having a little BBQ and playing my first soccer game of this year's outdoor season, I actually did a little sewing.
Ummmhha…..ME, all by myself with no help…or idea of what I was doing for that matter…
It's not a big deal, I know, but if you knew the intimidation factor the sewing machine has over me, you would be so proud… 🙂
I bought a canvas bag from the dollar store and decided that
instead of painting it,
I would give it a makeover of a different kind…
I purchased the minimum amount of fabric I could buy
as at this point, I wasn't sure if I could do it and didn't want to waste the fabric or money.
I was lucky enough that the fabric was 50% off that day only! YAY…
Measured and cut a piece of fabric that would go around the bag.
Ironed it and made a little hem.
I picked the seams of the bag to open it up…
I wanted to remove a little of the bag's squareness
so I used pins to mark the area where I would sew.
I ended up removing the pins and just sewing
without them,
but this picture makes it all look more
official…
almost like I knew what I was doing.. 🙂
I sewed the fringe or ruffle or skirt (not sure what it's called) around the
bag
and added a little rope to coordinate with the nautical stripes.
Sooo….what do you think? Are you proud of me?
As I said, it's not a big deal, yet there is a sense of accomplishment every time you try something new and it works out ok, don't you think?
Plus I think the bag will be perfect to carry towels and other things to the beach.
Not bad for under $5.00
I'm not done with the sewing machine…I'm gonna become a beast on that thing…ummmm? not really but I will definitely keep playing around with it.
Thank you for reading along and if you are a seamstress extraordinaire, I hope you didn't find this post too boring.
Try something new this week!
much love,
Lucy