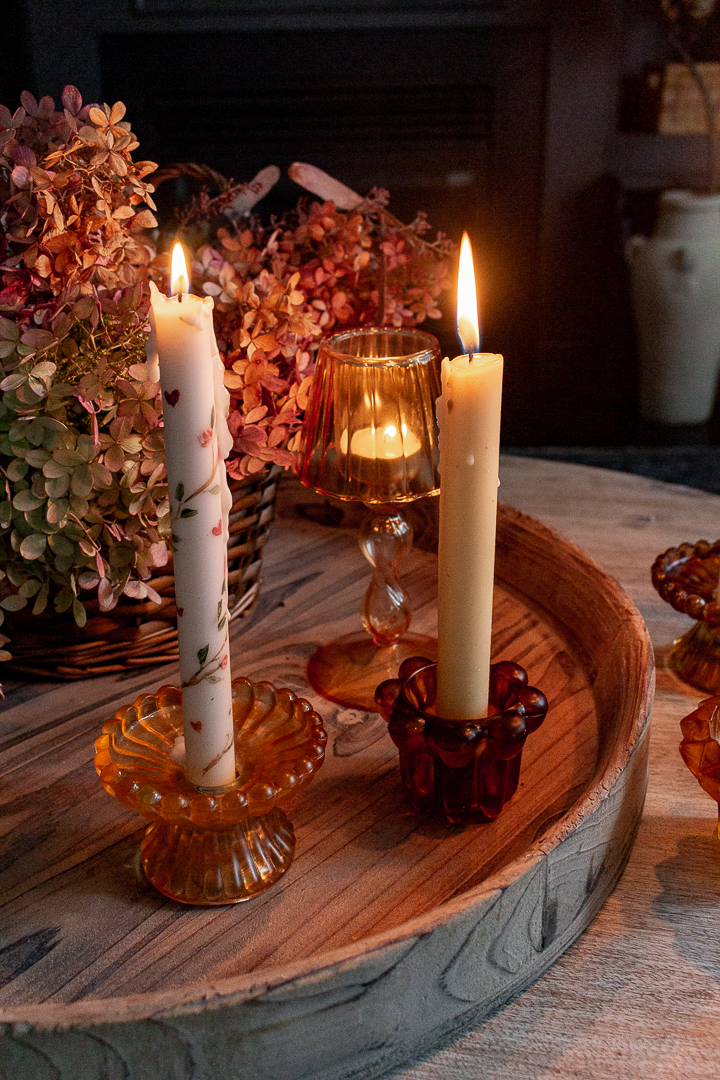 If you've ever wandered through your local thrift store, you probably know the joy of discovering hidden treasures amidst a sea of discarded items. One such treasure,  is glassware. Those small, plain glass candle holders you find on the shelves have the potential to become something truly beautiful.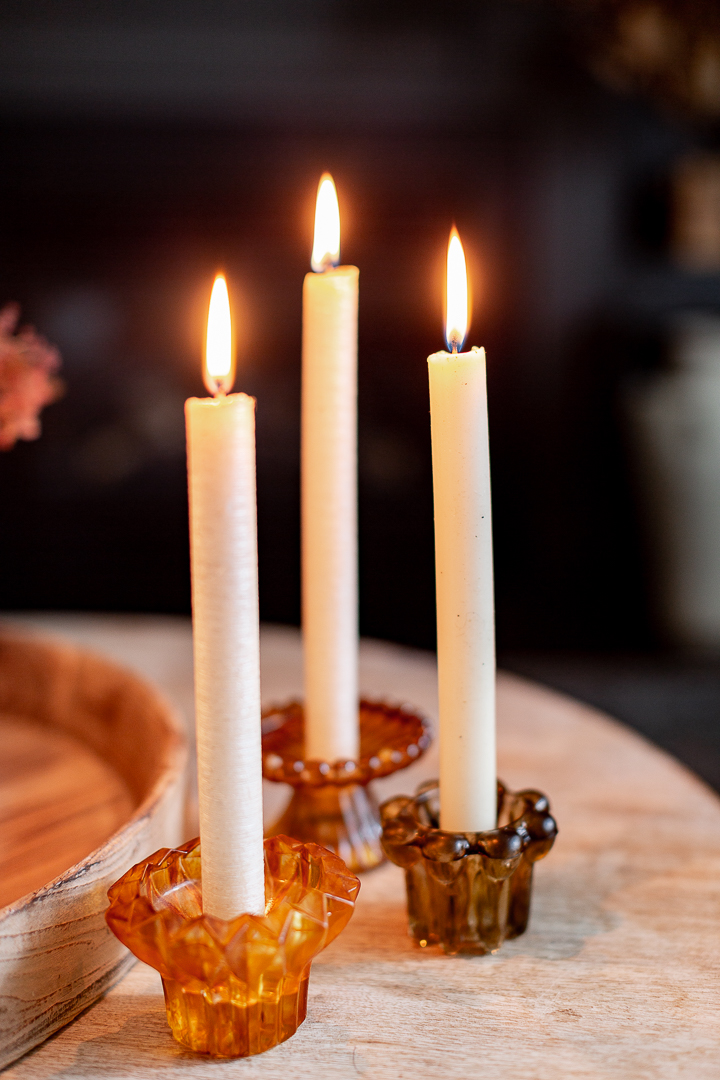 Today, I want to share with you how to dye your own glass candle holders. This method will breathe new life into these thrifted glass pieces and turn them into captivating candle holders with a vintage Mid-Century Modern touch. 
I  used this method along time ago HERE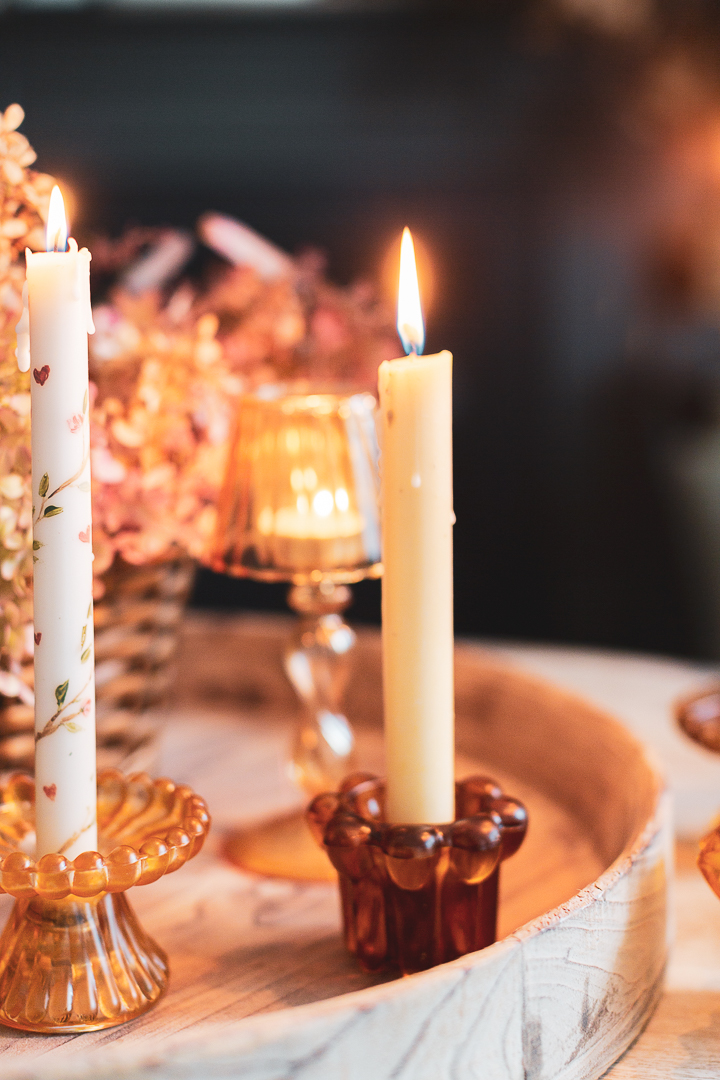 While we often admire the beauty of  glassware from the past. They are making a comeback and  it's possible to achieve a similar aesthetic through DIY glass staining with a few simple supplies: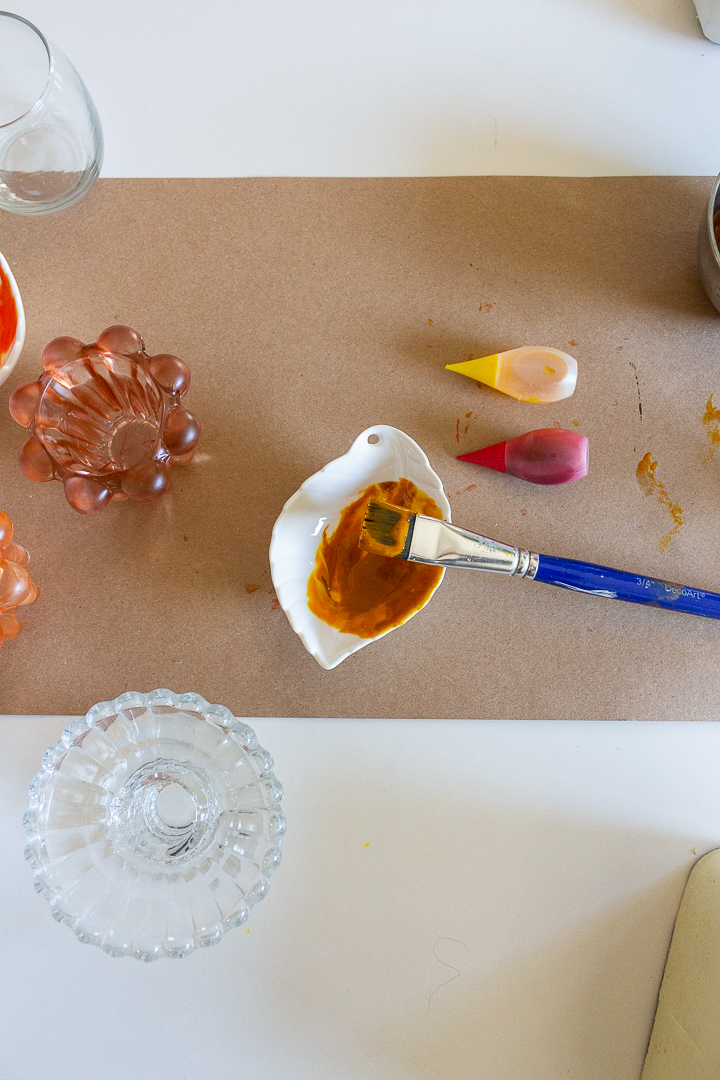 Glass votives or glass candle holders
Mod Podge or white Elmer's glue
Paintbrush
Food coloring

Experimenting with Colors
One of the most exciting aspects of DIY glass staining is that it offers a variety of colors.  It's all about mixing the perfect hues to match your style. Here's a simple recipe I've found to achieve the best results.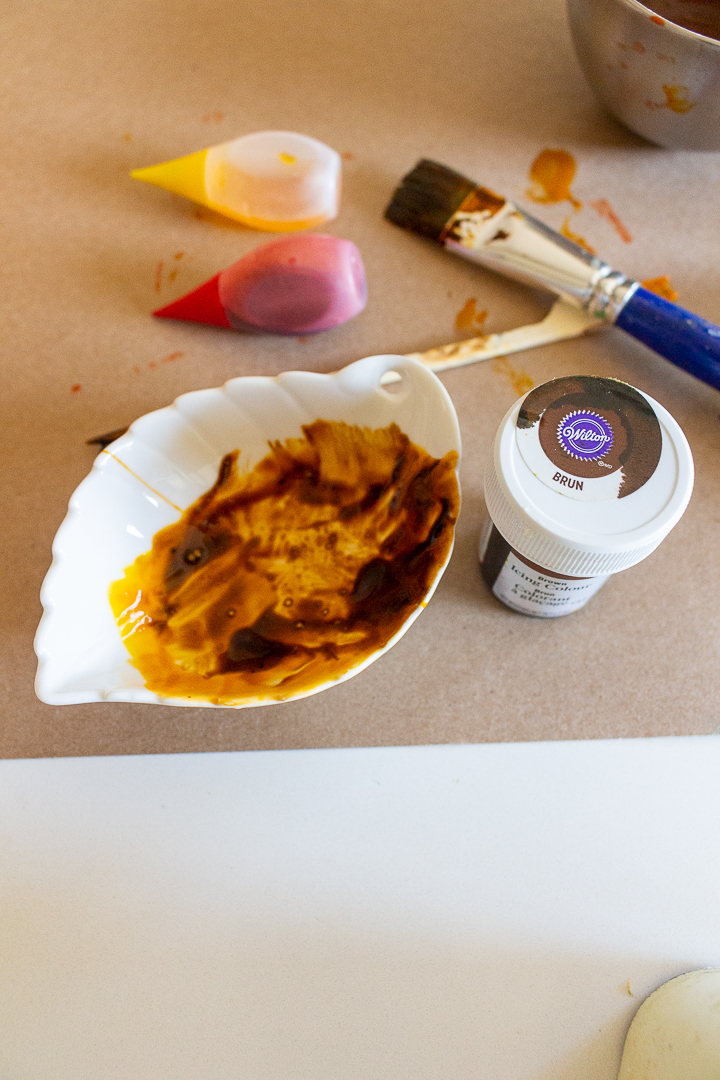 1 tsp of glue
3 drops of food coloring 
1.5 tsp of water
In some I used yellow and red to achieve orange for some. Added brown to others etc.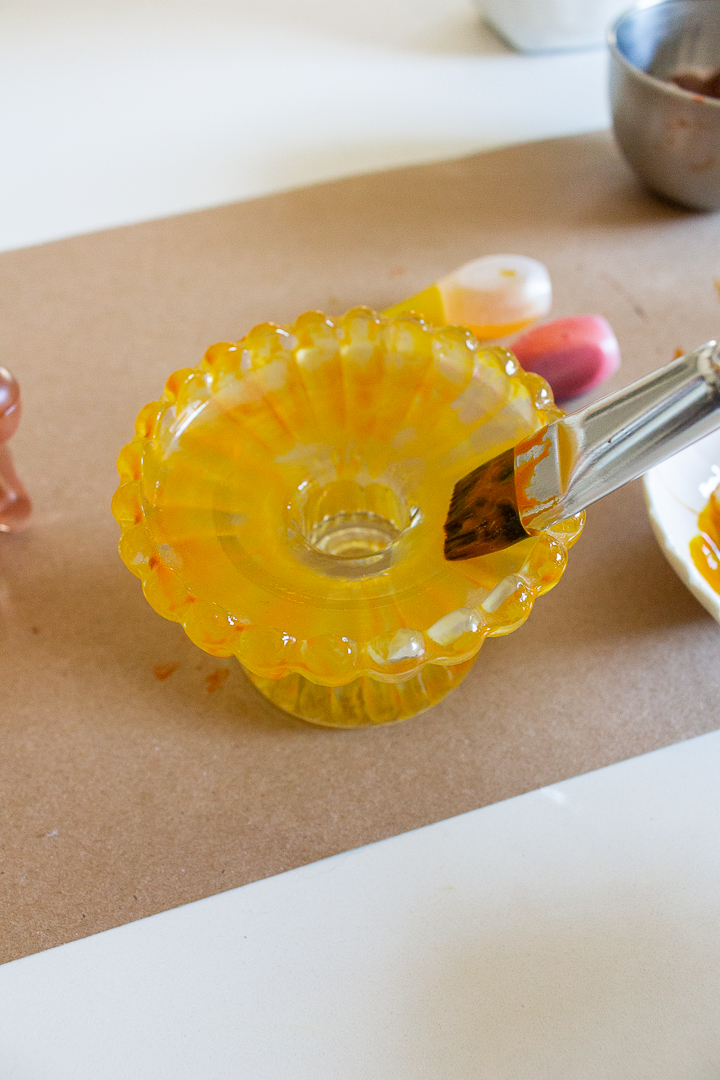 Applying the Stain: Brushing Method
Now that you've got your perfect hue, it's time to work your artistic magic. 
Mix the glue, food coloring, and water in a small bowl using a paintbrush.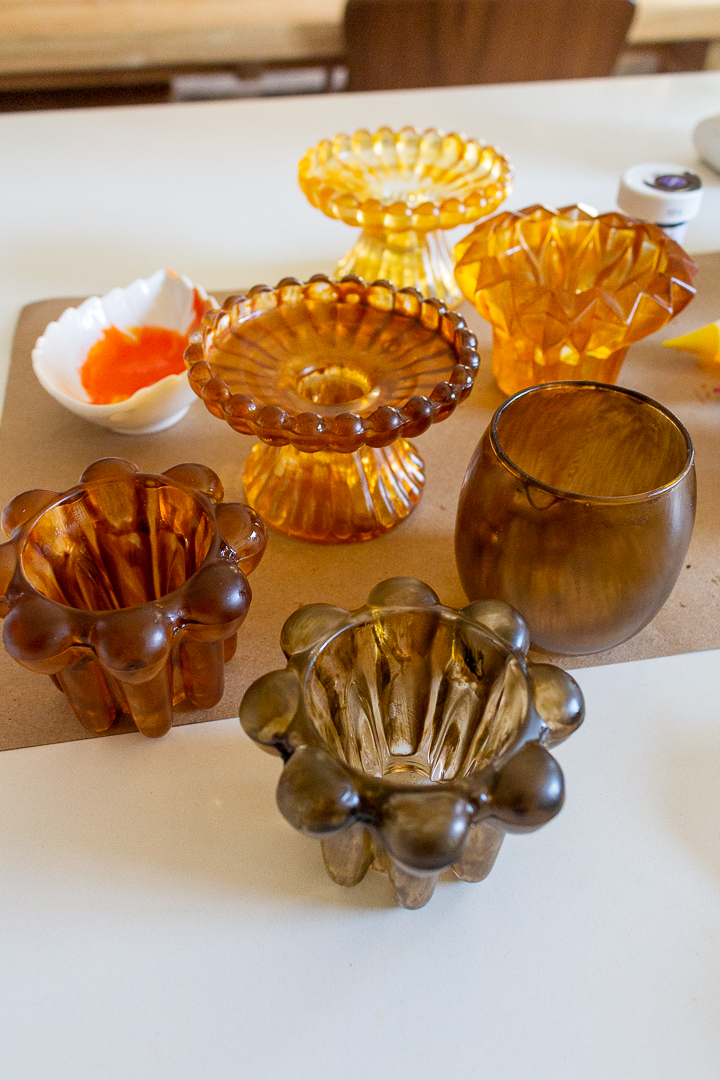 Brush the mixture evenly onto the glass from top to bottom, ensuring you don't overwork the surface to prevent clumping.
Although the streaks you see when the mixture is wet may be a bit frustrating at first, don't worry; they will be almost invisible when dry. 
The mixture will dry in a few minutes, but if you're feeling impatient (or excited to see the results), you can expedite drying by microwaving it for 30 seconds on low.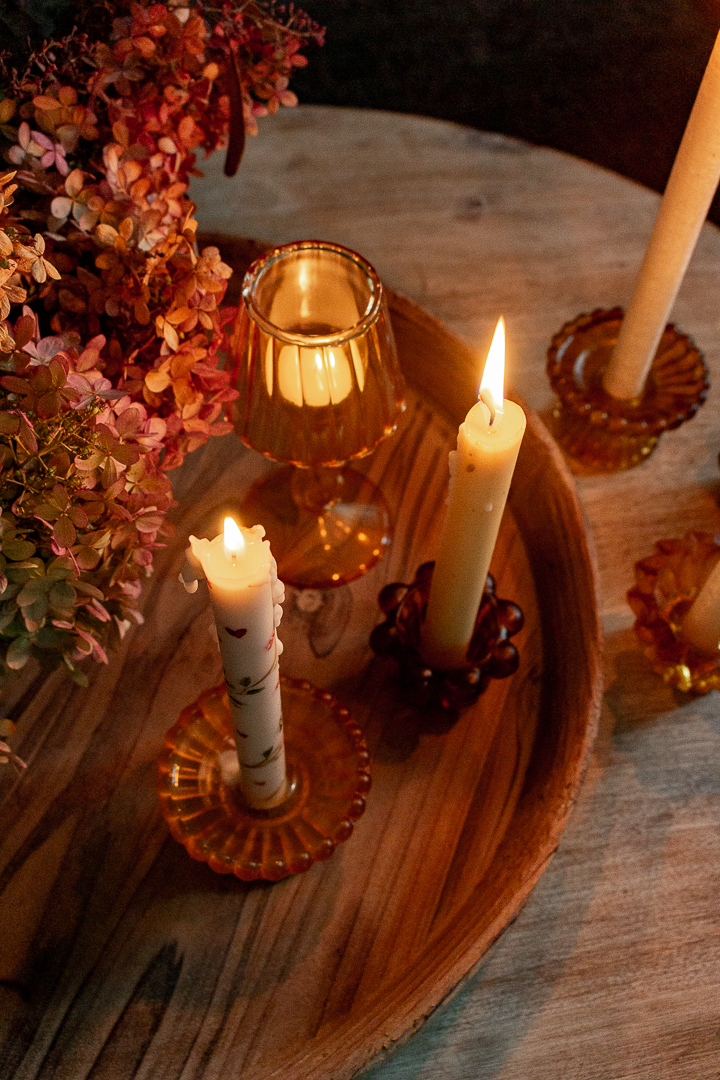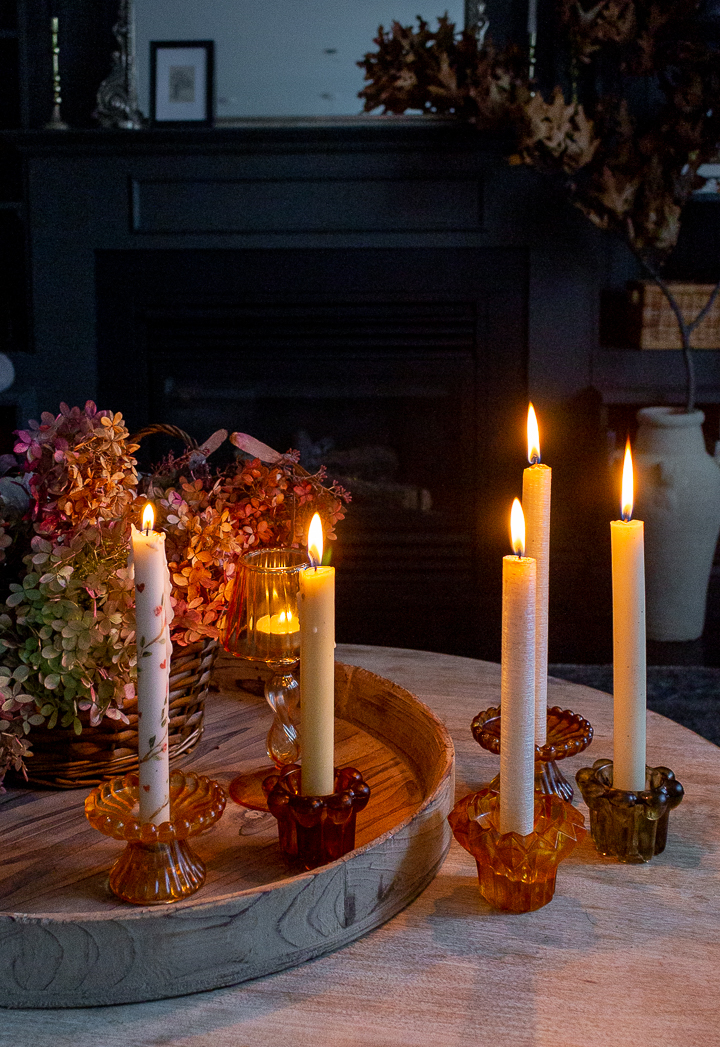 The Pros and Cons of DIY Glass Staining
 While they are lovely to look at and perfect for decorative purposes,the paint can peel off with time. 
The Pro in that is that you can easily change the color to suit your needs. Simply soak in water and the glue will peel right off.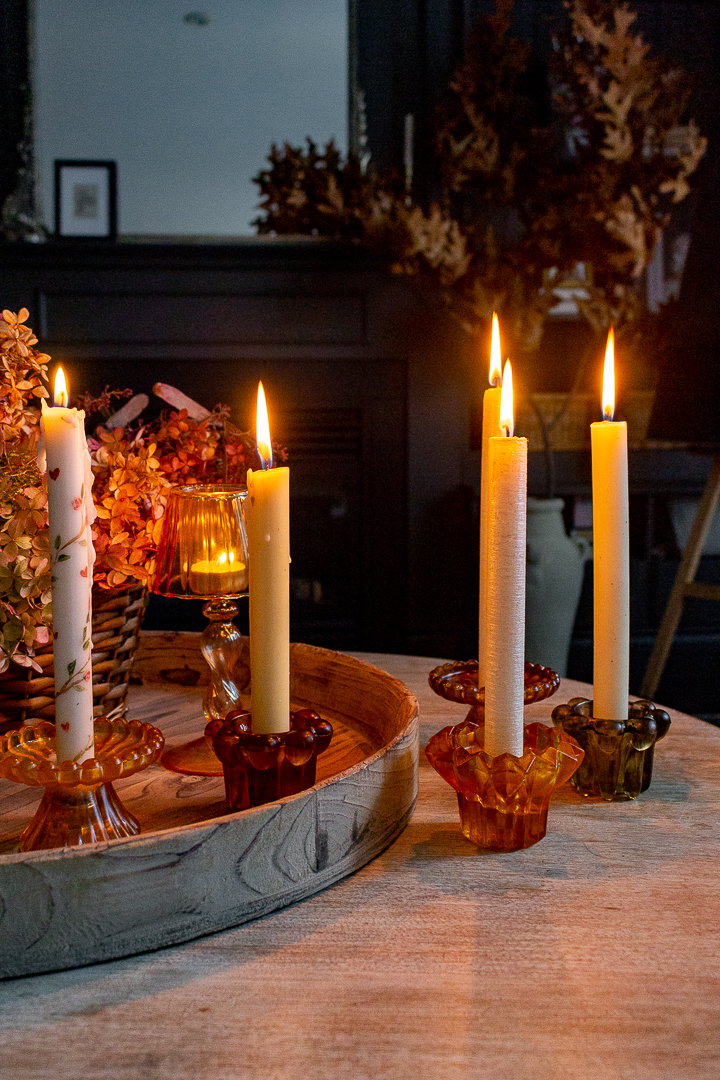 DIY glass staining offers a unique and creative way to give old glass candle holders a new lease on life. 
 So the next time you visit your local thrift store, don't underestimate the potential of those plain glass candle holders; with a little creativity, you can transform them into beautiful pieces that reflect your unique style.

Please don't forget to visit the beautiful posts from my friends below.
Much love,



Lucy 
8 DIY Candles to Add Ambiance this Fall by Ella Claire & Co. | DIY Beeswax Candles by Azure Farm | Simple Fall Ambiance With Candles, Colors, And Textures by Zevy Joy | DIY Fall Pressed Leaf Lantern by Handmade Farmhouse
How to Stain Glass Candle Holders by Craftberry Bush | 6 Simple Ways to Create a Moody Fall Aesthetic by City Farmhouse | Tips for Creating beautiful Autumn Ambiance for a Gathering by French Country Cottage