In this post, I go through some trial and error while styling my shelves and share some shelf styling tips and tricks. Notice that I also painted the wall back to white?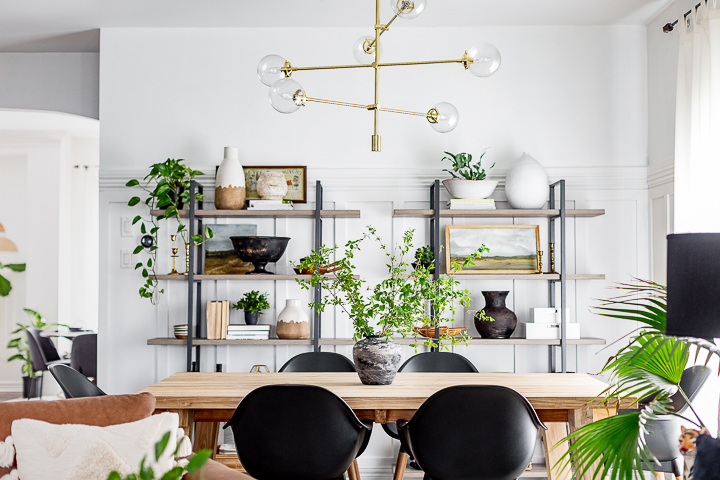 Quarantine made me do it! I know that many of you will not approve of me painting the wall back to white.
In case you're wondering, here is what the wall looked like last week.  I really do LOVE the wall colour dark but I needed a little change if only for the summer time. 🙂
I have to admit that even though I really love the brightness, I think I do prefer the darker wall makes certain pieces pop.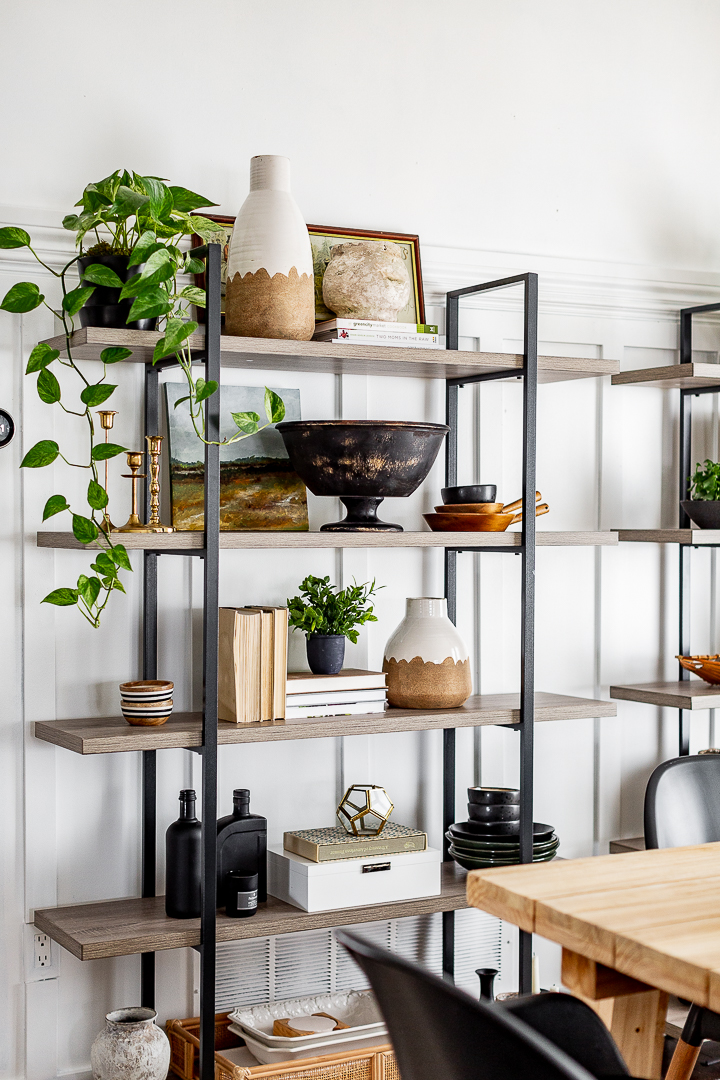 Today I wanted to share some of my tips and tricks on how I style my shelves. HERE is the link to the shelves for my Canadian friends and HERE for my US friends.
But before we begin, I think the most important tip that I can give you,  is to be patient. I don't think anyone gets it right the first time.
There is a lot of trial and error. This is my third version. I shared some photos at the end of the other two.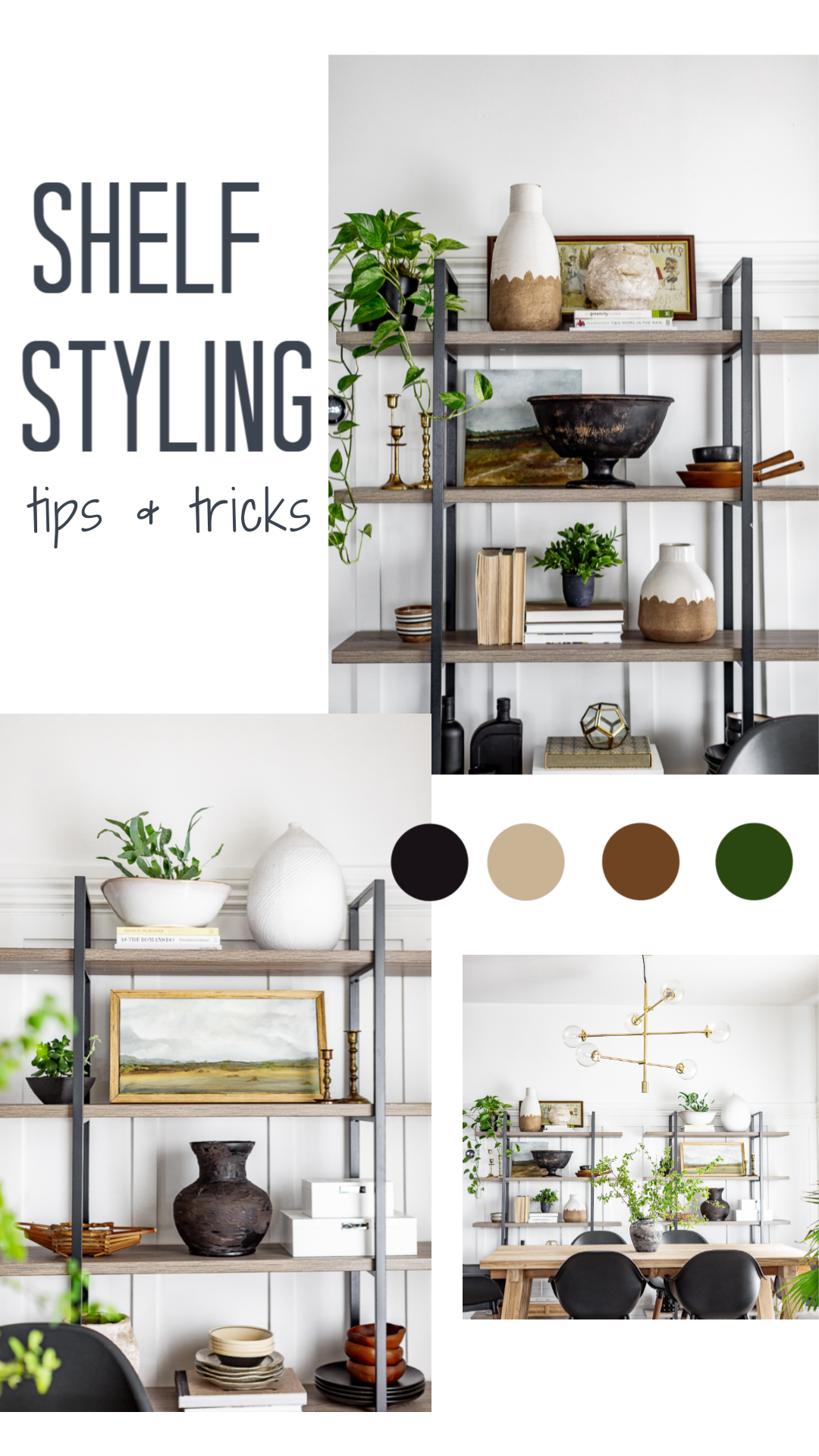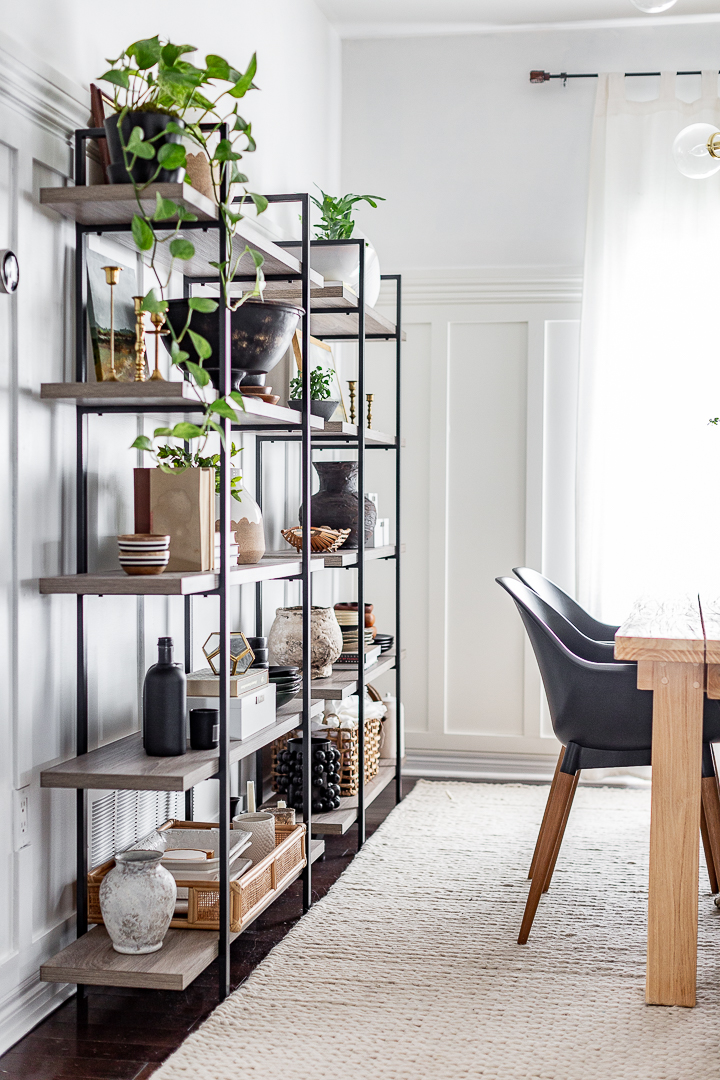 1. DECIDE ON COLOR SCHEME OR THEME
The first thing I like to do it decide on a color scheme or particular theme.
For example, in the summer, I'll collect 'summery' objects such as driftwood or shells etc. In this case, I wanted some blacks, browns and neutrals.
Picking a color scheme is necessary because it will help you with the cohesiveness of your shelves.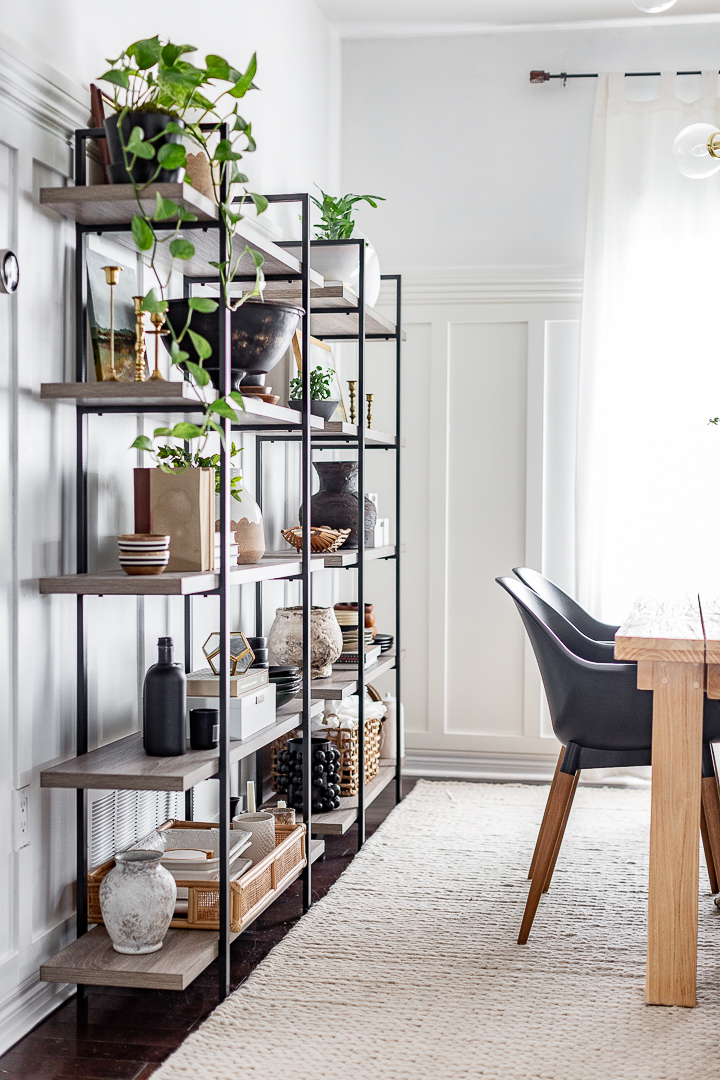 2. GATHER YOUR OBJECTS
Once you've decided on your color and theme, collect all like items. One of my favourite things to do is shop our home and go around each room
seeing what could work.
Some great items to use are: Books, bowl, collectibles, plants and framed art.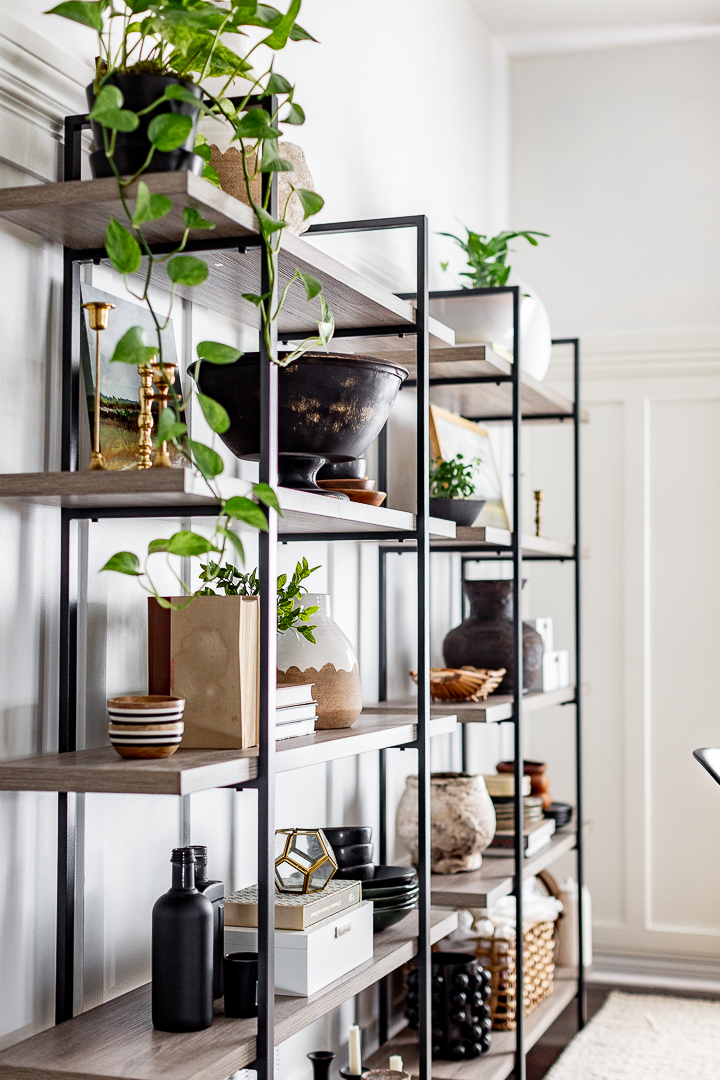 3. VARY HEIGHT AND TEXTURE
In order to create interest, make sure that you collect items with different heights, textures and sizes. This is where the rule of thirds will apply.
Once you have all your items gathered, separate them into color, height, size and texture.
TIP: A great way to create height is using stacked books to create height and plants for texture.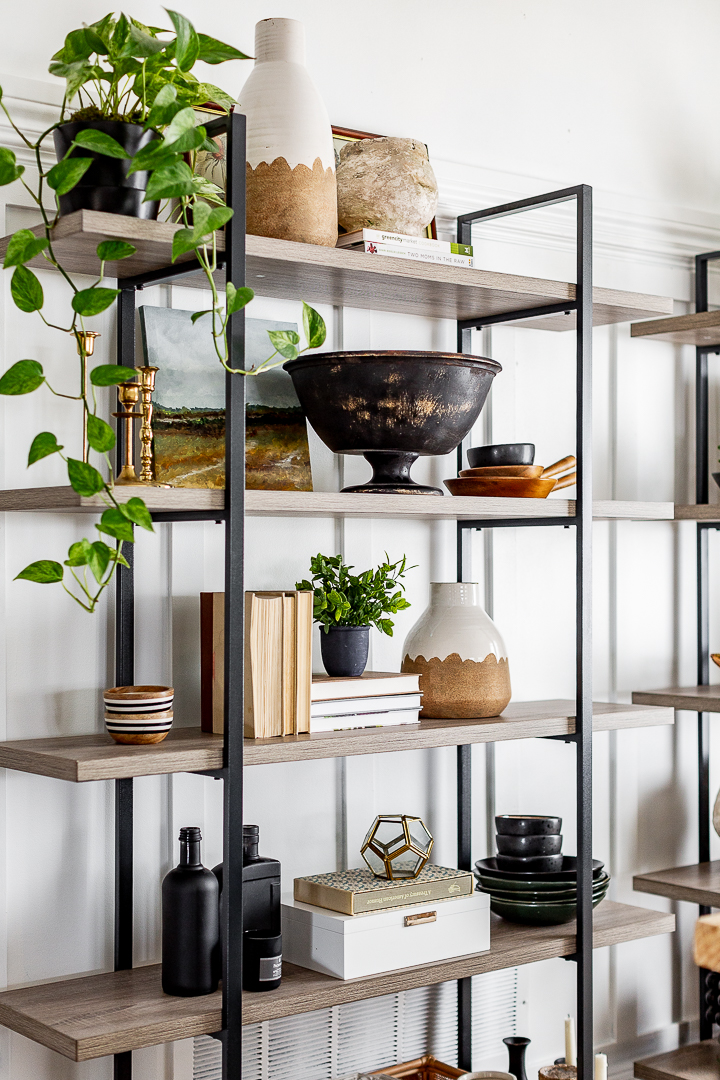 4. START FRESH, START BIG
Make sure you clear everything off your shelves. Give them a good clean we're now ready to start the dance.
The first thing I like to place is the larger items. These serve as an anchor to the rest of the accessories.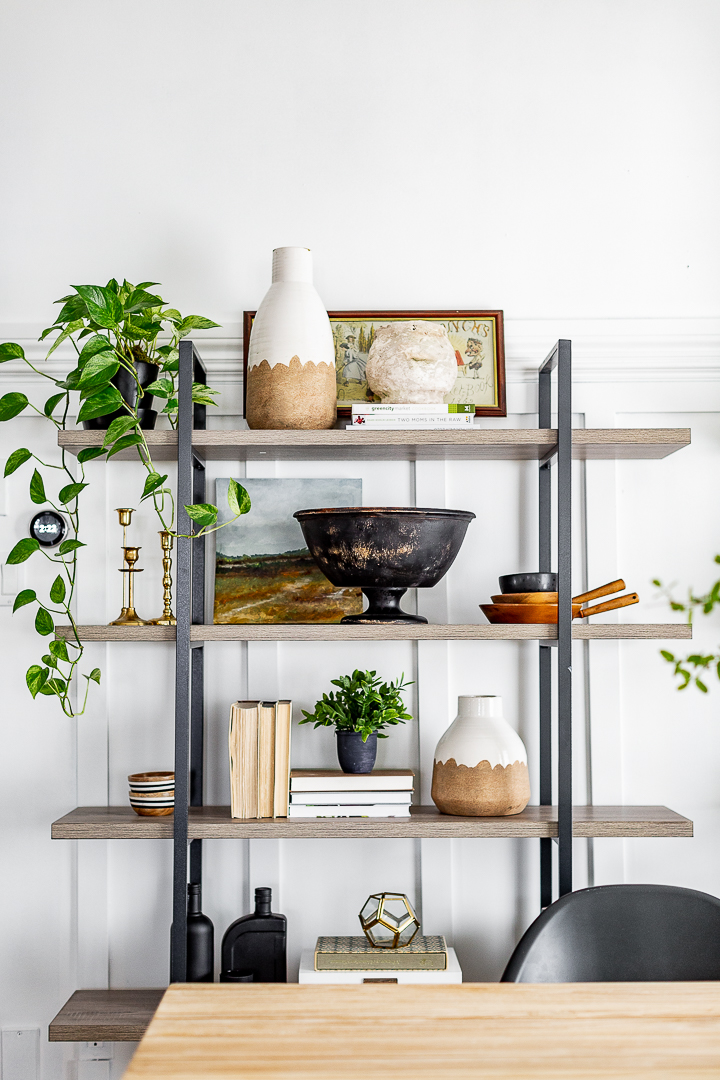 On this particular shelf I started with the black bowl which I found at the thrift store, spray painted and sanded off some of the the paint. I've seen similar ones HERE and HERE.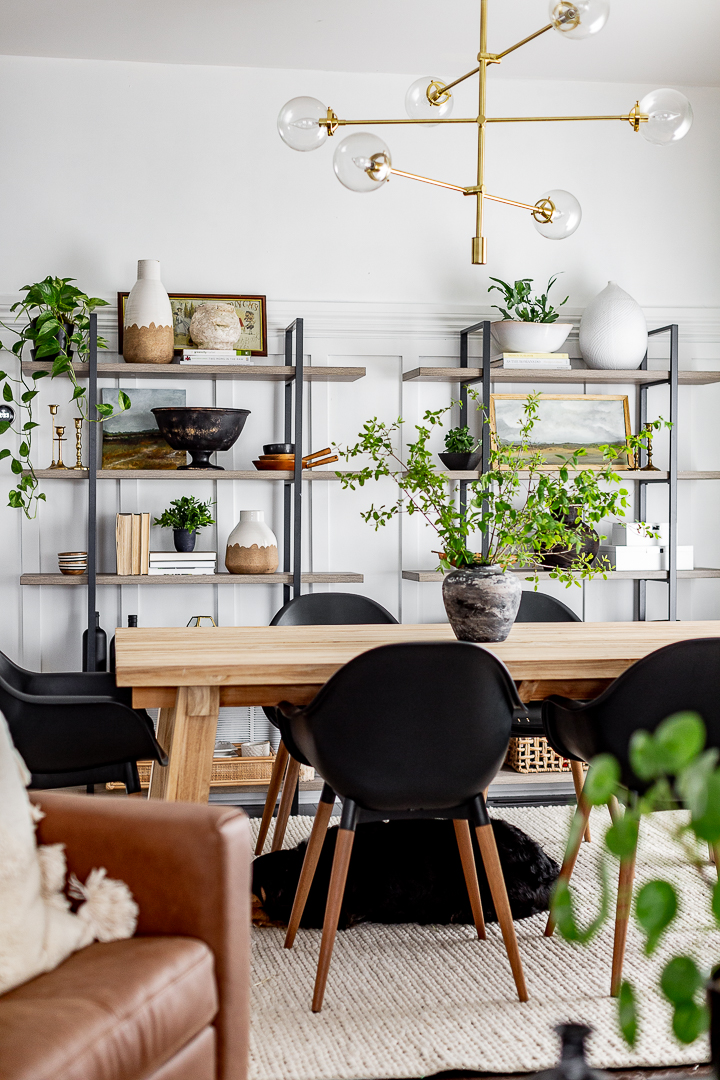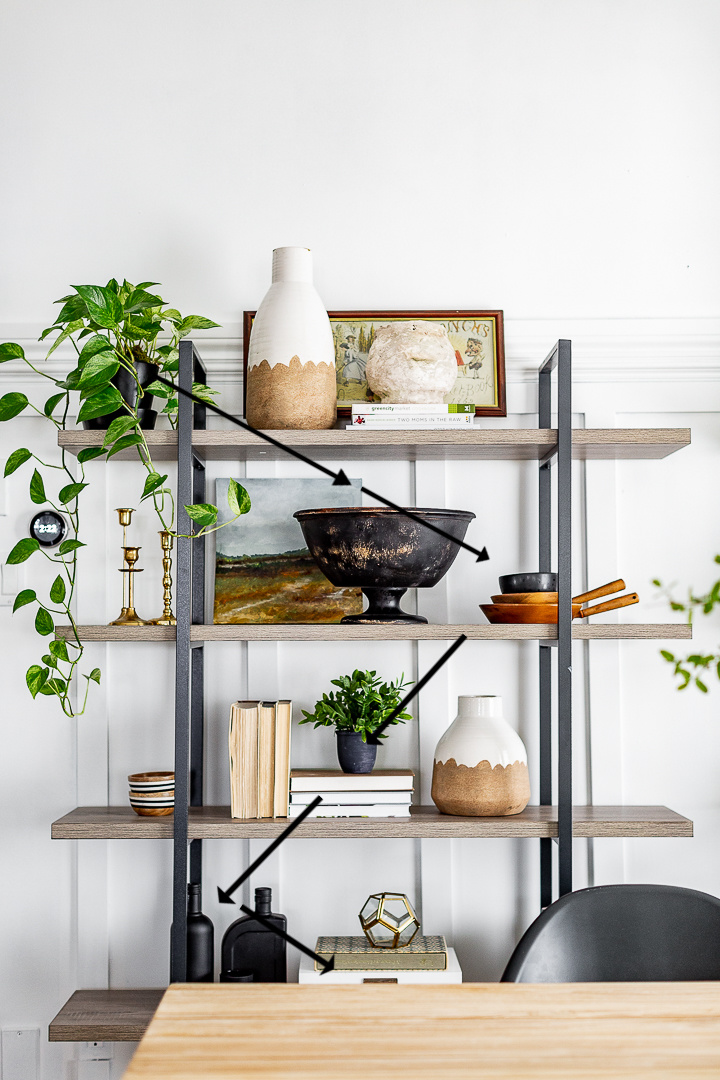 5. ZIG-ZAG IT
Once I placed the large black bowl, I started to place the smaller black items on the other shelves, in a zig-zag pattern.
I usually follow that pattern and movement with all colors in my pallette as best as possible.
Similarly with plants and books. This allows your eyes to move throughout the shelves and not solely focus on one spot.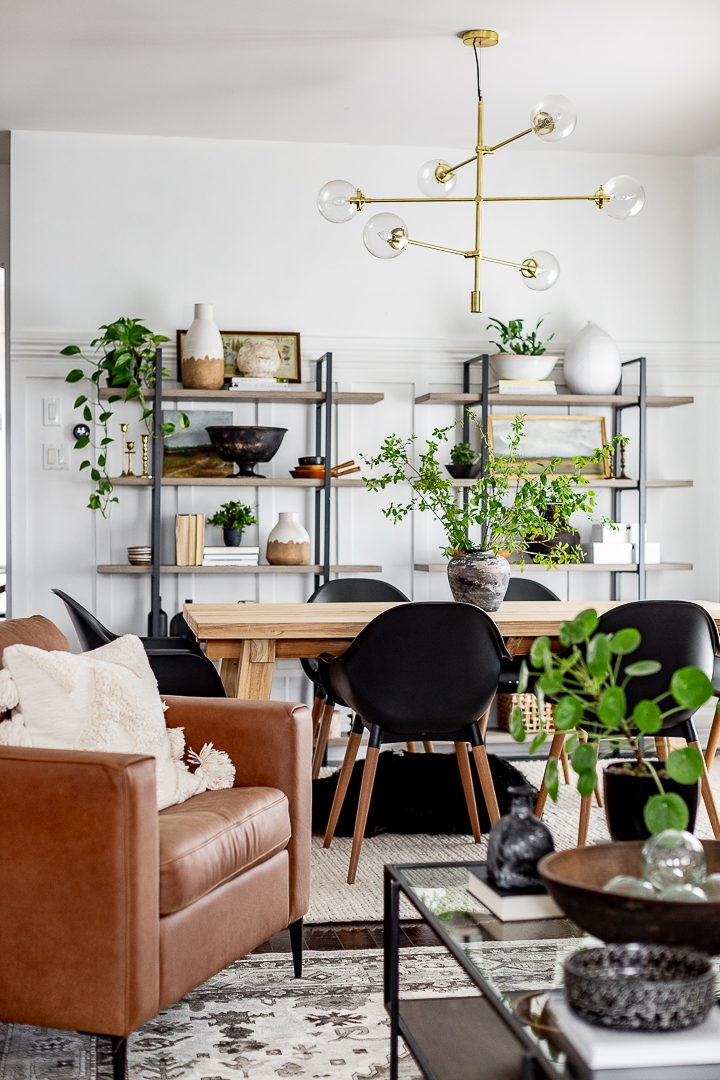 6. OTHER TIPS
.Use the wall space to lean art against it and use the art as an anchor to smaller items.
.Place books facing out for a more neutral look OR use the spine of the book to add color.
.Try and try again.  I have added other reiteration of the process as you can see, it took a couple of tries before I was happy with the results.
I will probably rearrange them as time passes.
Take a quick photo with your phone and take a look it the flow. It's sometimes easier to see something in a 2D form.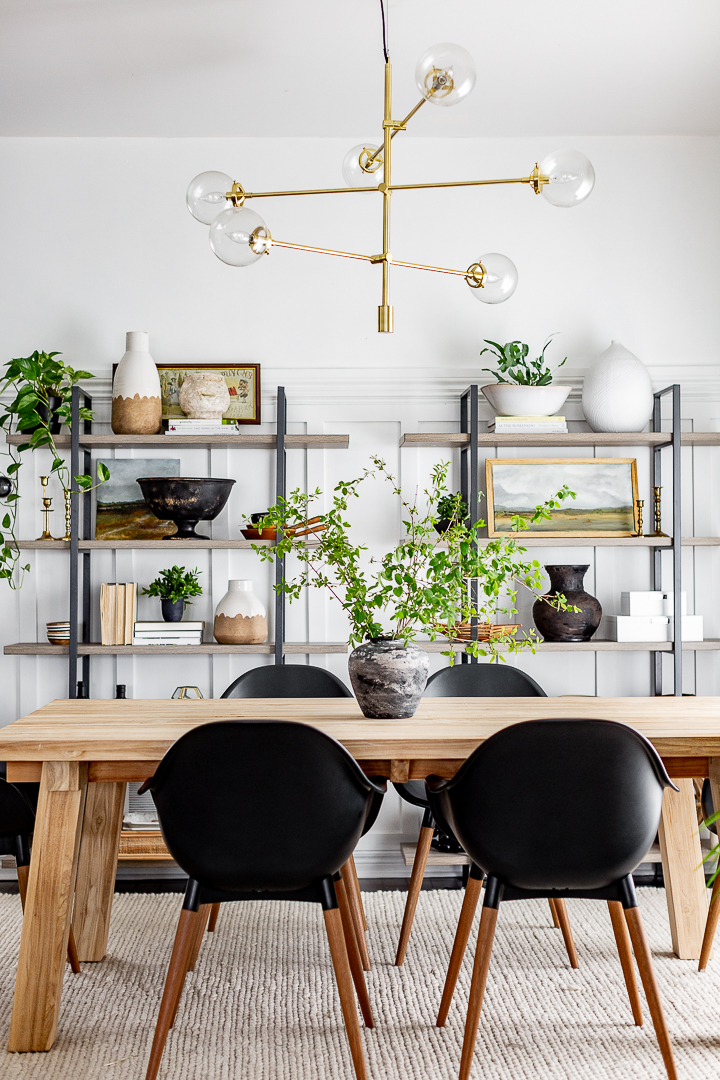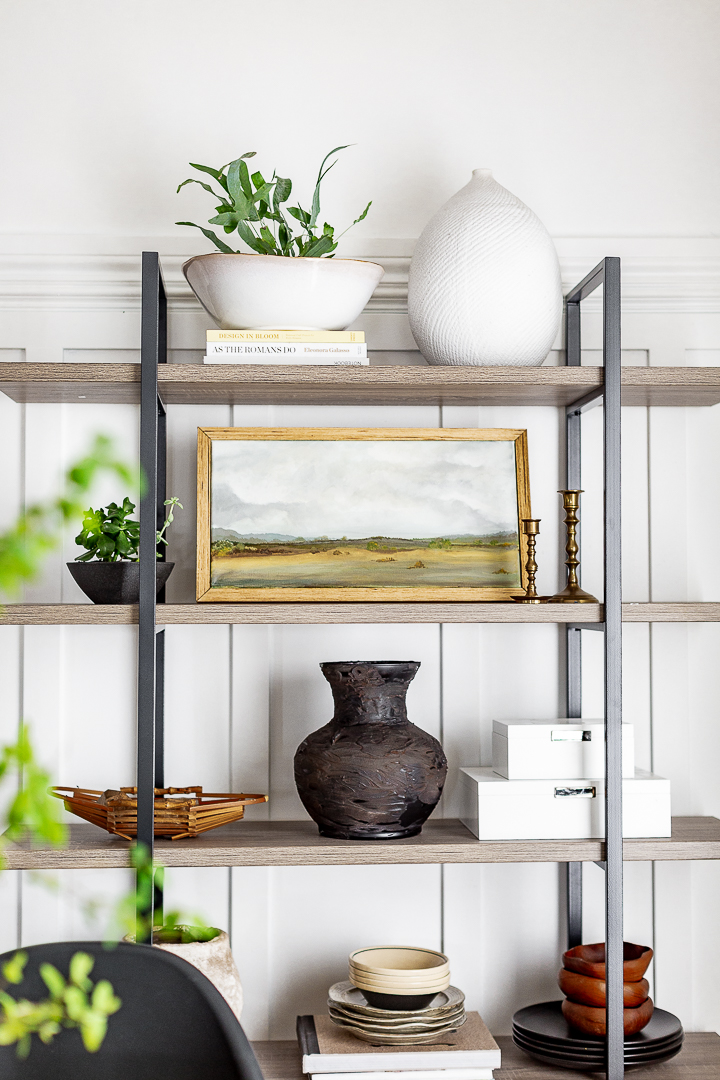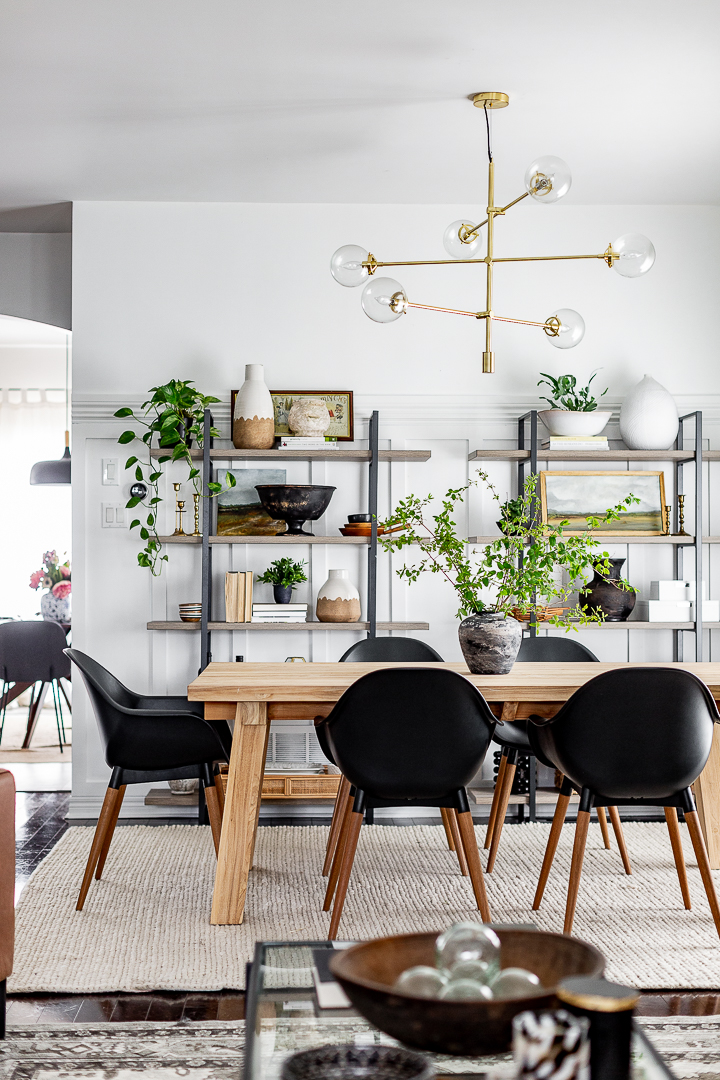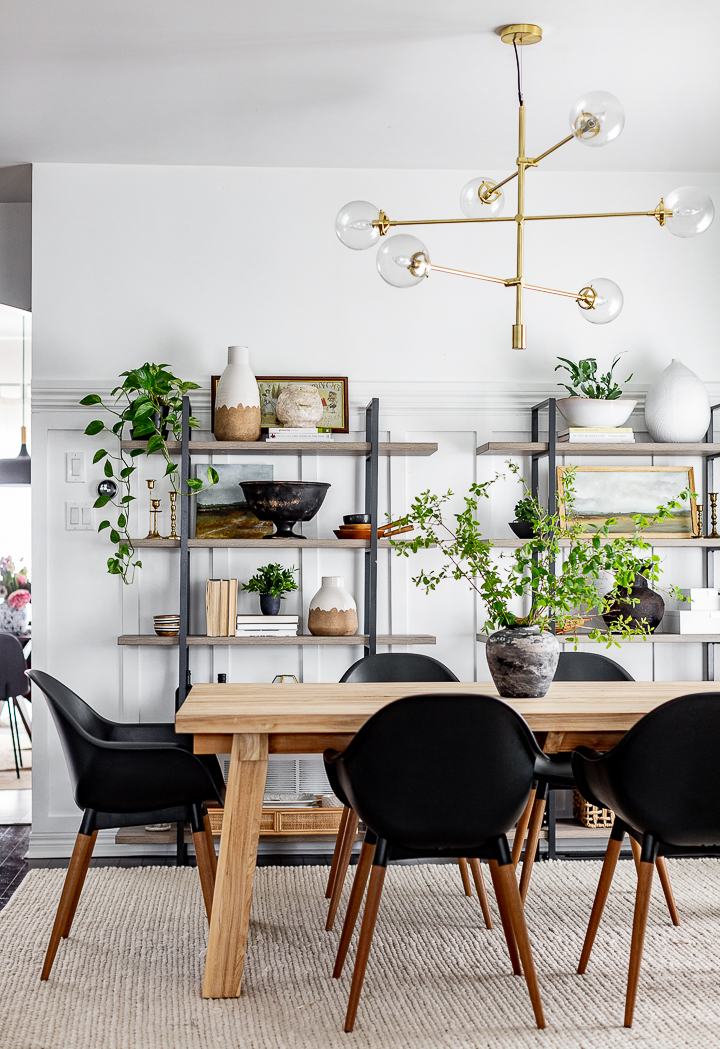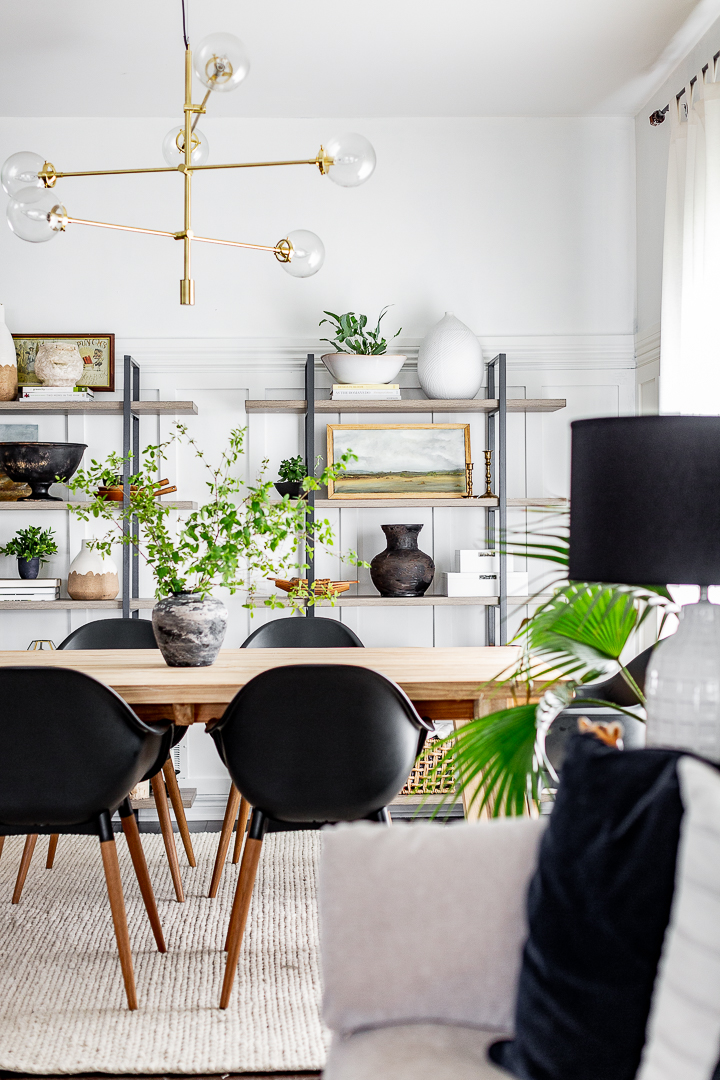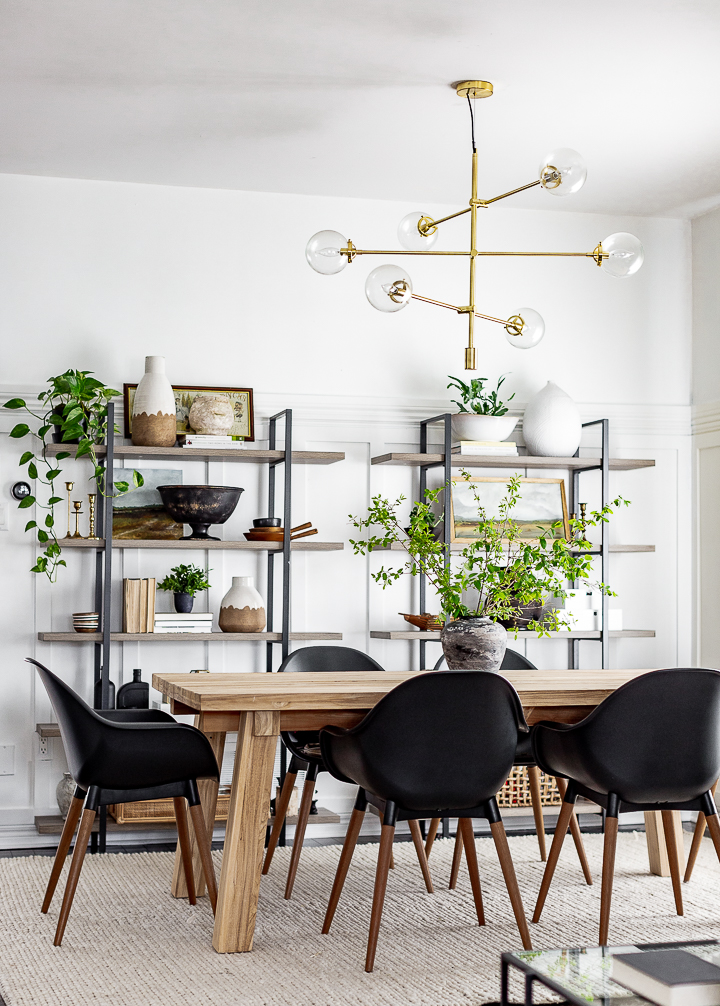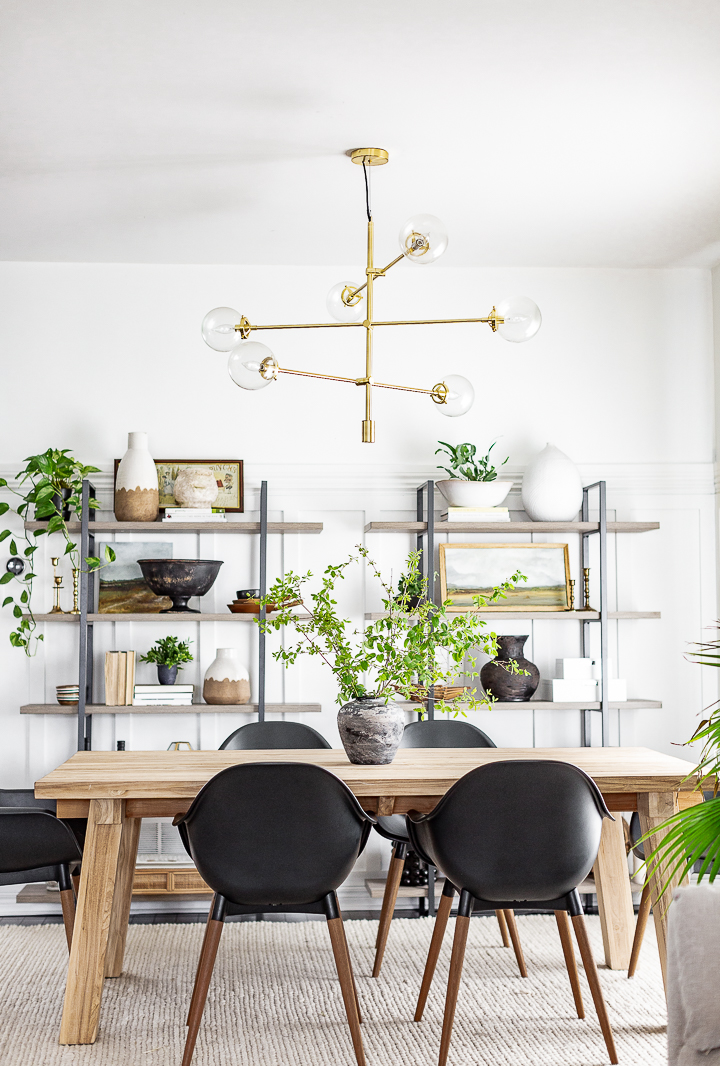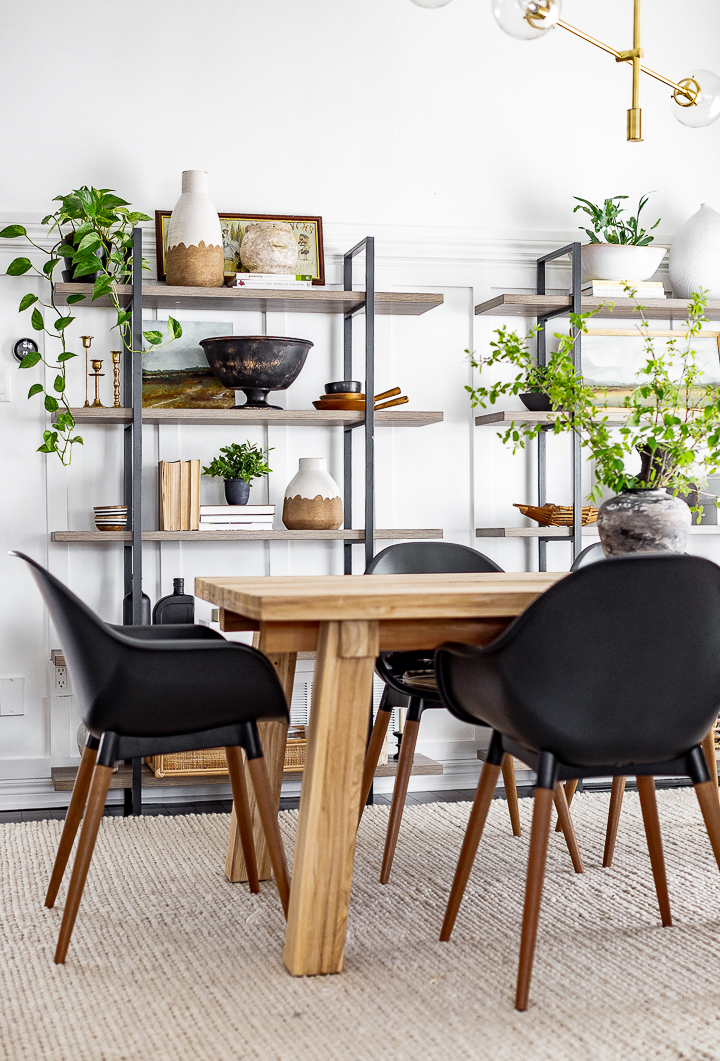 You can see the tutorial for that vase HERE. OR HERE is a similar one.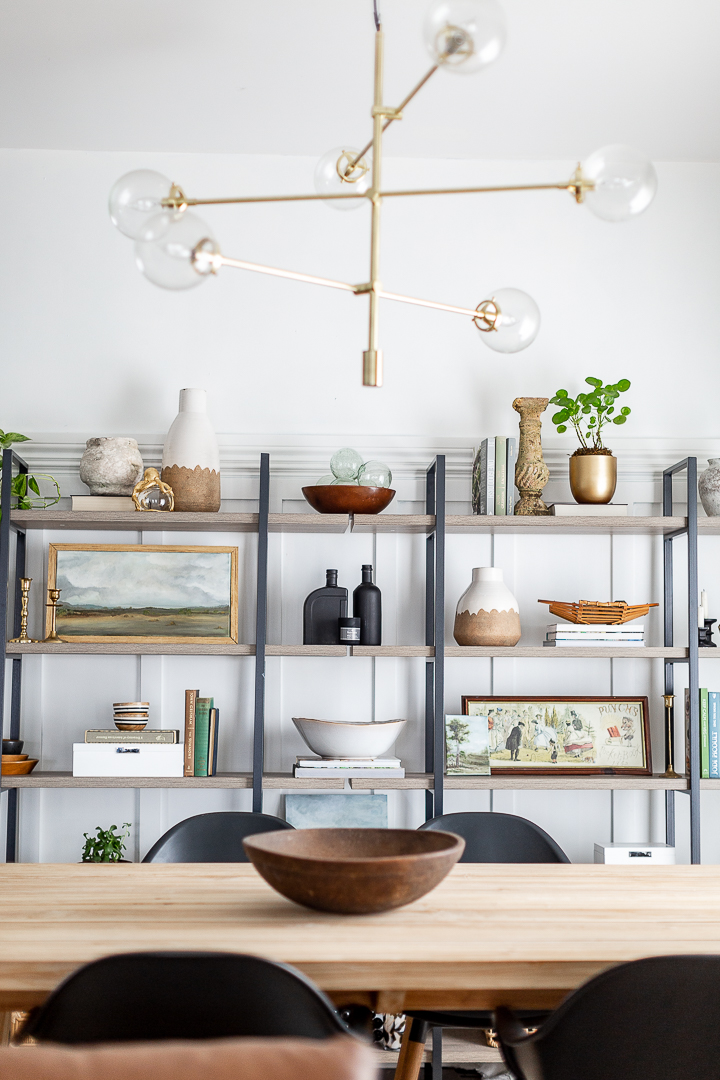 Here is a different version and as you can see, I had the shelves touching side by side and it felt a little too crowded.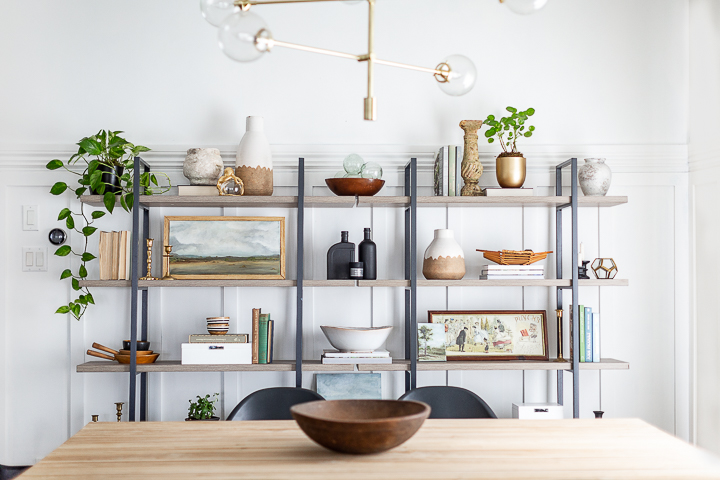 In this version, my repeating color was the light blues and greens and the black bottles in the center were taking away from the flow.
I also wasn't too happy with the way the three bowls were lining up in a straight line right in the middle.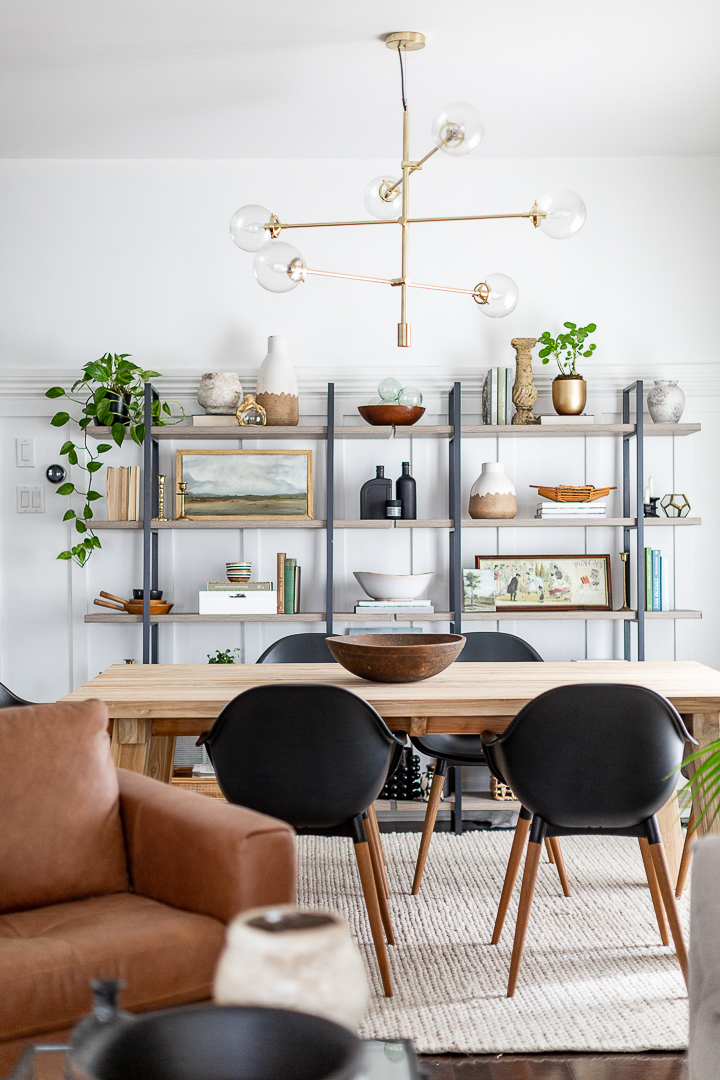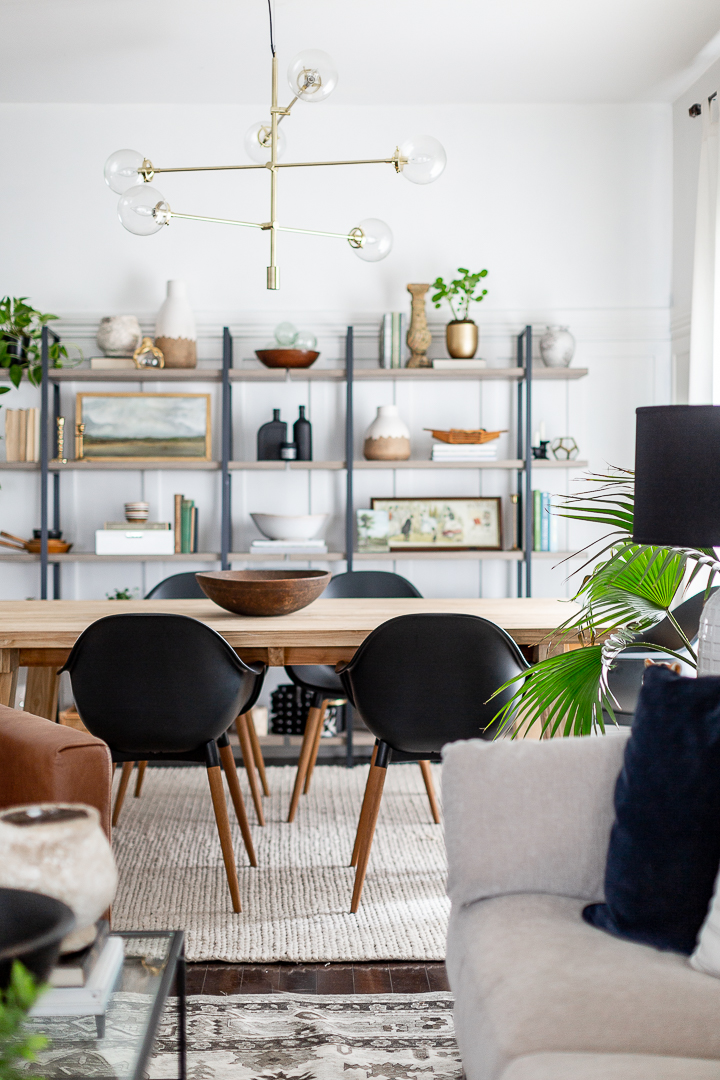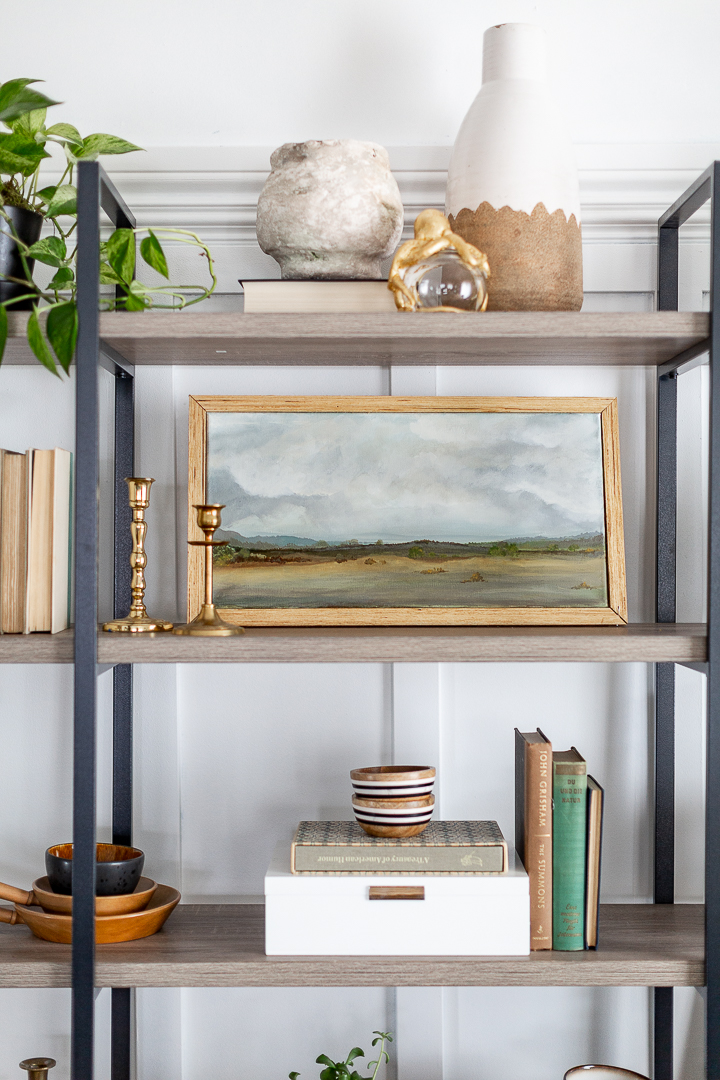 I painted this photo the other day. I'm considering selling some of my original art but I'm scared to put myself out there. 🙁
I have so many pieces of art and during these times, it might be something I might have to do.
Well friends, I hope you found these little tips useful. If you have any questions at all please let me know and I'll try my best to respond.
Thank you so much for stopping by today.
See you soon.
much love,
Lucy