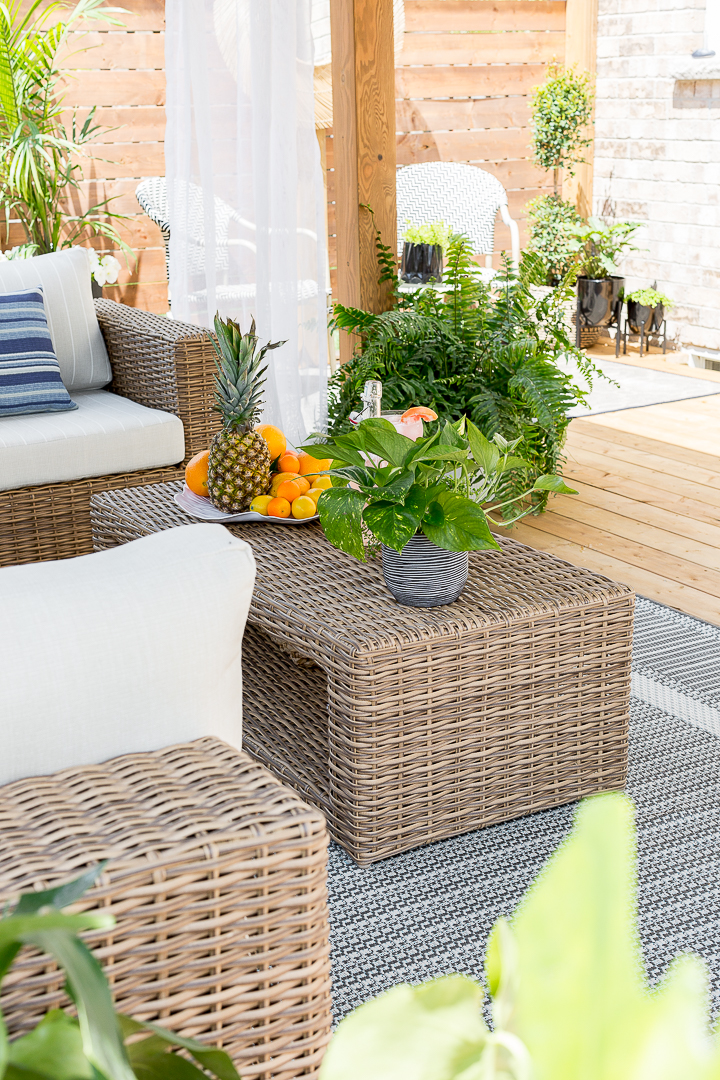 Hello, friends…I hope you're having a great week.
I'm so excited to finally share our new backyard space. I absolutely love how it turned out as it feels like an extension of our home, which is exactly what I wanted. I'm sure we'll spend a lot of time out here now that the warmer weather is upon us.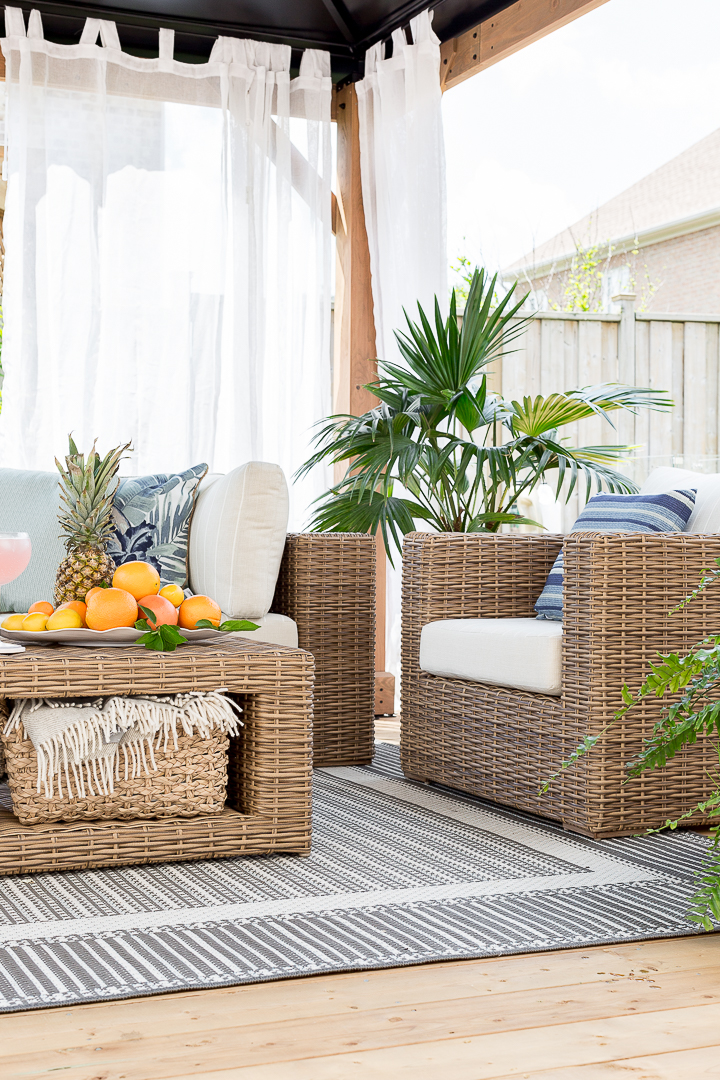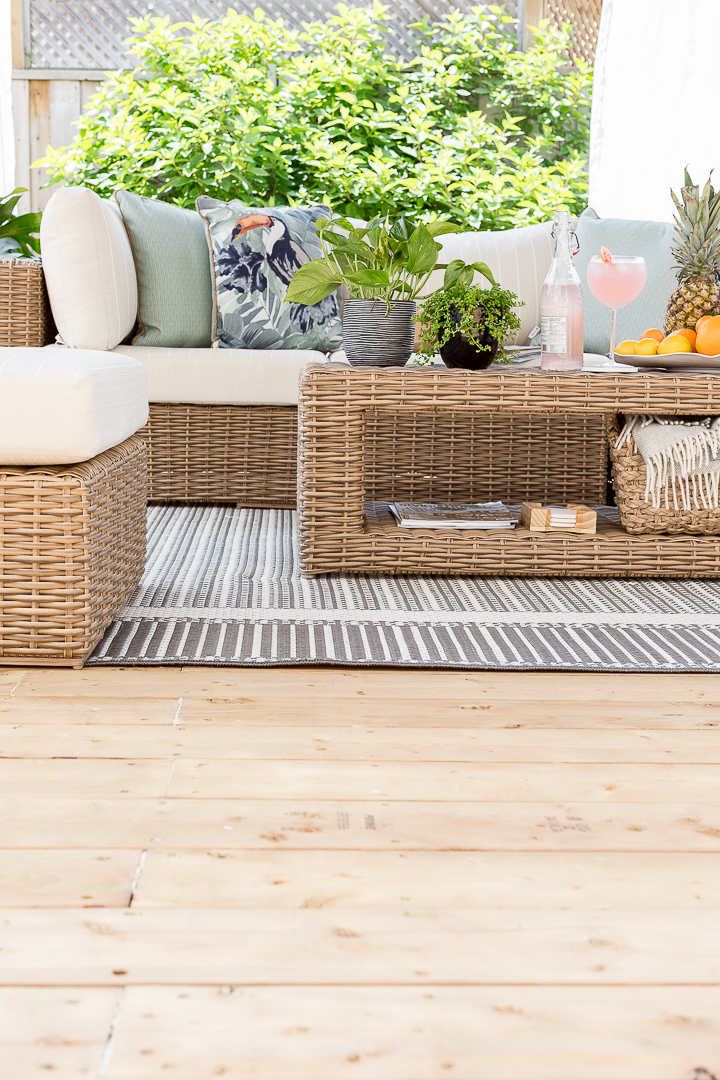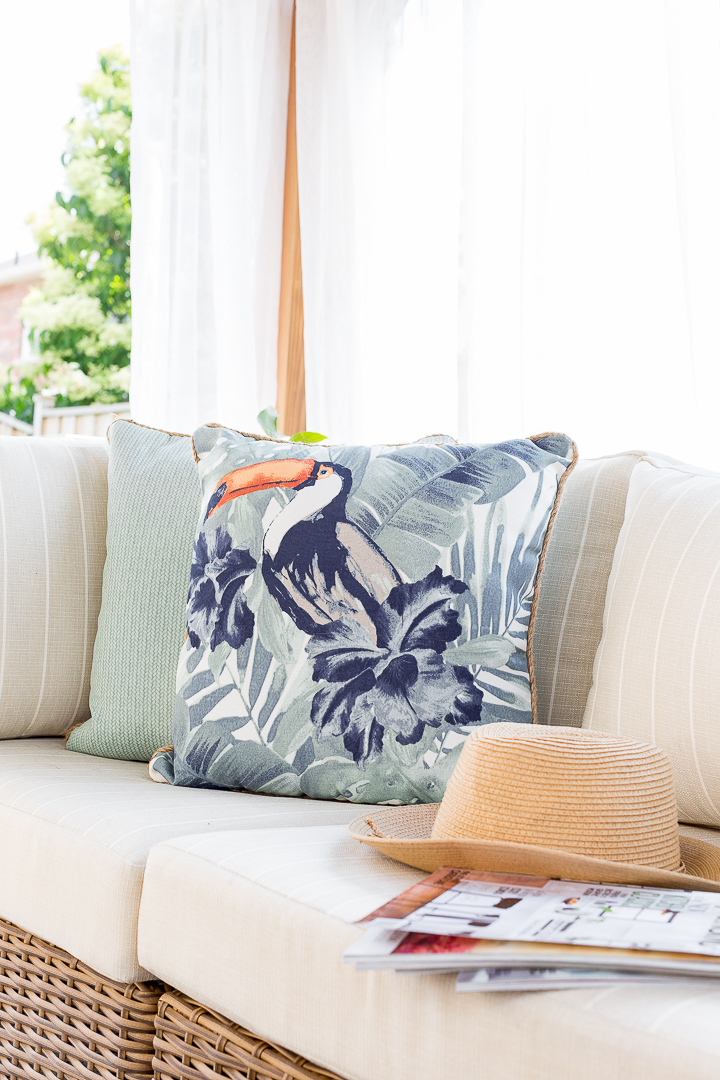 Having lived in our home for some time now, we knew this was the year to update the backyard. We tossed a couple of ideas back and forth and while I originally wanted pea gravel, I'm glad hubby convinced me to go with a deck instead. You might recognize this little guy from my Instagram.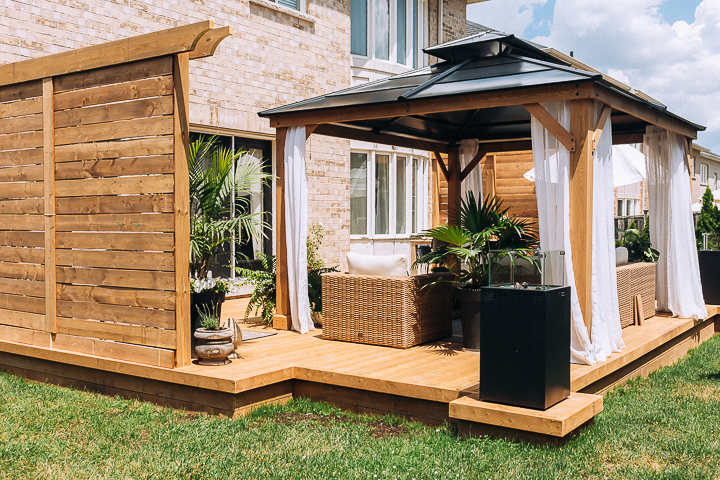 Here is a look at the deck from a wider angle. We hired an amazing local company called Ontario Fence & Deck whose owner (Mike) was so attentive and accommodating as we were looking to have the deck built within a condensed timeline and he and his amazing crew delivered. The deck is quite large (31′ x 18′) but thankfully, we still have lots of grass around the sides for Brody to run (although he's grown fond of sunning on the deck…lol. I didn't take any photos of him as he had just been playing with the hose and then rubbed himself all over the topsoil hubby had laid so he was all dirty. ha.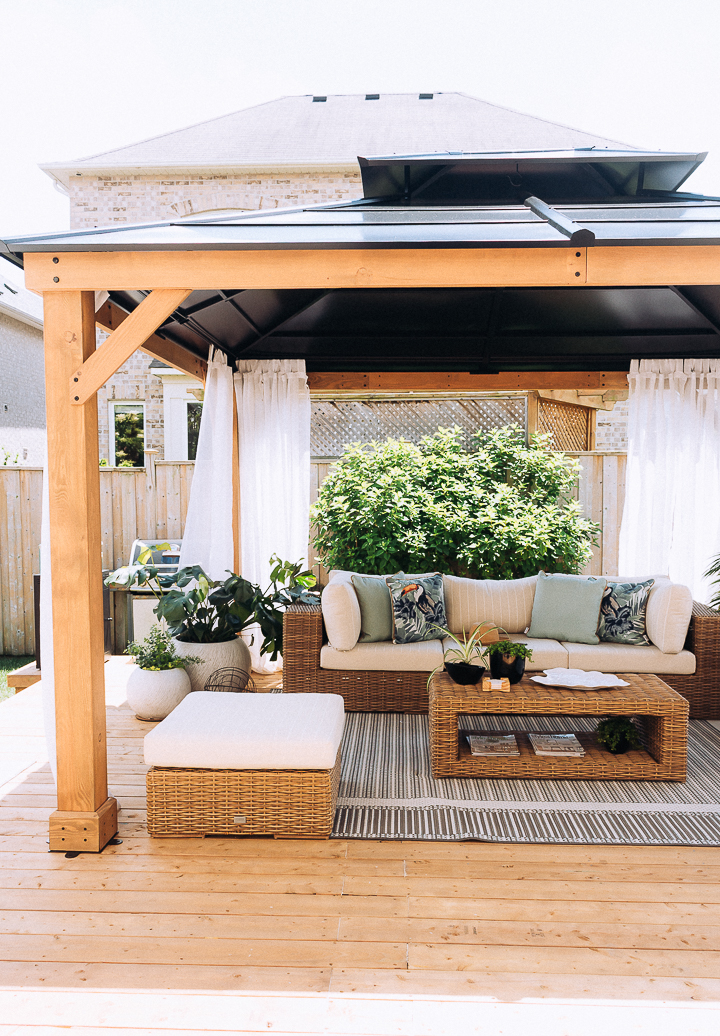 We created three separate sitting areas with the first being under this gorgeous gazebo by Canadian Tire called Collingwood. It took hubby and a friend close to 12 hours to put together but it was so worth every minute. It has a metal roof and stained wooden posts and beams made from real wood. Unlike other gazebos we've had with cloth canopies, this roof is completely waterproof and doesn't have to be removed over the winter. 🙂 It's very spacious, measuring 10′ x 12′ which is great as it really protects the furniture from the rain.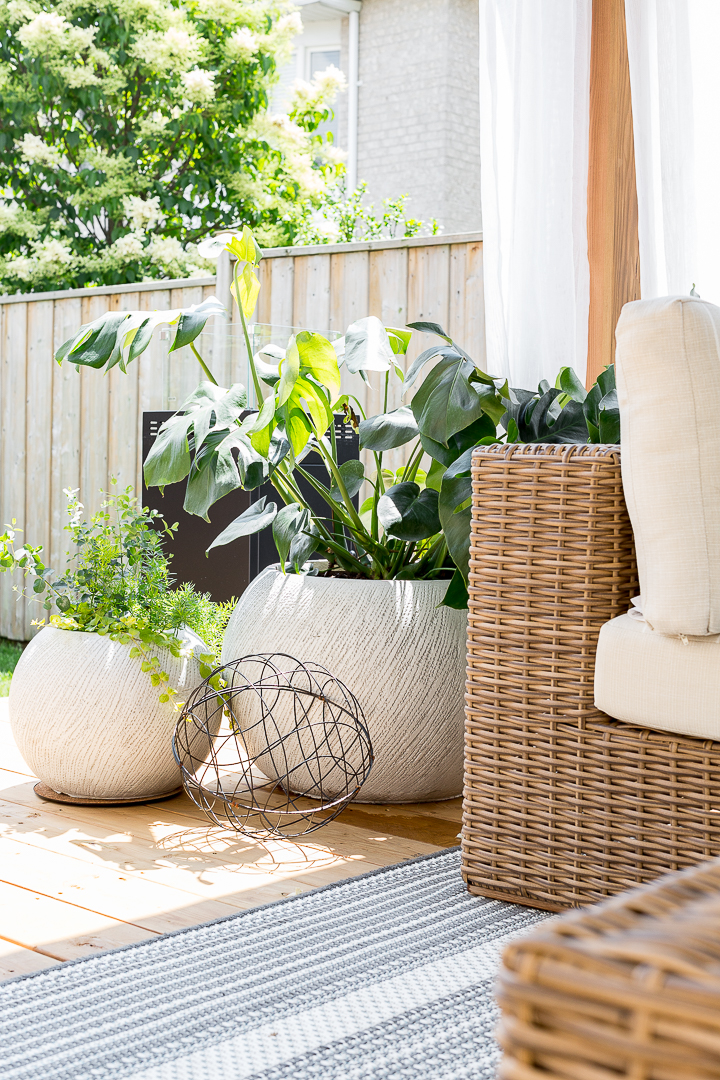 I went out and bought some pretty but what initially appeared to be very expensive plants. Short version – I went to the nursery and the total came close to $400 just in smaller plants. If you've followed my journey for a while, you may recall me saying I'm not great with numbers and so rather than question the cost, I became worried with what I was going to tell hubby when he saw the $400 charge. But as I was walking away from the cashier, even I knew I couldn't have spent that much so I went back and it turns out the cashier had accidentally charged me for a tree I never purchased. PHEW.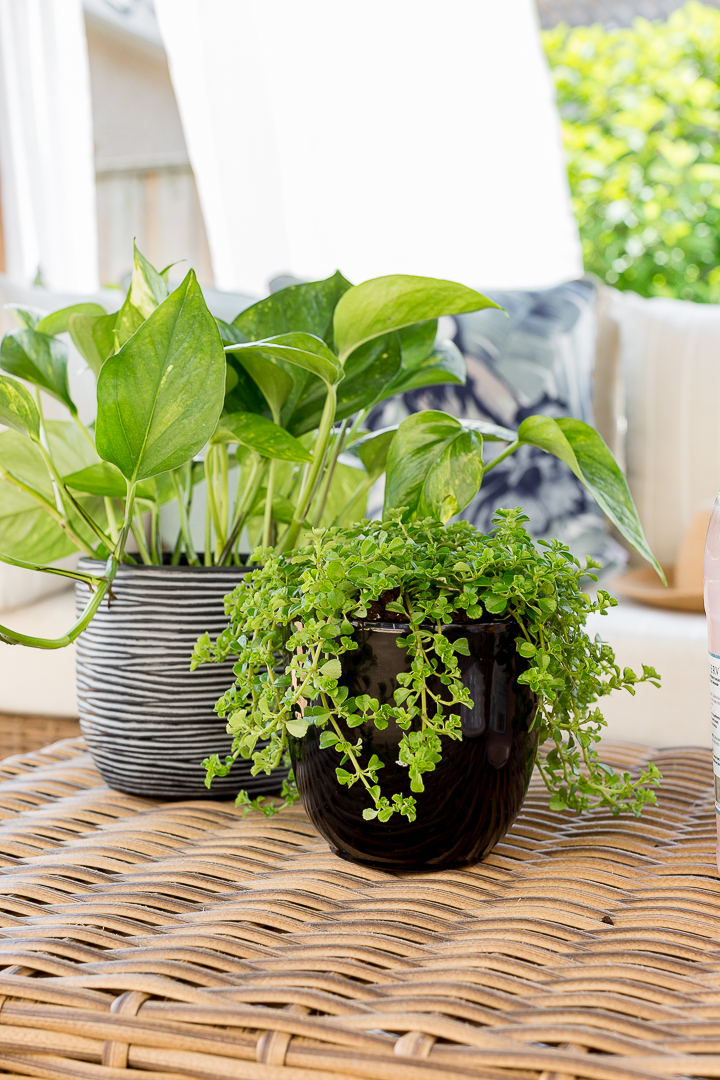 I love the black, green, and brown combination.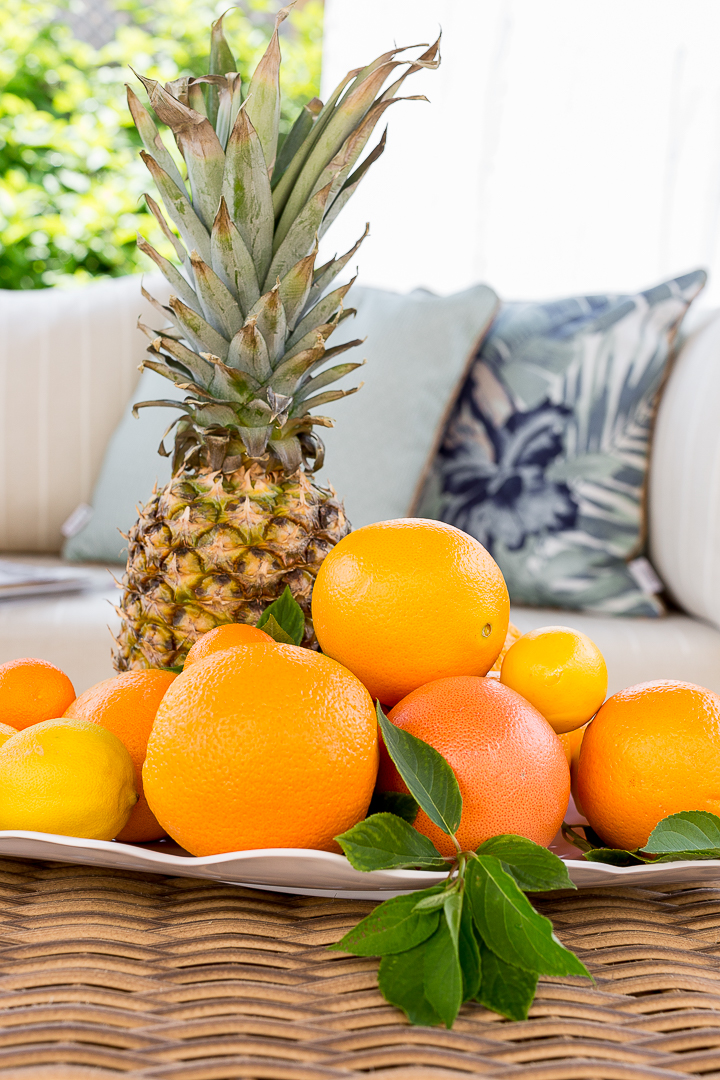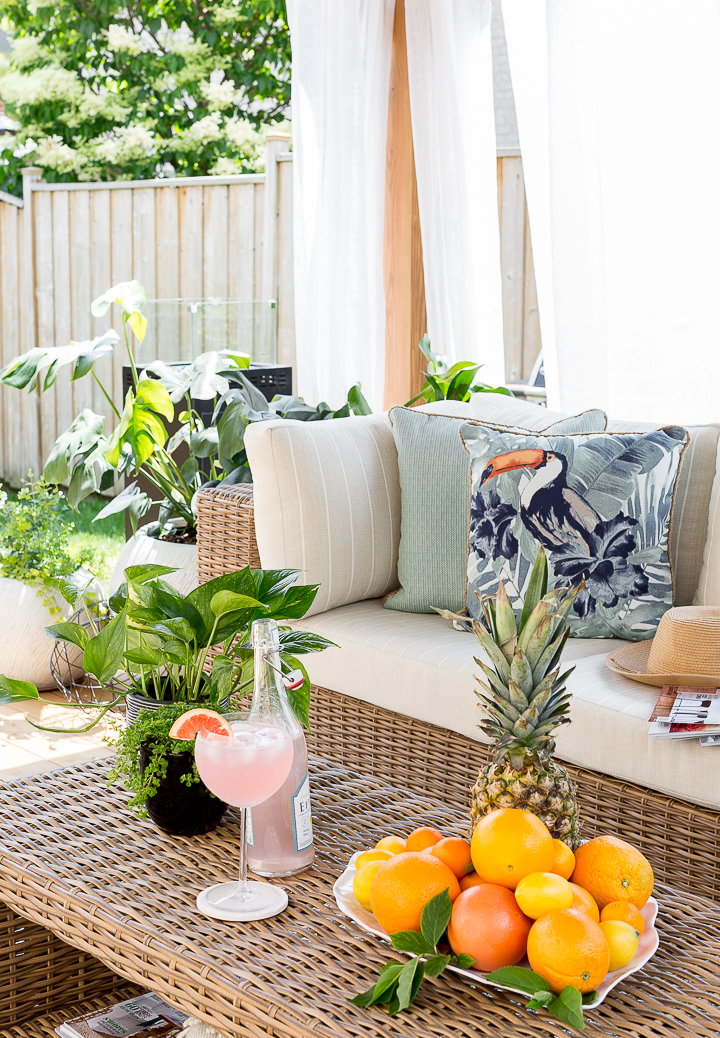 The patio set is also from Canadian Tire and it's the Tofino Collection from CANVAS. It's a beautiful hand woven natural color with all weather wicker. I was a little worried that the wicker and the wood on the deck would be too similar but this large outdoor rug – also from Canadian Tire – really breaks the space nicely.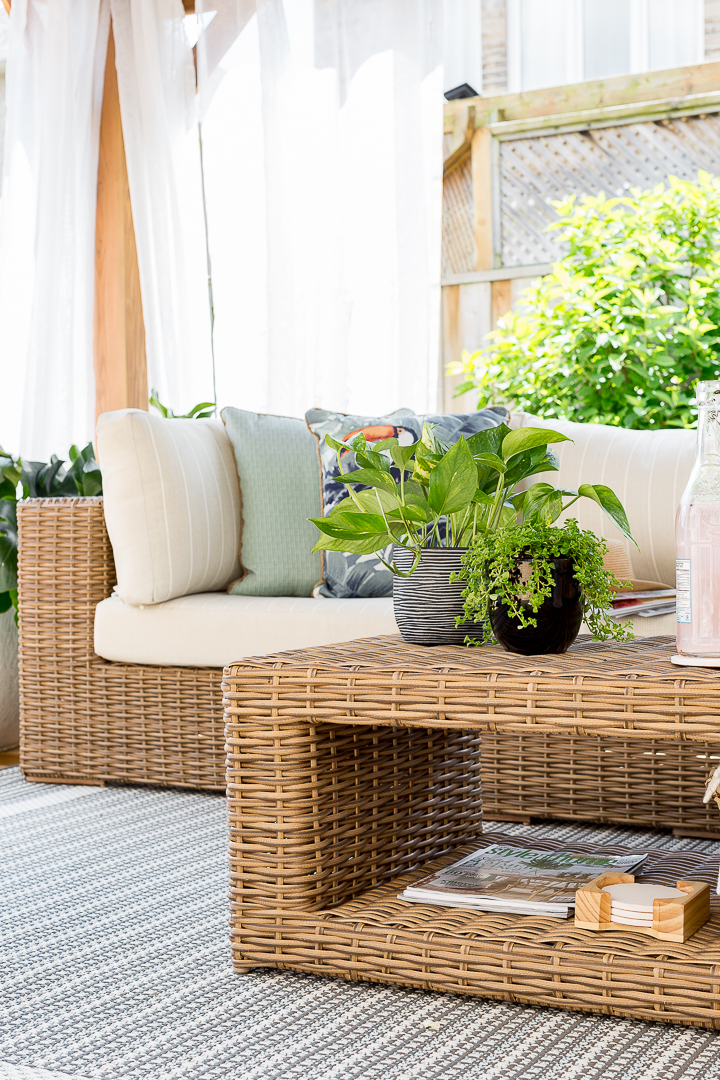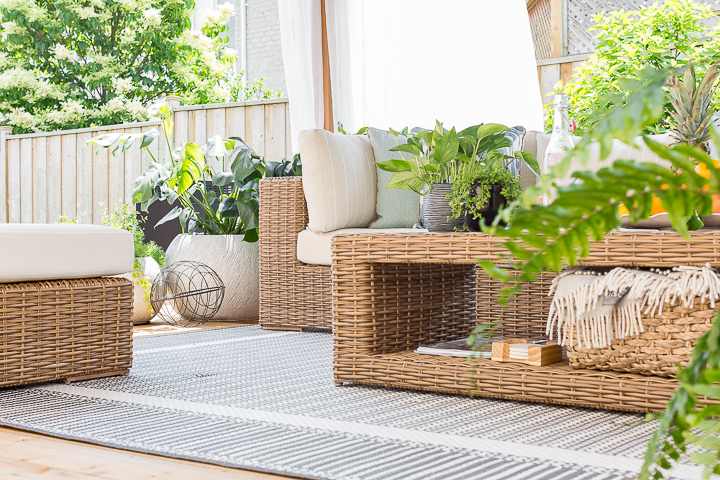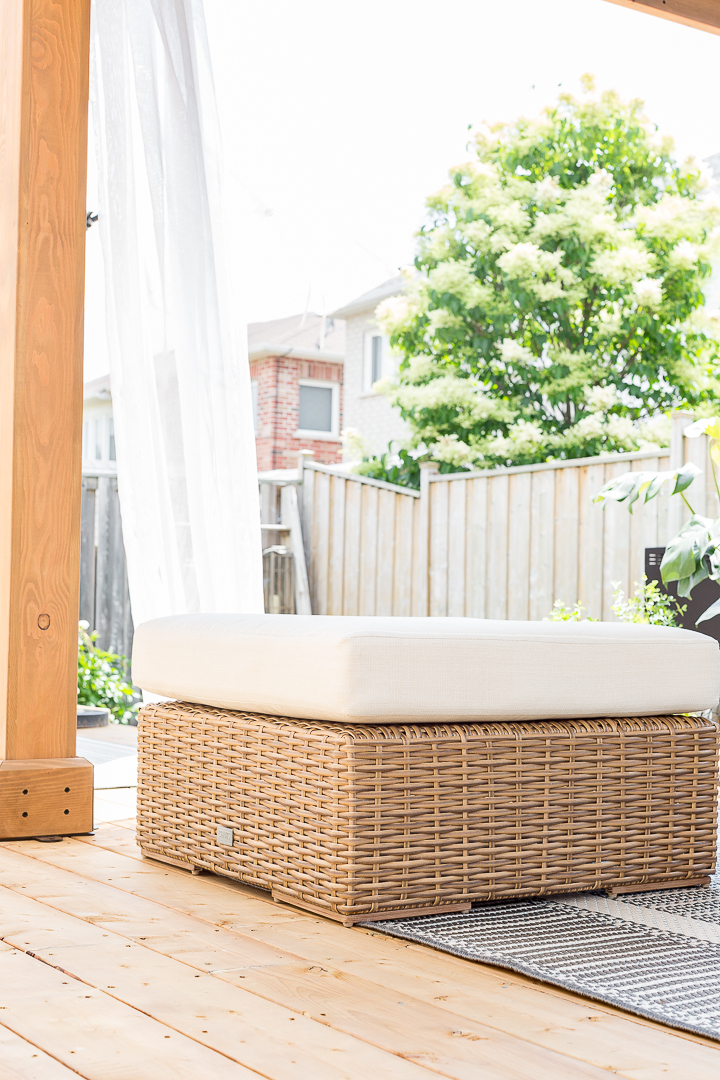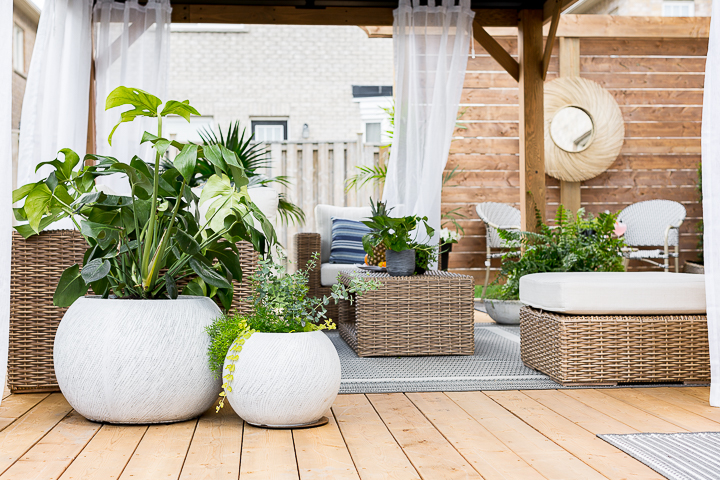 I'm smitten for these planters from the CANVAS collection.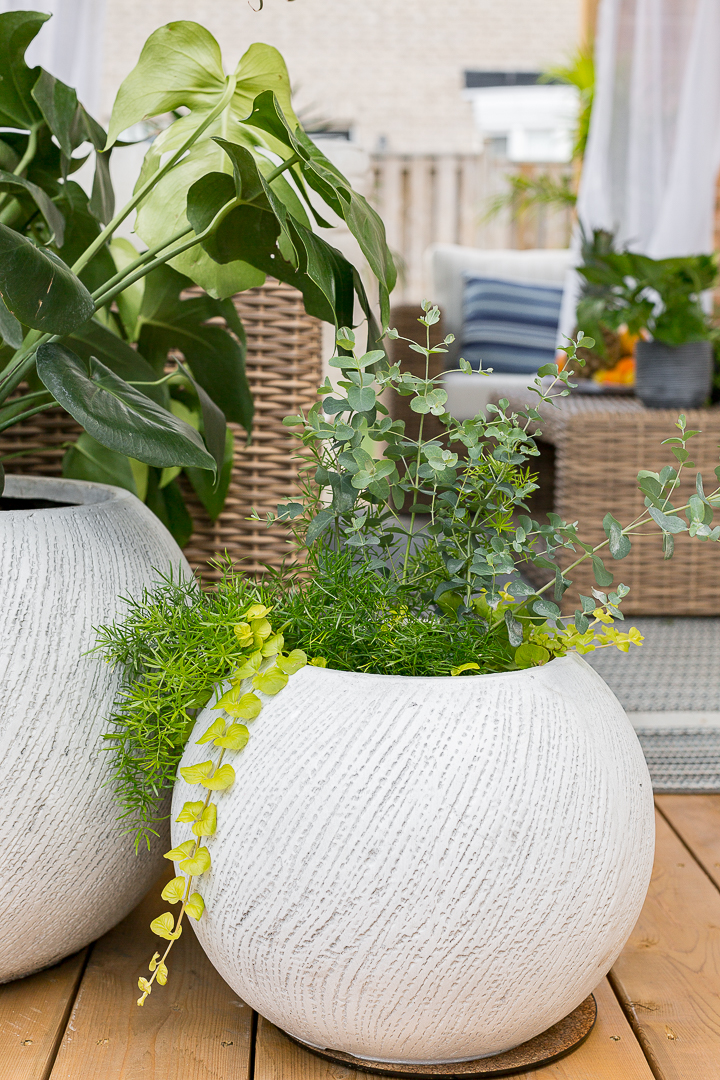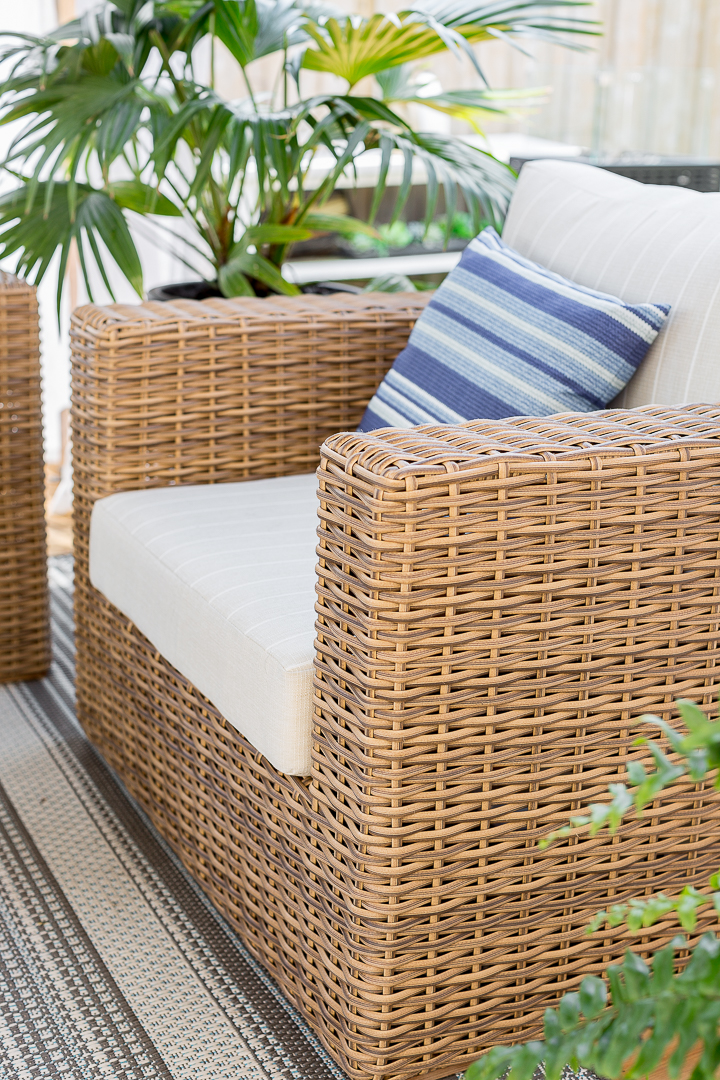 I love the contrast of the blue pillows and the wicker.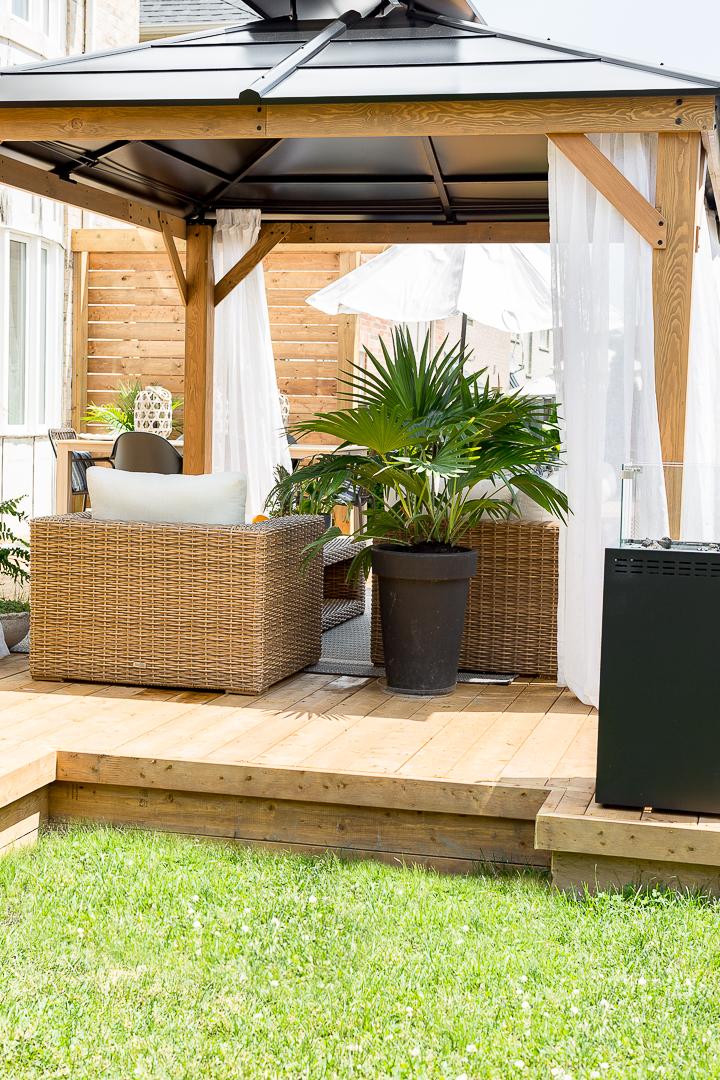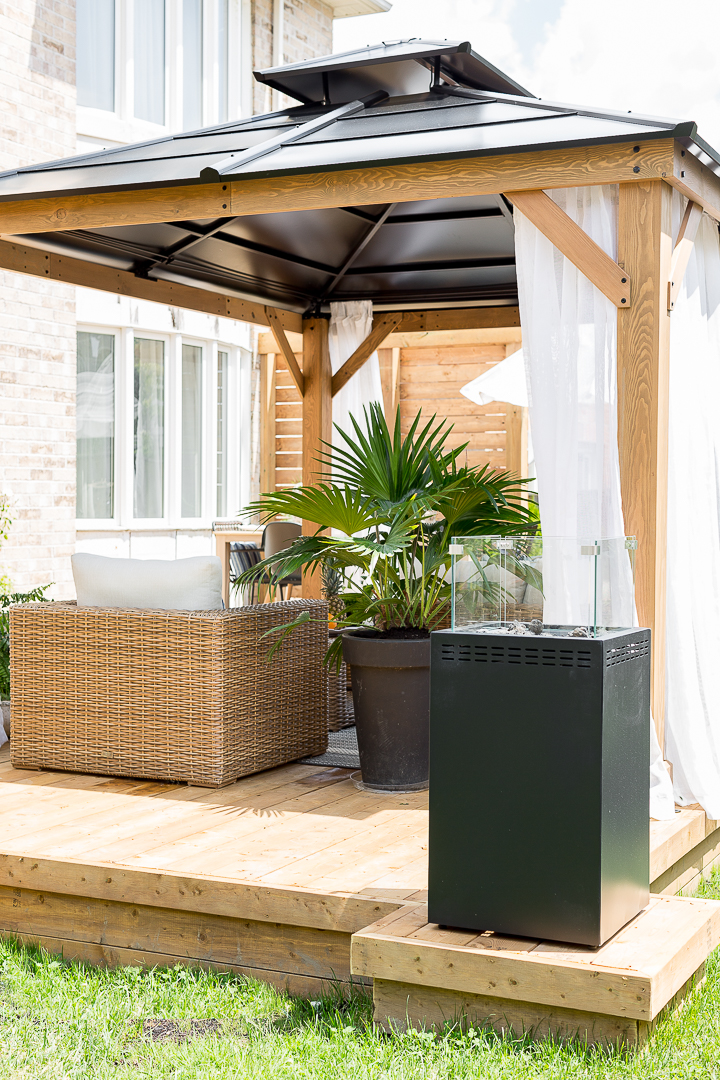 Hubby designed three small platforms on the deck to house these amazing fire columns. We haven't tried them out just yet but definitely will this long weekend. 🙂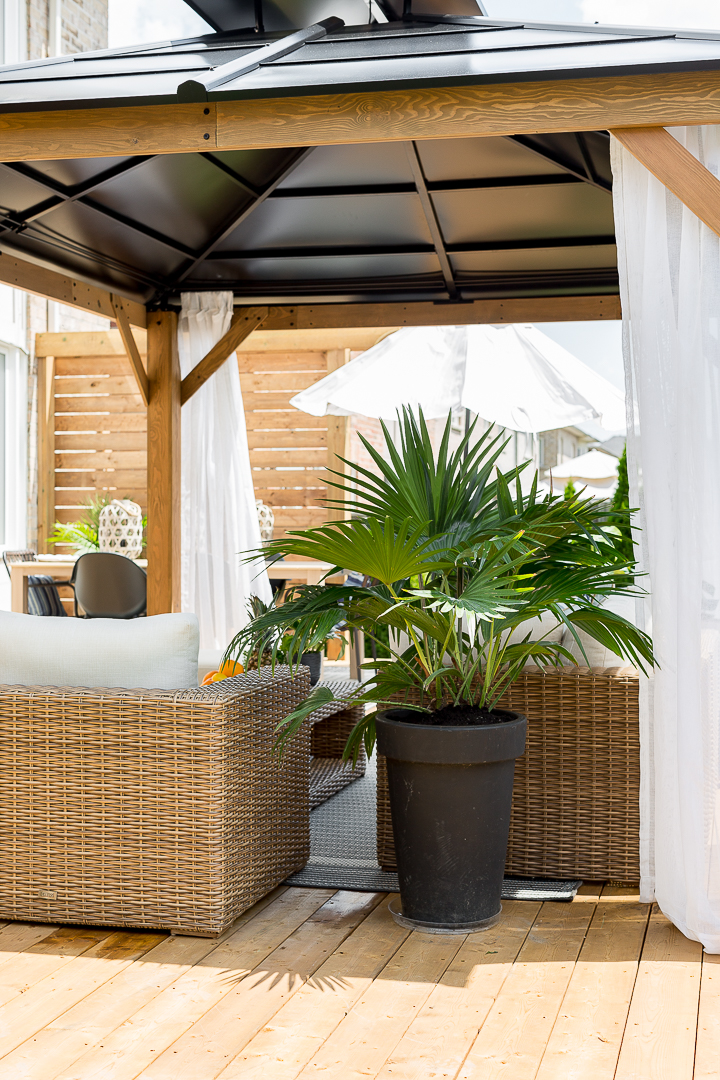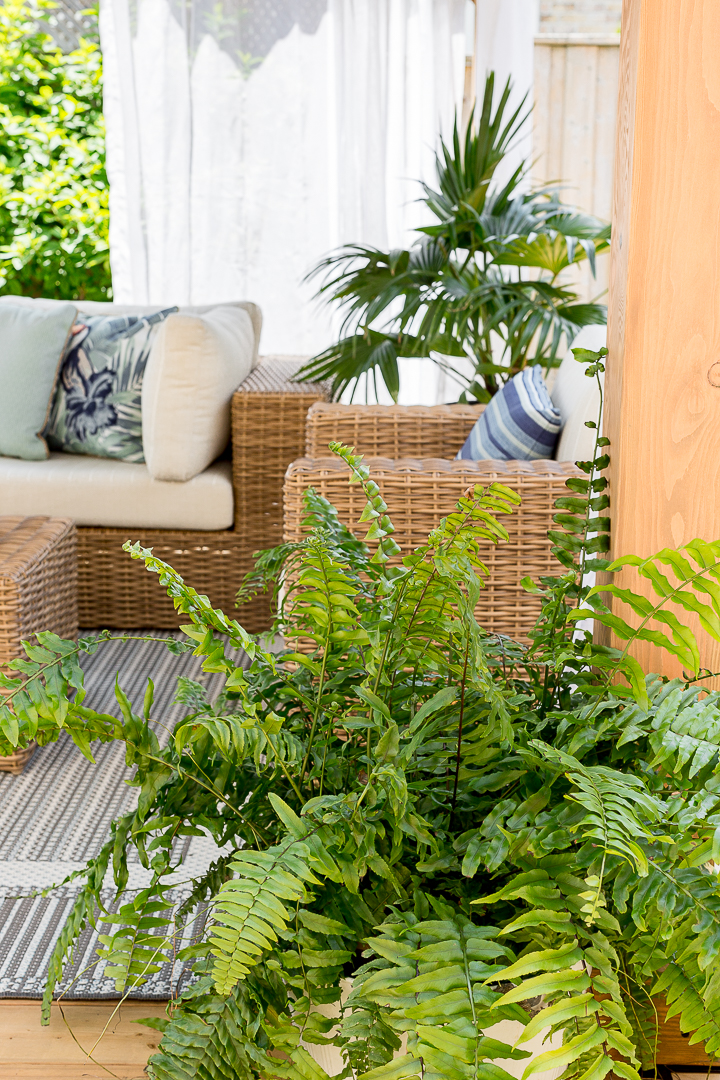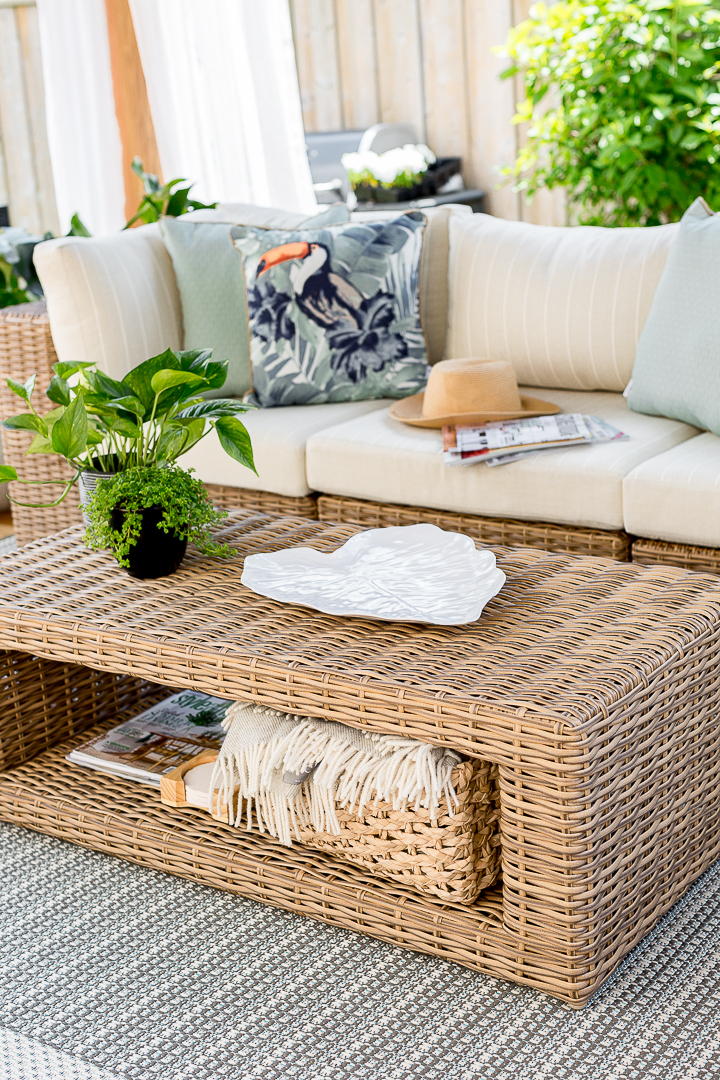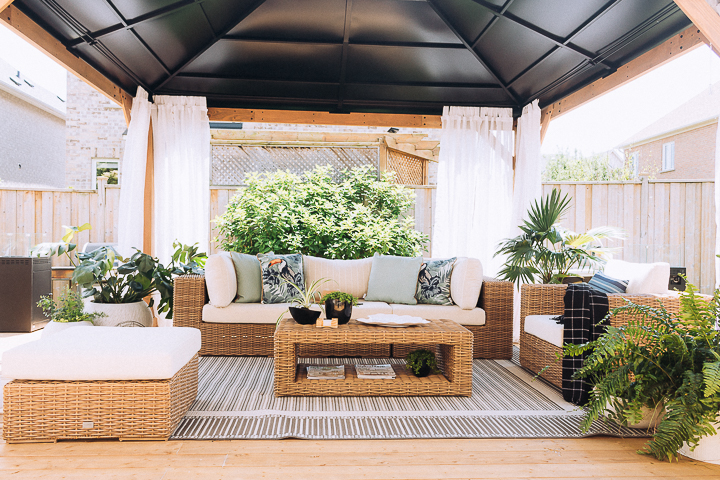 The deck is low enough to the ground that we don't need steps which I think is why it feels like an extension of our house.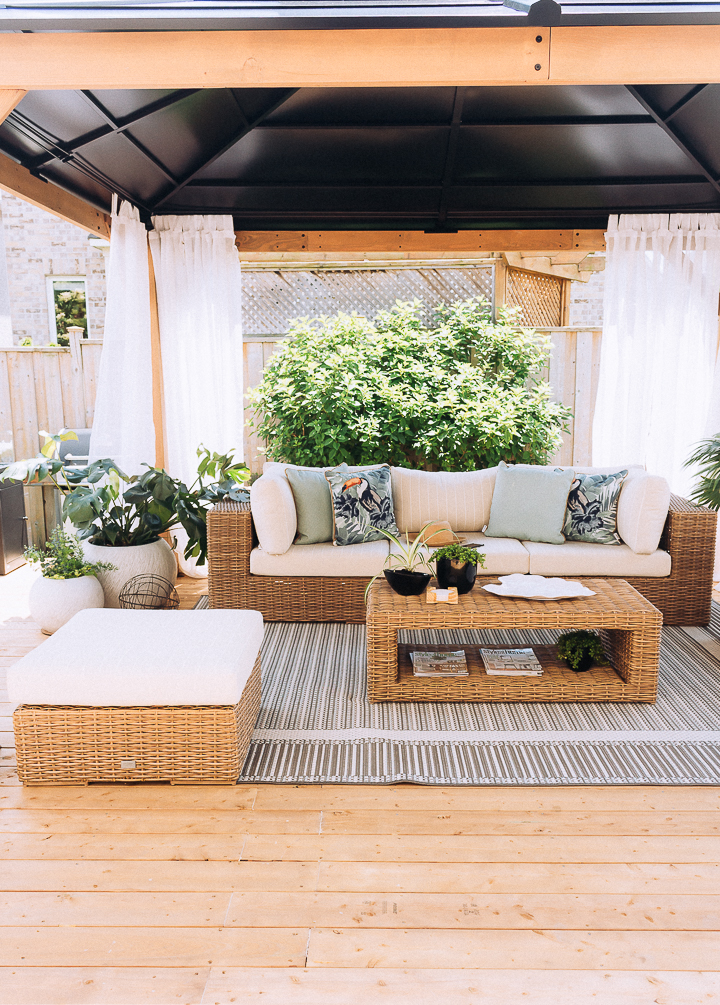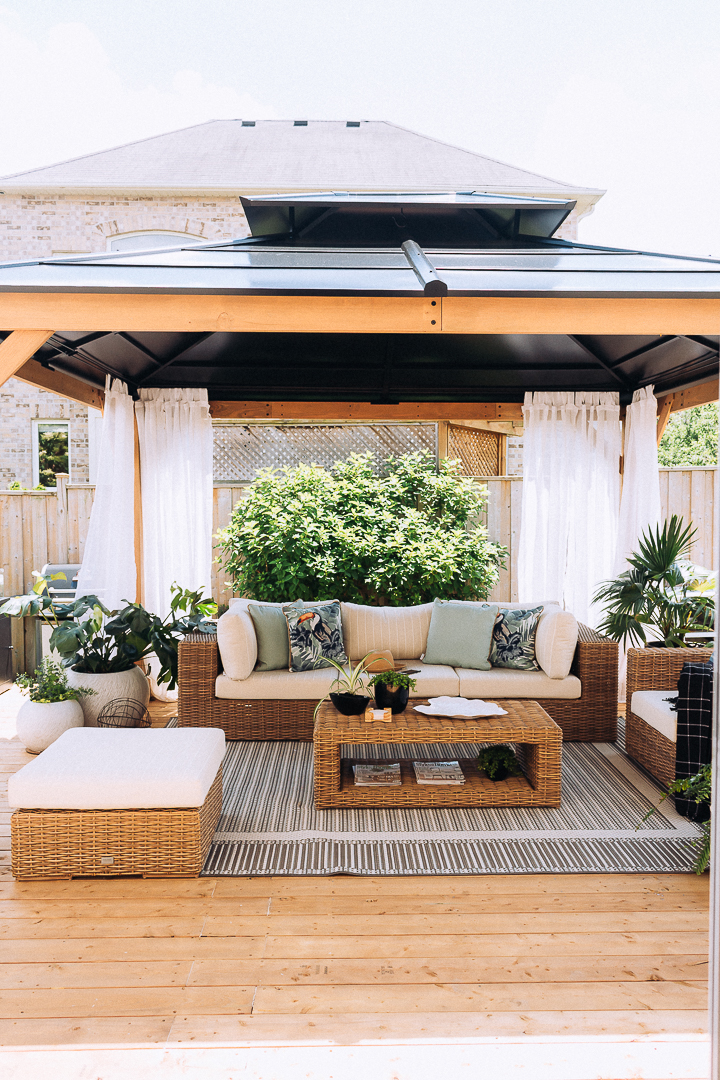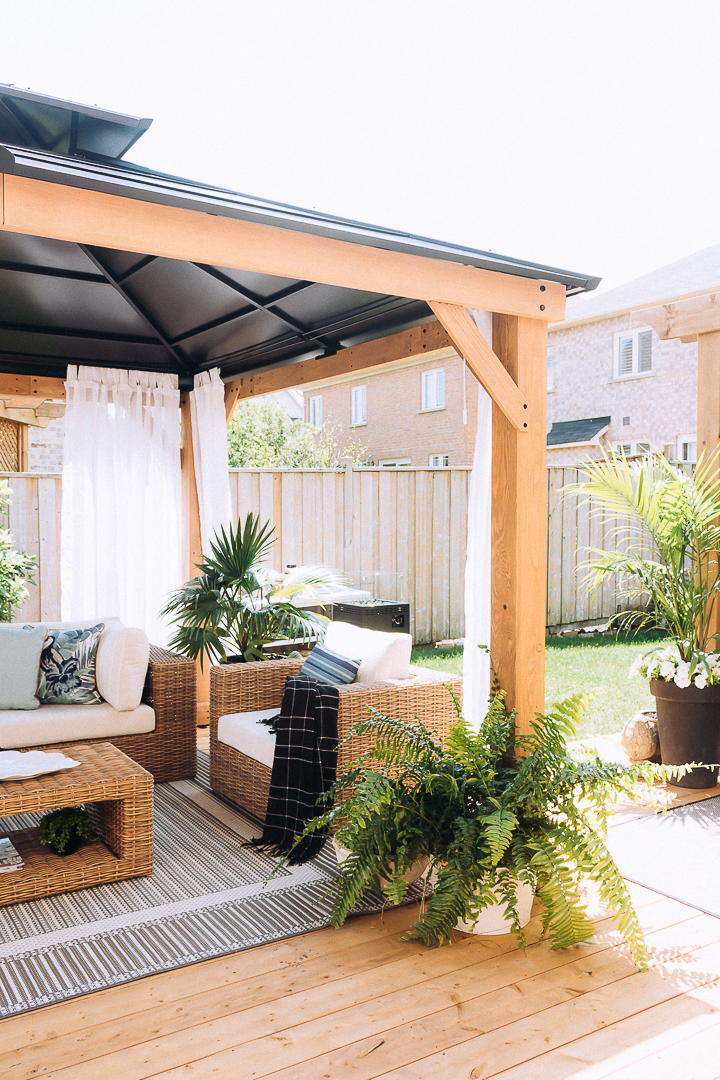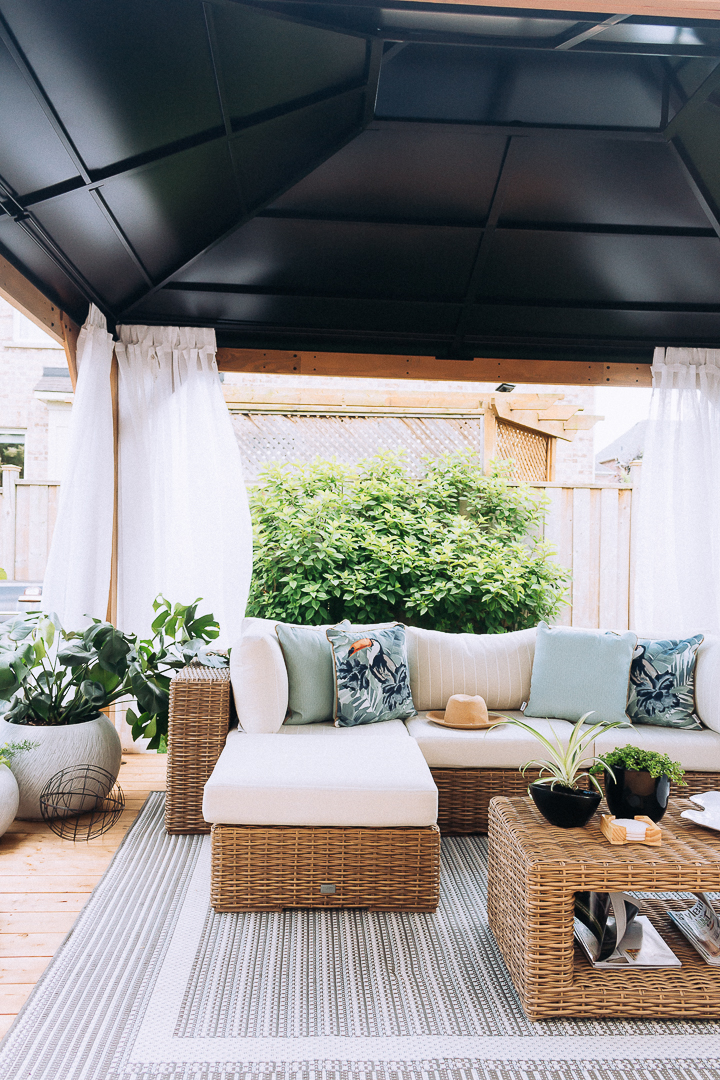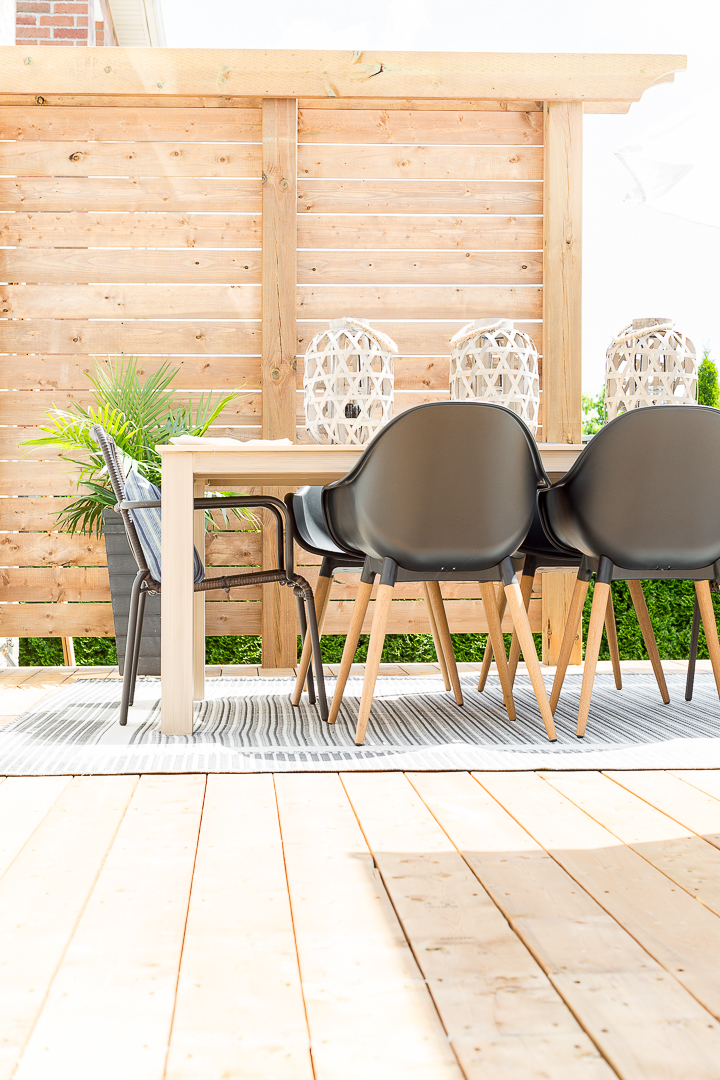 The next area is an outdoor dining space.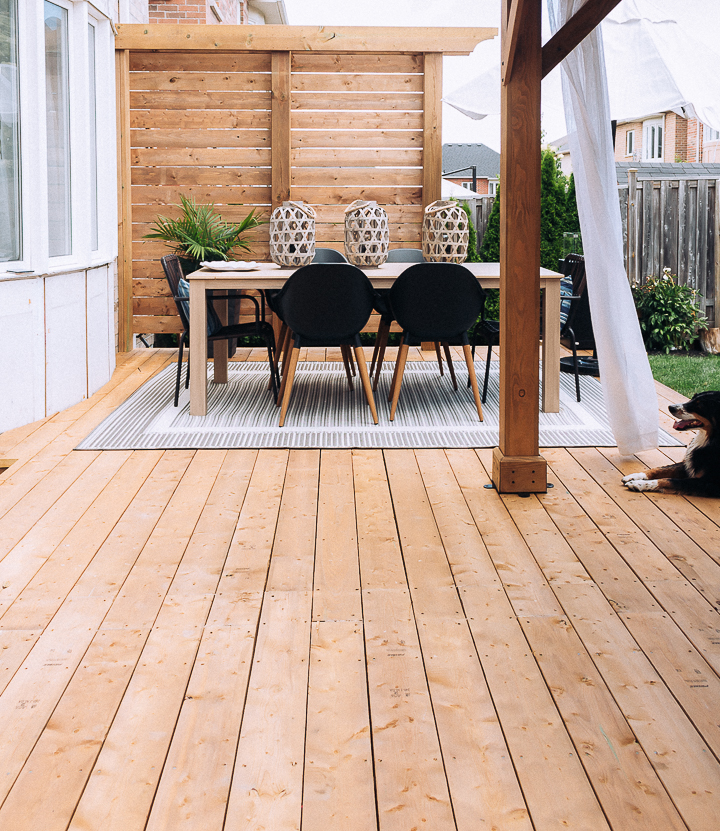 You might recognize THESE cool bucket chairs from my home tour as they're actually outdoor chairs but I was housing them inside. Editor's note: please forgive the "under construction" framing around the bay window as we still need to re-finish that space.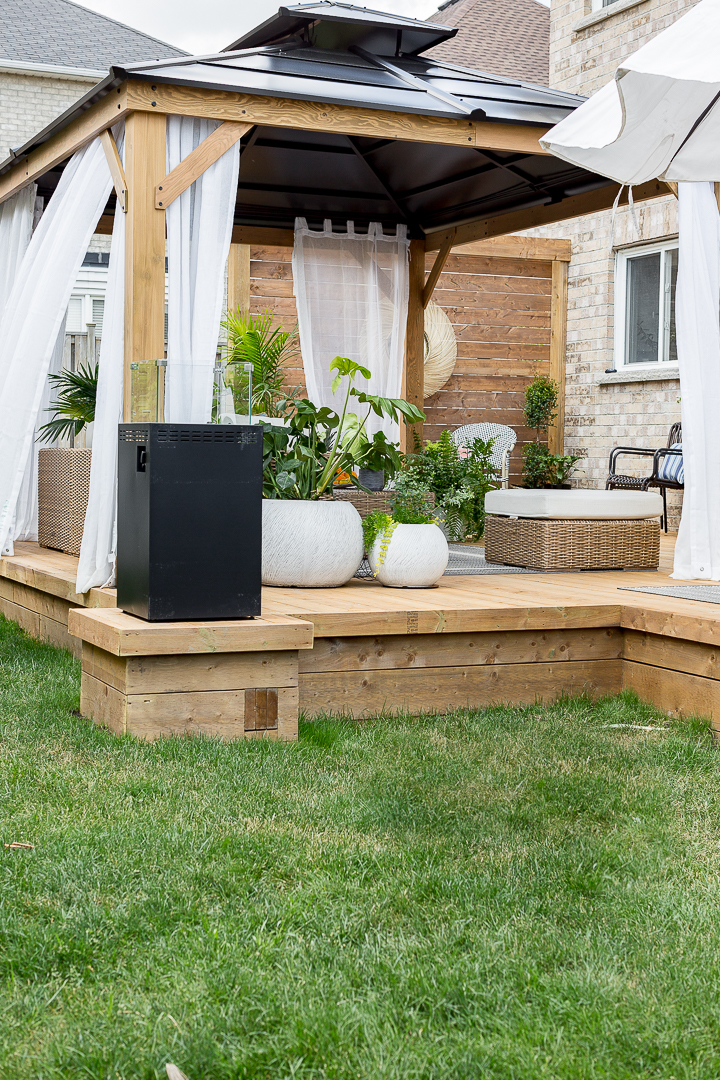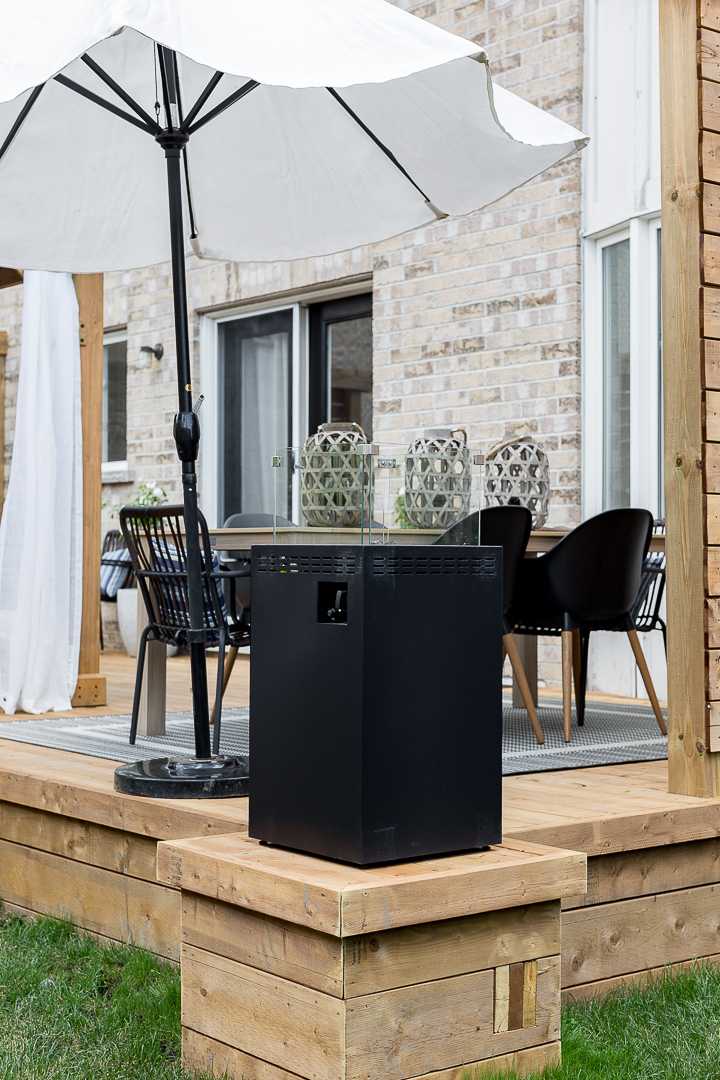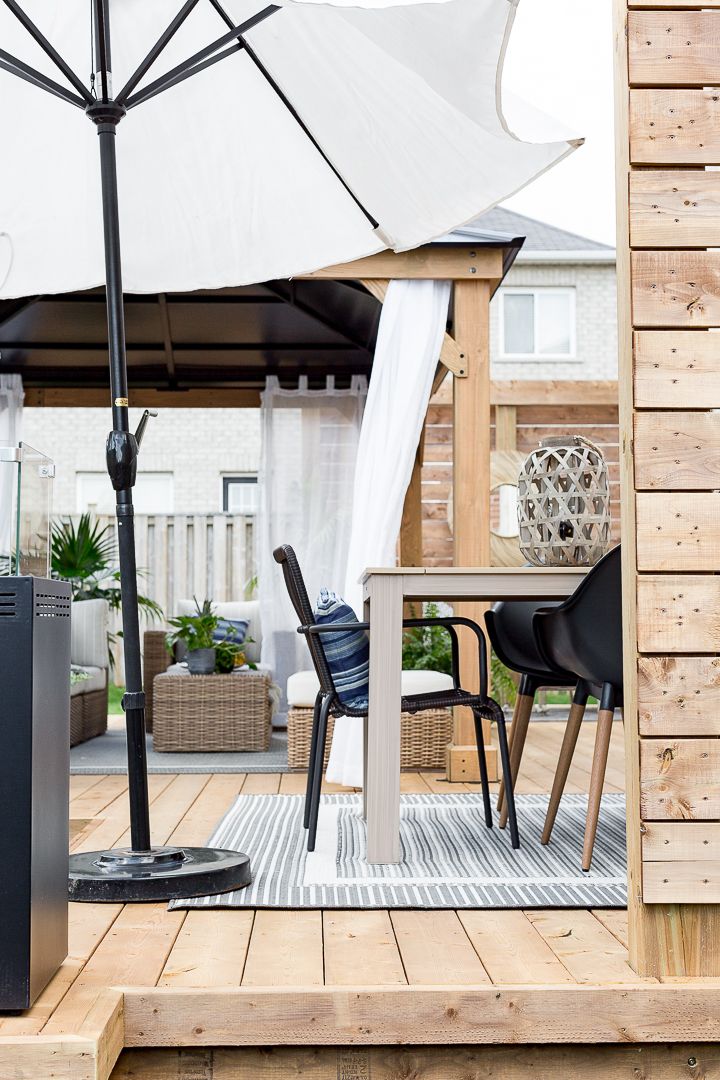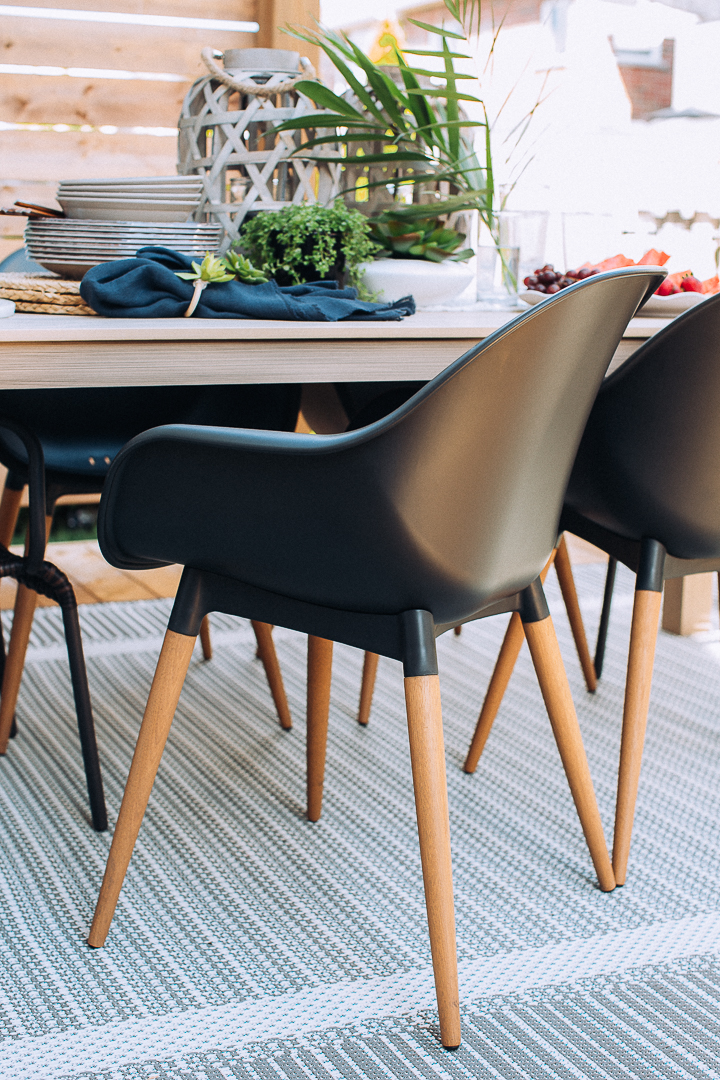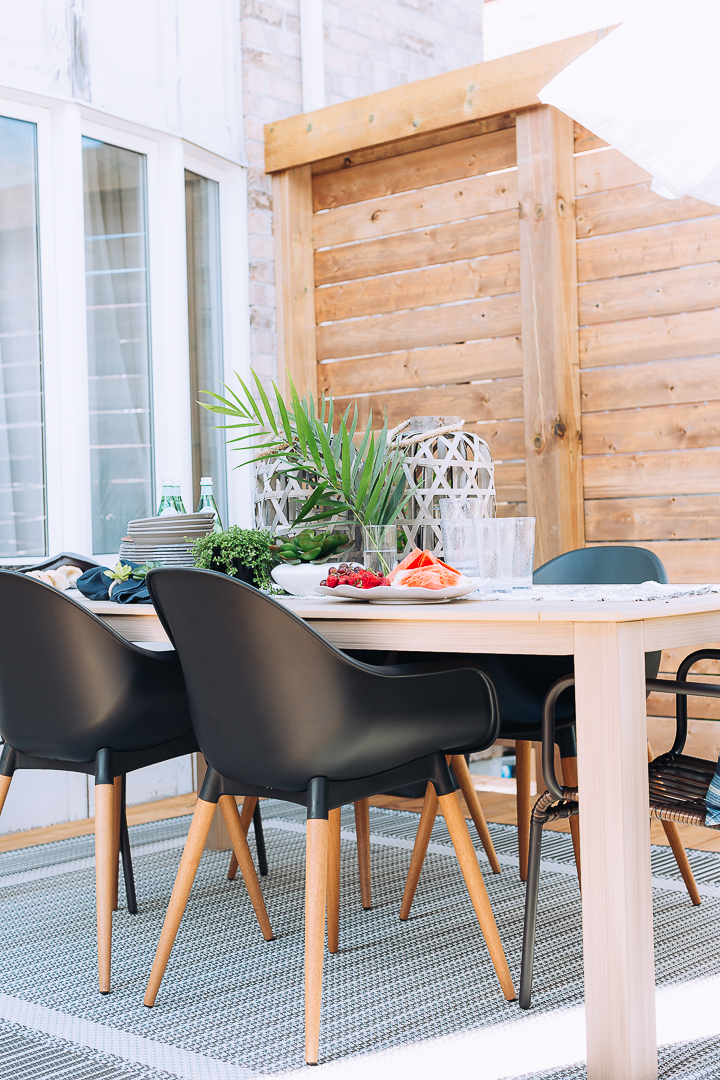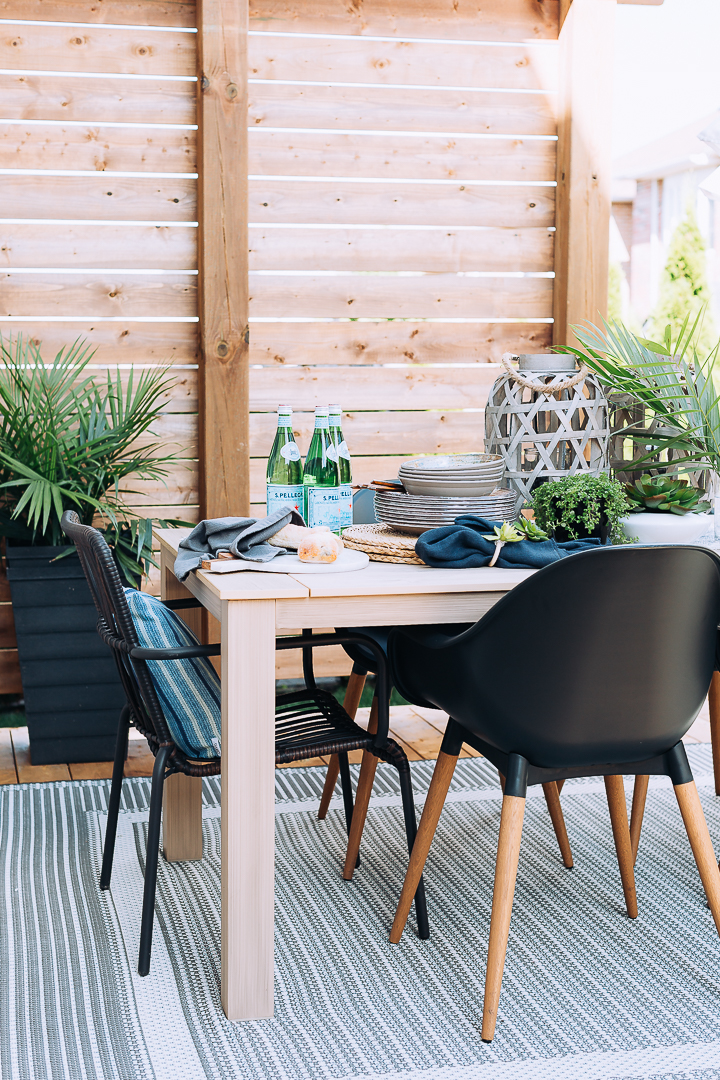 I appreciate these privacy fences that hubby built. It's not that I dislike our neighbors but living in the suburbs, the houses can seem a little close together and it's nice to have a little privacy – for both us, and them – when having a family meal outside.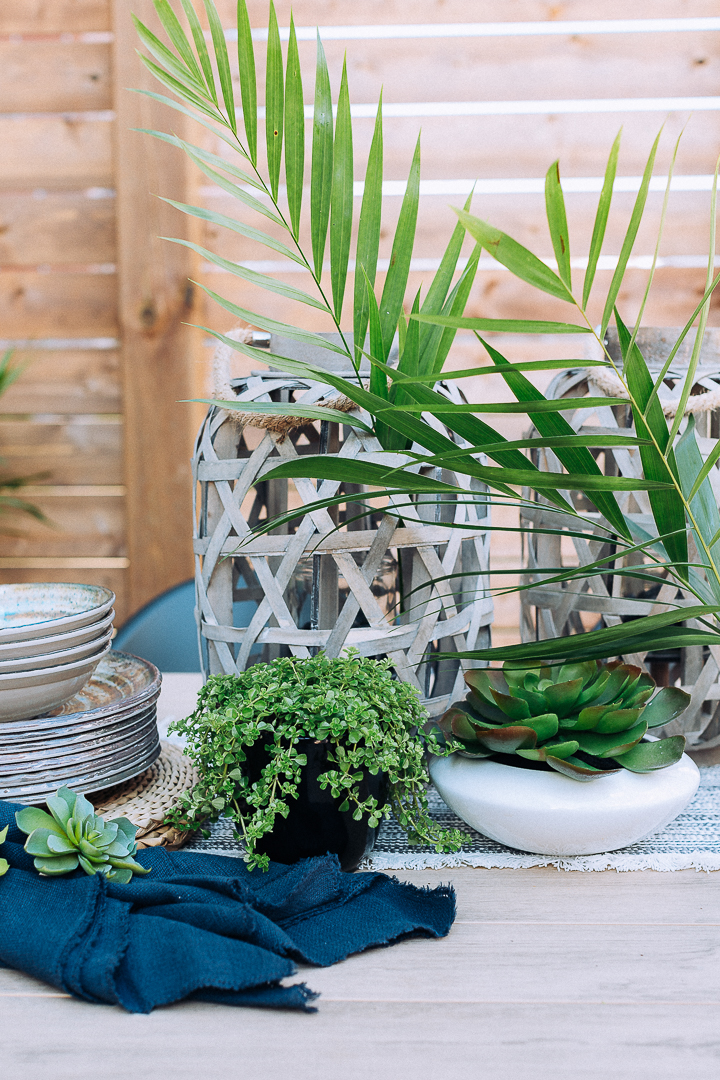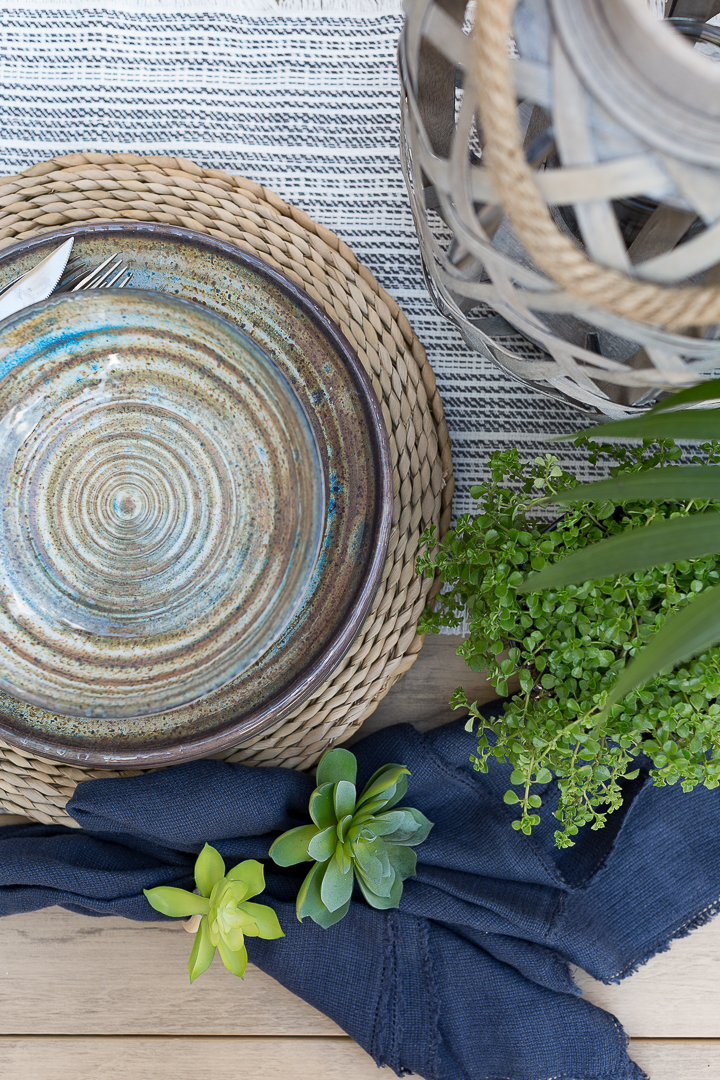 I made these cute little napkin rings with wooden rings and some faux succulents.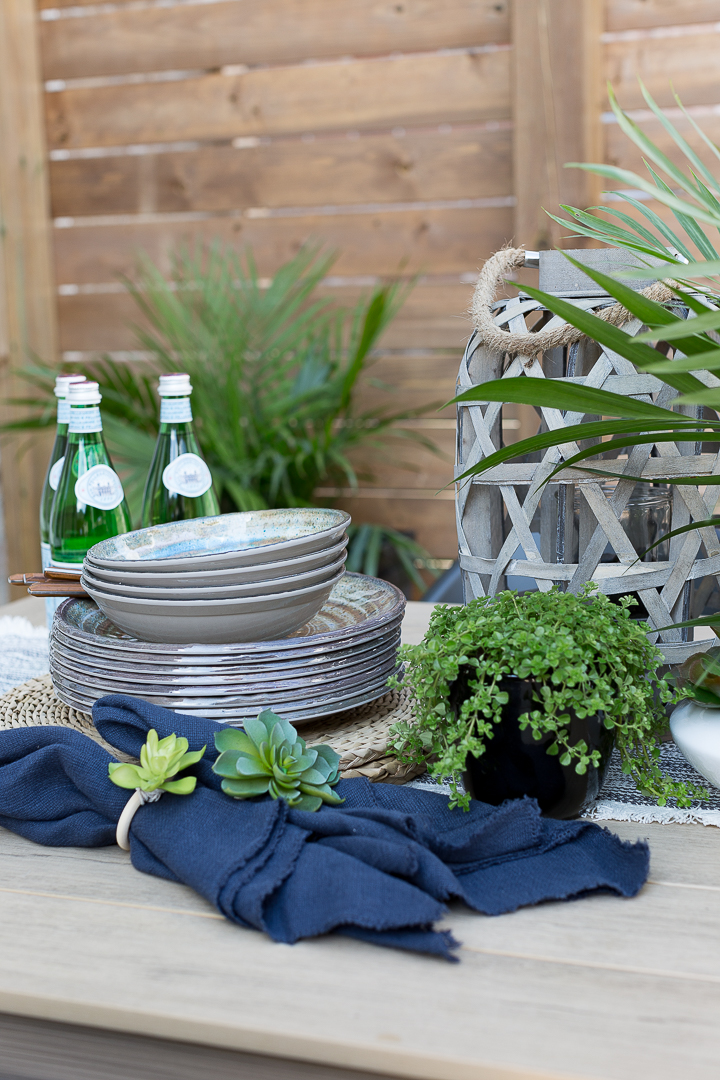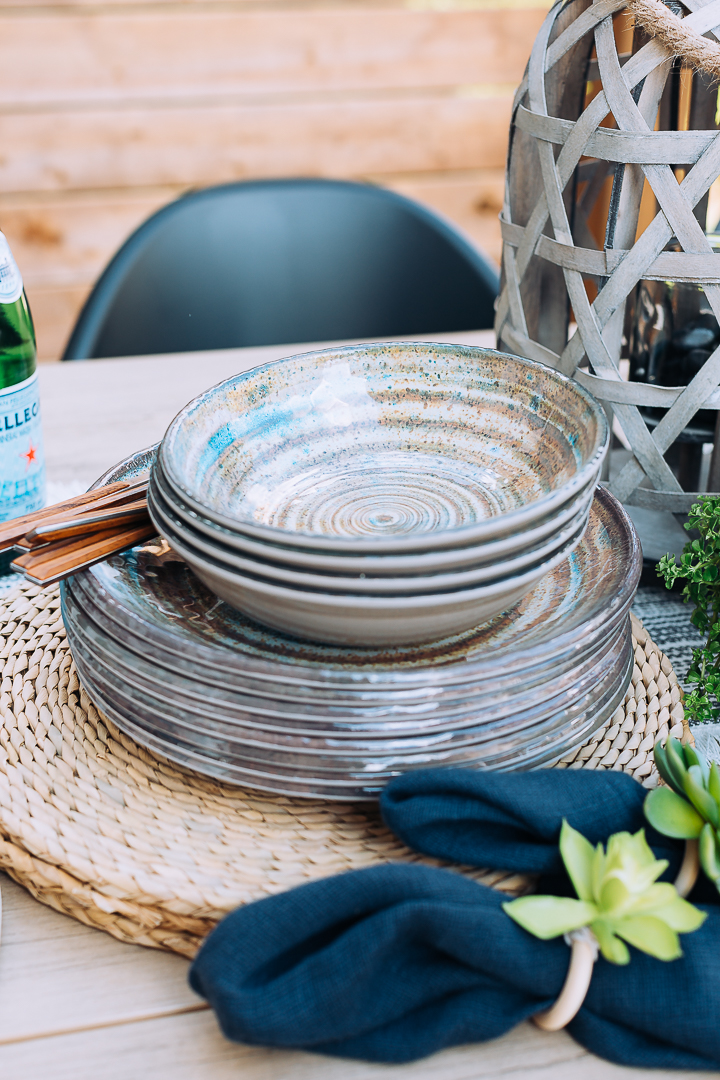 How pretty are these plates, which I had shared in THIS post before?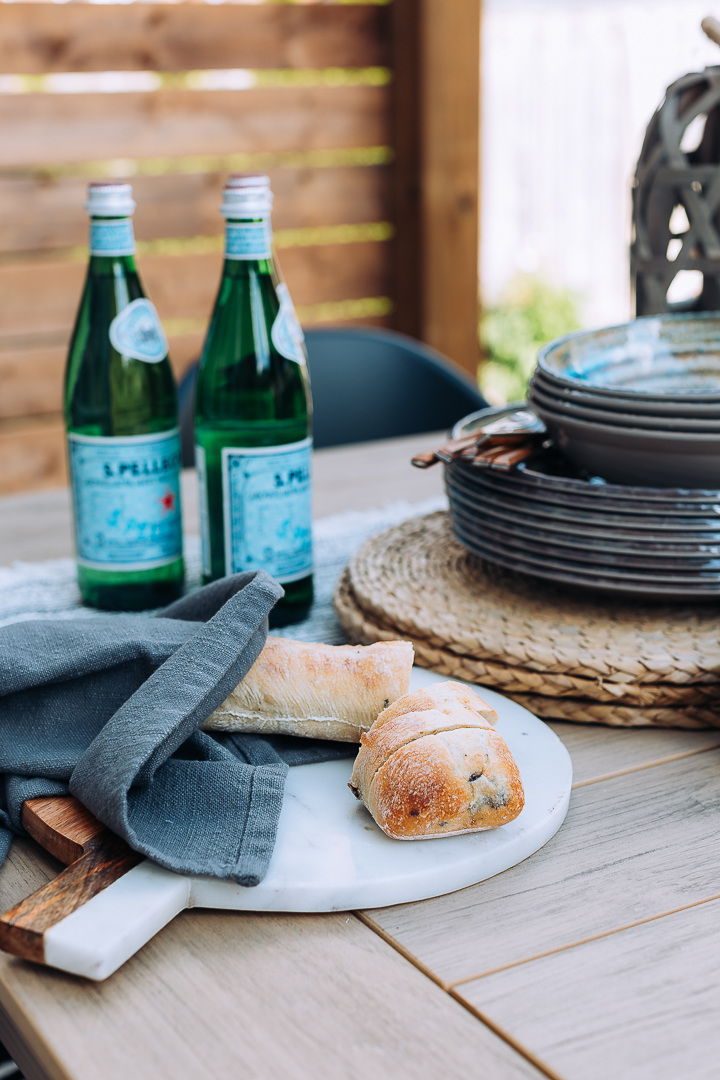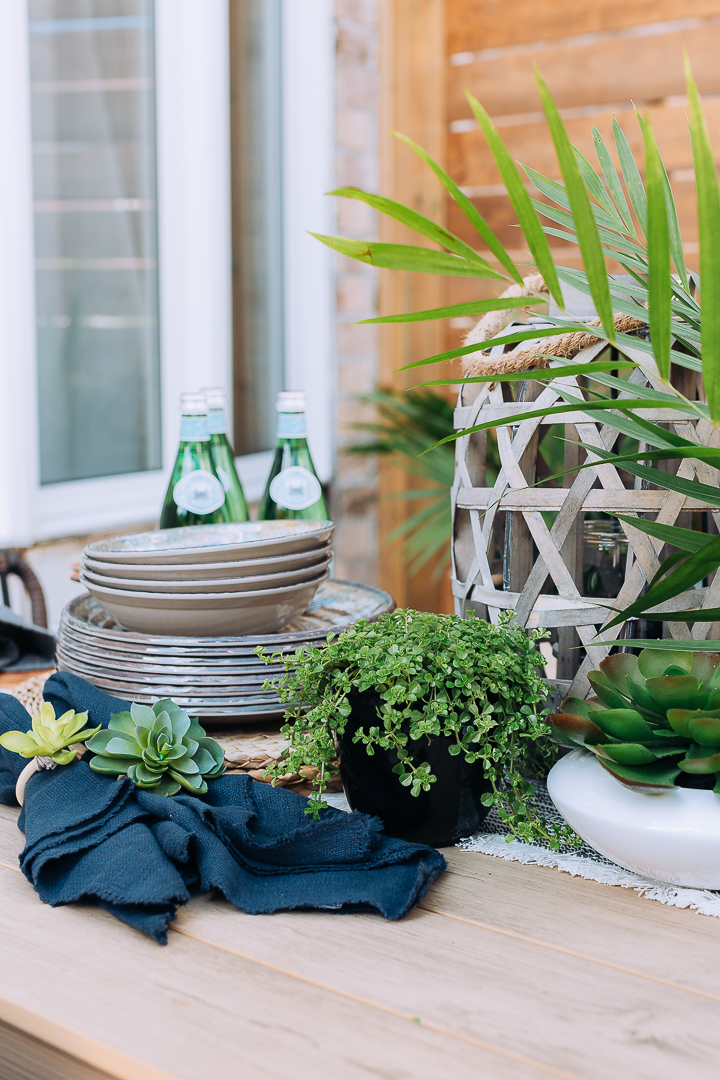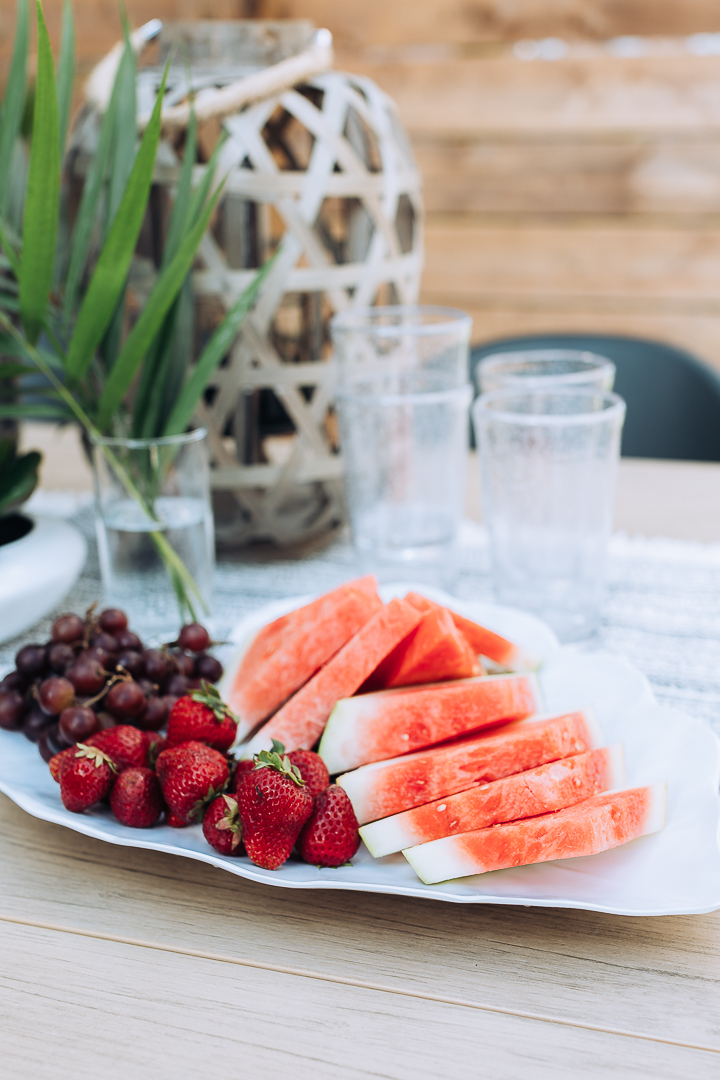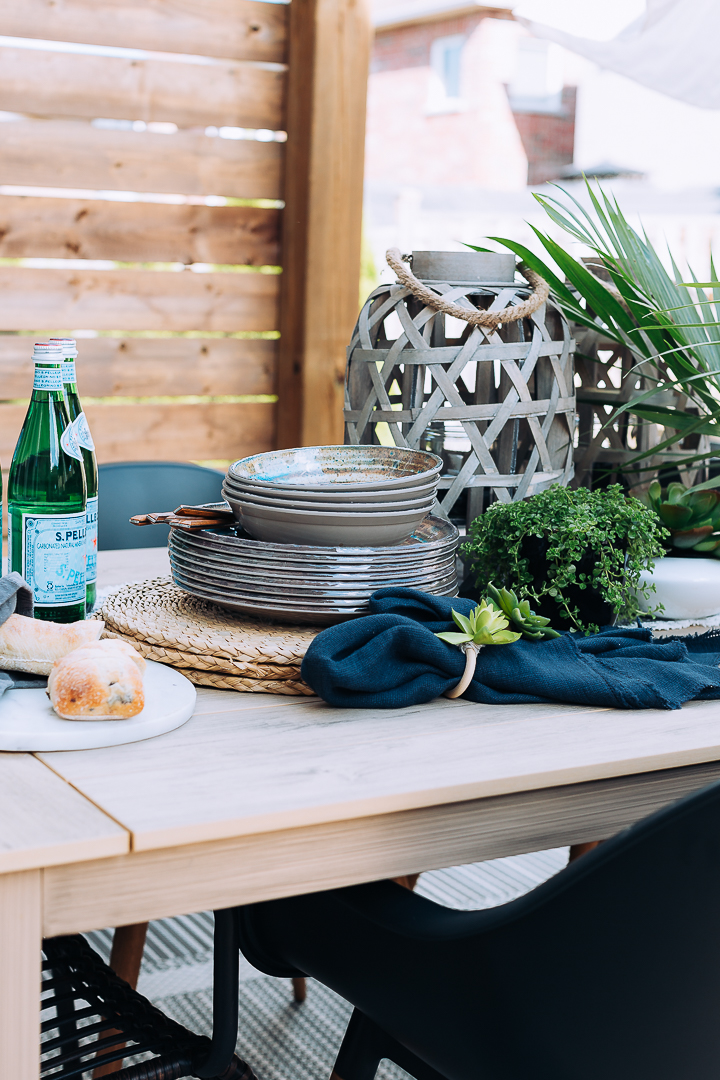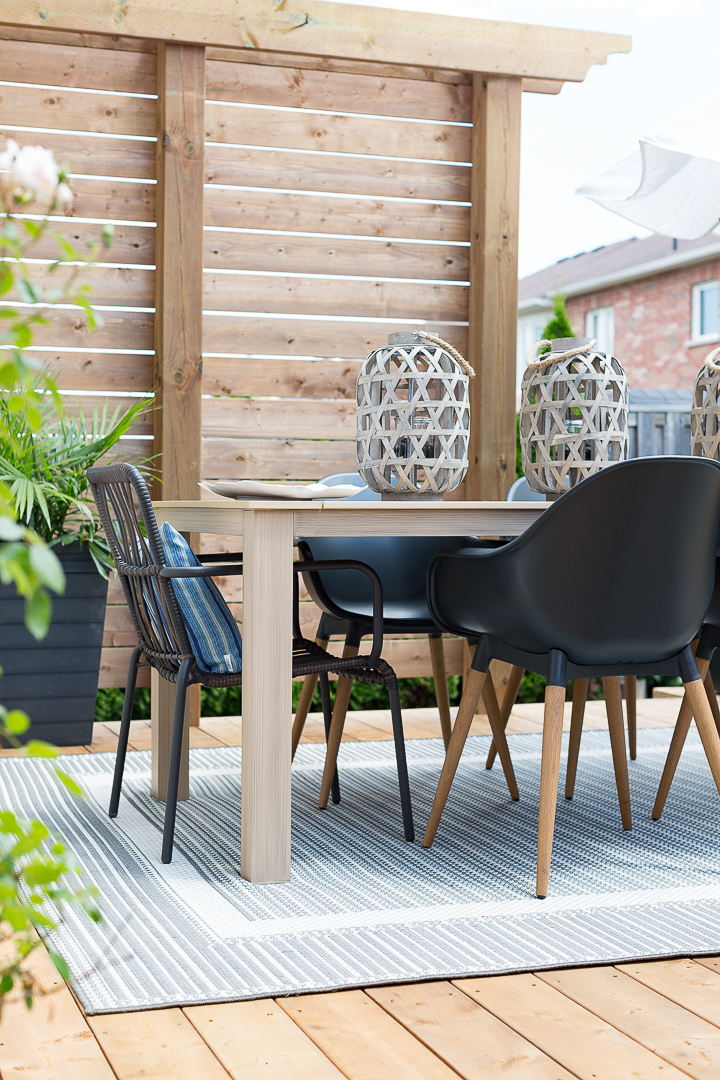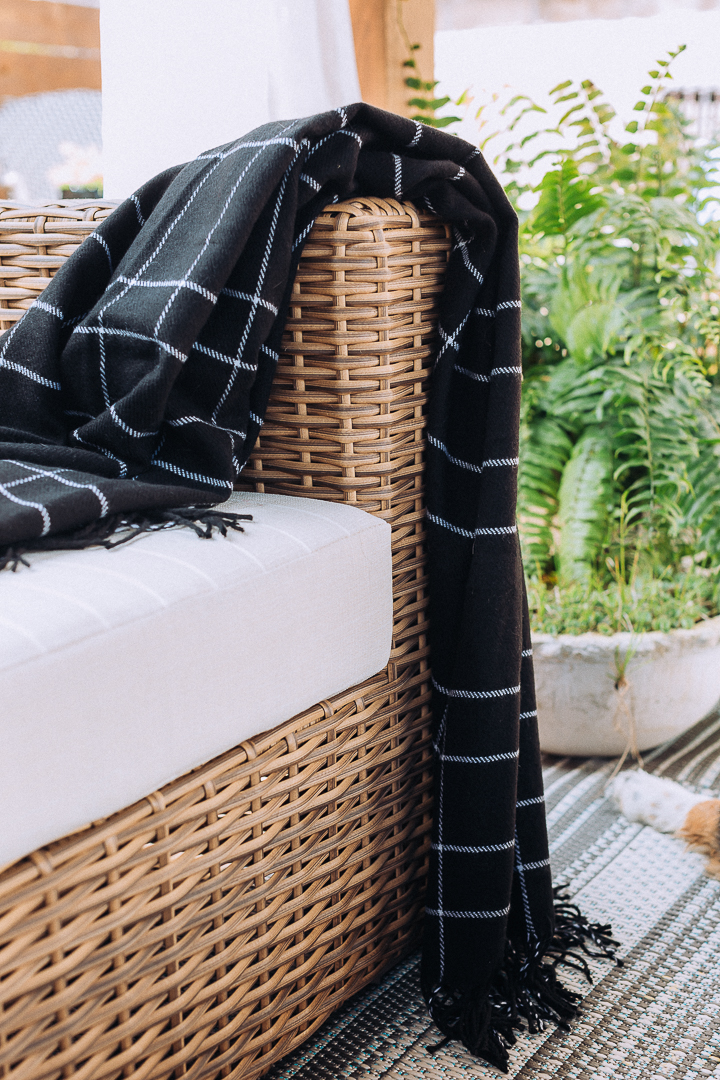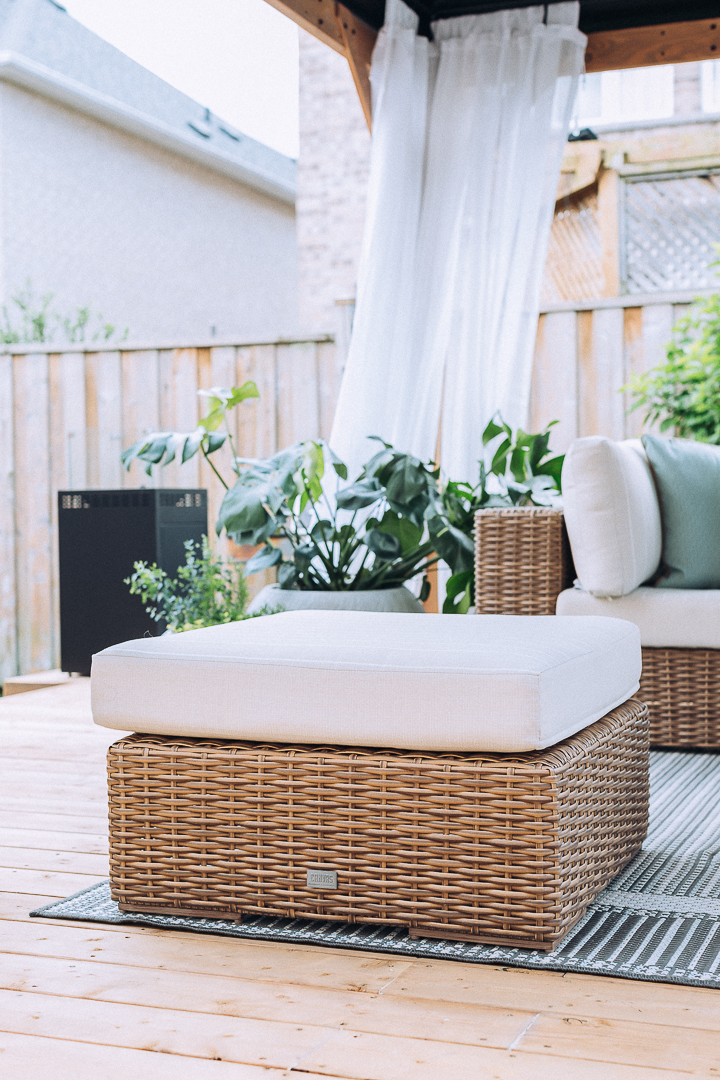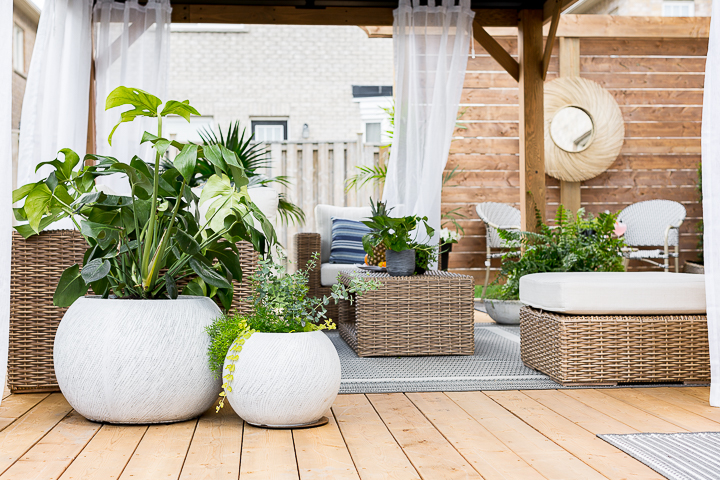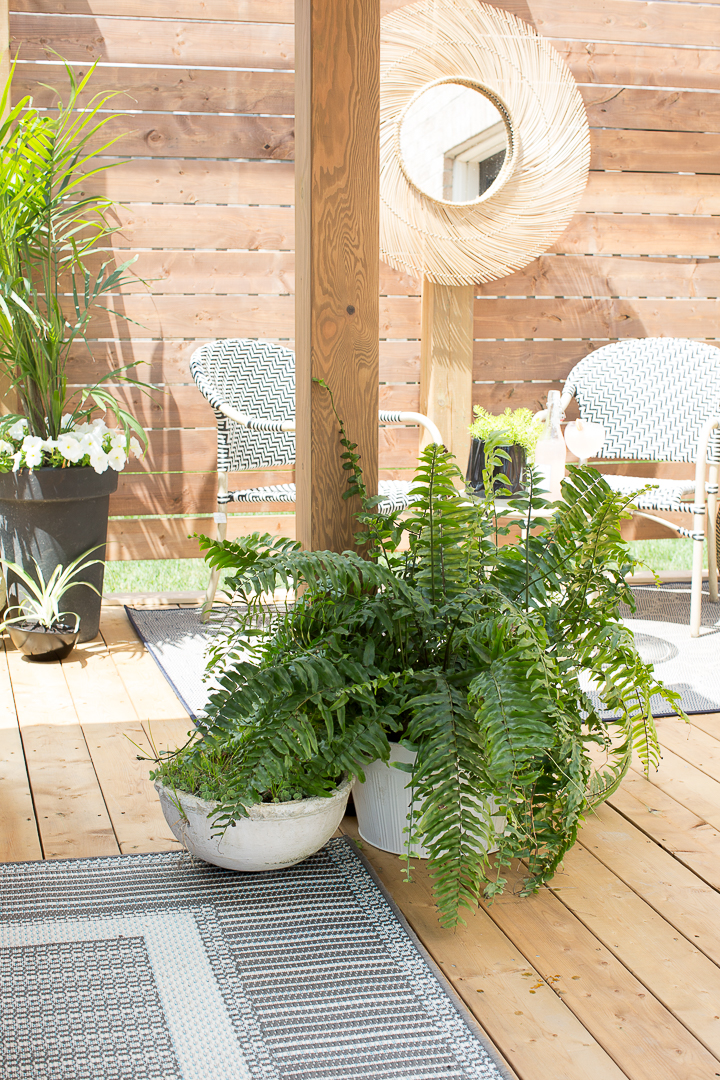 The last sitting area is not quite finished yet but I will show you a reveal in a couple of weeks. 🙂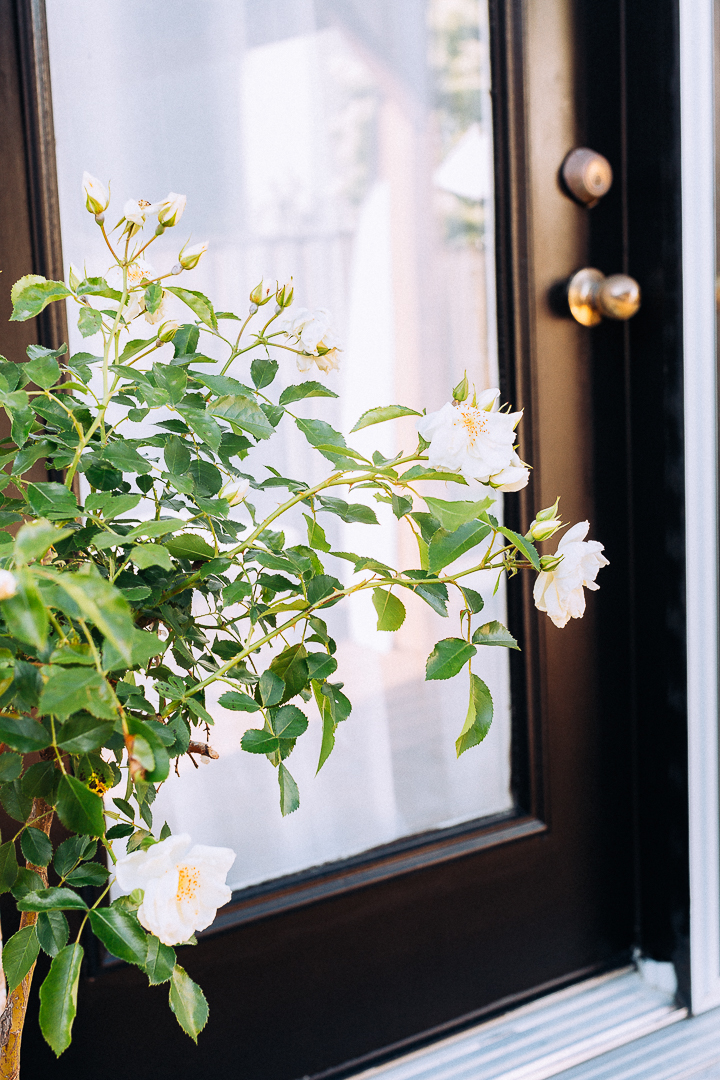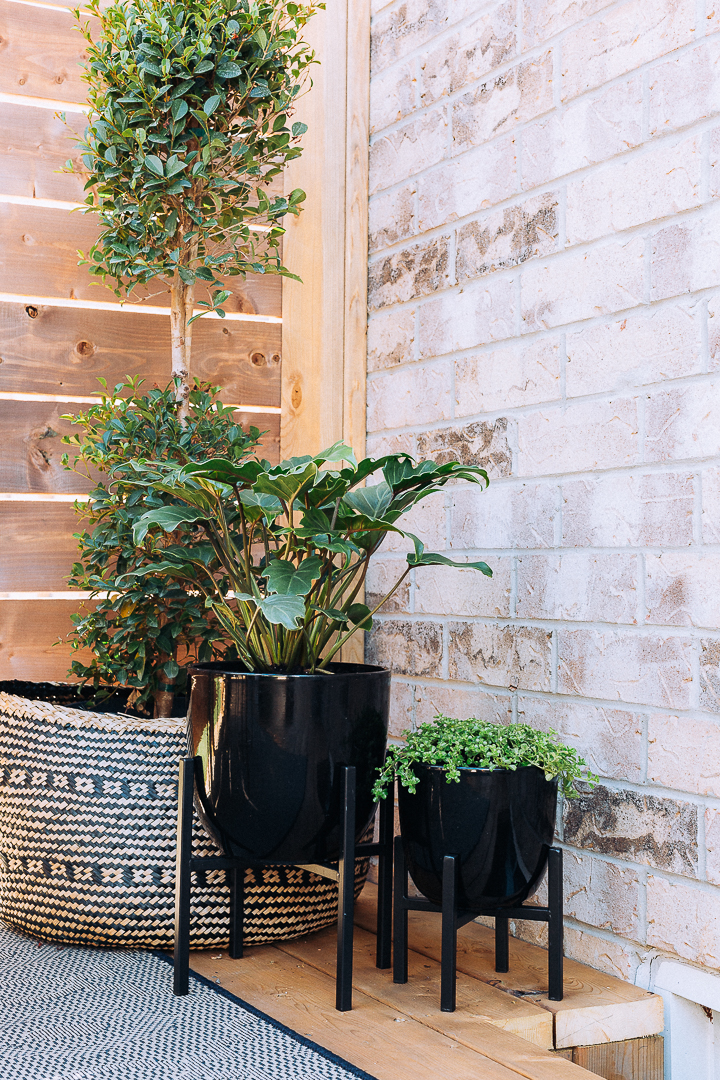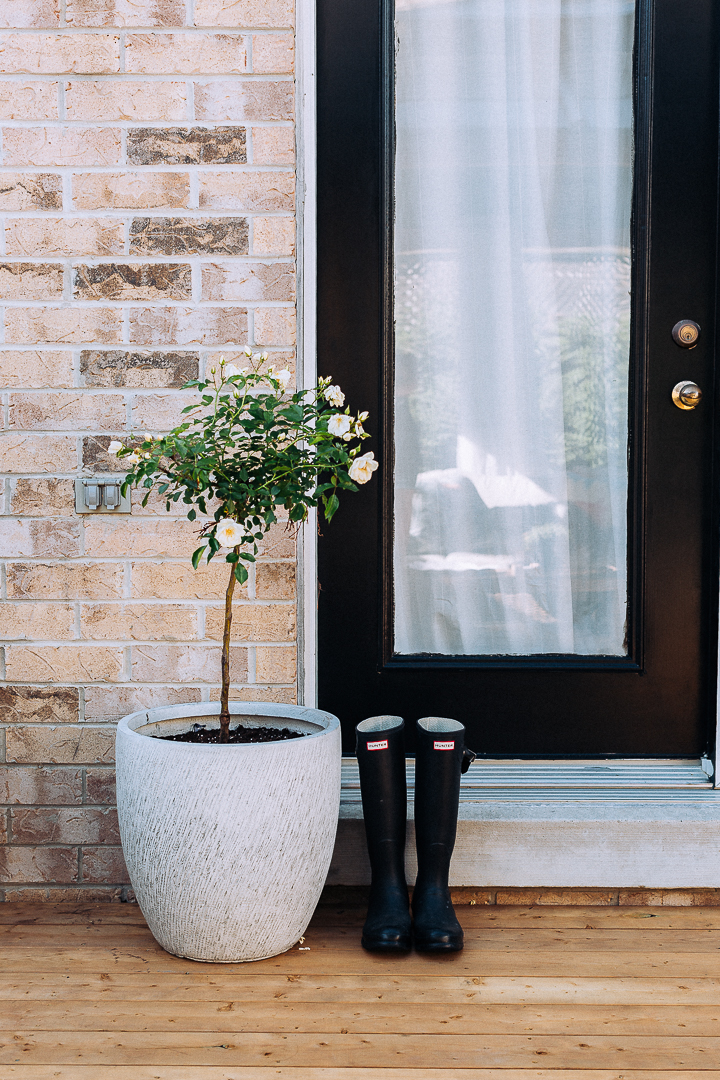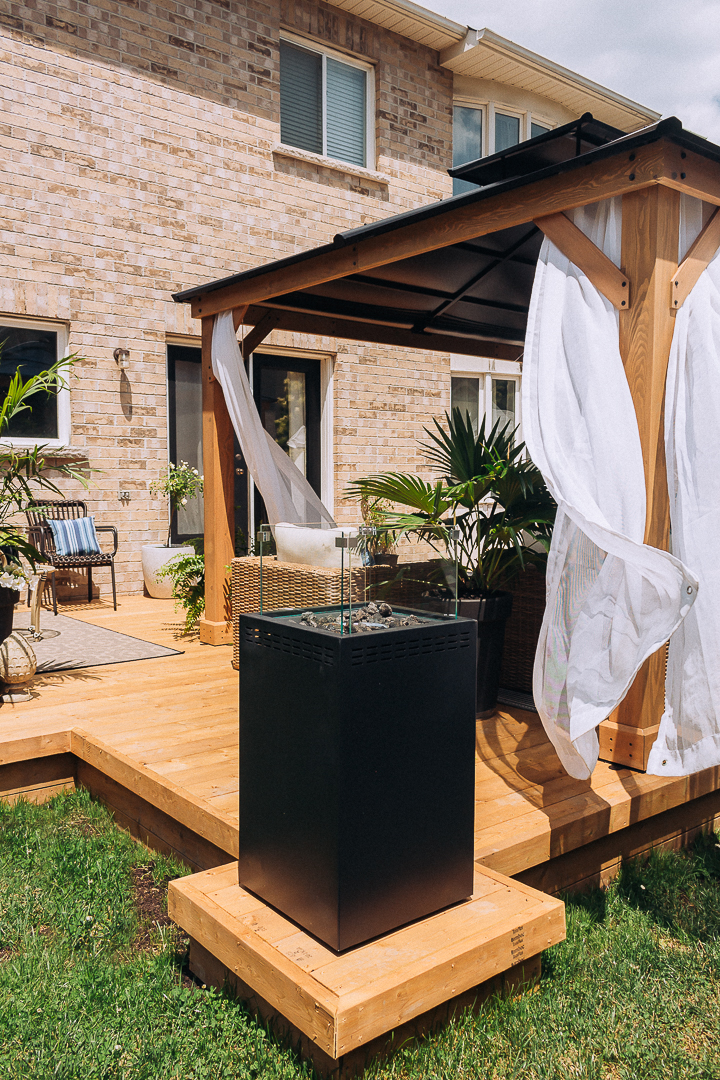 We still have to stain the deck but will have to wait a couple of weeks for the wood to 'dry'…so they say. I keep reading different opinions so we'll see.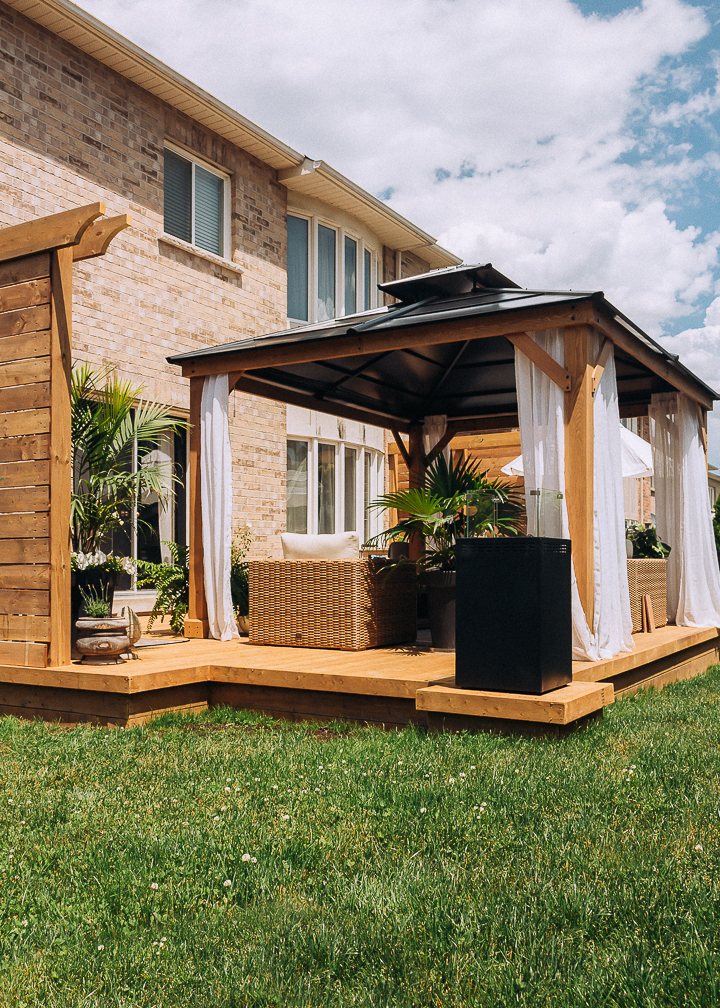 So there it is. Our new backyard space. I'm so looking forward to spending lots of time here and want to give a big THANK YOU to my friends from Canadian Tire for helping me bring this vision to life.
And thank YOU so much for stopping by.
Wishing you an amazing long weekend.
much love,
Lucy