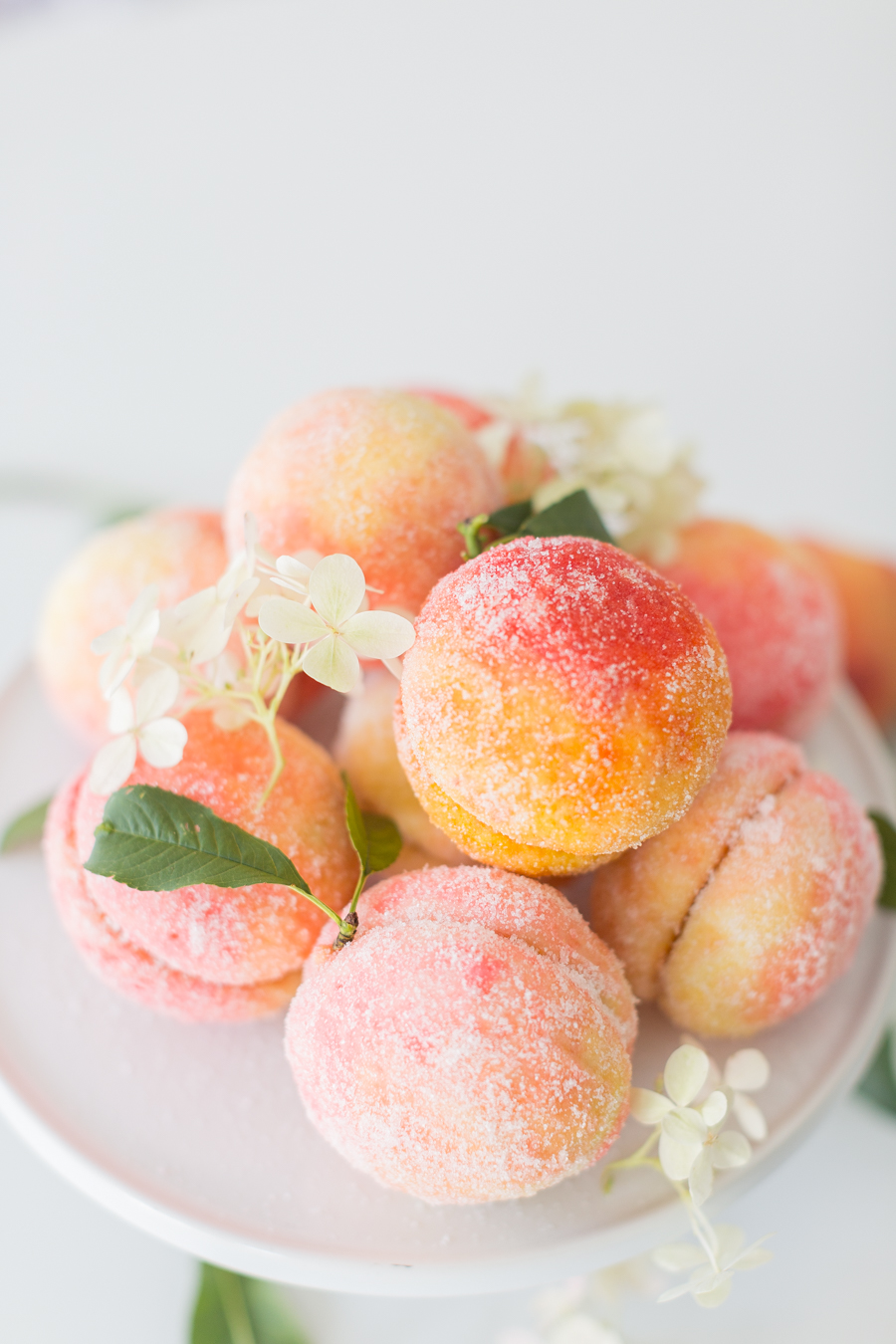 Today is the last day of summer vacation and like each year, I'm filled with  mixed emotions. In one hand I'm ready for a little more structure and routine but at the same time, I miss the kiddies so , so much when they're not here.
I honestly cannot believe how quickly this summer went by. Maybe because we had a very wet summer and sunny days were far and few in between making it seem short.
I hope you enjoyed your summer and are ready for some fall inspiration because in the next couple of weeks, some of my friends and I will be sharing a little bit of fall and holiday decor.
Today we start in the kitchen. I have to admit that there's not too much fall happening just yet so I'll say this is a late summer kitchen post.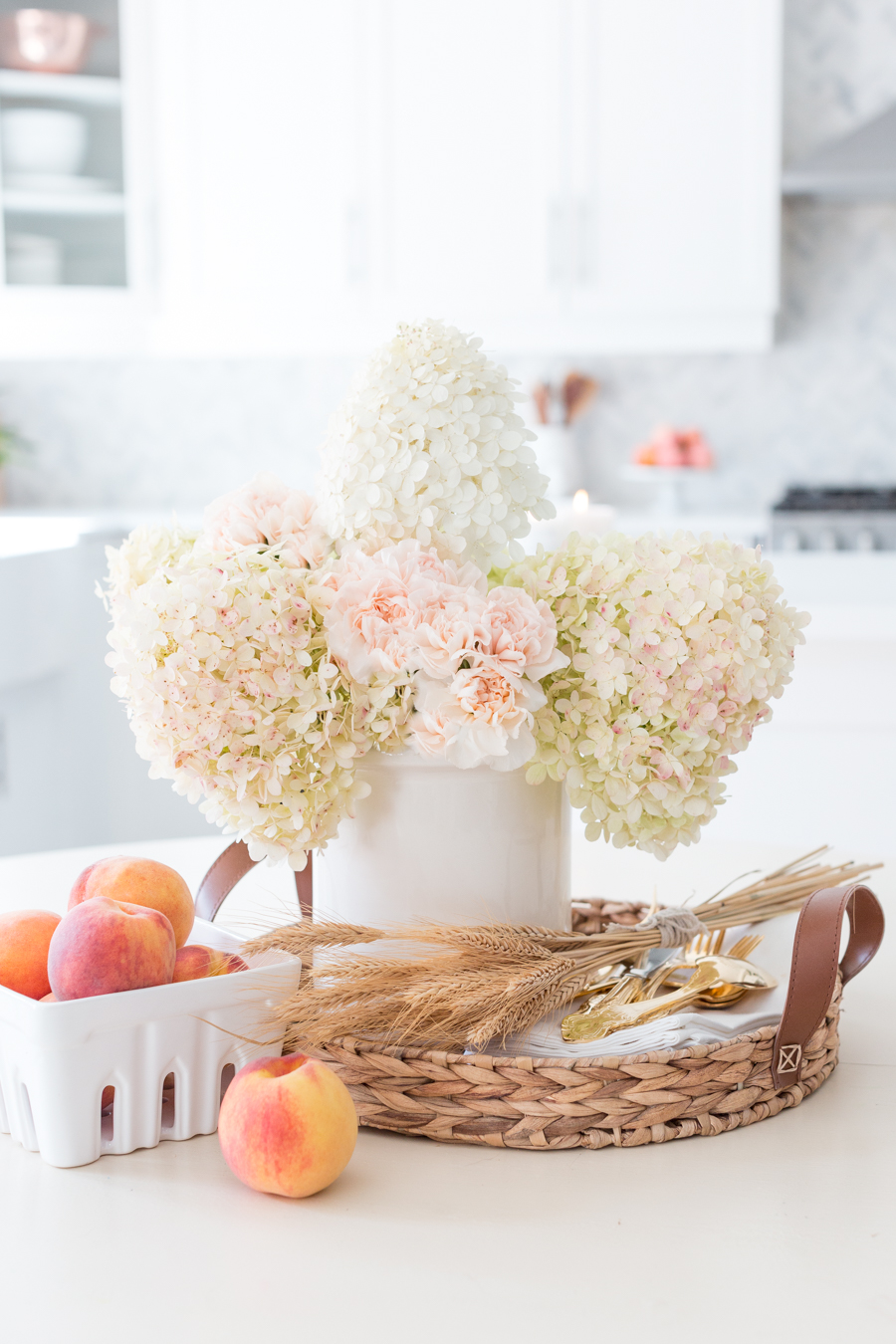 If you follow me on Instagram, then you might have seen one of my instastories where I was 'coveting' my neihgbour's peach tree. lol
They have the most beautiful peach tree, and I had visions of photographing a branch of peaches on my kitchen counter. They are fairly new to the neighbourhood and so I was a little too shy to ask, but hubby surprised me one afternoon with a little peach tree branch.
Just for disclosure, he knocked on their door and asked, he didn't just take it. lol.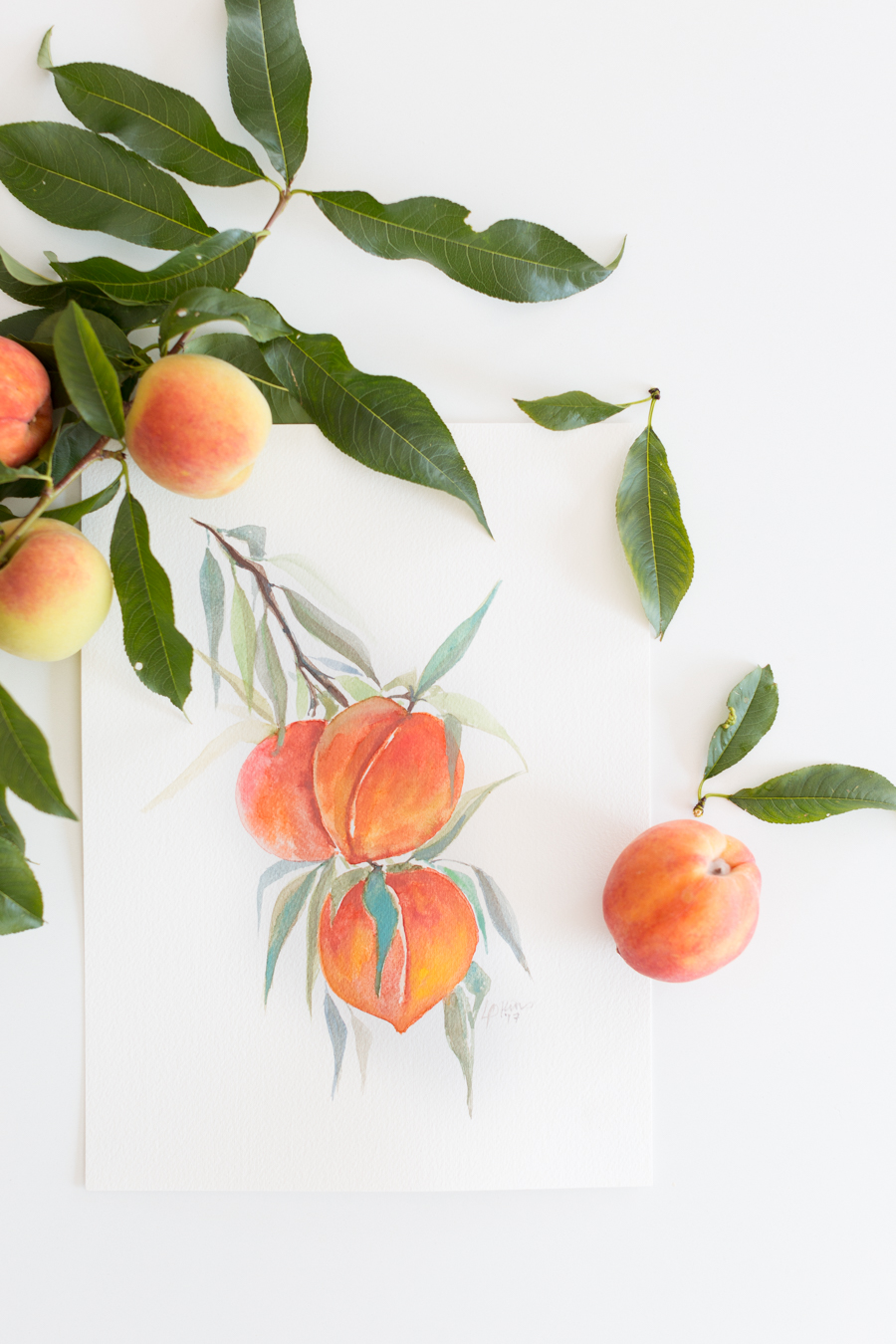 And there it is. My little peach branch. 🙂 I then painted this for them as a thank you.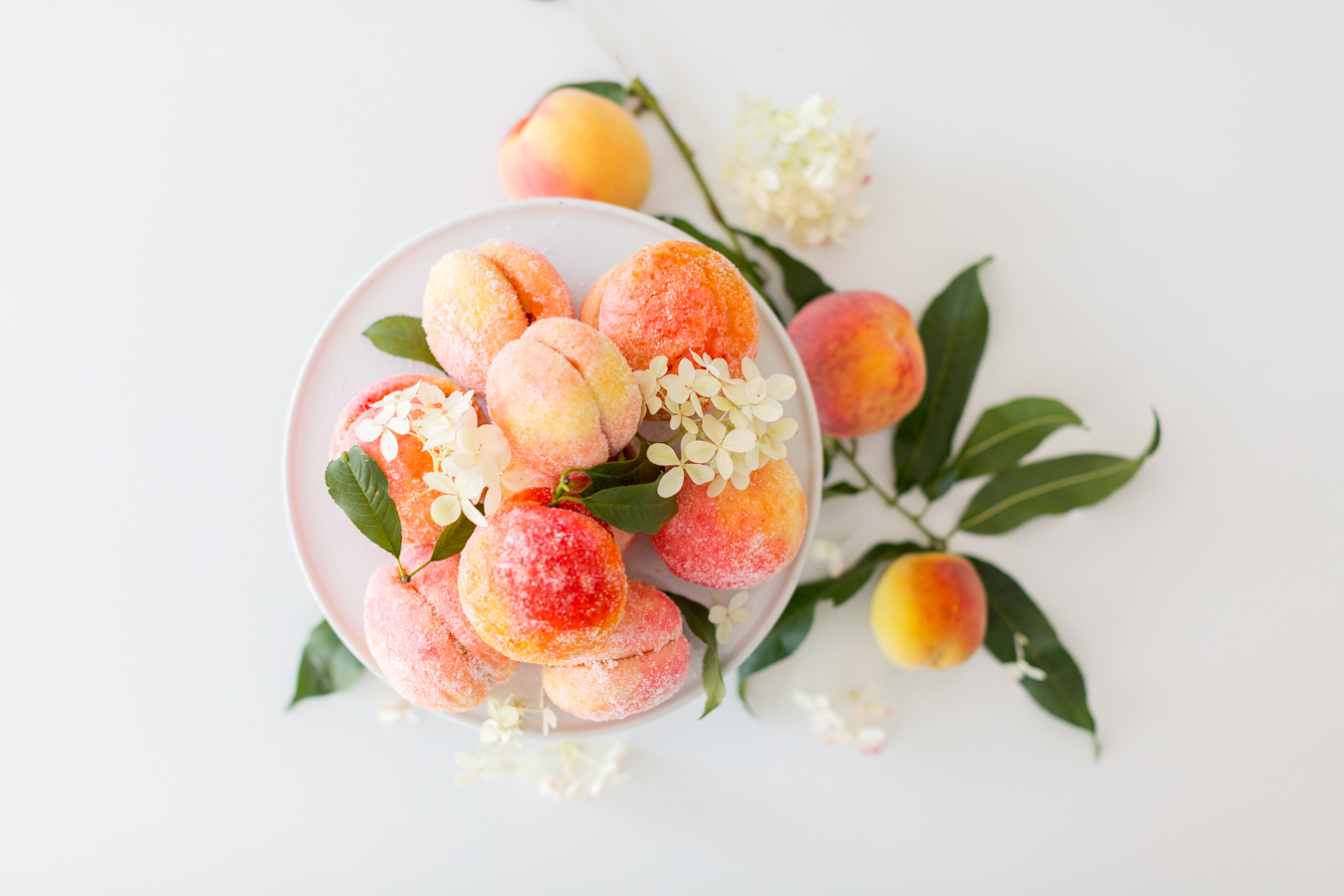 And because I have been so inspired by peaches lately, I decided to make these super cute Italian peach cookies.  Don't you just love them?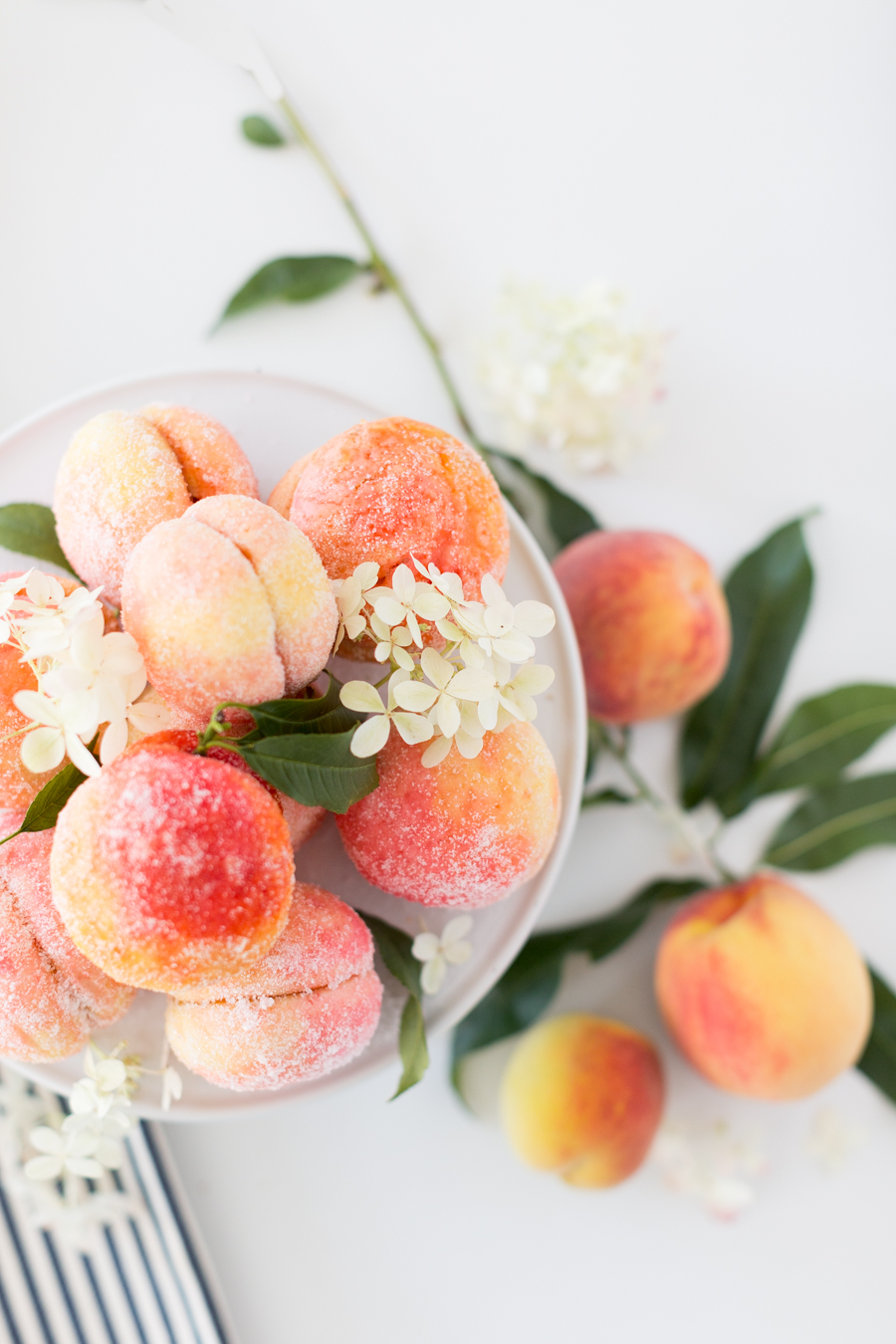 They look just like real peaches and they were also super yummy and easy to make.  Key word 'easy' because I'm a beginner baker.
Ingredients:
For the cookies:
3 3/4 cups all-purpose flour

1 tablespoon baking powder

3 large eggs

3/4 cup sugar

3/4 cup milk

1/2 cup (1 stick) unsalted butter, melted and cooled
For the filling:
Peach marmalade or your favourite cream filling.
Directions:
 In a large bowl, whisk together flour and baking powder. Whisk eggs in another large bowl. Add sugar and whisk to combine. Whisk in milk, butter until smooth. Gradually add flour mixture, mixing with a fork, until dough is smooth and stiff. Let dough rest for 5 minutes.

Preheat oven to 350 degrees. Line two baking sheets with parchment paper; set aside.

Roll the dough firmly between your palms to make a smooth round ball, about the size of a walnut. Repeat process, making sure all the balls are fairly uniform in size. Place balls on baking sheets spacing about 1 inch apart.

Transfer to oven and bake until bottoms are lightly browned, about 15 minutes; tops will remain pale. Transfer to a rack and let cool slightly.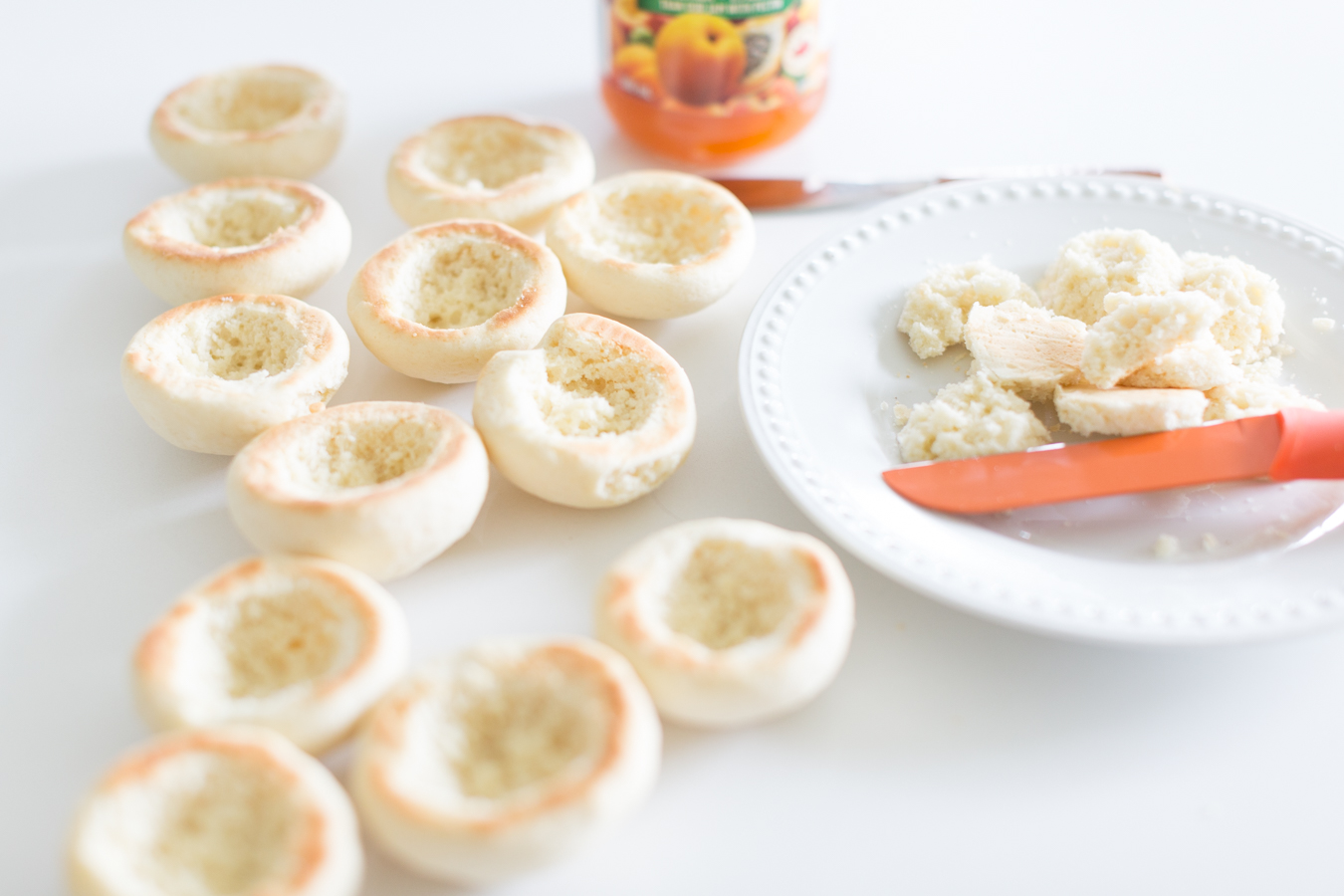 While the cookies are still warm, use a small, sharp knife to cut a circle about the size of a quarter on the bottom (flat) side of each cookie, make sure you don't crack the edges. Use the tip of the knife to scrape out enough crumbs to make hollow and hold about 1 teaspoon of filling. Set cookies aside.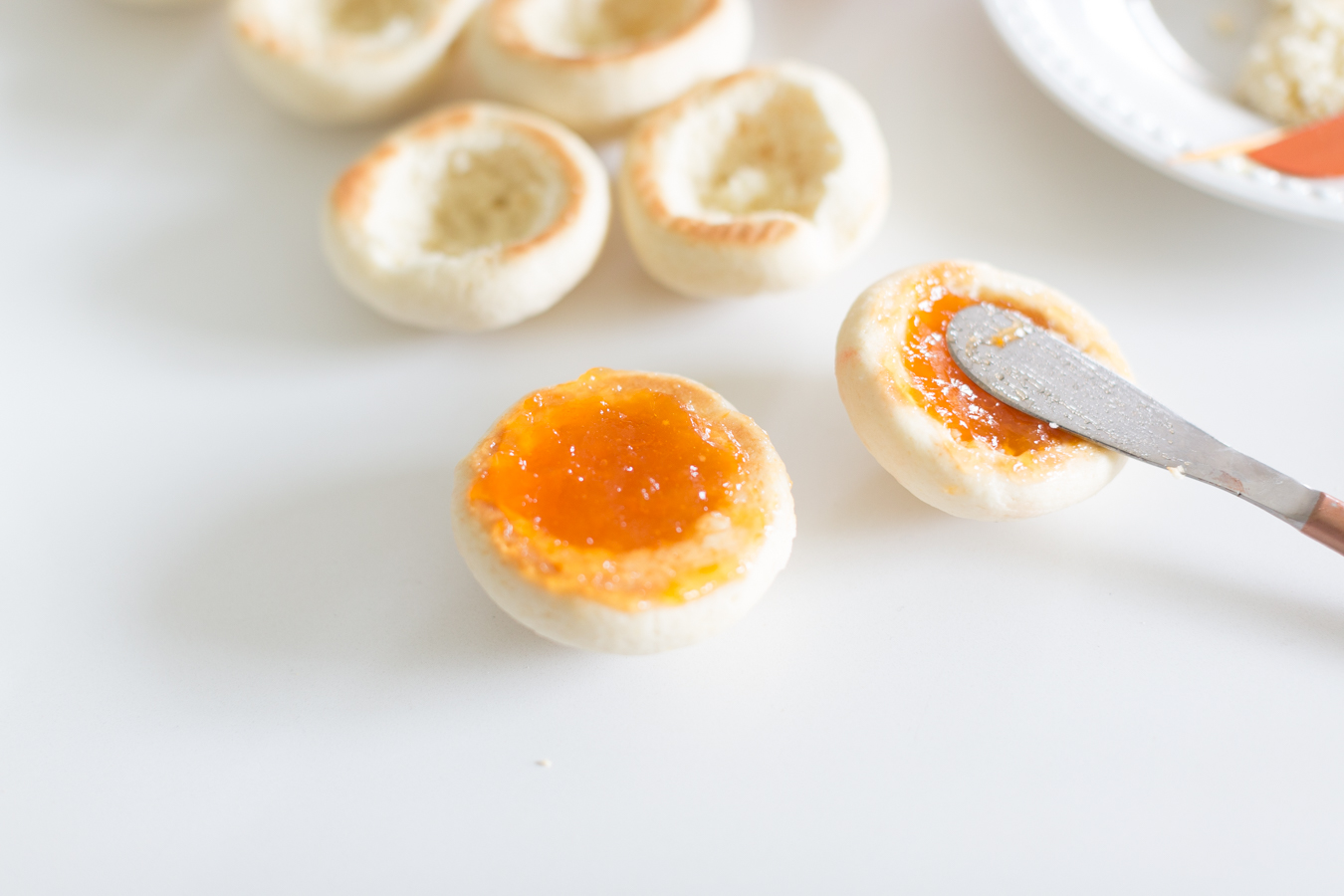 In keeping with the theme, I used peach marmalade, but you can use any type of filling you like. As a matter of fact, the original Pesche cookie recipe, varies from family to family. So I encourage you to find the one you love. Once the cookies have been filled, place two halves together to form the peach.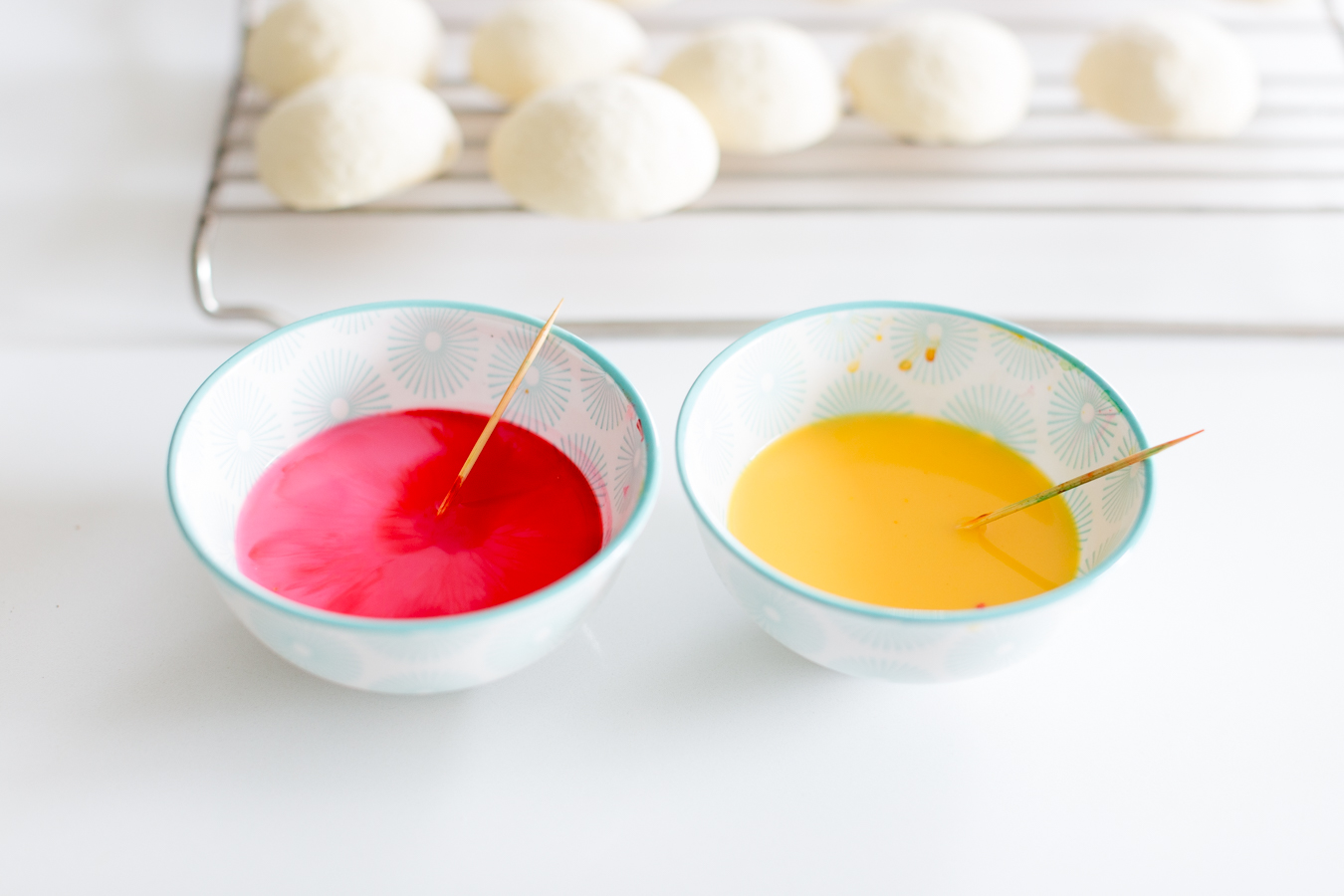 In two separate bowl pour half a cup of milk in each. Add enough red and yellow food coloring to create your desired shade of peach; set aside. Fill a shallow bowl with sugar; set aside.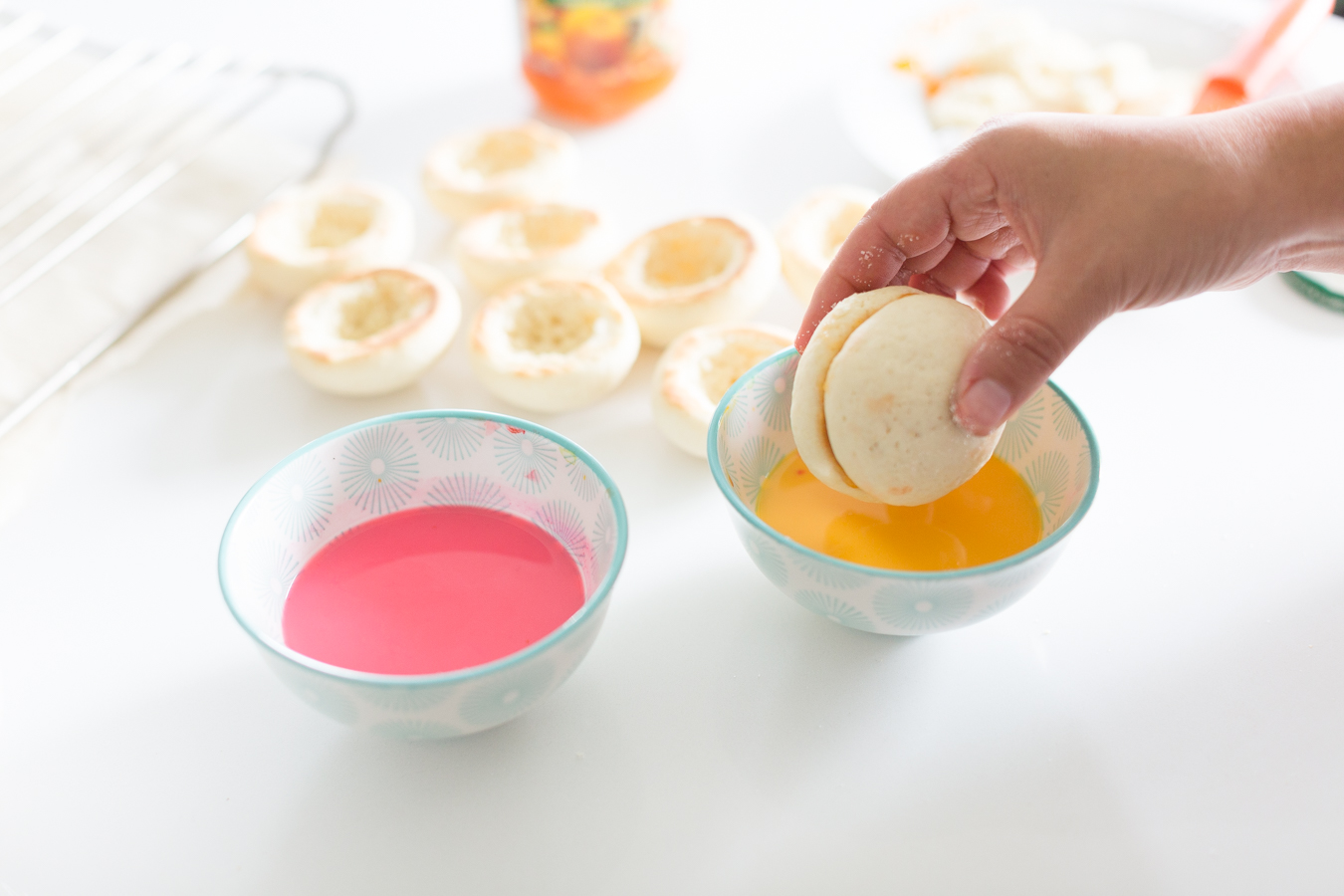 Take the cookie and dip half of the cookie on the yellow mixture.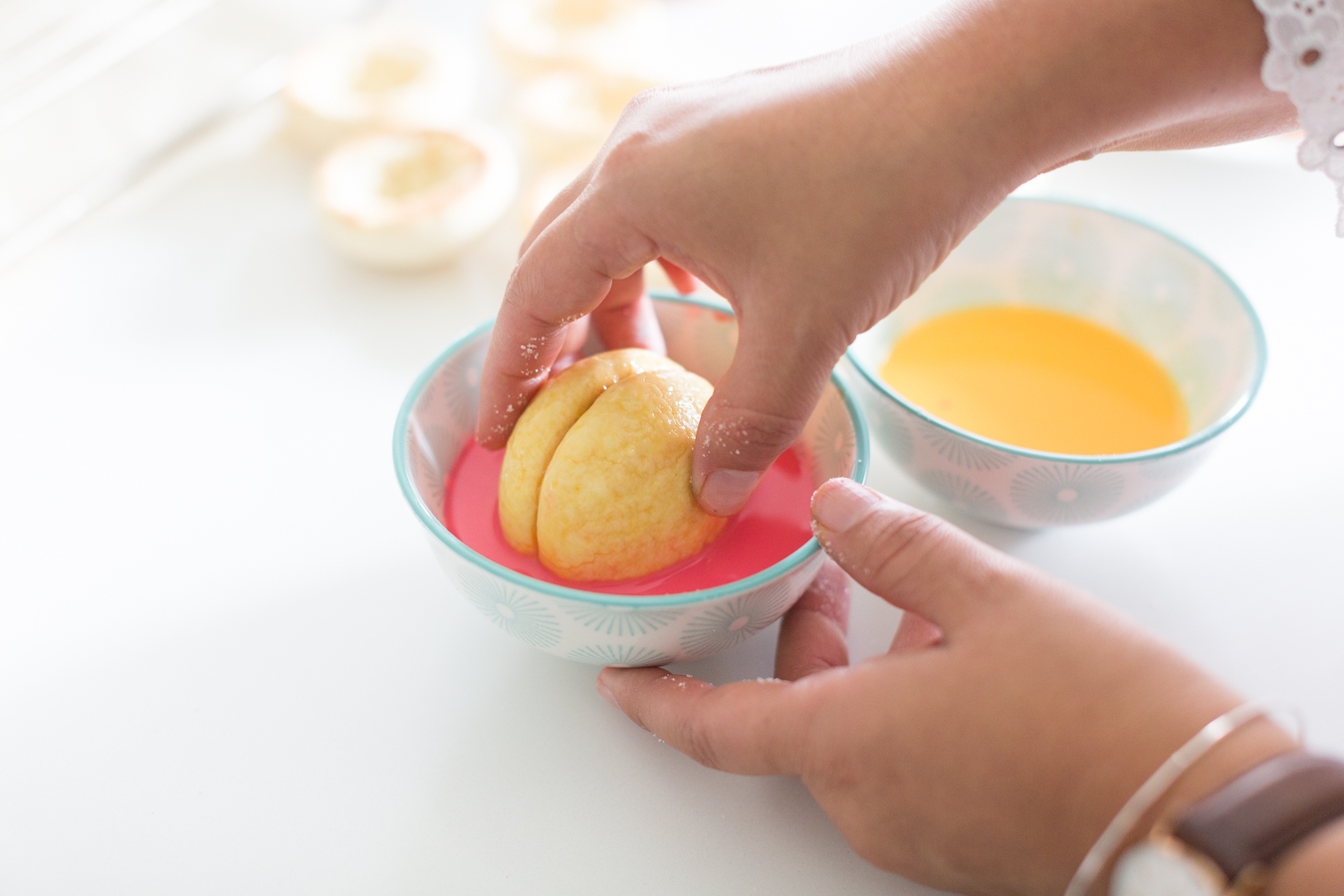 Flip cookie and dip the other half on the red mixture.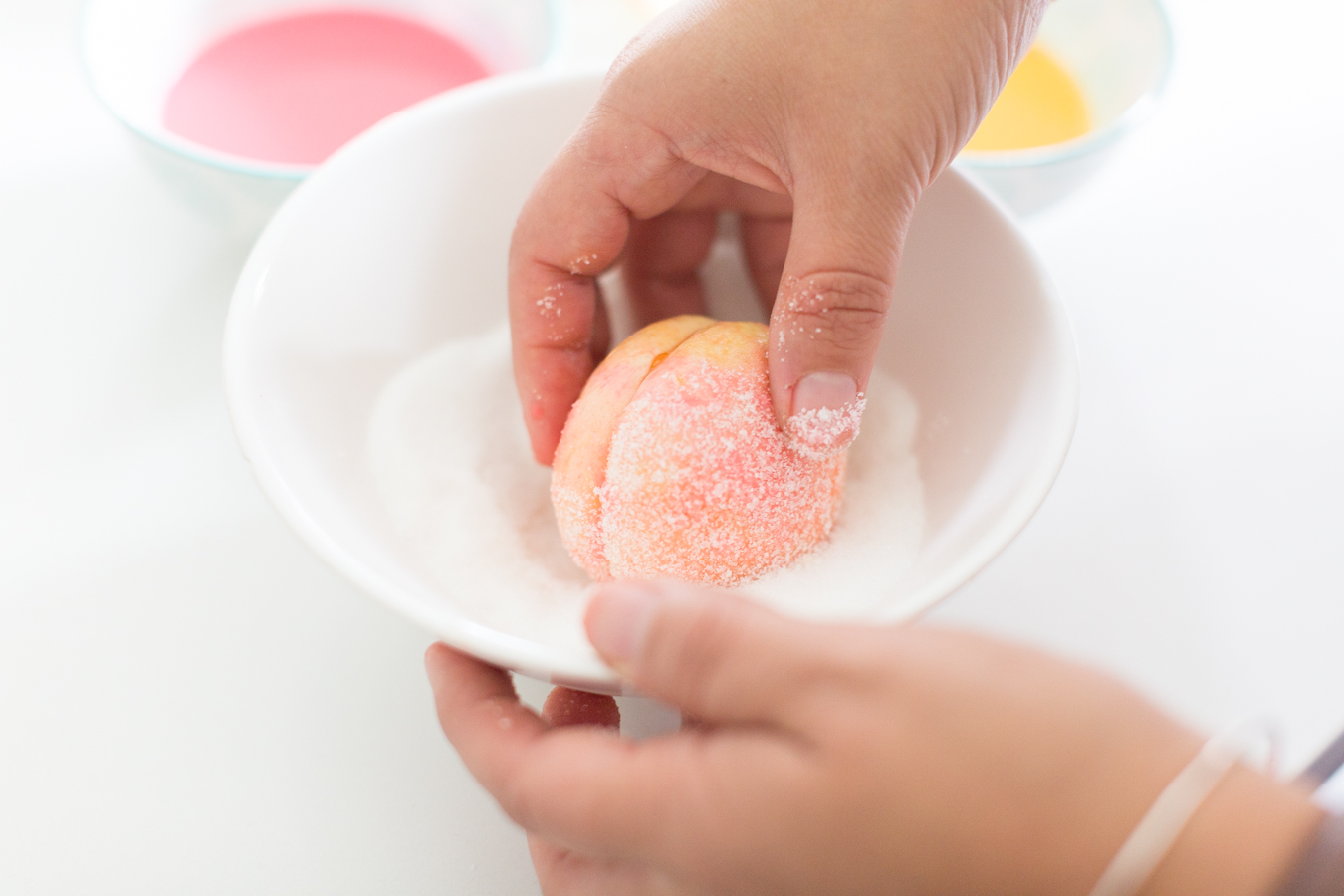 Let it drip a little and place in sugar bowl and cover completely.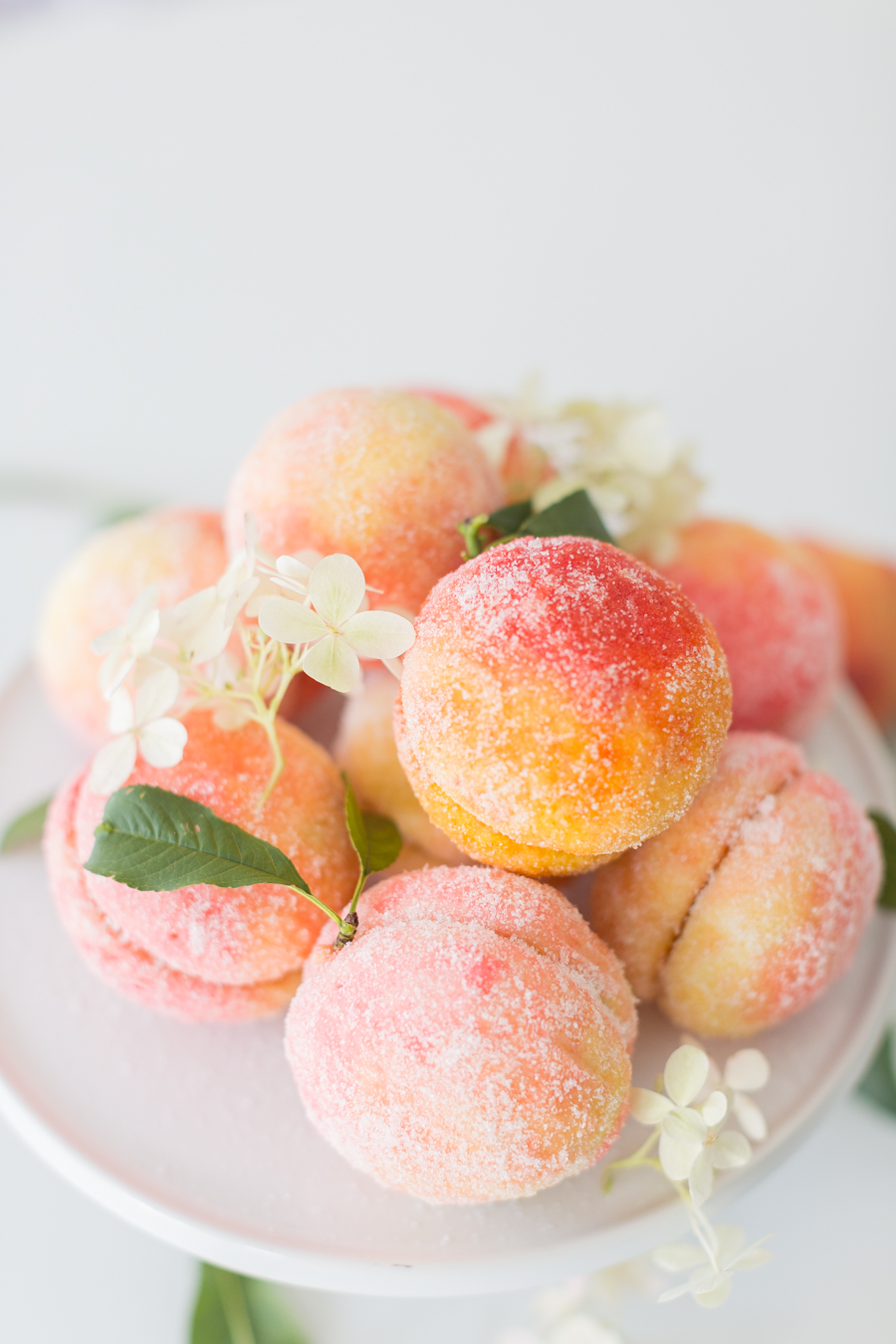 And there you go! Aren't they sweet?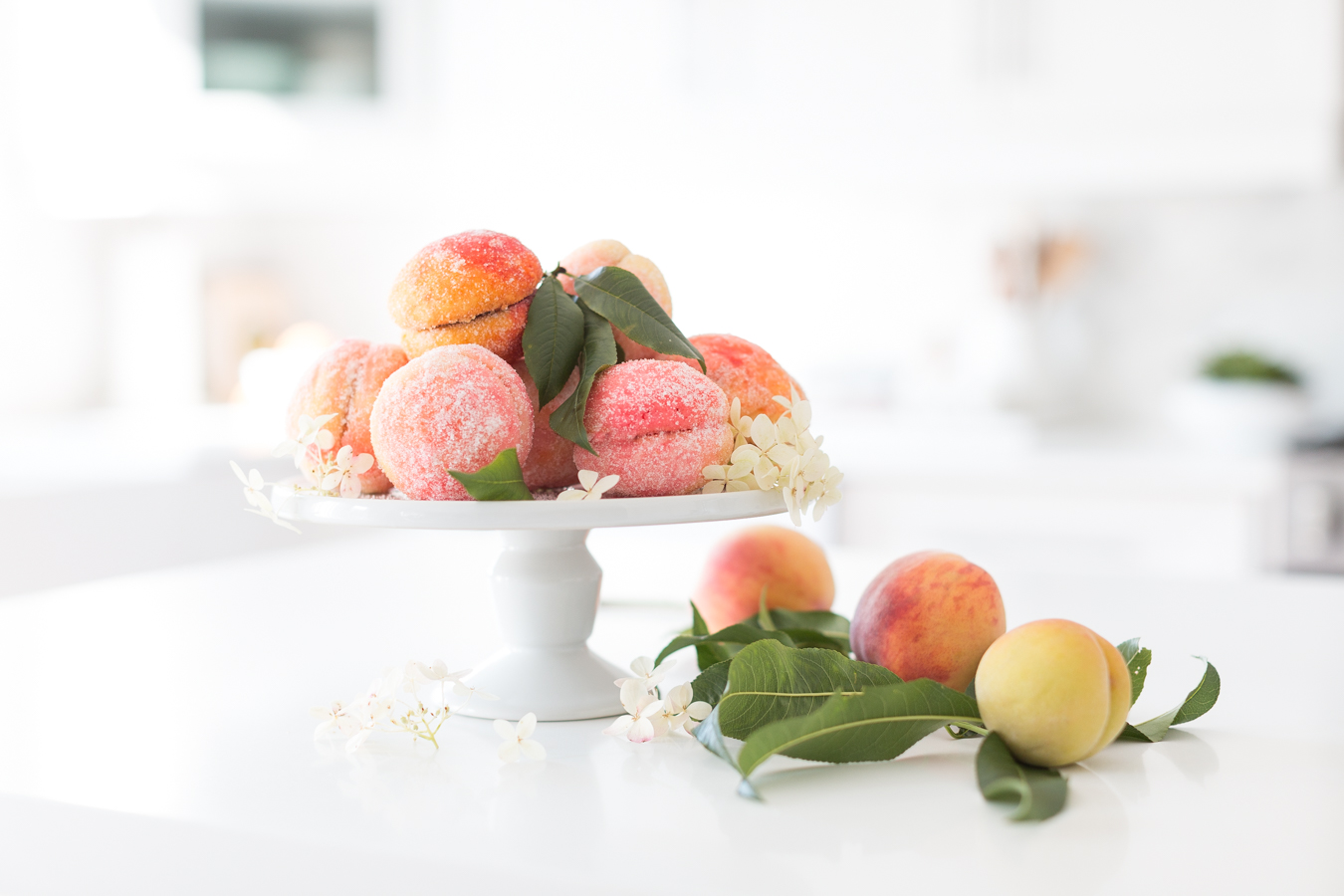 And then of course I had fun taking photos…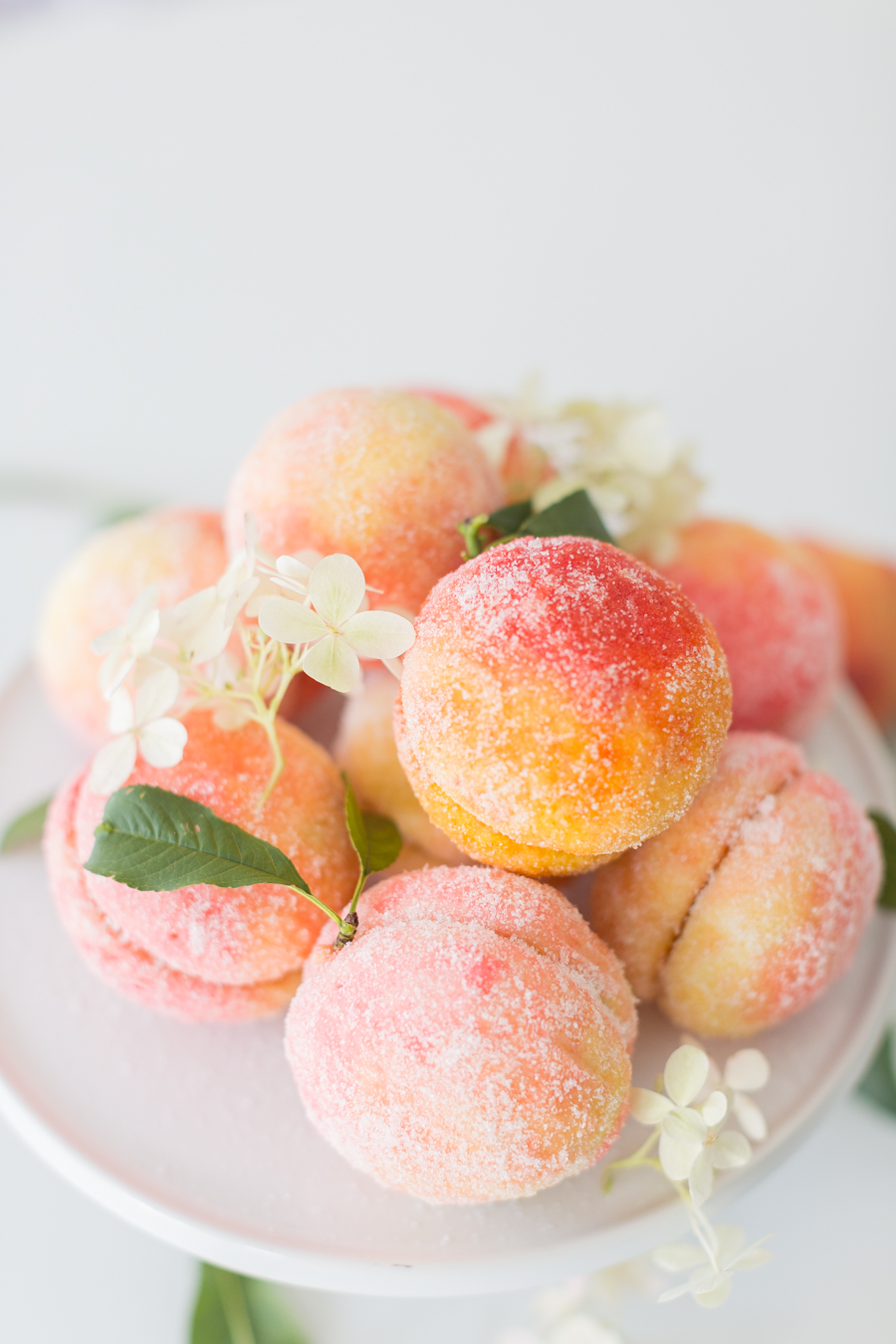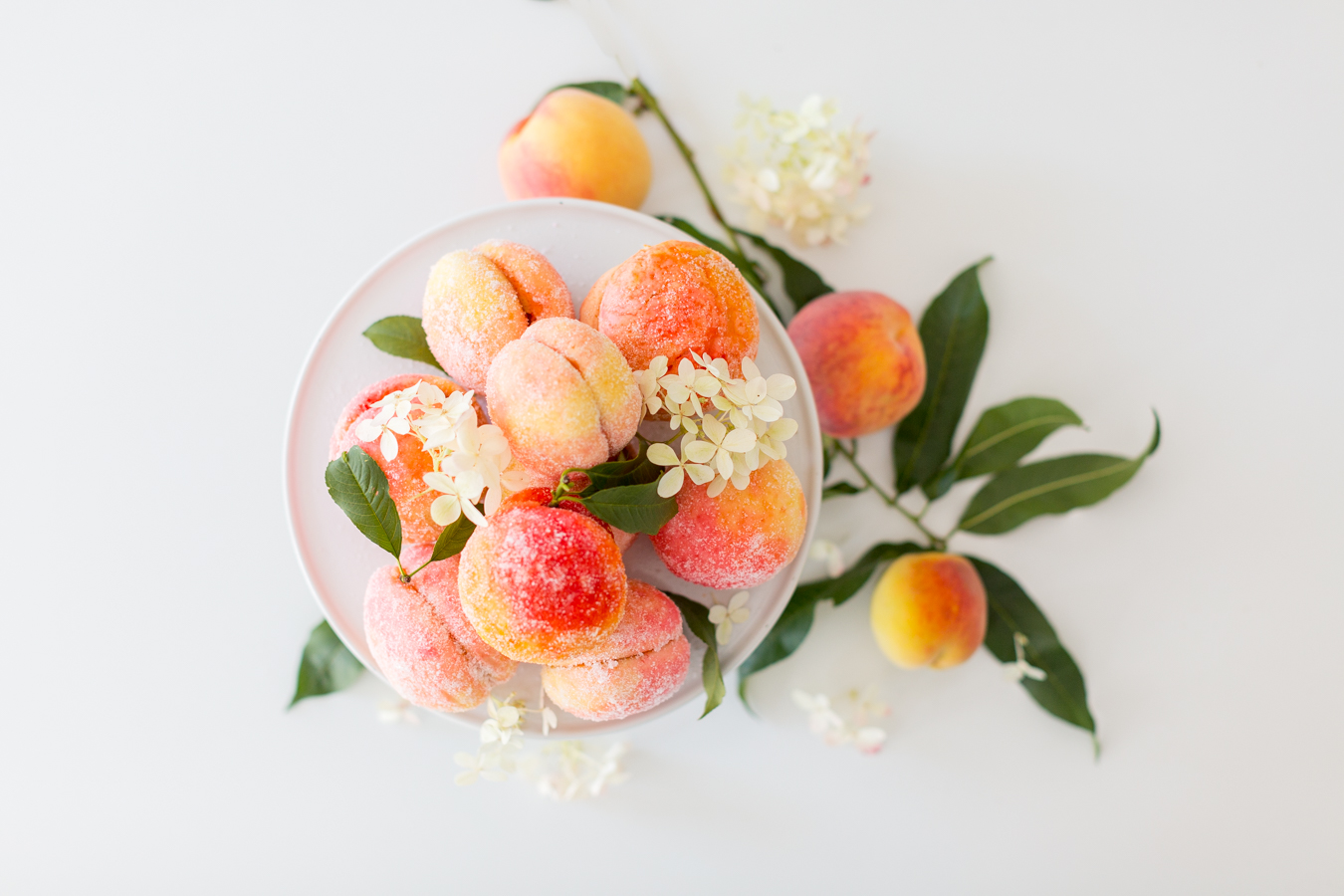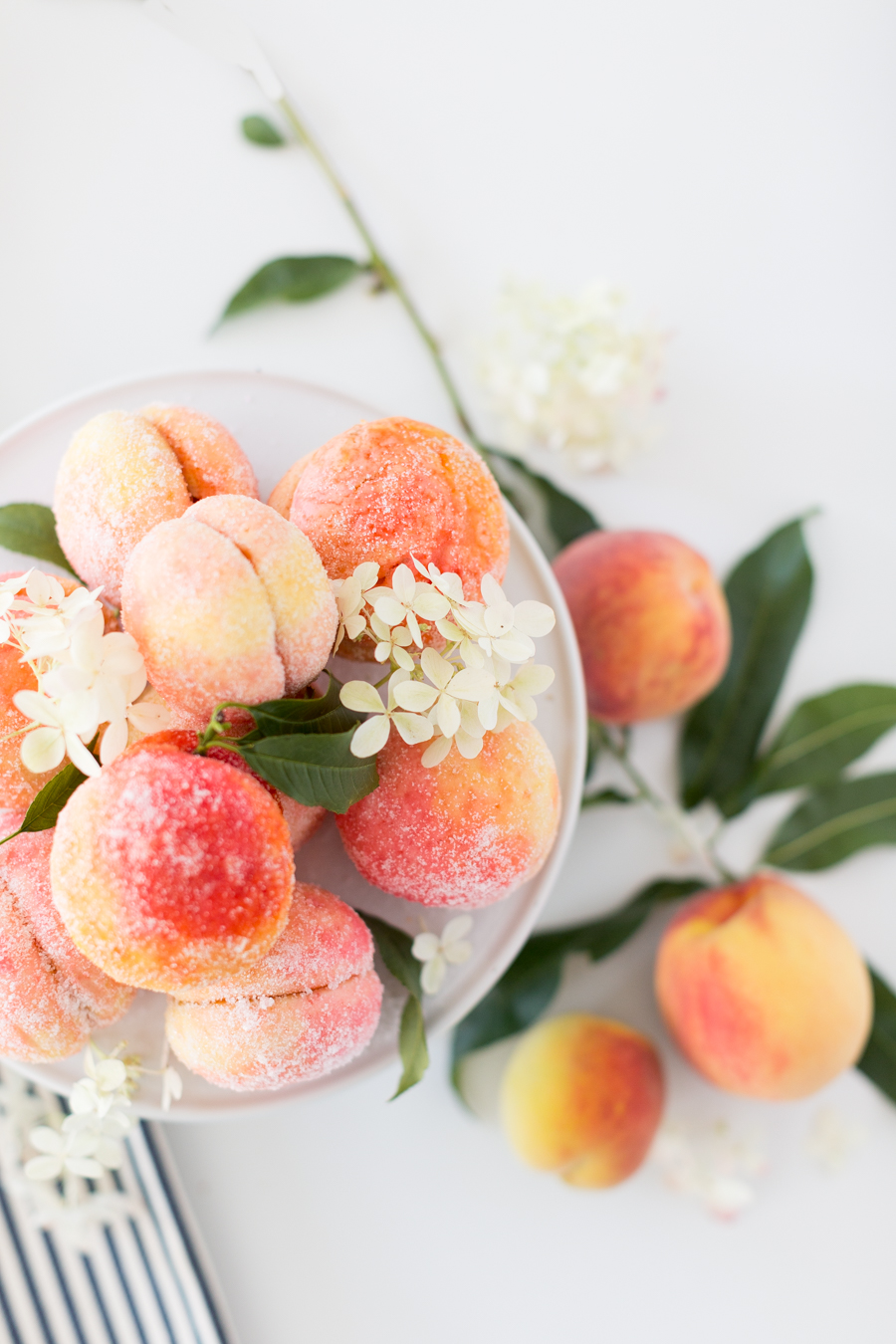 By the way, as I was typing this post, my neighbour knocked on the door with a big bowl of peaches!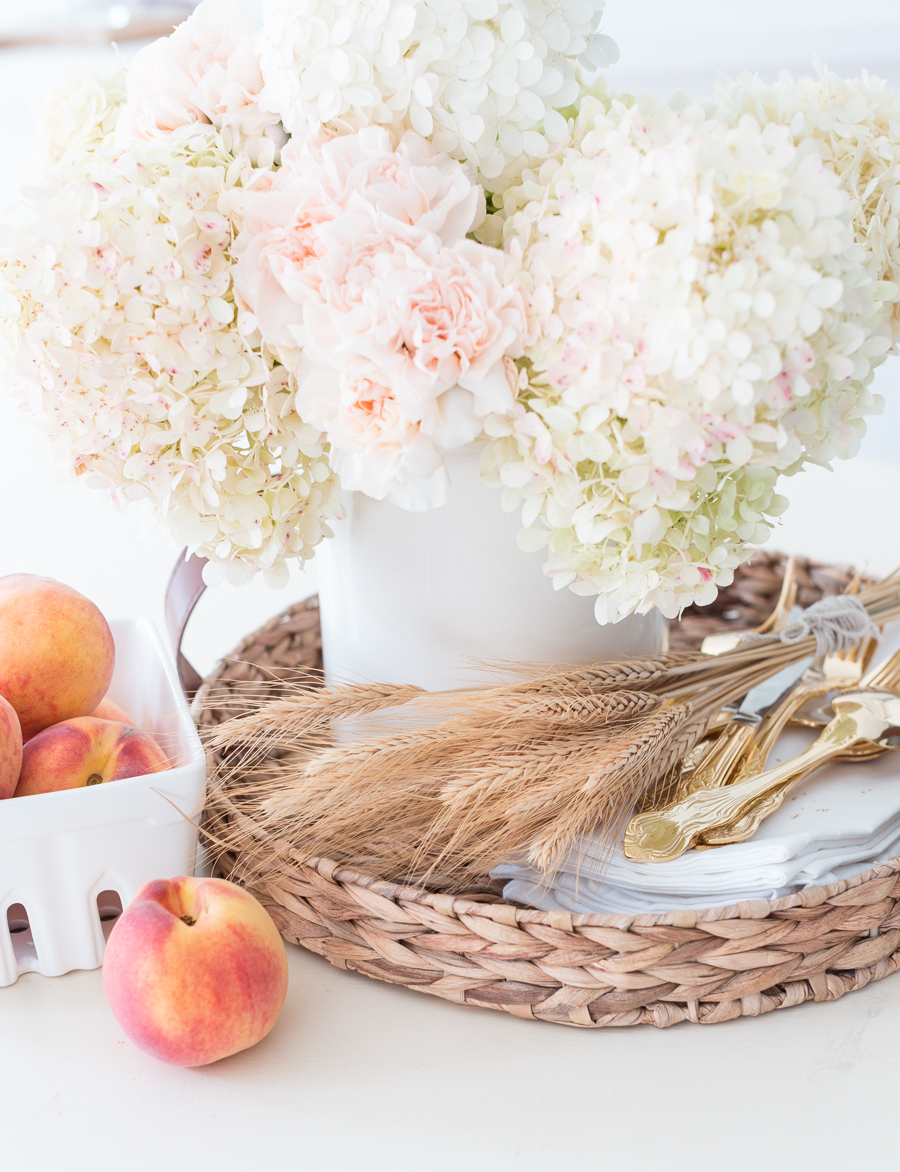 Which means, I'll be having another little photo shoot with the beautiful peaches. ha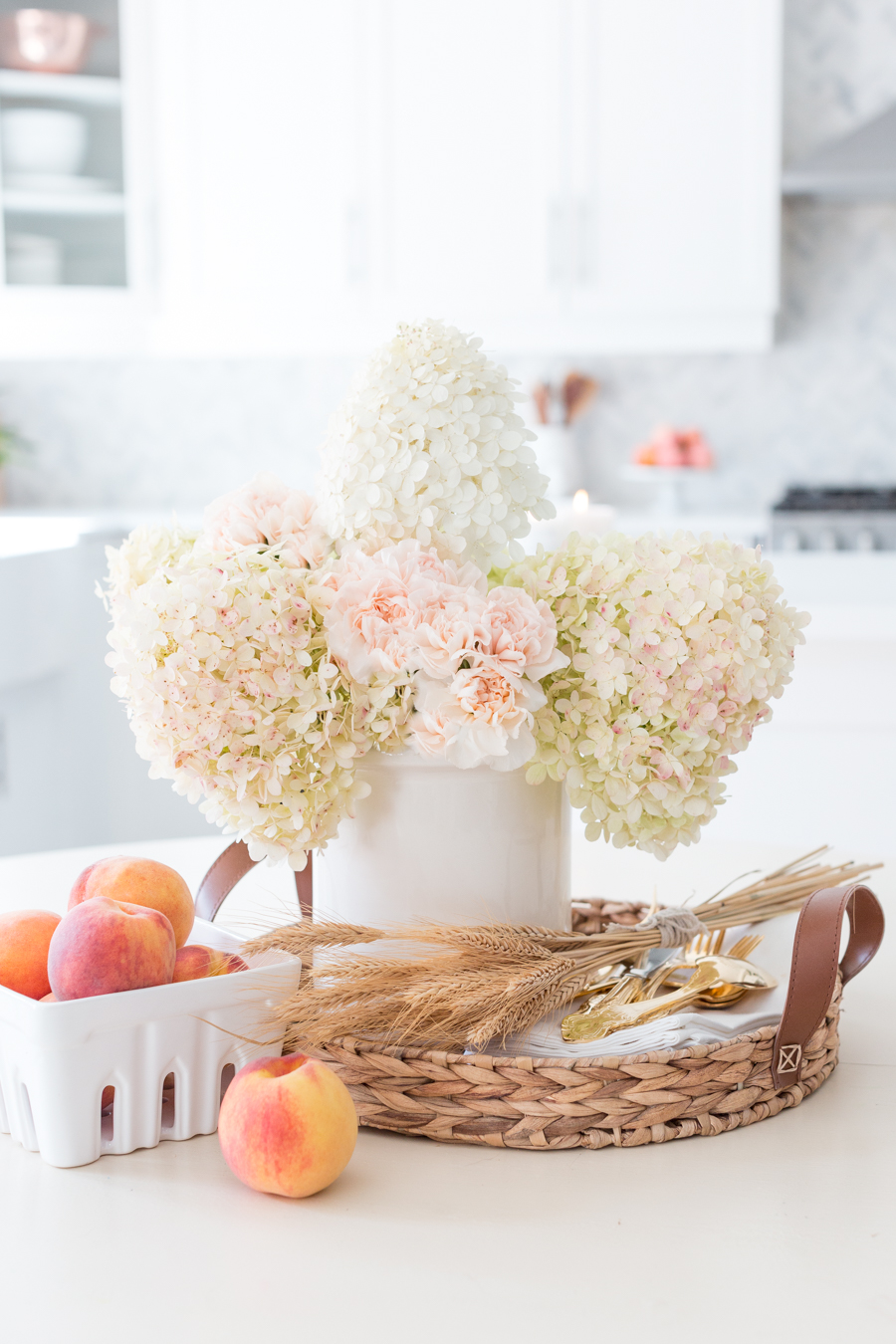 I will also be heading to the farmer's market in search for some little white pumpkins. Hopefully I can find some as they're usually not available this early.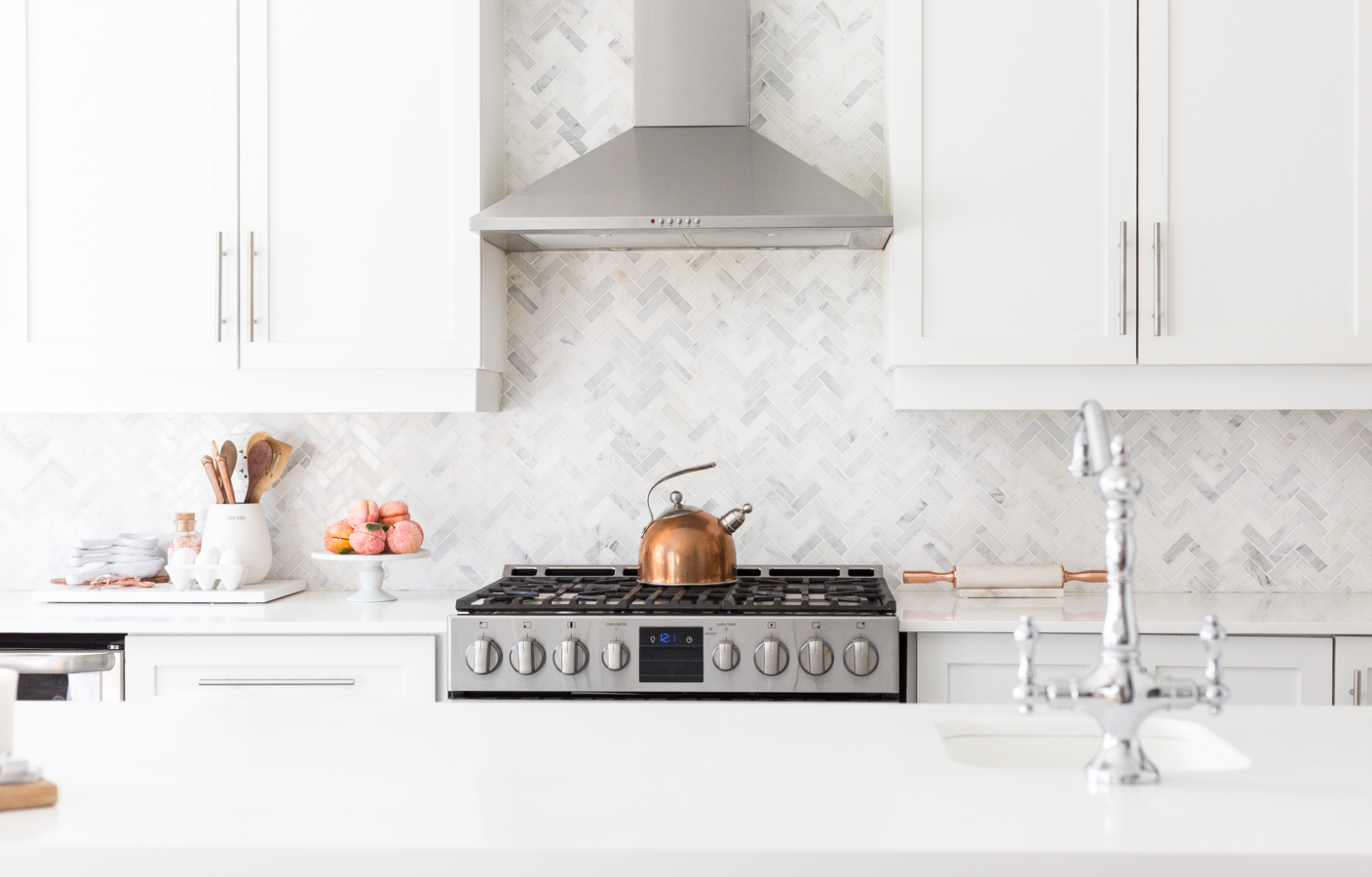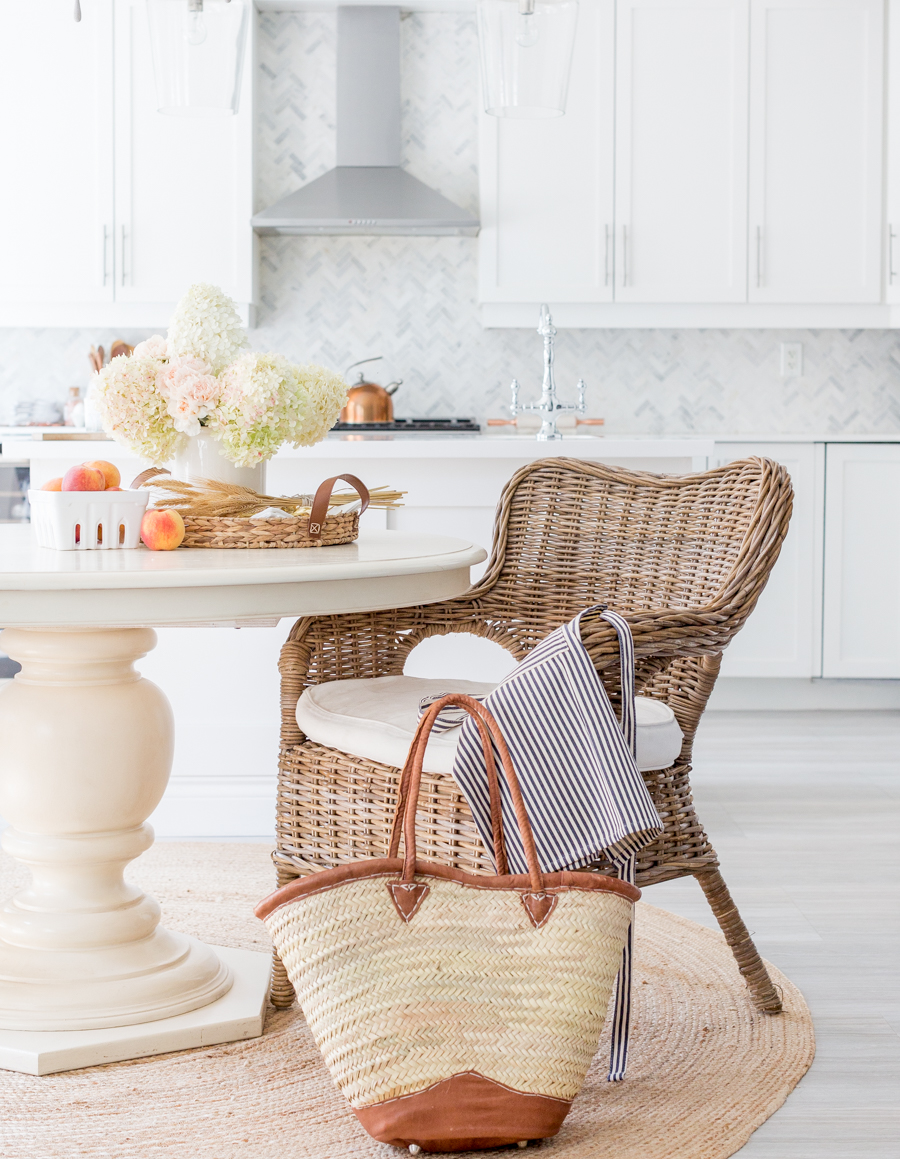 I'm still enjoying my beautiful Hydrangeas and they're slowly starting to turn the sweetest pink shade.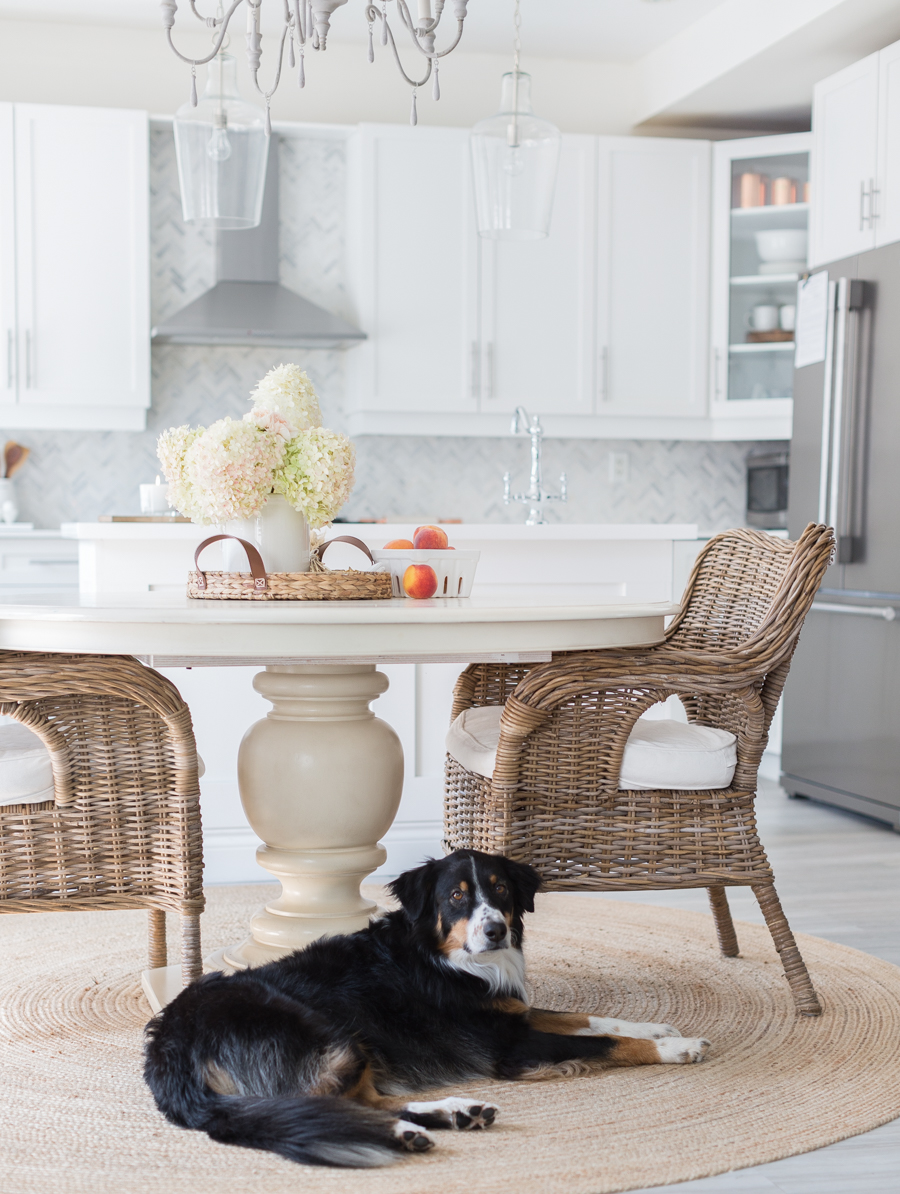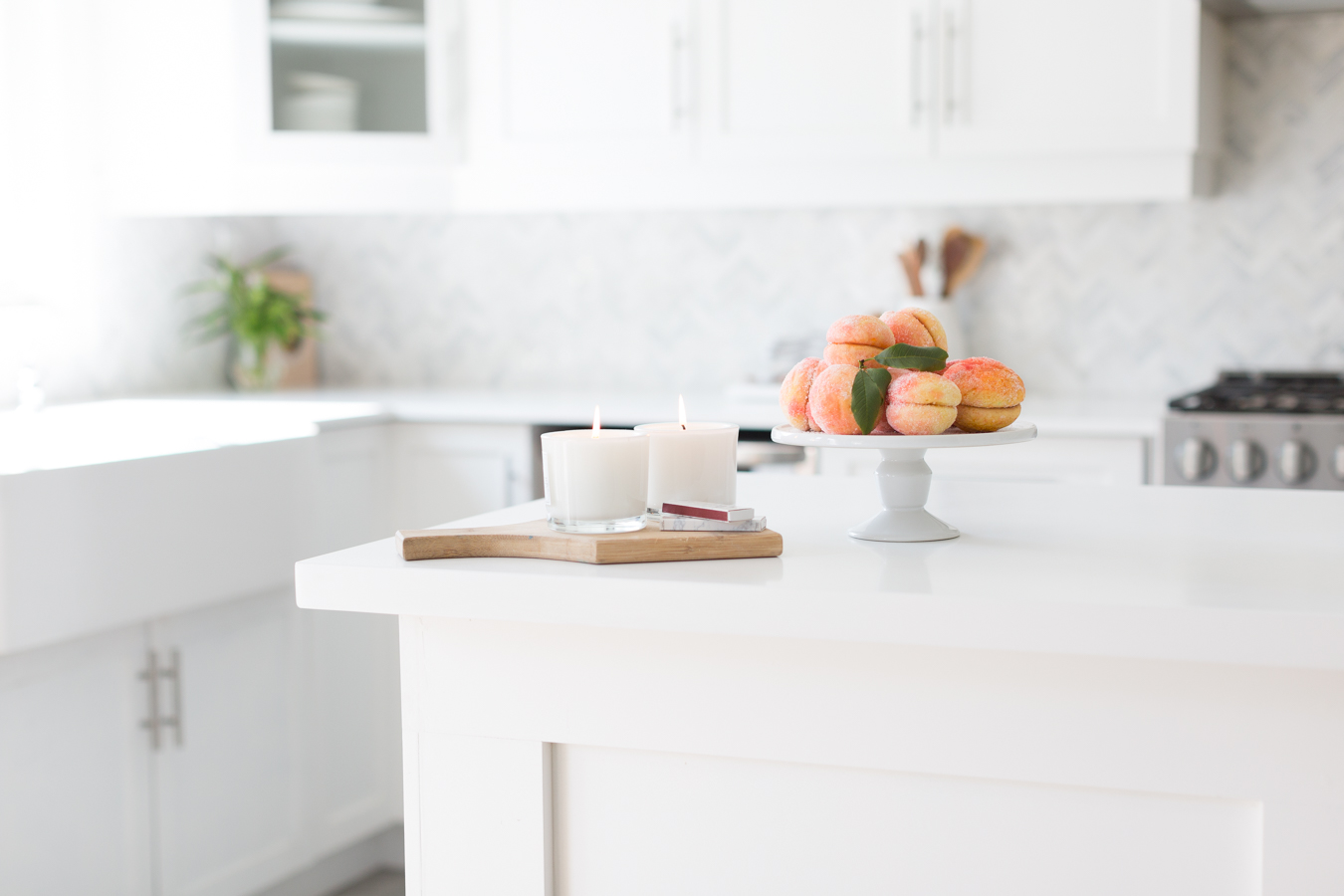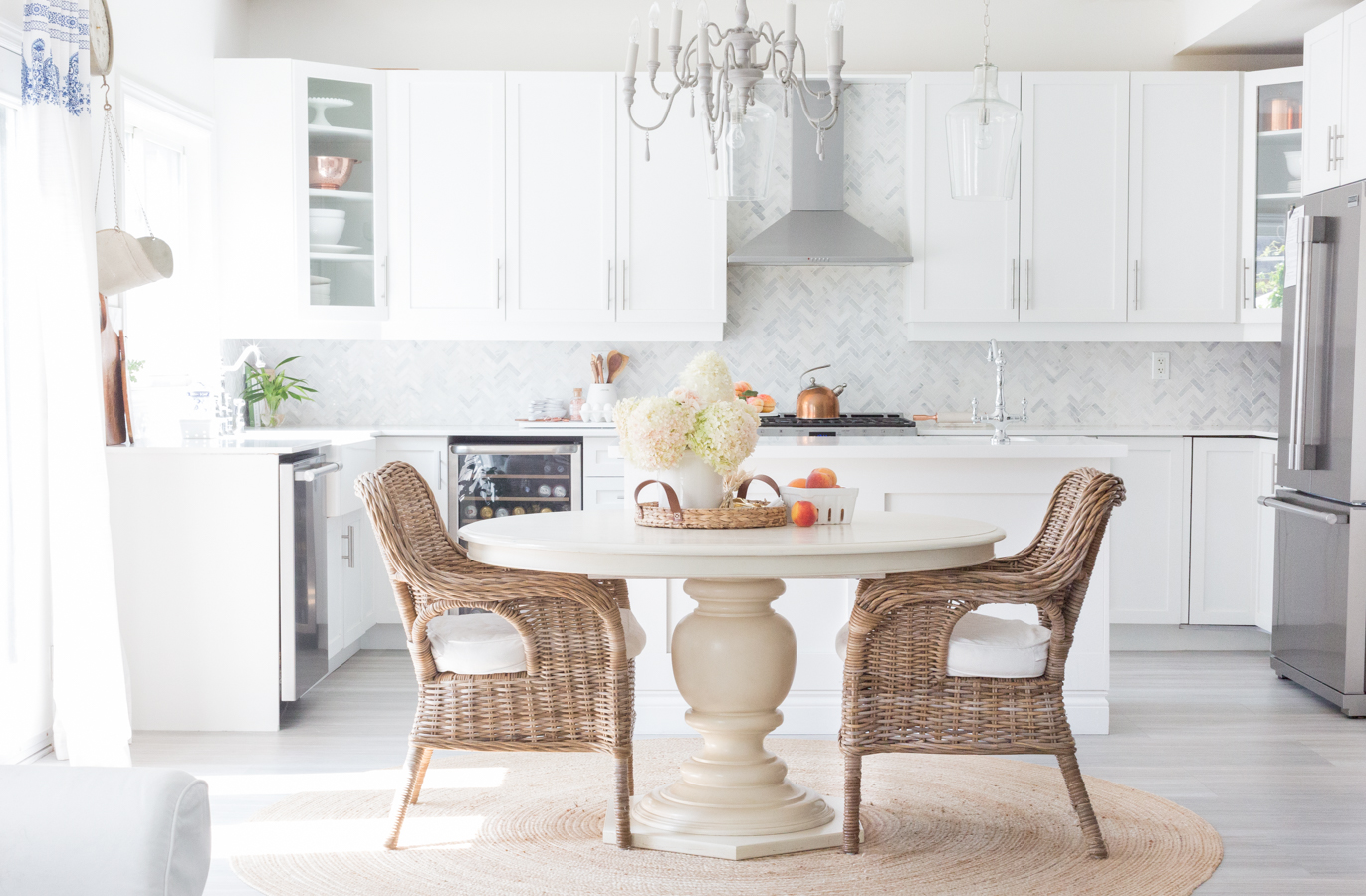 Well, there you go, like I said, not too much fall happening yet but  I hope you enjoyed this little recipe.
Please don't forget to visit the rest of my friends and their beautiful kitchens.
much love,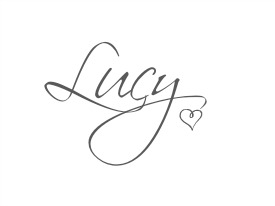 Ella Claire | Shades of Blue Interiors | Dear Lillie | Love Grows Wild
Craftberry Bush | Nesting with Grace | Rooms for Rent | Julie Blanner
Jeanne Oliver | Kindred Vintage | French Country Cottage | My Sweet Savannah
and our featured guest this week, Michael from Inspired by Charm