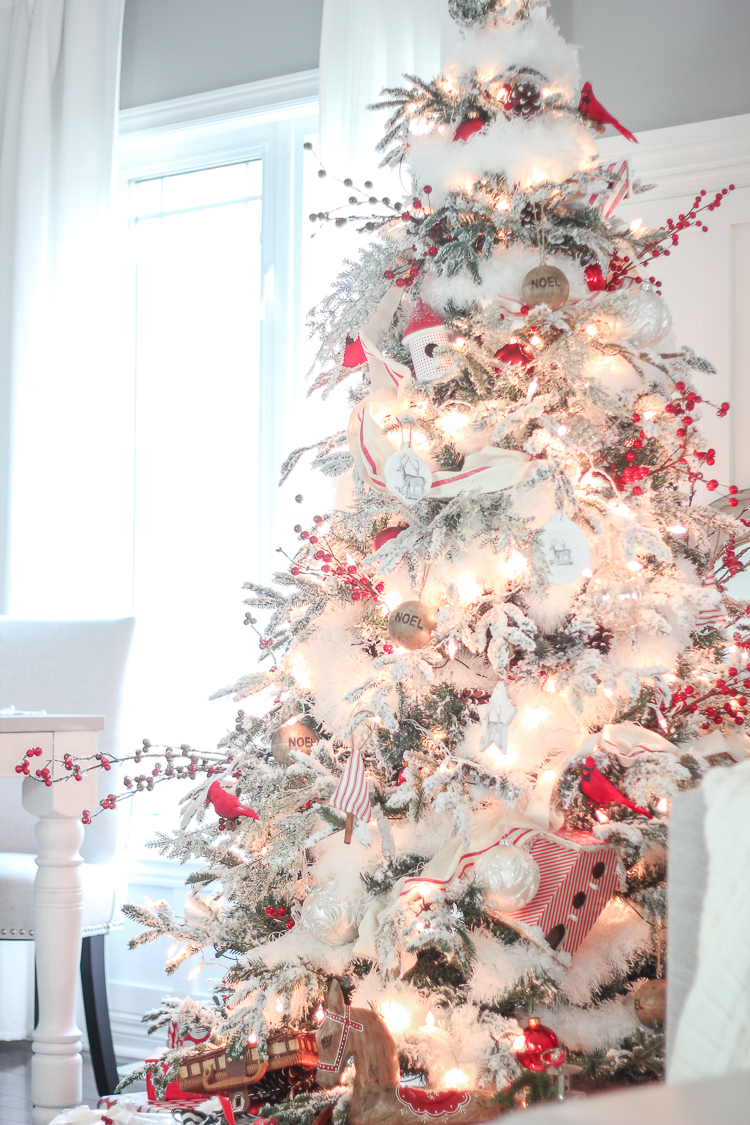 Hello again friends. I'm honoured you've dropped by as I join some of my friends in The Cherished Christmas Home Tours with Country Living Magazine. This tour is being hosted by my dear friend Ashley from Cherished Bliss and I encourage you to visit her to see a complete listing of everyone participating in the tour.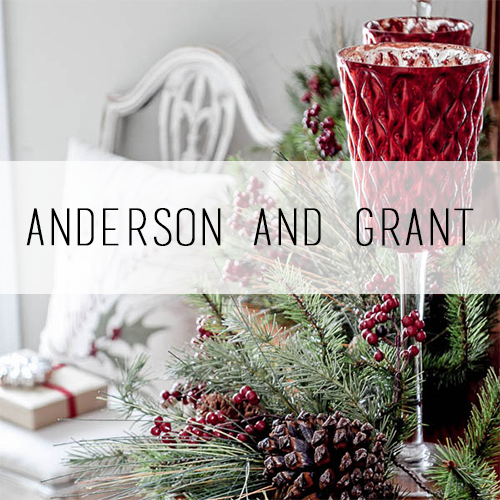 The tour ended at my friend Jamie's yesterday. Did you get a chance to see it? You can go HERE if you didn't.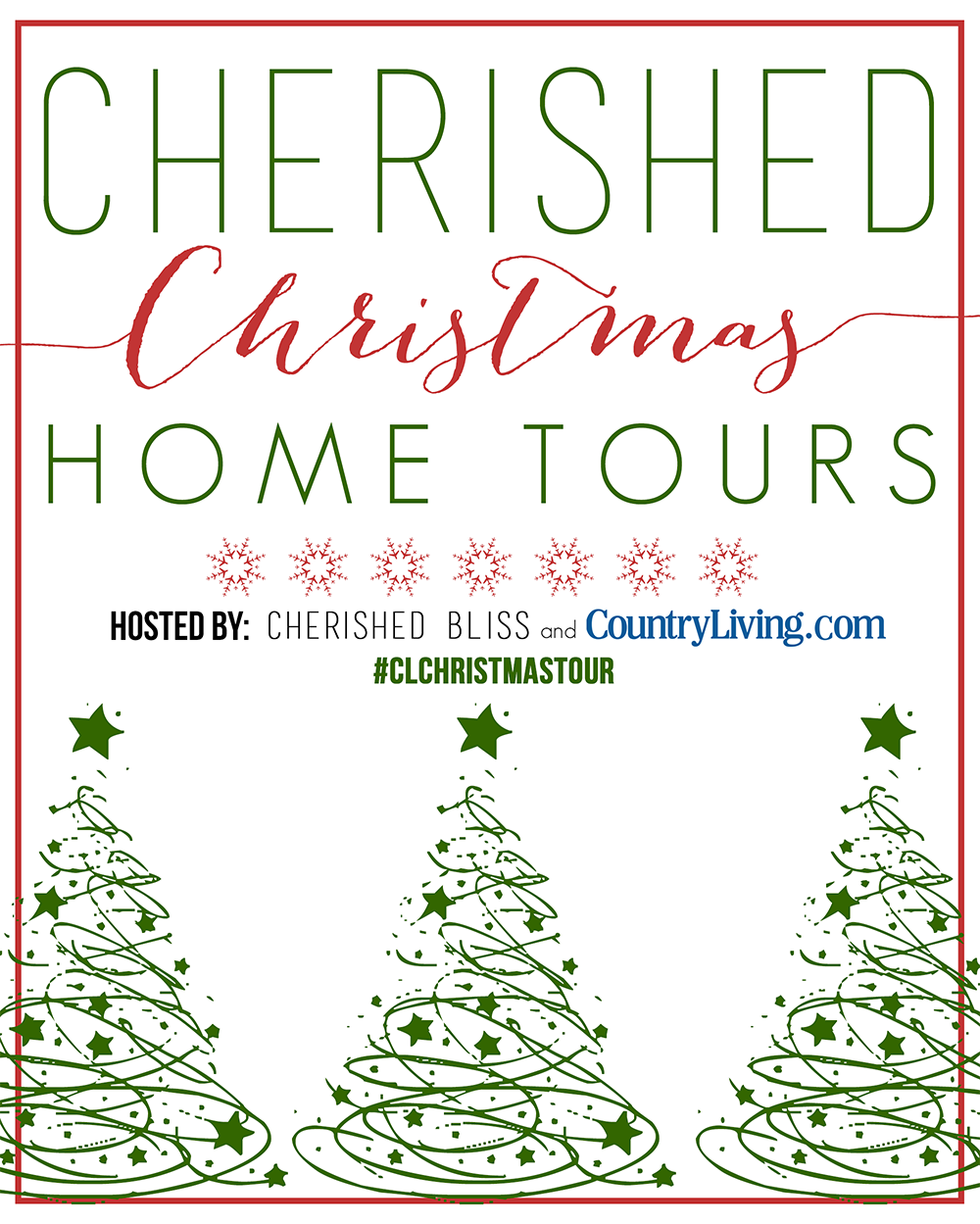 I would like to start this post as I start every Christmas home tour post. That is, to thank you for being here and remind you that these tours are meant to hopefully inspire and perhaps provide ideas for you to consider using in your own home.
Can I let you in on a little secret? While I love these home tours, they can be extremely stressful for me. I obviously cannot speak for all bloggers, but know I'm not alone as a couple of my friends have told me they feel the same way. There is so much work and planning involved, and I put pressure on myself to try and come up with new and exciting ways to decorate. Before I know it, insecurity creeps in as I don't want to let anyone down and then before I know it, the comparison game begins as I know the caliber of talent my home is being showcased against.
It's self imposed pressure that's unnecessary, as I know that as long as I share my heart and keep true to who I am and my beliefs, everything will be ok. 🙂
At the end of the day, I have to remind myself that this is our home and not a showroom. That I decorate our home to make our nest warm and welcoming and that ultimately, I need to focus on the true meaning of the season.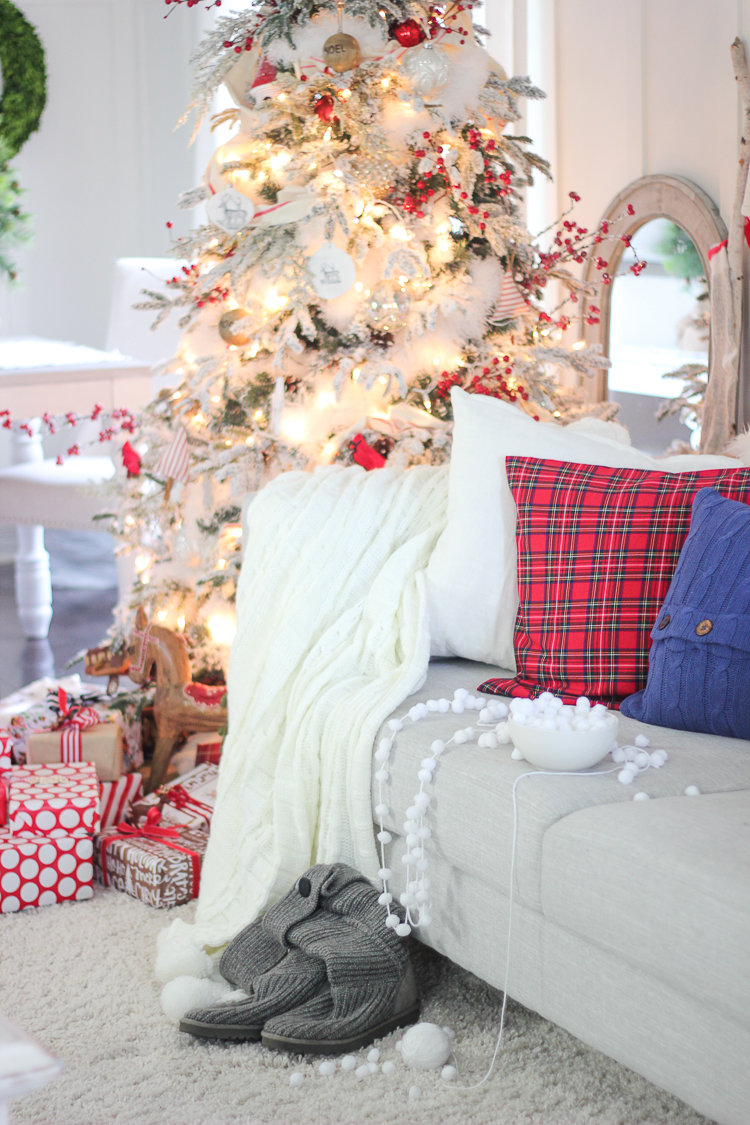 It has been gloomy these past few days, so coming up with bright photos has been a bit of challenge.
I love those sweet felt garlands, but I've learned there's always an alternative way to 'get the look' without having to spend a lot, so I bought some white pompoms from the craft store and Bella and I threaded them together with a needle and yarn.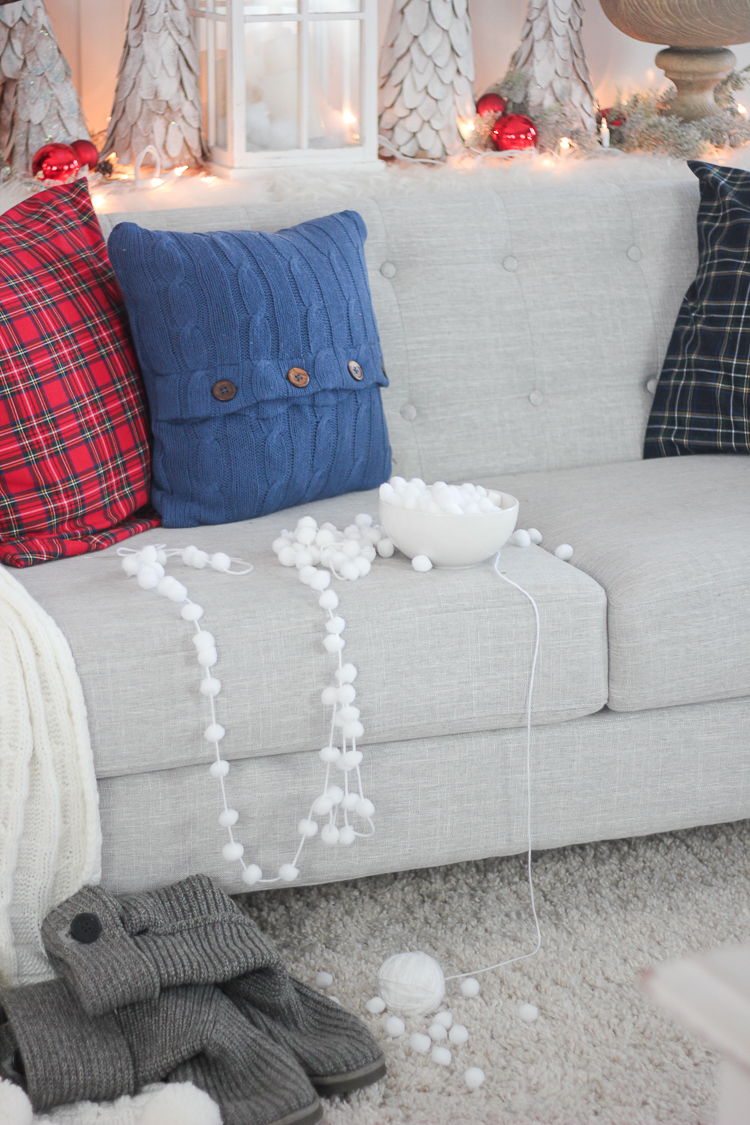 As the kiddies grow older, their interests change and crafting with their momma is no longer very cool, especially for my two teen boys. But this was the type of crafting that allows you to sit with your child and listen as they tell you about their clarinet practice and the most recent 'drama' in grade 7. ha

I incorporated a lot of traditional red and green this year. Not my typical go to, and certainly not in keeping with the trending neutral theme, but I truly love how happy it makes the house feel and the best part, not once did I hear my kiddies say that our tree was boring. To them, anything that is not traditional Christmas colors is boring.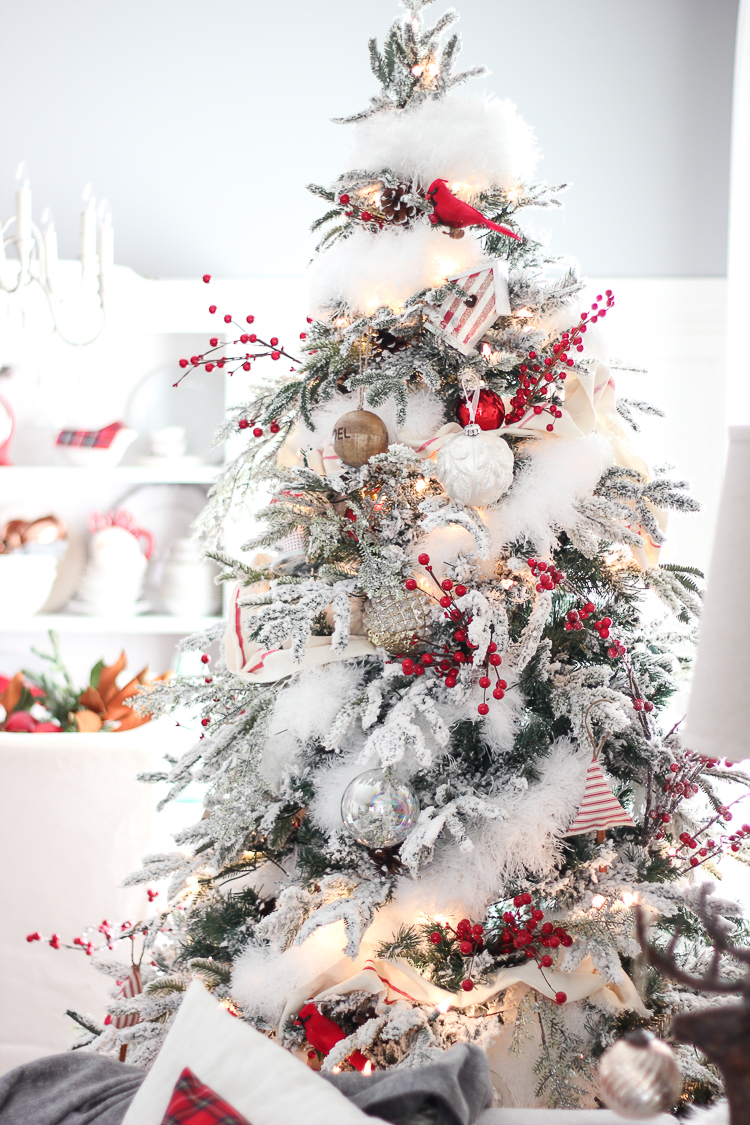 I once again used my old microfiber dusters as the garland. If this is your first time here, you can read more on this crazy idea HERE.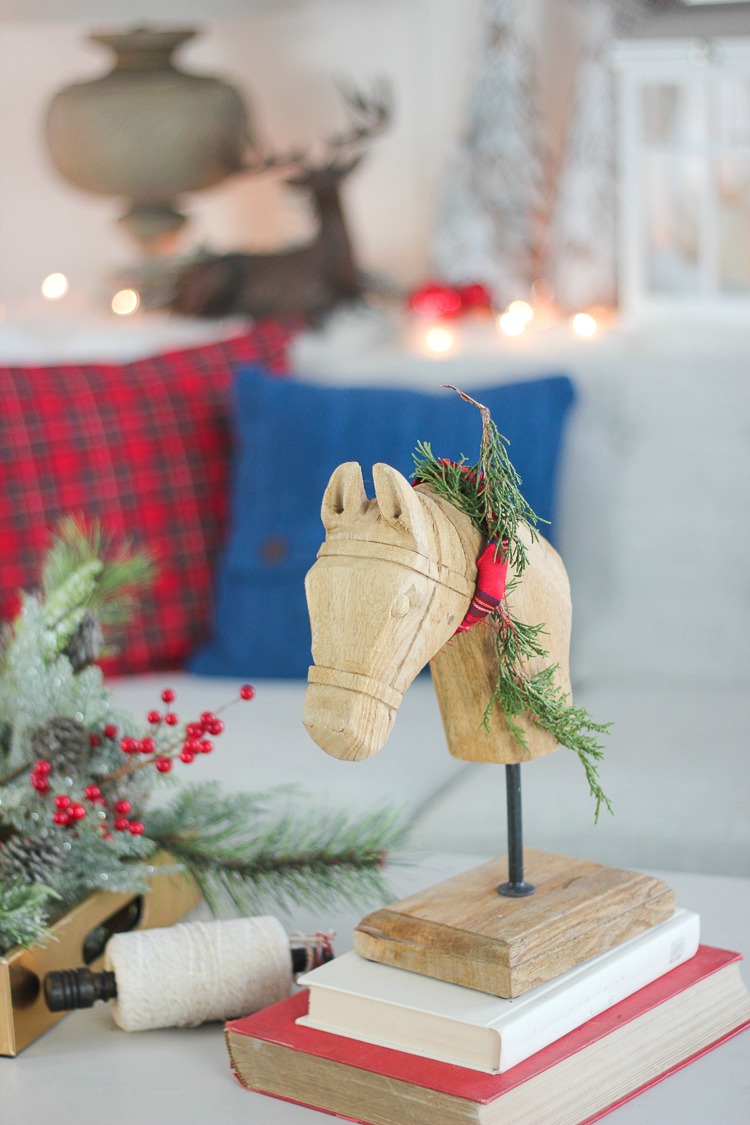 Funny how anything can become 'Christmasy' by simply adding a little plaid and some greenery. This adorable horse is from Homesense (Homegoods in the U.S.).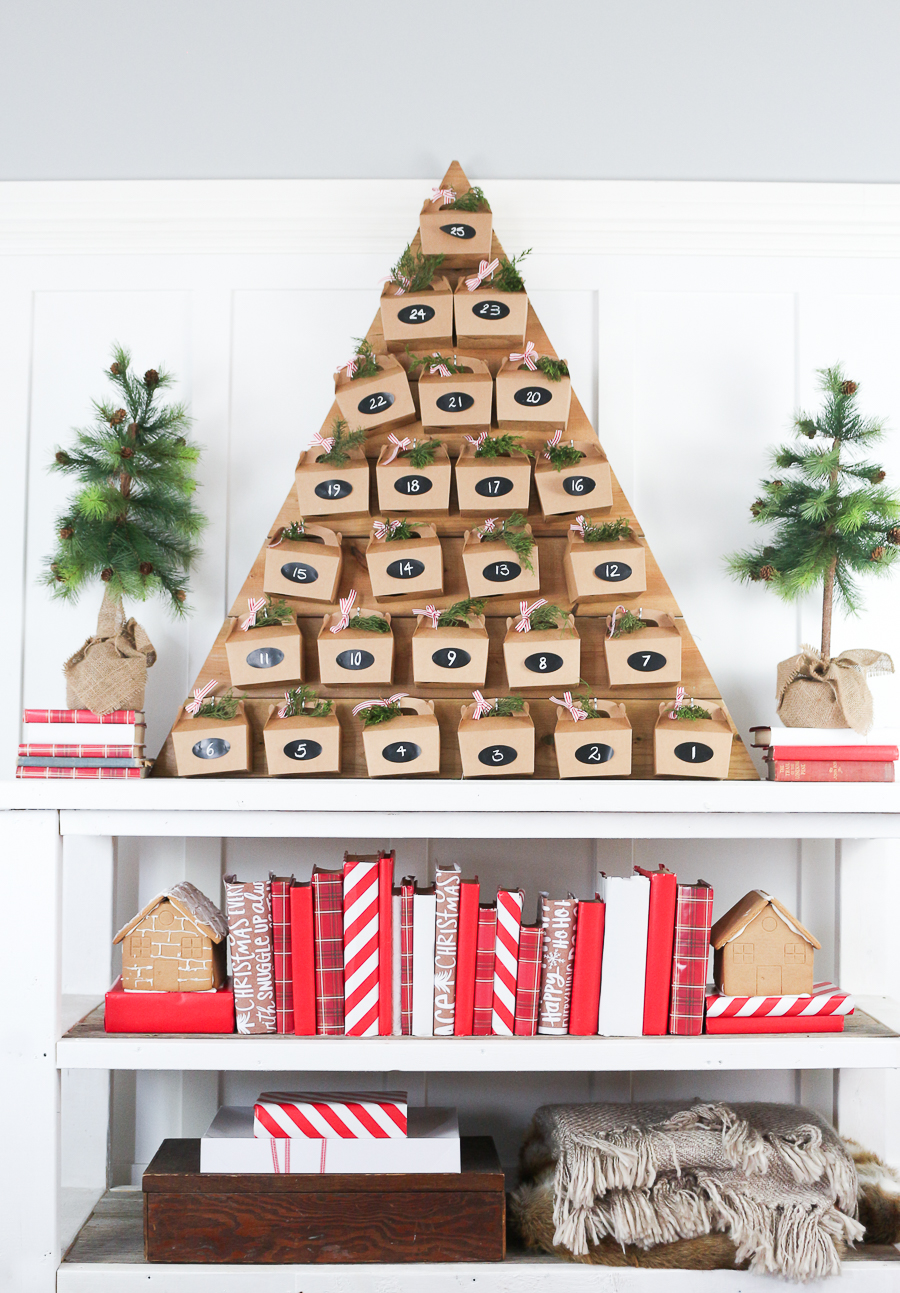 I like to use items that I already own in new and creative ways.  You can read about this fun display HERE.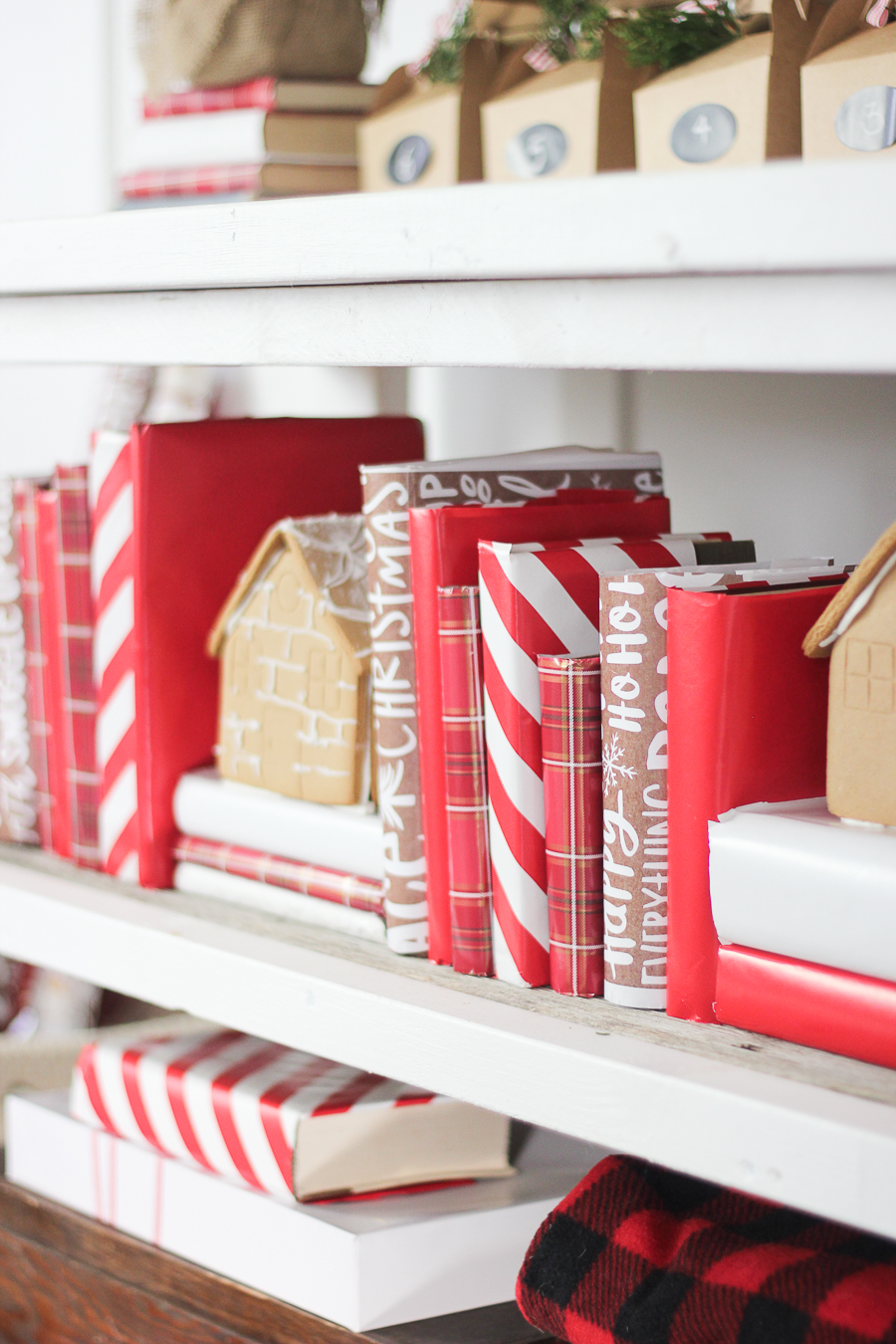 By simply wrapping our old books in gift wrap, you create a fun and cohesive display with very little money.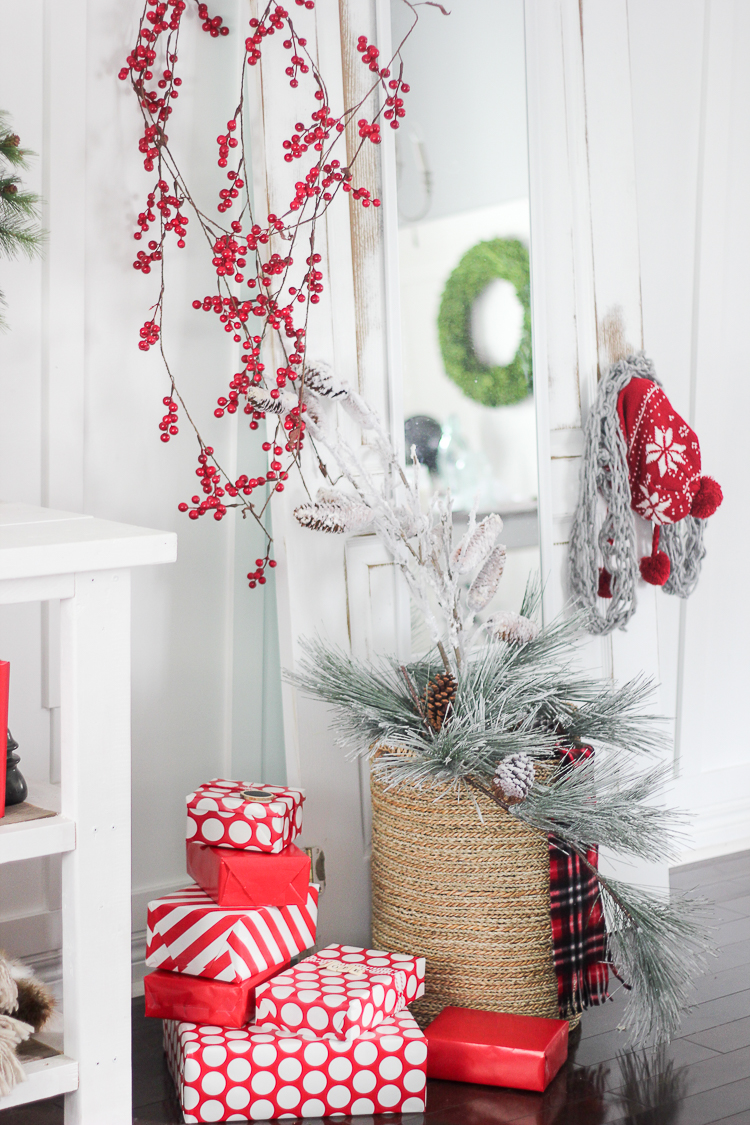 I also like to wrap a lot of empty boxes and place them throughout the house. It's another easy way to introduce your accent color to a space.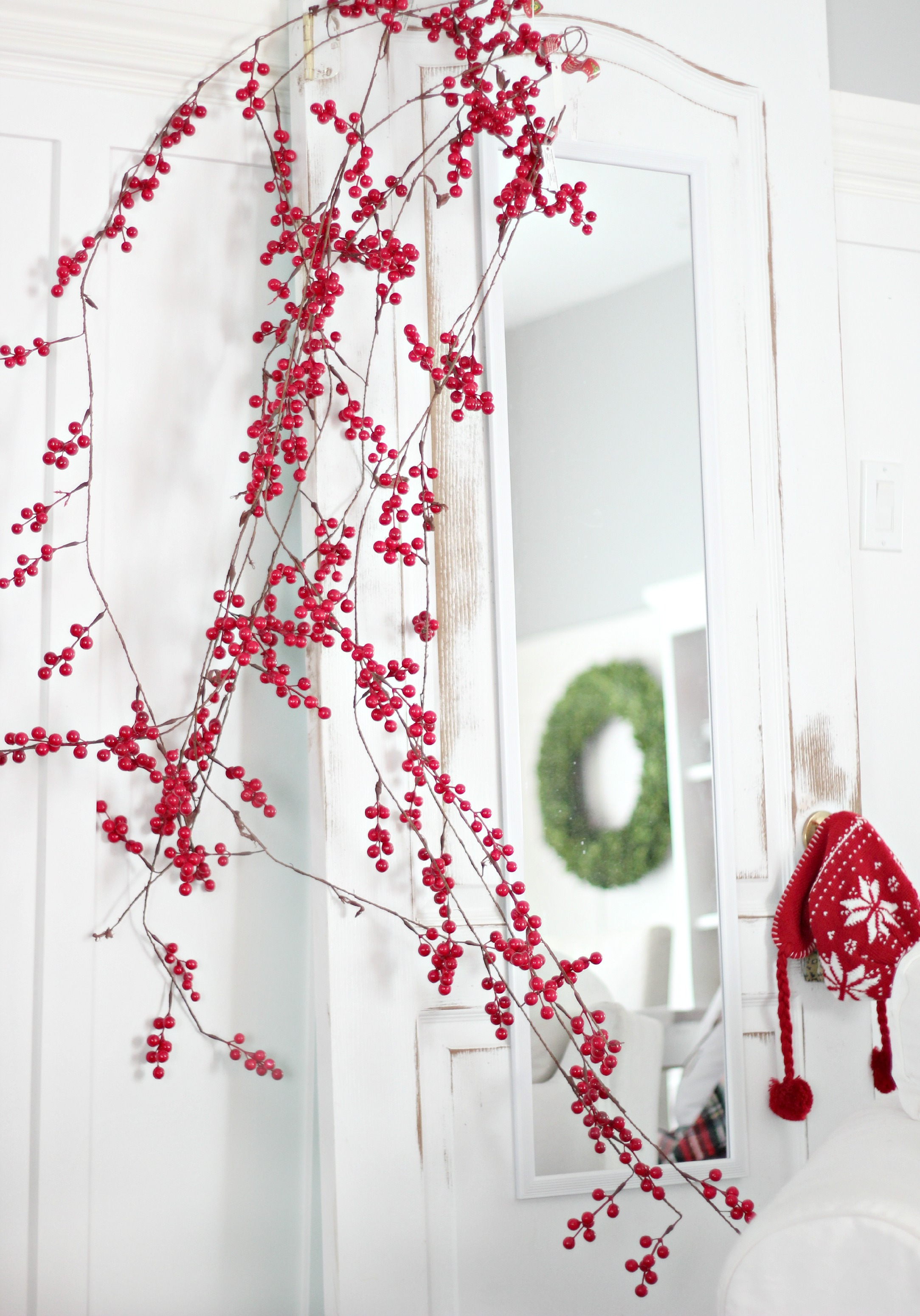 And never underestimate the floral section of your Dollar Store. These cute berry garlands are from there. I think one on its own, would not have the same impact as several
hanging together, But because they cost a lot less you can have more of them. 🙂
This was actually a happy accident as I had draped them over the door to keep them out of the way until I used them in the tree. So you can see that
I hadn't even take the labels off them when I took this photo, I decided not to crop it out so I could show you…:)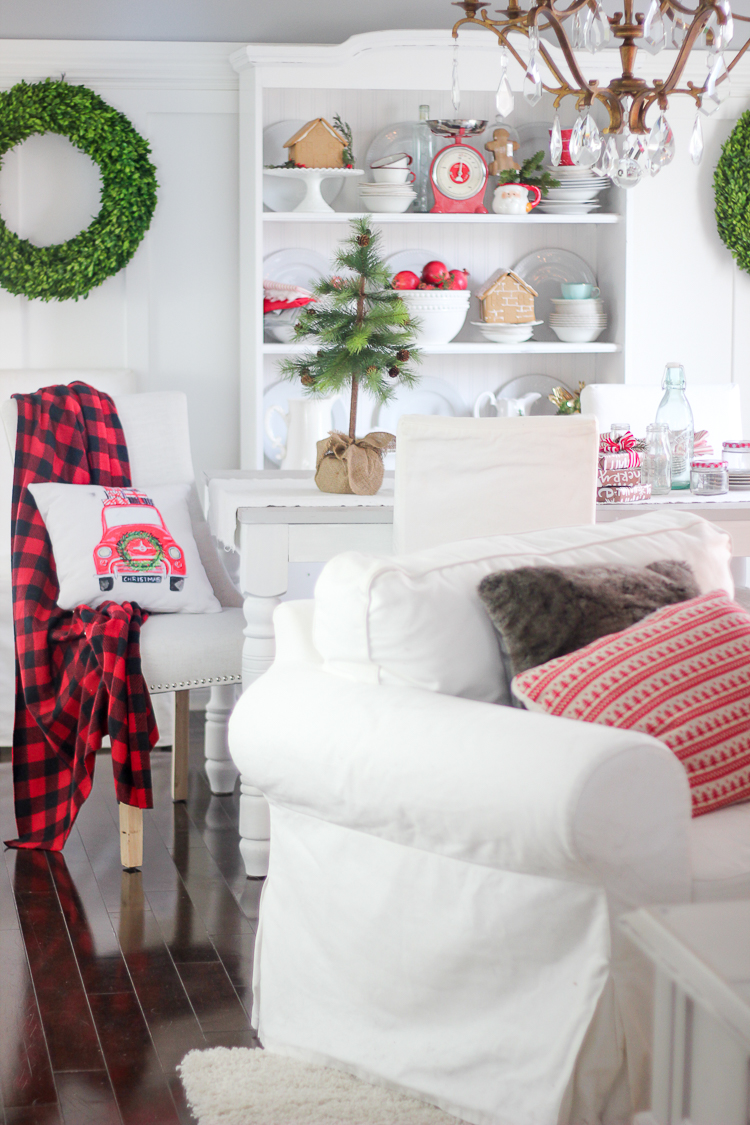 We have an open concept home and our living room is directly connected to our dining room.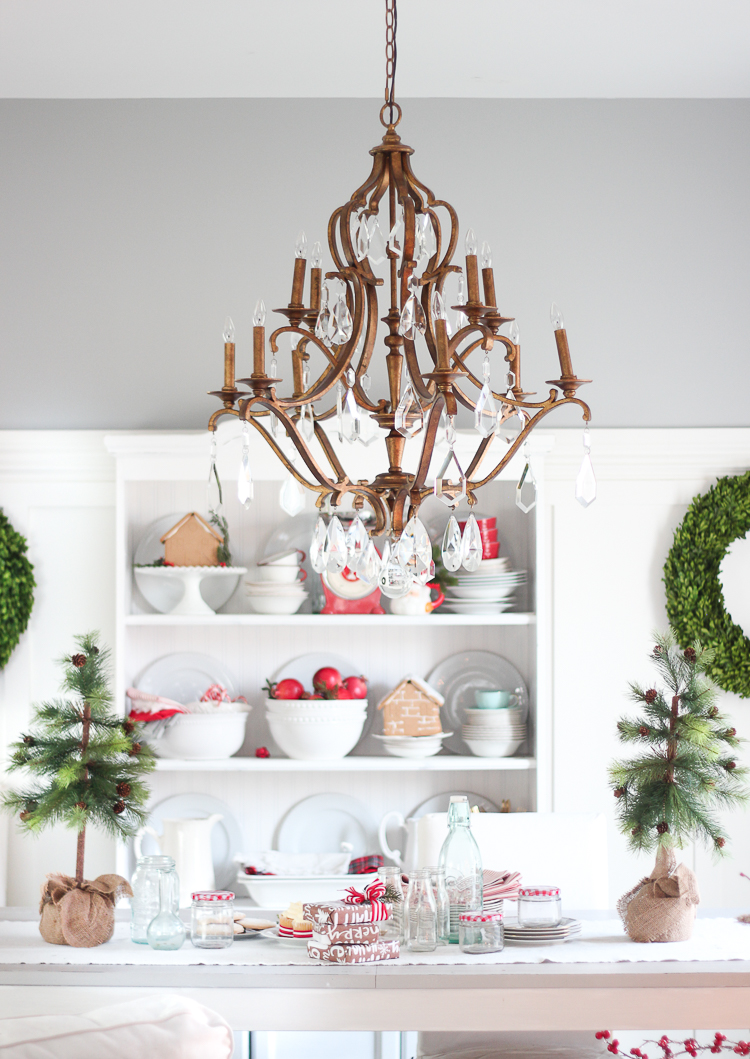 So there always needs to be a coherent flow. I carried the red onto the table and the hutch.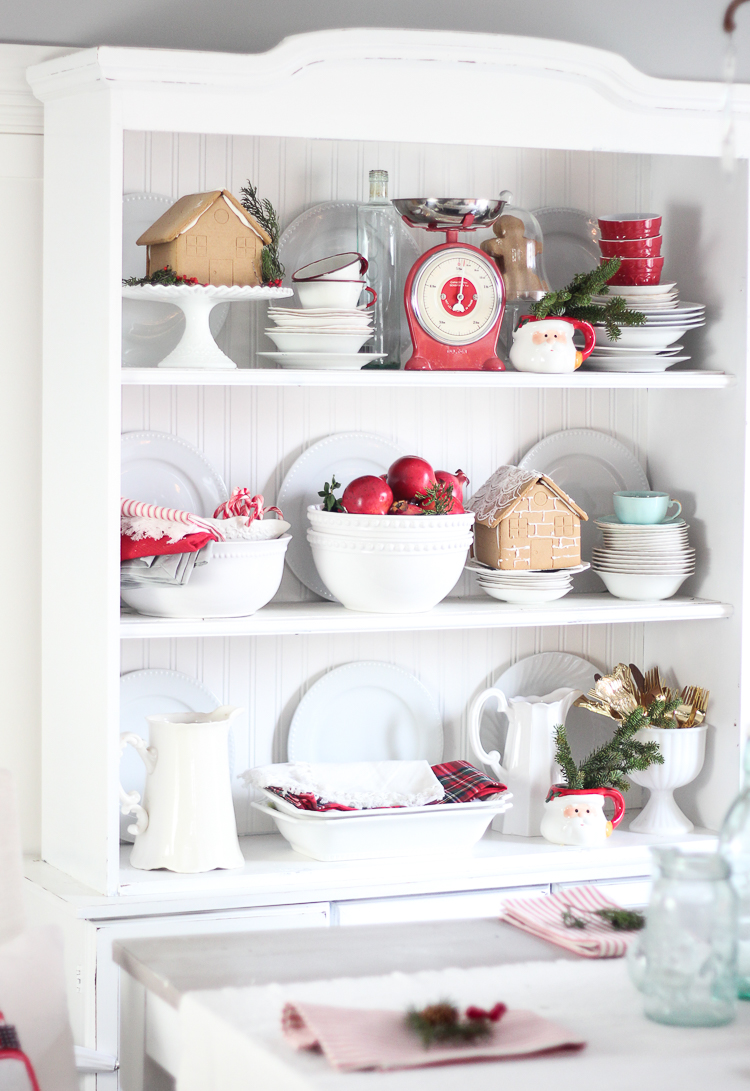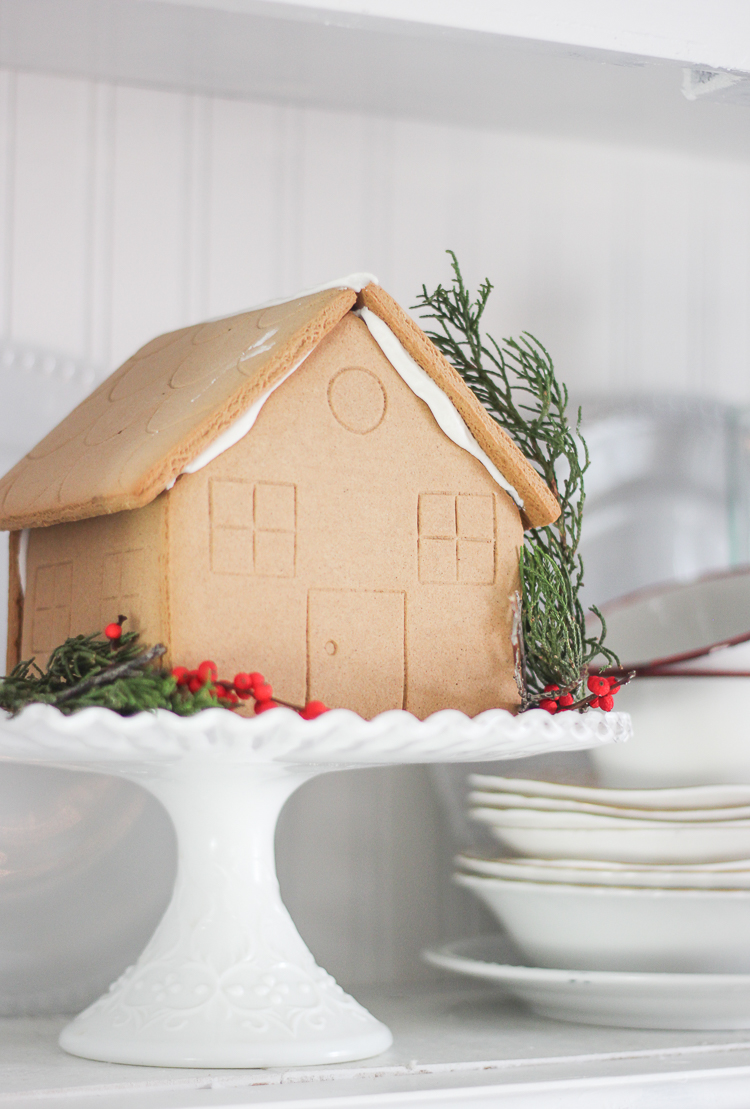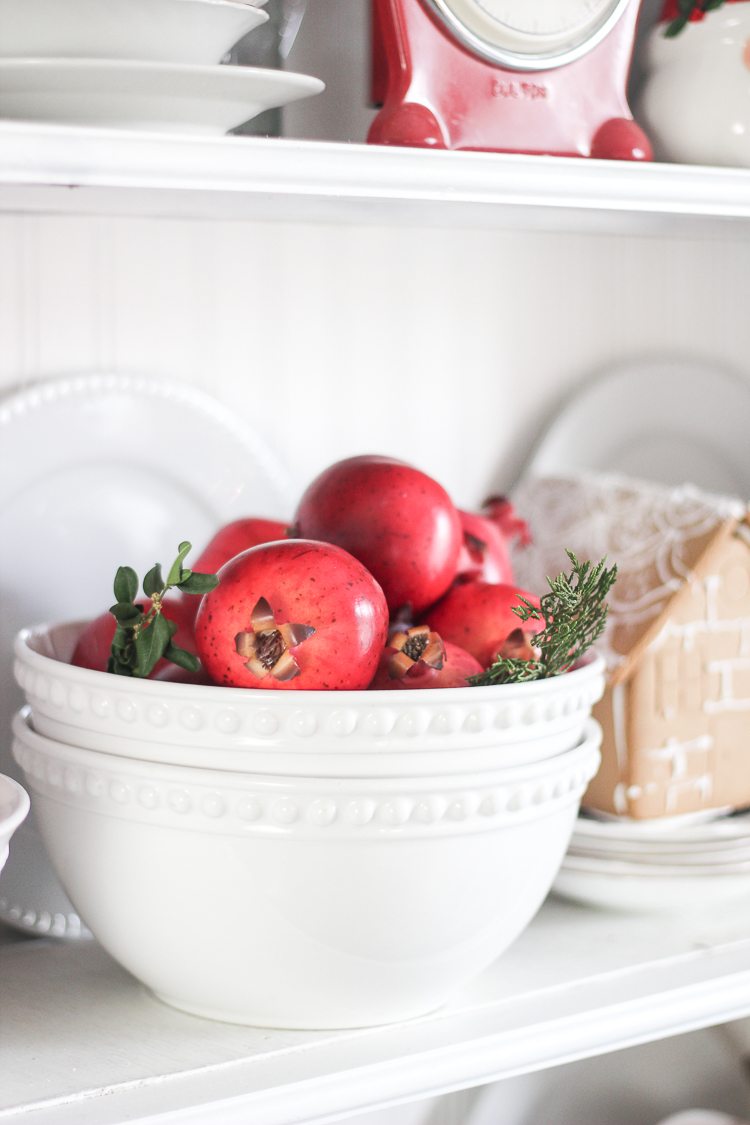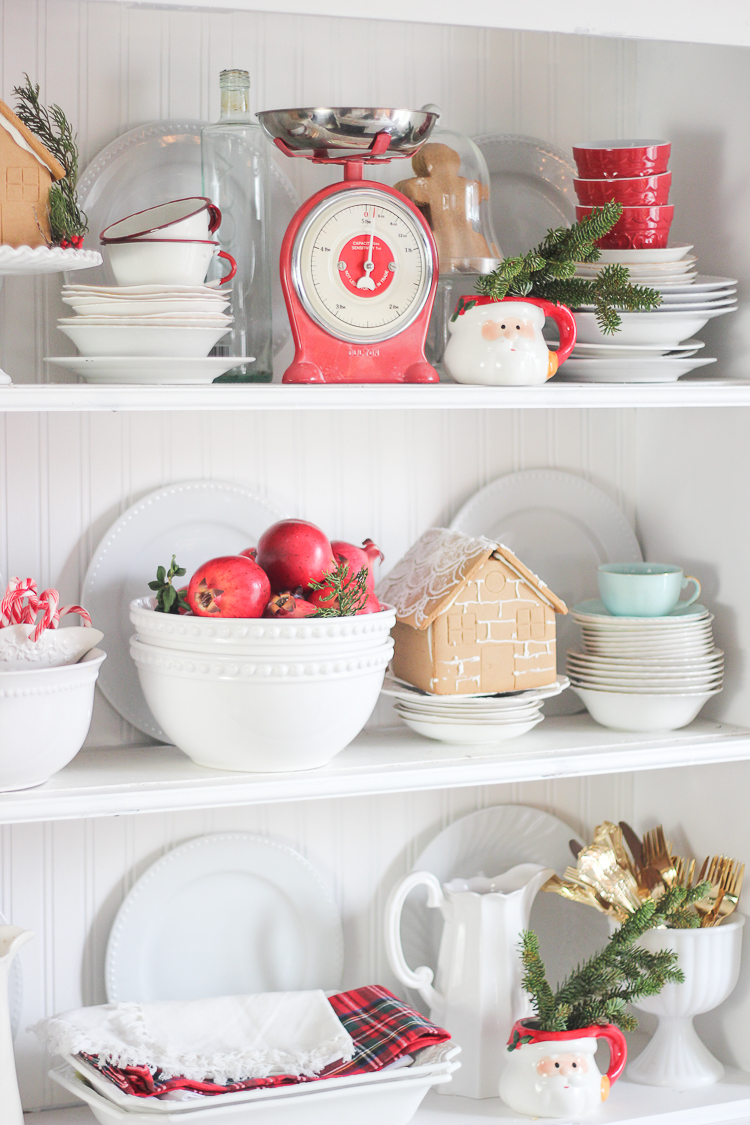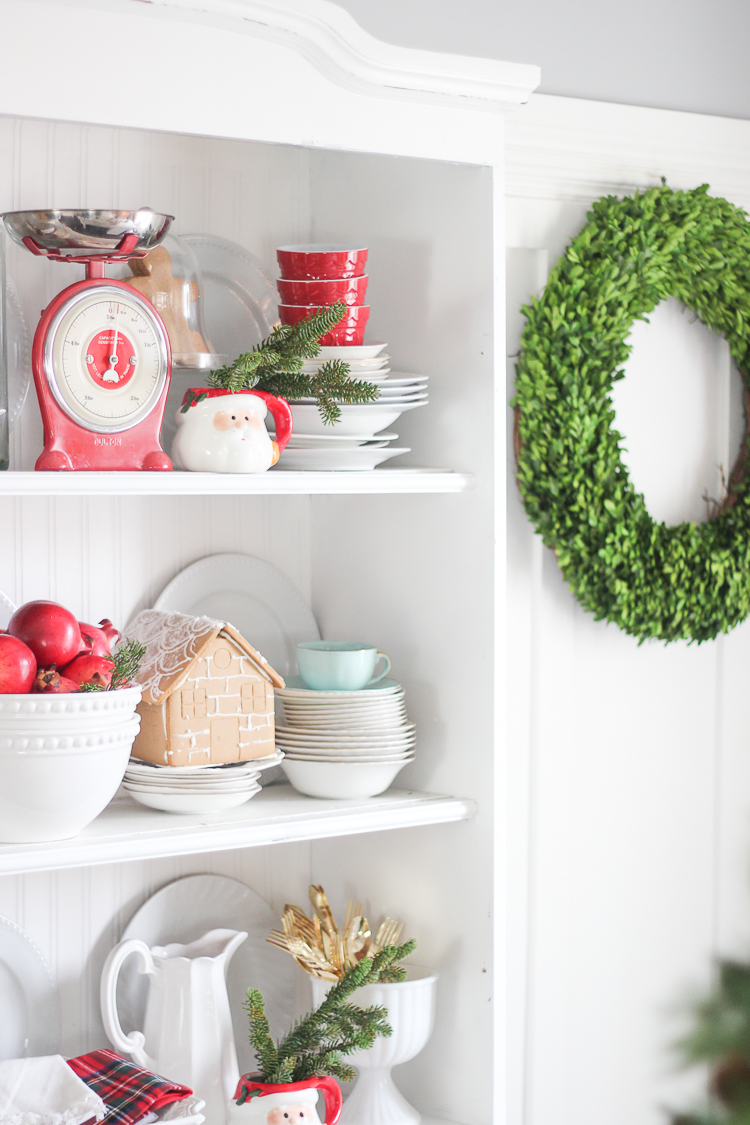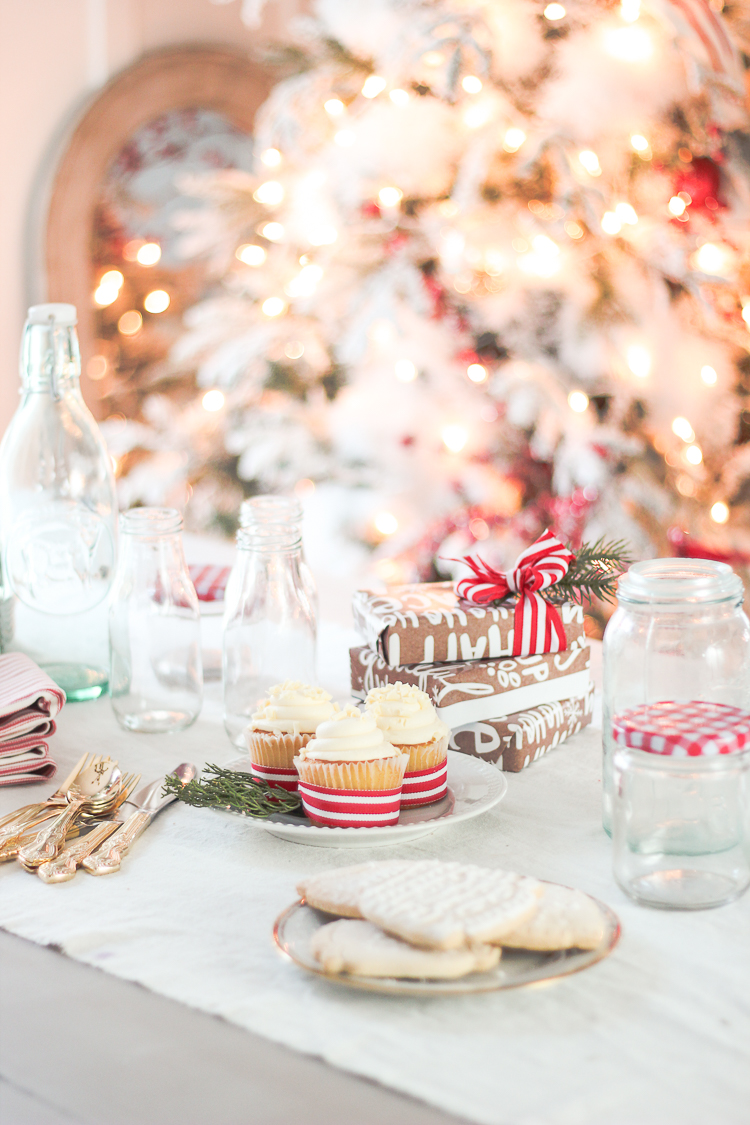 A lot of the items I used on the table are either thrift store, Dollar Store or things I already owned, which I bring together to try and convey a story.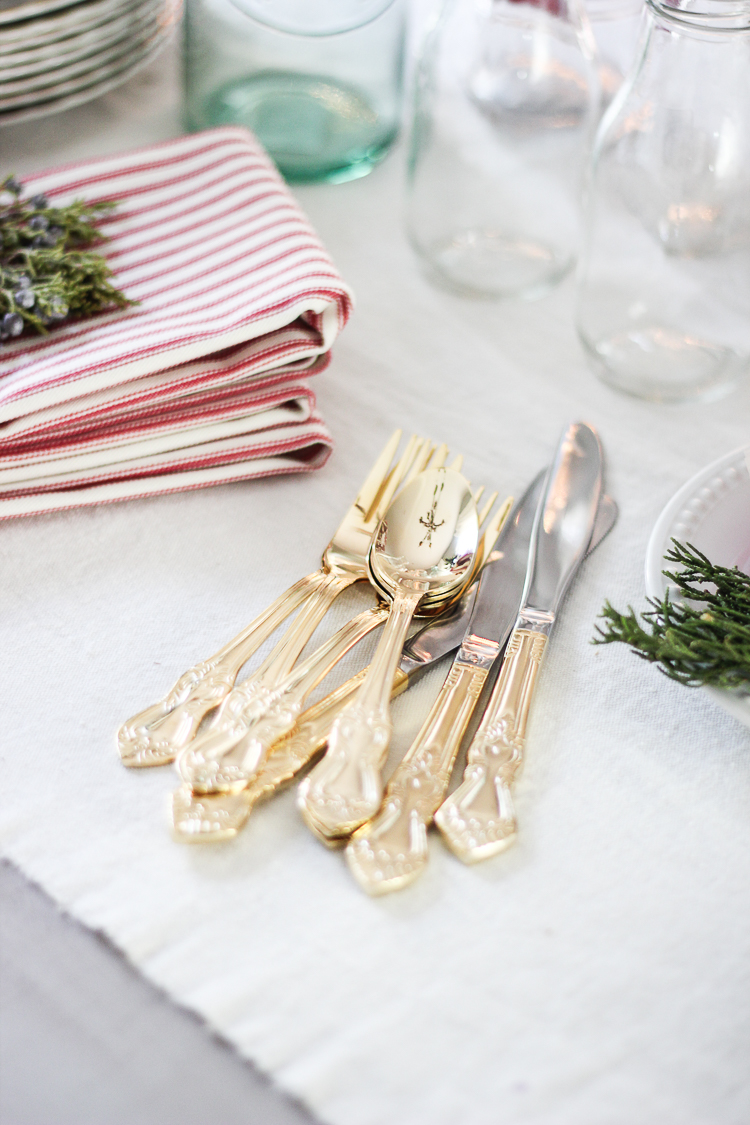 And even though I try really hard to not buy new, and promote alternative ways to make your home beautiful, I'm fortunate to have brands send me products once and a while, and for that, I'm so very grateful. So I will have more on this beautiful cutlery set from Birch Lane later on this week.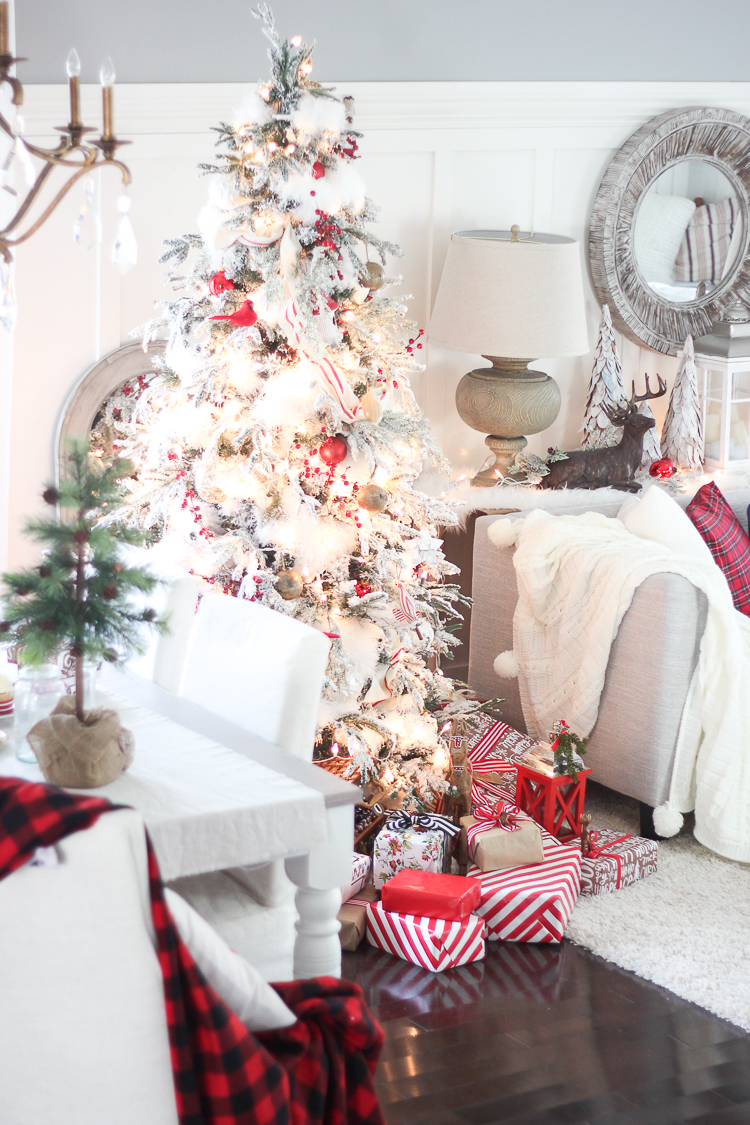 Here's another vantage point from the dining room into the living room.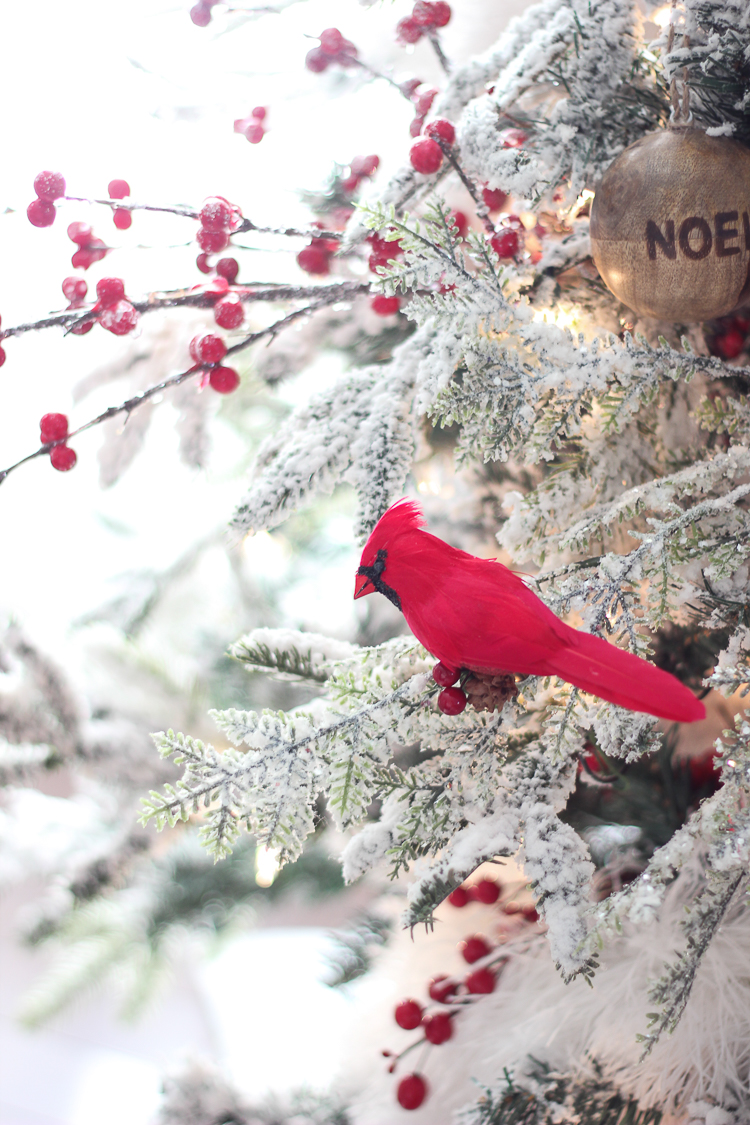 Cardinals are such gorgeous birds aren't they? I think there is beautiful symbolism behind seeing one of these gorgeous birds.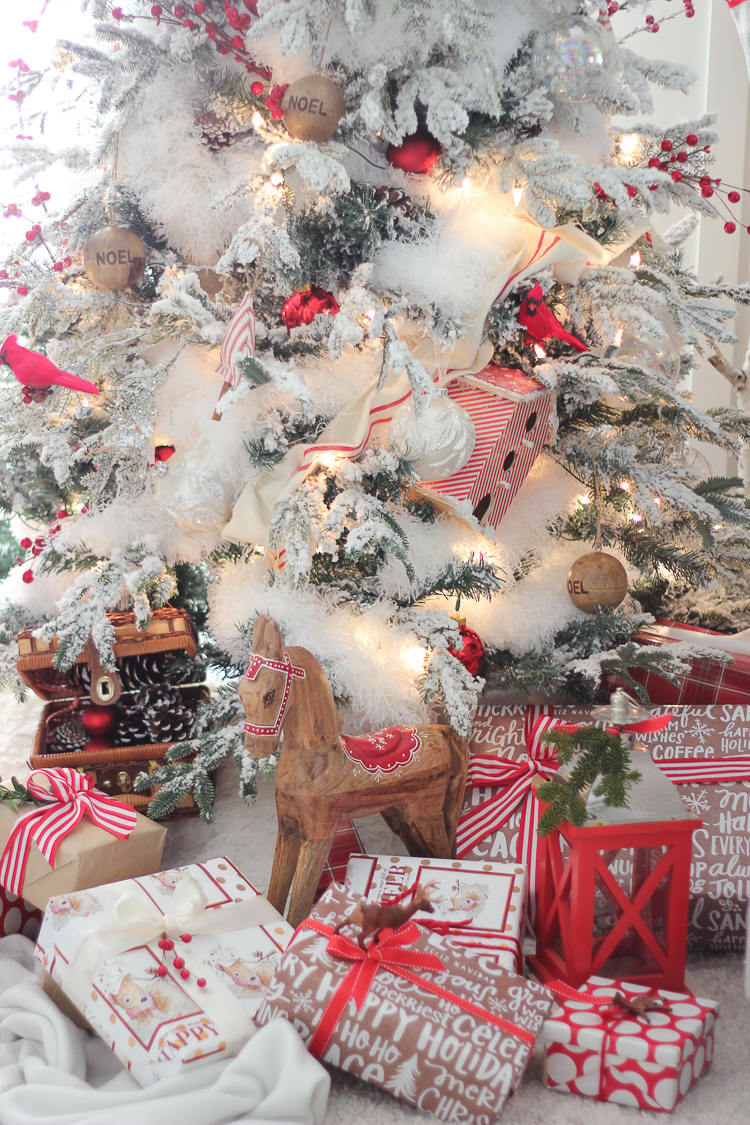 The little birdhouse is from the Dollar Store and I covered it in pretty paper and sprinkled it with lots of glitter and "snow".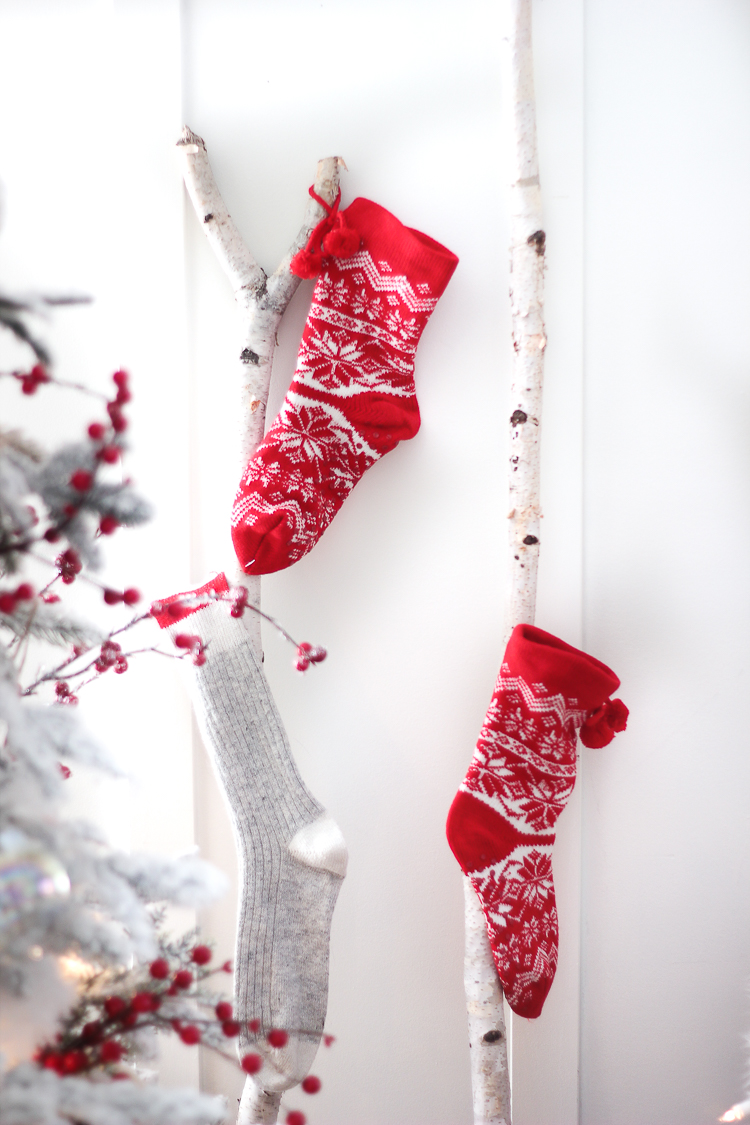 These socks are also from the Dollar Store and they're simply hanging off birch branches my momma and I picked up from the woods last year.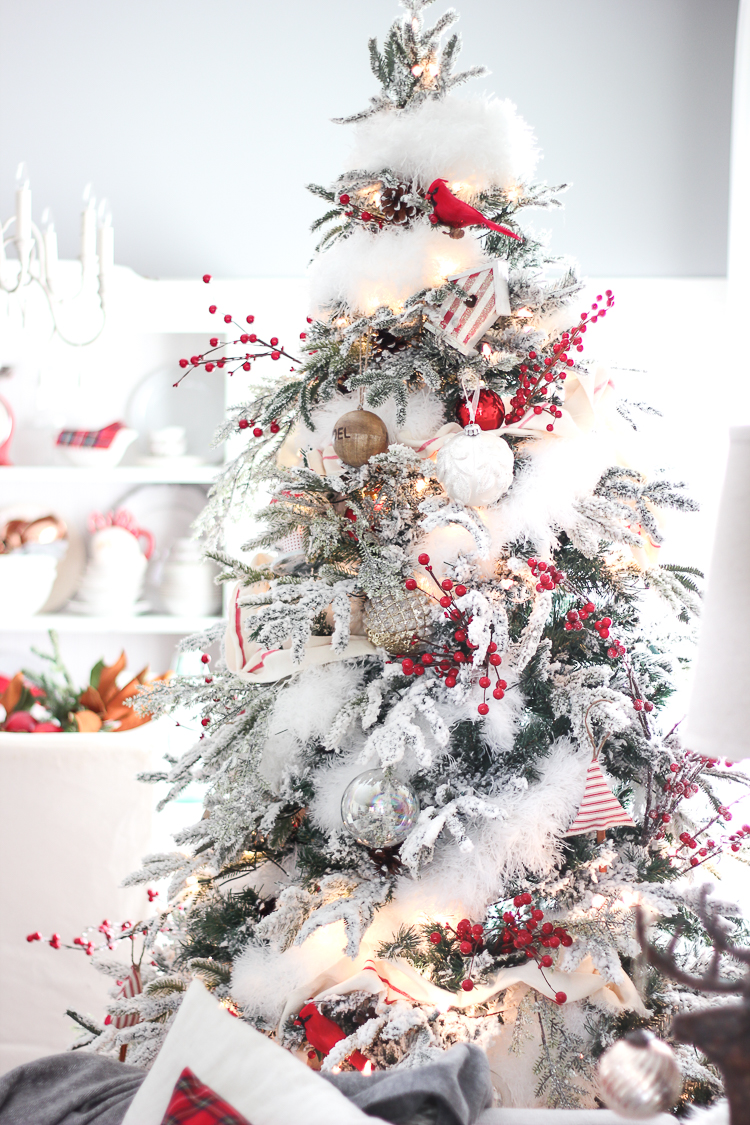 Here's another little bird house that I covered. The little cinnamon tree ornaments and the grain sack ribbon are all handmade.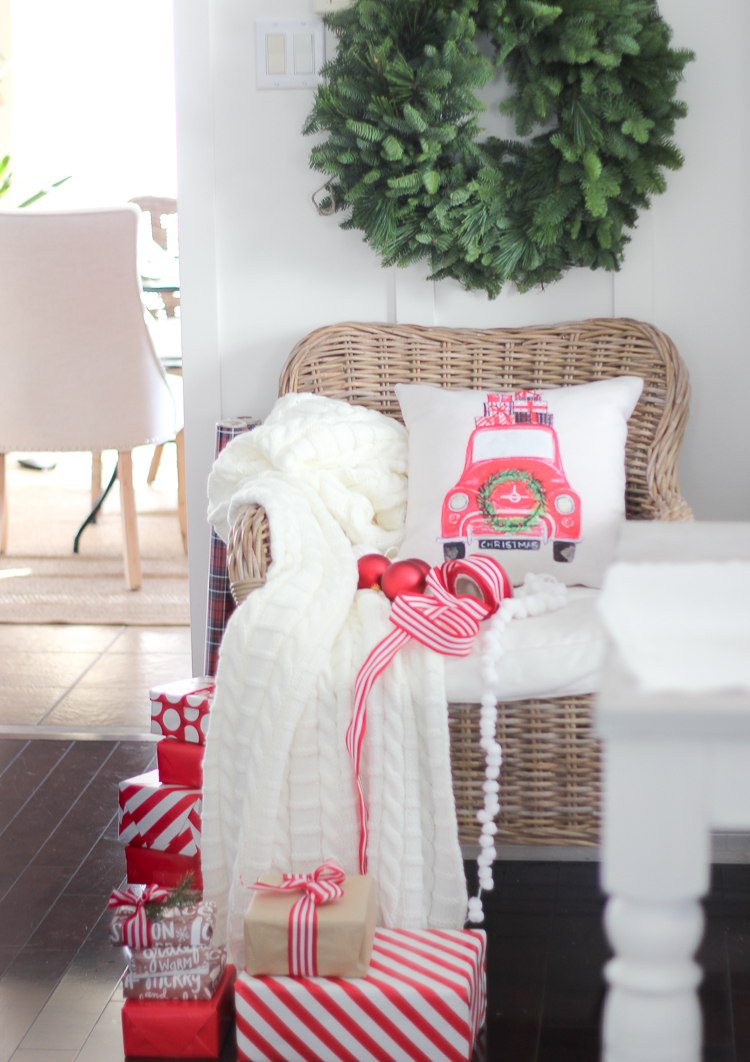 On Wednesday, we'll be going around the corner and up the stairs where I will share the rest of our home.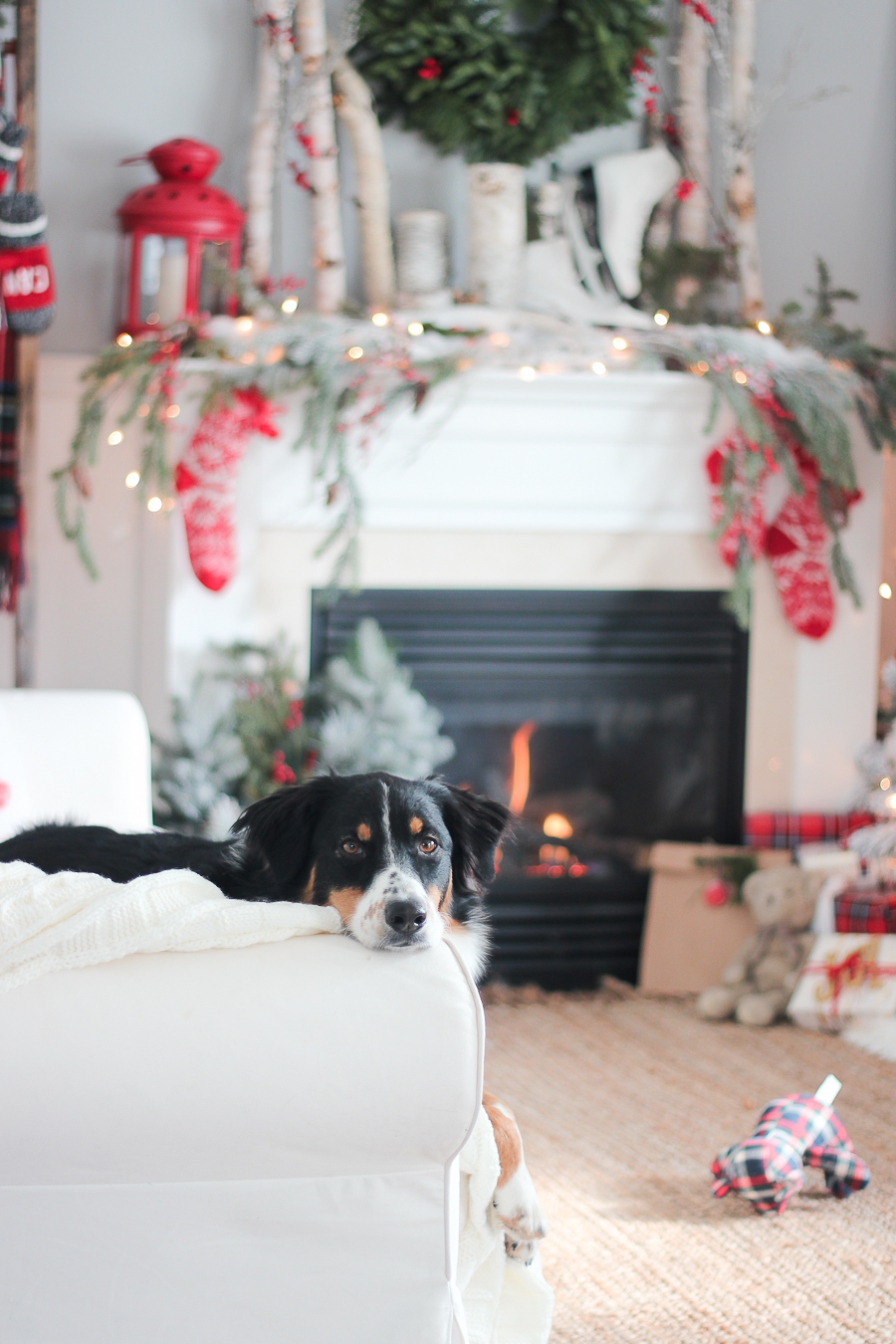 There you'll see our family room…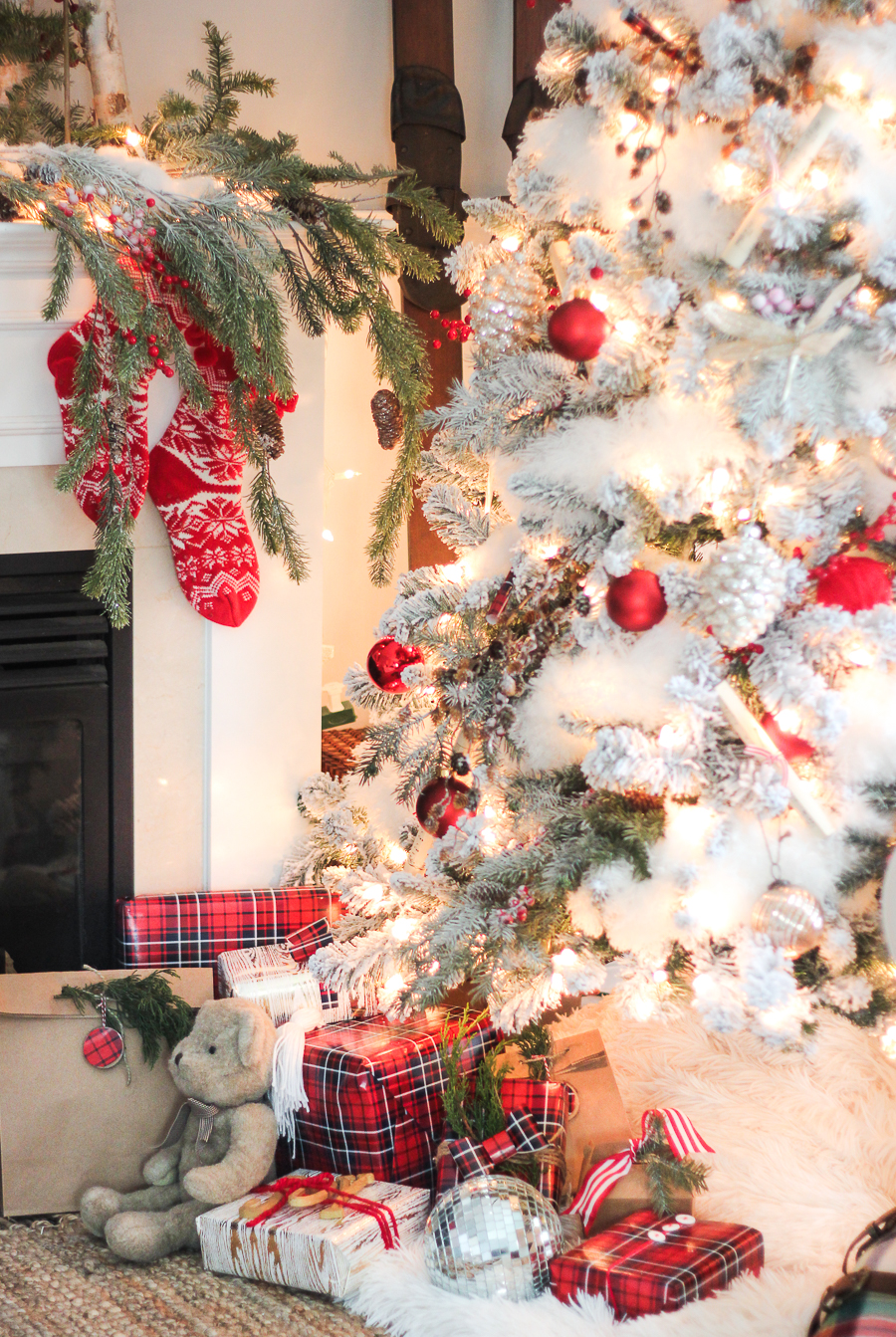 …and yet another flocked tree..:)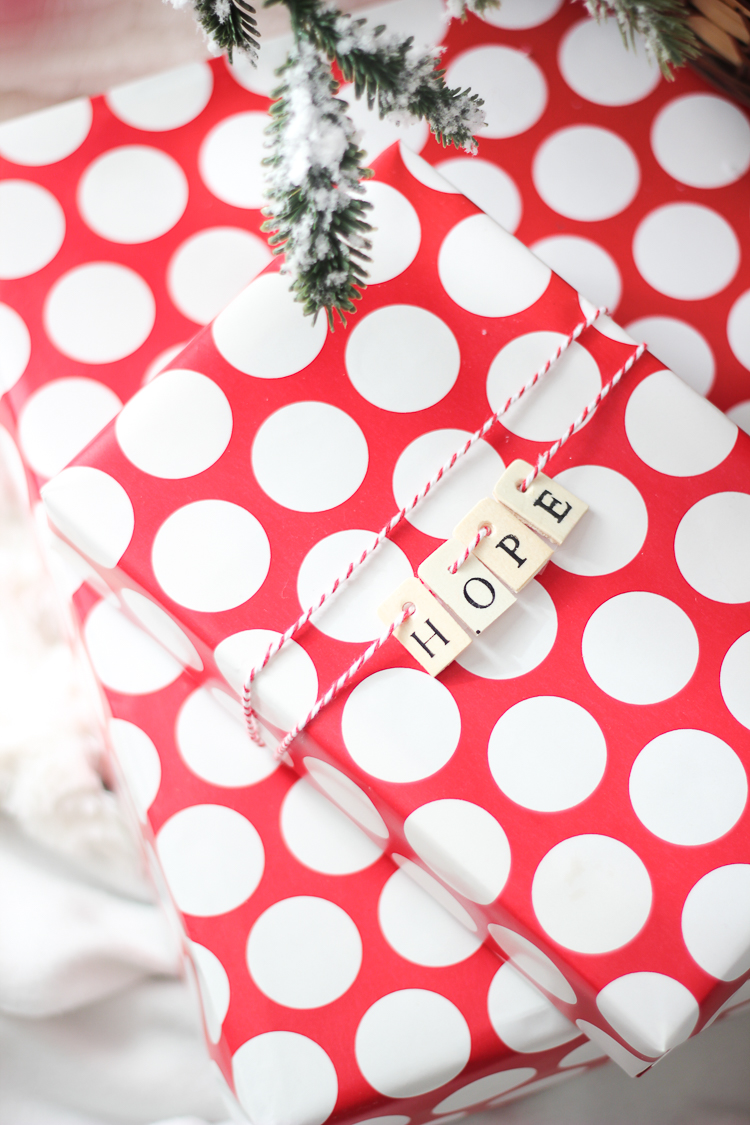 But for now, I leave you with this: As we adorn our homes and gather to celebrate this beautiful season, I encourage you to not lose sight of the HOPE we've been given through the birth of our Savior and the true meaning of Christmas. Blessings and Merry Christmas to you my sweet friends.
The tour starts up again tomorrow at the very talented Jenn's home from My Fabuless Life.