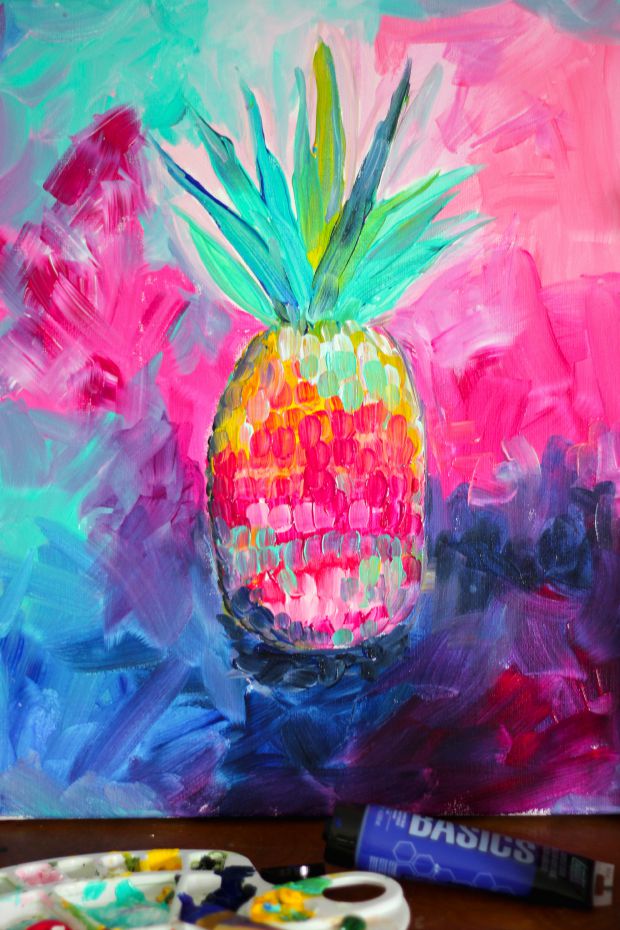 I grew up surrounded by everything from giant canvases with bold brush strokes to meticulously embroidered handkerchiefs; quick music notes dancing through the air to slow poetic words floating away. There were light tables and shelves full of forbidden paint bottles, creative fairy tales and imaginary play. There was always someone around me creating and making.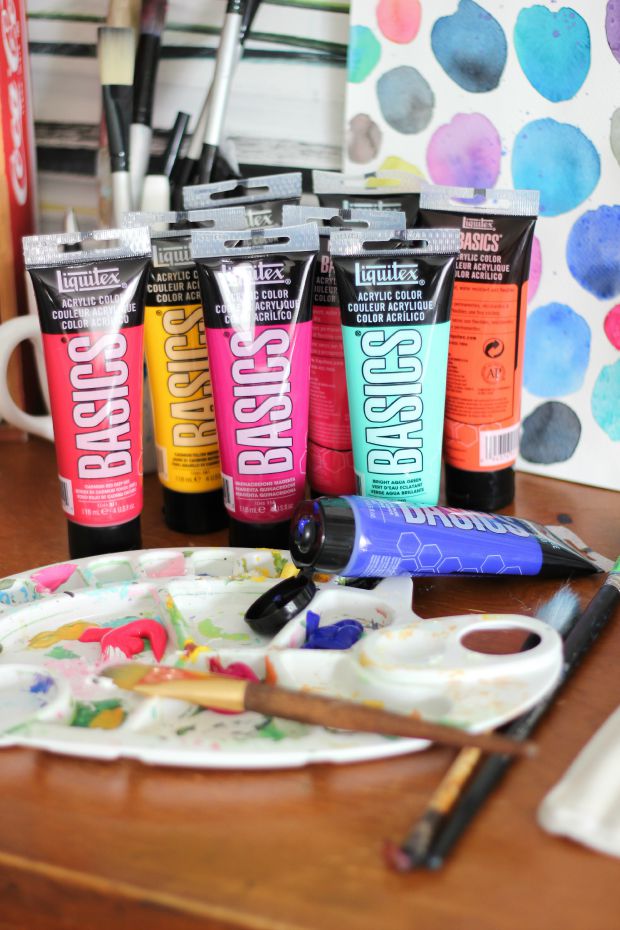 Reflecting on my artistic journey fills me with joy as I reminisce visiting my uncle's studio. I vividly remember the paint splattered floor, paint brushes here and there and a room filled with half finished canvases. I remember sitting by my uncle's light table, looking up at shelves full of little jars of paint and rainbows of pencil crayons and markers.
While never allowed to touch, I would dream and pretend that I also worked in an animation studio. That dream has stayed with me to this day.
I also remember staying up very late watching my uncle and his university classmates meticulously make architectural models and him allowing me to make little trees. If I was lucky enough, he would even let me to spread some of the faux grass onto their masterpiece.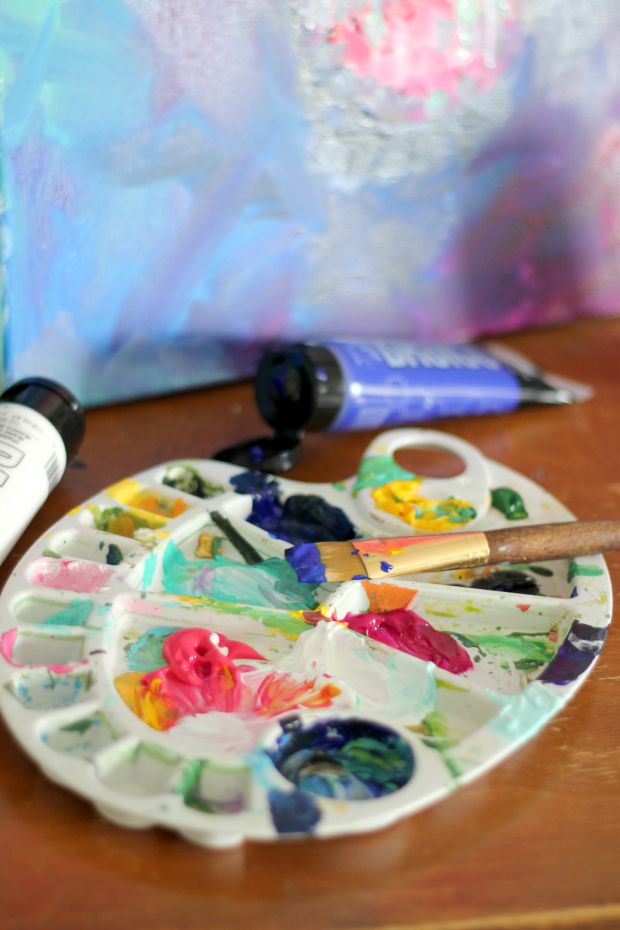 I would watch my grandpa carve little horses and other things out of branches, while my grandma recited poems she would make up on the spot.
But my fondest memories are probably watching my parents create. My daddy is a musician and so while he didn't paint often, when he did, it was magic and in my eyes – perfection. I remember one day bringing one of his smaller drawings to school and trying to pass it off as mine. Needless to say, no one believed me.
My mom would craft and sew and craft some more. She would patiently teach me different types of stitches and simple crochet and though I enjoyed her tutelage,  I always ended up drawing or painting.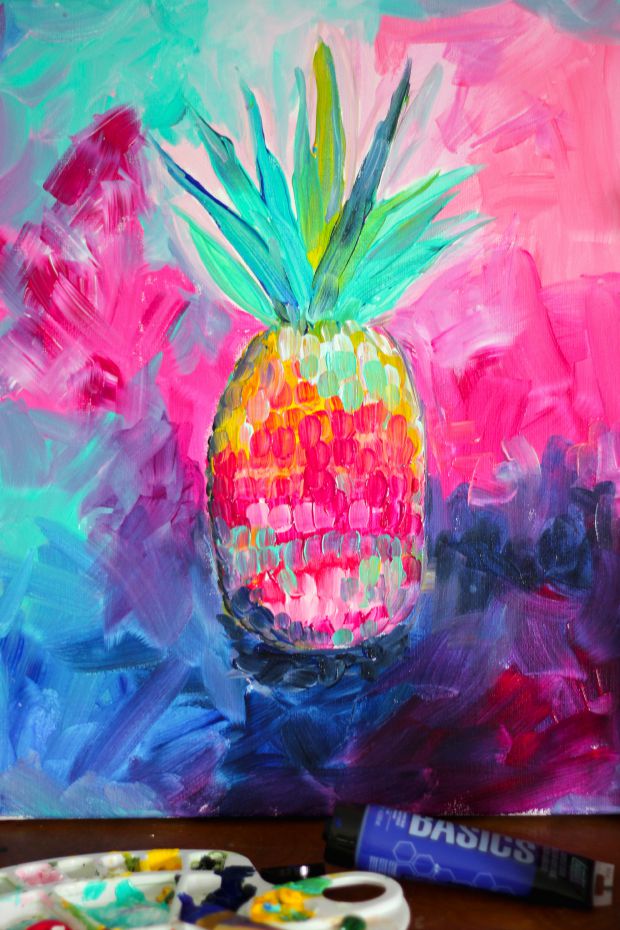 By the time I reached high school, I was certain art would be in my future. While money earned from my part time job would of course be spent on make-up and such things, I always put some aside to spend while visiting the art store.
I always bought one or two tubes of Liquitex Basics paint. In fact, I'm pretty sure there's still a box of my old paints sitting in the basement right now. It's funny how seeing these tubes can stir such fond memories of my youth. It doesn't hurt that I met the love of my life in art class. Well, truth be told, he was not really in my art class but would come and 'hang' out with his friend just to see me. Twenty five years and three children later, here we are.
The sad part of all this was that even though my teachers encouraged me to pursue a career in art and to apply to art school, teenage insecurities took over and I was too afraid as I didn't think I was good enough to be accepted. After all, there were 'real' artists applying as well. I had also been in a competition to illustrate a book and came in third, confirming in my mind that 'I was not good enough'. So I ended up taking general business in college and hated every minute of it. But life continued, I got a job, we got married and my art became a thing of the past. Well, kinda.
I would secretly paint pieces but never share with anyone or start a piece and never finish it. I missed creating so very much.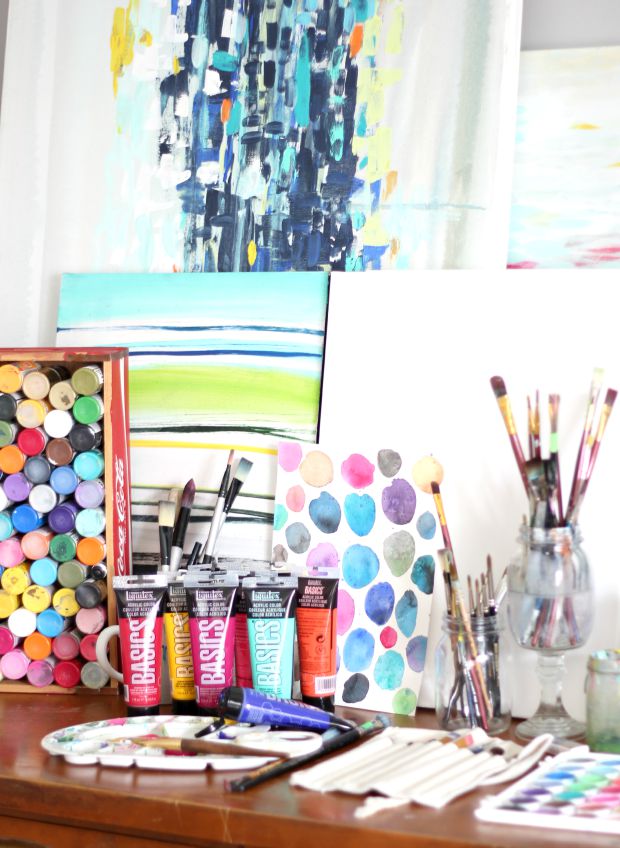 When our children arrived, I threw all of myself into being the best mom I could possibly be. I recall having read that art was a vital part in a child's development and of course as a young mom, you want to do everything the 'magic' parenting book tells you to do. But it was more than that. I knew how much art had meant to me while growing up and so I had to expose them to art and share that part of me that I had been denying; part of me that was so precious and made me who I am today.
And so together we created. We created art with paint, with food, with clay. We created meticulous habitats for toy animals, we visited the zoo with sketchbooks in hand and would sit and draw for hours.
Art became part of my life again and I was slowly beginning to realize that not only had I been given a gift, but this gift needed to be shared.
So I started to teach art to children in a private studio and seeing the pride in their faces when they completed their project was priceless. Through teaching my children and other children, I learned that when creating, it's not the final product that really matters but the process. The way children enjoy creating is something to be admired. They are not scared of making mistakes or taking risks and they are always, always proud of what they create.  Unfortunately, the studio closed and so did my paint box.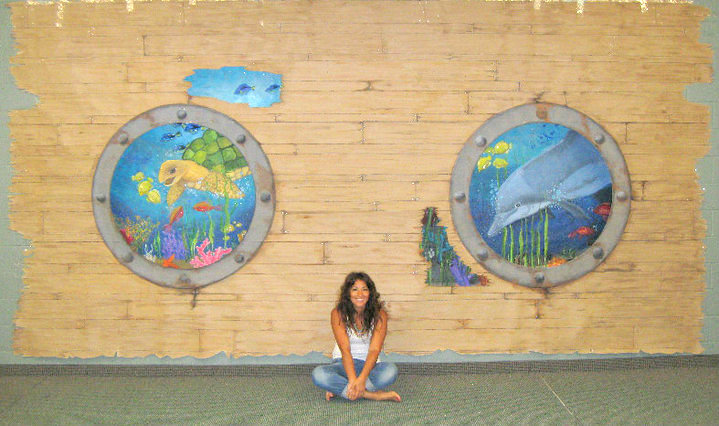 Fast forward to a couple of years ago, when I painted this giant mural for church. This is when I knew this was my calling. I realized that I had been turning my face away from this beautiful wrapped gift from God and it was time for me to unwrap it, cherish it and share it with the world.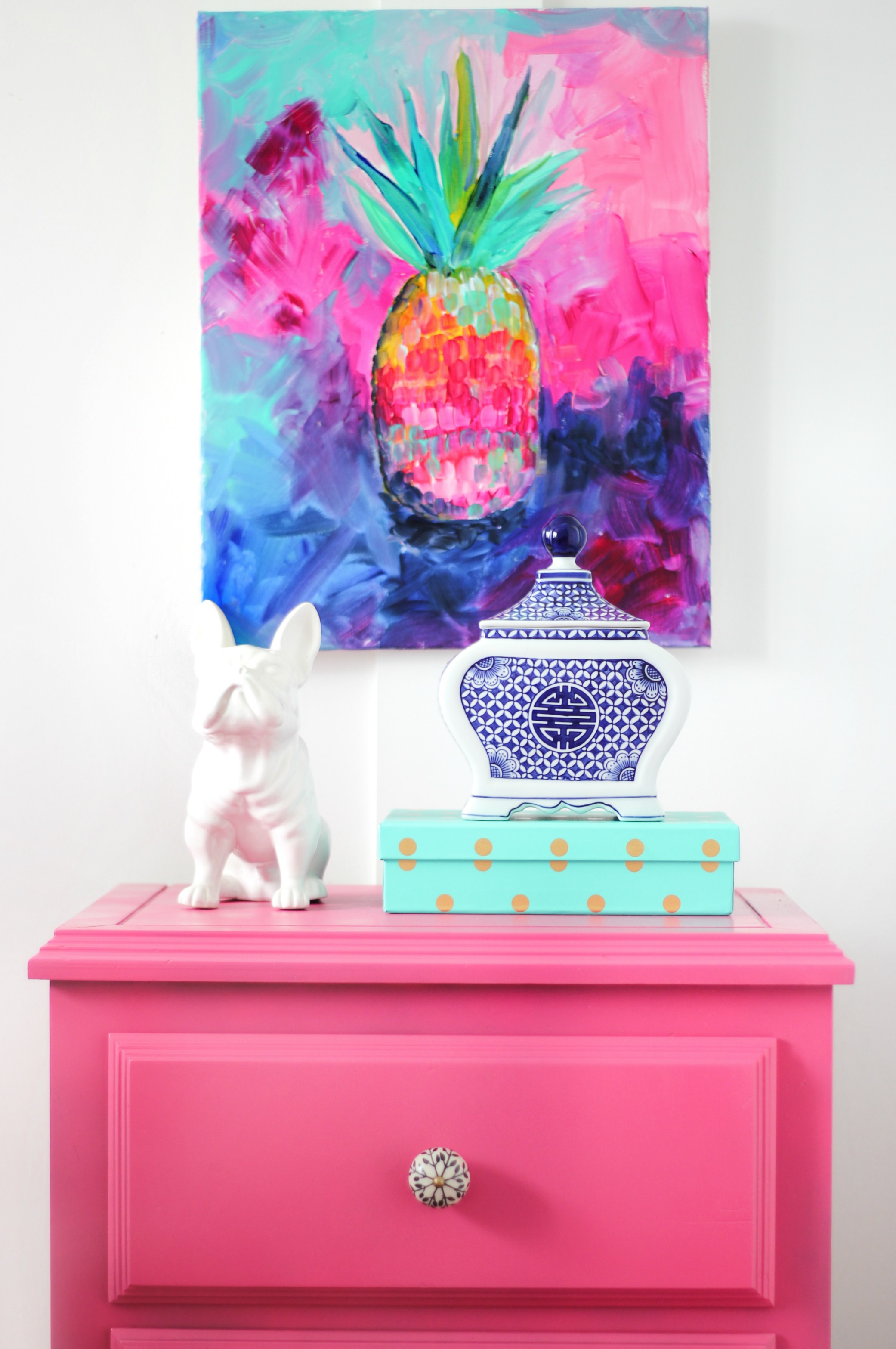 And I haven't turned back since. My art now adorns the walls of our home and our families homes and I'm humbled to say, even some of your homes.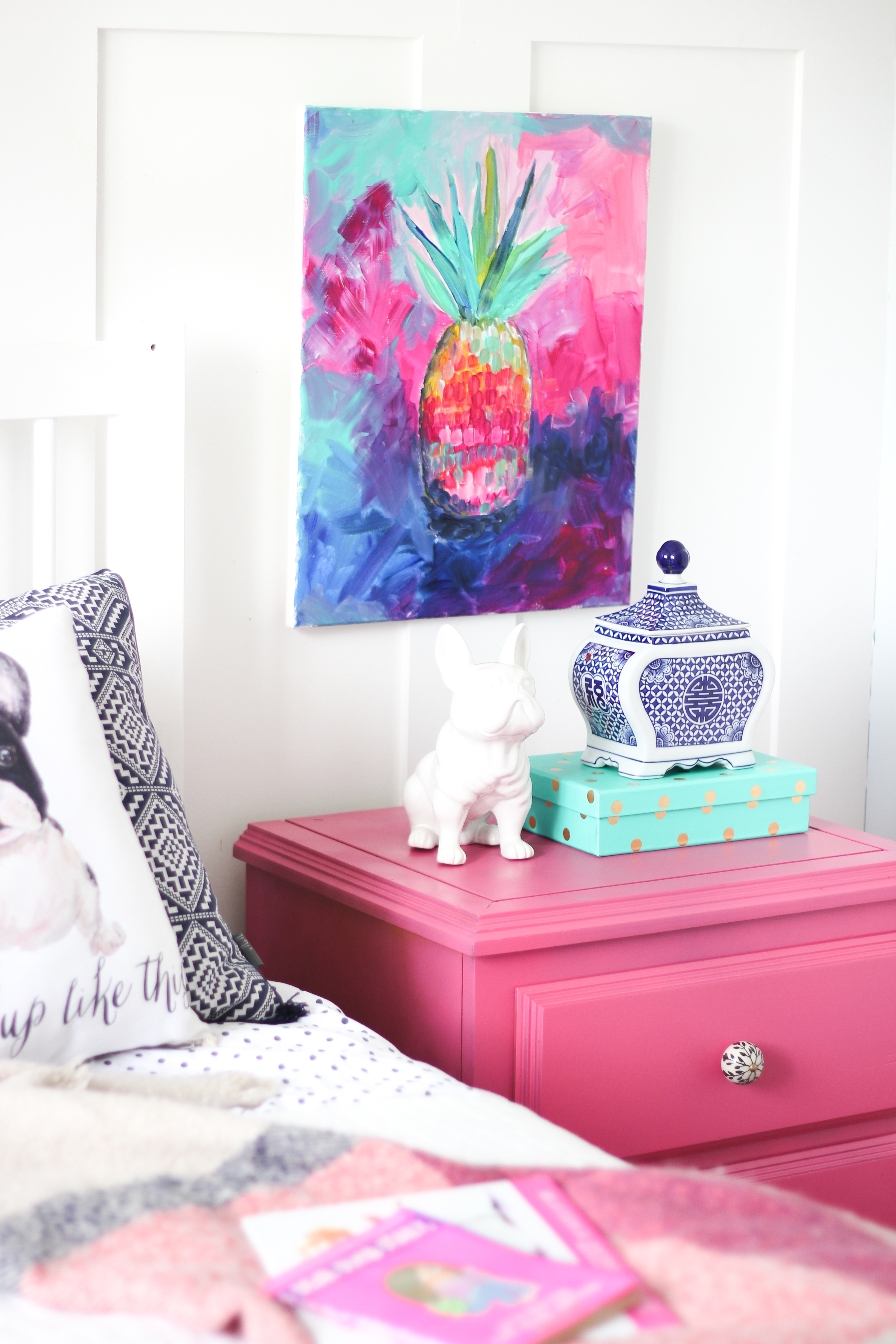 I was recently asked by Michael's to choose my favourite brand and without hesitation, I chose Liquitex paint. To me, this paint has been by my side through my creative journey and it's not just a tube of paint, but is symbolic of my story.
There are so many ways to use Liquitex products because they are inter-mixable and the colors match across ranges allowing you to layer tube color, paint markers, spray paint and ink, or even work wet onto wet with mediums. I painted this happy colorful pineapple for our daughter's room. Fun, right?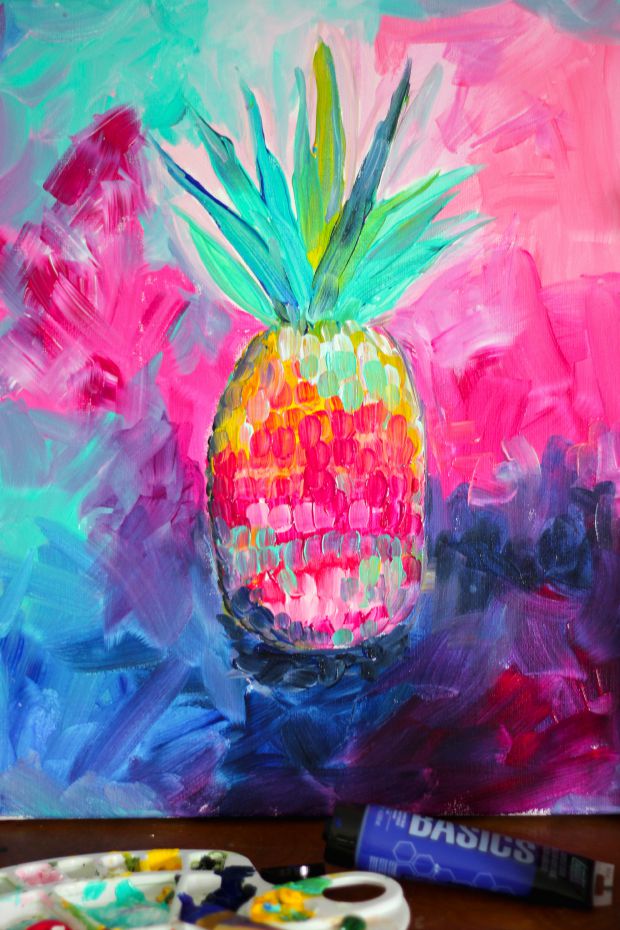 Before I go, I wanted to take a moment to say thank YOU for your encouragement and support through this journey. You have also played such an integral part in my creative growth, encouraging me along the way with sweet words left behind.
You believed in my gift even before I did and for that, I will be forever grateful.
much love,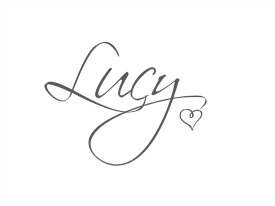 Check out all of the Liquitex products in store or on Michaels.com. Liquitex is on sale for the next 2 weeks! Just check out the Big Brand Sale landing.