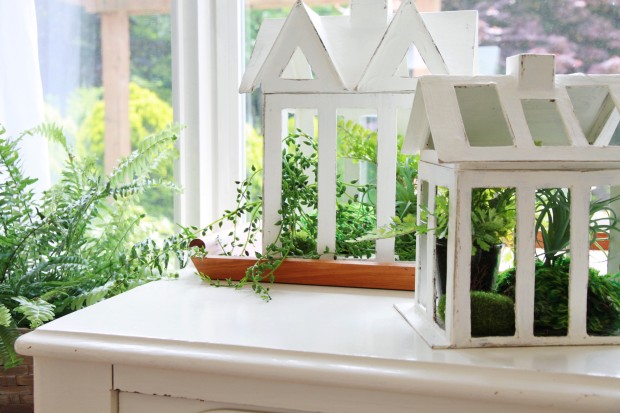 Hello Craftberry Bush friends! I am so happy to be joining you here as a part of Lucy's Craftberry Bush Creative Team. I am honored to get to share my projects, home and heart with you; thank you so much for welcoming me. I hope you will leave inspired to try something new and encouraged that you can do so within your budget.

I love having greenery in my home, a mixture of real and some good looking fakes. It brightens up a room with pops of color that only nature can provide. Terrariums do just that by mixing elements of texture, vibrancy and design. They are little houses of goodness! I have had my eye on many, but have not found one in our budget; so this is how I made my own.
Here is what you will need-
A paper mâché house from the craft store (I found mine at Hobby Lobby and other examples are here and here)
A utility knife with a new blade (sharp blades make work easier and are much safer than dull ones!)
Ruler
Pencil
Fine grit sandpaper
Protective gear (eye goggles and mask)
Moss and greens – pictured below (can be real or faux)
Here is the process you will use to transform your house into a look-alike terrarium…
Cutting your House – Using your utility knife, carefully and slowly cut along the lines of the windows and door. For the back, I measured and cut (using my ruler and pencil) the same dimensions as the front. For the top, I cut the front and sides with triangles and then kept straight columns in the back. Measurements do not have to be exact and the front triangles are optional (as you will have to cut through some more layers). At the end, lightly sand down all cut edges to minimize their roughness. As a reminder, when using tools for even a small project such as this, please use safety. Wear eye protection and a mask when sanding and be EXTREMELY careful while working with the utility knife. ALWAYS keep your non-cutting hand clear of the path of the razor blade!
Painting your House – Next you will paint your new faux terrarium. I chose chalk paint for this because I wanted a distressed look that I could sand down. I started with a layer of dark brown and then gave it two coats of off-white. I finished it off by lightly sanding the corners and edges so the dark paint would show through a bit, giving it an aged and weathered appearance.
Now the fun part – filling your house with some greenery!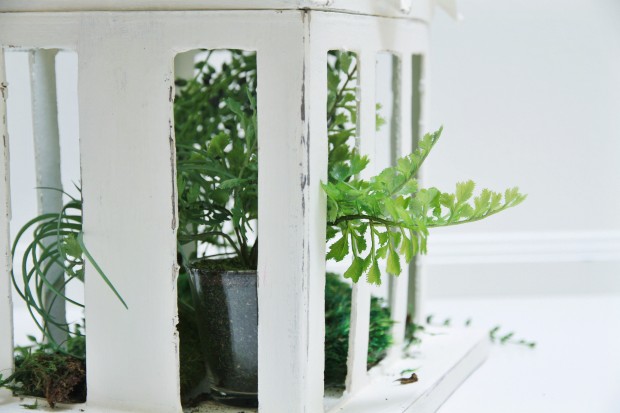 Filling your Terrarium- Using an assortment of leafy plants or cacti, start to fill the structure. I put moss and some mossy rocks on the bottom. Then I varied the height with some fake stems and small potted ferns. I chose to use faux plants, but real plants can be used if preferred.
There you have it! A faux terrarium for a fraction of the cost that provides colors of emerald, kiwi, and forest green to brighten up any space. I enjoy decor like this because it works for so many seasons. There is versatility to use it as part of a coastal themed vignette, a Christmas decoration filled with twinkle lights or a candle (battery operated) holder any time of year…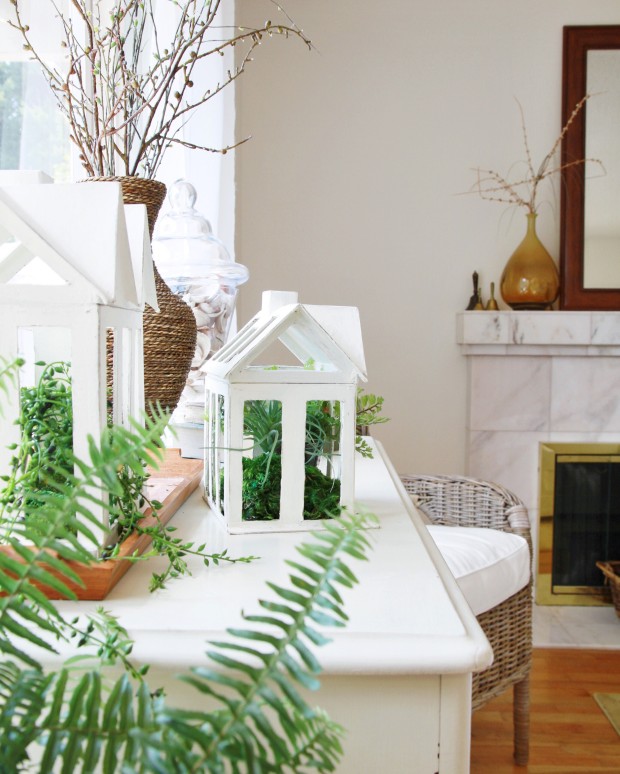 Again, thanks so much for having me Lucy; I am delighted to be here! I hope those of you reading will give this a try and please let us know how it goes. Have a wonderful week all of you!